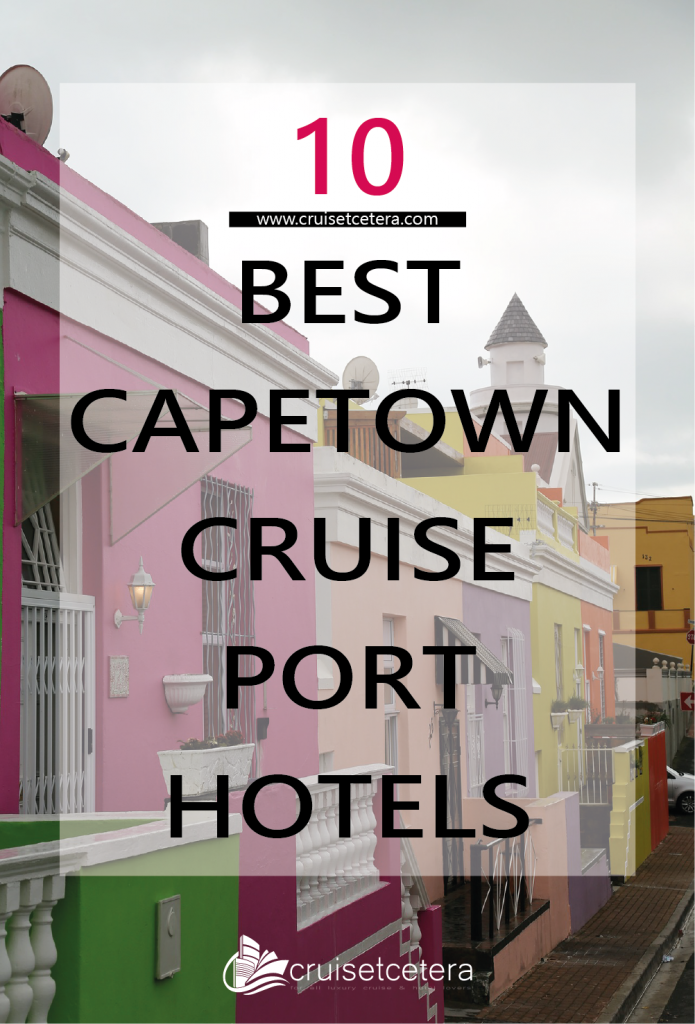 A coming-together of cultures, cuisines, and landscapes, there's nowhere quite like Cape Town. A singularly beautiful city crowned by the magnificent Table Mountain National Park. What a fantastic city to start or end your cruise! And we have selected the 10 best cruise port hotels in Cape Town for you.
Table Mountain National Park defines this beautiful and addictive city. If you have been in Cape Town once, you will certainly come back for a longer period! To discover more of the city and the beautiful surroundings.

The Flattened Table Mountain is the main act. But there are many other equally stunning natural landscapes within the park's expansive boundaries. Cultivated areas such as the historic Company's Garden, Kirstenbosch National Botanical Garden, and Green Point Urban Park, make exploring the city a pleasure. Follow the lead of the locals by making the most of the abundant outdoor space: learn to surf; go hiking or mountain biking; tandem paraglides from Lion's Head; abseil from the top of Table Mountain – just a few of the many activities on offer.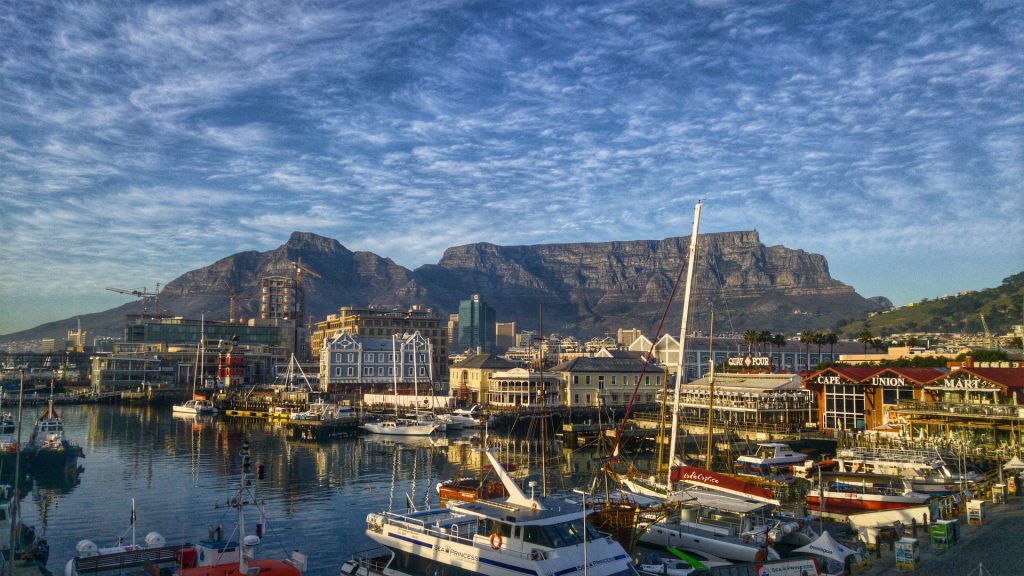 What strikes us every time in Cape Town is the fantastic cuisine. Cape Town will delight you in culinary terms. For both wonderful African food and the most refined dishes. The most beautiful restaurants present you with great and refined dishes. These are so special and affordable that you think the check must be a big mistake. Cape Town is truly a culinary wonder city.
For more Port info Cruise Port Cape Town visit our website.
I can devote a whole blog to the beautiful restaurants and wine estates all near the Cape Town area. But who knows, maybe in the future. Because you will soon find out this city is enchanting and addictive. The people are so very friendly! We can easily say this is one of our most favorite cities in the world. We heard from some it was a dangerous town we never ever had such a feeling when we were there. You do not need to worry.
I would like to touch on a number of things that make Cape Town and the surrounding area so attractive. From Cape Town, it is very worthwhile to visit a number of highlights of this picturesque area. What about a safari? At the nearby The Botlierskop Private Game Reserve where you can make an amazing safari. Spend a few days there and you will be enchanted!
Or how about whale watching in Walker Bay, Hermanus? Or drive one of the most beautiful scenic roads in the world from Cape Town to Chapman's Peak? Discover all about winemaking at one of the many wine estates around Cape Town like Klein Constantia. There is so much to see and do in and around Cape Town. You will find out you need to come back again.
–
And worth a visit is the famous colored houses of the Bo-Kaap district. The name is African and means Upper Cape. The district is located on Signal Hill above the center.
The district is known as the multicultural Muslim quarter of Cape Town. The residents descend from the former slaves who were brought from SE Asia by the Dutch VOCs in the 18th century. Slaves were forbidden to wear colored clothing and after slavery was abolished in 1838. The color was brought into the neighborhood by painting the houses in different colors.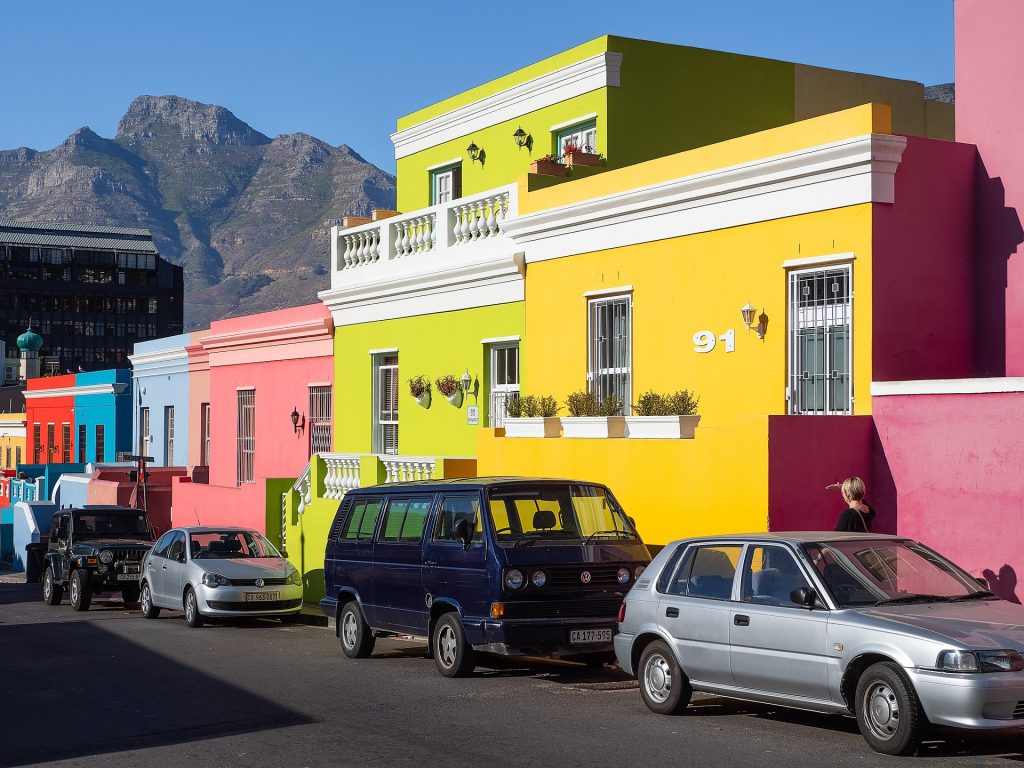 The houses are always painted so fresh, because it is tradition for the residents to repaint their houses after the annual Lent, Ramadan.
And so we can go on for a while. A cruise that starts in Cape Town shouldn't start without discovering this beautiful city and surroundings for a few days.
Finding accommodation that suits your needs shouldn't be difficult as Cape Town offers truly fantastic and breathtaking hotels. Some of the most popular choices are beachfront locations; not only are they very scenic, but they also provide easy access to the ocean whenever you want to swim. We do recommend taking a trip to the wine region of Stellenbosch and Franschhoek or Hermanus and Cap. But for this list of the 10 best Cruise Port hotels in Cape Town, we stay a little closer to the port.
Our 10 BEST CAPE TOWN CRUISE PORT HOTELS:
1 – THE SILO

*****

2 – TINTSWALO ATLANTIC *****
3 – ONE&ONLY CAPE TOWN

*****

4 – VICTORIA & ALFRED HOTEL

****

5 – THE GLEN BOUTIQUE & SPA

****

6 – THE TWELVE APOSTLES HOTEL & SPA

*****

7 – BLACKHEATH LODGE

****

8 – TABLE BAY HOTEL

*****

9 – The Cellars-Hohenort Hotel

*****

10 – TAJ CAPE TOWN *****
We have selected the 10 BEST CAPE TOWN CRUISE PORT HOTELS in random order:
1 – THE SILO

*****
The Silo is an extraordinary five-star hotel in Cape Towns V&A Waterfront.
The Hotel sets a new standard for luxury Cape Town accommodation. A magical hotel towering above the V&A Waterfront surrounded by the natural wonder of South Africa's Mother City.
The Silo Hotel has been built in the grain elevator portion of the historic grain silo complex occupying. Six floors above Zeitz Museum of Contemporary Art Africa (MOCAA) which houses Africa's largest collection of contemporary African art. The exterior of the building was designed by Heatherwick Studio. From the outside, the greatest visible change to the building's original structure is the addition of the ingenious glass windows. Inserted into the geometry of the hotel floors. These multi-faceted structures glisten like diamonds during the day. While at night the building transforms into a glowing beacon in the Table Bay harbor.
The Silo Hotel has 28 rooms, including a spectacular one-bedroom penthouse. Each room has been individually designed and decorated by the stylish wand of Liz Biden. Colorful and eclectic pieces juxtapose modern, industrial architecture. The 6 room categories are based on room size and views. Each room has a private balcony and a unique collection of contemporary African art.
Dining in The Granary Café is a unique experience. The menu inherits the same comfortable, eclectic, and contemporary style as Liz Biden's hotel interiors. Executive Chef Veronica Canha-Hibbert and her team believe in good, honest, and approachable food that showcases seasonal local ingredients. With stunning views of Cape Town through the 5.5m high pillowed glass windows. There is no better place to enjoy a classic cocktail or a glass of wine from the carefully crafted and ever-evolving list of local and international wines.
The Silo Rooftop offers you a relaxed, al fresco experience with spectacular panoramic views of Cape Town. From the tallest building in the V&A Waterfront. Poolside lounging is complemented with treats from the tempura bar. Fresh oysters, pulled pork sandwiches, and a selection of healthy snacks from the raw bar. Enjoy a glass of bubbly, South African wine. Or a classic cocktail while you soak up the last of the day's sunshine.
'This hotel is really such a gem. Nothing basic and all are beautifully designed. And the views…stunning!'
–
2 – TINTSWALO ATLANTIC

*****
Ocean-side five-star secret within Table Mountain National Park
If driving along the coastal Chapman's Peak Drive from Cape Town to Tintswalo Atlantic doesn't bowl you over in wonderment. Arriving at Table Mountain National Park unquestionably will. The looming "chappies" (rugged red cliffs of Chapman's Peak) and jade waters of Hout Bay within Table Mountain National Park are simply staggering. Inbetween they reside the Park's only luxury lodge: Tintswalo Atlantic.
This veritable haven of unbroken peace is only 30 minutes from Cape Town but feels a world away. Guests come here for the surrounding natural beauty where whales roam the waters; to enjoy the total seclusion and five-star facilities (massages on request, heated pool, room service).
There are endless activities to take part in nearby including whale watching. Shark diving, wine tastings, and hiking but you'll be forgiven for not wanting to leave the home comforts of your suite and that hypnotic ocean view.
Each of Tintswalo Atlantic's flawlessly designed bedrooms has been inspired by the nature and heritage of a specific island. These include Antigua, Sicily, and Zanzibar, and the two-bedroom Elba and Corsica Suite that can sleep up to four. What's common to all is an air of romance and a view of the mesmerizing watery scene. This is also the backdrop for the Tintswalo Atlantic restaurant.
The art of fine dining and appreciation for fine wine is at the heart of each dish. Which is determined by South Africa's rich, natural larder, from game to just-caught seafood fished from the bay.
–
3 – ONE&ONLY CAPE TOWN

*****
An urban chic waterfront resort with unprecedented levels of luxury
Let your gaze sweep across one of the most diverse panoramas on earth. A natural amphitheater edged by dramatic cliffs, crowned with the stark majesty of Table Mountain. A meeting point for crystal clear seas of two great oceans and a uniquely vibrant, multicultural city. Set in the pulsing heart of the city, at the Victoria & Alfred Waterfront.
One&Only Cape Town is a place of friendly calm and gracious hospitality for couples and families alike. Nestled within a natural amphitheater shaped by the vertical cliffs of Devil's Peak and Lion's Head sits Cape Town in all of its coastal glory. Here, commanding an enviable spot in the city's fashionable Victoria & Alfred Waterfront is One&Only Cape Town. Overlooking the marina with panoramic views of Table Mountain.
At the heart of the vibrant Victoria & Alfred Waterfront and framed by the majesty of Table Mountain. Discover an urban escape surrounded by private waterways at this South African resort. Capturing the authentic essence of this dynamic hub, this Cape Town hotel's stunning rooms and suites are the largest in the city. Generous rooms offer ample space to relax in this captivating Cape Town hotel.
Your private balcony reveals breathtaking views of Table Mountain, and the magnificent Marina, or both. Or reconnect with family and friends in Cape Town's largest suites. The perfect base from which to explore our vibrant city and a perfect start to your cruise. All of the suites have spacious terraces offering mesmerizing views of Table Mountain.
–
4 – VICTORIA & ALFRED HOTEL

****
Popular V&A Waterfront accommodation surrounded by shops and dining
History and modern luxury merge to create ageless beauty at the Victoria & Alfred Hotel. The hotel was built in 1904 as the North Quay Warehouse.
This iconic establishment was named after Queen Victoria and her son, Prince Alfred. He played an intrinsic role in the establishment of the
Breakwater Basin, now the V&A Waterfront.

The hotel is located in the very heart of this internationally acclaimed destination. It is a sophisticated retreat amid the buzz. It offers some of the most enviable views of Cape Town Harbour and Table Mountain. From the hotel you see the slick city that stretches out at the foot of this Natural Wonder. Timeless elegance and personalized luxury are found at the award-winning Victoria & Alfred Hotel.
Attention to detail, its elegance, and outstanding reputation have set this hotel apart as one of Cape Town's finest establishments.
A luxurious stay awaits at each of the ninety-four well-appointed, contemporary rooms. With views of the Alfred Basin, Table Mountain, or the piazza.
Warm personal service makes guests feel at home instantly. Guests can enjoy a selection of top dining options when visiting the Victoria & Alfred Hotel. Ginja is located on the hotel's premises, where guests can enjoy excellent meals and stunning views simultaneously. Breakfast is served at either Ginja or Dash. Both located at the Queen Victoria Hotel. At no additional cost to guests, when bookings are made on a bed and breakfast basis.
A pristine swimming pool offers guests the opportunity to cool off on warm days. The hotel is surrounded by a beautiful courtyard at Dock House Boutique Hotel. A bar and a number of deck chairs alongside the pool invite guests to relax and absorb the view of Table Mountain.
–
5 – THE GLEN BOUTIQUE & SPA

****
Highly rated property located in Sea Point, just outside downtown Cape Town South Africa
Located in Sea Point in Cape Town, The Glen Boutique Hotel & Spa offers luxurious rooms and free WiFi. The hotel has an outdoor pool with sun loungers and spa facilities. A trendy and vibrant young hotel with wonderful staff and a great breakfast.
The Glen Boutique Hotel & Spa is the perfect destination. For travelers who are looking to unwind, relax, and explore the very best Cape Town has to offer. The team is dedicated to making your stay as memorable as possible. Filled with wonderful experiences and treasured moments you'll cherish for years to come.
It is a small luxury boutique hotel with a variety of styled rooms to suit your needs. Let me also introduce you to 'G on Herbert!' Cape Town's newest property in the heart of Sea Point. The luxury Apartments are the product of The Glen Boutique Hotel & Spa. There are 3 Apartments within the property. All of which boasts ample living space, the finest decor, and stunning views of the ocean and Lions' Head! The Hotel is 300 meters away from the Apartments and all hotel facilities are available to guests.
All rooms are stylish and modern. You can select the size you prefer. The amenities are lovely and will always connect the smell to this lovely hotel.
–
6 – THE TWELVE APOSTLES HOTEL & SPA

*****
Generous hospitality and passionate service.
The award-winning Twelve Apostles Hotel and Spa is situated on Cape Town's most scenic route. The hotel, flanked by the Twelve Apostles mountain range and majestic Table Mountain National Park, a World Heritage Site, and the Atlantic Ocean. The hotel offers the longest hours of sunshine in Cape Town. Resulting in the legendary Atlantic Ocean sunsets guaranteed to make a stay here a breathtaking experience.
The 70-room, five-star hotel offers easy access to spectacular beaches and tourist attractions. While the famous Cape Winelands is an easy scenic drive away. Be whisked away on an exhilarating helicopter flight from the hotel's own helistop. For spectacular aerial views of Robben Island, Clifton, and Lion's Head. Or for the more adventurous, take a ride around the Peninsula on a motorbike sidecar. A complimentary shuttle service is offered to nearby Camps Bay, the V&A Waterfront, and the city center.
The Twelve Apostles offers many complimentary touches to guests. From the time they arrive and are offered a welcome drink of sparkling wine. Or if you prefer the South African chilled Rooibos tea while they check-in, to the time they depart. Children of all ages are welcome. With children's activity packs, special turndown services, child-friendly menu options, and plenty of space to run around and play. Pets too are treated like VIPs when they check into The Twelve Apostles. Making this property truly "a home away from home".
You will be spoilt for choice with a wide range of facilities and activities on offer. From relaxing next to the infinity or heated rock pools to a movie in the 16-seat private cinema. Even a mountain walk or picnic in the National Park. Succumb to the hands of expert therapists in The Spa, with treatments that heal, restore and pamper; personalized, individual treatments, as well as Signature Spa Journeys combining ancient wisdom with modern expertise, are available to guests.
–
7 – BLACKHEATH LODGE

****
A personal homely feel in Cape Town
Blackheath Lodge Boutique Hotel is situated in Sea Point on Cape Town's Atlantic Seaboard. Right under the iconic Signal Hill – close to the happening city center of Cape Town. And also close to the popular V&A Waterfront and Green Point Stadium. Blackheath Lodge has a rich history dating back to the 1880s. Its Victorian design, spacious interiors, high ceilings, and wooden floors are combined with eclectic touches of African style and charm.
A host of world-class restaurants is within easy reach of the lodge. The famous beaches of Clifton and Camps Bay are just around the corner.
There are 18 luxury air-conditioned/heated en-suite rooms and suites. All elegantly furnished with extra-length king or twin beds, complimentary Wi-Fi, satellite television, and tea and coffee making facilities. The tropical green garden, with a swimming pool and sun deck, is a perfect place to relax.
The breakfast is freshly prepared each morning. Offering a delicious spread of quiches and similar delights, fresh fruit. And if you like a full English breakfast.
The hotel is able to provide dinner or a picnic to enjoy on beach days or mountain walks, on request. Additional services include private guided tours, early check-in / late check-out service – including a complimentary guest shower facility. Also door-to-door airport transfers, full laundry service, fully stocked bar, or delicious dinners upon request. Even complimentary cake and biscuits, and off-street parking with security are offered.
The perfect place from which to explore Cape Town and its surrounds…
–
8 – TABLE BAY HOTEL

*****
5-star luxury hotel situated at the V&A Waterfront in Cape Town near the cruise pier
Be captivated by perennial beauty. Imagine discovering a sophisticated world of luxury in a city of untold wonder overlooking the Atlantic Ocean. Table Bay offers the ultimate 5-star luxury hotel accommodation in Cape Town. This hotel is considered to be the best address in Cape Town. And this sophisticated Sun International property was opened in May 1997 by former South African president, Nelson Mandela. Table Bay continues to set its own standards in international service, cuisine, and luxury.
Inspired by the boundless creative energy of the city that it calls home. And the rooms unfold a sophisticated world of luxury with unrivaled views of Table Mountain or the ocean.
A magnificent setting to present the best sustainable local cuisine. In the kitchen, the chefs have a holistic approach to food sourcing the freshest ingredients from local farmers.
–
9 – The Cellars-Hohenort Hotel

*****
A world away from the ordinary – Rich in history and legacy
Five-Star luxury surrounded by nine acres of perfectly manicured and award-winning gardens, located in Constantia, also known as 'Cape Town's Vineyard' – the historical Constantia Valley, only 15 minutes drive from Cape Town's city center.
This hotel's 51 guest rooms and suites boast breathtaking views of Table Mountain and the property's award-winning gardens. Greenhouse restaurant is renowned as one of South Africa's top restaurants.
Offering guests an experience beyond expectation, here luxury accommodation options abound, culinary journeys are crafted and memorable moments shine through. Whether you book one of the entry-level Double Rooms, a Suite, or the Exclusive Madiba Villa, you can rest assured that they will provide the most memorable of stays.
At the heart of their food philosophy lies the continuous exploration and reimagination of South African food. Each carefully crafted dish is paired with the finest Cape wines, further enhanced with the charming service they have become synonymous with.
–
10 – TAJ CAPE TOWN

*****
Explore the city right from their doorstep…
Originally home to the South African Reserve Bank and Temple Chambers and, later, the Board of Executors (BoE), Taj Cape Town effortlessly combines the legacy of the old with the luxury of the new.
Located in the center of the old city, it boasts a strong sense of place and is within walking distance to some of South Africa's foremost landmarks and attractions and an eclectic array of shops, galleries, and restaurants.
Spread across two heritage buildings, all 176 rooms at our 5-star hotel in Cape Town have spectacular city views or overlook the iconic Table Mountain.
The One and Two Bedroom Suites are perfect for the discerning traveler or for families.
They offer an array of dining experiences. Bombay Brasserie offers day-long sit-down A La Carte dining which includes breakfast, lunch, and dinners as well as afternoon tea. Bombay Brasserie Bar, where patrons are welcome to enjoy pre-dinner drinks from the extensive range of cocktails, beers, wines, and a collection of the finest whiskies and brandies; where Taj Cape Town will serve you everything of the best.
Rejuvenate your senses at our award-winning Jiva Spa. Indulge in unique and authentic treatments based on the ancient wisdom of the Indian philosophy of wellness or spend time at the fitness center and heated indoor pool.
With 176 individually decorated rooms reflecting unrivaled opulence, Taj has a wealth of accommodation options suited to leisure and business travelers. All rooms at this hotel in Cape Town boast panoramic vistas of the city and Table Mountain, with lavish furnishings and contemporary finishes immersing guests in world-class luxury.
–
CONCLUSION
It is quite difficult to highlight only the 10 best cape town cruise port hotels. There are a couple more very nice hotels in Cape Town. Especially if you want to drive a little further from the Cruise Port. Cape Town is a city that comes under your skin. I am sure that once you have been there you will definitely want to go back. To enjoy this special, friendly and beautiful city even more and longer. So gorgeously situated at the foot of Table Mountain, Cape Town has something magical about it. And in one of these 10 best Cape Town Cruise Port Hotels, I am sure you will enjoy it even more. When you like some more information about the cruise port you can go to our website www.cruisetcetera.com/port-info-cape-town/. For even more Cruise Port Hotels check out www.cruisetcetera.com/cape-town/.