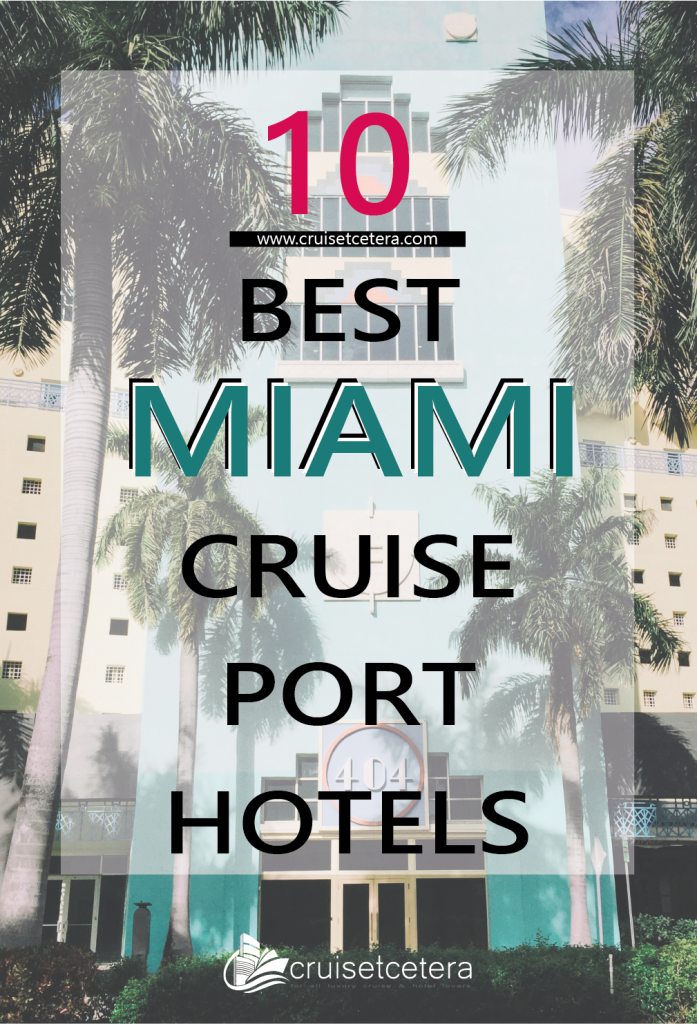 Miami is one of the most important and most used cruise ports in the world. Many cruises start or end in this beautiful and sunny Florida city. There are hundreds of hotels at every level. We have listed the 10 best Miami cruise port hotels for you to make the choice easier. All hotels that are recommended by luxury cruise lovers and therefore have the Cruisers'Choice Award.
Miami is the busiest and largest cruise port in the world. The city hosts numerous ships from all over the world throughout the year. Theoretically, of course, this city is not located on the Caribbean Sea. Yet this city radiates the enormous tropical appeal of the Caribbean.
The city is a multicultural society with a large and vibrant immigrant population. From more northern regions mixed with emigrants from all over Latin America and the Caribbean. Also large groups from Asia, Europe, and the Middle East.
South Florida offers a plethora of attractive attractions. It makes an extended stay in the region almost mandatory for those starting or ending their cruise here.
To feel Miami to the fullest, it is important to choose a good and beautiful hotel. For me, it is important to really feel the city and its wonderful vibe. So not a standard thirteen in a dozen hotel that can be found in any city in the world. We look for a true experience. A Miami experience and lifelong memory! Because to us, that is what traveling is all about!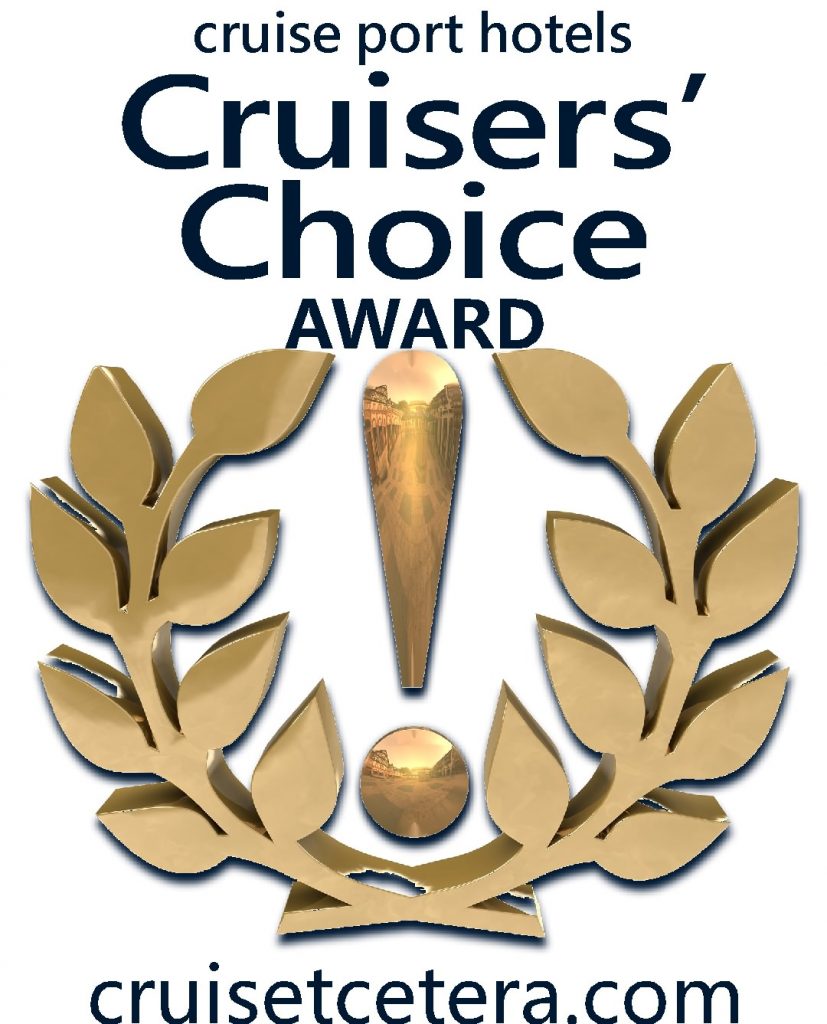 It is very difficult to limit ourselves to the 10 best Cruise Port hotels in Miami but you will love these hotels. Here's our pick of the 10 best Miami cruise port hotels. These have also been recommended by luxury cruise enthusiasts and received the Cruisers' Choice Award.
OUR 10 BEST MIAMI CRUISE PORT HOTELS:
Faena Hotel South Beach *****
The Betsy South Beach ****
Four Seasons Hotel at The Surf Club *****
Kimpton Surfcomber Hotel ****
Hotel Beaux Arts, Autograph Collection *****
Loews Miami Beach Hotel ****
The Setai Hotel *****
The Ritz-Carlton Key Biscayne *****
National Hotel Miami Beach ****
East Miami Hotel Brickel ****
In Random order:
Faena Hotel South Beach

*****
Located on 100,000 square feet of pristine oceanfront, Faena Hotel Miami Beach is a Forbes Five-Star luxury resort. Located in the heart of Faena District which is a revolutionary cultural neighborhood in Miami Beach. Featuring award-winning restaurants, stunning residences, immersive entertainment, destination shopping, remarkable multi-use art, and events venue, and more.
Step into a room that blurs the lines between dreams and reality—a wonderland of color, glamour, and comfort that expands the imagination and cradles the spirit. Unwind in a space where sunshine restores, ocean air refreshes and service fulfills.
'This hotel breathes metropolitan creativity at all levels. You will be surprised'
–
The Betsy South Beach

****
A beachfront gem honored by Travel & Leisure as "World's Best". The Betsy anchors the quiet end of iconic Ocean Drive. Located in one of the most exciting neighborhoods in America as its backyard. Inside, you'll discover everything you'd expect from a luxury boutique hotel. Thoughtful amenities, extraordinary service, a storied chef guiding the kitchens— and some things you might not, like a beloved gathering place for arts and culture, a curated events program ranging from yoga classes to live music, a royal welcome for four-legged friends, and the individual attention of a family-owned hotel.
The two four-story buildings with 130 rooms are spread over a full city block. With expansive public space that outpaces vastly larger properties. And with a plethora of outdoor spaces all washed by a perpetual Atlantic Ocean breeze, the Betsy is uniquely equipped to welcome you in a world that newly values personal space and open air. Because the hotel faces both Ocean Drive and Collins Avenue with a well-lit alley in between (and with beautifully furnished and umbrellaed terraces facing east and west), one can come and go through multiple key-activated entrances easily, avoiding unwanted interaction with other guests.
With so much going on at the hotel, sometimes it takes a moment to remember that The Betsy looks out onto one of the most glorious strands of sand beach in the world. The beach service awaits — umbrellas, lounge chairs, and towels; attendants ready to see to your requests; and, of course, the truest marvel of them all — that water.
'The Betsy – South Beach is ideal for visiting Miami Beach and as your pre-cruise stay. It is not only affordable but also comfortable and centrally located. Enjoy a luxurious environment with a myriad of amenities designed specifically for travelers like you.'
–
Four Seasons Hotel at The Surf Club

*****
From the moment it first opened its doors on New Year's Eve 1930, The Surf Club has hosted history. It is here that you will find Four Seasons Hotel at The Surf Club. An oceanfront destination bringing a new era of glamour elevated with chic Italian dining and a world-class spa.
With privileged beach and pool views, the Ocean Bungalows are luxurious hideaways located on the second floor of The Surf Club's legendary Cabana Row. From the earliest years, original architect Russell Pancost instinctively understood that these sun sanctuaries would always remain the true soul of The Surf Club.
With either privileged views of the Atlantic Ocean or city. Guest rooms are bathed in natural light by floor-to-ceiling windows. They feature a refreshing color palette that echoes the classic Surfside combination of sand, sea, and sun.
The Surf Club today might have a storied past – a glittering list of names including Frank Sinatra, Elizabeth Taylor, and Winston Churchill – but the sense of possibility and timeless values for which it has always been cherished remain as strong as ever.
–
Kimpton Surfcomber Hotel

****
An Oceanfront Hotel in South Beach. The Kimpton Surfcomber Hotel is located in the heart of exhilarating South Beach. In a historic Art Deco building, with a palm-tree-lined pool and a silky sand beach in their back yard. It's way more fun to put style and socializing over pretense and posing. In fact, Kimpton Surfcomber just may be the most social of all the beachfront South Beach hotels. From DAYLIFE activities to the communal outdoor settings to the daily wine hour, Kimpton Surfcomber is the place to be for a sunny, flirty escape.
The best thing about this hotel may be that you don't even have to leave Kimpton Surfcomber Hotel to get your social on. An outdoor restaurant and bar nestled between Kimpton Surfcomber Hotel and the beach, High Tide is an easy place for locals and Surfcomber guests to grab a drink and bite. Stroll over to the pergola-shaded tables and prepare to stay awhile. Beyond this, their laid-back vibe is accented with live music, occasional movie screenings on a giant projection screen, and a shorts-and-sandy-feet dress code.
A hip and trendy hotel for the young at hearted in a lively location!
–
Hotel Beaux Arts, Autograph Collection

*****
Hotel Beaux Arts Miami is a modern private hotel ascending 39 stories above Miami's majestic skyline.
Located in the same modern all-glass skyscraper as the JW Marriott Marquis Miami, the boutique hotel boasts innovative technology, contemporary design, an intimate setting and it offers exclusivity and first-class services. Recently named to Marriott's Autograph Collection of hotels, this private retreat is replete with the finest features including famed chef Daniel Boulud's new Mediterranean-style restaurant Boulud Sud, Mariano Bartolome Indoor Golf School, Enliven Salon and Spa, virtual bowling, and indoor basketball court.
The hotel is within minutes of Port of Miami, the AA Arena, and upscale dining. Guests are greeted and receive personalized check-in to one of 44 guest rooms and suites. Featuring complimentary WiFi, iPad, iLLY Espresso machines with complimentary espresso, lavish bedding, and top-of-the-line entertainment systems.
Loews Miami Beach Hotel

****
A beloved hotel with an enviable oceanfront location is now even better, following a $50 million renovation. Stay at the redesigned Loews Miami Beach Hotel and enjoy all-new experiences throughout your stay. Welcome to a South Beach Icon.
At Loews Hotels & Co they know that hospitality comes from the heart. They're wholeheartedly dedicated to giving you just that. They are intertwined in the cities we call home, take pride in every detail, and approach each moment of your stay with care, intuition, and thoughtfulness. So that from the moment you arrive you feel at home and, more importantly, amongst family.
–
The Setai Hotel *****
Immerse yourself in the Asian-inspired guest suites with world-class amenities and Far Eastern design aesthetics. Situated ocean-side in the heart of Miami's most desirable location near South Beach. The Setai, Miami Beach is an award-winning, international leader in hospitality and the hotel of choice for the sophisticated international traveler. The Setai masterfully combines the warmth of Asian hospitality with the best in personalized service and truly rarified comfort. Housed in a restored 1936 landmark building within the historical Art Deco District. The Setai has been artfully designed, weaving the aesthetics of the Far East into its original Art Deco facade.
This luxury hotel near South Beach Miami features 87 Art Deco rooms, 50 Ocean Suites, 1 Penthouse, and incomparable hotel features. The amenities include three temperature-controlled sparkling pools, beachfront services, exceptional dining experiences led by Executive Chef Vijayudu Veena, The Spa, and a Clefs d'Or Chief Concierge.
–
The Ritz-Carlton Key Biscayne

*****
Not far from Miami Beach and downtown, an island escape awaits at The Ritz-Carlton Key Biscayne, Miami. Stretching along the beachfront, the luxury hotel is an opportunity to experience Miami living with redesigned ocean-view residences and suites. The renowned Cliff Drysdale Tennis Center, a Caribbean-inspired resort spa, and Lightkeepers restaurant featuring Florida-sourced seafood.
At The Ritz-Carlton Key Biscayne, Miami, luxury comes in the form of impressive amenities and the gifts of tranquility and serenity. The resort sits along the coast of the five-mile barrier island. It attracts with its secluded but convenient location and an array of offerings.
Rooms and suites at this Miami hotel reflect the coastal luxury of Key Biscayne. Balconies with ocean, island, or resort views and spacious layouts flooded with natural light are signatures in every accommodation. Residences offer kitchens, dining rooms, and other living spaces.
Restaurants at this Key Biscayne resort are deeply rooted in the Miami experience. Florida-found ingredients shine through in coastal cuisine; 1940s Havana is evoked with live music and rum cocktails. Mexican fare is served in an ocean-view setting and paired with selections from the Tequilier.
–
National Hotel Miami Beach

****
Nestled in South Beach's celebrated Art Deco neighborhood, this Miami Beach oceanfront hotel evokes cinematic elegance. Boasting 116 newly designed city and direct ocean view guest rooms in the Historic Tower and 36 luxurious cabanas and suites. Skirted alongside native tropical palm trees and Miami Beach's longest infinity-edge pool.
Consistently rated among one of the best South Beach Miami hotels, The National is a 4 star Miami Beach hotel, ideally located directly on the beach and 1 block east of Lincoln Road. 2 blocks north of Ocean Drive, and respectively 10 and 15 minutes away from Downtown Miami and Miami International Airport.
Fully restored in 2014, this south beach hotel was recognized by "Historic Hotels of America" for maintaining its architectural authenticity while bringing subtle and sophisticated elements of contemporary design for the discerning traveler.
Legendary Grace, Unforgettable Style… A Memorable Miami Beach Experience
–
East Miami Hotel Brickel

****
Trendy and tropical, EAST Miami brings a playful lifestyle hotel with an Asian twist to downtown Miami. Dotted with palm trees and modern art; they offer guests a relaxed space to play productively.
You'll feel the buzz the moment you enter the lobby. From the energetic co-working space and pool deck to the airy sun-drenched guest rooms. Visit the Uruguayan eatery Quinto La Huella for down-to-earth cooking, or ride the futuristic elevators up to the 40th floor, where you'll find our beloved rooftop bar Sugar and Tea Room, a hidden door speakeasy with Miami's only Night Brunch.
An Urban Remix in Miami. Discover how they're celebrating local artistic ideas with a nod to EAST's Asian roots.
All of the 352 guest rooms, suites, and residences are bright, modern, and spacious. Featuring floor-to-ceiling windows and private balconies with views of the Miami skyline and Biscayne Bay. Every room comes with a walk-in rain shower, ultra-comfortable beds, the latest high-tech gadgets, and complimentary WiFi. So you can work, play and stay in style.
One of Miami's best-kept secrets, Sugar is a hip and happening 40th-floor rooftop bar and lounge. With its lush Miami cool meets chic Hong Kong cocktail vibes, this secret garden is one of the best places in town to watch the sunset. Served with original Asian-inspired cocktails and tapas.
–
CONCLUSION
Ooh yes, there are so many hotels that are fantastic in Miami. Of course, these are not the cheapest but for luxury cruise enthusiasts these hotels are a great start to your cruise. For a larger Miami hotel selection, you can also visit www.cruisetcetera.com/miami/. Many more hotels are featured there!

And… did I forget a super awesome hotel on this list? Then let me know below!

Are you as much of a hotel & cruise enthusiast as I am? Join the Facebook group Cruise Port Hotels to ask all the recommendations to share. If you want tips on what to do in Miami then join the Facebook group Cruise Port Tips where all tips and experiences are exchanged.

Have fun in Miami!