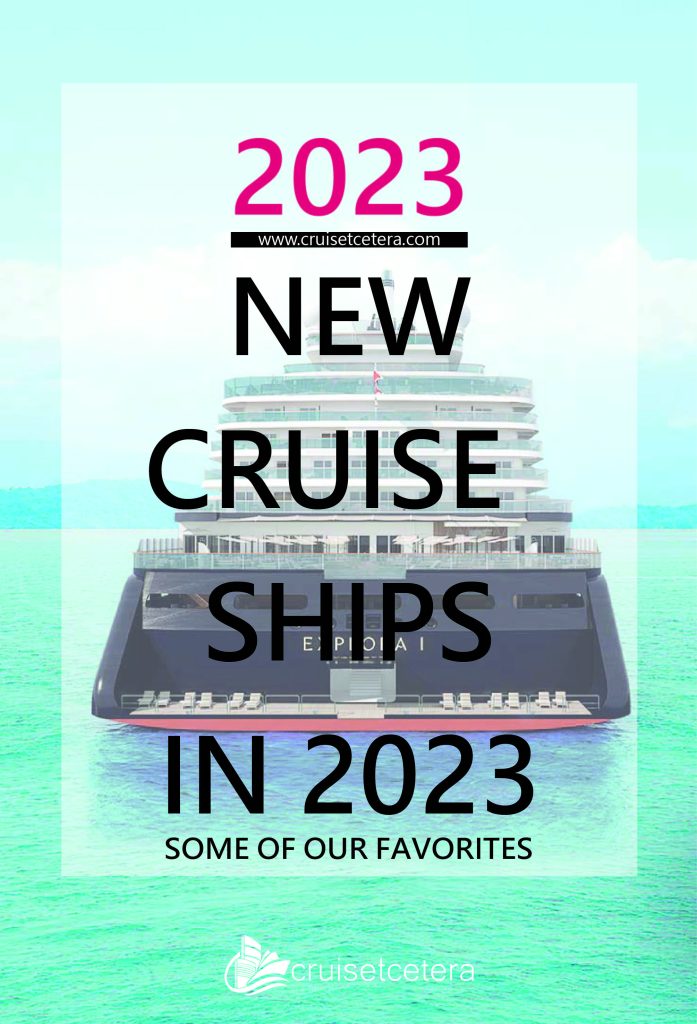 You are probably as much a fan of cruising as we are. And maybe you also find it exciting and especially fun to try out a totally new ship. Of course, you know that a crew always needs time to get used to each other and of course, there will be teething problems. But you love being the first to discover a new ship and see the charm in that. These are our favorite new cruise ships in 2023.
In this new year (2023) a number of new ships will be presented from different shipping companies. There are also a few that just came into service at the end of 2022. So are you a fan of sailing on a brand-new ship then we have made a selection of the most beautiful ships in our segment of luxury cruises.
The new itineraries on these new ships are quickly fully booked so if you are interested contact us soon for your reservation. It is never too early to plan something wonderful. You can always contact us for a personal offer at gert@arrowcruises.nl.
Here is our selection of the new debuting new cruise ships in 2023.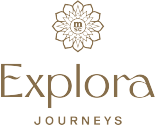 Explora I

This beautifully designed ship will sail in July 2023 and is truly special and worth exploring. Explora Journeys is also a totally new luxury shipping company that takes a slightly different approach than most, more American style and other shipping companies. A wonderful and exciting blend of Swiss precision with Italian design is going to be found in every detail on this stunning ship.
The first of 6 ships for this new cruise line, Explora I, departs this July on a 15-night cruise from Southampton, England to Northern Europe and the Arctic Circle. Explora I will also make its debut in the Caribbean this fall. It is planned that a new ship will be presented each year so for 2024 it will be the Explora II.
This 64,000-ton suite-only ship will have the ambiance and charm of a European boutique hotel. The ship will have a variety of cabins ranging from the Ocean Terrace category of 377 square feet to the Owners Residence of as much as 3014 square feet, each with a private terrace. And on each terrace, you will also find a lounger which is quite unique in the industry. It has 4 heated pools, a variety of restaurants and bars, and a plethora of wellness offerings. A holistic approach is typical on this ship.
Explora I has 6 different restaurants, as well as in-suite dining and 12 bars and lounges. Anthology restaurant offers global cuisine with specialties from guest chefs, very special wine pairings, and more (some for a fee). Sakura offers fantastic Asian cuisine, while Marble & Co. Grill is your European steakhouse at sea and Fil Rouge is your intimate French restaurant. Ah Mais Oui cést tres bien!
Med Yacht Club is reminiscent of a beachfront Mediterranean restaurant, while the Emporium Marketplace offers delicious meals all day long. Here you can order sushi, rotisserie, fresh made-to-order pasta, pizzas, snacks, and more. There is also the amazing Chef's Kitchen experience (for a fee) but you should definitely explore that for yourself.
There are beautifully designed bars ranging from cozy lounges to the Malt Whiskey Bar, a European café, and pool bars, yes…by the pool. Explora Journeys offers – all-inclusive – unlimited drinks, fine wines, and premium spirits, including an onboard minibar and specialty coffee, tea and soft drinks available anytime.
Explora I also features more than 10,000 square feet of space dedicated to your health and wellness. This includes a luxury spa, thermal suite, fitness facilities, an outdoor sports field, and even a running track.
Do you also love the entertainment on your cruise? Music is at the forefront with impressive performers. There are also cultural and destination lectures, tastings and classes, and much more to keep you entertained throughout the day and evening.
We are very enthusiastic about Explora Journeys because it is a wonderful addition to the cruise market and is specially developed with a European mindset and design.

Oceania Vista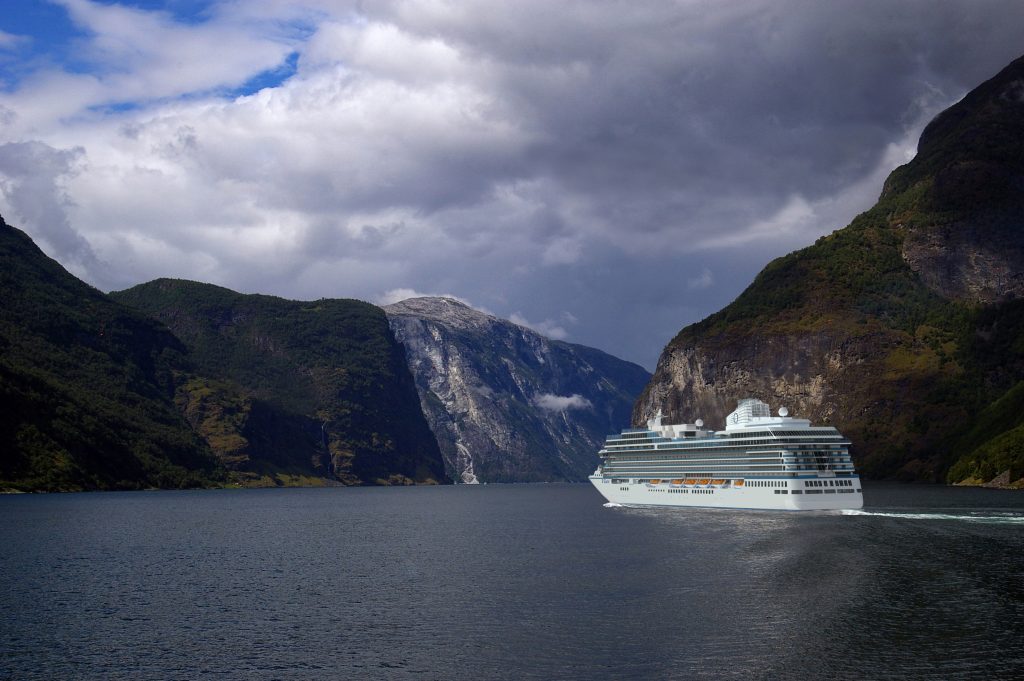 When you step aboard the Vista and discover a new way to see the world. Vista has captivating beauty and stylish design. The stunning interiors and harmonious public spaces are fresh with organic elements inspired by the land and sea.
Cruise to fascinating destinations in faraway lands while enjoying the finest cuisine at sea and personalized service that distinguishes each ship in the fleet, along with some unique firsts in dining, accommodations, and guest experience.
The Vista is the first ship in Oceania Cruises' new Allura class, debuting in spring 2023. Oceania Vista is a 67K gross ton ship that can carry 1,200 guests. Vista is the 7th ship in the Oceania fleet. Carefully designed with the goal of creating a small luxury cruise experience for her guests.
There is plenty to discover aboard the Vista such as a library exclusively styled in Ralph Lauren Home, a revamped Martinis Bar, a luxurious and delightfully tranquil pool deck, a state-of-the-art Aquamar Spa & Vitality Center, and culinary excellence in 12 restaurants.
It starts, for example, with the Grand Dining Room, offering a globally inspired menu of classics by Jacques Pépin. This room is inspired by early 20th-century Paris. Oh, la la!
In addition, Ember is a new addition to the restaurant offerings at the Vista. This restaurant features a classic American menu with dishes like short ribs, crab cakes, swordfish, and more of these all-American dishes. Aquamar Kitchen offers healthier options such as fresh-squeezed juices, smoothies, and power bowls to name a few.
Oceania fans will be happy to know that the Polo Grill, Toscana, and also Red Ginger can also be found on this new ship. And of course, we can't forget Baristas and the new nearby Bakery.
The ship presents a new mix program so you probably won't go thirsty on Oceania Vista either. Inspired by the latest cocktail trends, you can enjoy wines with and without sugar and zero-proof cocktails. There are also special Negronis aged in wooden barrels and the Bubbly Bar and Ultimate Bloody Mary Bar are also present. Many of the restaurants have cocktails to go with the menu, in addition to wine.
The cabins are also definitely an upgrade over many contemporary cruise lines. With plenty of comfort and luxury, there are veranda cabins and new Concierge Level Veranda Staterooms for solo travelers. In addition, the standard staterooms on Vista are the most spacious at sea at more than 290 sq. ft.
In short. a wonderful ship to enjoy and be on!

CELEBRITY ASCENT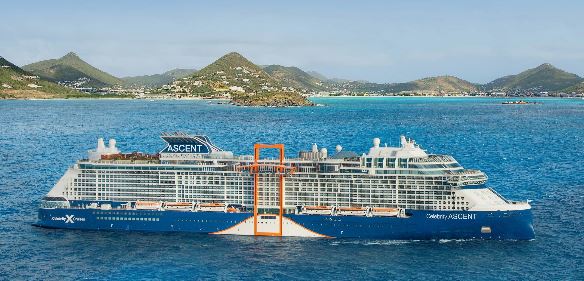 It marks a monumental milestone in 2021 as construction of this Edge Series ship begins. Celebrity Ascent is the fourth ship in the acclaimed, award-winning Edge Series and made the monumental step from concept to construction on Nov. 17, 2021 when the first piece of steel was cut at the Chantiers de l'Atlantique shipyard in Saint-Nazaire, France.
You will be very excited about the Celebrity Ascent which stands out with a luxury resort vibe. The fourth ship in Celebrity Cruises Edge Class, Celebrity Ascent will debut in December 2023. This newest sister to the stunning Celebrity Beyond will feature most of the same amenities, locations, and experiences.
Although Celebrity Ascent, like Celebrity Beyond, is part of the Edge Class, she still has some unique features and a truly stunning and eye-catching design. The Sunset Bar has undergone perhaps the most stunning transformation. In this two-story bar, you are going to find a Moroccan thousand-and-one-night atmosphere with lovely furniture alongside an all-new menu. And don't forget the amazing views and live music at night.
What's also new on Celebrity Ascent is the specialty restaurant Le Voyage. This restaurant by chef Daniel Boulud is inspired by travel and is inspired by world cuisine. With an intimate atmosphere and upscale menus, this location is truly a great addition to the Celebrity Cruises fleet.
And you can breathe a sigh of relief Celebrity fans will be pleased to find the Martini Bar in the Grand Plaza, Cafe al Bacio, Fine Cut Steakhouse, Le Petit Chef, and more. The World Class Bar and Craft Social also return on the Ascent.
As on all Edge Class ships, Celebrity Ascent features four complimentary dining rooms. These dining rooms offer a nicely changing menu and a number of exclusive dishes, giving you many options.
As for entertainment, Celebrity Ascent is sure to present signature productions in the main theater, Eden and The Club, just like Celebrity Beyond.
All this together, the familiar and, most importantly, the new features make this Celebrity Ascent one of the most luxurious at sea and is definitely recommended for 2023 or… 2024.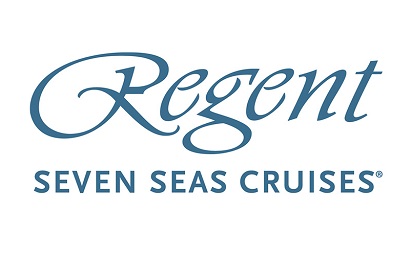 SEVEN SEAS GRANDEUR
Regent also presents a stunning new ship in 2023: The Seven Seas Grandeur Former names: none. The Seven Seas Grandeur has 375 cabins that all have verandas.
You can expect between 750 and 825 passengers on a typical sailing. The Seven Seas Grandeur has 542 crew members on board. There are 2 passengers for every crew member on board. There are 13 decks on this ship. The highest deck number is 14. The number of decks with passenger cabins is 7.
Inspired by the past but stunningly redesigned for the future, Seven Seas Grandeur™ with unmatched space, unparalleled service, and exceptional cuisine will surprise you the moment you step aboard.
No matter what size or which suite you choose to stay in on Seven Seas Grandeur™, the same exceptional standards of design and comfort apply to every suite.
In terms of stunning design, I'll take a moment to highlight Restaurant Chartreuse, for example. Imagine, Paris, 1925. The Art Deco movement is being launched. The Chanel suit and the iconic little black dress make their fashionable debut. This glamorous French era serves as the inspiration for Chartreuse's chic new design.
You will enjoy Regent's stunning new ship!

MSC SEASCAPE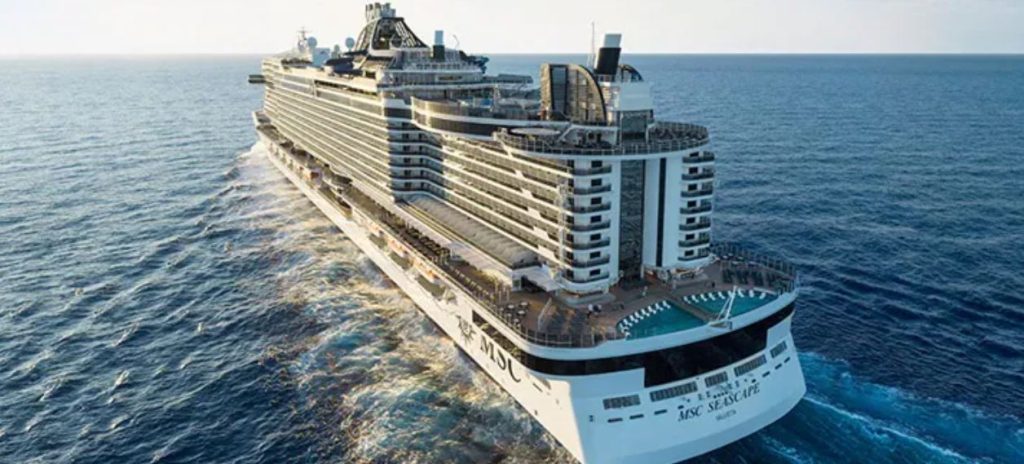 An immersive experience that truly connects you to the sea awaits you on board MSC Seascape. MSC Seascape pays tribute to the beauty of the ocean with a host of innovative design features to let you enjoy new horizons at sea. With its impressive outdoor spaces designed for relaxation, dining and entertainment. And then, of course, we are happy to book for you the Yacht-Club, an exclusive haven of sophistication.
Discover in the Yacht Club a ship-in-ship. A place where you can enjoy exclusivity and privileges in a world of choice. Where you can enjoy in the luxury of a private club while having access to the myriad recreation and entertainment opportunities offered by the rest of the ship. The MSC Yacht Club is a cruise experience like no other and so now also on this new ship the MSC Seascape.
Design Features
MSC Seascape pays homage to New York City, which as a destination represents the spirit of discovery and cultural experiences central to MSC Cruises' guest experience. Accordingly, the design, public spaces, and names of the venues are inspired by the American metropolis. These include an imposing three-meter-high replica of the Statue of Liberty at the heart of the casino and a newly designed sprawling retail and entertainment area, aptly named Times Square. The main feature of this new area is an impressive 8.5-meter-high LED wall across four decks with a projection of the iconic skyline of this Manhattan entertainment center that can change from day to night.
Care for the environment
MSC Seascape is equipped with the latest generation of environmental technology with energy efficiency improvements, state-of-the-art systems to reduce air emissions and an advanced wastewater treatment system with treatment standards higher than most onshore wastewater treatment plants.
The Marina Pool
On Deck 18, the main pool has two different depths so guests can choose to swim or just relax in the water. The newly designed area includes an island in the middle with a 360-degree water fountain, as well as a new lounge area within the pool. It is connected to the aqua park with a Pirates Cove theme to create an expansive aquatic area.
The stunning pools, panoramic elevators, and the breathtaking Bridge of Sighs glass skywalk make MSC Seascape iconic and unique for sensational ocean views. And don't forget the new immersive high-tech entertainment with innovative you will be amazed.
MSC Cruises' newest ship, MSC Seascape, debuted in Miami, Florida, and is the fourth ship in the popular Seaside Class and the second in the EVO subclass. This evolution means the MSC Seascape is even larger with more cabins, an expanded Yacht Club, more outdoor spaces, and a variety of dining and entertainment options.
As we have come to expect from MSC design, there is plenty of glitz and glamour on the Seascape. For example, the ship is adorned with Swarovski crystal staircases. There is also the stunning Bridge of Sighs, a glass-floored bridge more than 70 feet above the Infinity Pool, which makes for an amazing and impressive photo that will make your Insta friends jealous.
Furthermore, you will find Italian touches all over the ship, such as 3 gelato shops and espresso at every bar. Not to mention there is the Venchi Chocolate Bar that serves great alcoholic and non-alcoholic coffee and cocktails with chocolate. (Unfortunately, this is not included in MSC drink packages).
MSC Seascape makes you feel even more connected to the sea through a waterfront promenade and the beautiful Infinity Pool. This space is for adults only and is located on the aft deck of the ship. It offers an amazing view! Your kids will go wild in the Jungle Pool with a beautiful theme. This pool has a retractable roof, which means that whatever the weather they can swim and splash around. Of course, there is also the Marina Pool with a more traditional lido deck feel.
If you like adventure, you'll enjoy the VR attractions in the Hall of Games and the Robotron. This robotic arm that swings 170 feet above sea level provides the thrill of a roller coaster at sea and then also with your favorite music. There is a very extensive offer for children and teens, including interactive game shows and collaborations with brands such as Lego, making MSC Seascape an interesting choice for all ages.
MSC Seascape also boasts great specialty restaurants. From the Butcher's Cut steakhouse to the more casual Hola Tacos, Kaito Teppanyaki, and the Ocean Cay seafood restaurant, there's something for every preference. And you'll even find a sushi band at Kaito Sushi!
So top-notch entertainment on this great ship!
MSC WORLD EUROPA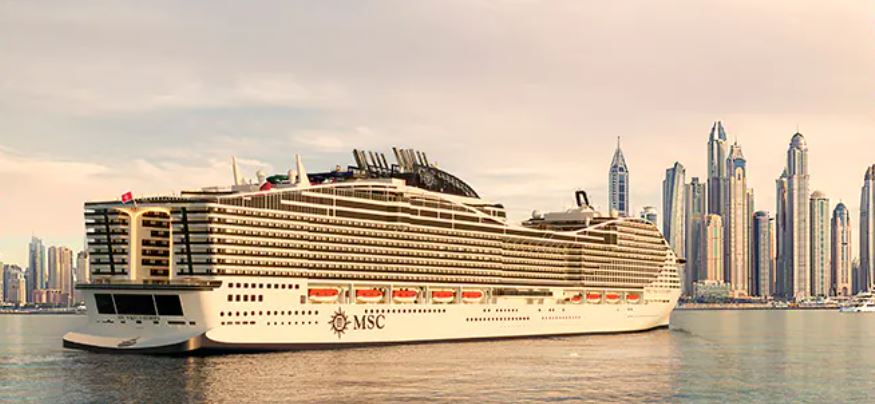 This year, MSC Cruises has welcomed the highly anticipated MSC World Europa to its fleet – the first ship in the groundbreaking 'World Class' series. The new ship introduces a completely new cruise platform with future-proof maritime and hospitality technologies on board, as well as a groundbreaking and ultra-modern and flashy design.
Among the ship's highlights is an enhanced MSC Yacht Club. The innovative "ship within the ship" concept is an all-inclusive cruise experience that, when introduced in 2008, set a new standard for top-level cruising by offering guests privacy and exclusivity, as well as the opportunity to enjoy all the facilities a larger ship can offer.
Highlights of the MSC Yacht Club on MSC World Europa include:
-A totally renovated sundeck spread over two decks – Guests have plenty of space to enjoy the best sea views from the front of the ship. On the lower deck, guests can relax with a glass of champagne from the bar or with a bite from the grill, while the upper deck hosts a private pool and hot tub where guests can soak up the sun on comfortable loungers or in one of the stylish private cabanas.
–Two brand new, extremely spacious Owner's Suites – These luxurious multi-room suites, found only on World Class ships, have a total area of more than 150 m divided between the interior spaces and the private balcony. The opulent suites consist of a double bedroom with a walk-in closet and a bathroom complete with a full-size luxurious bathtub. The connecting separate living-dining room is bathed in light thanks to floor-to-ceiling windows. For the ultimate VIP experience, guests step onto their own spacious balcony with an al fresco dining area and hot tub.
-Duplex Suites with Double Balcony – These two-bedroom suites offer a complete floor focused on luxurious relaxation, with a dining area, lounge, and guest toilet. On the upper floor is the master bedroom with a private bathroom complete with a bathtub. These special duplex suites have two private sun decks. The lower deck offers a private whirlpool tub, and a sitting and lounge area, while the upper deck with comfortable loungers is suitable for sunbathing.
–Massage rooms – Guests staying at MSC Yacht Club have access to exclusive massage rooms in the state-of-the-art MSC Aurea Spa and unlimited use of the thermal zone for pampering.
The MSC Yacht Club experience
Those staying in the MSC Yacht Club have exclusive access to the private lounge, where unlimited complimentary drinks and delicious snacks are served, with a keycard. The keycard also gives access to the private gourmet restaurant, which is open for breakfast, lunch, and dinner. The à la carte menu features chef's specialties, with a wide selection of sophisticated dishes accompanied by an extensive wine list.
These elegant spaces with a forward-looking design, offer uninterrupted panoramic views from the front of the ship. And after relaxing with a glass of champagne to the sounds of live music, a traditional afternoon tea, or after an eventful day ashore, guests can retire to their spacious, magnificent suite.
Fully personalized service is standard, with day and night access to a butler who quickly learns each guest's personal preferences and provides service in a warm, friendly, and unobtrusive manner. A dedicated concierge is on hand to cater to every need. From dinner reservations or spa visits to daily newspaper delivery – no request is too big or too small.
To complete the exclusive feel, there is a private sundeck with a pool, comfortable loungers, shaded cabanas, and a hot tub. At the nearby bar and grill, guests can enjoy a well-deserved cocktail, glass of champagne, or snack.
When designing each new ship, MSC Cruises strives to enrich and enhance this experience. The MSC Yacht Club on MSC World Europa will therefore offer unparalleled comfort, with a larger public area, extensive outdoor spaces, new stylish suites, and a futuristic design.
MSC World Europa is designed to impress and elevate your cruise experience and compete with other cruise lines' mega-ships. With the Venom Drop (the new longest dry slide at sea), the largest water park in the fleet, bumper cars, an onboard microbrewery, new restaurant concepts, and more balcony cabins than any other ship, it's a city of fun at sea.
Of course, MSC fans will also find favorites such as the specialty restaurants Butcher's Cut and Kaito Teppanyaki, 7 swimming pools scattered throughout the ship, an extensive indoor promenade with an interactive LED dome ceiling, the Hall of Games and signature entertainment venues such as the Panorama Lounge.
The Coffee Emporium offers a customizable coffee experience, with seating both indoors and outdoors. In the evening, espresso martinis are also served and you should definitely try them! For even more variety, there is the new Raj Polo Tea House, the Masters at Sea pub with craft beer, the Gin Project, and the Elixir Mixology bar. You won't be short of anything. There is also a Zest juice bar and Sweet Temptations for ice cream and sorbets.
As for dining options, there is now even more variety, including the new Luna Park Pizza and Burger. There are also two new specialty eateries, Chef's Garden Kitchen and La Pescaderia.
For entertainment, World Europa offers the multi-purpose Luna Park Arena, the World Theater, and the Panorama Lounge. In these venues, you can enjoy concerts, many new productions, and other surprises.
Wow… what a ship! Really special for mega-ship lovers!
CONCLUSION
This selection shows the new ships most interesting to us. Which of these best cruise ships for 2023 are you most excited to check out? Are you already booked on any of these ships? Drop us an anchor below to share your cruise plans for 2023 and beyond. Of course, we are happy to organize your next cruise adventure.
We are pleased to offer our additional Concierge Service with your booking with us on these and other cruises. Our Concierge will make sure you can look forward to your cruise carefree. Our concierge will help you with all the preparations such as check-in for the cruise and flights, restaurant reservations, excursions, and transfers … in short, everything is taken care of for you. This is our gift to you!
Gert van Loenen Jr & Guido Alleman
Arrow Cruise Travel & www.cruisetcetera.com
Your Personal Cruise Creators & Ambassadors
gert@arrowcruises.nl