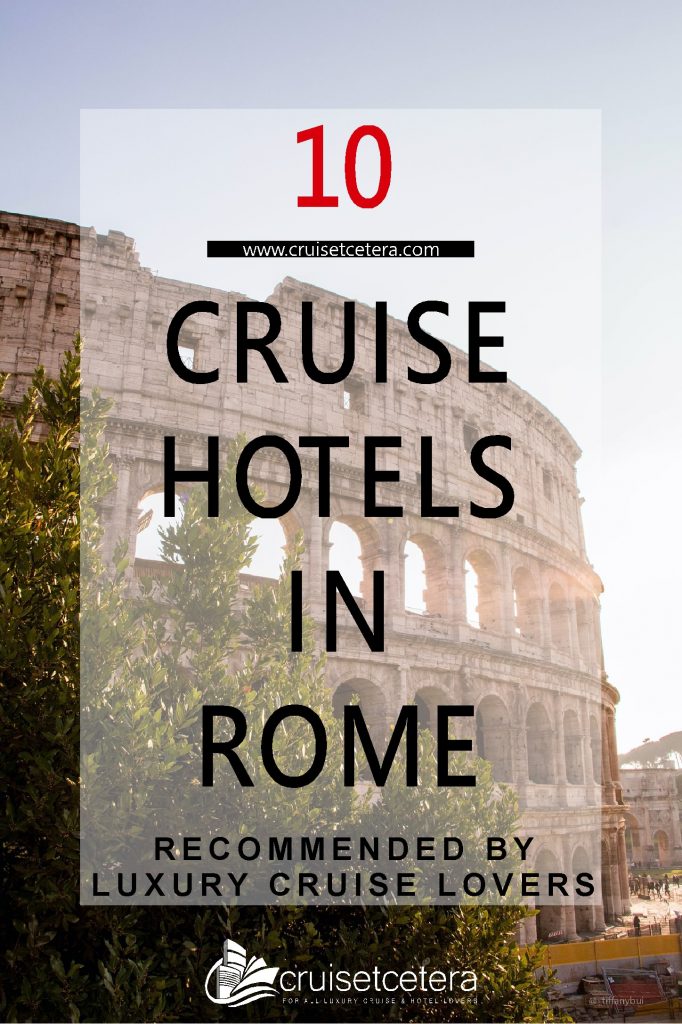 The fantastic and impressive city of Rome is an important and popular port of call for many cruises. Your cruise ship will of course depart from CIVITAVECCHIA. And yet we recommend that you stay in Rome a few days before or after your cruise. There is an incredible number of hotels in Rome in all price ranges. We have selected 10 cruise hotels in Rome for you, which are also recommended by your fellow luxury cruise lovers.
Here is our selection of the 10 cruise hotels in Rome but to check out all other lovely hotels you are welcome to visit the website where all Cruise Port Hotels are listed per city worldwide: www.cruisetcetera.com. To join the community of Cruise Port Hotels on Facebook where you can exchange all recommendations and questions with other cruise lovers join: https://www.facebook.com/groups/CruisePortHotels.
Here is our selection in random order:
–
At Hotel Pepoli9 they have turned hospitality into an art. The hotel offers refined and comfortable rooms, each with its own character. What we always greatly appreciate and certainly contribute to the hotel experience is the scent in a hotel. This hotel has studied and created a composition of aromas to relax you. A special fragrance that will always remind you of Rome.
They have turned tourism into art. They offer you surprising excursions and unique appointments in the history of Rome, which will accompany you with passion and professionalism.
They have even turned the kitchen into an art. The art of tasting. Special cooking classes are organized that reveal the secrets of original Italian cooking recipes.
Art is also important in this hotel. Contemporary art exhibitions are held in the rooms and common areas to encourage young and emerging artists and craftsmen.

The location: Beautiful Rome is close to this hotel. Ancient Rome, the imperial, the greatest. Here you can breathe in the oldest air in Rome all around you. The Colosseum, the Arch of Titus, the Roman Forum, and the Thermes of Caracalla can all be reached on foot in a few minutes. Great Rome awaits you. You will love this hotel!
–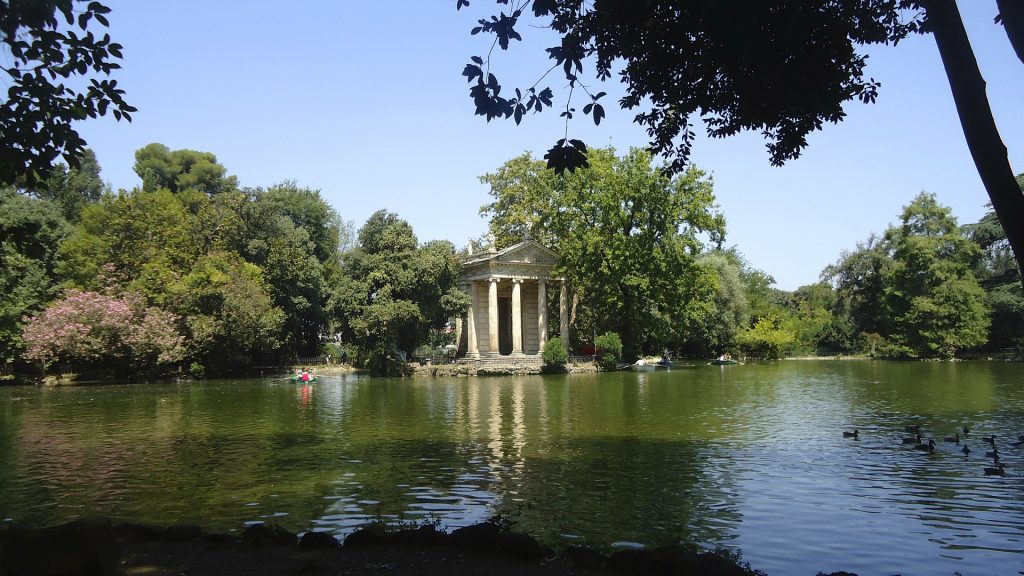 –
Parco Dei Principi Grand Hotel & Spa is a prestigious oasis in Rome. It is located near Via Veneto, in the exclusive area of Parioli. It is an Urban Resort where elegance and beauty reign. This hotel is perfect before or after your cruise.
In the heart of the Parioli district, with an enchanting and privileged view of the Villa Borghese Park, it is a real green lung of the city. The hotel is surrounded by an enchanting botanical garden. Elegant, luxurious, and modern: it is the oasis where you can experience a stay of well-being. Characteristic of resorts immersed in nature and all that in the city of Rome!
The hotel also stands out for the gastronomy of elegant and refined stylish restaurants. In addition, a beautiful lounge bar with an exclusive and refined atmosphere and an open-air grill bar. The always attentive service and enchanting atmosphere in the heart of Rome plus the famous gastronomic experience will let you enjoy it in every way.
–

–
Maison Profumo is centrally located in Rome in one of the most prestigious in the city. The property is a short walk from the Colosseum, in the historic area of ​​Via di San Giovanni in Laterano. This is the road that connects Piazza del Colosseo with the Basilica of St. John, the main basilica of the Christian West.
Most rooms overlook the old basilica of San Clemente. It is located in what can be considered one of the most vibrant and attractive areas of Rome.
The whole area is quiet and not affected by city traffic.

Walking through the streets you can discover the ancient joys of the past. Beautiful artisan shops and small restaurants abound in the area, giving you a relaxed feel and familiarity not common in the rest of the capital.
Reachable within a short walk, there are other important archaeological sites dating back to the imperial era. Including the Trajan's Markets, the Circus Maximus, the Arch of Constantine, the Domus Aurea, and the Imperial Forums complex. This spectacular area of ​​Piazza Venezia is also the starting point of the famous Via del Corso, the central axis of the Roman shopping district.

Thanks to the wide network of public transport that serves the area, it is easy to reach all other tourist sites and cultural attractions in a few minutes, such as the Trevi Fountain, Spanish Steps, Piazza Navona, and Vatican City.
Special attention is paid to the welcome, so that you can feel at home on arrival.
–
Everyone needs a place to relax, especially in a busy city like Rome. For cruise enthusiasts in Rome, Hotel Artemide is an excellent place to relax. We experienced this hotel ourselves and thought it was a really wonderful hotel. With a family-friendly environment and plenty of restaurants and attractions nearby, Hotel Artemide is the ideal base in Rome.
You can completely relax in these rooms with a flat-screen TV, air conditioning, and a minibar, and use the free Wi-Fi at Hotel Artemide. The hotel has room service, a concierge, and a lovely roof terrace with a nice bar. In addition, Hotel Artemide Rome offers a fitness center and breakfast, ideal for relaxing after a long day.
For visitors to Rome wanting to see popular attractions during their stay, Hotel Artemide is just steps from Museo Nazionale di Castel Sant'Angelo (1.4 miles) and Trastevere (1.5 miles).
If you are hungry restaurants Zuma, Domò Sushi, and Imago are the right place for you. These are some Asian restaurants that are popular with locals as well as tourists.

Rome is of course known for some great ancient ruins including Colosseum, Palatine Hill, and Domus Aurea and these are also close to Hotel Artemide. All in all, a beautiful stylishly designed hotel in a very good location.
–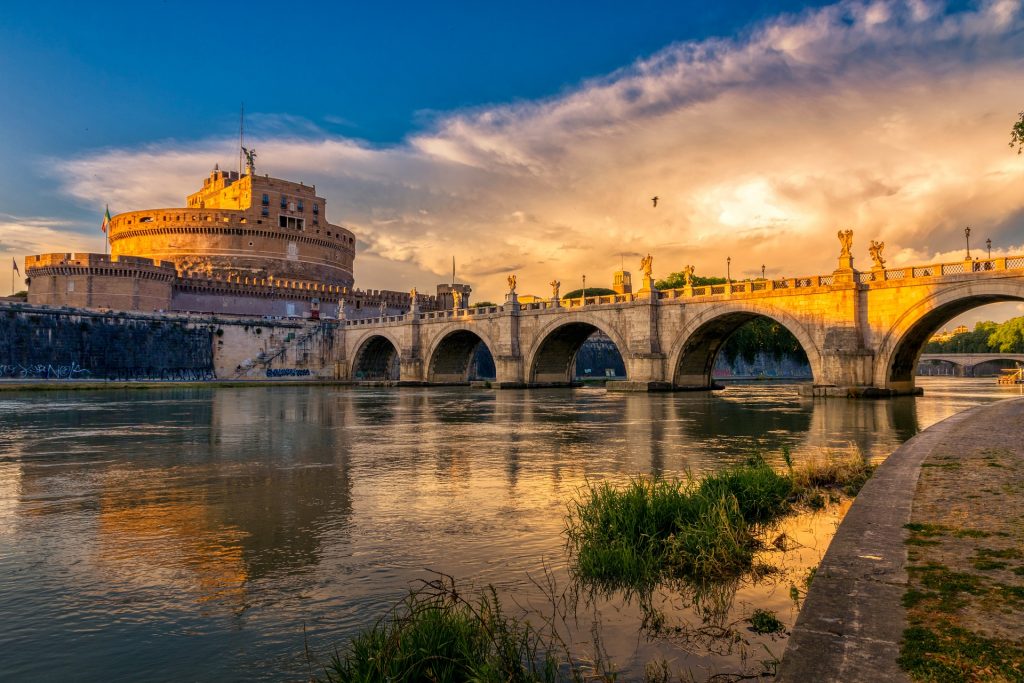 –
Via Veneto is one of the most charming locations in the Eternal City. Where the myth of the Dolce Vita by Federico Fellini evokes the movie stars of the late 1950s and early 1960s. With the paparazzi who followed them to talk about their alleged or true love affairs. With a romantic setting and numerous restaurants and attractions close by, Rose Garden Palace is an ideal base in Rome.
The rooms offer amenities such as a flat-screen TV, air conditioning, and a minibar, and guests can enjoy free Wi-Fi throughout the hotel. The hotel offers a concierge and room service, to make your stay even more enjoyable. The property even offers a pool and lounge.
For visitors to Rome who want to see popular sights during their stay, Rose Garden Palace Hotel is a stone's throw from Campo de' Fiori (1.3 miles) and Museo Nazionale di Castel Sant'Angelo (1.4 miles). A great place before you go to Civitavecchia to start your wonderful cruise.
–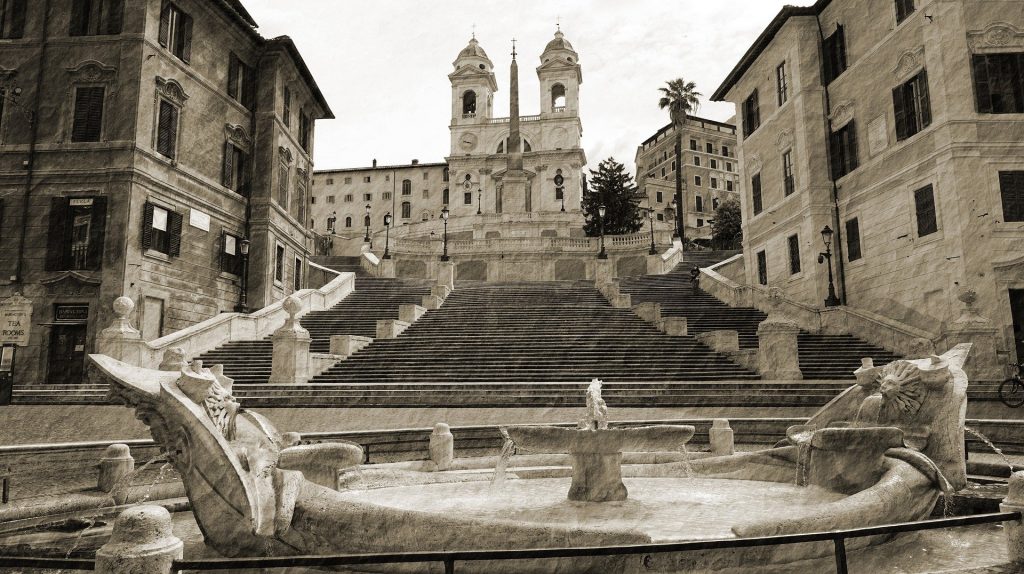 –
This lovely hotel is tucked away in a quiet side street just off Via Veneto. The hotel is a 10-minute walk to Villa Borghese, Rome's beautiful central park, and once the royal gardens of the noble Borghese family. It's perfect for a jog or a mid-morning cappuccino al Verde at one of the kiosk bars on the way to the famous Villa Borghese Museum.
The Spanish Steps, Trevi Fountain, and other sites in the historic center are a 15-minute walk downhill. Piazza Barberini, one of the city's main bus and metro stops, is a stone's throw away.
Located in a historic palazzo that was the first headquarters of the central bank of Cassa di Risparmio. The solid opulence of the early 1930s is on display in full. The lobby shimmers with the original green Cipollino marble, first imported from Greece to Rome in ancient times. A small, ventilated cognac bar with oversized leather armchairs for guests to smoke cigars is one of the few covered smoking areas in Rome.
The rooms are modern, convenient, and stylish and offer the latest equipment and ultimate comfort.
The hotel has four kitchens from all over the world. Watch the chefs in action in the four interactive theatrical cooking stations, while the day's specials are served to your table. The perfect food solution for selective gourmets or those who just want to try everything.
Named for the intricate and impeccable panels found within, the Onyx bar is the perfect place to start your evening with an aperitif, or simply enjoy a snack while you have free time and an expertly crafted drink. Ask the bar masters for something special and prepare to be delighted and perhaps amazed by one of the signature Aleph cocktails. Regular live piano sessions add an extra element of elegance to what is already a popular hangout for locals.
Or take a break from the hustle and bustle of the city by relaxing by the rooftop pool. Sit back on the luxurious beds, enjoy a delicious cocktail and a selection of snacks and enjoy the characteristic view of the Roman roofs, all in an environment of good music and good times. The shisha corner also offers a unique opportunity to experience a slice of the Middle East in the heart of Rome.
–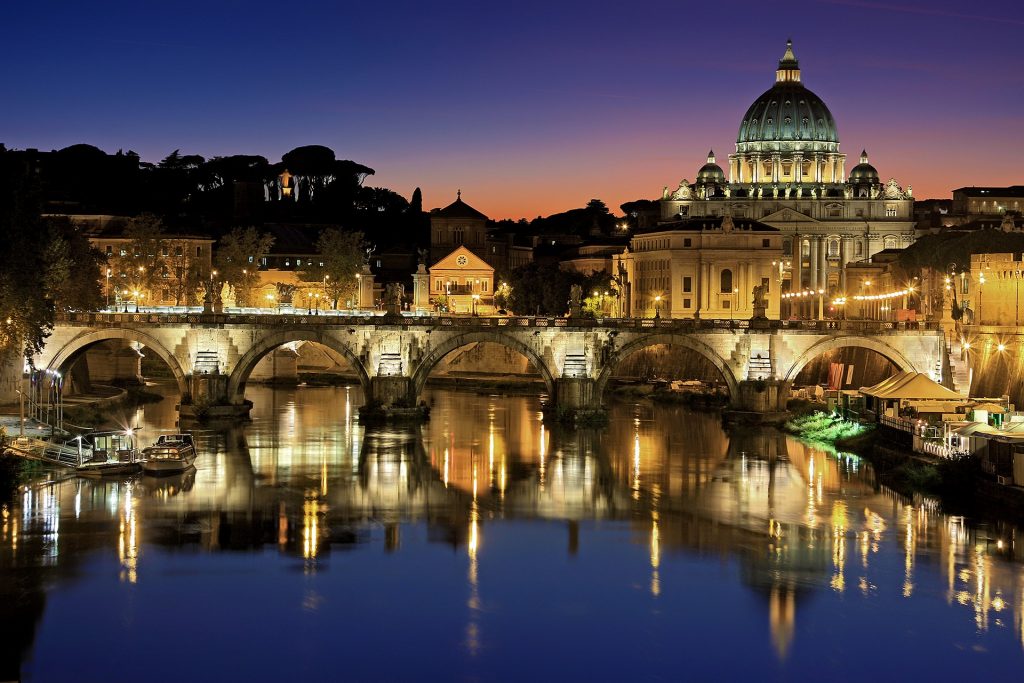 –
Hotel d'Inghilterra is conveniently located close to the Spanish Steps and Via Condotti, in the heart of Rome's historic center.
All rooms and suites are decorated with their own style and personality and many have been recently updated. All rooms are a perfect blend of historic charm and contemporary character. Refined fabrics and sumptuous furnishings complement the austere elegance of the interior.
The hotel's 84 spacious, bright rooms and suites are beautiful with many luxurious details. Antiques, silk, damask, Chinese porcelain, cool marble, and Baroque mirrors are given a light, modern touch. They are complemented by high-quality facilities, including a flat-screen TV, high-speed WiFi, air conditioning, and a safe.
You can enjoy the relaxed atmosphere of the capital while sitting comfortably at a table in the chic open-air dining area of ​​the Café Romano restaurant. Or let yourself be pampered with an exquisite cocktail in the classic British setting of the Bond Bar. Cafè Romano is a restaurant with a cosmopolitan and chic look. Here you can taste delicious Mediterranean dishes, accompanied by a selection of fine wines.
You will love the panoramic terrace overlooking the Eternal City of Rome. This hotel offers a perfect location to enjoy the city before your cruise departs from Civitavecchia.
–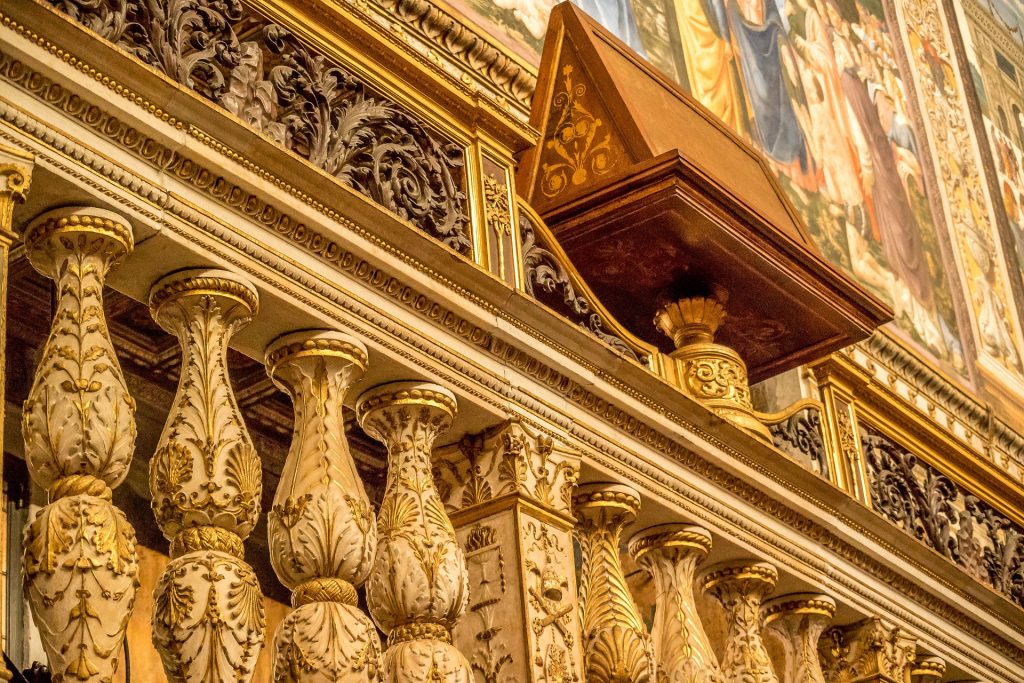 –
All roads lead to Rome right? To this day, the Eternal City still impresses with its monumental architecture and rich history. Immerse yourself in ancient relics, marvel at some of the most important works of art ever created, or enjoy the flair of pizza, pasta, and more.
Enjoy the unique style of Rome while staying at the Baglioni Hotel Regina. The Baglioni Hotel in Rome is a popular meeting point of the international jet set. It has a wonderful selection of rooms in an original Italian Art Deco style. you can enjoy an exceptional view of famous historical monuments such as the Colosseum or the Sistine Chapel. And all this from the elegantly furnished suites. You will experience the real feeling of "Dolce Vita" that fits this 5-star hotel in Rome.
And then the rooms. Many of the rooms are decorated in Art Deco style and much of the furnishings and fittings are original. Some suites have a balcony overlooking the famous Via Veneto, home of the Dolce Vita.
In addition to these rooms, this hotel has the most fantastic family suites and luxury penthouse suites. You experience Rome like never before. Whether it's the Dolce Vita Suite, the Regina Suite, or the new Roman Penthouse – everything here has been designed and cared for to make your stay unforgettable.
At 560 square feet, including a three-level, three-bedroom terrace, the Roman Penthouse is one of the most spectacular suites in the city. In fact, this hotel suite in Rome redefines the concept of "suite".
Located at one of the highest points in the capital, the terrace offers a 360 ° panoramic view of the Eternal City.
Each suite is as luxurious as the most elegant Italian home.
With its own exclusive entrance on Via Veneto, Brunello Bar and Restaurant in Rome is an elegant and versatile place. The stunning decor, wonderful smells, delicious flavors, and impeccable service will take you on a unique sensory experience. At Baglioni Hotels they offer you a total package of Italian hospitality, elegance, and culinary delights. Italian luxury in all facets. What a way to start your cruise!
–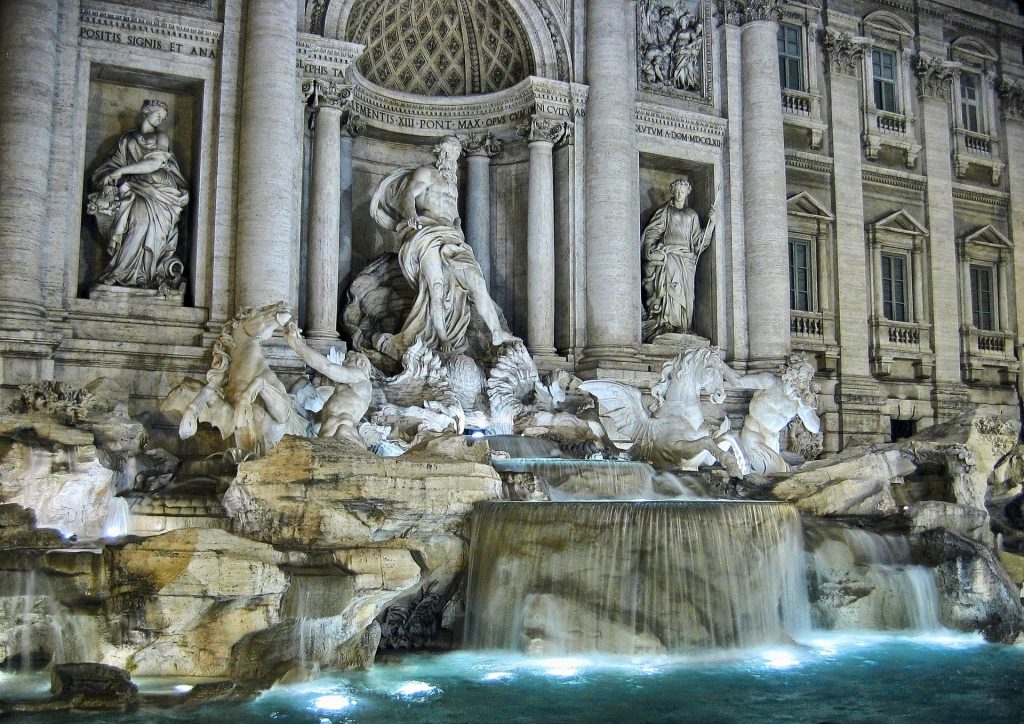 –
Hotel De 'Ricci is a boutique hotel with 8 spacious and luxurious suites. It is an ideal place to stay for wine lovers who can find an extensive and cultivated selection of more than 1,500 labels. A team of experts capable of creating a tailor-made experience is at your service.
Each suite offers a personal wine cellar with a selection of wines that can be tasted directly in the room with the Coravin system.
Your guest comfort was the main focus of the founders of Hotel De 'Ricci. The smallest suite is 24 m2, while the largest is 67 m2.
All suites are very bright and feature a decor with original vintage furniture. The walls of each suite feature frescoes of iconic scenes in Rome and perspectives of Roman life, painted by Andrea Ferolla. This is the creator of works and illustrations in prestigious homes and locations around the world. The spacious bathrooms feature elegance, with a mix of black tiles and retro-style washbasins.
At Hotel De 'Ricci you can choose from the continental, vegetarian and champagne breakfast, as well as a range of other proposals to choose à la carte.
Next to the lobby of Hotel De 'Ricci, hidden behind a lush blue velvet curtain, is the entrance to the Charade Bar. Few know of its existence: only the hotel guests and a selected circle of people have access to it.
When you open the corpulent door, you are welcomed by artistic wall frescoes depicting scenes from the nostalgic and romantic period of the 1940s of the 'dolce vita' in Rome. The atmosphere is warm and yet refined during the aperitifs, and then the lights dim even further in the course of the evening. This offers the ideal ambiance for intense moments of relaxation and wonderful conviviality.
The music is dynamic and personal, as is the service from the bar. Depending on the event chosen by you as a guest. Whether you are organizing an aperitif or "Dopo Cena", the Charade Bar offers exquisitely exclusive experiences.
A special hotel, not a 13-in-a-dozen hotel that you will not soon forget! And making lifelong memories is what traveling is all about, right?
Related post 11 facts you didn't know about the Trevi Fountain; www.cruisetcetera.com/11-trevi-fountain-facts/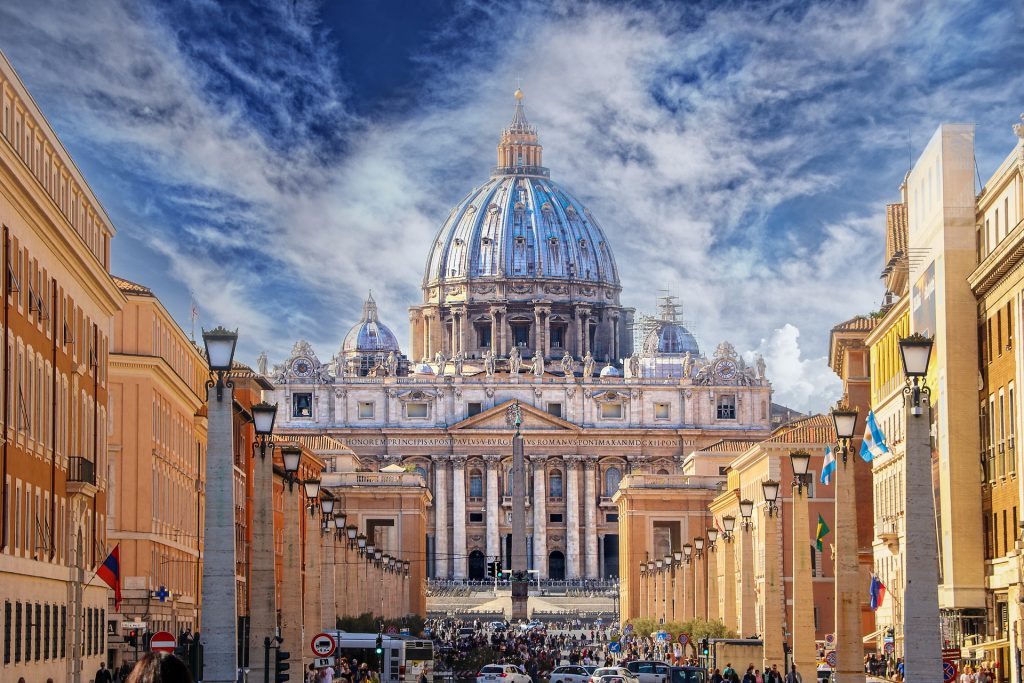 –
Just a short walk from the Vatican and St. Peter's Basilica, Starhotels Michelangelo ***** embodies all the qualities that make Rome unique. The cosmopolitan style of this hotel, classic grandeur, and timeless appeal.
Located in the heart of Rome's Baroque splendor, it is actually hard to imagine a more central location.
The hotel has 179 rooms and suites all decorated in a classic style. Many of these overlook the Sint-Pieters dome.
The Dome by Eataly restaurant offers Roman and international cuisine in a refined setting. Bar Dome by Eataly is the perfect place for a break, a quick lunch, or a cocktail in between viewing all of the city's great historic features.
Enjoy an authentic experience of fine gastronomic food in Rome at The Dome by Eataly. this is a fine dining restaurant that serves both Roman classics and international dishes.
The hotel will make you feel at home. It has the typical classic Italian design in a classic setting. And that is actually quite part of the charm of this city!
–
Conclusion
What a magical city Rome is! And what a great start to your cruise! Okay, it is a bit of a hassle to get to the port in Civitavecchia but it is really worthwhile to stay in Rome before or after your cruise for at least two days.
This is a city that you really must have seen and experienced. Amidst history and splendor, it is a romantic city to remember. Rome and also Italy are known for the somewhat classic hotels. Fortunately, there are also some special gems to be found. We have selected these 10 cruise hotels in Rome for this reason. Not thirteen in a dozen hotels, but hotels with an experience. A hotel that you will not forget. And that's what traveling is all about as far as we are concerned. Collecting memories and not posesions. So much more valuable!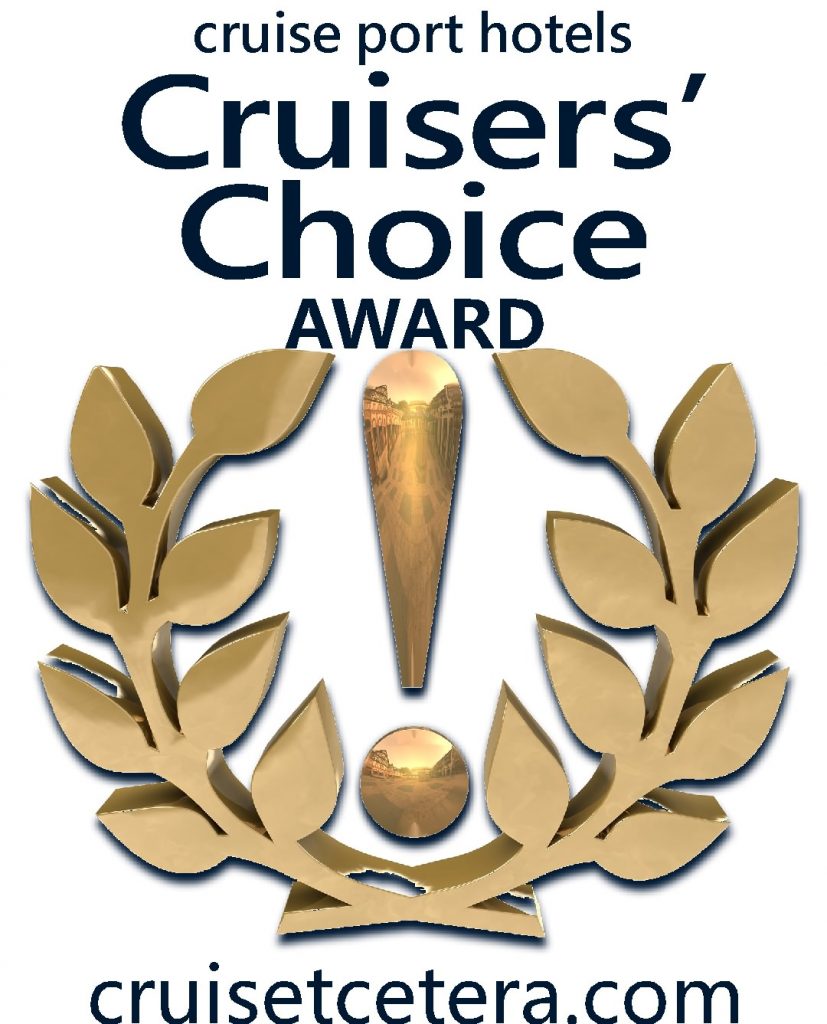 For a complete picture of all Cruisers'Choice Award hotels, visit the website www.cruisetcetera.com/mediterranean-rome/ which lists all the hotels you have recommended as a luxury cruise lover. And a few more ….

If you miss your favorite hotel there, please let us know!