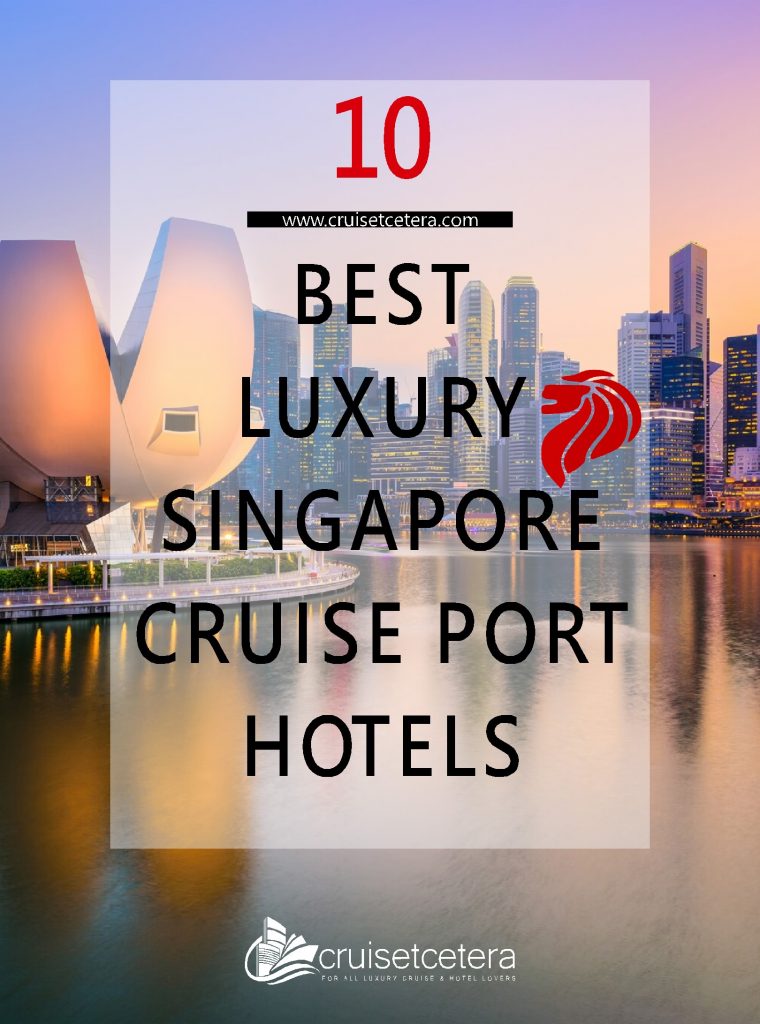 Singapore was founded as a British trading colony in 1819 and Singapore joined the Malaysian Federation in 1963. Two years later, it became an independent island-state, developing into one of the world's most prosperous countries. With ultra-modern skyscrapers combined with a medley of Chinese, Indian and Malay influences, Singapore is a dynamic city rich in contrast and color, exhibiting a harmonious blend of culture, cuisine, arts, and architecture.
There are many cruises on offer that start or end in Singapore. An amazing city and a great place to start your cruise. Many of the world's luxury ocean liners offering cruise vacations in Thailand, the Philippines, and Japan are docked in Singapore. And to start or end your cruise in style, we have listed the 10 best luxury Cruise Port Hotels in Singapore for you.
The sophisticated and energizing city-state of Singapore has two busy cruise ports. The first is the Harbourfront to the west and the second is the new Marina Bay terminal to the east. Singapore is a very hospitable city and has a lot to offer tourists. An extra holiday before or after your cruise is highly recommended to experience and "taste" this city. Most hotels are located in central Singapore, the south coast, and Sentosa Island. Downtown and Central location close to the Harbourfront cruise port. Sailing from the Marina Bay Terminal, you will have a number of beautiful hotels with an exceptional level of accommodation at your disposal around this bay. The iconic Marina Bay Sands Hotel alone offers more than 2,500 rooms. Some luxury hotels, including this hotel but also the Ritz-Carlton, have a very contemporary design and an experience in itself.
When you like to stay in a more intimate hotel and prefer the atmospheric charm of a monumental building, fortunately, there are also a number of beautiful hotels to choose from. In the Central and Downtown districts, you will find the hotel The Barracks or, for example, Raffles or Sentosa Island, which probably appeal to you more.
Taking advantage of the city's British colonial heritage, Singapore's luxury hotels generally offer an elegant blend of antique and contemporary design, and above all, a fine example of modern architecture. Singapore is one of the best places to start from for a cruise vacation for a reason. You'll notice the tremendous level of service and hospitality, and the polite and genuinely courteous customer service exemplifies hotels around the world. Singapore is known for safety. Here you can enjoy the city in a relaxed way and you don't have to worry about your safety. Whichever hotel you choose, there is always an MRT station or bus service nearby. Singapore is known for its extensive public transport network. It's easy to travel to any Singapore attraction from your hotel. As there are the Gardens by the Bay and also some beautiful, extensive shopping centers and of course beaches.
In Random order:
Marina Bay Sands

★★★★★

The Ritz-Carlton, Millenia Singapore

★★★★★

Four Seasons Hotel Singapore

★★★★★

The Fullerton Bay Hotel Singapore

★★★★★

Raffles Singapore

★★★★★

Mandarin Oriental, Singapore

★★★★★

The Barracks Hotel Sentosa by Far East Hospitality

★★★★★

Shangri la Valley Wing Singapore

★★★★★

Naumi Hotel Singapore

★★★★★

Pan Pacific Singapore

★★★★★
The 10 Best Luxurious 5-Star Cruise Port Hotels in Singapore
————————————————————————————————————–
Marina Bay Sands

★★★★★
World-famous hotel with a rooftop swimming pool on the 57th floor. Direct access to the shopping mall.
One of the most special hotels to stay in in Singapore is the well-known Marina Bay Sands Hotel. Since its opening in 2010, Moshie Safdie's contemporary design has become world-famous. Three fifty-seven-story skyscrapers support a huge rooftop infinity pool where the views are understandably some of the best in Singapore. The interior of the hotel is adventurous and is equally impressive with tiered, curved balconies. The big casino is famous and there is sure to be a lot of excitement. This casino is managed by the hotel. The beautifully landscaped bayfront gardens are just a few minutes' walks away.
This iconic hotel towers over the bay. It has the world's largest rooftop infinity pool, 20 dining options, and a world-class casino. It offers direct access to Singapore's largest shopping center and the ArtScience Museum, which houses the permanent Future World exhibition. Free WiFi is available in all rooms.
The rooms at Marina Bay Sands have contemporary dark wood décor and carpeted floors. They include a flat-screen TV with cable channels, including CCTV4. The rooms offer panoramic views of the Singapore skyline through floor-to-ceiling windows. All rooms have slippers and an electric kettle with Grand Jasmine tea. Private bathrooms are equipped with a shower and free toiletries.
Marina Bay Sands is located at the Bayfront MRT station and steps from the vibrant Central Business District. Gardens by the Bay park is 3,100 feet away and is connected to Marina Bay Sands by a bridge. Marina Square and Millenia Walk shopping centers are 1.4 km away. Changi Airport is 20.2 km away.
Enjoy breathtaking city views from the rooftop infinity pool or the Sands SkyPark Observation Deck on the 57th floor. Relax with soothing massages in the world-famous Banyan Tree Spa. The staff speaks English and Mandarin. Marina Bay Sands offers gourmet eateries managed by celebrity chefs such as Wolfgang Puck's CUT, Gordon Ramsey's Bread Street Kitchen, and David Thompson's Long Chim. You can go dancing in the nightclub or relax in one of the 3 lounges. Asian selections are also available.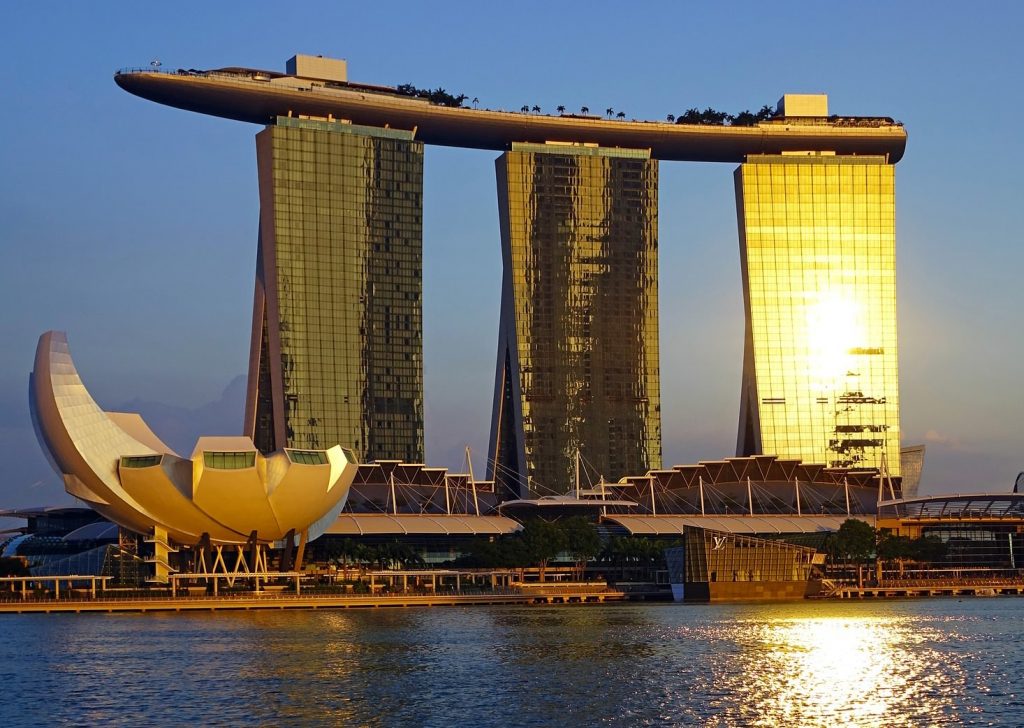 —
The Ritz-Carlton, Millenia Singapore

★★★★★
SET IN MARINA BAY, THIS LUXURY HOTEL IN SINGAPORE INSPIRES AWE AND ADMIRATION
Also, centrally located in Marina Bay, guests at The Ritz-Carlton Millenia Singapore are surrounded by beauty. The hotel features luxury accommodations, a 4,200-piece art collection, and a Club Lounge with sweeping views of Singapore. Here, indulgence is found in Cantonese cuisine at Michelin-starred Summer Pavilion, culinary Asian delicacies at Colony, and treatments at The Ritz-Carlton Spa, one of the first La Mer hotel partner spas in the Asia Pacific.
At The Ritz-Carlton, Millenia Singapore, the art of luxury comes to life. Set in Marina Bay and close to popular attractions, guests at this 5-star hotel enjoy beautiful accommodations with panoramic city views and décor that includes an art collection with works from Dale Chihuly, Andy Warhol, and other icons.
This spacious and luxurious retreat with subtle décor and stunning views at every turn captures the essence of the luxury hotel rooms and suites at The Ritz-Carlton, Millenia Singapore. Club level accommodations feature lounge access, sweeping Marina Bay views, elevated amenities, and exclusive experiences.
—
Four Seasons Hotel Singapore

★★★★★
AN URBAN SANCTUARY ON ORCHARD BOULEVARD
Set along a tree-lined boulevard within Singapore's main shopping, business, and entertainment district, this hotel puts you at the center of everything. The green spaces of the historic Singapore Botanic Gardens – a UNESCO World Heritage Site – are just minutes away, and you'll have so many choices for both culinary and shopping delights you'll feel almost spoiled by the variety.
With fantastic panoramic views on the 20th floor of the entire city, including the tree-lined boulevard below, and plot your urban adventure between dips in the rooftop pool. Make time for Michelin-star dining at Jiang-Nan Chun before heading out to explore the shopping haven at Orchard Road. Take a leisurely stroll to the Singapore Botanic Gardens, a UNESCO Heritage Site, or visit the award-winning Singapore Zoo before coming back to unwind at the Four Seasons Spa.
Inspired by the nearby Singapore Botanic Gardens, most of the guest rooms feature a natural color palette livened with cool blue tones and lime green accents, plus a mural wall composed of Peranakan tiles, adding an artistic touch with evocative elements of the multicultural heritage.
—
The Fullerton Bay Hotel Singapore

★★★★★
A STUNNING WATERFRONT JEWEL SET ON MARINA BAY
The Fullerton Bay Hotel is a sleek modern hotel that pays tribute to a bygone era.
Elegantly appointed in a contemporary international style, the 100-room waterfront jewel is a spectacular addition to Singapore's vibrant heritage precinct. Gazetted in December 2015 as a National Monument, it was once home to Singapore's General Post Office, the Exchange Room and Exchange Reference Library, and the prestigious Singapore Club. For nearly a century, it played a pivotal role in Singapore's rich history.
Today, The Fullerton Hotel Singapore has been transformed into a stunning heritage hotel in Singapore. Enjoy elegant accommodations with panoramic views of the Singapore River or Marina Bay.
Savor the varied cuisines of Singapore and the world, from exquisite Cantonese dim sum and afternoon tea to delicious vegetarian creations. From the classic to the contemporary, The Fullerton Hotel Singapore offers dining experiences like no other. Take your pick from our five restaurants and bars. Excellent breakfast with the option to sit outside. 'A great Pre-Cruise idea and highly recommended by other luxury cruise lovers!'
—
Raffles Singapore

★★★★★
One of Singapore's most graceful landmarks is the Raffles Hotel.
Raffles welcomes you again after an extensive restoration, breathing new life into the storied hotel. The restoration was designed to ensure to retain what is so special about Raffles – the ambiance, the service, the charm, and the heritage of this hotel. Experience their legendary service as you enjoy newly opened bars, restaurants, and boutiques whilst exploring graceful courtyards and relaxing in cozy social spaces.
With enhanced comfort and splendour for the discerning cruiser, immerse yourself in the striking architecture and graceful service for that unique feeling of being somewhere very special in the heart of the business and civic district.
Book your stay in one of the luxuriously spacious suites and enjoy a daily breakfast for two, a complimentary one way Limousine Airport Transfer per stay, and flexible cancellation when you book direct. Savor from a myriad of breakfast delights tailored for you to start your day well as you relax and rejuvenate at Raffles, an oasis in the city.
There are lots of dining options and you will enjoy the best food in one of their beautifully designed restaurants where you can choose the typical Asian or North Indian food. If you are really up for a good steak or more sophisticated French cuisine you will be happy as well. Or just enjoy a beautiful high tea in The Grand Lobby.
The 6 different types of suites are designed modern colonial-style gorgeous, rich and lush. 'The hotel feels like you live in your own refined, historic but super modern palace.'
—
Mandarin Oriental, Singapore

★★★★★
Shaped like our iconic fan, Mandarin Oriental, Singapore is a five-star luxury hotel in Marina Bay
Only minutes from the central business district and with a choice of fabulous restaurants and fantastic rooms, the ultimate urban retreat! Mandarin Oriental, Singapore towers over Marina Bay and features an outdoor pool with sweeping city views and a luxurious spa. You can work out in the gym or join yoga classes.
Mandarin Singapore offers direct access to Marina Square Shopping Center and is a 10-minute walk from City Hall MRT Station. A 10-minute drive takes you to the shopping paradise of Orchard Road. Singapore Changi Airport is a 20-minute drive away.
Oriental Singapore's rooms have floor-to-ceiling windows and stunning views of the harbor, ocean, or city skyline. Each room has a surround sound system with CD and DVD player. They are also equipped with cable TV and a tea/coffee maker. The private bathrooms have a bath. When your body gets tired after a day in the city, you can pamper yourself with a range of massage treatments. You can keep in shape on the tennis courts.
Dolce Vita serves Italian cuisine by the pool overlooking the harbor. The MO Bar offers afternoon tea and cocktails with views of the city skyline. Mandarin Oriental also has 4 other food and beverage options, such as restaurants serving dishes from Japanese and Cantonese cuisine.
—
The Barracks Hotel Sentosa by Far East Hospitality

★★★★★
A heritage hideaway, steeped in timeless romance.
Set against Sentosa's storied backdrop of maritime intrigue, The Barracks Hotel Sentosa was once a British artillery outpost, home to soldiers from afar. Now lovingly restored, the hotel transports world-weary wanderers to the golden age of travel when travel was– and still is– a stylish art form, filled with marvel, romance, and discovery.
From a Barracks heritage walking tour to all-day refreshments at The Living Room private lounge, moments here are crafted with care and stamped with the hallmark of thoughtful luxury. Once the clock begins to slow down, explore every intricate layer of the island's past; promising you will leave with an exquisite experience to tell.
This hotel is an atmospheric space brimming with Old World élan and luxe sophistication. Retreat into your room and enter a richly-textured world of dark wood grains, warm brass, and leather-accented furnishing. The craftsmanship is expressed here in the skillful interweaving of nostalgic charm and modern refinement. Seal in a good night's rest amidst plush cotton, vintage curios, and soothing shades of forest green and ochre.
In this hotel, you will find culinary adventures for true connoisseurs. There is much to feast on in and around The Barracks Hotel Sentosa. The food selections will please the discerning tastebuds of any guest: inventive and delicate dishes from Michelin-starred restaurants and celebrity chefs, local fusion fare bursting with robust flavors, and tasty, quick bites for sunny days out.
—
SHANGRI LA VALLEY WING

★★★★★
A Sanctuary arises where the city disappears.
The accommodation of choice for heads of states, captains of industries, and luxury travelers, the Valley Wing epitomizes lavish accommodation in Singapore. With 131 beautifully furnished guestrooms, including 26 suites, this elegant wing's exclusivity is experienced as soon as guests arrive through a separate entrance for a private arrival and departure at the Valley Wing lobby.
Located within the same building is a private lounge reserved exclusively for Valley Wing guests. Breakfast is served at the Summit Room, while afternoon tea and evening cocktails are offered throughout the day at the elegant Champagne Bar.
Upon arriving at Shangri-La Hotel, Singapore, you will leave the hustle and bustle of the city behind you. Set amidst 15 acres of lush greenery, Shangri-La Hotel, Singapore, is a place like no other. Consistently voted as one of the best hotels in the world, this is where the legendary Asian hospitality of Shangri-La began. The story continues with you. With luxurious guestrooms and suites in three distinctive wings and serviced apartments and residences in four-story villas, this place is where you will find your own Shangri-La.
You are welcome to luxuriate in the acres of wonderfully landscaped gardens, relax poolside or pamper yourself at Singapore's first Chi, The Spa. As night falls, create the evening you desire with dinner at The Waterfall, The Line, or Shang Palace.
—
Naumi Hotel Singapore

★★★★★
A Refuse from the predictible.
Naumi Hotel Singapore is ideally located in the city center. It is the perfect designer living space for intrepid adventurers seeking a fresh, authentic Singapore experience. Inspired by the idea of an unexpected oasis in a city, the boutique hotel combines modern minimalism with grounded, natural-feeling colors in a contemporary twist. With 73 spacious nests, event spaces, dining, rooftop pool topped with Naumi's signature hospitality, it is a retreat with a one-of-a-kind experience.
This luxury boutique hotel group's vision is to consistently engage today's discerning traveler in a warm sanctuary of comfort, with a stylish design concept, whilst showcasing architectural and design philosophies reflective of city hotels.
Experience the best of luxury boutique hotel living with Naumi Hotel Singapore, a member of Small Luxury Hotels of the World. Located right in the heart of Singapore amidst a myriad of cultural hotspots, hidden gourmet finds and world-class shopping destinations, the hotel is also within close proximity to Suntec Convention & Exhibition Centre, Marina Bay, and 20 minutes away from Changi Airport.
—
Pan Pacific Singapore

★★★★★
Unwind at Pan Pacific Singapore.
Renowned for its excellent location, the hotel is within easy walking distance to the city's most iconic sights. This dynamic destination is all yours to explore – from the bustling streets of Orchard Road to the scenic Botanic Gardens. When you need a breather, their signature hospitality awaits in the contemporary comfort of Pan Pacific Singapore.
Pan Pacific Singapore is directly connected to Marina Square Mall and Suntec Convention Center. Located on the edge of Singapore's central business and financial districts, it features an outdoor pool. Guests can enjoy meals at 6 dining options or have a drink at the bar. WiFi is free in all areas.
Esplanade – Theaters By The Bay is 900 yards away, while Gardens by the Bay is 0.7 miles away. National Gallery Singapore, Victoria Theater, and Asian Civilizations Museum is 1.3 km from the property. Changi Singapore Airport is 12 mi from Pan Pacific Singapore.
The air-conditioned rooms are fitted with floor-to-ceiling windows with panoramic city views. All rooms feature a flat-screen TV with satellite channels and a desk. The private bathroom has a shower and free toiletries. Other on-site facilities include a paddling pool with cabanas and sun loungers, 2 tennis courts, and a fitness center. The award-winning St. Gregory Spa is located by the pool and offers a wide variety of pampering facial and body treatments.
Pacific Marketplace is a gourmet food store and café serving coffee, croissants, and pastries, as well as a wide selection of pastries, chocolates, sandwiches, and salads. Other dining options include Keyaki Japanese Restaurant, Hai Tien Lo Cantonese Restaurant, and Rang Mahal Indian Restaurant. The Atrium serves drinks and snacks, while the new pool bar offers a variety of cold drinks and Pacific inspired snacks and main courses.
—
Conclusion
What fantastic hotels there are in Singapore! Luxury and service and, above all, an eye for design and heritage. We have selected 10 luxury cruise port hotels in Singapore where you will absolutely have a fantastic time. Before or after your cruise, we certainly recommend booking some extra days to discover this amazing city.