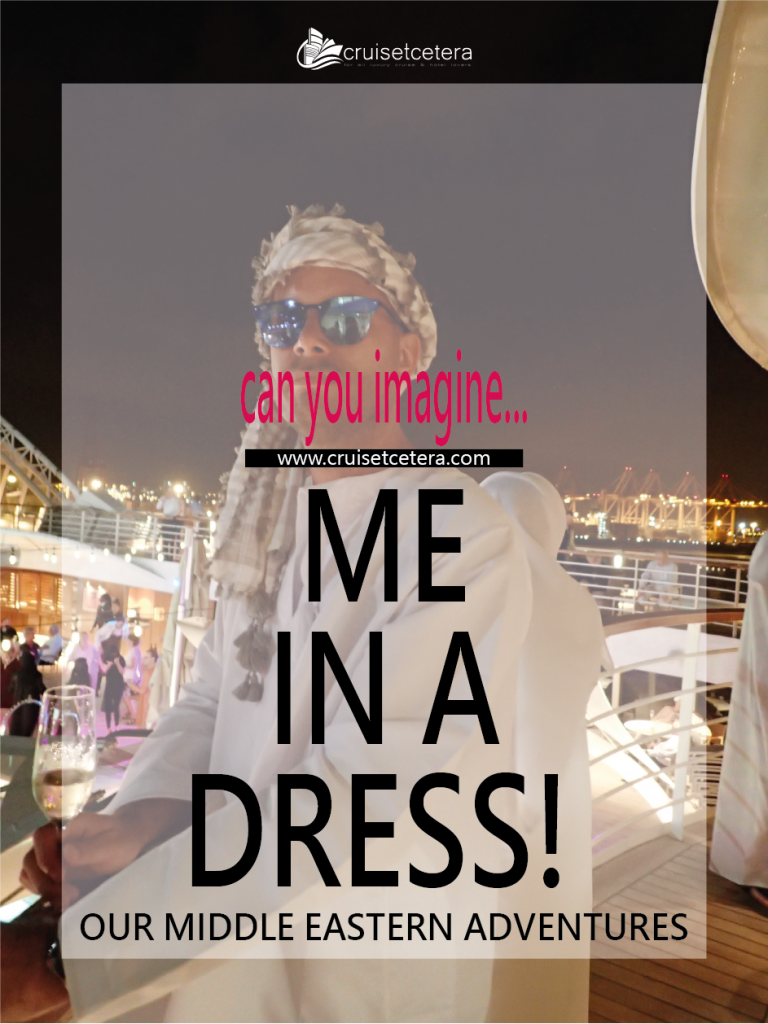 Really strange and special things happen on a cruise.…….
Discovering parts of the world in a very nice, relaxed, and easy way is of course why we (among other things) love cruising so much.

And a part of the world that we actually didn't know very well was the Middle East. Except for what you see on TV, we hadn't really seen the opportunity to discover it for ourselves.

So when we saw a cruise itinerary with Dubai as a starting point, we thought…. let's do that!

But we could never have imagined that within a few cruise days we would be partying in the dress code of the average Middle Eastern man …..!

The Seabourn cruise we booked turned out to be truly amazing. This was one cruise to remember, a lifelong memory, and one of our favorite cruises in the top 3!

If you would like to read the blog report about this entire cruise, please click here:
Seabourn hosts really great themed nights and of course on this cruise the theme was Arabian Nights.

We soon noticed that everyone put a lot of effort into this and special outfits were offered to us. And of course… we couldn't stay behind.

We went shopping in Oman for authentic Arabian outfits and had a great white dress measured. A turban was a must of course and before we knew it Guido and myself looked like this: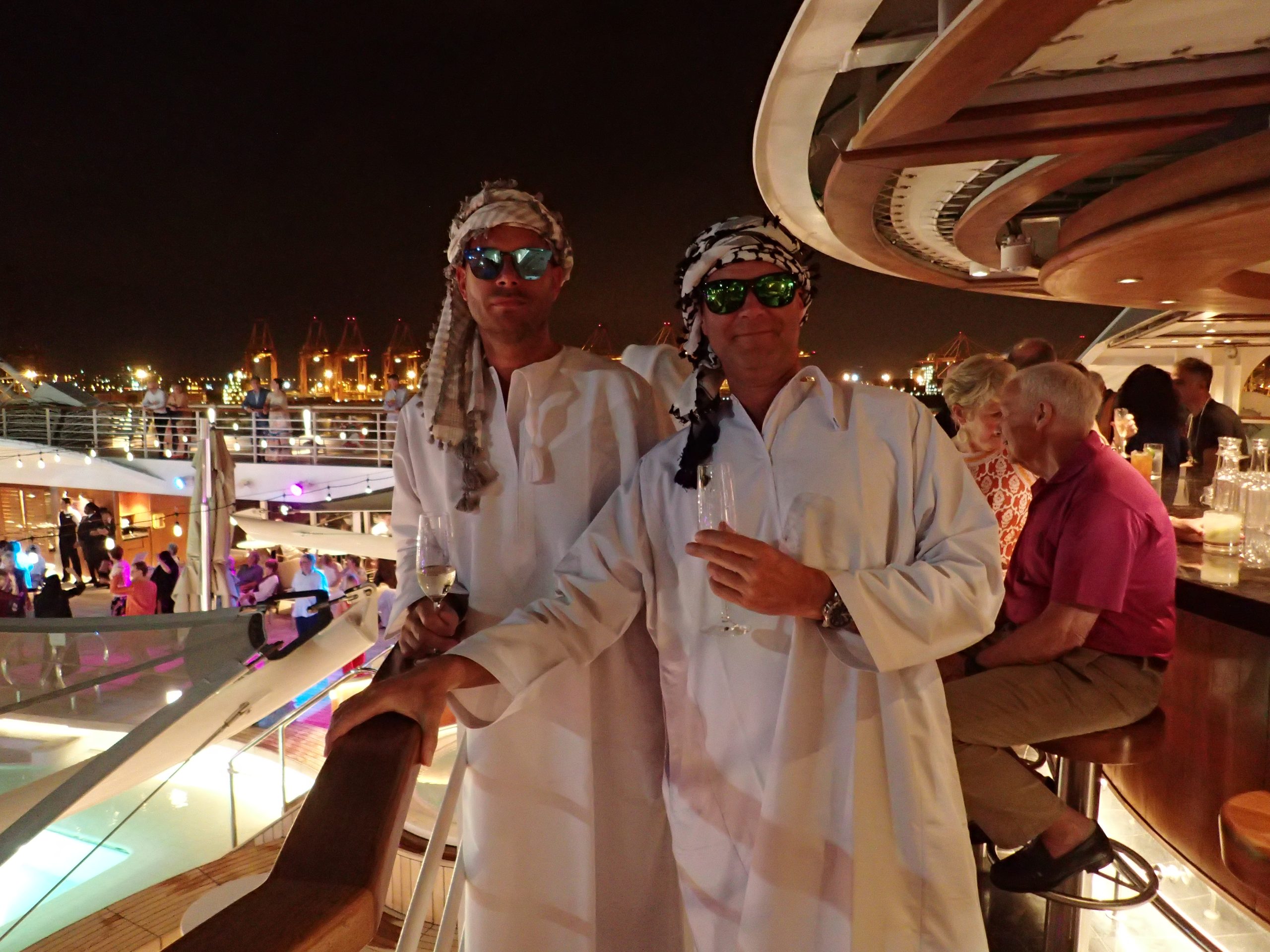 I have to say… how nice that is!! What an invention! A lovely airy white dress! And what a great night it was. We had so much fun.
Would you like to experience something similar? We can recommend a wonderful
Arabia & Holy land cruise.
Discover the wonder of the world Petra, and visit Jerusalem and Tel Aviv, Oman, and Dubai. It will really be an unforgettable journey and before you know it you will be admired in a great Arab outfit and you will never want anything else… or would you…?
Send me an email if you are interested to join the below EAU VOYAGE cruise which is very special and unforgettable!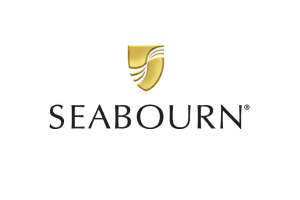 SEABOURN ENCORE

from Athens to Dubai

November 20 – December 7, 2022
19-Day EAU Voyage Suez Canal
SEABOURN ENCORE
from Athens to Dubai
November 20 – December 7, 2022
from 6.100 € per person
Everything included, including flights and a pre-cruise hotel overnight stay
Flight in economy to Athens on November 19, 2022
Transfer from the airport to your hotel
Pre-cruise overnight stay in a 5* hotel including breakfast
Transfer from the hotel to the ship
18-Day (17 Nights) All-Inclusive Cruise in a Veranda (Balcony) Suite
Exclusive reception on board
Exclusive Excursion provided by Arrow Crusie Travel
Return flight from Dubai on December 7
This fantastic cruise combines some of the wonders of the world.
Start this amazing cruise in the busy metropolis of Athens and its treasure trove of antiquities. Enjoy the beauty of the Acropolis, its remarkable museums, charming cafes, markets, and surprising views.
Wander through the charming village of Agios Nikolaos with white houses climbing the slopes, beautifully situated on the sparkling Gulf of Mirabello. The attractive Venetian harbor is surrounded by restaurants, outdoor cafes, and clusters of shops selling everything from clothing to souvenirs. The ship docks in the center of the town, and you can wander around at will and soak up the atmosphere of Crete's main seaside resort.
Docked in Haifa, located on the slopes of Mount Carmel, along with one of the most beautiful bays on the Mediterranean coast, Israel's main port. From here, head to the bustling city of Tel Aviv and discover delicious restaurants, hip culture, and vast, white beaches. Ashdod, Israel's largest port, is a gateway to Jerusalem, the 5,000-year-old walled city considered sacred by more than a third of the people on Earth. Experience history in this special city or dip your toes in the waters of the Dead Sea.
Sailing through the Suez Canal, which connects the Mediterranean and Red Seas, is an old dream. The transit takes between 11 and 4 hours. At Suez, your ship will enter the Red Sea.

A sleepy fishing village with a long and historic past, Aqaba is Jordan's only deep-water port and the starting point for excursions to Petra, the country's main historical attraction. This is definitely one of the wonders of the world and an experience you will not soon forget.
Oman, "The Pearl of Mystic Arabia", is one of the oldest civilizations in the Arabian Peninsula. Sandwiched between the Arabian Gulf and the western Al Hajar Mountains, Muscat has an ancient history and a rich Islamic heritage, evident in its prominent landmarks such as fortresses, castles, towers, and mosques.

After a wonderful day at Sir Bani Yas Island where you can probably enjoy the famous Seabourn "Caviar in the Surf", this amazing cruise ends with a visit to Dubai.

The United Arab Emirates is strategically located at the crossroads of East and West, and the traditional trade routes from Asia and the Far East to Europe and beyond are even more important today than they were hundreds of years ago. Nestled in the heart of the Islamic world, the country is unique in its embrace of the Western world. Here you can see the contrasts of the nomadic Bedouin, and the opulence and splendor of the sheiks, against a backdrop of western lifestyles.
Itinerary:
Nov 20 Athens, Greece
Nov 21 Agios Nikolaos (Crete), Greece
Nov 22 Day at sea Nov 23 Haifa (Tel Aviv), Israel
Nov 24 Ashdod (Jerusalem), Israel
Nov 25 Suez Canal, Port Said
Nov 26 Day at sea
Nov 27 Aqaba (for Petra), Jordan
Nov 28 Day at sea
Nov 29 Day at sea
Nov 30 Day at sea
Dec 01 Day at sea
Dec 02 Day at sea
Dec 03 Day at sea
Dec 04 Muscat, Oman
Dec 05 Day at sea
Dec 06 Sir Bani Yas Island, U.A.E.
Dec 07 Dubai, U.A.E.
*The price quoted takes into account the Seabourn Club Savings, the Seabourn Early Bonus Savings (10% discount if the full balance is paid before May 31, 2022), and your 5% FCD discount, and the €350 deposit already paid. If you do not have a Future Cruise Deposit, please contact us for the correct price. All prices are always subject to change and availability.

For more information, feel free to contact us! We are ready for you and would like to get to know you personally!

We'd love to help you with your next lifelong memory!
Gert van Loenen Jr. & Guido Alleman
Arrow Cruise Travel Netherlands & www.cruisetcetera.com
gert@arrowcruises.nl or info@cruisetcetera.com