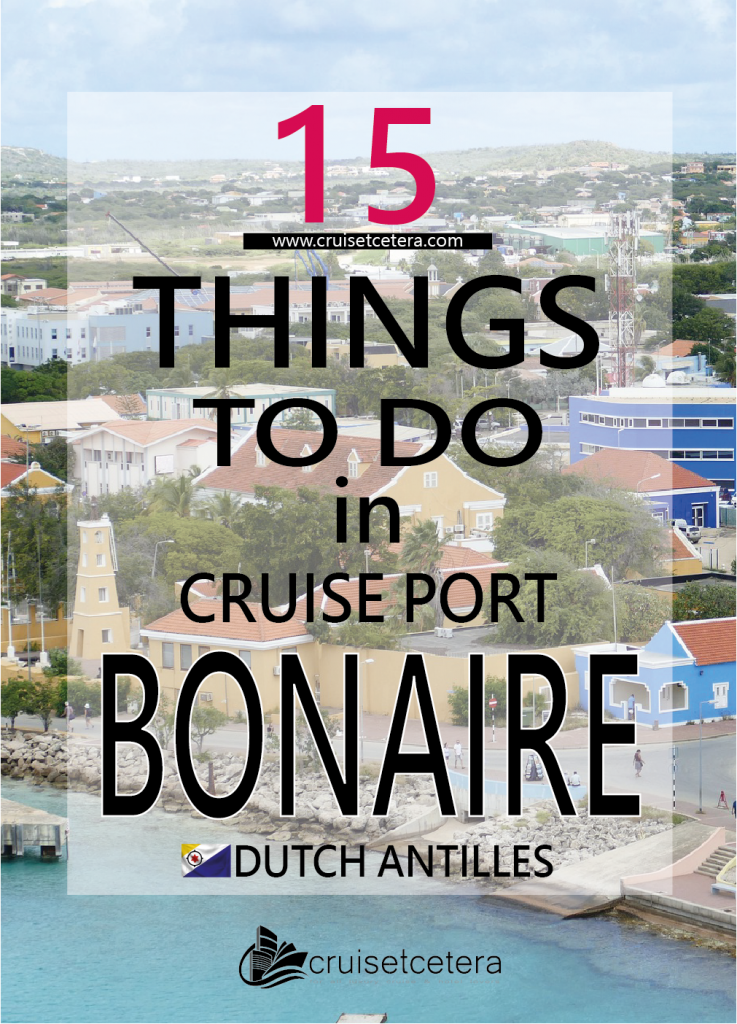 When your cruise ship enters the cruise port, Bonaire is already smiling at you. The Caribbean island is shaped like a boomerang. This stands out beautifully against the azure blue ocean water. Bonaire (Papiamento: Boneiru) is located in the southern Caribbean and, together with Aruba and Curaçao, belongs to the so-called ABC islands. The Caribbean island is characterized by its serene tranquility and untouched nature. All sea around Bonaire and Klein Bonaire is a protected nature reserve.
Bonaire is known as a top destination for cruise enthusiasts, recreational divers, and snorkelers. But there are also countless opportunities ashore for non-divers and eco-tourists. On Bonaire, it is much quieter and clearer than, for example, Aruba, Sint Maarten, or Curaçao. Did you know that Bonaire also has a number of snow-white sandy beaches?
To have a fantastic day in cruise Port Bonaire our Top 15 things to do in Bonaire.
A bit of information about Bonaire
Bonaire is part of the 'Dutch ABC islands' (Aruba, Bonaire, Curaçao). It is a special municipality within the Dutch Kingdom. Your cruise ship will dock in Kralendijk and there are many fun activities to do from there.
Never heard of Bonaire? You're probably not the only one. Measuring just 294 square kilometers, this tiny island may well be the Caribbean's best-kept secret. Bonaire is 80 kilometers north of Venezuela, but fortunately well below the hurricane belt. The municipality of the Netherlands has about 20,000 inhabitants, many of whom speak Dutch, Spanish, Portuguese and English.
It is surrounded by what many consider to be the most spectacular diving waters in the world. But would you believe us if we told you that Bonaire is worth traveling to, even if you are not an experienced diver? On Bonaire, the sun shines almost every day, which is also accompanied by a pleasant cooling northeast trade wind.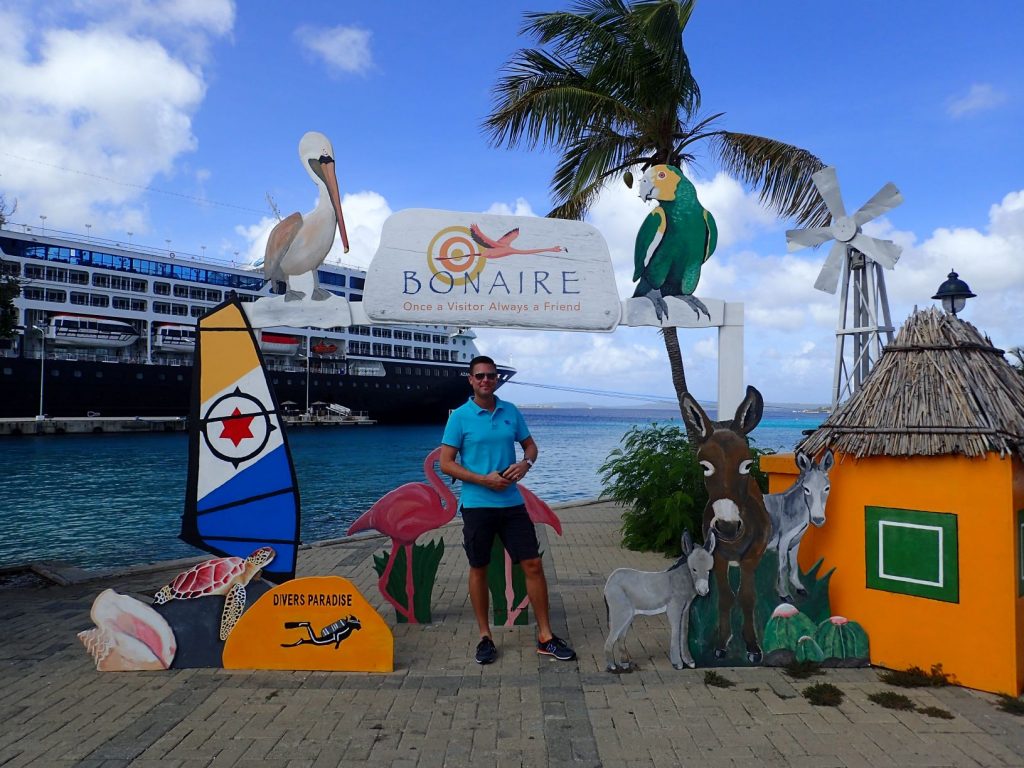 Gourmets also get their money's worth on Bonaire. Over time, a tasty Bonairean cuisine has developed with influences from all the populations that have gathered on the diving island. All different types of shops are present in Bonaire, but the number is limited. Most shops are located on Kaya Grandi or are part of one of the seven shopping centers in Kralendijk.
With the combination of 365 days of sublime weather, fascinating culture, and breathtaking landscapes, Bonaire has it all. If you only have one day in this Caribbean paradise, this list of 15 things to do in Bonaire gives an overview to choose from. Which will be hard enough!
Bonaire Quick Facts:
Size: 110 square miles
Language: Dutch and Papiamentu are the official languages, however, English and Spanish are widely spoken
Currency: U.S. Dollar
Climate: Temperatures average about 82 degrees. September and October are the hottest, least windy months
Airport: Bonaire International Airport, also called Flamingo International Airport (BON)
Cruiseport: Kralendijk
There is plenty to do on this sun-drenched island and we have listed 15 things to do in Bonaire.
1- Donkey Sanctuary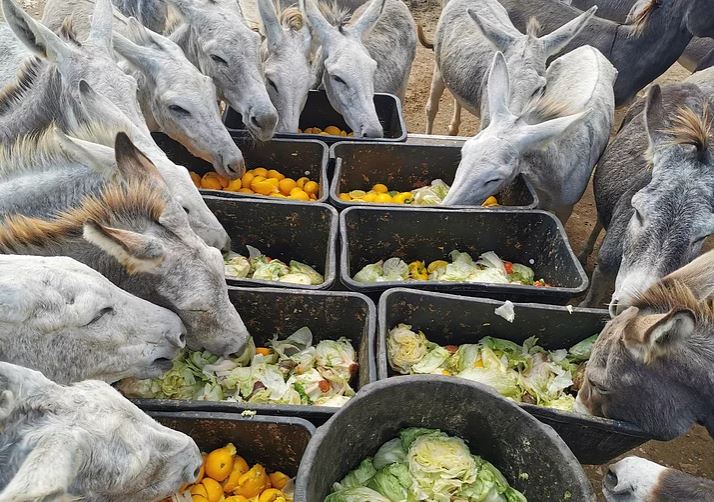 In 1993, the Dutch Marina Melis and her husband Ed Koopman established a Donkey Sanctuary on Bonaire for sick, injured, and orphaned donkeys: Donkey Sanctuary Bonaire. They are only supported by volunteers, donors, sponsors, and visitors.
Donkey Sanctuary Bonaire is committed to providing a protected life for all donkeys on Bonaire. Information is also given about the living environment of donkeys to the islanders, at schools, and tourists. The donkeys are provided with food, drinking water, and medical care and have a lot of space and freedom.
A visit to the Donkey Sanctuary should not be missed when you are on Bonaire. Home to over 700 donkeys, The Donkey Sanctuary Bonaire is one of the best things to do on Bonaire! The terrain is huge, so the donkeys have plenty of space to roam freely.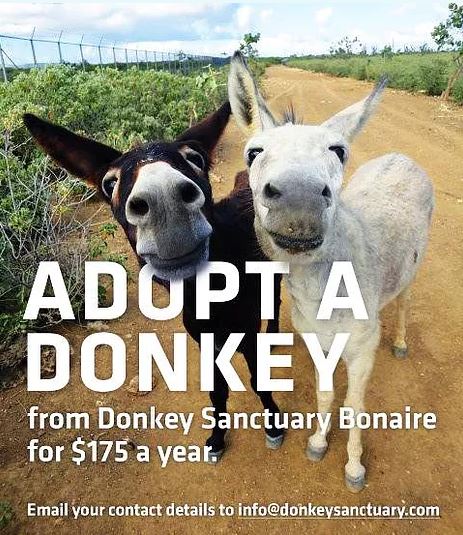 As you drive through the "Donkey Sanctuary", the donkeys will push their noses into your car window. Be sure to buy a few bags of carrots at the main entrance so you can feed them. There really are a lot of donkeys here, so save some carrots for the boys at the end!
You can also explore the property by bicycle, scooter, or even on foot. The donkeys will come to you automatically because they know by now; people in the sanctuary mean tasty carrots, and they love to be petted.
With your admission ticket, you also contribute to help the many injured donkeys on the island!
Open 7 days a week – 10.00Am – 5.00PM ( Entrance until 4.00pm
Address: 77 Kaya IR. Randolph Statius van Eps, Kralendijk, Dutch Caribbean
Cost: $9 for adults and kids 13+, $4.50 for kids up to 12 years old, $3 per bag for carrots
Contact: info@donkeysanctuary.org

2 – Klein Bonaire (Little Bonaire)
The beautiful uninhabited coral island 'Klein Bonaire' is located 800 meters off the coast of Kralendijk. With clear blue water and an elongated white beach meet you as you approach the island. If you're lucky, you'll also spot a turtle!
Klein Bonaire (Little Bonaire) has an area of ​​approximately 6 km2 and is blessed with beautiful snow-white beaches that also form the breeding grounds for sea turtles.
Klein Bonaire is one of the few islands that are uninhabited and therefore unique. The water that lies between Bonaire and Klein Bonaire has an enormous depth (180 meters).
In addition to the sea turtles, 54 different animal species can be found on the reef island (birds, reptiles, etc.). In addition, the island has 34 tree and shrub species and 42 plant species.
Klein Bonaire has 3 small saliñas (salt lakes). These saliñas attract Caribbean flamingos that can forage peacefully there, and the island has several freshwater sources.
Klein Bonaire can be reached by divers, snorkelers, and day-trippers with various water taxis. These can be found on the waterfront of the promenade in Kralendijk. The water taxis depart several times a day. The times of the sailing schedules are posted on various information boards along the promenade. If you want to be sure of a spot on the water taxi, book your place online.

3 – Explore Kralendijk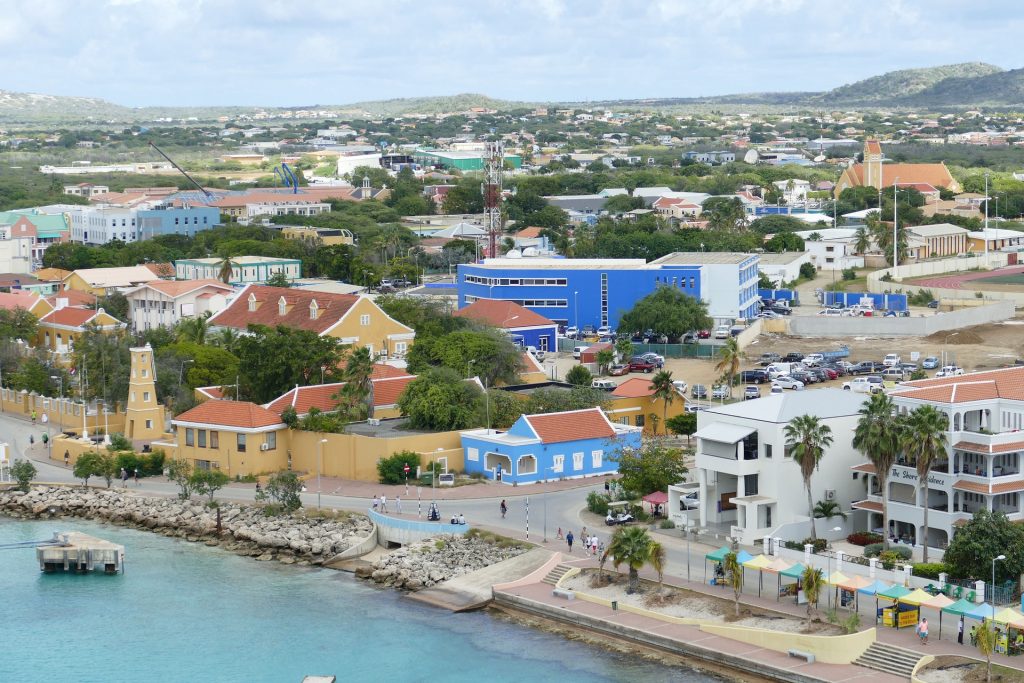 Picturesque Kralendijk is located in the middle of Bonaire on the west coast and is the political, cultural, and business center of the Caribbean island. The flat south is the domain of enchanting salt pans and a turquoise-colored lagoon fringed by unique mangrove vegetation. The Dutch colonial era has left a clear mark on the architecture of Kralendijk.
The town is full of colored beautiful monumental buildings. The capital of Bonaire only has low-rise buildings where the buildings are a maximum of three floors high. Most houses wear cheerful pastel shades, of course, flamingo pink is the favorite.
Kralendijk is the "center" of Bonaire. This small town is near the port of your cruise ship. In Kralendijk, you will find gift shops, restaurants, and a beautiful view over the water.
Some nice sights:
Plaza Wilhelmina (Wilhelminapark/Wilhelminaplein)
Plaza Wilhelmina forms the center of Kralendijk. The old Dutch name of the square mentioned above is still on the fence of the adjacent Protestant church: Wilhelminaplein. There are several benches in Plaza Wilhelmina where you can sit comfortably. In addition, the park is blessed with tall trees that provide pleasant shade during the hottest times of the day. The park is the place where Bonaireans like to meet.
The Casdushy Distillery Store
Don't miss the Casdushy Distillery shop to sample some cactus liqueur and visit the giant waterfront flamingo statue. This public artwork is made from garbage found in the ocean!
Julianaplein
Not only Queen Wilhelmina is honored by means of the Plaza Wilhelmina. In Kralendijk is also the Julianaplein in honor of Queen Juliana. In the middle of Julianaplein is a beautiful water fountain.
Old law
The highest building in Kralendijk and Bonaire is the administrative office. This building is eight meters high. A bill was once made that no building on Bonaire may be higher than the administrative building. Unfortunately, it was recently discovered that this law was never enacted. It is now feared that higher buildings than eight meters will arise on Bonaire in the future.
Kaya Grandi and Kaya J.N.E. Crane
The Kaya Grandi and the Kaya J.N.E. Crane are the two main streets of the picturesque town. The first mentioned is the main shopping street. The second is the pleasant promenade (boulevard) on the waterfront of Kralendijk. Here you can find various restaurants, cafes, and bars. You will have a marvelous view of Klein Bonaire from here while sipping your cocktail. The Kaya Grandi and the Kaya J.N.E. Crane run almost parallel to each other and to the coastline of the Caribbean Sea on the west side of Bonaire.

4 – 1000 steps
1000 Steps is located on the midwest side of Bonaire, nine kilometers northwest of the historic center of Kralendijk. 1000 Steps Beach is one of the most famous beaches and diving sites of Bonaire.
1000 Steps Beach is located at the bottom of a high cliff. To get to the beach, you have to descend a limestone staircase that gracefully winds along a robust rock. This impressive staircase is flanked by tropical plants and does not have 1000, but 'only' 67 steps. Although the stairs are only 67 steps, the joke in Bonaire is that after a day of fun at the beach it might feel closer to a thousand steps to walk back up.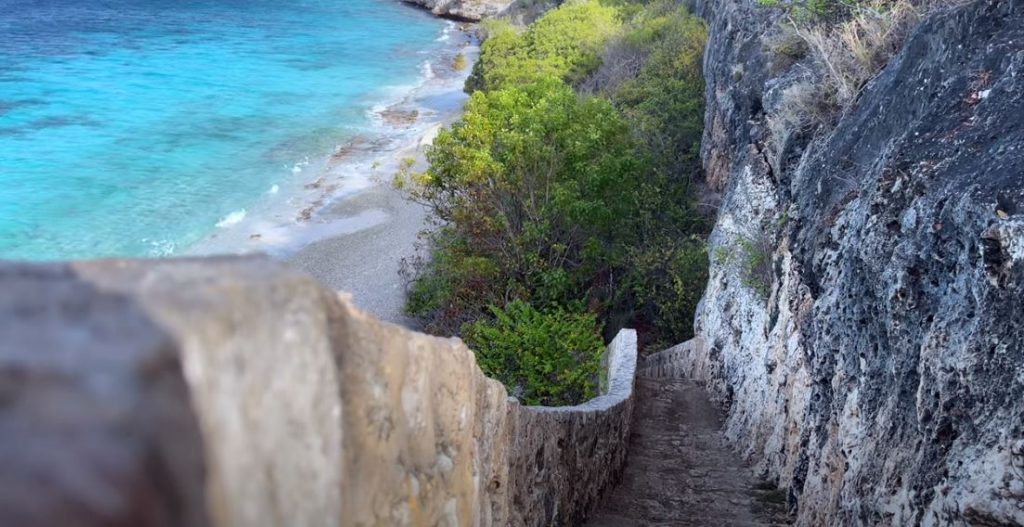 At the top of the stairs, you have a magnificent view over the turquoise-colored Caribbean Sea; an ideal point for shooting photos or making videos! It's a wonderful snorkeling/dive spot to spot the most colorful fish and maybe turtles if you're lucky.
The wide beach is bordered on both sides by limestone cliffs and consists of white sand, petrified coral, coarse gravel, and polished pebbles. All this in a green setting of trees and cacti. In order not to injure your feet on pointed pieces of coral, it is wise to wear good footwear or water shoes when walking on the beach.
Except for the weekend, 1000 Steps Beach is not a busy beach. On weekends, the beach is also frequented by locals.

5 – Seacow Snorkel tour in Klein Bonaire
What's great for those for whom diving just goes a little too far? Snorkeling of course! No trip to Bonaire is complete without a glimpse of the island's beautiful shallow reefs. The underwater world is very beautiful here! We have booked a three-and-a-half-hour excursion with Henk and Gea from Sea Cow Charters. You sail from the pier where your cruise ship is also docked, to the waters of Klein Bonaire. As mentioned before, this is a small uninhabited island off the west coast of Bonaire.
Don't have an underwater camera with you? No problem! Sea Cow Charters employs a photographer to take pictures of your underwater fun. Watch out for stingrays, sea turtles, and nurse sharks (don't worry, they're harmless to humans).
Seacow takes you to the most beautiful snorkeling spots of Klein Bonaire. Enjoy the cool breeze, the clear blue water, the relaxed atmosphere, and the spectacular underwater world. And you get the best photos to take home if you want to! Truly a Moooo-ving experience! And yes, they will make sure you are back at your ship.
Book your trip at: https://www.seacow-bonaire.com/
Duration: The Double Dip Snorkeling Trip will take about 3,5 hours.They will depart at 08:30 AM with a minimum of 6 participants
Including: The use of snorkeling gear (snorkeling masks with prescription glasses between -2 and -4 are available), Safety Vest, Soda, Rum Punch, Homemade snacks and bites
Costs: The costs for the Double Dip Snorkeling trip are $ 65 per person
What to bring: Towel, Swimming T-shirt (if you get sunburned easily), Suncream (check out our Love the Reef video), Wetsuit (if you get cold easily), Stinapa Nature Fee

6 – Bonaire's Salt Pyramids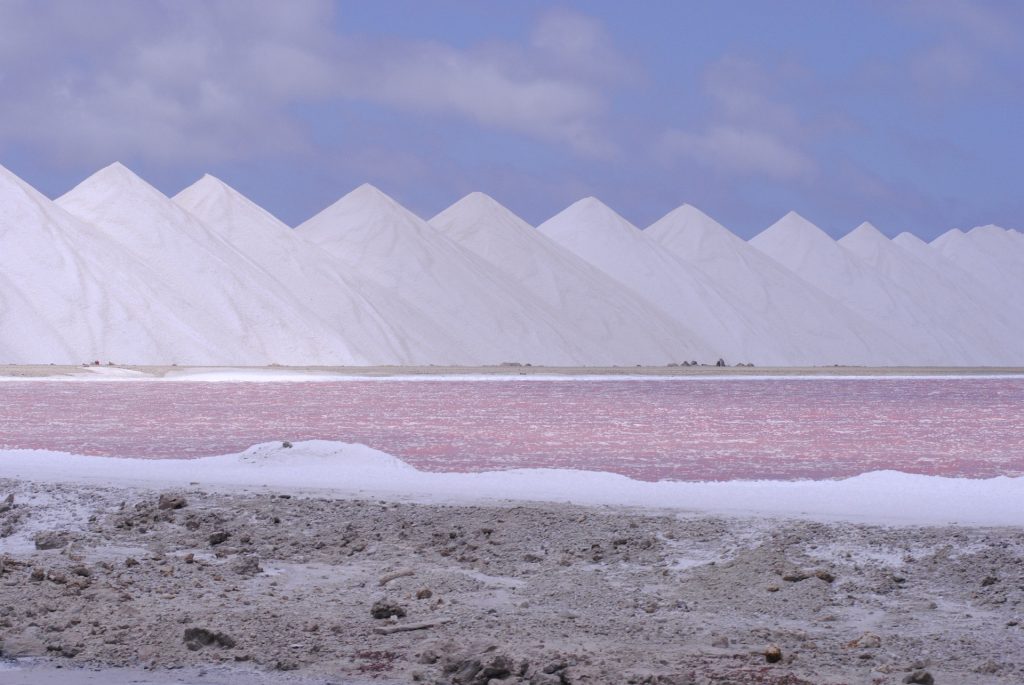 Bonaire has been the center of the Caribbean salt industry for centuries. The creation of the island's most prized export begins when saltwater from the Caribbean is sucked into a series of evaporation ponds. Over the course of 12 months, the brine's salinity increases as the sun and wind evaporate the water.
The result? Beautiful pink-colored flats cover about a tenth of the total area of ​​the island. Once washed, the pure salt crystals are stacked in 15 meter high pyramids, which are then processed and shipped around the world. The Cargill facility on Bonaire can produce 400,000 tons of salt per year!
A terrible detail is that the West India Company deployed hundreds of African slaves to clear the salt pans. The work in the salt pans was extremely hard. The men had been chopping salt all day as the copper blackjack fired relentlessly sunbeams at their bare backs.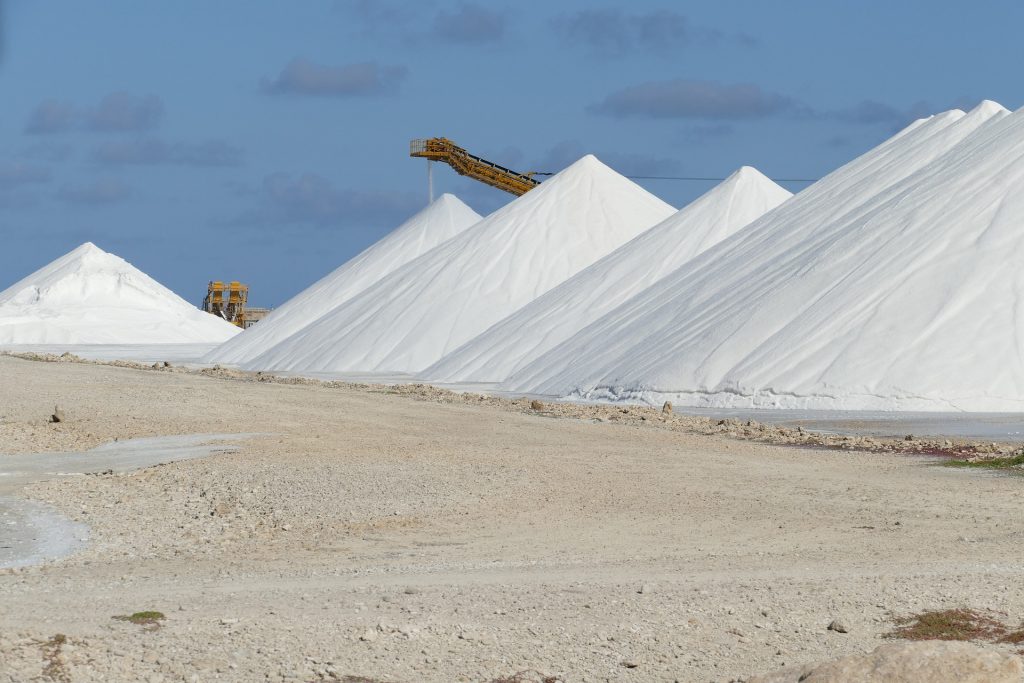 However, the slaves on Bonaire did not live in the south of Bonaire, but in the town of Rincon, which is located in the middle of the Caribbean island. It was a seven-hour walk for the slaves to walk from the salt pans to their families in Rincon. That is why the WIC built dozens of slave huts in 1850 so that the slaves did not have to walk up and down every day.

7 – Slave Houses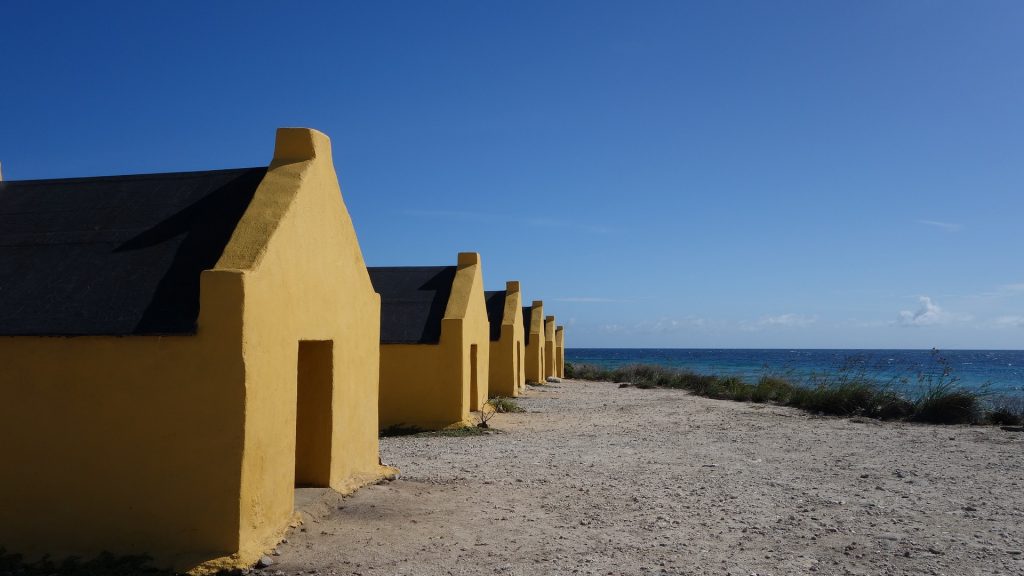 The Slave Houses can be found along the sea and next to the characteristic white salt mountains, in the south of Bonaire. They are world-famous and unique. It is remarkable that the houses are still there because many memories were erased when slavery in the Antilles was abolished in 1863.

Slaves used to sleep in the houses that worked on the salt pans. Sometimes with whole families which you can't imagine because the houses are very small. The coral-stone slave houses were built around 1850. By the way, this is 13 years before slavery was abolished in Bonaire. Before that, the slaves slept in the open air or in small wooden huts.
Different colored slave houses can be seen at two places along the Pekelmeer. At the white salt-pan are the white slave houses and ocher yellow slave houses can be found at the red salt pan.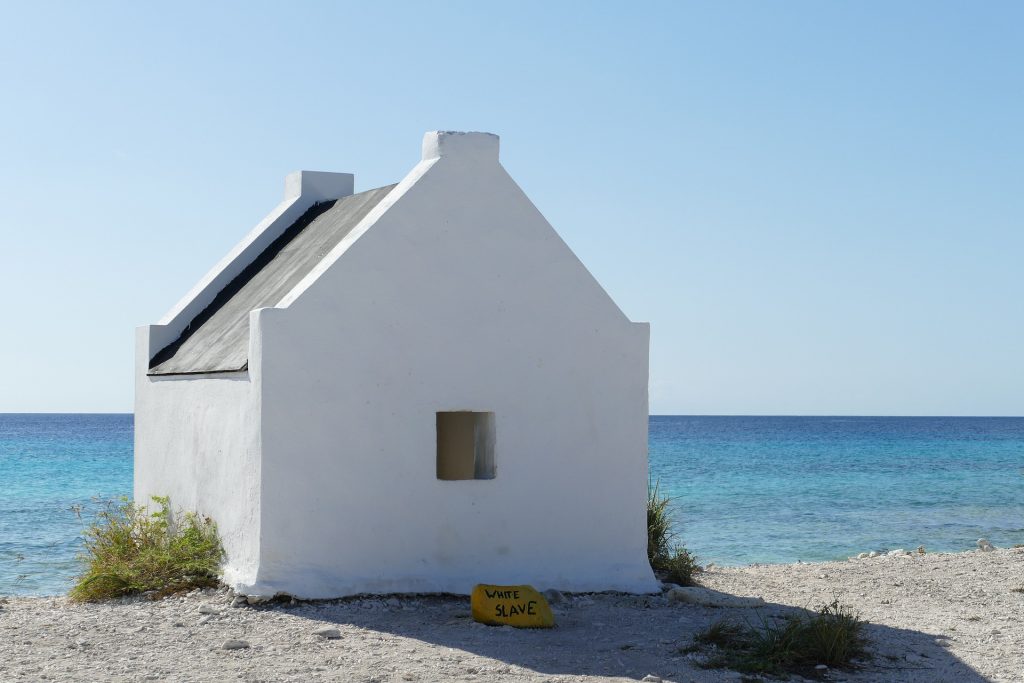 There is also a larger house next to the white slave houses. This house belonged to the bomba (the overseer). The small two-person houses (barely one and a half meters high) have no windows and have small doors where you can hardly imagine that two grown men could sleep in them. Sometimes even 6 slaves or entire families slept in one cottage!
The slave huts have been thoroughly restored by the National Parks Foundation of the Netherlands Antilles (Stinapa) and restored to their original state. In addition, clear information boards have been placed at the location where the history of salt production on Bonaire is explained in a clear way. In this way, the Bonairean authorities try to preserve these important monuments for future generations.

8 – Sorobon Beach & Lac Cai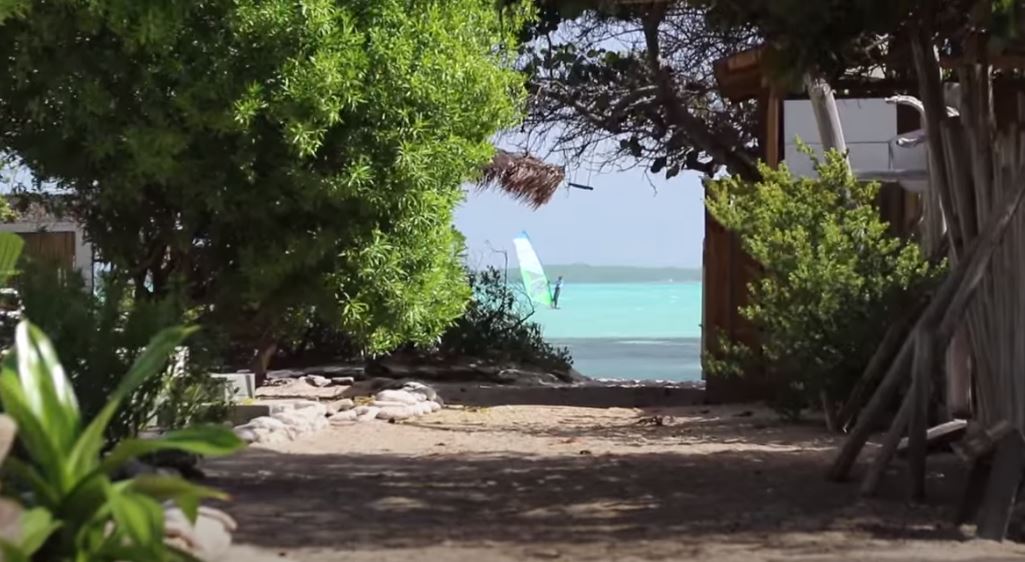 A nice afternoon at the beach to relax is always welcome, right?? Sorobon is the place to be! Located on Lac Bay, you will find 2 windsurfing schools and a beach resort here.
Sorobon Beach is located on the southeast coast of Bonaire, eight kilometers southeast of the historic center of Kralendijk. Sorobon Beach is one of the two beaches of Lac Bay. It is a dazzling lagoon with a size of about 700 ha.
The other beach is called Lac Cai Beach. Sorobon Beach is located on the south side of Lac Bay, Lac Cai Beach is on the northeast side. The bay consists of clear blue water, mangroves, and a coral dam. Many of the local residents come here with the whole family to camp along the water. On Cai, you will find several mountains with Carko shells. It is also called the shell cemetery and is impressive to see!
Sorobon Beach is of unparalleled beauty. It is one of the most beautiful places in the entire Caribbean archipelago. Have you seen the famous movie "The Blue Lagoon" starring Brooke Shields and Christopher Atkins? Trust me, you'll think this Hollywood blockbuster was shot at Lac Bay!
The snow-white beach and the swaying palm trees. But also the enchanting ocean waters of Lac Bay and the colorful windsurfers. Everything comes together at Sorobon Beach! Sorobon Beach is also one of the few sandy beaches on Bonaire. Other sandy beaches on the Dutch diving island are Bachelor's Beach and Klein Bonaire beach.
Sorobon Beach is partly private and partly public. The private part belongs to the Sorobon Beach & Wellness Resort.
If you enter the water of Bonaire, you must also be in possession of a permit (token/tag). Divers must purchase a diving tag and non-divers a nature tag. The money raised with this will be used to protect the Bonairean underwater world.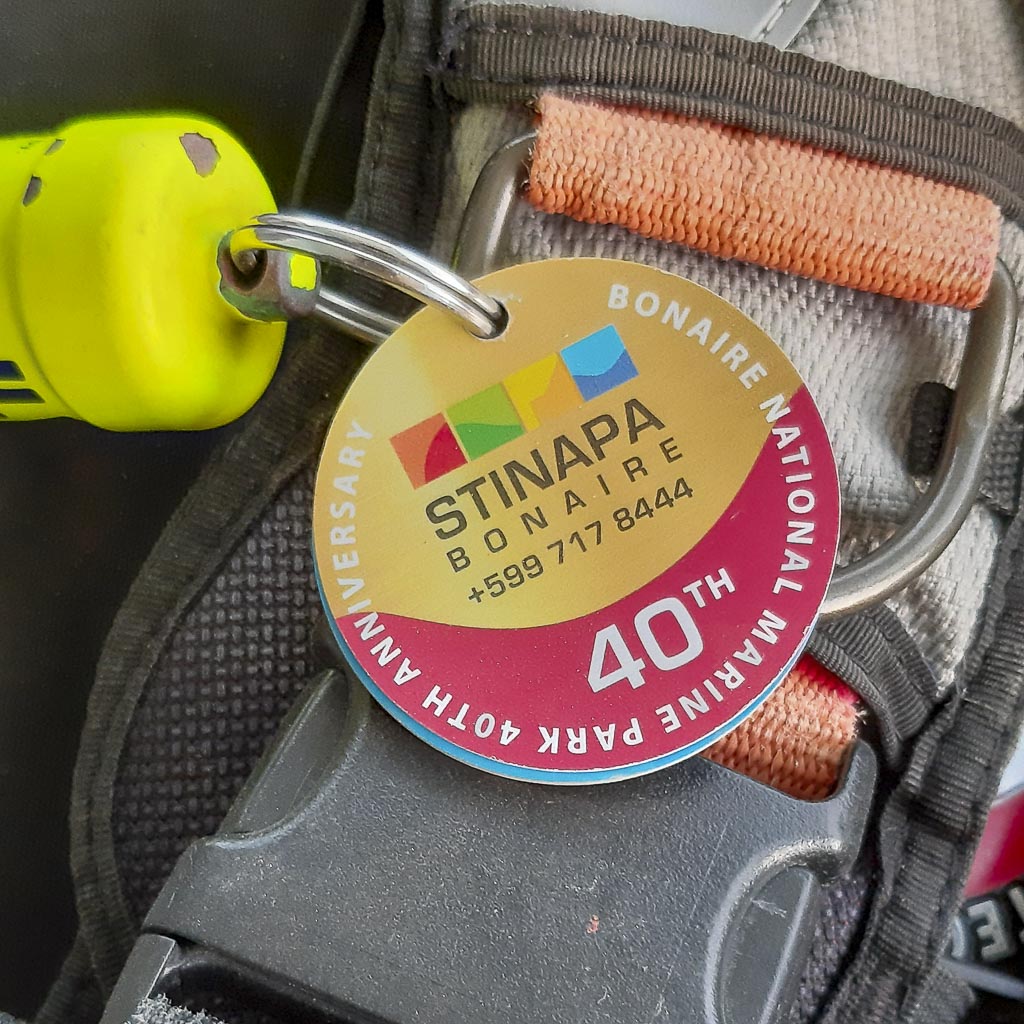 The tags are available at various locations on the island (dive shops/dive centers, hotels & resorts, activity providers, and the Washington Slagbaai National Park visitor center) and can be purchased online at STINAPA-Bonaire.
Sorobon Beach is a prime location for windsurfers. A global top location even! This became clear in 2014 when the Professional Windsurfers Association (PWA) organized a windsurfing competition for professionals.

9 – Wander the streets of Rincon
Originally founded in 1527 by the Spaniards, Rincon (Rincón) is not only the oldest city on Bonaire, it is also the oldest settlement on all Dutch ABC islands.
The first thing you notice about Rincon is its location: the city is strategically built in a valley to fend off attacks from would-be invaders and pirates. Many of the first slaves brought to Bonaire by the Dutch lived in Rincon and were either charged with tending the settlement's crops or the island's salt flats to the south.
The village has a real center. This is unique in the region. Most (early) settlements on the islands of the Caribbean archipelago do not really have a center. Rincon is the only village on Bonaire that has not grown up against Kralendijk, so the Caribbean island actually only has two residential areas: Kralendijk with its suburbs and Rincon.
Visit the Museo Chich'i Tan, a house that is over 130 years old. It shows the history of Bonaire's earliest tools, musical instruments, artists, and local food.
There are two churches in Rincon you can visit: the Roman Catholic St. Ludovicus Bertrandus Church from 1907 and the Protestant Church dating from 1934. Next to the Sint-Ludovicus school is the Sister House, which is also worth a visit.
There are two churches in Rincon you can visit: the Roman Catholic St. Ludovicus Bertrandus Church from 1907 and the Protestant Church dating from 1934. Next to the Sint-Ludovicus school is the Sister House, which is also worth a visit.

10 – Cadushy Distillery ( Rincon)
The Cadushy Distillery is the only distillery on Bonaire. The distillery is located in the former Party-center and Cinelandia Cinema with a surrounding garden now called Plasa Cadushy. Eric and Jolande Gietman bought the ruins of the Party-center in 2010 and it took them five years to completely restore all the buildings.
In The Cadushy Distillery, you can see how the world's only liqueur made from cactus is created. You will learn about the distilling process of the Cadushy of Bonaire Liqueur. And, of course, you will be educated about the production process of our other Dutch Caribbean Liqueurs and the stronger stuff The Spirit of Bonaire.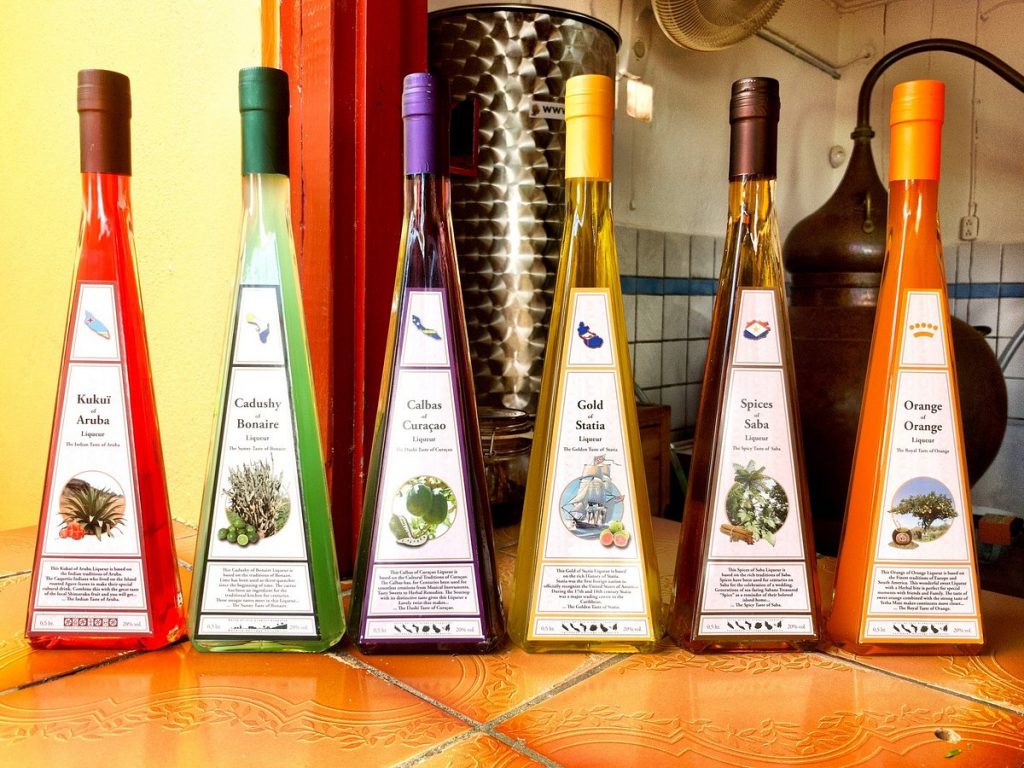 After the educational part, they invite you to taste some of their products… or all. All Island Liqueurs are based on the traditions of the Dutch Caribbean Islands. Taste some and learn some about the history of these Islands at the same time. Can it get any better? Yes, taste The Spirit of Bonaire and learn about the High Spirits of Bonaire; Captain Don, Rincón, Kaomati, and of course the Kadushi cactus.
The Cadushy Promise: authentic products, artisan production, responsible and sustainable sourced, tasty traditional flavors. If you are looking for truly unique products that are made in small batches by a team of artisan professionals, then you are in the right place at The Cadushy Distillery.
With the informative tour & tasting, a passionate team, and their exclusive products and souvenirs you can immerse yourself in the true spirit of Bonaire!
They want to keep a visit to The Cadushy Distillery a special and unique experience. They do not want to get overcrowded, because mass-tourism is not their "Cup of Rum". You can pre-book your Cadushy Tour & Taste with extra's right here!

11 – Washington Slagbaai National Park
The Washington Slagbaai National Park is a beautiful nature park of more than 6,000 hectares and covers the entire northern tip of Bonaire. It is well worth exploring the park in a car. You will be pleasantly surprised by the beautiful nature and you will not soon forget this day. Make sure you choose a four-wheel-drive car because you will need it badly.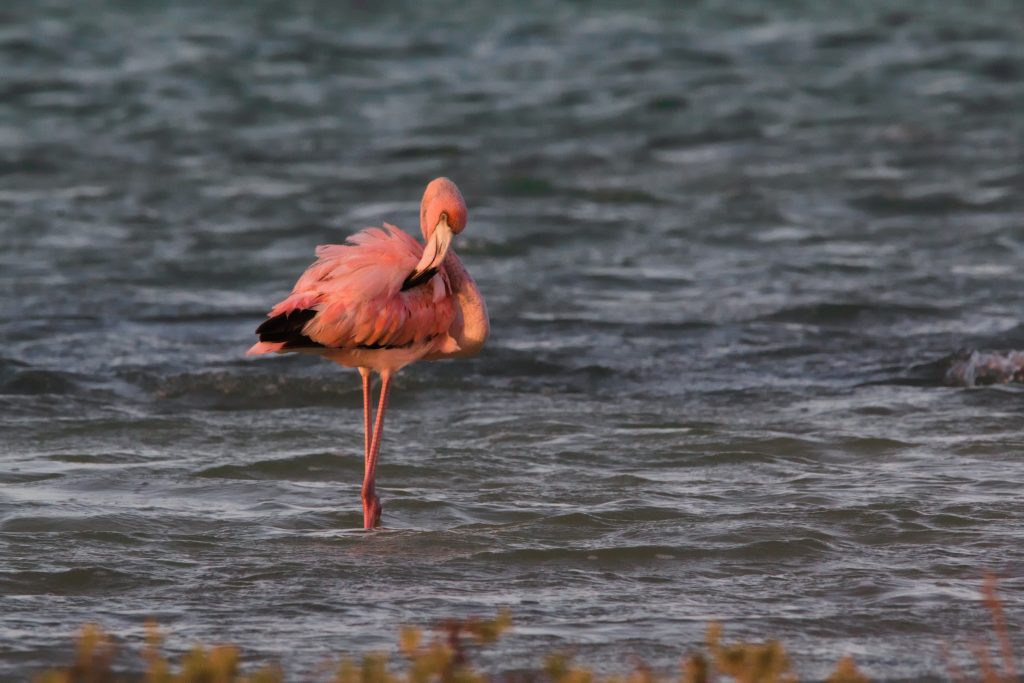 There are two routes, namely the green route of about 2 hours or the yellow route of about 3.5 hours. You can tour the park and take beautiful pictures, enjoy the beautiful beaches, go snorkeling or climb the Brandaris (the highest mountain in Bonaire), for example.
You really need a day to see all the beautiful places of National Washington Slagbaai. During this day tour, you will go out with a guide. You will not get bored! On the way, large iguanas cross the dirt road, you pass huge cacti and you drive past protected wetlands.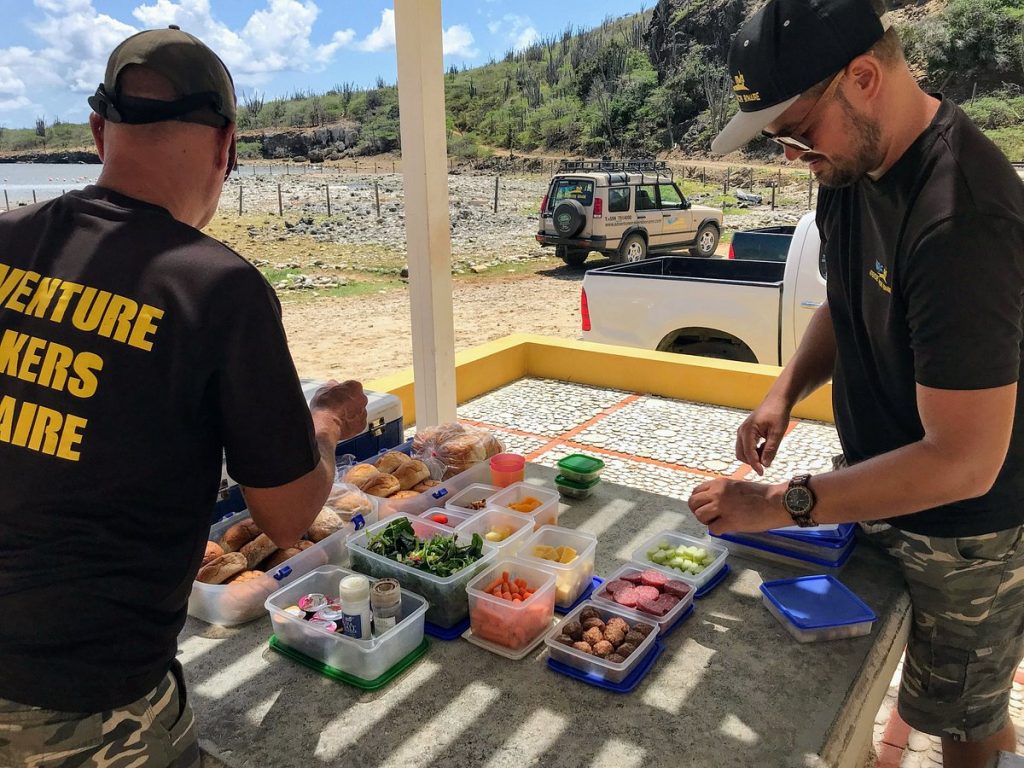 The park also has snow-white beaches where turtles make their nests. At the beach of Slagbaai, the tour stops for a break, and there you will have the opportunity to snorkel. A picnic will be served on the beach for lunch. After this tour, you will know everything about the park. Bring your camera as the park is a great place to take pictures. BOOK THE TOUR
The road leading to the exit of the park is bumpy! If you have any type of motion sickness, this isn't the activity for you.
Tip: There are no amenities like food/beverage stands in the park, so bring plenty of water and some snacks.
Cost: $25 per adult, children under 12 are free; admission is included with your STINAPA diver tag (currently $45 per person and a requirement to dive); If you have a $10 STINAPA nature tag (required for snorkeling and other water sports), admission is $15

12 – Exploring Bonaire by bike
Another tip is to explore Bonaire by bike. Fortunately, there is not much traffic on the island and once you have left Kralendijk you will hardly come across any cars. You can see very well how diverse and beautiful Bonaire really is. You experience Bonaire totally differently by bike than by car. The island is just too big to cycle around in one day because of course, you want to stop along the way to enjoy the area.
And don't forget to bring your snorkeling gear so you can cool off every now and then and admire the beautiful underwater world of Bonaire.
Discover the whole of Bonaire while cycling on your mountain bike! You get to the most beautiful places with a mountain bike, even where you can't reach with a car. That is once again enjoying the island to the fullest. Sporty or relaxed, you determine your own pace. You rent the mountain bikes for as long as you want.
You can also rent a scooter or an e-bike, they have special cruise deals.

13 – Spot Bonaire's Pink Flamingos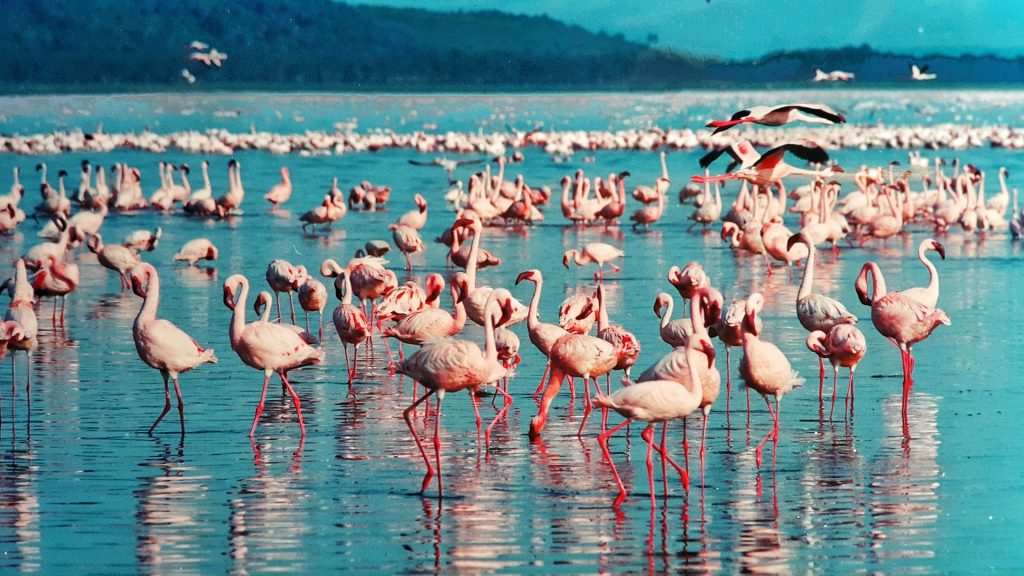 The biggest attraction among the bird species on Bonaire is without a doubt the Caribbean flamingo. It is a true diva among the birds and also the figurehead of the island.
The Caribbean flamingo is affectionately called 'chogogo' on Bonaire because of the nasal sound they produce. The typical sound of flamingos is a bit like the sound that geese also make. The Caribbean flamingo has orange-pink plumage, a black bill, and bright pink legs. They get the beautiful and striking plumage color from the dyes in their prey animals such as shrimp.
The Bonaireans have embraced the orange-pink color and have painted countless buildings on the island in this flamingo color. Everyone knows that the Caribbean flamingos often stand on one leg. But scientists have been tumbling over each other for years about exactly why they do that. But there seems to be a consensus in the meantime. If the bird stands on one leg and keeps the other leg close to the body, as little heat as possible is lost.
The two best places to spot pink flamingos on Bonaire are Goto Lake in the north of the island and Pink Beach near the salt flats. If you are on the tourist route at 1000 steps, you will arrive at Goto lake. Normally you can spot flamingos there. When it has rained, the area is green and you see brightly colored flowers. The breeding grounds of flamingos are strictly protected by the local government. They are not open to the public, so please stay in your vehicle. But with a bit of luck – not to mention good binoculars – you can see a lot!

14 – Seru Largu Viewpoint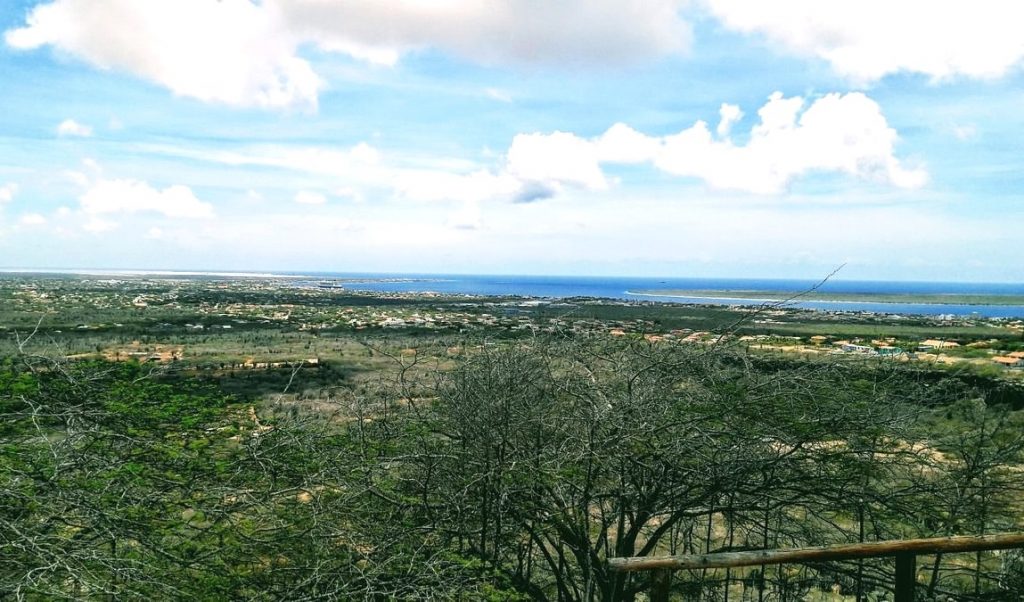 There are four different lookout points we can tip on Bonaire: Seru Largu viewpoint, Kaya Para Mira viewpoint, Altamira Ujo viewpoint, and Gotomeer viewpoint. These vantage points rise high above the landscape, providing breathtaking, panoramic views of Bonaire.
Seru Largu viewpoint is perhaps the most beautiful and is located on a hill with a height of 123 meters. This hill is called Seru Largu. Seru Largu means 'big hill' in Papiamento. Seru Largu is the fourth highest mountain in Bonaire. On Bonaire, Seru Largu is locally known as 'the mountain'.
The top of the Seru Largu can be reached by car; a beautiful road meanders to the highest point. This is in contrast to the Brandaris, Yuwana, and the Ser'i Palmita. If you want to reach one of these peaks you will have to wear good walking shoes.
However, these efforts are amply rewarded, because the views from the tops are truly indescribably beautiful.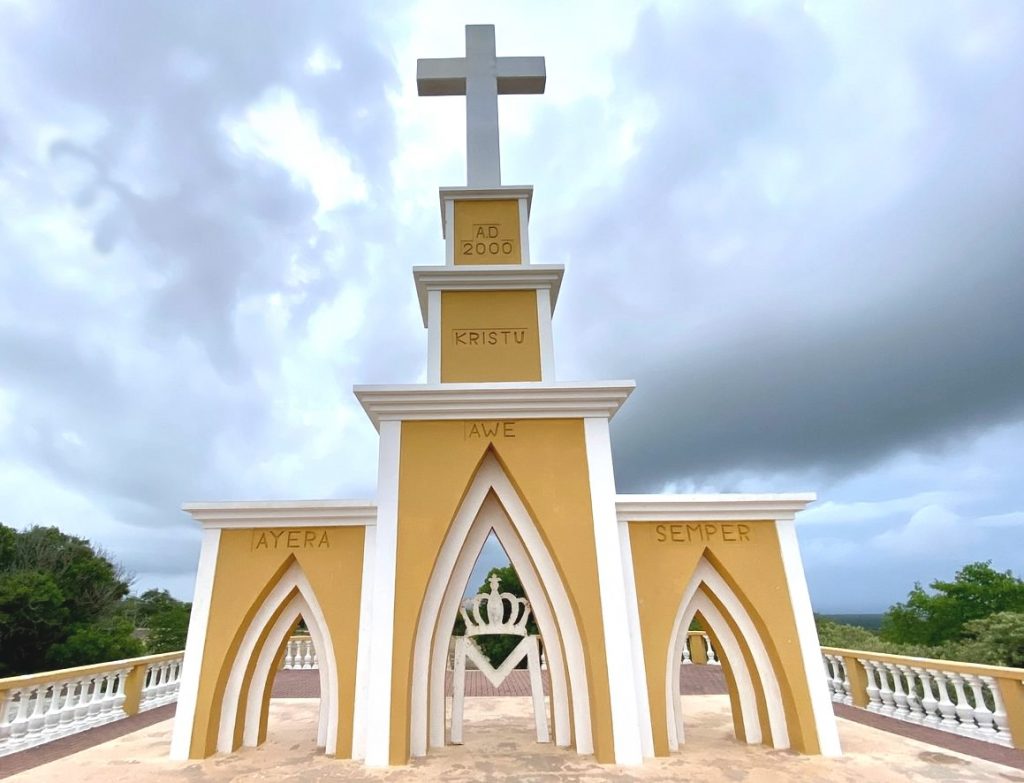 The viewpoint is located on top of Seru Largu. There are several benches where you can sit and enjoy the view. Often there are also many wild donkeys on the top of the mountain. At the top of Seru Largu there is also a monument; the so-called Millennium Monument.

15 – Eat local & adventurous
Do you like some food tips for Bonaire? Do you fancy an iguana soup or rather goat liver stew? If you are a bit of an adventurous eater, be sure to try some of these local dishes. For example, in restaurant Posada Para Mira. This family-run restaurant is located on the outskirts of Rincon, Bonaire's oldest town.
It offers impressive views of the southern landscape of the island. It is a must for travelers looking for the traditional Bonairean flavor. While goat, tripe, and papaya are all local favorites, the island's most well-known delicacy is the green lizard. Don't worry, the scales and skin have been removed and surprisingly it tastes a lot like chicken.
The locals even claim it's a powerful aphrodisiac so you never know! Foodies who prefer more general flavors can opt for the equally delicious cod sandwich and of course the French fries or Dutch croquette.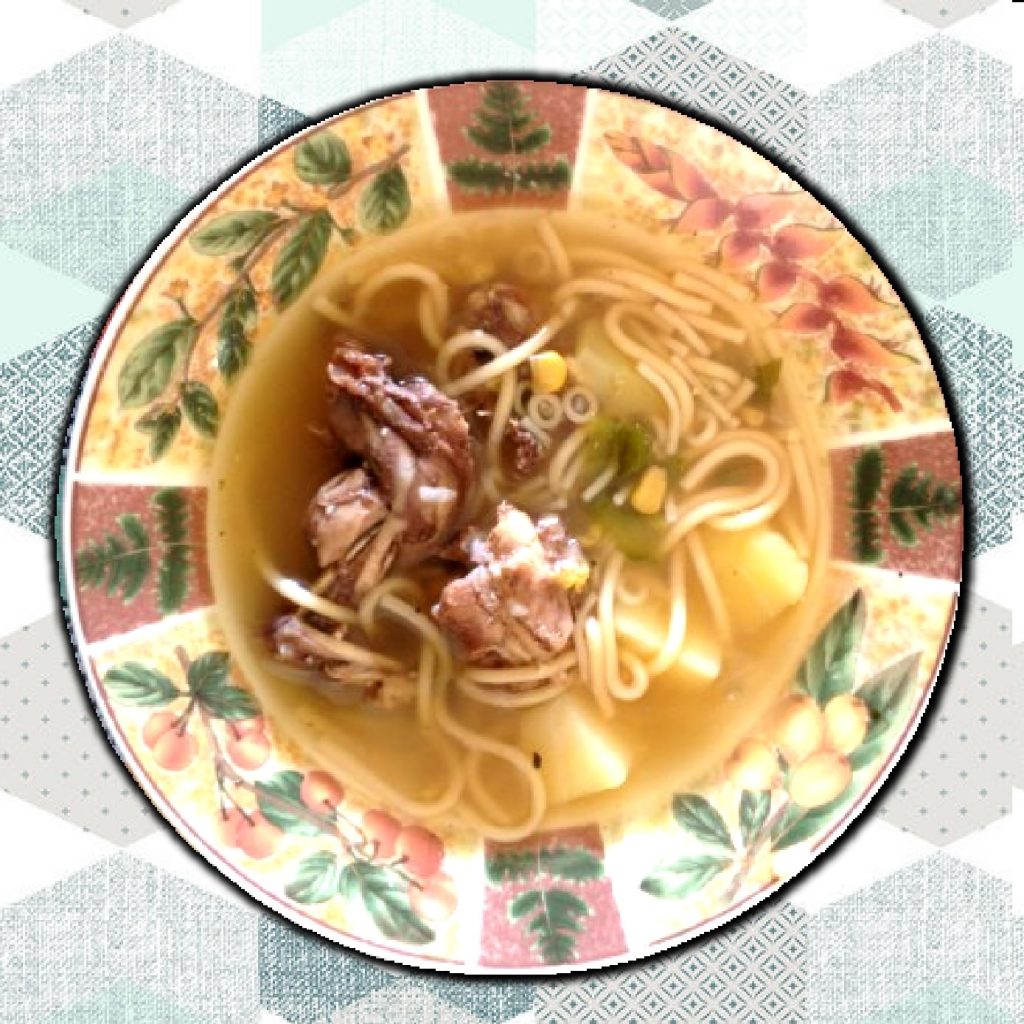 For those who already want to try it at home, we have the recipe!
Ingredients:
at least 4 large iguanas
8 cubes of chicken stock
4 large onions
a large stalk of celery
a large piece of pumpkin
4 large sweet potatoes
4 large corn on the cob
-Bring water to a boil in the largest stockpot you have at home.
-Stir in the stock cubes until they are dissolved. Carefully lower the iguanas into the boiling stock, they should cook for at least 4 hours, until the meat falls off the bones.
-Meanwhile, clean the vegetables, cut them into small pieces, and cut the corn on the cob into quarters.
-When the iguanas are cooked, pour the soup through a large sieve into a second large stockpot.
-Put the iguana meat from the sieve into a large bowl and sit quietly at the kitchen table with it, because careful filleting will take a few hours. There are several hundred tiny bones in it, some as fine as fish bones and deadly if they landed in someone's throat.
-If you are religious: pray while filleting, if not: put on some music and sing along.
-Put the filleted iguana meat back in the stockpot with the stock, add the chopped vegetables and let the soup simmer until everything is cooked through.
-enjoy your meal

Some more tips and info on Bonaire
With a little effort and goodwill, you can go a long way: it is no different in Aruba, Curaçao, and Bonaire. Many people speak Dutch and also English on the islands. But if you make a little effort to understand and speak the other official language, Papiamento, you will find that it is very much appreciated.
So besides the 15 things to do in Bonaire we have here the most important 5 sentences in Papiamento;
"Bon dia" and "Bon nochi"
Bon dia is a good morning, Bon nochi good night. It is very normal on the islands to always, everywhere, greet everyone. It is seen as a courtesy. So memorize them: 'Bon dia' is for the morning and you use it until about twelve o'clock. It's noon from noon to 6 pm, so you use 'Bon tardi' and from 6 pm you go into the evening and say 'Bon nochi'. It is much appreciated!
"Dushi"
The most heard word on the islands is undoubted 'Dushi'. The versatile word that you use when you find something nice, tasty, or beautiful. But don't immediately call the first random man or woman you meet 'dushi', that can be interpreted a bit strange. While we're on the subject of love. These always work well during you make a move on someone: 'Bo ke baila ku mi?' (Will you dance with me) or 'Bo tin un bonita sonrisa' (You have a beautiful smile). Let me know how it went….
"Kon ta?" or "Kon ta bai?"
Once you have greeted properly with the correct time indication, it is also so chic to ask how you are doing. It is also inextricably linked. You often hear 'Kon ta' or 'Kon ta bai' (how are you or how are you) after the greeting. For example: "Bon nochi, kon ta?" (Good evening, how are you?) By the way, don't expect to get a comprehensive answer to this. It is and remains a form of courtesy.
"Aye…"
Just as you enter a place and greet, it is also nice to say goodbye properly. Bye or bye is simple in Papiamento; Aye. For now: Ay. And as Arnold Schwarzenegger said: Nos ta bai bek.
"Mi por a hana…"
"Mi por a haña" (pronounced: Mie por a-hanja) means: I would like. Make a sentence? So 'Mi por a haña dos Heineken' means: I would like two Heineken beers. Replace Heineken with any random product you want to order and you will steal the show!
Quick Tips for Cruise Port Bonaire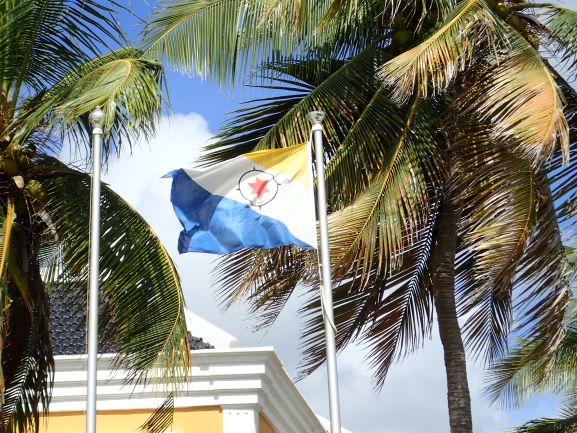 In general, Bonaire is a very relaxed and friendly island. English is widely spoken and the official currency is the US dollar. It is also an easy place to visit for all nationalities.
Being a small island, it is a great place to visit on a cruise as you can see many different things in a relatively short amount of time.
Here are a few quick tips to keep in mind when visiting Bonaire.
Bonaire is close to the equator and there is a lot of wind. This combination makes it easy not to realize that you are sunburned. Bring a hat or cap and good reef safe sunscreen
Don't expect great service in a restaurant. It all moves at a leisurely pace here. Just adjust and realize that they are actually right! Way too hot to worry about. Relax!
English is common but you will also hear Dutch, Papiamentu, and Spanish
The currency is the U.S. Dollar
There are approximately 9000 supermarkets on Bonaire. Most are small and goofy. For a good supermarket experience, go to Van Den Tweel. It's worth every extra drive you have to take to get there.
Know how to navigate a roundabout. There are no traffic lights on Bonaire, but there are a lot of roundabouts
Even if you're only snorkeling, it's a good idea to bring water shoes or hard-soled diving shoes. The beaches and water can be very rocky
Renting a car to get around the island is certainly not a luxury and a must if you want to explore the island. Bonaire is not very big, so this can be done within a day if you leave in the morning
Conclusion
Might you think about what to do in Bonaire I hope I have given you some great tips. Bonaire is a special and beautiful island. When your cruise ship leaves the island, you will definitely look back on a memorable day. There is so much to do and see on this beautiful Caribbean island that it is difficult to make a choice. Because seeing everything in one day is obviously not going to work. I hope that these 15 Things to do in Bonaire will make that choice a little easier.
Have I missed something very important that is definitely worthwhile on Bonaire, please let us know below! For now, we say goodbye to Bonaire with the view from our ship Azamara Quest.
Gert van Loenen Jr.