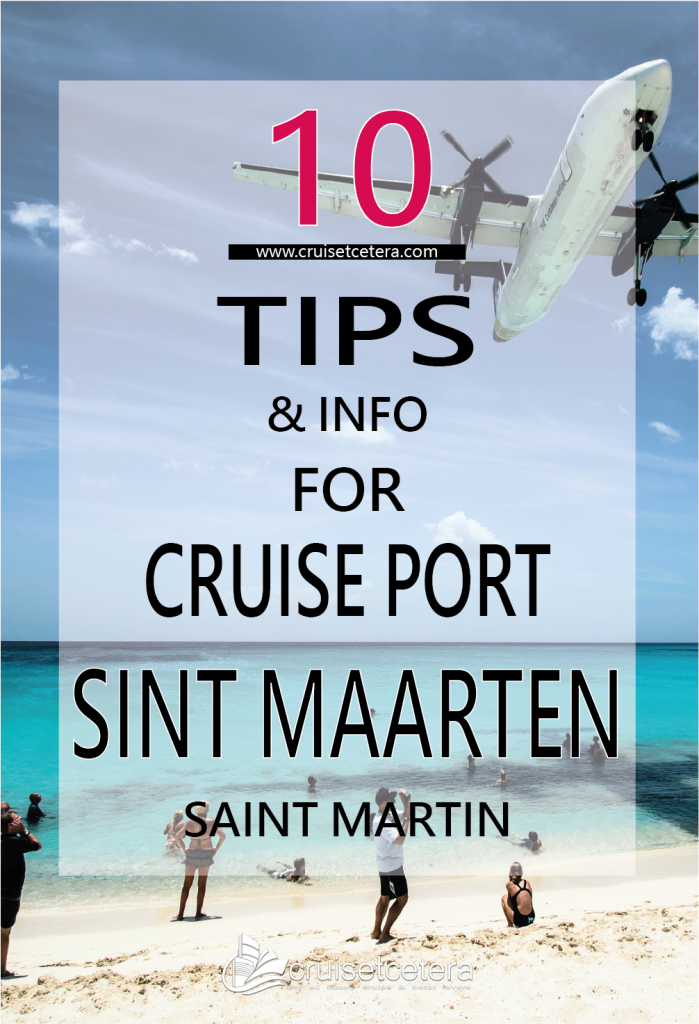 Cruise Port Phillipsburg and Sint Maarten or Saint Martin, are becoming more popular for cruise lines to start or end a cruise. But this sunny island also offers many possibilities for one or more days in port. We give you some information about this "Island split into two parts". If you only have a short time on this beautiful Island you must spend it well! We have all information and more than 10 Tips For Cruise Port Sint Maarten – Saint Martin.
One of the first 'yellow' destinations in this Covid period is Sint Maarten and Saint Martin. These two are located together on one island in a crystal clear blue-green Caribbean Sea. Combined with the easy day trips to, for example, the uninhabited island of Pinel, you can combine so many experiences in one Cruise Port.
Sint Maarten has been a constituent country of the Kingdom of the Netherlands since 2010. It includes the "Dutch side" of the island. The other half is a French overseas territory Saint-Martin. Philipsburg is the capital of the Dutch part and a busy port city. Marigot is the capital of the French part. It is a popular cruise port for many cruise lines and therefore has a thriving duty-free shopping community. But you will also find a range of resorts and villas. In addition, a host of leisure and sightseeing activities as well as a well-served airport.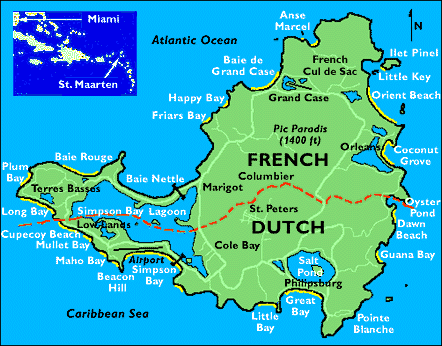 The Airport as landmark at Maho Beach
It is absolutely a fascinating sight. Standing on Maho Beach you can see a small dot on the horizon in the distance. This grows into a gigantic plane in a few minutes. And: it really flies right at you! To skim right above your head with a thunderous roar and land almost immediately on the (short) runway of Princess Juliana International Airport.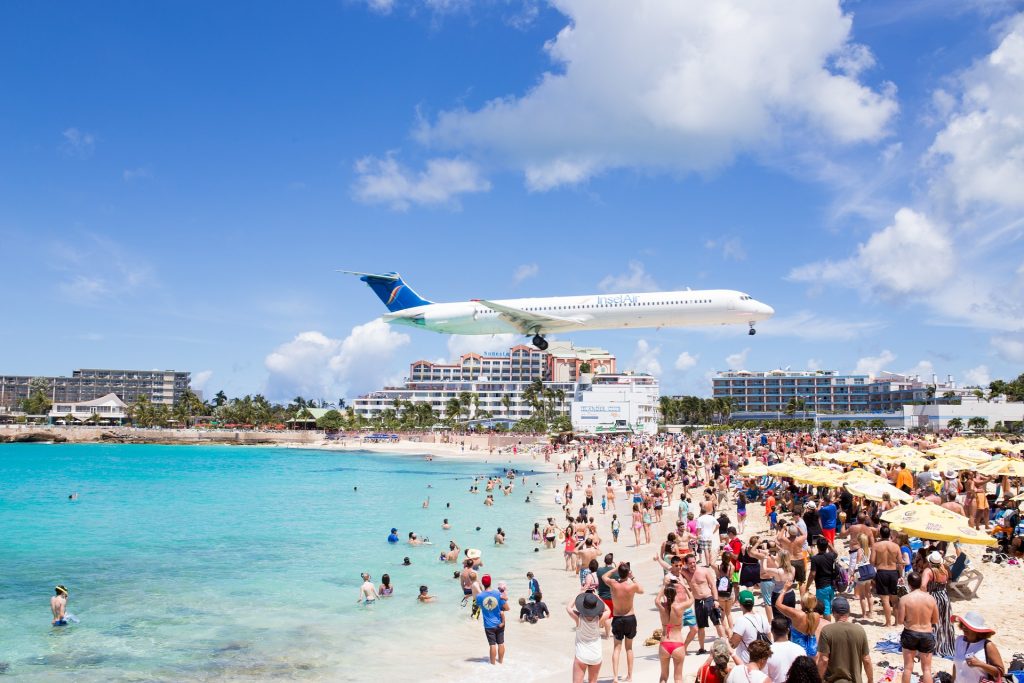 Not to mention the planes taking off! The jet blast can literally blow away the thrill-seekers who stand nearby. In the restaurants on either side of the beach, there are signs with the arrival and departure times of the planes. With a tropical drink in hand, you watch all those spotters who can barely keep their feet on the ground.
Maho Beach is therefore known as the most extreme beach in the world. But also as the most famous attraction of Sint Maarten. A bit of a shame, because the Dutch part of the island, together with the French side (Saint Martin), has much more to offer tourists and cruise passengers. And that has so far been very underexposed. So visit the 'Dutch' restaurant "Karakter" (Character) located near Maho Beach, where you can eat real Dutch "bitterballen"!
Shopping Paradise Sint Maarten
There are more Caribbean Dutch Islands. Everyone knows Curaçao right?. On Bonaire, you can dive and snorkel beautifully and Aruba has very beautiful long beaches. But Sint Maarten still has that unique combination of two flavors in one destination.
Because the French part has a very different atmosphere than the Dutch. Not a word of Dutch is spoken there. Okay, the street names in Philipsburg speak volumes. You see the Dutch street names as "Kerksteeg" and the "Wilhelminastraat". And outside the city, you climb to the remains of "Fort Amsterdam". This is a defensive wall with a few cannons. But English is the language of communication in the best-known streets of the capital namely Backstreet and Frontstreet.
Front Street is best compared to the P.C. Hooftstraat in the Netherlands or Fith Avenue in New York. But then on his Sint Maartens'. Here the expensive brand stores shine at you. Everything here is duty-free and especially watches and diamonds are in demand. Backstreet, on the other hand, is more of an ordinary mainstream street and shopping paradise for the locals.
Striking is the many street arts, murals in those nice bright Caribbean colors. Nearby, that beautiful turquoise sea always shimmers. Because the streets run parallel to the horseshoe-shaped Great Bay.
A night out in Simpson Bay/Cole Bay & Maho

If you are lucky to have a couple of extra days prior to or after your cruise, this is the party central in the Caribbean. With the largest Mega Yacht Marinas, Sail Marinas, and Hotels, there are people everywhere. You can choose from a range of restaurants, bars, casinos, and clubs. From karaoke, acoustic to salsa, rock, blues, and house, one night is not enough! Or join the twice-weekly Pub Crawl to explore 5 bars in one night.
Beaches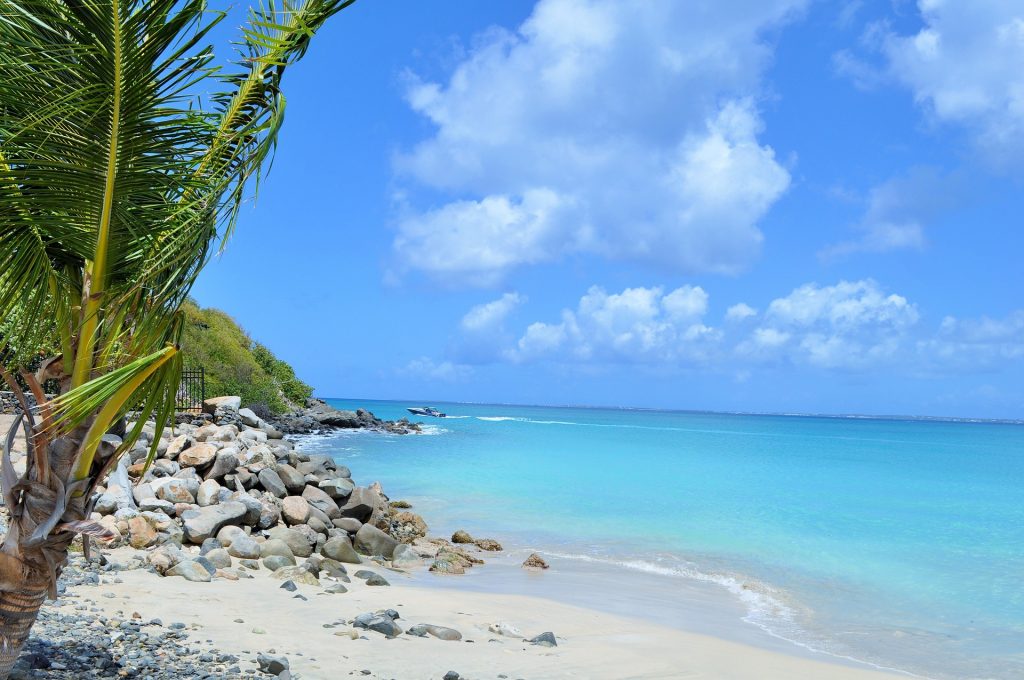 Let's be honest: you actually come here on this island mainly to sit on such a paradise beach. And of course to float in the warm, crystal clear seawater with a local SXM beer in hand. And those beaches are too coastal and too good here. Take the beautiful Indigo Bay, an exclusive and still undiscovered spot where you can also enjoy delicious food/rent beach chairs through a restaurant of the same name.
Sint Maarten Private Beach feeling
Mullet Bay, on the other hand, is loved by the general public. A popular place for relaxed swimming. While the snow-white Playa Rouge is so special because there is hardly anyone sitting there and you have the feeling that you have a piece of private beach at your disposal; no restaurant here and no chair hire either.
A Saint Tropez Vibe in the French part of Saint Martin
And with that, we immediately arrived at the French part of the island. Not that there is a clear boundary, there are a few flags along the side of the road. The houses are just as nice and bright as in the Dutch part. If you walk through the capital Marigot – nice to visit the daily market – you immediately get that Saint Tropez vibe. What is it about? The slightly larger buildings, the more spacious roads, the palatial buildings along the coast? Or just that boulangerie (bakery) with beautiful cakes and delicious madeleines, as if you are in the middle of Paris? Discover it for yourself!
You can feel that inimitable French atmosphere, especially in Grand Case bay. Beautiful hotels but also a complete street full of very different restaurants. If you want to eat something special, you should come here. Your mouth is watering when you see a grid full of half lobsters cooking on the barbecue in a "lolo" which is a local open restaurant. And all for eight dollars each!
The trendy Rainbow Café is set in a bohemian chic atmosphere right at the Grand Case water's edge. Serving breakfast, lunch & tapas. Open every day for Breakfast, Lunch, and Tapas paired with great cocktails and sunsets in the after-hours. Here you get an Instagram-worthy smoothie breakfast with colorful fresh fruit and granola.
If you are lucky enough to have an overnight stay or an extra day on Sint Maarten, you can also sit down in the culinary high-quality Barranco in the evening for a beautiful bowl full of tapas and a truly warm-personal service. The best place to enjoy the sunset? The cozy "Le Temps de Cerises". Here you can order delicious cocktails.
A quick recap. Paradise beaches, so many restaurants that you can visit a different one every day of the year. And then there are the trips that you see described further in this blog. Paradise!
Pinel Island
Another option is to go to Pinel Island, for example. This uninhabited paradise can be visited during the day by ferry but also by private boat. The slippers can already be taken off when boarding. Because even that ultimate leisure footwear is not necessary today.
From a distance, Pinel looks like a merry pirate fortress. An open restaurant/bar with wooden decking and thatched roofs is the beating heart. On one of the three beaches, you can lie down on such a nice beach bed and stare at the rolling waves.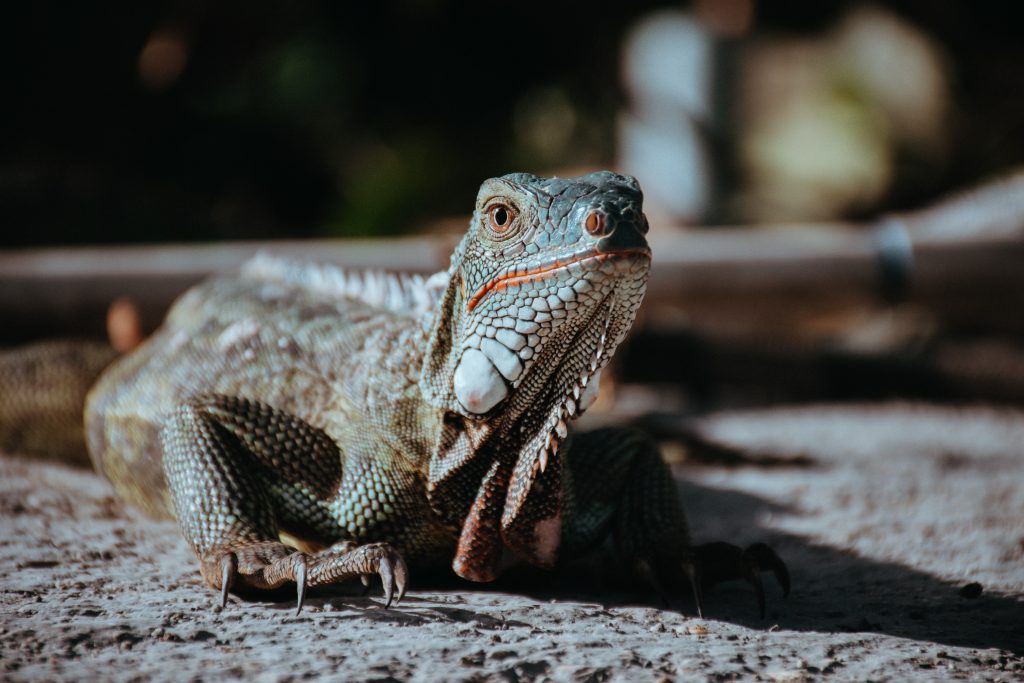 You could also look for the iguanas living here. But it is also nice to watch the beach guests enjoying the sea and sun uninhibitedly. The relaxing of the Caribbean; the residents are not left with a pound. Where Europeans often prefer to be bone-thin (want!) and are ashamed of two millimeters of fat, everyone here is very proud of the often full body and that is shown carelessly.
It contributes to the feeling of relaxation, not having to do anything. Enjoy to the fullest and enjoy good food. They also call it a holiday feeling. Or better…. the ultimate cruise feeling. After all the corona misery, we may have forgotten what that feels like. But on Sint Maarten and Saint Martin, you have it right away an hour after arrival.
Below you will find a recap of the best things to do on this lovely island;
10 Tips for Sint Maarten & Saint Martin
1. City trip Philipsburg
The most liveliness on Sint Maarten can be found in the capital Philipsburg. This is the place where locals meet daily and where you arrive with your cruise boat. In addition to the beautiful Grand Bay beach, Philipsburg has a nice boulevard to stroll along, with countless cafes, bars, restaurants, and souvenir shops along the side. Other well-known sights are Fort Amsterdam, the Sint Maarten Museum, and the Pic Paradis viewpoint.
There are many things to experience and discover in Philipsburg. Below is a quick summary and some inspiration:
Boardwalk: A wide inviting promenade with many shops, bars, and restaurants.
Frontstreet: Here are the most beautiful shops in the Dutch part of the island. Hilfiger, Armani, Bulgari, etc. After hurricane Irma, Frontstreet has now recovered reasonably well.
Fort Amsterdam: This is the oldest Historical fortification site in the Dutch Caribbean and it is one of the heritage strategic locations built by the Dutch to protect San Maarten.
Saint Martin of Tours Church: This historical church in the heart of walking beautiful Front Street in downtown Philipsburg depicts an island cathedral that has withstood many storms to continue to serve its faithful.
Old Street: Nice street to walk in. Right in the back is a nice bar, which serves delicious homemade iced tea (opposite the rum shop).
St. Maarten Museum: Nice little museum. Everything about the cultural background and history of the island. It's only on the second floor of a small shop.
Philipsburg Beaches: And do not forget the beautiful beaches: Guana Bay Beach, Great Bay Beach, or Little Bay Beach.
2. Plane spotting on Maho Beach
We said it already! Maho Beach is arguably the most famous spot for plane spotting. This beach is located directly at the Princess Juliana International Airport and since the runway is only 2300 meters long, the landing planes literally skim over your head. The spectacular landings of KLM's Boeing 747 were always a highlight, this type of aircraft last landed here in October 2016. From now on, KLM will deploy an Airbus A330 to Sint Maarten.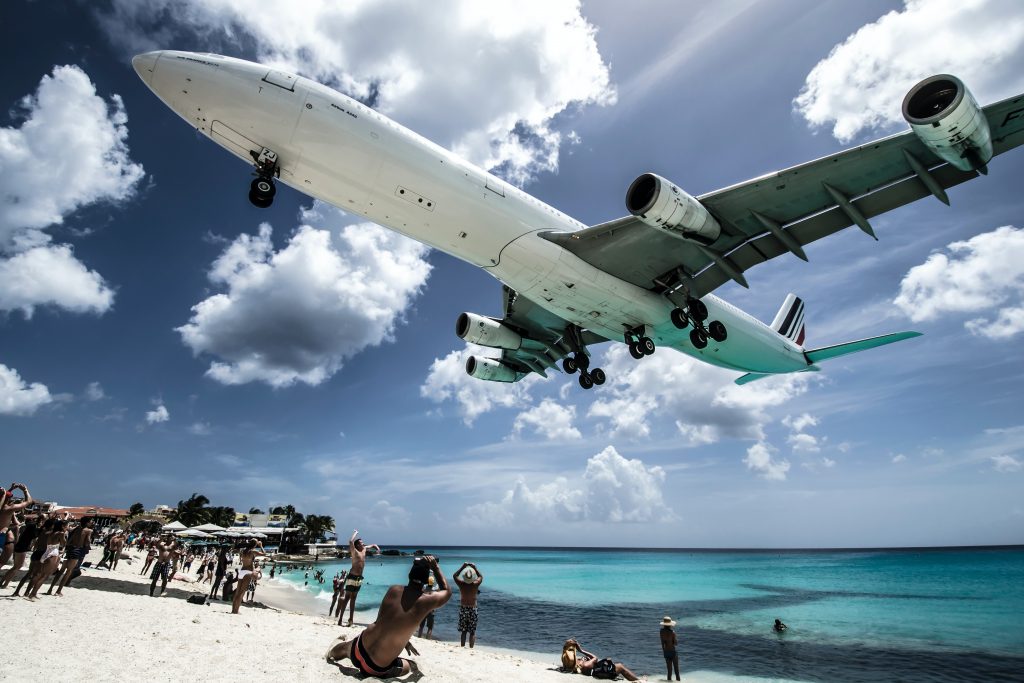 3. Beaches on St. Maarten
The island has no fewer than 37 beaches, all of which have fine sand and a clear blue sea. The sea temperature is between 26 and 29 degrees Celcius all year round. We mentioned the Grand Bay near Philipsburg before. Those looking for a little more peace and quiet should head to the relatively remote Dawn Beach. This beach is long and wide, ideal for sunbathing and long walks.
4. The Marigot Market
Every day of the week, Marigot hosts a Caribbean Market on Place du Marché in the center of town. The market is a colorful mix of colors and products, spread over dozens of stalls. It is without a doubt the best place to pick up some souvenirs and taste the local rum!
5. Snorkeling and Diving
Snorkeling and diving go hand in hand on Sint Maarten and are the two most popular activities. Along the coast, you will find the most beautiful coral reefs that form an excellent habitat for a variety of tropical fish. Diving and snorkeling excursions are offered from various locations on the island. Would you rather go snorkeling on your own? Then head to Baie Rouge, Dawn Beach, and Little Bay beaches.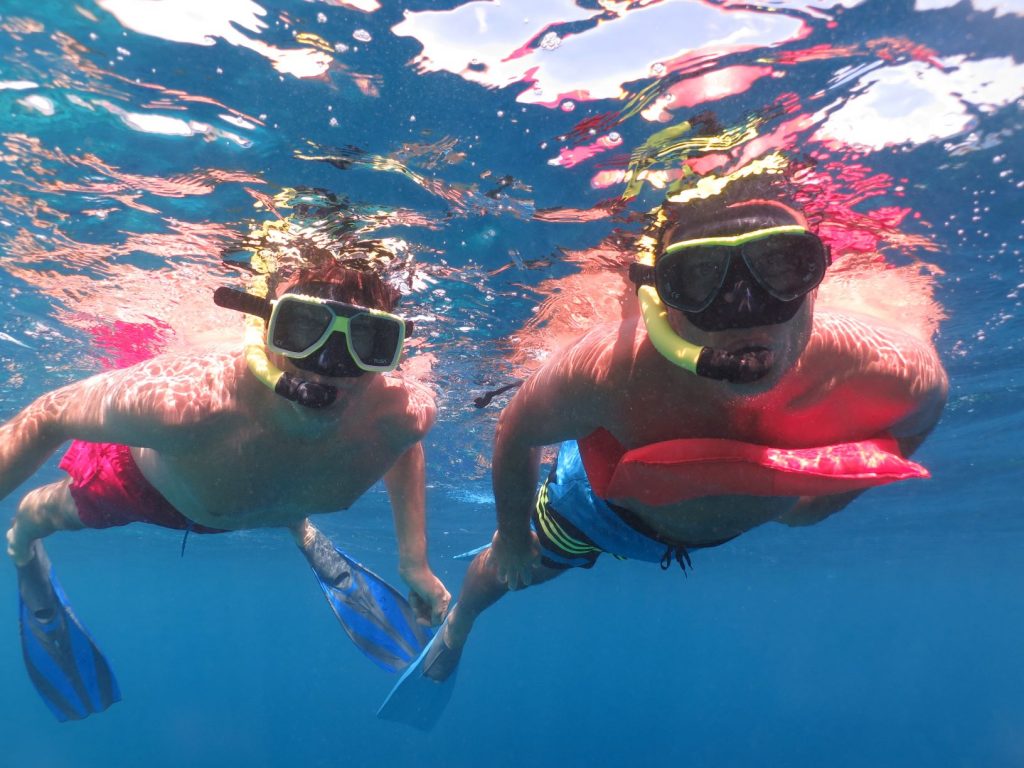 6. Loterie Farm
Love to be outdoors connecting with nature? Or are you a daredevil and love extreme sports? Well, here you have them both! Loterie Farm is a secret hideaway nestled in the hillside of Pic Paradis on French Saint-Martin where you can wine, dine, climb, hike, and glide over the treetop canopy. It is truly an eco-tourism and gastronomical experience you're not likely to forget or find elsewhere.
So combine a healthy & sporty day with ultimate relaxation. The treetop hiking trails and zip lines allow you to enjoy the biodiversity of the tropical forest while admiring monkeys, iguanas, and other wild Caribbean species. After or instead you can relax in their spring water pool and enjoy delicious food and drinks.
7. I Love SXM Sign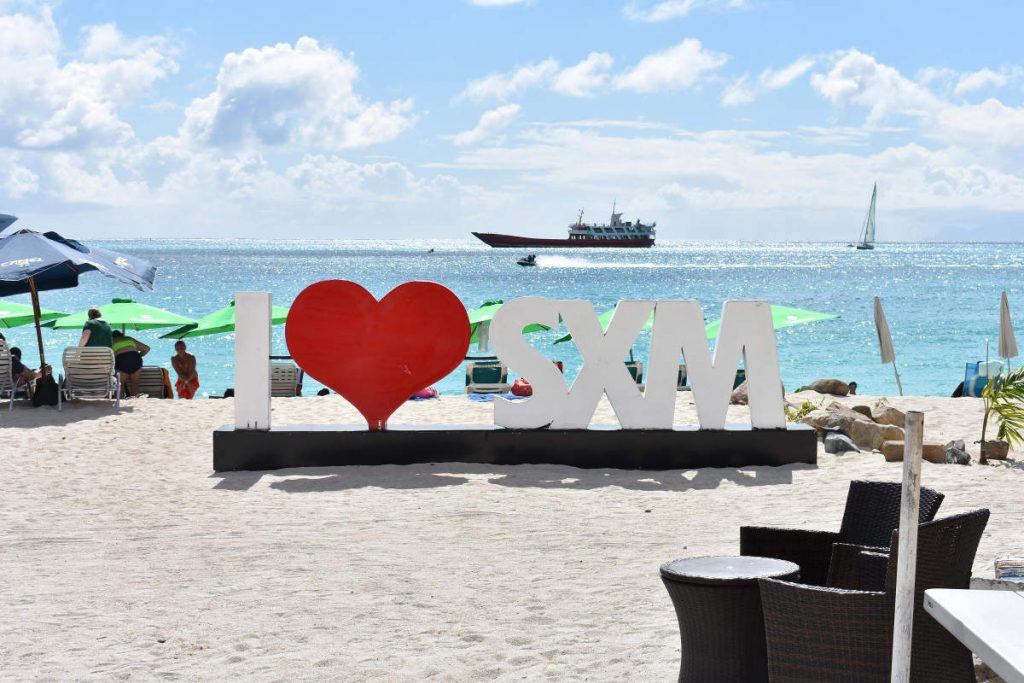 SXM is an abbreviation that you will regularly encounter on Sint Maarten. The three letters are forming the airport code of Princess Juliana International Airport. The reason why SXM is also used elsewhere on the island – in addition to luggage labels – is because the locals don't have to choose between the names Sint Maarten and Saint-Martin. In the capital Marigot and also on the beach in Philipsburg, you will find the letters I LOVE SXM with which you can take a picture.
8. Food in Grand Case
Are you a real foodie? Then a visit to the village of Grand Case is a must. Grand Case is about a 10-minute drive from Marigot and is also known as the 'Gourmet Capital' or 'Michelin Mile'. This refers to a strip of about 20 to 25 eateries of a fairly high culinary standard (especially French cuisine).
9. A trip to Pinel Island
No trip to St. Maarten/St. Martin is complete without a visit to beautiful Pinel Island. From the parking lot for $12 either way, you can take the ferry that departs every 30 minutes.
When you are on Pinel you can enjoy walking on this small charming island, snorkeling, and chilling on the beach. There are beach chairs for rent at Yellow Beach or Karibuni, where you can also enjoy refreshing drinks and a great lunch!
10. Beautiful Cruise Port Hotels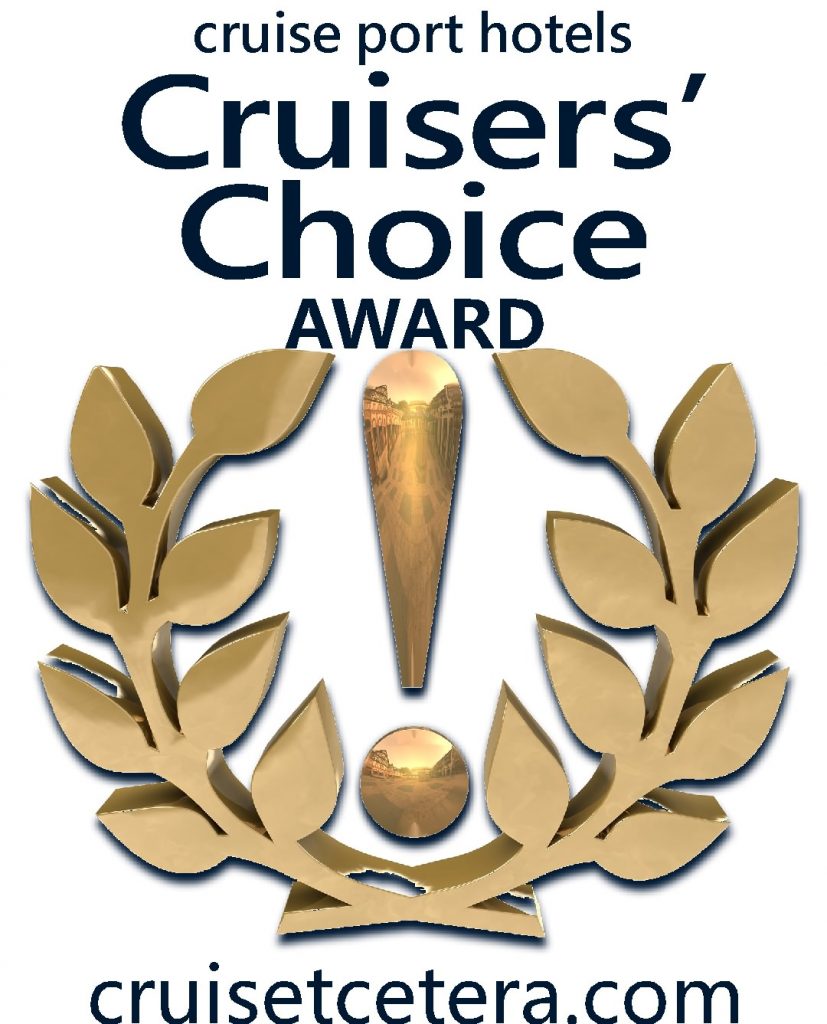 This beautiful island has equally beautiful hotels. From beautiful resorts to the more intimate and special boutique hotels. Partly on the advice of other cruise enthusiasts, we have made a fantastic selection. Hotels with a Cruisers'Choice Award!
Do not forget to join the Facebook group for Cruise Lovers; Cruise Port Hotels. In this group, all luxury cruise lovers are sharing recommendations for the best Cruise Port Hotels worldwide. And all tips on what to do in Cruise Ports are shared in another group called Cruise Port Tips. You are welcome to join!
For inspiration and the best hotels in Sint Maarten and all other cruise ports, visit our website.
A little history of Sint Maarten
Around 1630, the French and Dutch settled on the island. Focused on the salt present. In 1817 the Treaty of Concordia became final. With this, the island was officially divided between the Kingdom of France and the Republic of the Seven United Netherlands.
The French part (Saint Martin) opted for self-government in 2003 and became an overseas community in 2007. The Dutch part (Sint Maarten) has been a separate country within the Kingdom of the Netherlands since 2010.
Hurricane Irma
In 2017, the island was badly hit by Hurricane Irma. Four years later, the consequences are only visible in the form of tightly rebuilt hotels and houses. Only in a very few places does some remnants of debris remind of this disaster.
Some facts about Sint Maarten
Where is Sint Maarten located?
Sint Maarten is an island in the Caribbean Sea, 150 miles east of Puerto Rico and south of Anguilla. Sint Maarten belongs to the Windward Islands and the Lesser Antilles (and until 2010 to the Netherlands Antilles).
How big is Sint Maarten – Saint Martin?
Sint Maarten has an area of 87 km². The island is about 13 kilometers long and 15 kilometers wide. Sint Maarten is the smallest island in the world that is divided between two countries: the Dutch part – with its capital Philipsburg – and a French part (Saint-Martin) with Marigot as its capital.
When is the best time to travel to St Maarten?
The best time to travel to Sint Maarten is January to April. The rainy season in the Caribbean Sea falls between June and November. Hurricanes are most common in August and September.
What about money and currency on both parts of the Island?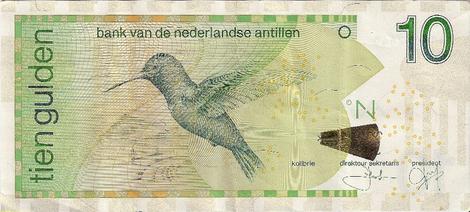 Despite the dominance of the euro since January 2002 within the mother country, The Netherlands, the legal tender on the Dutch side of St. Maarten is still the Netherlands Antilles florin (NAf); the official exchange rate is NAf 1.79 for each $1.
U.S. dollars are really the coin of the realm here, and prices in hotels and most restaurants and shops are designated in dollars. On the French side (as well as on St. Barts), the official monetary unit is the euro, with most establishments widely quoting and accepting either dollars or NAf guilders as well. At press time, the U.S. dollar was trading at $1.20 to the euro.
But you can better check this just before you leave.
Conclusion
This island will surprise and amaze you. I hope you enjoyed the 10 TIPS FOR CRUISE PORT SINT MAARTEN – SAINT MARTIN. The mix of cultures brought together into a melting pot of Caribbean vibes. Fortunately, this cruise port is becoming more and more popular, and more cruise schedules will visit this island. We hope that these tips will help you enjoy Sint Maarten and Saint Martin even more. And do you have useful tips for other cruise enthusiasts? Leave them below!