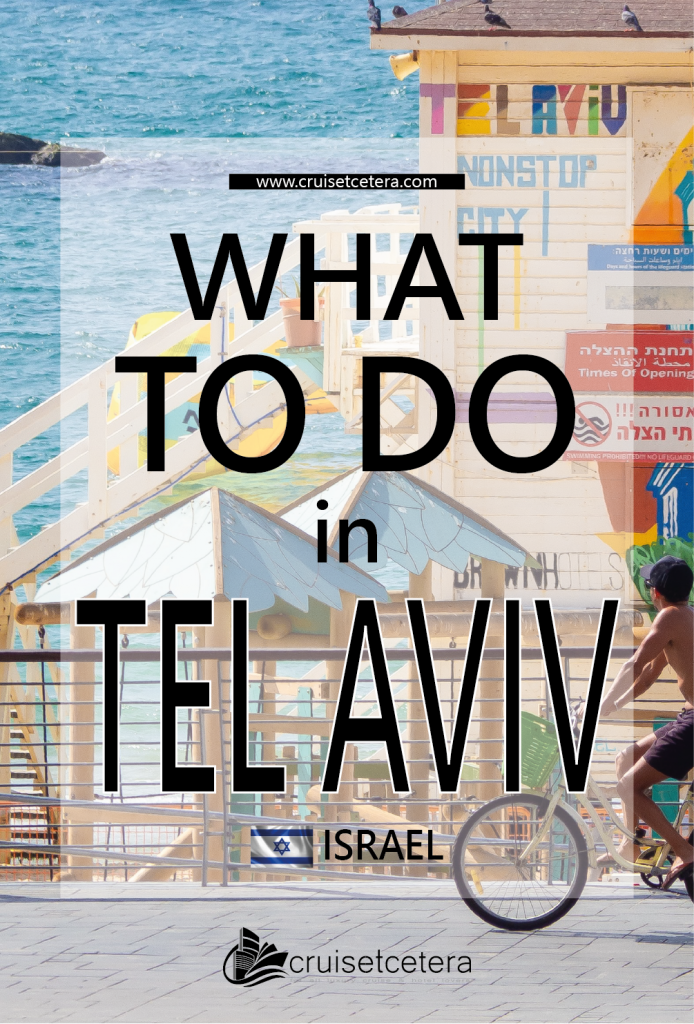 Tel Aviv seems to have everything you look for in a city. An abundance of cool hotspots, really lovely beaches, and vibrant nightlife. The food is also divine, the city has a wonderful climate and cool street art. But in addition to all the modern hotspots, there is also a historic center where you seem to take a step back in time. Yep, I would have liked to stay a bit longer in Tel Aviv because 1 day in port is certainly not enough! Curious about what you should not miss when you are in Tel Aviv? Below you will find tips on what to do in cruise port Tel Aviv!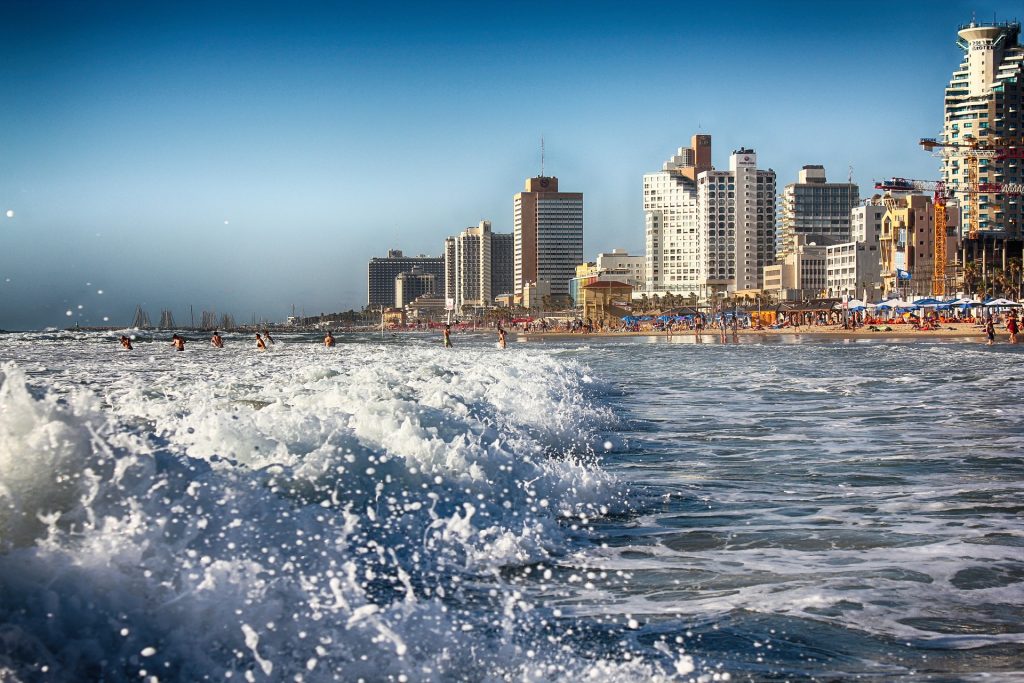 Israel has two cruise ports. Ashdod is closer to Jerusalem and Haifa which is closer to Tel Aviv. But because Israel is not a big country, both are easily accessible from both cruise ports. We took the train from Haifa to Tel Aviv which is about one hour travel and easy to arrange.
If you look at the skyline of Tel Aviv, the comparison with, for example, Miami is quickly made. An elongated coastal strip with more and more high-rise buildings behind it provides the face of present-day Tel Aviv.
Tel Aviv is such a city that also fits perfectly in a list between cities such as Barcelona and Rio de Janeiro. Vibrant cities with a great location by the sea and a young, hip vibe. And although for the history of Israel and the Jewish faith you mainly have to stroll through Jerusalem for a few days, you will also easily be able to enjoy yourself in Tel Aviv for a day or so.
Although the city – to be fair – does not have mega sights that you should definitely put on your bucket list, you can enjoy the Mediterranean Sea, beautiful sandy beaches, history, culture, delicious food, street art, and if you have more days, a dazzling nightlife.
Tel Aviv is a perfect destination for a great city trip. I share our favorite neighborhoods, the hotspots, and sights in Tel Aviv. In short, the coolest and most special things to do on your day in Tel Aviv.
What to do in Tel Aviv
Discover what to do in Tel Aviv so you can fill your itinerary with the top Tel Aviv attractions and more.
Discover Old Jaffa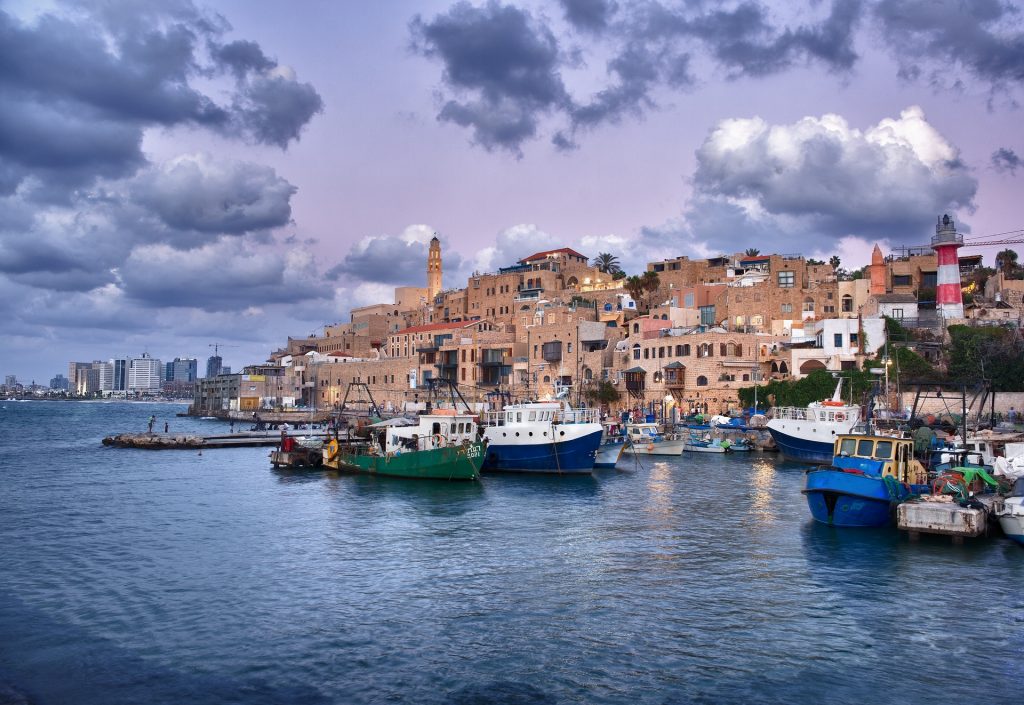 Tel Aviv is a hip, bustling city, but you can certainly experience the culture here too. The old center, Old Jaffa, is the perfect place for this. Old Jaffa is the old port of Tel Aviv and has undergone a major overhaul in recent years. The neighborhood is located on the water, which provides beautiful views. But it is not only the location by the sea that makes this district so popular. You will find a maze of cozy alleys, flea markets, and cozy terraces.
You will also find great Tel Aviv sights here, such as a mosque, a huge church, and the lighthouse. It is a beautiful historical place to visit in Tel Aviv. The charming old buildings, winding alleys, and shops are beautiful.
It's also a hip neighborhood that's known for its wine bars, flea market, and Ottoman-era landmarks.
A nice tip is to book an organized tour to really discover Jaffa and visit the flea market.
Old Jaffa City and Flea Market Tour
Enjoy a 3-hour private guided tour exploring Old Jaffa and its famous Flea Market. You'll visit the Old Port, several art galleries, and local museums, as well as the famous St. Peter Church.
Free cancellation
Duration 3 hours
Live tour guide
Pickup included

Rothschild Boulevard
A perfect Tel Aviv experience: Everything in one magical boulevard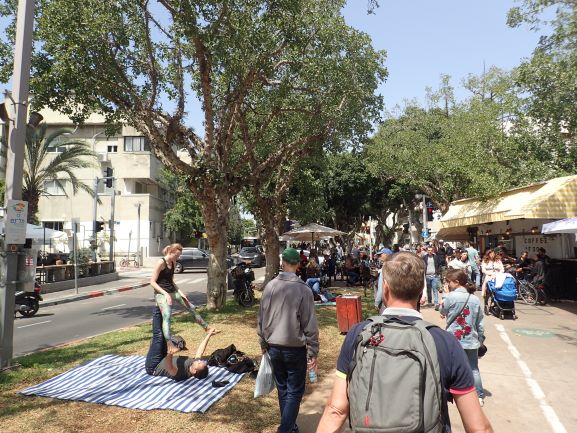 It is not easy to describe Rothschild. On the one hand, it is a park but at the same time, it is just a street where there happens to be a lot of greenery. With a busy bike path and several shops to buy coffee. Whatever you want to call Rothschild, this Tel Aviv avenue is delightful to stroll through.
Stop every now and then for a cup of coffee and always watch out for speeding cyclists. We Dutch are fairly dominant on bicycles, but then you have probably never seen an Israeli on a bicycle. There is plenty of driving over Rothschild. So take a good look at where the pedestrian section is and where the cyclists are riding.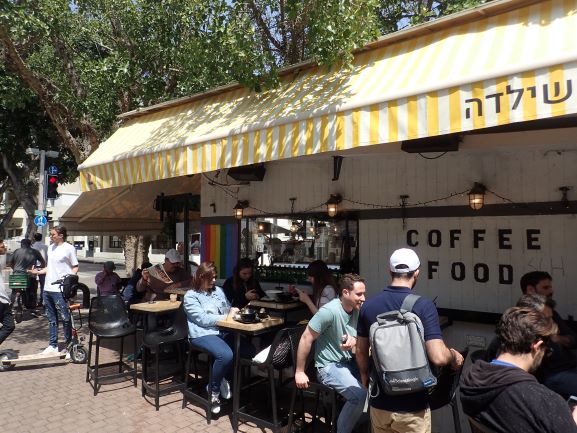 Rothschild Boulevard is a lively strip that runs right through the city. This oldest street in Tel Aviv is quite lively in terms of traffic, but as a walker or cyclist, you don't have to suffer from this. A 900-meter long park has been constructed between the two carriageways. A park, a huge bike path that the locals eagerly use, and benches, kiosks, and terraces.
Rothschild Boulevard offers a chic, urban experience and the very best that Tel Aviv has to offer. It has an impressive, centuries-old resume that is considered to be one of the earliest streets in Tel Aviv. But don't be fooled for a second: Rothschild Boulevard or Sderot Rotshild – is one of Tel Aviv's main attractions. It has lost none of its charms in the proud beating heart of Tel Aviv!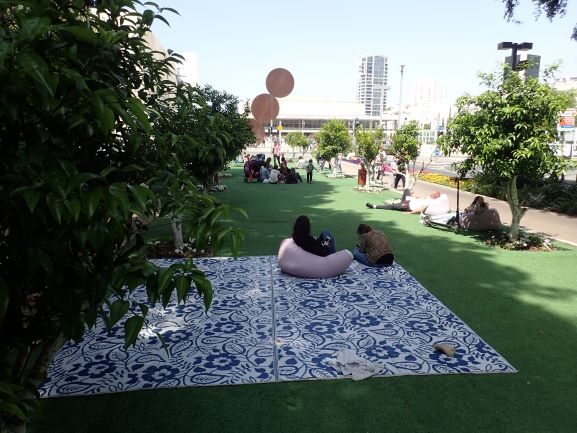 This street is teeming with urban chic, shady beauty spots, bike paths, outdoor installations, and a plethora of arts and cultural venues.
Add to that a long and impressive list of restaurants and cafes scattered along the Boulevard, cute neighborhood kiosks, playgrounds, and fitness facilities. See the unique Bauhaus architecture and historic sites. You will enjoy a truly unforgettable holiday experience in Tel Aviv.
So what's behind this extraordinarily enchanting place? The street that seems to seduce everyone who walks along with it? The simple, unequivocal answer is; everything! Find out!

Chilling on the beach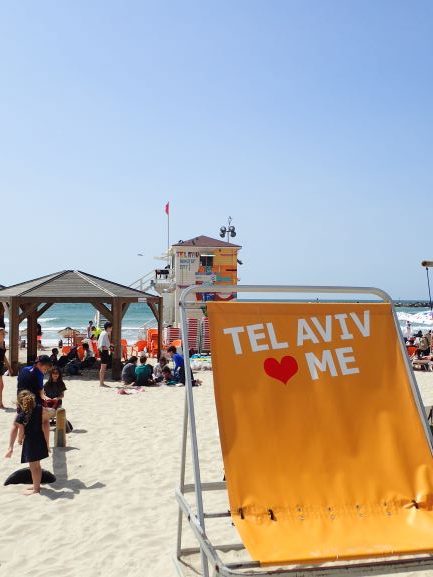 Tel Aviv is located on the Mediterranean Sea and that has its advantages if you like a day at the beach! You will find a lovely sandy beach across almost the entire width of the city, surrounded by a number of trendy beach bars. Drummers Beach is especially recommended on Friday afternoons. All kinds of people gather here for a drink and to make music.
For your sand-filled fun, spend the day like a local on the beach. Play some volleyball on the Gordon Beach strip, or just lay back and enjoy the sun. You don't have to spend a cent on these beaches. They offer some fun in fun things to do in Tel Aviv that are free.
So fancy a fix or some sun and sand? No worries, we've picked some of the coolest beaches in Tel Aviv to get your tan on. Ranging from Jaffa in the south to the port of Tel Aviv in the north.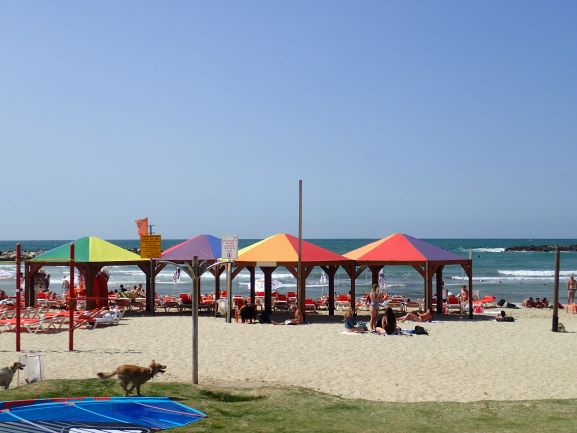 Hilton Beach – Known as Tel Aviv's gay strip of sand, Hilton Beach is also one of the prettiest and cleanest options. It is somewhat remote, just below the Hilton Hotel. Hilton Beach has also conquered the water sports niche market. With a large number of restaurants serving varied beach dishes, Hilton Beach is perfect for a day or night chill-out, summer or winter.
Jerusalem (Geula) Beach – Known as the 'matkot' beach. The game loved by Israeli beach goers. Join in for a heated game, or cool off in the sea. Across the street you can eat at Tel Aviv's Abulafia (Jaffa's famous Arabic bakery), or refuel at Shakes Pree next door for fresh juices and shakes. The beach cafe, Tzfoni BeTayelet, is spacious and perfect for catching the sunset.
Gordon Beach – Centrally located opposite the Sheraton Hotel, this beach is one of the busiest in Tel Aviv. Gordon Beach features volleyball courts and a beautiful saltwater pool. It is surrounded by lawns for lounging. On the promenade you will find a large number of restaurants serving huge portions of classics. After sunset, you'll find plenty of sunburnt revelers in several open-air beach bars.
Bograshov Beach – Bograshov Beach is the perfect place if you want to be right in the center. Tourists and locals alike love hanging out on this bustling stretch of coast. Find a spot in the sand and enjoy the view of the beautiful Mediterranean Sea on one side, the architecture of Tel Aviv on the other. Bograshov Beach is definitely a great place to people-watch. And when you get hungry, you're just steps away from a wide variety of delicious eateries.
Mezizim Beach – On this legendary beach you will find beach restaurants with good food. But also a lounge bar until late in the evening. There is a super chilled atmosphere and they have lovely beach chairs. With a playground, decent toilets and a prime location just minutes from Tel Aviv port. It is easy to understand why Mezizim has become the favorite beach for families and young guests alike.
Drum Beach
Picking out the best of these beaches above is probably mission impossible. Everyone will have their own preference and a reason for their choice. But picking out the funkiest beach in Israel is a little easier – in my opinion, it has to be the Drum beach. It probably has the worst facilities of all Tel Aviv's beaches. But what it lacks in looks it certainly makes up for in charm, especially on Friday afternoons. Every Friday this beach becomes the meeting point for a whole group of drummers and artists. This is super fun and interesting to see if you are lucky enough to have your ship docked on a Friday! Crowds often gather on the nearby rocks to watch both the performers, the drummers, and of course, the sunset.

Shopping in Neve Tzedek
An Artsy Oasis in the Heart of Bustling Tel Aviv
Eve Tzedek, which translates to Oasis of Justice, was the first Jewish quarter to be built outside of Old Jaffa. Once crumbling and disintegrating, this neighborhood has been restored to its former glory and is now one of Tel Aviv's trendiest spots. Being one of Tel Aviv's hippest neighborhoods, you will find nice concept stores and boutiques in cozy streets. So you don't really see large retail chains here, but smaller shops. You will notice that it is difficult for your money to stay in your bag.
Those who love shopping will find what they are looking for here. After shopping, there is plenty of choices in terms of fine restaurants and bars in this district, so that you can end the day while enjoying a snack and drink.
On a day you can walk on boulevard Rothschild, via the neighborhood Neve Tzedek along the beach to Old Jaffa. This way you can fill an entire afternoon and see a lot of Tel Aviv at the same time, while you are outside.

Walk The Promenade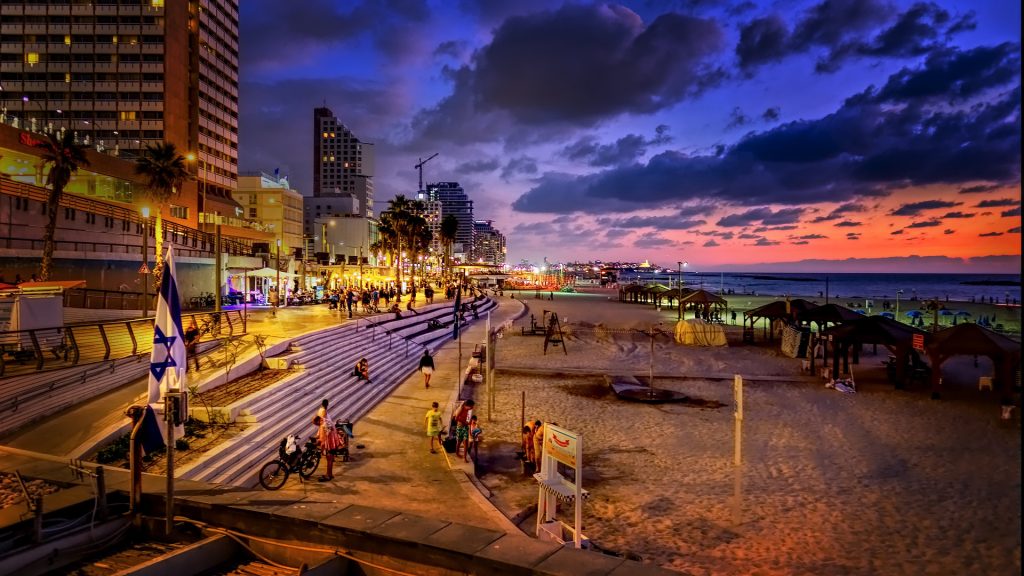 Tel Aviv has beaches and good ones too. A stroll along the Tel Aviv boardwalk will help you find the best beach spots, trendy cafes and it's the ultimate place to watch the sunset in Tel Aviv. But even if you don't feel like getting sand between your buttocks, it is a wonderful walk.
This Promenade is located directly on Tel Aviv's the Mediterranean Sea. This part of the city is very popular with both locals and tourists. Especially during the sometimes exceptionally warm days, you can experience some cooling from the sea on this long boulevard.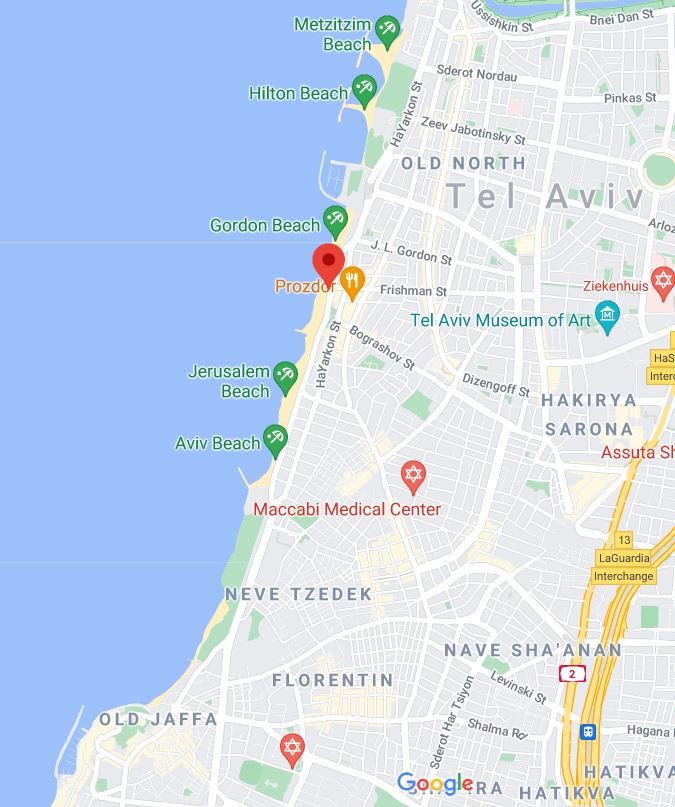 The Promenade consists of several parts that together form about fourteen kilometers. For example, at Tel Baruch Beach in the north, the Tel Baruch Promenade is located. Near the harbor is the part known as Port Promenade. Between Gordon Beach and Tel Aviv is the most famous promenade, Shlomo Lahat Promenade. And the area between Metzizim Beach and the Hilton Hotel is known as Metzizim/Hilton Promenade. Near the old Jaffa harbor are the promenades Sha'ar Le'Yafo and Khomot ha'Yam.
The Shlomo Lahat Promenade is closest to the center of Tel Aviv and is therefore often the busiest. The boulevard is ideal for a walk along or on the beach, a bite to eat in one of the many restaurants, or enjoying a terrace. There are also nice restaurants, bars, and terraces on the Port Promenade.

Carmel Market
I like to visit local markets to 'taste & feel' the country. Same as I love to stroll around local supermarkets. In Tel Aviv, Carmel Market is one of the nicest markets. It is very busy, but in this way, you imagine yourself a bit among the locals. Locals do their daily shopping here.
You will find several stalls with herbs and spices, fruits and vegetables, cheeses, and sweets such as baklava. Walk a little further into the market and you will eventually come to the meat and fish market where it might be even more fun to walk around. But even electronics can be found here. It is less crowded in this part and market vendors will regularly chat or let you taste.
Be prepared for overloaded senses. But luckily in a nice way. Carmel Market is the most famous and largest market in Tel Aviv and has everything. In our opinion one of the best things to do in Tel Aviv. Carmel Market is not to be missed. The colors, the smells, the chaos, and the atmosphere of this market gives you Tel Aviv energy. Join the bustling crowds and send me a photo!

Street art
Tel Aviv has a trendy character and the atmosphere is different in every neighborhood of the city. There are several places to view the most beautiful street art. At the port of Tel Aviv – Ha'Nammal, you will find great street art. We found the coolest works of art near Drummers Beach. But there is also plenty to be found along the harbor.
It is not only the street art that is a reason to visit the port. You will also find various shops, from large chains to concept stores, great restaurants, and a huge covered market hall. In Ha'Nammal, for example, you can eat at a real chocolate restaurant. In the evening you have to be here to go out for a brisk walk in one of the many beach bars.
If you still can't get enough of the street art you've spotted in Ha'Hammal harbor? You will also find beautiful works of art in the Florentine district. This is within walking distance of Old Jaffa. Even enough to wander around the neighborhood for a few hours to admire them.

Bauhaus architecture – The White City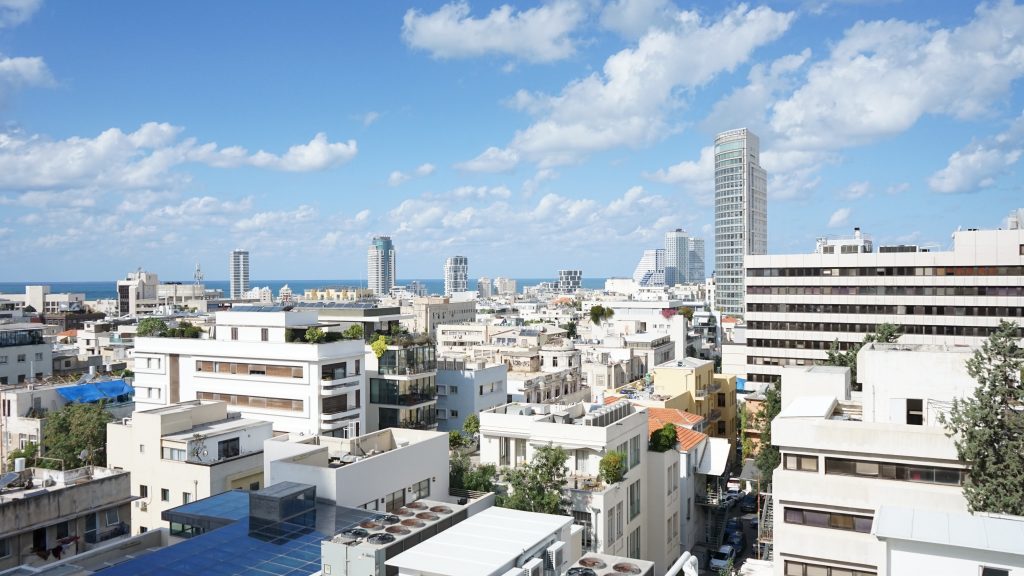 Israeli Tel Aviv is a young city with its own authentic style. In the middle of the city are more than four thousand buildings, designed in the Bauhaus style. These white buildings have earned Tel Aviv the nickname The White City and they are now on the UNESCO World Heritage List.
The White City of Tel Aviv was built from the early 1930s to the 1950s by the many German Jews fleeing National Socialism. At that time, Bauhaus architecture was a progressive architectural style that was mainly found in Europe. They wanted to build a new garden city in the sand dunes of the Palestine Mandate Area.
The typical Bauhaus style is clearly visible in streets such as Allenby Street, Ibn Gvirol Street, and on and around Bialik Square and Rothschild Boulevard. In the Bauhaus Center, you can dive into this part of Tel Aviv's world heritage.
The White City stretches from the coast deep into Tel Aviv. Tall buildings in light colors, reflecting the heat of the sun, with long covered balconies and flat roofs where you can feel the sea breeze. Many buildings are in a neglected state, so that part of the sparkling white has changed into exhaust gas grey.
Nowhere in the world are so many Bauhaus buildings as in the White City in Tel Aviv. Special to see!

Bike Around the City
One thing is clear when you first see Tel Aviv, all the local bicycles or electric scooters. There are fewer people walking than cycling! So it's really fun exploring Tel Aviv as the locals do. With a local! This allows you to see a lot more of the city in a shorter amount of time (you can thank me later because Tel Aviv is too big a city to walk!). And you have to make sure you are back on the ship in time right?
There are cities that are perfect to discover by bicycle and Tel Aviv is such a city. You can easily rent a bike to discover the various sights of the city with a guided tour. Booking a bike tour is really fantastic. You will get a local guide who can provide insider tips and take you to the most famous streets and landmarks. And trust me… he makes it safe!
There is also Tel Aviv's bike share program. It is a huge hit for tourists and locals alike. Just hop on one of those green bicycles! You can pick up a bicycle and drop it off at one of the 200 bike share stations all over the city with no advance notification.
Known as TeloFun, Tel Aviv's eco-friendly bike system is similar to the city bike rentals cropping up in cities around the world such as Paris, Boston, or Taipei (to name just a few). It's one of the easiest ways to get around town and discover Tel Aviv. You can take them anywhere in the city. All you need is a credit card.
In old Jaffa, alleyways were never meant for cars anyway!

Tel Aviv Museum of Art
Tel Aviv Museum of Art is Israel's first art museum. Founded in 1932, it is a leading and influential institution dedicated to preserving and exhibiting modern and contemporary art from Israel and abroad. The museum is a vital factor for the arts and culture in Israel and offers its visitors a multicultural experience. An active part of the vibrant metropolis.
On the walls of this museum are Israel's most extensive collections of modern, contemporary, and Israeli art. The museum has an impressive collection of the old masters and various temporary exhibitions. Besides that exhibitions of photography, design, and architecture. The performance hall and the beautiful sculpture garden are very soothing to wander or relax in.
Next to the museum, you will find the Herta and Paul Amir Building. Designed by Professor Preston Scott Cohen. It is built around a spiraling 90-meter high atrium and an architectural marvel. The interior space provides a unique setting for the display of contemporary art, a center for architecture, and a gallery. Buy your tickets online.

Sarona Market
Sarona is a recently renovated complex in the heart of Tel Aviv. Originally it is a German Templar colony. The location is in the heart of what is a new central business district of the city. With offices and apartments around the beautifully landscaped complex.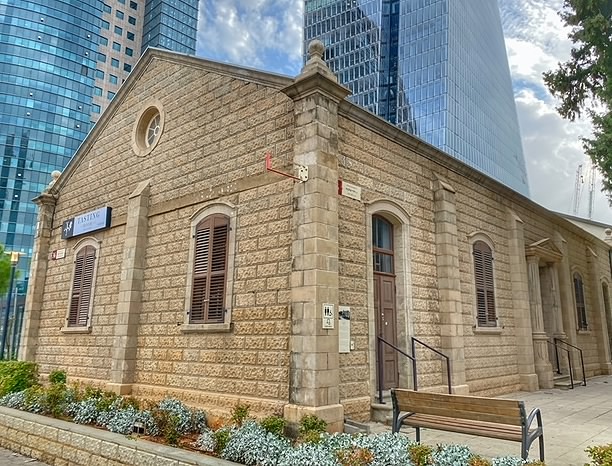 In it, you will find 33 original Templar buildings dating from more than 140 years ago. They have been painstakingly restored and today house boutiques, artist galleries, quaint cafes, and some of the city's most popular restaurants and bars.
The Sarona market of no less than 8,700 square meters, houses dozens of specialty stores from all over the world. On the market, you will find everything you can think of, from Dutch cheese to waffle towers and even Asian sandwiches. Just outside the covered market, dozens of clothing, book, and shoe shops line the alleyways, interspersed with lily ponds and lawns for relaxing.
Sarona has quickly become one of the hottest destinations in Tel Aviv, with the restored buildings housing an amazing array of boutiques and food and beverage outlets. There is also a visitor center documenting Sarona's history and recovery, and beautifully landscaped gardens.
The shops in Sarona include luxury brands that have a large flagship store in the complex, as well as local fashion brands, luxury jewelers, designer stores, beauty products, and other luxury goods. You can shop till you drop!
Sarona is easily accessible from all over Tel Aviv.

Visit Akko (Acre)
The historic coastal city of Akko is known to Hebrew speakers as Akko and Arabic speakers as Akka. It is a UNESCO World Heritage Site for its atmospheric charms. The old town has been inhabited for over 3000 years and features medieval Crusader buildings, Ottoman-era walls, Baha'i gardens, and a warren of old streets with plenty of personalities.
We visited this city with a tour from Tel Aviv and it is highly recommended. You can combine it with a visit to Tel Aviv.
The old city of Akko is one of the oldest ports in the world. The city is also home to part of the Bahai World Center.
The Ruines are located both above and below street level. It is also because the city is one of a very small number of Ottoman walled cities. It has castles, mosques, khans, and baths, all of which have been preserved. In Acre, these sites were built on top of the ruins of the Crusader structures.
We can recommend booking this tour Walking Tour of Akko (Half-day): The tour is guided not only by a professional, certified tour guide & archaeologist – it's guided by a local who was born & raised in the city. He shares his own personal life & experiences in the city. You will walk through the narrow alleys used by locals, showing you the city inside & out, with all of its beauty & complexity! If time permits, you might just be meeting and talking to other locals as well!
Your guide is simply one of the smartest, loveliest, and most authentic guides we've ever had. He knows Akko like the back of his hand and helps you understand the city like a local. We found the entire tour fascinating; Andrew was able to communicate both the history and culture of the city in an engaging way.
Included:
English, Hebrew and Arabic guides
Entry fees to sites (47 NIS per person)
Wheelchair accessible
Stroller accessible

Taste Tel Aviv with a local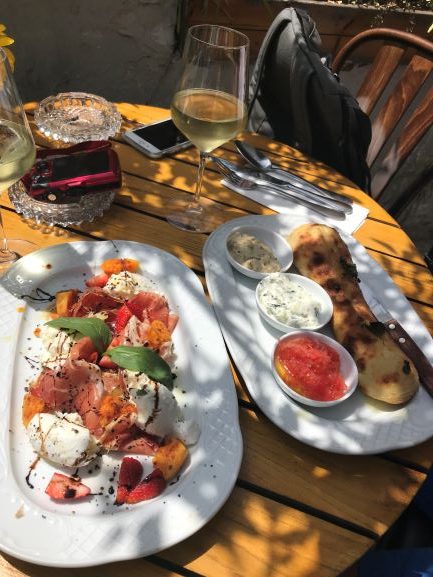 Eat your way through Tel Aviv's culinary scene on a private food tour of about 3 hours. Go on a delicious journey as you try 10 of the best food items beloved by the locals: from savory to sweet and local drinks. This tour will leave every foodie satisfied!
Enjoy tastings typical of the local cuisine and hand-picked by a local guide passionate about food like Hummus and Artisan Malabi. But that's not it! This tour is more than just food; it's a cultural experience! In between food stops, you'll also find city highlights making this experience a well-rounded tour that will satisfy every foodie.
Withlocals The 10 Tastings Private Food Tour™ is one of the Withlocals' signature tours available in major cities worldwide. They work with passionate local guides who earn a fair fee. They support local economies by only offering local produce and prevent over-tourism with only small non-intrusive groups. Their tours are carbon-neutral and away from the standard tourist routes.
To get more info you can check and book here: The 10 Tastings of Tel Aviv With Locals: Private Food Tour

For the Museum lovers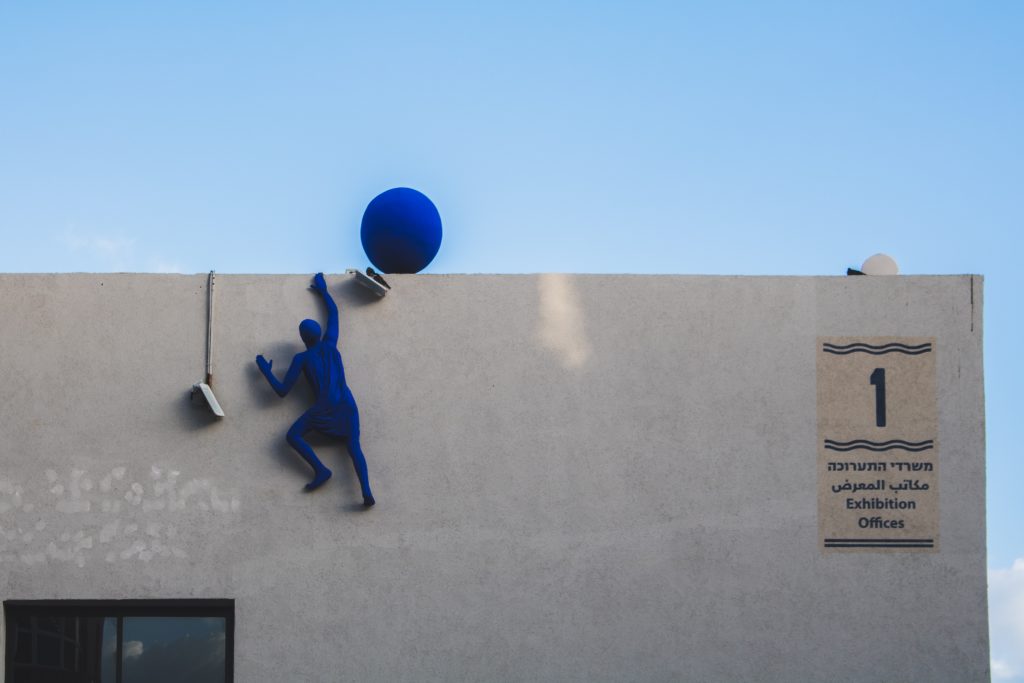 If you want to get to know the city better and fully appreciate its cultural life, be sure to visit one (or all) of the museums. We already mentioned the Museum of Art. Here are some more museums you may be interested in.
HELENA RUBINSTEIN PAVILLION – Located between Tel Aviv Museum and the small but lovely Gan Yaakov Park, this is a prominent museum of contemporary art.
BEIT HATFUTSOT: THE MUSEUM OF THE JEWISH PEOPLE – Located in Ramat Aviv, on the campus of Tel Aviv University, this incredible museum will take you through centuries of Jewish history and diaspora.
ERETZ ISRAEL MUSEUM – An archeology museum located in Ramat Aviv and also known as the Museum of the Land of Israel.
NAHUM GUTMAN MUSEUM OF ART – Entirely dedicated to Nahum Gutman, one of the most famous Israeli artists. The collection is great, and the building where the museum is located definitely worth checking out too.
RUBIN MUSEUM – In Bialik St, it's dedicated to the life and art of Israel's most influential artist.
BAUHAUS MUSEUM – This small gallery located on Bialik Street will help you get a better understanding of the Bauhaus architecture that gained Tel Aviv the nickname of White City.
BIALIK HOUSE – A small museum dedicated to the most famous Israeli poet, Hayim Nahman Bialik, in what used to be his house. Of course, you won't understand much of his poetry if you don't speak Hebrew or Yiddish, but you can still browse around the lovely building and some information is available in English.
BEIT HA'IR MUSEUM OF ART – A small art museum across the street from the town hall and facing a lovely small square.

Conclusion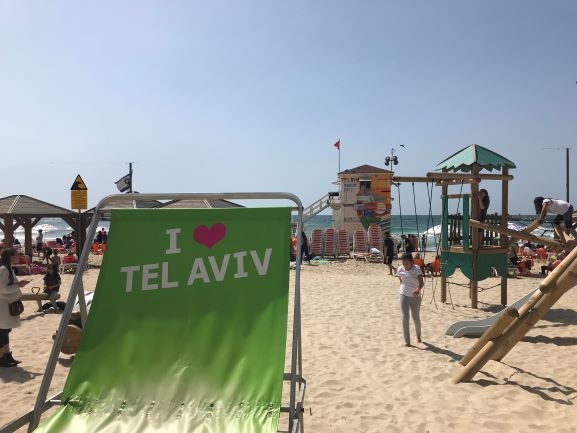 We found Tel Aviv to be a vibrant and wonderful city we absolutely loved. A trendy city with beautiful and lovely people. The gorgeous and long beaches, the trendy beach clubs combined with the history, make it a wonderful combination. Whether you're immersed in Acra's history or enjoying cocktails in Hilton Bay, shopping in one of the local markets, or visiting an interesting museum. Your day in Tel Aviv will soon be too short.
We decided on the spot to return quickly for a whole week to this special city on the coast of Israel. With this list of things to do in Tel Aviv, we hope that the choice of what to do in this city has become a little easier. Do you have any other good tips for this city? Then leave it below.