THE BEST HOTELS IN CRUISE PORT LONDON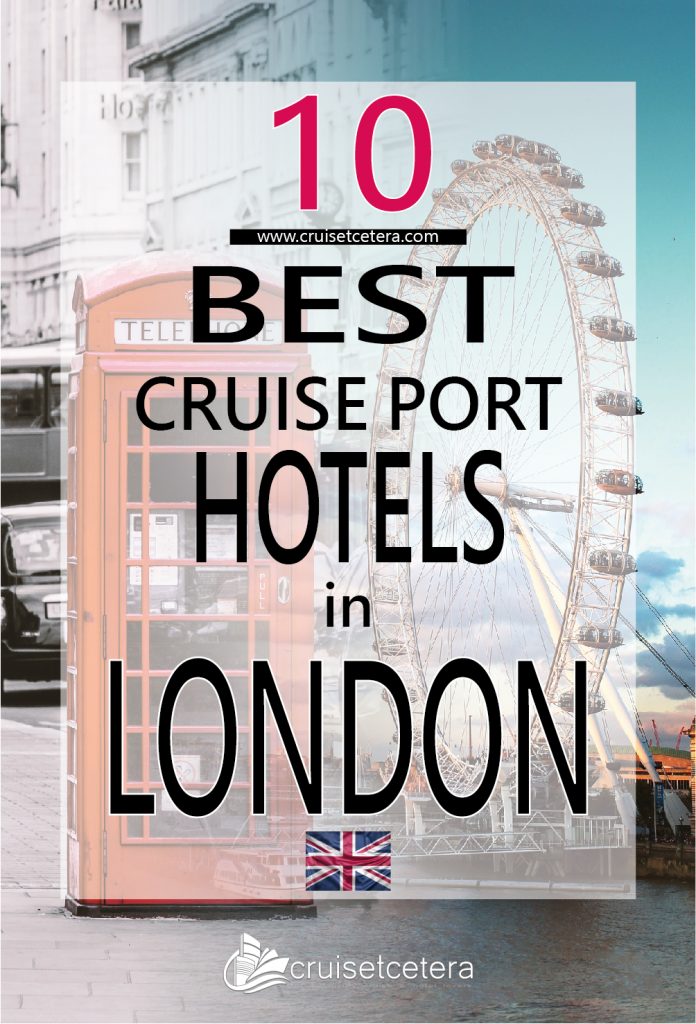 Few travel experiences compare to cruising from London. Sailing out from the backdrop of the city's iconic skyline makes it the perfect way to start any cruise vacation. Of course, there's also plenty to do if you want to explore the beautiful city of London a few days before your cruise. To start your cruise relaxed, and in style, we have selected the 10 most beautiful and best cruise port hotels in London for you!
Departing from London Tower Bridge, Tilbury, or Greenwich, you will find cruises from London with operators such as Silversea, Windstar Cruises, Azamara, Ponant, and Viking. Itineraries that use London as a port of embarkation are generally those that include Northern Europe, the Baltic, and Scandinavia, although it is also possible to find sailings to the Mediterranean and Canary Islands.
London, city, capital of the United Kingdom. It is one of the oldest of the world's largest cities. With a history spanning nearly two millennia, it is one of the most cosmopolitan. The city is by far the largest metropolis in Great Britain. It is also the economic, transport, and cultural center of the country.
London is located in southeastern England. Astride the River Thames and about 50 miles (80 km) upstream from its estuary on the North Sea. Satellite photos show that the metropolis is compactly situated in a green belt of open land. With the main ring road (the M25 motorway) surrounding it within a radius of about 30 km from the city center.
A beautiful city with history where there is plenty to experience. Certainly too short to stay for just 1 day. To start your cruise in the best and most relaxed way, we have selected the 10 best and most beautiful hotels in cruise port London.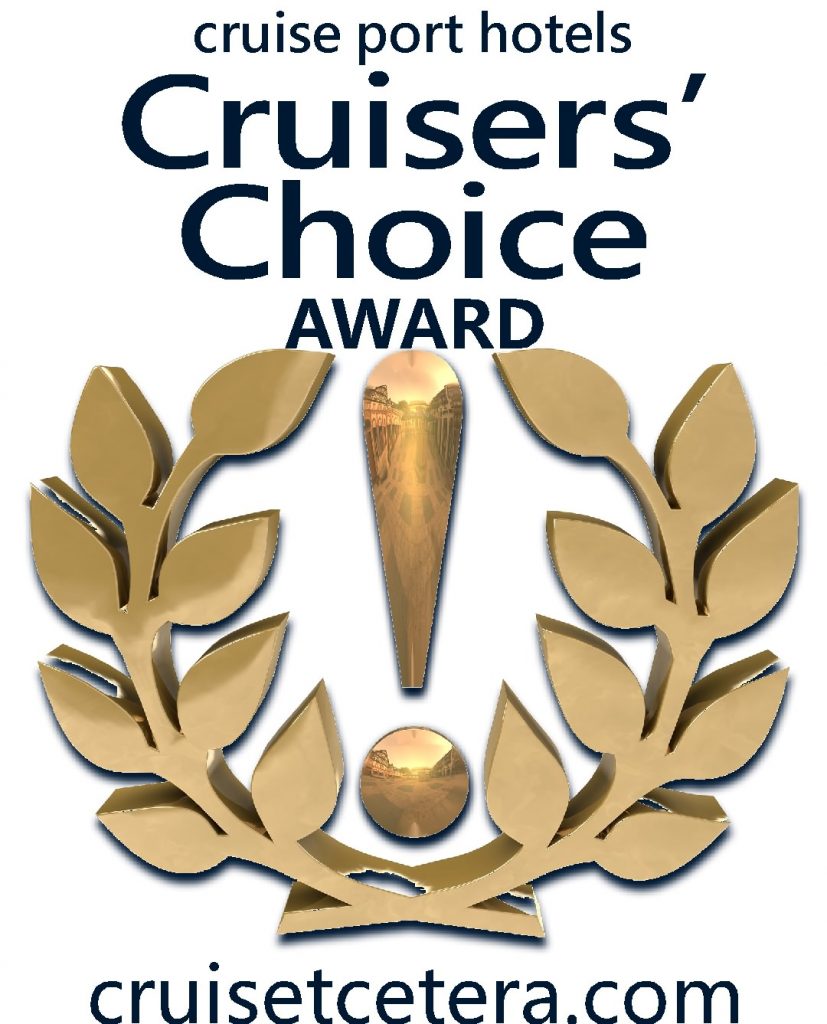 Of course with the Cruisers'Choice Award. Recommended by other luxury cruise enthusiasts in the Facebook Cruise Port Hotels and on Instagram Cruise Port Hotels. And of course by ourselves. We are not only huge cruise enthusiasts but also real Hotel addicts.
Thanks to years of experience, we have a nose for the best hotels in the best and most beautiful locations. And you probably already know it if you have read our previous blogs about hotels….. We love special hotels. Not a thirteen in a dozen hotels where you don't 'feel' the city where you are. Your booked cruise is going to be special and your hotel should also be an experience. One you can add to your Memories for Life list.
This is our top 10 BEST CRUISE PORT HOTELS IN LONDON, in random order;
1- Mandarin Oriental Hyde Park

*****
The essence of timeless heritage coupled with contemporary flair and impeccable service.
Sitting between glorious Royal Parkland and the buzz of central Knightsbridge. Mandarin Oriental Hyde Park, London is re-imagined and re-invented.
As part of the most extensive multi-million-pound restoration in the hotel's history, internationally renowned designer Joyce Wang oversaw the new design of all the rooms, suites, and public areas, inspired by the natural beauty of neighboring Hyde Park and the glamour of the 20th century Golden Age of travel.
The stunning re-imagining of The Spa at Mandarin Oriental with the hotel's destination restaurants and Mandarin Bar was directed by esteemed New York designer Adam D Tihany.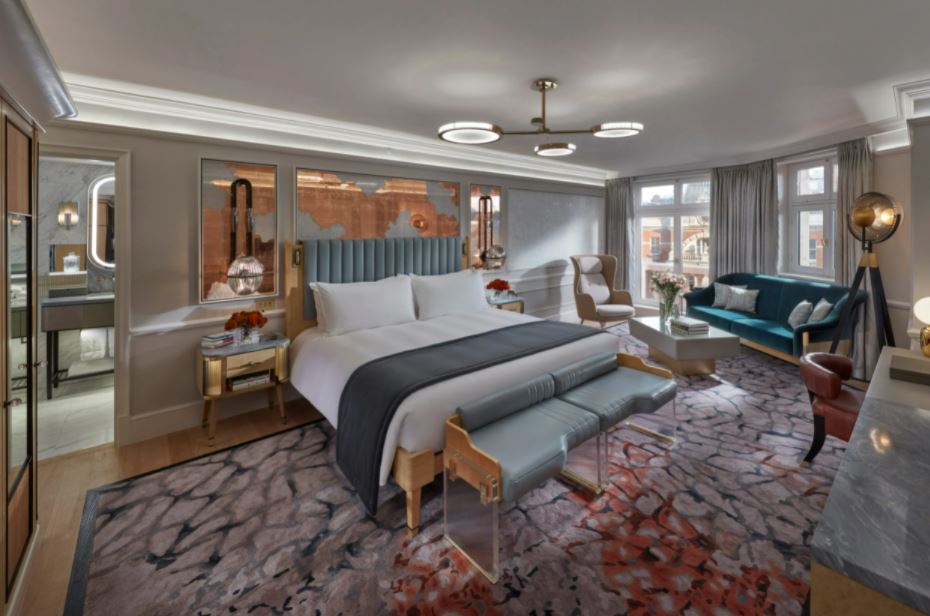 To view the suites brochure click here. Each room has its own unique layout with a bespoke leather-topped desk and custom-made Onyx chandeliers. Volakas marble bathrooms have either a walk-in shower or a bath with an in-built shower.
With two outstanding restaurants, two Michelin stars, and one magnificent bar can you get in the mood for your cruise. This hotel is undeniably one of the city's finest culinary destinations.
–
2- St. Ermin's Hotel, Autograph Collection

****
Experience Historic Luxury in central London.
The hotels' mantra has always been; "A home to you, but a hotel to us". They strive to create a relaxing environment in a professionally run hotel. The well-being of guests and their team is paramount. Nestled at the end of a tree-lined courtyard in the heart of Westminster, St. Ermin's an independent four-star deluxe hotel, offers guests a relaxing environment where they can unwind and be themselves.
A hotel with an intriguing and glamorous past, eclectic styling, gorgeous rooms, and suites. The enigmatic Caxton Bar and Terrace plus award-winning signature restaurant, The Caxton Grill. The four-star deluxe St. Ermin's Hotel in London's St James's Park has been transformed after a £30 million renovation project. The overall result is a distinctly individual, contemporary, and welcoming offering. With room rates starting at just £229 is accessible for all to experience.
St. Ermin's is a member of Marriott International's Autograph Collection.
The hotel is the only publicly accessible establishment in London closely associated with the history of espionage. Particularly the British intelligence services through WWII and the Cold War.
Location, Location, Location…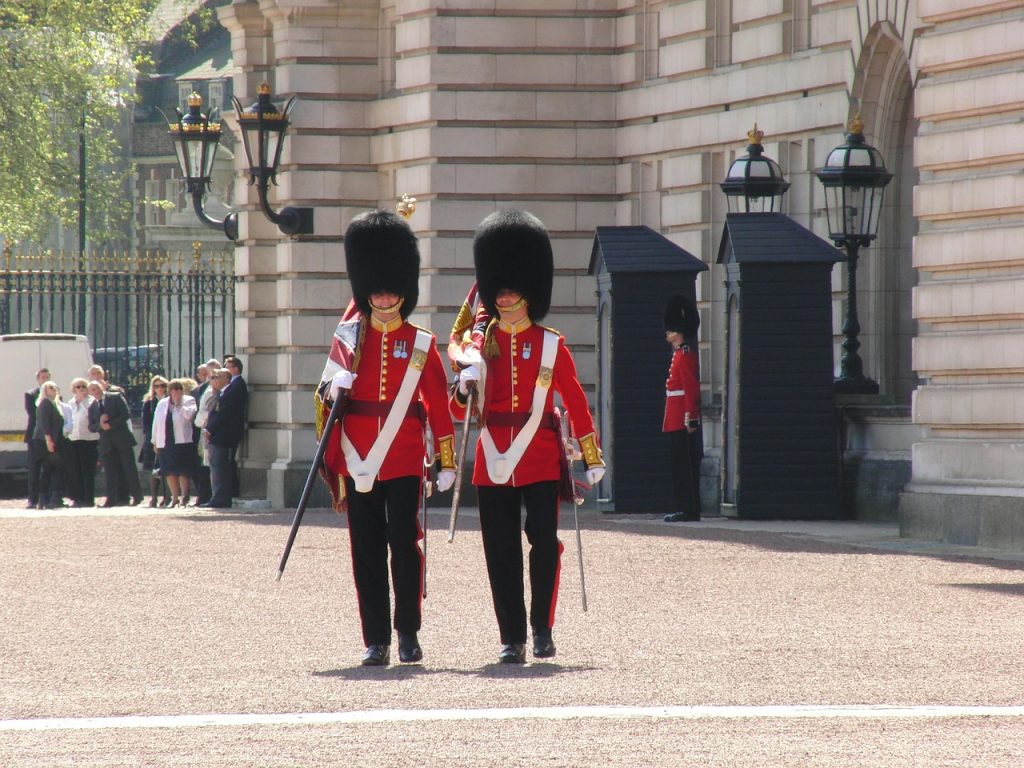 It is just a five-minute walk across St James's Park to Buckingham Palace and Piccadilly. The hotel is ideally placed for stylish city sightseeing in the resurgent corporate Westminster and Victoria areas prior to your cruise. What's more, with the hotel's links to the establishment's secret London, it's a stone's throw from Whitehall, Big Ben, Parliament Square, The Cabinet War Rooms, New Scotland Yard, and just a hop from the water taxis on the river and the South Bank.
Inspired by England's indelible history and informed by its dynamic present, St. Ermin's Hotel, Autograph Collection is a luxury destination amid the best of central London. Immerse yourself in stylish comfort in 4-star accommodations with contemporary amenities, premium bath products, and high-speed Wi-Fi. A distinctive haven of modern comfort, the hotel provides distinguished luxury that captures London's historic essence.
–
3- The Cadogan, A Belmond Hotel

*****
A haven of calm at the crossroads of the city's most stylish neighbourhoods
When you stay at Belmond Cadogan Hotel, London is yours to explore. Step out from the main entrance and be swept up in the luxury brands and high-end retailers of Knightsbridge. Alternatively, slip out of the side door and be in the artistic heart of Chelsea, full of craft boutiques, artisanal food, and trendy drinking spots.
After a day sampling the delights of the city, you'll find every indulgence awaiting you back at the hotel. Cozy up in front of the fire with your drink of choice, or slip into the indulgence of your beautiful suite. It's truly a welcome home.
Step into your own personal sanctuary in the heart of the world's most exciting city. With a longstanding history as the top hotel in London Knightsbridge, the rooms and suites at Belmond Cadogan Hotel pay tribute to their past while offering every modern indulgence.
Those searching for the best restaurants in London need to look no further. Under the culinary direction of celebrated chef Adam Handling, Belmond Cadogan Hotel has something for every taste, at every time of day. Dine on exceptionally executed modern British cuisine in the restaurant, or enjoy a traditional afternoon tea experience in the Lounge. Isn't this how a cruise is supposed to begin!?
–
4- The Egerton House Hotel

*****
The epitome of elegance
The five-star Egerton House Hotel is meticulously designed with traditional style and flair. This luxury boutique townhouse hotel was built in 1843. It is located in one of London's most prestigious areas on a quiet tree-lined street in the heart of fashionable Knightsbridge overlooking peaceful gardens.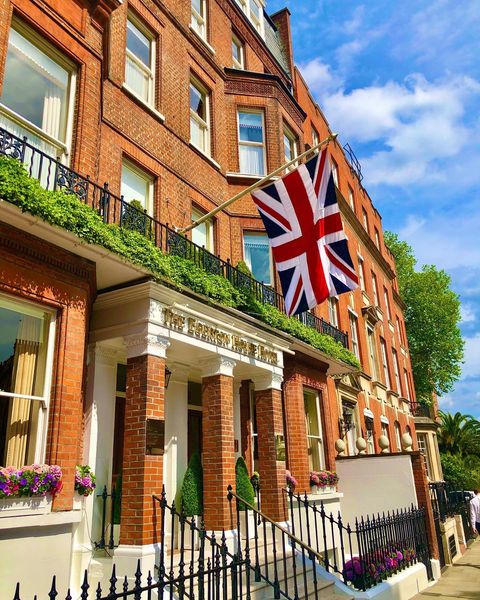 You will find yourself just a short walk from Harrods, Harvey Nichols, Sloane Street, and the King's Road. Making this the ideal base from which to enjoy the best of vibrant London. And for the museum lovers, we are within walking distance from some of London's most well-known museums including the V&A, Science, and Natural History Museums.
With a unique character and beautiful traditional style, enjoy a delicious breakfast, Afternoon Tea by the fire, or sip on one of London's most famous martinis. A passionate team welcomes each guest like family. A stay at the five-star Egerton House Hotel takes you back to a time when service, hospitality, and elegant accommodation were held in the highest esteem. To this day, their rooms retain the grandeur and exclusivity of the townhouses of which they were once part.
They are proud to have a long-standing partnership with the Victoria & Albert Museum, the world's greatest museum of art and design, with collections unrivaled in their scope and diversity. You will have complimentary tickets to the V&A's feature exhibitions exclusively for their guests, including those that are sold out.
–
5- Great Scotland Yard Hotel

*****
Luxury Hotel near Covent Garden In the Unbound Collection by Hyatt
All the secrets of Scotland yard come together for you to discover just before your cruise begins. A five-star luxury hotel, located a stone's throw away from Covent Garden. Great Scotland Yard is one of London's most historic and cherished buildings that holds more hidden stories than any other kind in London. Where tradition and history meet modern luxury. One of a Kind.
Stay in an 1820's Grade II listed building with Edwardian & Victorian architecture, featuring 152 guest rooms including eight Suites and one Standalone Townhouse. Enjoy a unique and quintessentially quirky twist on a British classic, where no two rooms are the same. With stunning Mary Poppins views of London. For the ultimate unique and quintessentially quirky twist on a British classic. Where no two rooms are the same.
The ground floor at GSY provides a beckoning trove of food and beverage outlets. Uncover classics with a twist, from the best ingredients, rooted in honest craft.
From start to finish you will be treated as if you were the only guests in the hotel by the always attentive and unbelievably knowledgeable staff. The hotel is full of quirks and nods to the history of the building and all the personalities related to Great Scotland Yard and you will be so impressed by the fact that everyone knows so much about it.
That's a bit different than a standard room in any world city, isn't it?
–
6- The Marylebone Hotel *****
A slice of the city from the rooftop terrace suites
The Marylebone enjoys a spectacular location in the heart of Marylebone village, one of London's trendiest neighborhoods. The hotel sits within a short walk from the bustle of Oxford Street, the iconic stores of Bond Street and Mayfair, and Harley Street.
The vibrant charm of Marylebone village is mirrored in the style and ambiance of The Marylebone. This charming tone starts in the hotel's chic lobby and Cocktail Bar, characterized by their inviting nooks and crannies. Then, there is the ever-popular 108 Brasserie and Bar, set on the cobbles of Marylebone Lane and a lively forum for locals and guests alike.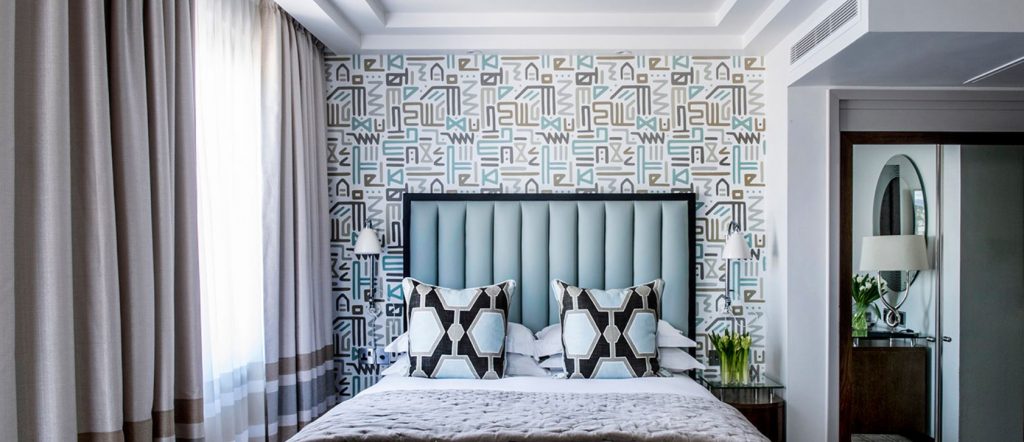 Stylishly designed guest rooms and suites, including our acclaimed rooftop terrace suites, epitomize modern comfort.
Meanwhile, guests may enjoy complimentary access to the exclusive and on-site Third Space Health Club – with a gym and an 18m pool.
–
7- The Kensington Hotel

*****
Classy & Stylish Located in the heart of South Kensington
Located in the heart of South Kensington, one of London's most charming neighborhoods. The stylish Kensington hotel sits only moments from The Royal Albert Hall, The Victoria and Albert Museum, Kensington Gardens, and world-famous Harrods.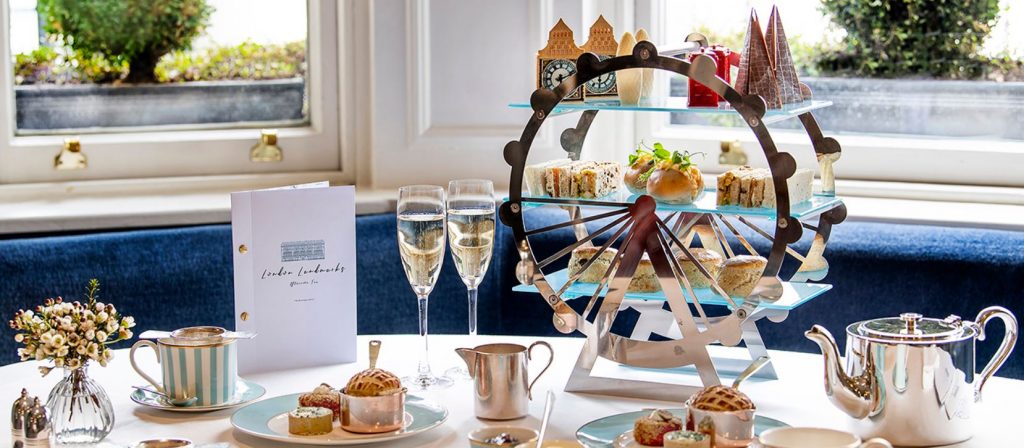 With open fires, high ceilings, and heritage décor, the hotel's elegant drawing rooms evoke a sense of Victorian grandeur. It provides the perfect setting to read a good book or a tête-à-tête. Lunch, dinner and the quintessentially English 'London Landmarks Afternoon Tea' may be enjoyed in a stylish Townhouse. Whilst delicious cocktails and expansive 'Terroirs' wine list may be savored in the warm surrounds of wood-cladded K Bar.
Guestrooms and suites reflect a delicate blend of period charm and modern comfort while the hotel's signature suites take luxury to a new level. In essence, it all combines to lend a personal, familiar ambiance – reminiscent of a members' club, where everyone feels like they belong.
–
8- NoMad London

*****
Understated luxury and residential comfort that is distinctly NoMad
NoMad London takes residence inside the historic, Grade II-listed building famously known as The Bow Street Magistrates' Court and Police Station. A collaboration with New York-based interior design studio Roman and Williams, the transformation of the storied 19th-century building draws inspiration from its history and location in Covent Garden, as well as exploring the artistic and cultural connection between London and New York.
NoMad London is located at the heart of Covent Garden, steps away from the prestigious Royal Opera House. The hotel is a short walk from the Covent Garden Underground on the Piccadilly Line and is within walking distance of Soho, the River Thames, and Leicester Square.
The beautifully designed and furnished rooms are a gem each for itself. You imagine yourself in another time of luxury and grandeur. And yet with all the comforts of modern times. Each room has its own design and exudes luxury and opulence.
The NoMad Restaurant and bar are set inside a lushly landscaped atrium with a soaring glass ceiling. Space is flooded with natural light providing energy and liveliness during the day. In the evening, the restaurant transforms into a more intimate setting, revealing its moody and sensual character.
Executive Chef Ashley Abodeely's menu is eclectic, with a focus on the local and regional bounty from farm, field, and coast. Under the direction of Pietro Collina and Leo Robitschek, the cocktail program showcases traditional drinks, NoMad favorites. And a new selection of cocktails focused on the seasonality of London. Wine Director Guy Palmer-Brown and the team offer an extensive wine list of classics while introducing new and exciting varietals and terroirs with a special focus on England's viticulture.
What a treat to stay here! Can you start your cruise better than this you think?
–
9- Number Sixteen

*****
A well-designed boutique-style hotel and a wonderful modern London experience
Number Sixteen forms part of a mid-Victorian white stucco terrace situated in the heart of lively South Kensington. Hyde Park and world-renowned museums, including the Natural History Museum, the Science Museum, and the Victoria and Albert Museum are all within short walking distance.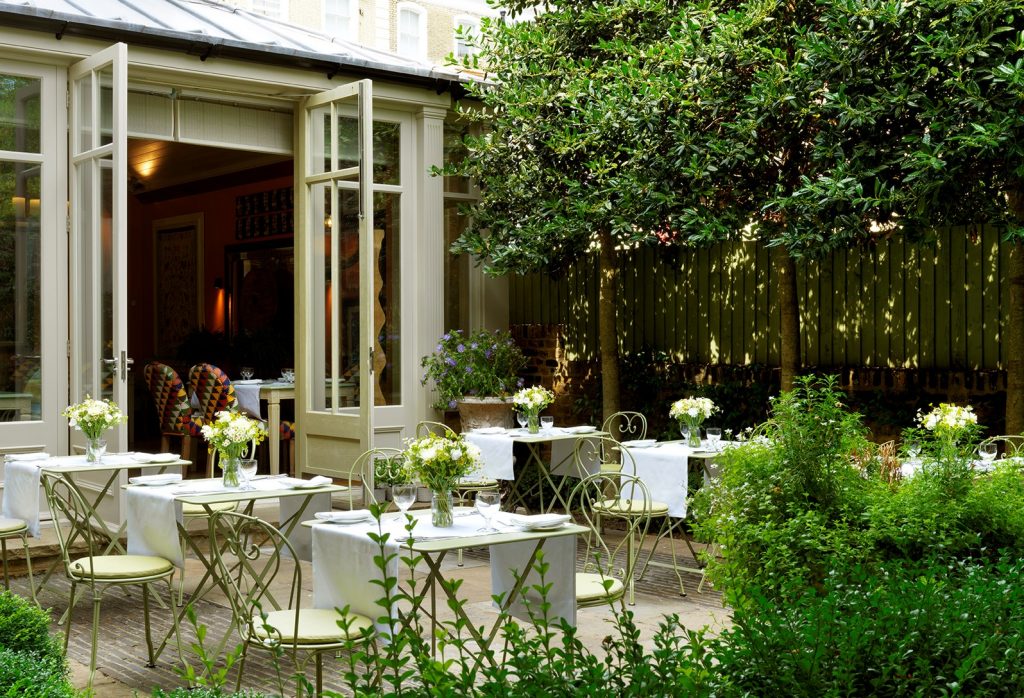 Number Sixteen has its own tree-filled private garden, a stylish Drawing Room, and sunny Orangery. The hotel offers 24-hour room service, valet, concierge, and high-speed wireless internet access.
Number Sixteen is either the coziest boutique hotel in London or the most luxurious bed and breakfast. It's hard to decide as far as we're concerned! The location, on a sleepy side street in South Kensington, is quite well hidden. All we see is a row of nineteenth-century Victorian mansions with no sign to show the way.
As a member of Firmdale's Townhouse Collection, it's a more low-key experience as Number Sixteen stands out for its intimate scale and quiet charm.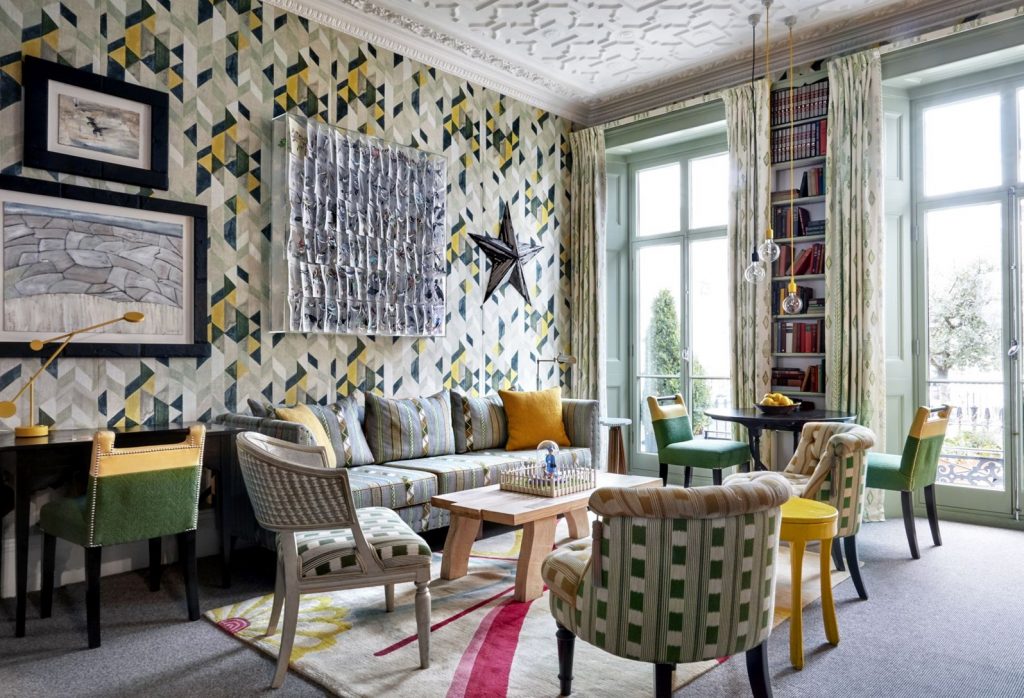 The hotel's interior avoids an excess of clichéd English influences and mixes the usual antiques with modern artwork and muted contemporary colors. The result is chic without being expensive. The predominant bird and butterfly theme is unique, although it may seem like an odd choice.
The rooms range from typical London size (quite small) to surprisingly large. They are all luxuriously equipped with large comfortable beds and top-quality linen. Some rooms have a balcony and the views vary too. From views over Sumner Place or the meticulously tended gardens and conservatory to the rear.
The conservatory is also the site of a restaurant that serves breakfast, lunch, and dinner. This to guests and non-residents alike, and social life spills over into the hotel's library and drawing-room. Here travelers can snuggle cozily around the fireplace or the honor bar.
While Number Sixteen isn't exactly the center of nightlife, there's plenty to like about its geographic location. The nearest metro station takes you directly to Heathrow, the West End, and the theater and financial districts. Hyde Park, Harrods, and Knightsbridge shops are within walking distance, and the Natural History and Victoria & Albert museums are a stone's throw away. Swinging? Not quite, but for those who cringe at the mention of that most tiresome word, this place is almost perfect.
–
10- The Franklin London *****
Sophisticated elegance in the heart of Knightbridge
Located in an elegant Victorian building and surrounded by the stunning Egerton Gardens, The Franklin hotel in the heart of London, Knightsbridge, combines the warmth of a private home with the impeccable service of a luxury hotel.
Sometimes, remaking the present begins with revisiting the past. The Franklin's romance recalls a gilded age. Anouska Hempel's elegantly opulent interiors achieve the seemingly impossible in this new Knightsbridge hotel. Her embroidered furnishings, Venetian stone floors, and filigree silverware capture the spirit of a glorious bygone era and create something entirely modern.
However, it isn't just epochs that come together effortlessly here. The Franklin boutique hotel is as quintessentially English as its near neighbors Harrods and the V&A. But alongside the informal English townhouse ambiance and relaxing London-garden views, there are other more sensual, Eastern influences.
A Hammam greets guests as part of our state-of-the-art wellbeing offering and the bedrooms' rich silks and cotton reveal The Franklin's devotion to luxurious living touches every sense.
Every one of the 35 spacious rooms and suites, including the 62 m2 Presidential Suite – the ultimate distillation of elegance and style – is flooded with light and exquisitely furnished for total comfort. Most offer views of Knightsbridge or the verdant parkland of Egerton Gardens.
Set in the heart of Knightsbridge, The Franklin is also renowned for its restaurant, presided by Michelin-starred Chef Alfredo Russo, and the Gatsby-Esque ambiance of its stylish Bar.
When you want to get surprised and overwhelmed you are in the right place here!
Conclusion
It is of course totally impossible to present only 10 hotels in a metropolis like London. There is such a huge range of fantastic hotels! Sure, there are also many cheaper hotels, but our experience shows that you have to be a little careful in London. If you would like a list of cheaper hotels from us with a wonderful experience, you can always email us.
But these 10 best Cruise Port Hotels in London are simply amazing! And assure you of another lifelong memory. Because, in our opinion, a good start to a memorable cruise already starts ashore in one of these Cruise Port Hotels. Specially selected for you luxury cruise enthusiast. For a total overview of the hotels go to our website.
If you think you are absolutely missing one of these top 10 best cruise port hotels in London, let us know below!