Best cruise port hotels as picked and recommended by members of our groups: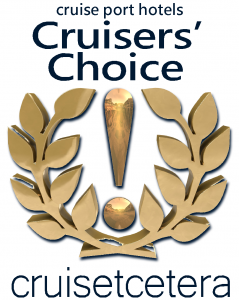 History meets modern luxury
Nestled in the midst of Potts Point on the edge of the Sydney CBD, Spicers Potts Point combines an urban feel with a welcoming and congenial atmosphere. Three Victorian terrace houses have been meticulously restored with their immaculate facades fronting one of Sydney's most picturesque avenues.
Arriving at the entrance of this historic yet modern boutique hotel feels like coming home.
The interior is light-filled, drawing inspiration from Sydney's iconic beaches and ocean. Visitors to the hotel can enjoy a drink at the reception bar, breakfast in the Garden Room, or even host a small meeting in the Victoria and Albert room.
Potts Point is known for its fashionable shops, cafés, and restaurants and easy access to Sydney's world-class attractions.
With sixteen luxuriously appointed rooms and four suites, Spicers
Potts Point is an intimate inner-city hotel unlike anything else in
Sydney. The hotel offers a range of accommodation options, each with modern fittings and furnishings such as rain showers, Bose sound systems, and working space.
With a light, airy and generous feel, Spicers Potts Point features two Queen, 11 King, and three Luxe King rooms ranging in size from
19sqm to 36sqm, while our spacious Victoria and Victoria Terrace Suites are 43sqm. Our Victoria Terrace Suites also feature a private second-floor terrace.

LOCATION
Potts Point is both an iconic and historic area of Sydney, located just a few kilometers from the CBD and many of Sydney's best-known attractions including the Royal Botanical Gardens, The Art Gallery of NSW, Circular Quay, and the Sydney Opera House. The area is also home to some of Sydney's best restaurants and cafés located just a short walk from Spicers Potts Point.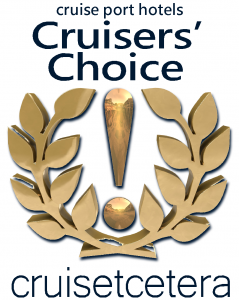 Gary C.: "Definitely Four Seasons. Outstanding suite, breakfast, service, and Rocks location."
Lola D.:" Four Seasons is the best and not too far from Circular Quay."
Paula S.:" We stayed at Four Seasons in Sydney! Great location – close to the waterfront and Opera House!"
Sherry R.:" Four Seasons. Awesome location and service!"
The location doesn't get any better than this: Iconic Sydney Harbor sits at the doorstep of our award-winning Central Business District Hotel, with historic The Rocks and Circular Quay right next door. Head out to explore the nearby shopping, outdoor adventure, and vibrant social scene that surrounds us, then meet back at Mode Kitchen & Bar for fresh, local cuisine and drinks at Grain.
In Sydney, work and play are never too far apart. And that's just the way I like it. Ideally suited to the modern traveler, the newly remodeled guestrooms have striking views on Sydney's skyline and are filled with the sun. For dinner, it's fresh, uncomplicated cuisine at Mode Kitchen & Bar. For drinks, take your pick from the 200-plus whiskey menu or selection of bespoke, craft beers, and handcrafted cocktails at Grain, their award-winning spirits, and cocktail bar.
'Great food, great drinks equal great memories. Fantastic as Pre-Cruise Hotel!'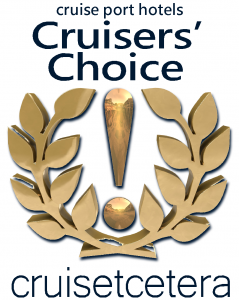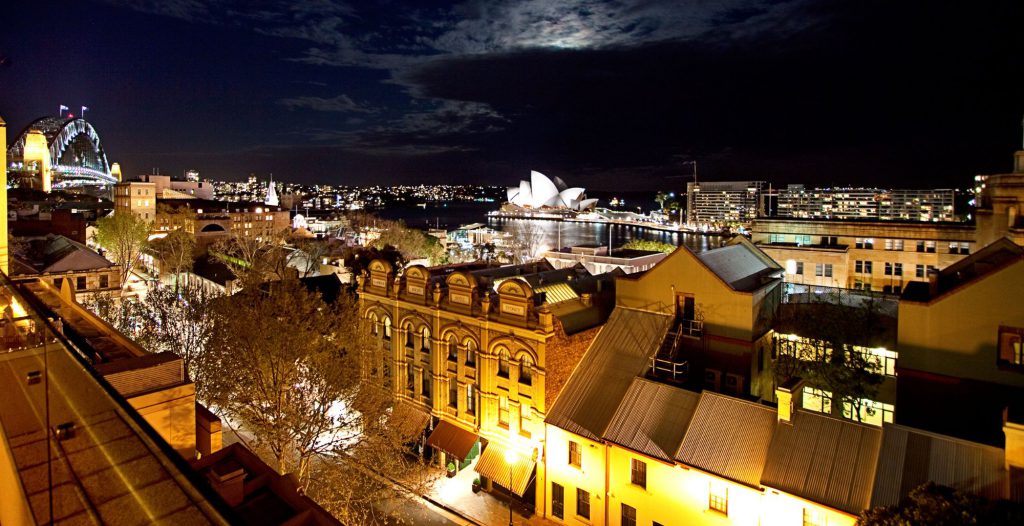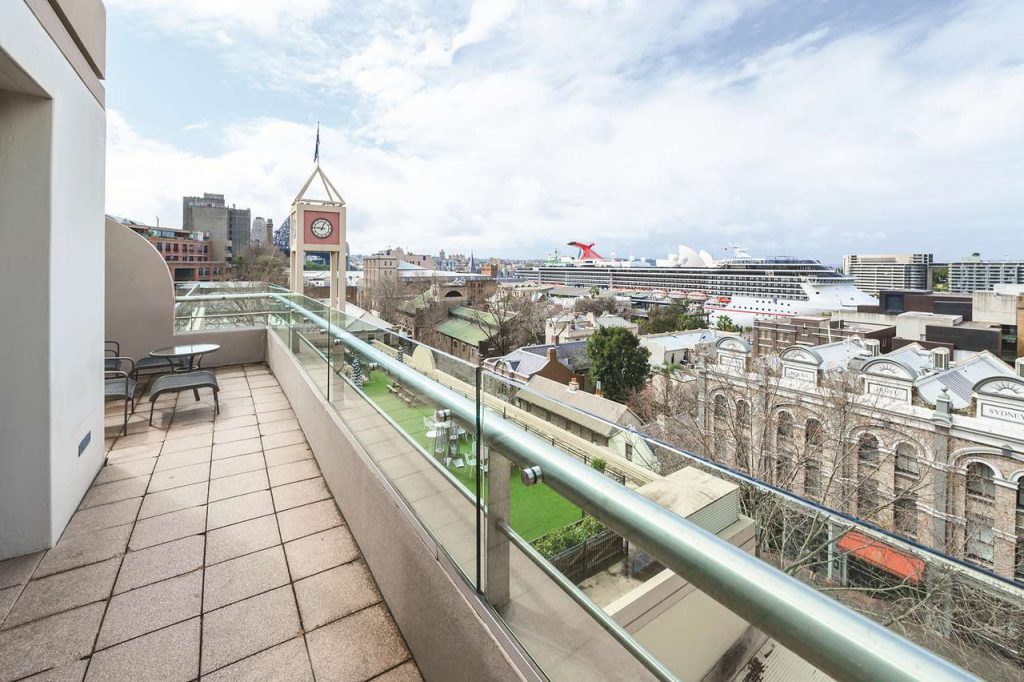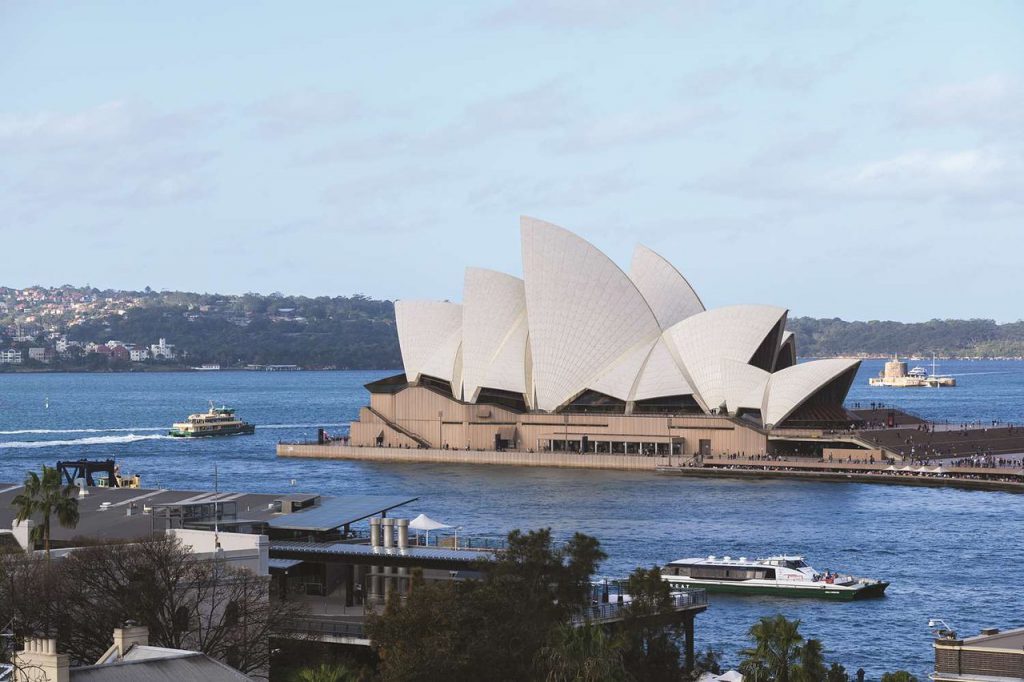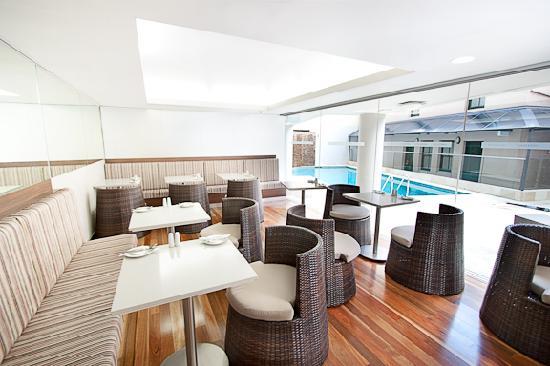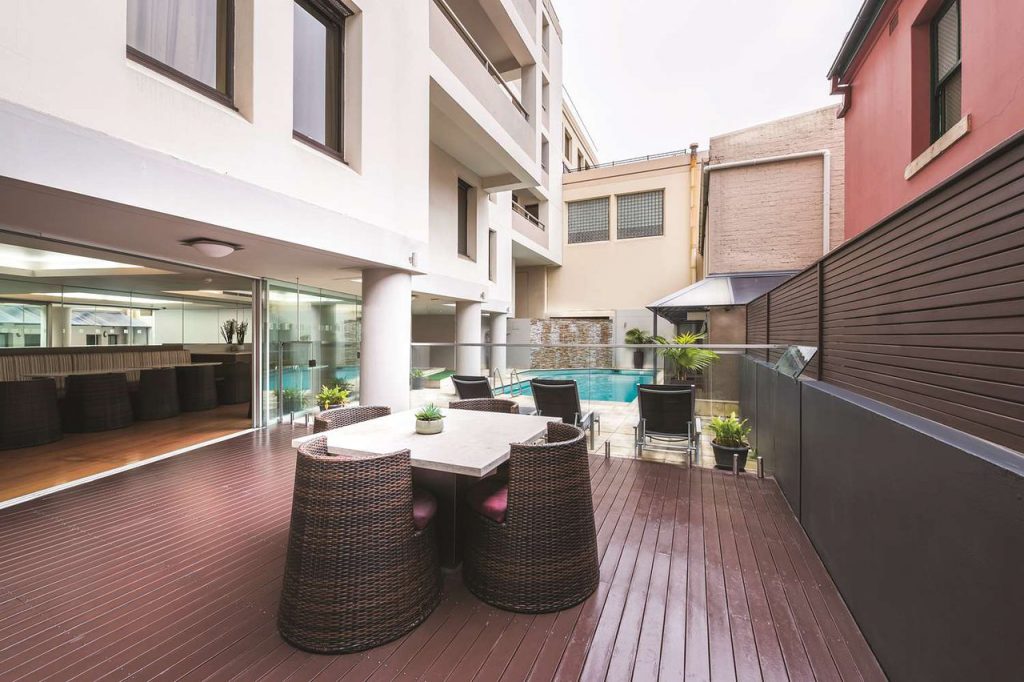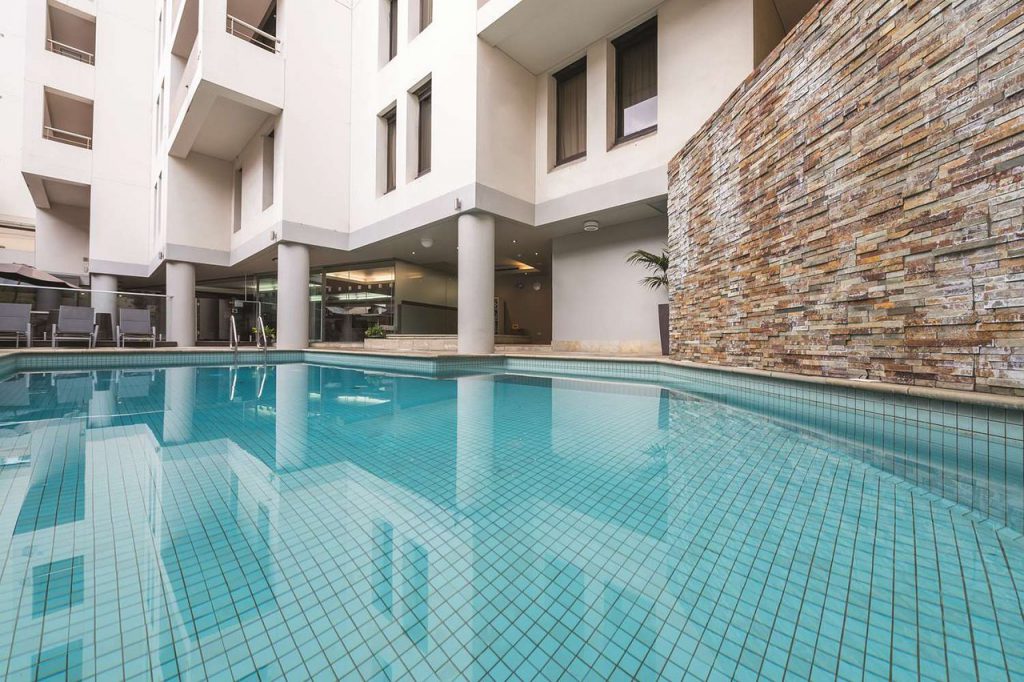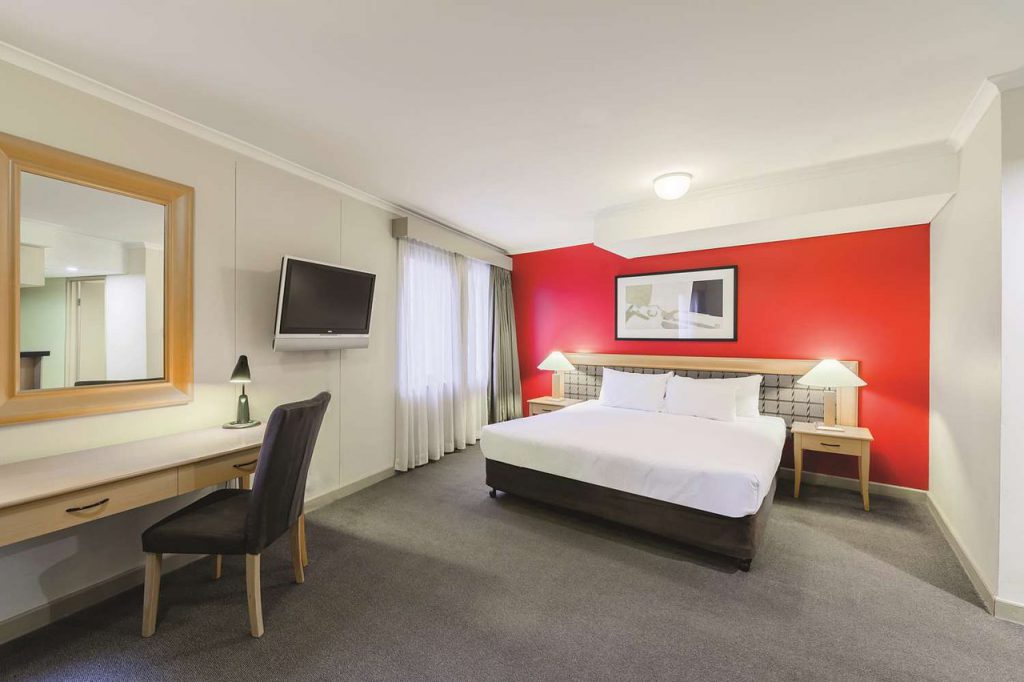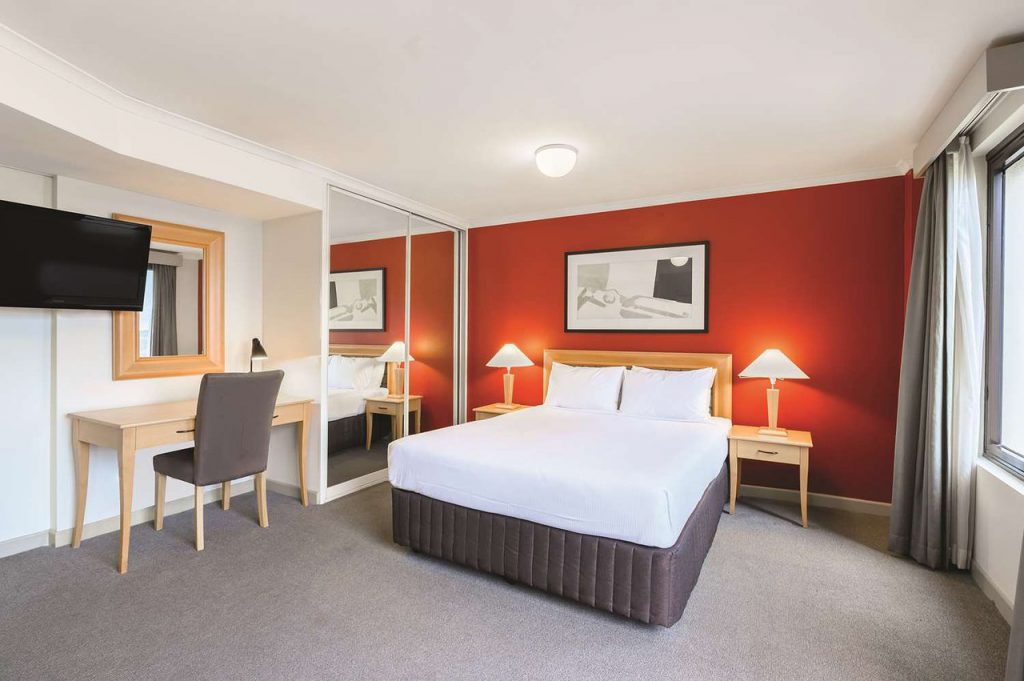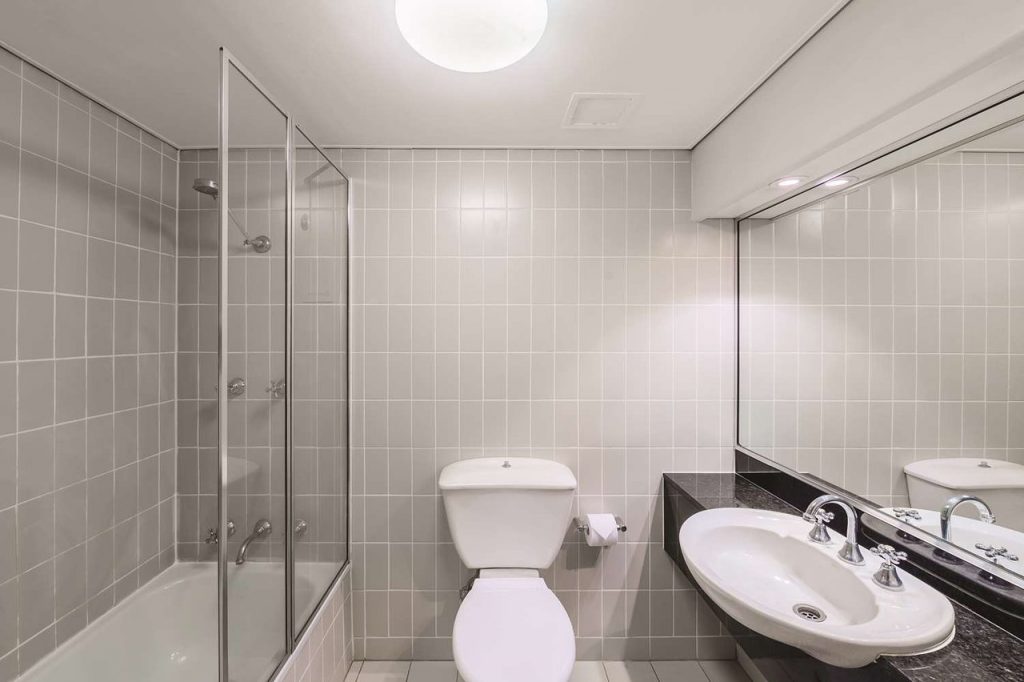 Sandy H.:" Rendezvous Hotel, The Rocks, Sydney just 5 minutes walk from the Cruise Terminal and Circular Quay. Wonderful views from our balcony room over to the Opera House."
Rendezvous Hotel Sydney The Rocks is a charming hotel in the heart of The Rocks, a vibrant historical neighbourhood in downtown Sydney. With a colourful past closely tied to the history of European settlement in Australia, The Rocks is today a lively precinct with eateries and boutiques housed in some of Sydney's oldest buildings. The central business district is within walking distance from Rendezvous Hotel Sydney The Rocks, and many of the city's top shopping, dining and entertainment venues are at your doorstep. There is plenty to see and do, with Harbour Bridge, Susannah Place Museum and the Overseas Passenger Terminal all just a short stroll from the hotel.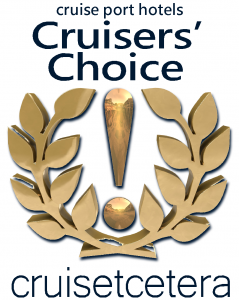 Nancy A.:" We stayed at the Hilton in the city – it was fabulous!"
Jan Morton L.:" I second that."
Stylish comfort in the heart of Sydney
This hotel is at the heart of Sydney's Central Business District, adjacent to the Queen Victoria Building shopping arcade. They're within two kilometers of Darling Harbor entertainment, the Sydney Opera House, and the Royal Botanic Gardens. Take some time to relax at the full-service spa, and enjoy a fitness center and indoor pool with sauna.
Visit Glass Brasserie for award-winning cuisine prepared by renowned chef Luke Mangan. Zeta Bar offers a terraced escape overlooking the city, Marble Bar boasts authentic 1893 architecture and live music, and Glass Wine Bar is stocked with an array of boutique vintages. Room service is available 24 hours.
Large windows with blackout blinds, desk, minibar, roll-in shower, Hilton Serenity Bed, TV.
Check in to this contemporary room with a king-size Hilton Serenity Bed. Make use of the desk and WiFi access to get some work done, or relax in front of the LCD TV.
The rooms have special touches which include a daily newspaper, bathroom amenities, and bathrobe.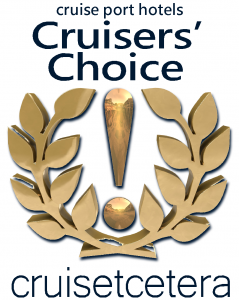 Rhonda D.:" We stayed at the Amora Jamison which was within walking distance of the main pier area. Wonderful place to stay!"
LOCATED IN THE HEART OF THE SYDNEY CBD
Five-star Amora Hotel Jamison Sydney offers 415 boutique guest rooms and combines space, style, and warmth to provide the ultimate ambiance for leisure and business travel. The hotel is renowned for its excellent location, an easy walk from The Rocks, Wynyard Station, Barangaroo, Circular Quay, Sydney Opera House, and the Harbour Bridge.
In the heart of Sydney's CBD, five-star Amora Hotel Jamison Sydney offers 415 spacious guest rooms with separate bath and shower, along with service setting the standard for Sydney hospitality.
An easy walk from Circular Quay, Sydney Harbour Bridge, Sydney Opera House, The Rocks, Botanical Gardens, Barangaroo, and only a few minutes from Wynyard train and light-rail stations, makes Amora one of the most desired locations for those traveling for either business or leisure.
The hotel amenities include 10 function spaces catering from 4 to 370 people, along with a contemporary restaurant and bar. Amora's indoor heated swimming pool, sauna, jacuzzi, steam room, day spa provide a perfect environment to relax and rejuvenate. Friendly Concierge and 24-hour room service ensure the team is on hand to assist with your every need.
Amora Hotel Jamison Sydney offers exceptional value for money.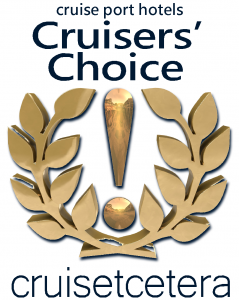 Doug M.:" Park Hyatt – amazing hotel right next to the dock."
Joyce C.; "We stayed there several years ago. It was fantastic. Absolutely phenomenal, but pricey. Great view of the Opera House from our room."
Enjoy a Luxe Stay on Sydney Harbour
At Park Hyatt Sydney, wake up to unrivalled views of the Sydney Opera House. Explore the vibrant Rocks village, filled with cobbled laneways, cafés, art galleries, museums, and luxury stores.
With a coveted address in the Rocks, Park Hyatt Sydney sits between the Sydney Opera House and Harbour Bridge on Sydney Harbour. Live like a local with a tour of the historic neighborhood, and discover the Museum of Contemporary Art and the Royal Botanical Gardens, each within easy access of the hotel.  
Park Hyatt Sydney's guest rooms are residential in style, offering luxury contemporary, harbourside living. Starting at a spacious 40 square meters, guest room interiors reflect a natural feel with rich layers of chocolate, cream and beige hues. Luxurious custom furnishings & fittings, naturally-textured fabrics, subtle plush carpets, designer lighting and the latest technology feature throughout. Specially commissioned art by prominent Australian artists is on display, creating an art gallery of unique art pieces in all 155 guest rooms and suites.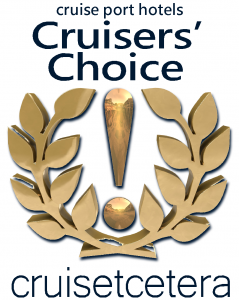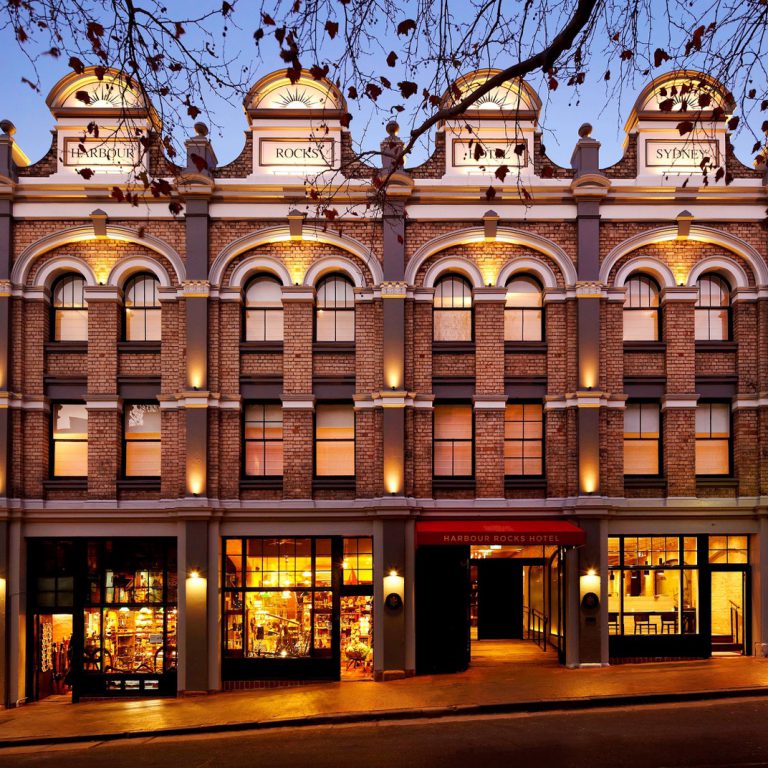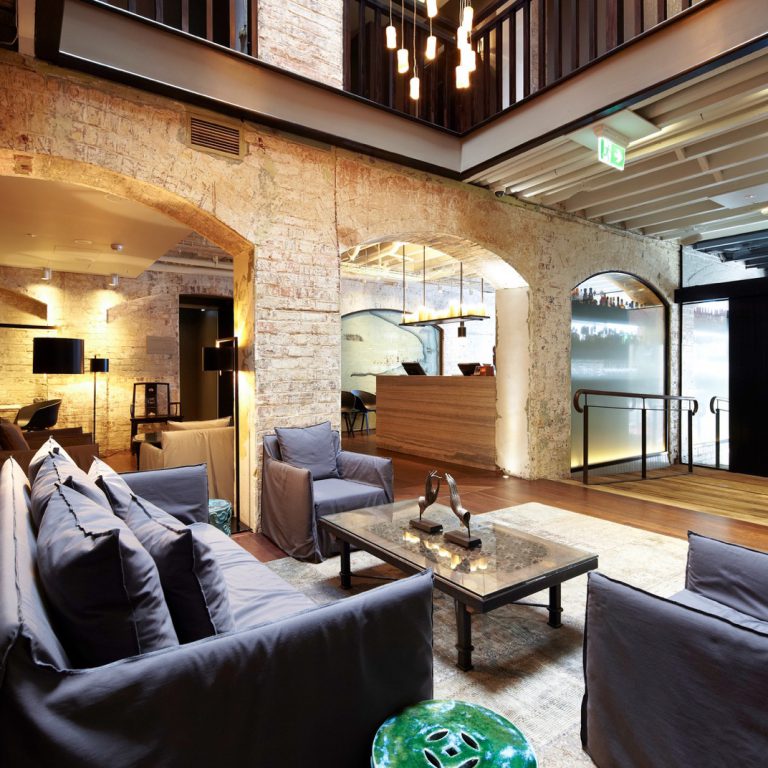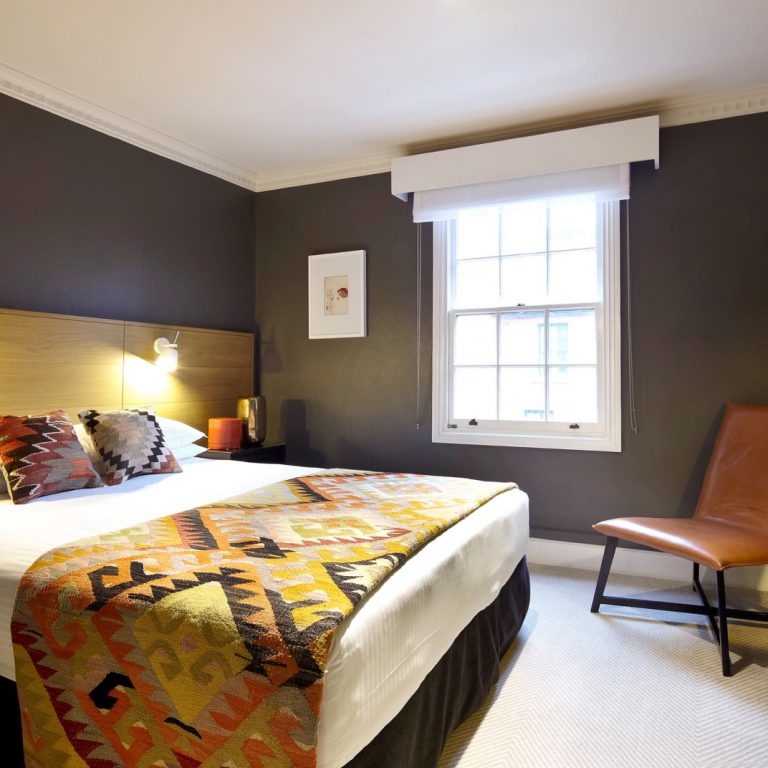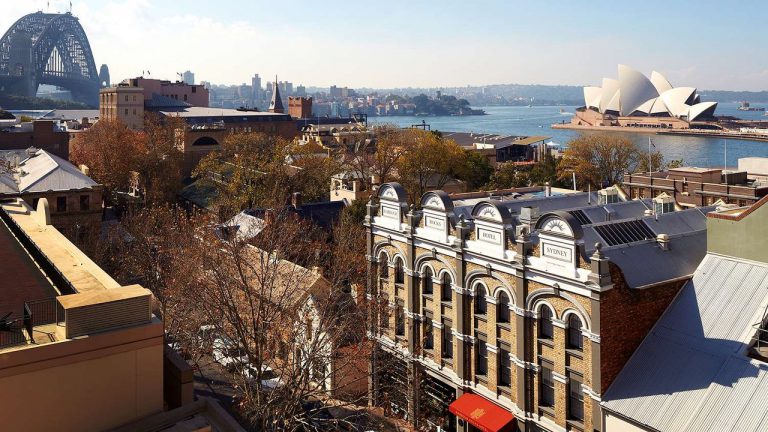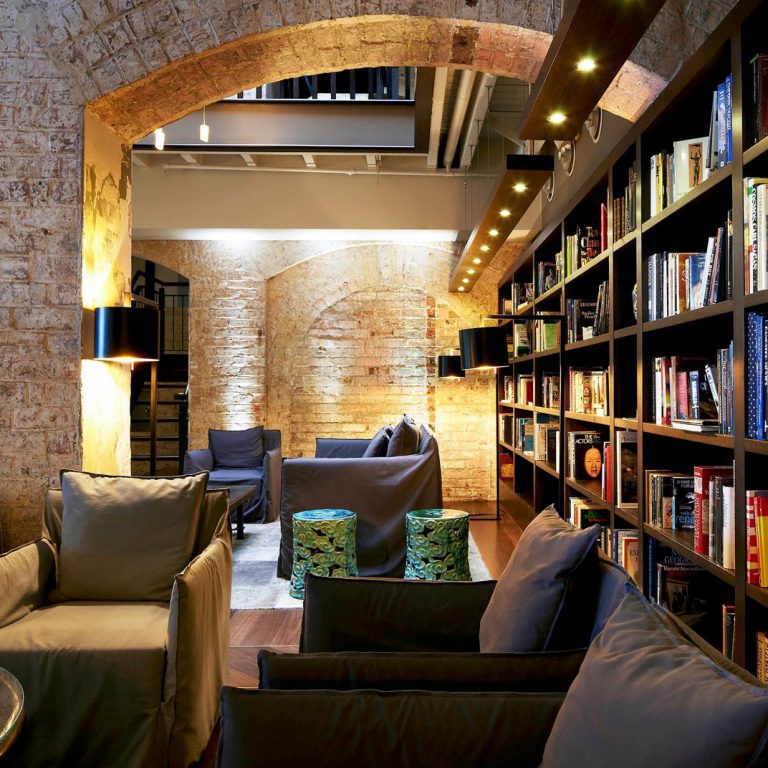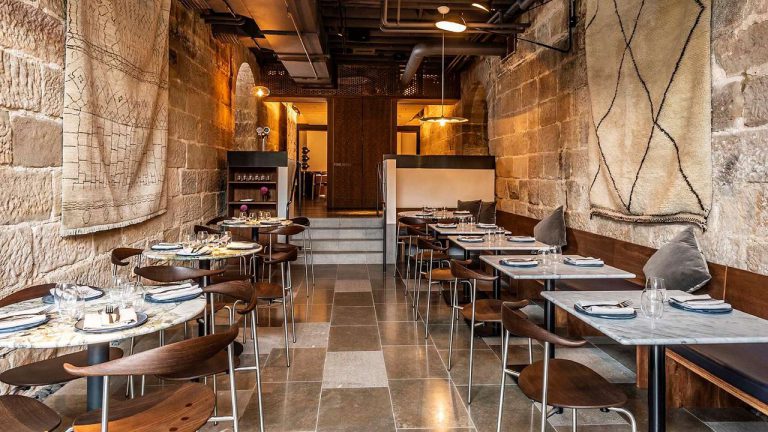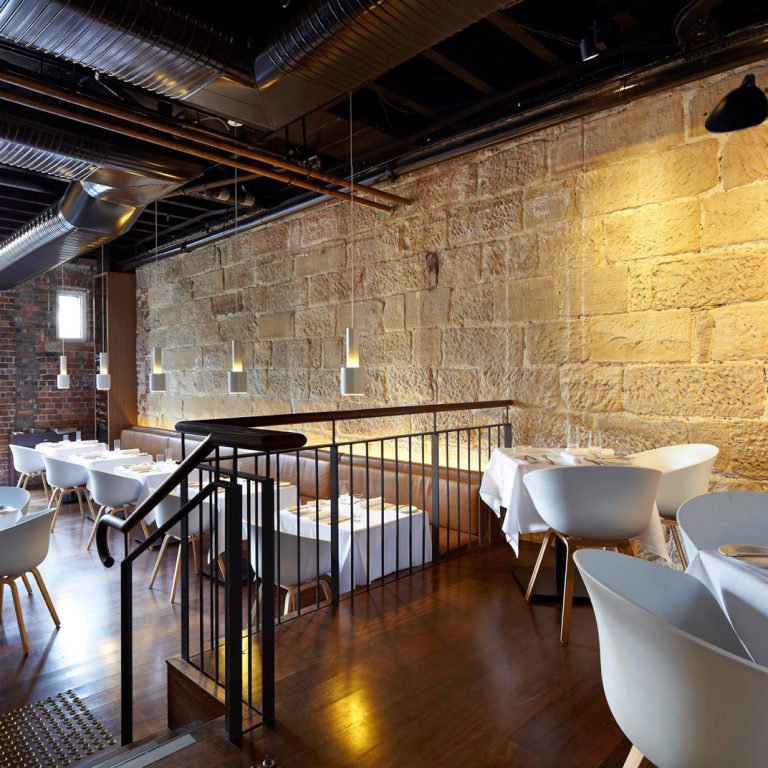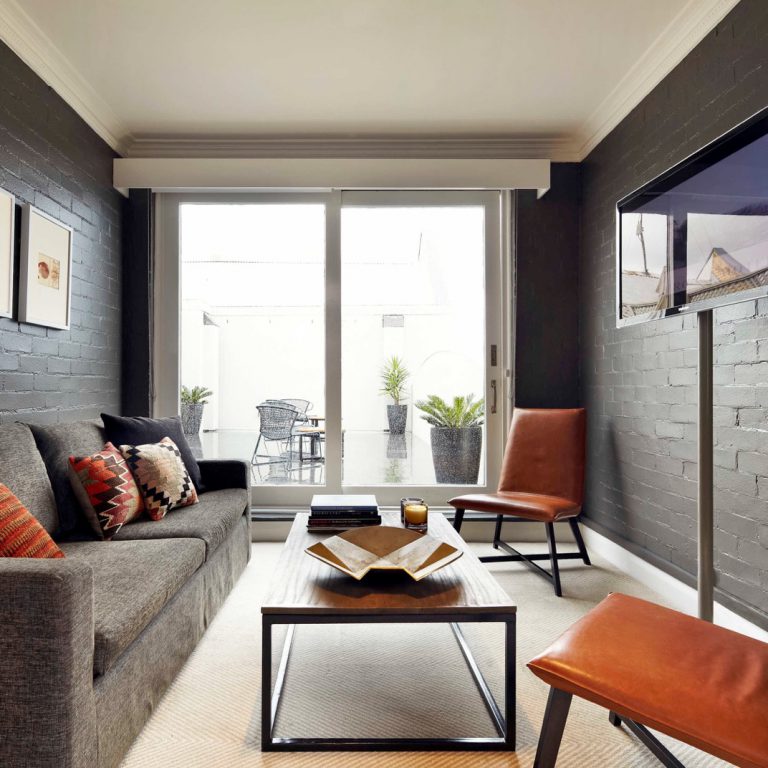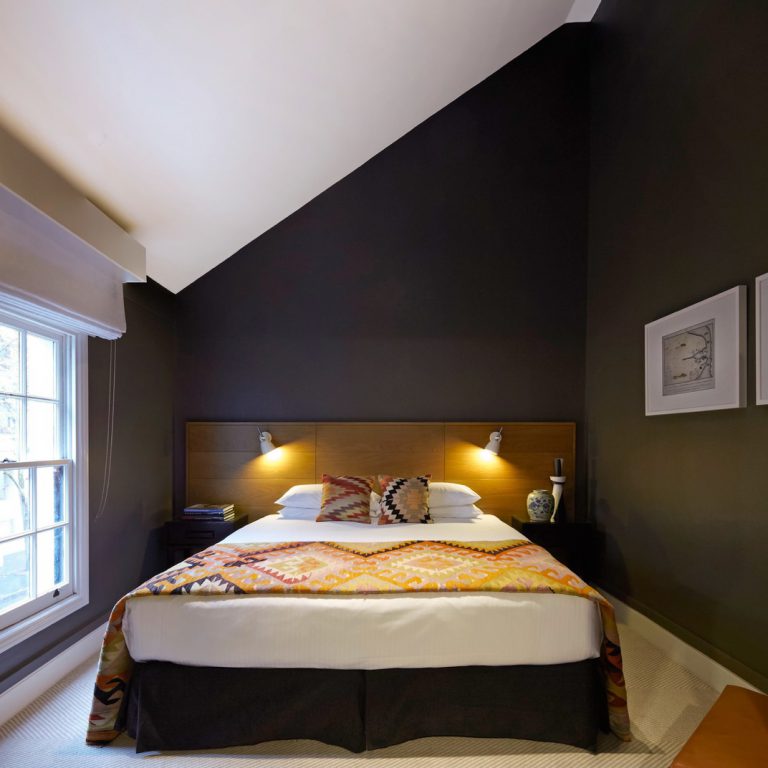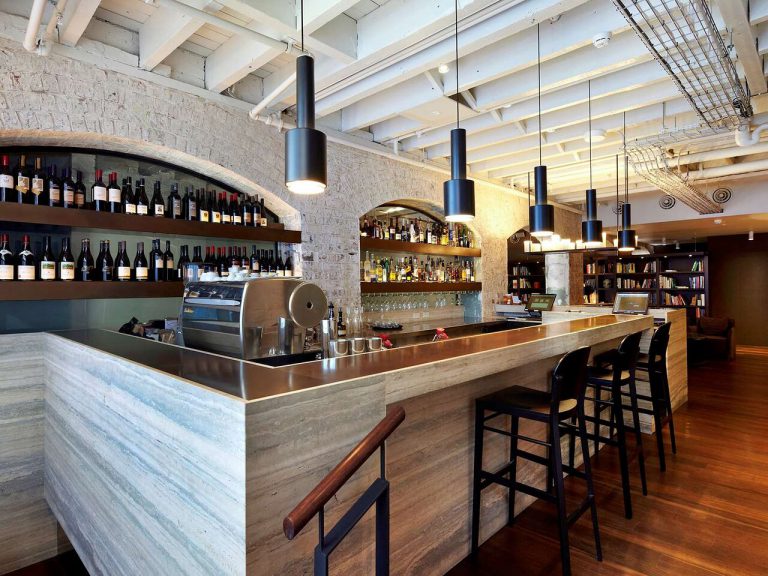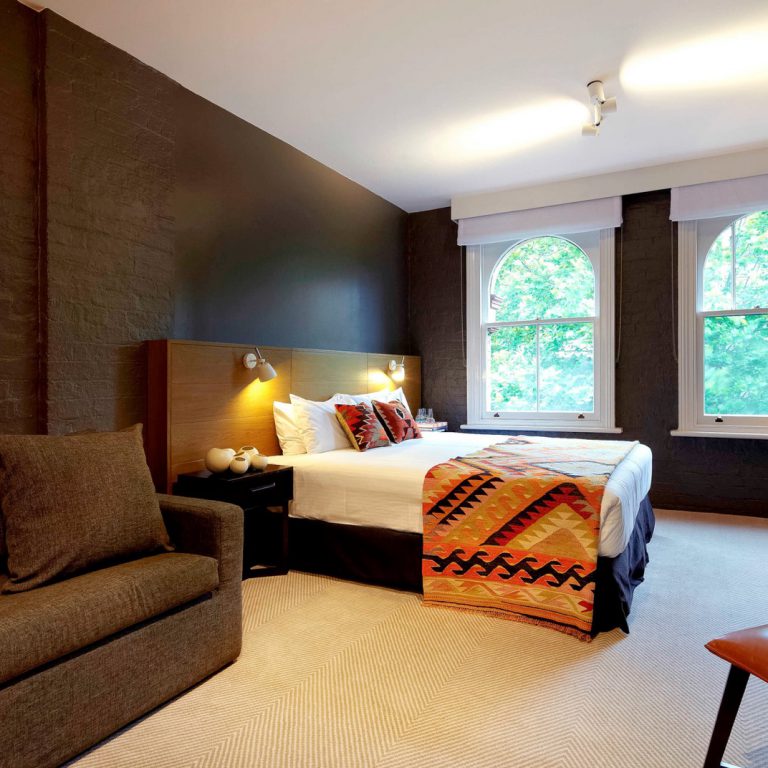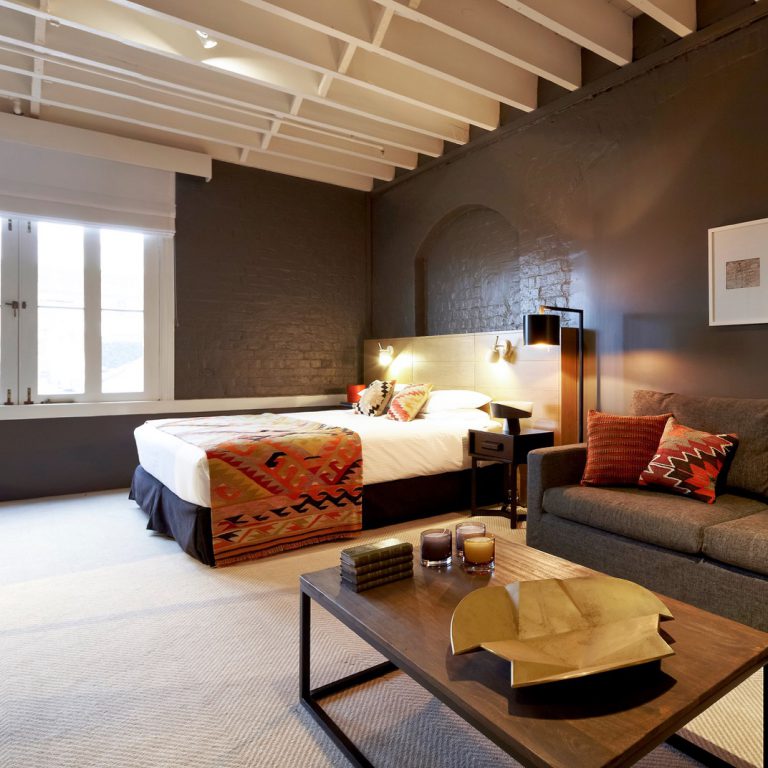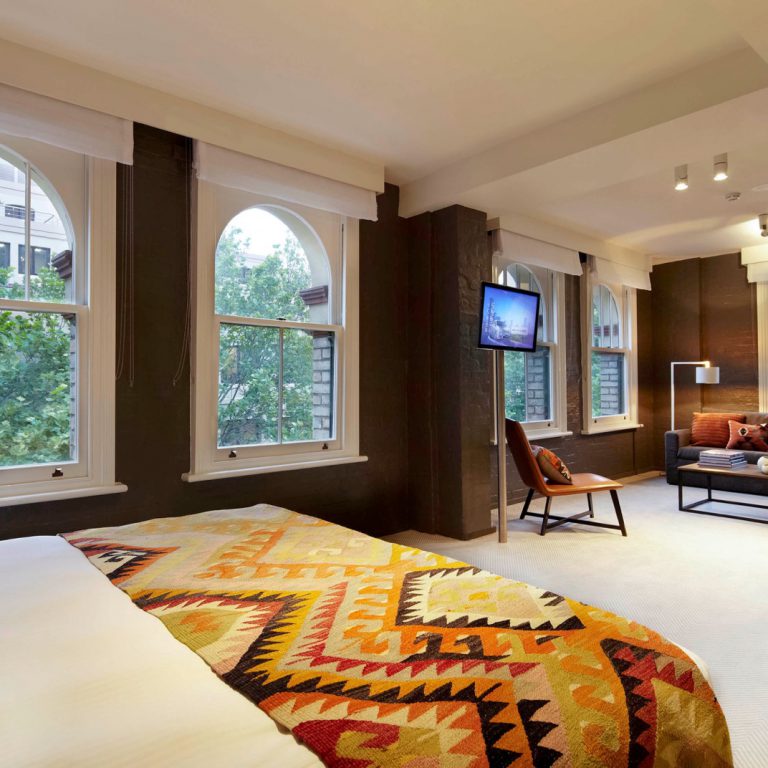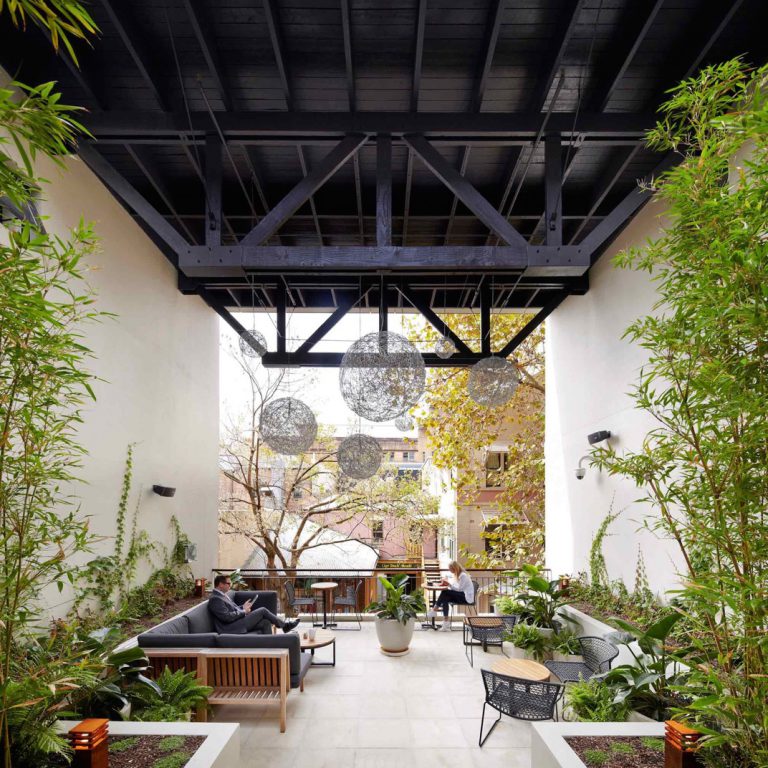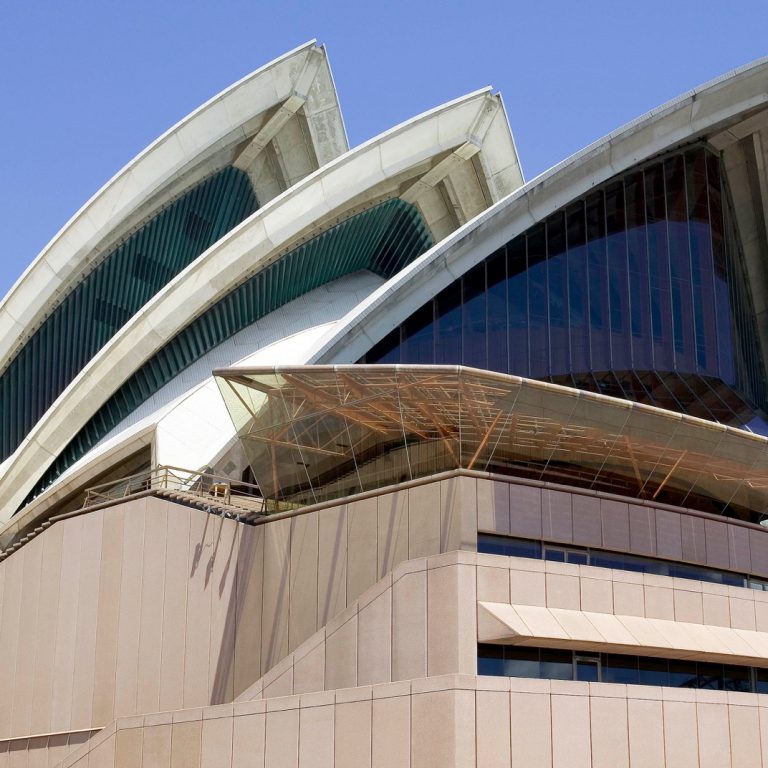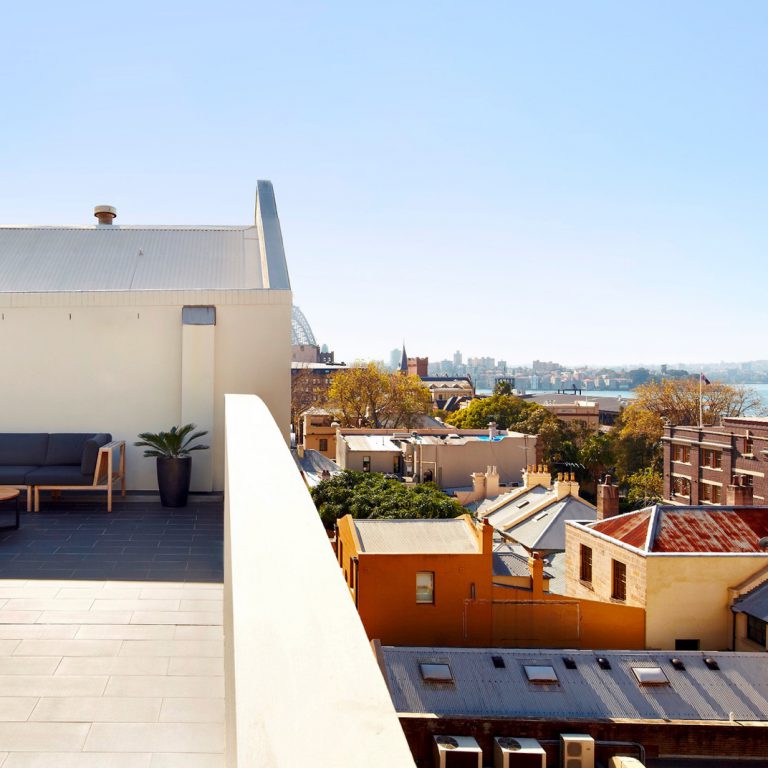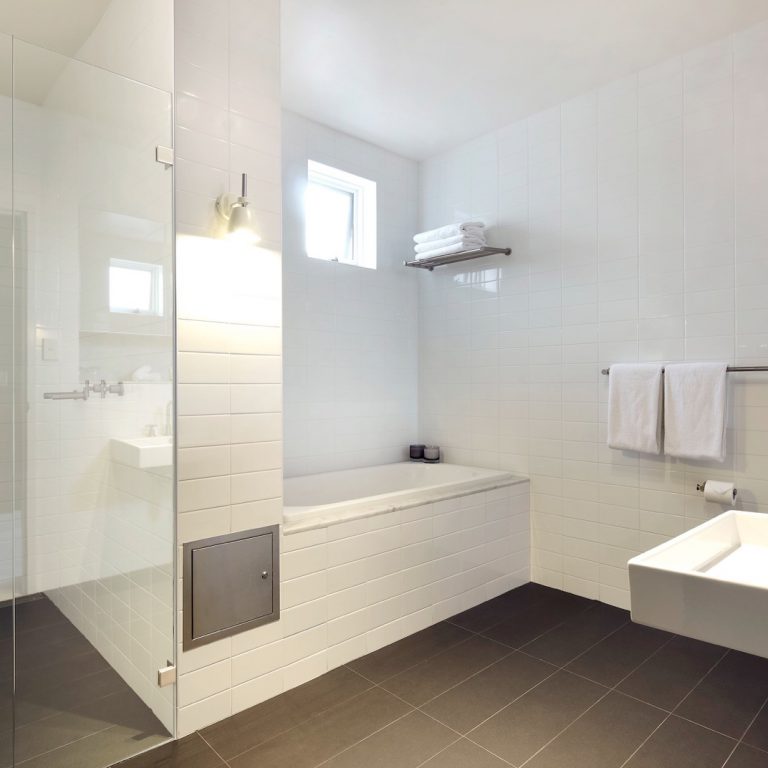 It's got character to spare
Trish Hawksworth- C.:" Harbour Rocks hotel is very close to the cruise terminal, it's slightly uphill if you are staying after a cruise, but an easy walk with cases if you're starting a cruise. We have used this lovely boutique hotel and will stay there before our cruise next March."
Linda G.:" I stayed at Harbor Rocks Hotel which was a very short walk to where my Celebrity ship was docked. It took us a couple of minutes to walk to port from the hotel or would be no more than a 2-minute cab ride. Rooms are small but nice. A boutique hotel, part of the MGallery Collection. Located in the convenient and historic Rocks area."
The Harbour Rocks Sydney MGallery is the perfect Sydney accommodation choice, a popular home for many travellers. Harbour Rocks Hotel offers a fascinating glimpse into Sydney's past and is a unique base from which to explore the city. All 59 rooms are well-appointed with modern amenities whilst preserving the historic charm of the building. The city's harbour, Opera House and famous Rocks precinct are ideally located on your doorstep.
With its excellent location within The Rocks, Harbour Rocks Sydney MGallery has many of Sydney's best attractions on its doorstep. Guests staying at this beautiful Sydney hotel are within walking distance of Sydney Opera House, Sydney Harbour Bridge e and the Royal Botanic Gardens. Other attractions in the area include The Rocks Markets, Museum of Contemporary Art, Dawes Point Park and The Rocks Discovery Museum. Trains, buses and ferries allow guests to explore the rest of Sydney and its surrounds.
The beautiful historic hotel has captured some of the earliest stories of Sydney's past. The hotel does not have lifts and has four levels with short flights of stairs between each. There is a luggage lift and our porter is always willing to assist.
For a location, you could certainly do a lot worse: The Rocks is the corner of town with a front-row view of both the Sydney Harbour Bridge and the famous opera house. Then again, what's inside the Harbour Rocks Hotel isn't exactly hard on the eyes, either. The building is nearly a century and a half old, originally a warehouse, and the latest renovation is a master class on how to make the most of a splendid old building: the weathered brick walls, painted an expansive white in the public spaces and an arresting black in the bedrooms, are the envy of any "loft-style" boutique hotel.
It's got character to spare, that much is clear. So it might be a bit of a surprise to learn that it's an MGallery hotel, and thus part of the Accor family tree. Clearly, the corporate office hasn't interfered with the aesthetics of the place. Like all the best city hotels, the Harbour Rocks interacts with the city around it. The leafy terrace is a hidden Sydney gem, and both the Scarlett restaurant and Eric's Bar attract locals as well as hotel guests. And with a memorable location as well as the polished, professional service the big chains excel at, the Harbour Rocks has all the makings of a truly unique experience — and that, it turns out, is what matters the most.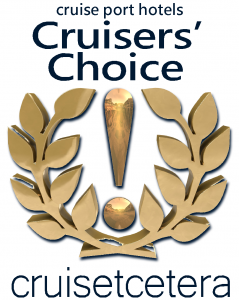 Dan MacE.:" I would recommend the Intercontinental!."
Madeline W.;  The Intercontinental! Best bed I've ever slept in and down the street from Circular Quay!"
Annemarie ten B.: "Intercontineltal it is for us!"
HERITAGE MEETS MODERN SPIRIT IN THIS LUXURY SYDNEY HOTEL NEAR THE HARBOUR
Nestled in the renowned dress circle of Circular Quay with unparalleled views across the Harbour City, InterContinental Sydney has been an icon of choice for more than 30 years.
Set within the restored Treasury Building of 1851, 509 guest rooms including 28 suites showcase picture frame views of the city skyline, Sydney Harbour Bridge, Sydney Opera House or the Royal Botanic Gardens. An award-winning and world-class Club InterContinental offers the height of sophistication on level 32.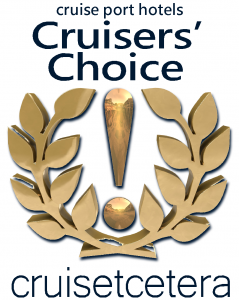 A premier 5-star waterfront hotel
Pat W.: "Sydney Harbor Marriott is incredible!"
Rose F.:" We stayed at the Marriott. Walking distance to The Rocks and Quay. Many shops & restaurants near by. The Hop on Hop off stops just down the street. Great views of the Opera House & Bridge."
Michael R.:" Love the Marriott."
Mary K.: Marriott Circular Quay it is for us!"
Cheryl S.:" We stayed at the Sydney Harbor Marriot, and upgraded to get a room with a view."
Sydney Harbour Marriott at Circular Quay offers a distinctive blend of stylish comfort and modern convenience. Overlooking the sparkling Sydney Harbour and world-famous opera house, our Circular Quay hotel's location can be found at the doorstep of a shopping Mecca and moments away from the historic Rocks district. Guests are invited to indulge in our Sydney, Australia hotels luxurious treatments at our on-site spa, or they may savor finely-crafted cuisine at our renowned Icons brassiere restaurant. Book your memorable trip to Sydney now at this premier 5-star waterfront hotel.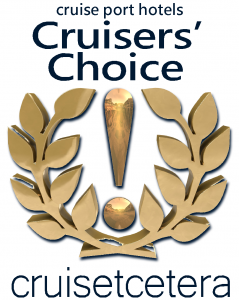 An elegant sanctuary above a distinctive harbour city
Erika T.:" Stayed at Shangri La walking distance to the harbour."
Louise S.; "Definitely the Shangri-La – fabulous."
Erica T.; "Loved this hotel. Walking distance to the opera house."
Positioned in the dress circle of Sydney Harbour, the panoramic views of Sydney Opera House and Sydney Harbour Bridge enhance the luxurious glamour of Sydney's destination hotel.
Nestled in the historic Rocks District, the luxury hotel features elegantly appointed guest rooms and suites, award-winning dining experiences, and CHI, The Spa, an urban oasis in the heart of the city.
One of the famous sights in the world greets you as you awake from the soothing comforts of your luxurious bed. The stunning Opera House glows a pearlescent white against the blue of the sky and the sea, while the Harbour Bridge stands majestically for all to see. The city is a palette of exuberant colours, all vying for your attention. Such is the spectacle from your room at Shangri-La Hotel, Sydney.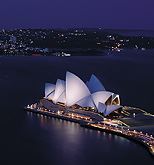 In need of respite after a long day, you return to the hotel with a spa treatment in mind. A private suite awaits you at CHI, The Spa, where you feel the tensions release and the aches wash away as you enter an undivided paradise.
The luxurious spa treatment ends just in time for dinner. You pick Altitude Restaurant from the plethora of dining choices in the hotel. Aside from an impressive night view, the restaurant delights you with a spectacular parade of thoughtfully crafted dishes, giving you the ultimate sensory satisfaction. Sipping the last bit of red wine, you recline in your seat and admire the city beneath you.
Let the moon illuminate the night sky as you experience the endless enchantment of Shangri-La Hotel, Sydney.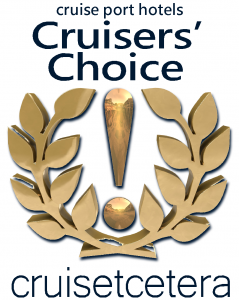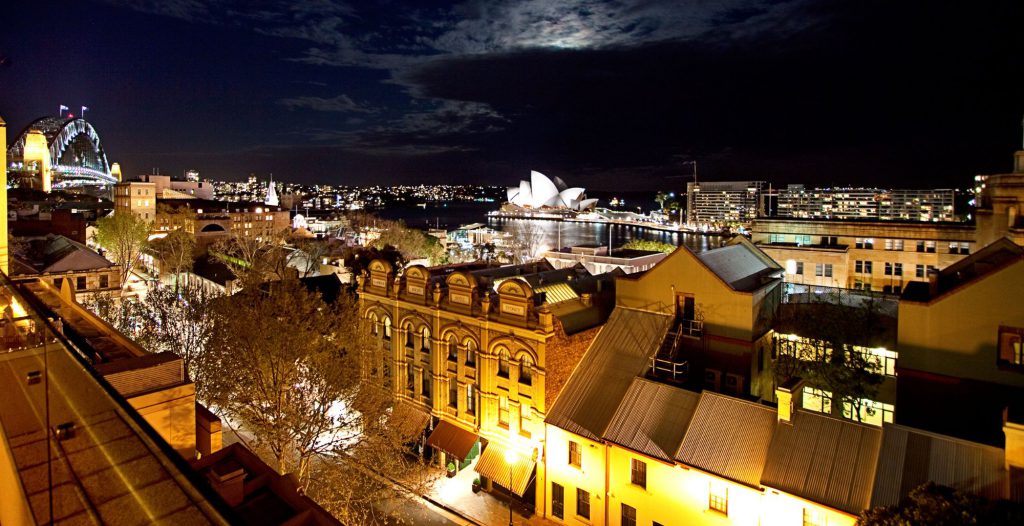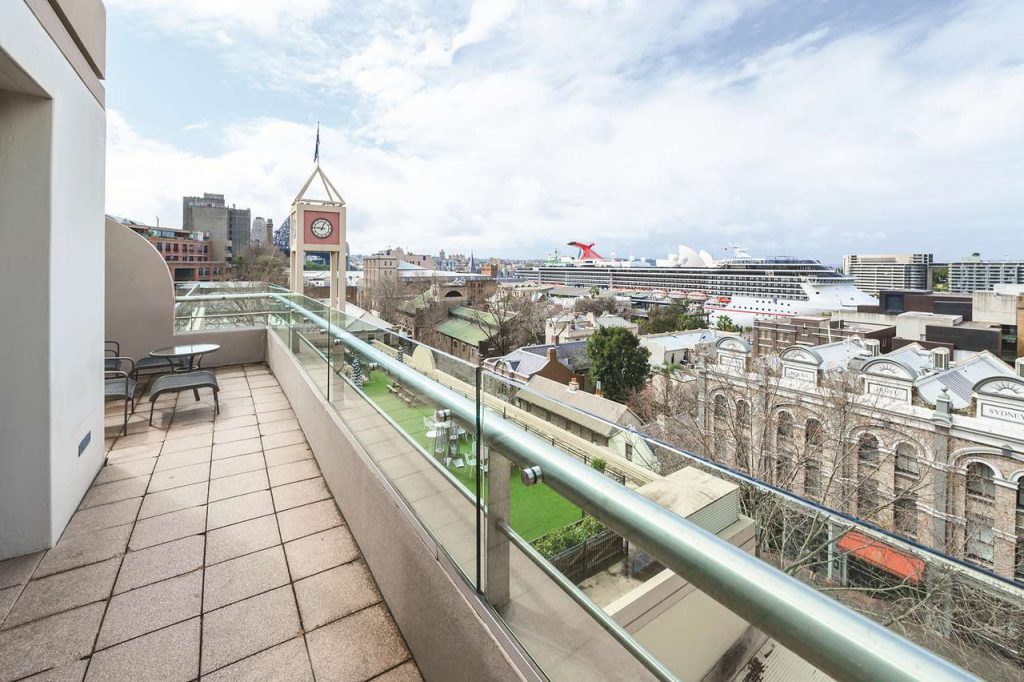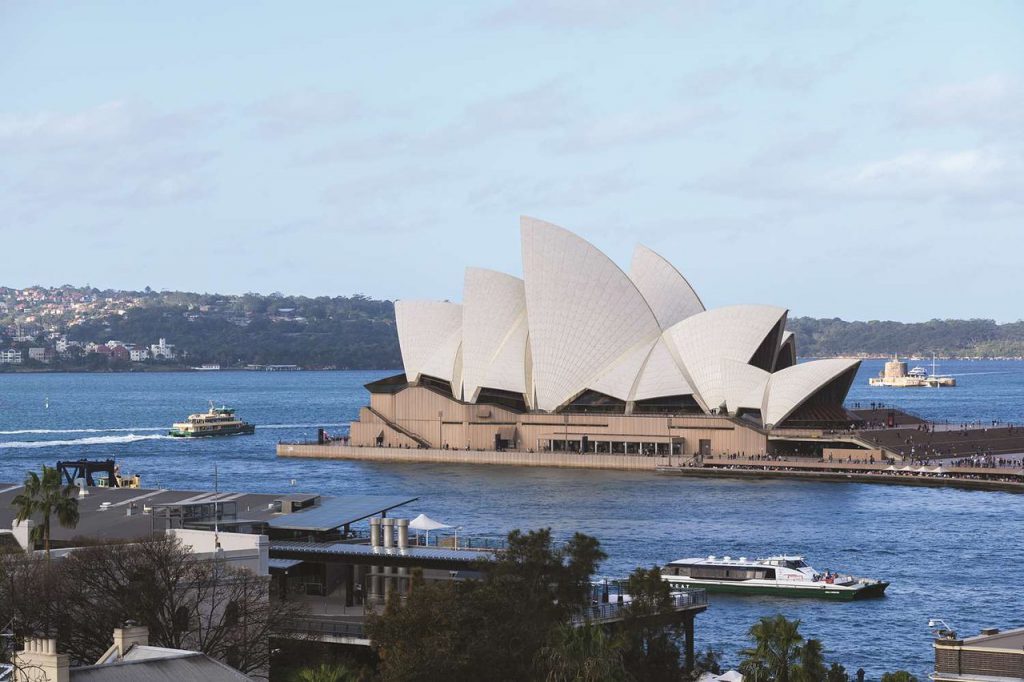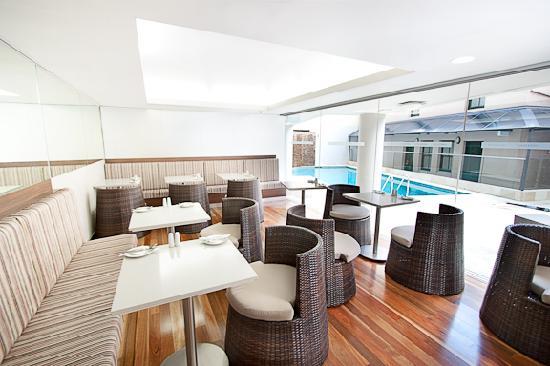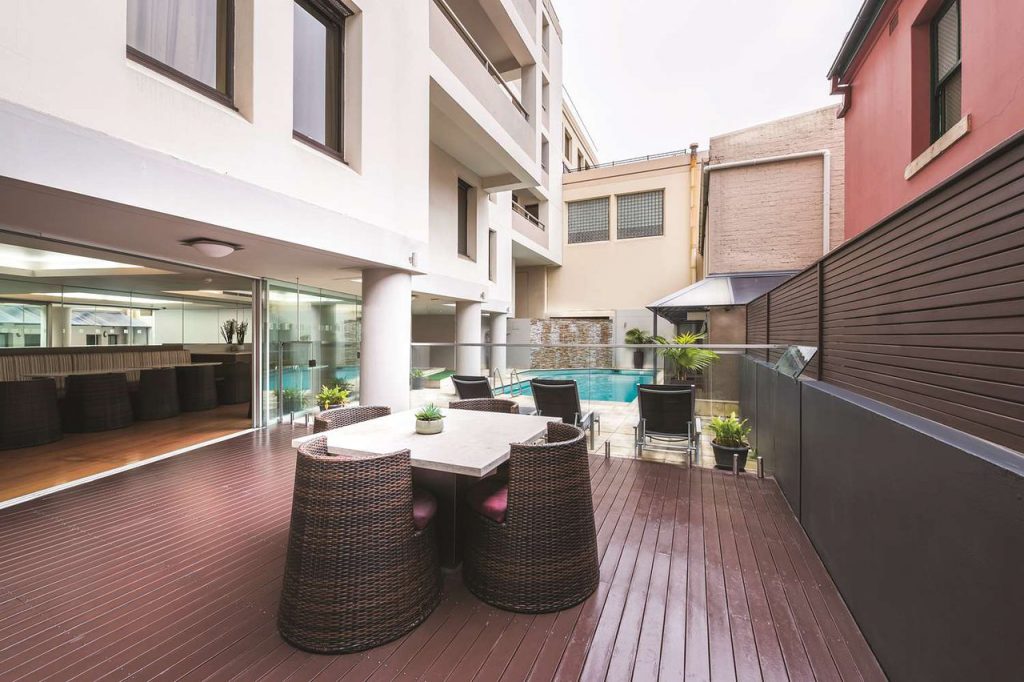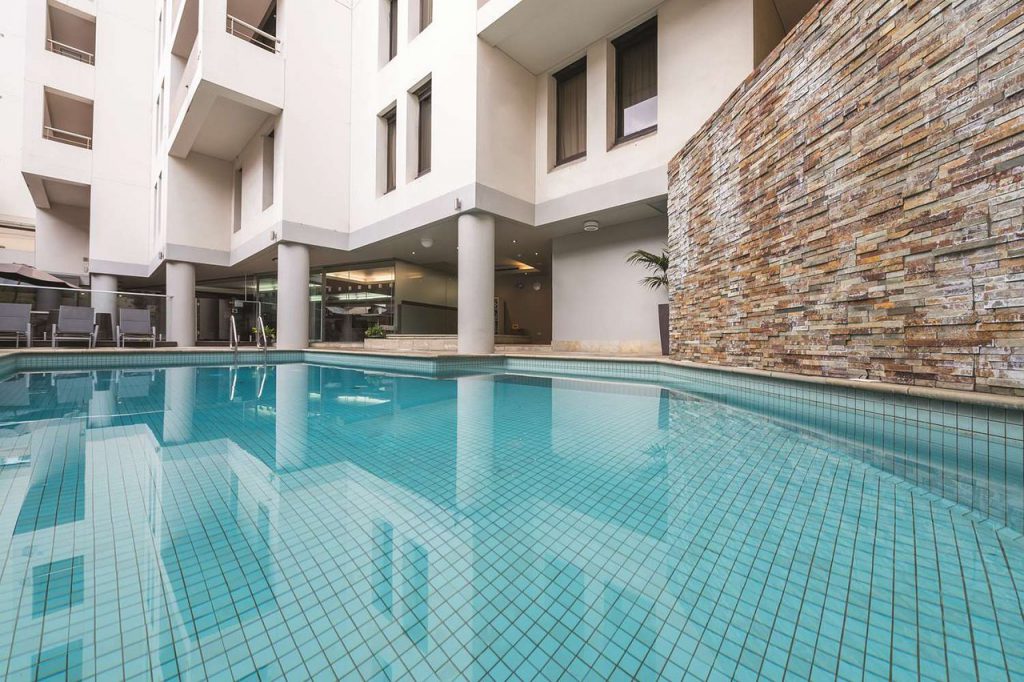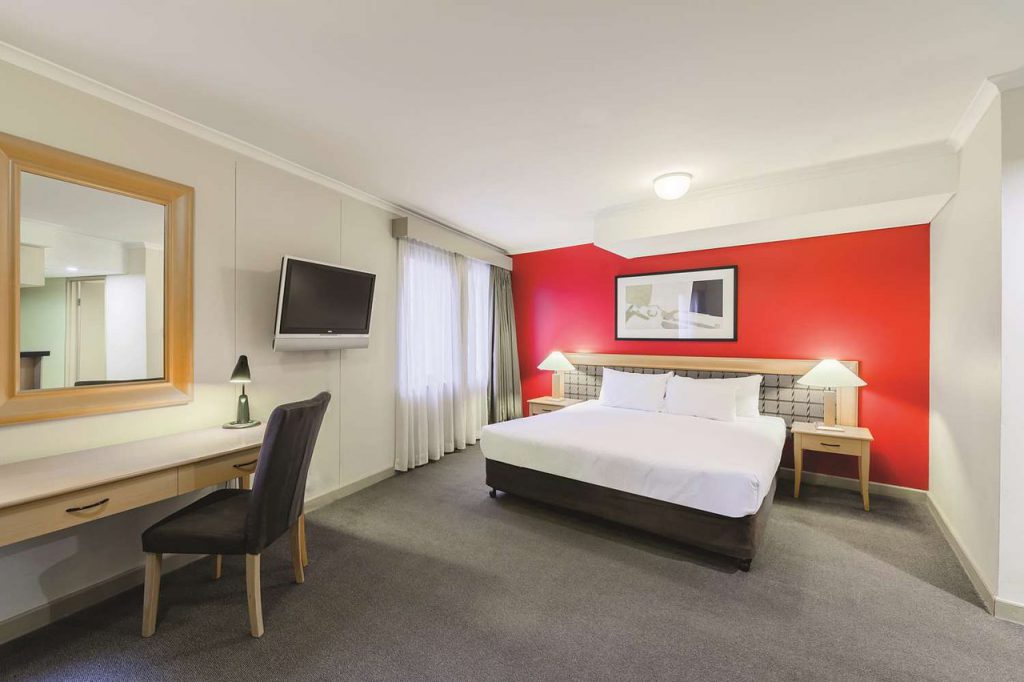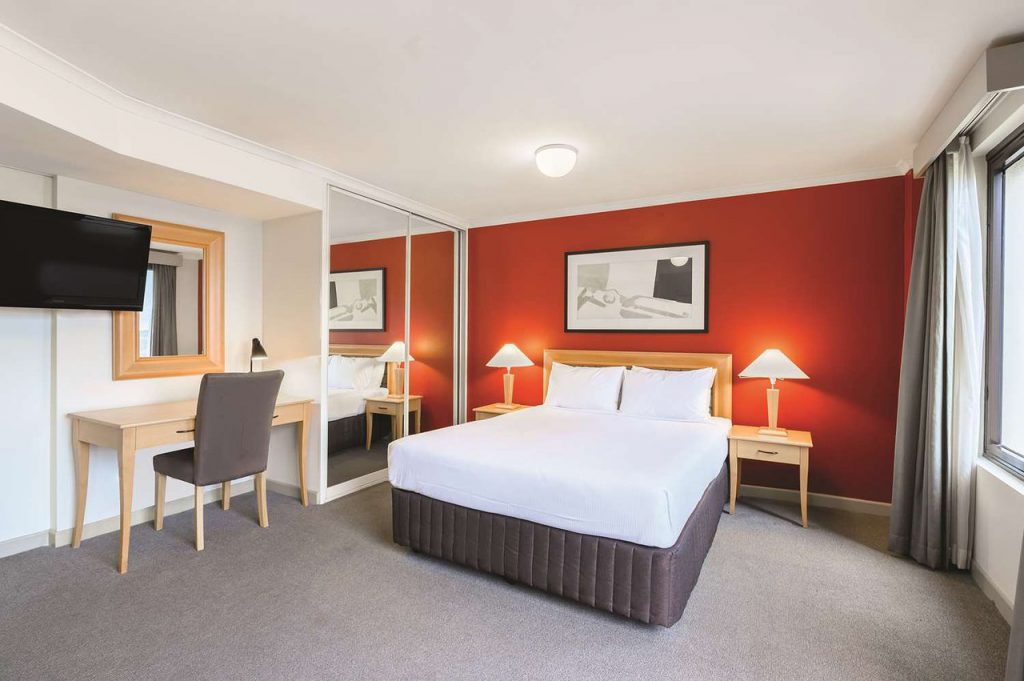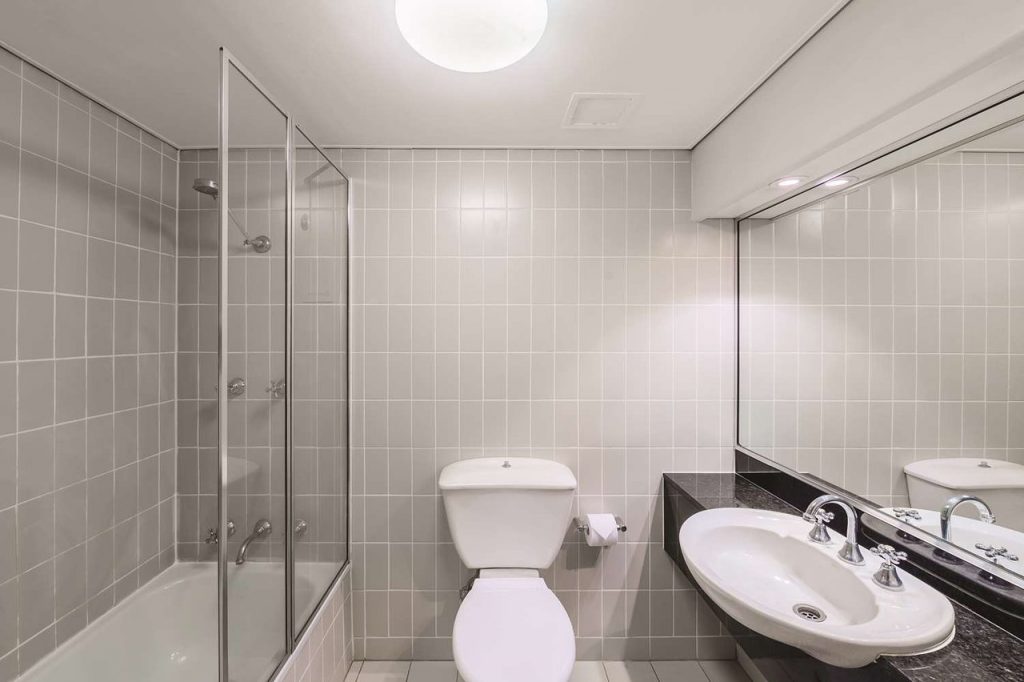 In the heart of the historic
Rocks precinct
Jerry R.: "Oldest hotel and brewery in the Rocks. Good food, good beer, good accommodations. Fun place to be."
Sydney's oldest continually licensed hotel, located in the historic Rocks precinct and home of Australia's oldest pub brewery. The Lord is recognized around the world for its award-winning beers, wine list, food, and accommodation.
A stay at the Lord Nelson is a step back into Sydney's past and a taste of Sydney's present. Located in the historic Rocks precinct and within easy walking distance of most of Sydney's major attractions, this hotel and brew-pub are bursting at the seams with history, personality, and conviviality.
The following accommodation types are available at The Lord: Rooms with ensuite bathroom, rate: $250 per night*. One small room with ensuite bathroom: $210 per night*. (Price quoted in AUD inclusive of GST). 
A minimum of 2 consecutive nights stay is required for all bookings that include a Saturday night.
Two of the ensuite rooms contain an additional single bed and are suitable for three occupants (a $50AUD per night surcharge applies for the third occupant). All of our rooms are non-smoking and air-conditioned with tea and coffee making facilities, phone, fridge, TV, Iron, and Hairdryers upon request. Wireless broadband is available in all areas of our establishment.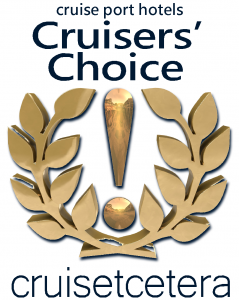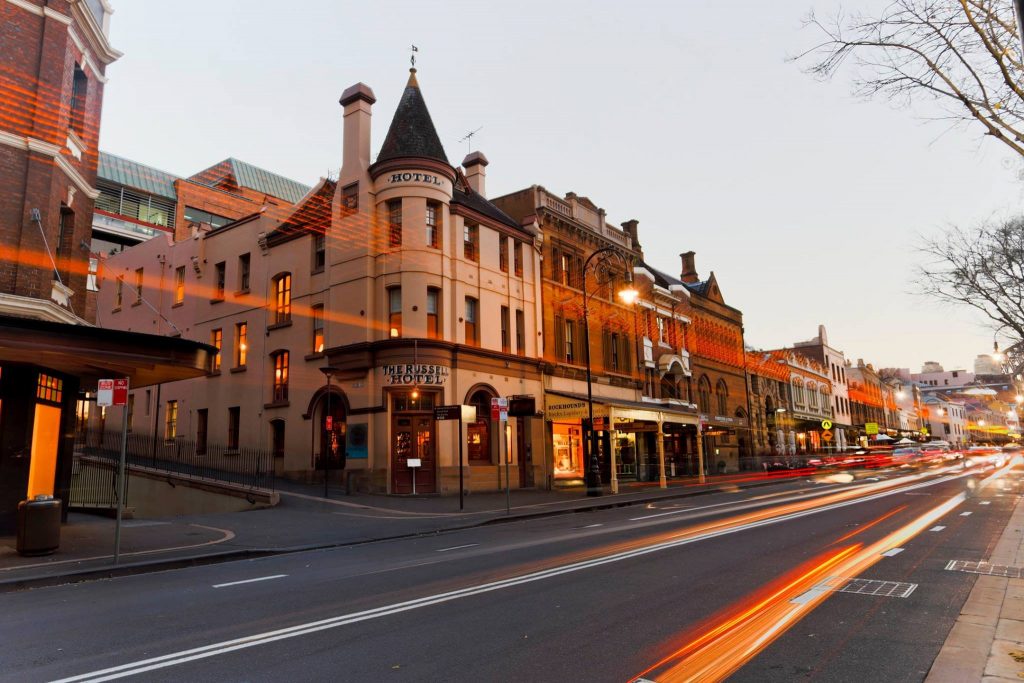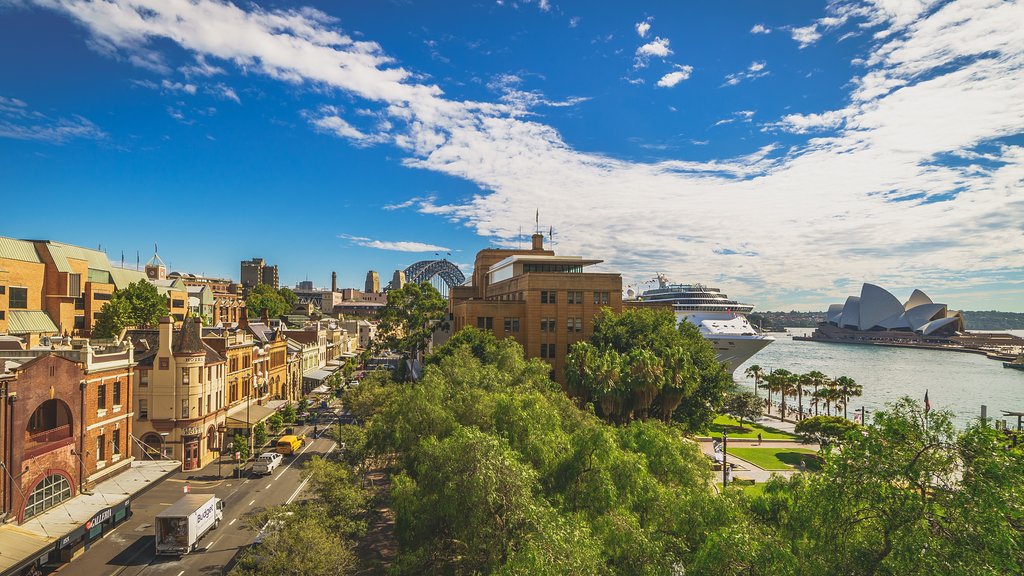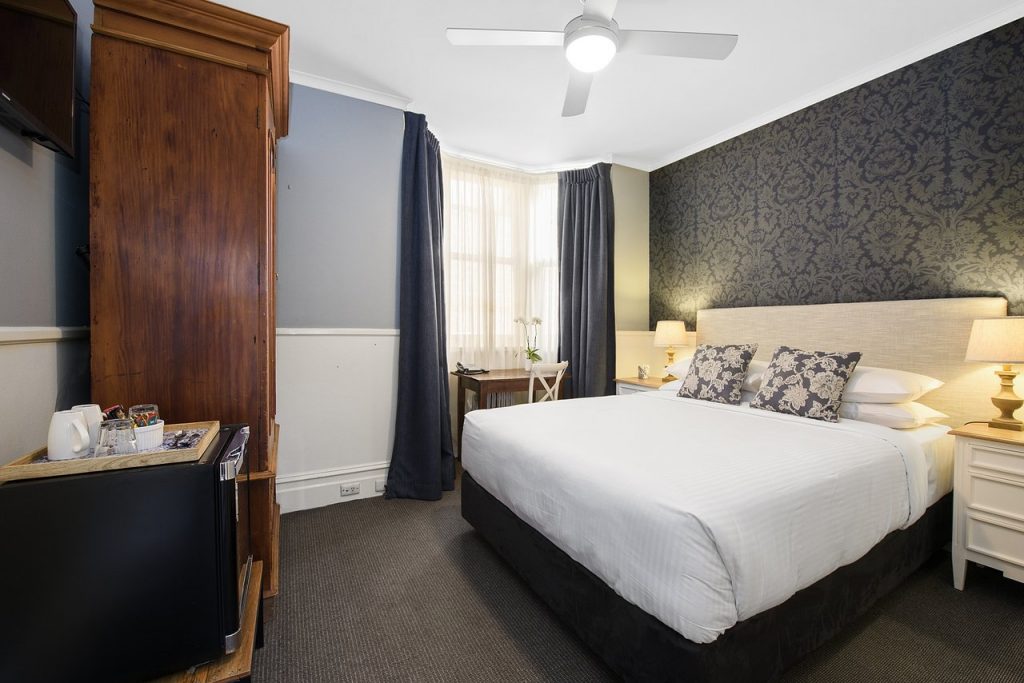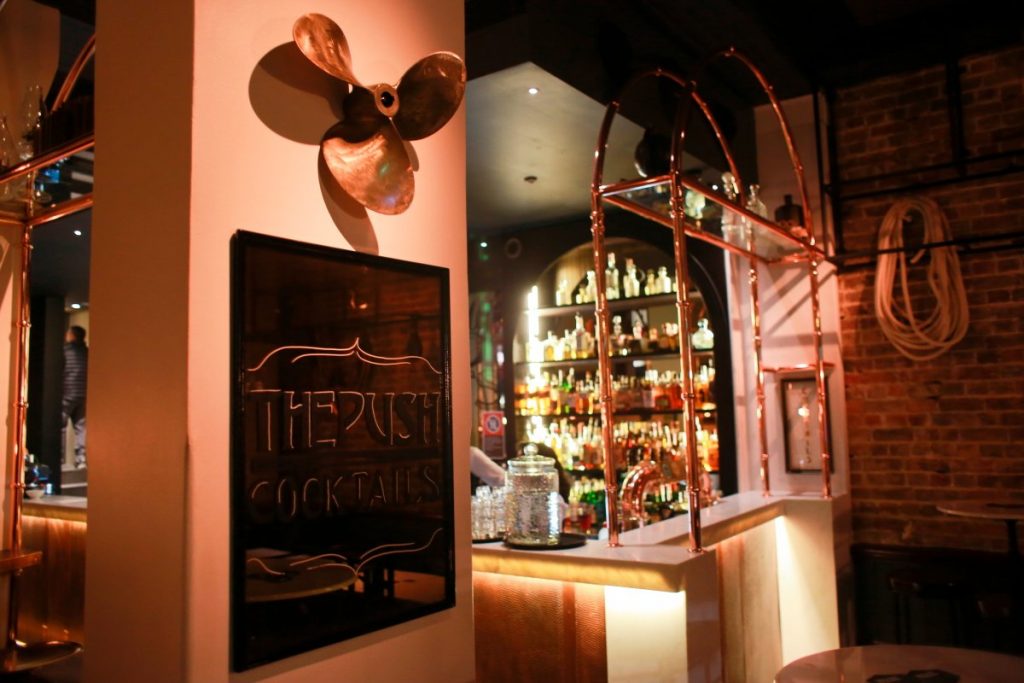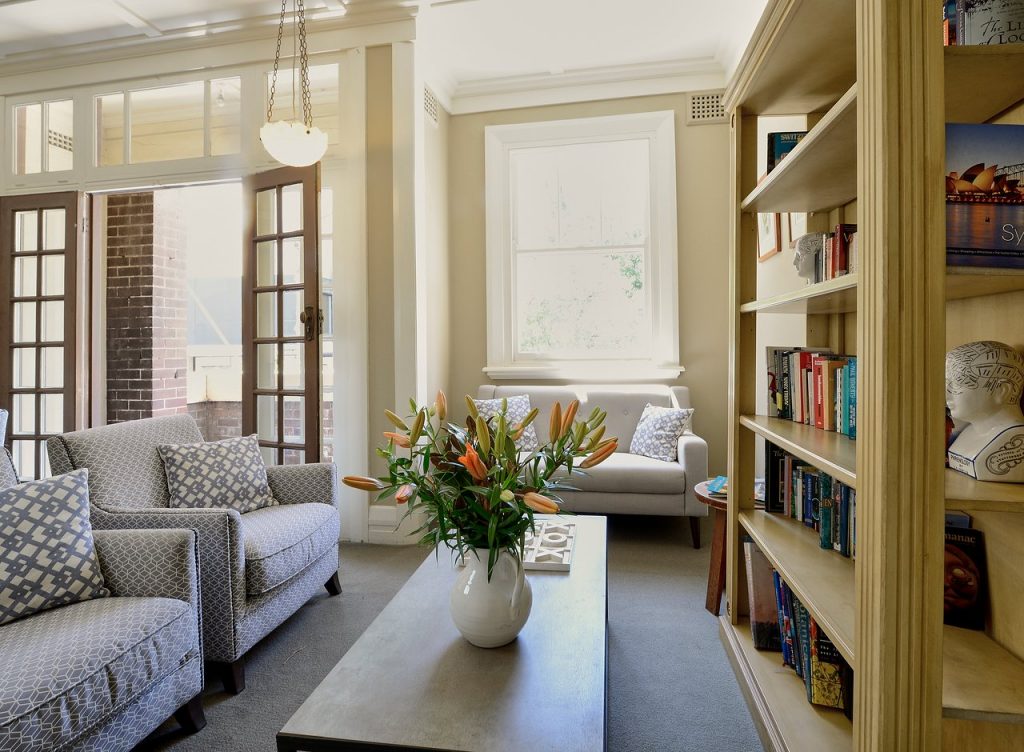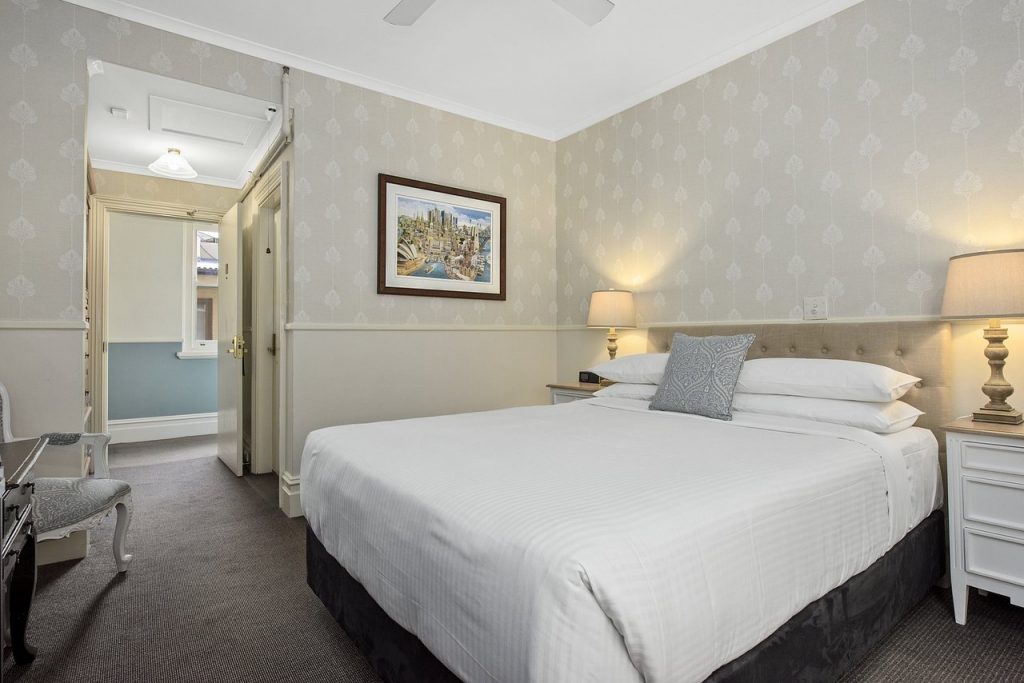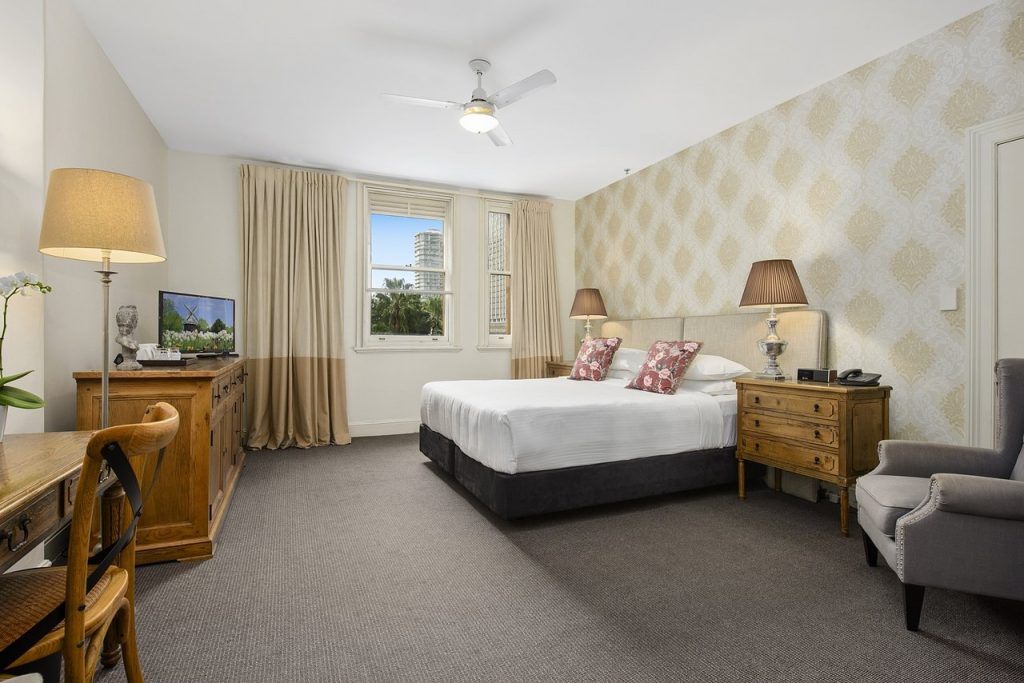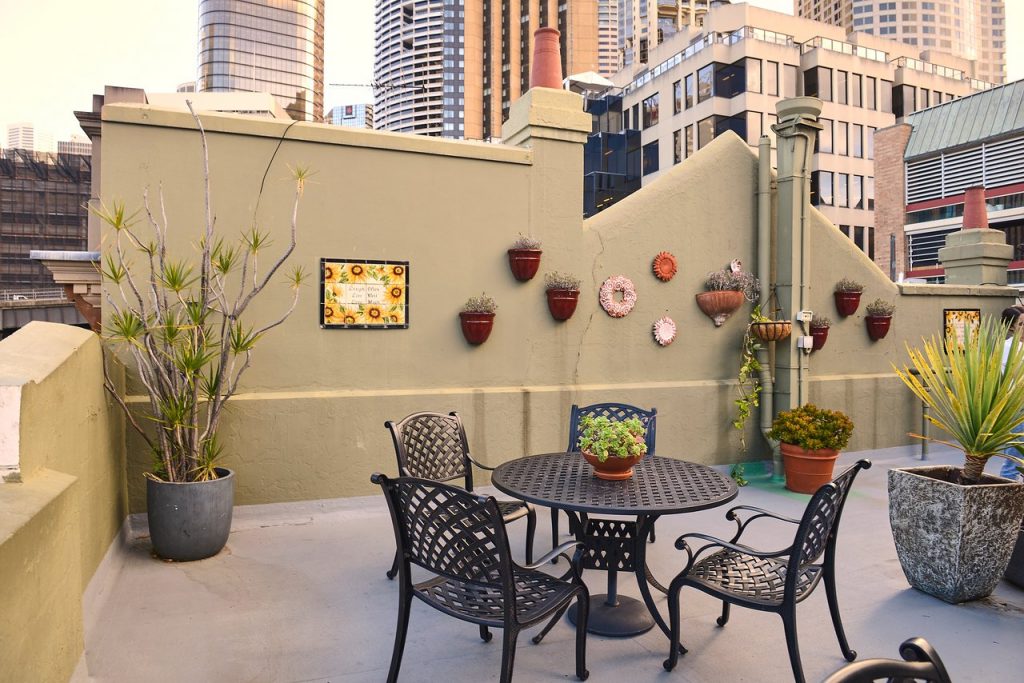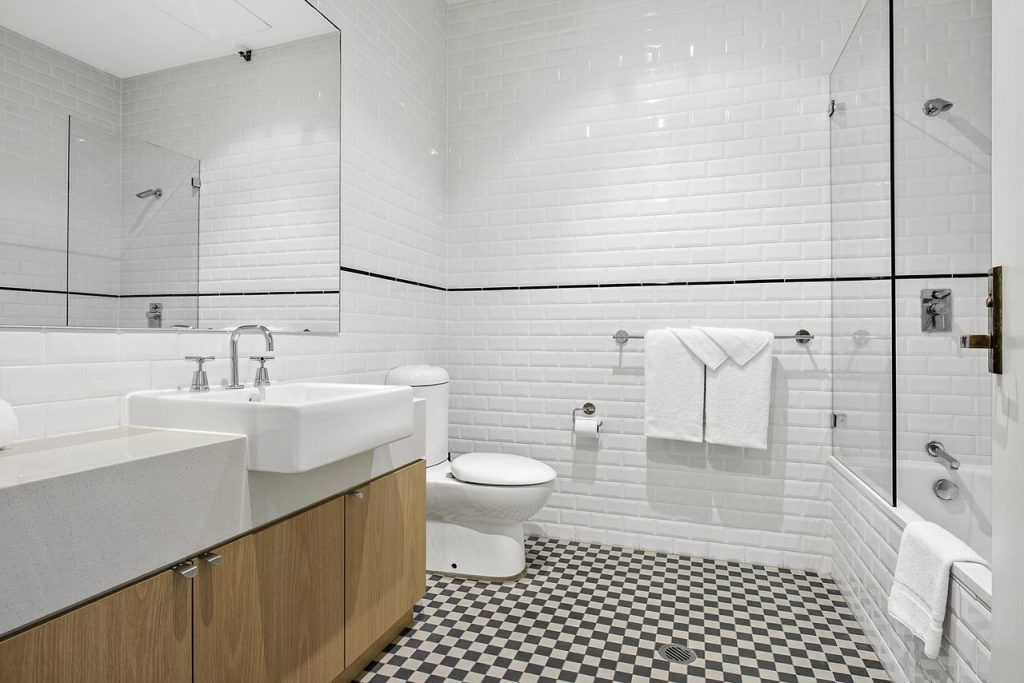 YOUR HOME AWAY FROM HOME
Martin W.: "The Russell Hotel in The Rocks on George St. It's not a 5 star, but walking distance to the ship & great location!"
Located within The Rocks, part of Sydney's historic past. The Russell Boutique Hotel is your home away from home! Offering warm friendly service, central location, and 30 uniquely designed rooms.
Our unique accommodation offers a beautiful rooftop garden which is the perfect vantage point to look out towards Circular Quay. You can also relax or plan your day in our Sitting Room which boasts a library, laptop, and games for you to enjoy.
The two on-site bar and restaurant dining options provide hotel guests with the perfect place to eat and relax before or after a busy day exploring The Rocks and Sydney. They offer classic Australian wholesome meals and a great selection of beers, and delicious cocktails.
No two rooms are the same – they offer a range of unique rooms at our accommodation in The Rocks. From small and cozy to spacious and airy, each room exudes the character and classic boutique accommodation style of The Russell Boutique Hotel.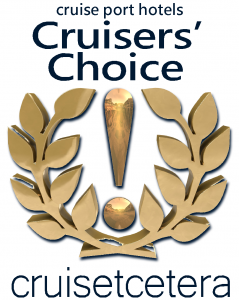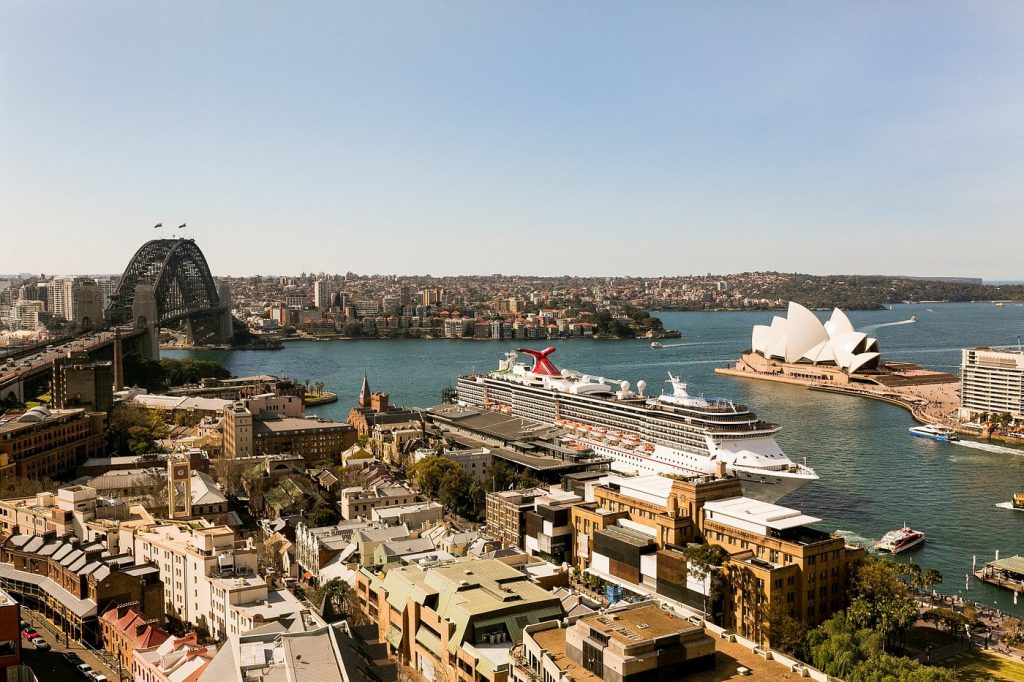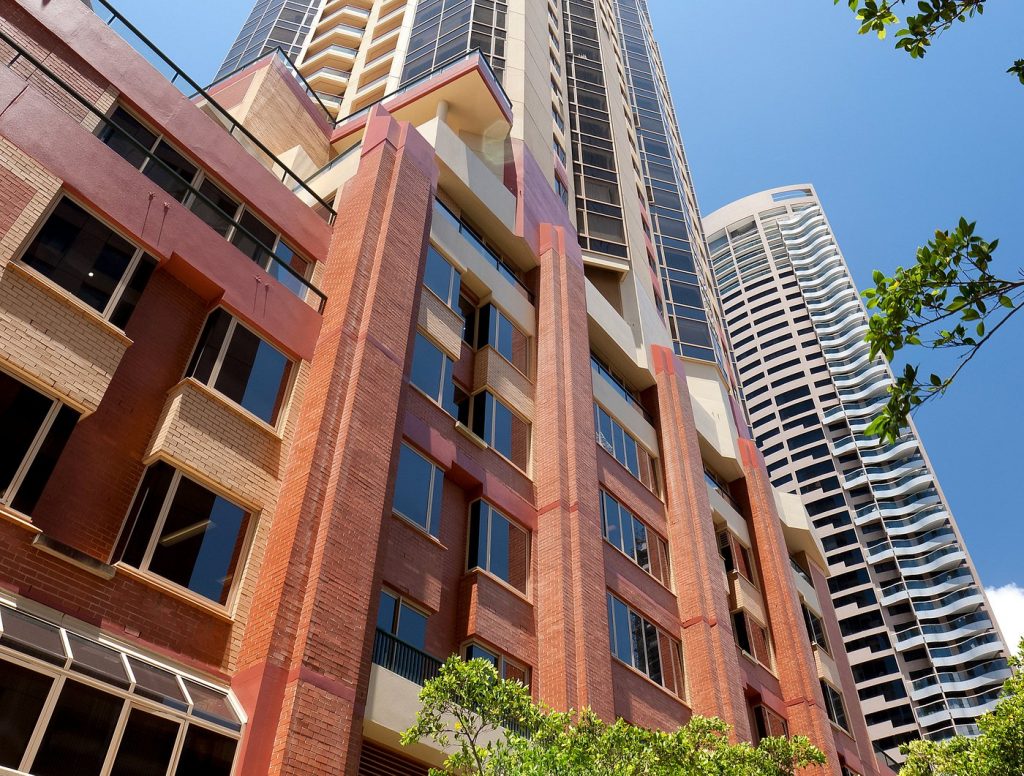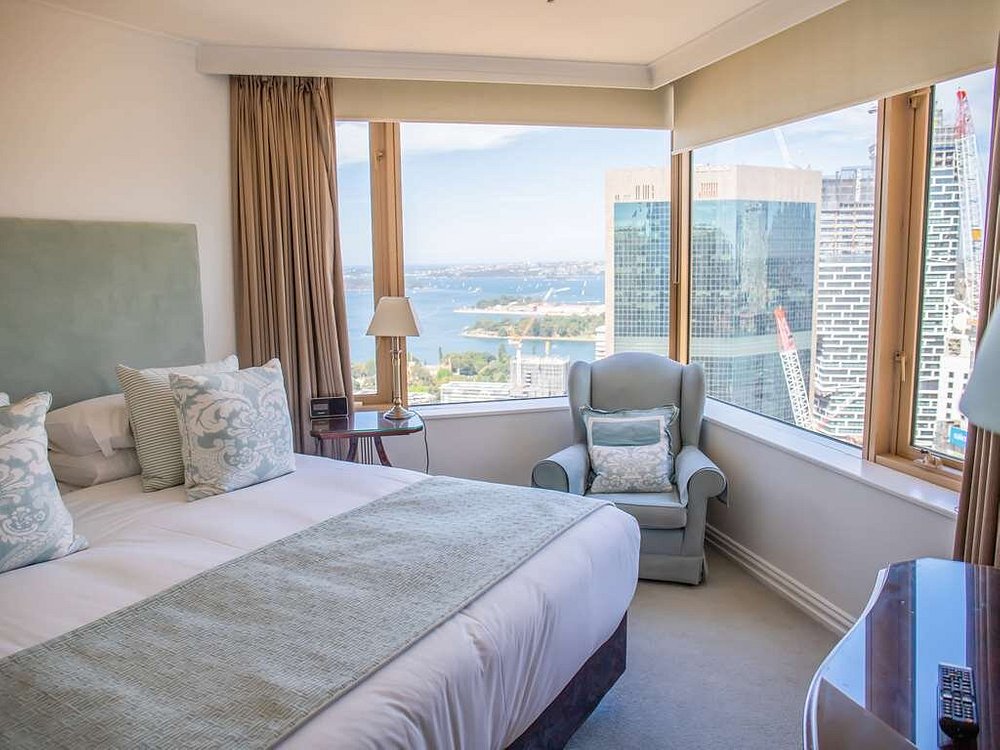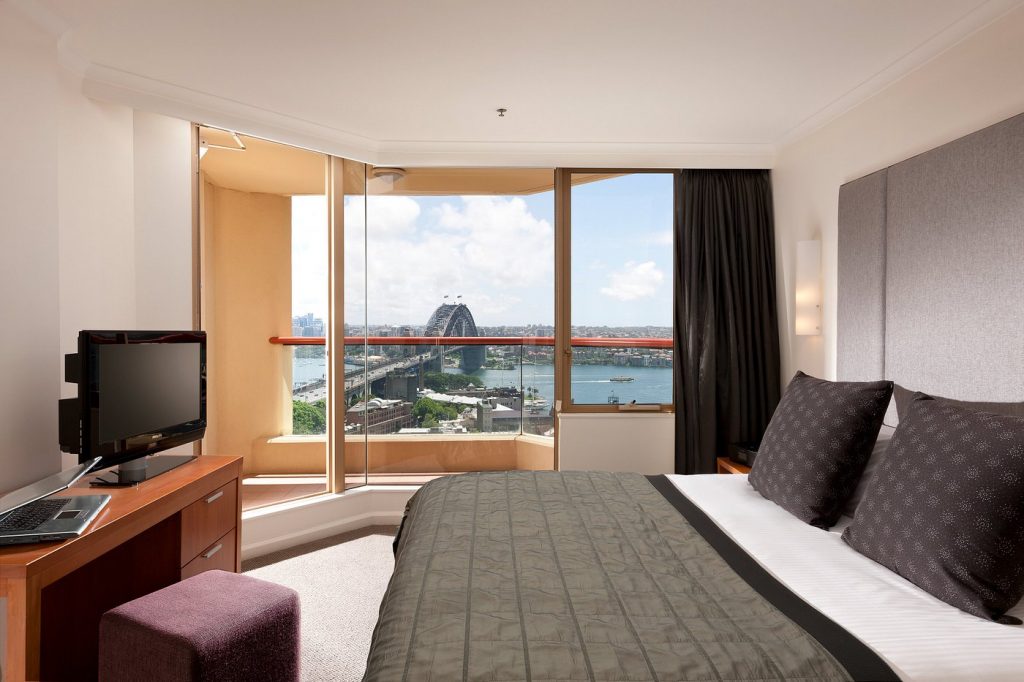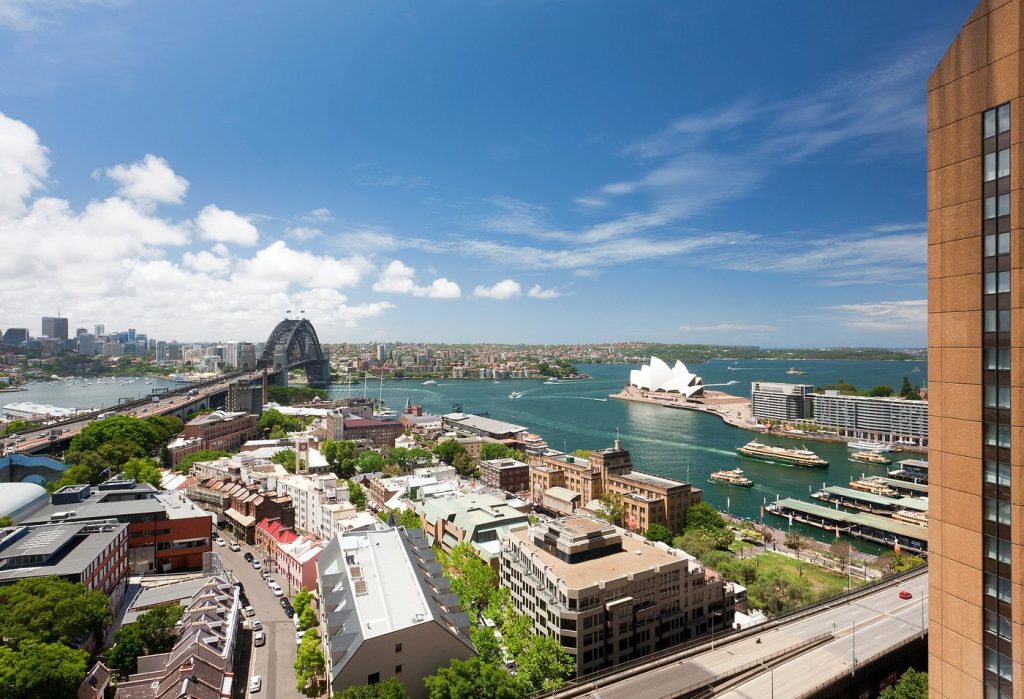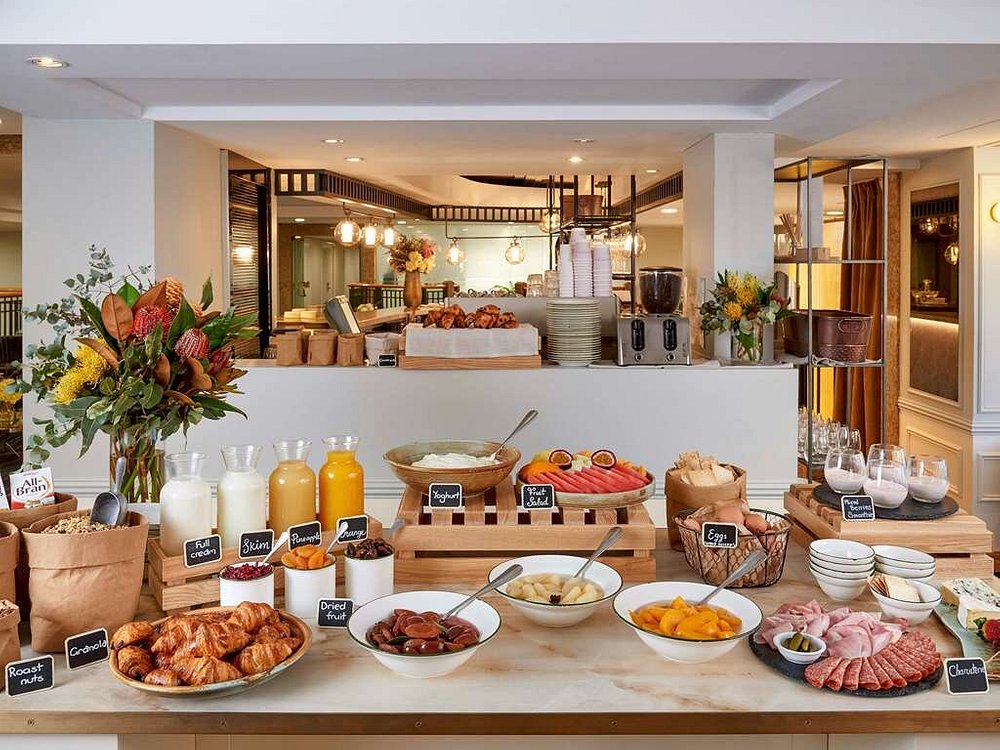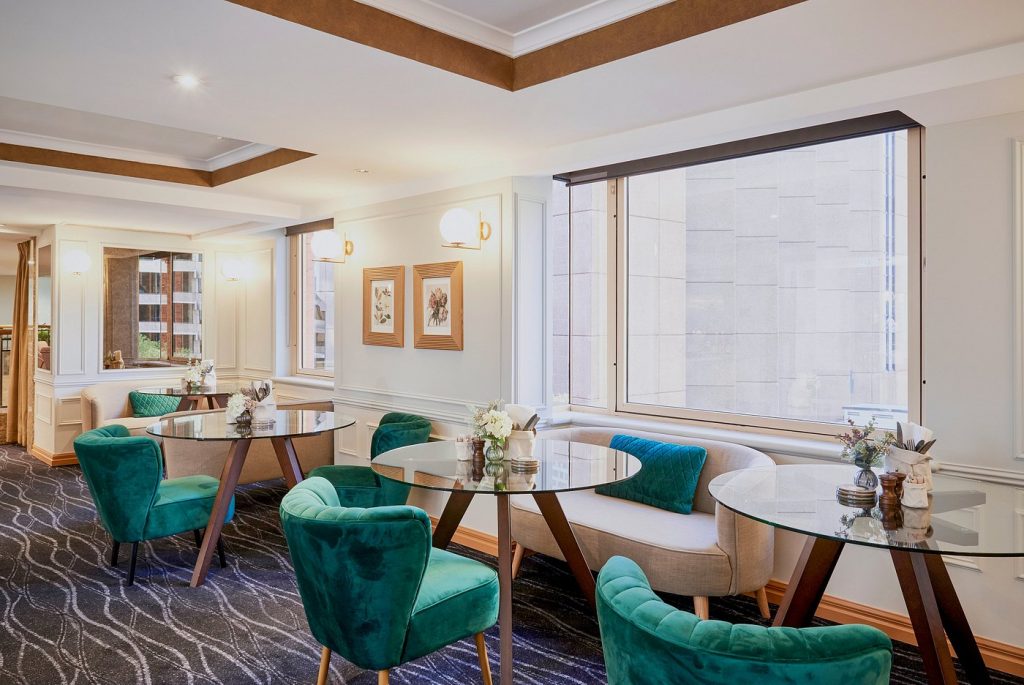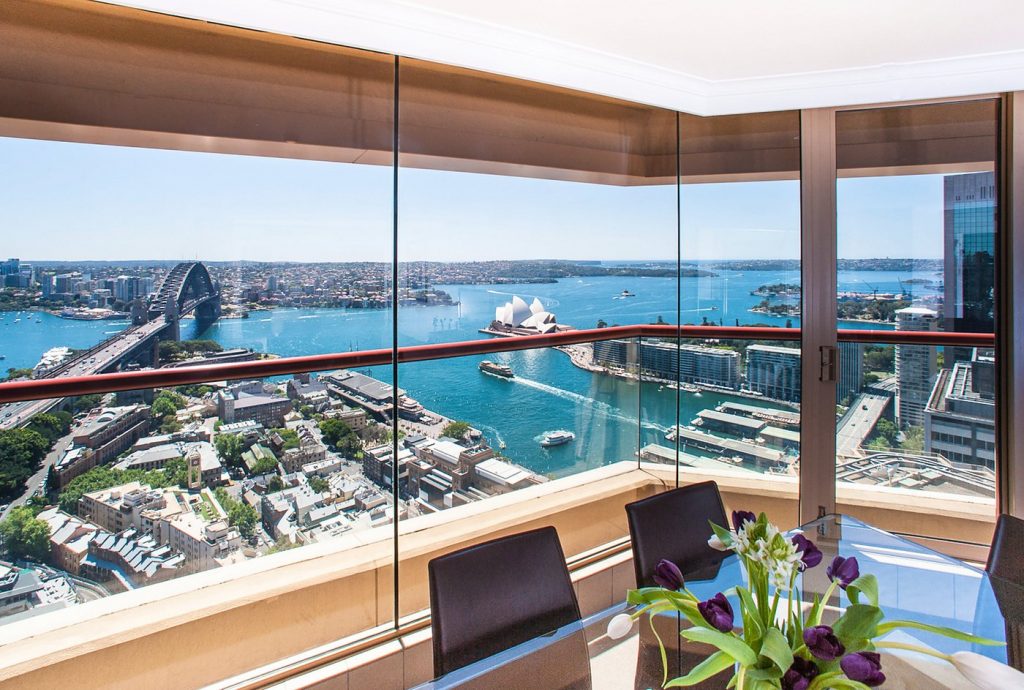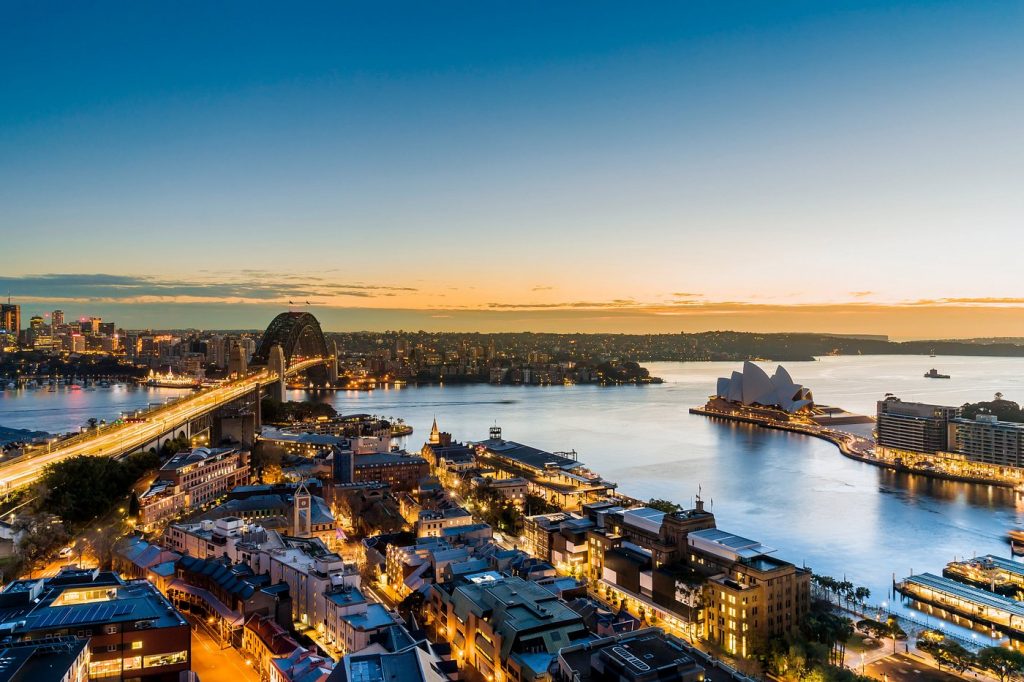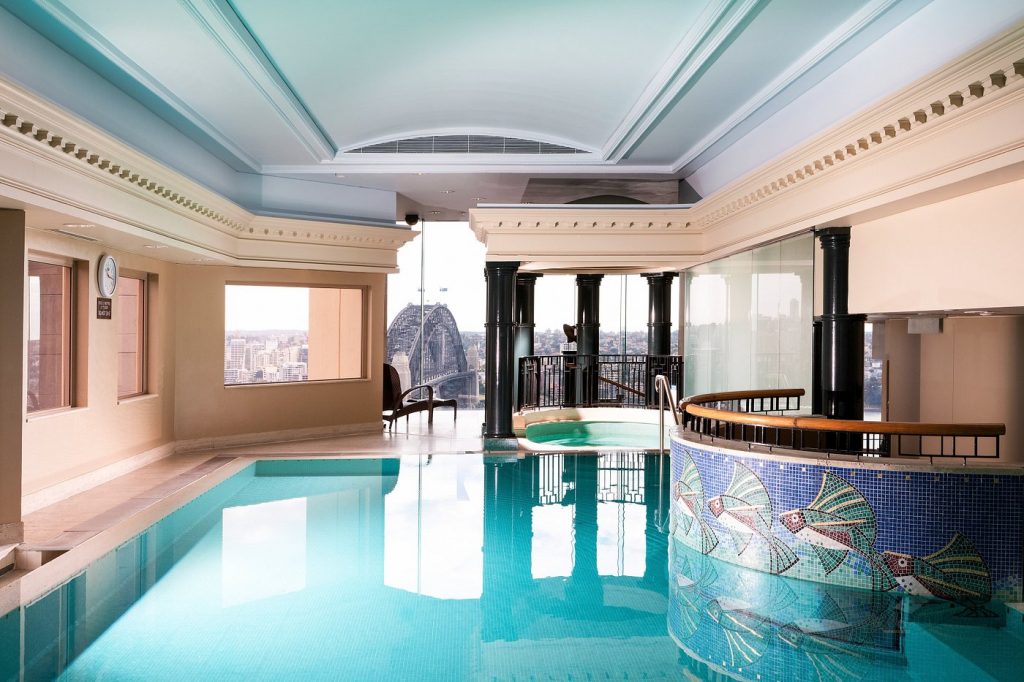 Your home away from home
Joy L.: "The Sebel Quay West Suites, fabulous."
Joseph W.; "For a panoramic view of the harbour (if you have a room on an upper floor), The Sebel Quay West is excellent and especially if you are an accor hotels top tier member. The service is excellent."
Expect nothing but exceptional hospitality, luxurious accommodation, and premium amenities when you stay at The Sebel Quay West Suites Sydney.
This 5-star hotel offers guests spacious apartment-style suites that provide stunning views of the iconic Sydney Harbour or City skyline. Located 12.4 kilometers from Sydney Airport and just minutes from the Sydney Ferry Terminal, the Sebel Quay West Suites Sydney is ideal for short escapes, special occasions, and long-term stays
Located in Sydney's historic Rocks precinct, The Sebel Quay West provides the ideal base for the exploration of Sydney and its surrounds. Guests staying at this outstanding Sydney hotel are within walking distance of Circular Quay, Sydney Harbour Bridge a and Sydney Opera House, as well as an array of public transport options, including buses, trains, and ferries. This makes it easy for guests to explore Sydney CBD and all its attractions, as well as Sydney's beautiful beaches and vibrant suburbs.
Situated close to many of Sydney's major attractions, The SebelQuay West Suites is within easy reach of The Rocks, Sydney Harbour Bridge, Sydney Opera House, Pitt Street Mall, Darling Harbour, Bondi Beach via bus and Taronga Zoo and Manly Beach via ferry.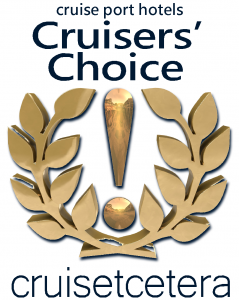 Cathy B.: "We love this hotel!."
Tracy M.; "I second the Amora Jamison – had a great stay there and it's a close walk to The Rocks area and harbor. A little bit of a walk up the hill from the light rail stop, but a great location in the CBD."
Shiela K.; "We stayed at the AMORA HOTEL JAMISON SYDNEY & loved it!!!!"
In the heart of Sydney's CBD, five-star Amora Hotel Jamison Sydney offers 415 spacious guest rooms with separate baths and showers, along with a service that sets the standard for Sydney hospitality.
An easy walk from Circular Quay, Sydney Harbour Bridge, Sydney Opera House, The Rocks, Botanical Gardens, Barangaroo, and only a few minutes from Wynyard train and light-rail stations, makes Amora one of the most desired locations for those traveling pre- or post cruise.
The hotel amenities include 10 function spaces catering from 4 to 370 people, along with a contemporary restaurant and bar. Amora's indoor heated swimming pool, sauna, jacuzzi, steam room, day spa provide a perfect environment to relax and rejuvenate. Friendly Concierge and 24-hour room service ensure the team is on hand to assist with your every need.
This Sydney hotel offers very spacious accommodation with rooms offering exceptional comfort along with complimentary WiFi. The rooms and suites in Sydney range in size from a Deluxe King Room 32 – 34sqm to Executive Suites from 69sqm. The spacious bathrooms combine style with function and all feature separate shower and deep bathtubs.
Amora Hotel Jamison Sydney offers exceptional value for money.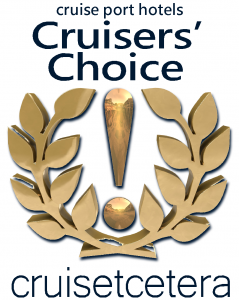 James H.: "This hotel is stunning and had just been done up."
Charming visitors with its pristine coastline and unspoiled beauty, Crowne Plaza Sydney Coogee Beach has been known as one of Sydney's most iconic beach retreats. Recently reimagined to reflect the coastal locale and just steps from Coogee Bay, breathtaking panoramic sea views and a brisk connection to Sydney's landmarks await you. Within its commanding position on Sydney's coastline, the hotel offers a stimulating environment, filled with world-famous coastal walks, boutique fashion outlets, and access to Sydney's latest super venue, Estate, which sits right on our doorstep! Enjoy cuisine inspired by 'Sunny America' – where Northern California meets the Hamptons of New York.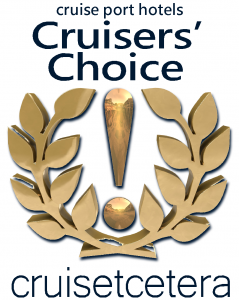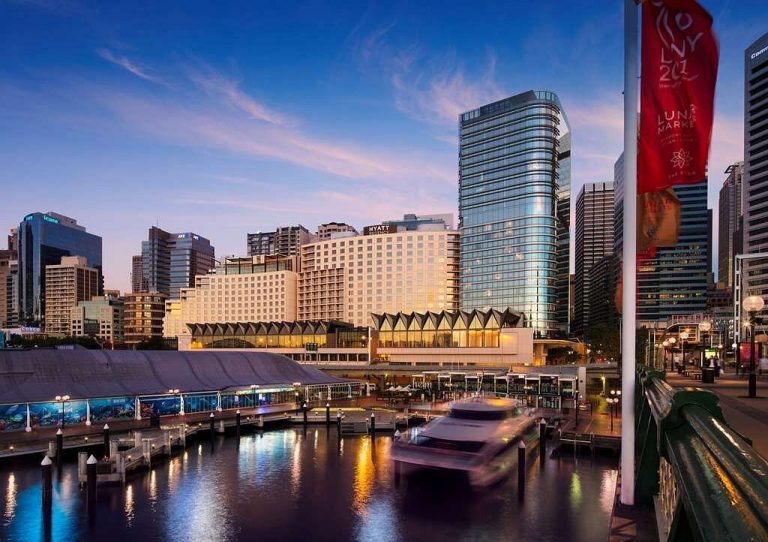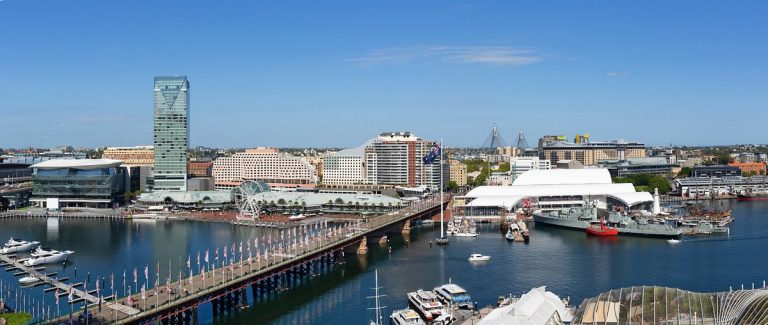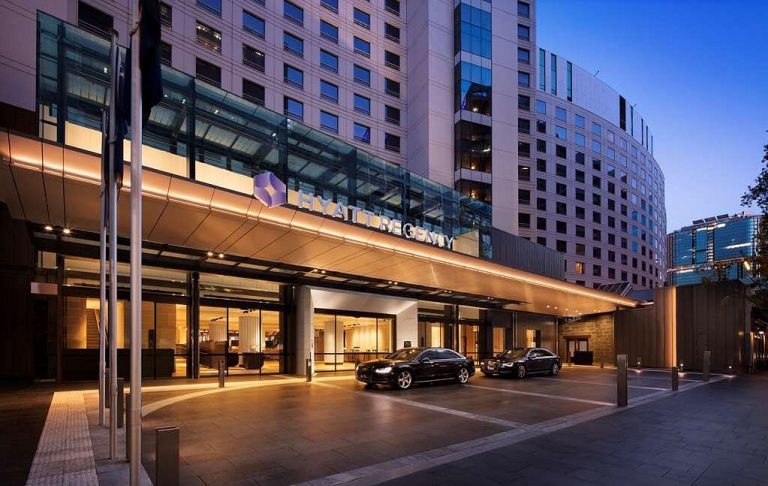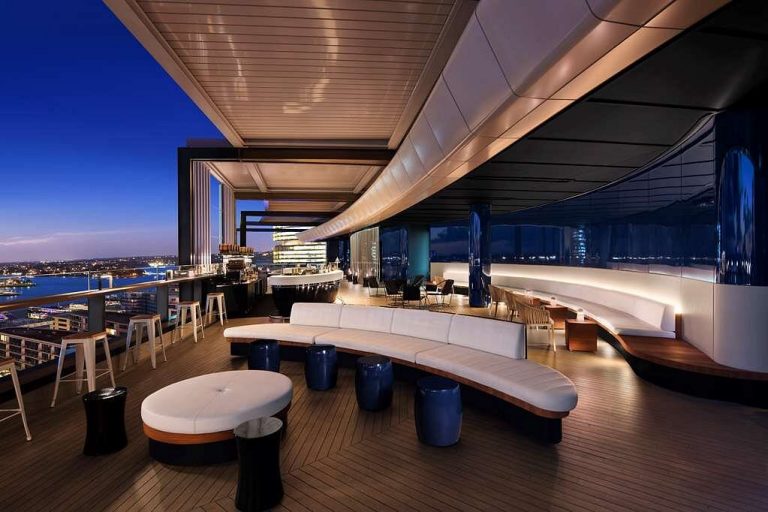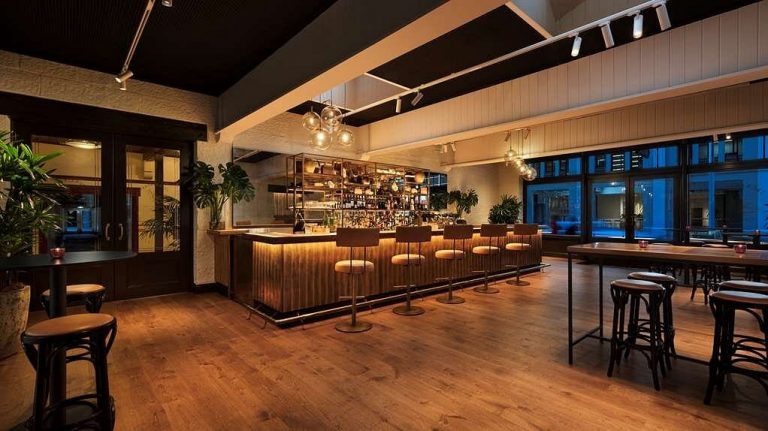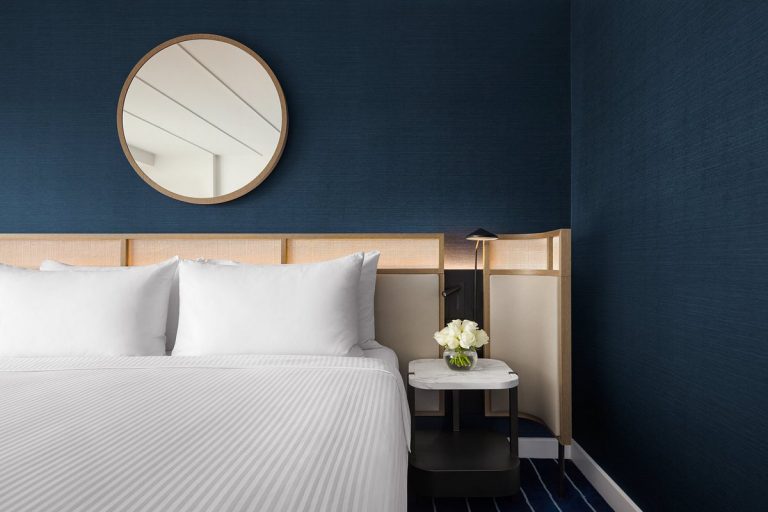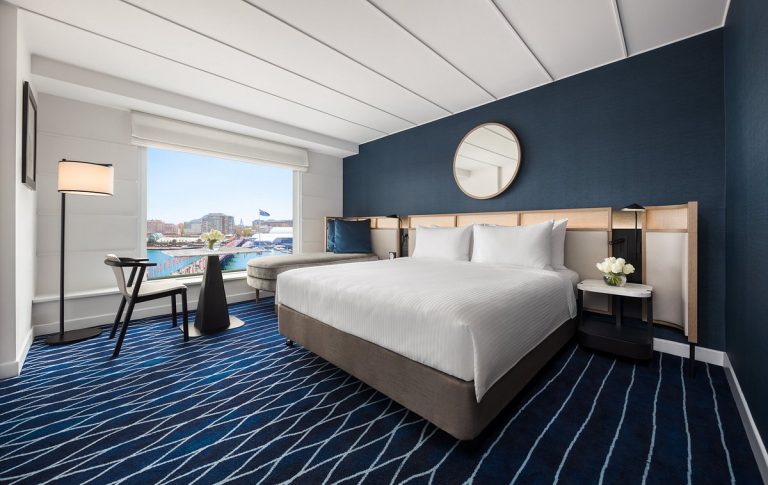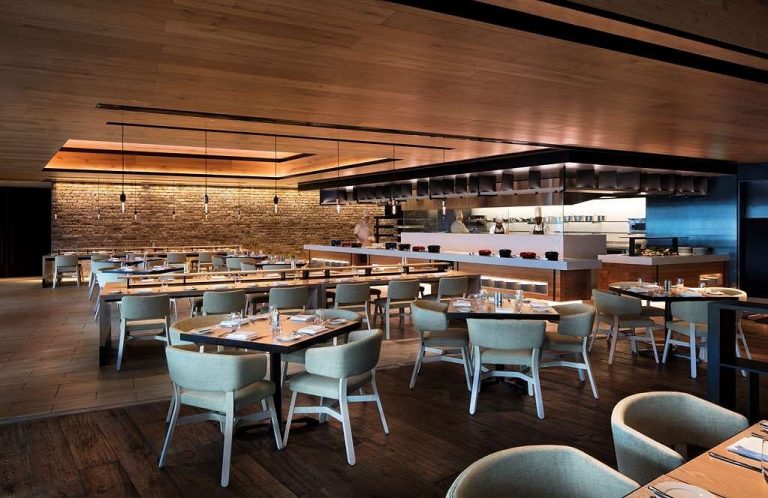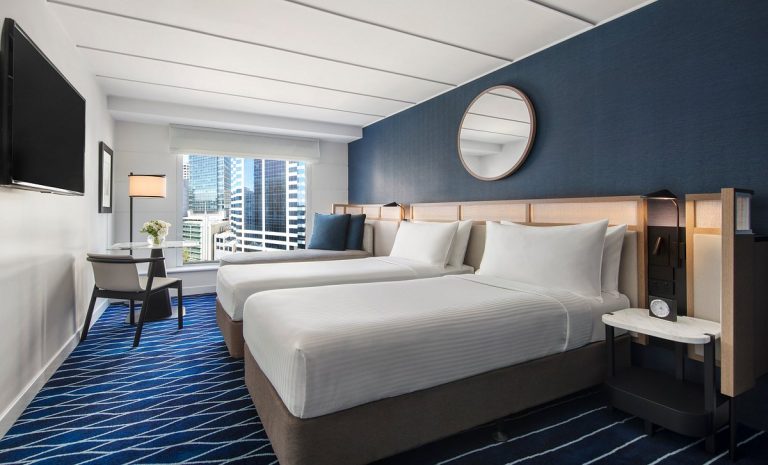 A Premium, Waterside Retreat in Sydney
Erika McK.; "We stayed at the Hyatt Regency Sydney it was great and very central."
Located adjacent to Darling Harbour in Sydney's Central Business District (CBD), this hotel is a haven of relaxation for cruise or leisure travelers. As Sydney's largest premium hotel, Hyatt Regency Sydney boasts 888 guestrooms, dining experiences and 3,700 sq m of flexible meeting and event space. You are invited to enjoy an unparalleled Australian getaway.
With 888 well-appointed guestrooms, Hyatt Regency Sydney is the city's largest hotel, catering to business and leisure travelers alike. Modern décor and deluxe amenities make each stay extraordinary, including bathrooms with walk-in showers, and rooms filled with business-focused amenities and comfortable workstations.
Enjoy stunning views of Darling Harbour or the surrounding Central Business District from the comforts of your spacious guestroom. All guests can enjoy the modern convenience of complimentary high-speed Wi-Fi during their stay with us.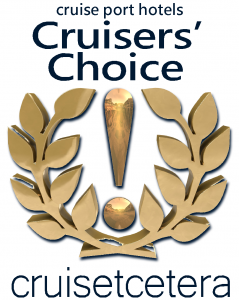 The world is your Playground at Pullman Quay Grand Sydney Harbour
Karon C.;  We live in Sydney and our favourite is the Pullman Grand Quay. You need to book a deluxe harbour view room, they have all been refurbished and have kitchen and laundry facilities. It is very popular so book asap. You can sit on your verandah and watch the ferries on the harbour. Very close to the Rocks, Opera House, restaurants and shopping."
Marcia S.; "Pullman Quay 2 bed apartment hotel. Best position ever!"
Pullman Quay Grand Sydney Harbour invites you to a hotel where unparalleled luxury and impeccable service are seamlessly infused into each and every stay.  
Perfectly located in beautiful East Circular Quay, near the iconic Sydney Opera House and Sydney Harbour Bridge, this hotel is the embodiment of chic style and sophistication. Featuring apartment-style luxury accommodation, these luxury suites feature fully equipped kitchens and laundry, separate dining and lounge areas, large bedrooms with ensuite and spa bath, and your own private balcony.
Dine on refined modern cuisine at Q Dining with fresh seasonal and local produce.  Awarded with two wine glasses for its stunning wine list, Q Dining is open for breakfast, lunch and dinner. Or join us in Hyde Hacienda Sydney Bar + Lounge overlooking the Sydney Harbour Bridge sipping on champagne taking in the energy of Circular Quay and the glistening water.
The stunning pool, spa and deck area is private and serene or if fitness is important to you, our 24-hour gymnasium is fully equipped with modern high tech equipment.
This luxurious 5-star Sydney hotel with apartment–style suites offers business and leisure guest's effortless access to many of Sydney's top attractions, including the downtown Sydney Rocks district, Manly Beach and Taronga Zoo.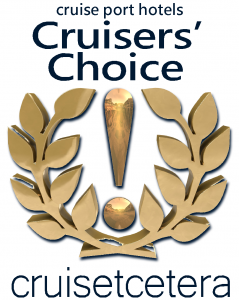 RESERVE A 5-STAR HOTEL BREAK IN SYDNEY, AUSTRALIA
Alisen H.; "1,000,000% Pier One Sydney Harbor Autograph Collection AMAZING!!! "
Enjoy an extraordinary stay with breath-taking views of Sydney Harbour Bridge at Pier One Sydney Harbour, Autograph Collection.
Located directly on the waterfront, with harbour views throughout our hotel – in rooms, restaurants and event spaces – this 5-star hotel offers a relaxing stay in Sydney, Australia.
Explore top attractions nearby, including The Rocks, Barangaroo Reserve and Sydney Observatory. Settle into the modern guest rooms, featuring plush bedding, premium amenities and complimentary Wi-Fi. Elevate your 5-star hotel experience in a spacious suite with a private balcony, or treat your dog to a stay in the dog-friendly rooms. For relaxation, stay fit in the fitness centre, take a stroll along the pier or take in gorgeous harbour views as you savour contemporary Australian cuisine at the award-winning restaurant. Host your meeting or social occasion in their versatile event venues – many with Sydney Harbour Bridge views – complemented by superb event planning and catering services.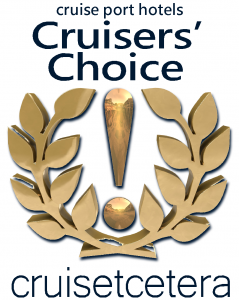 ACCOMMODATION IN DARLING HARBOUR ACROSS THE ICC SYDNEY AND CHINESE GARDEN
Jennifer L.;  I live in Sydney, suggest Novotel Sydney Darling Square, great location easy to walk everywhere and great access to public transport."
Enjoy contemporary comfort and friendly, around-the-clock service at Novotel Sydney Darling Square.
Located in the heart of Darling Harbour overlooking the Chinese Gardens of Friendship, next to the ICC Sydney and walking distance to attractions like the historical Capitol Theatre (a short 7 minutes walk), the  Powerhouse Museum, Opens in a new tab. the foodie hub Darling Square and culturally dense Chinatown, the accommodation is equally suited for business or holiday visits to the Sydney CBD and Darling Harbour.
Find all the comforts of home in one of the 230 contemporary rooms featuring flat-screen TVs with access to popular online streaming services, mini-bar on-demand, 24-hour room service and Wi-Fi.
Sit down for a scrumptious breakfast at Pier St. Grill and unwind with wines at Ps. Wine. 
Train in the fitness center located on level 2 and a swim or a dip in the temperature-controlled indoor lap pool. If you prefer a private session, request a yoga mat from the Reception to practice your Yoga or Pilates in the comfort of your room.
Novotel Sydney Darling Square is proud to be a 100% smoke-free hotel.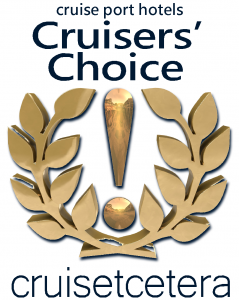 Welcome to Wonder
Ovolo Hotel Woolloomooloo offers a unique stay, close to the heart of Sydney CBD but yet in a peaceful wharf location. Offering 5-star boutique accommodation options that include beautifully-designed private rooms and outstanding loft suites.  The rooms are incredibly spacious, with beds that will make you forget about home! They have amazing facilities which include an Indoor pool, restaurant, bar & a fitness center.
Bridging between heritage and modern luxury, indulge in the rich history of the Woolloomooloo wharf complemented by contemporary designs and tech-savvy inclusions. All in the comfort of your generously sized abode over picturesque Sydney Harbour.
Located near Sydney Royal Botanic Gardens, you will be in the perfect location to explore beautiful parklands and the Sydney Opera House as well as The Rocks.
We truly are the perfect luxury boutique hotel for your next trip to Sydney
It's impossible to resist Ovolo Woolloomooloo's location, an old finger wharf extending out over the water, still surrounded by docked vessels and affording prime views of the marina, the city, and the landmarks on the Harbour.
As is typical in industrial retrofits, some of the wharf's structure and machinery is left exposed for effect, and rooms are loft-style, many split-levels, with vast and sumptuous king beds perched above living areas. The décor is maximalist, in this case avoiding the clichéd sunny Down Under palette in favor of chocolate faux-suede — an odd choice, and a memorable one. Colonial windows, Edison bulbs, and articulated lamps collectively signify a thoroughly contemporary design perspective, though it's probably the in-room Apple TV unit, Smart TV, and iPad that prove once and for all that we've moved on from the Aughts. Or, you know, the incredible variety of complimentary: speedy wi-fi, stocked minibar — hell, there's even a 24-hour indoor pool and gym on-site.
As with all Ovolo hotels, Lo Lounge offers an all-day and all-night retreat for every social need: coffee, a quick snack, shareable bites, and the hard stuff all flow freely. Then there's the wharf at large, which houses a luxury apartment and entertainment complex as well as the hotel; you don't have to set foot on dry land if you don't want to, and certainly not to mingle, as the locals visit just for the bar. Then again, come morning, you're so close to the shopping districts and the city's landmarks that it would be a shame to miss them — take a walk to the Opera House and find not just an arresting Modernist structure but, inside, one of Sydney's top restaurants as well.
Travel advisory: Passport and visa requirements differ from country to country. Please check with your local authority before booking.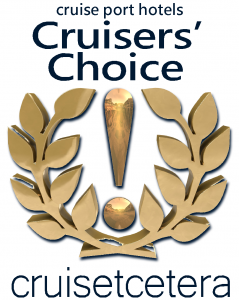 SYDNEY'S MOST
EXCLUSIVE ADDRESS AND #1
BOUTIQUE HOTEL IN AUSTRALIA
Dramatic Harbour views, quaint cobbled streets, and historic brick buildings. Discover a secluded tranquillity nestled in the heart of The Rocks district of metropolitan Sydney.
Nestled in the quaint cobbled streets of The Rocks, this boutique property sits only steps away from Sydney's famed icons. Guests relax into
83 spacious, sun-filled residential rooms or choose from 13 luxury suites with private cityside or harbourside terraces and pet-friendly services.
This hotel is a great choice as a pre-cruise hotel in Sydney. It is not only affordable but also comfortable and centrally located. Enjoy a romantic setting with a host of amenities designed especially for cruisers like you.
It is a romantic hotel with a flat-screen TV, air conditioning, and a fridge in the rooms. In addition, you can easily use free WiFi during your stay. The hotel features a concierge and room service. In addition, you have access to a swimming pool and breakfast, making this a popular choice among travelers to Sydney. A car park is available for guests arriving by vehicle.
The hotel is close to Sydney's most popular attractions such as The Rocks (0.5 km) and Circular Qua (0.5 km). It is therefore ideal for tourists. Sydney has plenty of seafood restaurants. During your visit, head to popular spots like Tetsuya's, Feast Restaurant at Sheraton on the Park, and Sydney Tower Buffet, where you can enjoy delicious dishes. During your visit, be sure to check out popular attractions such as the Sydney Opera House (1.1 km), Sydney Harbor Bridge (1.1 km), and Darling Harbor (1.2 km). They are all within walking distance of the hotel.
Enjoy your stay at The Langham, Sydney, and have fun in Sydney!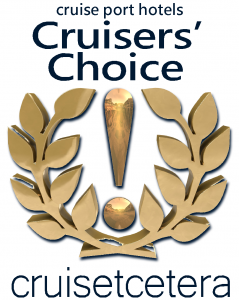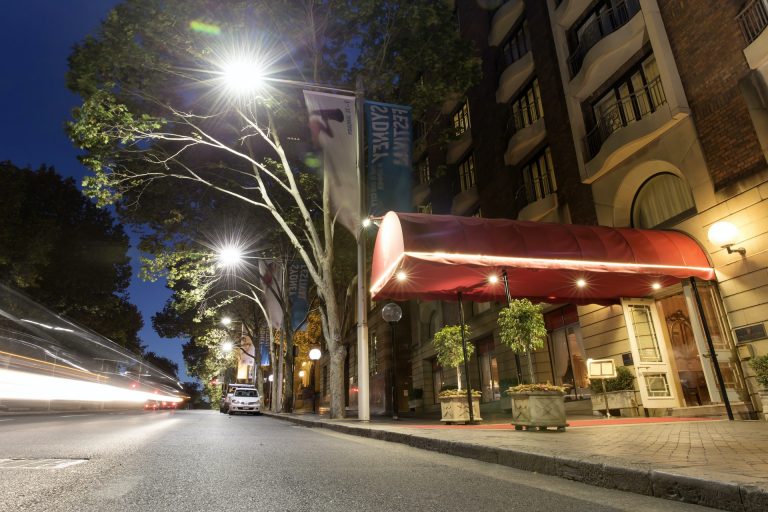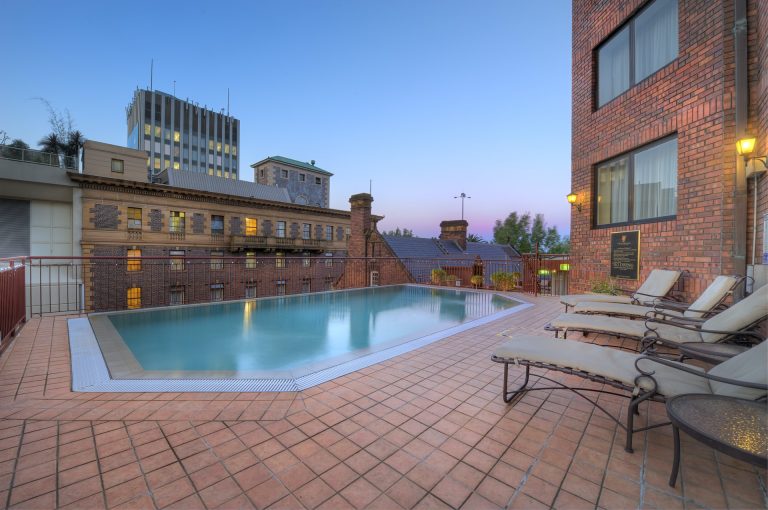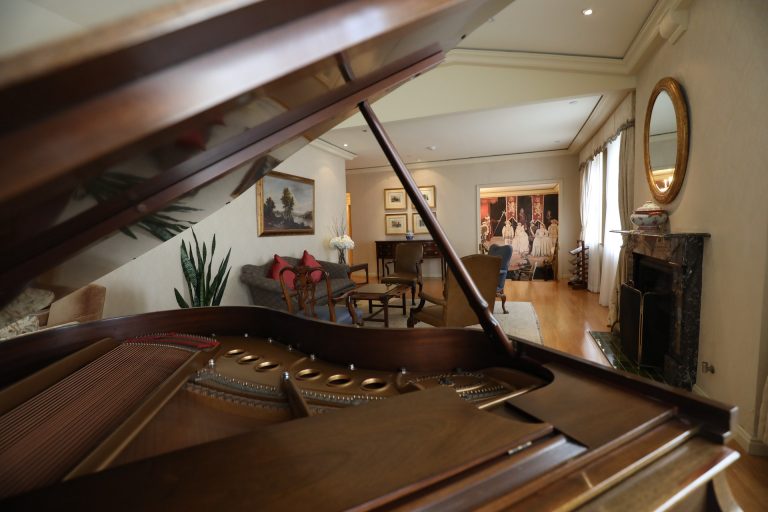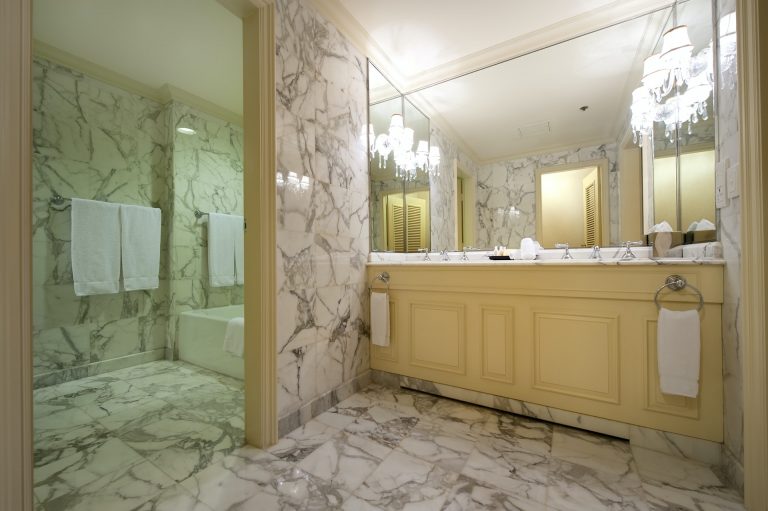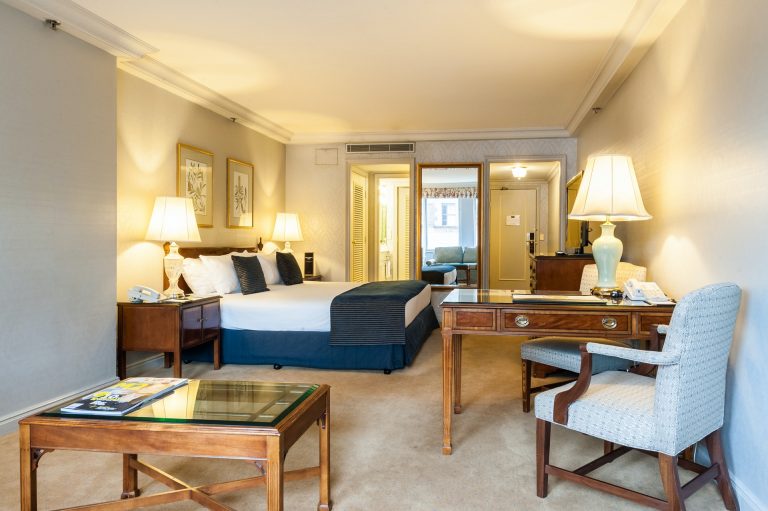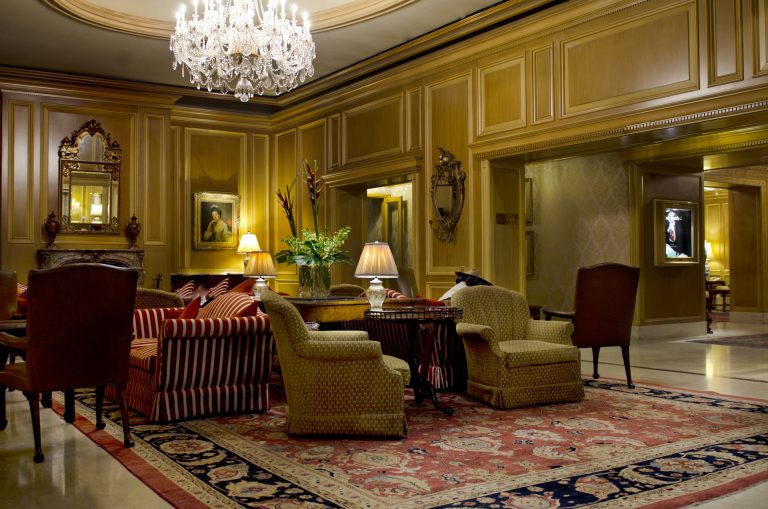 Internationally renowned classic luxury in the heart of Sydney
Kathi M.;  "I stayed at the Sir Stamford Hotel in Sydney. Great location, a smaller boutique hotel."
If you are looking for Sydney Hotel Accommodation near Sydney Harbour and the Sydney Opera House you've come to the right place.
This luxury Sydney 5 star hotel accommodation consists of 105 generously sized, luxuriously appointed hotel guest rooms, including 15 hotel luxury suites, the majority of which feature French doors opening onto Juliet Balconies, offering views of the wonderful city of Sydney.
This 5-star hotel accommodation in Sydney's CBD offers four levels of room type, ranging from the Superior King Room with a king bed and a two-seater lounge area, to the royally decorated Presidential Suite with a spacious living room, a Steinway Grand Piano, antique paintings, and a sunken dining room with space for up to eight people.
Located downtown in the heart of Sydney's CBD, overlooking the Royal Botanic Gardens, adjacent to Circular Quay and the Sydney Opera House.
Luxurious and spaciously appointed guest rooms (approximately 32 square meters) offering a distinct design and decor to complement the heritage building, in which part of the hotel resides.
If you are looking for somewhere to dine before heading to the Sydney Opera House (or anywhere in the city) or just a place to meet friends, their Dining Room and Highlander Bar are perfect for either case.
The Highlander Whisky Bar welcomes you into a classic, stylish relaxed atmosphere, serving a gourmet bar menu selection, a range of high teas and a grand selection of fine whiskies, and more.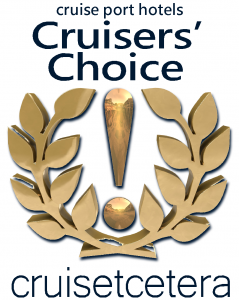 Explore Sydney from our Circular Quay hotel
Stacy B.;  "Marriott at Circular Quay I recommend. Get an Opera house view room. There is a building in front of the hotel so you can't get a room with a view of both the Opera house and the bridge. I don't find the bridge is that interesting. On the weekend, The Rocks nearby has a great open-air market. The ferries come in at Circular Quay a block away. On Sundays, all public transportation is discounted. The ships dock nearby – if you need a cab when you disembark in Sydney, take the lift up to the 2nd floor of the terminal."
Located in the bustling heart of the city, Sydney Harbour Marriott Hotel at Circular Quay welcomes guests with superb service, luxury amenities, and an ideal location.
Guests are near Circular Quay's dining, fashion, and entertainment hot spots, as well as Australia's top attractions, including Sydney Harbour Bridge, the Opera House, The Rocks, and Hyde Park. Work out in the fitness center or take a dip in the indoor pool. Savor the fine-dining restaurant headed by a Michelin-trained chef or stop by an award-winning laneway bar and historic gastropub.
Recharge in spacious, modern rooms with plush bedding, mini-fridges, 24-hour room service, work desks with ergonomic chairs, and free Wi-Fi. Bi-level loft suites are ideal for entertainers while their upper-level rooms and suites boast scenic views of the Opera House and Harbour.
Indulge in a world of possibility at Sydney Harbour Marriott Hotel at Circular Quay.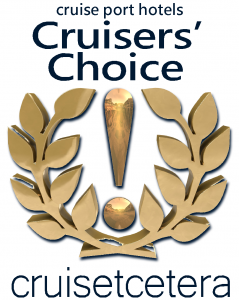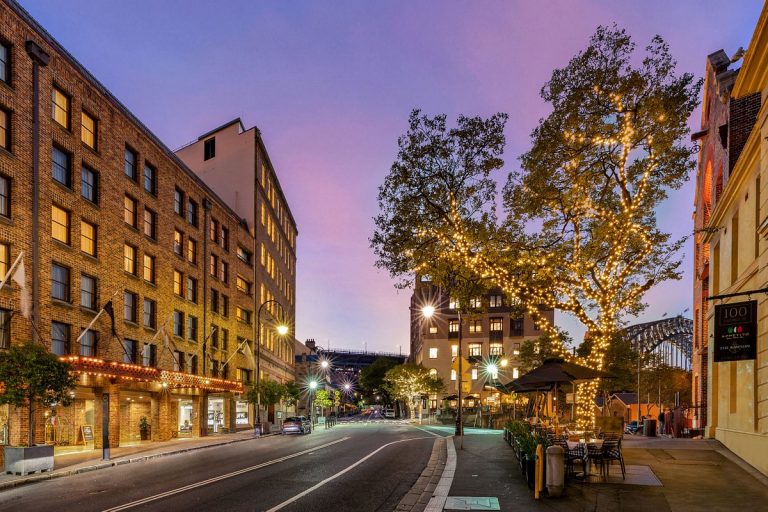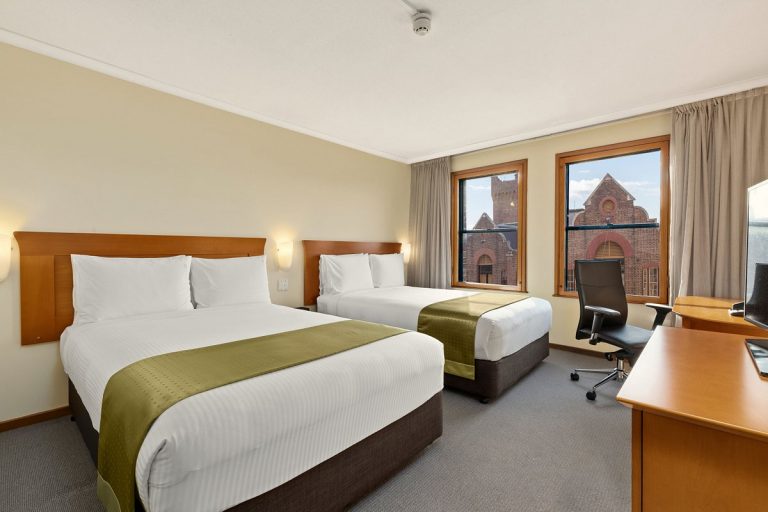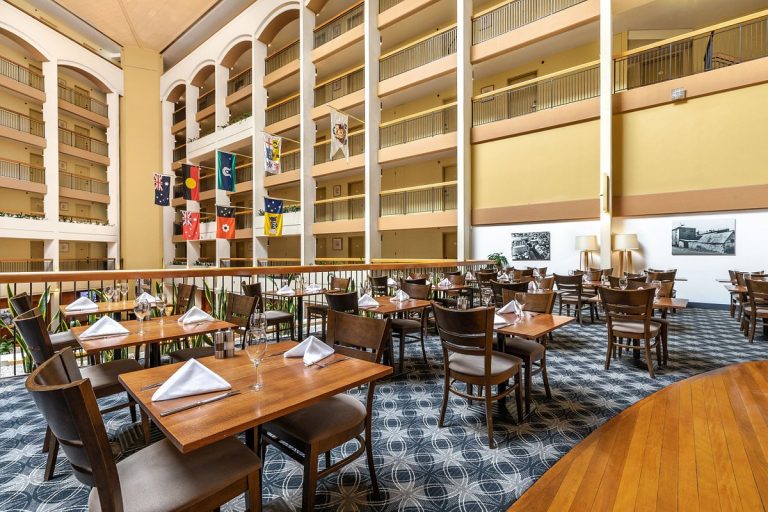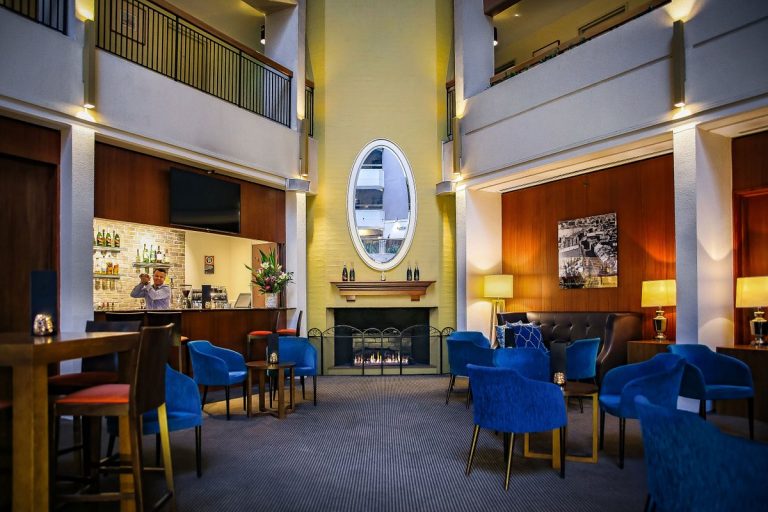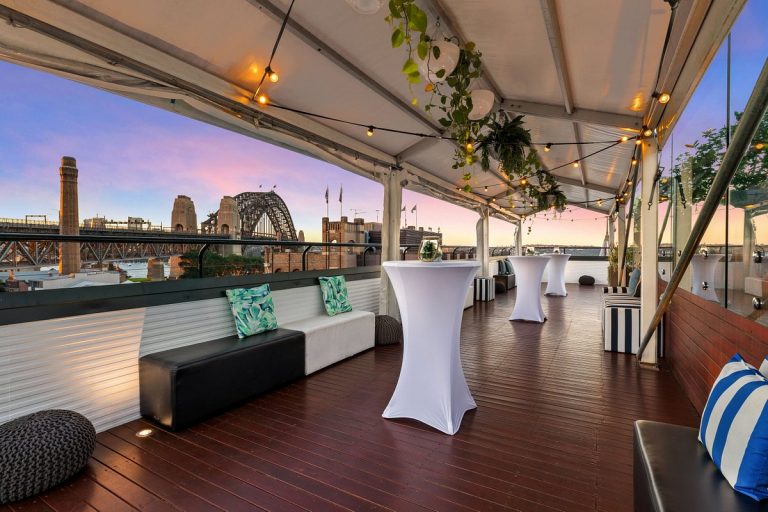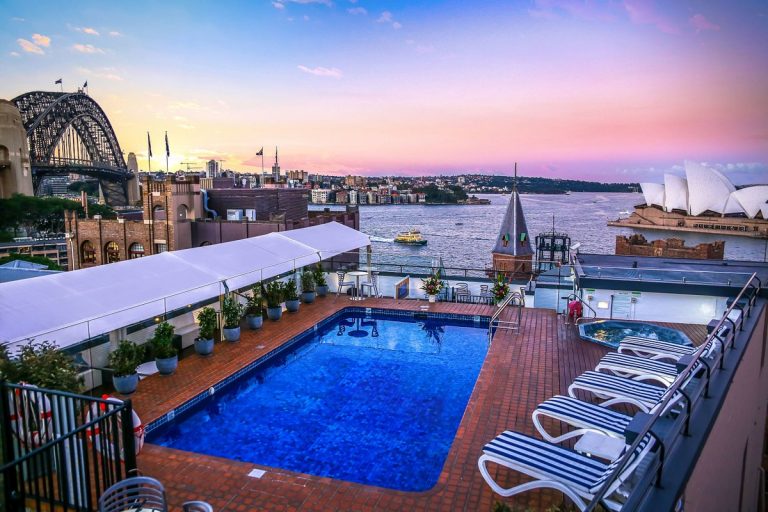 The new name of The Holiday Inn at the Rocks
Amanda T.; "Go for an executive room and you'll get a view of the Opera House."
Ken J.; The Holiday Inn at the Rocks has been renamed…new name is Rydges Sydney Harbour, it's a great location for sure."
Located just one street back from the Overseas Passenger Terminal in Circular Quay, a heritage site dating back to 1926, Rydges Sydney Harbour sits amongst the undisturbed cobblestone laneways of the city's oldest neighborhood. You'll find an array of boutique shops and galleries and plenty of cafes and restaurants on your doorstep. Within a few minutes walk you'll be at Sydney Harbour, where you can check out the Museum of Contemporary Art or the Sydney Opera House, head to Circular Quay, and hop on a ferry to Manly Beach or Taronga Zoo, or catch a train to other noted Sydney hotspots.
With six luxurious room types, they can help you find an option that suits your traveling party and style. All come with free high-speed internet, a flatscreen TV, spacious en suites, and plenty of natural light. Other hotel amenities include a rooftop pool, full-service housekeeping, and more.
Stop by The Lobby Bar for a pint or to sample acclaimed wines from the Hunter and Barossa regions. Or indulge in fantastic modern Australian and international flare with a la carte breakfast and dinner Wednesday to Saturday at The Playfair Terrace restaurant.
For premium Sydney accommodation with stellar views, a convenient location, and amazing amenities, look no further than Rydges Sydney Harbour.
when you have a special request or can not find your hotel, you want a cheaper option or you have any questions? please contact us and we will send you a new top 3 based on your choice.
by e-mail: GERT@CRUISETCETERA.COM