Some call San Francisco the 'Paris of the West' because it is such a beautiful city filled with a diverse population, has an interesting history and is surrounded by the beautiful blue water of the San Francisco Bay. San Francisco became what it is today as a result of the Gold Rush of 1849, which increased the city's population from 1,000 to 25,000 in a year. In San Francisco you can uncover the growth of the city on several walking tours, from the gold rush to the great earthquake and fire of 1906, to the summer of love in 1969 – just be prepared for a workout because San Francisco has some of the steepest streets in the world. You can get a sense of the hills and the entire city on a trolley ride. San Francisco is the gateway to Hawaii, Alaska, the Panama Canal, the Caribbean, and many more wonderful cruise destinations.
We have made a wonderful Cruise Port Hotel selection for you based on our own experiences and based on recommendations of your fellow luxury cruise lovers.
Find the most beautiful hotels below.
Best cruise port hotels as picked and recommended by members of our groups: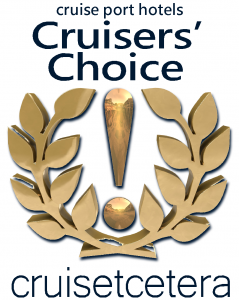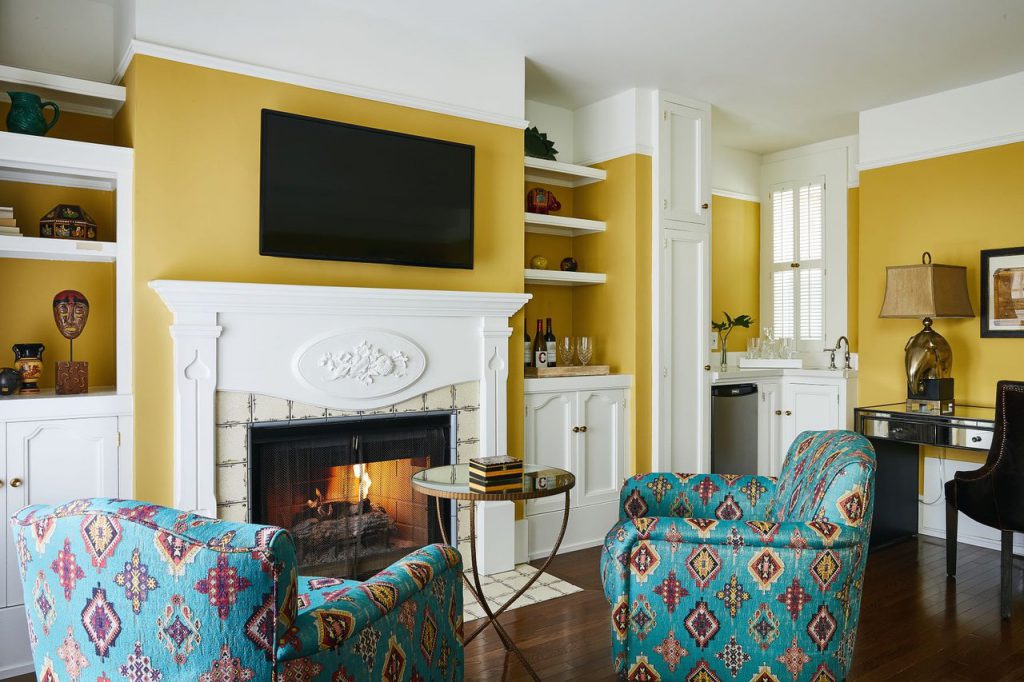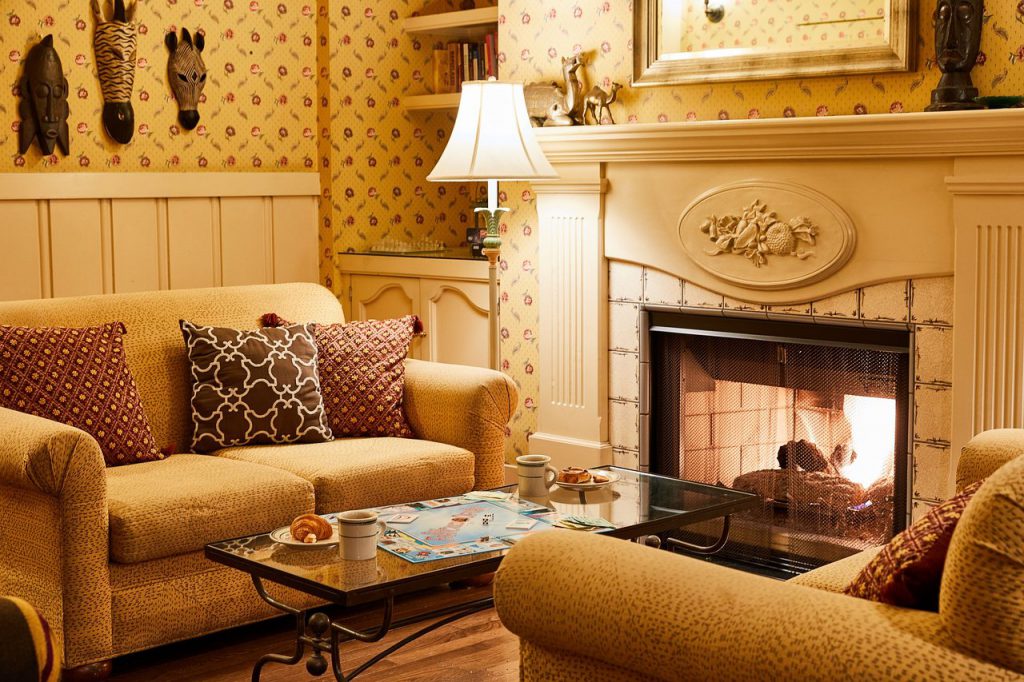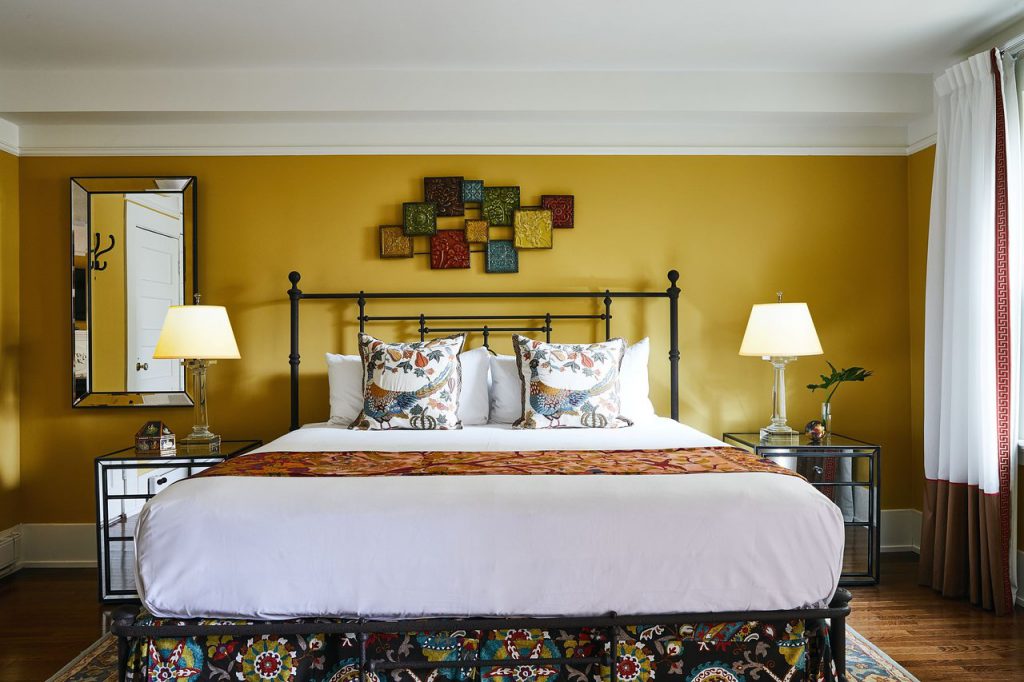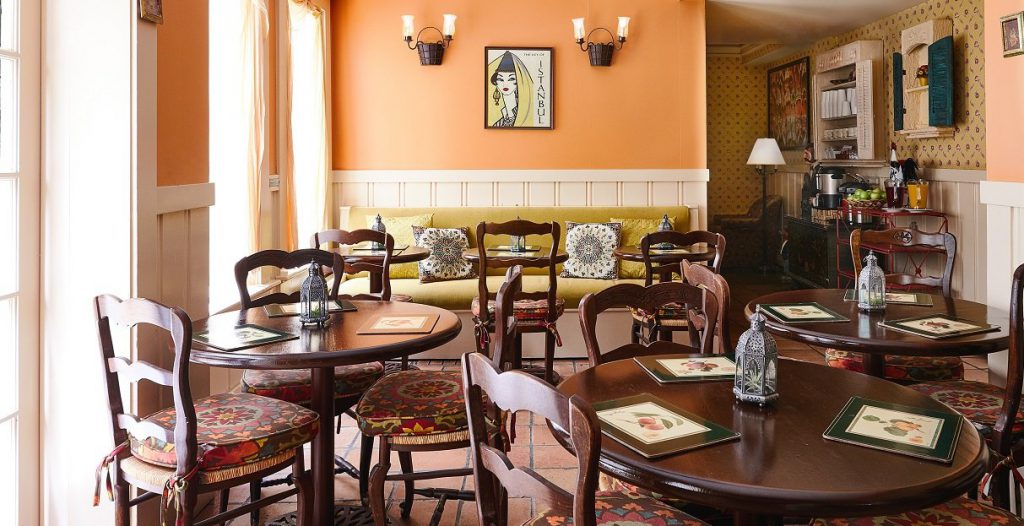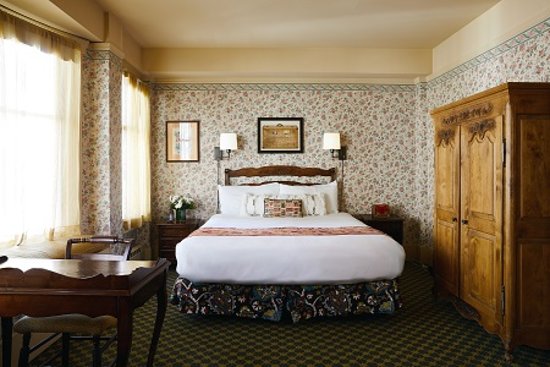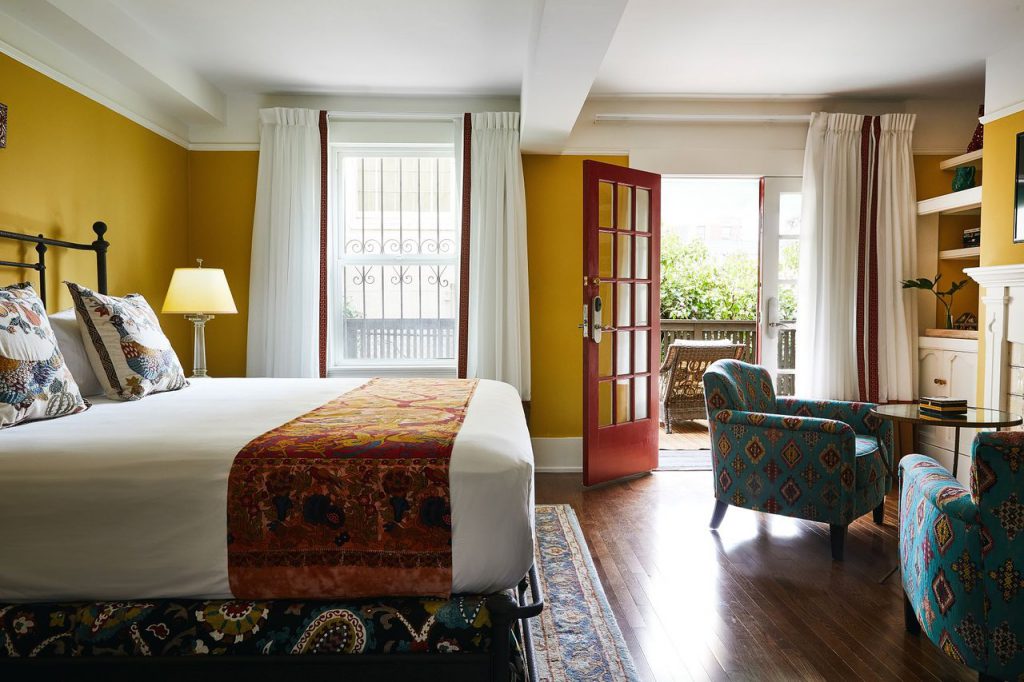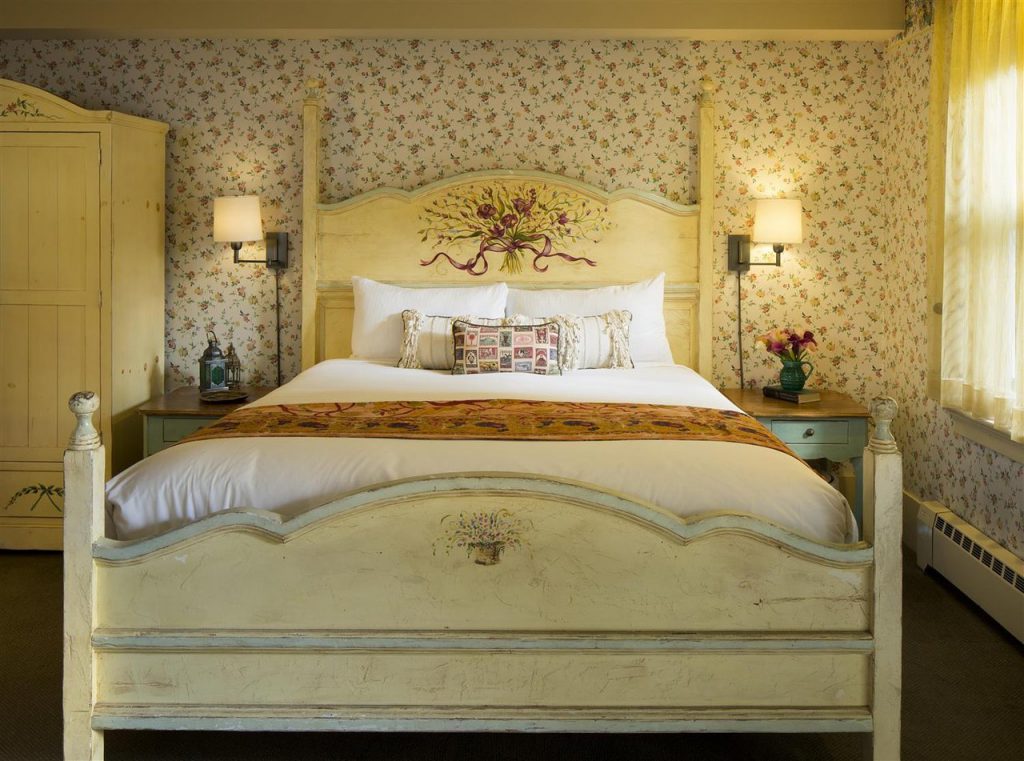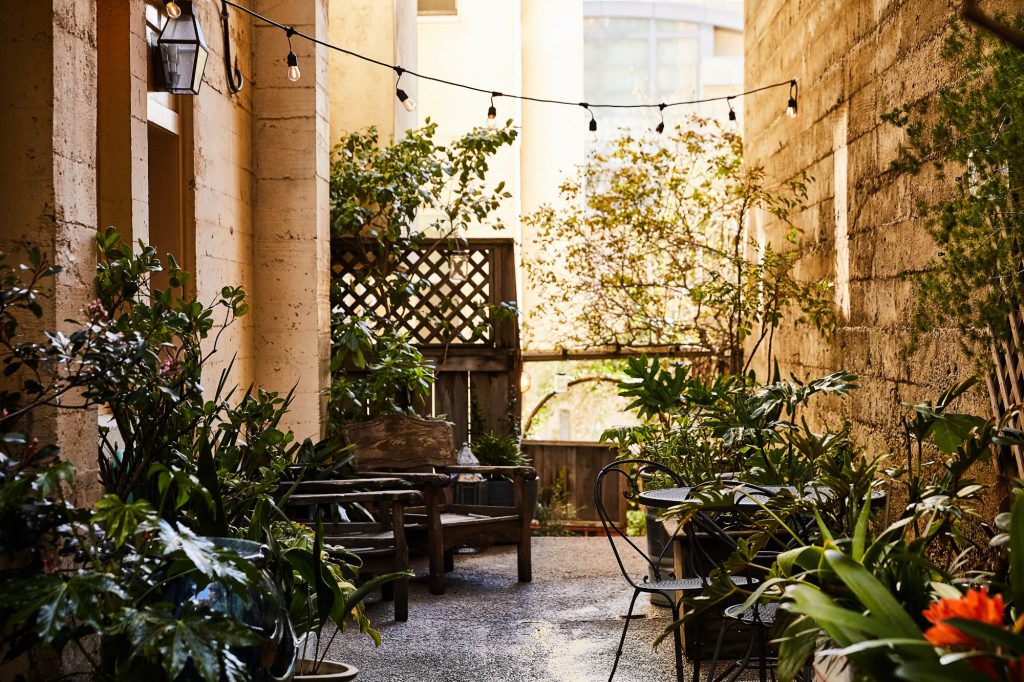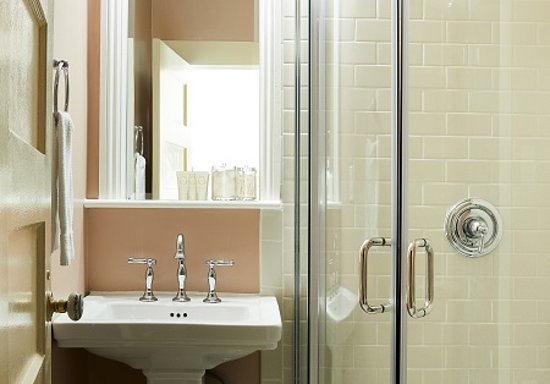 Book this hotel directly via this website and get a 10% discount. Click on book and...book!
Pam Medlinger J.: "We stayed several nights in The Petite Auberge before our cruise to Hawaii at this boutique hotel! Met several other couples on the same cruise during the complimentary wine happy hour they have. The location was great for walking to several areas! "
For us, it's a tangible thing – best practiced in Bon Chic, French country-inspired spaces, and enjoyed during starry nights tucked into plush beds and gourmet breakfast baskets on the mornings thereafter. Come discover our little inn – a Petite Auberge tucked amid the tony storefronts and restaurants of San Francisco's Nob Hill. And rest easy in a place just as welcoming as home.
They're an undeniably enticing experiment: equal parts bed & breakfast, boutique hotel (outfitted with a curated selection of global objets d'art), and charming guesthouse seemingly out of the South of France, yet in the middle of San Francisco's unshakable pull. From complimentary breakfast basket taken on the garden patio to evening fireside chats where connections form over glasses of local wine (gratis, of course), this is the Inn Life. Won't you please join?
How do you measure charm? The 26 rooms eschew cold for cozy, pillowy beds, in-room robes, and fireplaces to welcome you home. They're perfectly peaceful refuges in the city's heart.
Freshly baked pastries for breakfast. A glass of wine with snacks to enjoy during the evening. Oh, and cups of locally-brewed coffee, soft drinks, water, and teas available throughout the day. It's all gratis to their guests. Plus, for something a little more substantial, enjoy choice seating or room service from Del Popolo, one of San Francisco's best restaurants that are just next door. Trust us: it all tastes even better than it sounds.
Click below to get a 10% discount!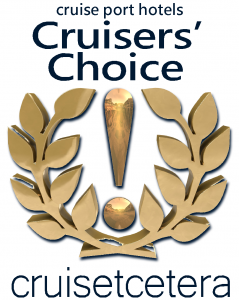 Wonderful views of the bay
The beautiful Hyatt Regency San Francisco is amazing.
The Bart station is right across the street so it was fairly easy to get to the hotel from SFO or Oakland airport. The trolley pick up also is across the street.
The rooms are super comfy and roomy. Restaurants are available for you, we did not visit it though.
Wonderful views of the bay, clock tower, convention center, and super easy to get to Fishermans Wharf, Pier 49 with the shops, restaurants, and of course see the Seals.
'Highly recommend this upscale hotel.'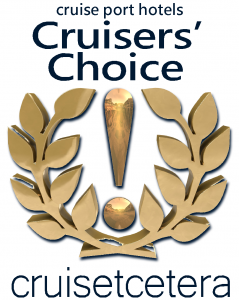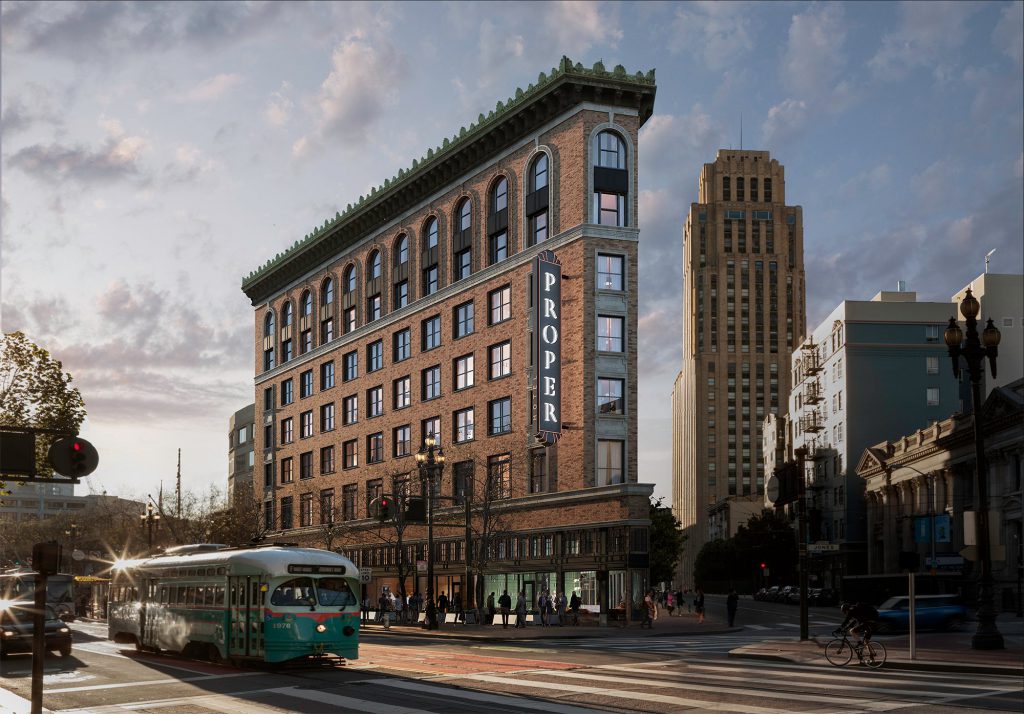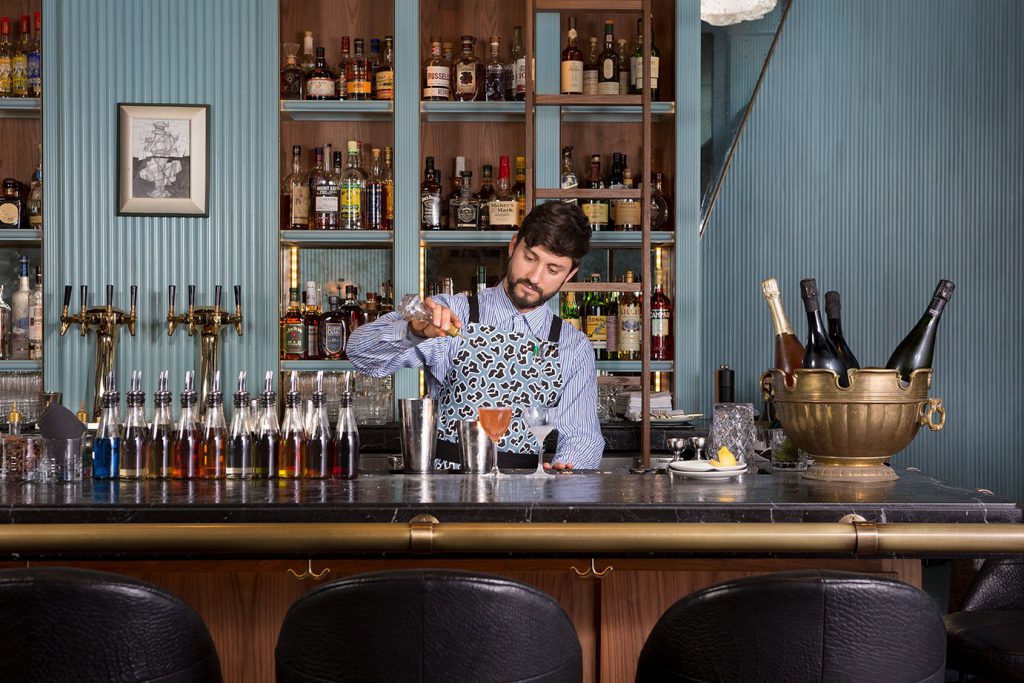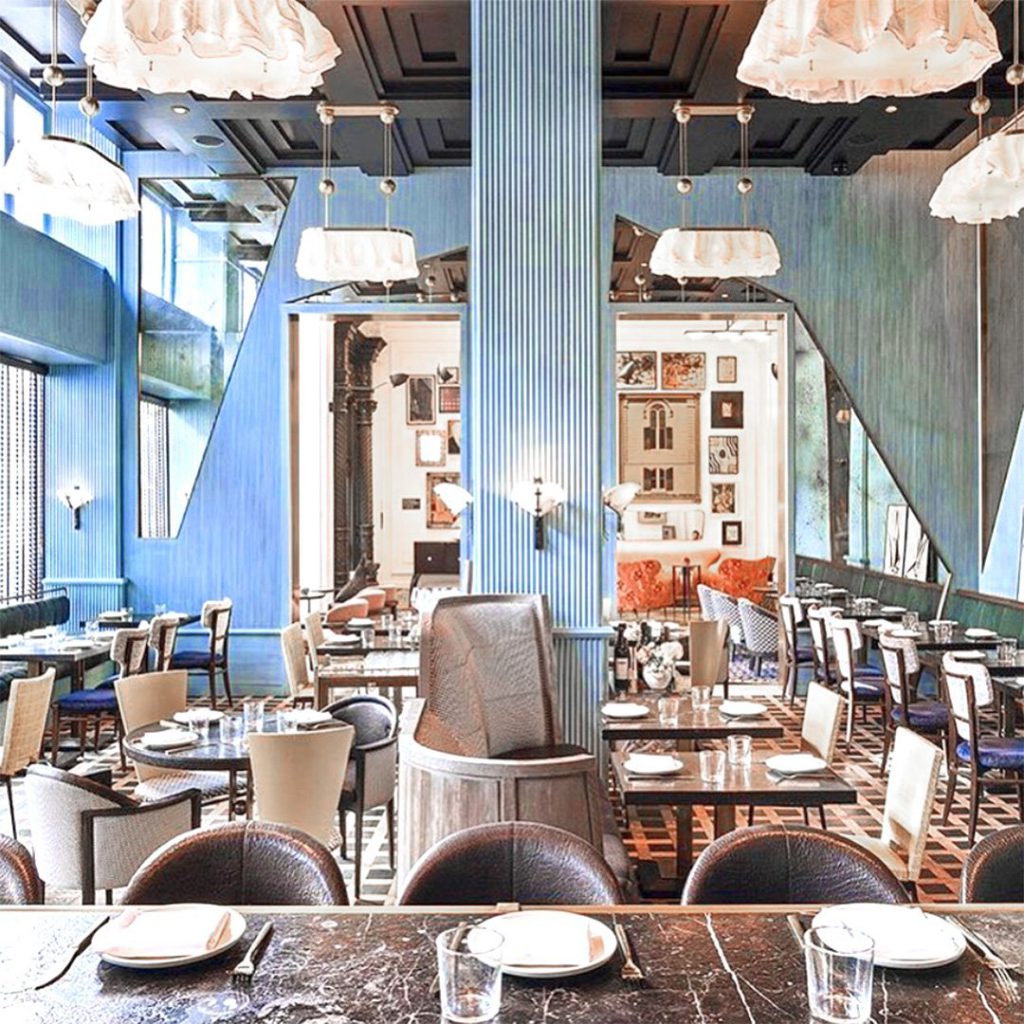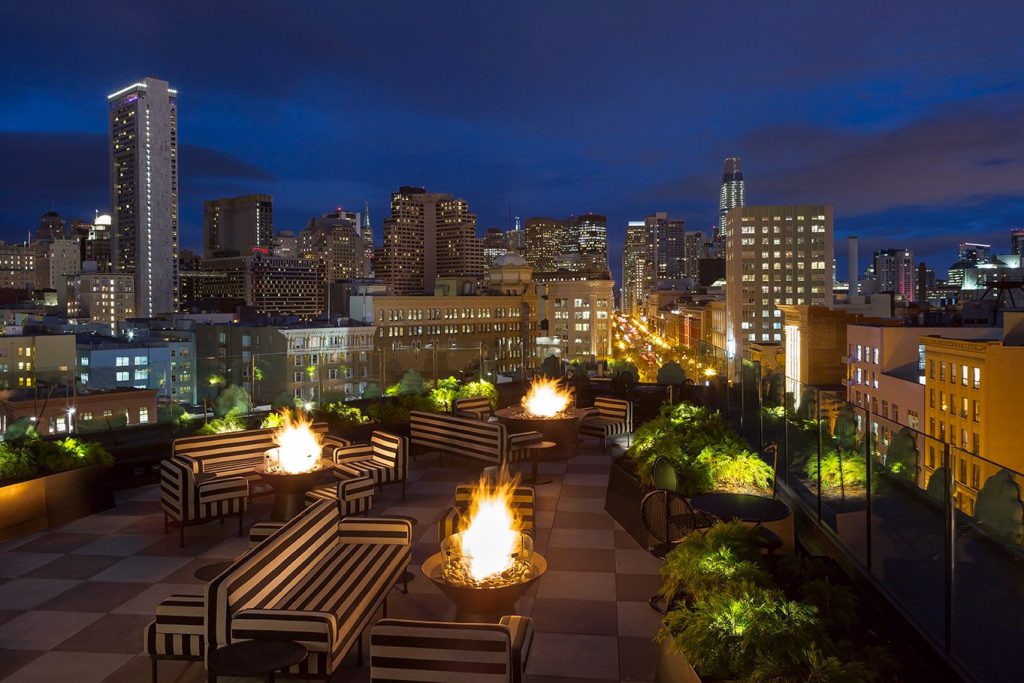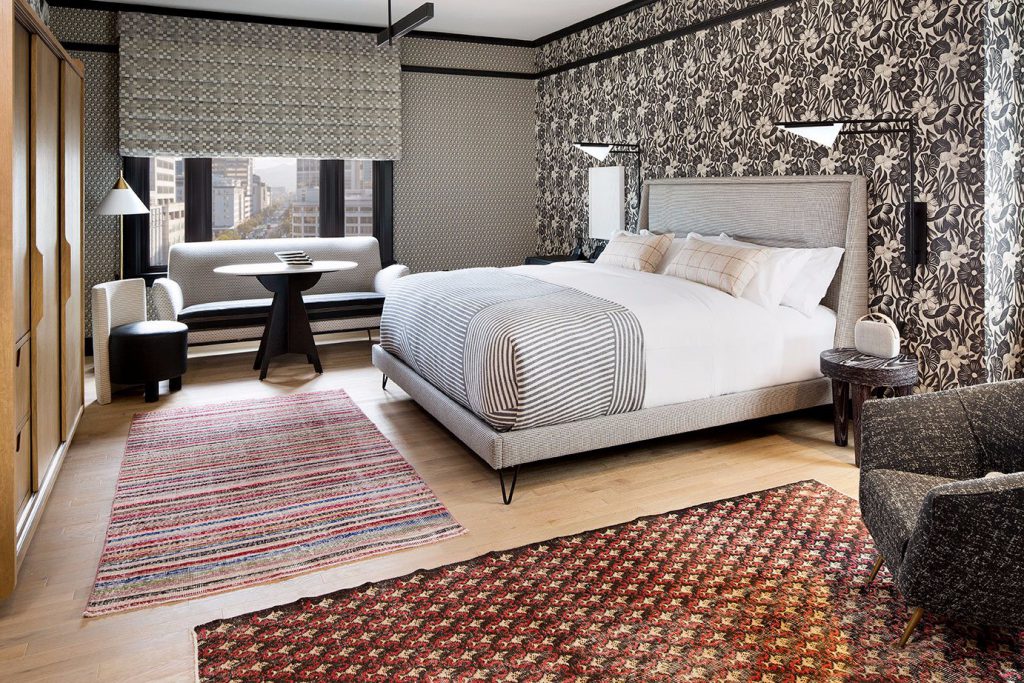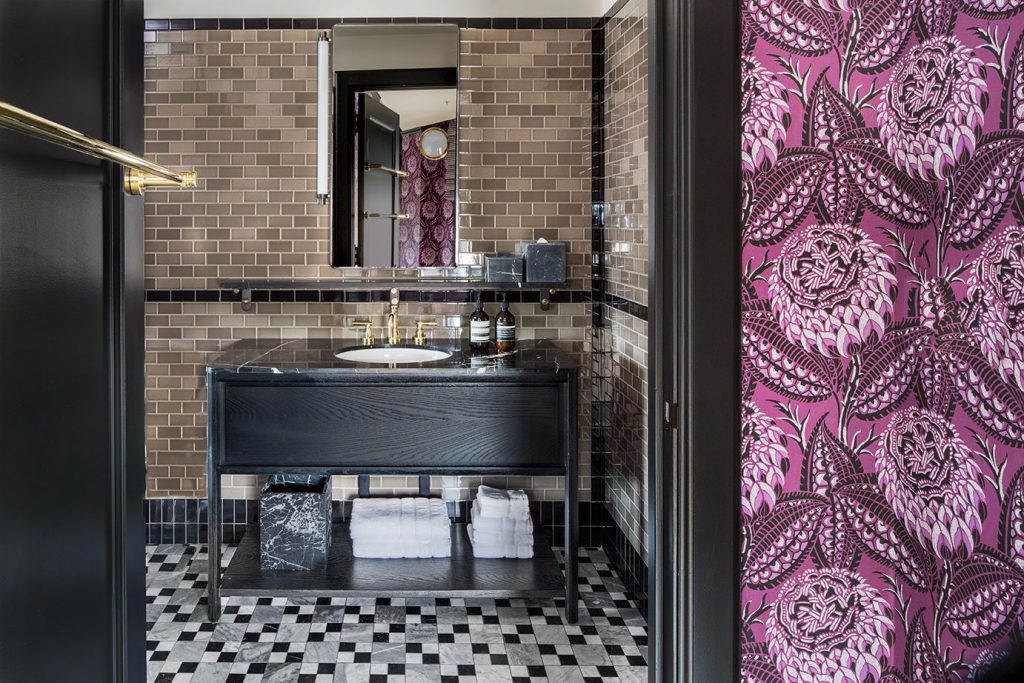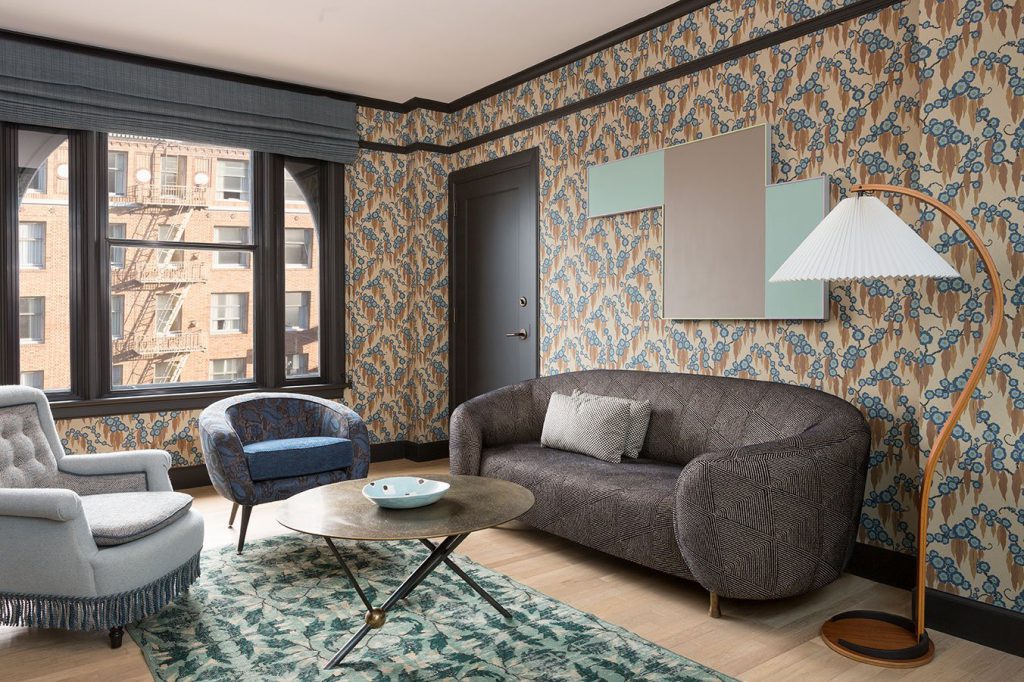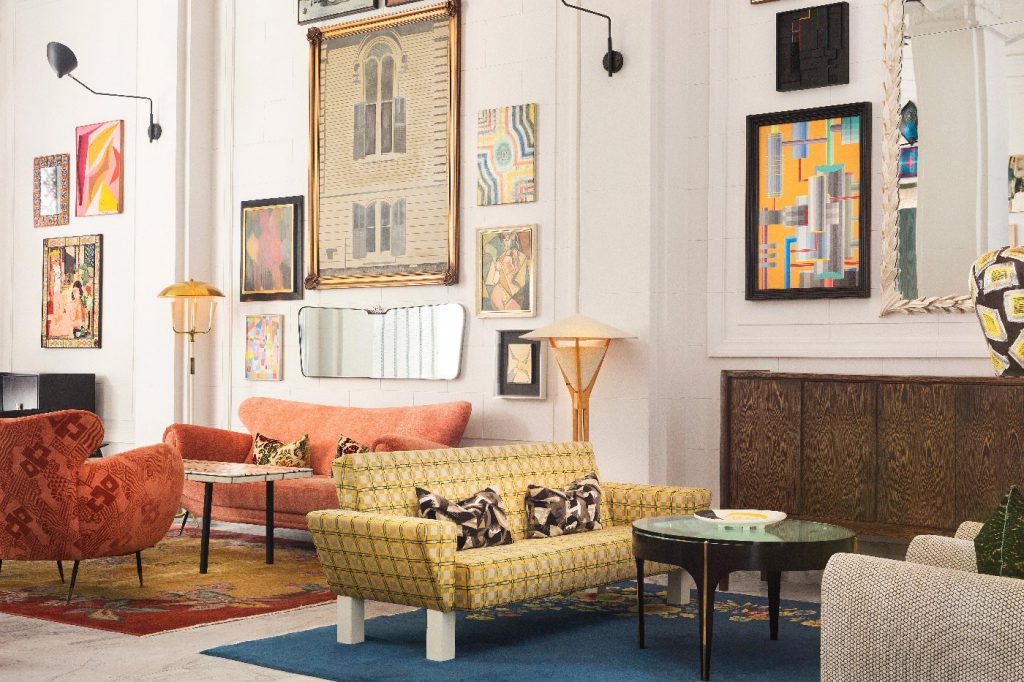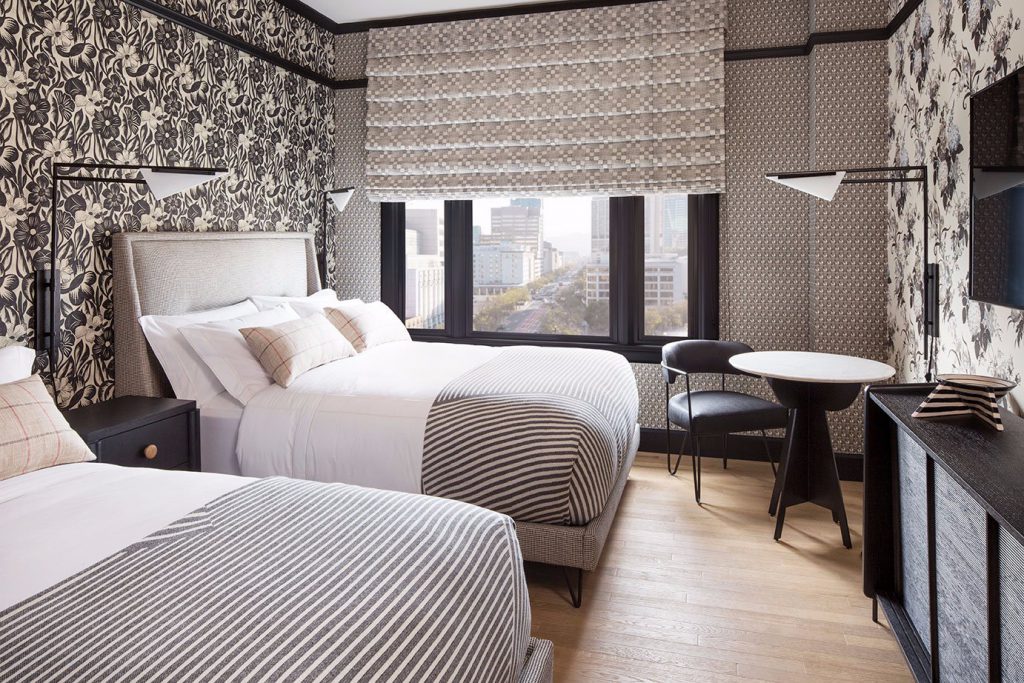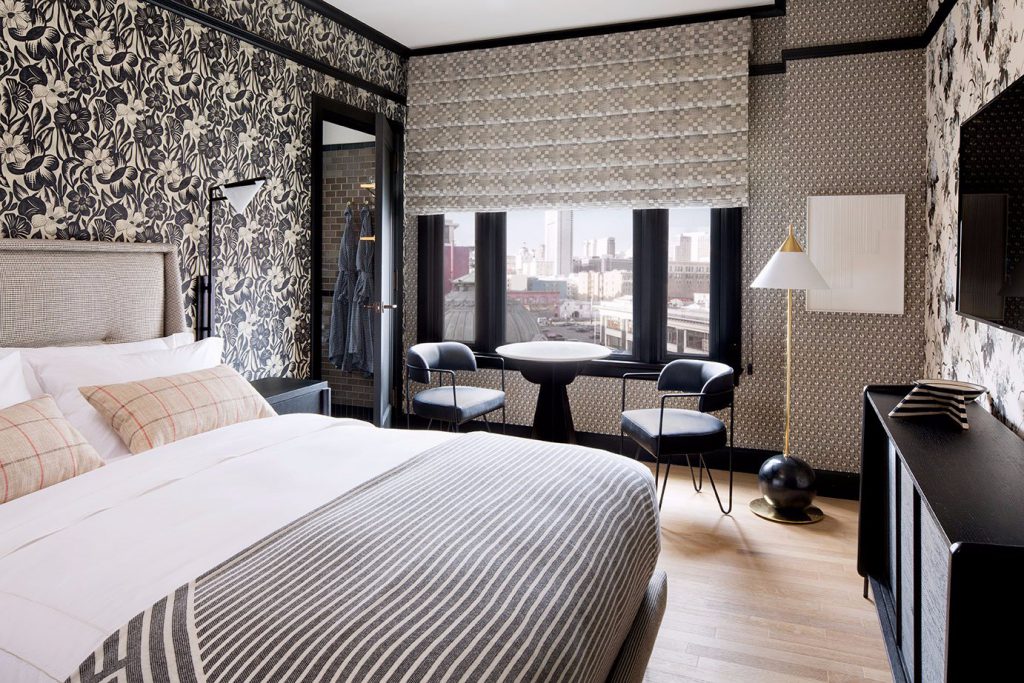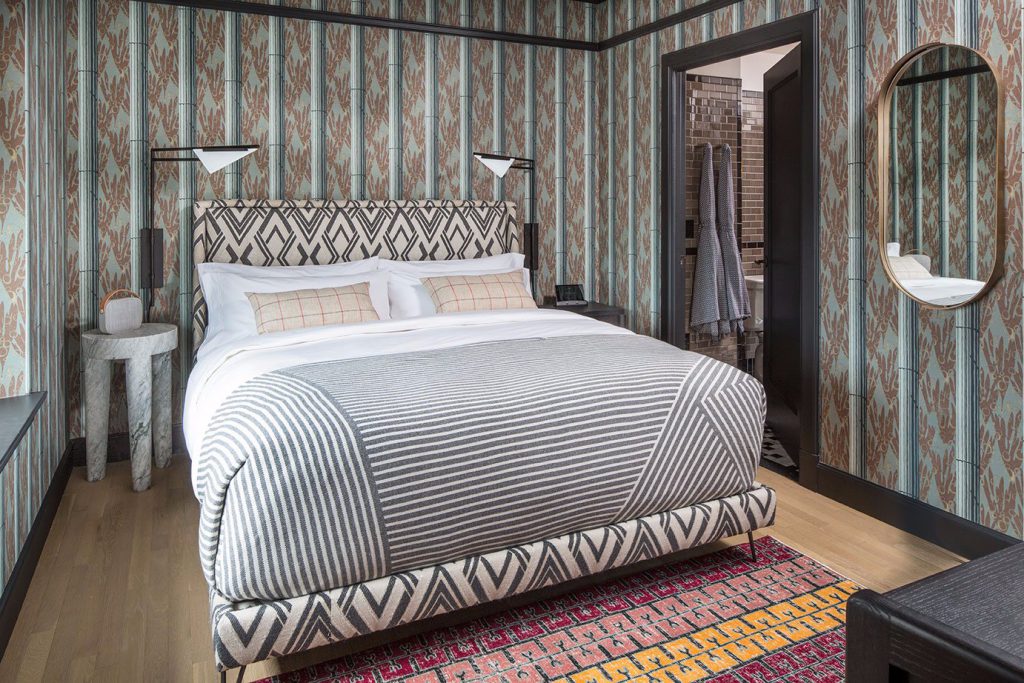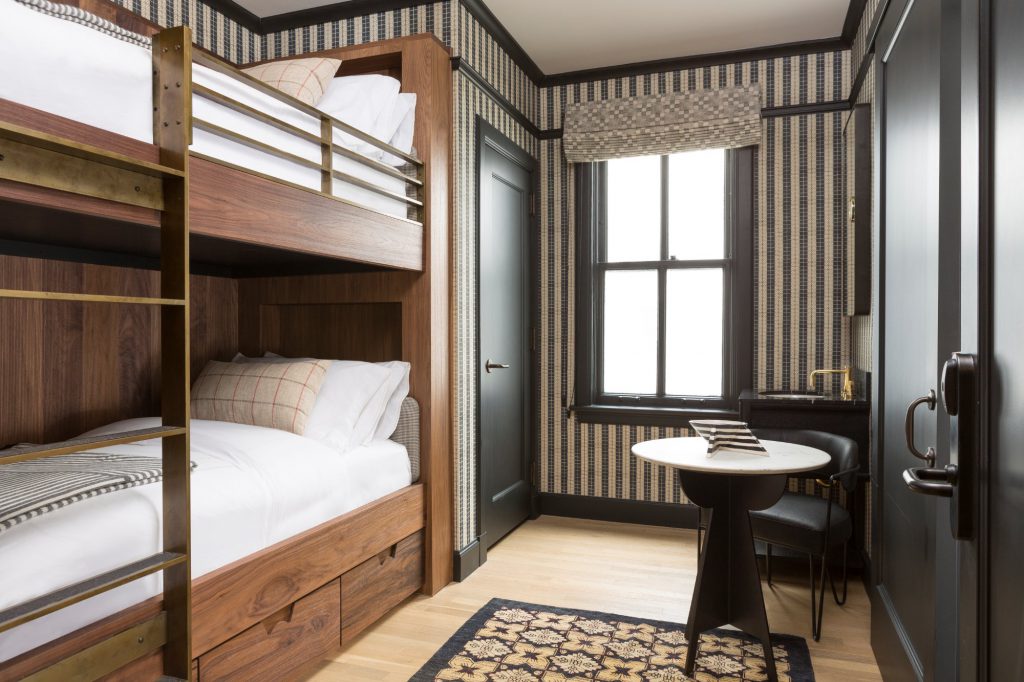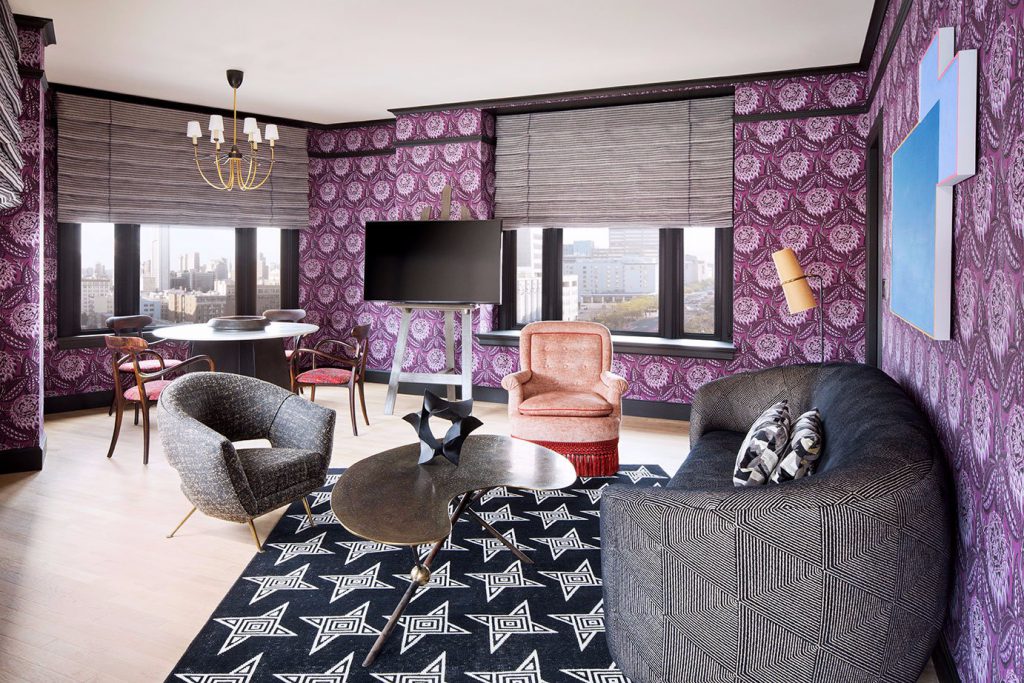 A Modern Pied-à-Terre
Maurice D.: "This one is quite nice, its immediate surroundings tend to get a little dodgy at night though, even though it's centrally located."
Gert van L.: " Not a 13 in a dozen hotel. Nicely designed! Love it."
This flagship property is housed in a landmarked flatiron-style building in San Francisco's vibrant Mid-Market district, featuring captivating interiors by Kelly Wearstler, three inspired settings for meals or a cocktail, incredible rooftop views, and impeccable service and amenities.
For San Francisco's newest destination hotel to open in over a decade, anything less just wouldn't be Proper.
The collection of 131 Kelly Wearstler-designed rooms and suites maximize light and views and feature elevated amenities including Aireloom beds that are hand made in California and dressed in Italian bed linens, Aesop bath and body products, Vifa wireless speakers, and super-fast  WiFi. And thanks to the building's triangular shape, every room comes with a view.
Whether grabbing a quick coffee, lingering over a meal at Eater SF's "Restaurant of the Year" or indulging in a cocktail while taking in the majestic views of the City by the Bay, they've got your tastebuds Properly covered. The dining menu is helmed by Michelin-star rated chef Jason Fox, with cocktails curated by the James Beard Award-nominated Bon Vivant Hospitality.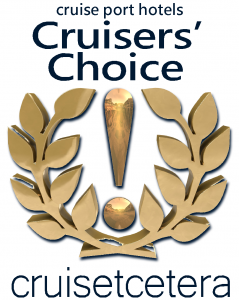 A SKY-HIGH URBAN RETREAT REIMAGINED WITH PANORAMIC BAY VIEWS
Elizabeth B.: "We loved the Four Seasons, 222 Sansome St. It's currently closed for a refurbishment but is reopening this June(2021) or July. I loved the view of our ship coming into port the morning of embarkation. Great service, close to restaurants but more in the Financial District if you enjoy some peace and quiet in the evenings."
Introducing the second Four Seasons hotel in San Francisco, rising above downtown at 345 California Center. Enjoy unparalleled views from the top 11 floors of this 48-story landmark providing breathtaking panoramas of the city and the bay. Discover this new Four Seasons experience – steps from Union Square, the Ferry Building, and Fisherman's Wharf, home to Pier 39.
Like a chic San Francisco apartment, this suite features a full living room, private bedroom, and two full bathrooms. Views stretch from the Golden Gate Bridge to the Bay Bridge, including the city's most famous landmarks.
Here, the atmosphere is quiet and serene – yet with its central location, you feel connected to the entire city. Enjoy views of all the most famous landmarks, including Coit Tower, the Transamerica Pyramid, the Golden Gate Bridge, and Alcatraz Island.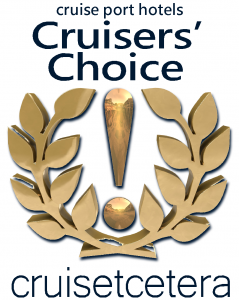 Indulge in comfort at our San Francisco, California hotel
Traci G.: "The Marriott at Fisherman's Wharf is where we always stay, close to attractions, good restaurants, China Town."
Amy B.: "San Francisco Marriott Fisherman's Wharf is the closest to the port."
Have a blast in the Bay Area when you stay at San Francisco Marriott Fisherman's Wharf. Located near world-famous attractions, this hotel makes it easy to attend a baseball game at AT&T Park or see the sea lions at Pier 39. Spend an afternoon tasting the foods of Fisherman's Wharf or explore the mysteries of Alcatraz Island. The aesthetic and atmosphere of the city continue through this hotel and into the rooms and suites complete with stylish decor. 
As you lay on the pillowtop beds, enjoy the premium channels on the wall-mounted TVs. When it's time to prioritize productivity, use the high-speed Wi-Fi and large workstations. Start your day the right way at the on-site eatery, Red Fin Restaurant. For lunch, dinner, and evening cocktails, treat your taste buds at Red Fin Lounge. 
Active travelers can feel the burn in the fitness center with cardio equipment and free weights. Whether in town to see the sights or to meet with clients, San Francisco Marriott Fisherman's Wharf makes sure your stay is a memorable one.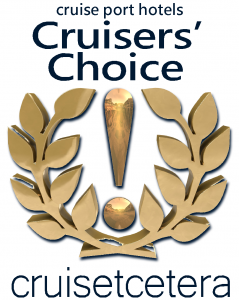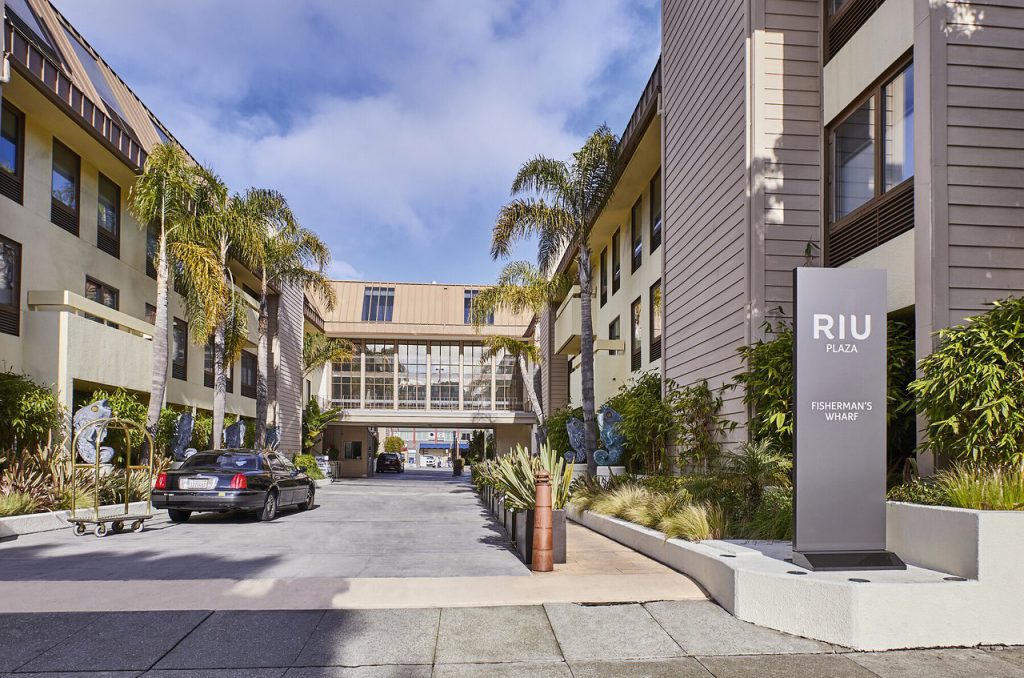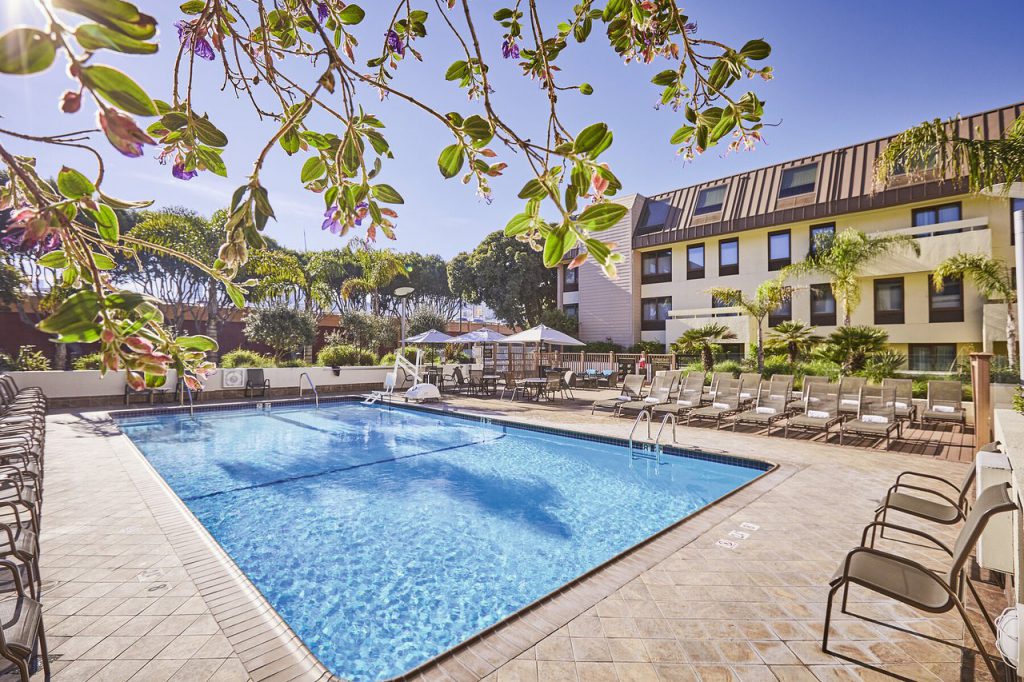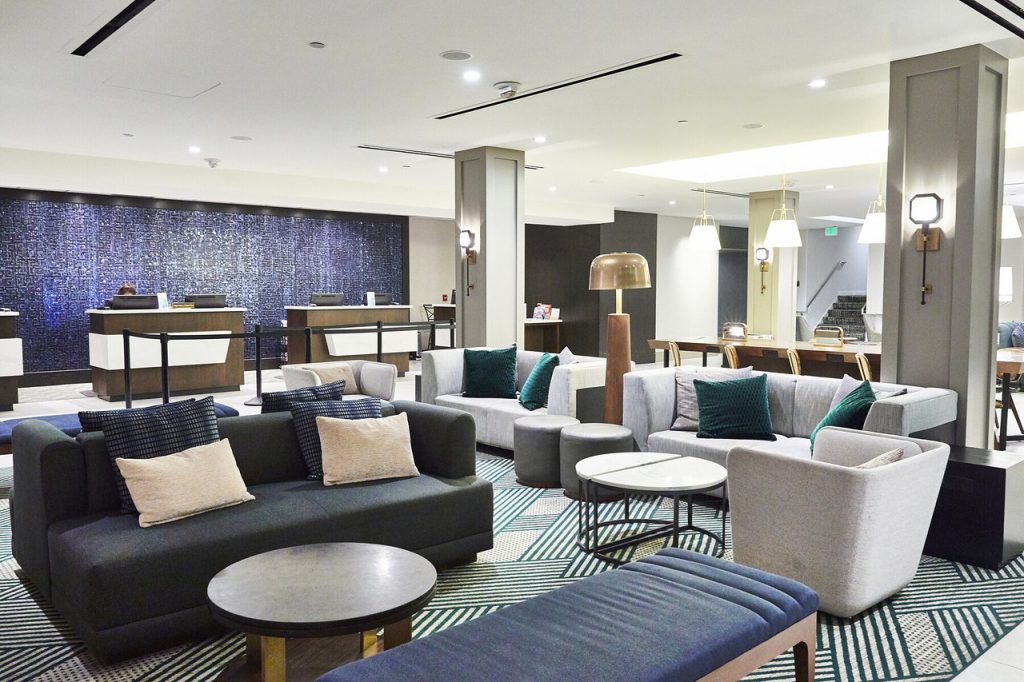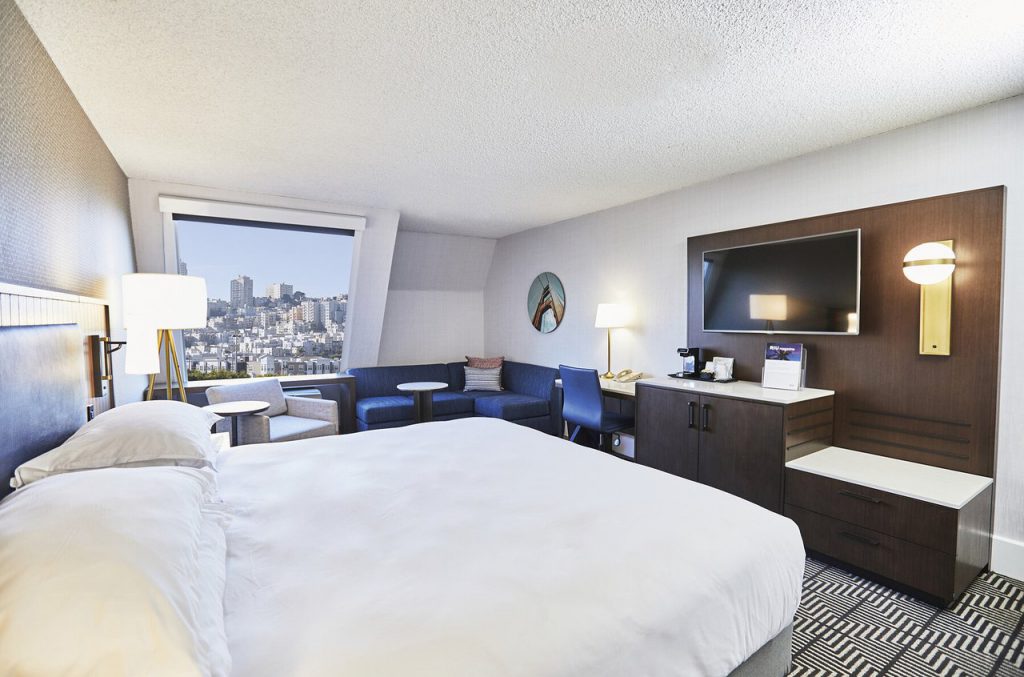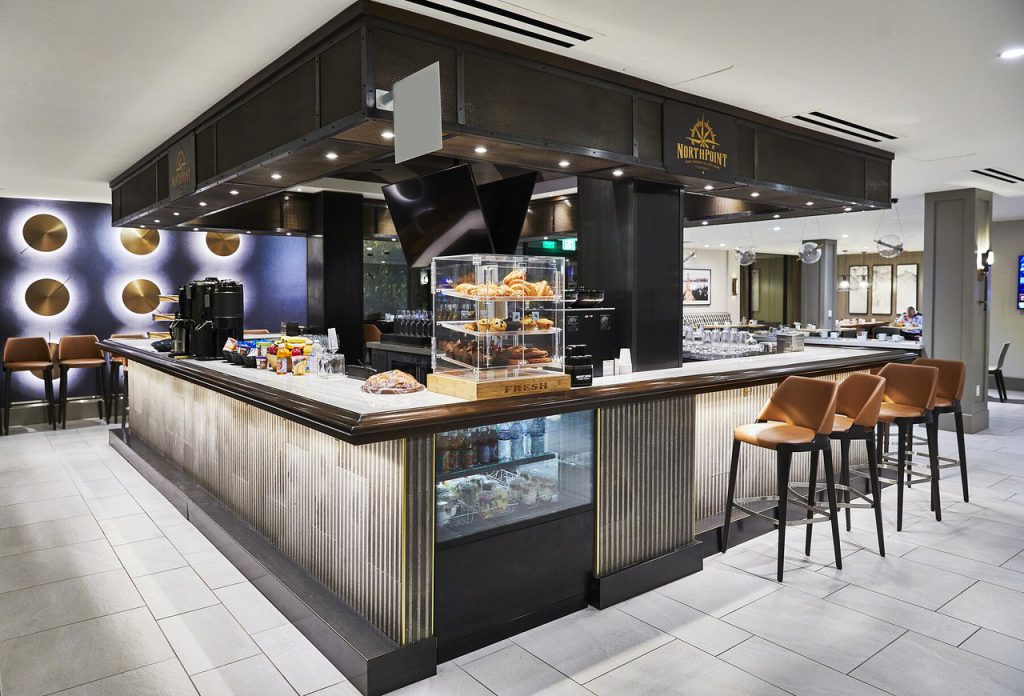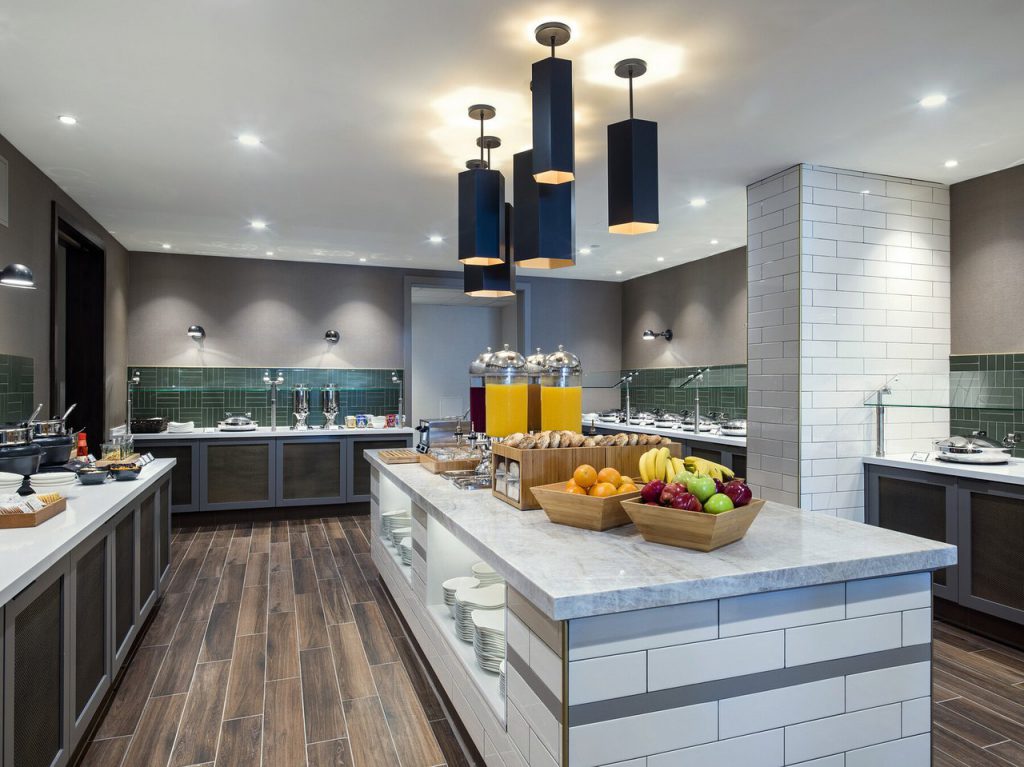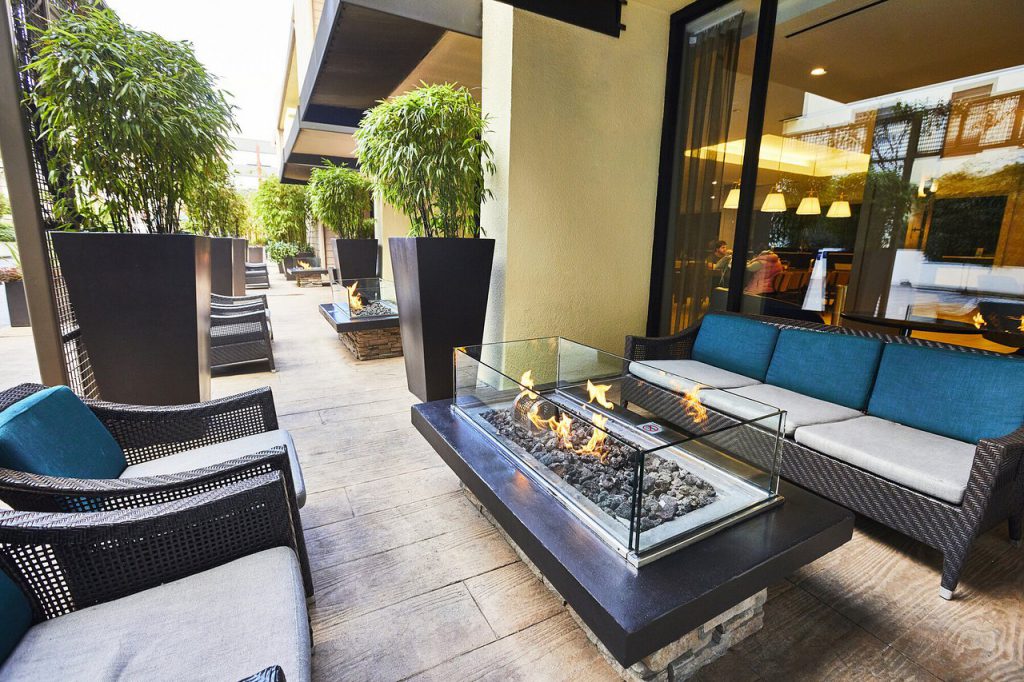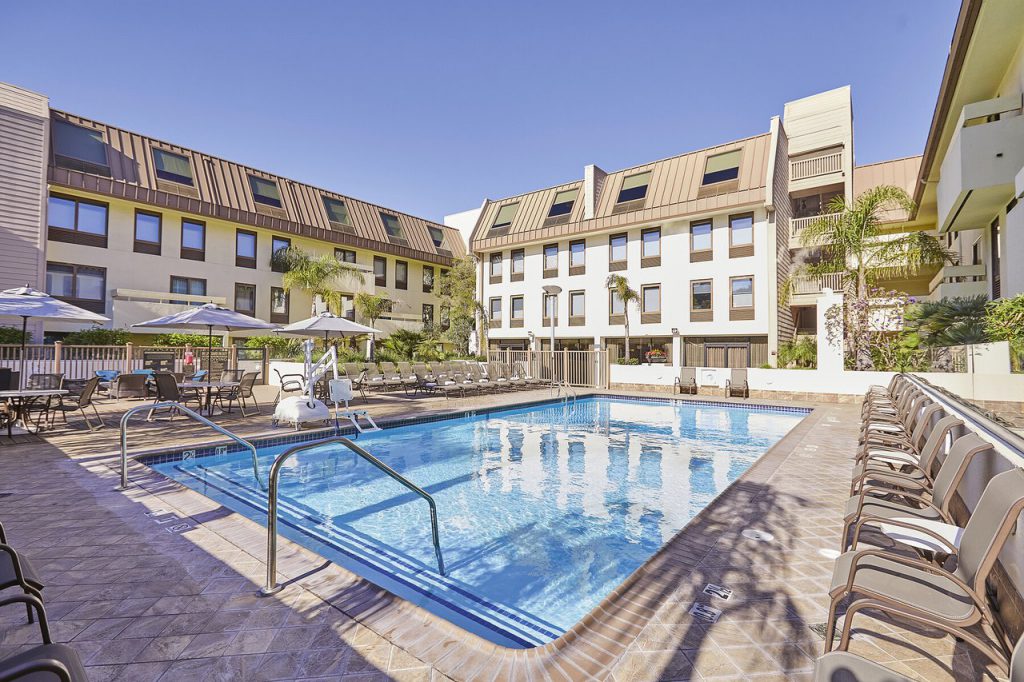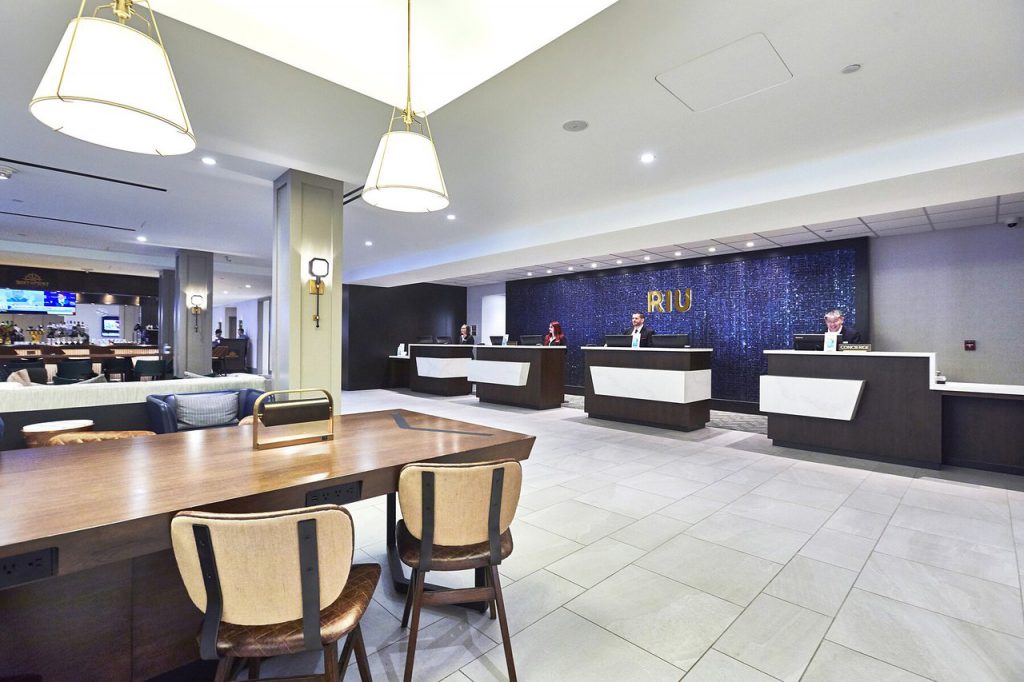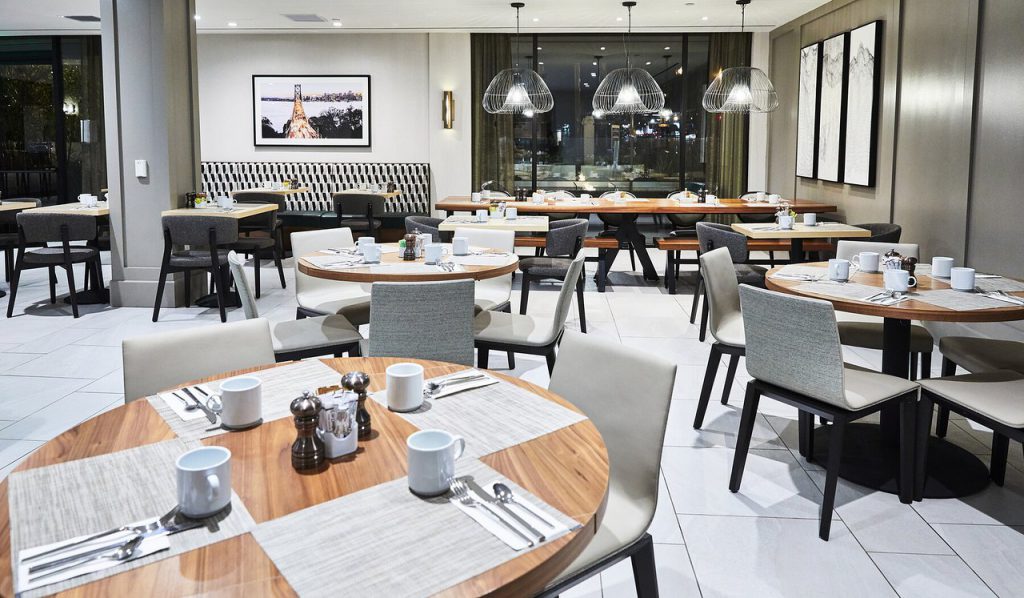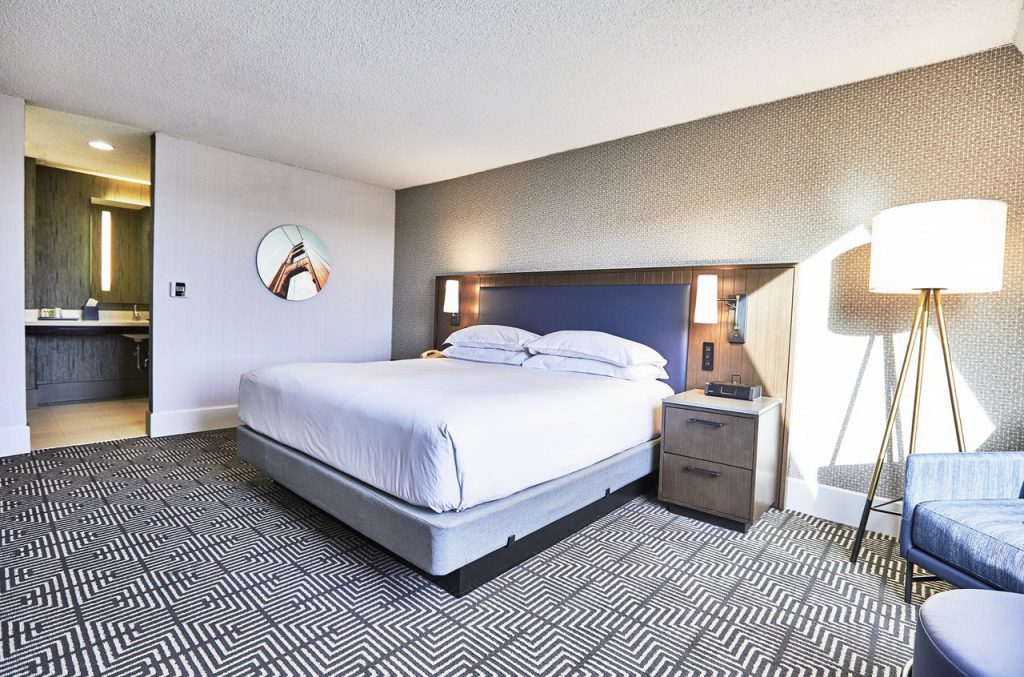 located close to Pier 39
This Riu hotel was named Sheraton before.
Mary Racamato McN.: "Riu hotels are amazing."
Patricia S.: "We have always stayed at the Sheraton! Love it! We have stayed there three times!"
Diane K.: "We like the Riu at Fishermans Wharf."
Hotel Riu Plaza Fisherman's Wharf is located close to Pier 39, one of the most iconic parts of San Francisco, and it offers the best services so that you can enjoy an unforgettable stay. Its complete facilities include free WiFi, an outdoor pool, gym, and conference rooms.
This hotel in San Francisco has more than 500 rooms that are perfectly equipped to offer you maximum comfort. Each of them has a satellite TV, a mini-fridge, a coffee machine and air conditioning, and many more amenities. The facilities at Hotel Riu Plaza Fisherman's Wharf also include a pool with sun loungers and umbrellas where you can enjoy the Californian climate throughout the hottest months.
The food at this hotel in Pier 39 won't disappoint you. At the bar/restaurant, we offer American buffet breakfasts and á la carte lunches and dinners so that you can choose the dishes you like the most. In addition, you also have the option of the snack bar, open all day, where you can try delicious snacks and appetizers.
Hotel Riu Plaza Fisherman's Wharf in San Francisco has a gym so sports-lovers have the space to practice their favorite activities. If you're in San Francisco for business, this hotel in Pier 39 provides conference rooms where you can hold your meetings and events. The staff will take care of offering you all the services you need. To make your stay in San Francisco truly unforgettable, we suggest you visit the city's most iconic spots. Don't miss the Golden Gate Bridge, the famous 'Painted Ladies' Victorian houses, ascend the legendary hills with the Cable Car, or visit Alcatraz Prison. If you want to find out more, you can visit the San Francisco destination guide and get an idea of everything that awaits you.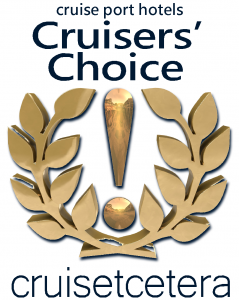 HISTORIC LANDMARK HOTEL IN SAN FRANCISCO AT THE CREST OF NOB HILL
Dean A.: "I have stayed at several that I would recommend. The Mark Hopkins Intercontinental is an excellent hotel on Nob Hill. Another good choice is The Palace Hotel San Francisco. And lastly, I would recommend The Grand Hyatt San Francisco and The Taj San Francisco. They are right across from one another in the heart of Union Square. I have stayed at the Hyatt and it was very nice. I have not stayed at The Taj, but it is a beautiful boutique property and I know many people who have enjoyed stays there. I hope this helps."
Discover San Francisco's historic charm at the InterContinental® Mark Hopkins San Francisco hotel, where modern luxuries meet the Bay area's golden, glamorous era. Find breathtaking views at our Nob Hill hotel, featuring opulent rooms with unique artwork, modern amenities, and an easy stroll to the area's top attractions. Discover panoramic views of the City while enjoying signature cocktails at Top of the Mark sky lounge, or let our Concierge Desk curate your personalized, unforgettable stay.
With Club InterContinental, they relish the opportunity to make your stay personalized. Enjoy elevated benefits including access to the private Club InterContinental Lounge with complimentary breakfast, evening drinks and canapes, and light refreshments throughout the day, with a dedicated team to take care of every detail.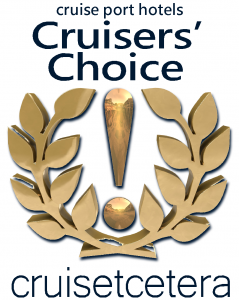 Experience Living Grand at our Boutique San Francisco Hotel
Mary M.: "Stay at Hyatt Union Sq hotels. Cable car starts and ends in front of Hyatt. FW can be a little "wonky" at night! Besides. Cable car gets you there."
Joanne F.: "Hyatt union square is a great central place to stay."
Peta Lorraine B.: "Grand Hyatt San Francisco!"
Dean A.: " I would recommend The Grand Hyatt San Francisco and The Taj San Francisco. They are right across from one another in the heart of Union Square. I have stayed at the Hyatt and it was very nice. 
Grand Hyatt San Francisco welcomes you with sophisticated elegance and refined modern style. Located in the heart of the city just steps from famous Union Square, immerse yourself in the shopping, dining, and nightlife scene of San Francisco. Then, retreat to an upscale room where you can unwind with impeccable service.
Unwind and rejuvenate in the welcoming comfort and upscale style of Grand Hyatt San Francisco's 668 rooms, including 29 suites. The sophisticated decor blends with residential-style amenities to help you feel at home. Floor-to-ceiling windows offer unbeatable Union Square, bay, or city skyline views. Suites offer more space to spread out as well as hardwood floors for an elegant stay.
OneUP Restaurant and Lounge blend a relaxing atmosphere in a stylish setting while serving wine, cocktails, and American bistro classics with a uniquely San Francisco twist. Seasonal ingredients and modern hearth ovens create authentic Northern California flavors. Located just off the hotel lobby, our laid-back San Francisco coffee bar serves Starbucks® coffee, tea, fresh pastries, and snacks
Some more recommendations from fellow luxury cruise lovers below:
when you have a special request or can not find your hotel, you want a cheaper option or you have any questions? please contact us and we will send you a new top 3 based on your choice.
by e-mail: GERT@CRUISETCETERA.COM