cruise port hotels in AREA
Best cruise port hotels as picked and recommended by members of our groups: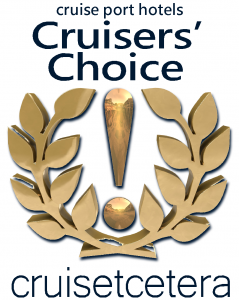 DESIGN SUITES IN ROME
Guido A.: "A nice and modern 3-star boutique hotel in Rome is not an easy find! This is one!"
At Pepoli9 they have turned hospitality into an Art.
The art of Design offers you refined and comfortable rooms, each with its own character. An amazing feature unites them all: the Fragrance.
They have studied and created a composition of aromas designed for your relaxation. A special fragrance that will always remind Your Rome.
They have turned Tourism into an art.
The art of Knowledge, offering you surprising excursions and unique appointments into the history of Rome, accompanying you with passion and professionalism.
They have turned Cuisine into an art.
The art of Taste, with special cooking classes that will reveal secrets of original Italian cuisine's recipes.
The Art and the Design, meaning the rooms and common areas will host few exhibitions of  Contemporary Art to encourage young and new artists and artisans.
Location:
Rome is around this hotel. The ancient Rome, the imperial, the greatest. The one that in each of us, since we were little, has marveled for its greatness, its conquest, its history.
Here you can breathe the most ancient air of Rome all around you. Colosseum, Arch of Titus, Roman Forum, Baths of Caracalla you can reach them all in a few minutes, on foot. The great Rome awaits you.
The hotel is special because you are special, and they want special guests like you.