Best cruise port hotels as picked and recommended by members of our groups: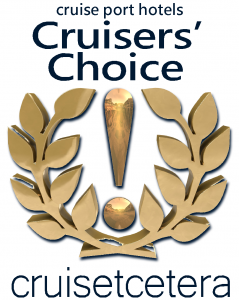 H
O
T
E
L
O
F
T
H
E
N
A
T
I
O
N
A
L
W
W
I
I
MUSEUM
CRUISETCETERA SPECIAL: $20 OFF PER NIGHT!
The discount will then self-populate your rate and the current date.  Be sure to use the "Edit Stay" link to the right under the picture to enter your own travel dates, and you'll have $20 per night more to spend on other things.  
Helen H.; "Higgins Hotel by Hilton. Directly opposite the WW2 museum. Close to the cruise terminal. Great restaurants nearby, safer area."
Revelry meets reverence at Higgins Hotel & Conference Center, New Orleans' newest, most anticipated hotel. Located in the heart of the Arts & Warehouse District, it's a home away from home replete with era-inspired guest rooms and suites, exceptional dining, and state-of-the-art meeting and event spaces.
The Higgins Hotel & Conference Center's name reflects the contributions of the extraordinary entrepreneur, Andrew Higgins, who designed and built over 20,000 boats in New Orleans that were used in every major amphibious assault of World War II.
Conveniently located directly across the street from The National WWII Museum, the hotel offers 230 era-inspired guest rooms and specialty suites, premium amenities, a full-service restaurant, a lounge, and a rooftop bar, as well as a second-floor conference center with more than 18,000 square feet of meeting and event space.
When you're considering where to stay in New Orleans, rest easy knowing they've made hand-crafted comfort a top priority. The spacious and well-appointed accommodations range from standard rooms to elaborate suites that pay homage to past presidents, each thoughtfully equipped with modern conveniences and special touches, including ultra-comfortable beds, stylish seating areas, and memorable views of the Arts & Warehouse District.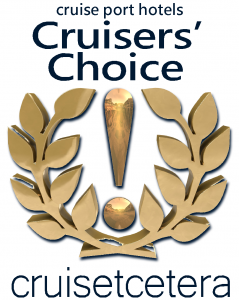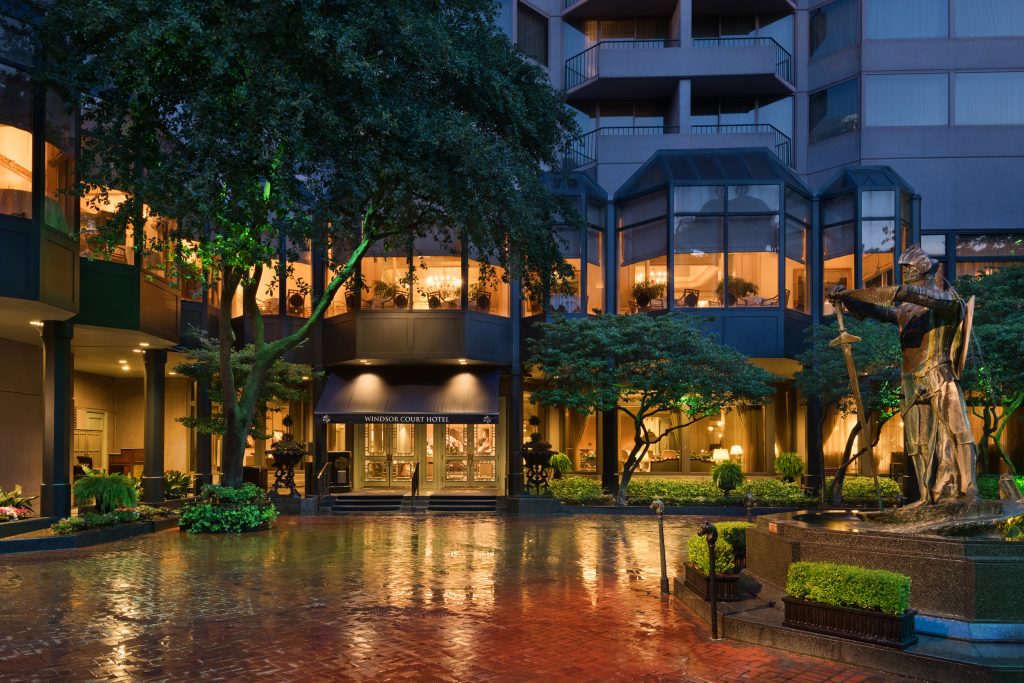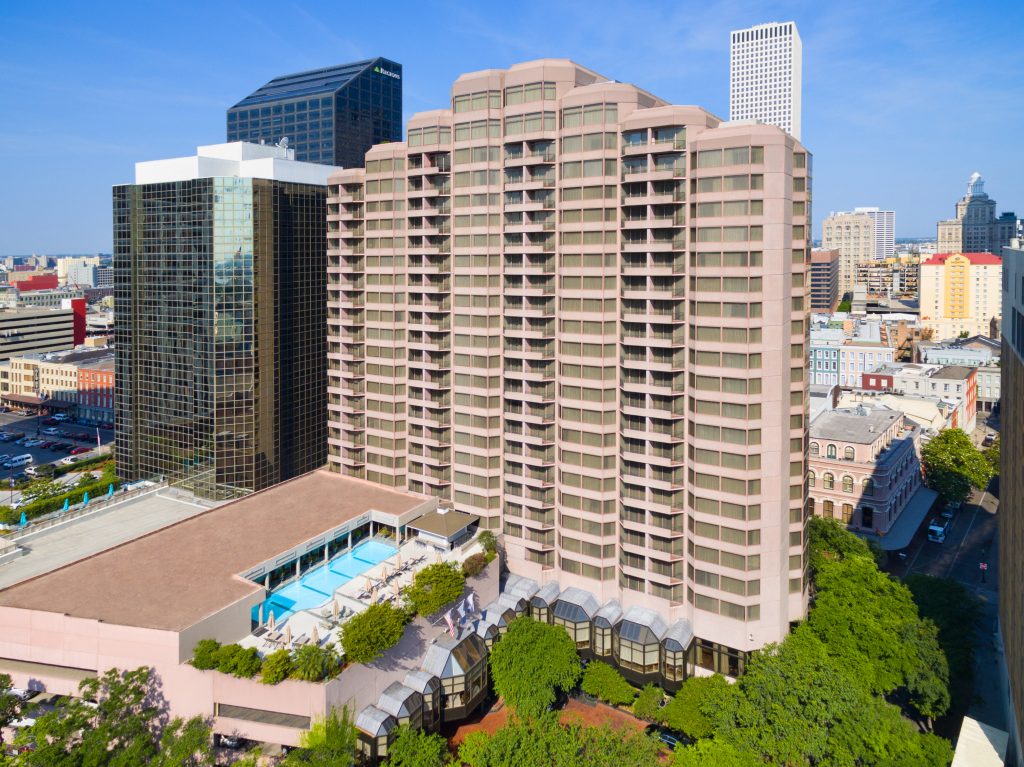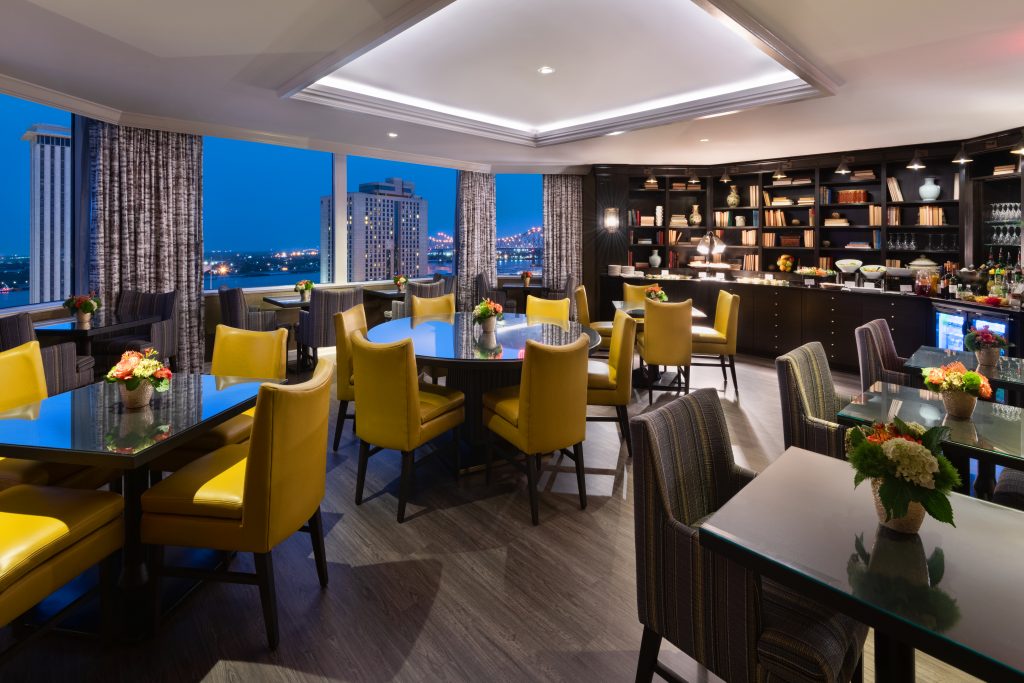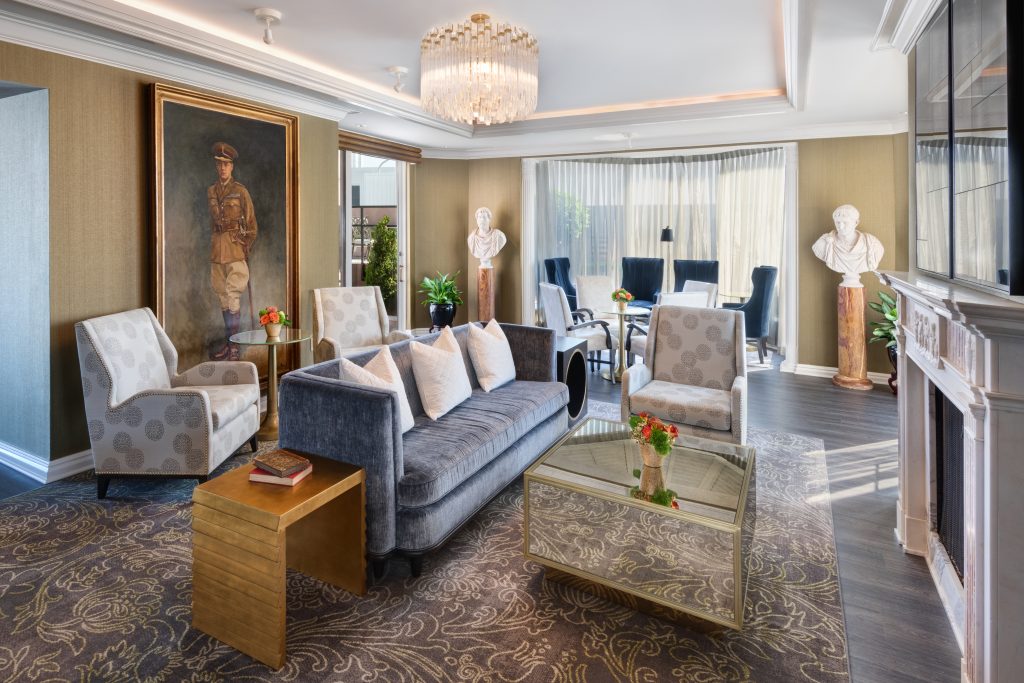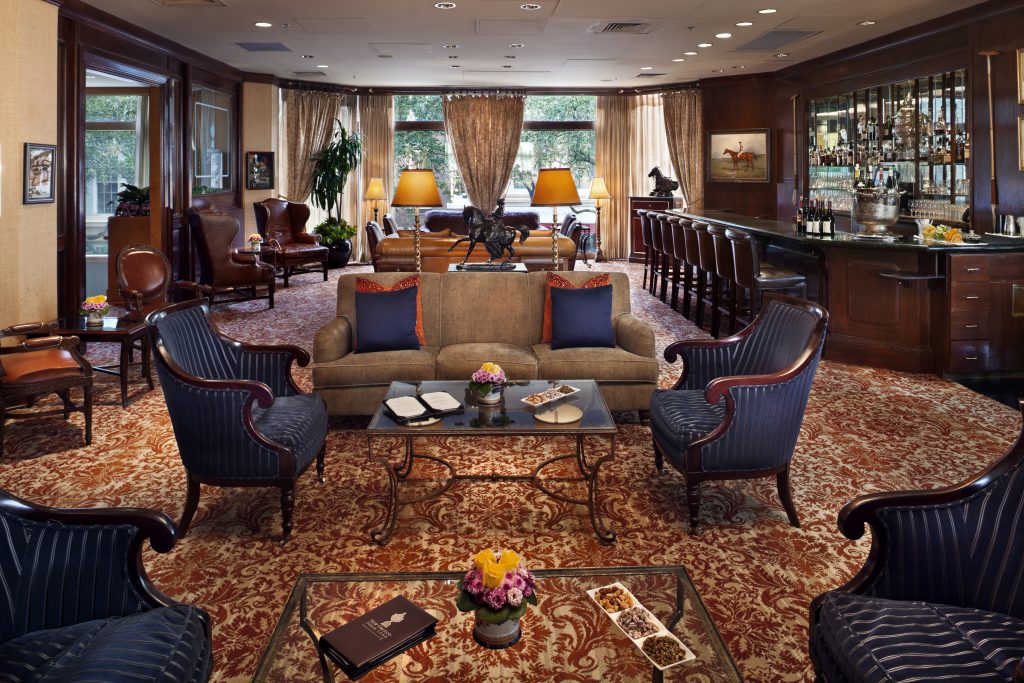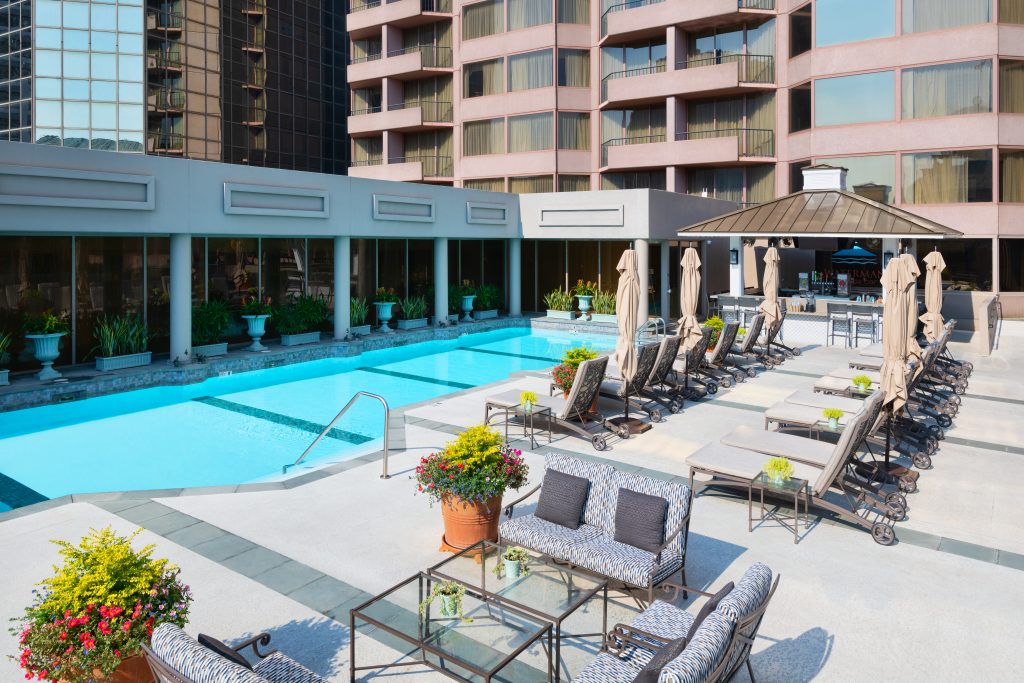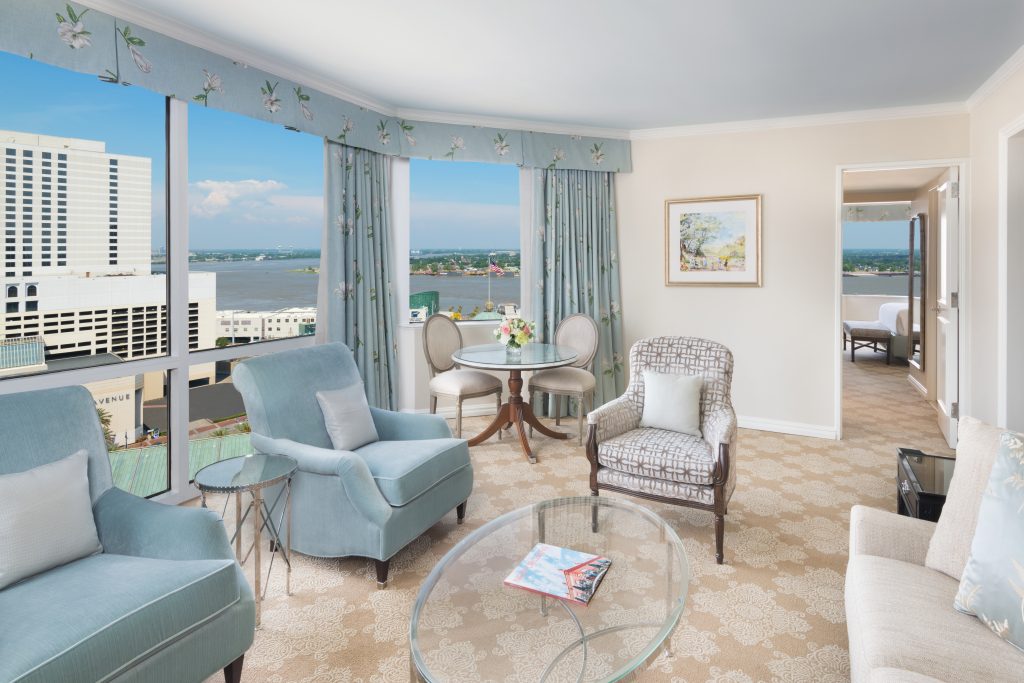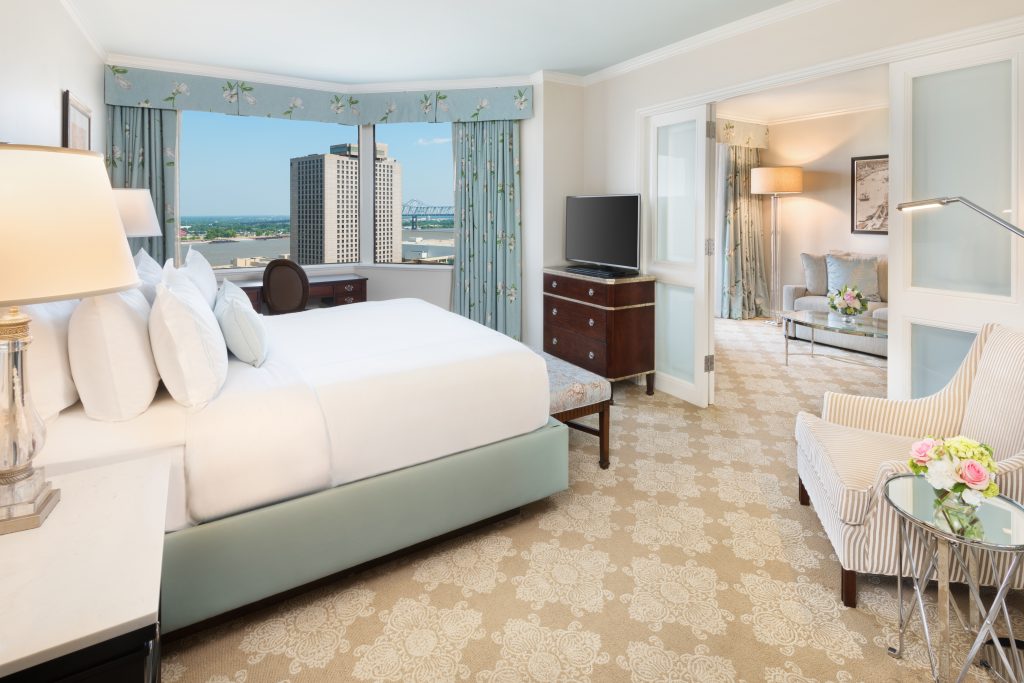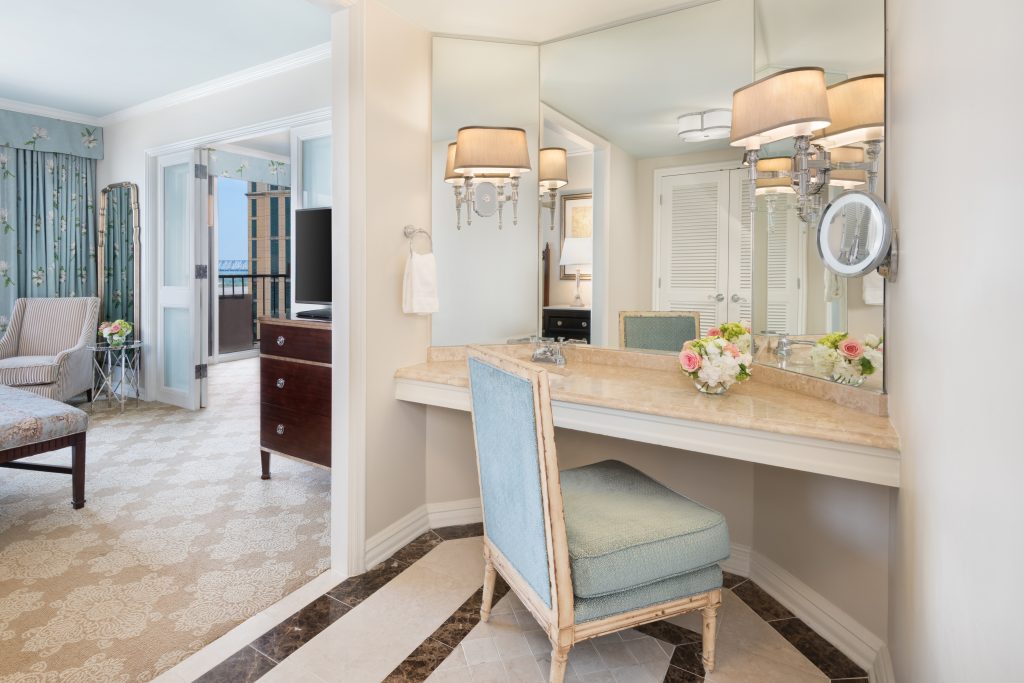 A taste of Europe
Detta T.: "Windsor Court if you want a very fine hotel experience. …..outstanding."
David H.; "Windsor Court Hotel. We stayed there last Sat – Tuesday. It's a five-star hotel with prices to match. Very comfortable. There's no airport shuttle, but the folks out front will help you with local drivers, Uber, cabs, and the hotel shuttle which won't take you to the airport, but will take you to the nearby French Quarter."
For a taste of European pageantry with your New Orleans experience, The Royal Family (ie long-standing members of staff) at Windsor Court Hotel stands to attention ready to oblige. A royal amount of money – $15 million – has recently been spent on refreshing its guest rooms and suites, maintaining a formal air of grandeur alongside warm Southern charm.
From speedy check-in to chilled moments by the rooftop pool, you won't need to lift a finger, concern yourself with a thing, or organize a move – everything will be taken care of for you, whether you're staying for business or pleasure.
The French Quarter and Central Business District are both mere moments away. And Windsor Court Hotel's contemporary Southern feasts at the fine-dining Grill Room, alfresco meals at the new Waterman Poolside Bar (try a frozen cocktail while you're here), and gentrified Polo Club Lounge keep everyone thoroughly entertained. Live music plays at the Windsor Court four times a week.
A spot of English traditional afternoon tea is also available in Le Salon, accompanied by gentle harp or piano music. Plus, more pastries, cakes, and tarts at the casual Café Anglais together with ice-creams, salads, snacks, and sandwiches.
Thank goodness for the Fitness Centre, Spa at Windsor Court, and salt-water pool to help you keep in shape! The pool's city views are something to behold, only matched by the panoramas of the Mississippi River seen from the oversized "classic English Vogue" styled rooms and suites.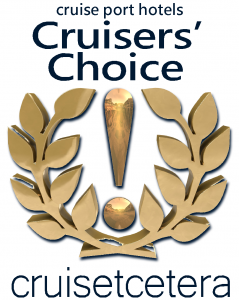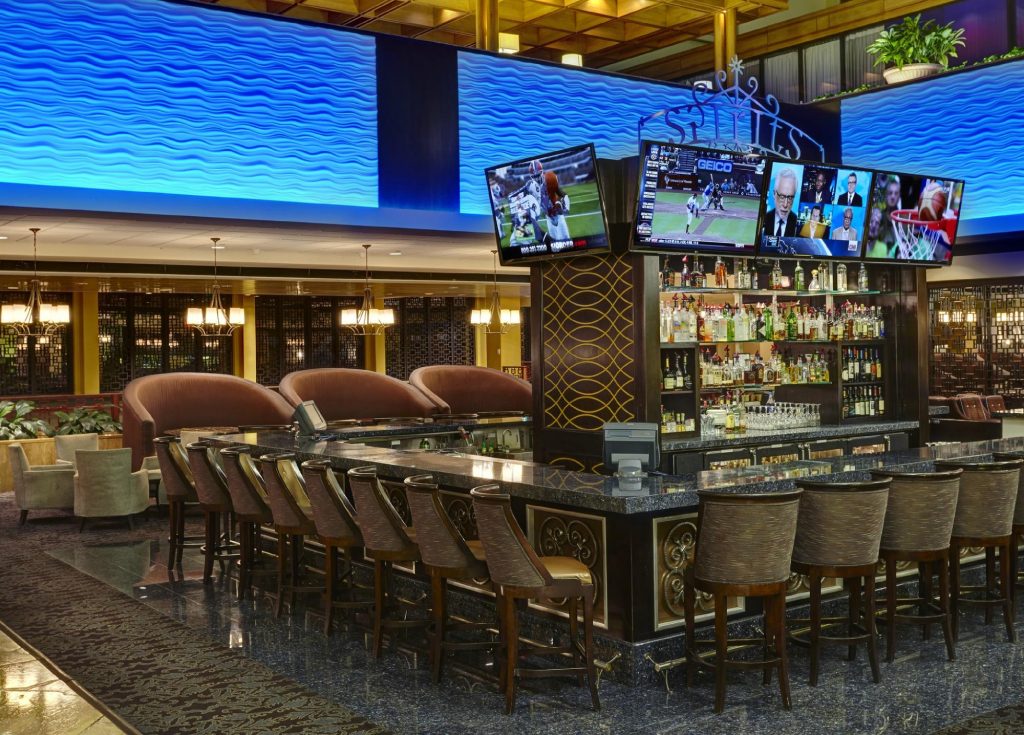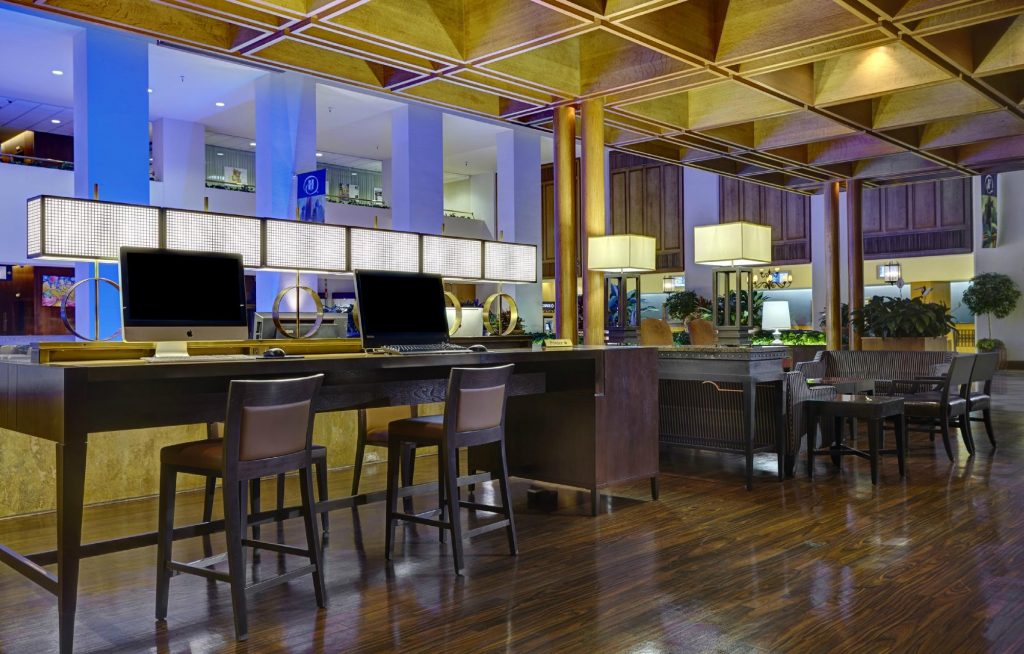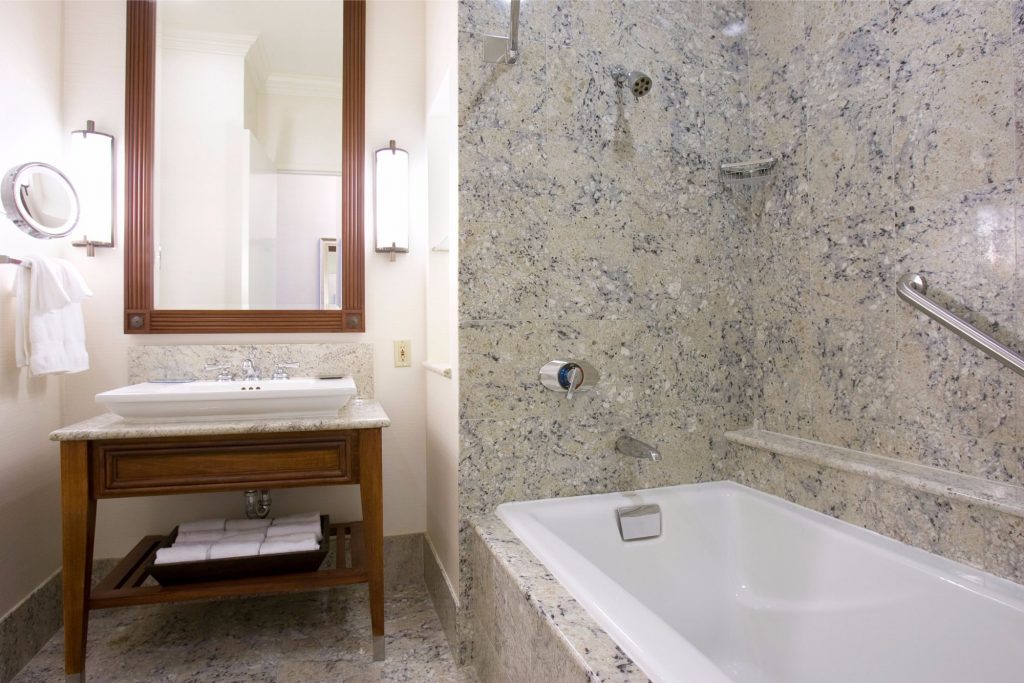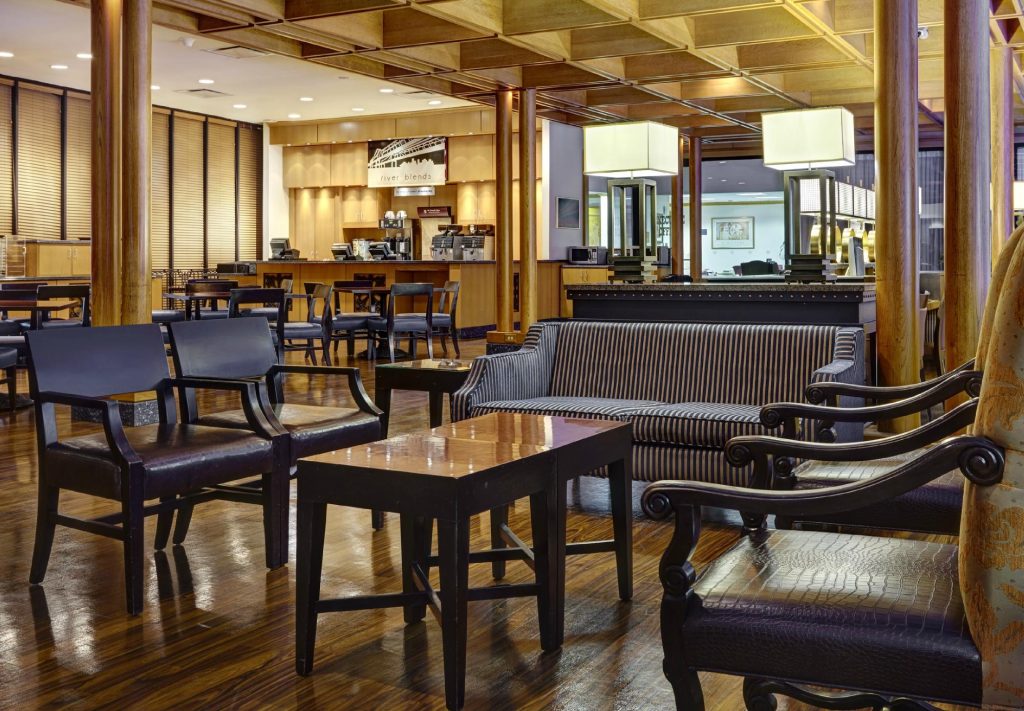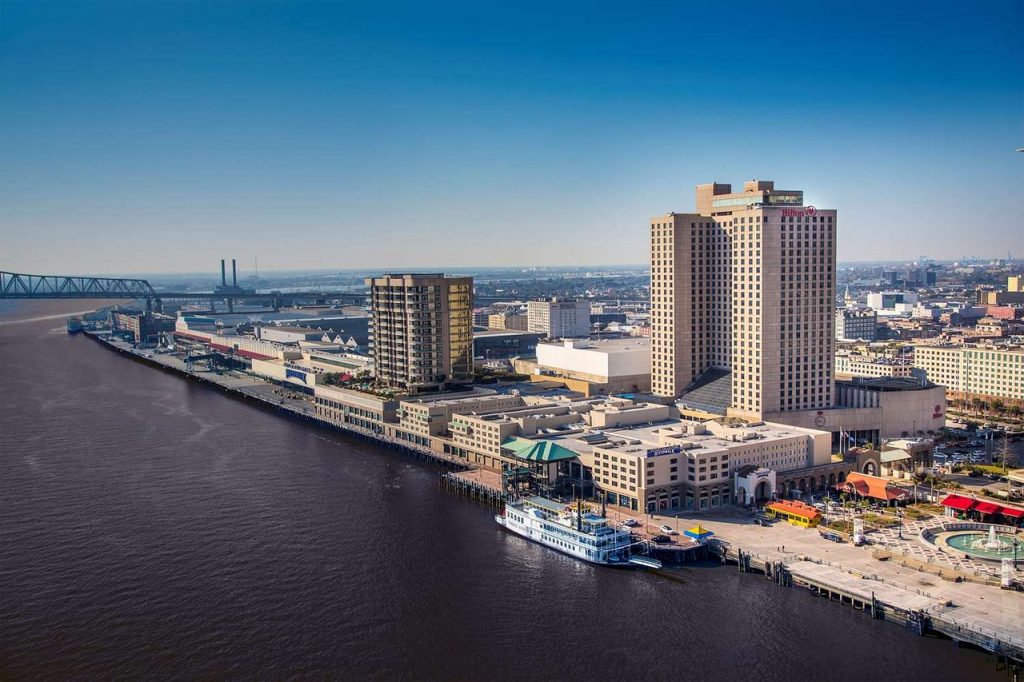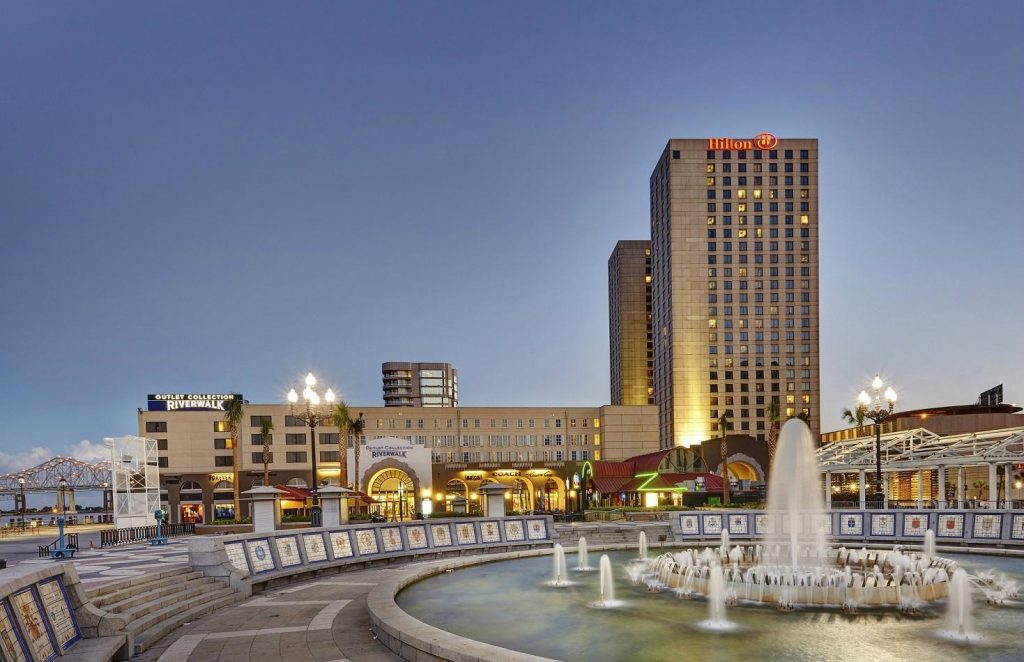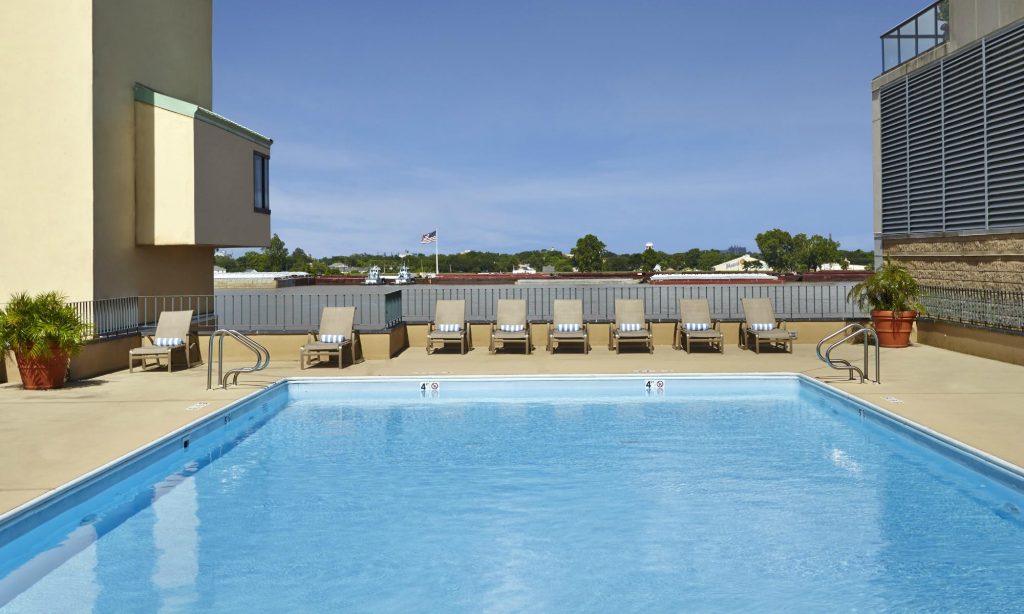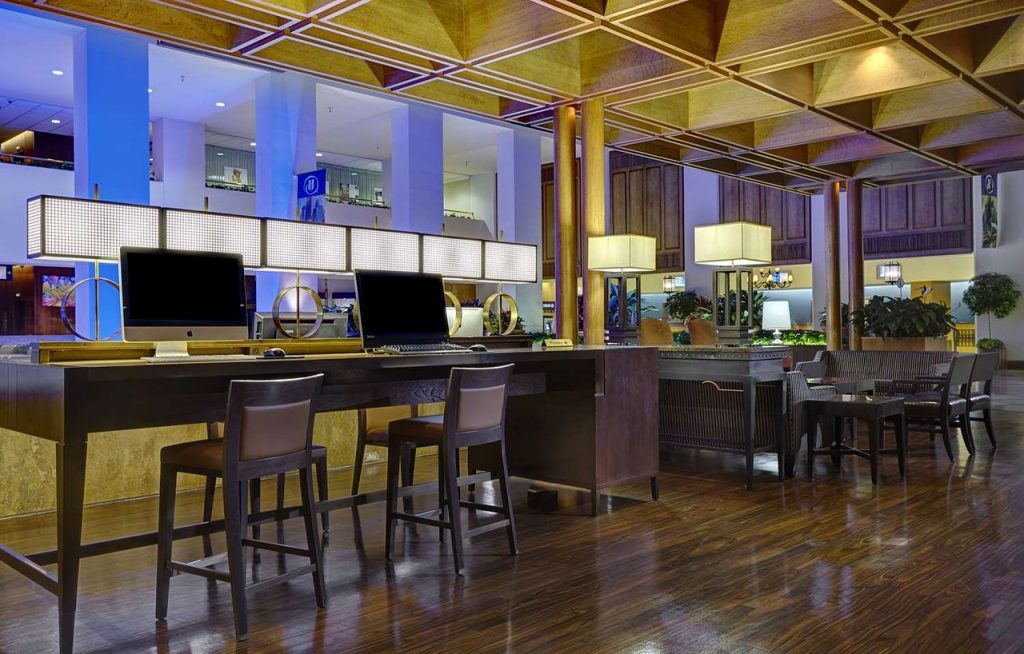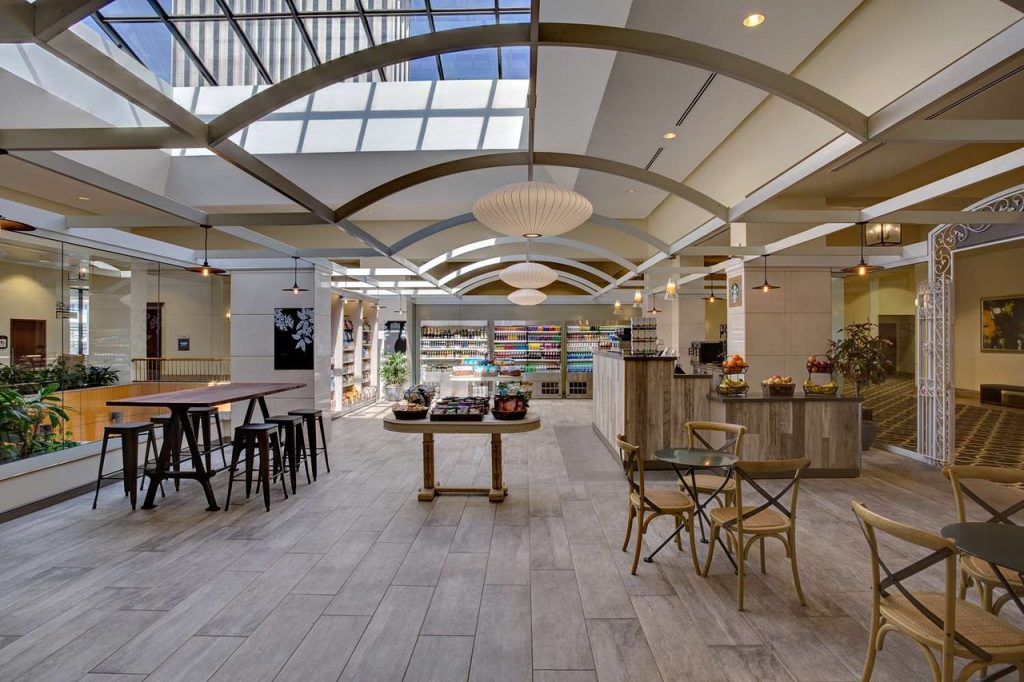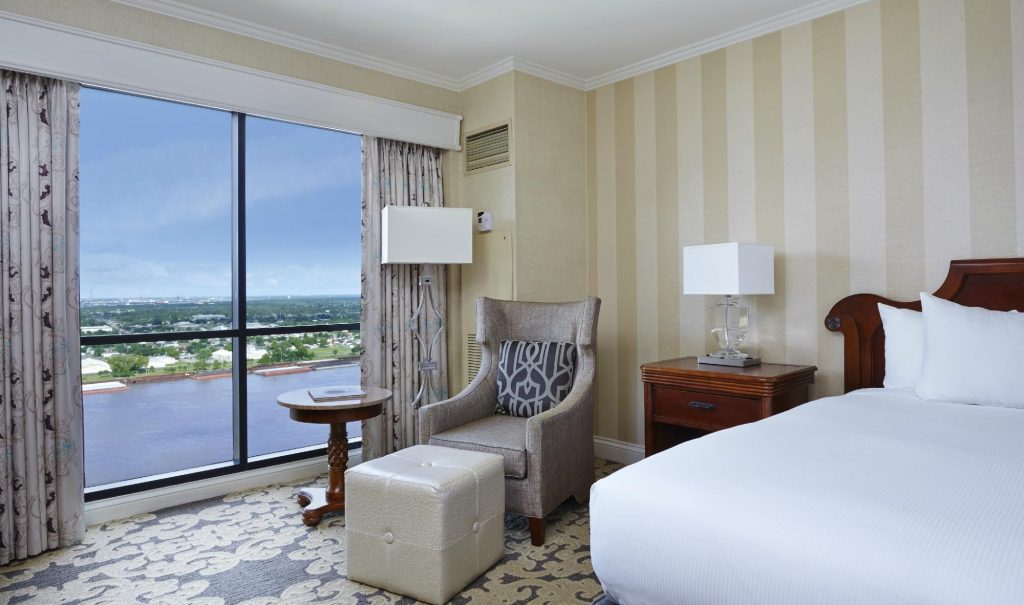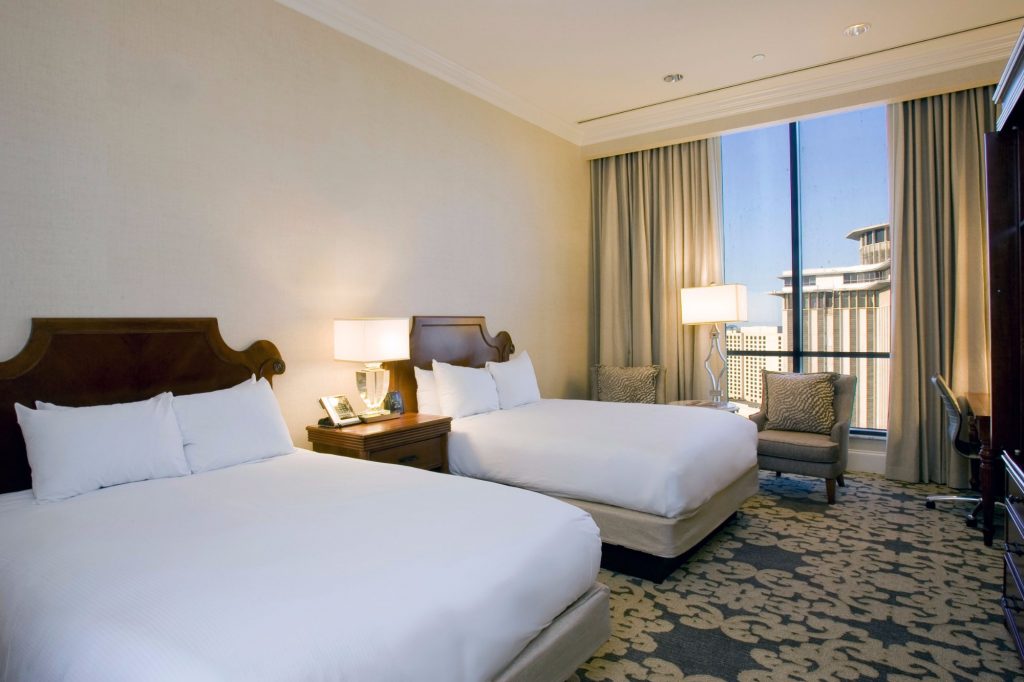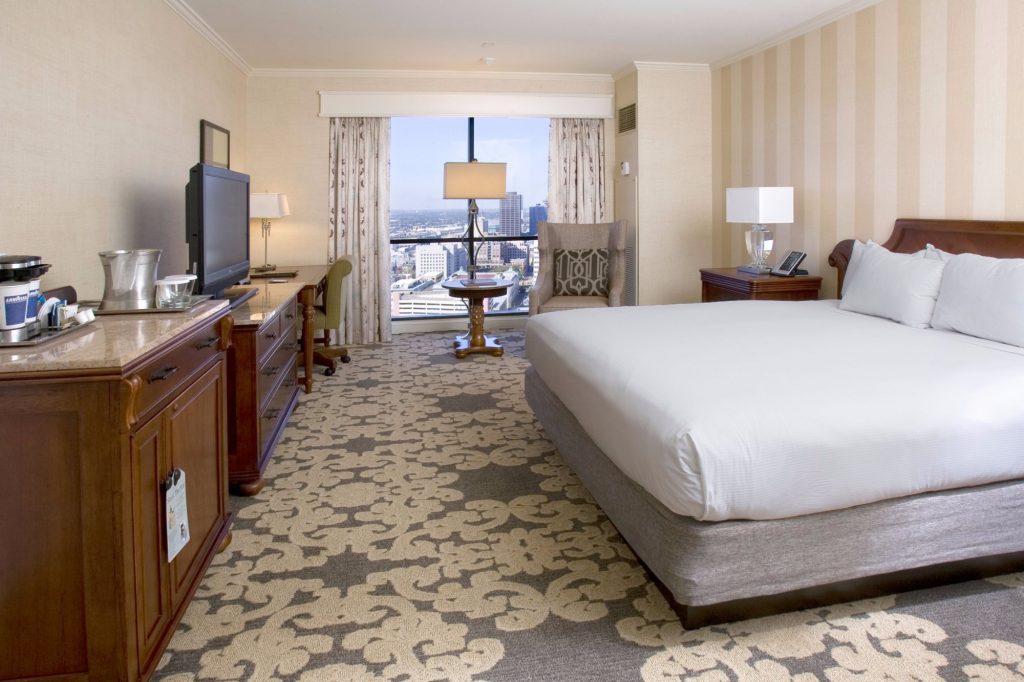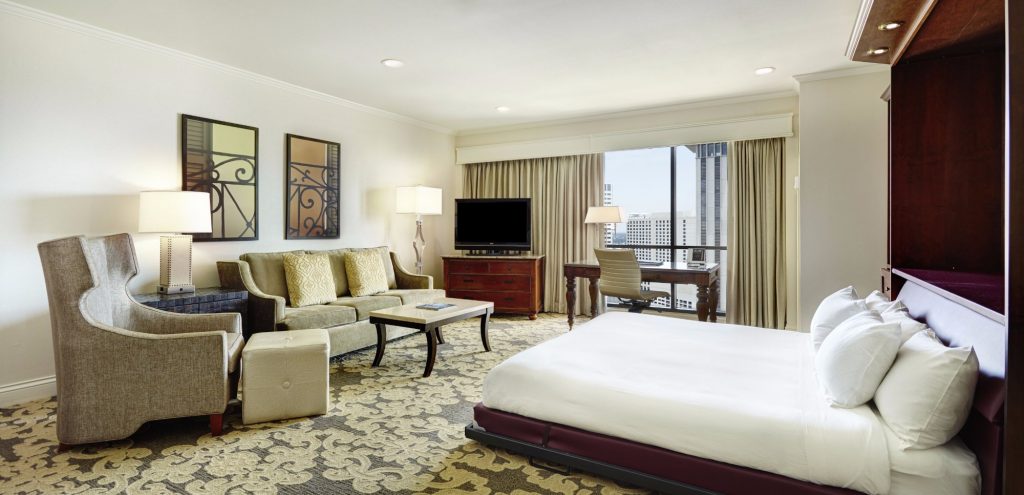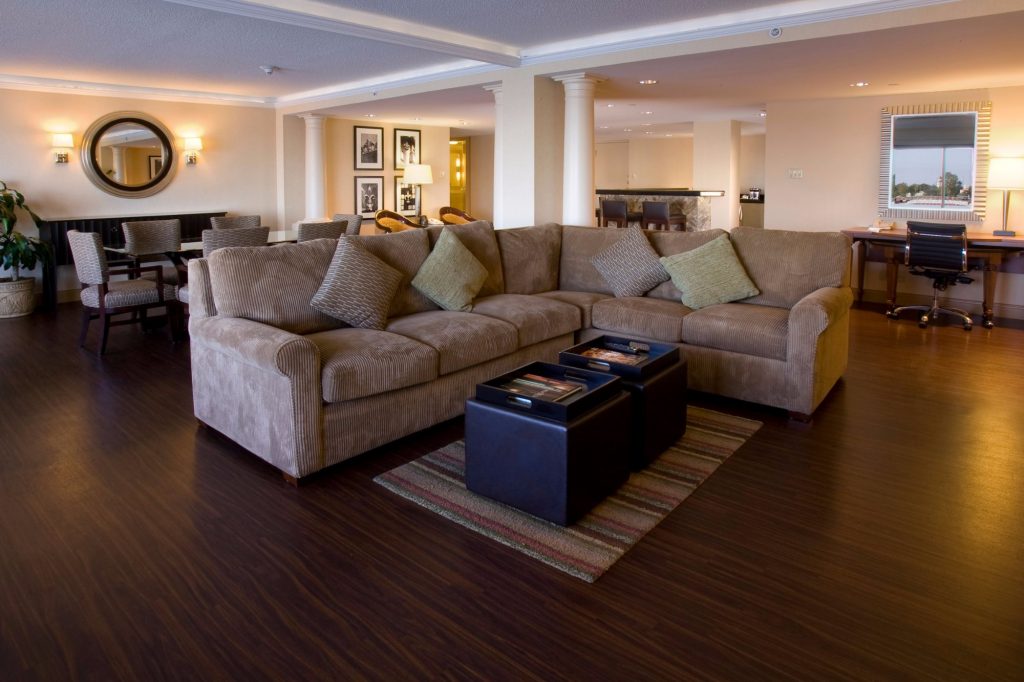 Spectacular riverfront location in New Orleans cityscape
Lisa Tamler B.: "Hilton Riverside. Next to port. Parked there and left the car."
Sharon Beust S.: "The Hilton Riverside. It's right next to the port. Great location for the French Quarter too. Depends on what terminal ship is at. Within walking distance to one of the terminals. Close to Casino and across from the French Quarter. Trolley cars close."
Pamela P.: "Hilton Riverside is very well located for all the sights."
It's all about location in New Orleans and the Hilton New Orleans Riverside places you at the center of it all. Nestled against the banks of the Mississippi, guests can watch the ships come sailing in or dive into the city life just steps away. Grab a beignet, listen to live jazz, ride a streetcar, or hop into a parade, you never know what you'll experience in the vibrant culture and excitement of New Orleans just outside our front door. Make it a trip to remember with Hilton.
Shop the Outlet Collection, attached to this hotel and enjoy easy access to Morial New Orleans Convention Center. You also can walk to the French Quarter, Audubon Aquarium, and Butterfly Garden, and Zoo, as well as countless restaurants, art galleries, and more.
The inviting guest rooms and suites offer quiet relaxation, away from the endless excitement of New Orleans. Take a break between the festivities with spacious rooms offering HDTVs and mini-fridges. Upgrade to enjoy city skyline or Mississippi River views, or choose a suite for more space. Accessible rooms are also available.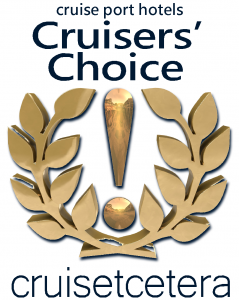 New Orleans - United States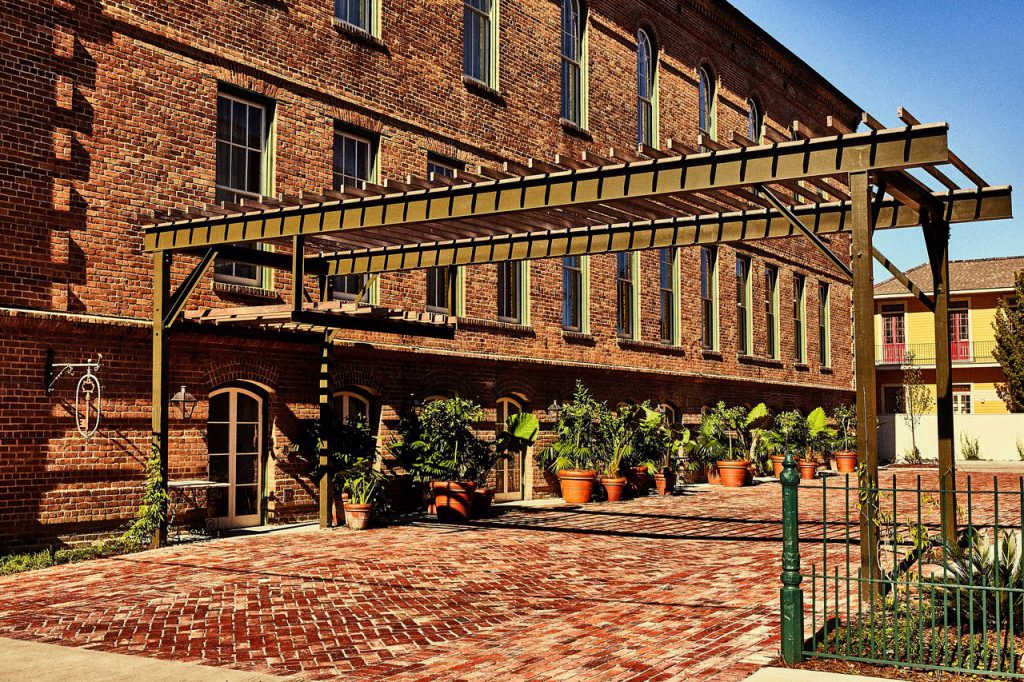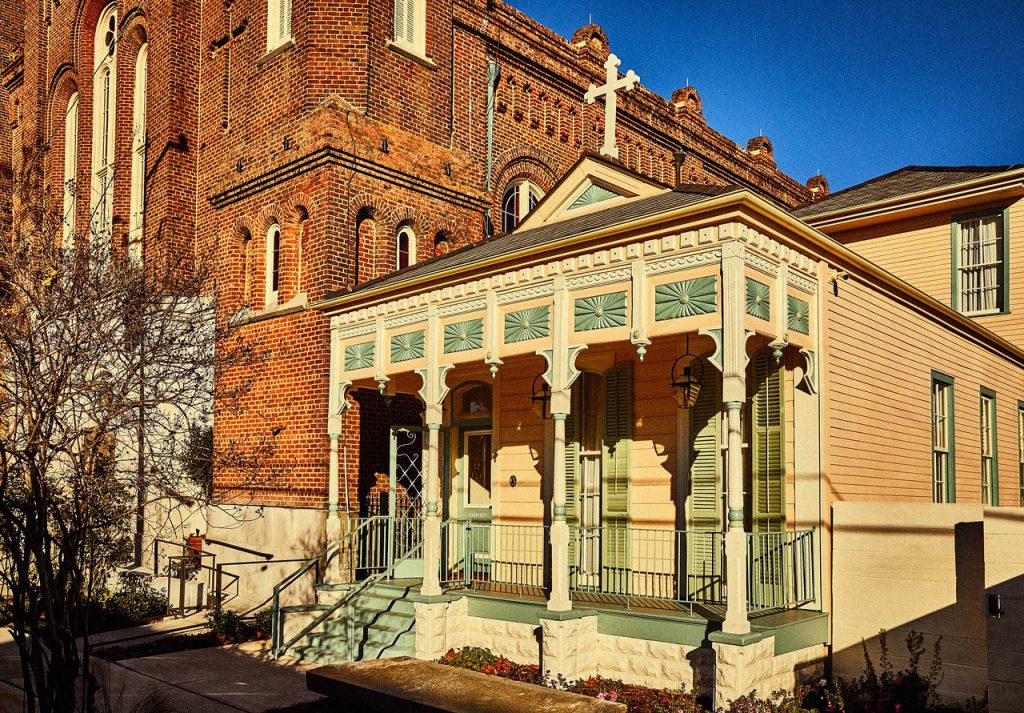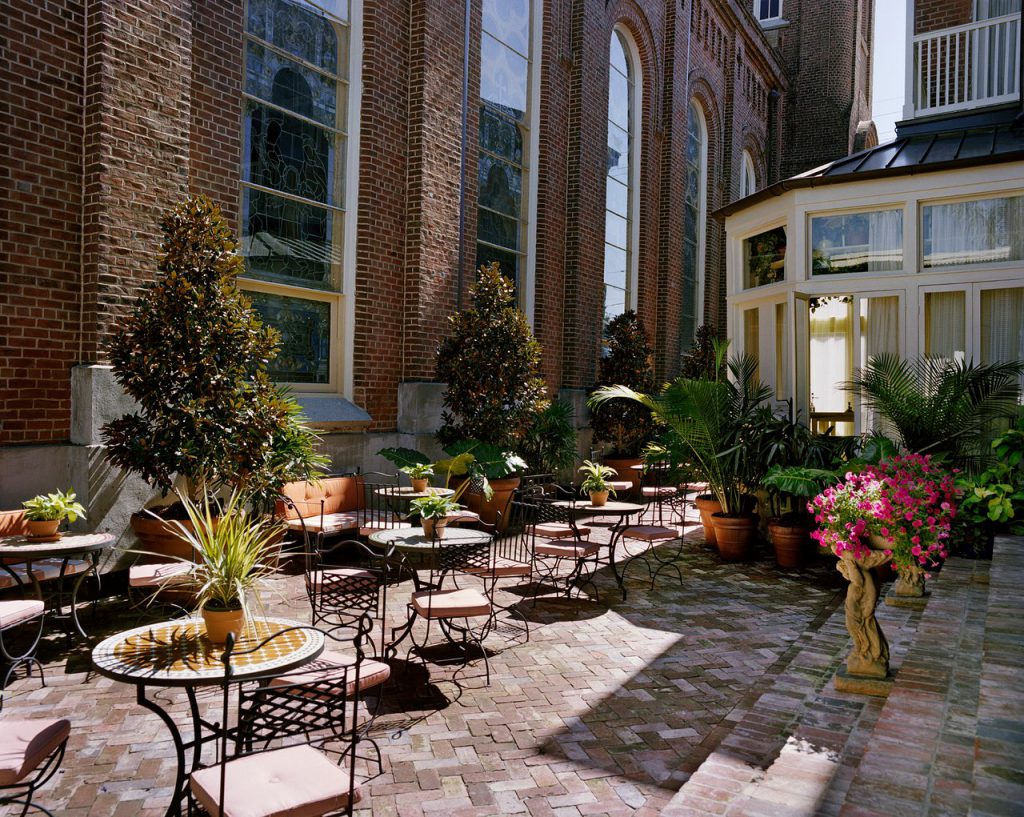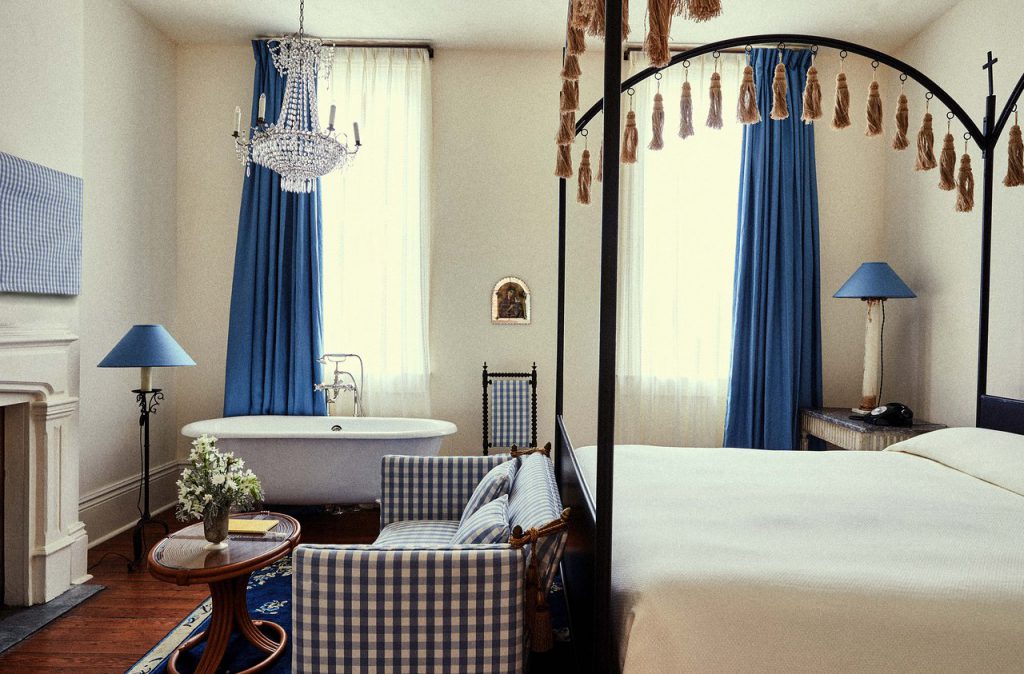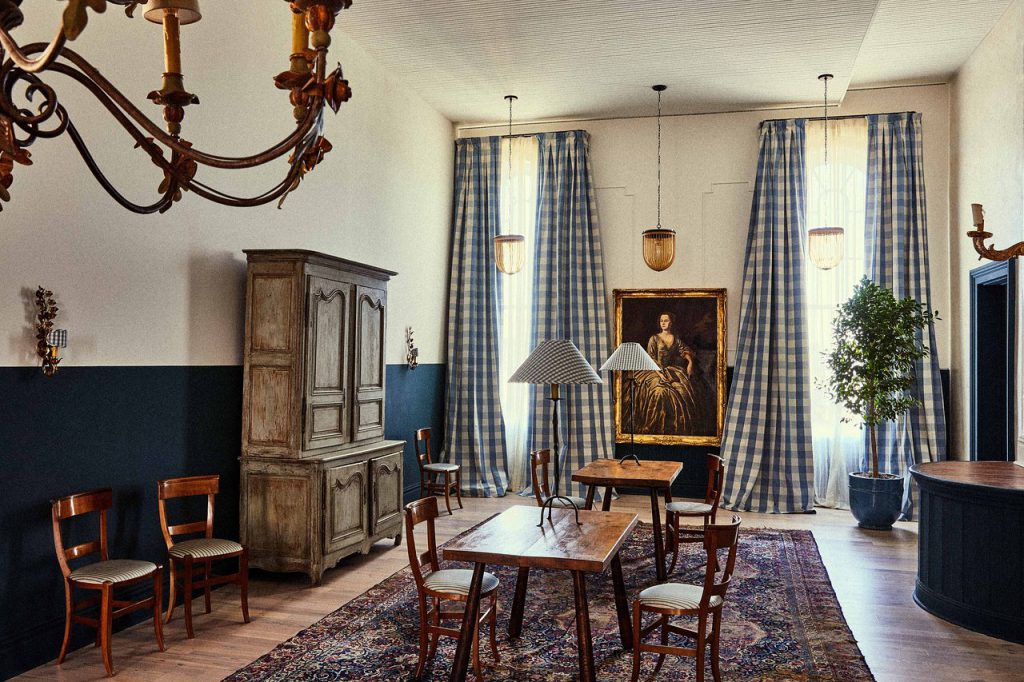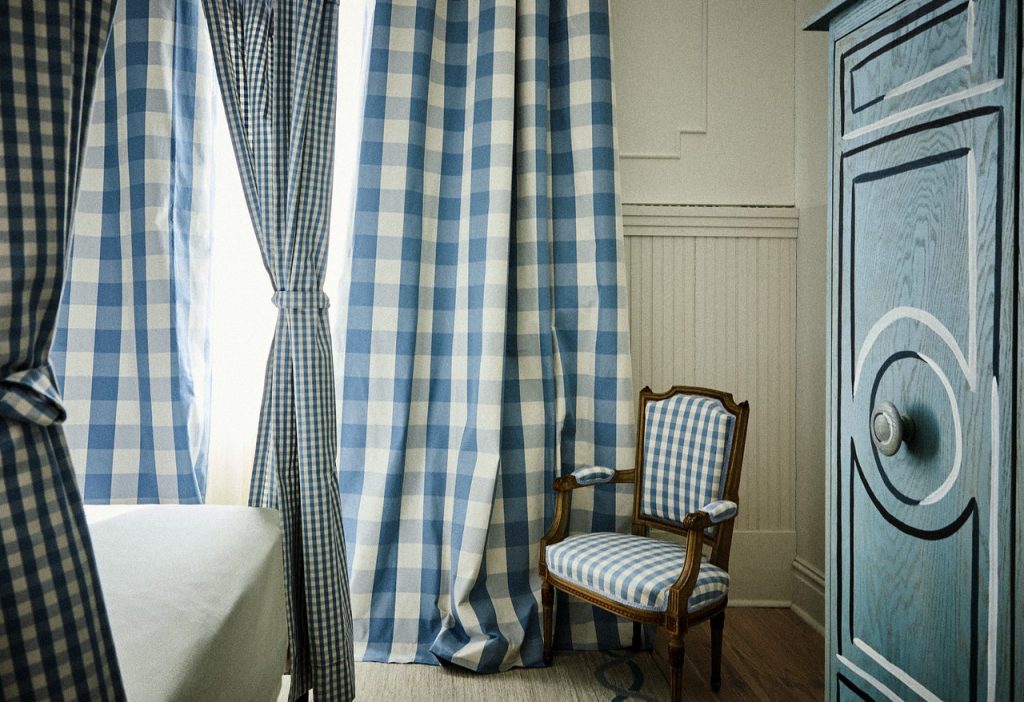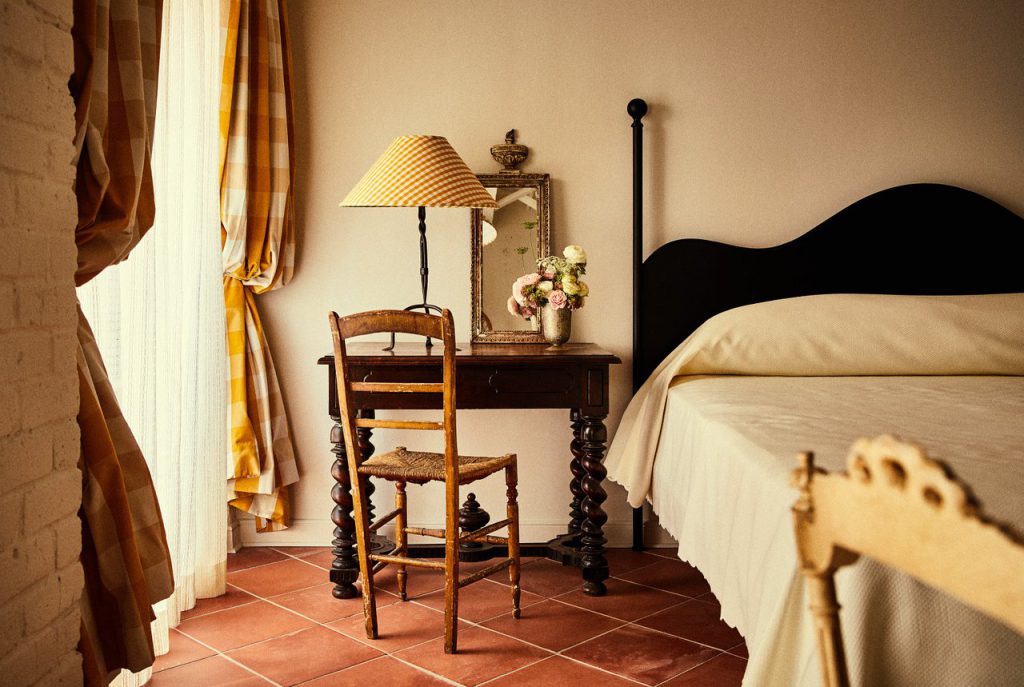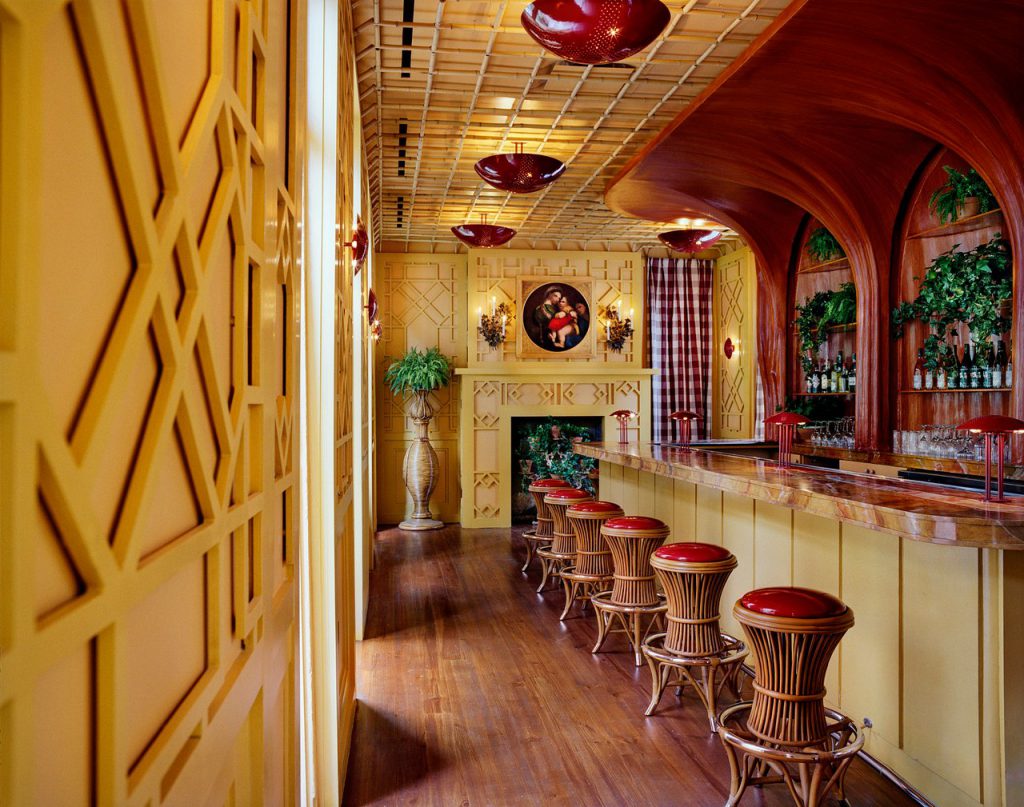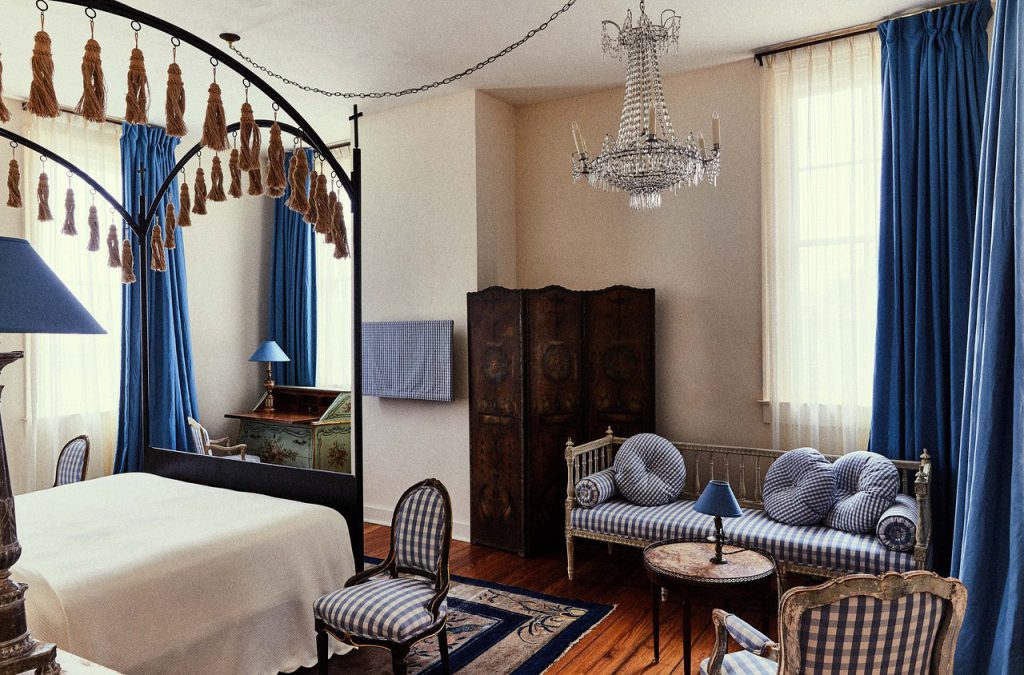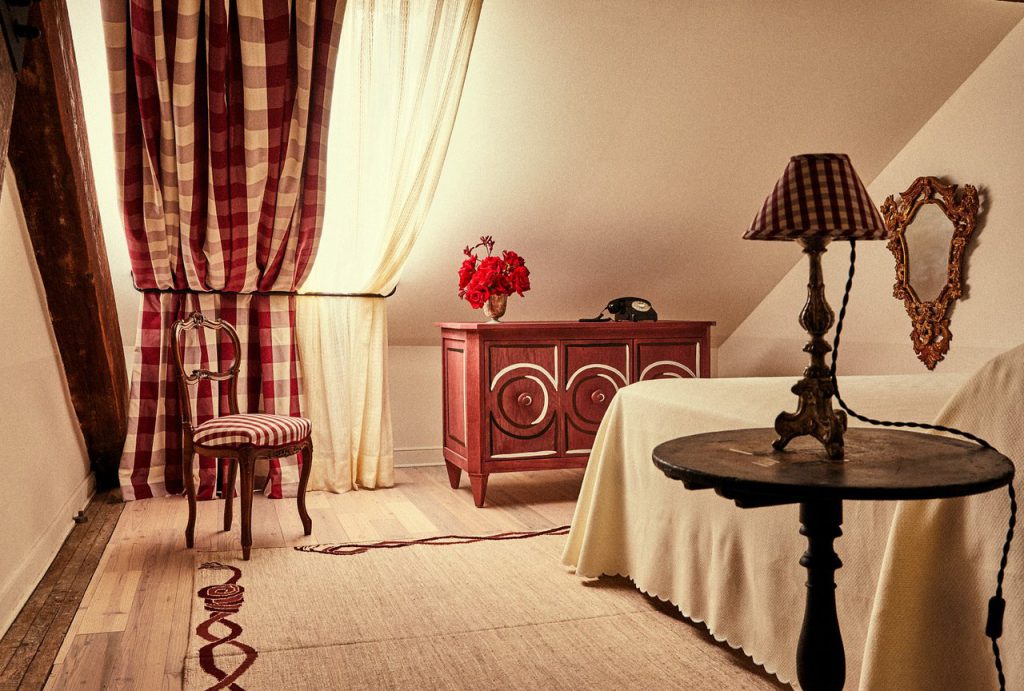 Bohemian and Romantic
Guido A.; "When you want personal style and something else! Wow!"
The last thing you want to see in New Orleans is some kind of minimalistic, modernist-inspired "design" hotel. You're here because this city, more than any other in America, has a character and an identity that's uniquely it's own. And so does Hotel Peter & Paul, an old Catholic school and a 19th-century church that have been transformed into a stylish and modern — but not at all modernist — boutique hotel.
Its style is eclectic, bohemian, and romantic, with both a lower-case and a capital R — there's hardly a square inch of the Peter & Paul that's not richly textured or appealingly weathered. Rooms in the Schoolhouse are more compact, though no less distinctive, than those in the Rectory or the Convent, and while none of them feature needless five-star extravagances, they're more than comfortable enough.
Faubourg Marigny, the neighborhood, is one of New Orleans's most unique, and it's much less heavily traveled than the neighboring French Quarter or downtown — and the Bywater, the next district in the other direction, is quickly becoming one of the city's hippest. Meanwhile, closer to home, Peter & Paul is something of a hotspot unto itself; the Elysian Bar is both a bar and a restaurant, and it promises to be a fixture on the Marigny nightlife scene.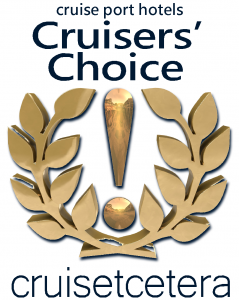 Start Your New Orleans Adventure in our French Quarter Hotel on Bourbon Street
When you're exploring New Orleans, starting out in the French Quarter is a necessity. With classic architecture, creative cuisine, and of course, the lively Bourbon Street scene, you'll find the fun never ends during your stay in the heart of the action at Hyatt Centric French Quarter New Orleans.
While the French Quarter offers traditional settings and vintage architecture, Hyatt Centric French Quarter New Orleans is host to 254 spacious rooms and suites that are both chic and contemporary, opposing the age-old structures that exist just outside. Each guestroom features a bright color palette, a residential feel, and all the comforts of home, allowing you to feel refreshed during your New Orleans getaway.
Explore the city from a centralized location at Hyatt Centric French Quarter New Orleans, brimming with shops, eateries, and nightlife hot spots, or venture out into the Garden District with historic homes, Marigny with live music all along Frenchmen Street, or the Arts District with galleries galore. You'll soon discover the spirited ambiance that brings visitors back time and time again during a trip to New Orleans.
Try local flavors and mouth-watering delicacies at Hyatt Centric French Quarter New Orleans. With three dining options and Batch Bar, we are sure to satisfy your cravings. Indulge in some of the best French Quarter cuisines here.
Start your day at Powdered Sugar with a cup of Intelligentsia® coffee and boudin eggs benedict. When it's cocktail time, visit Batch Bar for an infused cocktail before discovering New Orleans seafood favorites like BBQ oysters at Red Fish Grill or a burger at Hard Rock Cafe®.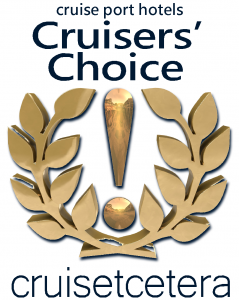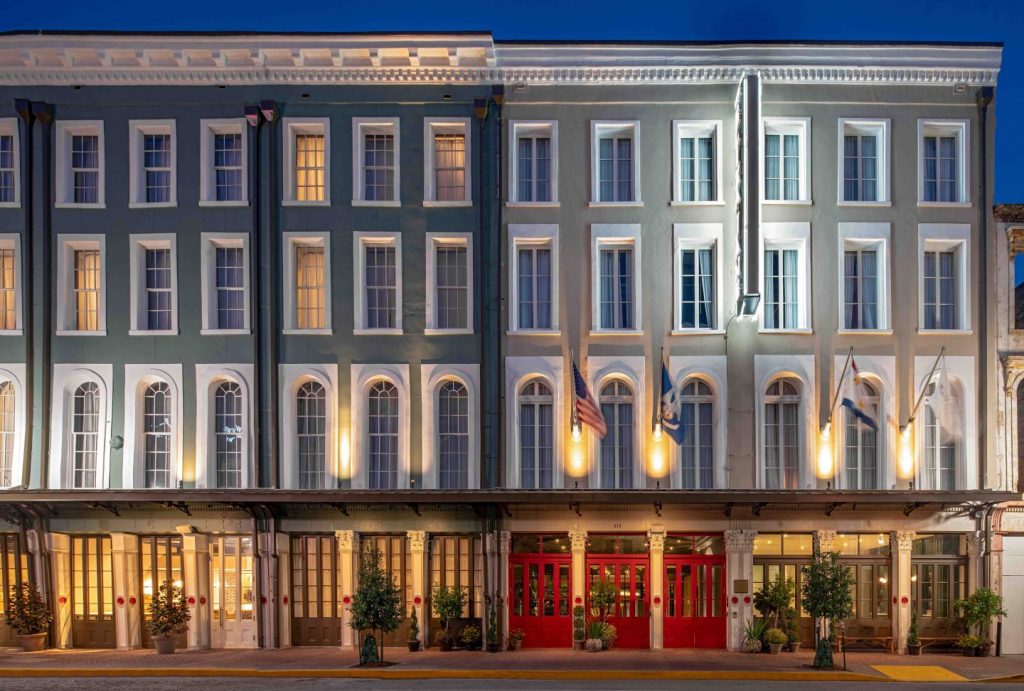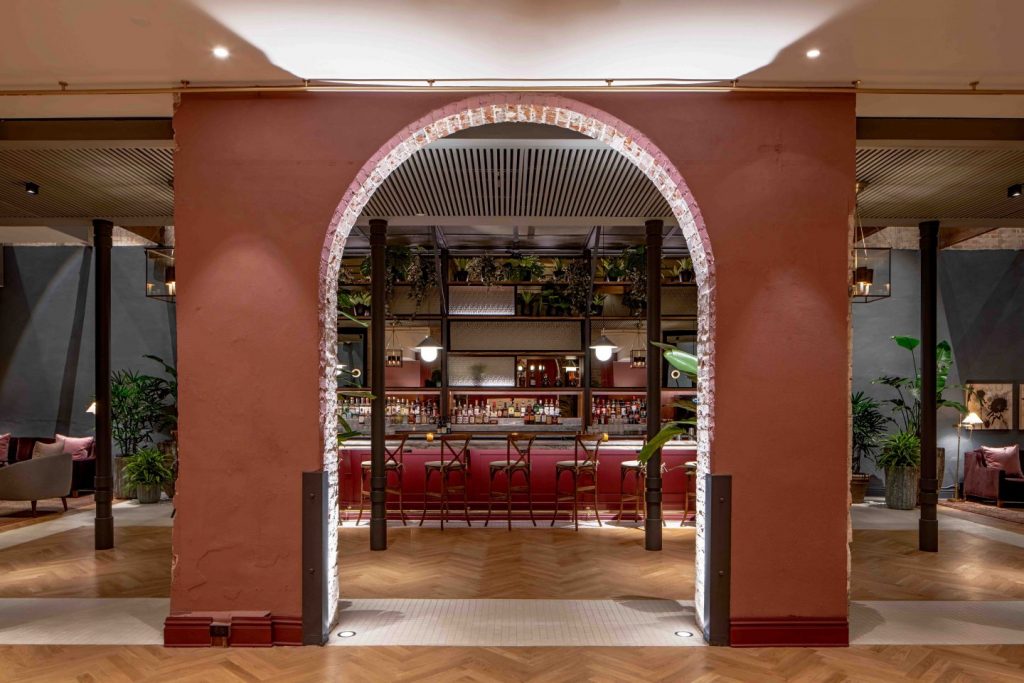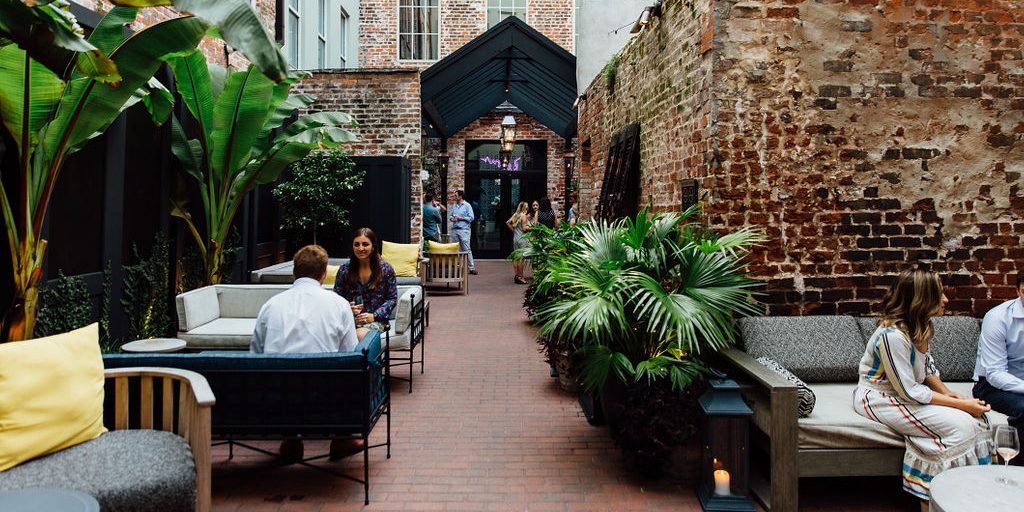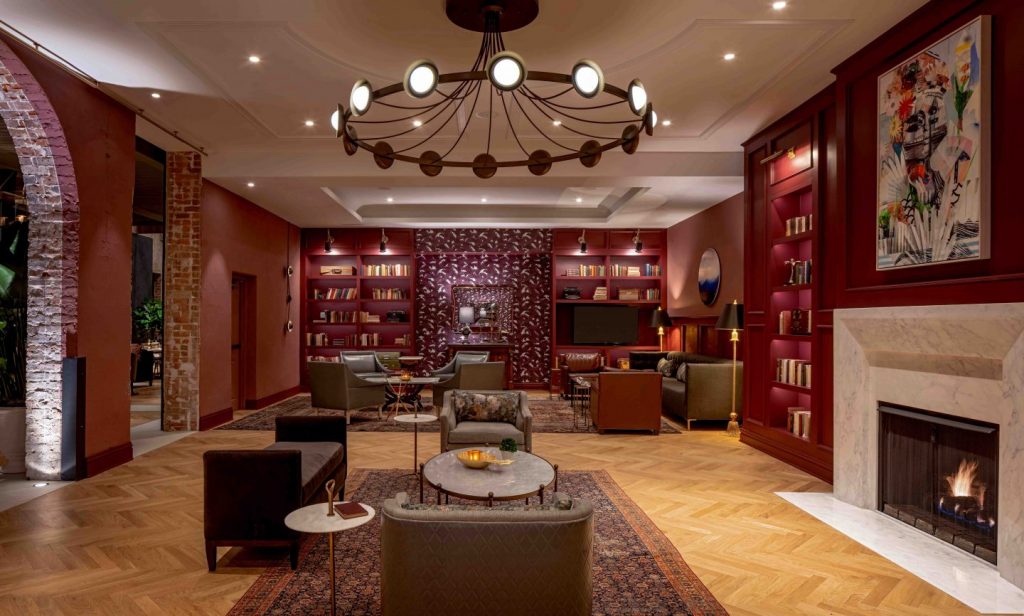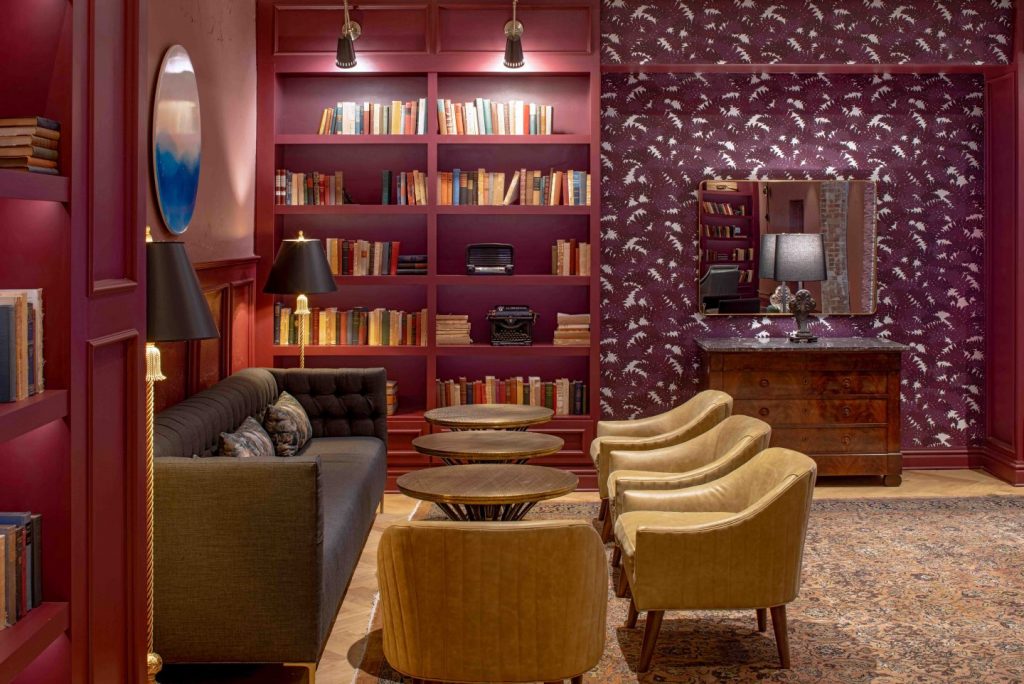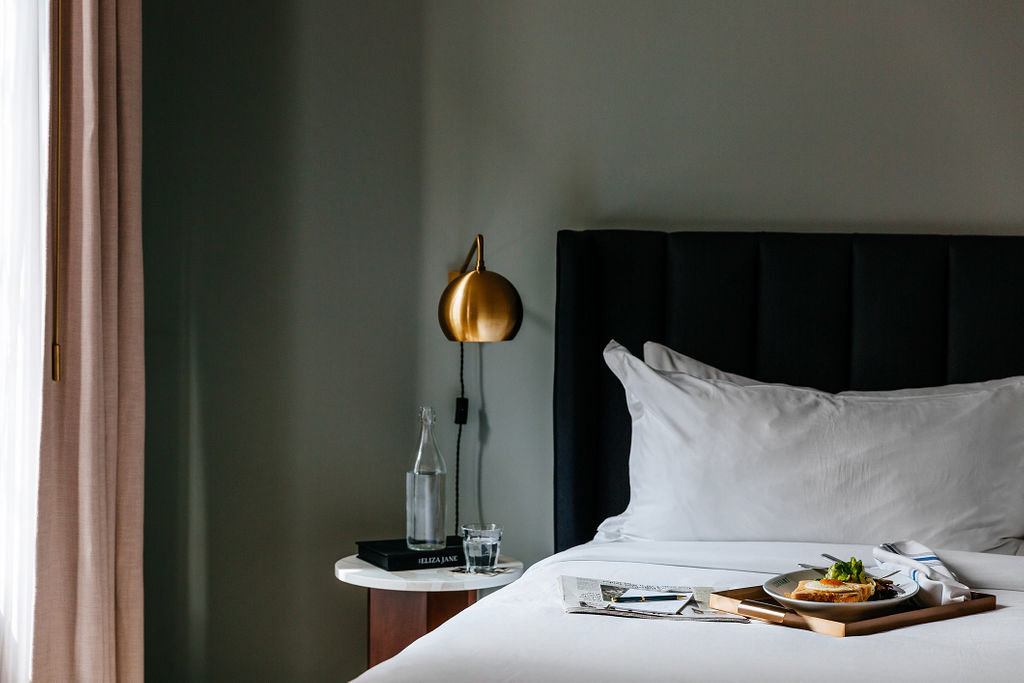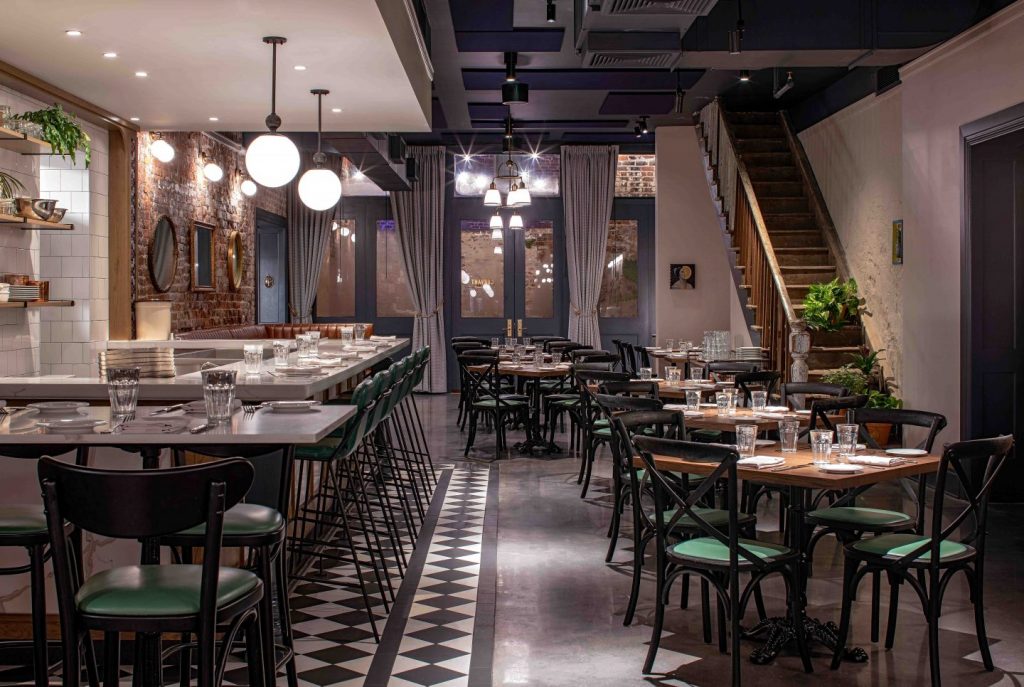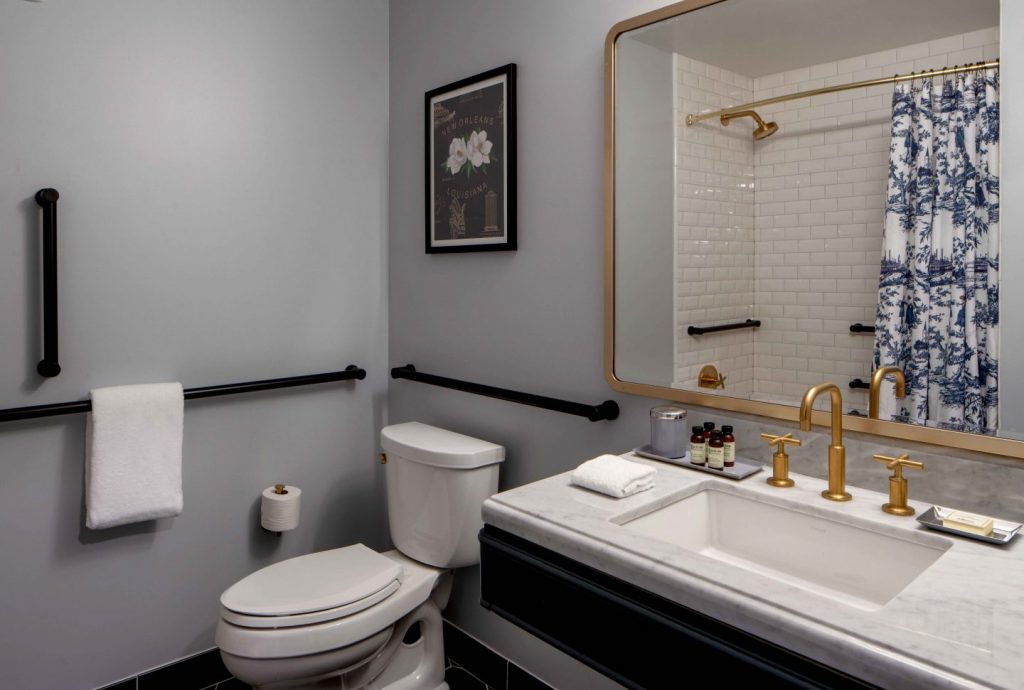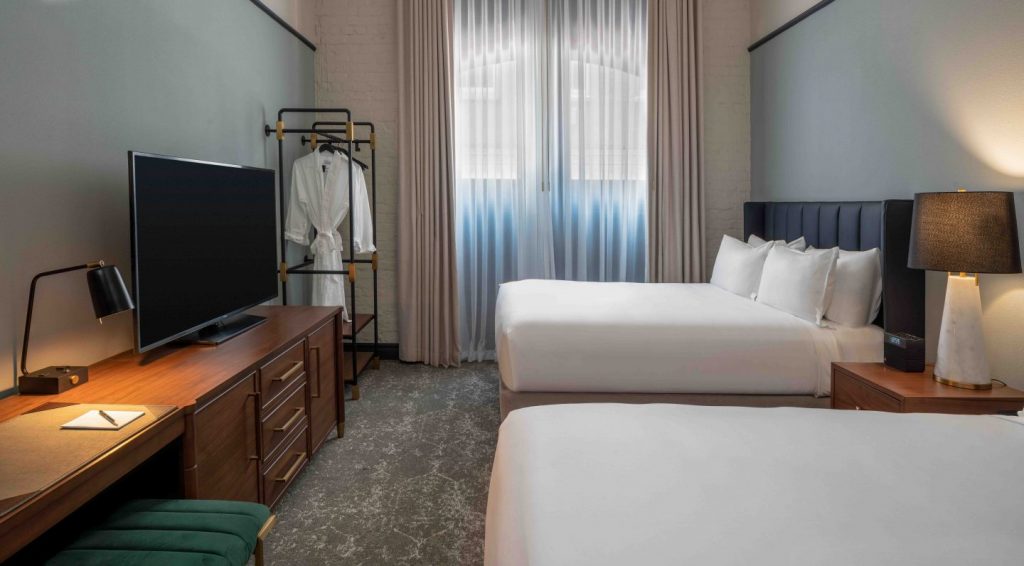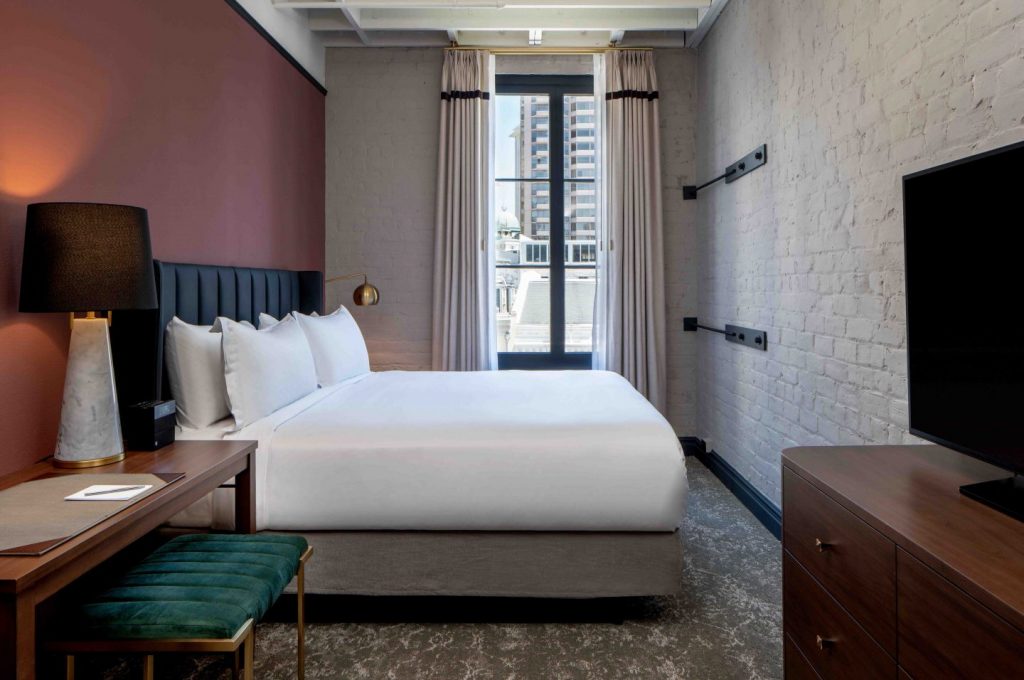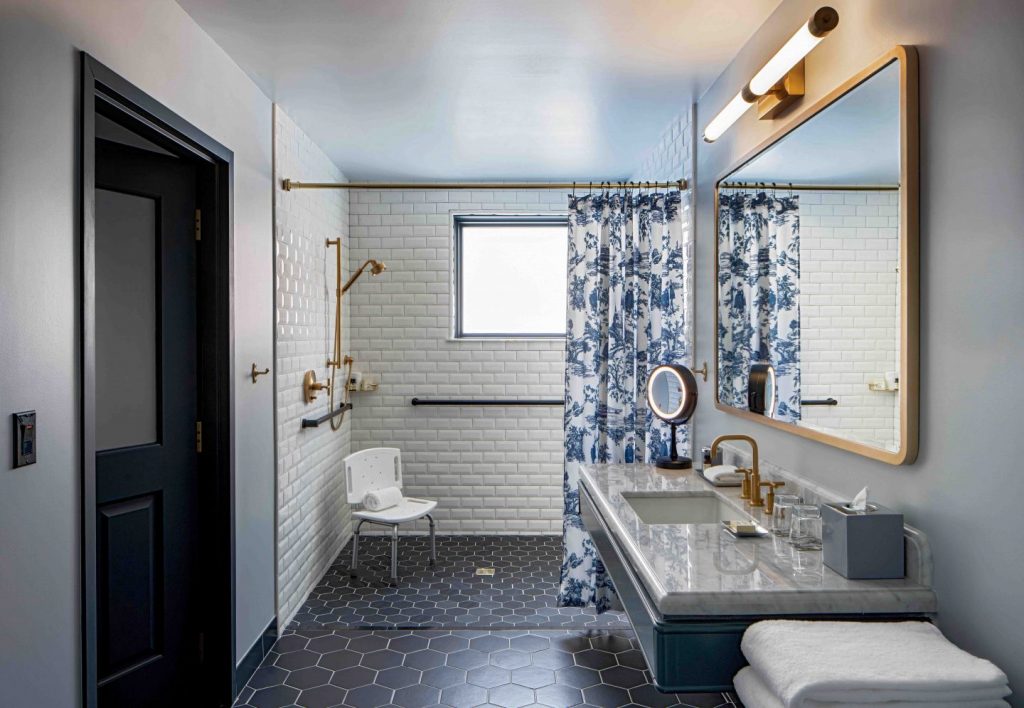 EXPERIENCE NEW ORLEANS NEAR THE FRENCH QUARTER
Bonnie L.; "Near French Quarter, CBD & Warehouse Arts District. We took a cab to ship.."
New Orleans is a living story, each neighborhood vibrant; at The Eliza Jane, history and modernity meet near the celebrated French Quarter. Once home to The Daily Picayune newspaper with the nation's first female publisher, today, The Eliza Jane welcomes guests with elegant features throughout the hotel: décor including original fixtures like exposed brick and fireplaces, the signature French brasserie Couvant, and the tranquil courtyard.
Uncover the history of The Big Easy inside the storied walls of The Eliza Jane, and become part of this soulful city's next tale in one of the 196 rooms, including 50 suites. Rooms are graciously appointed with rich color schemes, eclectic accent furniture, and elegant brass bathroom fixtures for a modern feel with a nod to the past. Premium suites feature a full wet room with a freestanding tub.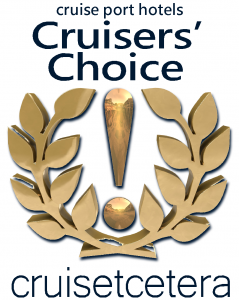 located in the heart of the world's most exhilarating city
Judy Armstrong K.; "I can recommend Harrah's!
The AAA Four Diamond Award-winning Harrah's New Orleans hotel is located in the heart of the world's most exhilarating city. This 26-story marvel, with 450 oversized rooms and suites, provides an unparalleled escape.  These luxurious New Orleans accommodations feature deluxe beds with pillow-top mattresses, flat screen televisions and wireless Internet. With spectacular views of the Mississippi River and New Orleans skyline, just steps from the French Quarter and Convention Center and a few blocks from the Superdome, there is no better place to stay.
They designed thePremium Rooms with one thing in mind: experience luxury as a local. With bold, vibrant color palettes, boutique furnishings, and art only found in New Orleans, the Premium Rooms invite you to understand this city as only we know how. Imagine watching a steamboat float down the Mississippi River as you sip your coffee and bite into a warm, pillowy beignet. Sound like a dream? It doesn't have to.
Harrah's New Orleans is a fantastic choice for travelers in New Orleans. It offers a peaceful environment and many useful amenities for your stay.
Rooms at Harrahs New Orleans provide a flat-screen TV and air conditioning providing exceptional comfort and convenience. Wi-Fi is also available for guests.
A 24-hour front desk, a concierge, and room service are some of the conveniences offered at this hotel. In addition, the fitness center and lounge will make your stay even more special. If you are going to Harrah's New Orleans by car, parking is available.
For visitors to New Orleans who want to check out popular attractions during their stay, Harrah's New Orleans is just steps from Magazine Street (1.4 km) and Lalaurie Mansion (1.6 km).
If you like seafood restaurants, Harrahs New Orleans Casino New Orleans is located near Oceana Grill, Commander's Palace, and GW Fins.
If you have time to spare, we recommend Frenchmen Street, French Quarter, and Bourbon Street. These are some popular attractions within walking distance.
Have fun in New Orleans!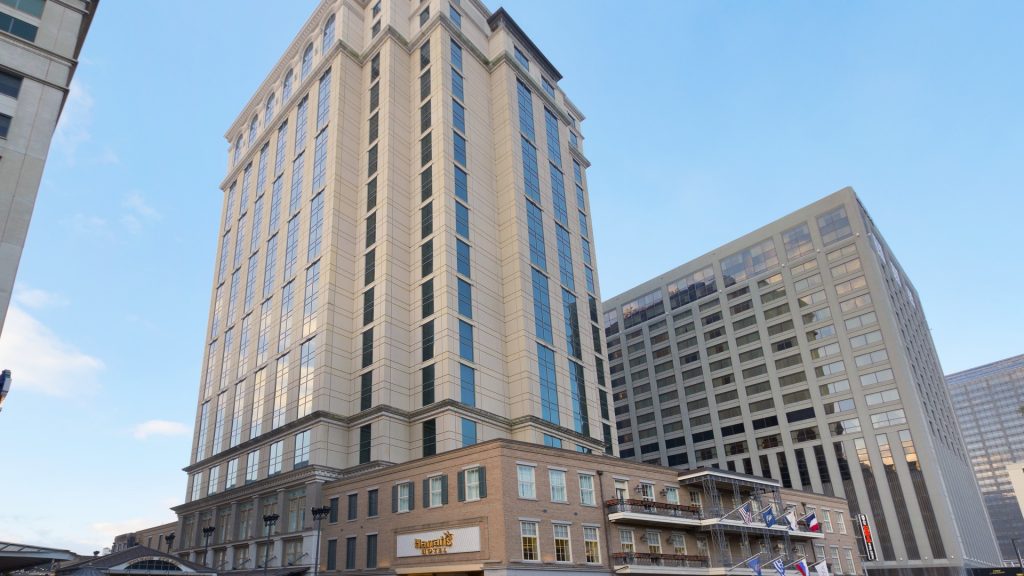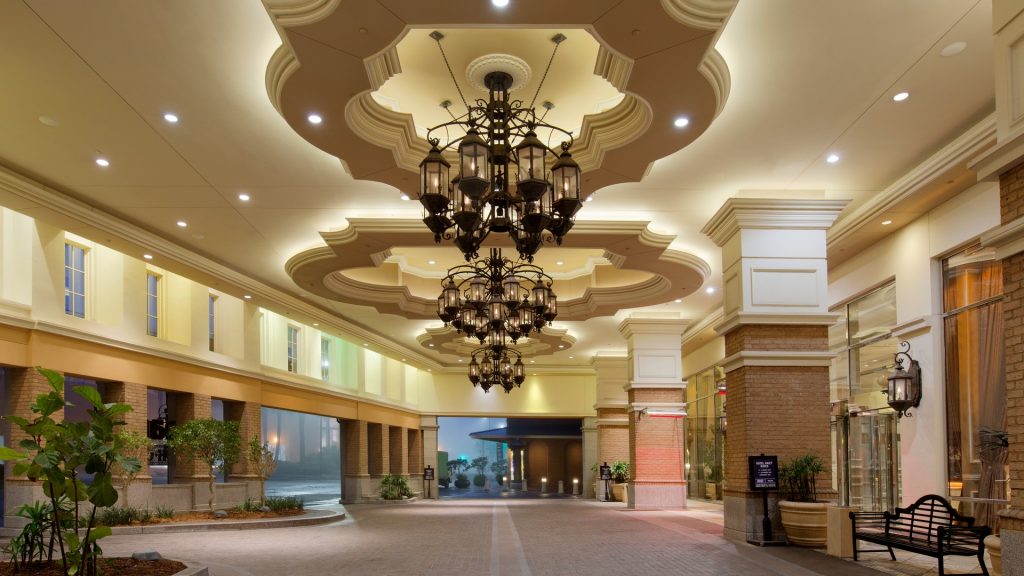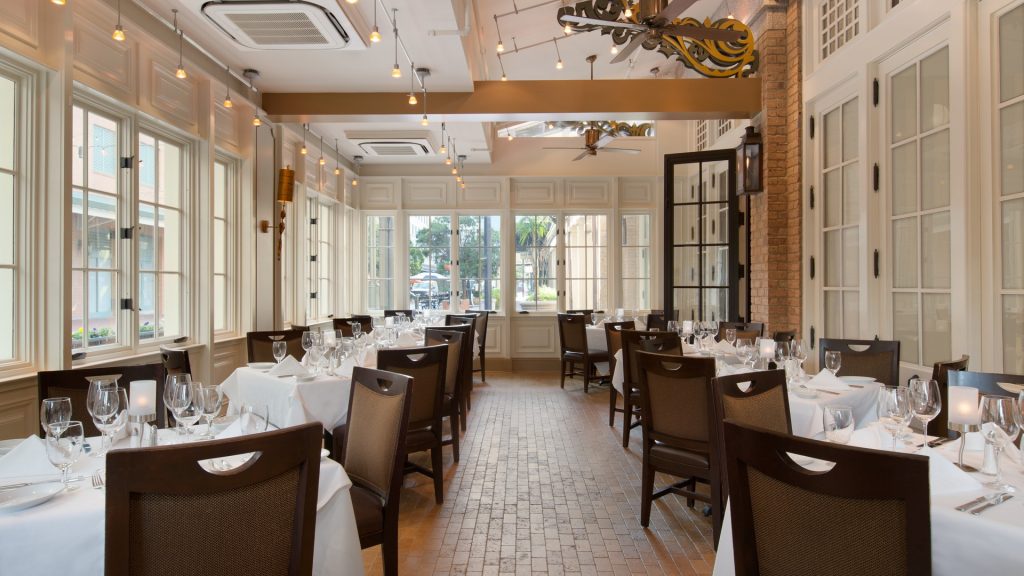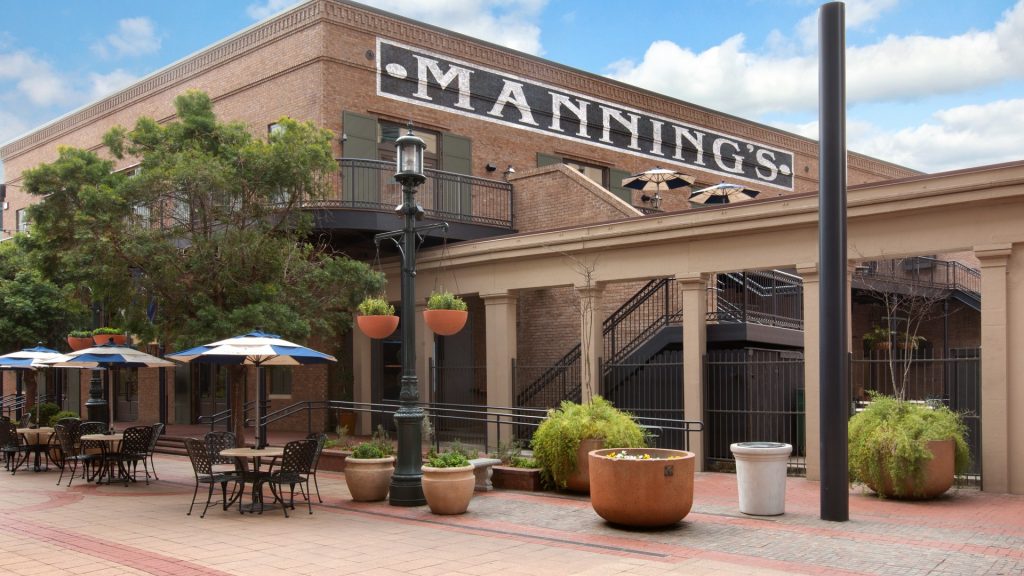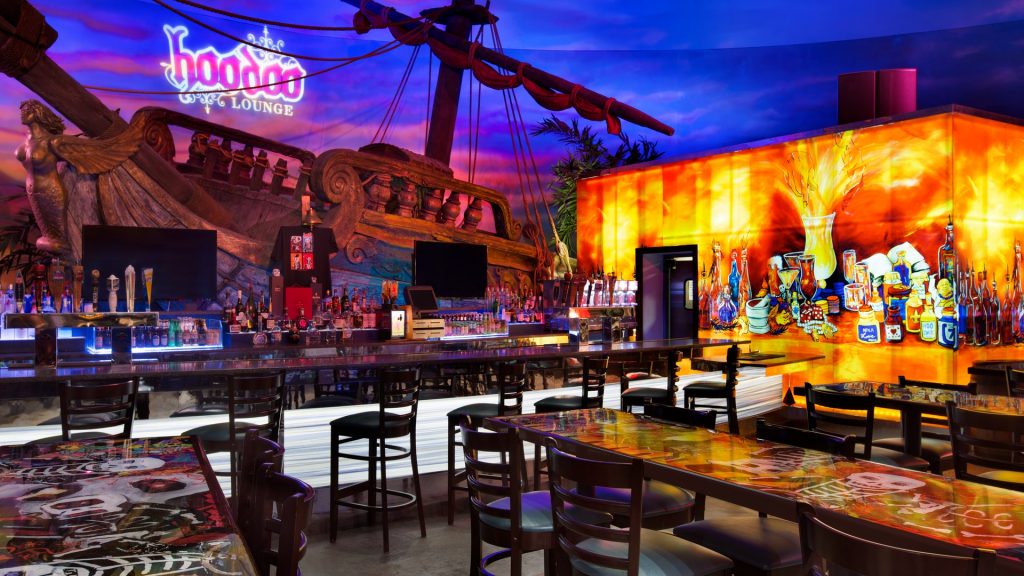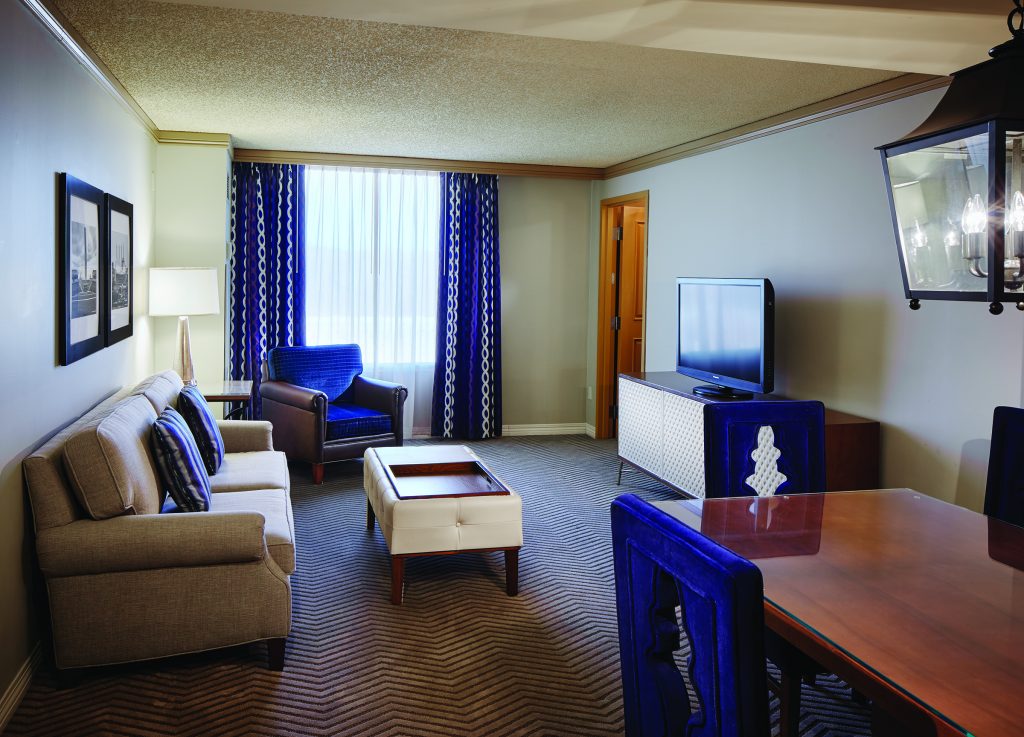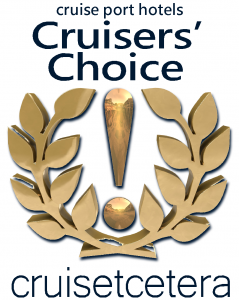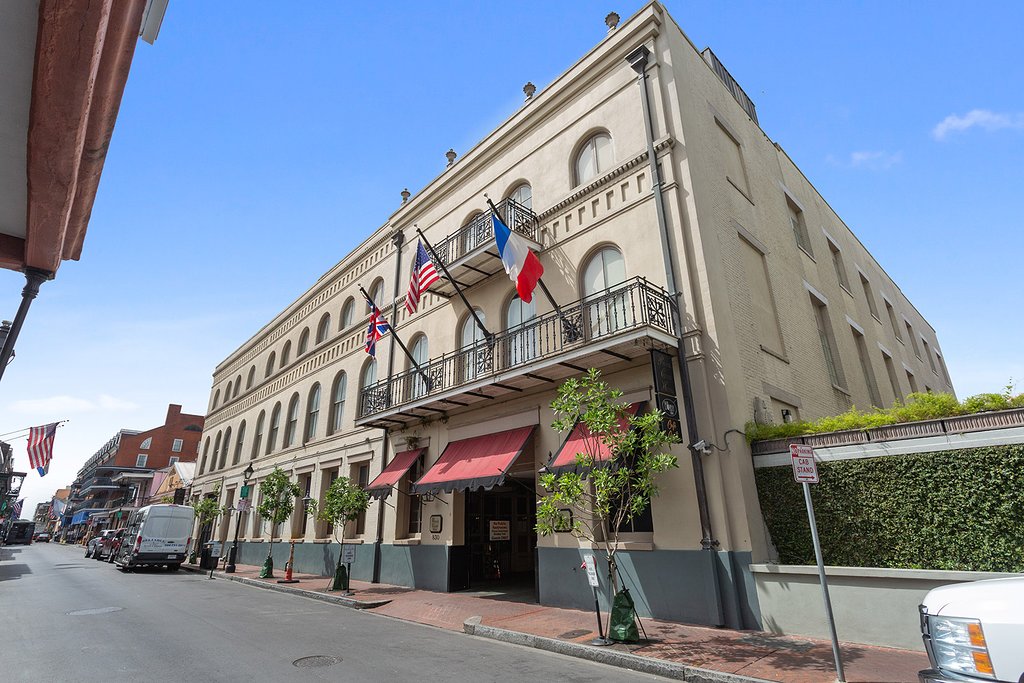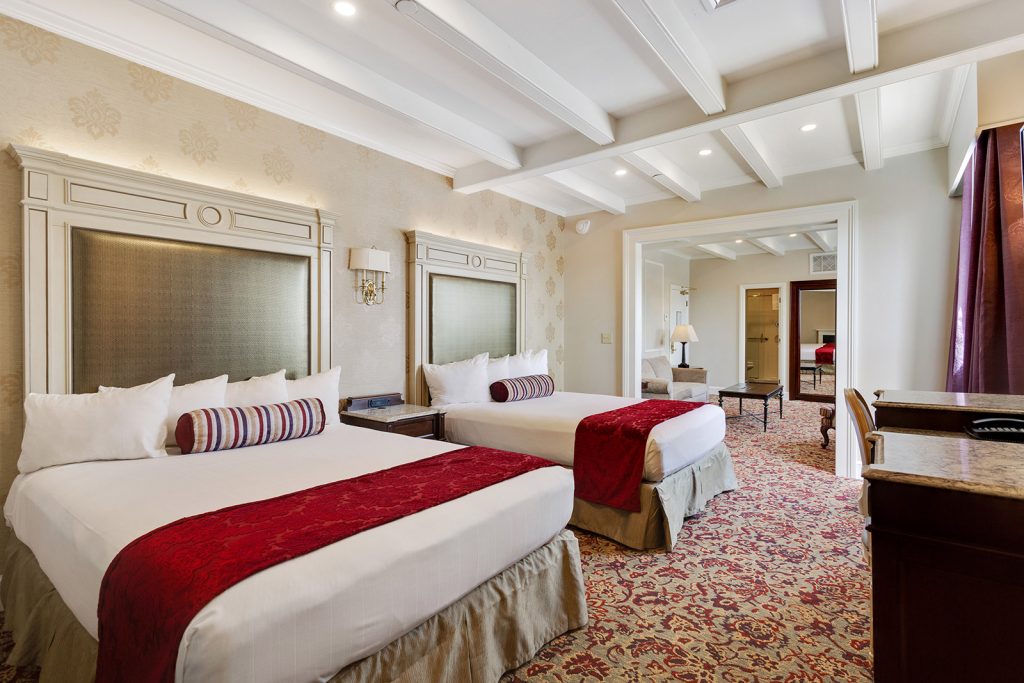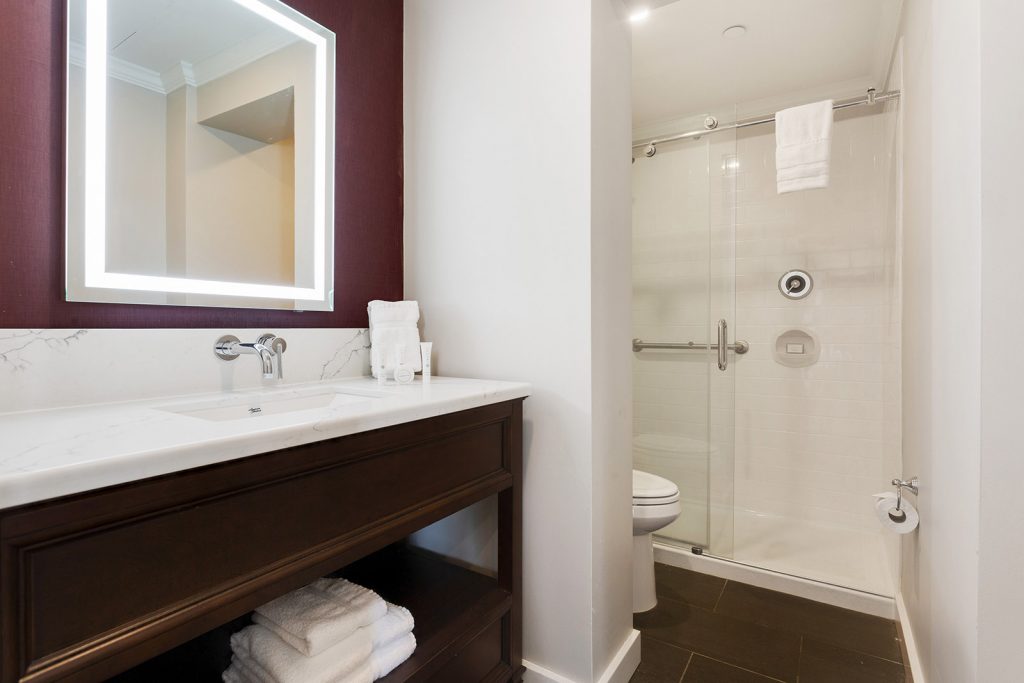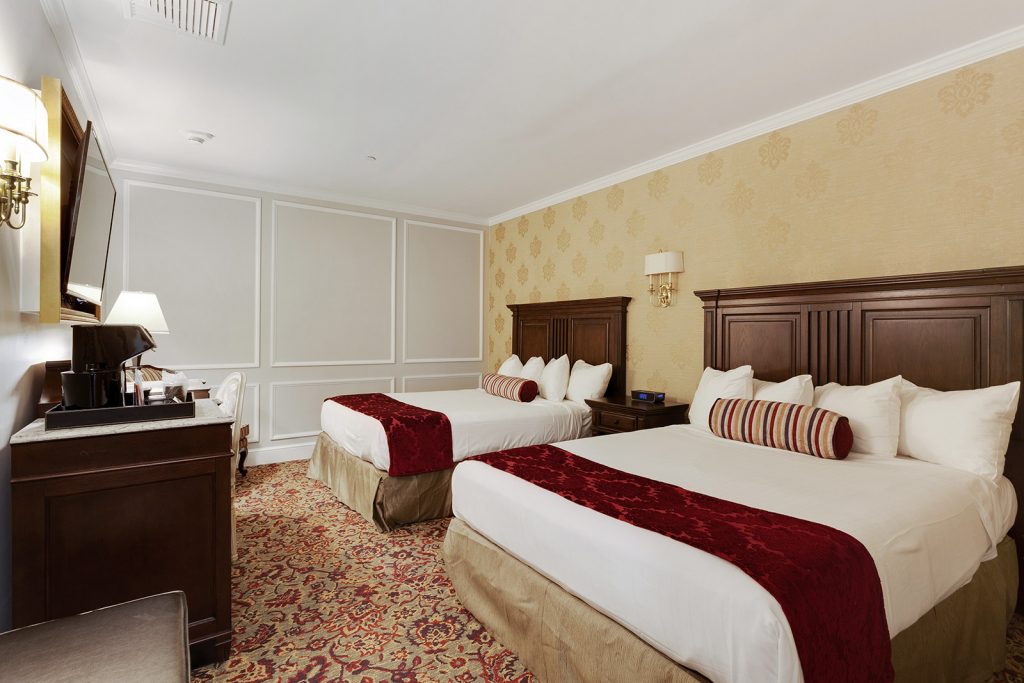 Located in the heart of the
New Orleans French Quarter
David H.; "We stayed there a few years ago and enjoyed it."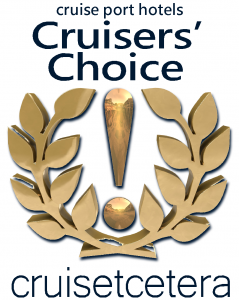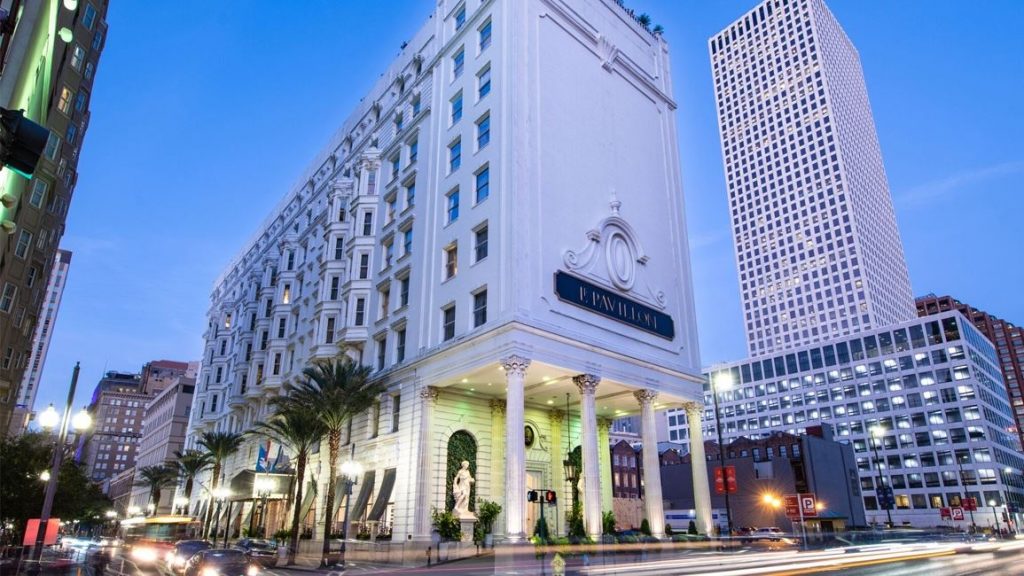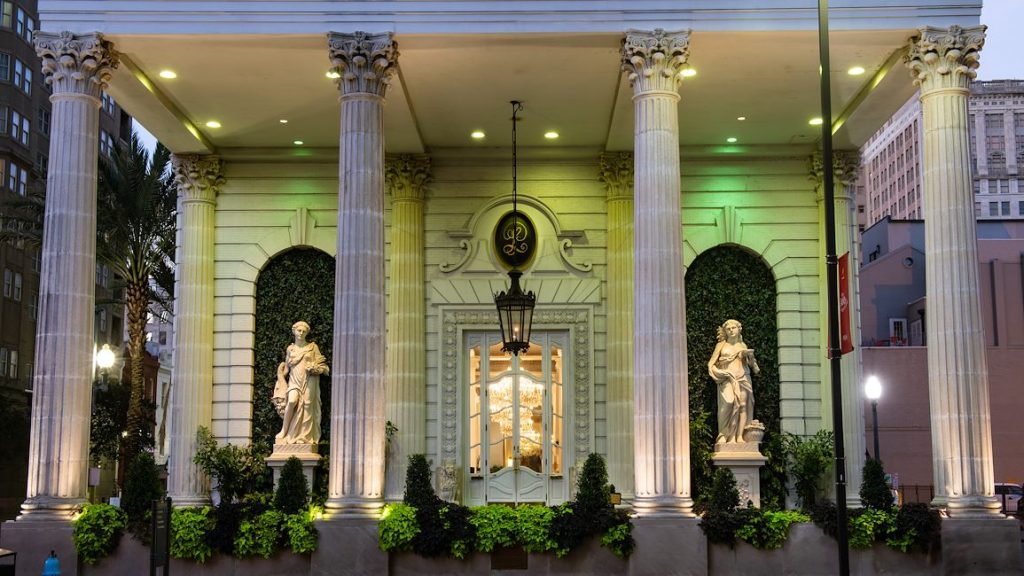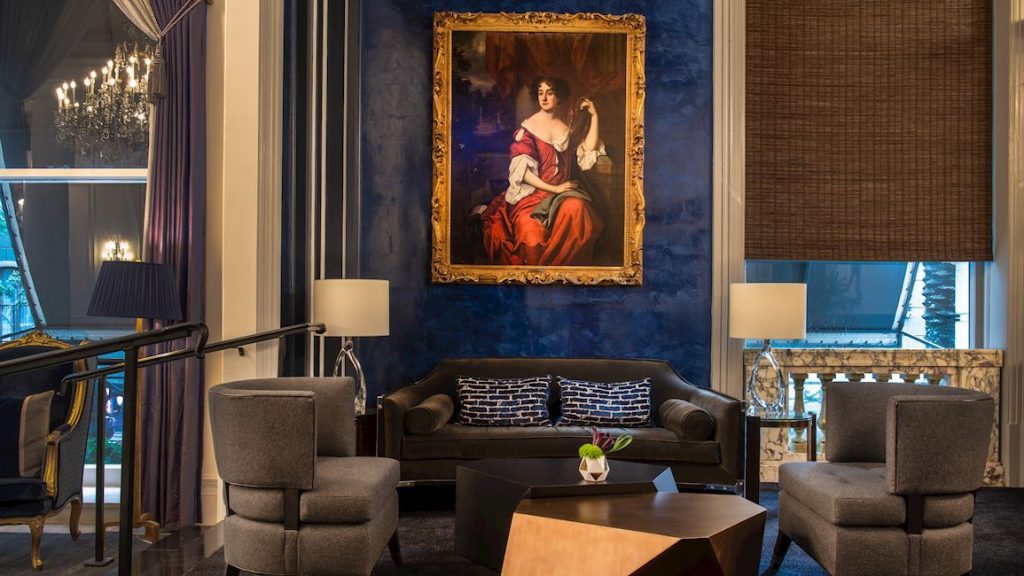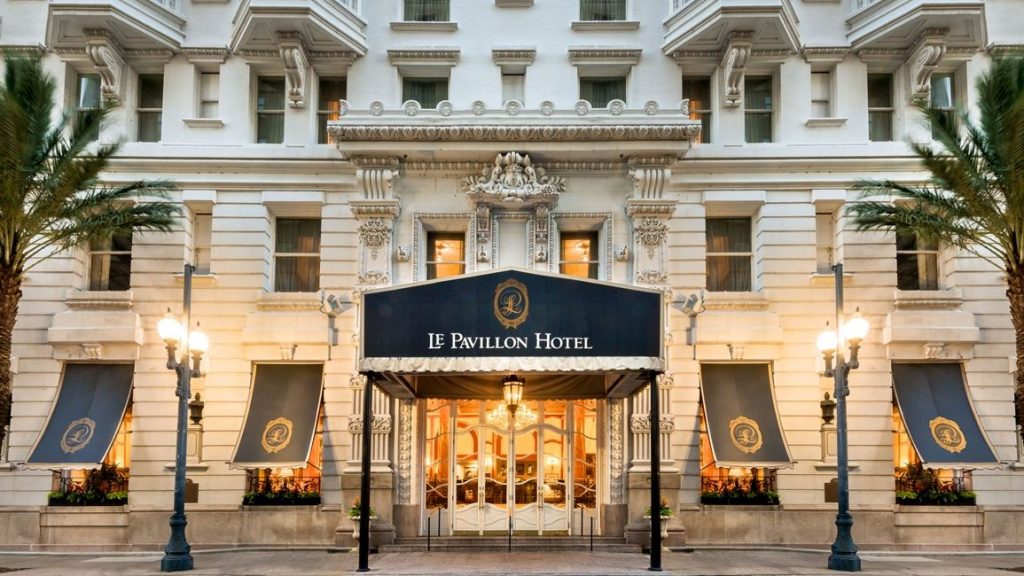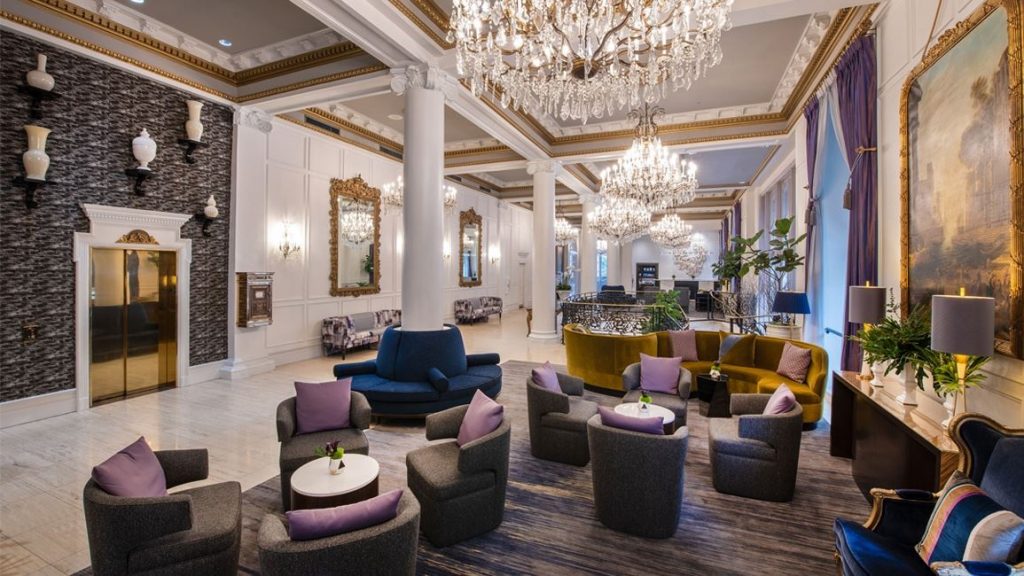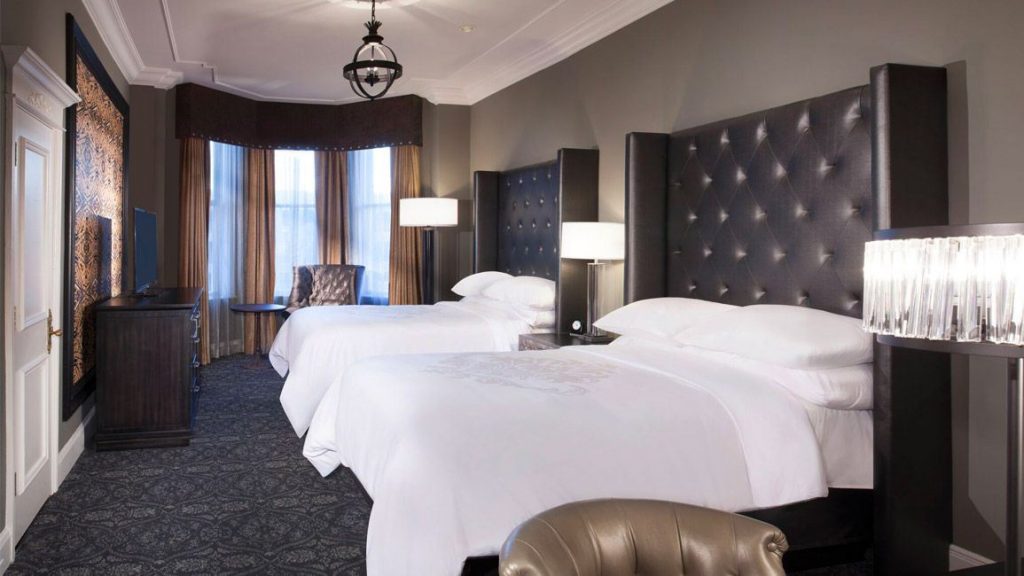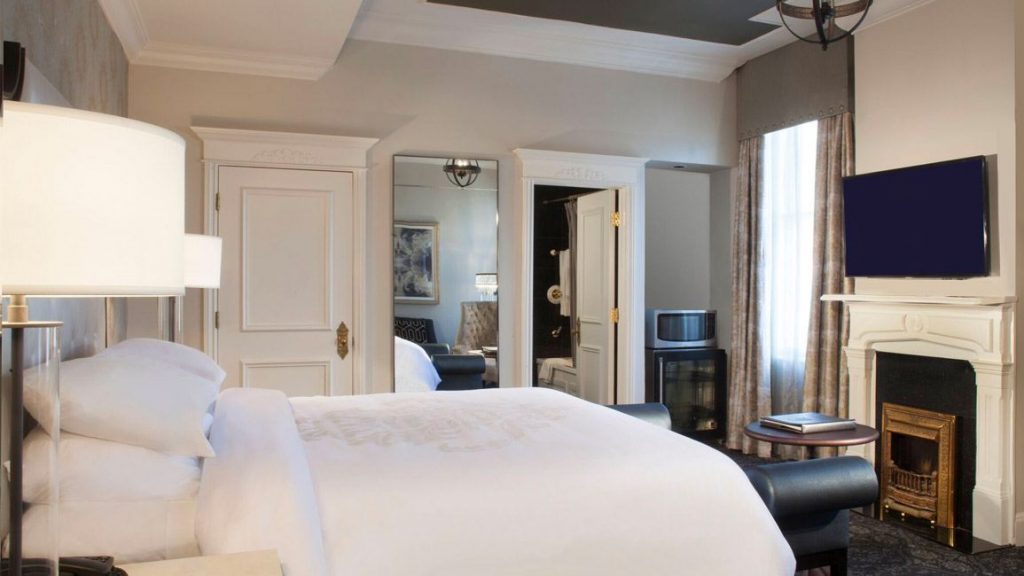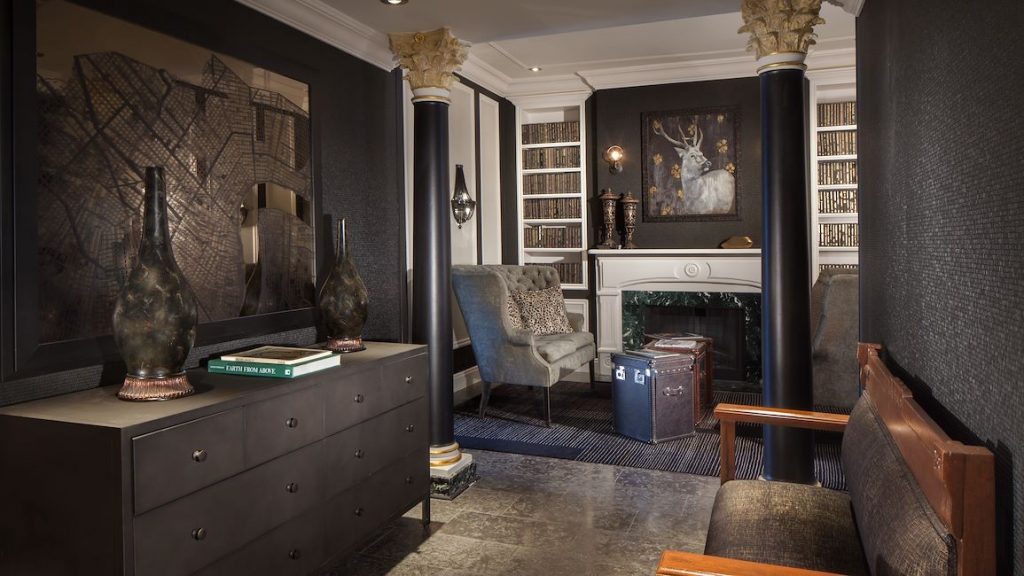 CLASSIC LUXURY reimagined – A PIECE OF NEW ORLEANS HISTORY
Kara M. R.; "I can recommend this hotel!"
Glamorous and grand, the reimagined Le Pavillon Hotel greets guests with a rich, storied past, lavish design, modern amenities, and traditional southern hospitality.
"Le Pavillon was recognized as a 'Top Hotel in New Orleans' by the readers of Condé Nast Traveler."
A stay at Le Pavillon Hotel includes first-rate amenities in stylish accommodations for a luxuriously authentic New Orleans experience. Enjoy the contemporary, elegant design of the guest rooms, equipped with modern luxuries to appease travelers' every desire.
Le Pavillon Hotel is located in the heart of downtown New Orleans' Central Business District on Poydras Street. The hotel is a short distance from popular museums, parks, dining, and shopping, with the famous French Quarter and Bourbon Street just over a mile away.
Glamorous and grand, the reimagined Le Pavillon Hotel greets guests with a new, lavish design embracing its rich, storied past. Revealing classic luxury reimagined through dramatic enhancements, Le Pavillon Hotel offers a premier experience in a coveted location, recognized as a 'Top Hotel in New Orleans' by the readers of Condé Nast Traveler. The hotel originally opened its doors in 1907 as  New Hotel Denechaund, later renamed the Desoto Hotel in 1913, and Le Pavillon was the name that stuck in the 1970s. Once housing the first New Orleans radio station, WDSU, in the penthouse, Le Pavillon Hotel's greatest tradition is tied to the sense of hospitality that is presented from the moment of arrival, enduring long after departure and enticing return.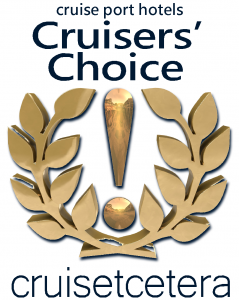 new orleans united states
Located in the historic Cumberland Phone Building
Kathy S.: "DRURY INN New Orleans I recommend."
June Anderson S.: "We stayed at Drury Inn on a park and cruise package. Took a taxi to port the next morning. When we got back, hubby taxied back to the hotel and picked up the car, then came and got us and luggage."
Lisa B.: "We stayed at the Drury Inn on Poydras. It was really nice, it is in the old telephone company building."
Hella H.: "Drury Inn.Fine Hotel. Close to Port. Meals included. Even two Adult Bev. No, you need a Taxi or Lyft. But very Short Ride. You can See Ship from higher Floors. Very Nice Personnel."
Located in the historic Cumberland Phone Building just one block from the St. Charles trolley, the Drury Plaza Hotel New Orleans offers convenient access to the Garden District and the French Quarter. Experience Cajun traditions and culture while enjoying Drury Hotels' free extras from the hot breakfast to the 5:30 Kickback® evening menu.
You'll rest well in whichever Drury room you choose! Each room includes free Wi-Fi, TV, microwave, refrigerator, iron/ironing board, and hairdryer.
Why dine out when you can dine in? Find out what you're hungry for, all right here. Our fresh and free hot breakfast every morning and our free 5:30 Kickback® in the evening are sure to tame your growling stomach.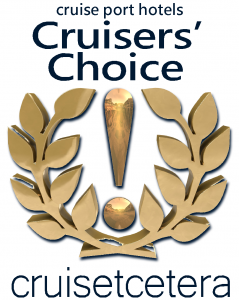 new orleans united states
HISTORIC LUXURY HOTEL IN NEW ORLEANS
Jonathan S.: "Monteleone. Walking distance to everything and the Carousel Bar is great."
Kelly Lewis W.: "Hotel Monteleone was great!"
Jean K.: "Hotel Monteleone!"
Lauretta M.: "Monteleone for me!"
Pamela W.: "We are here now. Hotel Monteleone. The rooms are small but the location is perfect! Walking distance to all places in the French Quarter."
It's been said that the French Quarter begins in the lobby of Hotel Monteleone. This venerable New Orleans hotel sits majestically at the foot of Royal Street and offers valet parking with two garages. Guests have the best point of departure for all things New Orleans.
Step outside this historic French Quarter hotel to discover shop after shop of fabulous European antiques, estate jewelry, oriental rugs, and art and antiquities from around the world. Quaint New Orleans restaurants and specialty shops line the French Quarter streets. Enjoy New Orleans tourist attractions just steps from our New Orleans hotel, including Jackson Square, Bourbon Street, the French Market, and the Riverwalk, where you can watch the steamboats along the Mississippi River.
The famous Carousel Bar & Lounge in the Hotel Monteleone is a long-time favorite New Orleans hot spot. This classic New Orleans hotel bar is the city's only revolving bar. For decades, it has lured guests in to take a spin on the 25-seat, bright circus-clad Merry-Go-Round.
Since 1886, Hotel Monteleone has proudly stood as one of the first landmarks in the world-famous French Quarter. This New Orleans historic landmark is a member of Historic Hotels of America.
The hotel boasts 26 meeting and reception rooms, 570 guestrooms, including 55 suites, an award-winning restaurant, Criollo, the famous Carousel Bar & Lounge, a full-service day spa, Spa Aria, Logo Shop, heated rooftop pool, state-of-the-art exercise facility, 24-hour room service, and valet parking. Each spacious guest room offers an in-room safe, refrigerator, complimentary high-speed Internet access, large-screen cable television, iHome audio system, phone with voice mail, Keurig coffee maker, and more. Each guest room features high ceilings, crown molding, and traditional decor.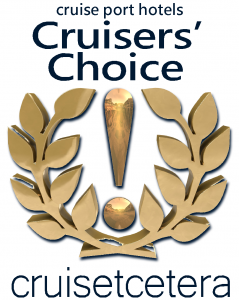 Find your balance at The Westin New Orleans Canal Place
Dean A.: " The Westin Canal Place is on the fringe of the French Quarter and is very Nice. We could look out the hotel window in the morning and see the ship 😜."
Rising high above the Mississippi River, The Westin New Orleans Canal Place sits at the end of Canal Street on the edge of the French Quarter. 
This waterfront hotel invites you to experience NOLA from a convenient perch on top of The Shops at Canal Place. Explore boutiques along Royal Street or unwind on Bourbon Street. For a productive stay in New Orleans, they offer over 29,000 square feet of event space near the Morial Convention Center with stimulating views of the river. Thrive with our $30 million renovations, which includes a new restaurant and bar with signature breakfast and lunch options at Bistro at the Bend. Grab a refreshing cocktail at our lobby bar or visit our fully-equipped WestinWORKOUT® Fitness Studio. Energizing stays in the French Quarter starting at the pet-friendly hotel rooms and suites with Heavenly® bedding, marble bathrooms with White Tea products, 24-hour room service, and more.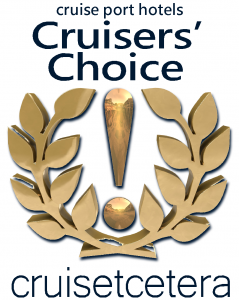 History meets luxury, moments from Canal Street
Anne F.: "Stayed in the Roosevelt. Very good and central."
Alan W.: "The Roosevelt I highly recommend."
Operating as a hotel since 1893, this building was once home to Louisiana's legendary governor Huey P. Long. Today, they feature historic New Orleans memorabilia, a luxury spa, and a rooftop pool. Canal and Bourbon streets are around the corner, and they're within a mile of the French Quarter. Discover authentic local experiences with the help of our concierge.
The historic Sazerac Bar serves expertly mixed cocktails, and the Fountain Lounge offers live entertainment, weekend brunch, and small plates. Domenica specializes in rustic Italian cuisine, and they serve specialty coffees and homemade treats in Teddy's Café. They have a seasonal rooftop bar and 24-hour room service.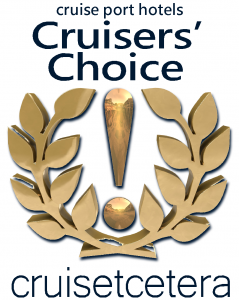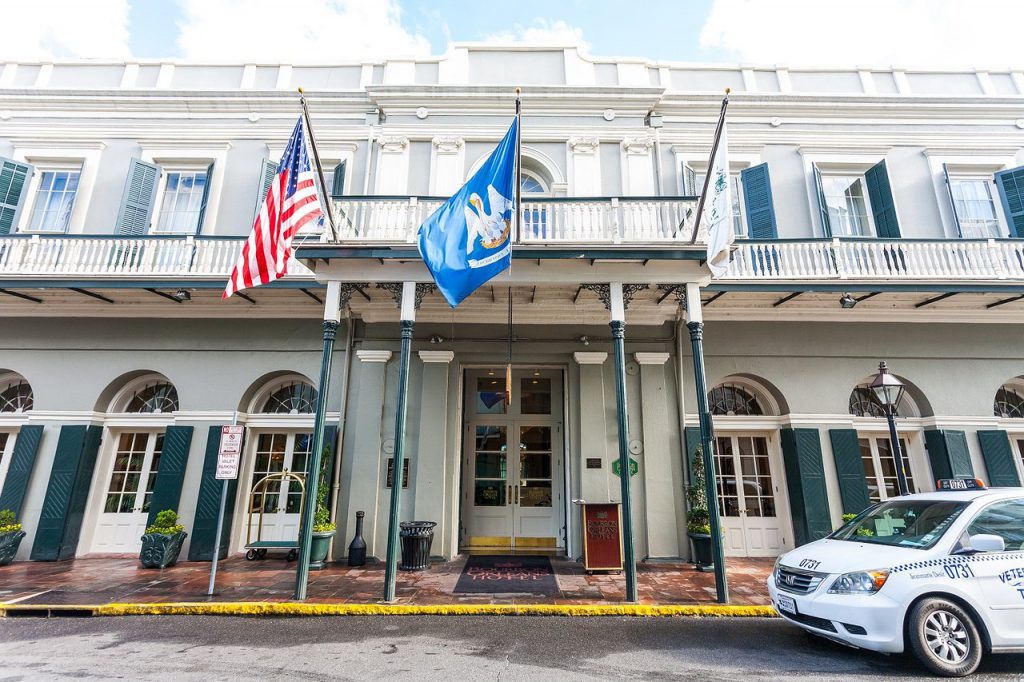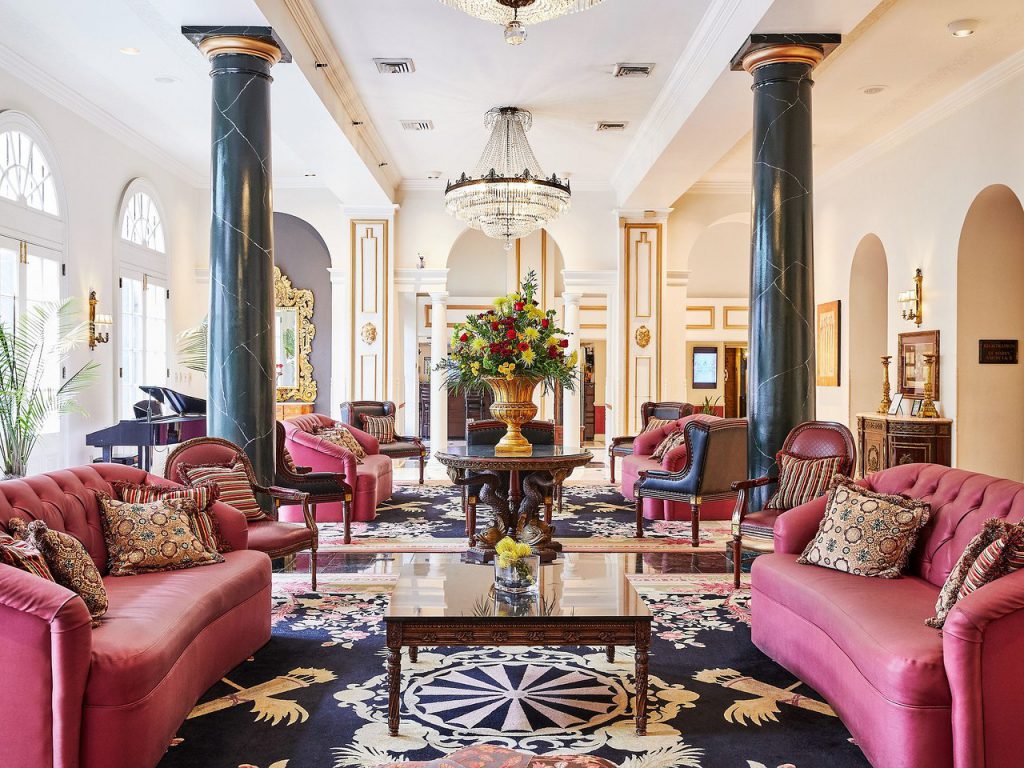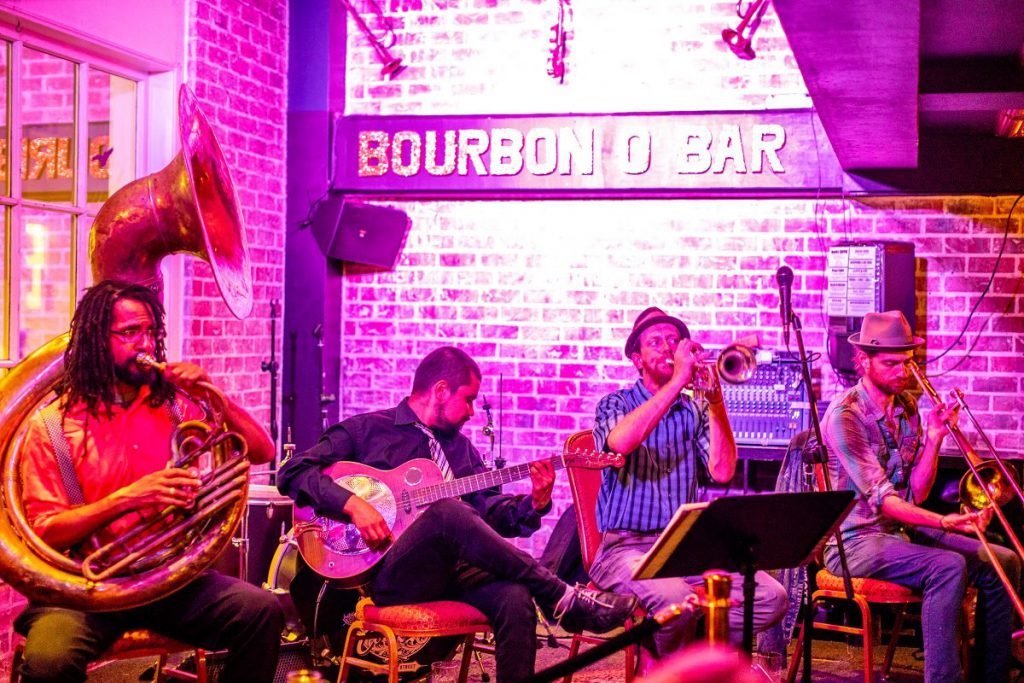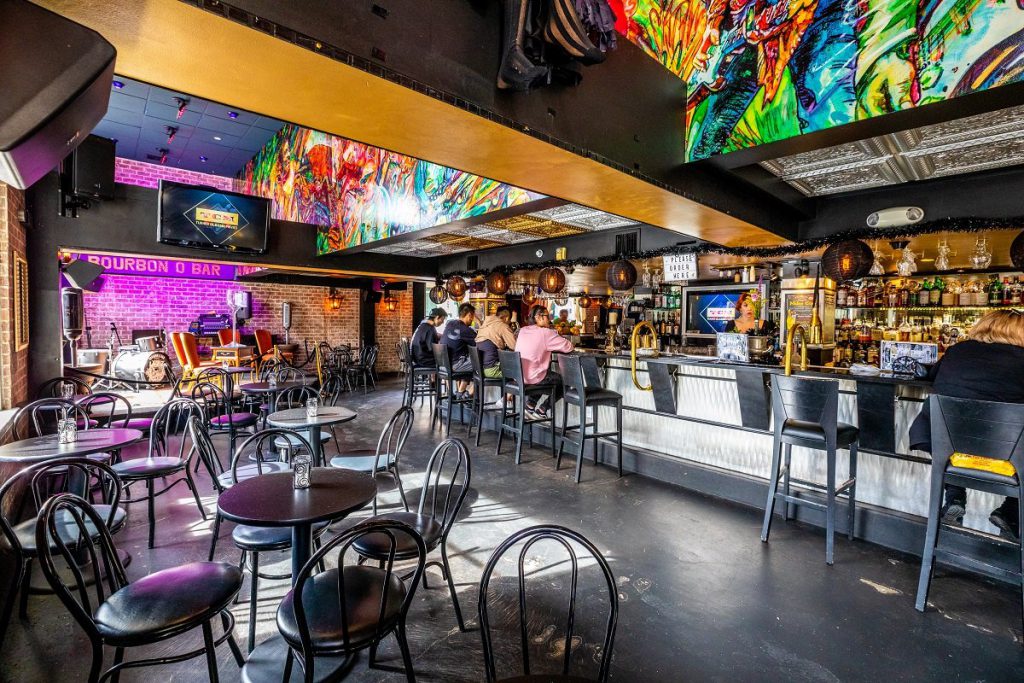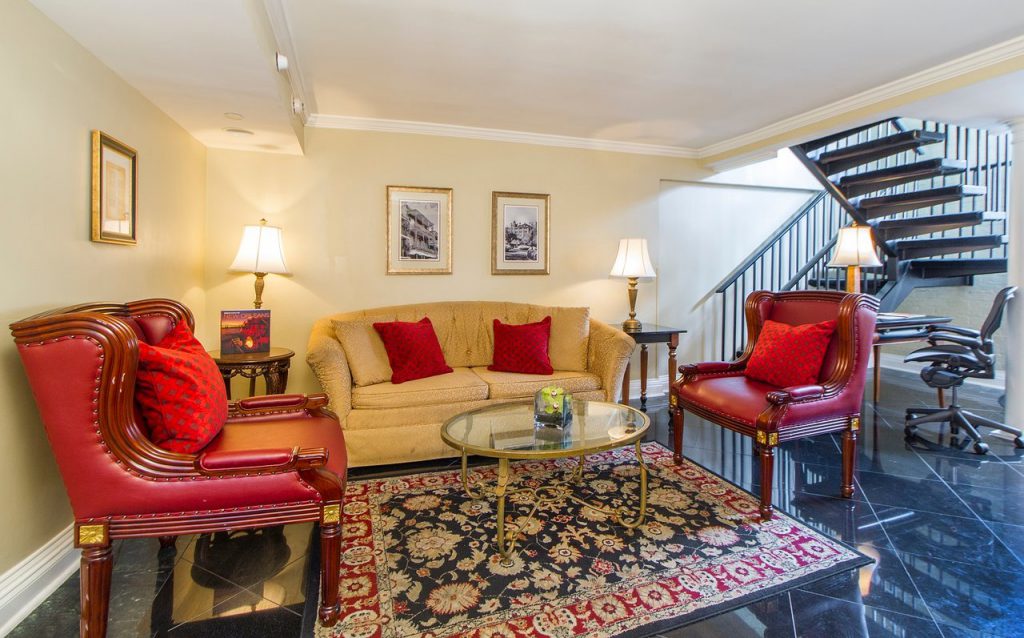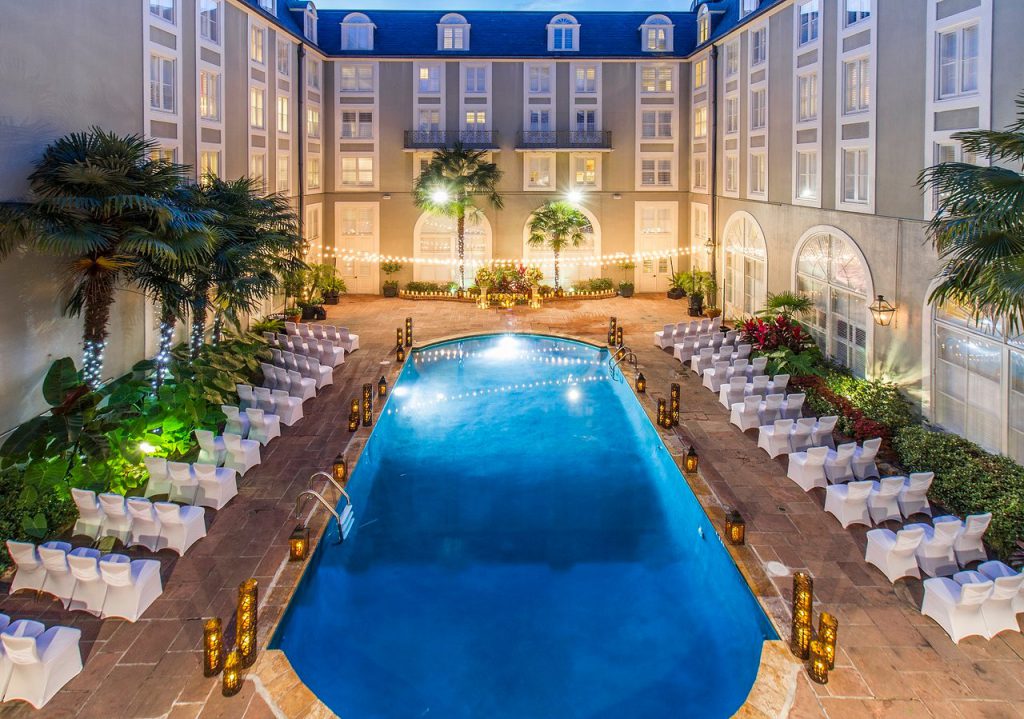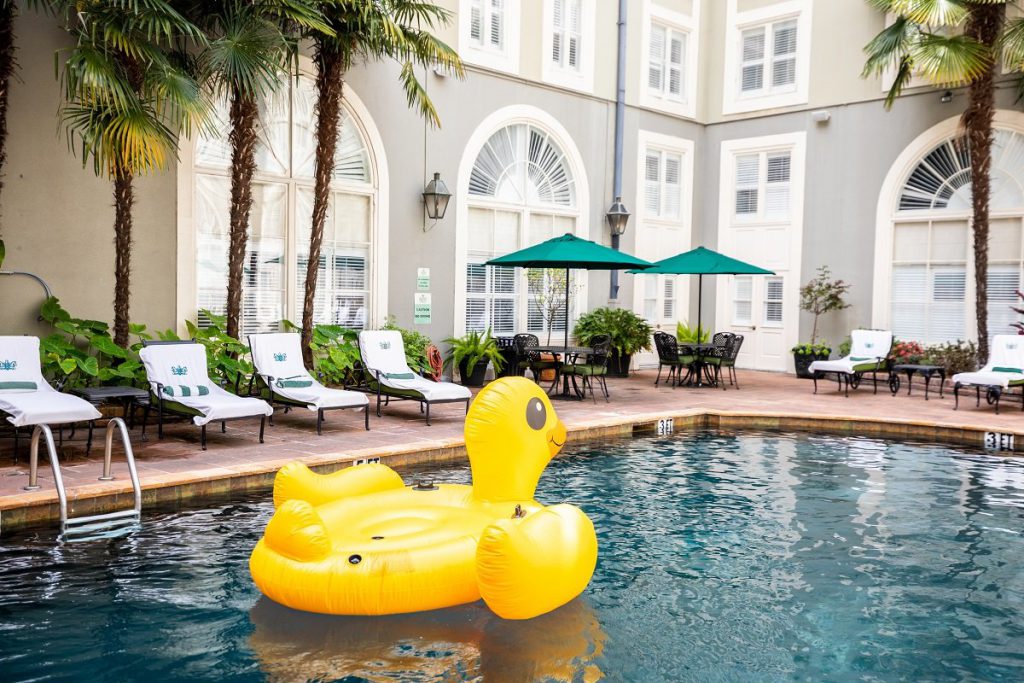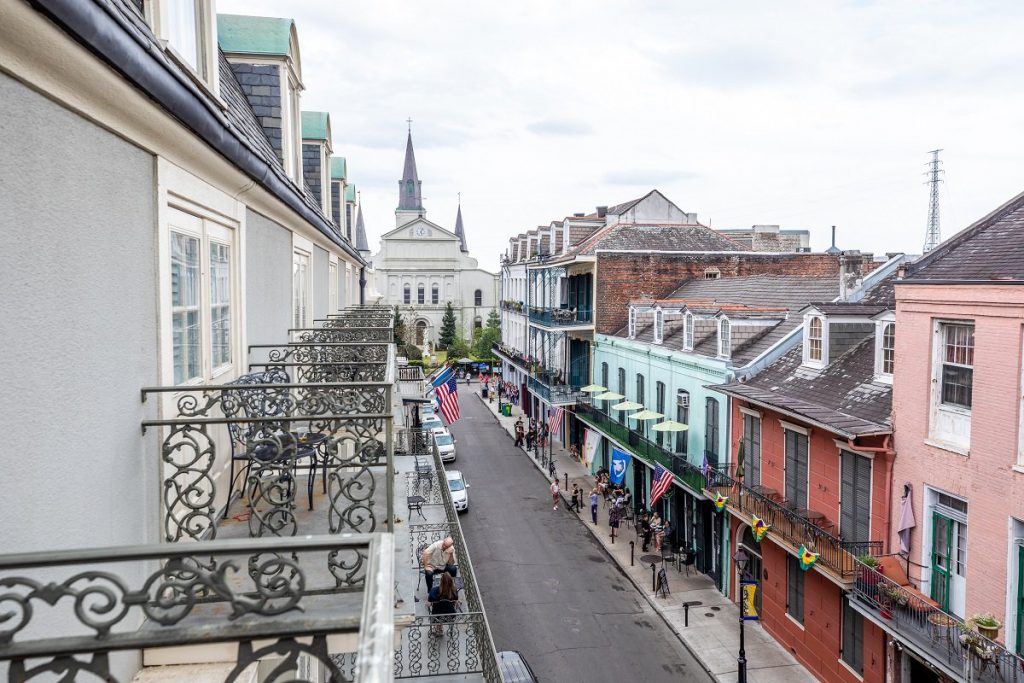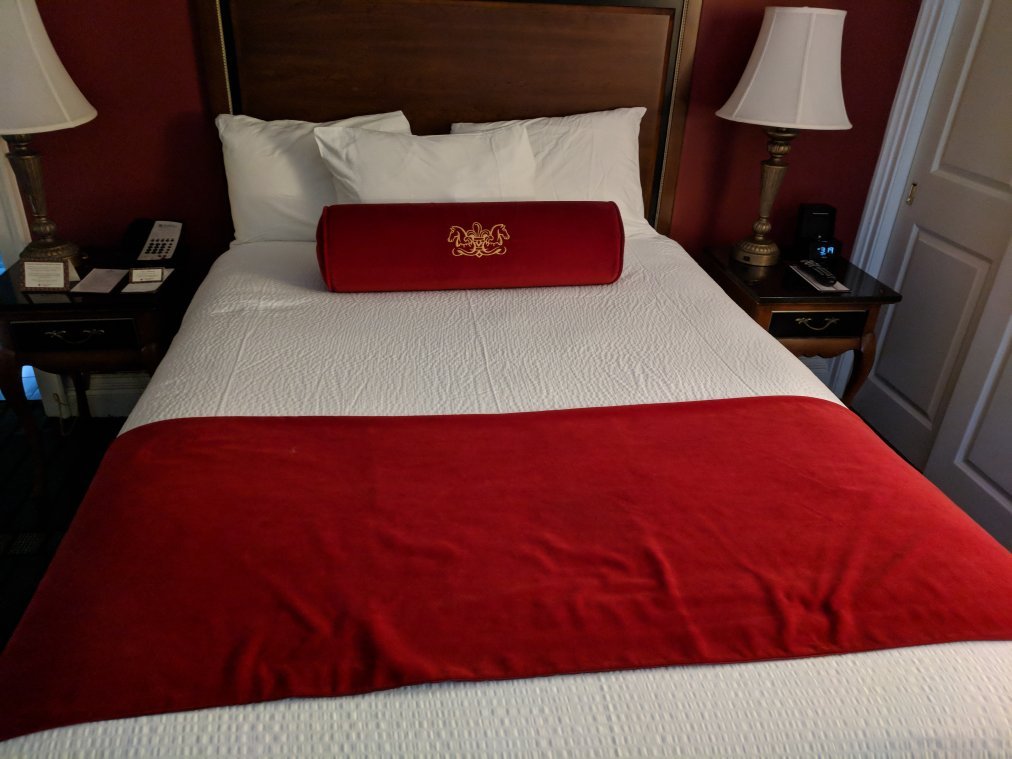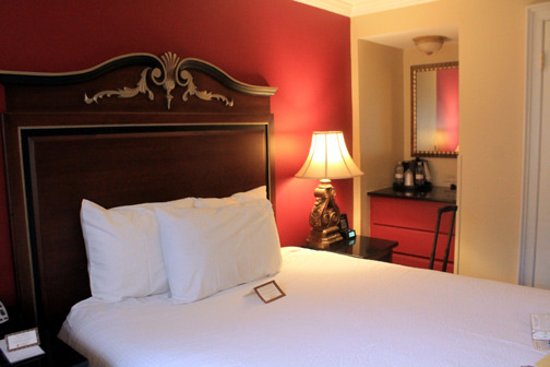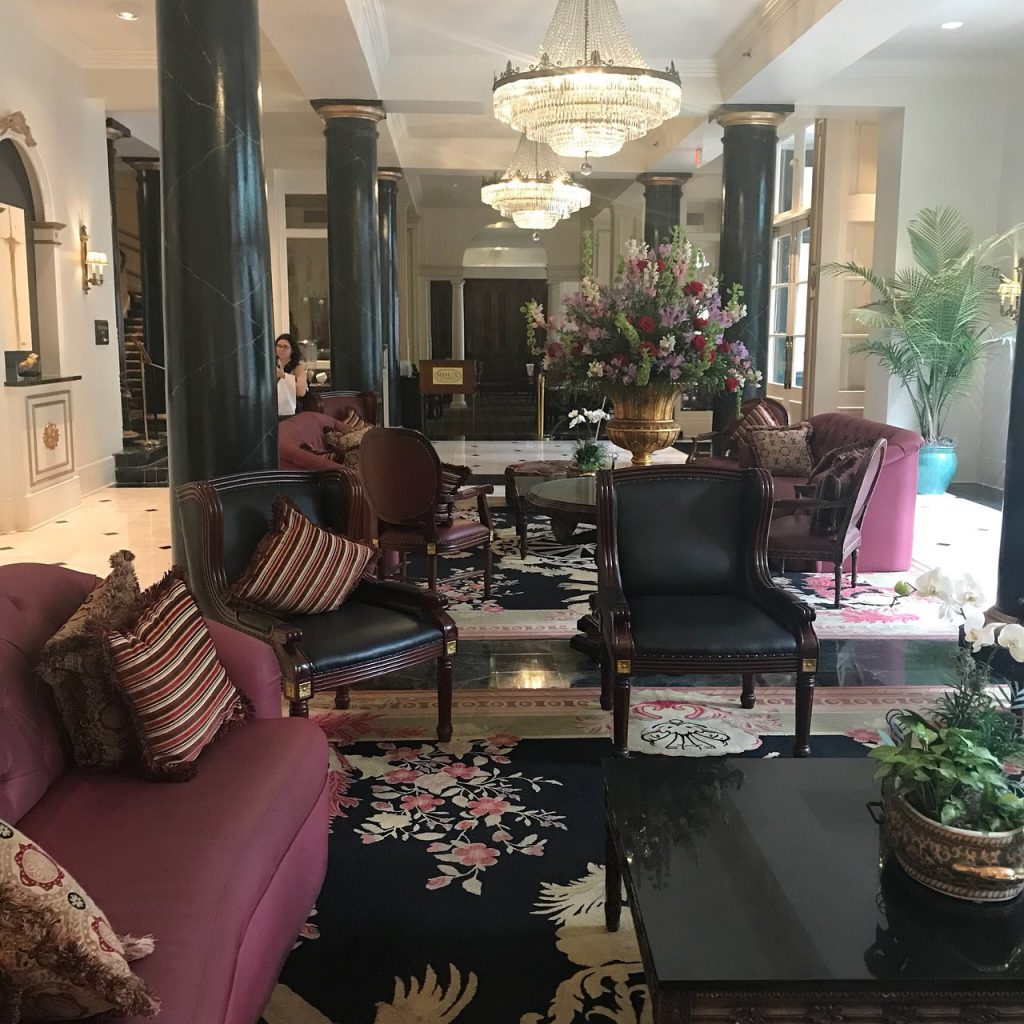 EXPERIENCE A HISTORIC NEW ORLEANS HOTEL
A FRENCH QUARTER TREASURE
Paula M.: "Stayed at Bourbon Orleans! Loved it!"
Once a high-society ballroom and later a convent, the Bourbon Orleans has centuries of stories to tell. Push past the lively scene of Bourbon Street and walk into a hushed haven of gilded details, Belle Epoque-style, polished marble, and a warm welcome that is pure Louisiana. This is where your Crescent City story starts.
Escape to a cozy nest right in the city. A place to rest and recharge after a day of dining, drinking, and discovering. Bourbon Orleans guestrooms and suites are peaceful retreats that quiet the Crescent City's round-the-clock thrills. Revel in views of the grand St. Louis Cathedral, Orleans Street, or Bourbon Street.
Traveling to New Orleans to seek out romance, intriguing history, or dine your way through one of the nation's top culinary cities? Explore all the ways to save while discovering what our city has to offer.
BOURBON "O" BAR
CRAFT COCKTAIL BAR WITH LIVE NIGHTLY JAZZ
Bourbon Street has a sophisticated side, founded right here in one of its most authentic bars.  Where you'll find candle-lit conversations, live blues and jazz, and classic cocktails flavored with fresh-squeezed citrus and handmade syrups. Here's a toast to lush libations and local flavors.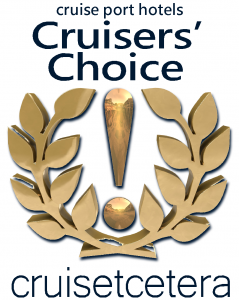 french quarter charm
Within New Orleans' French Quarter on Canal Street, this four-star hotel honors the city through its services and décor. Housed in the historic Beaux-Arts Maison Blanche building from 1908, the hotel pairs southern charm with boutique luxury. Local traditions inform signature spa treatments, chefs share their secrets to the perfect gumbo every afternoon and live jazz fills the Davenport Lounge Wednesday to Saturday evenings.
Rooms and Suites. Commissioned artwork expressing local heritage, a balcony overlooking New Orleans, spacious layouts with executive work desks, and smart TVs with streaming apps are featured in rooms and suites at this French Quarter hotel. On the Club Level, the lounge offers locally inspired experiences.
FINE DINING IN THE FRENCH QUARTER
     On New Orleans' Canal Street, local culinary and music traditions live on. Farm-to-table Louisiana cuisine, including shrimp and grits and bouillabaisse, is showcased at M Bistro. And at Davenport Lounge, light fare and cocktails are served to the sounds of live jazz.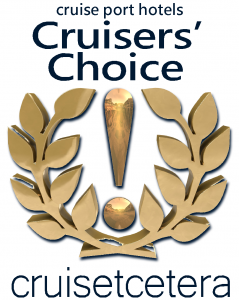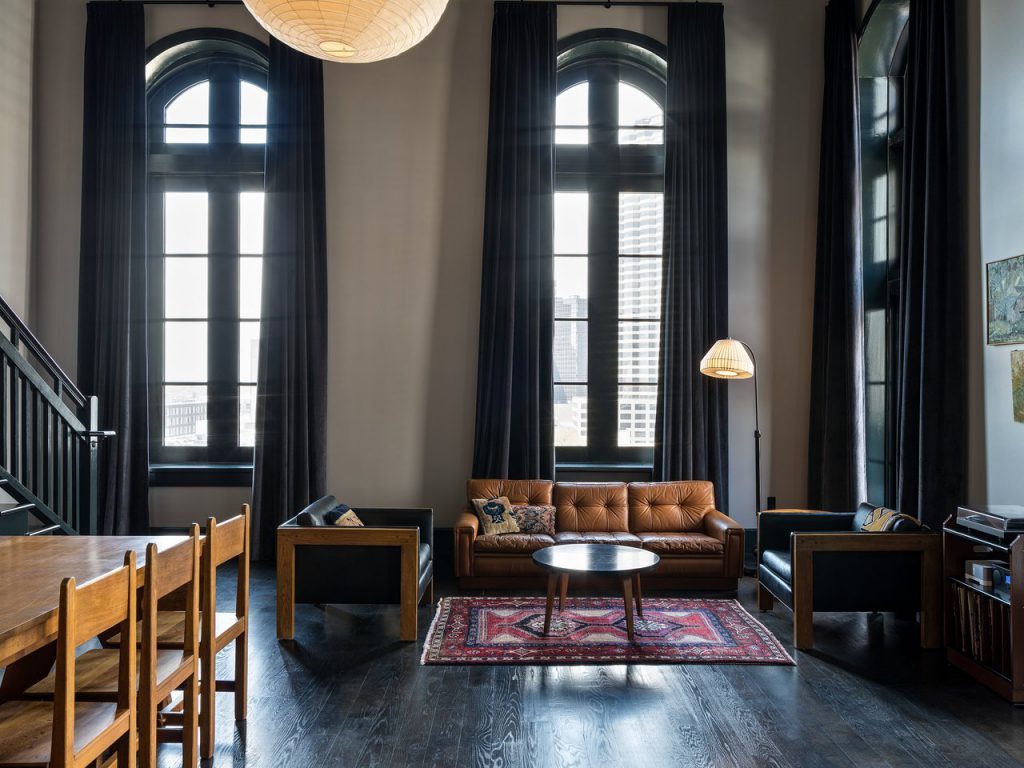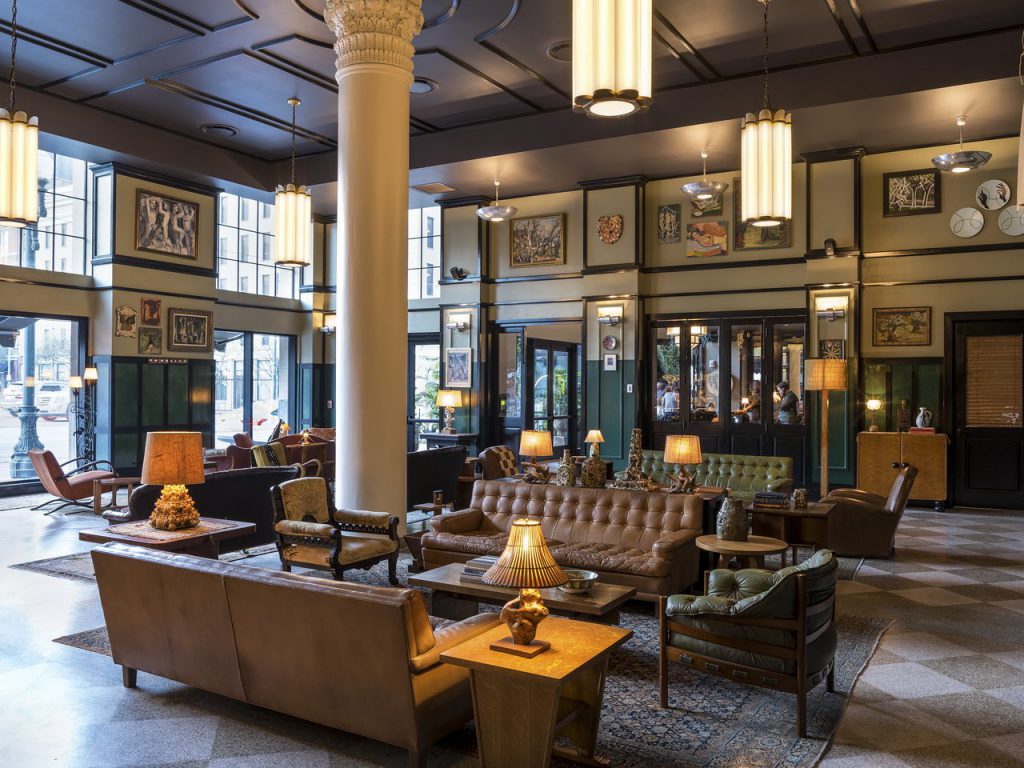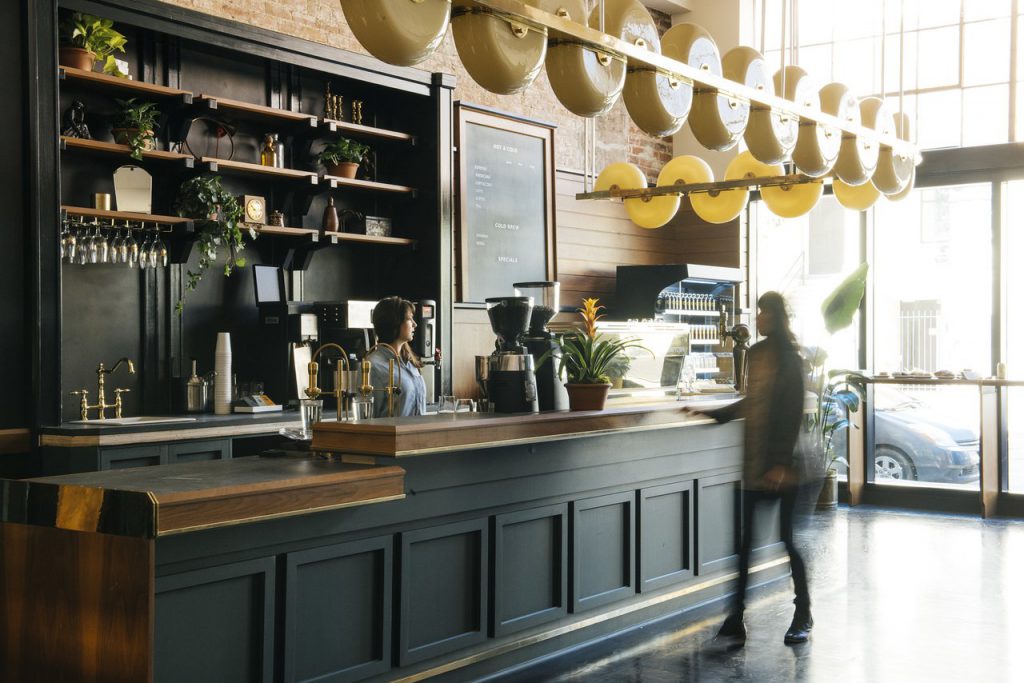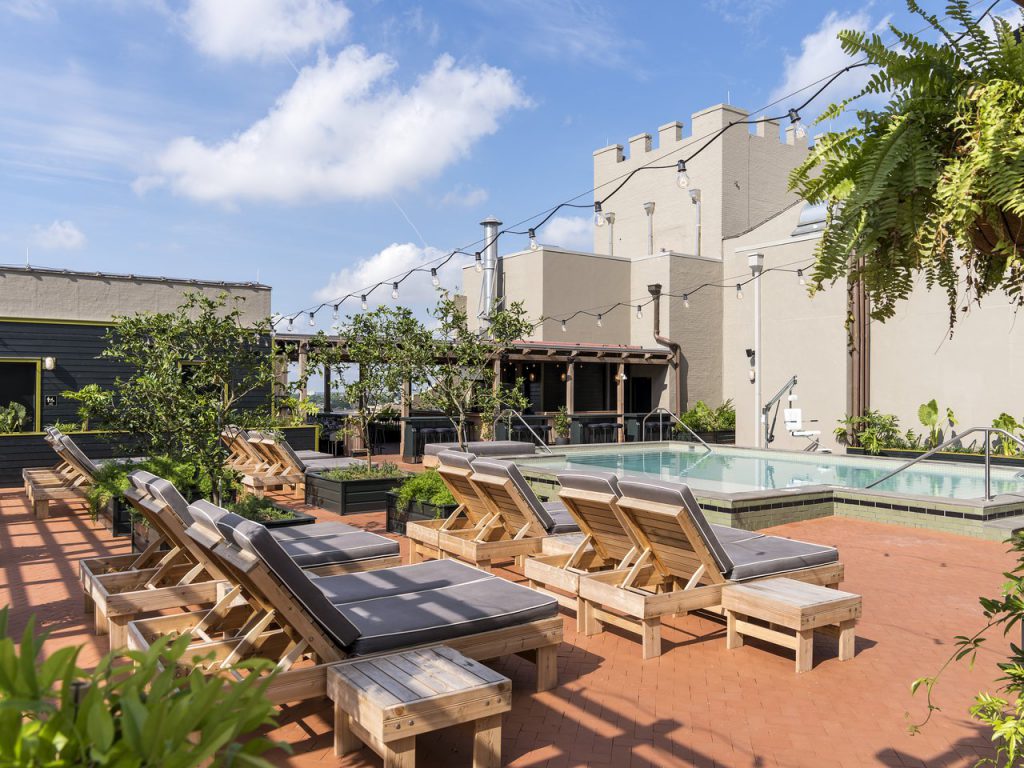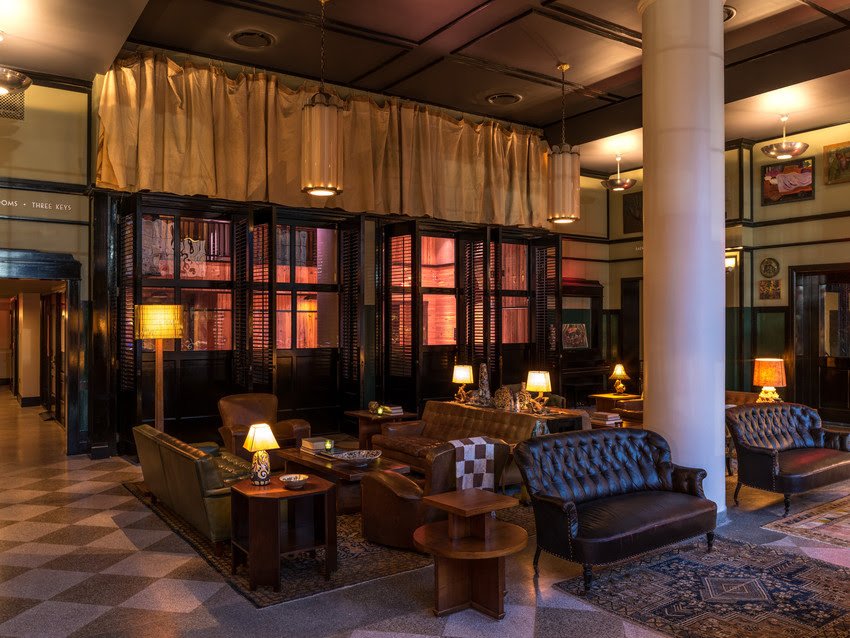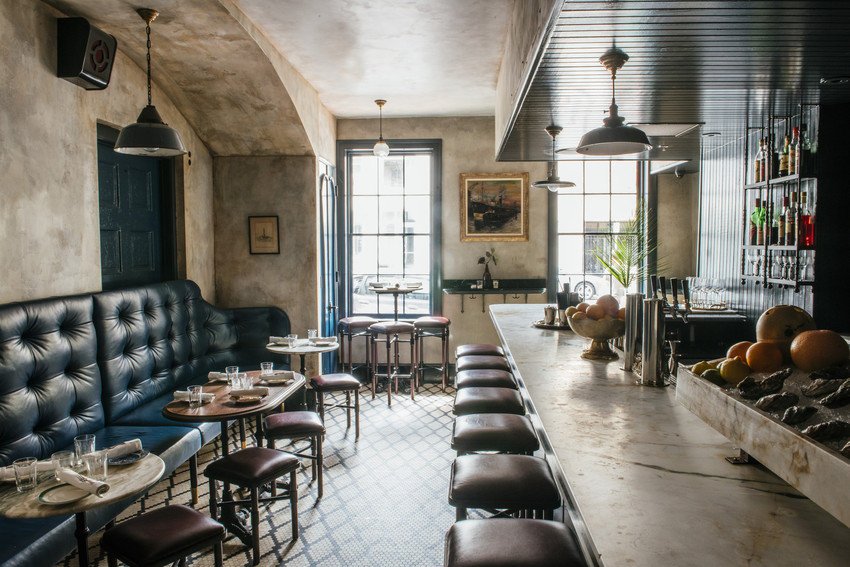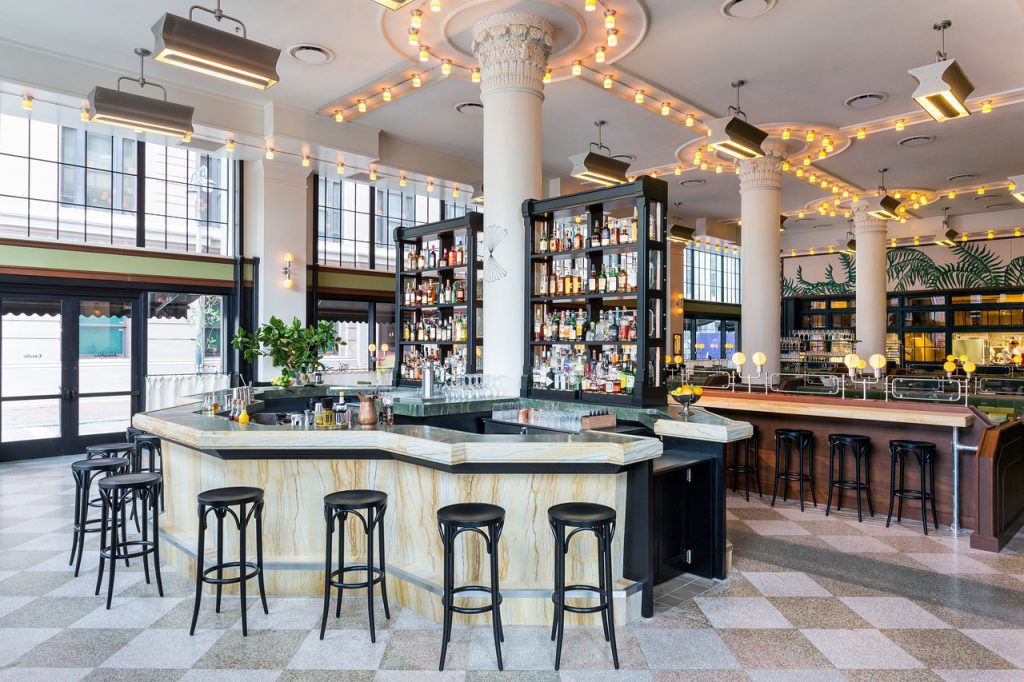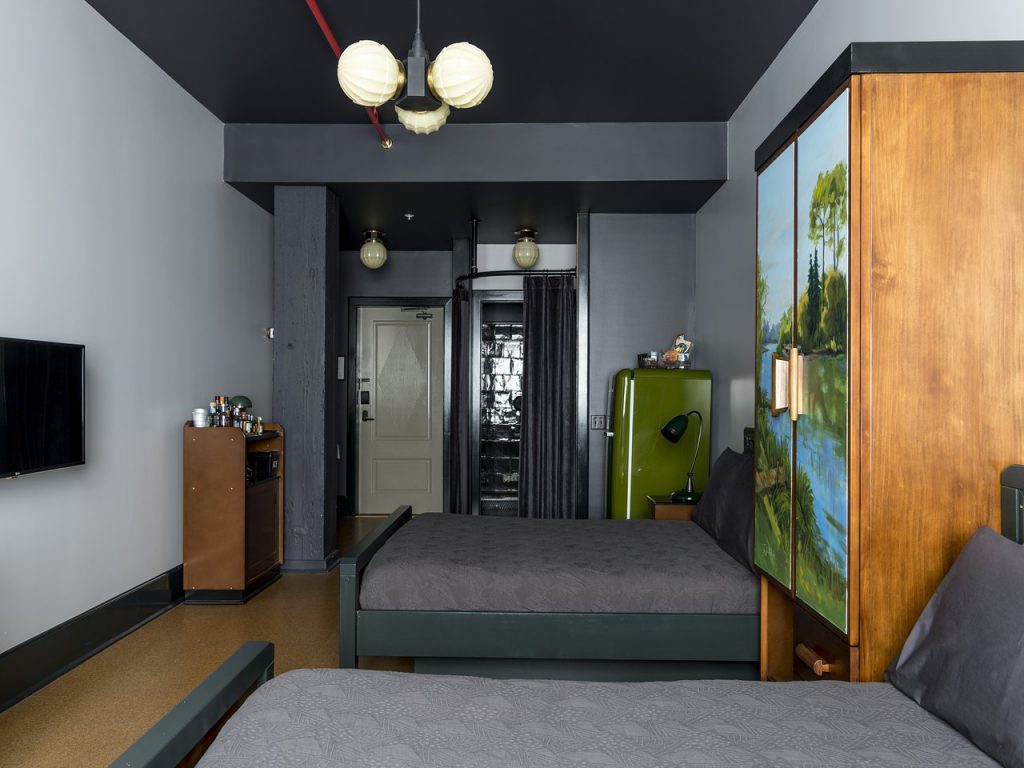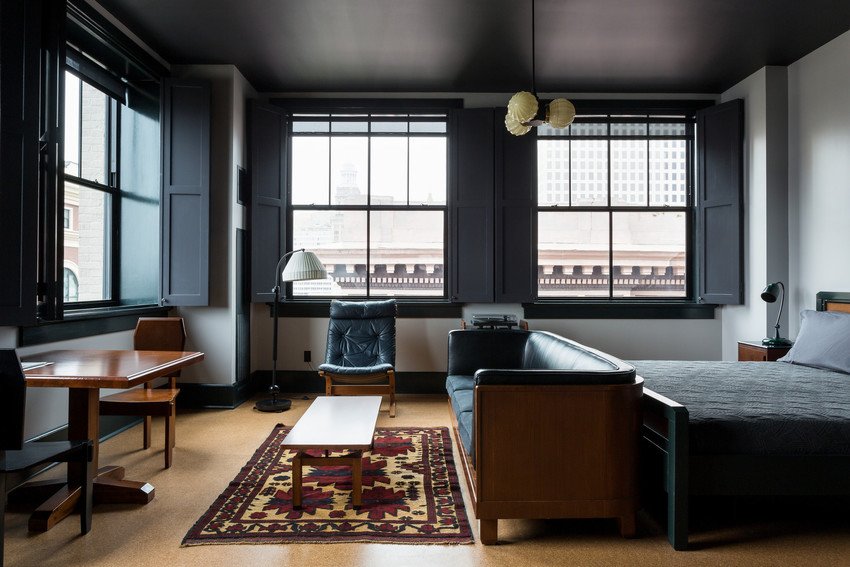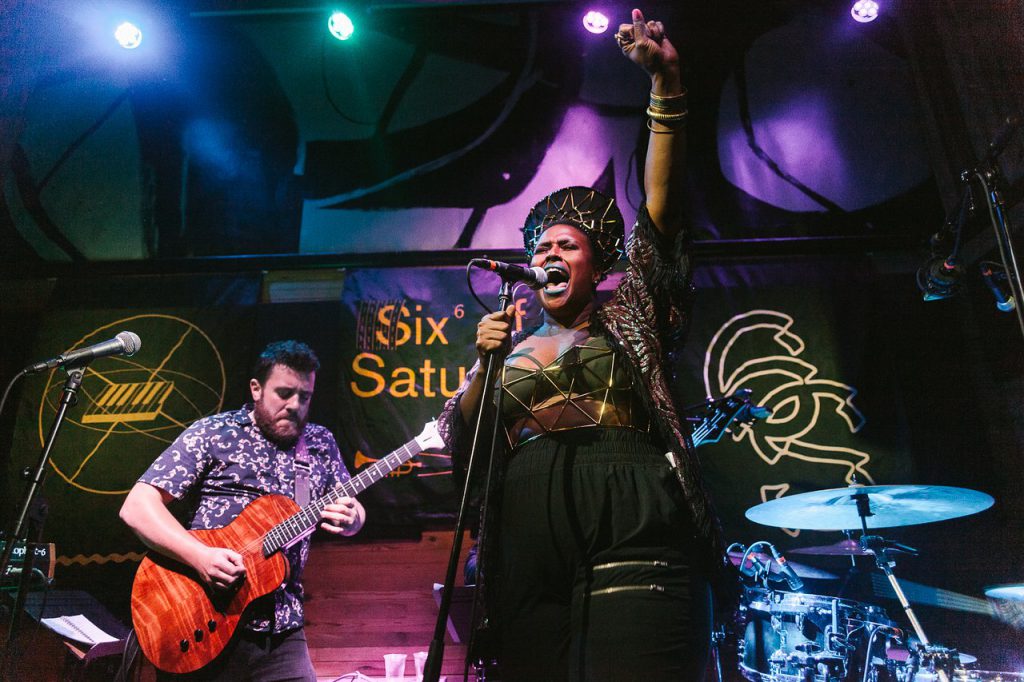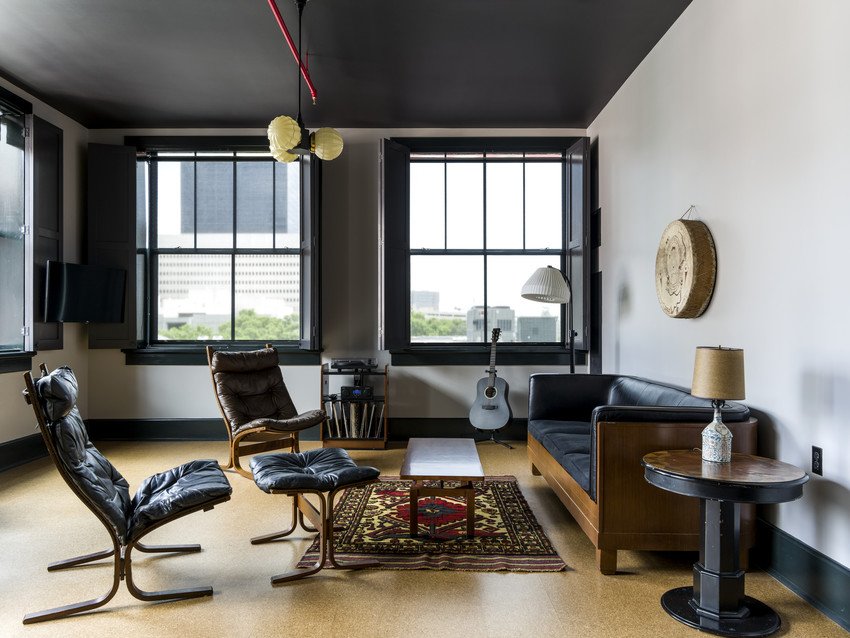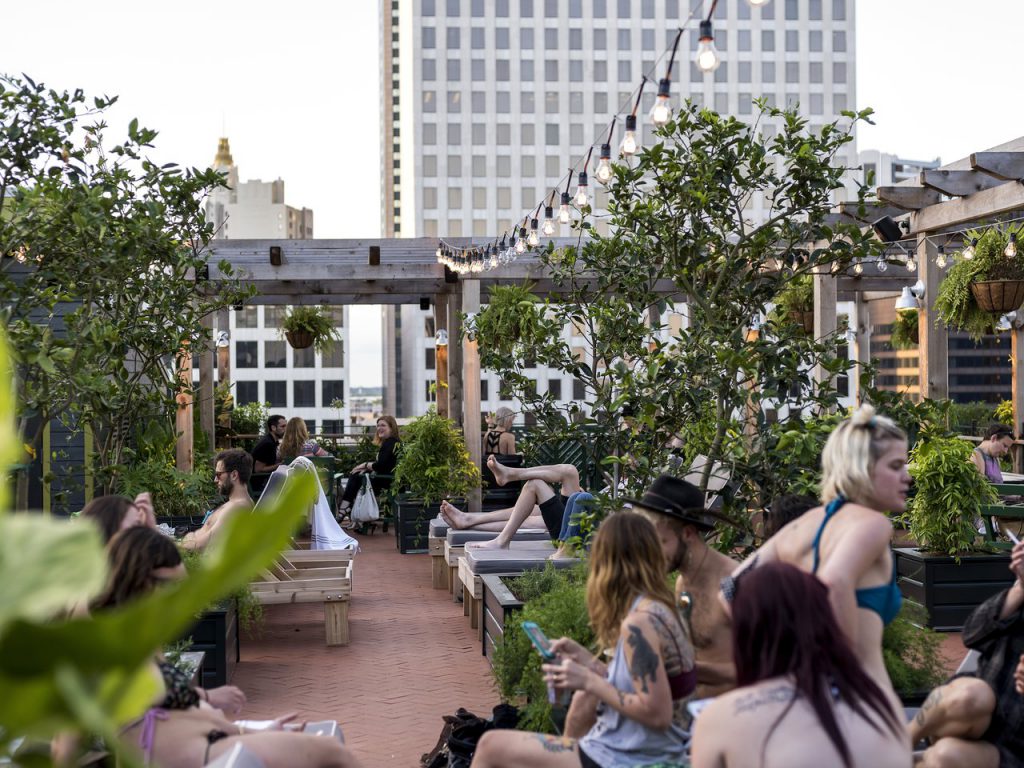 Your private jazz
There's no place in the American South better suited to the Ace aesthetic than New Orleans, perhaps the most colorful city in the country. And it's hard to imagine a better building for the task than this Twenties Art Deco edifice, in the newly revitalized Warehouse District. Ace's favorite designers, Roman and Williams, had plenty to work with here, a richly detailed backdrop for their trademark eclecticism. The result is predictable, in a good way: it's more or less what you'd expect when America's hippest hoteliers set up shop in one of America's coolest cities.
Rooms come with high ceilings, an underrated benefit of industrial spaces, as well as a mix of vintage-style fixtures, authentic vintage furniture, and locally sourced artwork. Full-sized Smeg fridges come stocked with cocktail fixings, in an impressive display of tailoring the amenities to the hard-partying setting. Tivoli radios are included as a matter of course, and some of the better rooms have turntables and/or Martin acoustic guitars, in case you're in the mood to stage your own private Jazz Fest.
Guest rooms are only part of the picture. Ace's reputation is built, more than anything else, on genuinely lively, inviting public spaces. Josephine Estelle, the restaurant, isn't just beautiful, it's headed by James Beard nominees Andy Ticer and Michael Hudman, who masterfully marry Italian cooking and Southern flavors. The first Stumptown café in the South keeps guests and locals fueled up on third-wave coffee. And Three Keys, the hotel's in-house music venue, puts on shows five nights a week in a stunning (and extremely well soundproofed) space. Safe to say that even if the Ace New Orleans is exactly what you expect it to be, it'll be anything but dull.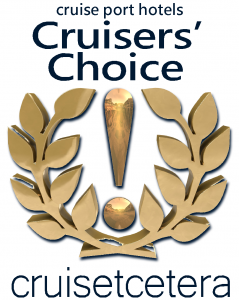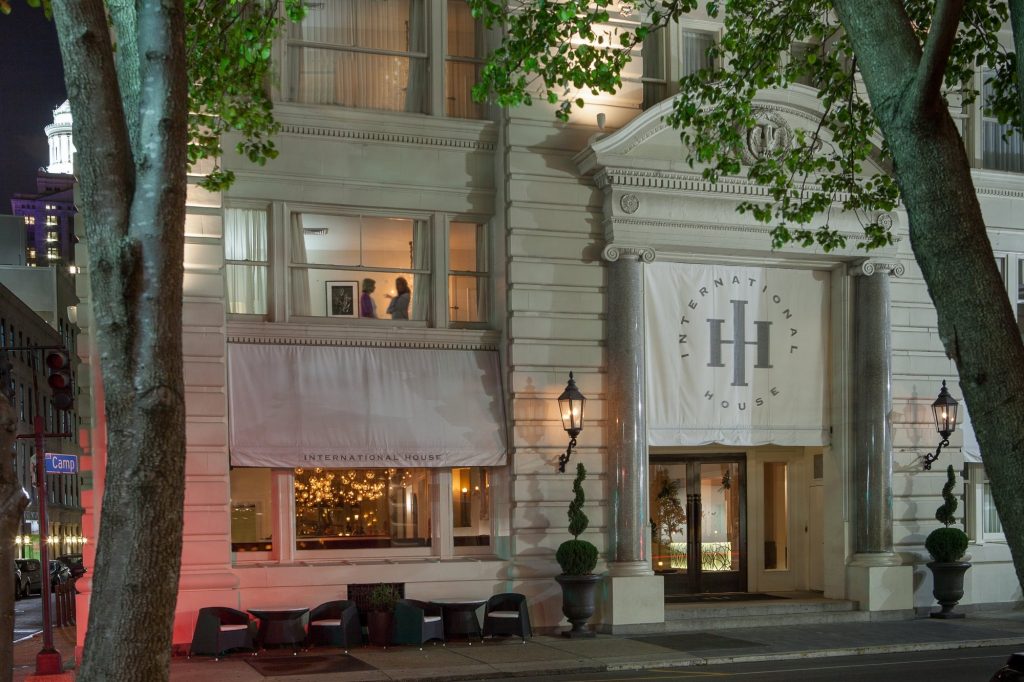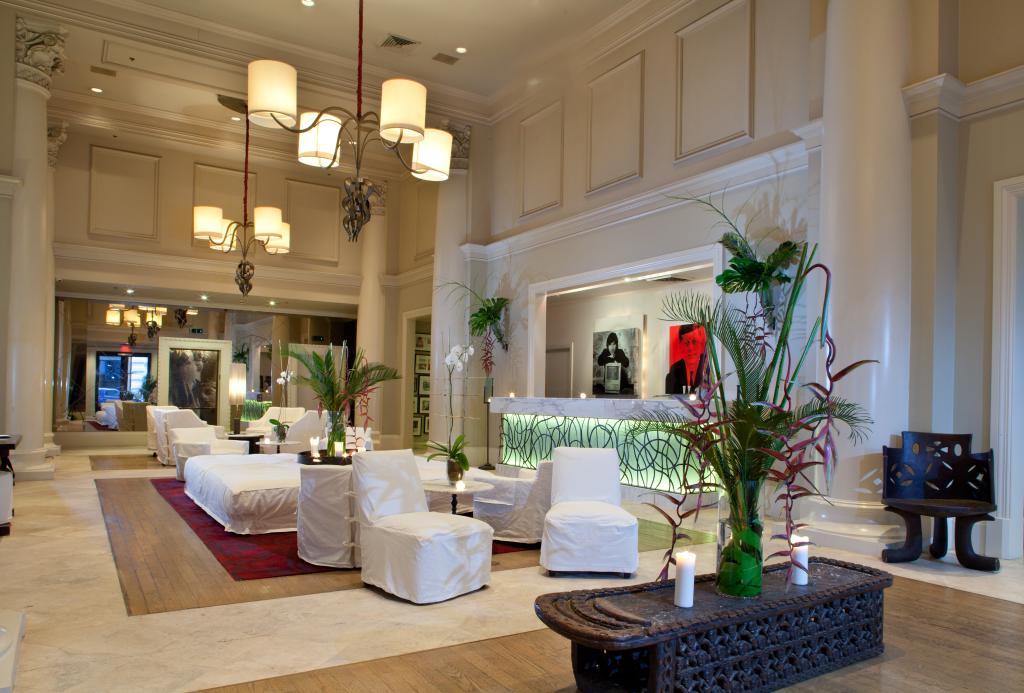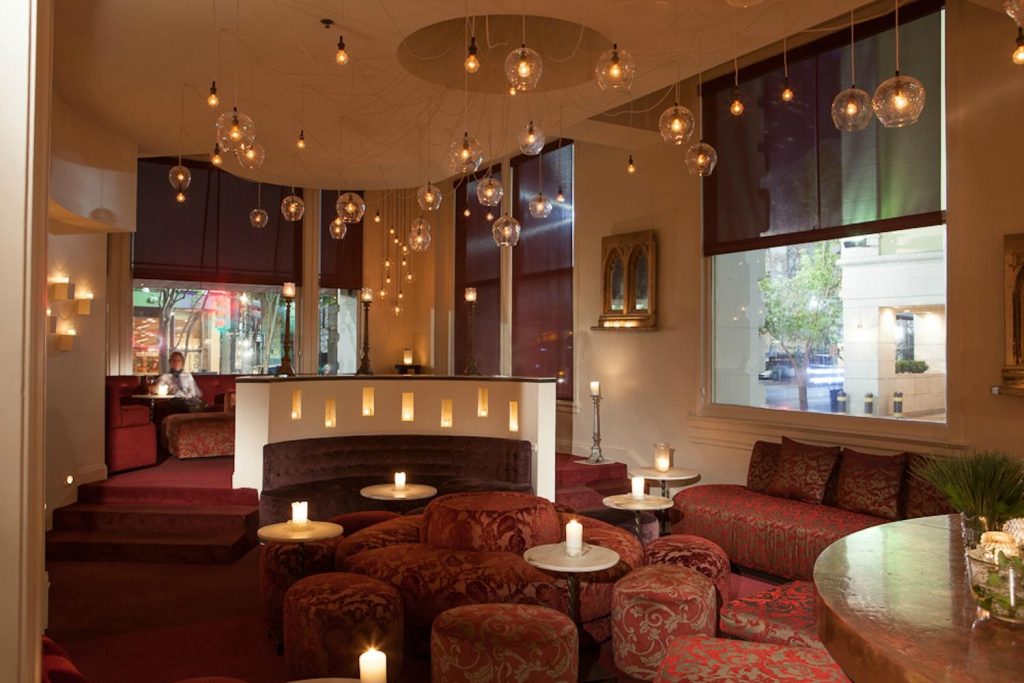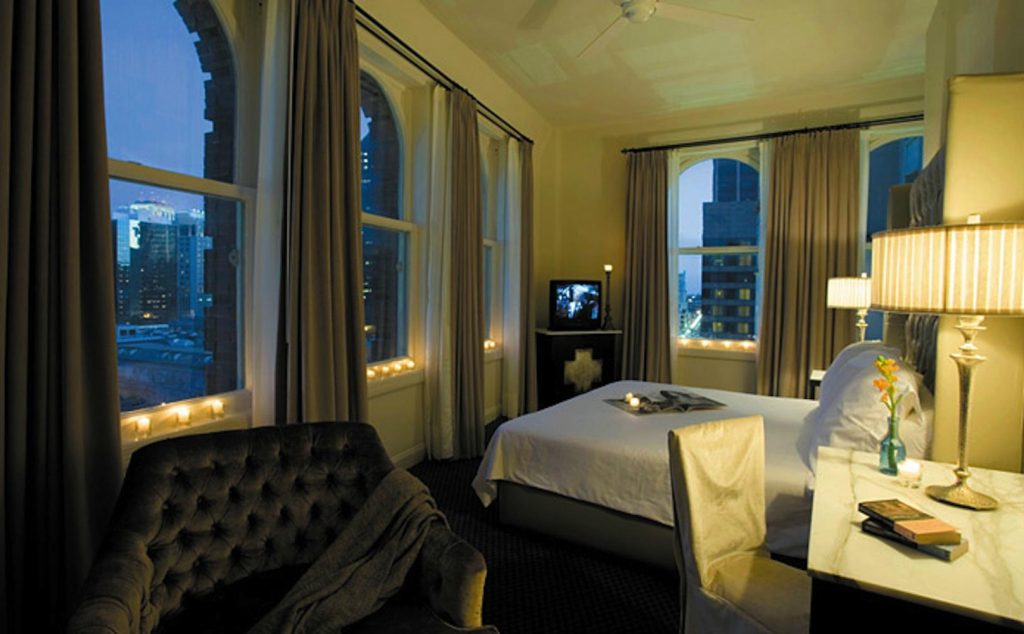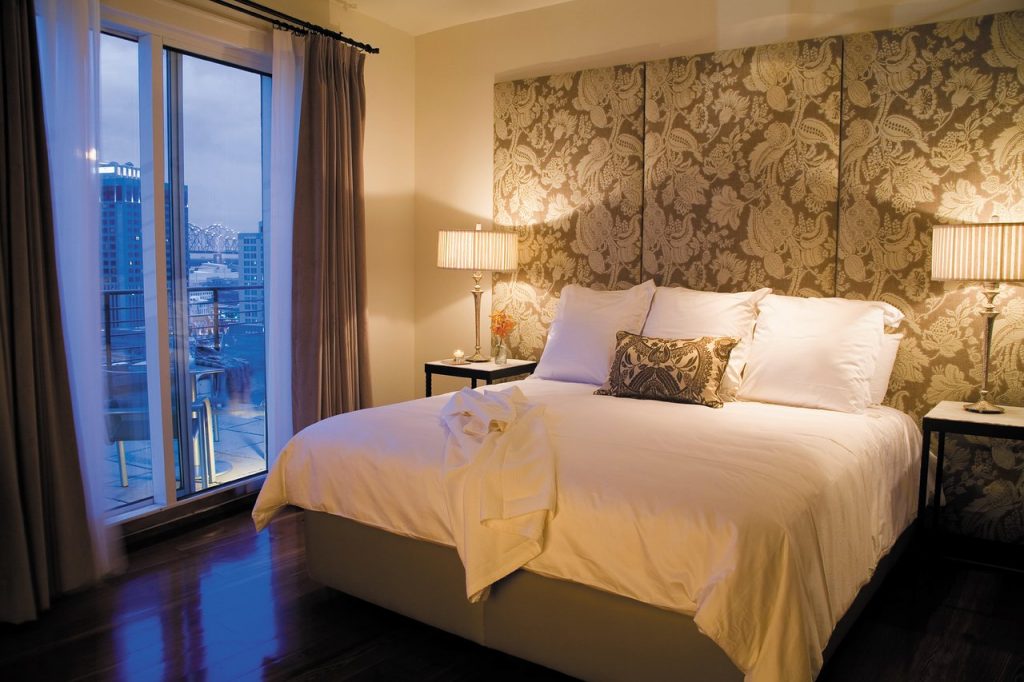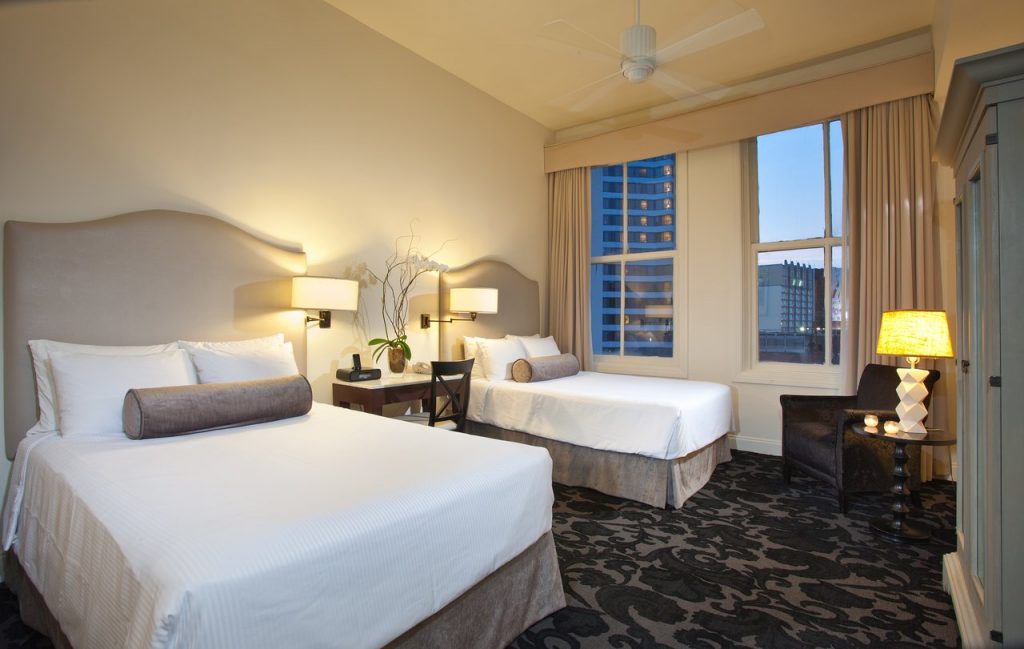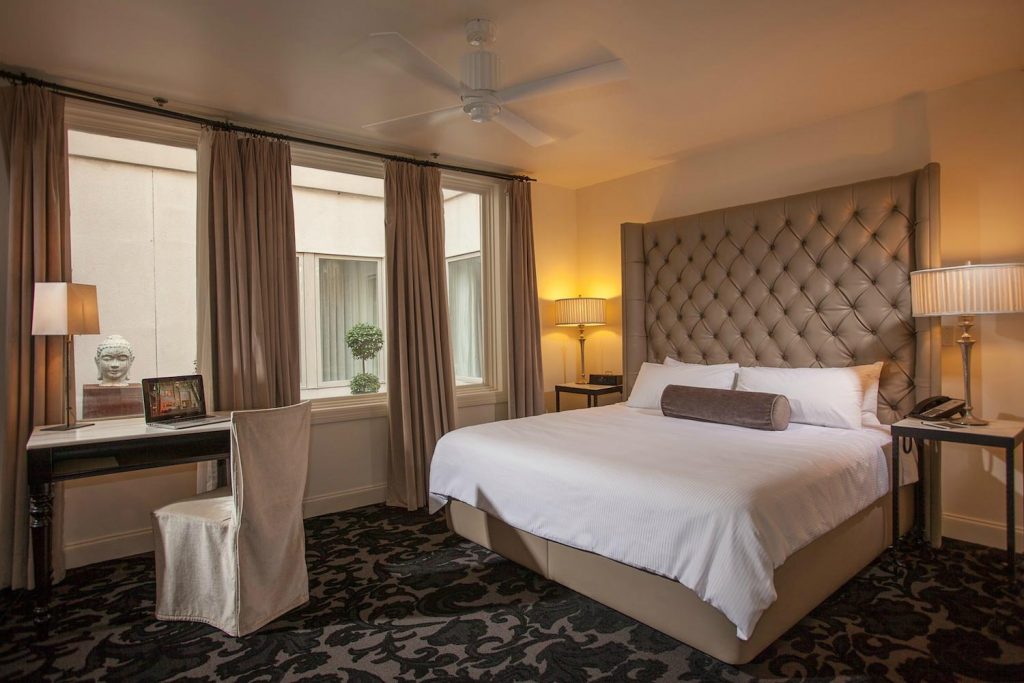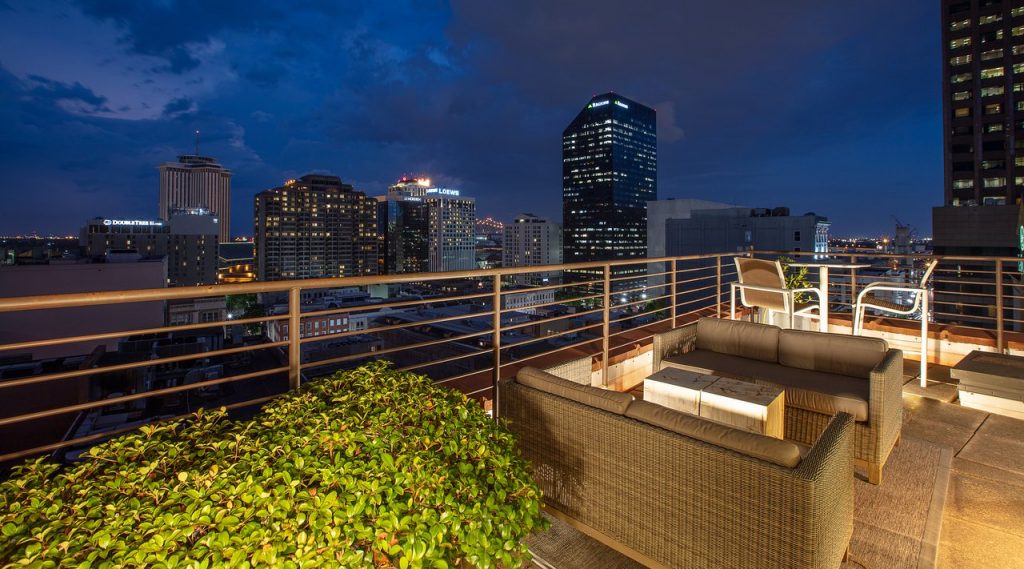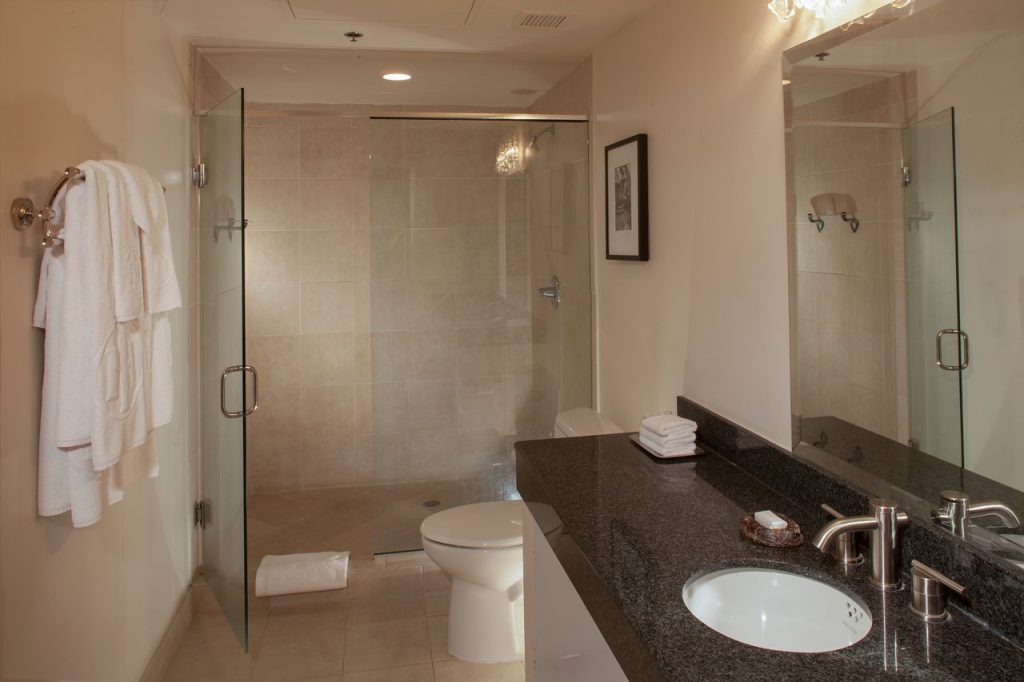 one of the hippest hotels in New Orleans
International House is a joyful tribute to New Orleans today – an ensemble of historic architecture, colorful characters, cheerful culture, signature food, and local music unlike any other city in America.
It's about the cross-pollination of cultures. European romance. Caribbean ways and African influences. The struggle with change. Life percolated, steeped, marinated, distilled, and lived. Spirited and spiritual. Played out for nearly 300 years and counting. On this great river and in this classic Beaux-Arts building. Once the first world trade center in the world, our downtown New Orleans hotel offers 117 guest rooms, suites, and penthouses, as well as a destination bar and popular restaurant. It also includes Entrepreneurs' Row, a modern conference center with meeting spaces for promising start-up companies fueling New Orleans's economy. It is a forward-looking hotel, alive with the energy of New Orleans today – a creative culture of the invention that has gifted the world legendary music, seeded the nation's finest kitchens and nourished a joyful quality 
of life.
Each one of the 117 downtown New Orleans hotel rooms, suites, and penthouses is designed to uplift the human spirit. 
International House Hotel's newest addition Restaurant Rockrose is now open! Adorned with deep blue hues, soft textures, and cool marble, the restaurant's ambiance is inspired by the seaside fishing villages and port towns that dot the coasts of the Mediterranean. 
The hotel lobby is one of the moments. With soaring 23′ ceilings, ornate pilasters, and intimate groupings of furniture, the lobby glows in tones of carnelian and opulent antiqued velvets. Candles and seasonal wild flora transform a Senegalese bench into a sacred altar, hinting at the ritual and religiosity that flavor New Orleans' mysterious character. Elevators open to reveal an alluring Adonis and Venus mosaic by Bisazza, and the interplay between bar, restaurant, and hotel enlivens the space in which Pagano seems to tap effortlessly into the sensuality, magic, mystery, and elegance of this place. The result is a soulful and inventive expression of New Orleans style.
The same theme is evident in seven rituals and Here's to the Creative One's events that the hotel hosts annually. Rituals include Carnival, St. Joseph's Day, Summer Dress, St. John's Eve, and All Souls Day, among others. There is a curated art collection. And the Creative Ones' events include tributes to Jean-Michel Basquiat, Benjamin Latrobe, and Audrey Hepburn, as well as Malcolm Sayer and Mary Magdalene.
Forward-looking but instantly familiar, International House heralds a bright new time in New Orleans, an intriguing place we each call home whether for a few days or a lifetime.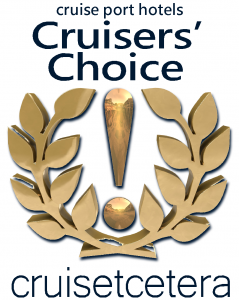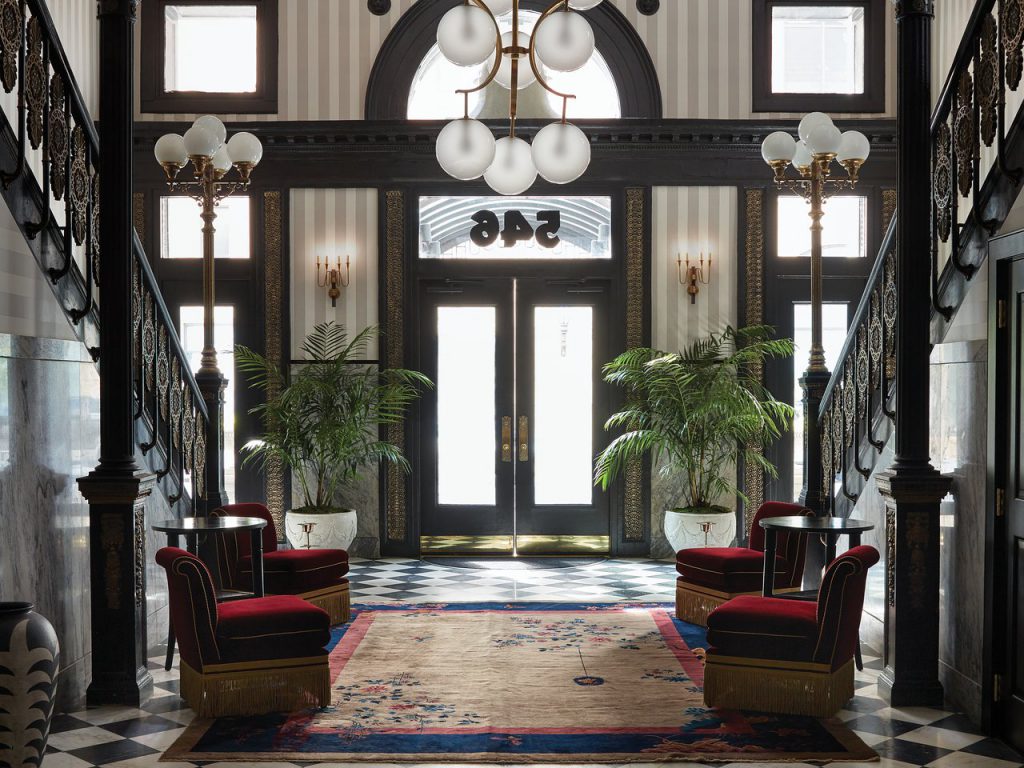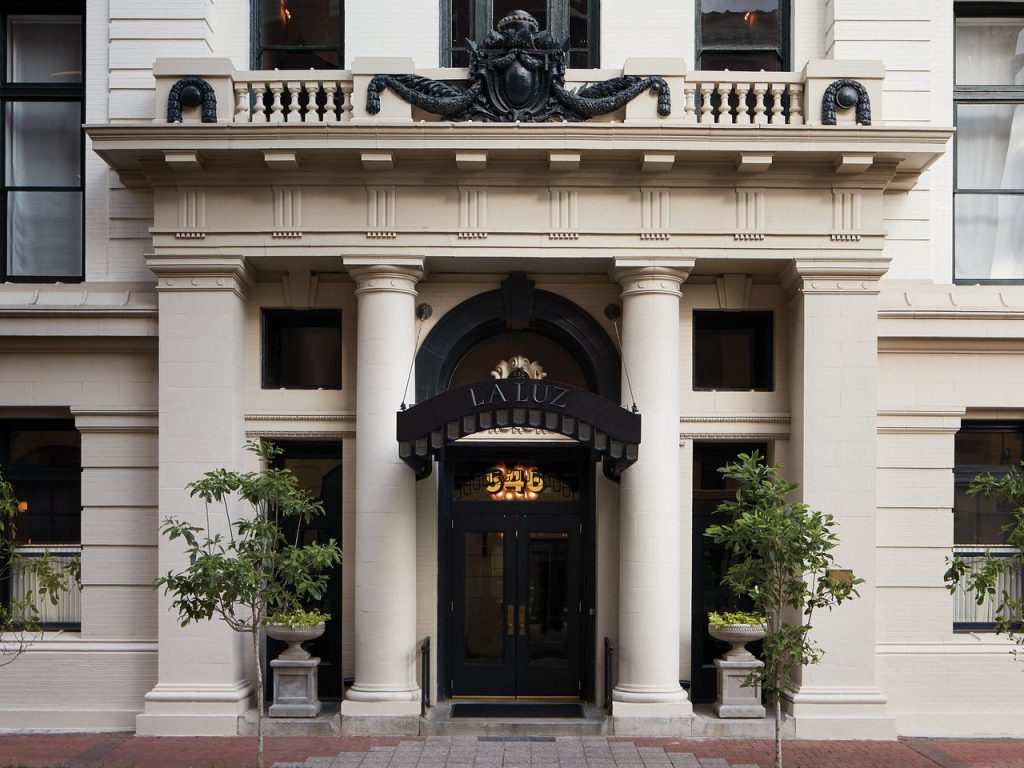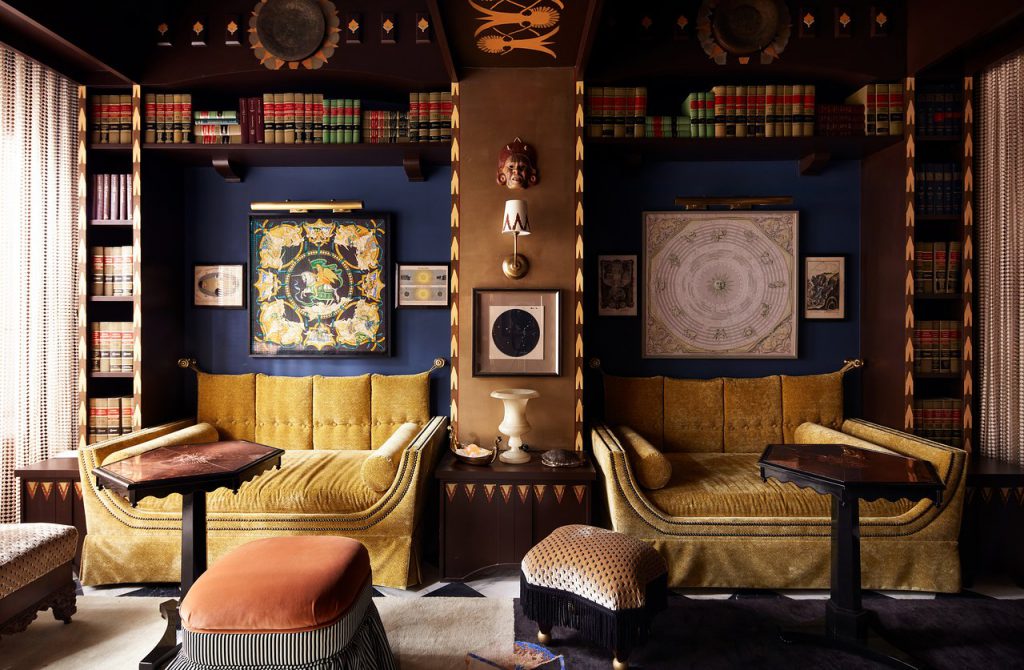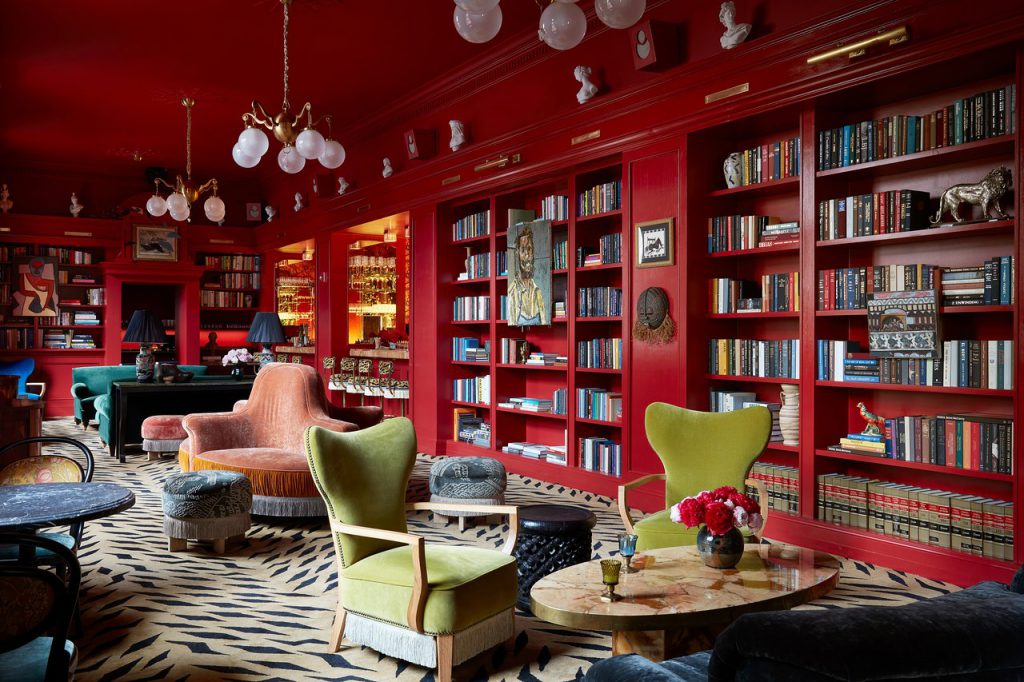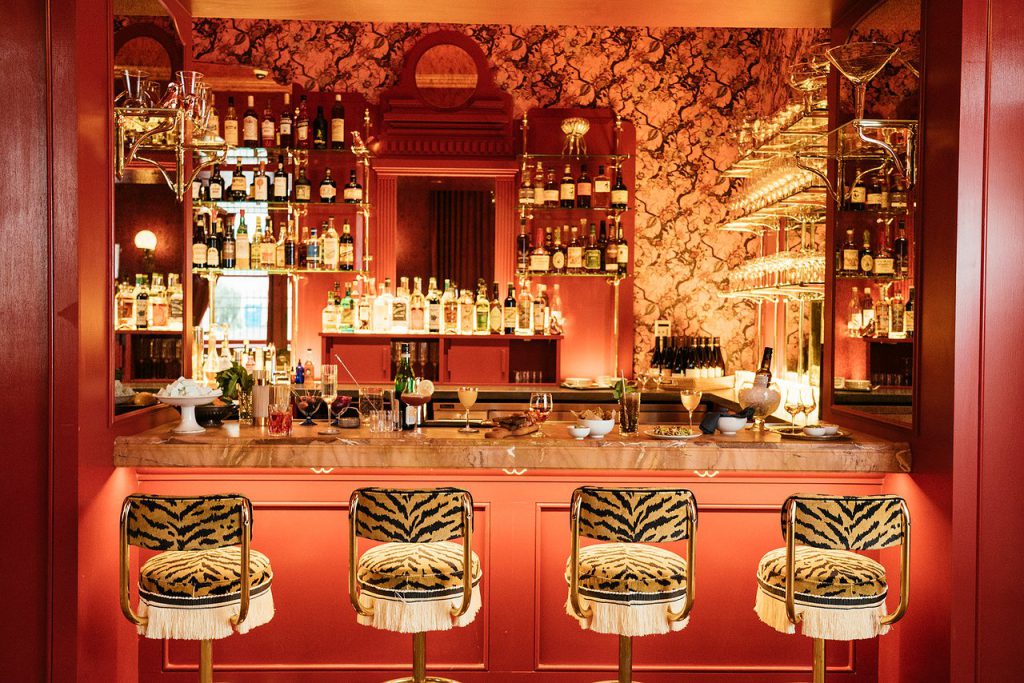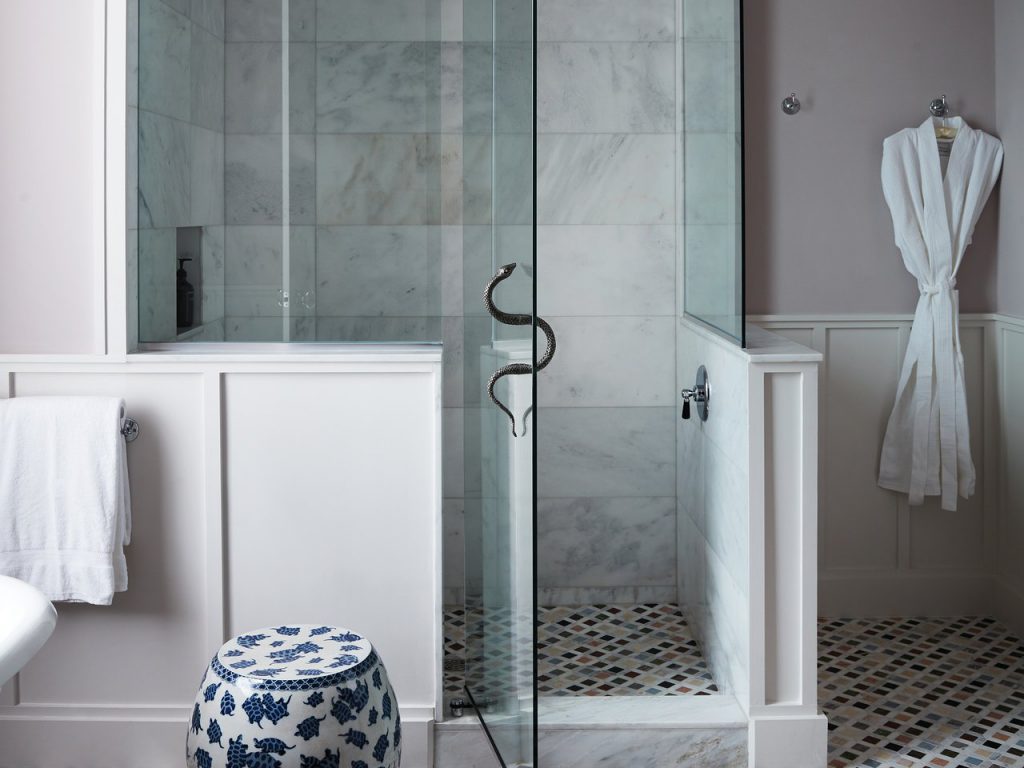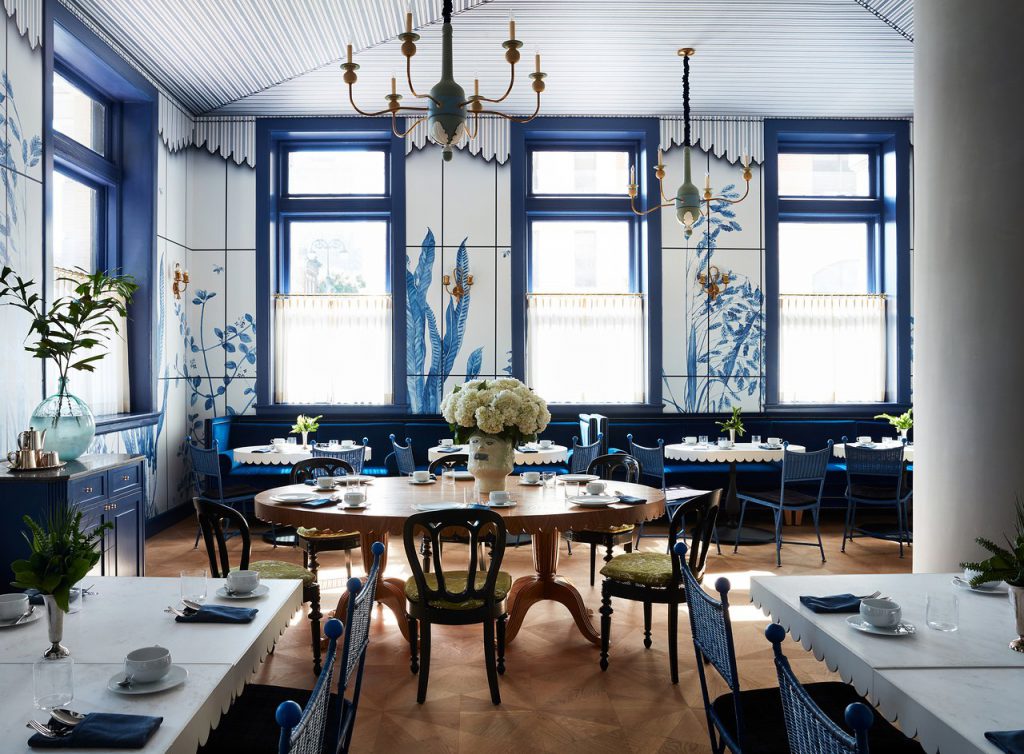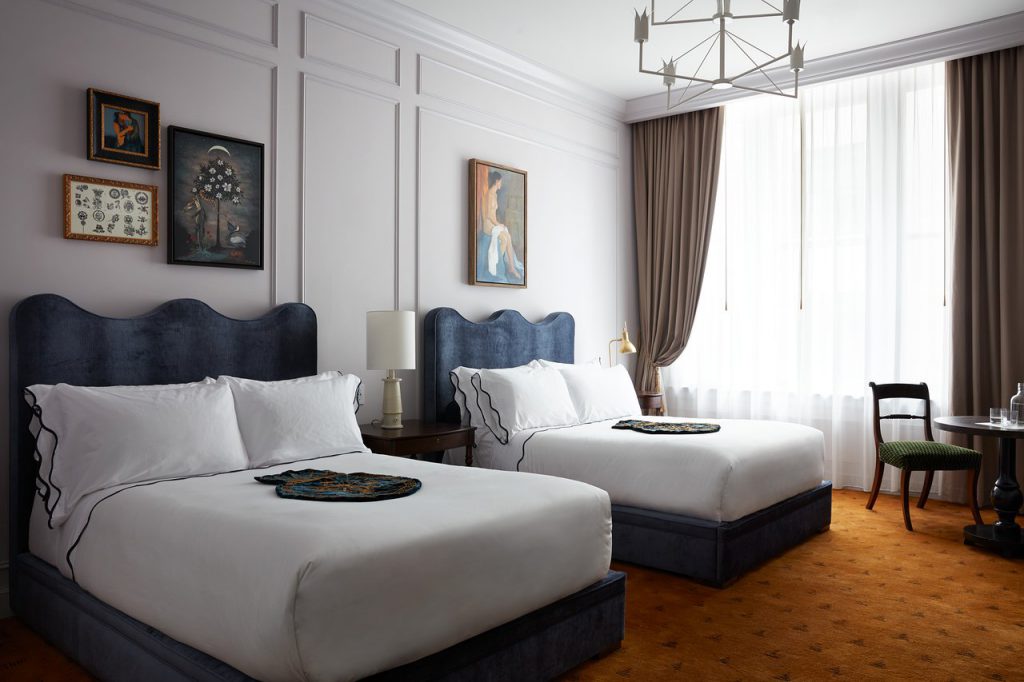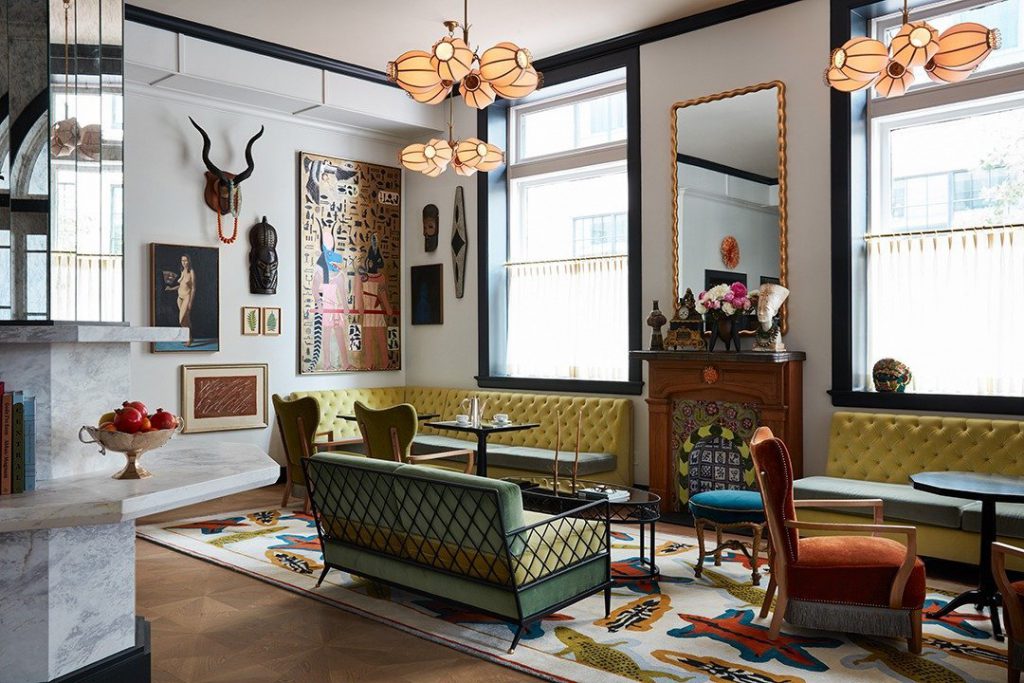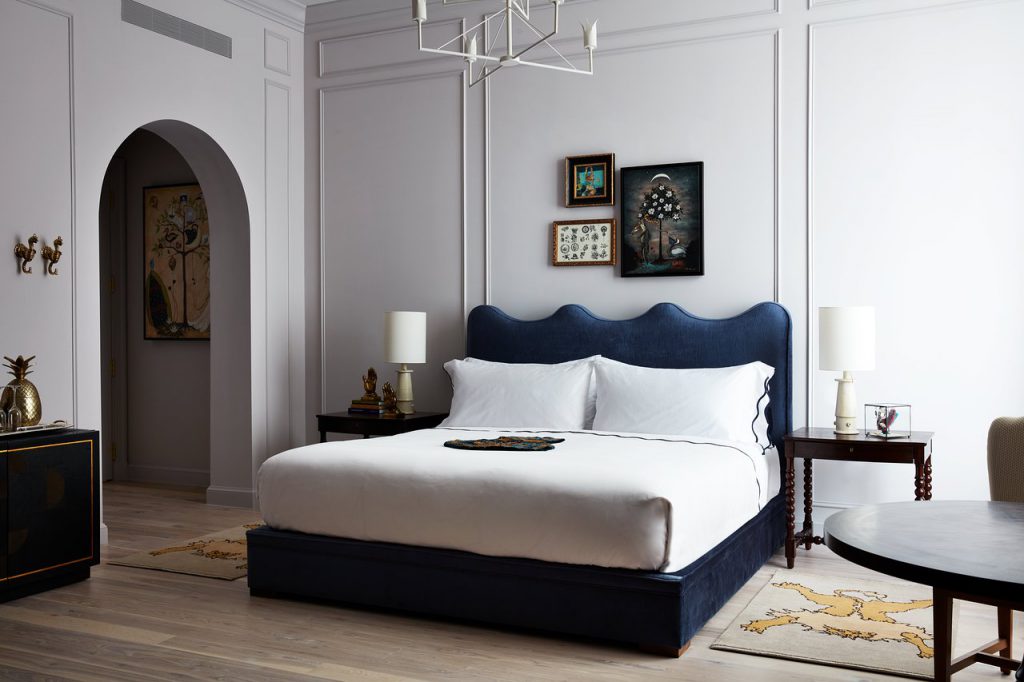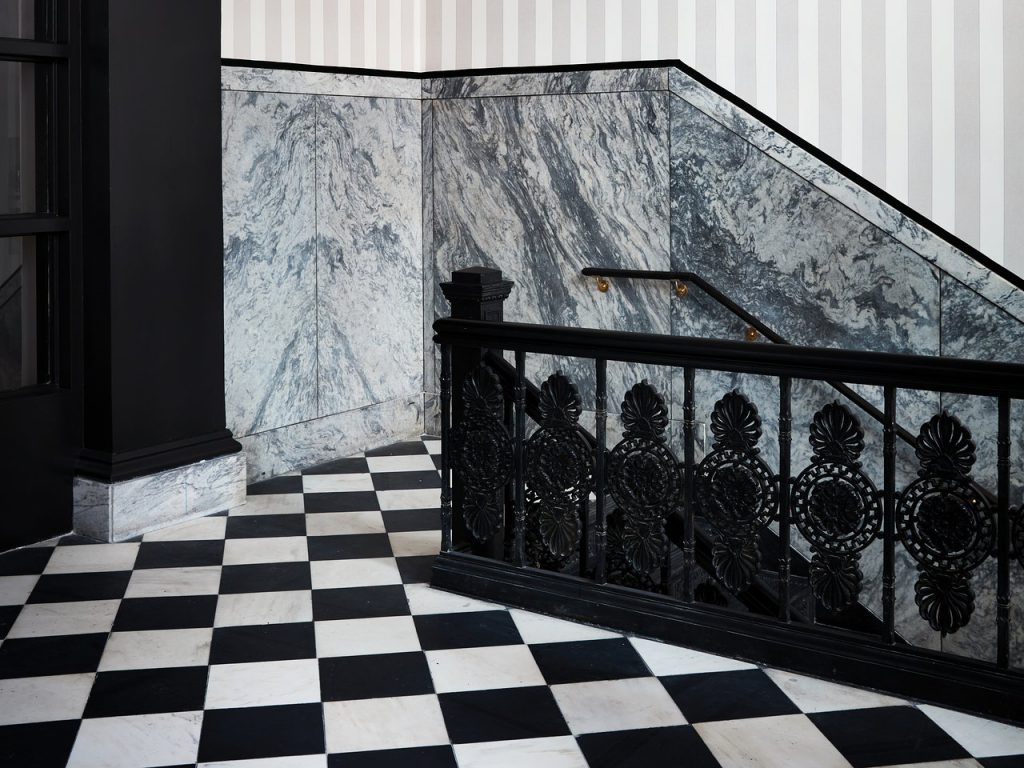 unapologetically luxe
There was a time when it seemed like we were going to see an Ace Hotel in just about every city in America — and while that would be a welcome development, the way it's played out has been even more interesting than that. The group's portfolio is still expanding, but their in-house creative team, Atelier Ace, has been working on diversifying their approach — and the considerably more upscale Maison de la Luz, right across the street from the existing Ace New Orleans, is an example of the fruit of their labors.
The design, by Atelier Ace and the Los Angeles–based designer Pamela Shamshiri, is certainly as eclectic as the brand's other offerings. But where the rest opt for a low-frills surplus-and-vintage aesthetic, Maison de la Luz is unapologetically luxe, right down to the jewel-like colored marble tiles in the bathrooms. In these hands, though, luxe certainly doesn't mean stuffy — the rooms feel like the home of an eccentric, mysteriously wealthy friend, one who's careful to make sure you never feel underdressed.
With 67 rooms and suites it's on the large side for a "guest house," but it feels intimate all the same, thanks to the generous spaces, the residential vibe in the rooms, and the service, which combines the best of Ace's youthfulness and New Orleans's warmth. It helps, too, that the hotel's Living Room is for guests only, lending the Maison an air of members-club privacy. There's plenty of nightlife close at hand, though — the Maison has its own private entrance to Bar Marilou, the Parisian cocktail bar and small-plates restaurant next door, and guests have priority access to reservations at neighboring restaurants Seaworthy and Josephine Estelle as well.
when you have a special request or can not find your hotel, you want a cheaper option or you have any questions? please contact us and we will send you a new top 3 based on your choice.
by e-mail: GERT@CRUISETCETERA.COM