Best cruise port hotels as picked and recommended by members of our groups: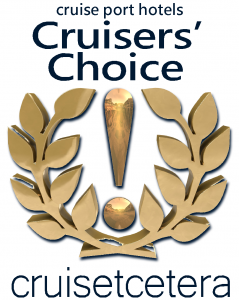 Michaela P.: "I can recommend the Sofitel Vieux Port in Marseille. Spectacular View into the old Port.
And we could see the Ponant Ship from our Balcony on which we embarked 2 Weeks ago 🥂🛳"
Carolyn Spencer B.:   "We loved the Sofitel there, with its great views…."
As one of the top luxury hotels in Athens, this property features 162 guest rooms and 18 elegant suites that are tastefully decorated with modern touches and include first-class amenities. The NJV Athens Plaza Hotel aims to satisfy every guest, including our guests traveling on business.
With 162 spacious elegant rooms and 18 luxurious suites, the hotel offers affordable accommodation complemented by chic decorations, state-of-the-art amenities, and splendid views on the Acropolis. Staying at the luxury hotel will benefit from a solid night's rest while enjoying a tranquil environment in the city center of Athens. Offering one of the best luxury accommodations in Athens, the NJV Athens Plaza provides a variety of room and suite types to suit all travel requirements.
Choose your preferred type of accommodation, from Classic and Superior rooms to Deluxe City View and Acropolis View Suites. Spacious with elegant décor and soothing colors. This is what you can expect when you step into one of the cozy Classic Rooms. Featuring a single or double bed, the NJV Athens Plaza's Classic Rooms are fully equipped with luxury designer brand bathroom amenities, satellite TV, free wireless high-speed Internet, In-Room coffee & tea making facilities, electronic laptop-size safe, and air conditioning.
Located on the mezzanine floor, The Parliament Restaurant offers guests views of the vibrant Stadiou Street and the classy pedestrian Voukourestiou Street. This newly renovated dining venue provides guests with a luxurious dining service during their stay.
Elegant and sophisticated, The Parliament Restaurant features cozy armchairs, soft lighting, transparent curtains, and surrounding mirrors that create a warm ambiance. In the early hours of the morning, guests can enjoy a rich American-style buffet breakfast of hot and cold dishes, teas, coffees, pastries, and fresh natural juices. For all guests who wish to experience the Greek healthy way, they invite you to taste as well all the delicious authentic choices of our Greek Buffet breakfast.
At lunch and dinner, personalized service is offered, as well as an affordable menu of delicious Mediterranean cuisine made with fresh ingredients. The attractive menu includes an assortment of mouthwatering recipes created with modern-style cooking techniques, as well as fresh salads, seafood, and decadent desserts.
Located on the mezzanine floor, the Explorer's Bar∙Bistro at the NJV Athens Plaza offers a British style club ambiance. Featuring wooden wall panels, green leather armchairs and couches, classic crystal sconces, and hand-made carpets, offers you a relaxing place to socialize. The soft lighting, spacious area, and excellent service, give this venue an aura of sophistication and elegance.
'Keep going back now each time to the NJV. It's nice, at a good price.'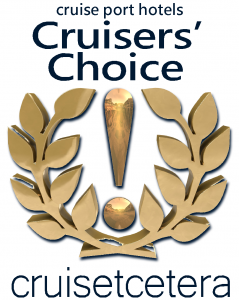 SOPHISTICATED MARSEILLE HOTEL WITH GOURMET DINING, A SPA, AND SWEEPING VIEWS
Dominique D.: "Great Intercontinental, located in a historical building."
Gert van L.: "What a fantastic design and eye for detail in this historic building!"
The epitome of luxury, the InterContinental Marseille-Hotel Dieu is located in Marseille's historic Panier district. You can enjoy a pastis aperitif on the terrace with views of Notre Dame de la Garde Basilica before dining on Mediterranean dishes in the Michelin-starred Alcyone restaurant. Work out in the fitness room, swim in the indoor pool, or unwind with a treatment in the chic SPA by Clarins. Five minutes' walk away, boats line the quay of the Vieux-Port, in the heart of the city.
Everyone needs a place to unwind. For travelers in Marseille, InterContinental Marseille – Hotel Dieu is an excellent place to relax. With a romantic setting and numerous restaurants and attractions nearby, InterContinental Marseille – Hotel Dieu is the ideal base in Marseille.
Rooms at InterContinental Marseille – Hotel Dieu provide a flat-screen TV, and guests can stay connected with free wifi.
You can also enjoy a pool and breakfast while staying at InterContinental Marseille – Hotel Dieu. Looking for a parking space? Parking is available at InterContinental Marseille – Hotel Dieu.
InterContinental Marseille – Hotel Dieu is located near attractions such as Le Cours Julien (1.2 km) and Vallon des Auffes (2.0 km). Thus, guests can easily explore Marseille's most popular attractions.
Marseille has plenty of Mexican restaurants. During your visit, visit popular spots such as La Morada, TA & Co, and Taqueria Loka where you can enjoy delicious dishes.
If you want to explore Marseille, a popular natural history museum such as Musee d'Histoire Naturelle might be for you.
Whether you are traveling for work or vacation or pre-cruise: InterContinental Marseille – Hotel Dieu ensures that you will not soon forget Marseille.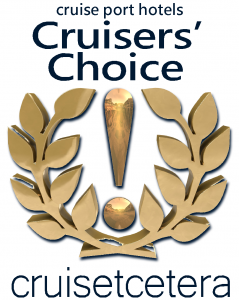 Gert Van L.: "Boutique style Hotel C2 is ideally located on the course Pierre Puget in the heart of Marseille. "
Enjoying a highly central location, just off Marseille's Cours Pierre Puget, Hotel C2 is set in a magnificent late 19th-century mansion. After an extensive, striking restoration project, this elegant property was opened as a luxury boutique hotel in 2014 and offers exclusive accommodation and a unique range of facilities in a spectacular heritage setting.
Perfectly placed for both business and pleasure in Marseille, Hotel C2 is less than a ten-minute walk from the Old Port, the Basilica of Notre-Dame de la Garde, and the Abbey of Saint-Victor. Handy bus and metro lines close by providing quick and easy links with the rest of the city. Hotel C2 also boasts a private beach on the Île Gaby, with private boat trips from Anse de Malmousque. Other unique facilities include a basement spa and wellness center, with an indoor pool, a steam room, and a range of treatments and massages.
The hotel offers a wide range of quality refreshments for breakfast and tea plus a selection of finger foods, a tasty alternative to traditional meals. Wine connoisseurs have not been forgotten, with an extensive cellar of around a hundred quality wines. The ground-floor lounge bar is an elegant, light-filled space, featuring a striking combination of the old and the new. Hotel C2's delicious Sunday brunch, Les Saveurs Mareseillaises, is served throughout the year, either in the lounge or on the sunny, private terrace.
The ten Classic rooms are mainly south-facing, opening onto the C2's garden. A king-size bed, an ingenious space-saving layout, and a roomy shower ensure guests' stays will be comfortable. Special mention should be made of the ground floor room and its ornate ceiling, with the original frescoes, and striking modern furniture. Spacious and bright, they come with the latest technology and artist design. Room size 25 to 27 sq m.
Deluxe Room:
The five Deluxe rooms, havens of calm and tranquillity, are remarkably spacious, with twin or king-size beds and large bathrooms that are open to the main room while maintaining privacy. These spacious, uniquely designed rooms are tastefully decorated and feature sections of the exposed stone wall. Room size 25 to 27 sq m.
Exclusive Room:
Located on the 4th floor, Exclusive rooms have a terrace with a very special view of Notre-Dame de la Garde. The private bathroom is semi-open onto the bedroom and includes a shower, a steam room, and a flat-screen TV overlooking the bath. Room size 40 sq m.
Prestige Room:
These are the three grandest and most spacious and rooms in the hotel. The rooms offer a choice of twin or king-size beds and all have bathrooms with a bathtub. Room size from 39 to 67 sq m.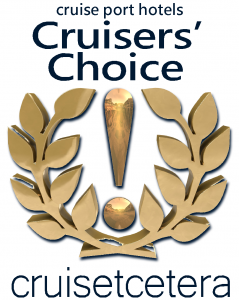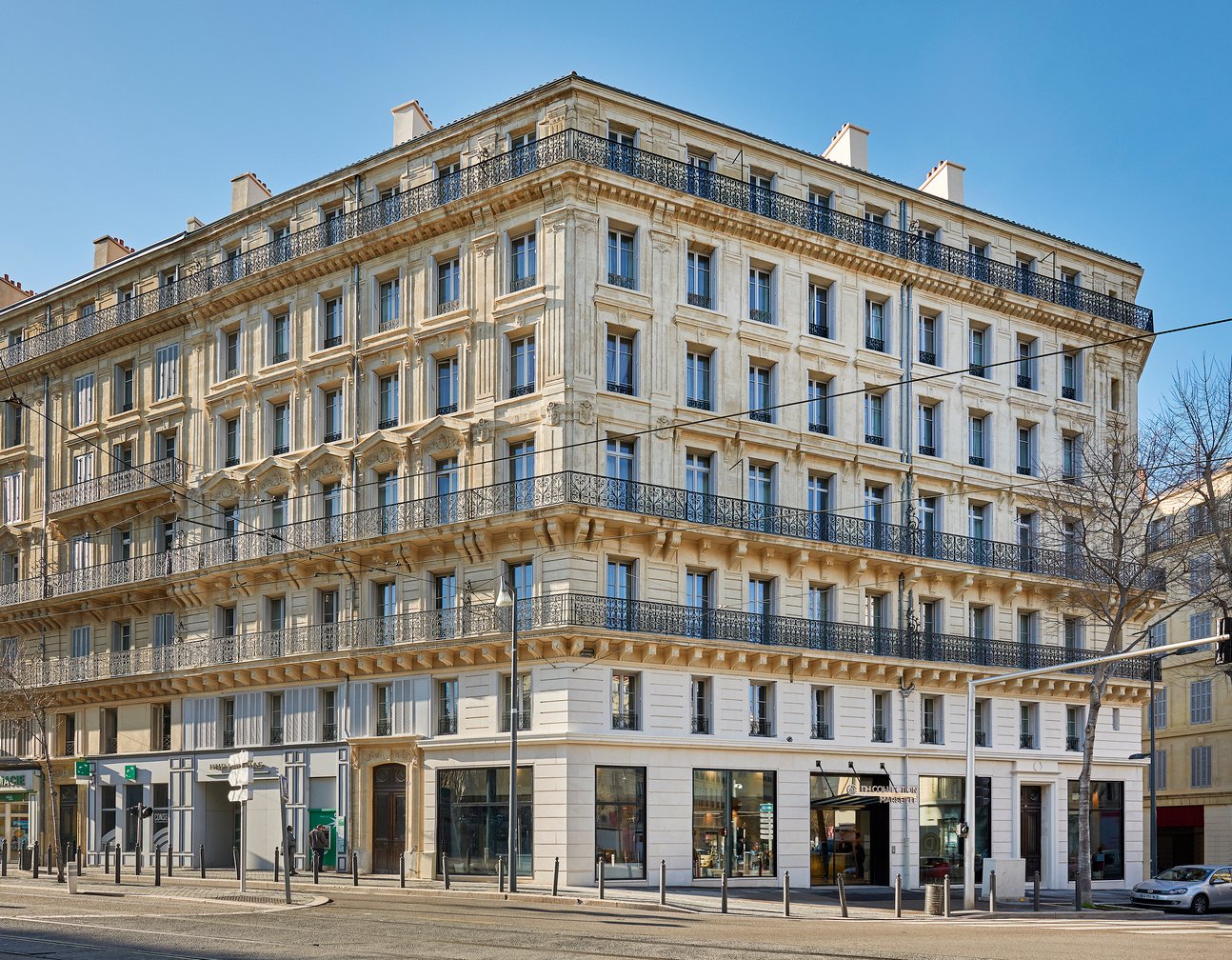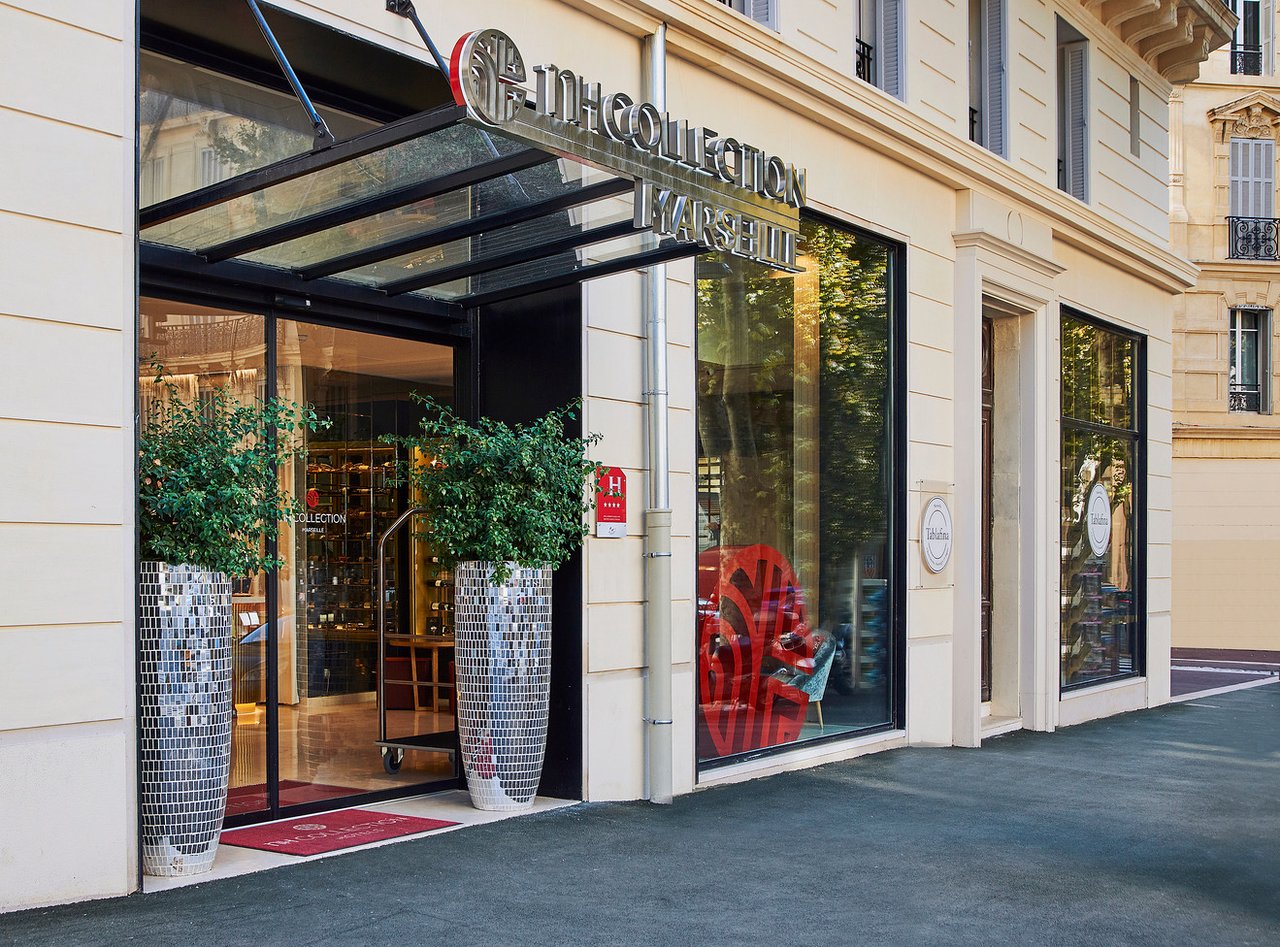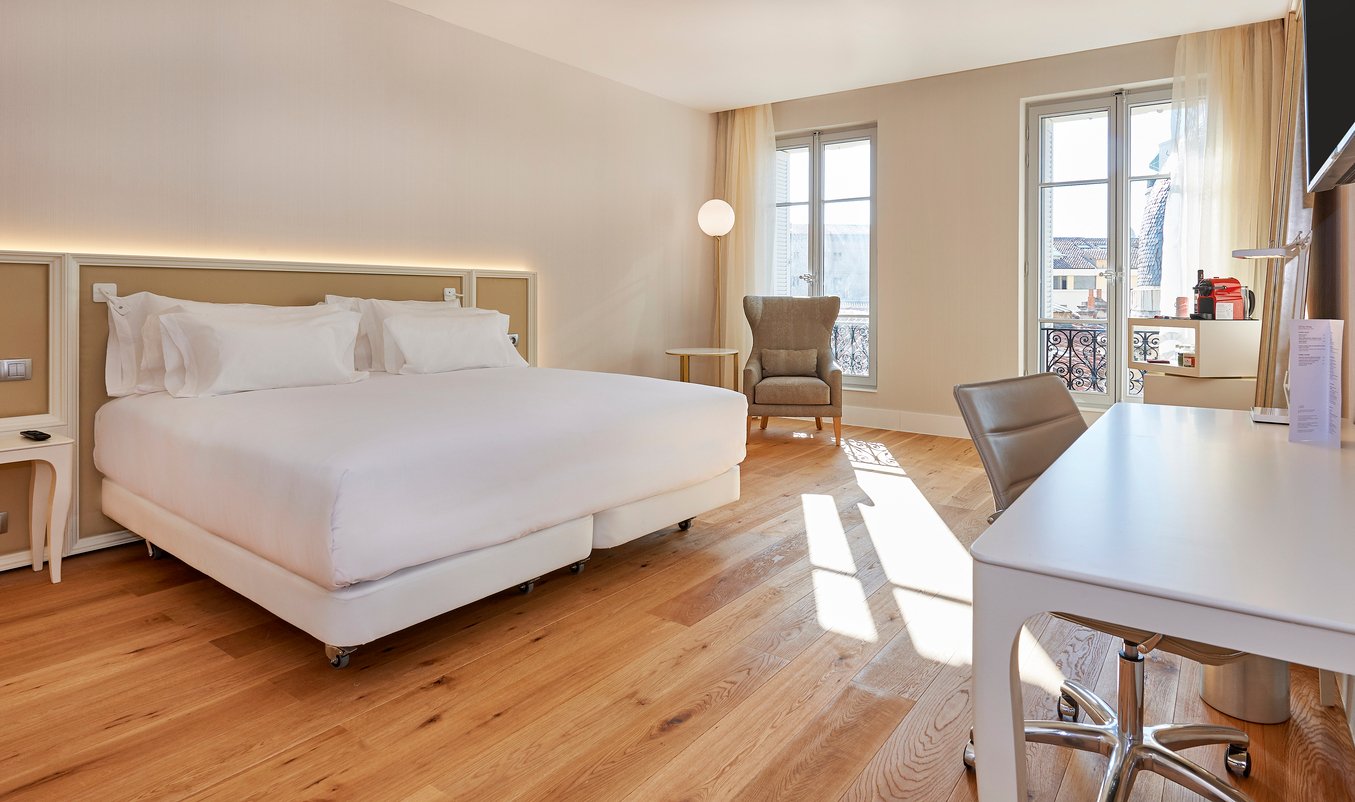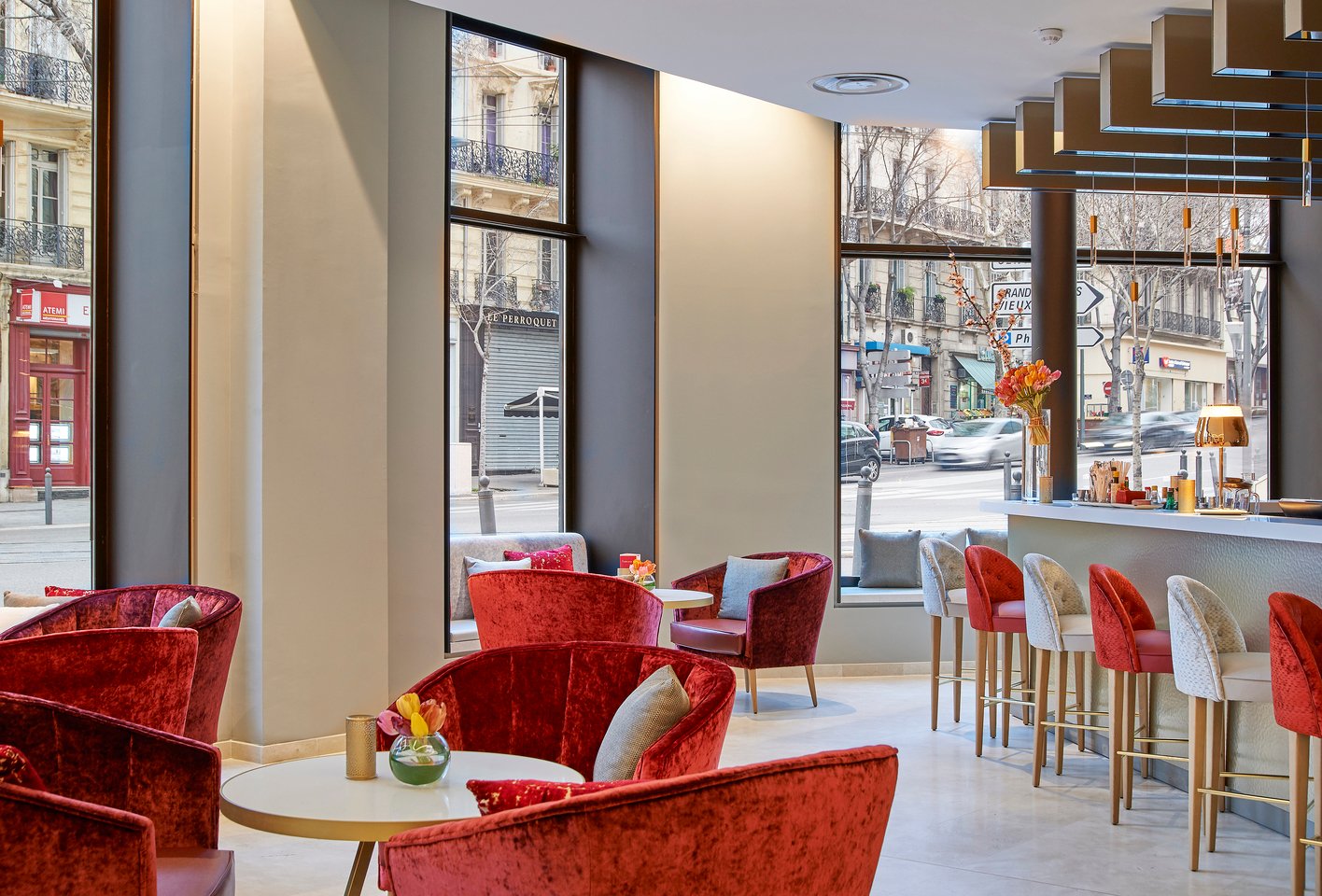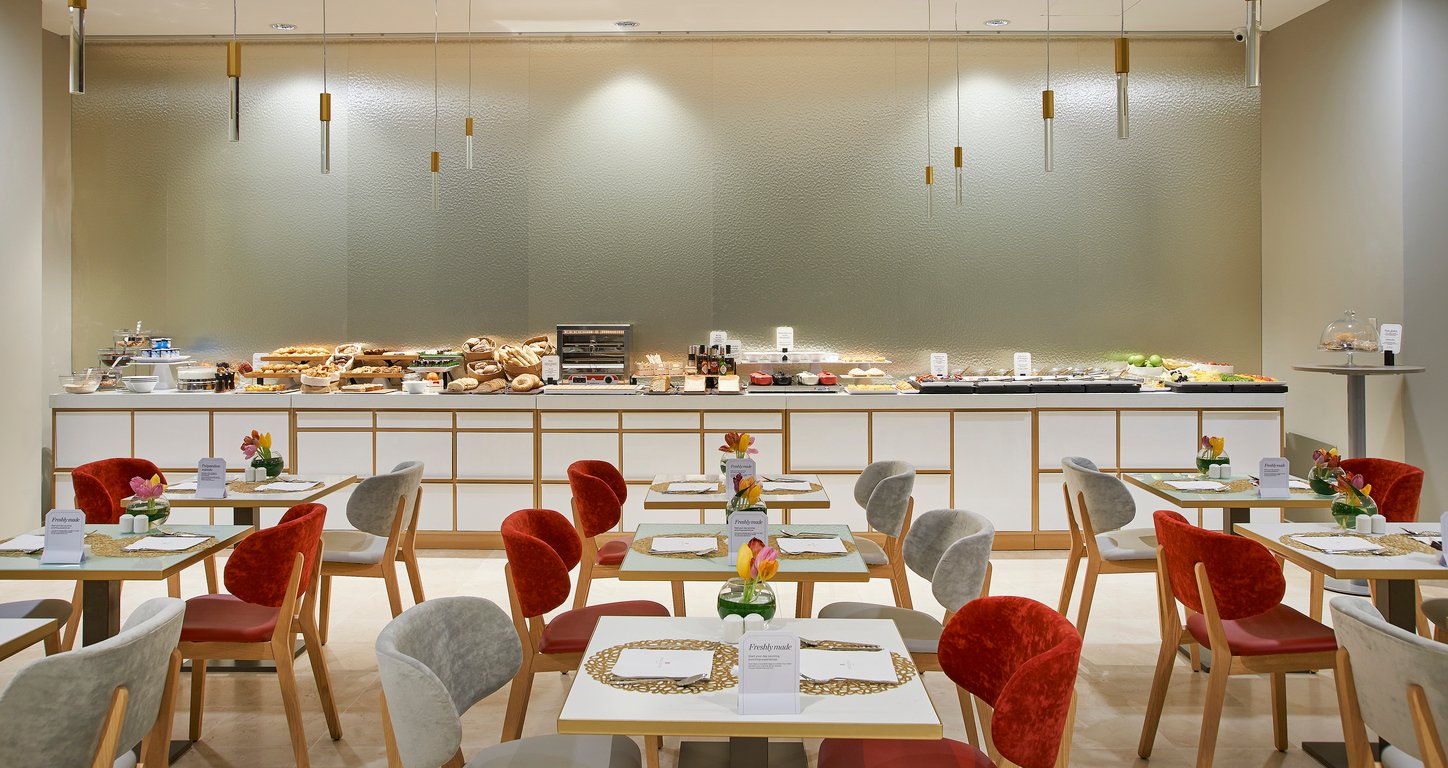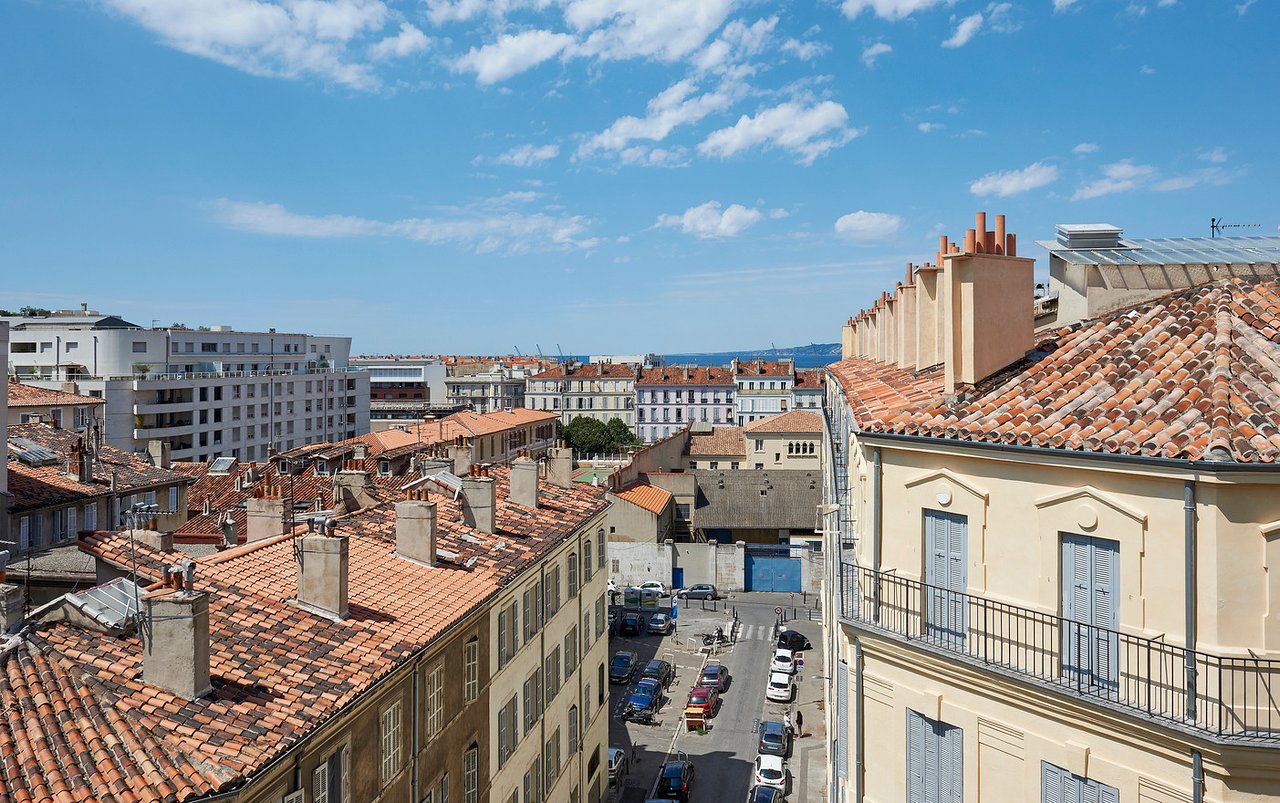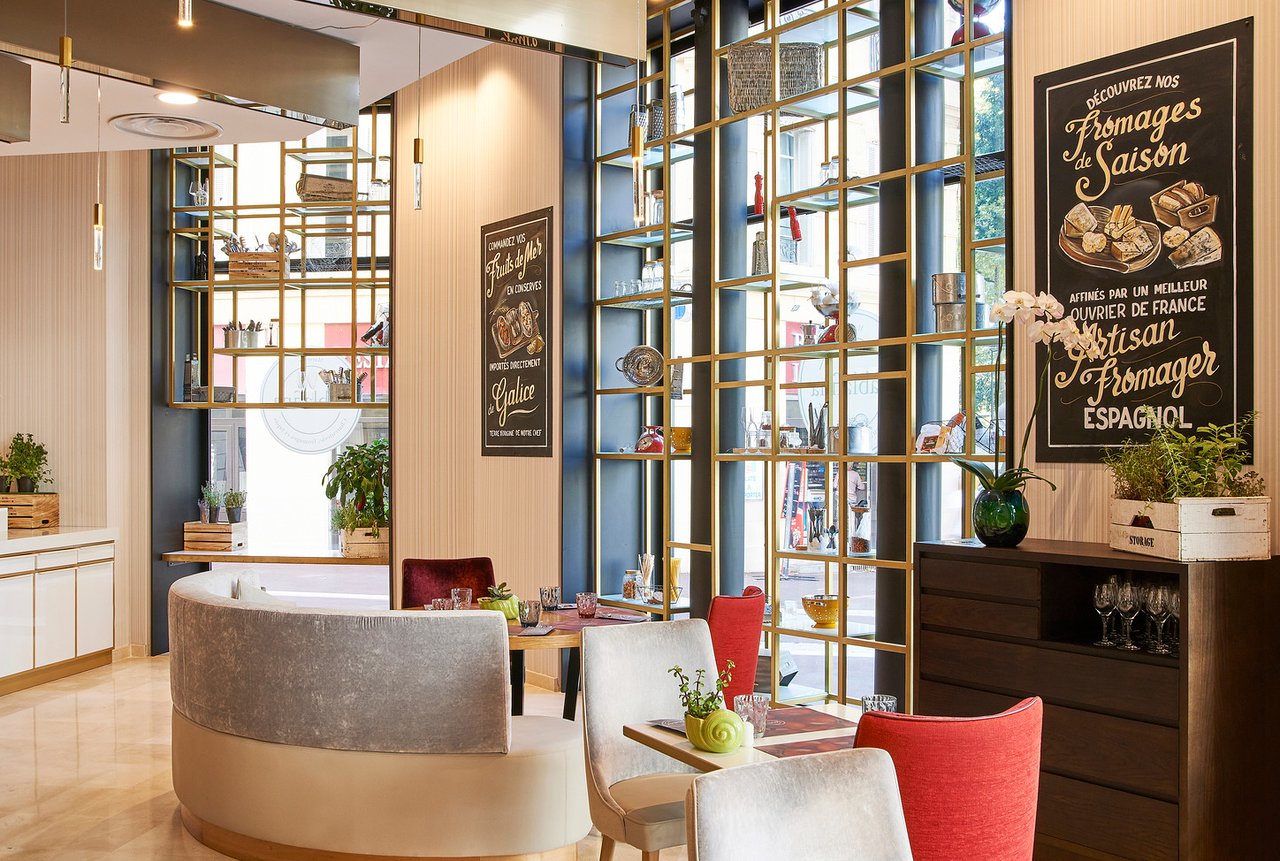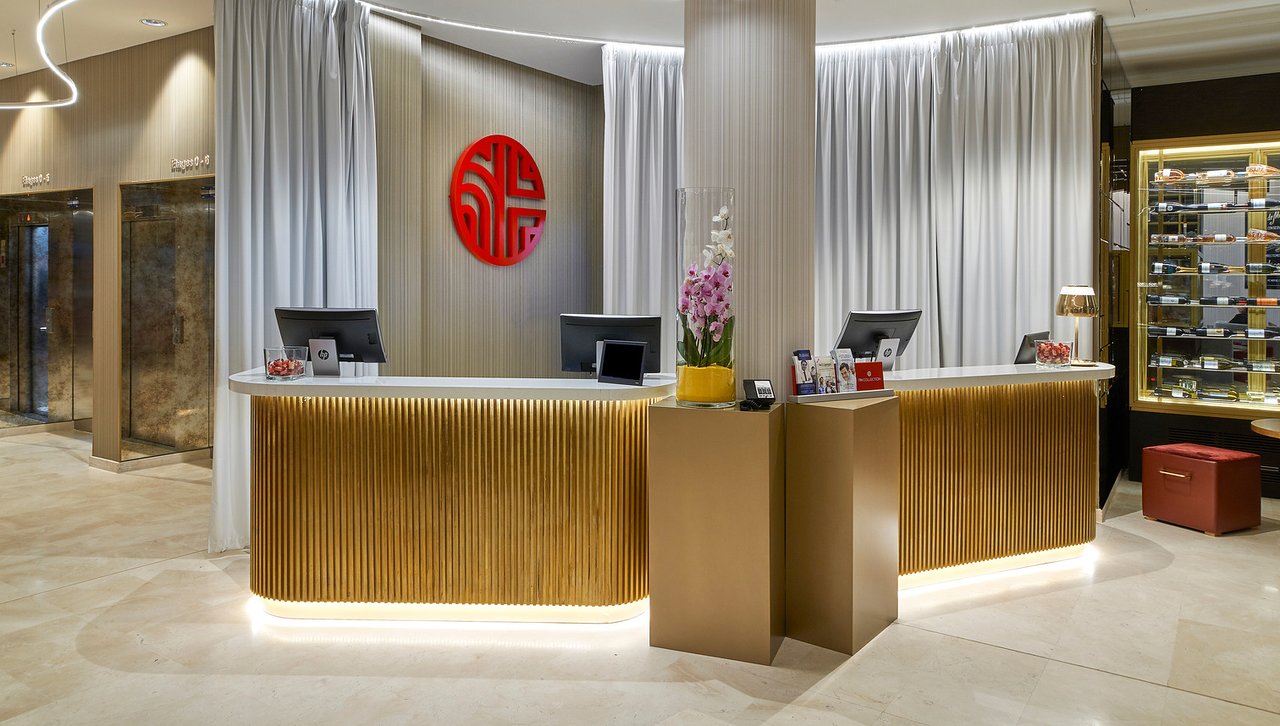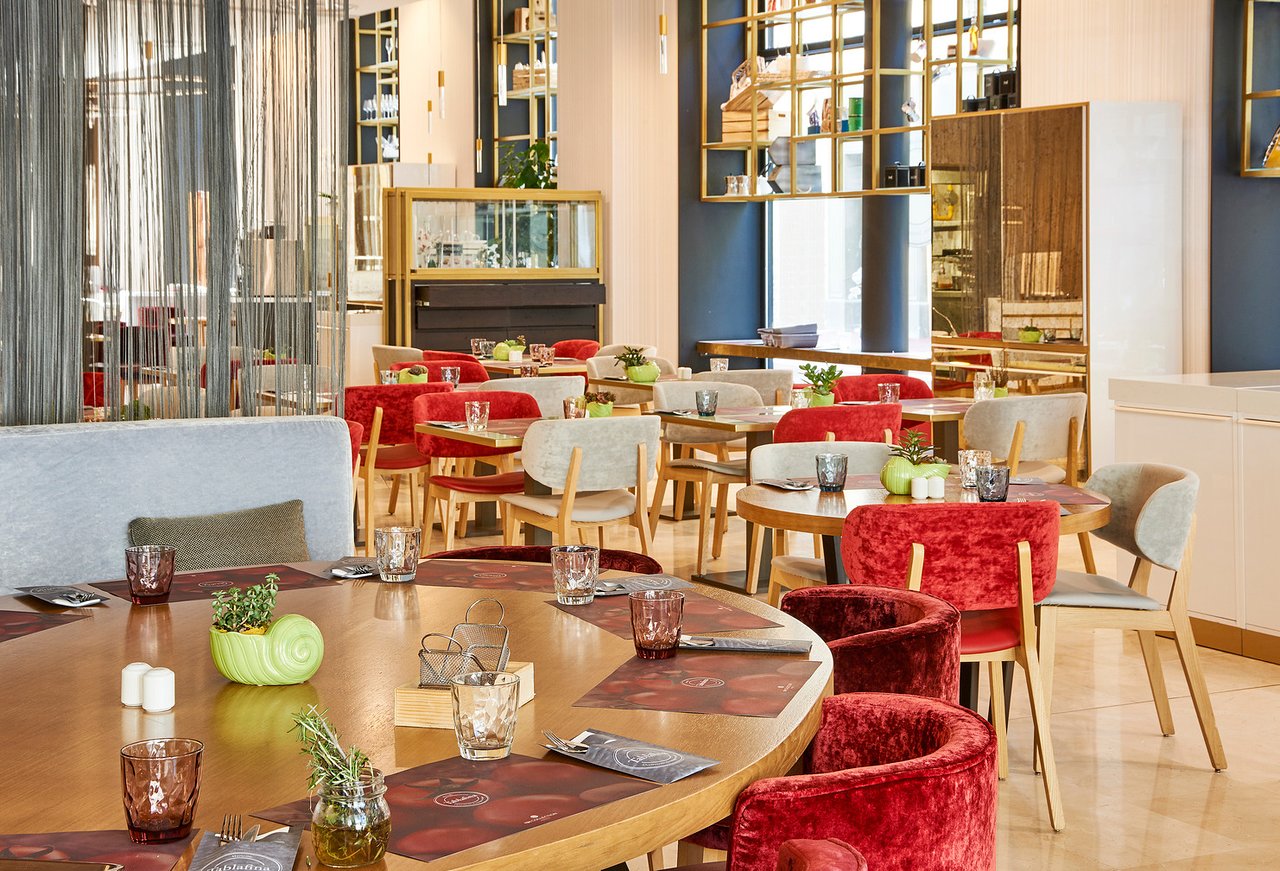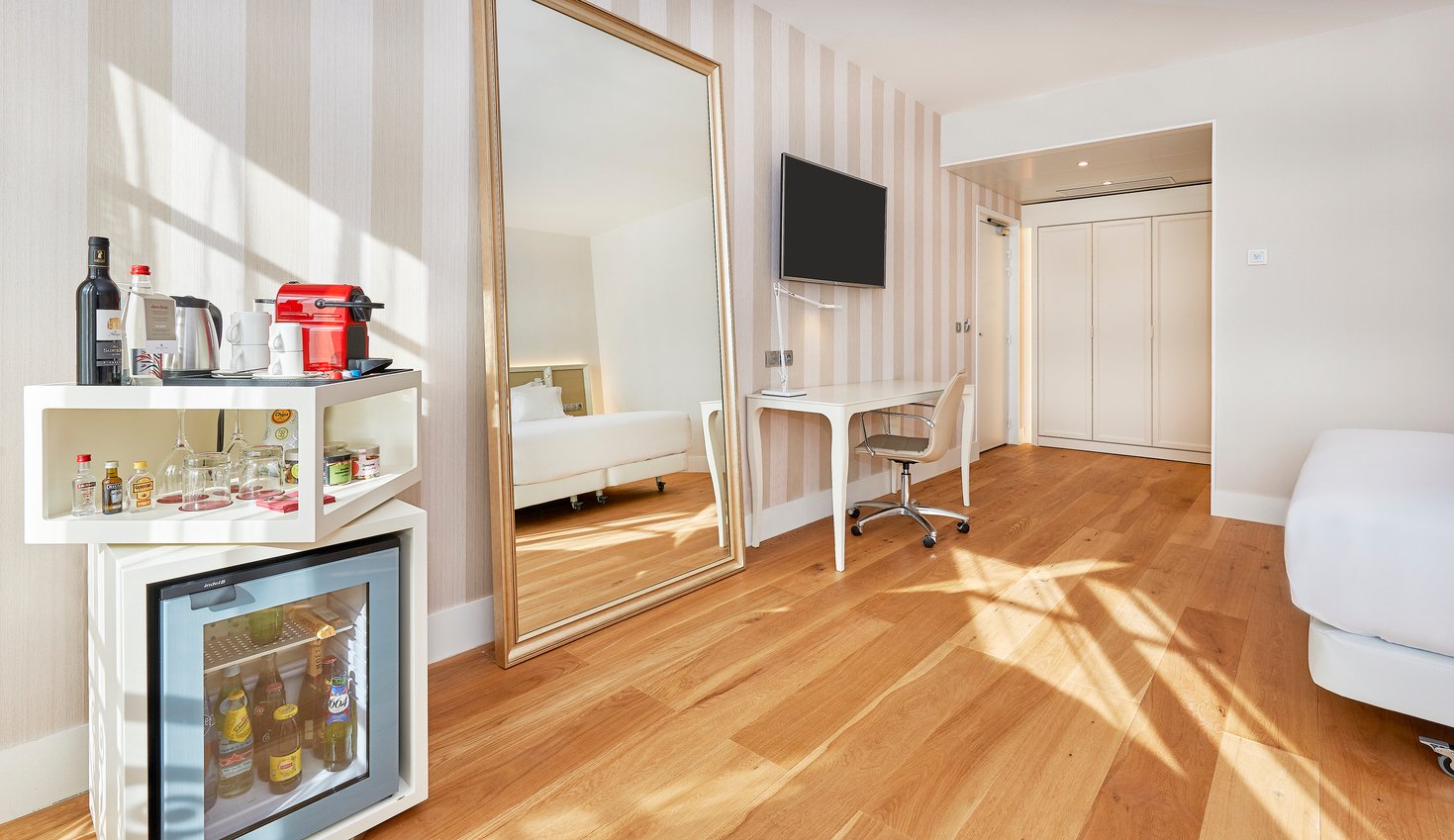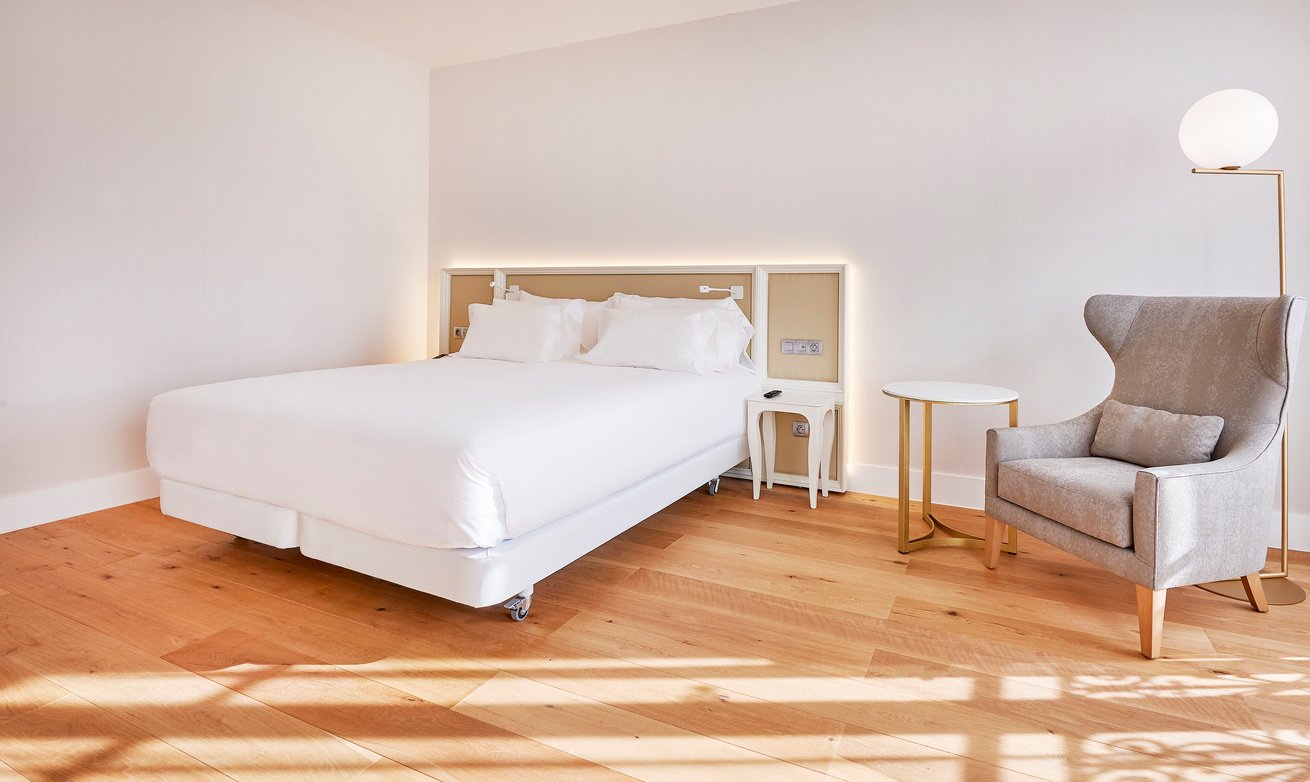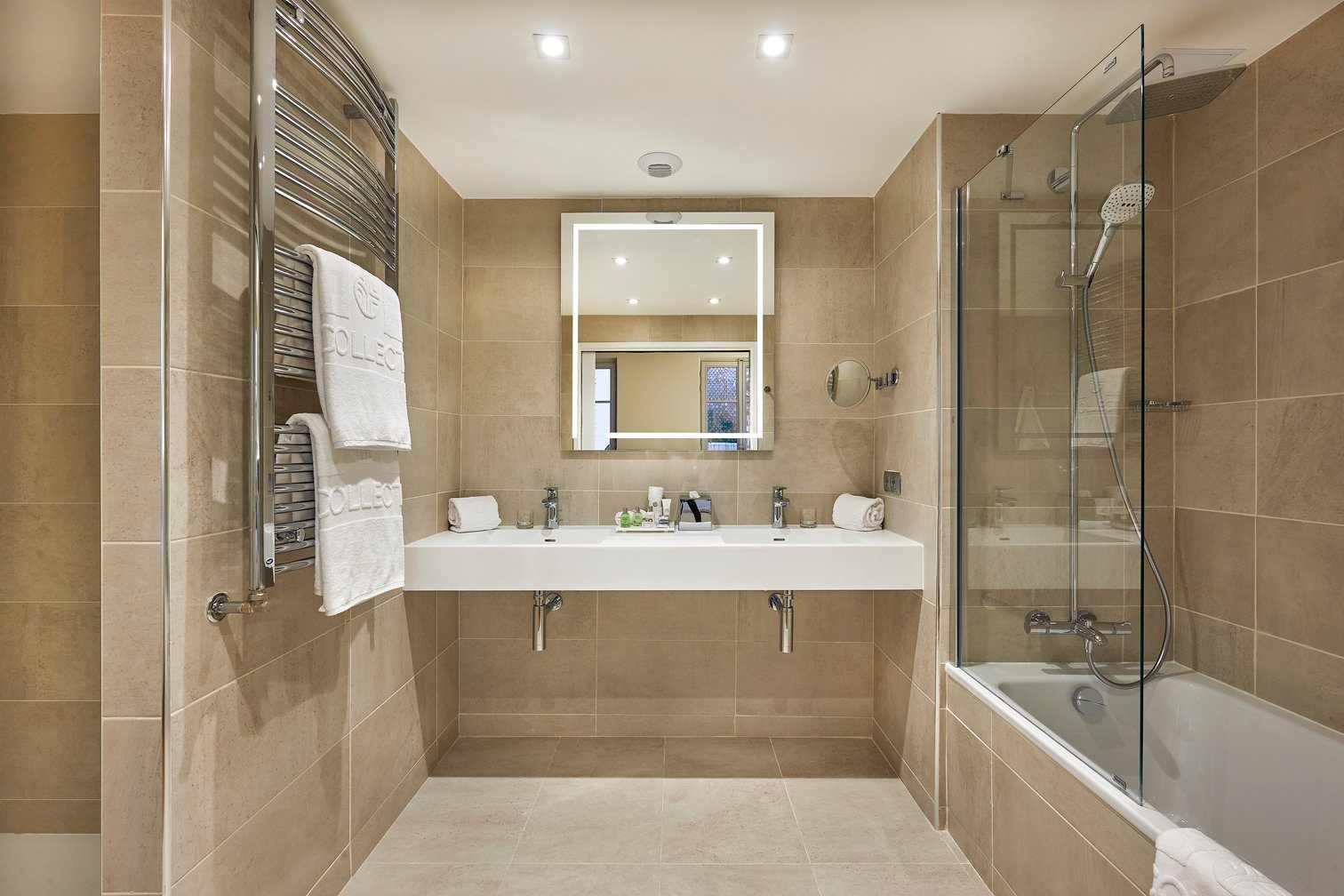 Cheryl D.: "NH Collection Marseille is beautiful.
I would also check with Cruise to price out their offering Transfers to and from the airport and pier."
With a fantastic location, in the heart of Marseille's bustling business district and a few steps from some of the city's best shopping areas, the NH Collection Marseille is perfect for business travelers and families alike. Close to the hotel, you'll find the must-see attractions such as the picturesque old port, the city's old town, and the famous MUCEM museum. If you would like to go shopping, Rue de la République, with its Haussmann-style buildings, is one of the city's best shopping streets. Alternatively, you can head to one of the nearby shopping centers: "Les Terrasses du Port" or "Docks Village". The neighborhood is also well connected to both the city and the airport, with a number of transport options including motorways, trains, and local metro and tram lines available. The NH Collection Marseille provides 176 rooms decorated to reflect the elegant and charming style of the hotel. Each room has seating areas, free high-speed Wifi, and wide-screen TVs.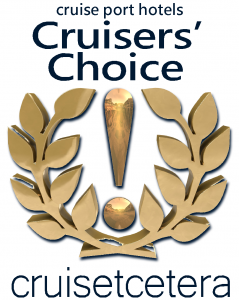 A view creates an emotion…
Ideally located in the centre of Marseille and facing Notre-Dame de la Garde Basilica, the Hôtel La Résidence du Vieux-Port
enjoys exceptional luminosity, thanks to its south orientation.
Perfectly situated on Marseille old port, with its great sunlight, 
The Hôtel La Résidence du Vieux-Port will let you experience a chic 50s retro feel, blending style and comfort.
Based on an inspiring family adventure, this hotel is above all a place where service is not a business but a promise.
Our diligent teams and our solid etiquette leave nothing to chance!
Our 51 rooms and suites have balconies overlooking the old port and face the magnificent basilica Notre Dame de La Garde, also called "La Bonne Mère".
Luxurious while simple, you are sure to find a room that meets your requirements.
Enjoying a privileged location overlooking the Old Port of Marseille, La Residence du Vieux Port is a boutique property offering luxurious accommodation in a spectacular setting. Standing in a carefully renovated building, this property is just a few steps from many of the city's most important sights and attractions, including the basilica of Notre-Dame de la Garde, Le Panier, and La Canebière. Boat trips are available from the port itself to the Château d'If, the legendary setting of Alexandre Dumas's novels "The Count of Monte Cristo" and "The Man in the Iron Mask".
Combining chic 50's retro décor and gigantic murals, the hotel offers guests spectacular views of the Old Port and the basilica from its public spaces and many of its rooms and suites. Guests can take advantage of the hotel's stylish restaurant, with decoration inspired by 50's Parisian bistros. Here the restaurant's Chef and his team create simple and elegant menus, focusing on seafood and Mediterranean cuisine based on local produce and traditional recipes. Meals are also served on the outdoor terrace.
La Residence du Vieux Port has 50 rooms and suites, all simply but luxuriously furnished. Many have balconies with views to the Old Port and the basilica of Notre-Dame de la Garde. The rooms are air-conditioned, come with large double beds and feature a range of modern amenities, including flat-screen satellite TVs, mini-bars, and Wi-Fi internet connections. All rooms have en-suite bathrooms, and the Club Rooms and Suites feature exclusive L'Occitane toiletries.
when you have a special request or can not find your hotel, you want a cheaper option or you have any questions? please contact us and we will send you a new top 3 based on your choice.
by e-mail: GERT@CRUISETCETERA.COM