Best cruise port hotels as picked and recommended by members of our groups: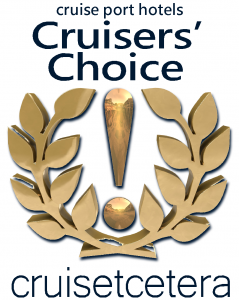 the hotel pays tribute to the rich history of the building
Anne J.: "I live in Perth and its only 30 mins from Fremantle. The 'best' hotel in Fremantle is the Esplanade, but I would recommend staying a few days in Perth as there's much more to do.  You can always visit Fremantle one day anyway for pubs, coffee strip, markets, harbour. Please make sure you visit some of our beautiful beaches and walk around the Swan River and Kings Park. Enjoy! Xxx 🌞😁😎⛱️🍾🥂"
Lesley Ann S.: "
Lovely hotel, I flew into Perth and stayed at Esplanade before joining a cruise."
With a rich history dating back to 1850, the hotel is an iconic landmark in Western Australia.
The hotel offers 300 spacious refurbished rooms across ten different room categories. 
They also offer 3 bars and 2 restaurants to their guests, so there is something for all tastes. The dining section breaks down each outlet and will give you all the information you need when you are next making a reservation or dropping in for a drink with friends.
The iconic location means you can savour the culture and tradition of Fremantle one of WA's premier tourist destinations when staying with us prior to your cruise. 
The hotel site has been established since 1850 and the hotel pays tribute to the rich history of the building, whilst incorporating references to Fremantle as an iconic port city, creating an environment that is rich, warm and sophisticated for business and leisure travellers alike.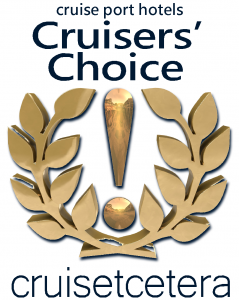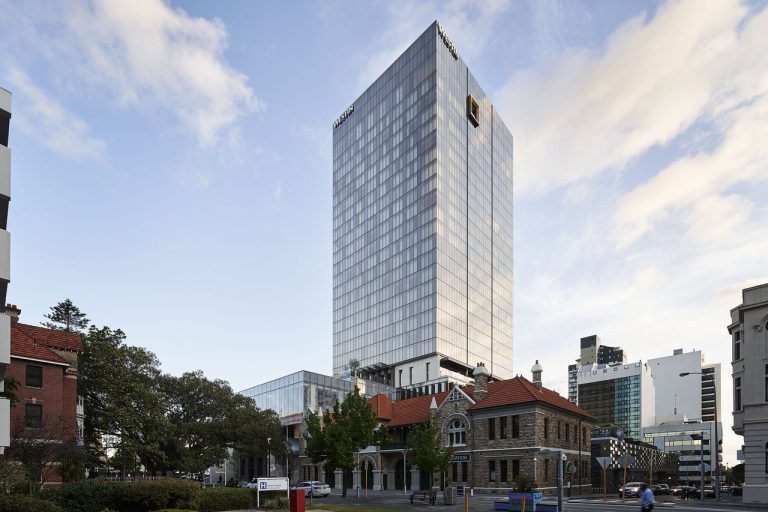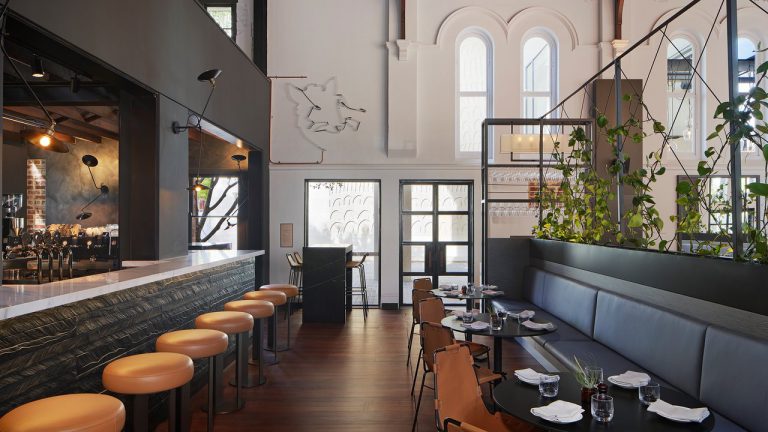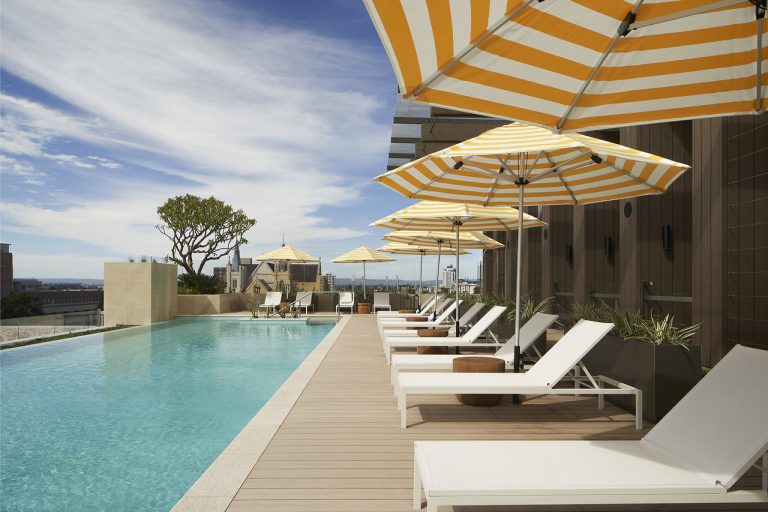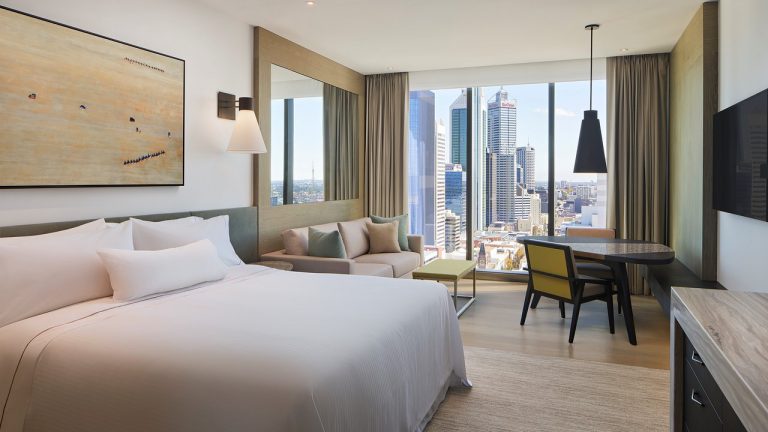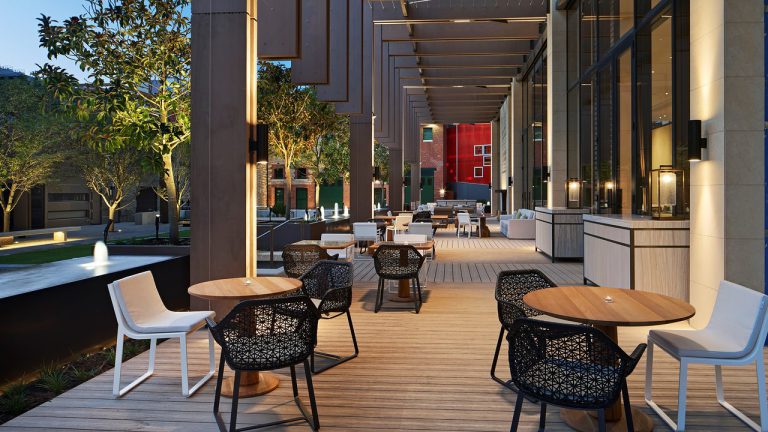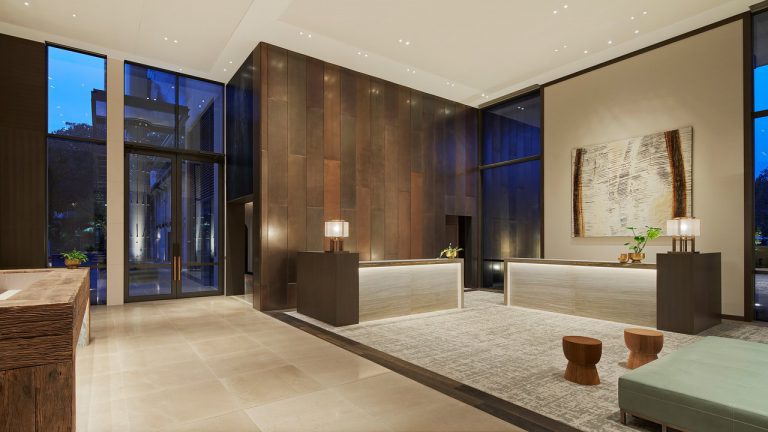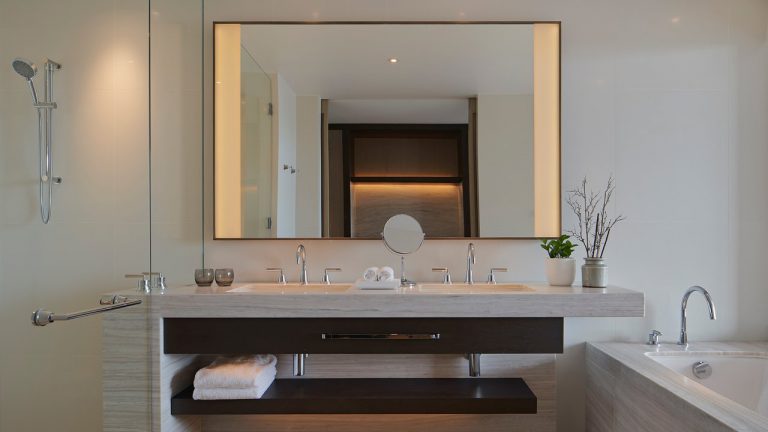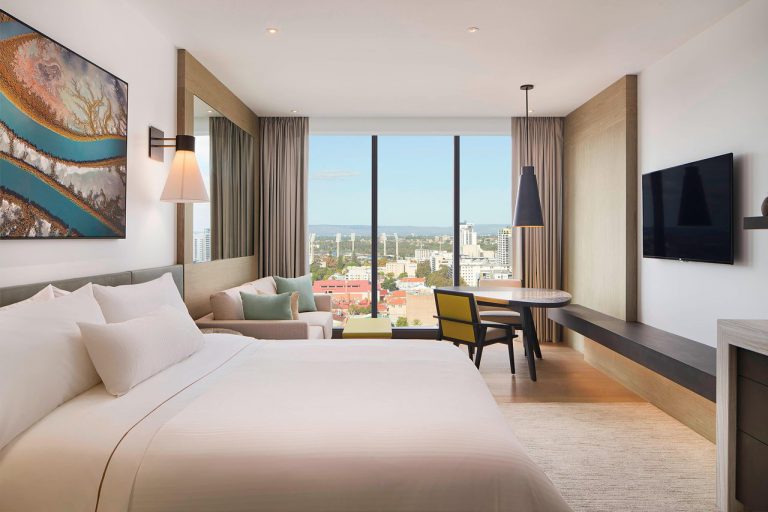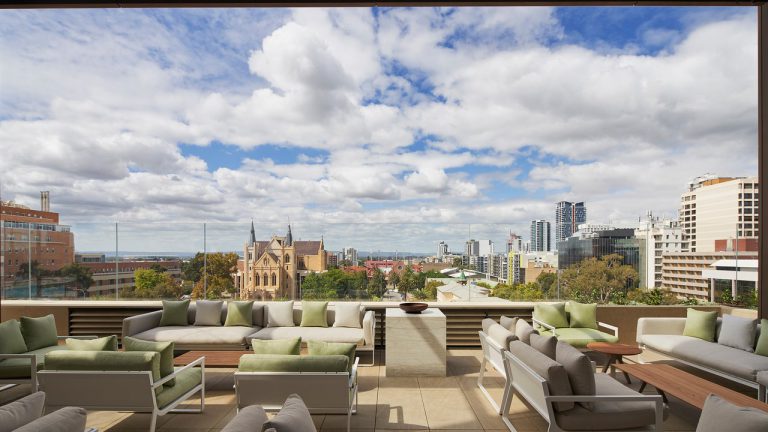 Reinvigorate your senses in sophistication
Anne J.: "I live in Perth and a good hotel is the Westin. You can always visit Fremantle one day anyway for pubs, coffee strip, markets, harbour. Please make sure you visit some of our beautiful beaches and walk around the Swan River and Kings Park. Enjoy!"
Find your balance at The Westin Perth, a rejuvenating haven with luxury accommodation, 5-star amenities and a dynamic city centre location. Reinvigorate your senses in sophisticated hotel rooms and suites, impeccably designed with the Westin Heavenly® Bed, sleek bathrooms and complimentary high-speed Wi-Fi. 
This luxury hotel is exceptionally situated in the rejuvenated east end of Perth CBD, within a short walk of incredible shopping and dining, Optus Stadium and Elizabeth Quay. 
Savour a nourishing meal at the Haven Lounge, located in the hotel lobby, and sample rustic Roman cuisine at Garum, our signature Italian restaurant by Chef Guy Grossi. Reboot and relax with a luxury treatment at Bodhi J Spa or maintain your wellness at our 24-hour Westin WORKOUT® Fitness Studio. 
They also offer a heated infinity-edge pool, ideal for soaking up the Perth sunshine, enhanced by the signature Westin service. 
A 5-star hotel experience awaits you at The Westin Perth.
surprising and delightful
At COMO The Treasury, there are 48 elegant guest rooms and suites featuring original high ceilings, connecting, and balconies. Facilities include two restaurants, a bar, a lounge, and a library, which together provide a social hub for the city. Holistic therapies are available at COMO Shambhala Urban Escape, as well as a gym and 20m indoor pool.
We'll forgive you for failing to imagine that Western Australia would have a luxury hotel of the highest caliber, but such prejudice would make your entry to Perth's new COMO The Treasury all the more surprising and delightful. Not only is this 48-room hotel housed in a truly grand space — a series of restored 19th-century state buildings, all soaring arches and stately white columns — but the guest rooms are outfitted in a manner that's lavish by any standard. 
Did we mention there's a pair of chic restaurants, a cocktail bar, and a signature spa? It's enough to make you want to stay in the City of Light (no, not that City of Light, the other City of Light, so nicknamed when Perth's citizens turned all the lights on as astronaut John Glenn passed overhead in 1962) for another day or two.
Rooms and suites are cool, quiet, and light-filled, designed in pale earth tones by architect Kerry Hill, the man whose stamp is all over the Pacific Rim's small luxury resorts. Standard amenities include king-sized beds with Grand Posture mattresses and Egyptian cotton sheets, complimentary minibars, LED TVs, Illy coffee machines, and remote-controlled blackout curtains. The real luxury is in the bathroom — almost always true in a good hotel — with heated stone floors and towel racks, walk-in showers, German-made freestanding oval bathtubs, and custom products by COMO Shambhala at Home. Yes, the very same you'll find at the hotel's spa, or rather, its Urban Escape, which is also where you'll find the fitness center and an indoor swimming pool.
COMO The Treasury has a range of high-end suites with features like fireplaces and views of Swan River, and bathrooms bordering on palatial. If you can't see any boats from your bathtub, though, just head up to Wildflower, the hotel's rooftop restaurant. There's also Post, serving French-inspired cuisine, on the ground level. Both employ Western Australia's produce — avocados, mandarins, and passionfruit all figure in heavily. Sitting high above Perth, sipping Chenin Blanc produced in the Swan Valley, you'll almost forget you're a thousand miles from the next big city. Or not: but a hotel this thoughtfully executed would be a pleasure to stay in, in Perth or anywhere else.
SEASONALITY
Between the end of August and the end of March, Perth experiences comfortable mild weather and typically clear skies, making it an ideal period to visit. Temperature averages between a 9ºC (48ºF) minimum in September through to a daily maximum of 32ºC (89ºF) in February.
DESIGN
Conceived by designer Kerry Hill, all 48 contemporary rooms and suites project a sense of COMO serenity. Initial planning studies with the conservation architects lead to the decision to retain all the original government office rooms and pair them via interconnecting doorways so that each pair would comprise a bedroom and a bathroom. This saved the buildings from ad-hoc internal division and resulted in 48 handsome guestrooms, very few of which are alike. 
Eighties vibe to a Thirties setting
Housed in a one-time Brisbane medical centre, Ovolo Inchcolm brings an Eighties vibe to a Thirties setting, with rock-star portraits, floral walls and memorabilia-filled cabinets of curiosities. It's on the edge of the Central Business District, but you'll have easy access to the Gold Coast beaches, koala sanctuaries and every other good-life Australian cliché. The restaurant – styled like a pre-war Parisian salon – adds a little Asian artistry to its dishes: expect to rub shoulders with locals as well as fellow guests, all queuing up to admire the Années-Folles–accented setting and creative cuisine.
At the hotel
Free WiFi throughout, bicycles to borrow. In rooms: Apple TV, iPad, iPod dock, air-conditioning, minibar, tea and coffee, and Biology bath products.
Our favourite rooms
Only a handful of rooms have a bathtub, so if that's a dealbreaker, specify when you book. The split-level I Lofts are on the top floor, which means they have far-reaching city views (helpfully showcased through floor-to-ceiling windows). Four-poster fans should request a Thomson Suite.
Poolside
None, but guests can access the pools at selected neighbouring hotels; ditto for a local gym.
Packing tips
This is Brisbane, where the mercury rarely dips below 21° Celsius, so bring appropriate Aussie-life attire (swimwear, sunhats and shorts).
Also
The hotel isn't easily navigable for wheelchair users.
Hotel restaurant
Salon de Co is modelled on its Parisian counterparts, with parquet floors, elegant chairs, statement art and black window frames. The menu has the occasional Asian flourish, along with classic combinations such as lamb with cauliflower and romesco. Breakfast is a spread of house-made muesli, fruit and yoghurt, with à la carte options like eggs Benedict made to order. The restaurant regularly gets booked up, so be sure to reserve your table in good time.
Hotel bar
The bar has been imagined as a Hemingway-frequented haunt, with accents from the Twenties, Thirties and Forties throughout. Pitch up with your Moleskine for a creativity-inducing cocktail (order the cheese and charcuterie board if you're in for the long haul).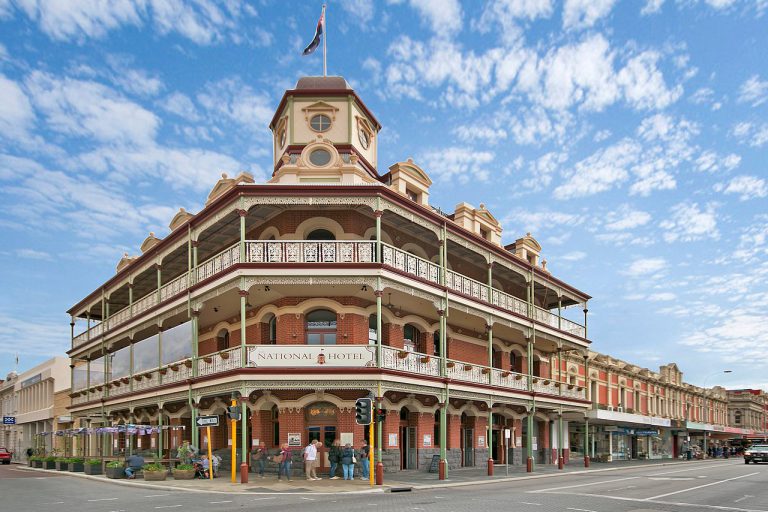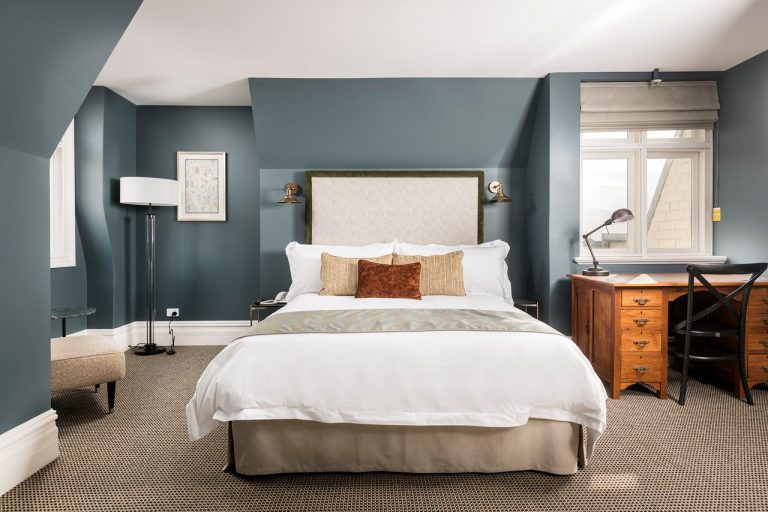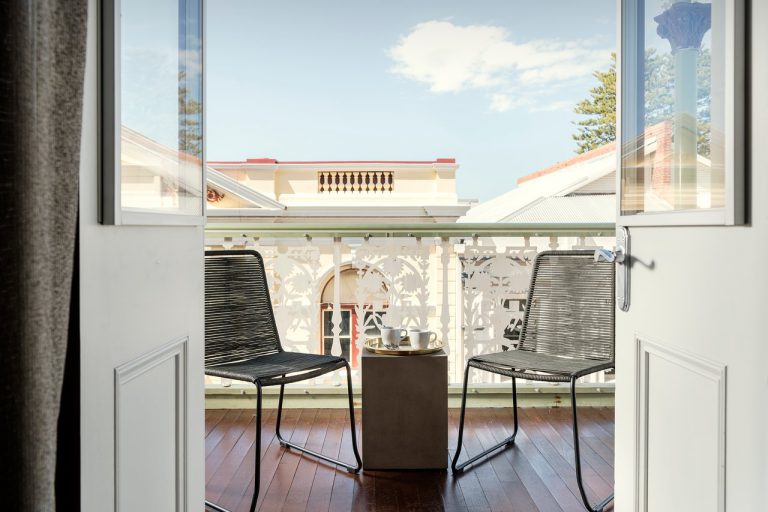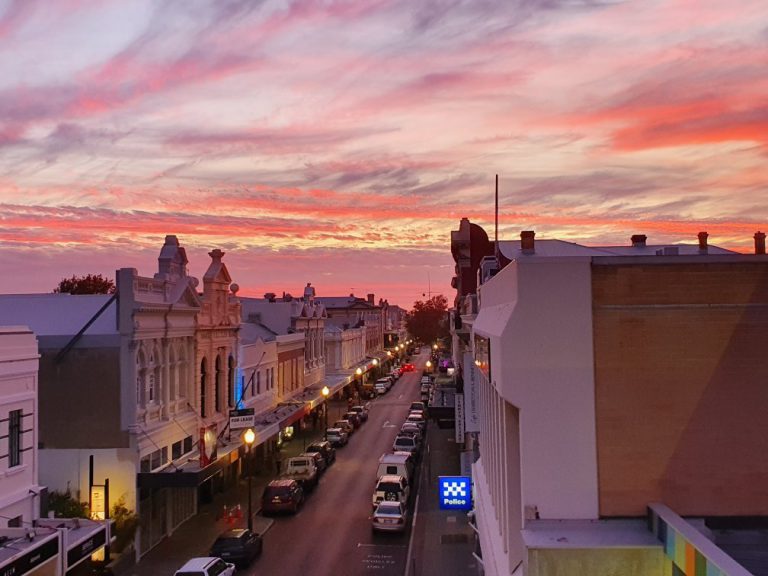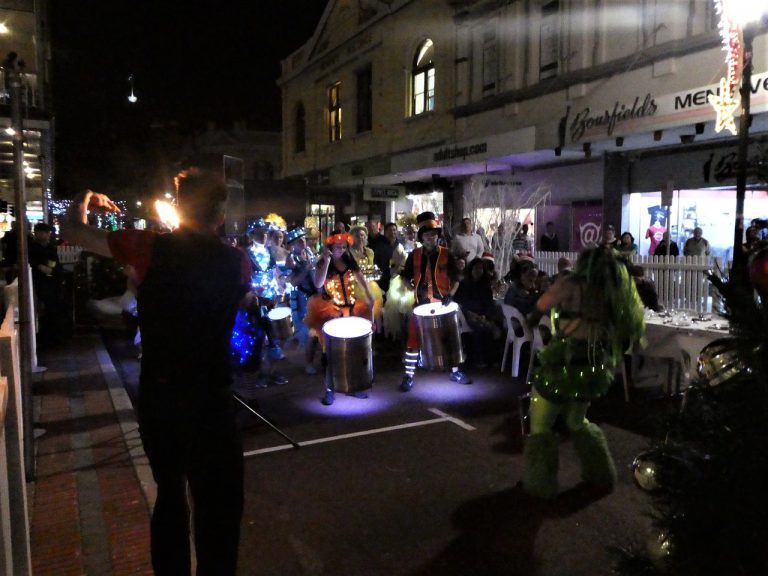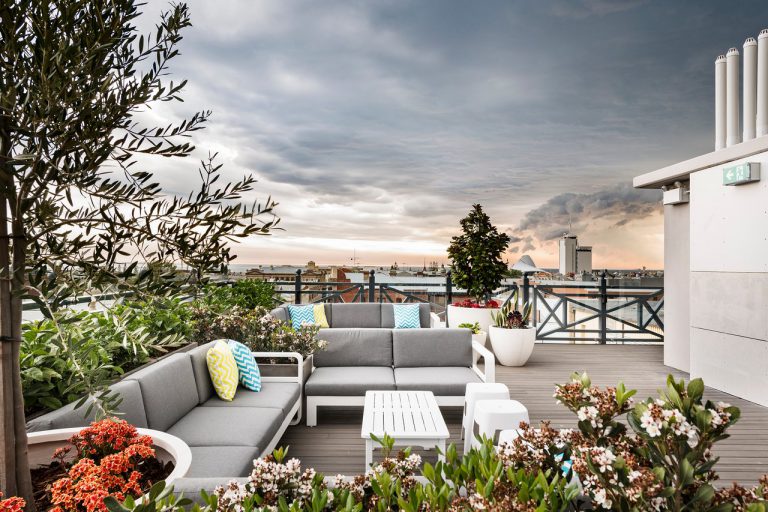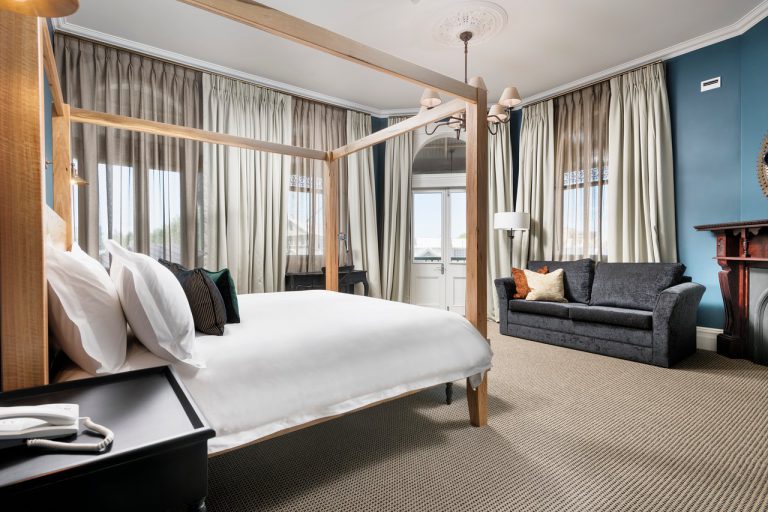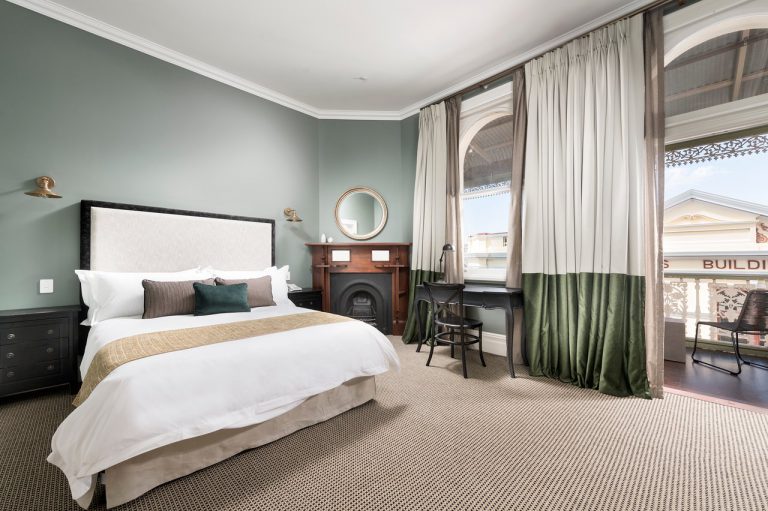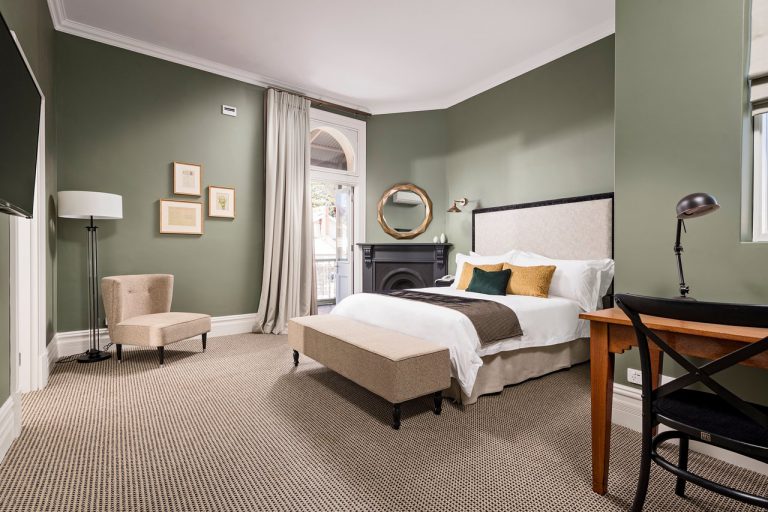 At the heart of Fremantle, boasting a spectacular Rooftop Bar and twelve beautiful individually styled luxury ensuite hotel rooms with double glazing ensuring you have a peaceful night's sleep.
The beautifully restored, award-winning National Hotel is serving quality food and premium beverages seven days a week. Join for one of the renowned happy hours or see some of the finest live music Fremantle has to offer, seven nights a week.
The rooms are set over two floors and each floor has its own distinctive feel:
The six lower floor rooms have three and a half meter high ceilings as well as French doors opening onto your private balcony.
The six upper floor rooms are set in the eaves. This gives them beautiful shapes and a Parisian style feel with fantastic views over the rooftops of Fremantle.
There is something for everyone at The National Hotel, with three different levels of bars and restaurants. On the ground floor a beautifully restored heritage venue with live music seven nights of the week, a relaxed alfresco area on historic High Street, and a great selection of premium beverages. Serving quality bar food from 11 am until late every day.
Level One Restaurant -for more relaxed, family-friendly dining and drinking. Enjoy a meal on one of the heritage verandas, reserve a spot for a function, dine in the restaurant, or treat yourself to a high tea. 
Rooftop Garden – View Fremantle from above with 360-degree views to Rottnest and over the port. Available for private hire for groups of all sizes. They stock a large range of premium international and local beers and wines and a great selection of spirits and gins.
 "There's always something happening here at The National Hotel."
when you have a special request or can not find your hotel, you want a cheaper option or you have any questions? please contact us and we will send you a new top 3 based on your choice.
by e-mail: GERT@CRUISETCETERA.COM