"Uncover the cultural intricacies and historical surprises of happy countries of the Baltic with a Northern Europe cruise. See the stunning fjords of Norway, or the buzzing cultural hub that is St. Petersburg. Try some authentic, hearty, and memorable cuisine in Ireland, or even a rare trip to the Arctic Circle, with majestic glaciers and snowcapped peaks. Attend a ballet in Russia, cherish those legendary Tivoli Gardens of Copenhagen, or let a Belgian chocolate melt on your tongue in Ghent—all can be a a part of your next Northern & Western Europe cruise."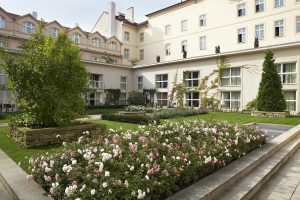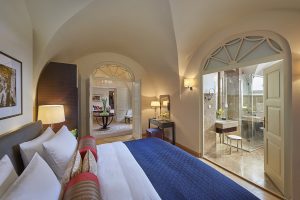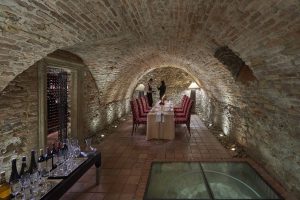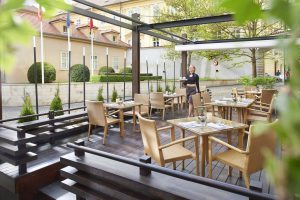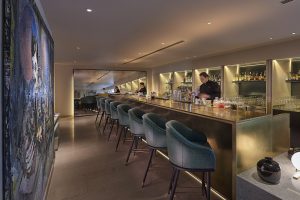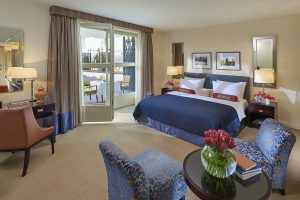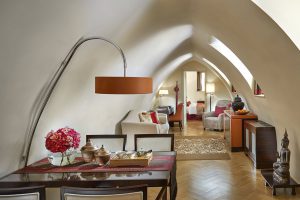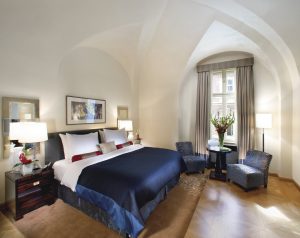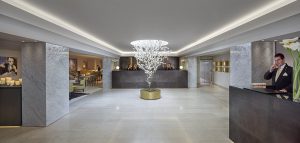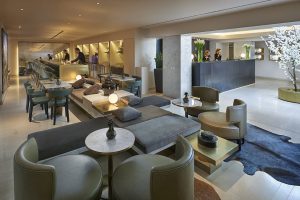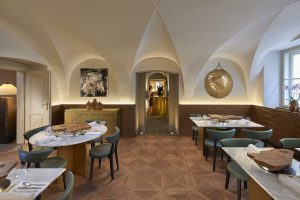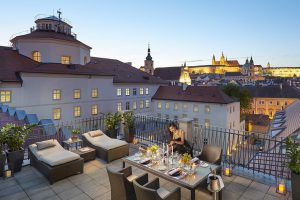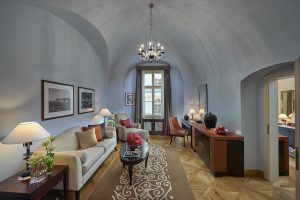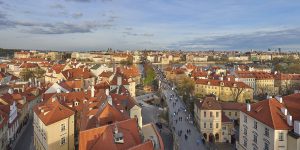 Housed within a former 14th-century monastery, Mandarin Oriental, Prague is both a five-star luxury hotel and a wonderfully preserved piece of history. Blending contemporary design with period features, they offer a truly unique hotel experience. The Mandarin experience!
Set against a backdrop of gleaming spires, Mandarin Oriental, Prague is a five-star luxury hotel in the heart of the Czech Republic's prettiest city. A modern retreat with a centuries-old past, we are ideally located for exploring all of the sights.
Their rooms have character features, a sitting area, and city or garden views. Enjoying tranquil views of the Monastery Garden, rooms feature a seating area, desk, and floor-to-ceiling windows. The spacious bathrooms are equipped with marble baths, glass-enclosed showers, and LCD flat-panel televisions.
Spices Restaurant & Bar offers an inventive selection of delicious crossover cuisine dishes and mouthwatering cocktails. With a setting as inspiring as the menu, Spices' stunning Renaissance-style vaulted ceiling and contemporary design provide the perfect backdrop for Executive Chef Stephen Senewiratne's exceptional cooking and his cultural heritage.
By adding beautiful modern touches to the historic framework of this former monastery, Spices' design represents a harmonious balance of cultures, reflecting both the city's past and present and Mandarin Oriental's Asian roots. Combined with the restaurant's exciting culinary direction, Spices is the well-established star of Prague's restaurant scene, annually listed in the Michelin Guide and attracting both guests and locals alike.
Enjoying an atmospheric setting in the heart of the hotel, Spices Lounge offers an enticing selection of dishes, ranging from classic breakfasts to light lunches and delicious snacks. Featuring a covered outdoor terrace, diners have the option of either indoor or al fresco seating, with the heated terrace offering a secluded spot in which to enjoy a quiet drink or bite to eat.
Open for breakfast, lunch, and dinner, the menu created by Executive Chef Stephen Senewiratne features light dishes including fresh salads, sandwiches, pasta, and traditional Asian dishes such as Beef Rendang or Tikka Masala. In addition, guests are invited to sample a range of delicious cocktails and tempting desserts.
'Peaceful, great service, close to the river.'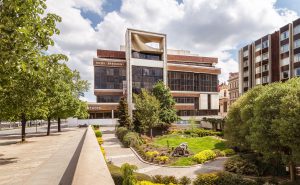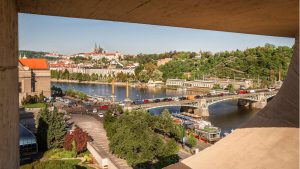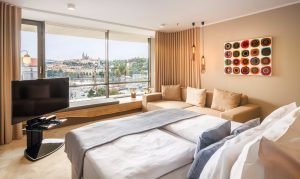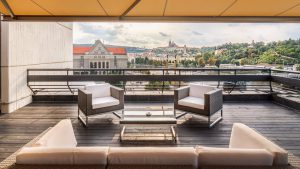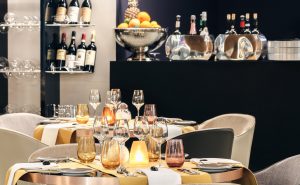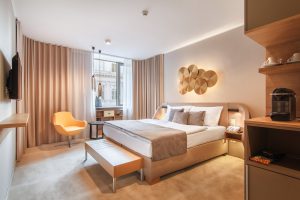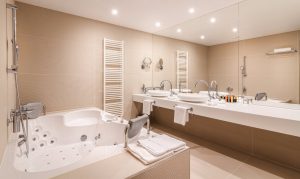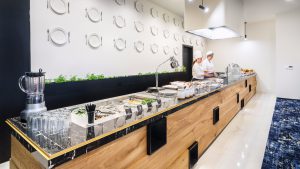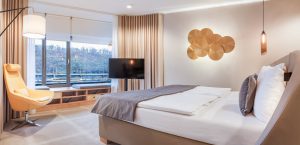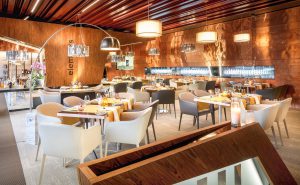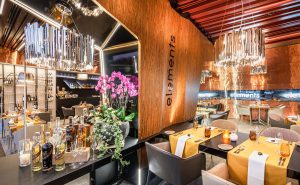 The President hotel in the center of Prague is visited by fans of tourism and relaxation, namely thanks to its advantageous location. The President is located on the right bank of the Vltava river, between the Charles Bridge and the Cloister of St. Agnes of Bohemia.
Thanks to its ideal position in the center of Prague, this hotel is located only a short walk from renowned historical monuments such as the Charles Bridge, Prague Castle, Old Town Square, National Theatre, Jewish Quarter, Synagogues and other places of interest in the heart of one of the most beautiful cities in the Czech Republic.
The hotel provides 135 comfort rooms in various categories. All the rooms had been renovated in 2016 in state-of-art design with a calm atmosphere.
Thanks to the relaxing zones by the large window, you can enjoy your time in the room and stay in touch with city life. All the rooms are strictly non-smoking. As a bonus you have your private Nespresso Coffee machine in the room and superfast Wifi connection.
Elements Restaurant is the magnificent gem of the hotel. The menu of the restaurant Elements is based on modern Italian cuisine, which keeps the most important character – simplicity and lightness. The luxurious interior of the Elements restaurant is refined in copper tones and creates a romantic atmosphere.
'Excellent location on the river, easy walk to main sights. '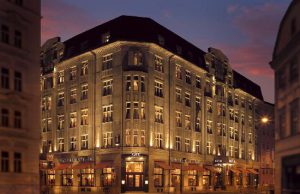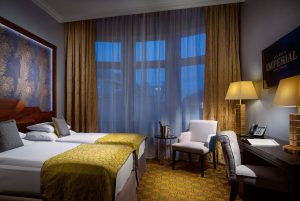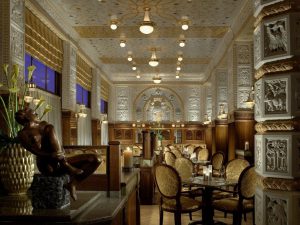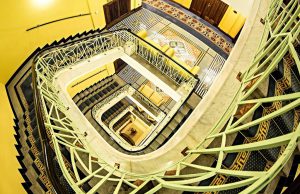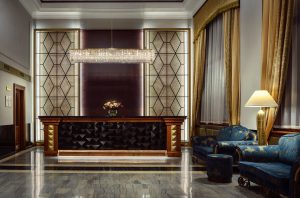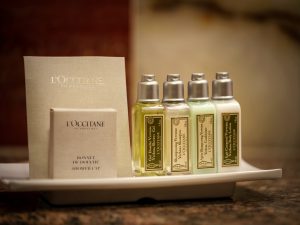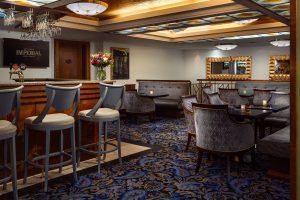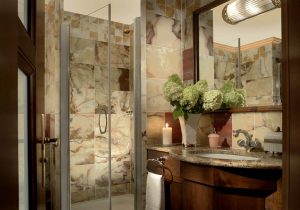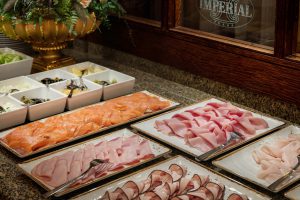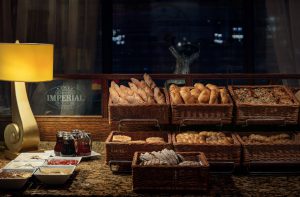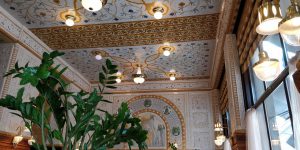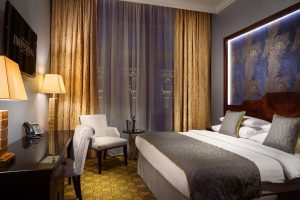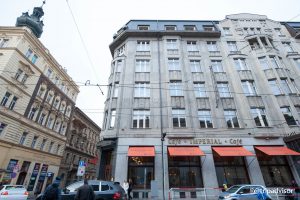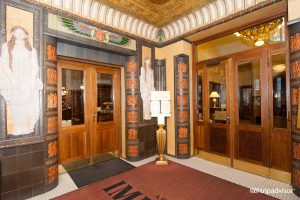 Discover a rich and unique history of Art Deco Imperial hotel and get to know what occurrences and stories stay behind the contemporary appearance of the hotel. The first written reference to the house standing on the corner of Na Porici and Zlatnicka streets dates back to 1383 when the existing building was joined with its neighboring construction into one single complex. In 2005-2007 extensive reconstruction work was undertaken to restore this precious and internationally-recognized unique gem of 20th-century architecture to its former glory, re-establishing Prague Imperial´s reputation as the most outstanding and spectacular luxury hotel in the city.
Let yourself be enchanted by the unique atmosphere and elegance of the early 20th century.
Choose one of the newly renovated rooms or suites and enjoy unique Art Deco styled accommodation in a historic building that reflects "genia loci" of Prague's Old Town. Treat yourself by the extra touch of luxury in the newly renovated Executive rooms, enjoy additional comfort of extra space and upscale services including faster internet connection, espresso machine, L'OCCITANE cosmetics, and daily turn-down service. Admire Prague Old Town views or choose a quiet courtyard view.
Café Imperial has been the most famous and most popular "Grand Cafe House" and restaurant in Prague for the past 100 years. Once frequented by the writer Franz Kafka, composer Leos Janacek, and many other eminent guests.
Original Art Noveau ceramic wall tiling and mosaic ceiling from 1914 are breathtaking, crowned by large street windows.
'Highly recommend! Very conveniently located within walking distance to many tourist attractions. They have one of the best chefs in Prague. The breakfast in the morning is truly wonderful. If you want to eat in their restaurant, you must make a reservation in advance. Also, there is a mall about a couple blocks from the hotel. There is a grocery store in the basement if you want to pick up some snacks. The top floor has all kinds of wonderful restaurants. If you forgot to pack anything, you're sure to find it here.'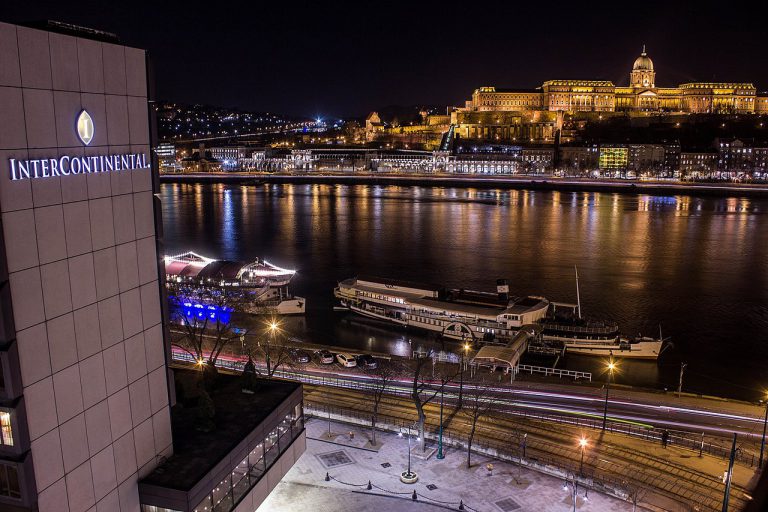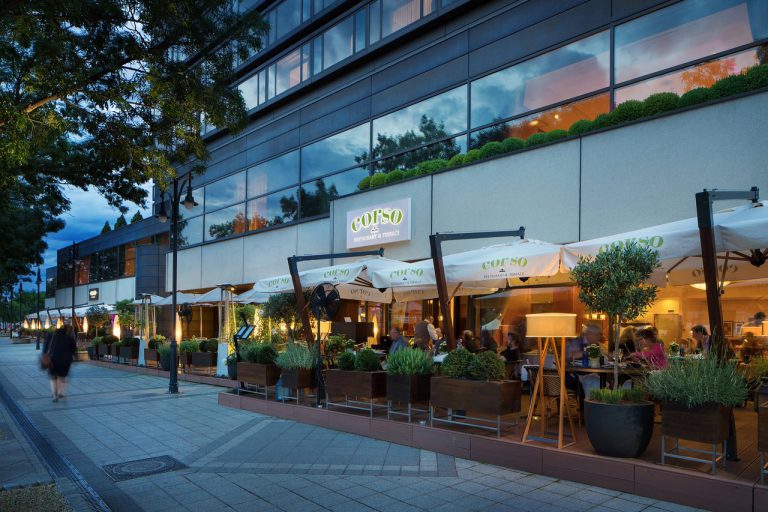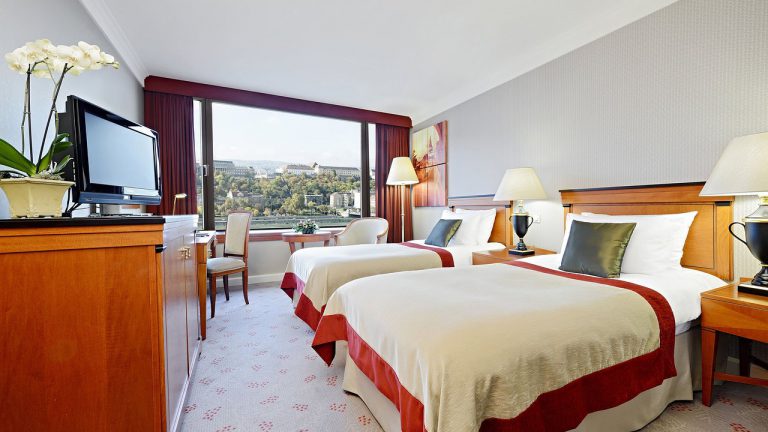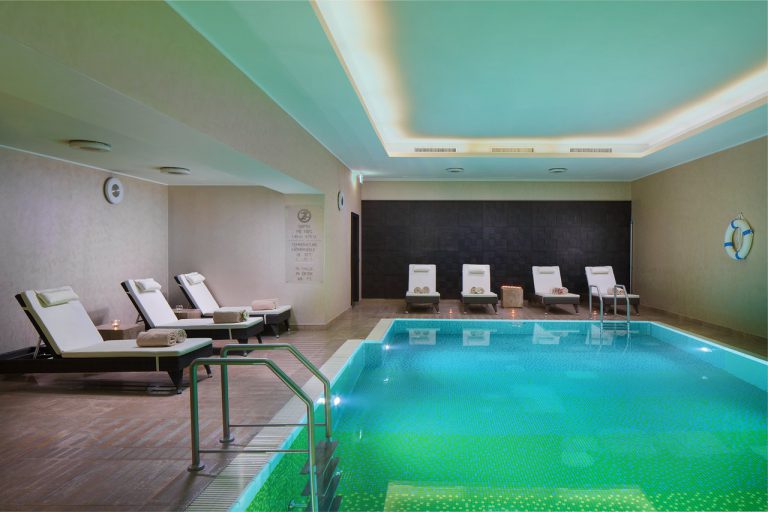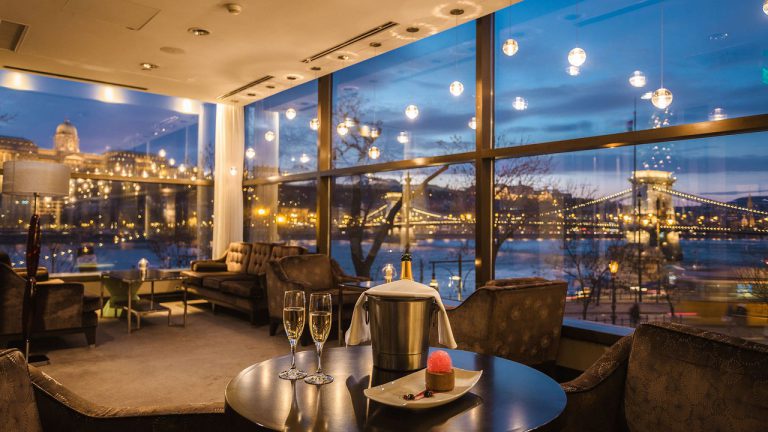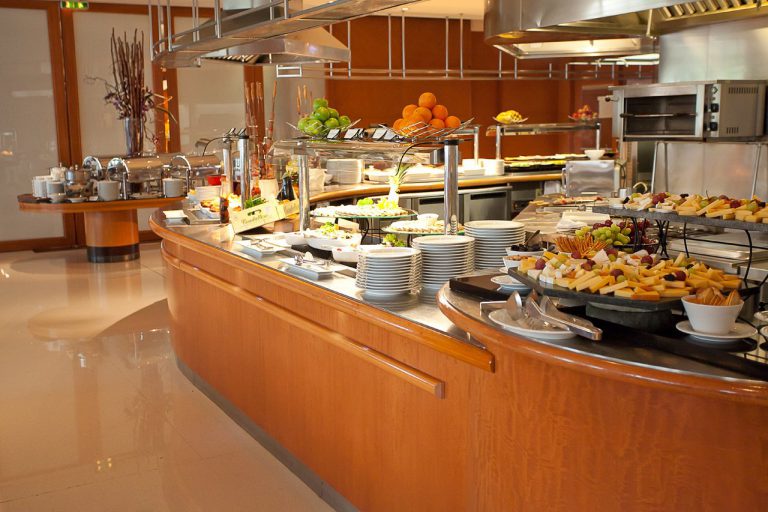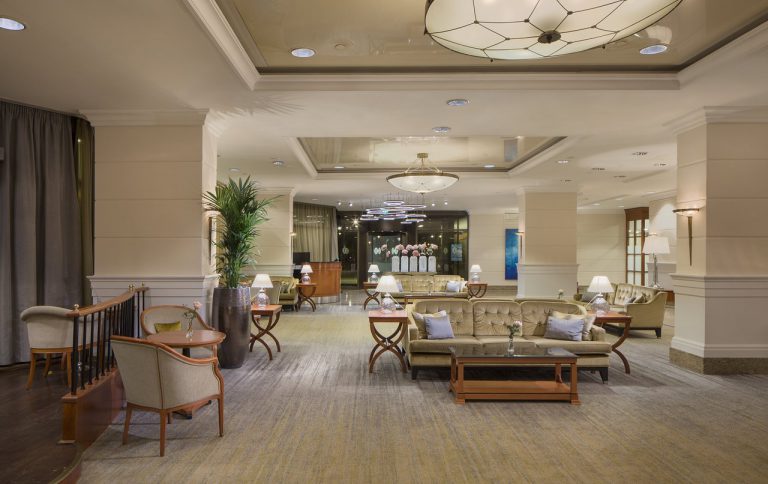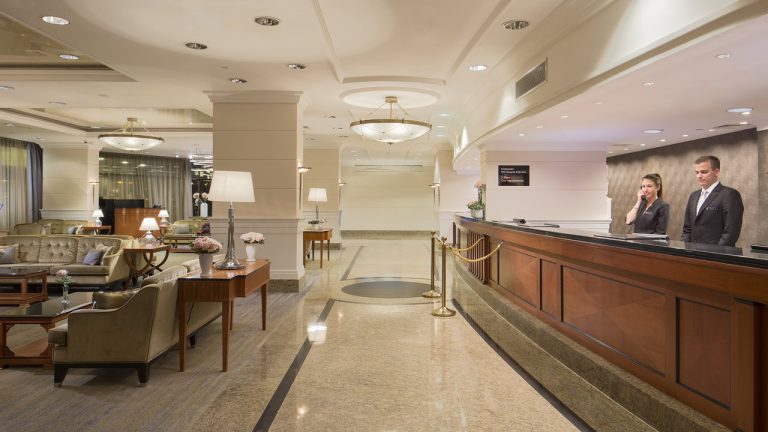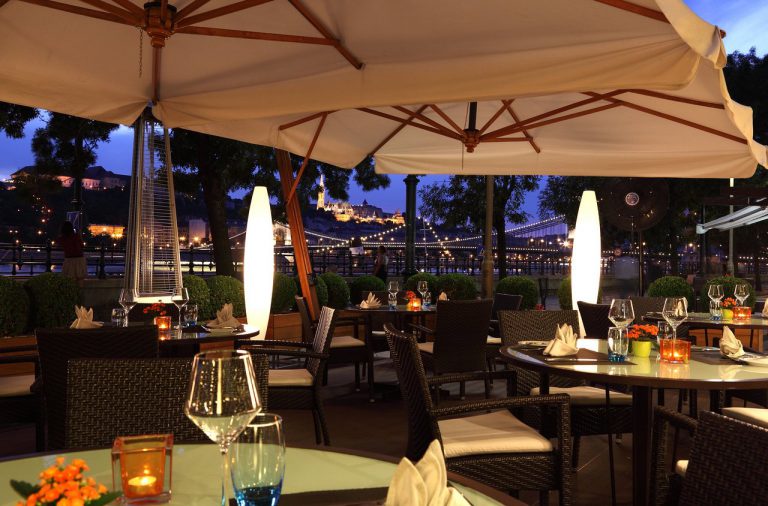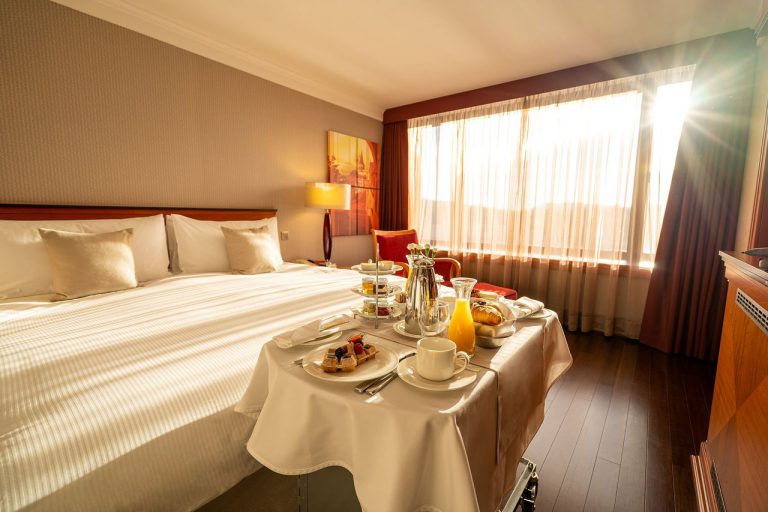 An elegant riverside hotel with spectacular royal palace views!
This hotel is located at one of the most imposing UNESCO world heritage sites of Budapest, on the most stunning riverbank walkway in the city called the Danube Promenade.
You may find this hotel in the close proximity of architectural gems such as the Széchenyi Chain Bridge and the Parliament, with a direct view of the Buda Castle.
The standard rooms are quite small but the suites are much better. The executive rooms provide more space and stunning royal castle views. All rooms have classic furnishings. Intercontinental Club Rooms offer exclusive lounge access for complimentary breakfast and high tea as well as evening cocktails paired with exquisite canapes.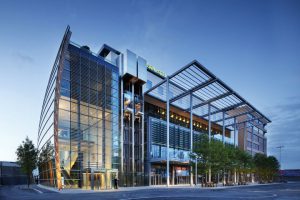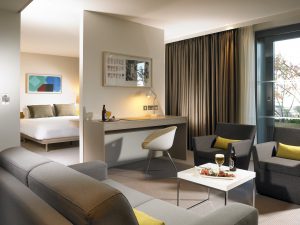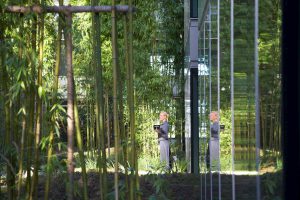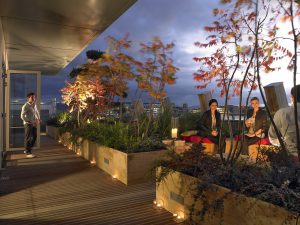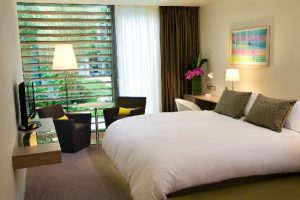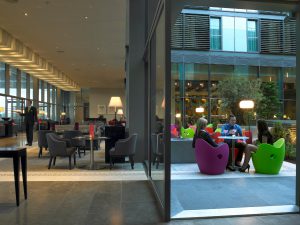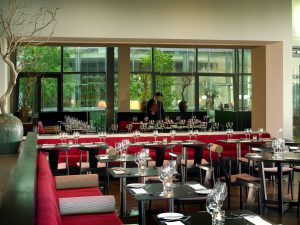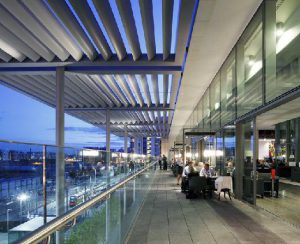 Stay in the unique Dublin hotel featuring 252 stylish bedrooms located beside the 3 arena venue in the heart of the docklands.
You can choose from the range of superior rooms, executive rooms, and suites for your ultimate comfort.
Located in the heart of Dublin city, the hotel offers modern and stylish bedrooms.
Be entertained in their Hemi bar and the famous first dates restaurant!
'A modern vibe and right by Dublin Port and trams close by.'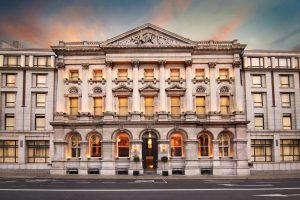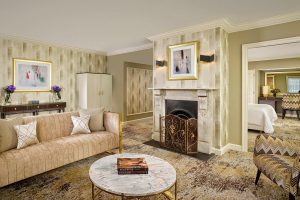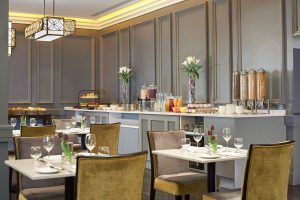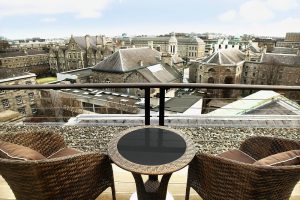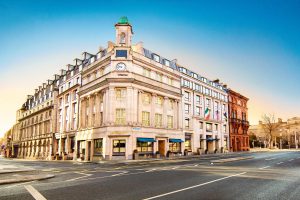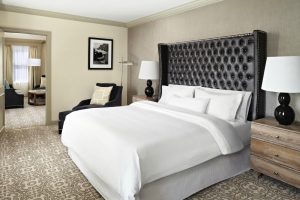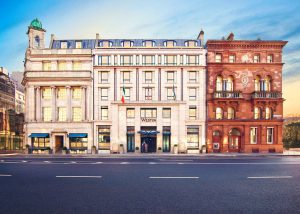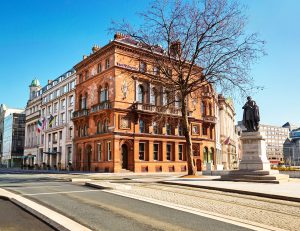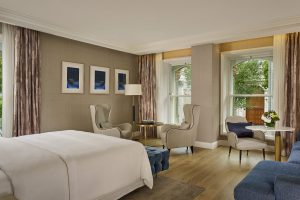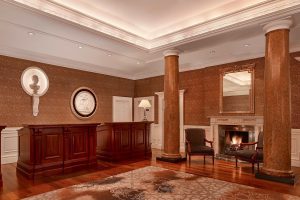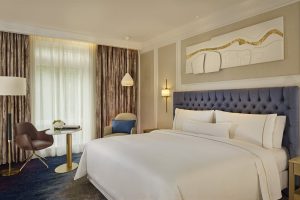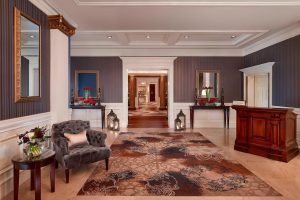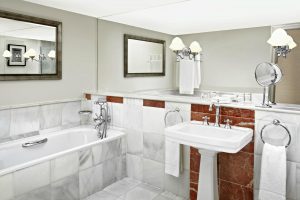 Experience an idyllic city centre sanctuary at the Westin Dublin. Enjoying a unique location, overlooking Trinity College and Dublin City with shopping, entertainment and many attractions on your doorstep. The Convention Centre Dublin, Dublin Docklands and the International Financial Service Centre are a short walk away.
The hotel delivers a warm Irish welcome with an international level of service inviting you to unwind and recharge.
Discover an array of charming and comfortable places to dine, with three delightful eateries; Morelands Lounge and Grill the Atrium Lounge and the Mint Bar. Relax in the classically designed guest rooms and suites and delight in the refreshing details of five-star hospitality in this tranquil haven, the perfect place to call home during your visit to Dublin City.
The Banking Hall is an iconic ballroom in the heart of Dublin city, adorned with Crystal chandeliers and featuring opulent marble pillars, tall mahogany doorways and magnificent detailing on the walls and ceiling.
Each exquisitely designed room and suite is equipped with luxury amenities, including a flat-screen TV, iPhone/iPad docking station, alarm clock, complimentary high-speed internet access, Nespresso coffee machines, complimentary mineral water, individual climate control and bathrobe and slippers. Sink into your Westin heavenly bed with luxurious bed linen and delight in the Italian marble en-suite bathroom with rainfall shower. Relax and unwind in classically designed guest rooms and suites and delight in the refreshing details of five-star hospitality in this calming and tranquil haven, the perfect place to call home during your visit to Dublin City.
'Good location, beautiful spaces, nice size room, lovely staff. but ask for an exterior view.'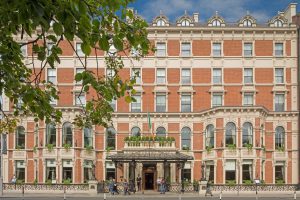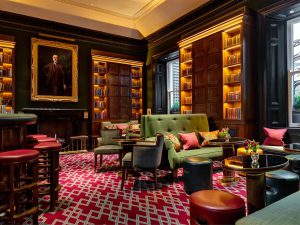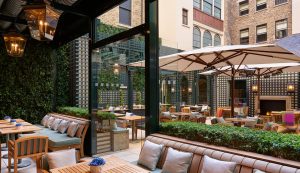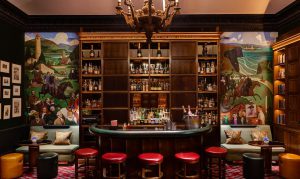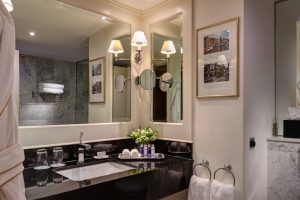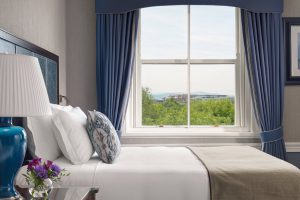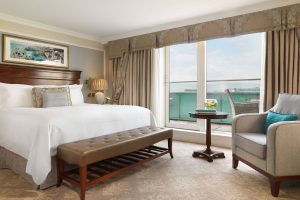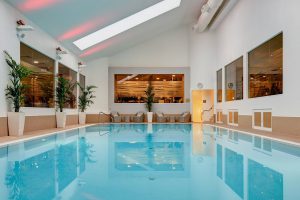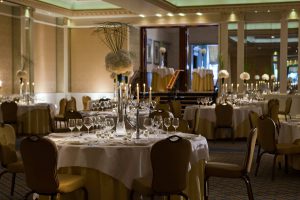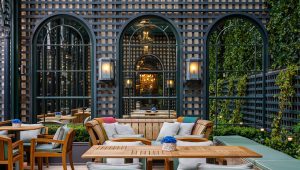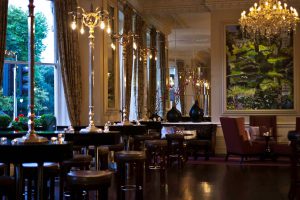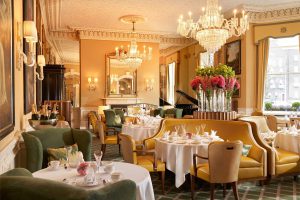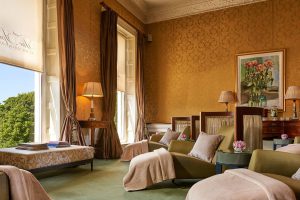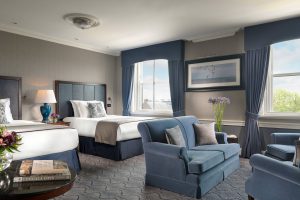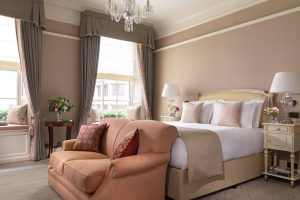 The world-famous Shelbourne is a timeless landmark in the heart of Dublin. Overlooking the magnificent St. Stephen's Green, it is only a few minutes walk from Dublin's most famous landmarks as well as the key shopping and cultural areas of the city. The connection to Ireland's capital runs far deeper than just location.
Founded in 1824, The Shelbourne is a place where history has been made, the Irish Constitution was drafted, literary masterpieces were penned and society was shaped. This outstanding hotel has been dramatically restored to its full original splendor in recent years. Take time to write your chapter in this iconic properties in extensive history.
Each guest room at The Shelbourne is a welcoming and restful sanctuary: the perfect home base from which to explore all the delights of Dublin. Impeccably refurbished and perfectly appointed, every room in the hotel has been individually decorated in keeping with the grand, historic heritage of the hotel and thoughtfully furnished with every modern convenience.
An atmosphere of luxury and beauty is evoked by every five-star detail. It is the little touches that set The Shelbourne experience apart, and even the most ordinary objects in each room have been selected with the guest's happiness and comfort foremost in mind.
Enjoy a fully digital LED flat-screen TV, iPhone/iPad docking station, alarm clock, complimentary high-speed internet access, and individual climate control. Sink into a magnificently comfortable bed with feathertop mattress and 300 thread count Egyptian cotton bed linens, or retreat into the luxury of an elegant marble bathroom to soak away the cares of the day.
Each of the bar & restaurants offer a unique and memorable experience. The Horseshoe Bar has played host to notable meetings over the years from politicians and journalists to visiting dignitaries and local personalities. The Lord Mayor's Lounge, Ireland's most iconic drawing-room, plays host to the indulgent offering of Afternoon Tea while looking out onto the glorious St. Stephen's Green. The Saddle Room Restaurant encompasses the cherished traditions of dining at The Shelbourne, developed over generations. This is a reassuringly timeless and elegant dining room with a relaxed atmosphere, old-school Irish service, and a menu full of classic favorites. 1824 Bar, The Shelbourne's newest addition – a snug, luxe, intimate and sophisticated atmosphere with a hand-picked list of top-shelf whiskey – juxtaposed against an outstanding backdrop of a whimsical Irish scene encapsulated in a mural style painting by artist Paul Slater.
'Elegance and style never go out of fashion. Feel royal. The best.'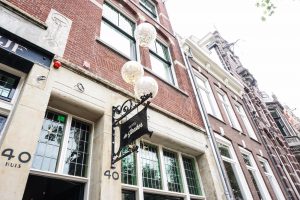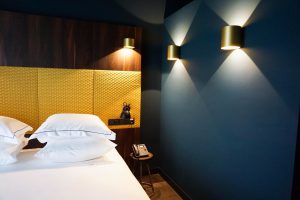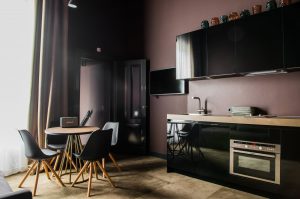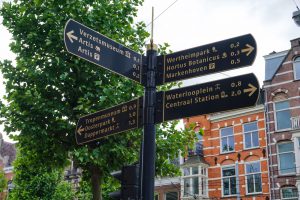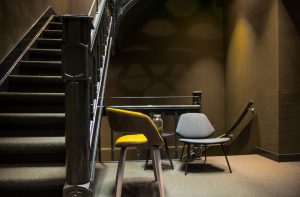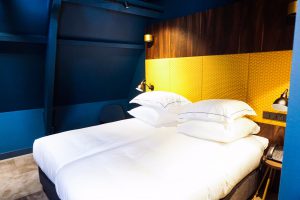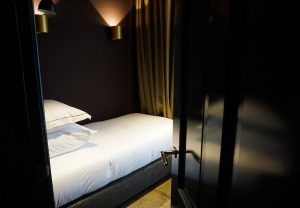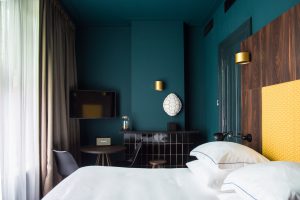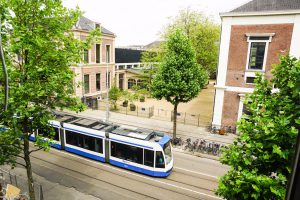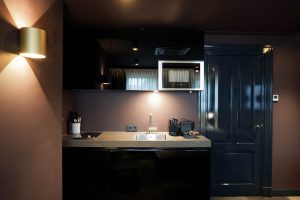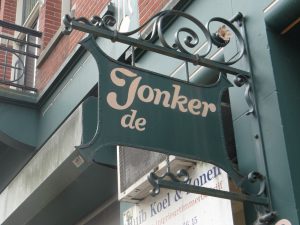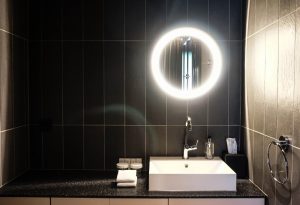 Discover the ultimate home away from home feeling at this hotel. Live like a true local, because the Studios & Suites provide you optimal privacy. There is no front office nor staff, however, your room will be cleaned daily. You can check-in online easily and receive a personal digital key prior to your arrival by e-mail (QR-code). The QR-code provides access to the building and Studio or Suite.
This quirky place is located in a historical building in the city center of Amsterdam. For decades a butcher shop called 'Mr. Jonker', was situated on the ground floor. The Studio's and Suites are placed in the gorgeous, newly renovated monumental building that emanates a typically Amsterdam feel – the characteristic staircase and original beams are still prominent features.
The interior has a modern style with a classic touch. It is located across the street from the Zoo 'Artis'. The perfect getaway with optimal privacy, when you want to discover Amsterdam like a local!
The hotel has 15 luxury rooms and three different room types: Studios, Suites & Deluxe Suites.
All with kitchenette, perfect for a stay with family or friends
The location is beautiful, facing the zoo "Artis"
Situated in the upcoming and green Plantage area in Amsterdam center and within walking distance of the bustling city center.
'Stylish, modern, and authentic studios & suites. Super quirky and not at all like other hotels. Very high-end linens and finishes in an industrial setting. Lots of amenities in the room, full kitchen. We loved it. It's perfect for young and older! Great little breakfast place right next door where the locals eat. We really felt like we were in Amsterdam here."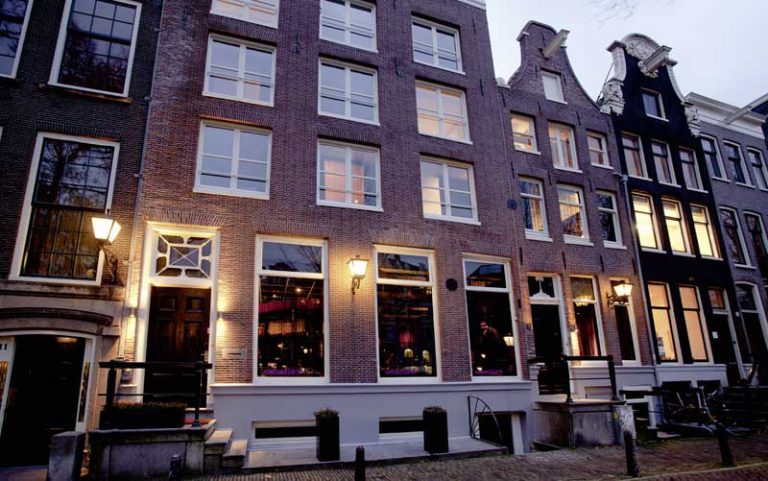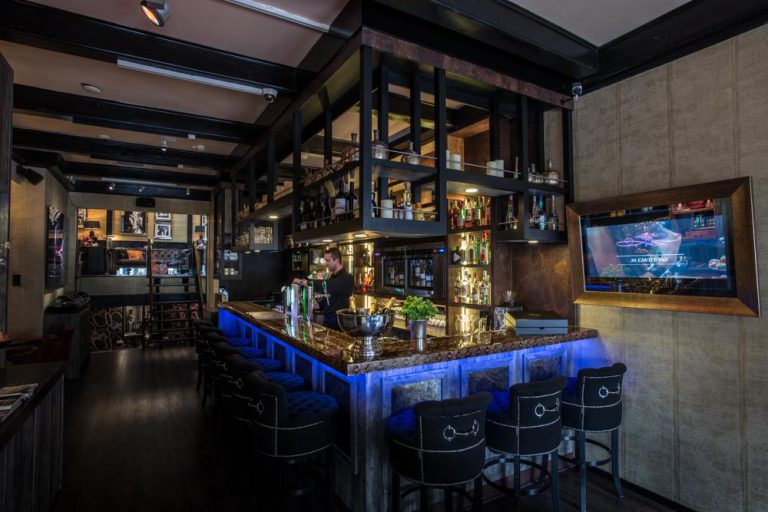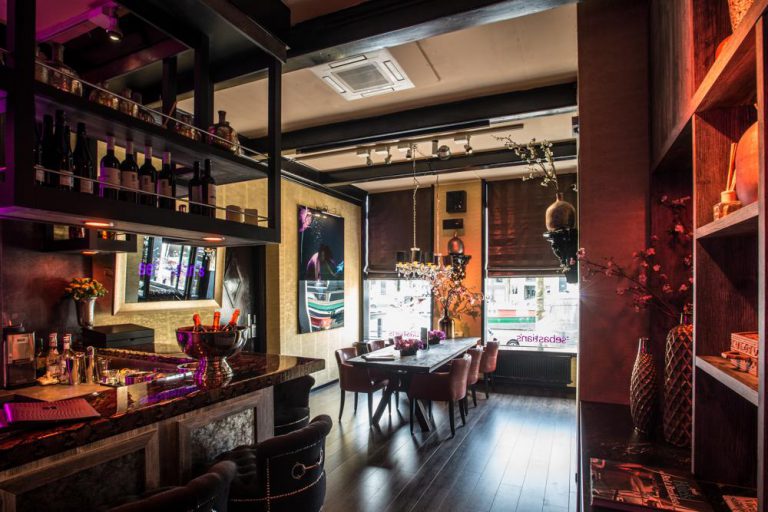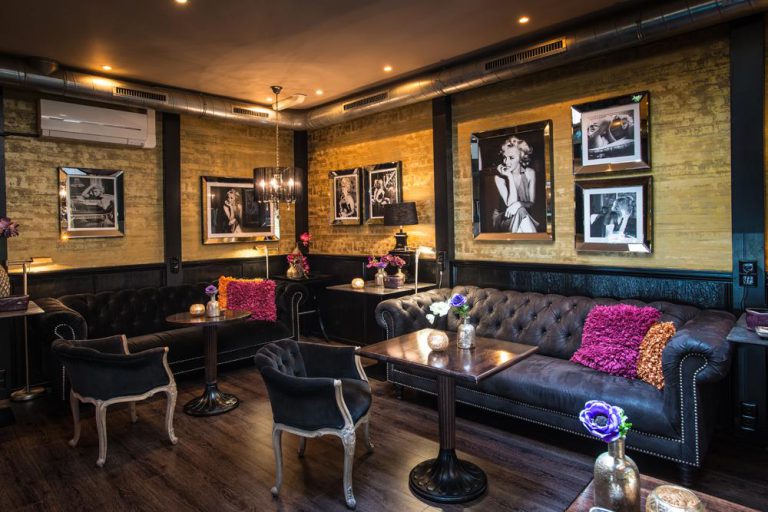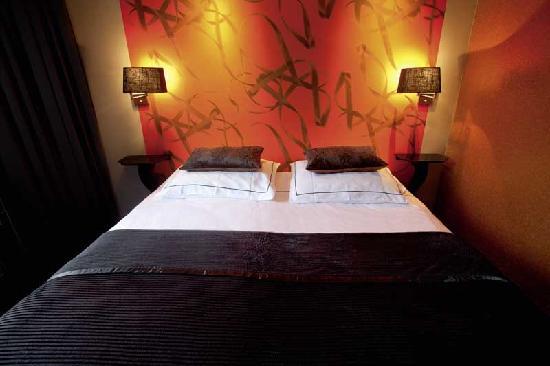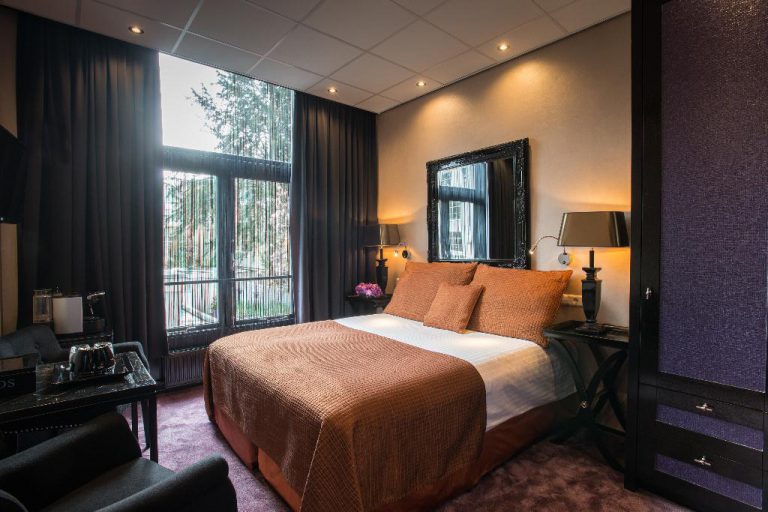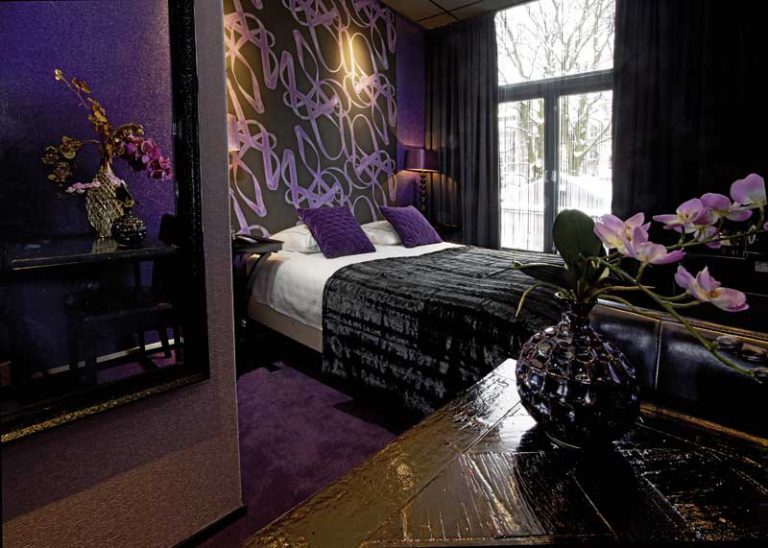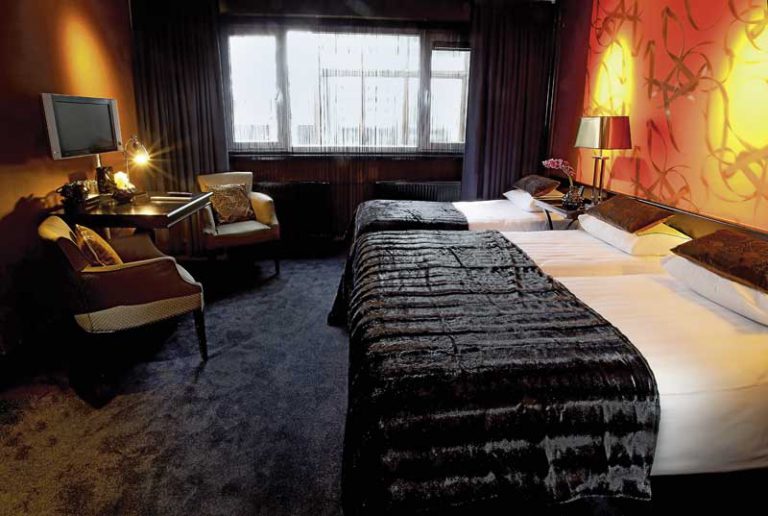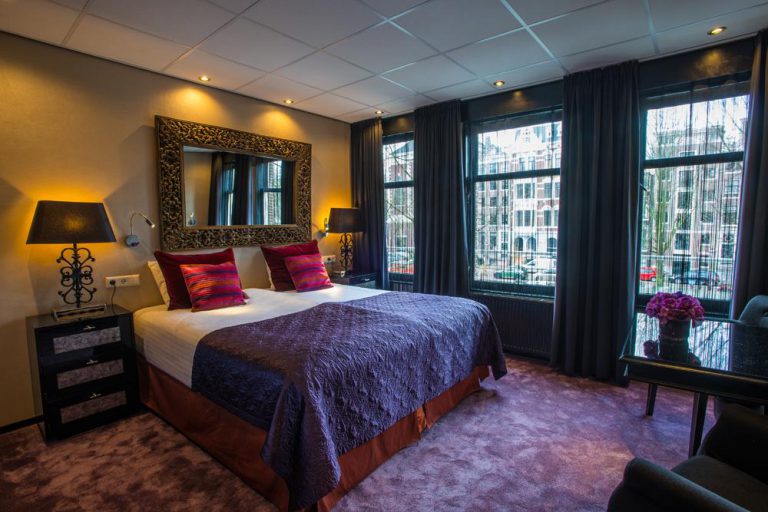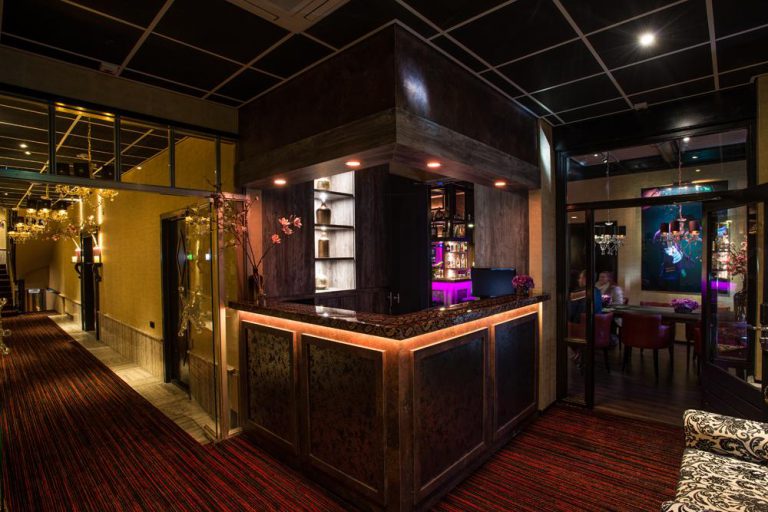 My exception to my own rule: a 3-star hotel in Amsterdam. As hotels can be pretty expensive in Amsterdam I have tried to add one at a lower price level and still in the perfect location: right on the canal in the city center.
On the Keizersgracht, one of the most picturesque canals in the heart of Amsterdam, you will find Sebastian's – a contemporary three-star boutique hotel with a unique and sophisticated design and atmosphere.
The philosophy revolves around offering you excellent service provided by a motivated and dedicated team. The hotel staff makes every effort to meet and exceed guest expectations.
Sebastian's is permeated with a mystical atmosphere that combines warm, sultry colors with exquisite textures. The contemporary look & feel of the interior is the creation of renowned interior designer Wim van de Oudeweetering.
Sebastian's does not have its 'own' restaurant but has an excellent selection of lunch menus and a freshly made soup of the day. You can also enjoy a variety of snacks and appetizers along with a glass of quality wine or beer.
Breakfast is served in the attractive breakfast room. Breakfast includes a variety of items such as freshly baked bread and rolls, eggs, cold cuts, cheeses, and fruit juices.
You can expect excellent service in this hotel.
'In other words, Sebastian's is a 3-star hotel that offers 4-star service. Loved the Rituals products in the bathroom, the coffee machine in the room.
The hotel had a lot of ambiances and all the staff was very friendly. Perfect location!'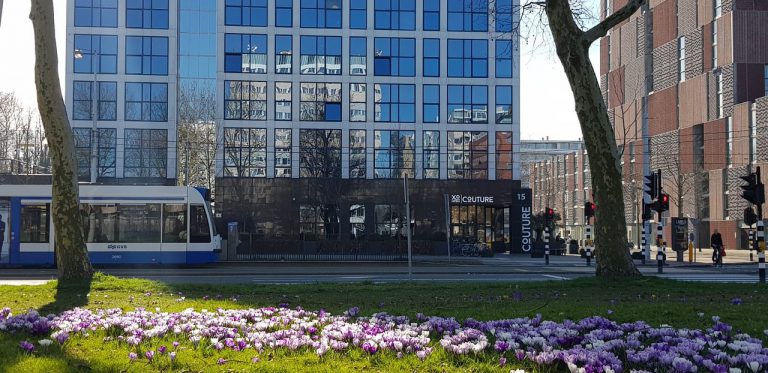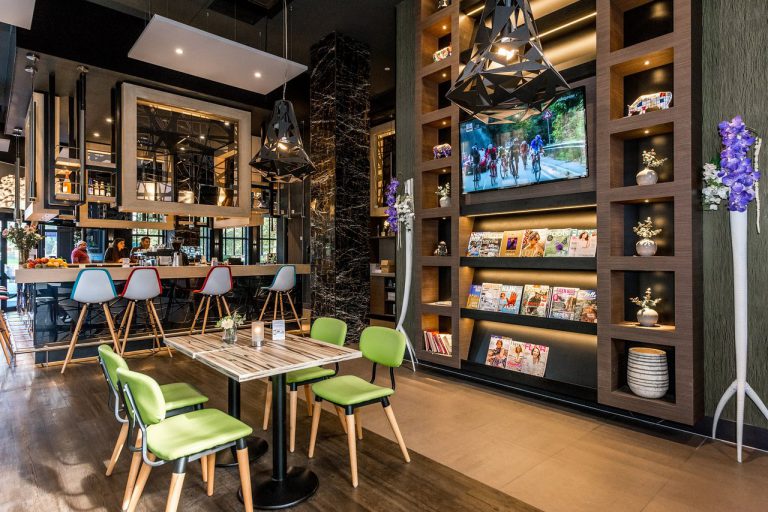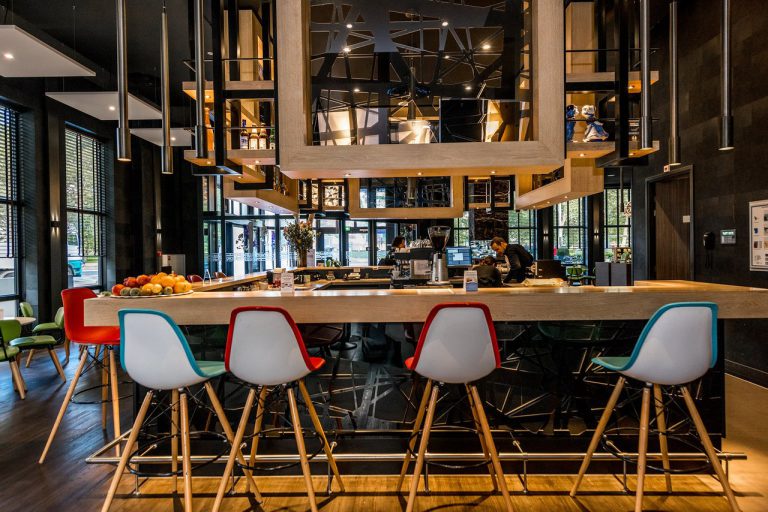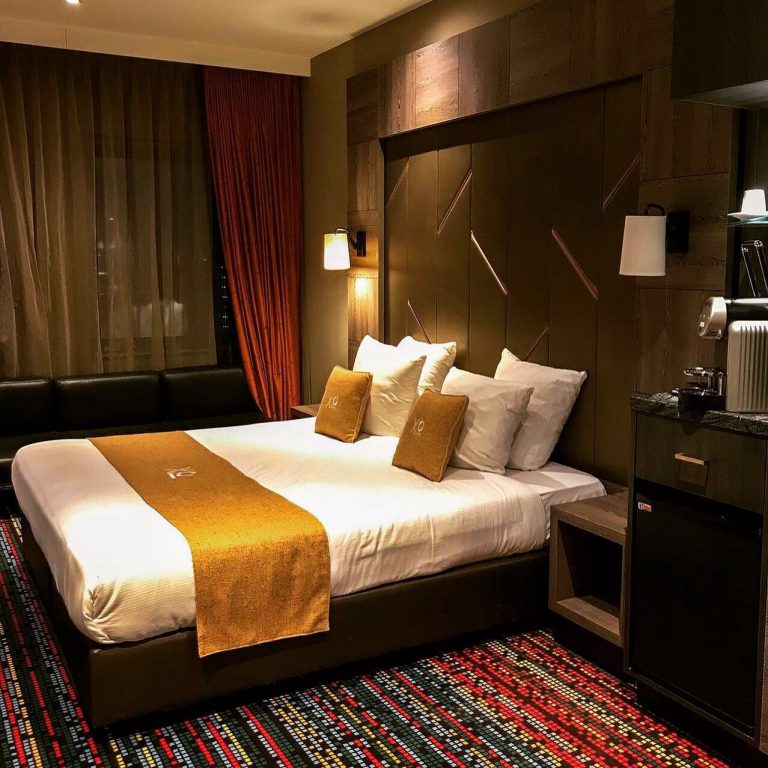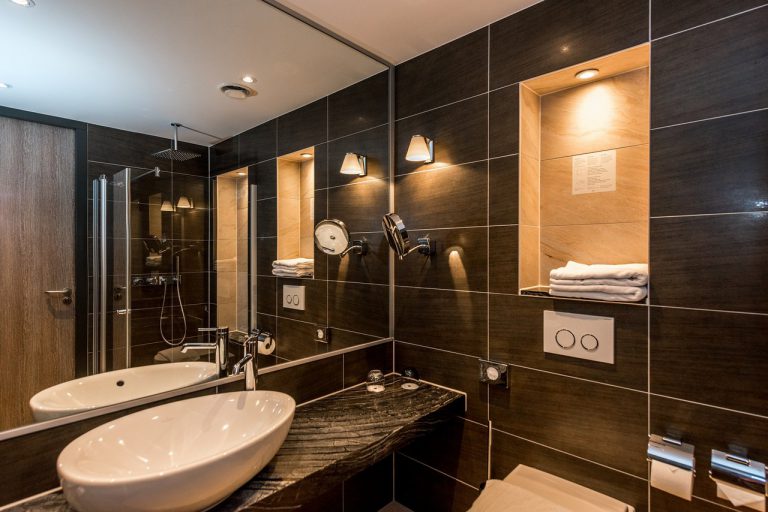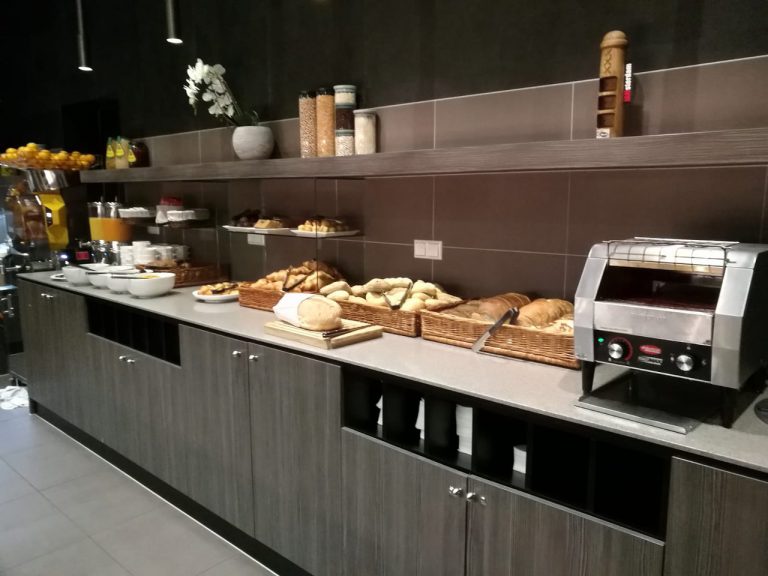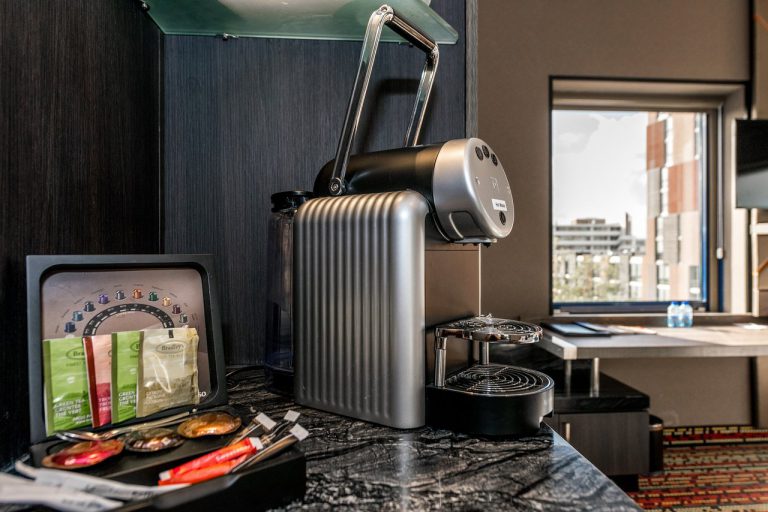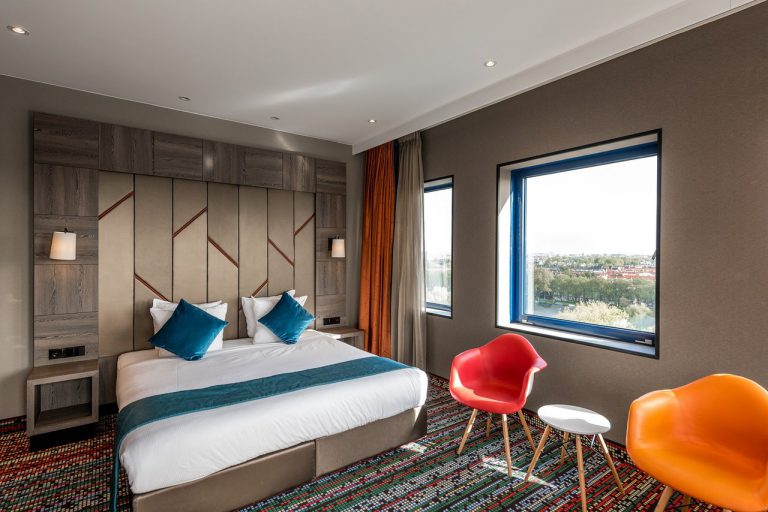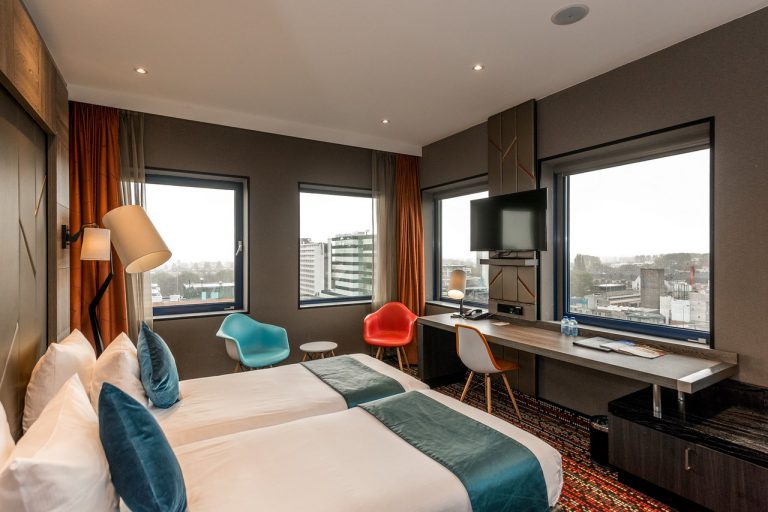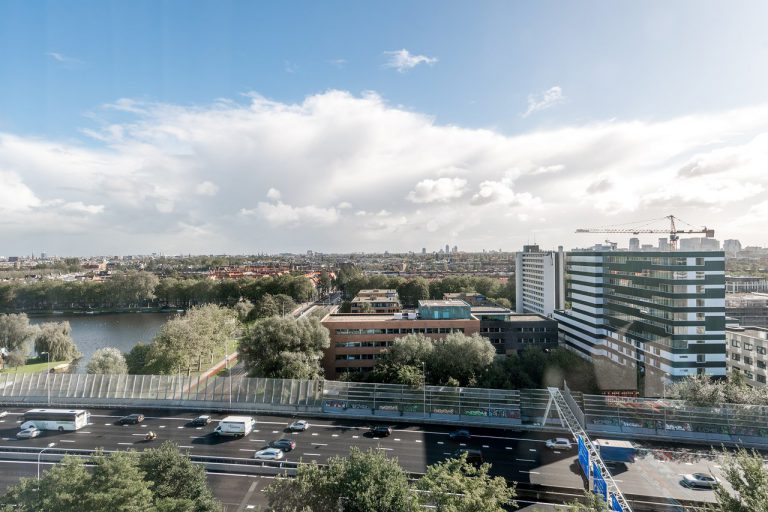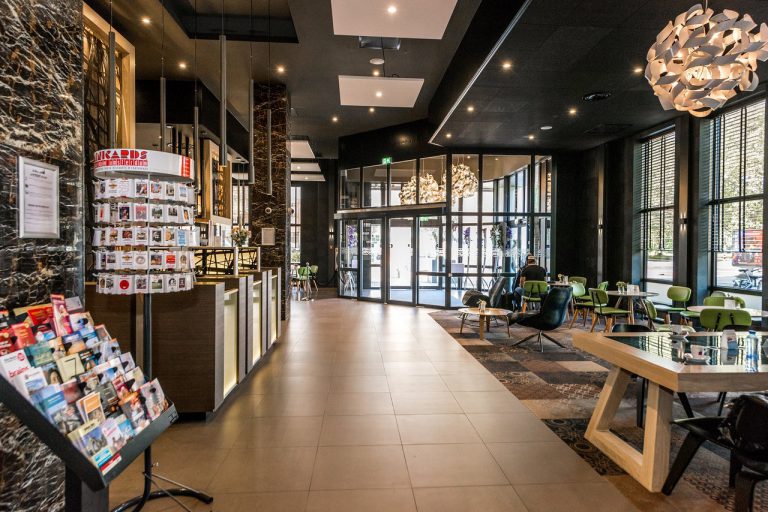 XO Hotels Couture is not located in the city center and therefore less expensive. It enjoys an easily accessible location though and offers comfortable, spacious rooms.
The hotel is located opposite tram/trolley stop "Delflandlaan", from which only takes 20 minutes to reach the bustling center of Amsterdam!
The rooms are nicely decorated in style. You can enjoy a free coffee or tea, take a relaxing shower (will you use the rain shower or hand shower), watch your favorite television program on the flat-screen television or indulge in the view from one of the higher floors. The stylish, non-smoking rooms are equipped with the most modern facilities.
A cheaper alternative but not in the heart of the buzzing city!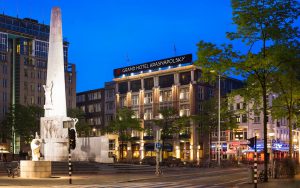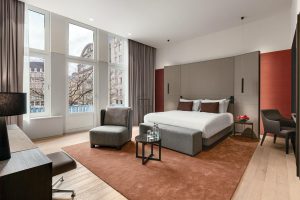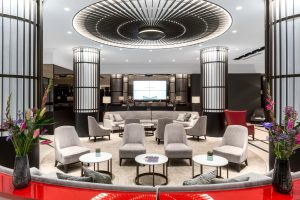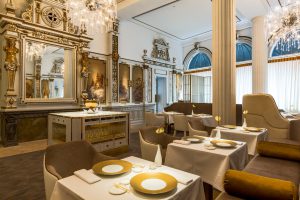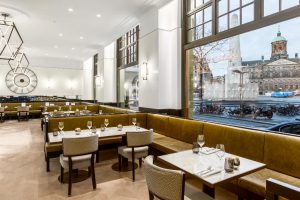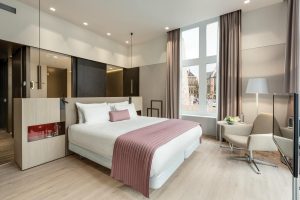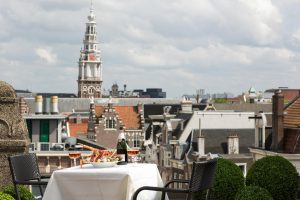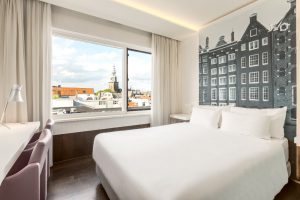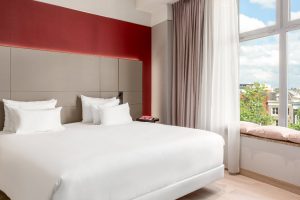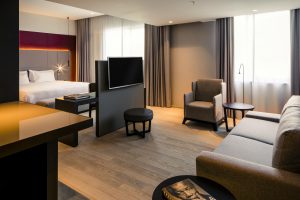 The 5-star NH Collection Amsterdam Grand Hotel Krasnapolsky is on Amsterdam's main Dam square with views across to the Royal Palace. You're well-placed for some of the city's finest shops, while a lot of tourist attractions are just a short stroll away. It is just a15-minute tram to the Museum Quarter.
The hotel building dates back to 1855 and has 451 guest rooms, each with very modern décor and a natural color scheme. You'll find some classic touches too, with parquet flooring in some of the rooms. A contemporary en-suite bathroom can be found in every room, while guests in the Presidential Suite can enjoy a long soak in their private Jacuzzi.
Every morning, breakfast is served in the Winter Garden where you can enjoy an NH Collection breakfast under the slanted glass roof. Throughout the day, Grand Café Krasnapolsky offers a unique dining experience, be it for a relaxed lunch or dinner, or simply afternoon coffee and overlooks the Dam Square. In the evening unwind and relax in our bar, The Tailor, with its tailormade cocktails; or dine in the 1 Michelin-starred The White Room, our fine dining restaurant under the signature of Jacob Jan Boerma.
The Grand Café Krasnapolsky is the only place in Amsterdam with the unique possibility to enjoy a cup of coffee, snacks, lunch, or dinner with an unrivaled view of the bustling Dam Square. With its high ceilings and large windows, natural daylight floods the space, and the modern yet elegant decor takes you back in time to the brasseries old Paris was known for.
Offering a varied menu created under the chef, Jacob Jan Boerma, classical dishes with a modern twist are served alongside the unique Hors d'Oeuvre counter with made to order small dishes and fresh salads. These can be followed up with assorted tea specialties or extraordinary home-made pastries in our one of a kind Cake Room. Everything served features the fresh flavors for which Jacob Jan Boerma is known for.
As the day draws to a close, take advantage of the wide assortment of high-quality wines, delicious cocktails, and tempting snacks on offer.
There's a choice of rooms, from the very classical to the ultra-modern. Whether you're traveling for business or staying with your family, you'll find all the essentials in your room – from a widescreen television to an ensuite bathroom. And if you go for the Presidential Suite, you'll find a Jacuzzi in your bathroom.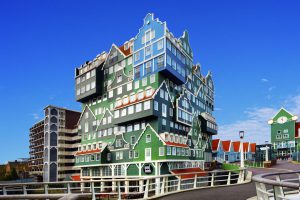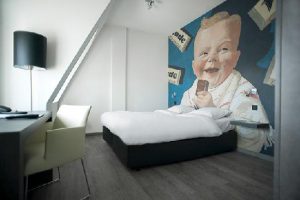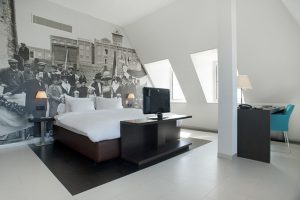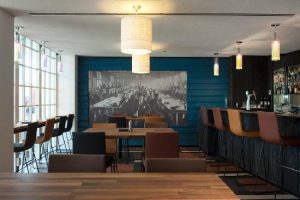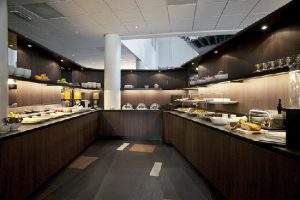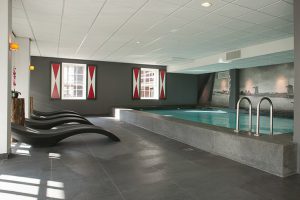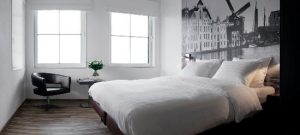 If you want to stay outside of Amsterdam but still in half an hour easy access to the capital of The Netherlands, and you want to stay inside a tourist attraction and at walking distance to de famous Zaanse Schans? This visually 4-star hotel has an impressive façade. The structure is a lively stacking of various traditional houses to be found in the Zaan region. The interiors of the modern hotel rooms also reflect the rich history of the Zaan area: the traditional products, the pioneers of the local craft industries, and the families which made the area world-famous. In short, it provides the best of tradition combined with modern-day comfort.
Inntel Hotels Amsterdam Zaandam offers besides nostalgic rooms, a Wellness Club with swimming pool, Bar & Restaurant Puur Saen, and free Wi-Fi.
The hotel is not only the ideal place to stay when discovering the Zaan area but as well for a trip to Amsterdam. The train journey will take 12 minutes to Amsterdam Central Station, and you can travel to Schiphol airport in only 18 minutes.
Inntel Hotels has respect for people and the environment and contributes to a healthy planet and a beautiful society. With the Surprisingly Sustainable program, the hotel group is working towards a sustainable future.
All rooms are modern contemporary designed with all modern touches and comfort.
At Restaurant Puur Saen they passionately serve delicious dishes prepared with local and domestic products. Get familiar with the products, crafts, and founders that brought success to this area.
The beautiful terrace by the water is the perfect spot to enjoy a drink or a bite to eat.
Again, not in Amsterdam but located in Zaandam which is a smaller city just above Amsterdam located closely to the Zaanse Schans which is a Dutch must-see.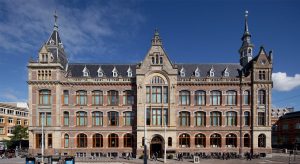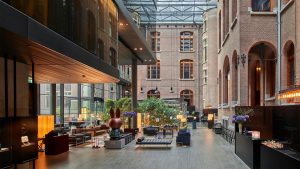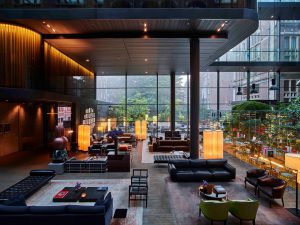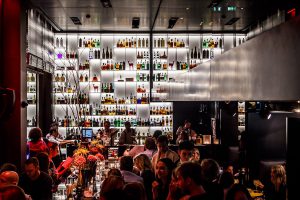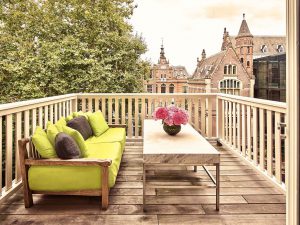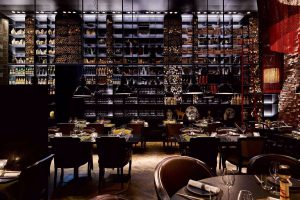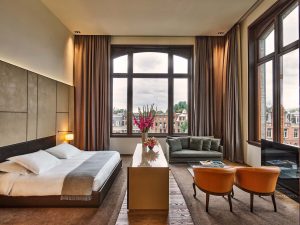 This luxury hotel in Amsterdam has repeatedly been crowned the number one luxury hotel in the Netherlands. Located in the Museum Square district, the luxury cultural heart of the city, the Conservatorium is an architectural masterpiece that combines a landmark heritage building with graceful, contemporary design. You will enjoy a selection of restaurants, a bar, lounge, and 1,000 sq m Akasha Holistic Wellbeing. In this vibrant and elegant setting, the city's crown jewels – the Van Gogh Museum, Concertgebouw, Rijksmuseum, Vondelpark and Amsterdam's most indulgent shopping – are literally at your doorstep. For culture and for business, it's a location like no other.
Originally founded in 1275, present-day Amsterdam is redolent with history. With its numerous museums and galleries, the city is now undergoing an arts-led renaissance that is feeding a resurgent appetite for travel to Amsterdam, both locally and from abroad. The Conservatorium – with its rich history – is part of this renewal.
The building was originally designed by the Dutch architect Daniel Knuttel as the Rijkspostspaarbank and sparked the regeneration of the Museum Quarter at the end of the 19th century.
The hotel is one of the most beautifully designed hotels in Amsterdam, the Conservatorium is on the site formerly occupied by the city's Sweelinck Music Conservatorium. Originally built as the Rijkspostspaar bank at the end of the 19th century, the building was conceived by the renowned Dutch architect Daniel Knuttel. It heralded the regeneration of the Museumplein, an area previously derelict.
The guest rooms are the epitome of contemporary luxury, combining the best in modern comforts and technology. Each gives you the most comfortable and peaceful space with thoughtful details and services, creating the perfect retreat for your visit to Amsterdam.
The hotel provided some of Amsterdam's best food and drink experiences. Their secret ingredients? The chefs who select them. Hotel restaurants in Amsterdam are epitomized at the Conservatorium, where the chefs at Taiko are constantly searching for the finest Hida beef, the only true wasabi-grown in Europe, and vintages offered nowhere else. Their sake sommelier even trains new ones – the only person in The Netherlands certified to do so. In a hotel this focused on food and drink, there's no such thing as a humble ingredient. At the Brasserie, the cooks aren't just attuned to the right season for each fruit or vegetable, but the specific weeks when they're at their peak. That is their true secret ingredient: The award-winning culinary team behind each Brasserie recipe, Taiko menu, and Taiko bar cocktails.
A buzzing site in Amsterdam which also attracts lots of young and trendy people.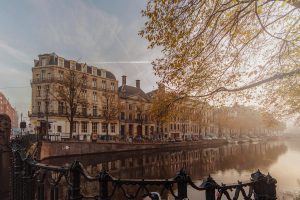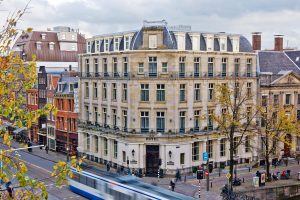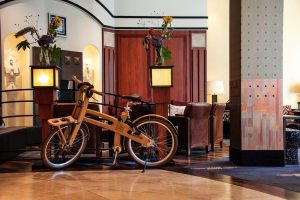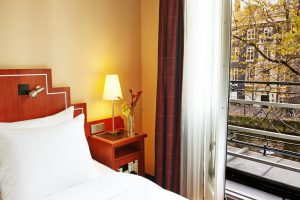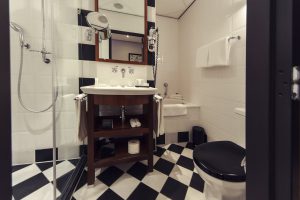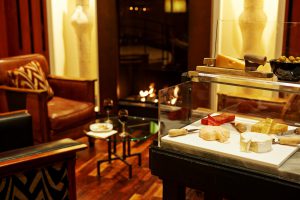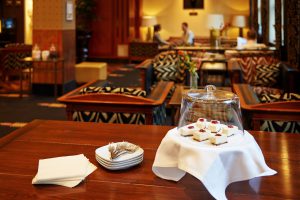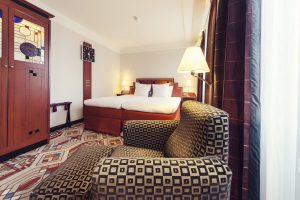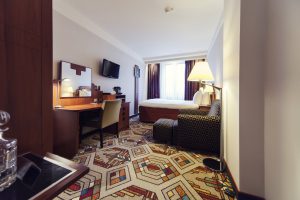 Staying at Banks Mansion is a unique experience. The hospitality and personal service of Banks Mansion are limitless, so everything you eat or drink is included in your room rate. The excellent service and their unique full-service concept with many complimentary extras, such as the free "Live Cooking" breakfast and the warm interior all contribute to our mission to make you feel at home.
They have a unique concept for Amsterdam: your stay includes a lot!
Feeling like making yourself a sweet cocktail? Or would you love to try a real Dutch cheese platter sometime? No problem, The hotel offers all of this at the mansion and it's all complimentary! Their mission is to make you feel at home during your stay. What is a better way to create this real 'feel home' ambiance than letting you have as many drinks and bites as you like? Bites and drinks at the Open Bar in the Living are included. And that is not all, breakfast with Live Cooking and unlimited use of the minibar are complimentary as well. Cheers!
The rooms? Well….what can I say. They are really comfortable but it is a bit like staying over at your aunty Betty! All amenities are there but I am not sure about the design. It's cosy and homey that's for sure!
So if you like the idea of the all-inclusive concept you will have fun here!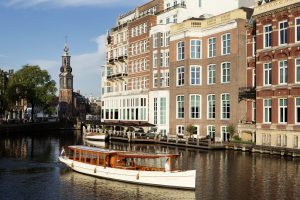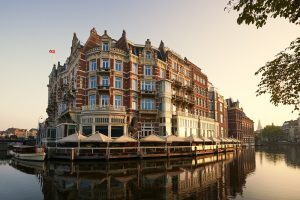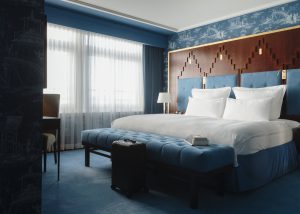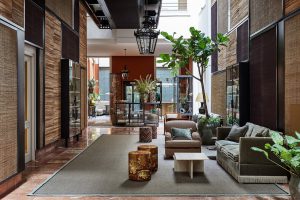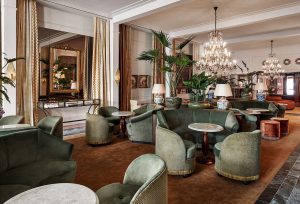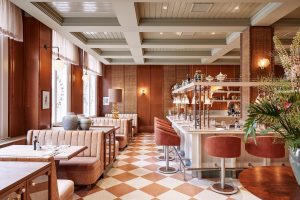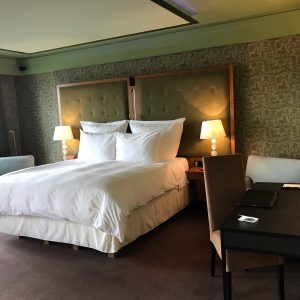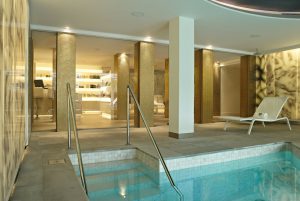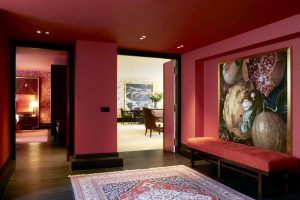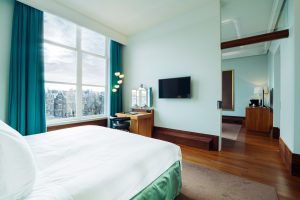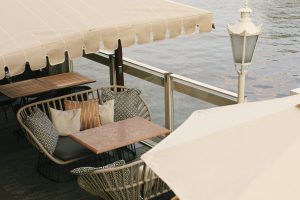 Since the establishment almost one hundred and twenty-five years ago, De L'Europe has evolved from an exclusive hotel in the heart of Amsterdam into a guardian of local culture and craftsmanship.
Consider this hotel the custodian of Amsterdam's essence, a sophisticated guide into its liberal culture, and your exclusive liaison into the world of luxury and comfort.
Call it confidence, laced with finesse. Through the centuries, the typical Amsterdam spirit helped both citizens and visitors pursue their boldest dreams. An ancient legacy, nurtured, polished, and pushed to the edge, leading to revolutionary ideas, elegance, creativity, and prosperity. Visiting Amsterdam means leaving invigorated by its spirit.
De L'Europe Amsterdam has been a leading luxury hotel ever since 1896. With the redesign, they aimed to reinforce their position as an exclusive hotel in the very heart of Amsterdam and its role as guardian of local culture and craftsmanship. The goal of the redesign was to create a timeless classic interior design that feels familiar at the same time. By incorporating round shapes, soft lines, and layered elements the studio was able to give the interior a friendly and inviting appeal. From beautiful long lines of sight that entice guests to walk from one room to another, to authentic 17th-century art together with bespoke furniture and rich, natural materials. Each space boasts a unique interior that seamlessly blends the past and present.
De L'Europe wanted to capture the essence of Original Amsterdam Luxury and the vivid liberal culture of Amsterdam to open up the characteristic building for guests by creating new spaces in the hotel. A new wing was created, called 't Huys. 't Huys, old Dutch for "house", has become a place where Amsterdam icons of art, style, and luxury come together under one roof. With the internationally known candy store for book aficionado's MENDO, high-end florist The Wunderkammer, locally renowned beauty institute Skins Spa and an authentic Italian trattoria Graziella, 't Huys offers an extraordinary experience for hotel guests and locals alike.
The hotel houses 111 beautifully appointed guest rooms, including 63 suites and a peerless six-bedroom penthouse suite. Each blends classic design, contemporary amenities, and the authentic Amsterdam spirit for a stay beyond compare. Expect nothing less than the utmost luxurious comfort.
The hotel has two of the finest and famous restaurants in town and the renowned gentlemen's pub Freddy's Bar.
At Restaurant Bordéau you discover a Michelin-star experience in an idyllic location that lies in the heart of the city.
Bord'Eau is a Michelin-starred restaurant with a gold-leafed décor and intimate views at Amsterdam's historic centre. It offers a menu full of sparkling, flavourful sensations and unique textures. Overseen by our talented chef Bas van Kranen.
Restaurant Marie indulges the world of exquisite taste, love for the colorful French Riviera, and endless summers on your cruise ship. A hidden gem of its own. The brasserie titled Marie is named after the wife of Gerard Heineken, a strong, independent woman with a love for the Côte d'Azur. Marie serves French cuisine in a more informal atmosphere in the restaurant or "Sur l'eau", on the waterfront terrace overlooking the Amstel river.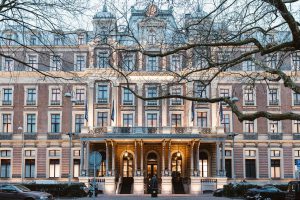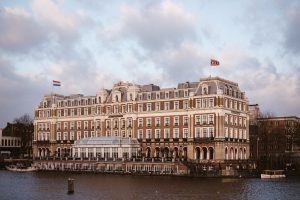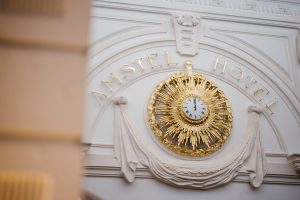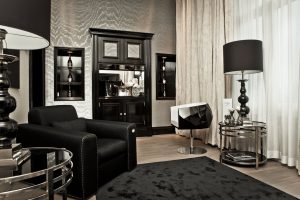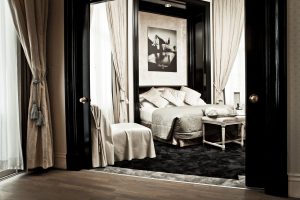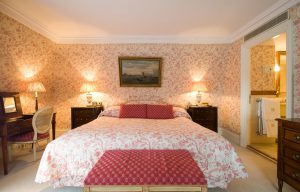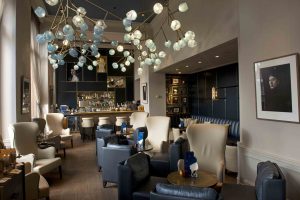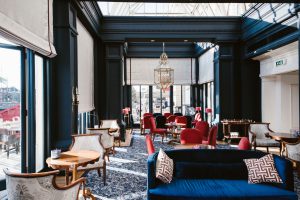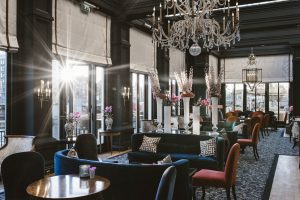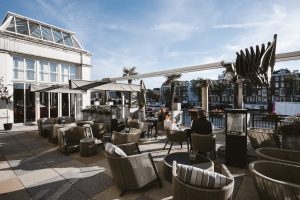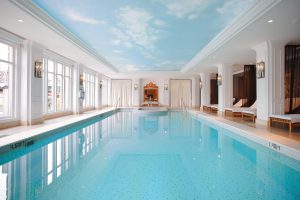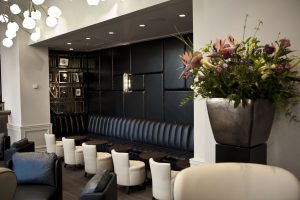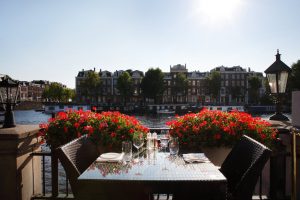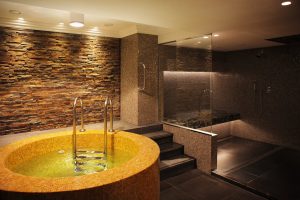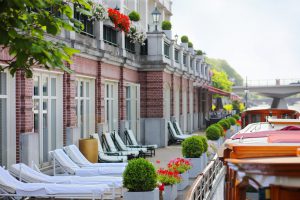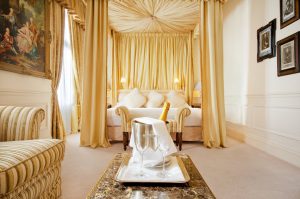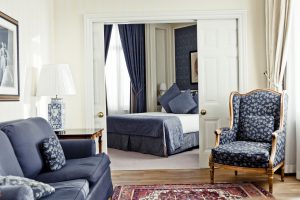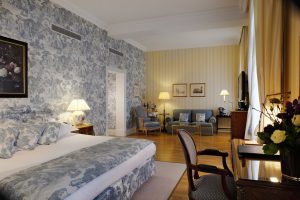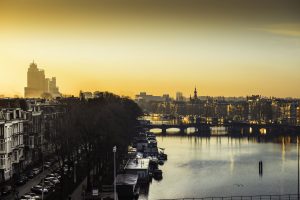 When you deserver being treated like a royalty or famous movie star or artist you'd better stay in this world-famous hotel where royalty and rockstars stay.
Behind the hotel's grand colonnaded entrance, the regal interior features original, 19th-century staircases, chandeliers, and elegant marble floors. You can enjoy High Tea in the lounge with river views, and wind down in the health club with a sauna, massage, or a swim in the indoor pool.
Dine on French Mediterranean cuisine in Restaurant La Rive, try seasonal dishes in the Amstel Brasserie, and discover the city with a tour on one of the hotel's classic saloon boats.
In the hotels' suites, you'll benefit from thoughtful touches such as balconies, connecting bedrooms, extra space, and designer classy decor. The luxury marble bathrooms have cascade showers and you can relax in a separate sitting area with an entertainment system. large windows and city views.
All suites offer magnificent views on the Amstel River or the city area. The suites have a private door that creates an exclusive retreat to work or to receive guests. The suites are also featured with Illi coffee & tea making facilities and a complimentary morning newspaper.
Restaurant La Rive serves Chef Roger Rassin's refined Mediterranean cuisine in a sophisticated dining room with Amstel River views. Enjoy a six coursed menu paired with wines from the hotel's extensive collection and savor the best views in town.
A royal start of your cruise!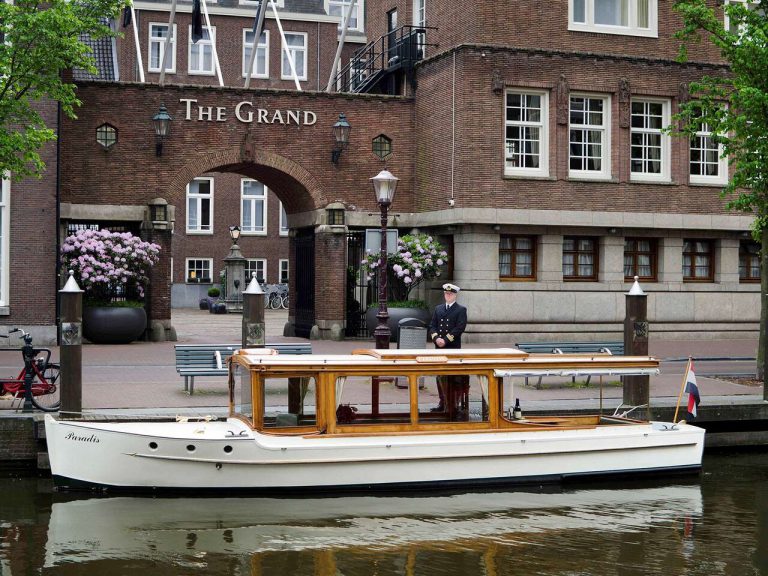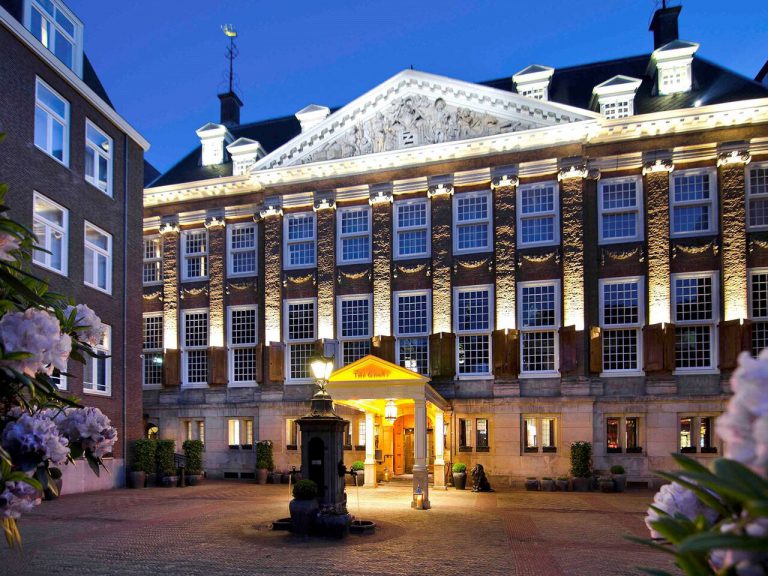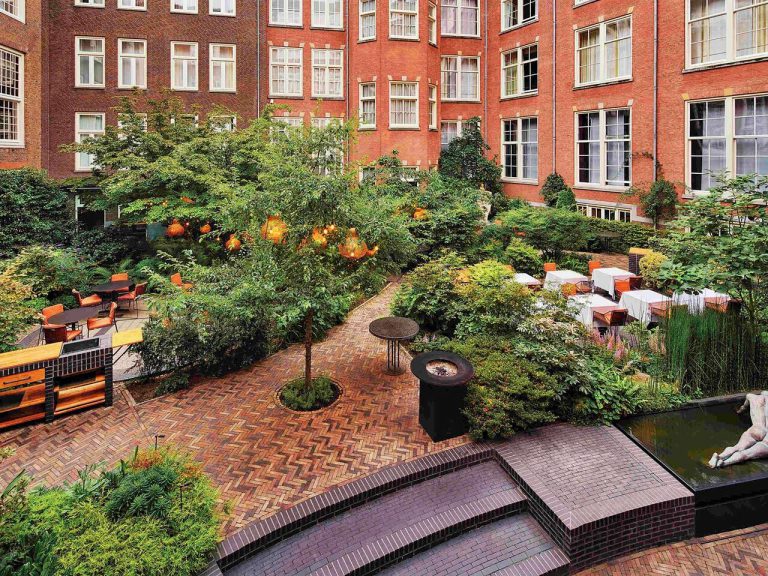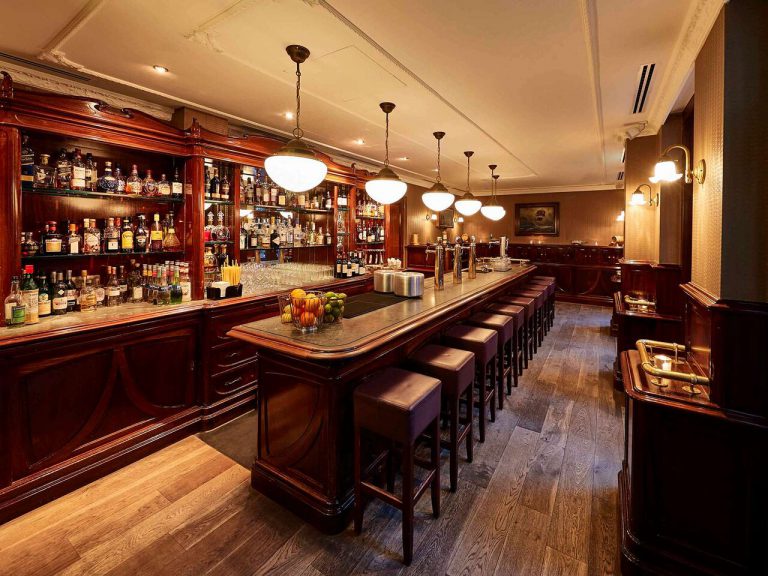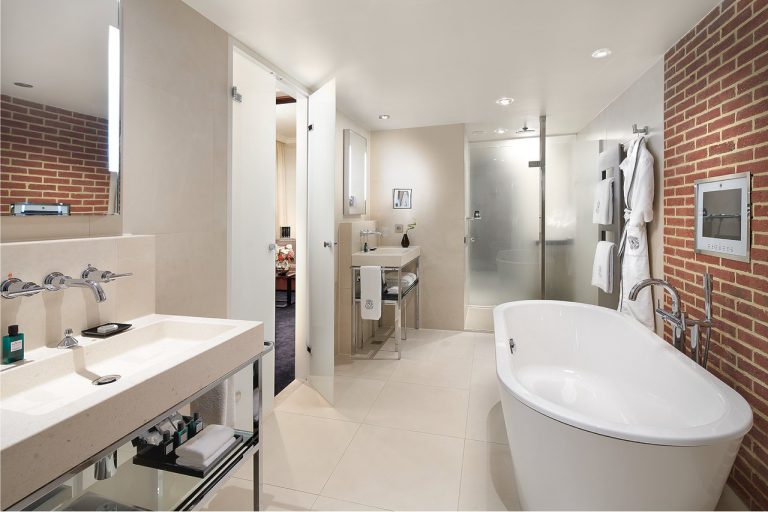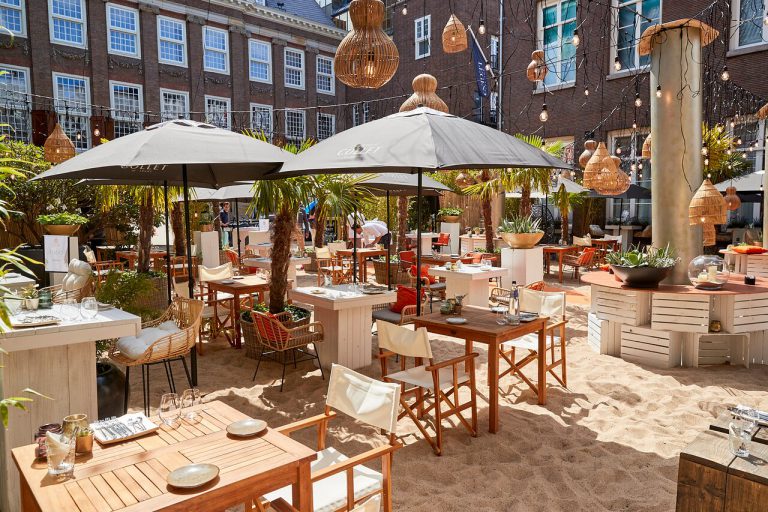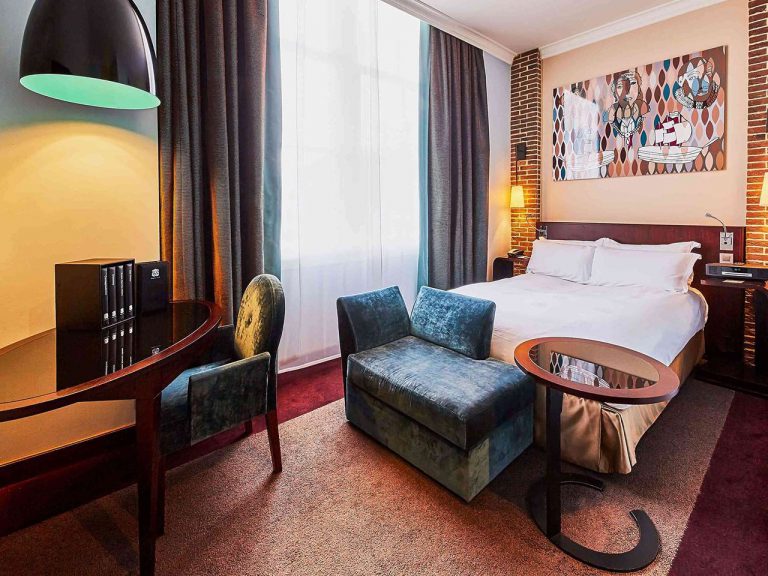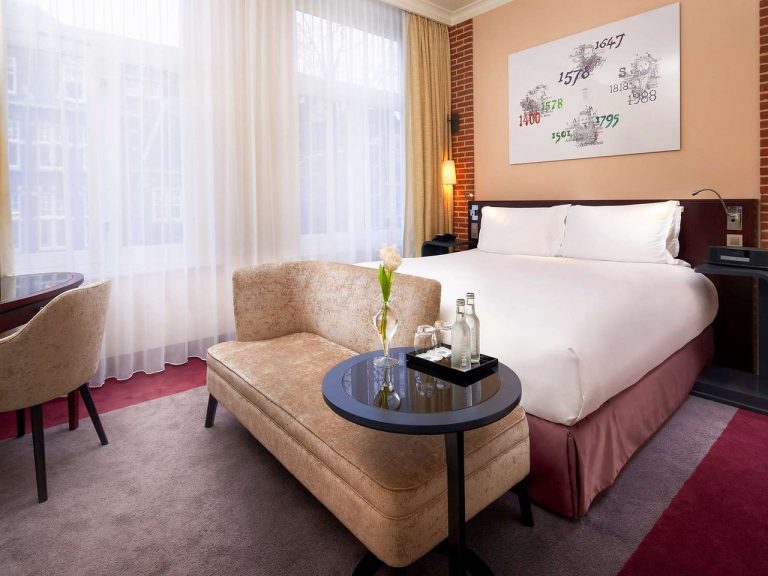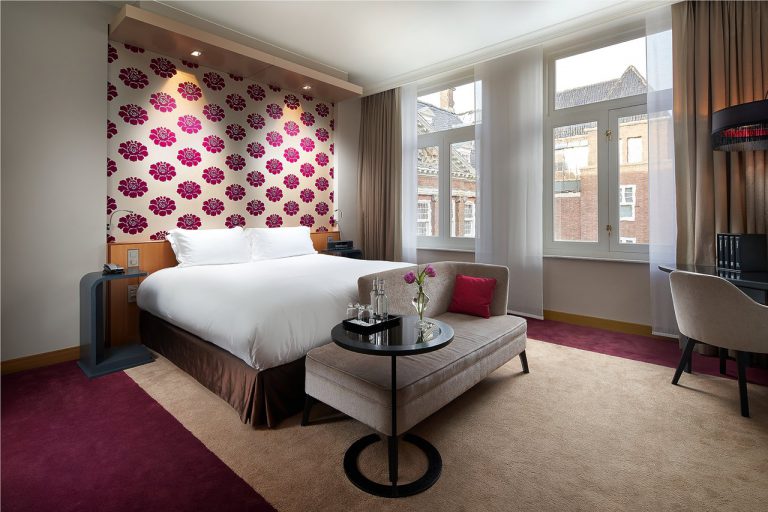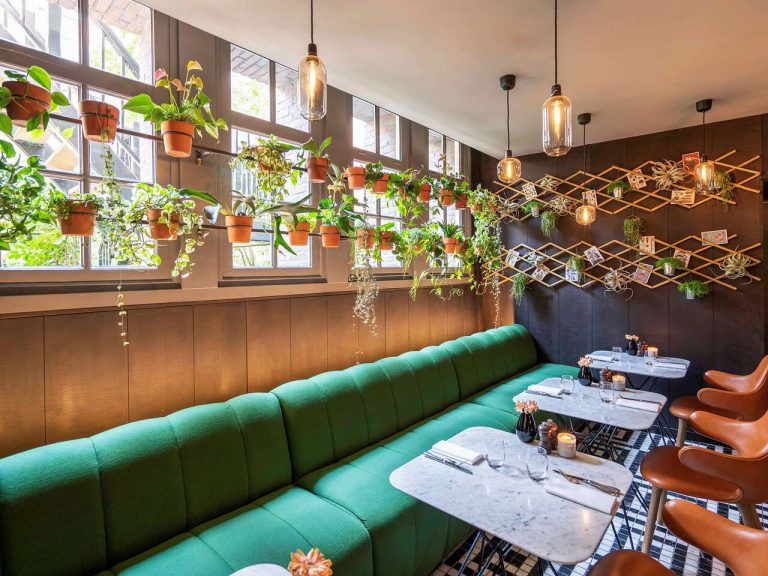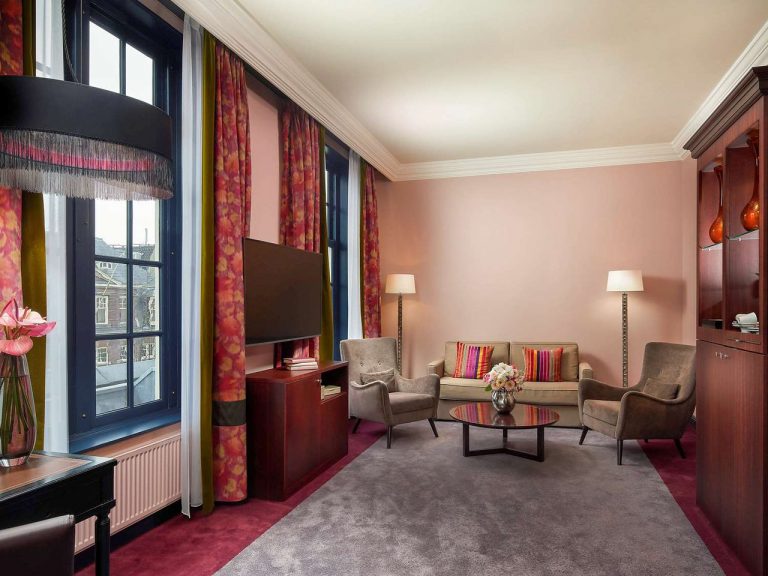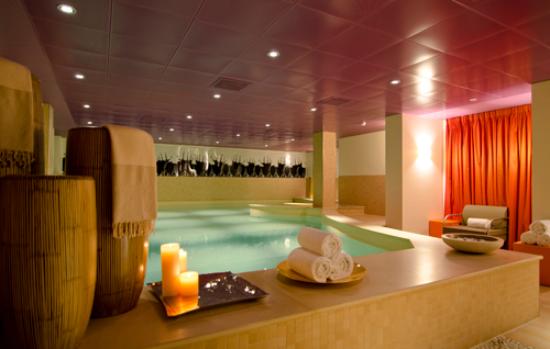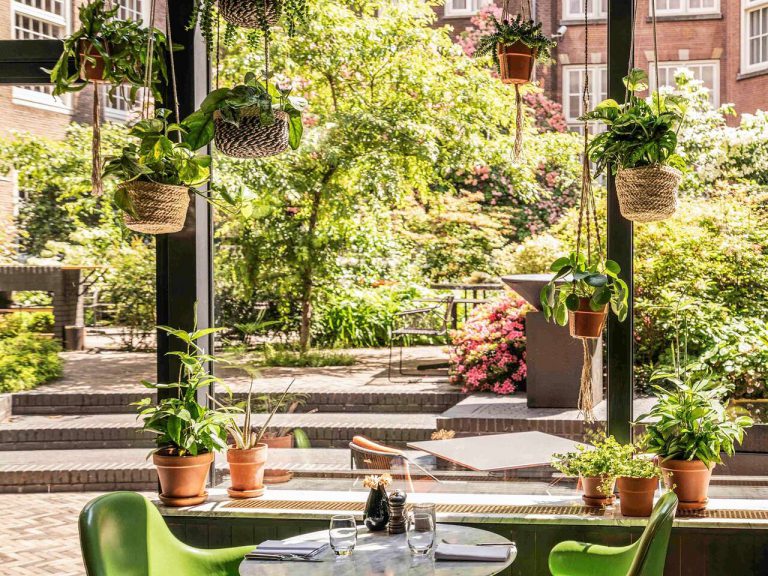 You will feel welcome in the historical heart of Amsterdam while staying in the luxurious rooms. You can take a stroll through their beautiful garden terrace, relax in the spa, and taste the culinary creations in the bistro or the renowned restaurant Bridges.
Located between two gentle canals in the heart of the city, The Grand boasts a rich history; from a 15th-century convent to royal lodgings, to the headquarters of the Admiralty to the City Hall of Amsterdam. The hotel offers five-star luxury in a unique ambiance, furnished with French elegance and grandeur. The spacious accommodations, the exceptional food and beverage proposition, the historic meeting/event venues, and the indulgent Sofitel SPA captivate and seduce everyone into visiting this hotel.
This hotel is ideally located in the heart of the historic city center. Many attractions are just a short walk from the hotel, including Dam Square, Madame Tussauds, and de Bijenkorf. You will also find numerous bars and restaurants surrounding the hotel. Just a short tram ride away, you'll find the Anne Frank House or the iconic museums such as the Rijksmuseum and Van Gogh Museum. Here you will be amazed by the beautiful works of art. A boat trip on Amsterdam's canals is highly recommended.
Ideally located in the heart of the city of Amsterdam, our hotel is easily reachable by public transport. Amsterdam's central train station is just a 10-minute walk from the hotel.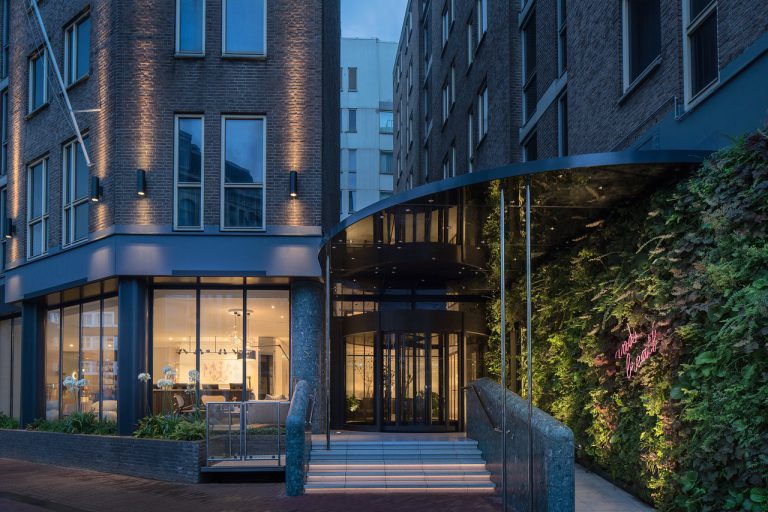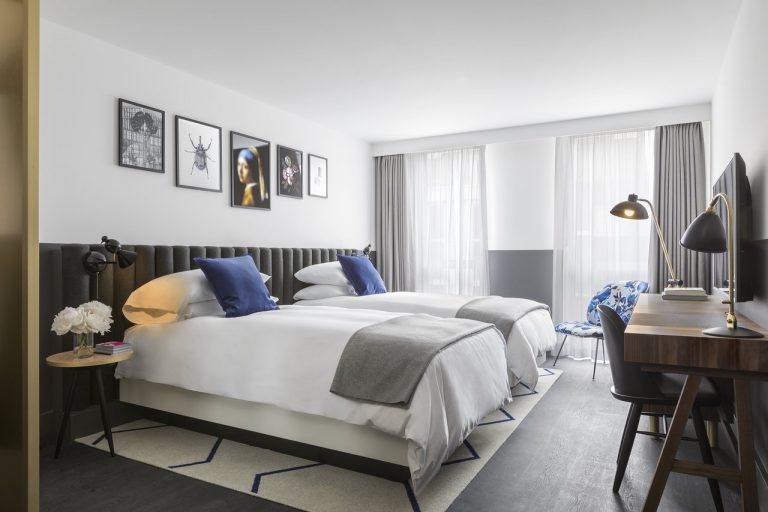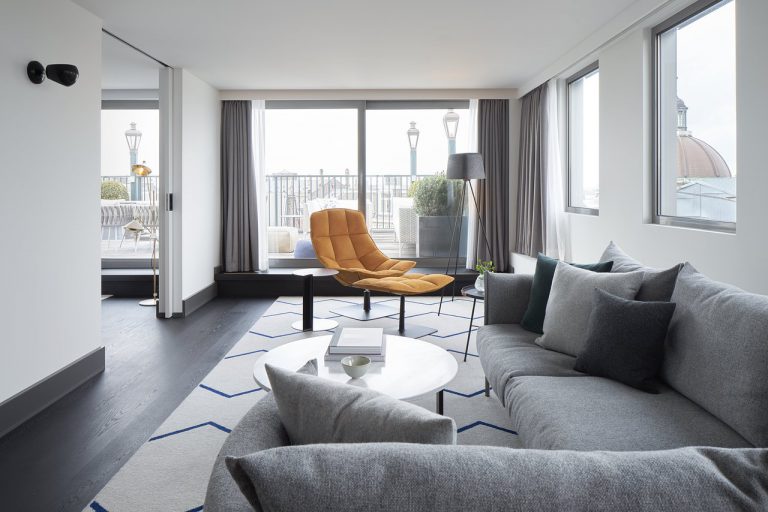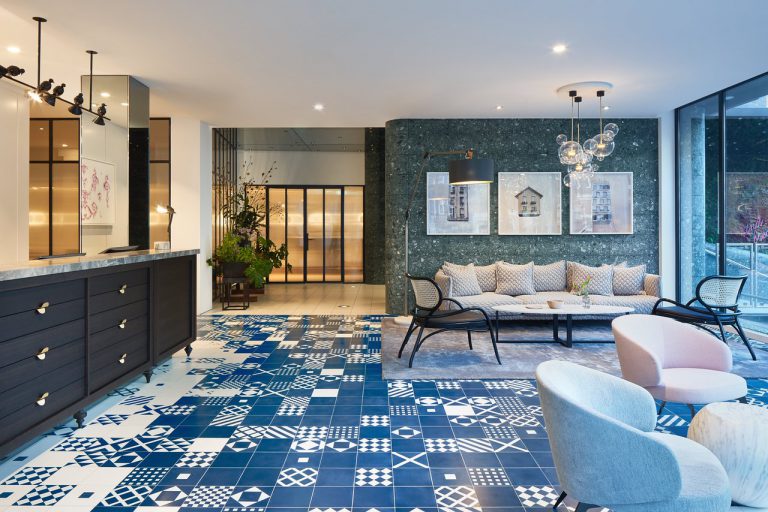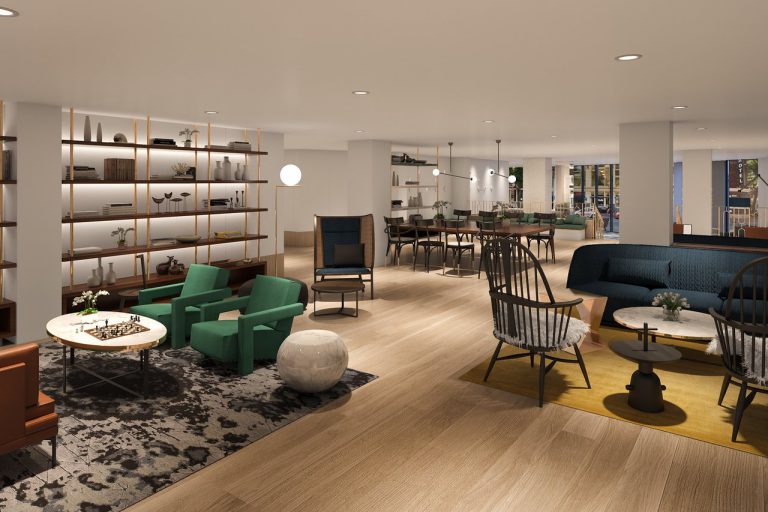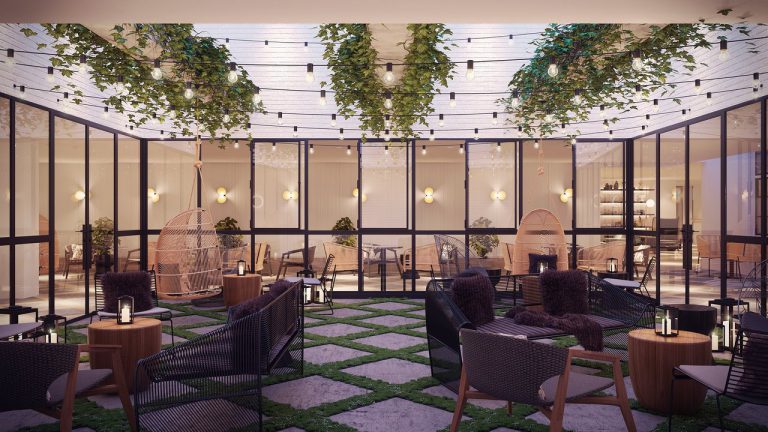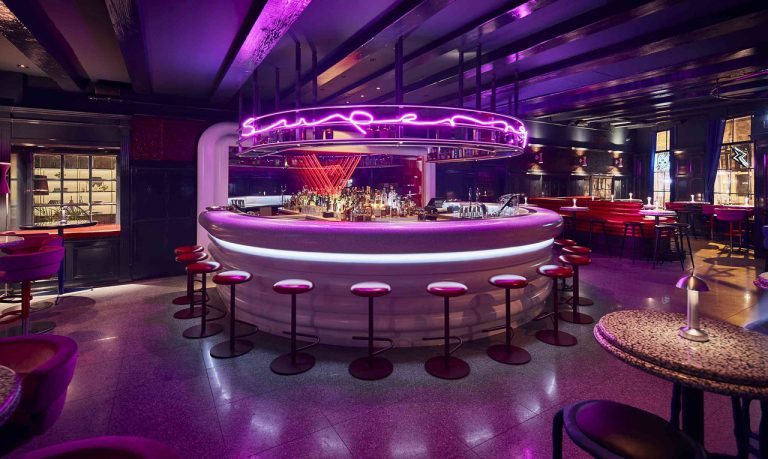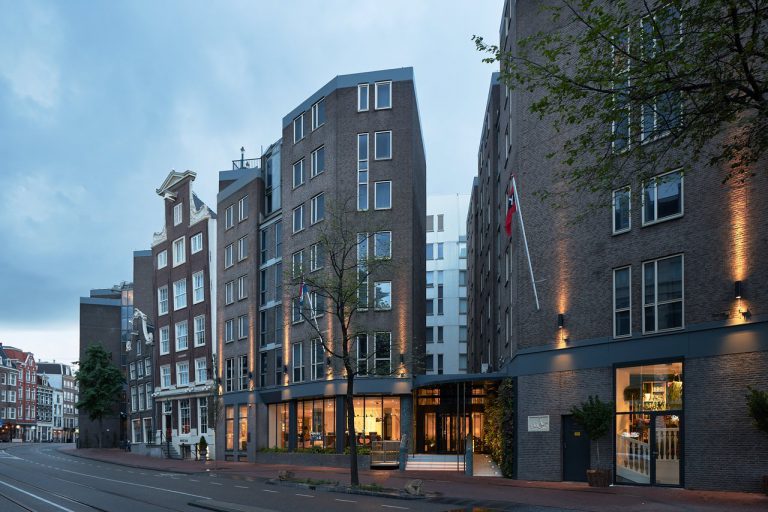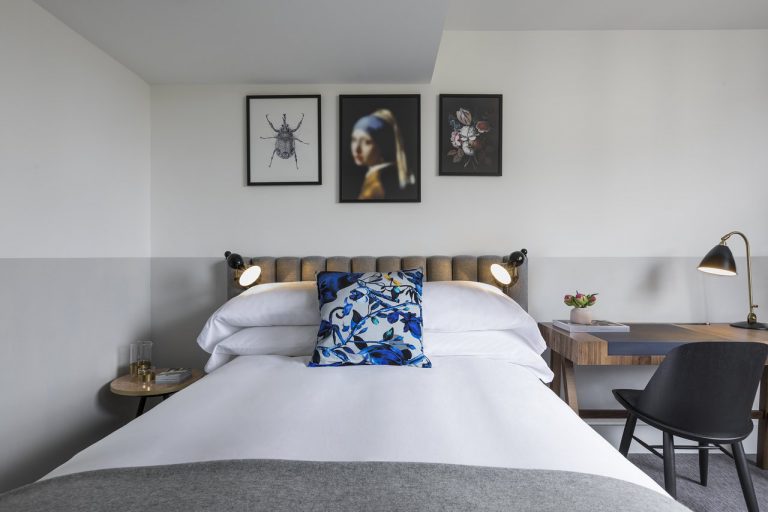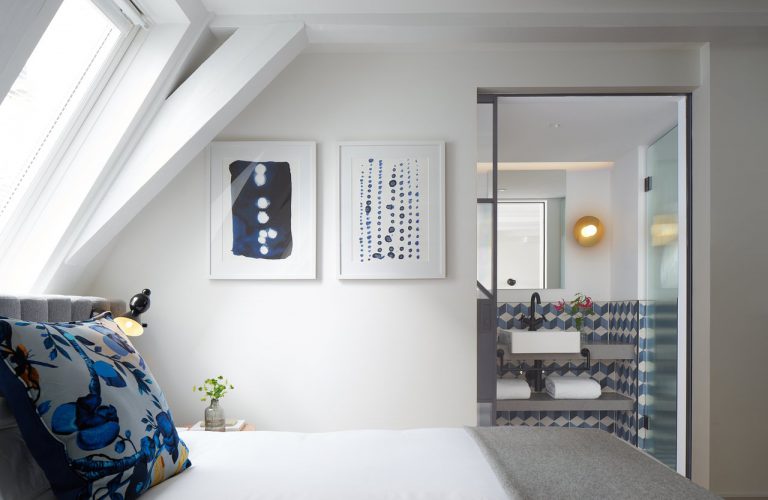 Amsterdam's New City Centre Hotel and their first European boutique hotel exudes a modern approach to luxury through fresh, refined rooms and imaginative spaces steeped in inspired Dutch design. Experience an immersive labyrinth of contemporary millwork, lush layers, and clean lines.
A journey where rooms open to grand inspiration and eclectic treasures.
Nestled in the heart of Amsterdam's thriving City Centre, this hotel inspires you to imagine, explore, create and find a comfortable place to relax. With a unique personality and heartfelt service, you consider this intimate boutique hotel your personal sanctuary.
Escape the urban buzz of Amsterdam's City Centre inside their refined guest rooms. With a flair of minimalist drama, layered artisan detail and sophisticated design, they've carried the curated warmth of the public spaces inside the 274 guest rooms. Several spectacularly designed rooms are housed in original 17th-century buildings. Discover a palette of bold green and blue colours and lush textures alongside the luxe bathroom amenities and cosy, stylish comforts. All rooms have a Nespresso Machine with Complimentary Coffee Capsules.
The lively pulse of Amsterdam's City Centre also beats inside the boutique Kimpton De Witt. Whether work or play, this hotel offers plenty of extra amenities and special perks to enhance your stay. Drop by the modern fitness centre or retreat to the refined restaurant for inventive cuisine. Don't forget the nightly hosted social hours featuring all favourite European wines.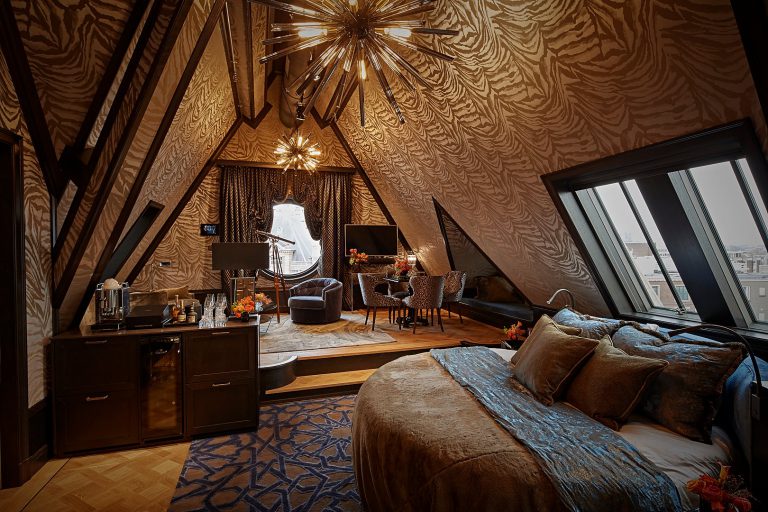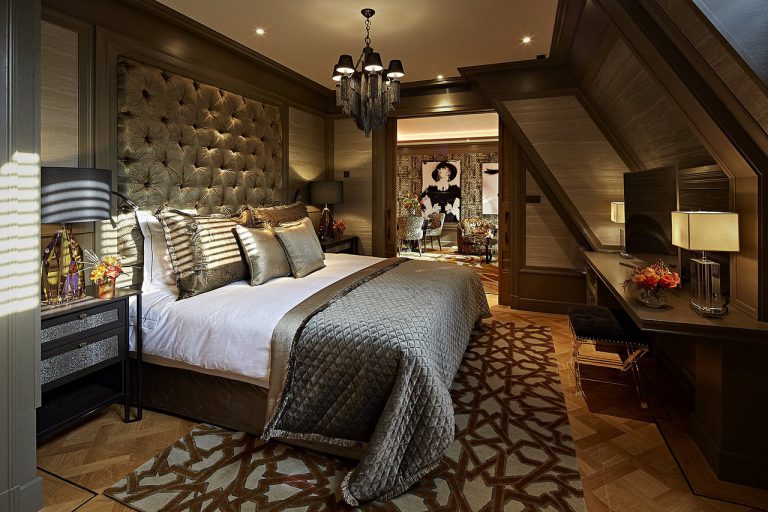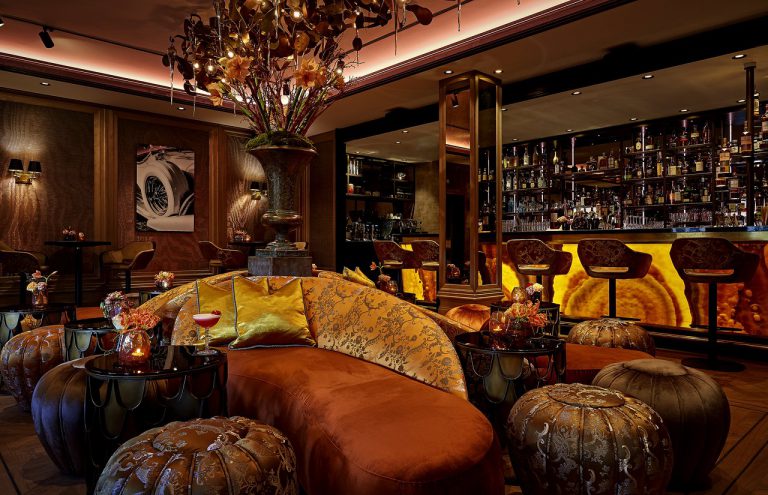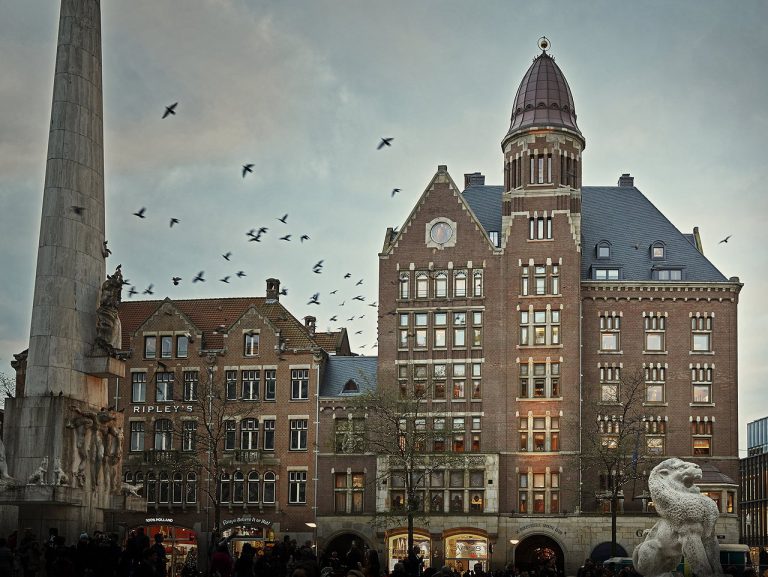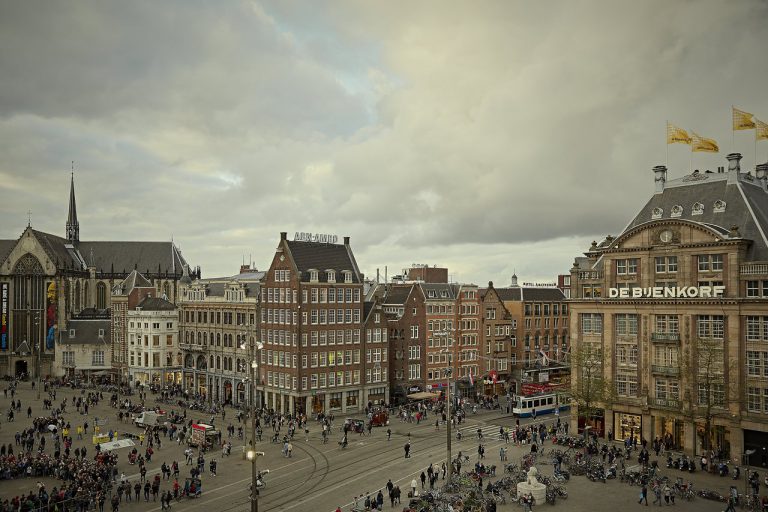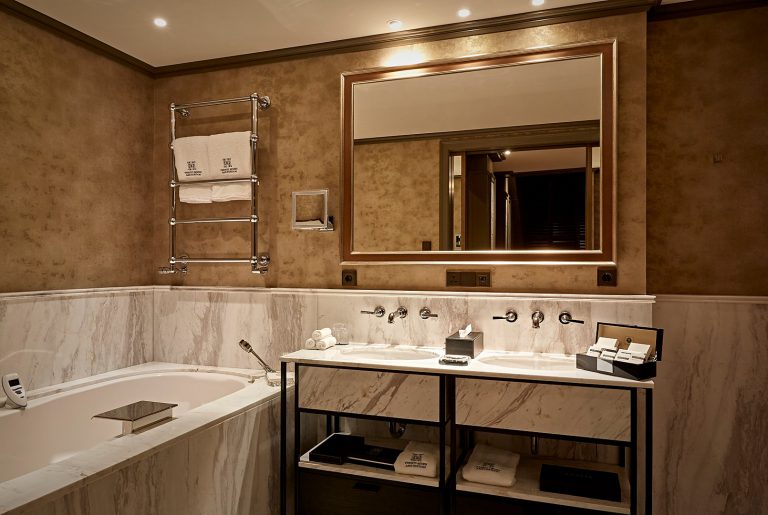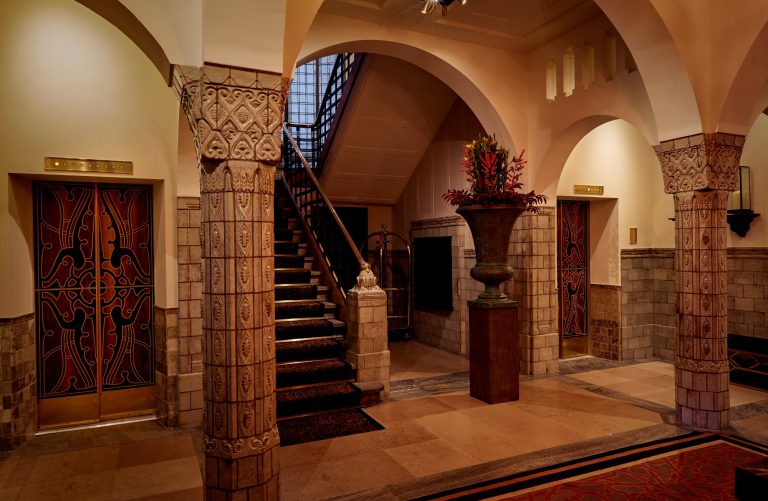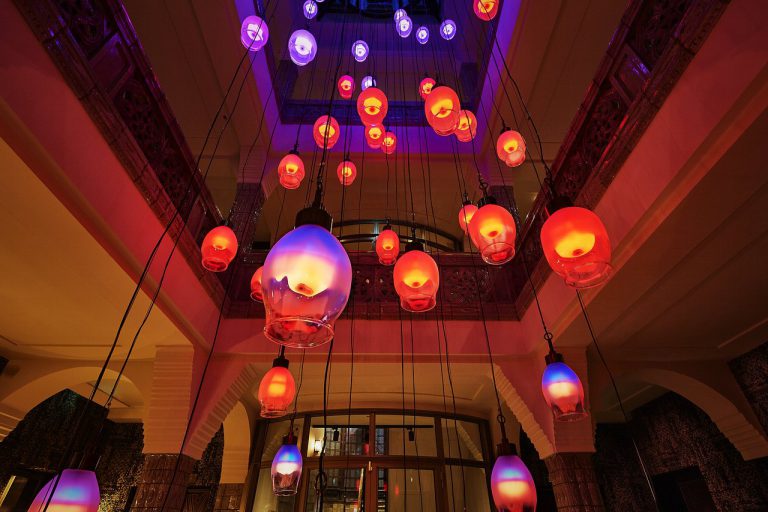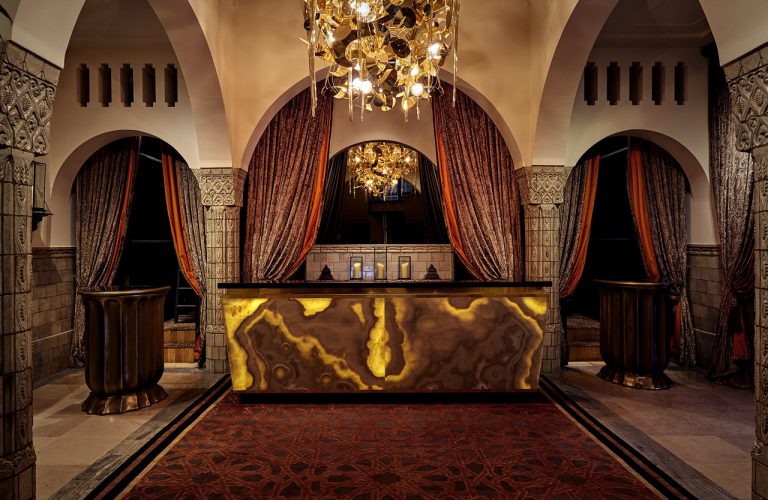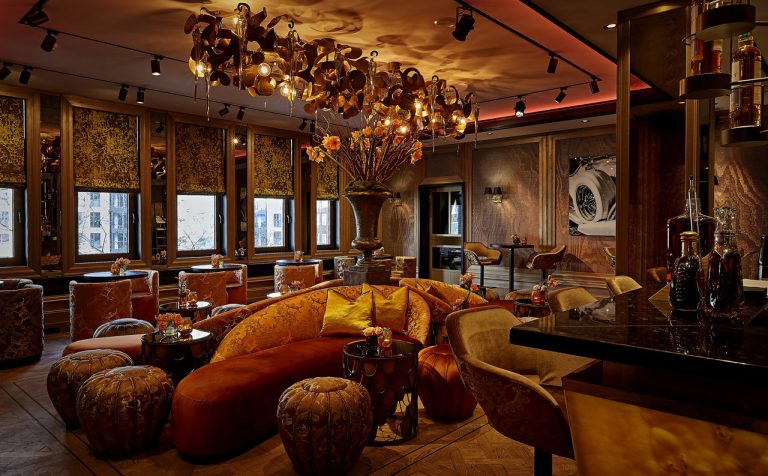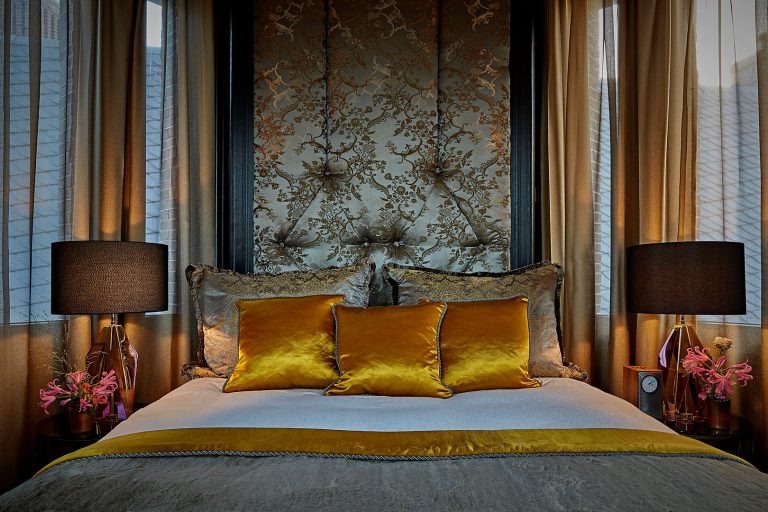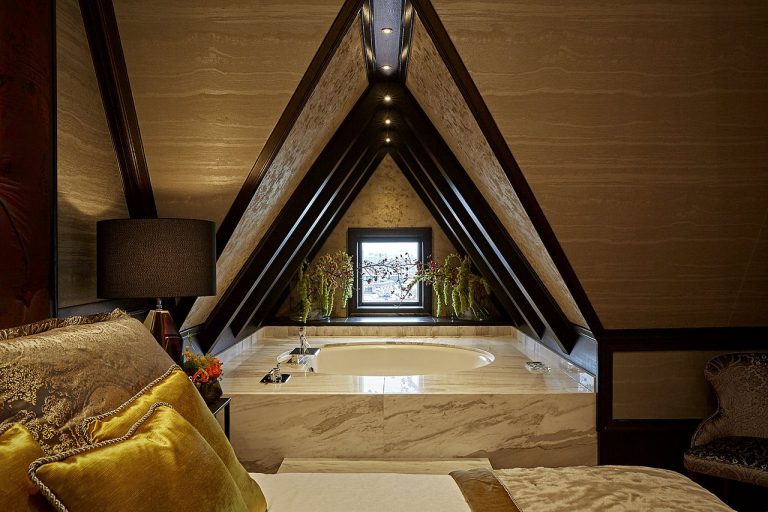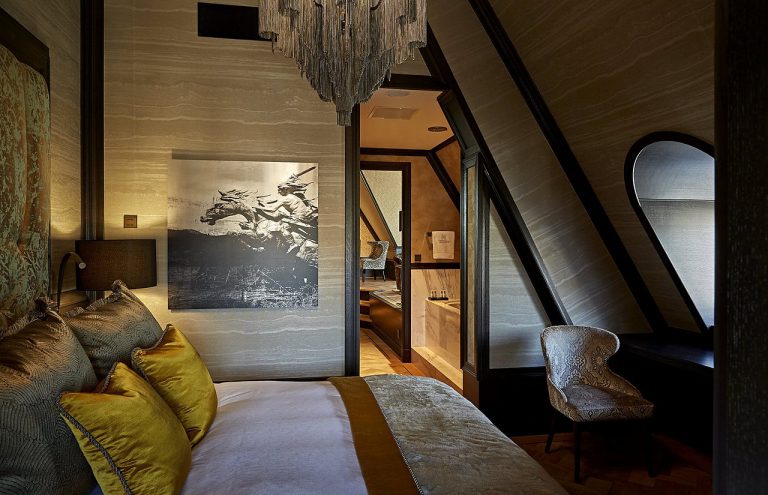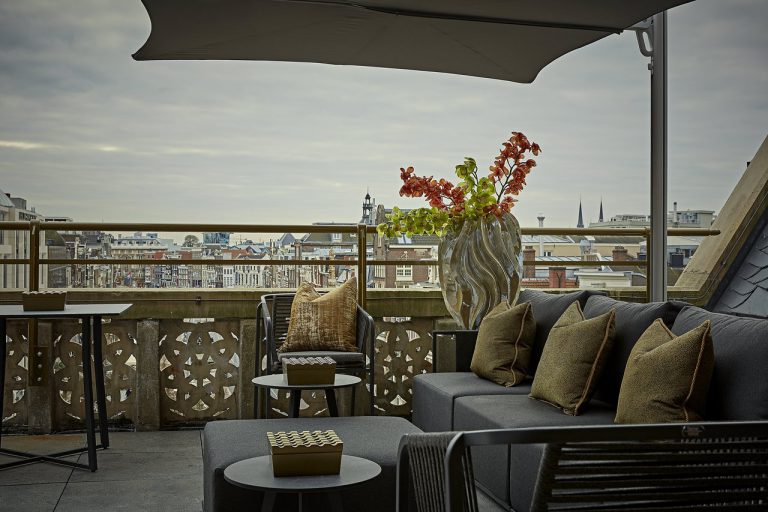 This hotel is an extraordinary and sensational suite boutique hotel located in the beating heart of Amsterdam's city centre: The Dam Square, overlooking the eminent monument and the Royal Palace. Not a single detail has gone unnoticed by the visionary two-time winner of the Hotelier of the Year Award Eric Toren. Toren has always envisioned opening an out of the ordinary dream hotel, to give guests the experience of a lifetime.
By creating a crème de la crème team consisting of Executive Chef Tim Golsteijn, the world's best wine taster and sommelier Lendl Mijnhijmer, renowned architects, designers, the finest staff in hospitality and more, Hotel TwentySeven and its sixteen exquisite suites will ignite all of your senses. The hotel offers a large range of personalised services.
The only way to describe the rooms is sumptuous, out of the ordinary and elegant. The monumental building TwentySeven is carved into is a turn of the century building from the time of the industrial revolution. It has been brought to life by the top of the line design team, consisting of renowned award-winning designer Wim van de Oudeweetering and distinctive, urban interior designer Cris van Amsterdam. The level of attention and perfection is paramount and unprecedented in Amsterdam.
Ranging from the slightly smaller scaled "bijou" Junior Suites, to the iconic splendour of the 219 square meters Signature Suite. World-class carpets from Nepal, exquisite handmade Italian curtains, velvet & exclusive wallpaper from Pierre Frey France, voluptuous sofa's from Ascension Lattore and modern, alluring artwork from Cobra Art in Amsterdam. These are mere examples of the impact of luxury that the hotel has to offer.
Be prepared to find world-class gastronomy by Executive Chef Tim Golsteijn. Restaurant Bougainville offers a unique, sensory and culinary experience – and this experience starts with a beautiful setting and panoramic view of Amsterdam. The à la carte menu is a fine dining experience, where characteristic and beautiful dishes will be served to you, made with only the best, fresh ingredients. All wines are hand-picked by wine director Lendl Mijnhijmer, who won the McNie Tasting Trophy last year, which makes him the very best.
A year after opening, our restaurant Bougainville has been awarded a Michelin star.
Their bar offers extravagant views and intriguing selections. Imagine a bar which takes you on a thrilling ride along seductive, exclusively selected and created beverages, served to you by the best, knowledgeable bartenders that Amsterdam has to offer. A lavishly decorated feast for the eyes and the taste buds. Set foot in a warm and sophisticated, out of this world atmosphere with extravagant views over the Dam Square, where Amsterdam's best bartenders will present the most intriguing creations.
Again, this hotel will be printed in your brain and never leaves your memories. And that's what traveling, and cruising is all about.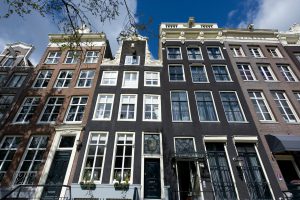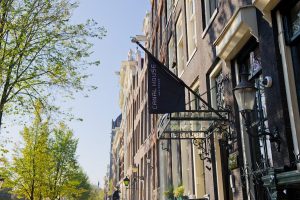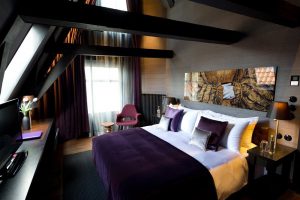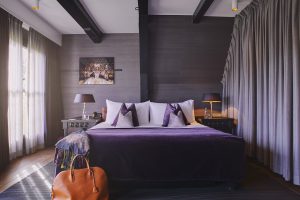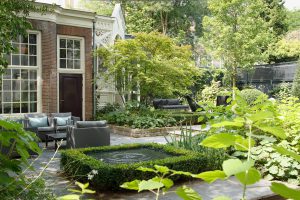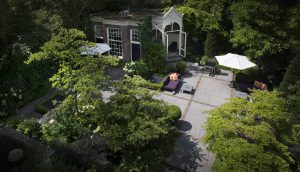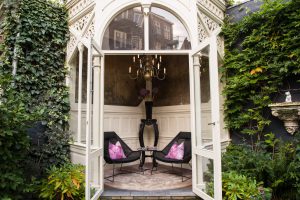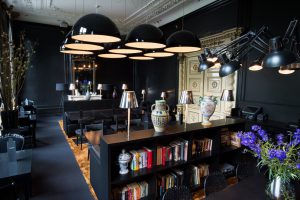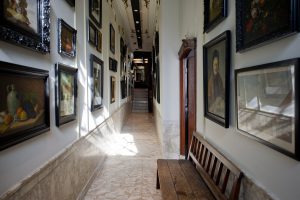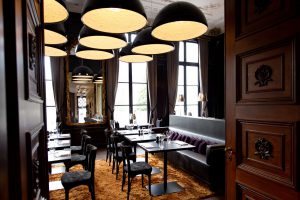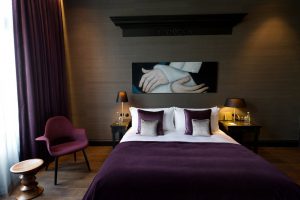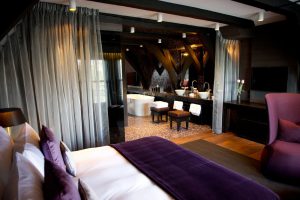 Located in the heart of the Jordaan, the cultural center of Amsterdam, Canal House is situated on the Keizersgracht (the King's Canal) and is comprised of three seventeenth century merchants' houses.
The hotel buildings, numbers 148 and 152 were the home to several merchants and their businesses in the 17th, 18th and 19th centuries, before being turned into a hotel in the 1950s, by an eccentric and flamboyant American hotelier who was an avid collector of Dutch art and knick-knacks which were proudly displayed on walls, shelves and every other flat surface in the buildings in a traditional Dutch fashion. Many of these have been retained and re-used, providing continuity to the buildings that have stood on this spot for four hundred years.
The vision for Canal House was all about exquisite materials, luxury, and celebrating Dutch design. Their weakness for Dutch designer Marcel Wanders' contemporary gothic pieces, and so it felt right they brought him and renowned agency Concrete onto the project.
The history and story of this hotel are really special and worth exploring.
The hotels Great Room is a beautiful spot to enjoy a leisurely afternoon relaxing, with views over the private garden. The bar at Canal House is both chic and stylish and is the perfect place to enjoy a cocktail or the famous Canal House G&T before heading out into the city.
The stunning private garden is perfect to enjoy a quiet drink in after a day shopping in the boutiques and galleries. Also in the garden are the Summer House and Garden House – both of which are available for private hire.
The lush interiors are finished with exquisite materials in a luxurious palette of rich purples, coppers, and deepest blacks.
Canal House's 6 types of bedrooms exude sophisticated luxury. All 23 bedrooms at Canal House feature hardwood floors, silk wallpapers, rich velvet fabrics, and opulent Bisazza mosaics, along with contemporary furnishings and Dutch artwork.
The generous and varied breakfast table to their famous G&Ts before supper with piping-hot lobster "bitterballen' a real Dutch snack, the food & drink is locally sourced, simple, and delicious. Light bites and bar snacks are available throughout the day which can be taken as room service too.
A stay in this hotel you most definitely will never forget. And isn't that what traveling is for? Making lifetime memories?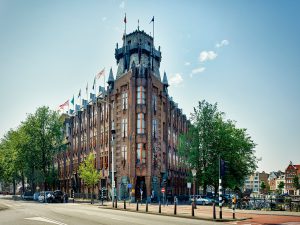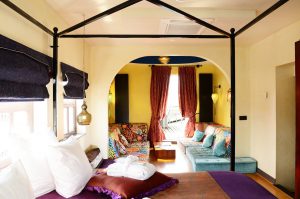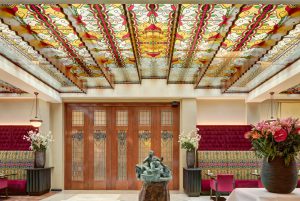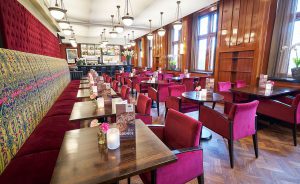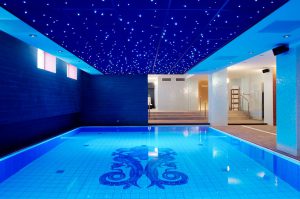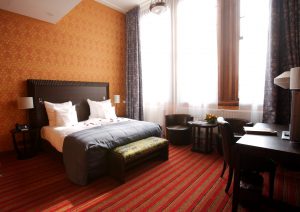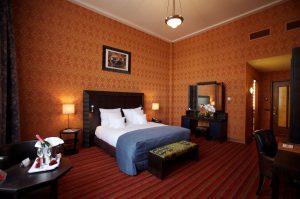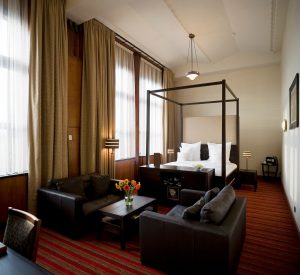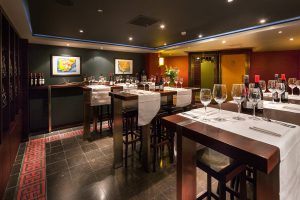 Five stars deluxe Grand Hotel Amrâth Amsterdam is located in the former Shipping House, a decorated monument and example of the Amsterdam School architecture. The hotel has 205 rooms, including 22 suites, 8 conference/banquet rooms, Bar Lounge, and a Spa & Wellness center. The Hotel is located only 500 meters from the central station, where you will find bus, tram, and metro connections to all areas of the city.
The hotel offers rooms in Art Deco style with high ceilings and large windows that allow plenty of natural light.
At the Bar-Lounge, they serve internationally-oriented dishes, with high-quality products. During breakfast, lunch, high tea or dinner, you can enjoy the Amsterdam canals.
With astonishing views over the Dutch canals, you can enjoy your late breakfast! In the afternoon they will serve you an extensive lunch or dinner and after enjoying your visit to the city center of Amsterdam, you can unwind with an enticing drink until late in the evening.
The Spa & Wellness is free of charge for hotel guests.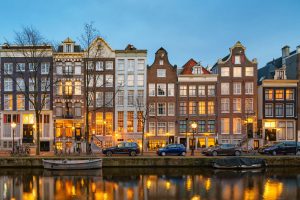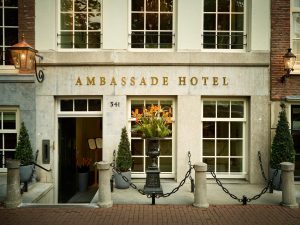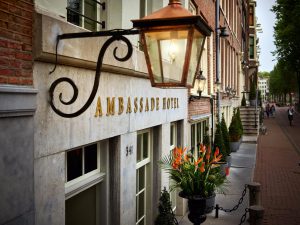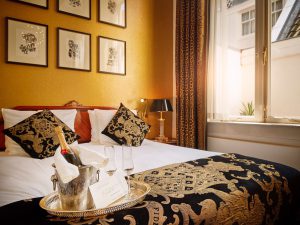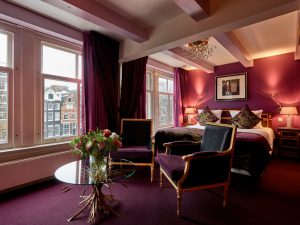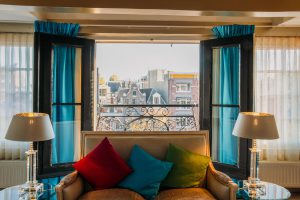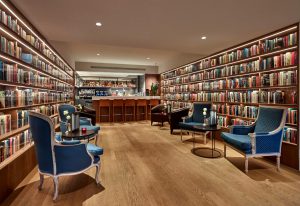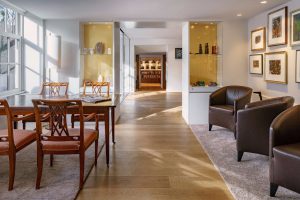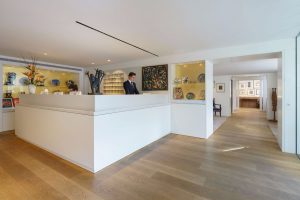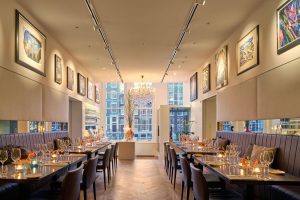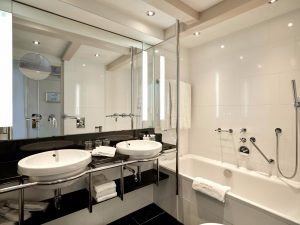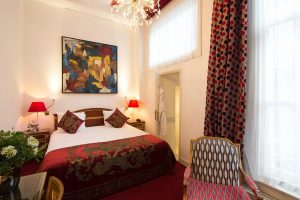 The Ambassade Hotel is a charming hotel conveniently located in the heart of Amsterdam's Canal District. Because of that, it is situated within walking distance of the main museums, popular shopping areas, and historic landmarks. Spanning ten original canal houses that were built during the 17th century (Amsterdam's 'Golden Age'), the hotel has retained its classical, historic character and allure. It offers a unique opportunity for you to experience one of the world's most lauded UNESCO World Heritage Sites in luxury and comfort.
Amsterdam is a metropolis in character. It is fantastic to stay in the centre of this historic city. The Ambassade Hotel is located in the heart of the lovely canal district, which was added to UNESCO's World Heritage List in 2010. Museums, restaurants, and theatres are all within walking distance. Yet the hotel is away from all the tourist commotion, in an ideal location along a very quiet part of the Herengracht.
The Ambassade Hotel is situated in ten prestigious 17th-century canalside houses. The historical character of the building is reflected in the stylish hotel rooms, each of which is unique and luxuriously furnished and fitted with all modern conveniences. Most of the rooms also offer stunning views of the famous canals.
Inside the hotel, you find the extensive collection of art from the world-renowned CoBrA movement, which can be admired in both the rooms and the public areas, emphasises the unique character of the hotel. The Ambassade Hotel is also renowned for its exquisite library, which is home to thousands of books – all of which have been signed by the many famous authors who have stayed at the hotel. Art lovers will be able to indulge to their heart's content at the Ambassade Hotel.
Since its opening in August 2015, Brasserie Ambassade has received laudatory praise from critics and visitors alike. Here you can enjoy a classic French Cuisine prepared by Executive Chef Tommy van de Coolwijk and his team. Surrounded by the colourful paintings by the Cobra movement the Brasserie also boasts a beautiful view on the Herengracht.
Brasserie Ambassade solely uses specially selected, high-quality ingredients by carefully selected suppliers with an emphasis on fresh, seasonal and locally produced, artisanal products.
You'll want for nothing at the Ambassade Hotel because you'll be indulged with every attention. And the warm, personal atmosphere will make you feel at home immediately. This hotel is rated among the finest in the world, with the "best service". I can guarantee you that!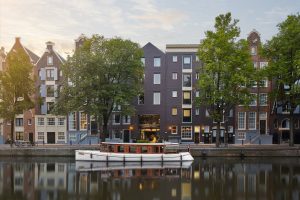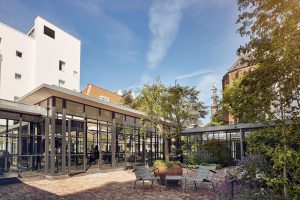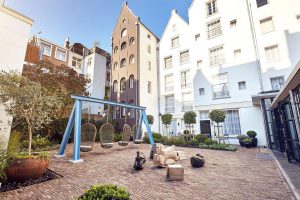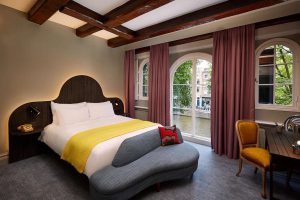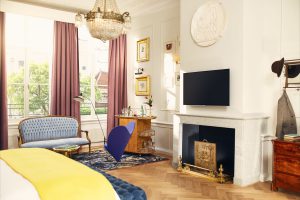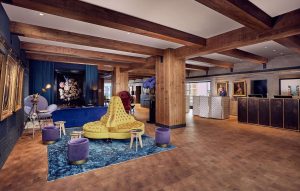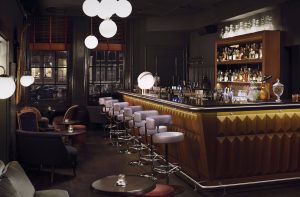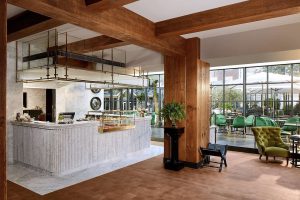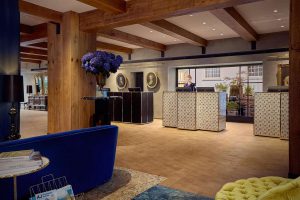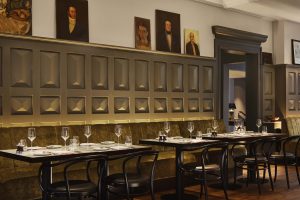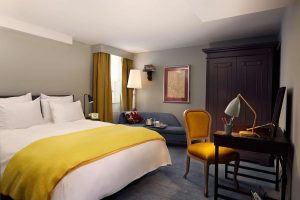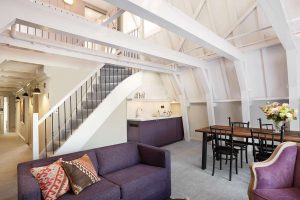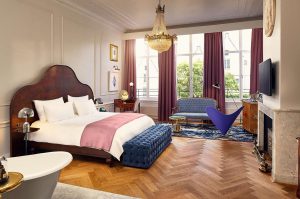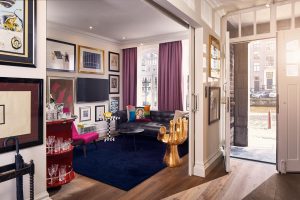 A stay at Pulitzer Amsterdam is a historical discovery with a long and illustrious heritage dating back to the Golden Age. The hotel is set within twenty-five restored 17th and 18th-century houses that once set the scene for prosperous business deals between trade merchants and played home to the decadent and flamboyant lives of Dutch aristocrats.
In the 17th century, the Netherlands blossomed, it was the place to be. This prosperous era in Dutch history saw: wealthy merchants building the beautiful buildings we still admire, the Dutch East India Company became the world's first multinational, Rembrandt was changing the face of the art world with nothing more than his paintbrush and Manhattan was founded – back then it was known as New Amsterdam.
The movers and shakers of Amsterdam's influential upper class lived in the canal houses closest to the old town, while the warehouses were located along with the outer canal rings. This is why the Pulitzer buildings along the Keizersgracht are more opulent than the ones on the Prinsengracht.
You will enjoy the residential feel of their different room types. Each room and suite is unique and part of the exceptional heritage of Pulitzer's canal houses.
This hotel has a deep passion for elegant culinary craftsmanship. Pause in the bright garden café to recharge throughout the entire day. Restaurant Jansz. serves simple yet beautifully crafted dishes inspired by classic European cuisine and Pulitzer's Bar is the perfect place to enjoy an immaculately mixed drink in style. Recharge with sights on the soothing gardens or unwind on the outside terrace, surrounded by the striking canal houses.
A gem, hiding in plain sight, and a leafy oasis of tranquility for anyone who needs to pause. The friendly breakfast, morning coffee, light dishes, a great glass of wine, all taken in or out; Pause is the kind of place you want to keep to yourself… but can't. A cruise is ahead…right?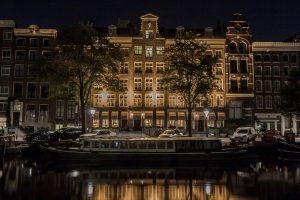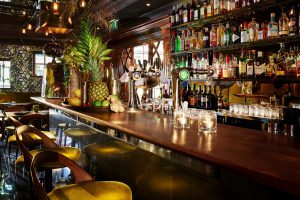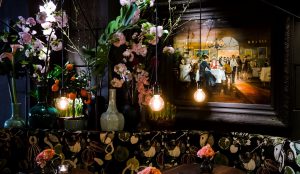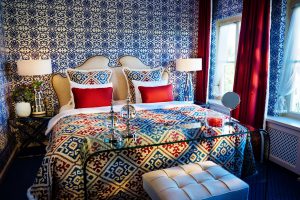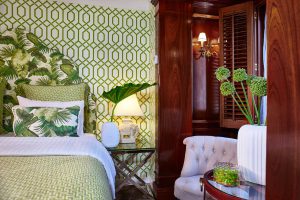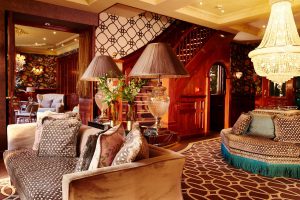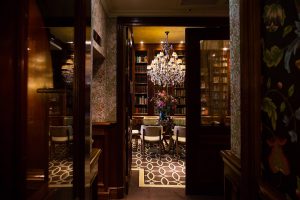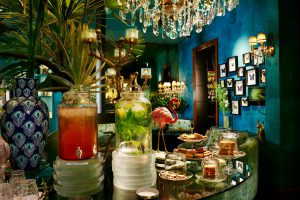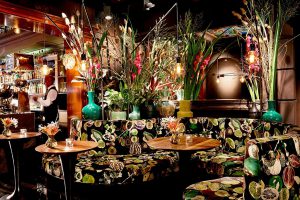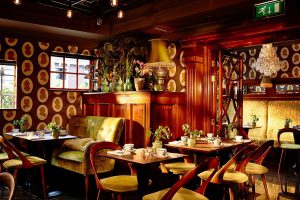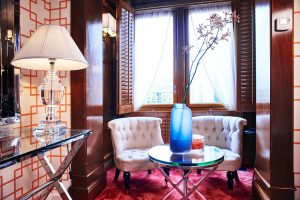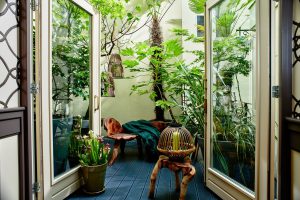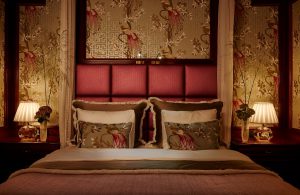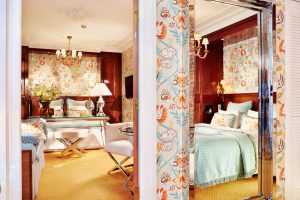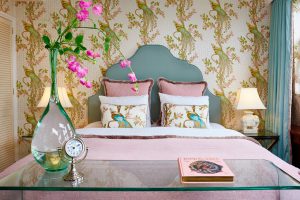 Entering this hotel you find yourself in a truly authentic Amsterdam ambiance in this beautiful seventeenth-century building along Amsterdam's oldest canal: the Singel.
Dream away with the richly colored and kind of art deco and quirky interior, the crystal chandeliers, the luxurious fabrics, and the expressive prints.
None of the 91 rooms and two suites in our hotel are the same, each and every one of them has been lovingly designed and decorated. Hotel Estheréa will allow you to relax and it's also the perfect starting point for discovering and exploring the city prior to or after your cruise, as it's located right in the very heart of Amsterdam.
In short, the perfect stay for either a short or a long getaway in Amsterdam.
This boutique hotel has been run by a family for more than 75 years. Quite a few things have changed over the years. The premises started out as a guest house with 12 rooms and has now been developed into a luxury gem with 91 rooms and two suites. You will absolutely like Maria's bar.
The building is now included on UNESCO's world heritage list and has undergone a significant transformation. However, the one thing which has definitely remained over the course of time is a true family feeling, personal attention, service, authenticity, and an eye for detail.
And you don't just see that when you enter this hotel, you will feel it too.
Highly recommended!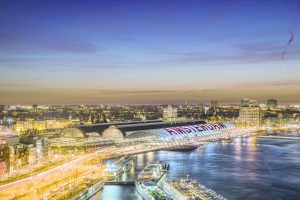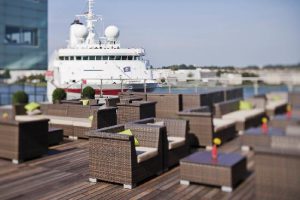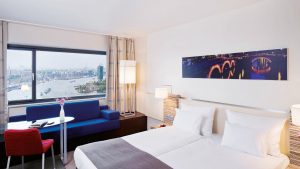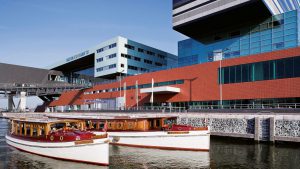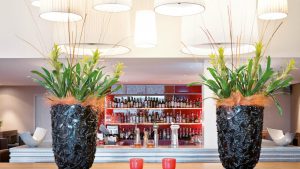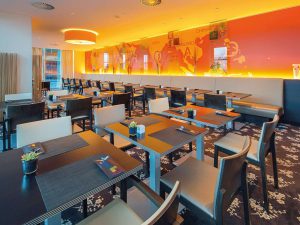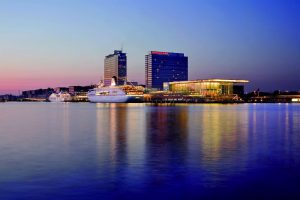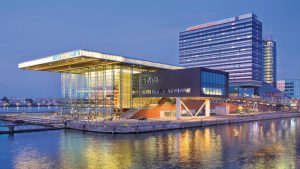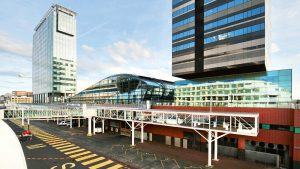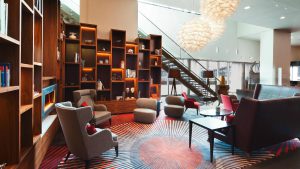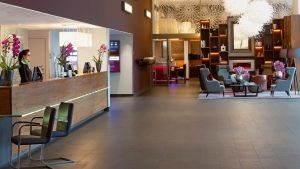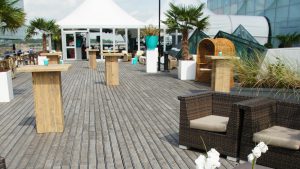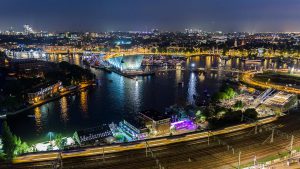 This riverside hotel in Amsterdam city centre is mostly chosen as it is right at the cruise docks.
This hotel has spectacular views over the city and vistas over the river IJ are just some of the highlights at Mövenpick Hotel Amsterdam City Centre, just 20 minutes from Schiphol Airport. With its fantastic location in the heart of the city centre, this 4-star hotel is also within walking distance of Amsterdam's historical centre, its central station and many museums.
All of the 408 rooms in the non-smoking hotel offer great views, complimentary WiFi Internet, organic fair-trade linen and wellness area access. Additionally, the Executive Rooms and suites also benefit from complimentary access to the Executive Lounge.
Dining is a pleasure in their Silk Road restaurant, while Silk Bar is a great spot for a nightcap. For relaxation, head to the Lifestyle Studio which features a gym, Finnish sauna, bio sauna, ice fountain and massage room.
It is also one of the most sustainable hotels in Amsterdam. Although it is not really the true Amsterdam feel and no historic feel it is walking distance to the ship the next morning which makes it super convenient.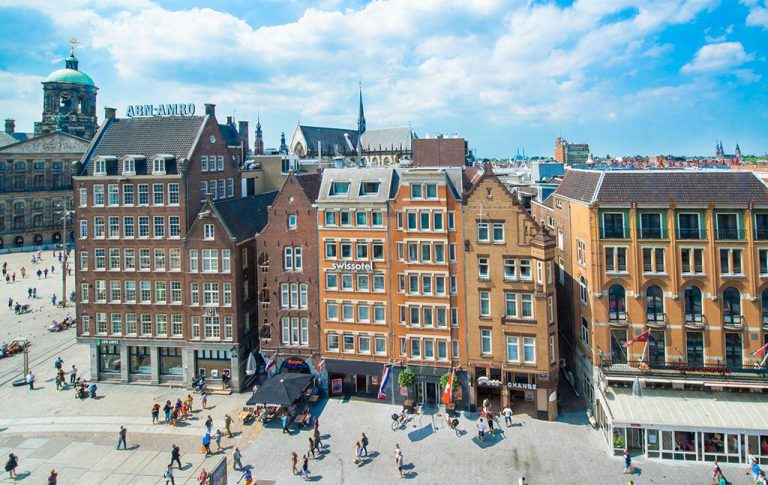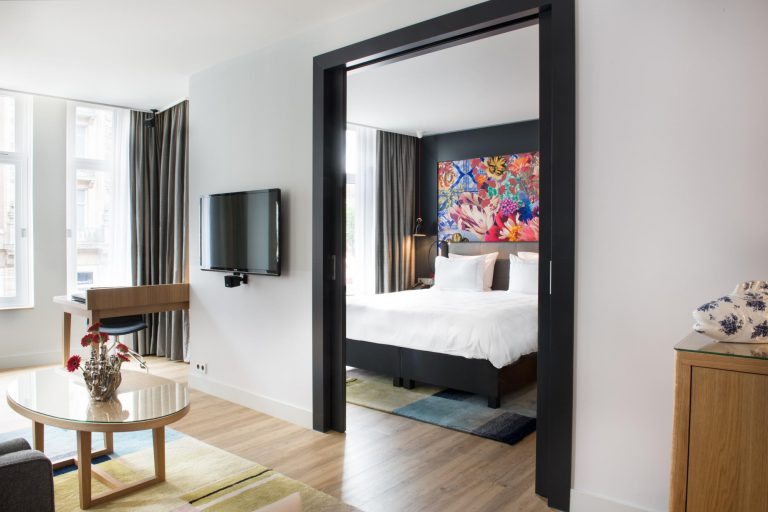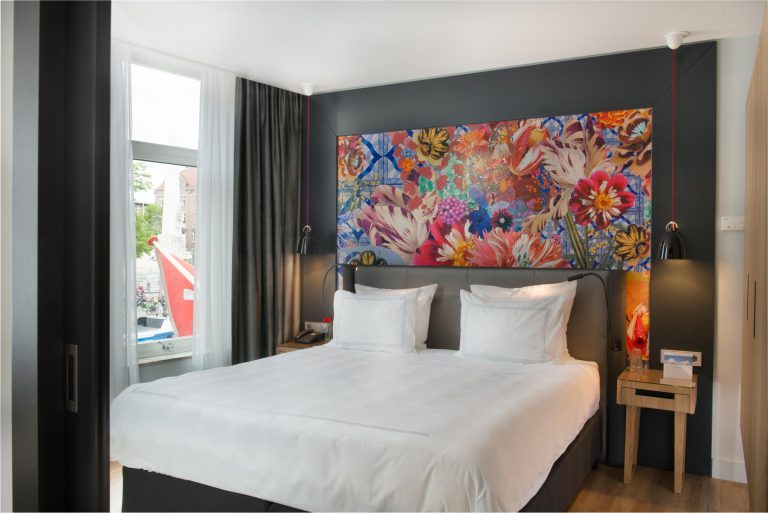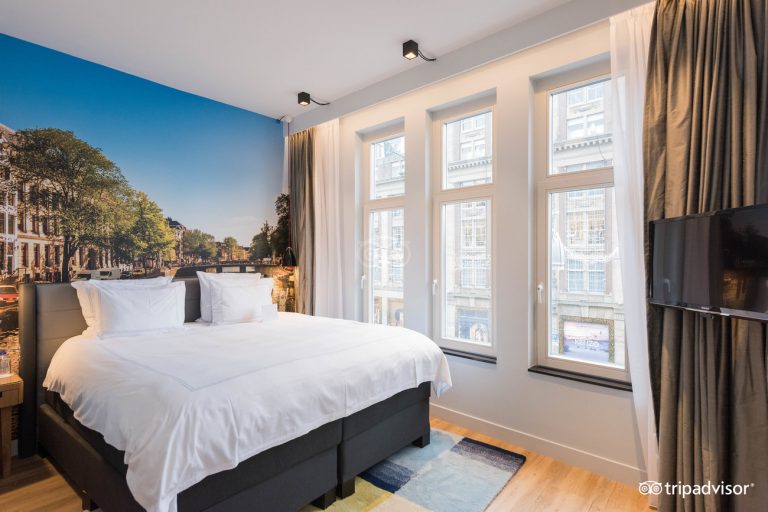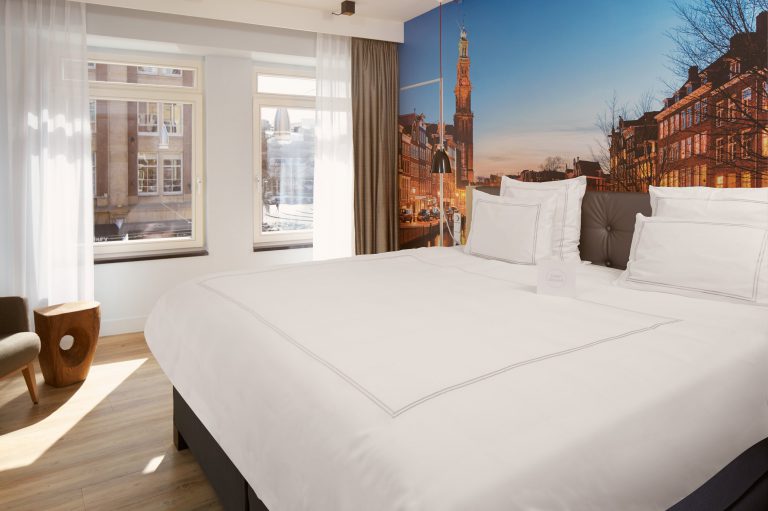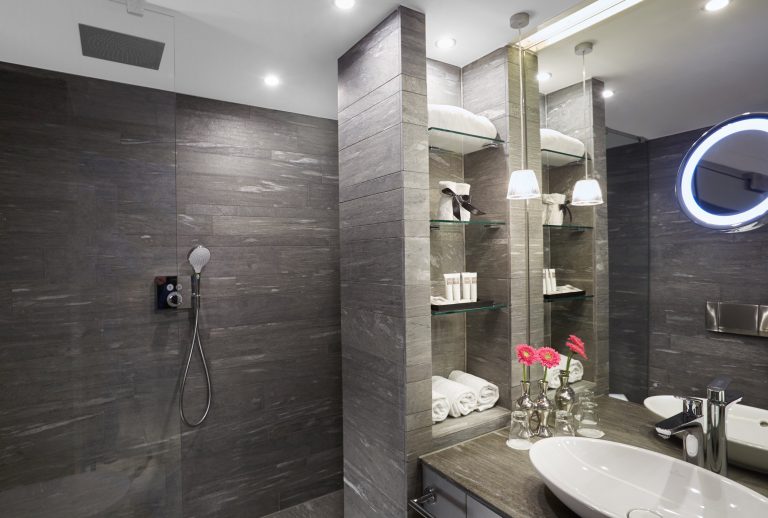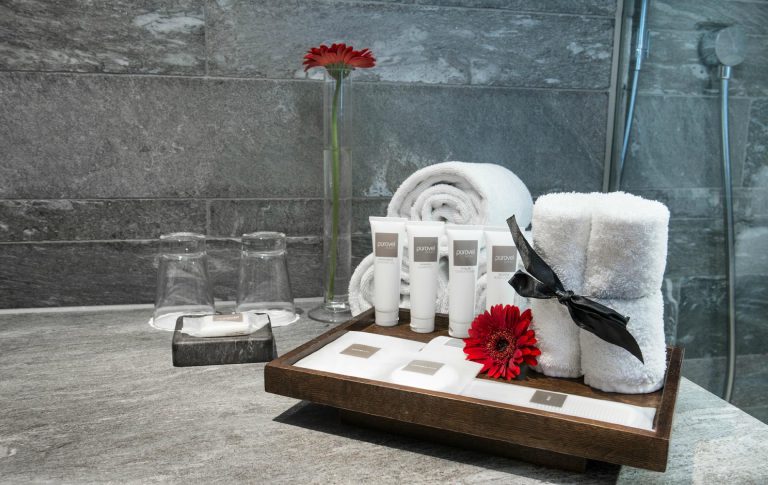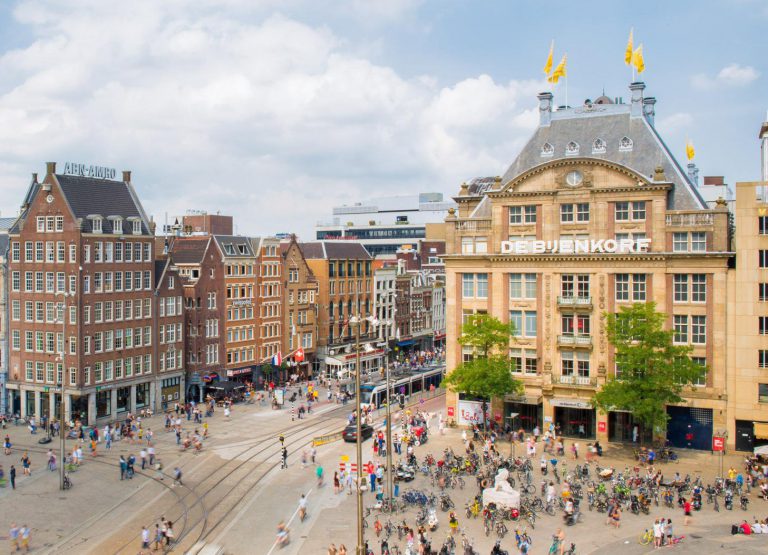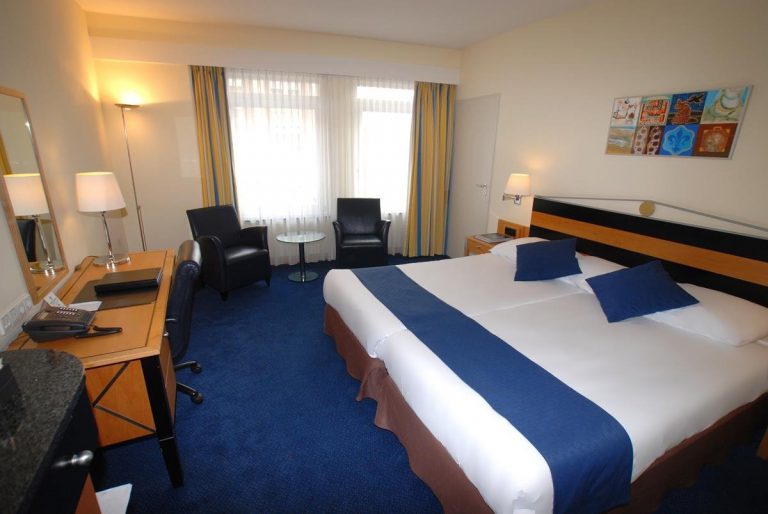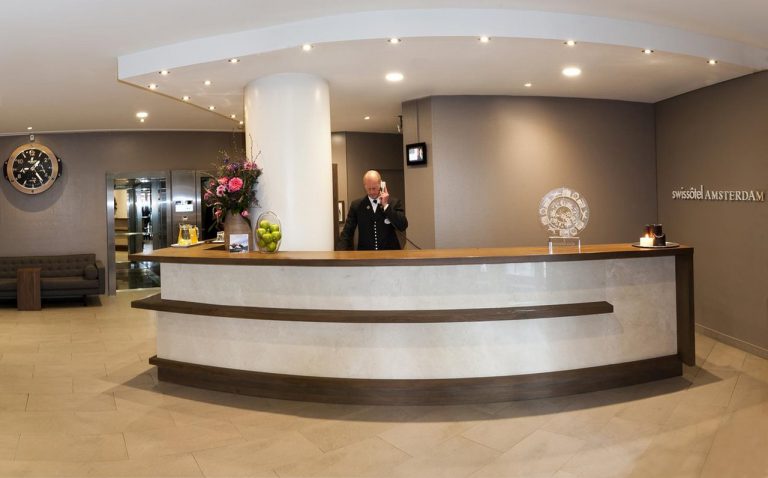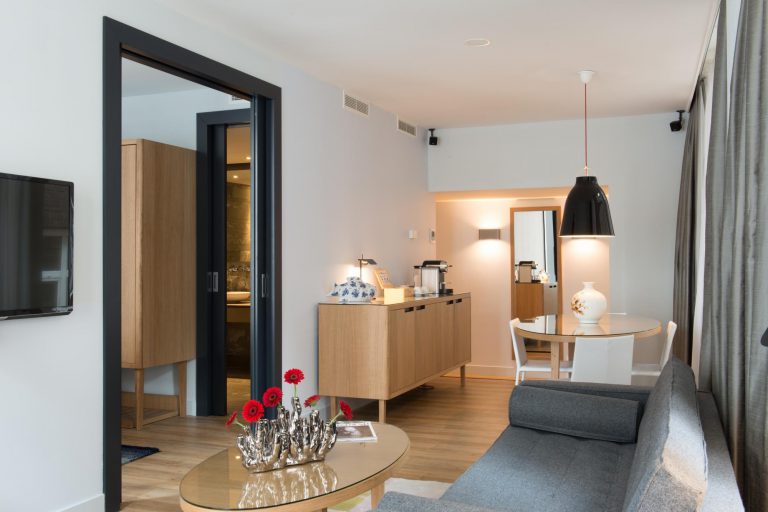 Swissotel Amsterdam is a four-star boutique hotel located by Dam Square, in the heart of Amsterdam's historic city center and a short walk from Amsterdam Central Station.
The hotel is surrounded by shops, museums, and restaurants and is a 20-minute drive from Amsterdam Schiphol International Airport.
Behind its historical facade of 19th-century buildings, Swissotel Amsterdam offers 114 luxurious, sound-proofed* guest rooms and suites in a contemporary and sophisticated style. All guests enjoy complimentary wireless internet and free access to the Swissotel Amsterdam Fitness featuring state-of-the-art TechnoGym equipment.
Located right at Dam square and trolley/tram stops directly across the street. Very clean old hotel and beautifully remodeled. Little pricey but location, location! Canal boats are all-around within a short walk. Most attractions like Anne Frank House and lots of others!! All types of restaurants are all around the hotel.
Swissotel Amsterdam is a pet-free, non-smoking hotel. It is not allowed to bring any pets into the hotel and smoking is prohibited on the entire property, including the rooms, lobby, and hallways. This you will find in all public buildings in The Netherlands.
Most of the rooms are equipped with triple glazed windows to ensure our guests of a comfortable stay in a sound-proofed room. However, they can never guarantee a completely noise-free surrounding due to our prime location in the heart of the buzzing city. The rooms are decorated efficiently.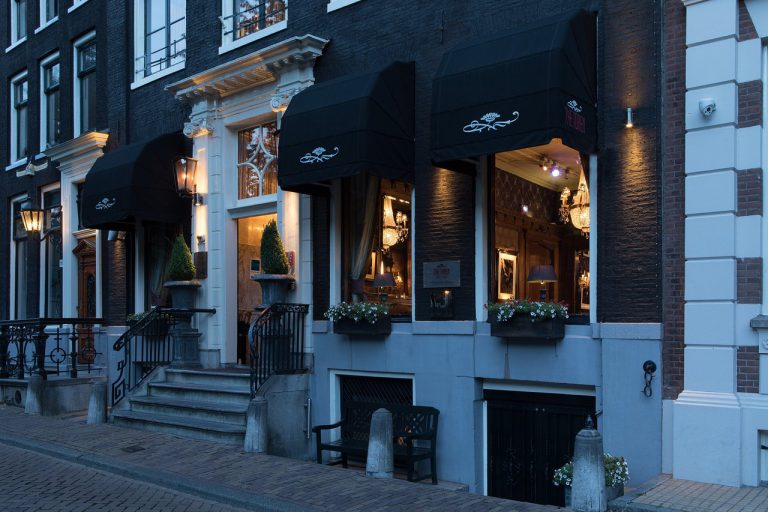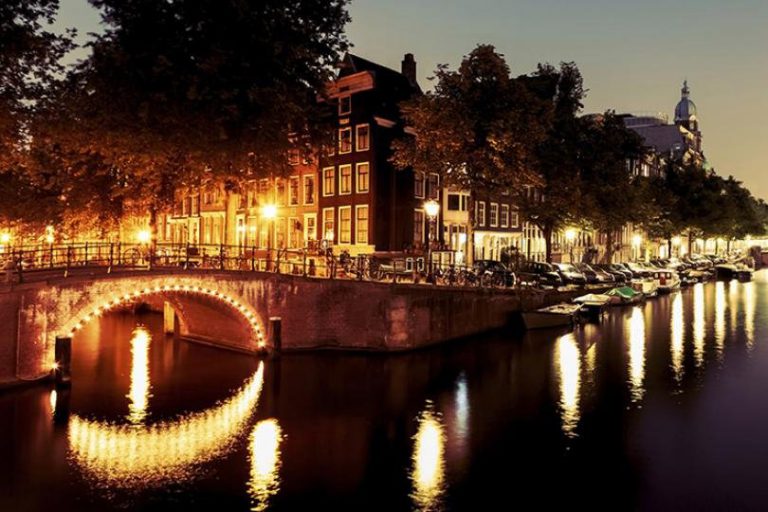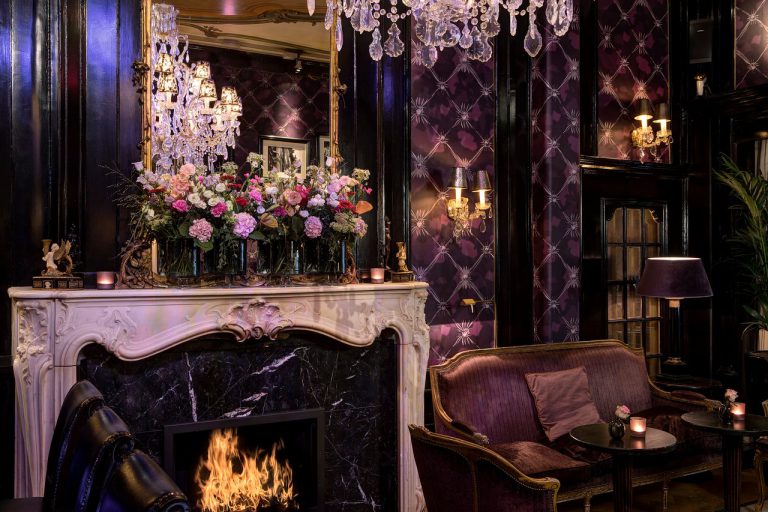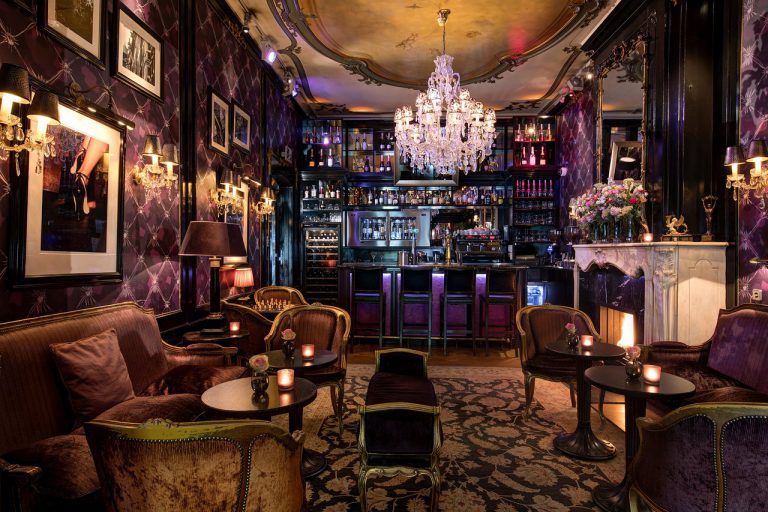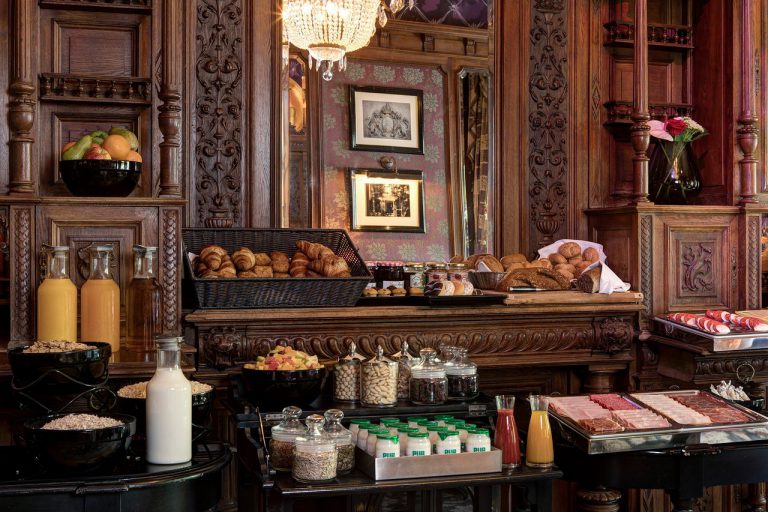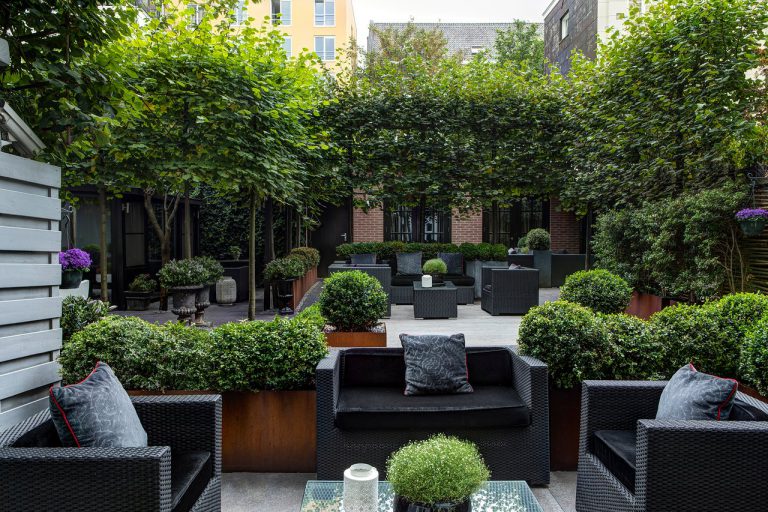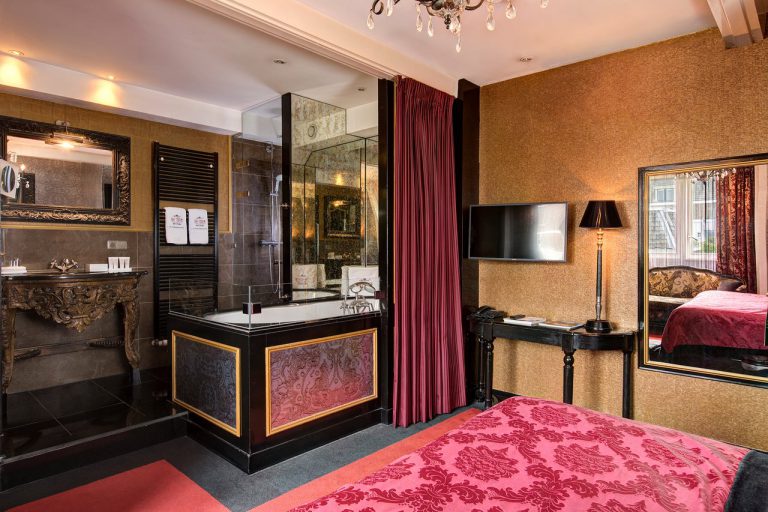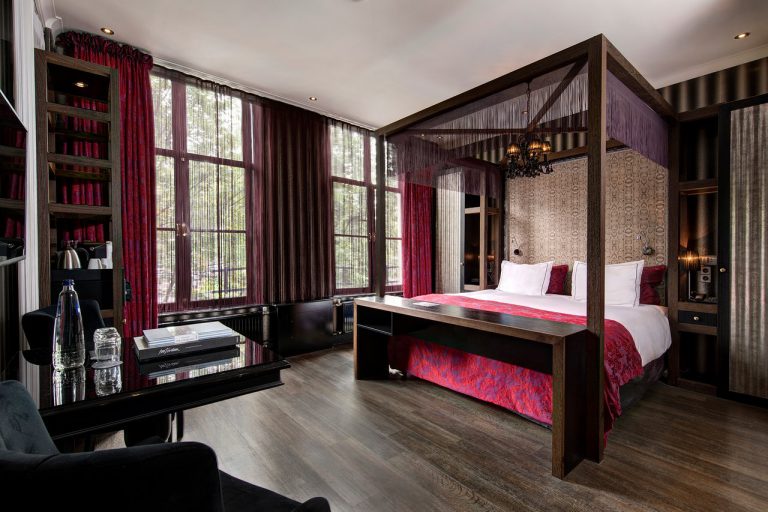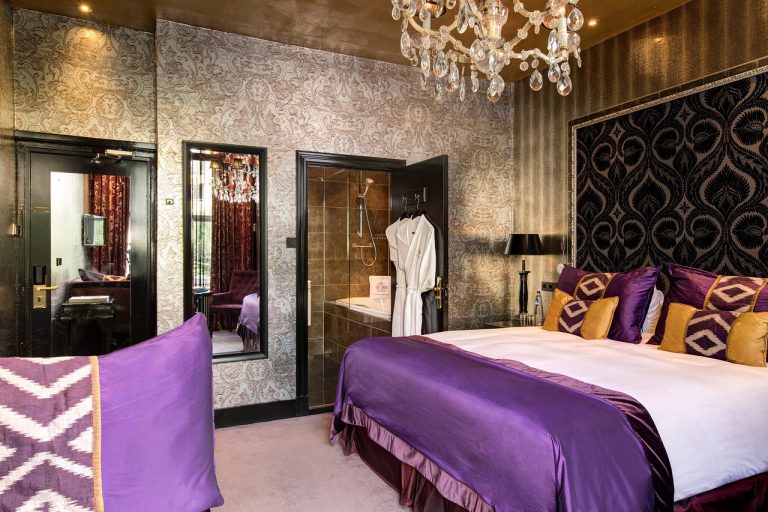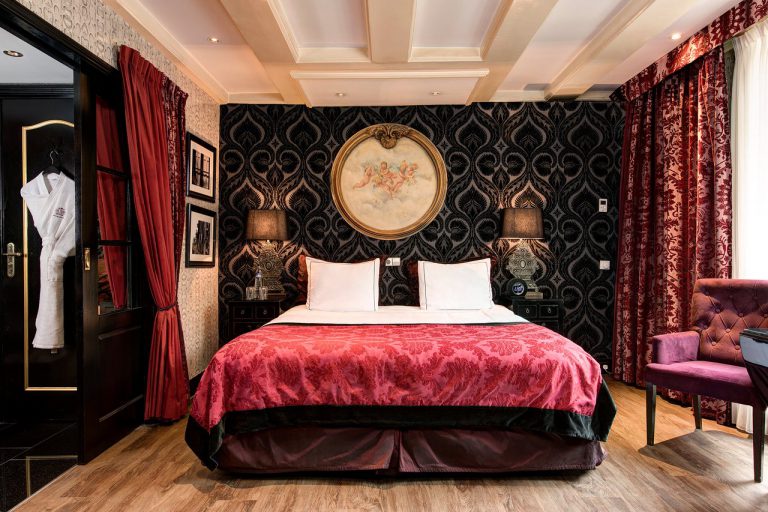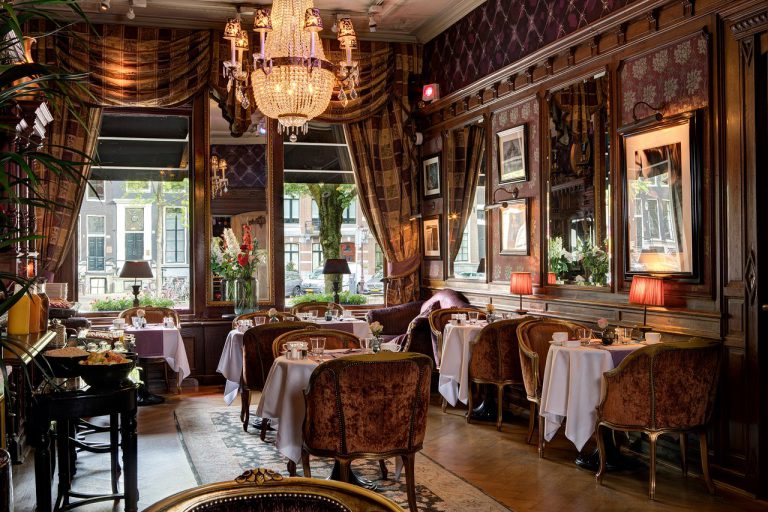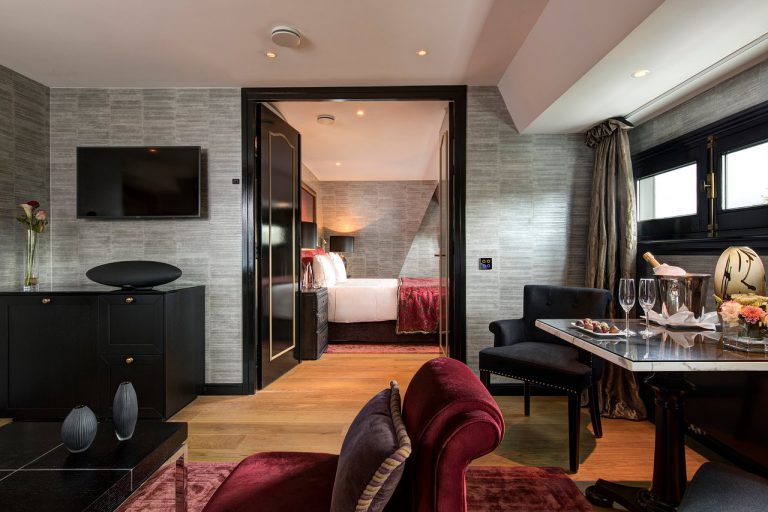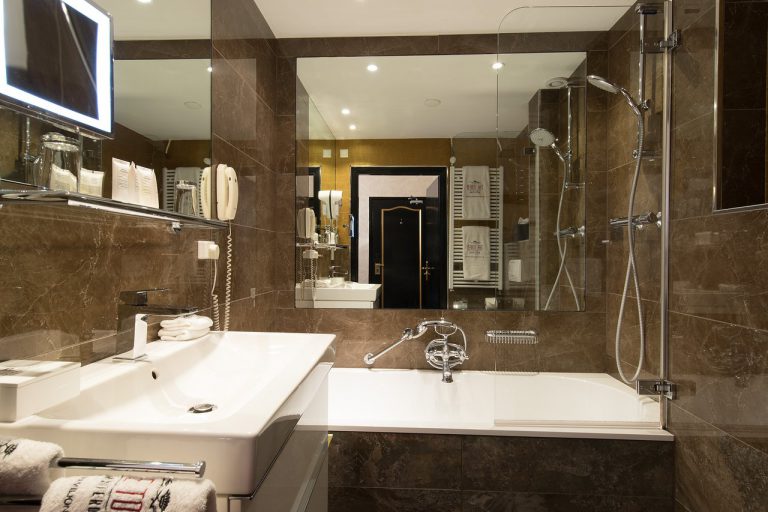 Amsterdam is anything but ordinary, and the same goes for your stay at The Pavilions Amsterdam, The Toren. You find them in the Canal District right next to the famous area Jordaan, one of the city's most happening areas.
Vibrant cafes, creative galleries, and quirky shops are right on your doorstep in 'de negen straatjes', making the hotel an ideal base from which to explore the urban maze that is Amsterdam.
It's a unique 40 room boutique hotel occupying two 17th century buildings, once home to the flamboyant lives of Dutch trade merchants. Our two houses are only a 20-second walk from each other. The decor of each room is unique, with different views depending on their location in the house.
You're able to enjoy sweeping vistas of the Keizersgracht canal, views of the hotel's charming interior gardens, or architectural highlights of neighboring buildings.
'You can feel the history of Amsterdam while you sleep….'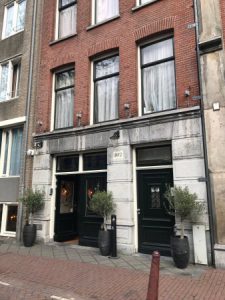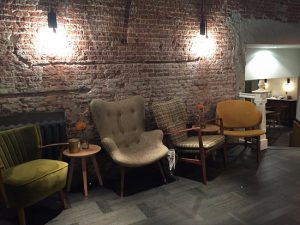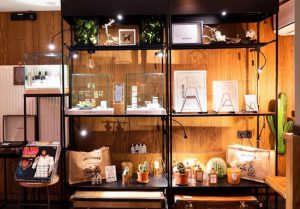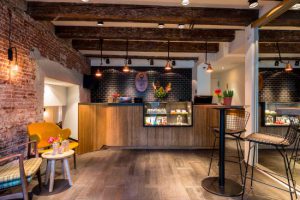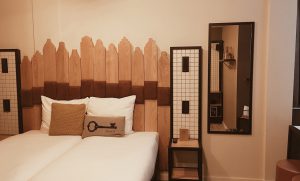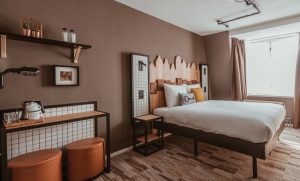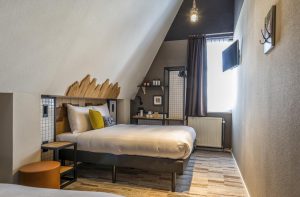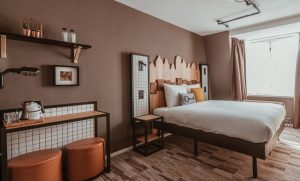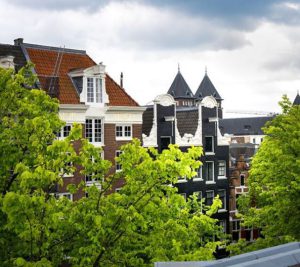 When you are up for something else, a little different from the average Amsterdam hotel this three-star hotel might be an option.
For starters, they are slightly off the beaten track. Located at Bloemgracht, an enchanting 17th-century canal just off of the Prinsengracht. In the heart of the Jordaan, the sassy, smart village in midtown with its exciting art studios, quirky little shops, and authentic Amsterdam bars & cafés – where Sundays get as comfy and as quiet as a tiny French town. That's the quirky atmosphere of this special hotel.
What's more: the style goes way back to the sixties, when one day, the founder of this hotel decided to advertise his couch at the local tourist agency. People loved it. So the couch turned into a room, which turned into two, which expanded into a full floor, then into more floors until even the house next door gave in to the hospitable spirit of Mr. Jordaan. You could say he was a pioneer. Started couch surfing before its time. Airbnb-by-phone-and-snail-mail. Stay-with-a-local, well before we even knew 'local' was something to aspire. That is the feel of this hotel.
But what makes this hotel different most, is the guest. Because the truth of the matter is: Mr. Jordaan is for travelers. For decades, it's been a home away from home for explorers. For the curious, the original. For people who look a little further and leave plenty of room for surprises & little treasures, unnoticed by travel books, tourist guides, and backpack blogs.
Check-in and before you know it, you will consider yourself a true canal dweller, inhabiting Amsterdam's finest neighborhood & adopting the funky Jordaan lifestyle. You will fit right in.
For the daring and funky cruiser, this can be a new and very special experience! Located in the exact place to be, the spot of Amsterdam.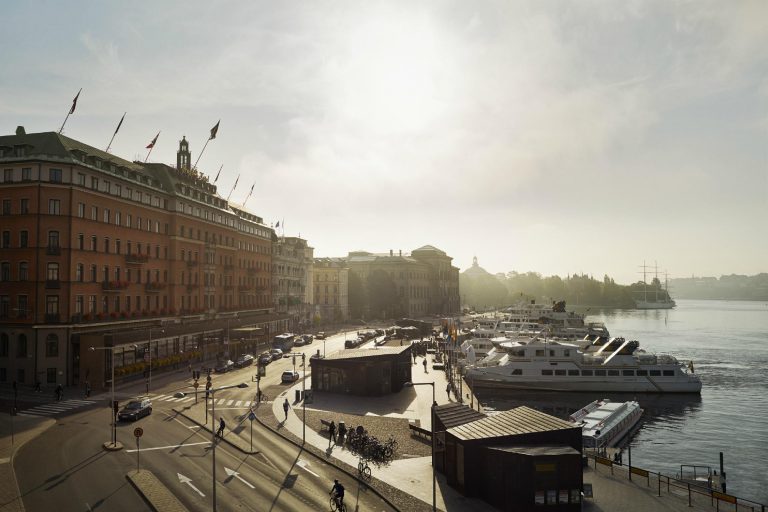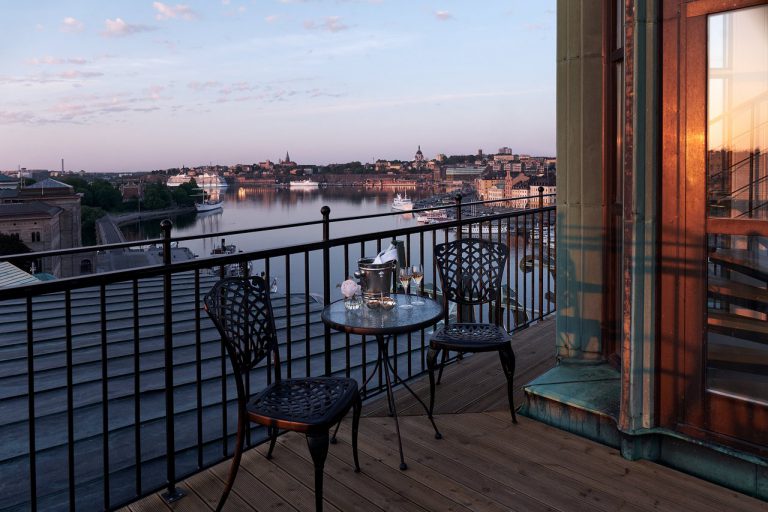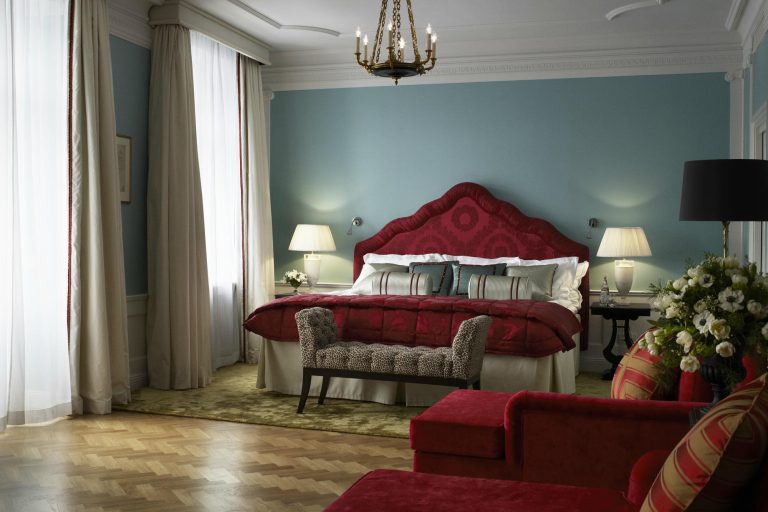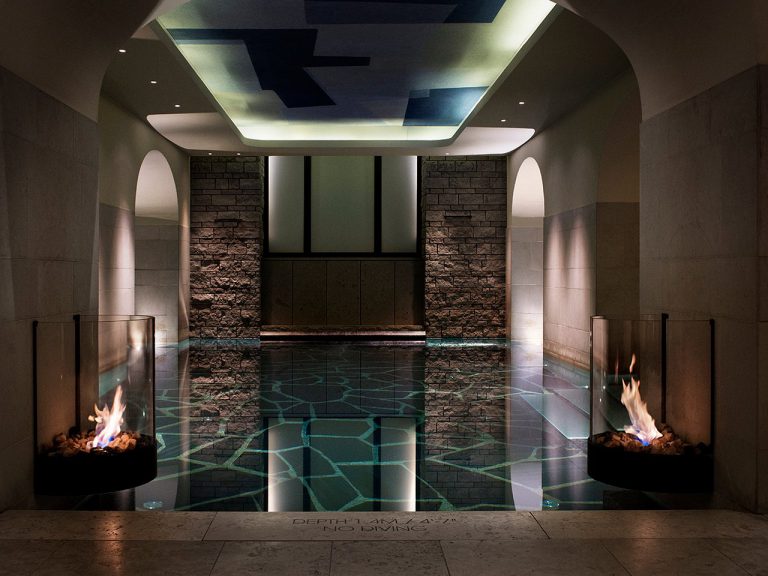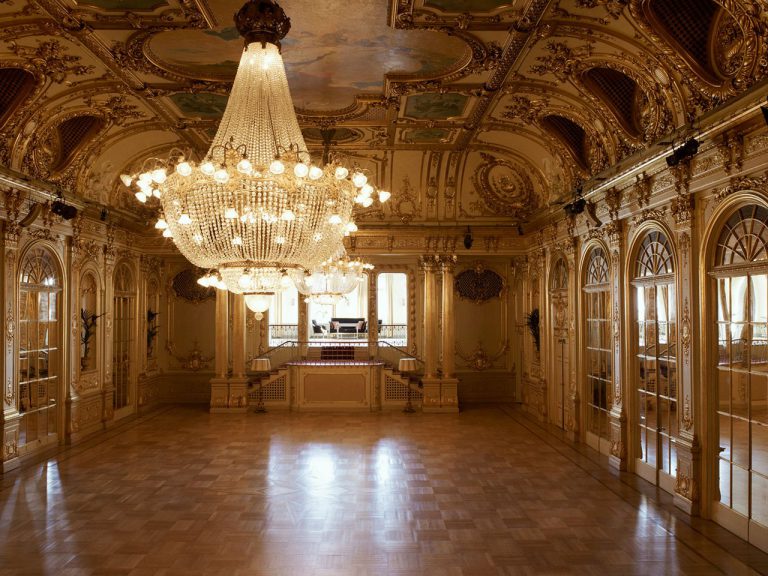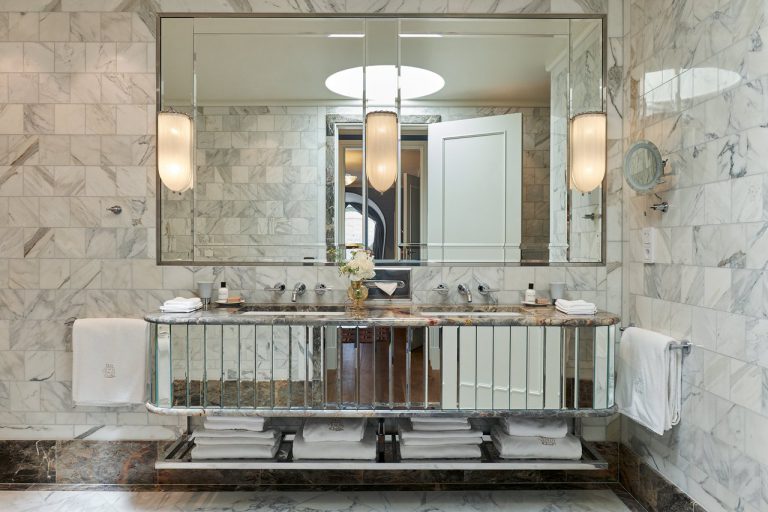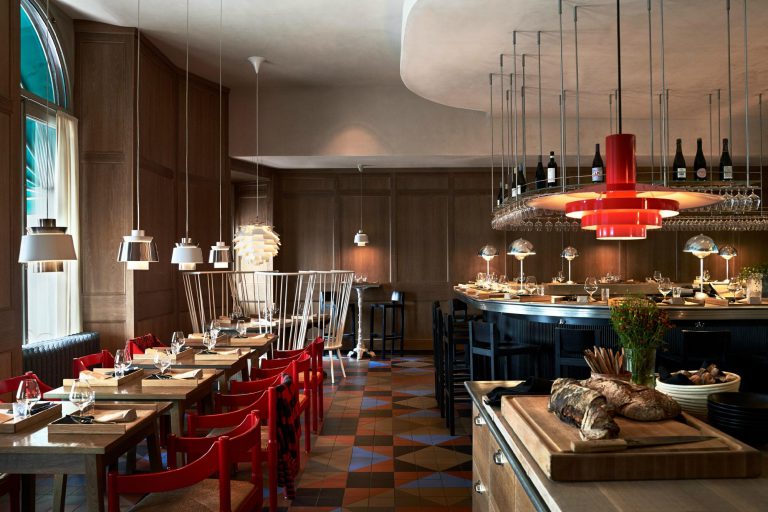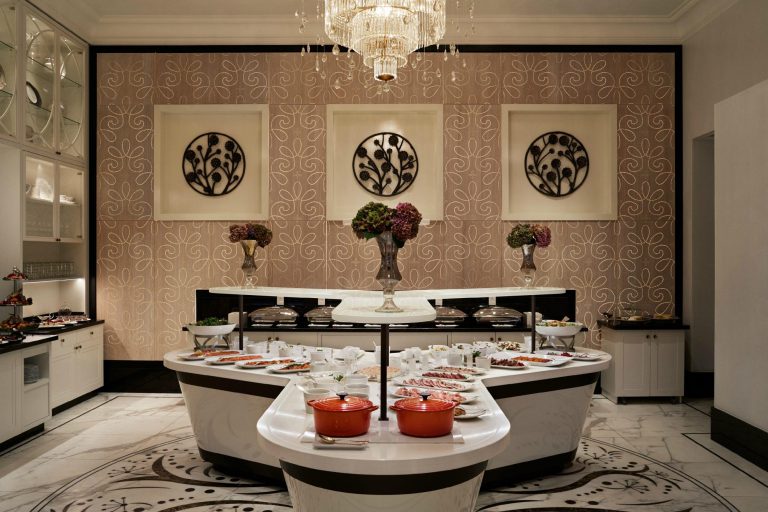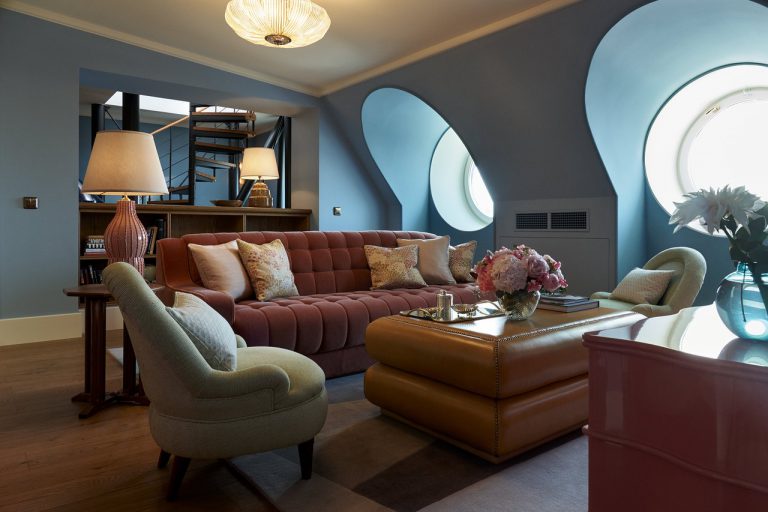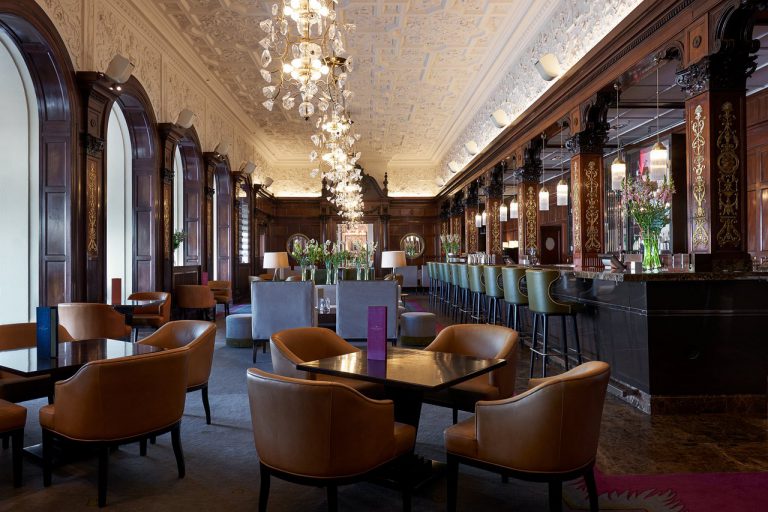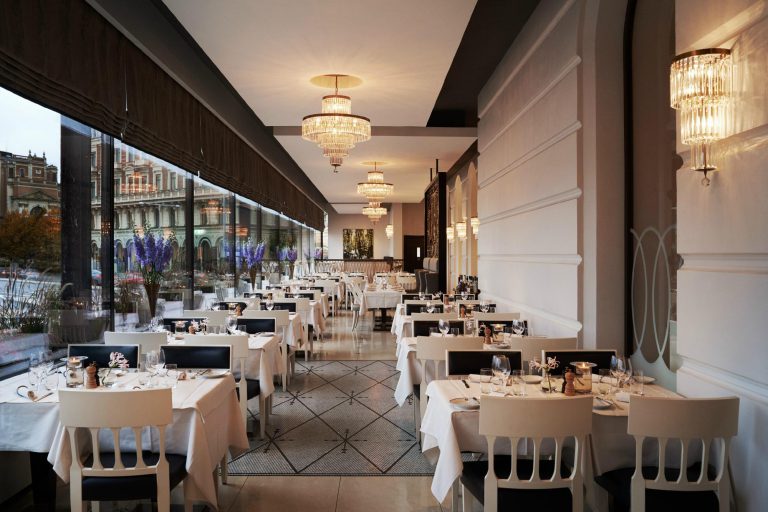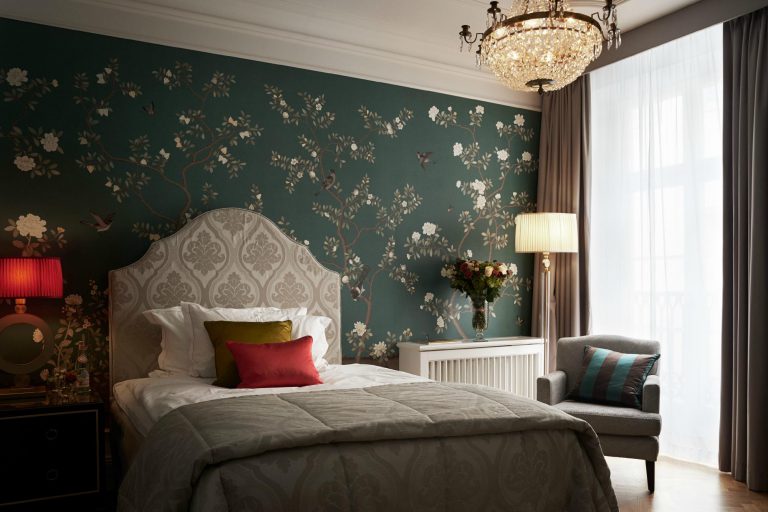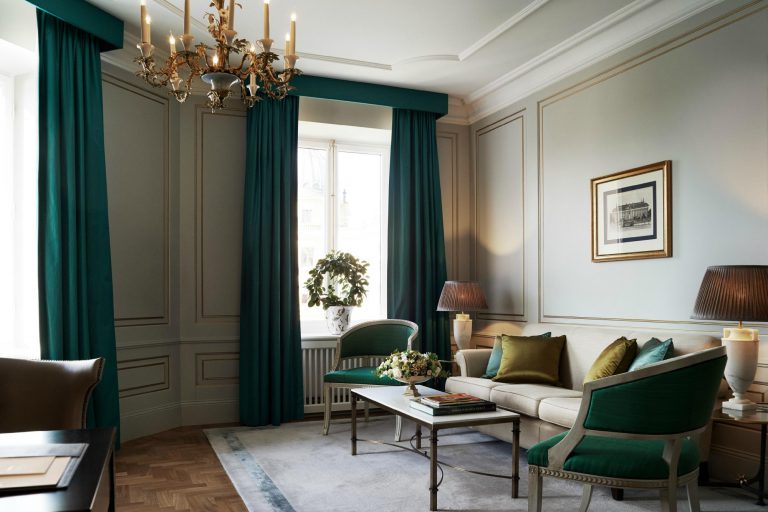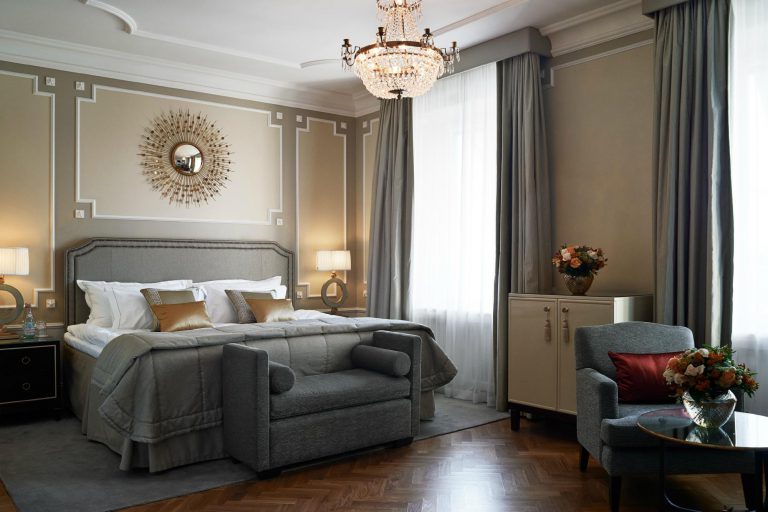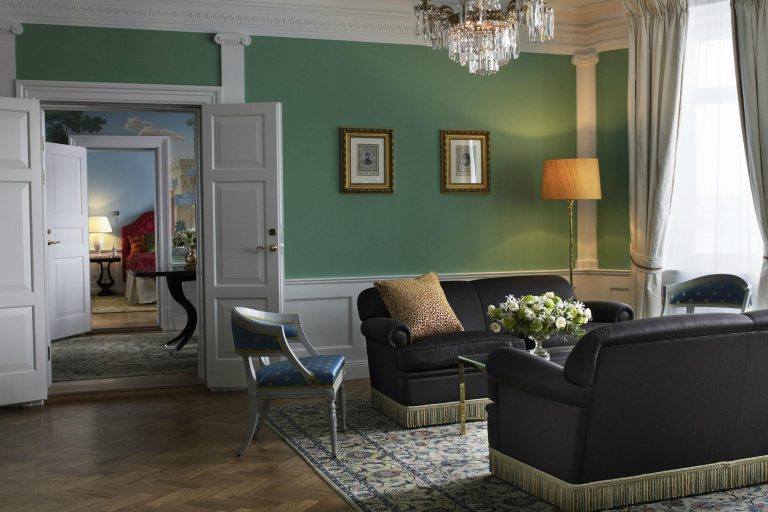 The Grand Hôtel in Stockholm has been home to celebrities, high-profile events, and everyday bon-vivants since 1874. Situated in the best waterfront location imaginable, the hotel overlooks the Royal Palace and Gamla Stan, Stockholm's old town. The Grand is also home to the classic Swedish Veranda restaurant, renowned for its traditional smörgåsbord,
Mathias Dahlgren's award-winning restaurants and the spectacular Cadier Bar. For recreation, there's the Nordic Spa & Fitness club with hot saunas and cool dipping pools.
Staying in a suite goes far beyond the normal hotel experience. Slip into a silk bathrobe and enjoy our delightful suite package.
Everyone should experience staying in a suite at least once in a lifetime. Once you have tried it, suite life can become quite a habit. With that in mind, they are now offering a suite package, with dream rates, depending on the size of the suite. The Suite Dreams offer includes a sumptuous breakfast buffet, entrance to our beautiful spa, silk bathrobes, and comfy slippers.
The hotel is proud of its restaurants and bars. Mathias Dahlgren's Matbaren is legendary on Stockholm's restaurant scene, and right next to it you will find his lacto-ovo vegetarian restaurant Rutabaga. The Veranda restaurant is perfect for celebrating all types of occasions – Easter, Midsummer, Christmas, and New Years – in the classic Swedish tradition. The Cadier Bar is a favorite of Champagne-loving Stockholmers and hotel guests looking for the perfect cocktail. In short: a number of Stockholm's best restaurants, chefs, and bartenders are right here at the hotel, which is also evident in the room service.
A must-do; The Cadier bar. Everybody feels at home at the Cadier Bar, Stockholmers, and hotel guests alike. This spectacular bar is a popular gathering spot for an after-work drink, informal meetings, and nights out on the town, bubbling with Champagne. Hungry? Check out our bar menu. You'll also find an à la carte breakfast, lunch, and of course afternoon tea for those who have difficulty tearing themselves away from our comfy sofas. The bar is named after Régis Cadier, French chef and the founder of the hotel.
'Classic luxury for the spoiled cruise lovers'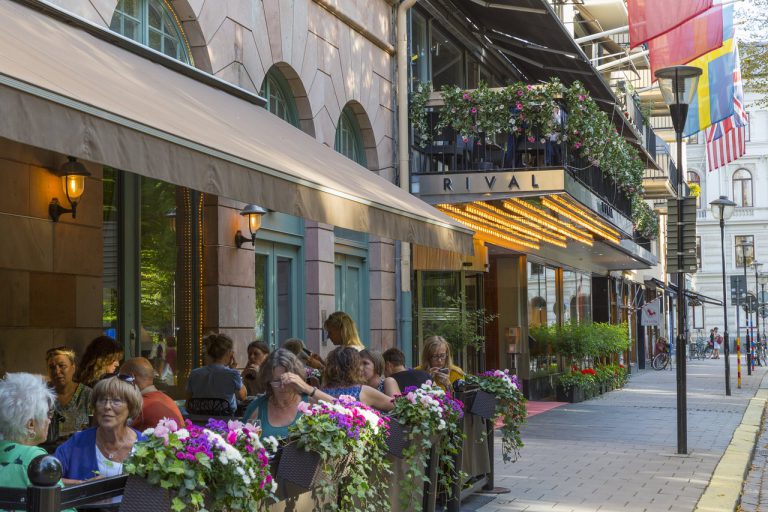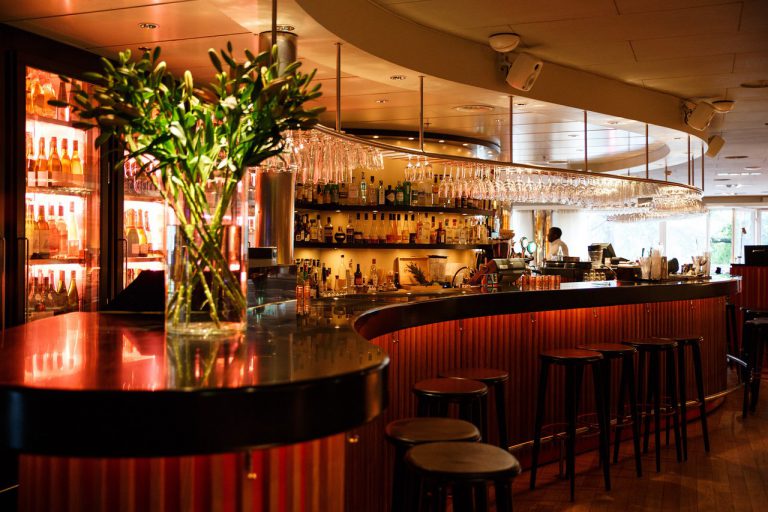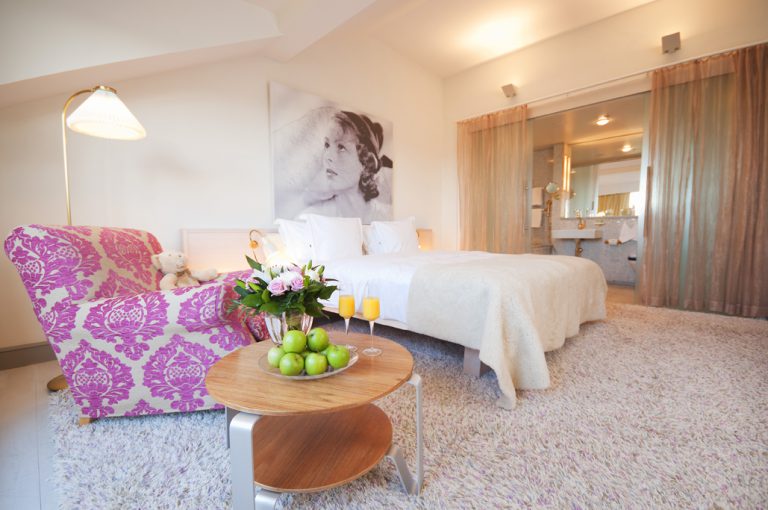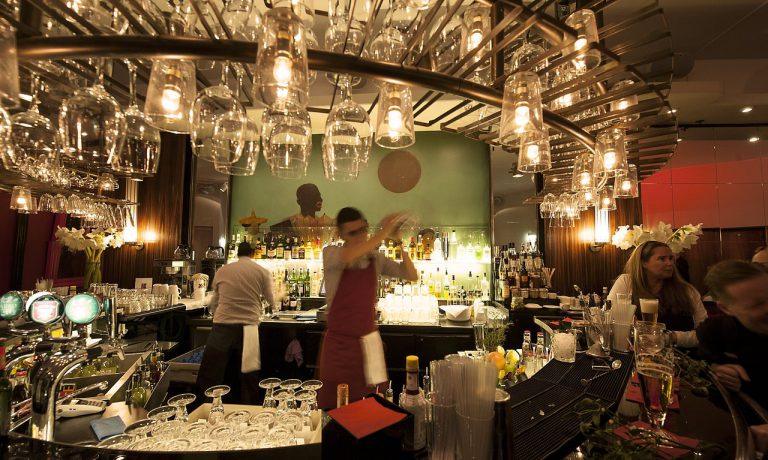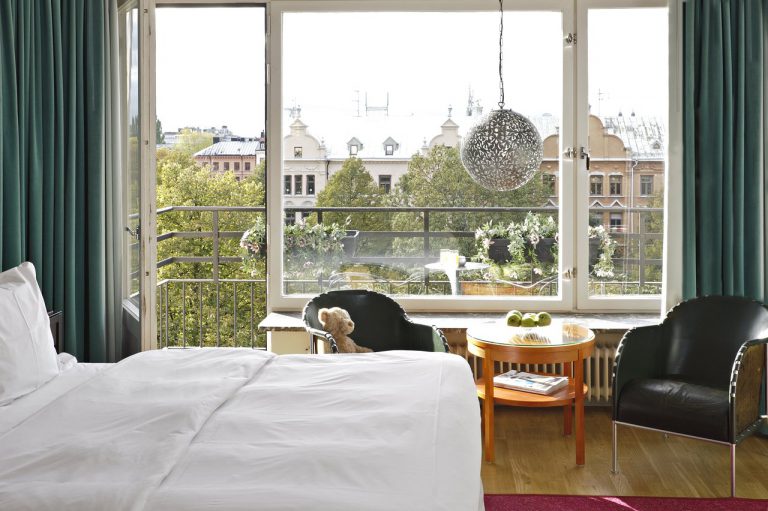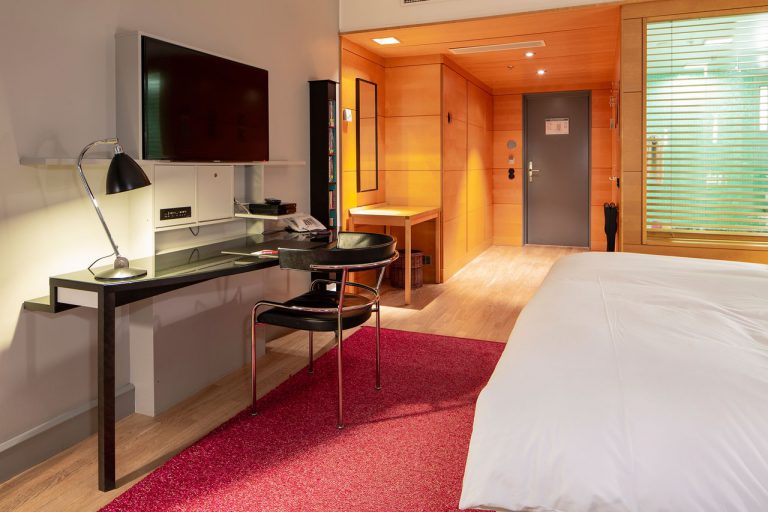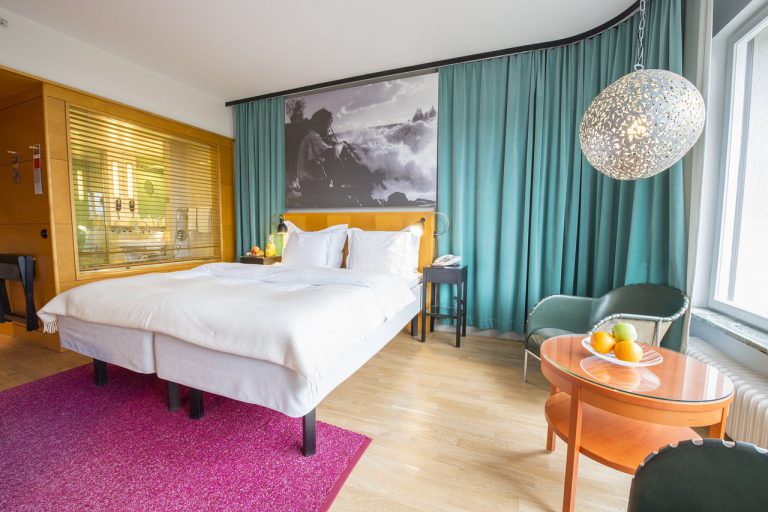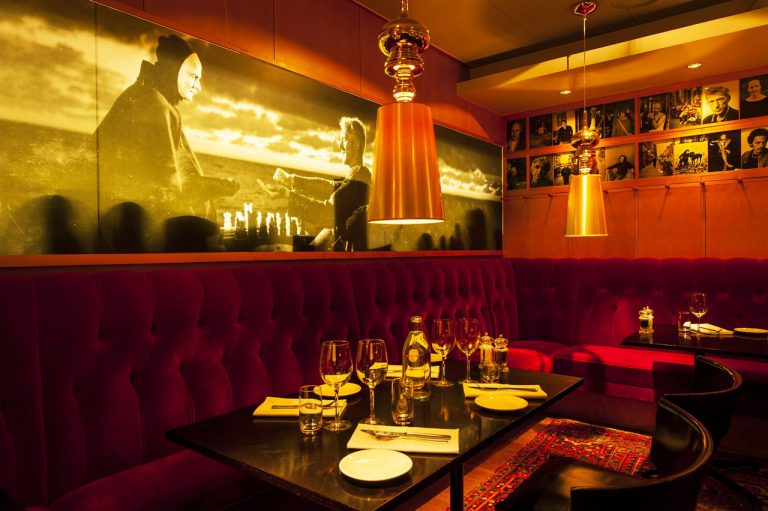 The Rival is located by the beautiful park Mariatorget on Stockholm's southern island, Södermalm.
Perfectly situated in a quiet residential area, the hotel is surrounded by unique and eclectic areas to explore. Communications to the city center and Old Town are excellent, with just 100 meters to the Mariatorget subway stop, 300 meters to the commuter train, and the Old Town a quick 10-minute walk away.
A luxury boutique hotel in Södermalm…
On September 1, 2003, the Rival opened after extensive renovations. It is a small, privately owned boutique hotel at Mariatorget Square in Stockholm with 99 rooms, a bistro with a bar, an art-deco style cocktail bar and a theatre with seating for 735. And while the facilities are all excellent, it is the staff who – every day, evening and night – embodies what The Rival strives to be: a warm and personal place that brings people together. The owner, Benny Andersson (ABBA) – in collaboration with the rest of the team – has created a hotel and meeting place that we like to visit and stay again and again.
The lovely neighbourhood, combined with fantastic front desk customer service,  gives you a quintessentially Stockholmesque experience.
The love of food and drink is their great passion and they let the raw material take center stage and cook good food in an artificial way. On the menu you will find both classics but also some more modern dishes where we have taken out the turns a little. Their ambition is that the reception, the presentation on the plate and the atmosphere will make you really happy.
"Hotel Rival, great location, residential but not too far out to walk everywhere".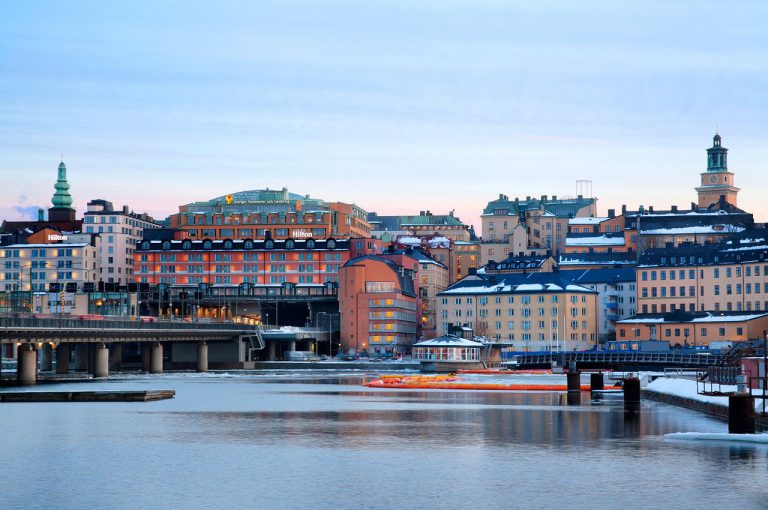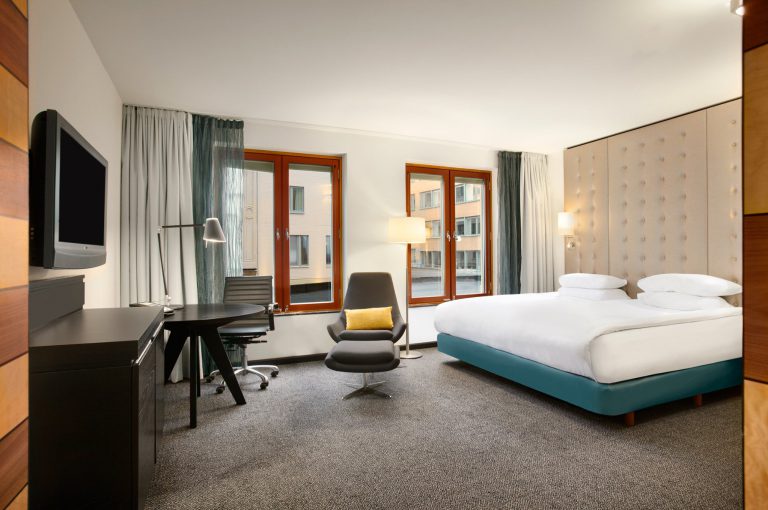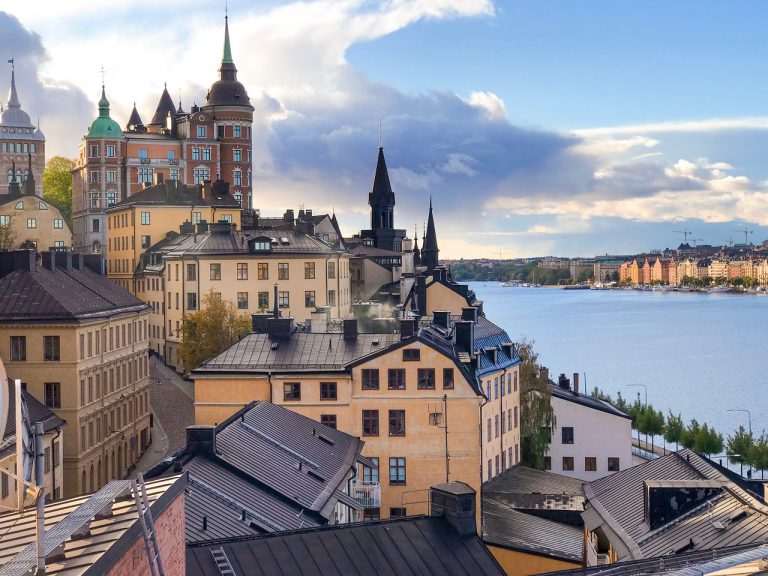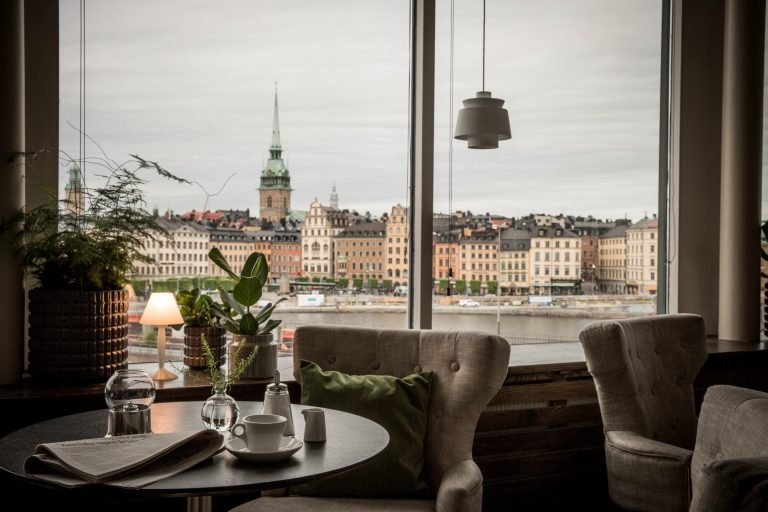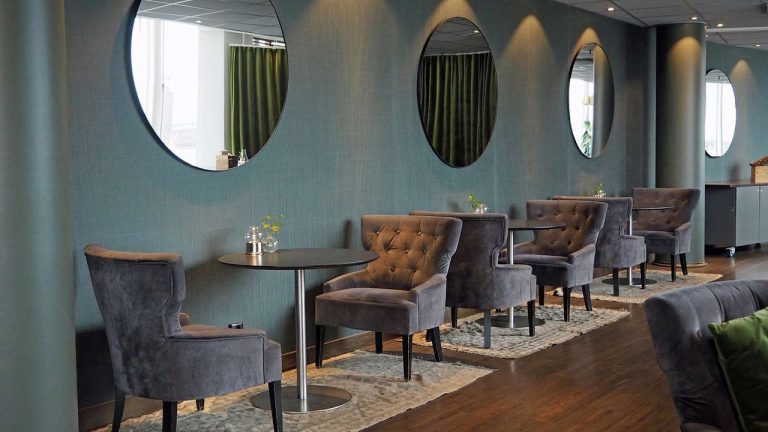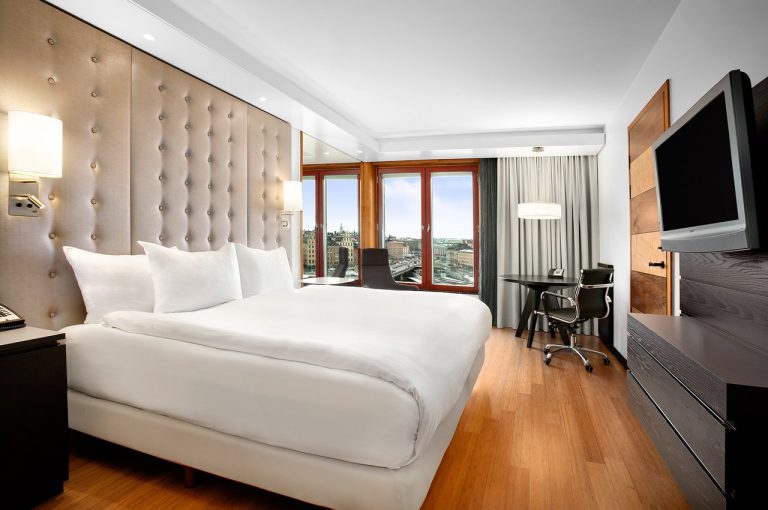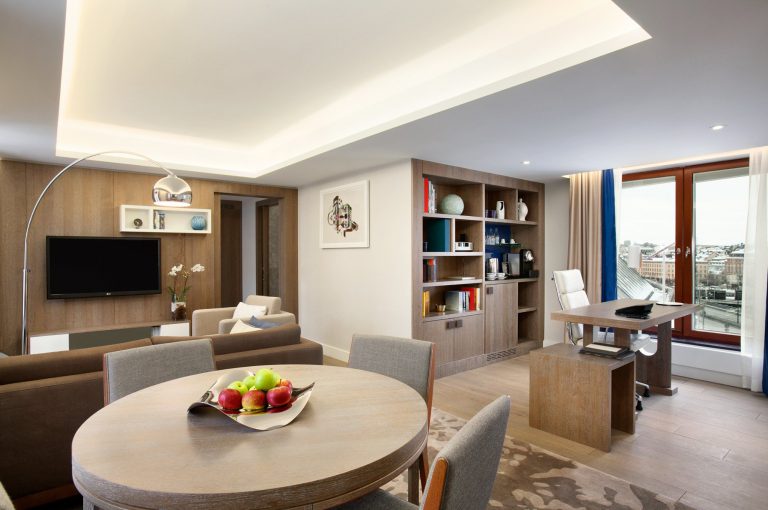 Swedish style hotel overlooking the Old Town.
In the Södermalm district, this hotel is less than a kilometer from the Gamla Stan island, home to Stockholm's Old Town and Royal Palace. They're two blocks from Slussen underground station, which links to the city center, and Vasa Museum and ABBA The Museum are within five kilometers.
Enjoy access to the 24-hour fitness center. Kick off the day at Panorama restaurant with breakfast and floor-to-ceiling views over the city and Riddarfjärden bay. Eken Bar offers international and classic Scandinavian cuisine, an exciting drinks menu, and summer terrace.
Unwind with a refreshing drink at this friendly Stockholm bar. As the night unfolds, take to the dance floor at the Hilton Stockholm Slussen hotel. Popular resident DJs play music to suit all tastes, from ambient to house music at the weekends.
Panorama Restaurant features floor-to-ceiling windows with views over the old town and the waters of Riddarfjärden. In the morning, we serve pastries and fresh fruit at our renowned Hilton Breakfast, while during the day and evening it is used for conference lunches and dinners.
"A good choice for Stockholm."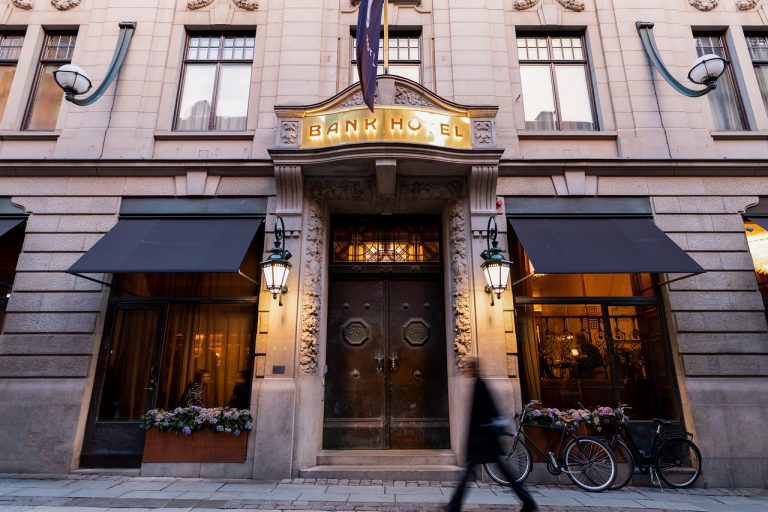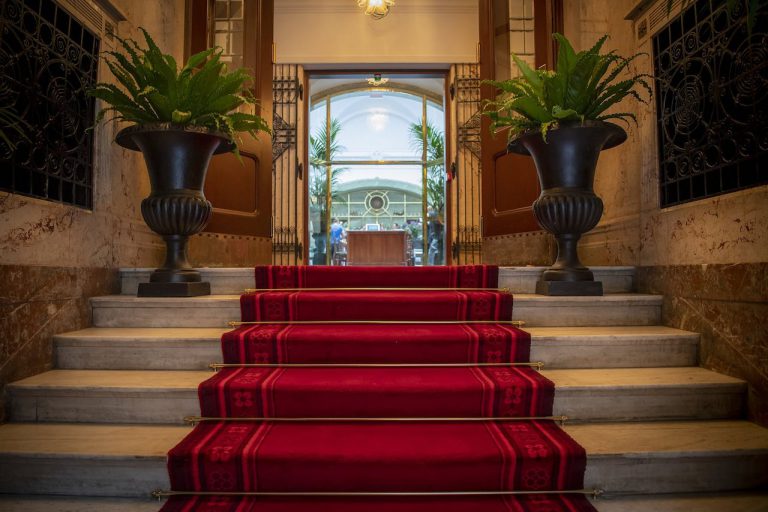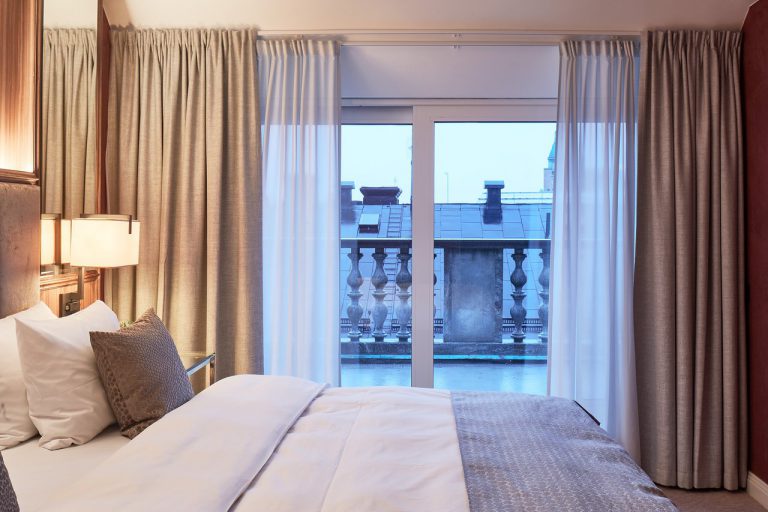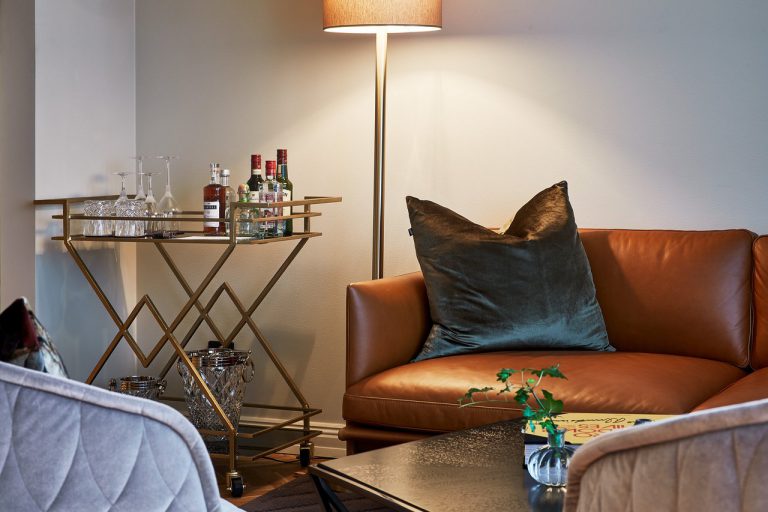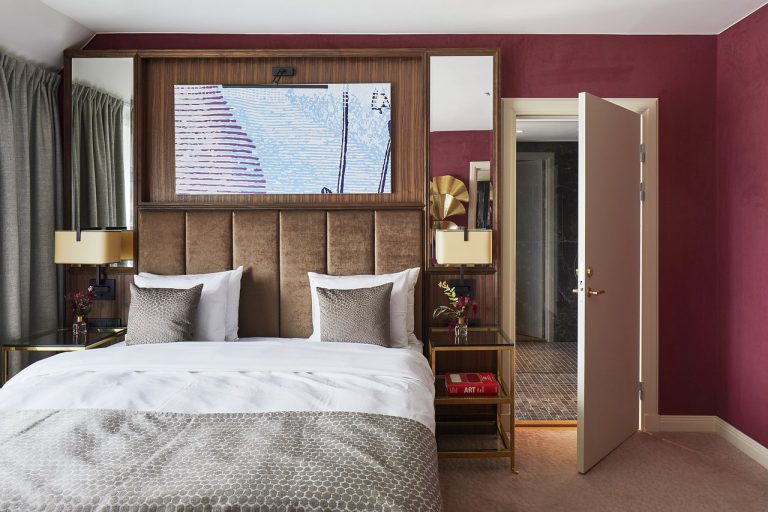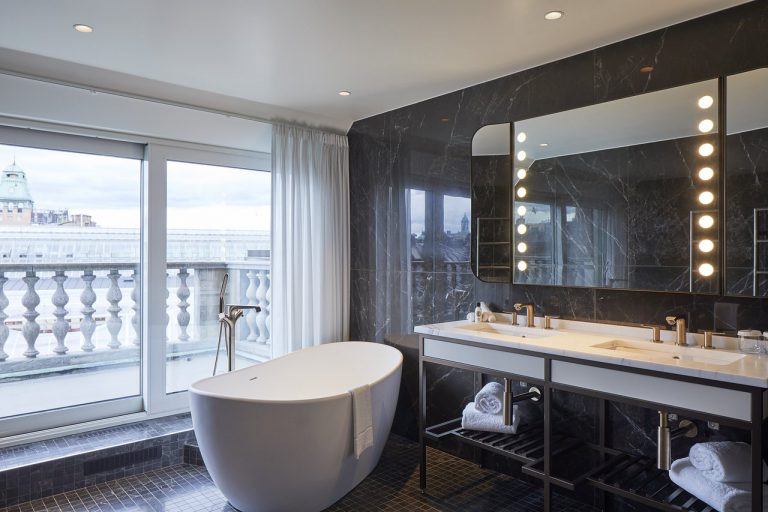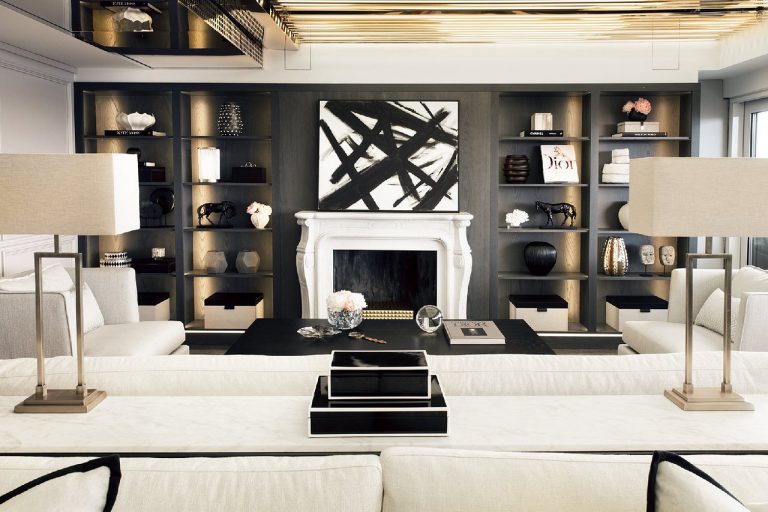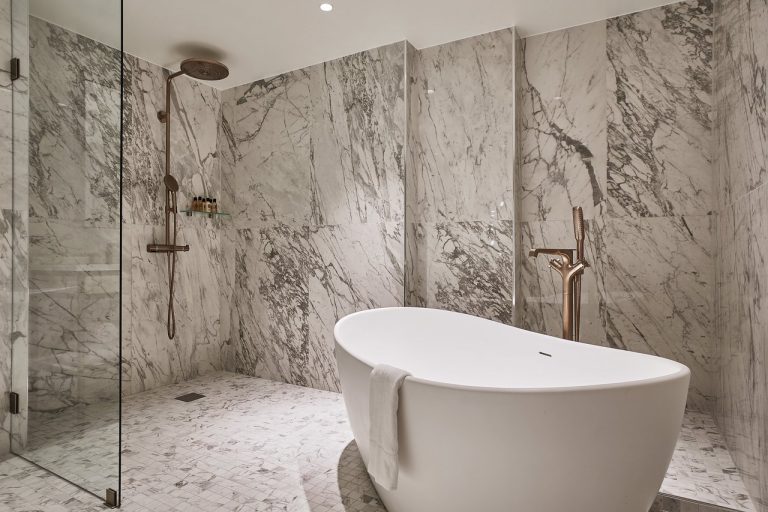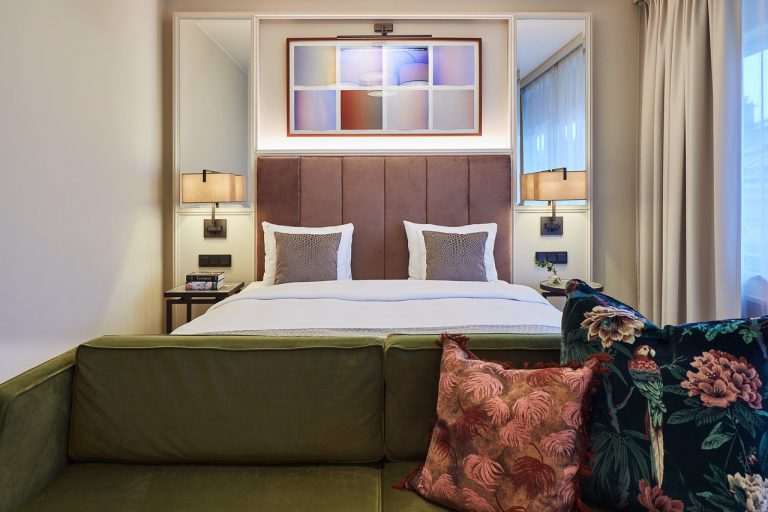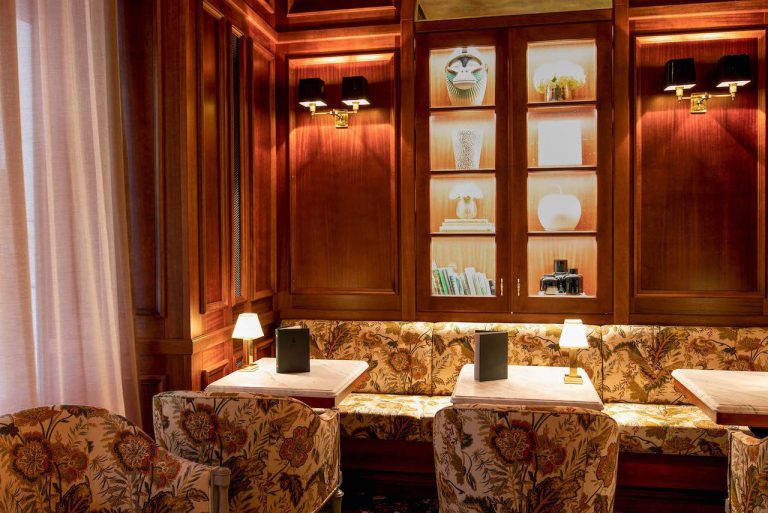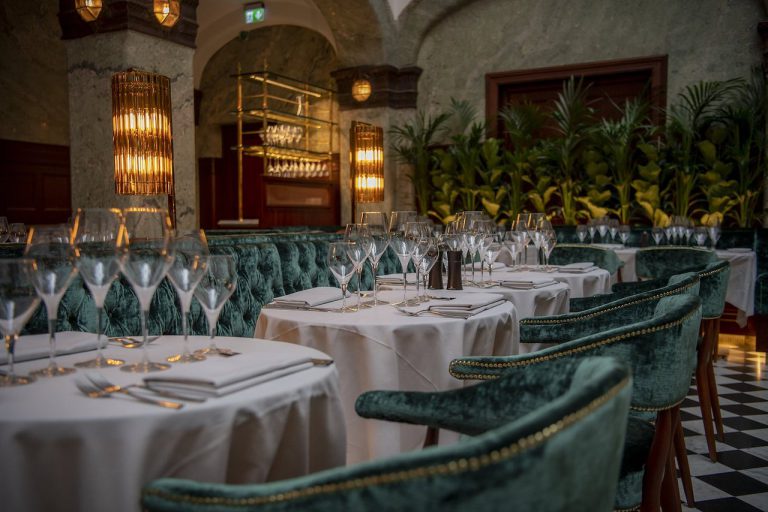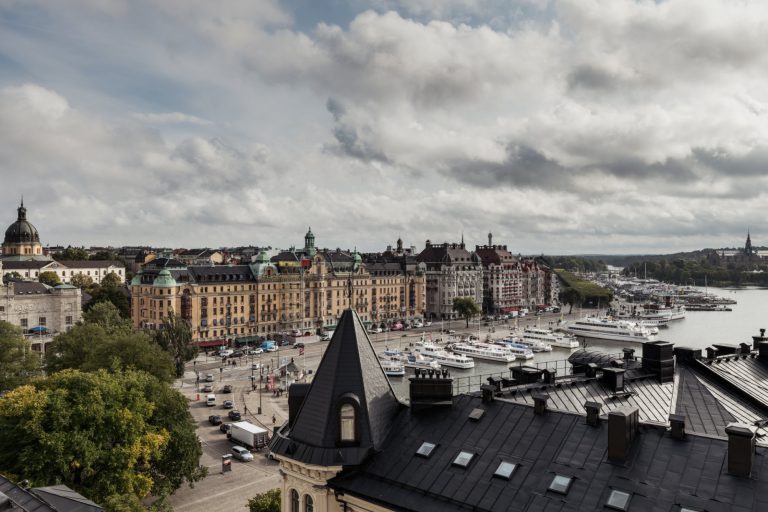 A UNIQUE, ELEGANT VENUE OFFERING A TRULY VIBRANT EXPERIENCE.
An intimate boutique hotel, where discerning travelers mingle with the local crowd, seeking an extraordinary experience – curious about the life, people and social scene of Stockholm. The hotel pulsates in tune with the surrounding city through day and night, an oasis for those who loves blurred lines and a vibrant lifestyle.
Bank Hotel is a vibrant, welcoming and remarkable venue with meticulous attention to detail; a venue that embraces diversity – where's it's all about personal service, quality and guest pampering in an intimate, residential environment.
At check-in you are immediately reminded of the hotel's historical bank heritage, reimagined in a bold, vibrant setting – and all within walking distance of Stockholm's finest shopping, nightlife and cultural attractions.
With some of Stockholm's finest views from multiple rooftop bar terraces, the waterfront is also on the hotel's doorstep, offering the possibility to explore the 24,000 islands that make up the Stockholm archipelago. Member of small luxury hotels of the world.
This hotel is an establishment awarded with the international ecolabel Green Key. Bank Hotel works actively with environmental and sustainability issues, by following Green Key's comprehensive criteria. In this way, as guest, you help to take responsibility for the environment without compromising your experience or convenience during your stay.
All rooms blend a soft, natural colour palette with elegant design flourishes that evoke the building's blend of history and modernity.
Featuring luxurious beds, linen and pillows throughout, each room is special, presented with meticulous attention to detail.
Bespoke fabrics and cushions complement specially commissioned artworks, creating a space that is both restful and inspiring.
Bathrooms focus on elegance and quality, with judicious use of marble and bronze adding just a splash of decadence.
At Bank Hotel you will find Bonnie's restaurant in the old bank hall where you can enjoy breakfast and dinner.
The sophisticated Papillon bar is open daily from early until late and serves lunch, dinner and drinks.
You will find the bar and terrace, Le Hibou at the top of the building with an outstanding view. Enjoy our lovely terraces that now are open every day.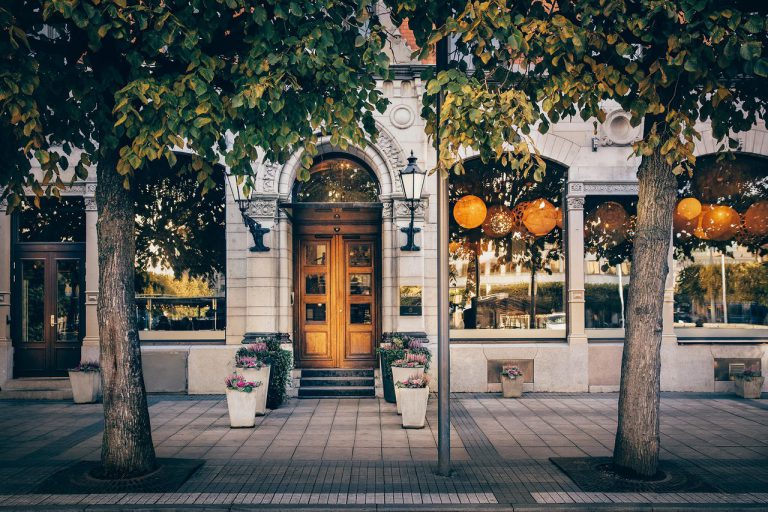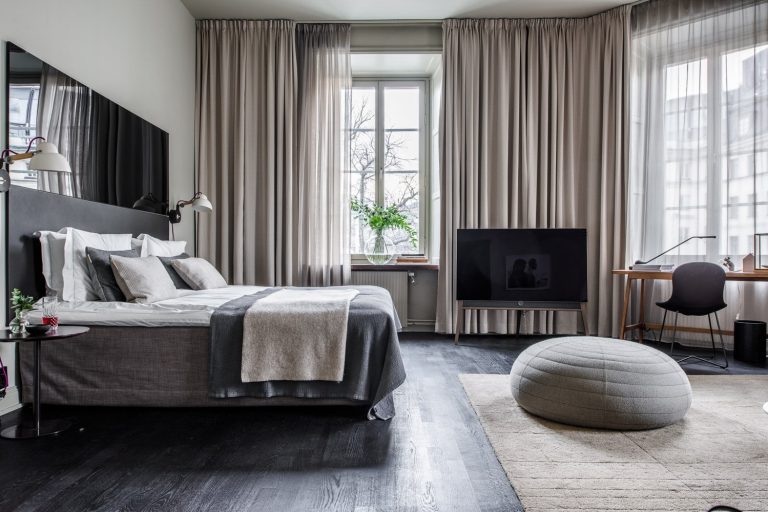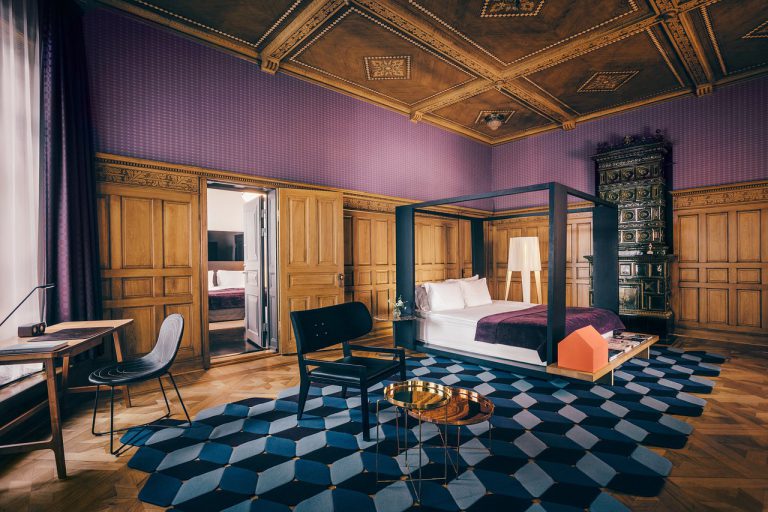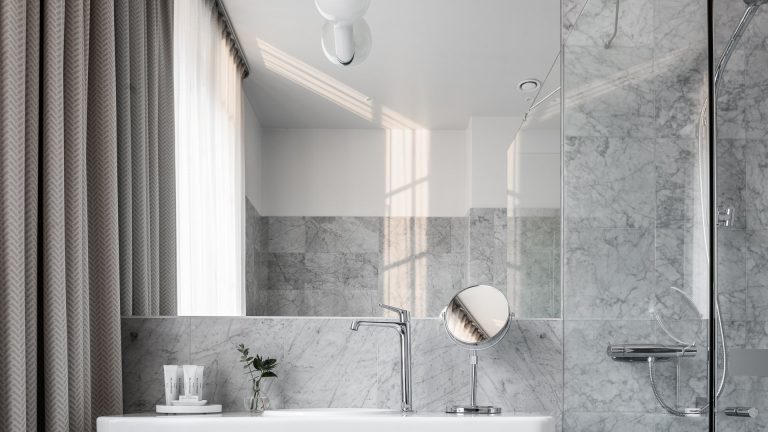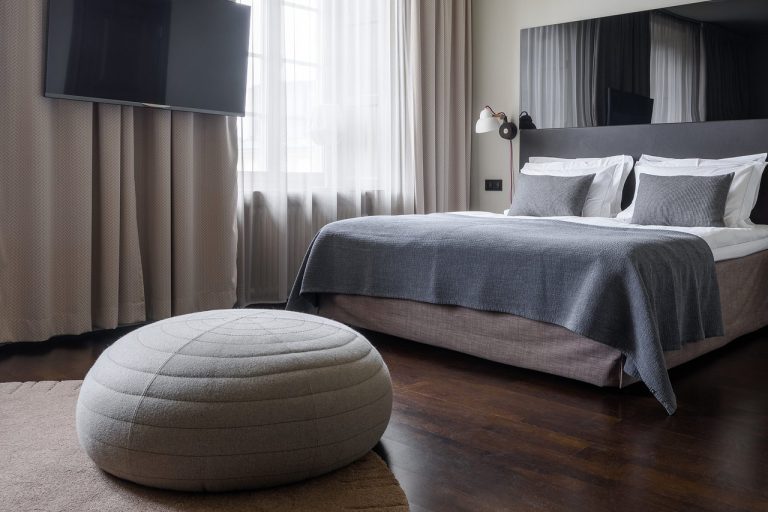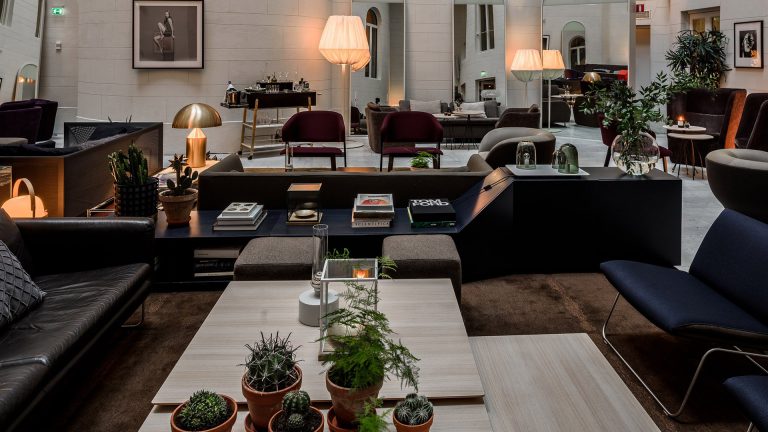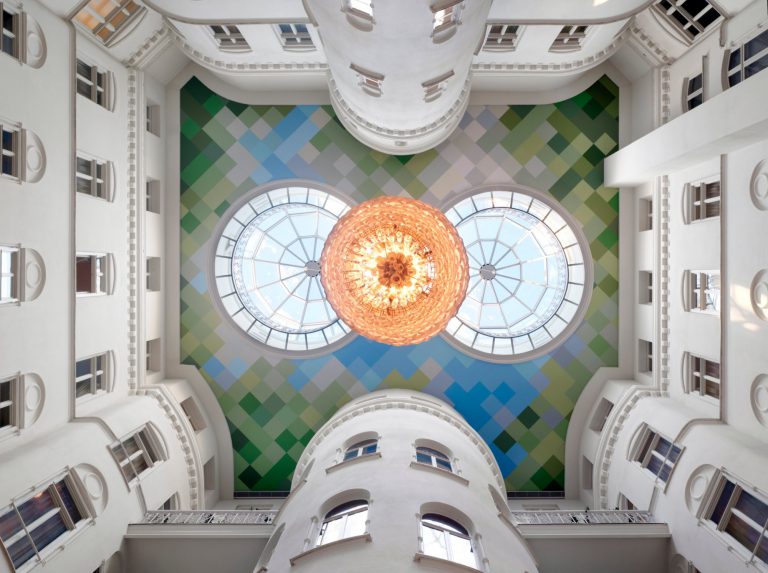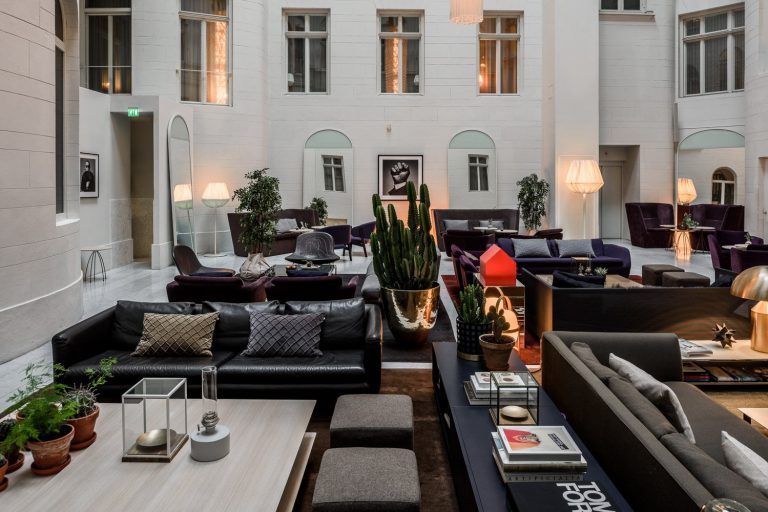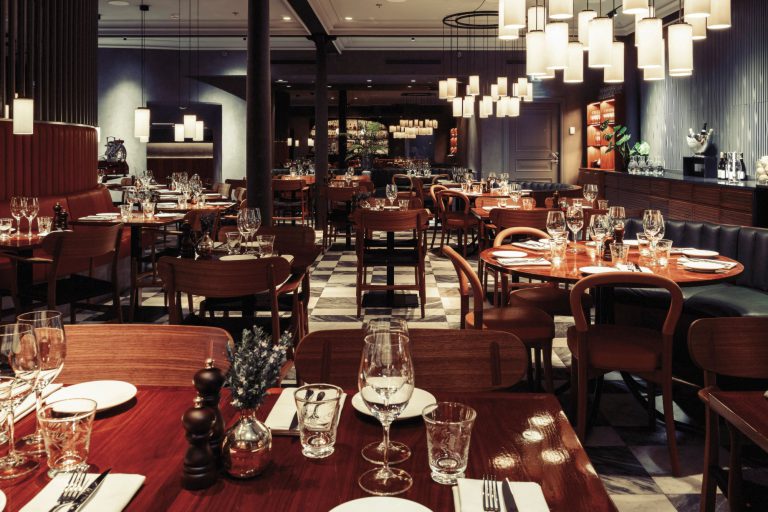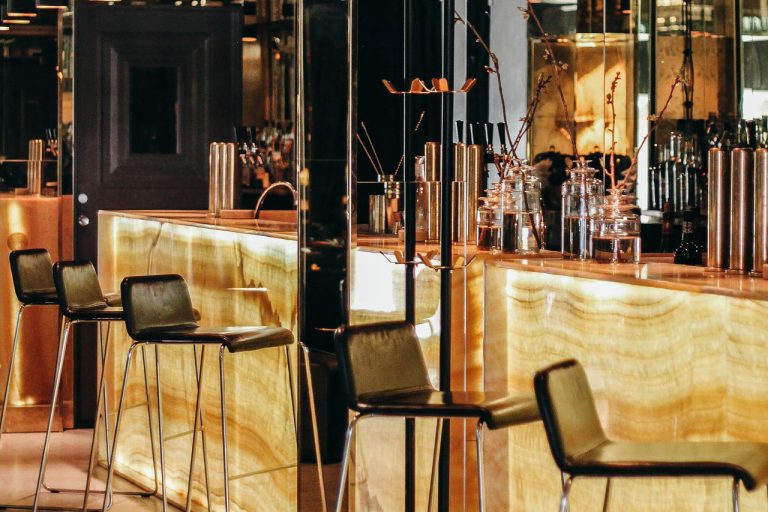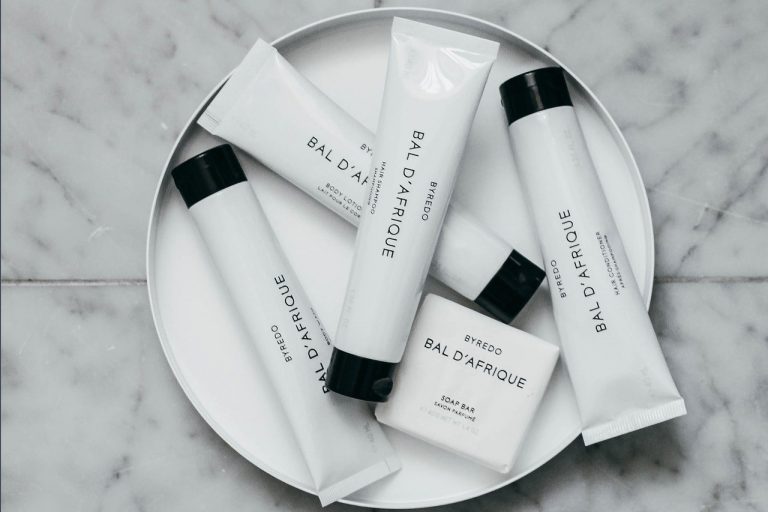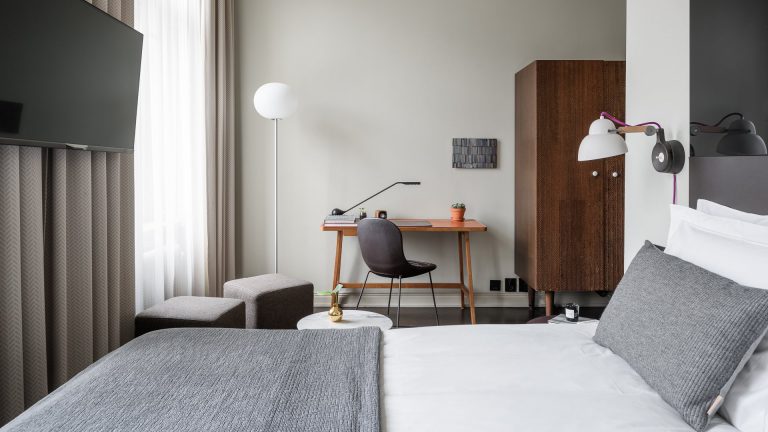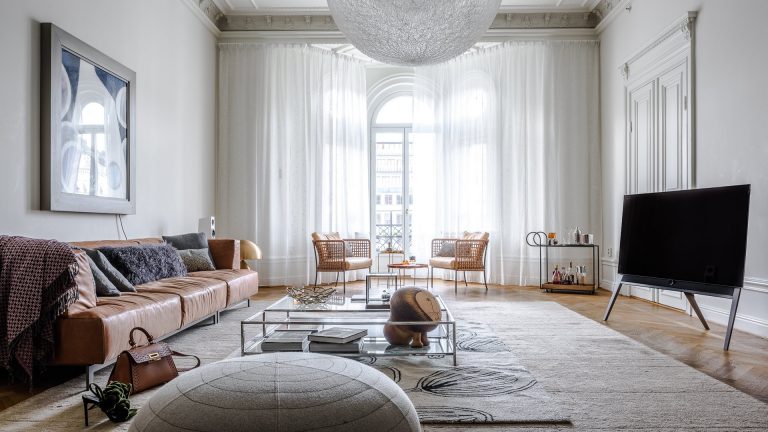 Location, Location, Location.
With a prime spot on the historic Norrmalmstorg Square and the acces to Stockholms best stores and restaurants, Nobis is a hot spot right in the city center.
The Nobis Hotel is housed in 2 stylish 19th-century buildings on Norrmalmstorg Square, in the middle of Stockholm's main shopping district. It offers luxurious rooms with free Wi-Fi.
All rooms at the Nobis have modern décor, climate control, a flat-screen TV with cable channels and a marble bathroom.
Restaurant Noi serves modern cuisine with influences from all over Europe, in an elegant setting designed by Wingårdh's architects. Traditional, rustic Italian dishes are served in bistro Bino. The Gold Bar is fully decorated with golden mirrors and serves a variety of classic and new innovative cocktails.
You can work out in the fitness center with state-of-the-art equipment or relax in the sauna or steam room.
The popular Stureplan nightclub is a 3-minute walk away and the Royal Dramatic Theater is 200 meters away.
We particularly like the location – they gave it a score of 9.7 for a trip for two.
Nobis Hotel Stockholm is a Member of Design Hotels.
"You feel right at home! Their lounge feels like your own luxury living room, just much bigger but very homy!"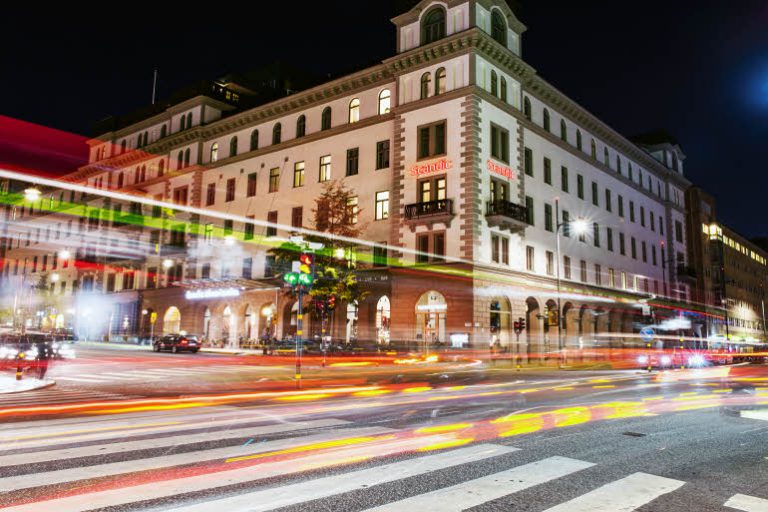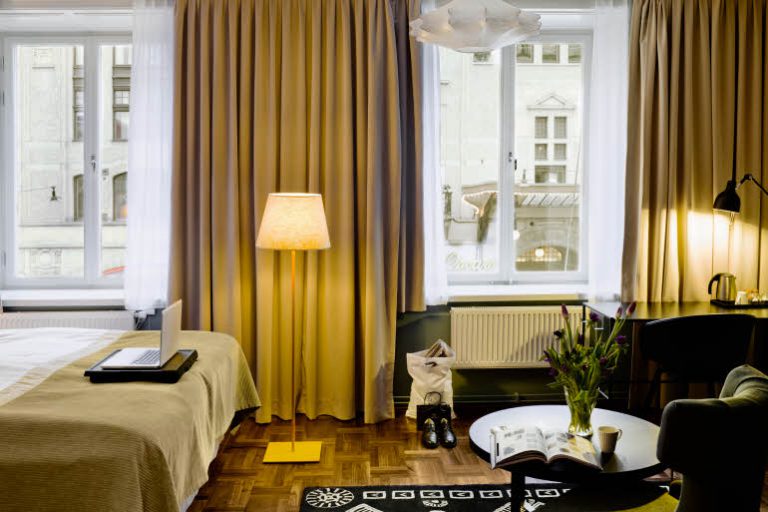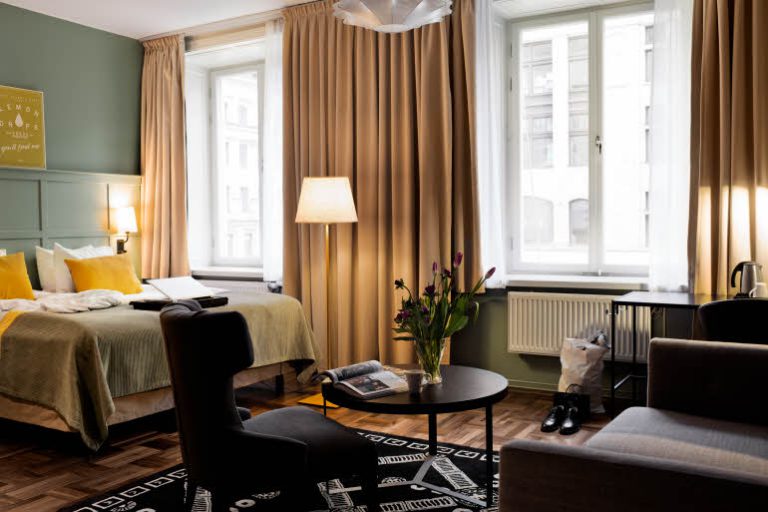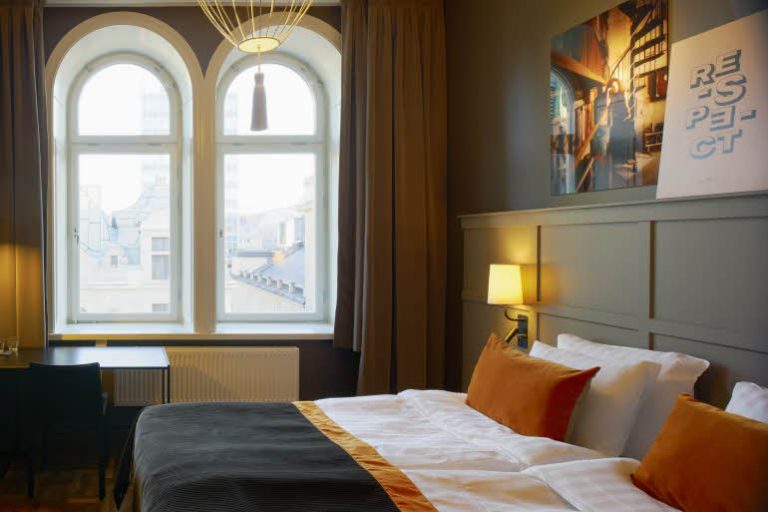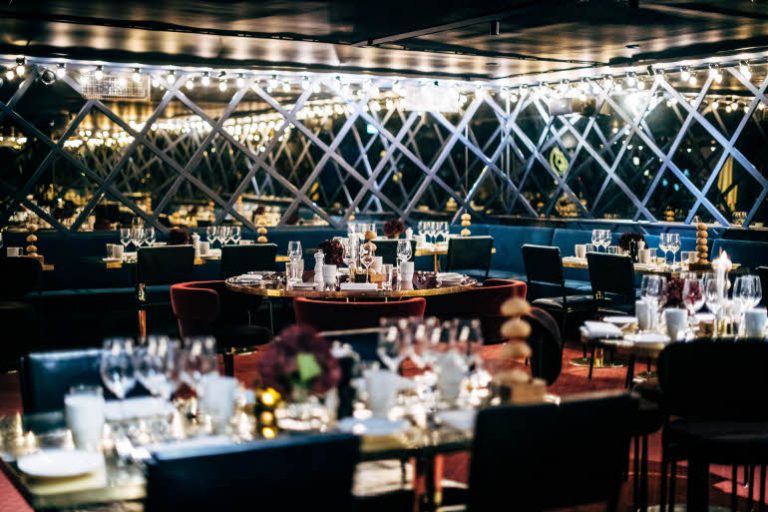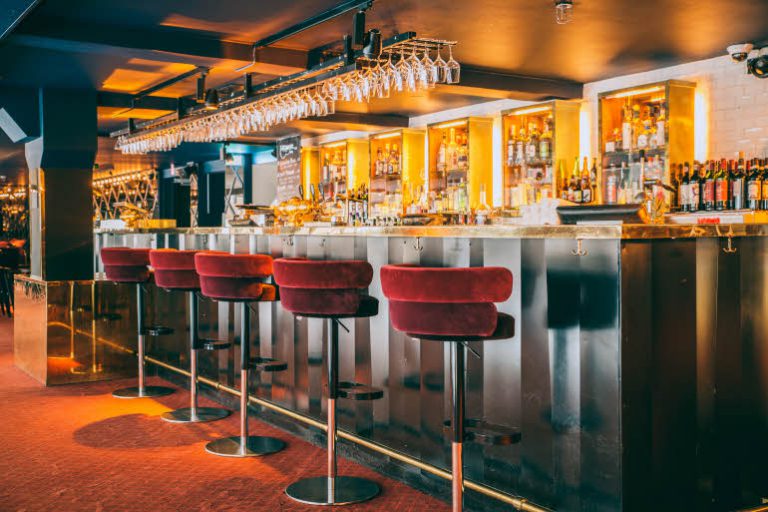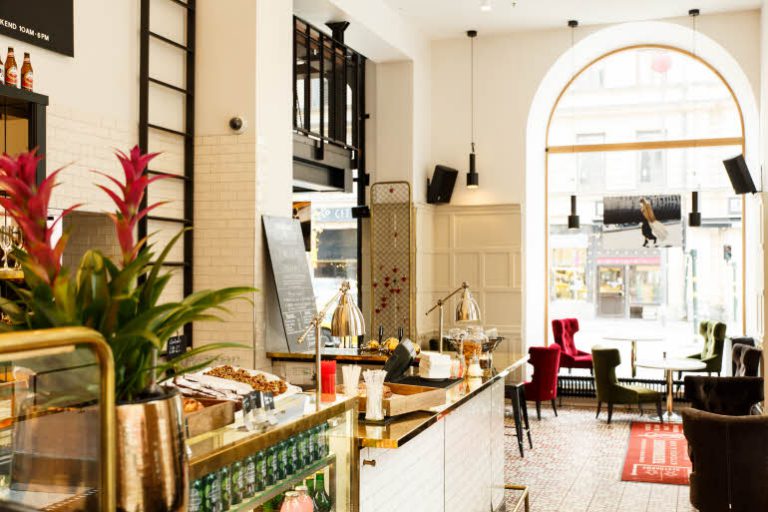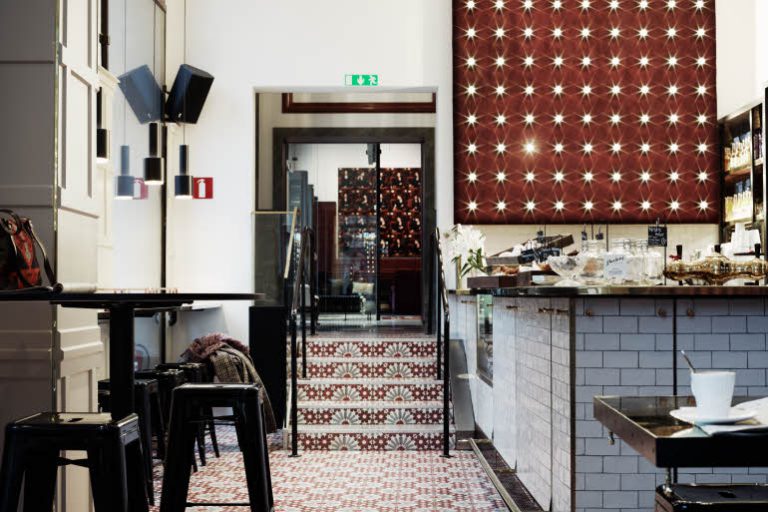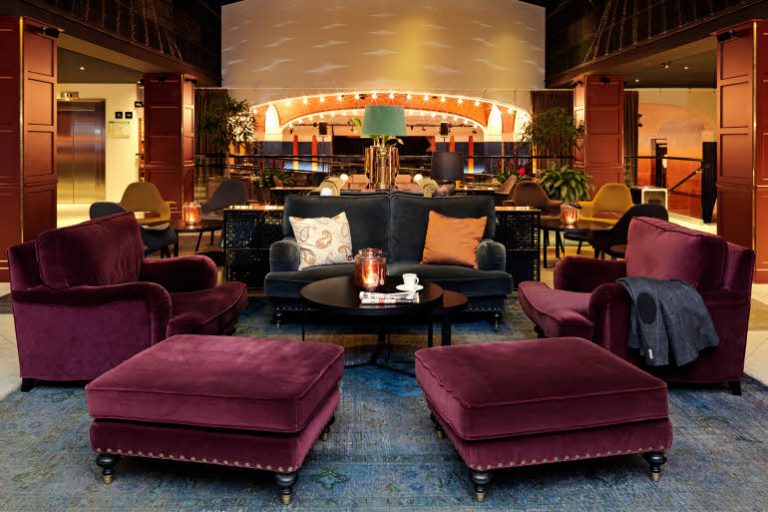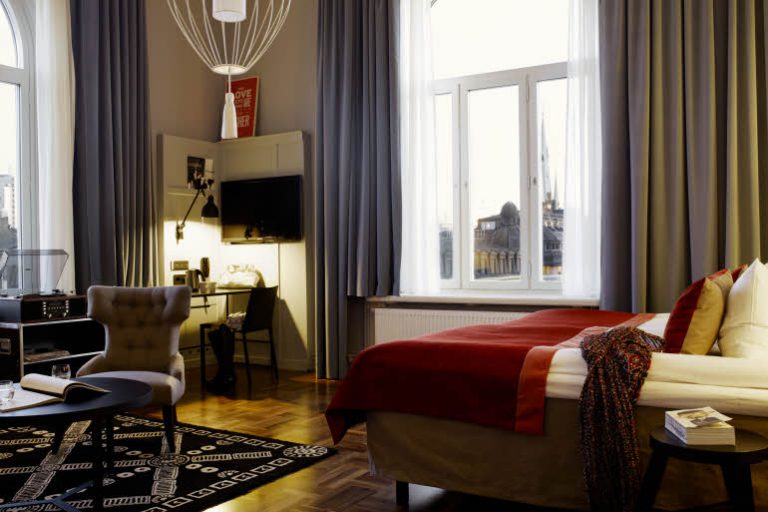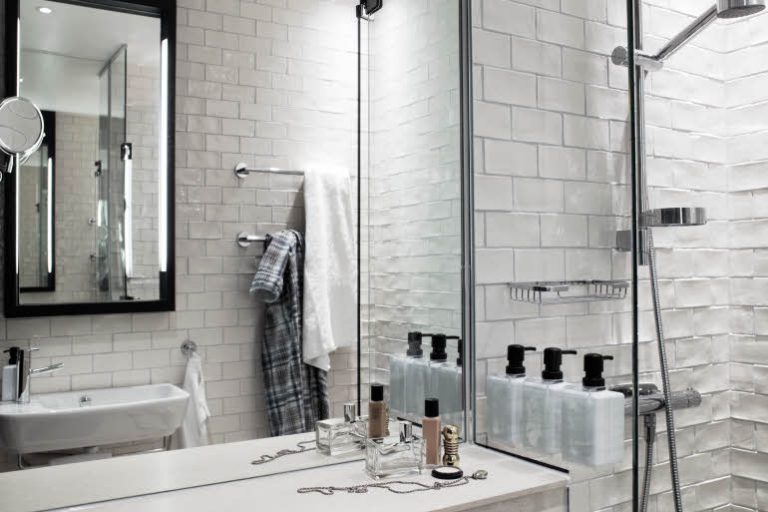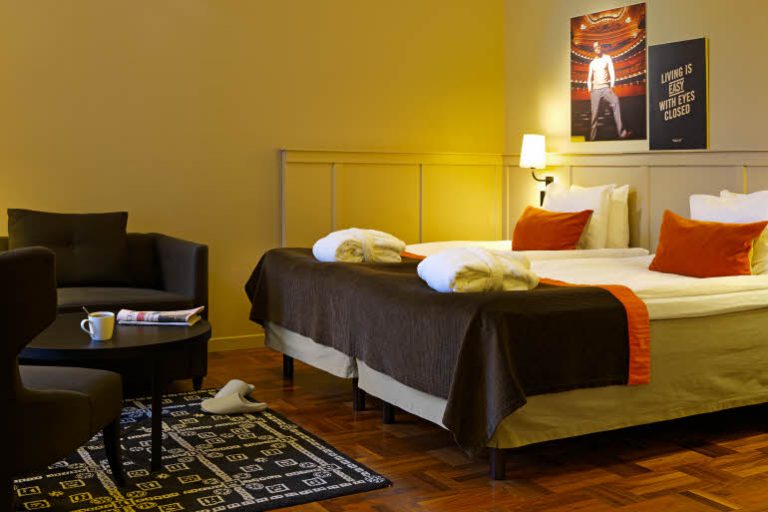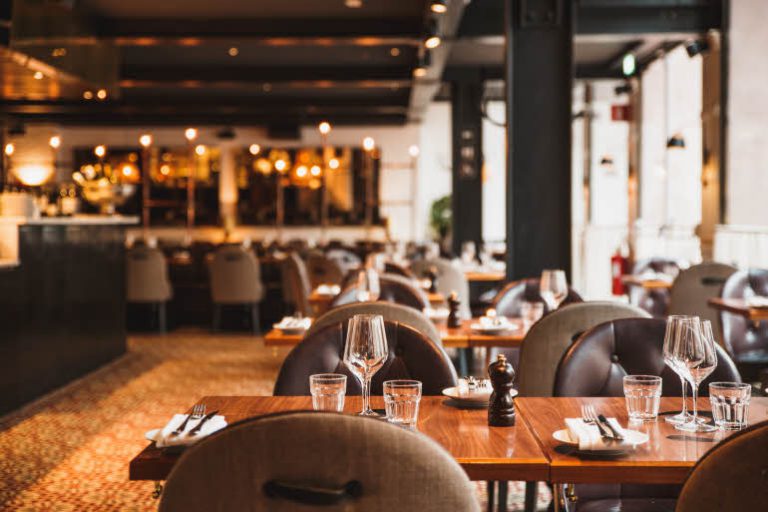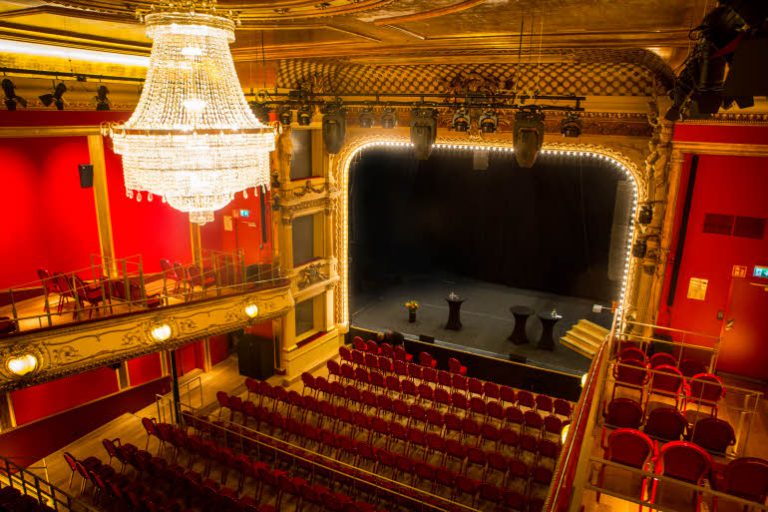 A New York-inspired one-of-a-kind hotel and entertainment venue that blends the bustle of the streets, theatre, music, art and design. An eclectic mix of historical and contemporary, located in the heart of Stockholm. For those who appreciate an inspirational international scene steeped in music and culture.
If you could put a stethoscope on Stockholm, its heartbeat would probably be loudest just where Scandic Grand Central is located – the hotel that seems to have always been there. The historic building, formerly known as the Lundberg Palace, was constructed by builder C.O. Lundberg in 1885. The Vasa Theatre is also here and, after a few years' break, is back raising its red curtain once again. This magnificent stage for grand events, shows and concerts with seating for 800 people became a reality once more when the theatre was coupled with Scandic Grand Central in September 2016. Immerse yourself in the history of the period features. Huge illuminated windows invite you in to participate.
With space for 800 standing guests (470 seated), Vasa Theatre is also perfect for all types of event. Our hotel offers flexible meeting and conference rooms for up to 380 participants.
Urban scenery awaits you at Scandic Grand Central, created by the remarkable combination of bars and restaurants. Shape your very own unique experience with live music, art and DJs all at your fingertips. There is never a dull moment! Welcome to Scandic Grand Central with 391 rooms. A modern classic that has stood the test of time.
Centrally located at the corner of Vasagatan and Kungsgatan, this classic building is an impressive 130 years old. Train, bus, metro and the Arlanda Express are just a few minutes away, as well as entertainment, culture, sights and the capital's best shopping.
They have lots of room choices from the cheaper standard economy room or single cabin ( without window!), standard, superior and also the beautiful decorated suites.
The restaurant welcomes you to a world full of taste experiences. Enjoy a delicious dinner in Teaterbrasseriet, a relaxed historical setting next door to the Vasa Theatre. The bar has a team of mixologists that have mastered the art of mixing cocktails. Weekends take on an international atmosphere, with the help of talented DJs.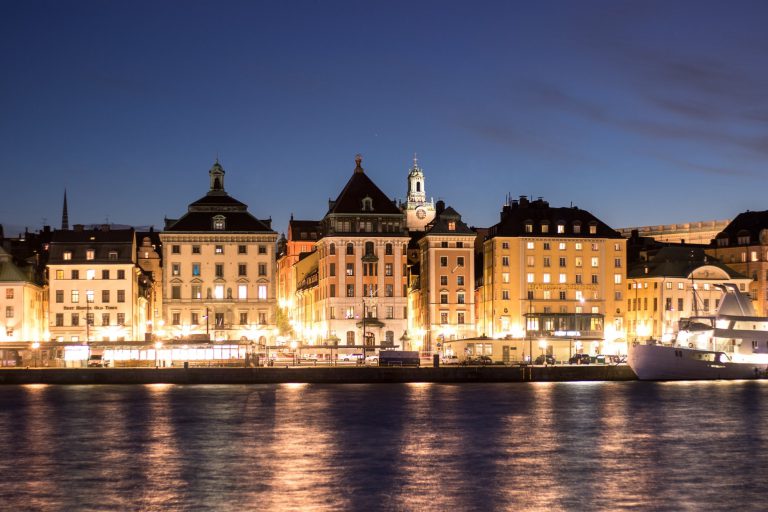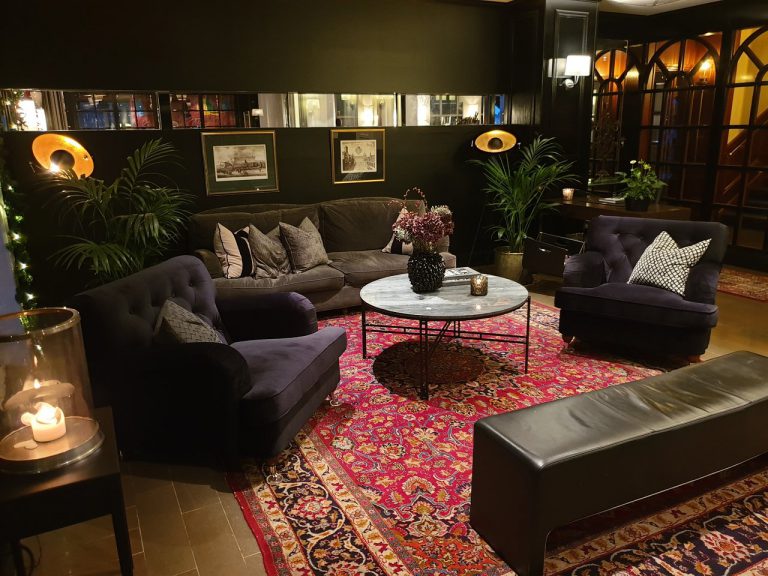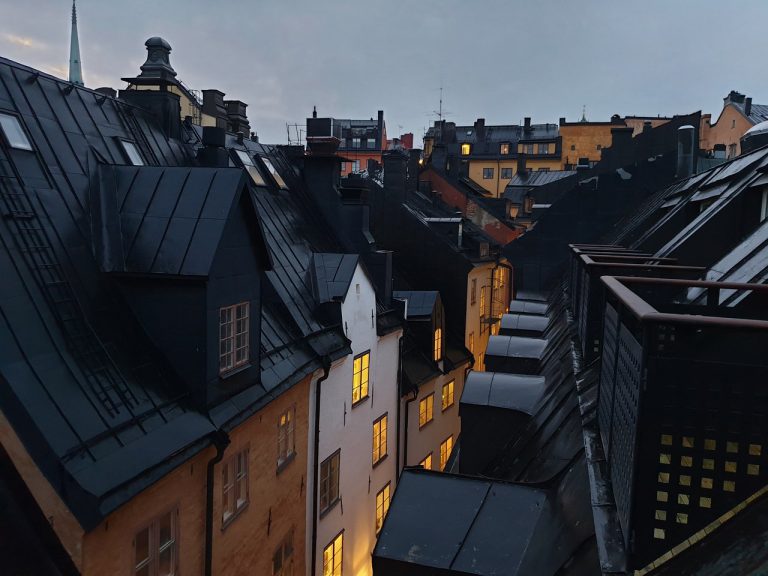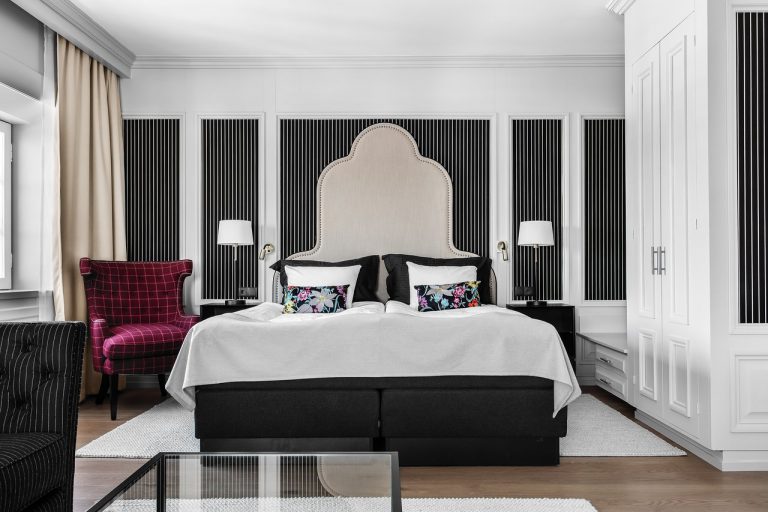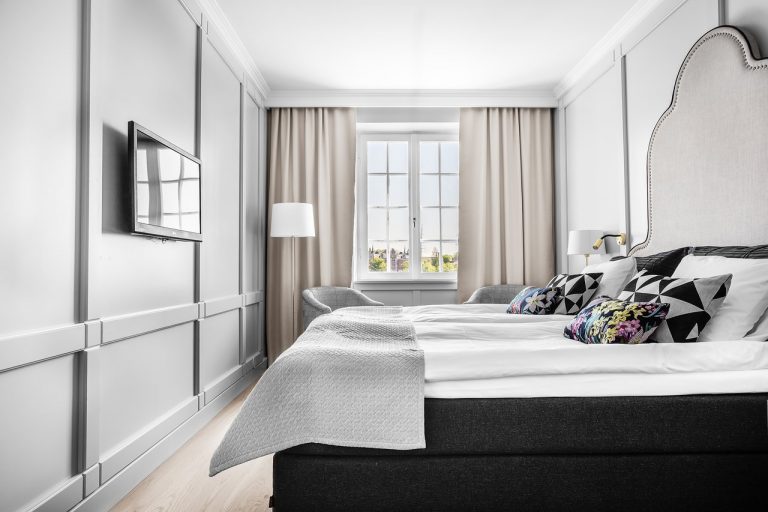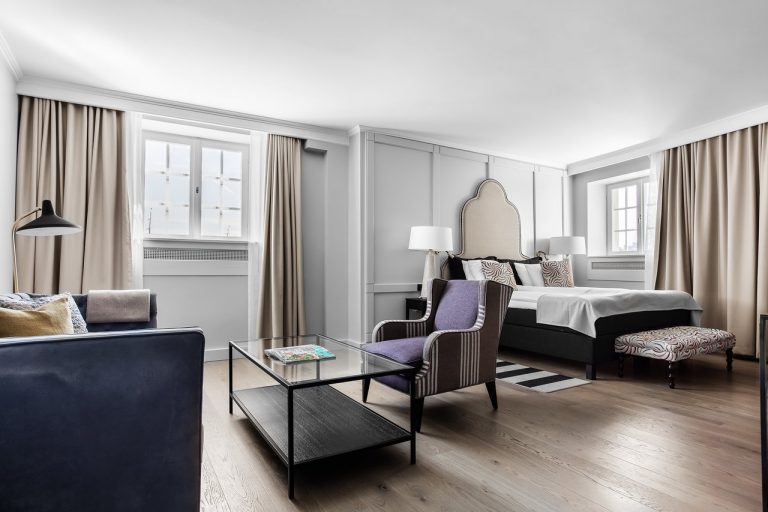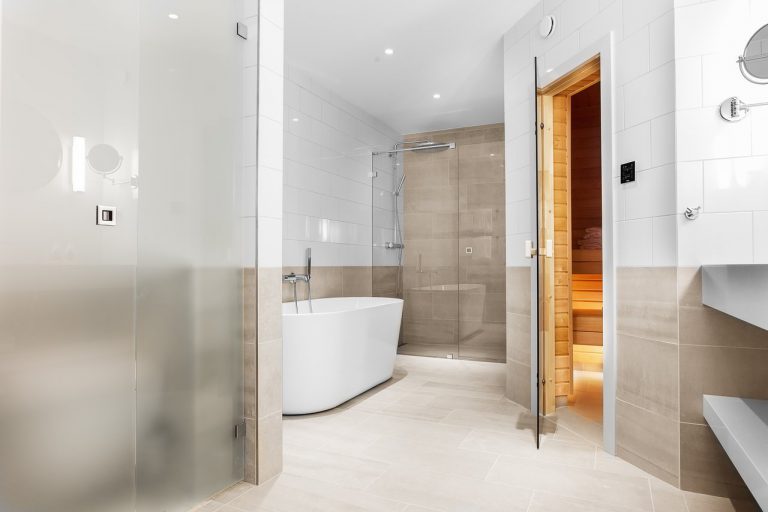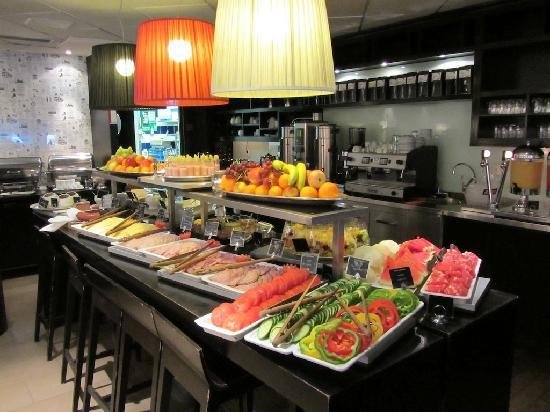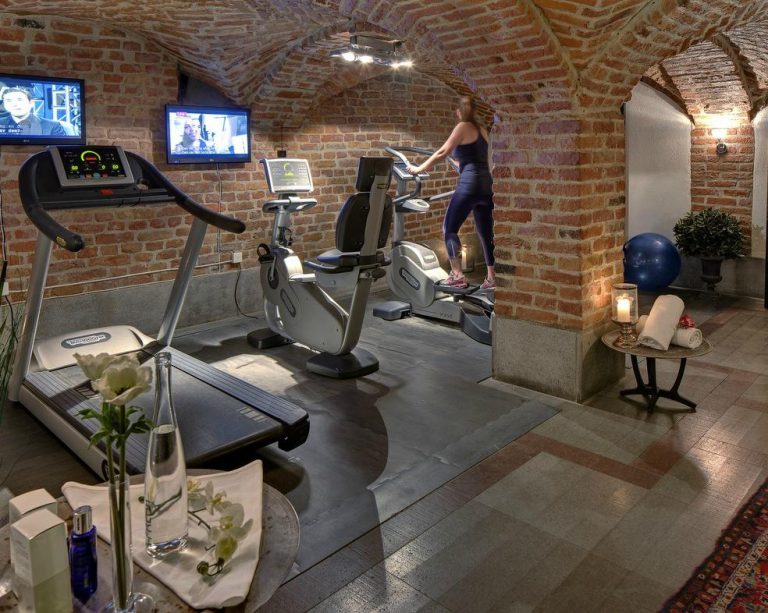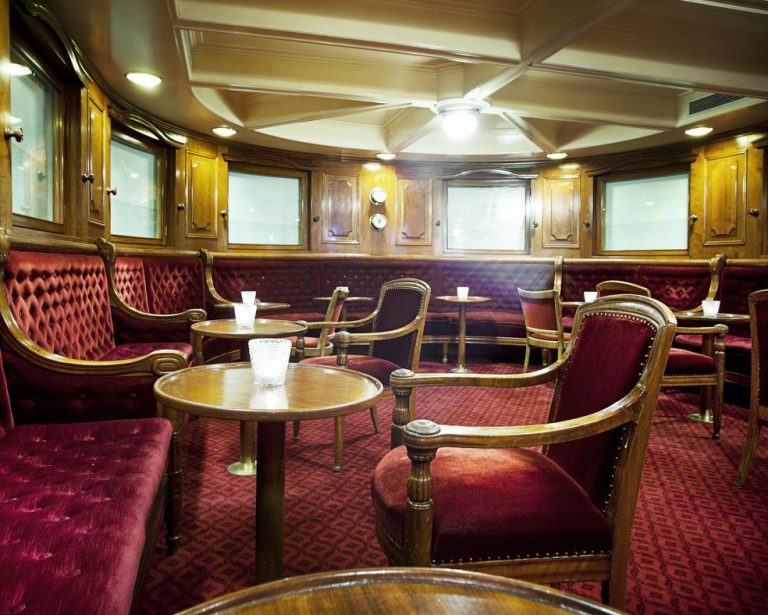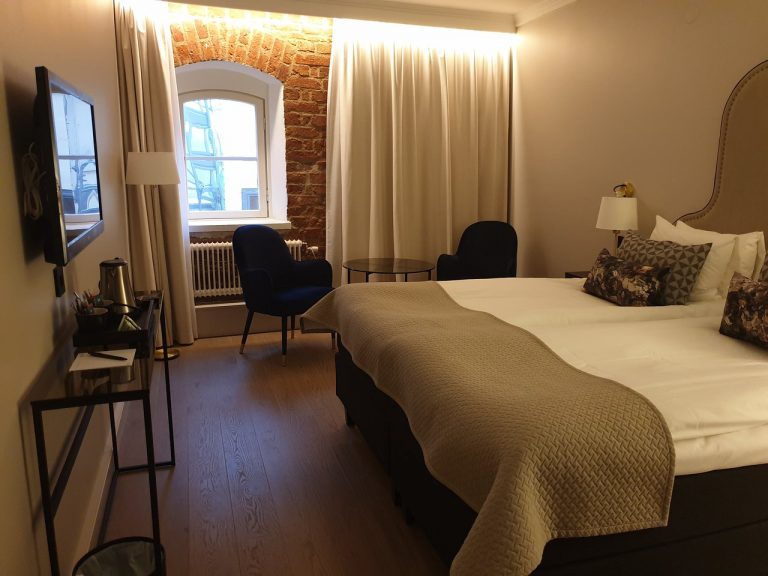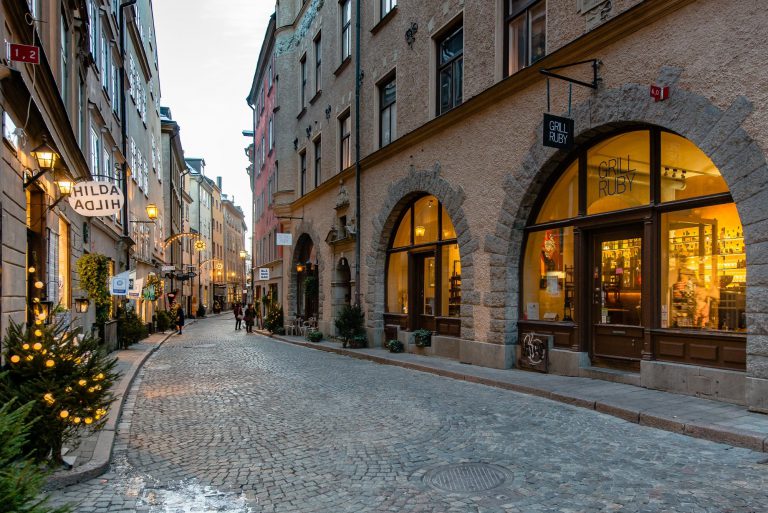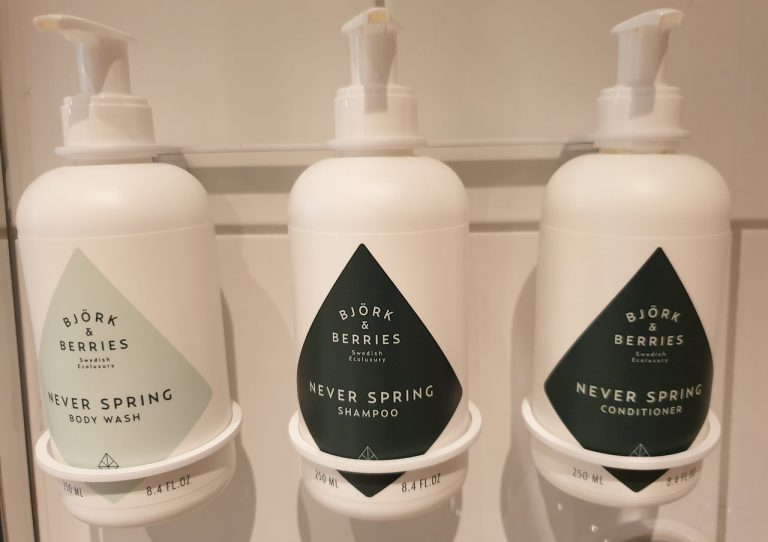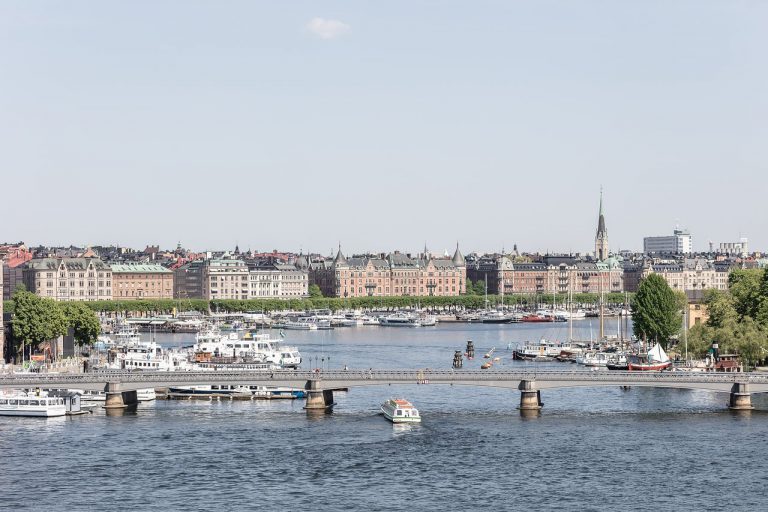 A First Class Hotel in Old Town
First Hotel Reisen is a top-class hotel in central Stockholm. The hotel has a proud history, views of the water and Old Town, and is just a stone's throw from the Royal Palace. Its 17th-century origins remain visible, although the hotel has been carefully refurbished and modernized.

Stay in one of 144 wonderful rooms and suites – with either view of the water and Skeppsholmen or the Old Town. Ferries to Djurgården, Kungsträdgården and the shops and entertainment around Stureplan and Biblioteksgatan are all within a 10-minute walk. If you arrive by car, they can take care of parking and retrieving your car if you like.
When you book accommodation at First Hotel Reisen, you can choose from 144 comfortable rooms and suites. Some of the suites offers a private sauna, and several of our rooms seaside view. All provide a feeling of warmth and cosiness and feature classic interior design. All rooms include free WiFi and are non-smoking. They put atmosphere and personality ahead of standardised, moulded rooms which we always love! The size of our rooms has been adapted according to the old buildings and they offer views across the rooftops and cobbled streets of Stockholm's old town, while others offer views across the Saltsjön bay and the island of Skeppsholmen. We are happy to store your luggage if you arrive early or want to stay on in the city after check out.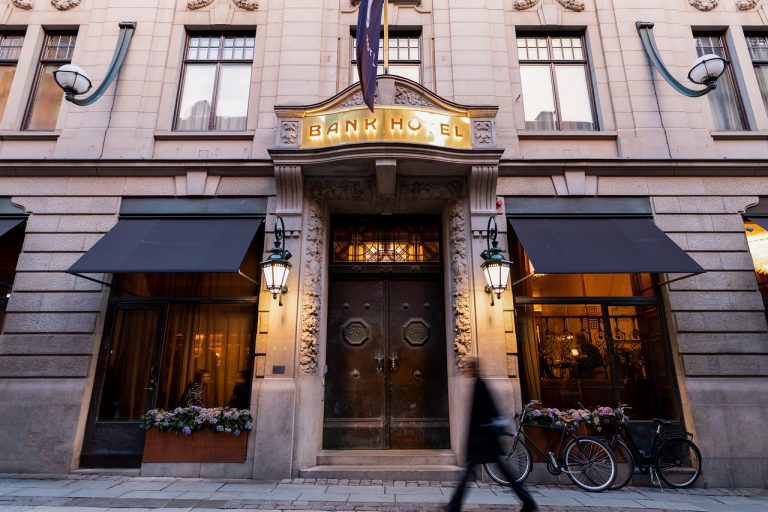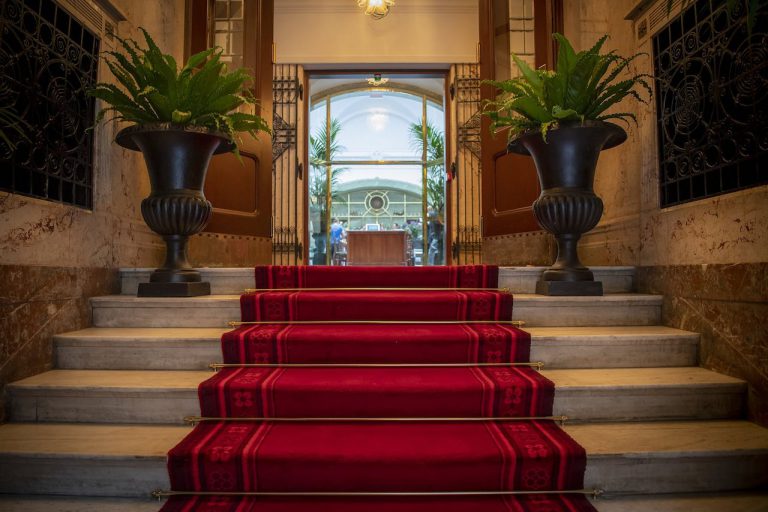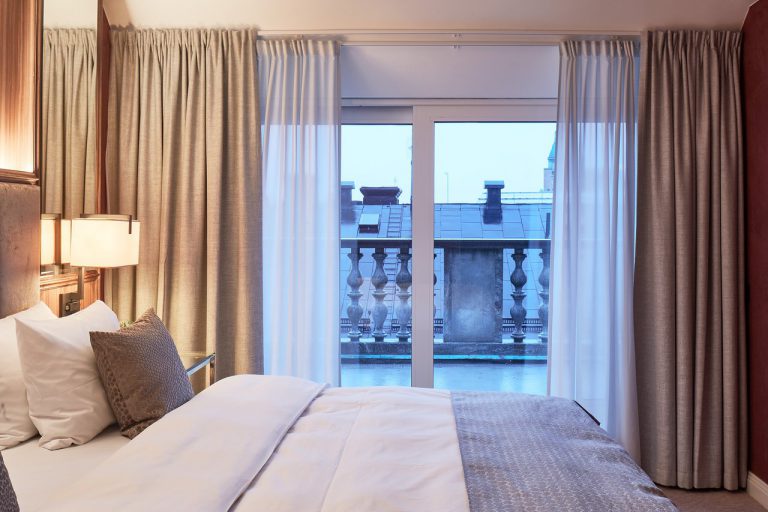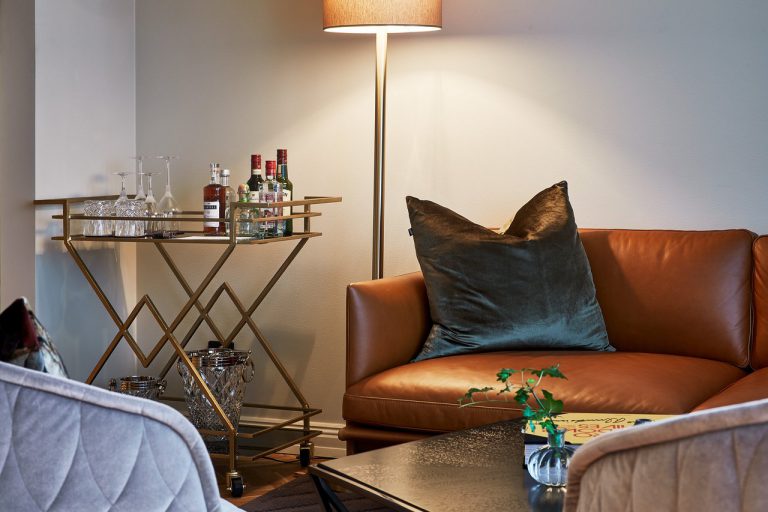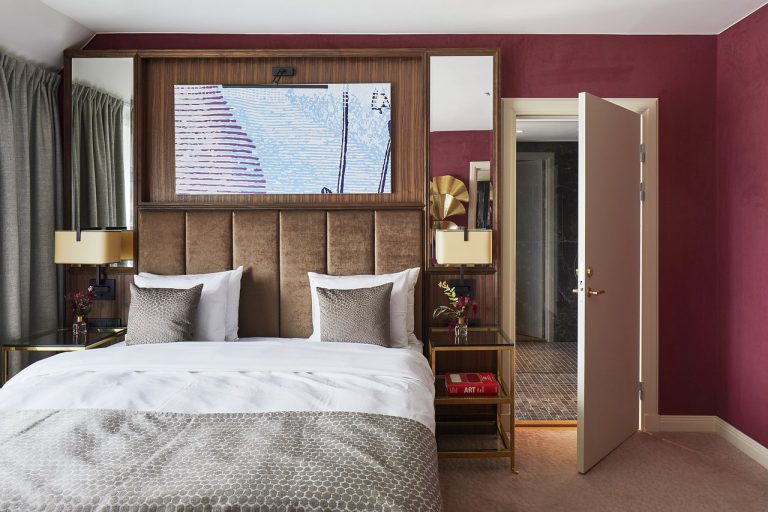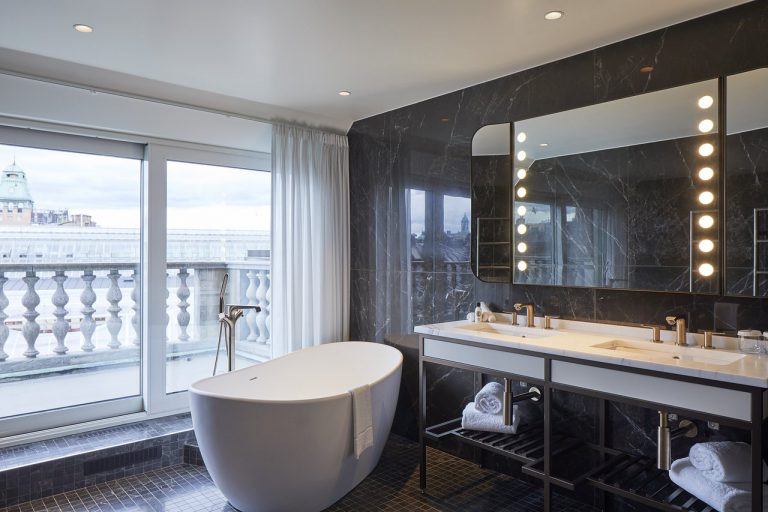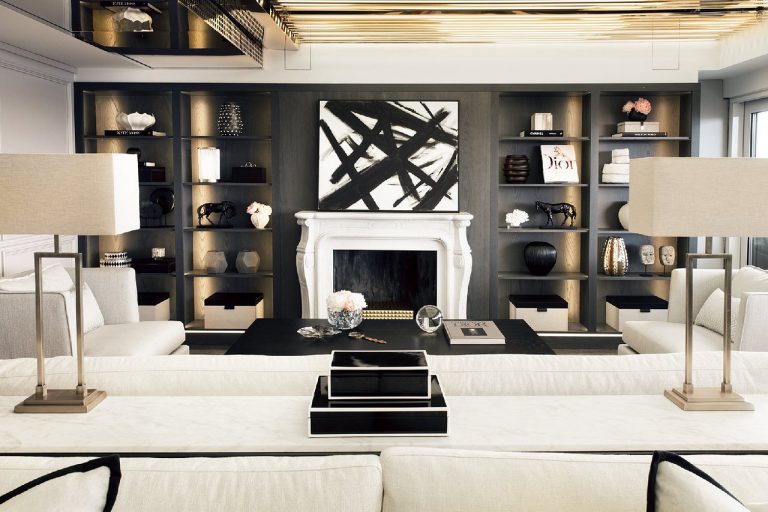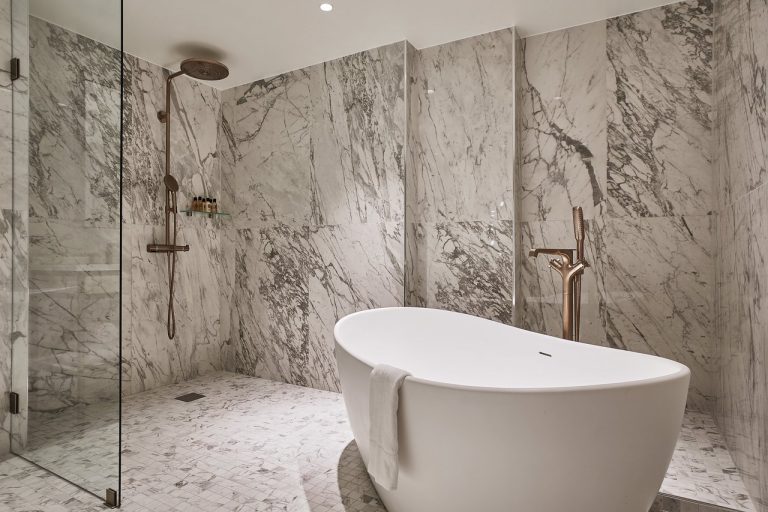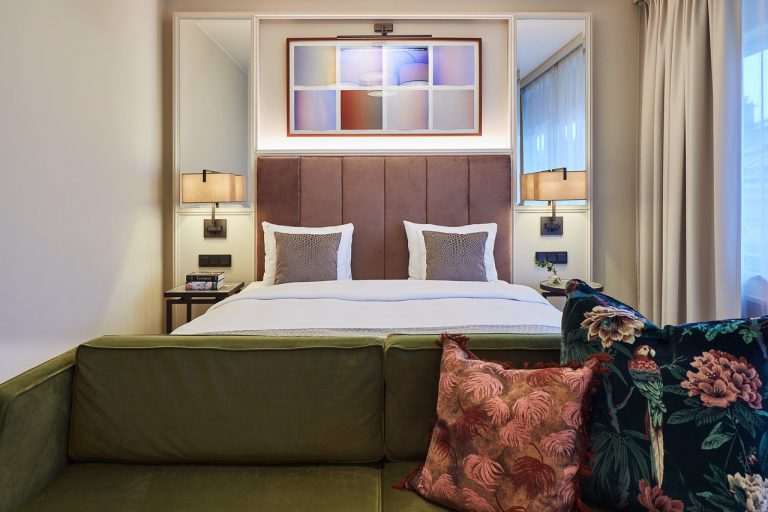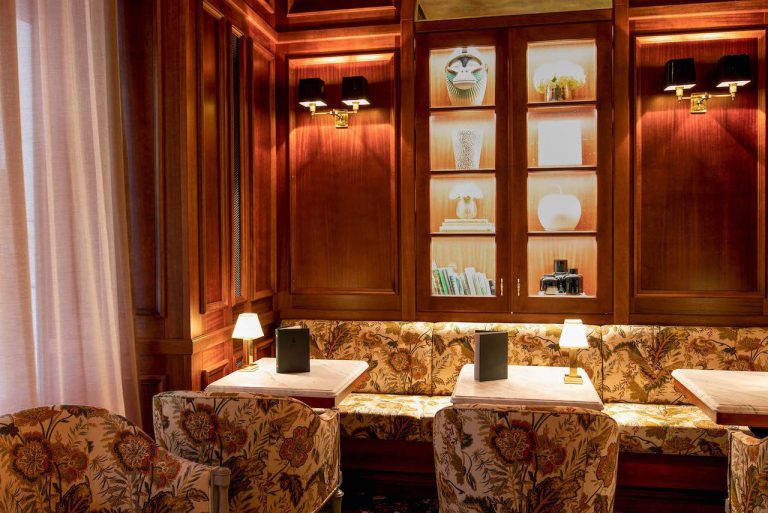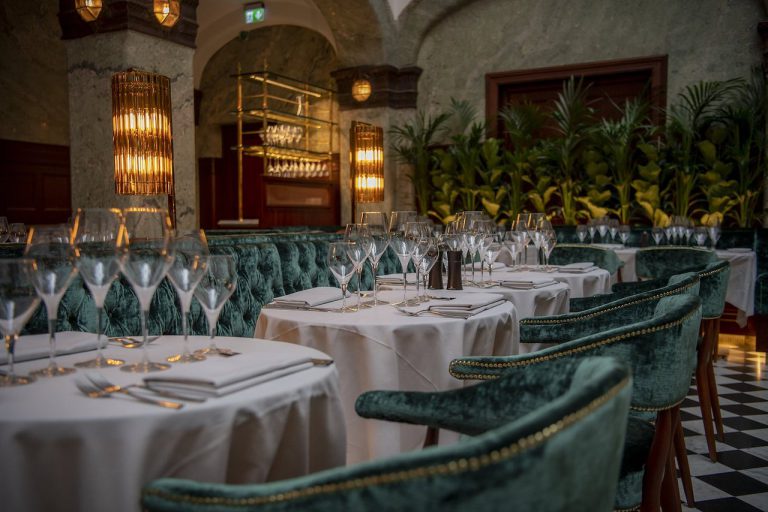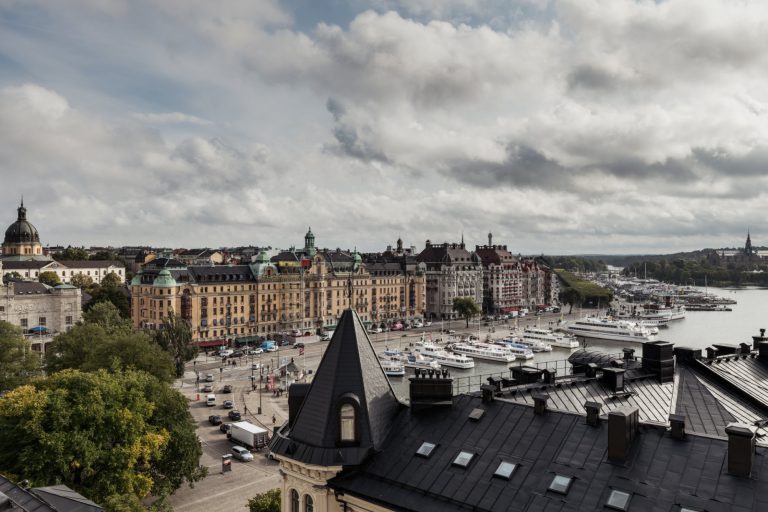 A UNIQUE, ELEGANT VENUE OFFERING A TRULY VIBRANT EXPERIENCE.
An intimate boutique hotel, where discerning travelers mingle with the local crowd, seeking an extraordinary experience – curious about the life, people and social scene of Stockholm. The hotel pulsates in tune with the surrounding city through day and night, an oasis for those who loves blurred lines and a vibrant lifestyle.
Bank Hotel is a vibrant, welcoming and remarkable venue with meticulous attention to detail; a venue that embraces diversity – where's it's all about personal service, quality and guest pampering in an intimate, residential environment.
At check-in you are immediately reminded of the hotel's historical bank heritage, reimagined in a bold, vibrant setting – and all within walking distance of Stockholm's finest shopping, nightlife and cultural attractions.
With some of Stockholm's finest views from multiple rooftop bar terraces, the waterfront is also on the hotel's doorstep, offering the possibility to explore the 24,000 islands that make up the Stockholm archipelago. Member of small luxury hotels of the world.
This hotel is an establishment awarded with the international ecolabel Green Key. Bank Hotel works actively with environmental and sustainability issues, by following Green Key's comprehensive criteria. In this way, as guest, you help to take responsibility for the environment without compromising your experience or convenience during your stay.
All rooms blend a soft, natural colour palette with elegant design flourishes that evoke the building's blend of history and modernity.
Featuring luxurious beds, linen and pillows throughout, each room is special, presented with meticulous attention to detail.
Bespoke fabrics and cushions complement specially commissioned artworks, creating a space that is both restful and inspiring.
Bathrooms focus on elegance and quality, with judicious use of marble and bronze adding just a splash of decadence.
At Bank Hotel you will find Bonnie's restaurant in the old bank hall where you can enjoy breakfast and dinner.
The sophisticated Papillon bar is open daily from early until late and serves lunch, dinner and drinks.
You will find the bar and terrace, Le Hibou at the top of the building with an outstanding view. Enjoy our lovely terraces that now are open every day.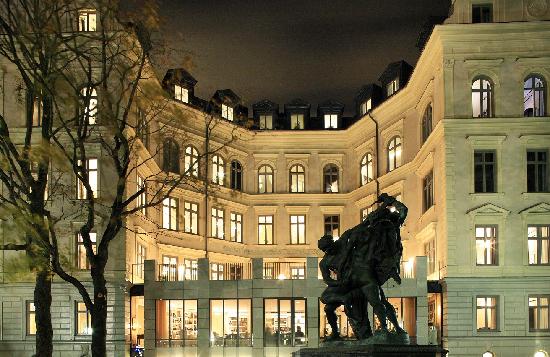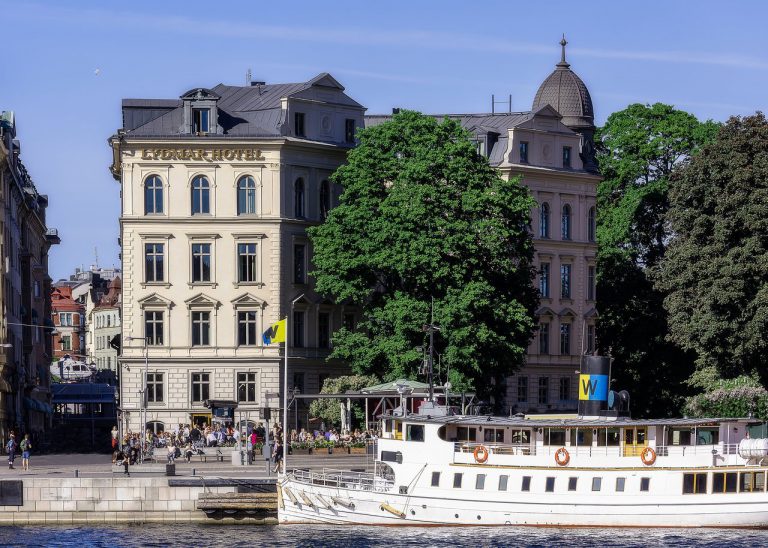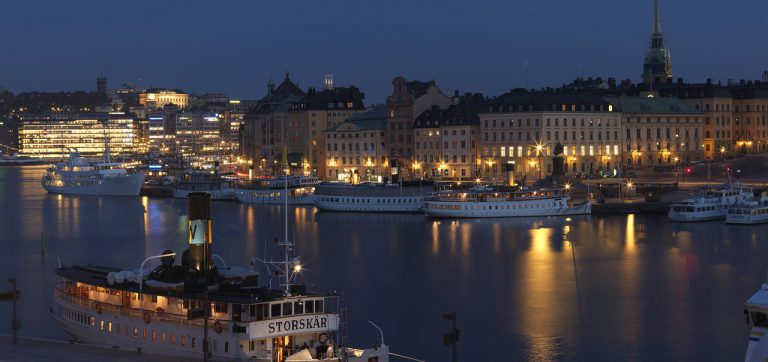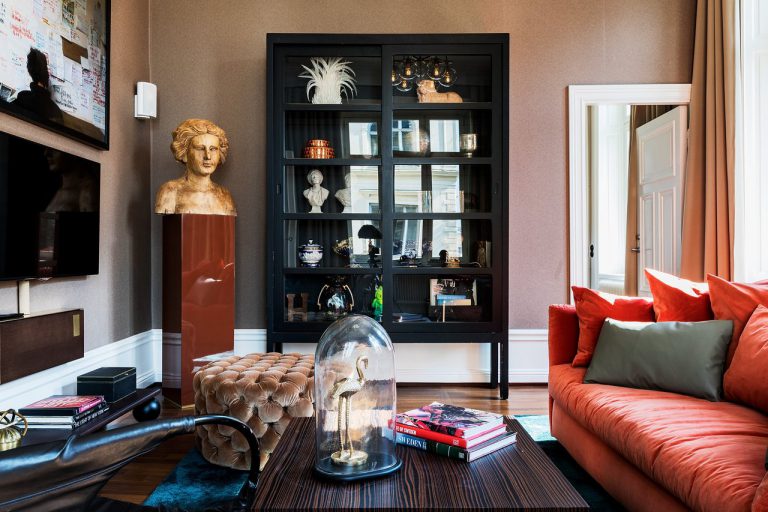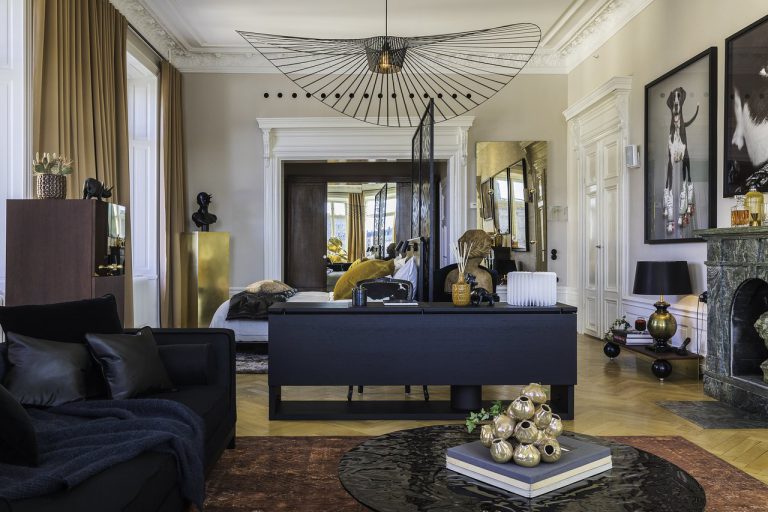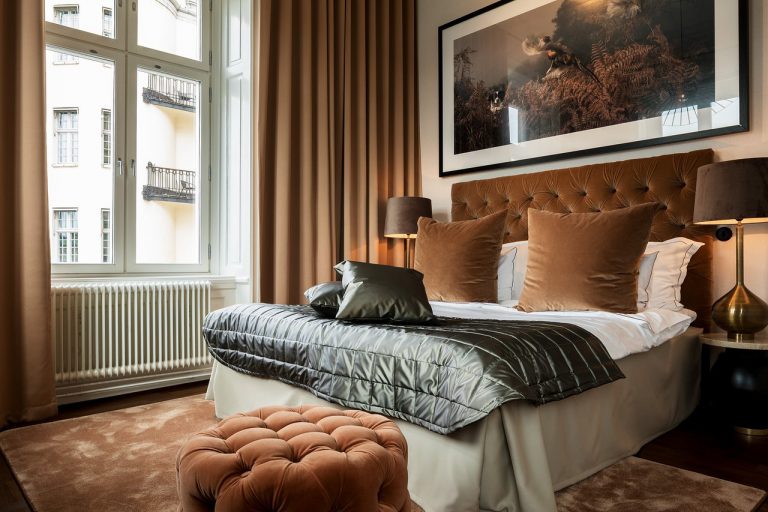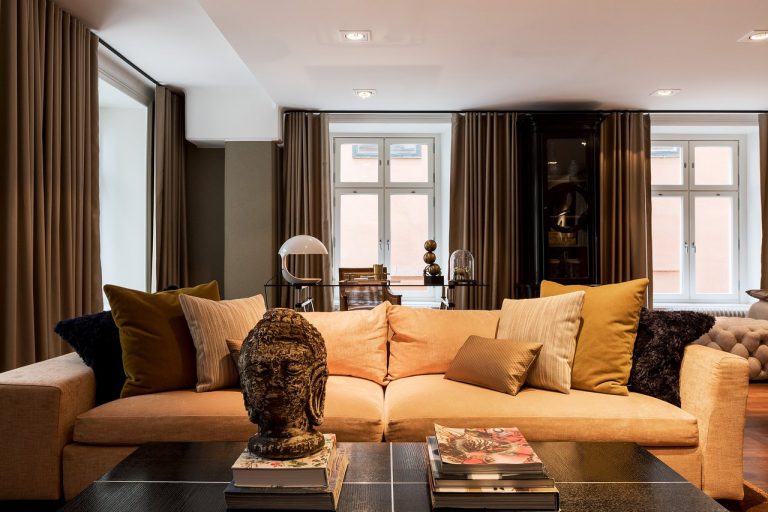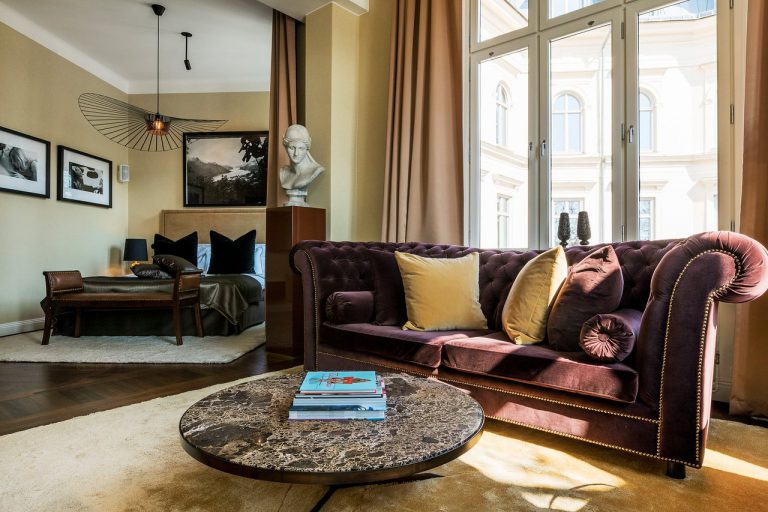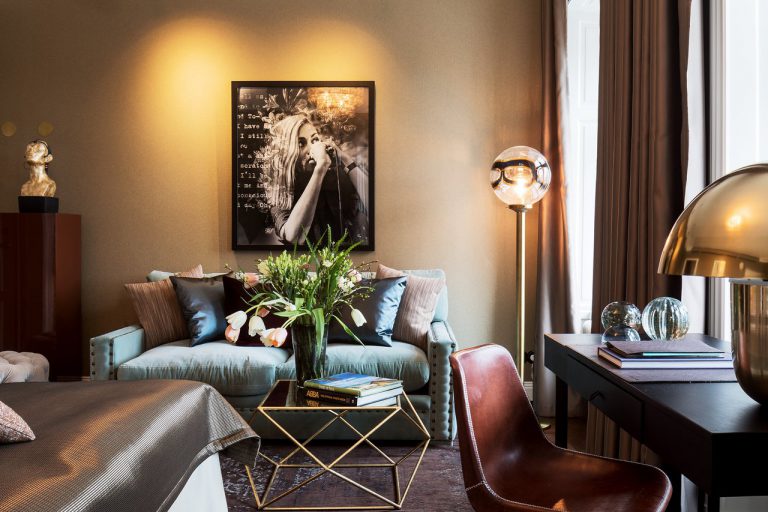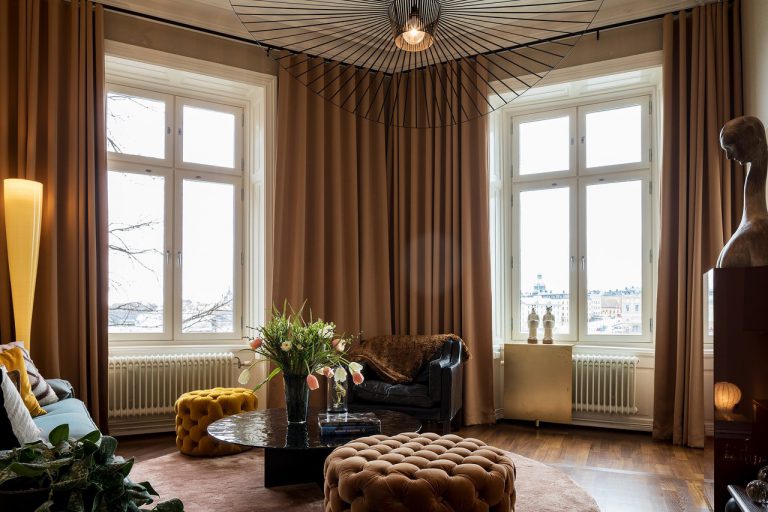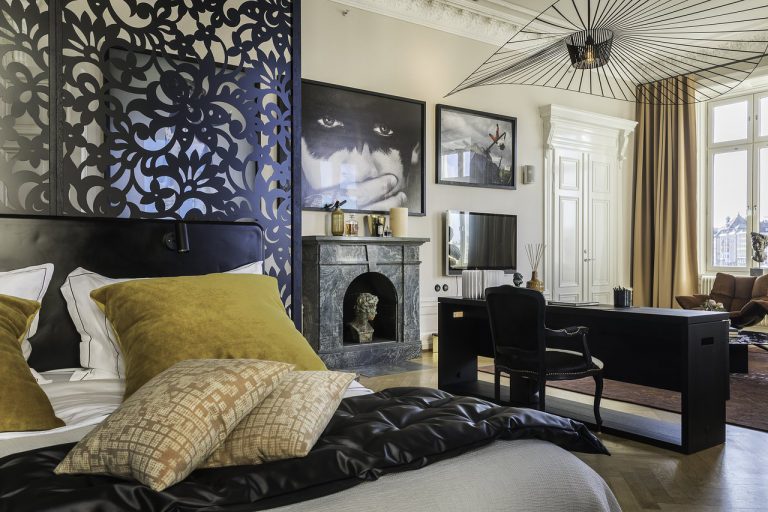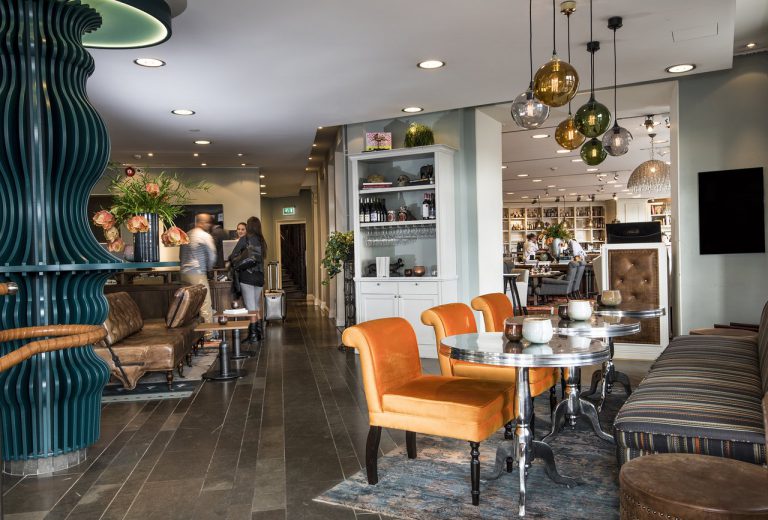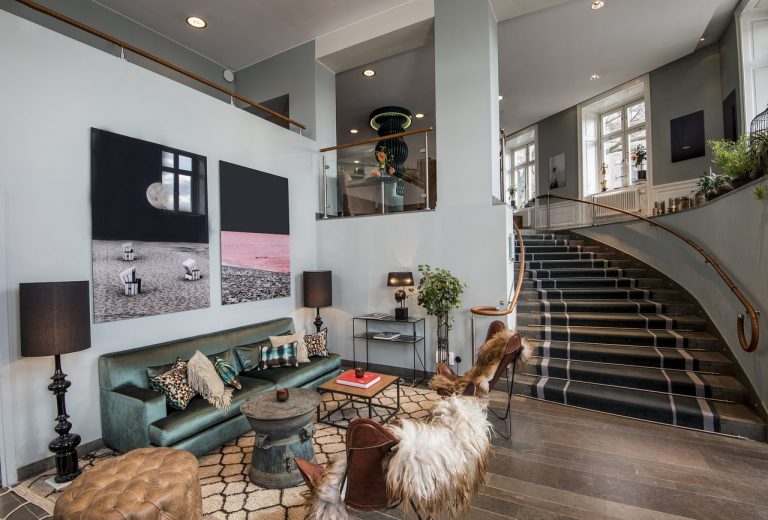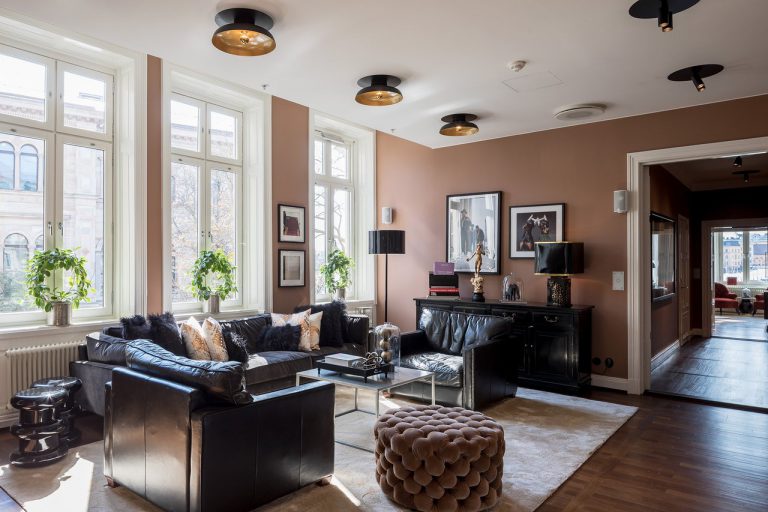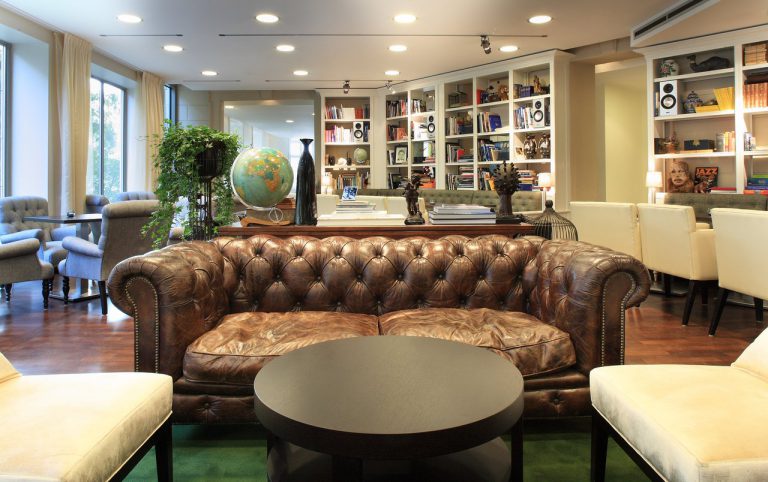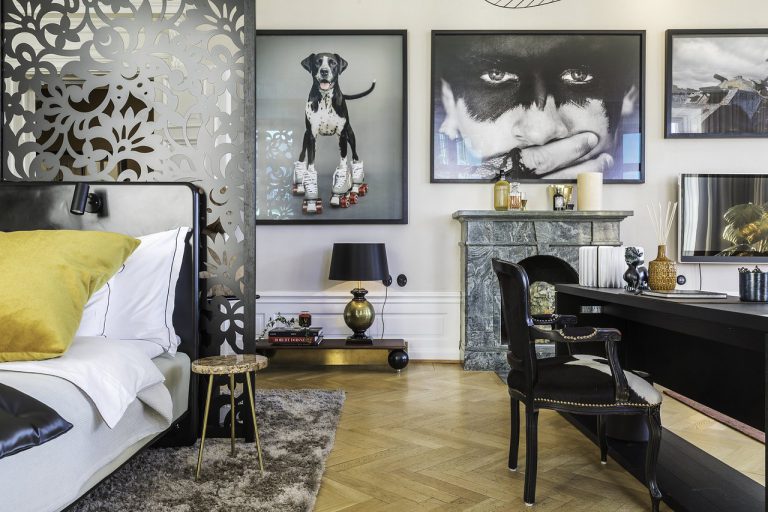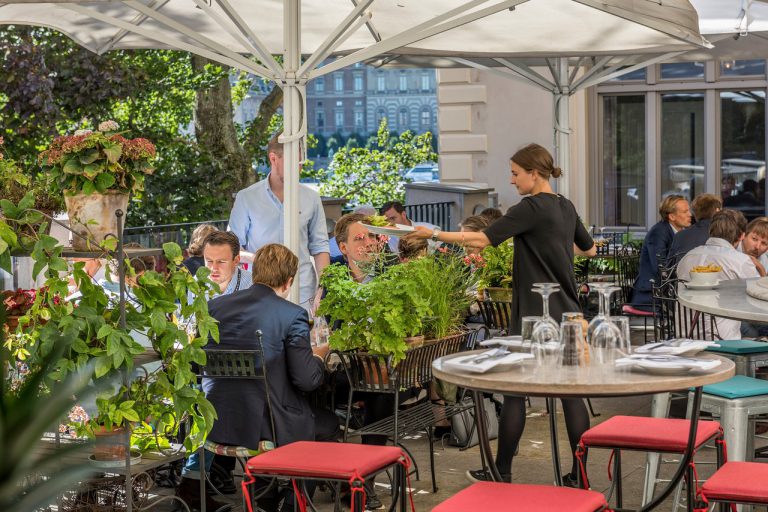 The Lydmar hotel likes to keep it simple and straightforward in a relaxed and informal environment. They believe in a hotel experience liberated from formalities and conservative stiffness. Calmness and simplicity is promoted rather than an abundance of impressions.
It is neither the rigid minimalist look, nor the exaggerated grandness, which guests are used to in a five-star context. It is an ease of freshness in combination with a contemporary classic look, featuring culture, top quality and strong personal impressions to create the added value of belonging.
This hotel believes that personality is more important than formal uniforms. The staff will express a more personal style and posses local knowledge about what is happening in town which will suite those who want to 'live' during their stay and are used to top service and relaxed elegancy.
Gotta love this!
Their dining room is a relaxed place where you will find yourself amongst locals and hotel cosmopolitans alike. With a distinctive and homely atmosphere of a warm and welcoming living room this is a place where I am sure you will feel right at home.
At the Lydmar they share a true passion for well made food and good wine. The kitchen draws inspiration from good French classic cuisine as well as traditional Swedish cooking combined with influences around the world.
The terrace is a well-kept secret located on the second floor of the Lydmar. With the inviting and tranquil atmosphere of a lush French garden, it is the perfect place to linger from day to evening whilst enjoying lunch, dinner or summery cocktails.
"Staying in the Lydmar feels like staying at a very good friends home. A friend with very good taste in interior and style I must say…. Love Lydmar!"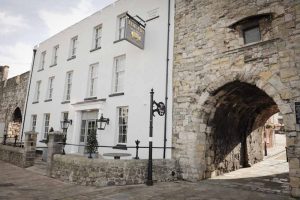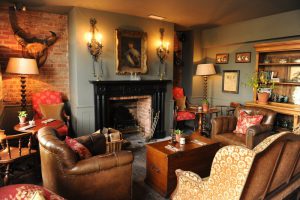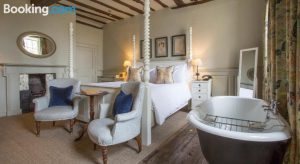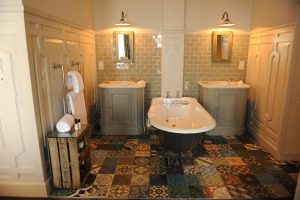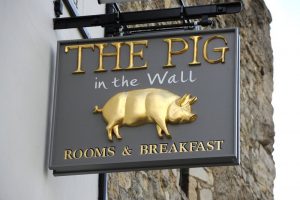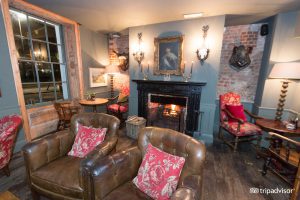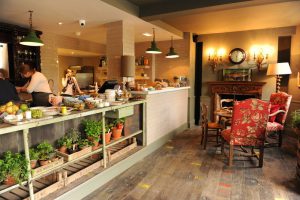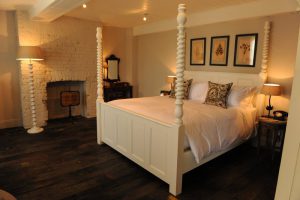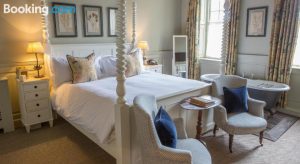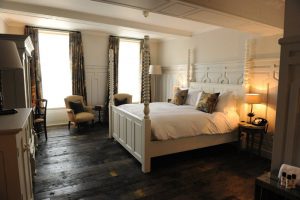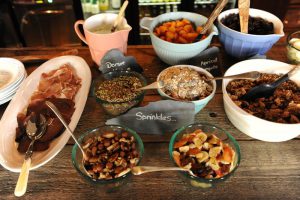 Tucked away in the medieval walls of Southampton, this is the smallest of the litter and our city-center bolt-hole!
Only 12 unique bedrooms, a deli-bar, fire-side coziness, and a whole city to explore right outside!
Whether you are staying prior to or after your cruise, THE PIG-in the wall's convenient location close-by to the cruise terminal and the city center makes it the perfect place to stay.
The hotel is famous for its local food so do stop by for lunch or supper and try something hot and delicious from the Deli-Bar. Or pop in before a night at the theatre for some Piggy bits and great wines by the glass.
As they say; Each pig is different- on purpose- so all of their bedrooms have their own unique quirks and features and each building each own defining characteristics so you will never see the same bedroom twice. A little oasis of calm in the big city! You will always find Radio 2 playing, a couple of settle in sofas, a well-made cocktail…or two, and a huge bed to rest your head.
Our Deli-bar menu changes daily and our ingredients are sourced from the kitchen garden at THE PIG, Brockenhurst, and our local suppliers.
'Another 'something different' hotel which I love. Quirky, themed, sustainable, and fun! A pleasure to stay and you will not forget this hotel. Isn't it what it is all about? Making memories. However, be advised that there is no elevator. This fact may be a very important deciding factor for those with a disability.'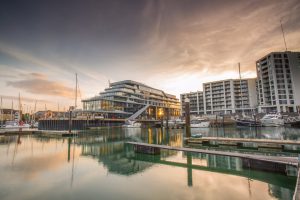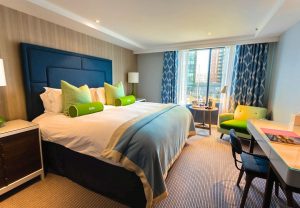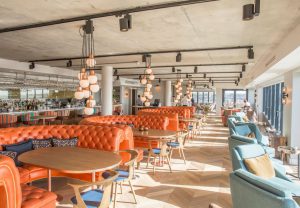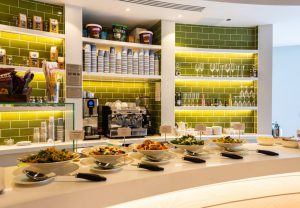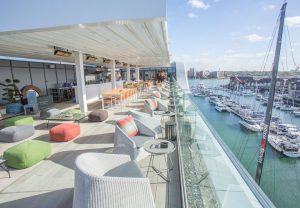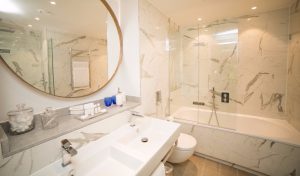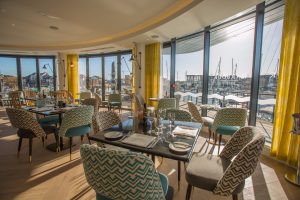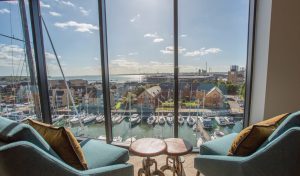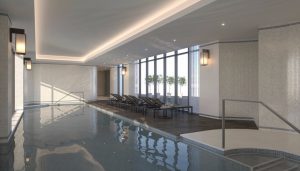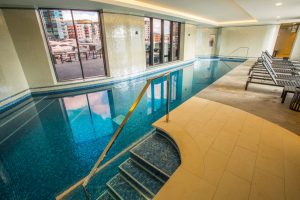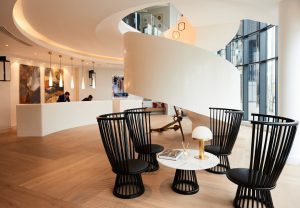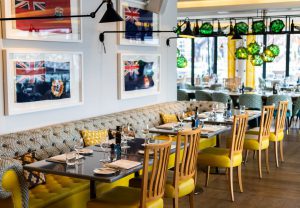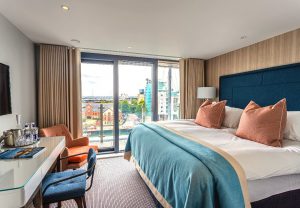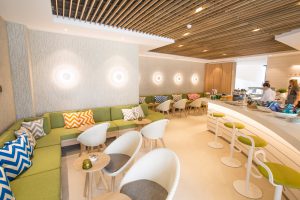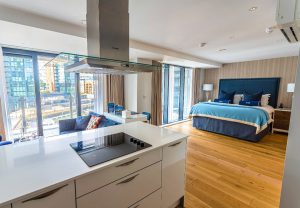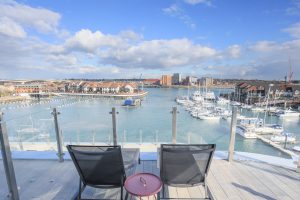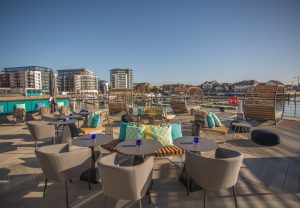 Southampton's only 5-star hotel, offering 119 luxury rooms including 10 suites, an award-winning restaurant, a luxury spa with a state-of-the-art gym, a destination rooftop bar, and stunning contemporary interiors throughout.
Set on a small, private marina with a striking 'superyacht' style design, this critically-acclaimed flagship hotel is known for its stunning contemporary interiors, luxury facilities and outstanding customer service. Open since 2017, it has earned Southampton's only five-star designation to date.
The 119 luxury rooms including 10 suites which all come with 400 thread count Egyptian cotton sheets, waterfall showers, Nespresso coffee machines and White Company toiletries as standard. Most rooms and suites have views over the marina, or out across the Solent to the Isle of Wight.
For relaxation and reinvigoration, the luxury spa features top-of-the-range Temple Spa products and treatments, a lap pool, hydrotherapy pool, sauna, steam room, state-of-the-art gym, indoor and outdoor relaxation areas, and a Spa Café, serving healthy snacks and smoothies.
For food and drink lovers, the hotel has an excellent in-house destination restaurant. The ground floor 'Jetty' – sister to the award-winning 'Jetty' restaurant in Christchurch – serves fresh, locally caught seafood with seasonal ingredients from the New Forest.
The hotel's top floor features 'HarBAR on 6th', a spectacular rooftop destination bar, kitchen and club, with floor-to-ceiling windows overlooking the Solent, outdoor fire pits and a wood-fired pizza oven on the terrace. HarBAR on 6th serves food all day – with live DJs and professional cocktail mixologists from 6pm.
The hotel is a few minutes away from the upmarket shopping and entertainment facilities of West Quay, and the cruise ports! For outdoor enthusiasts, it's the ideal base for getting out onto the Solent, or for exploring the many picturesque landscapes and quaint villages of the surrounding New Forest. On request, the hotel can prepare you a sumptuous picnic to take with you or arrange bike hire.
All of our hotels are accessible for disabled and less mobile guests, and help is always on hand for those who need assistance. Families are welcome.
'The view alone is worth staying here.'