"From Florida to Maine and beyond, a U.S. Atlantic Coast cruise is going to give you a great opportunity to discover America. You can visit bustling cities like Miami and Boston, where there are unending attractions such as South Beach and the Freedom Trail. You'll also make stops in smaller ports like Newport, Rhode Island – a cozy town on the water that was home to some of the U.S.'s most wealthy – and Bar Harbor, Maine – a quiet port with stunning scenery and home to Acadia National Park."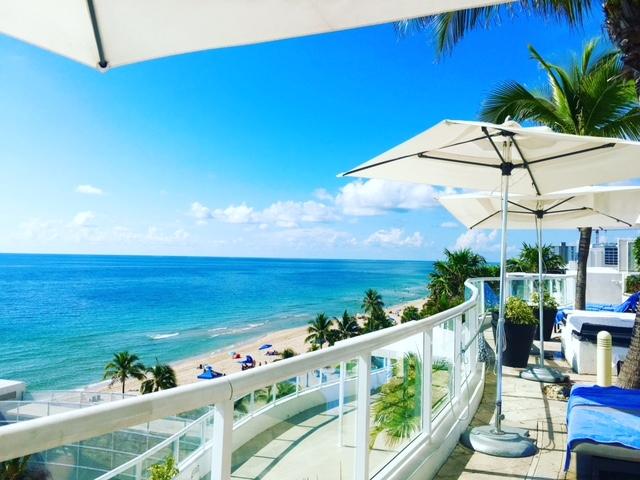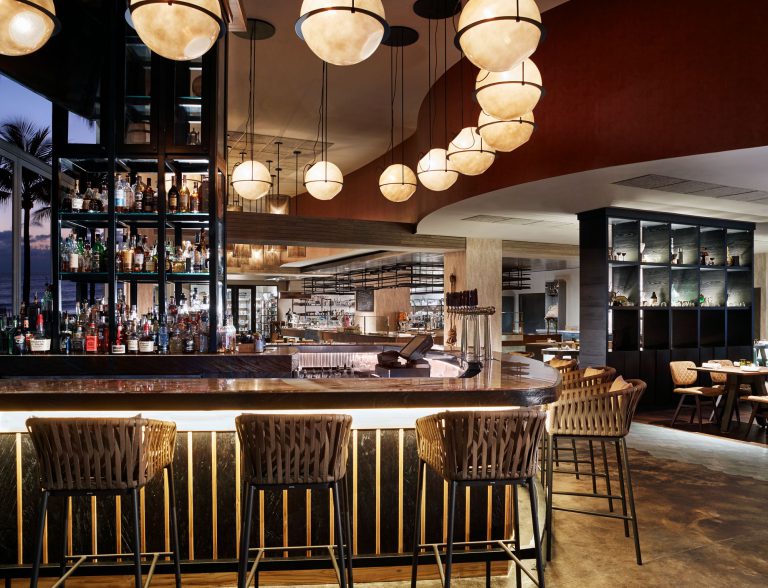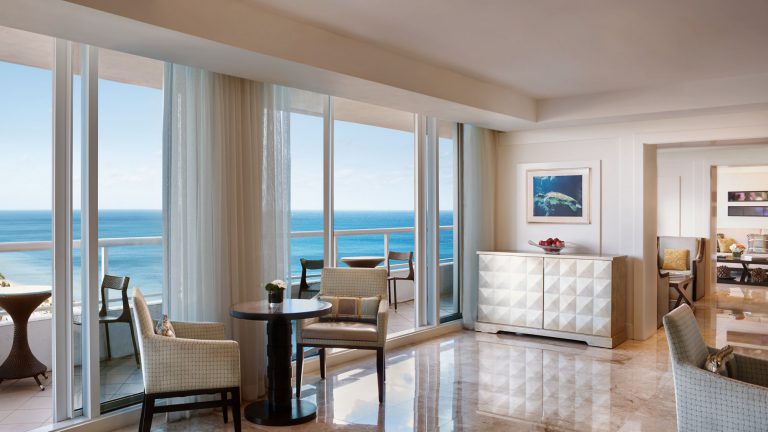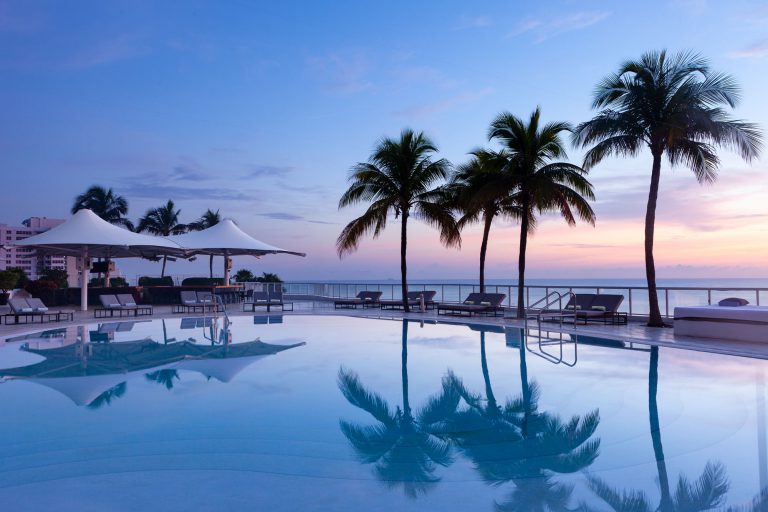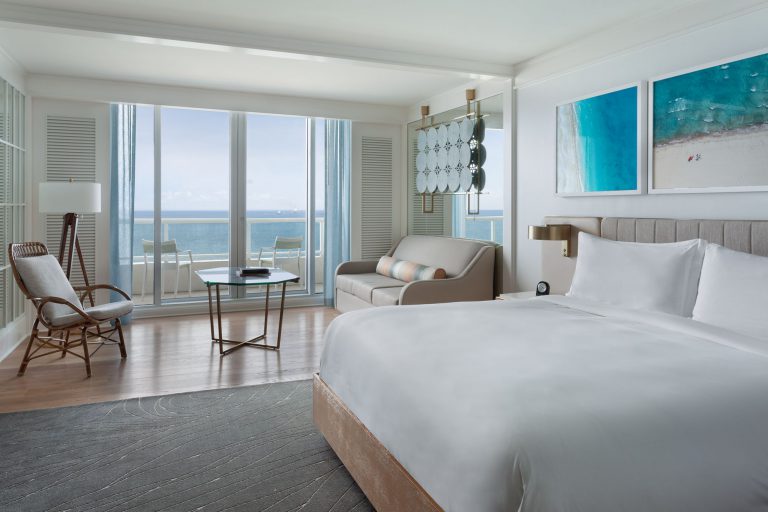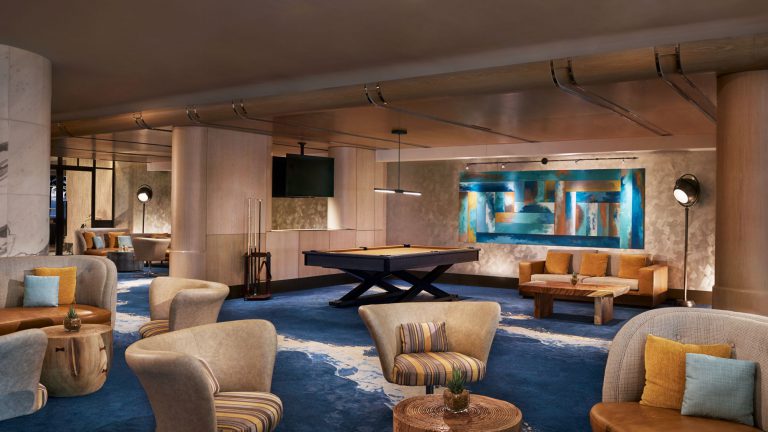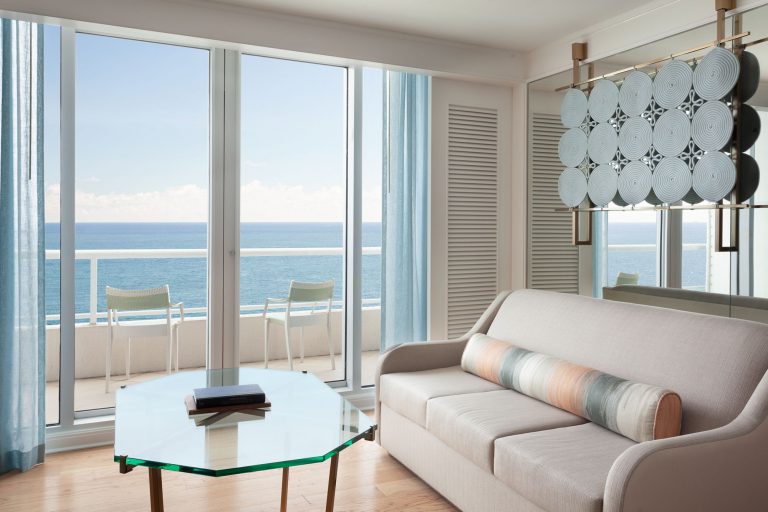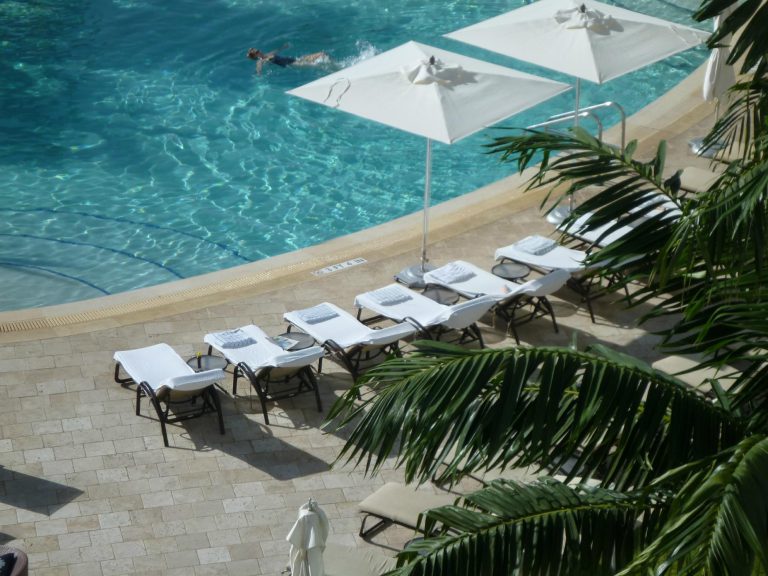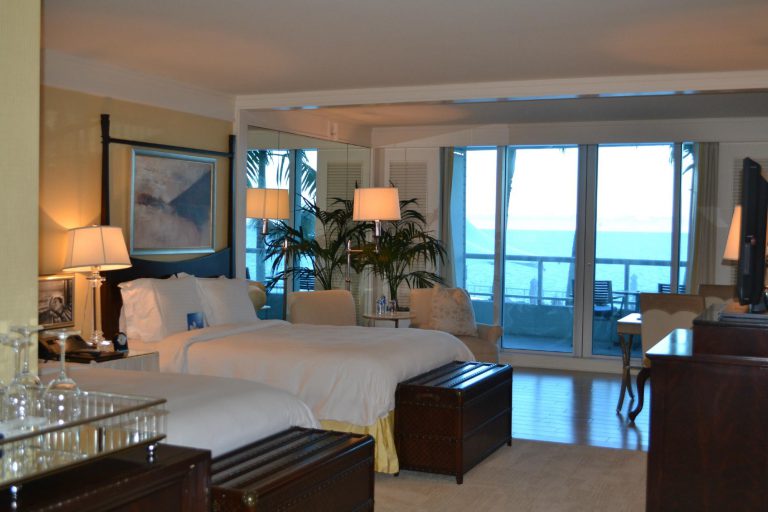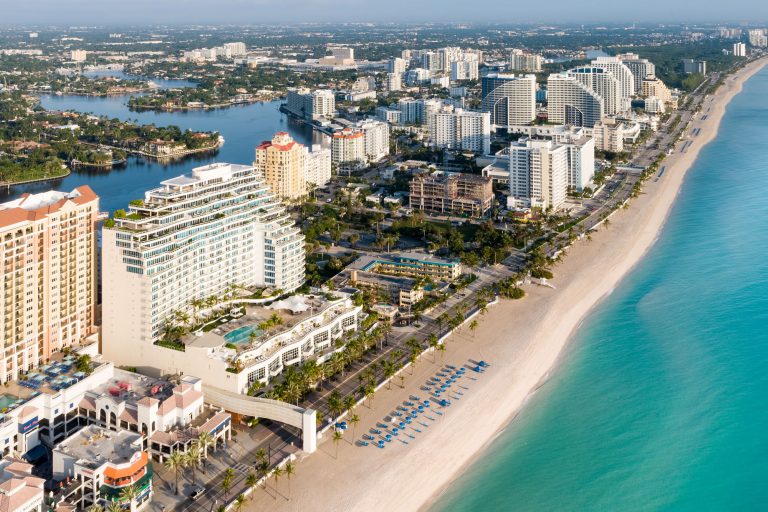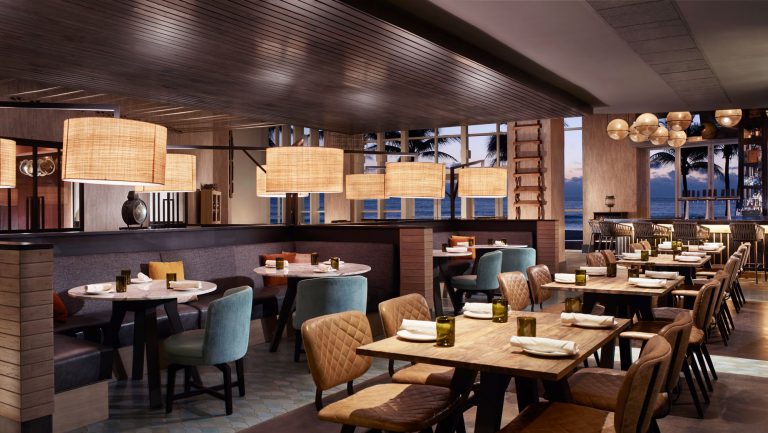 It is not easy finding special hotels in Fort Lauderdale. This beachfront hotel blends Fort Lauderdale's historical, nautical, and design influences to offer an inviting luxury retreat.
A free spirit driven by nautical heritage, a touch of glamour borrowed from the 40s and 50s, and luxury with a playful nature are foundations of the experience. Set along the beachfront, the hotel pays homage to the yachting capital of the world with an elevated pool inspired by a ship's bow, select rooms, and suites with water views and a spa that incorporates elements of the sea.
The relaxed, seaside charm of Fort Lauderdale is captured in the amenities and personalized attention at this beachfront resort. You are encouraged to slow down, take in the view and savor every moment of their experience, whether overlooking the ocean from a private poolside cabana, indulging in Burlock Coast's weekend brunch, or enjoying a full-body detox with the spa's signature Cleansing Ceremony.
'Ocean view side is a must. View of the pool and the ocean. Oceanview from the pool. Stunning! Staff was very accommodating.'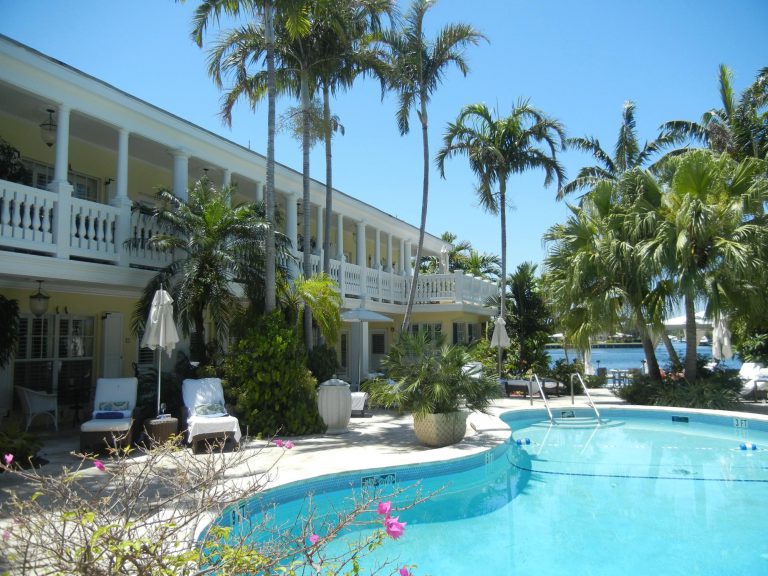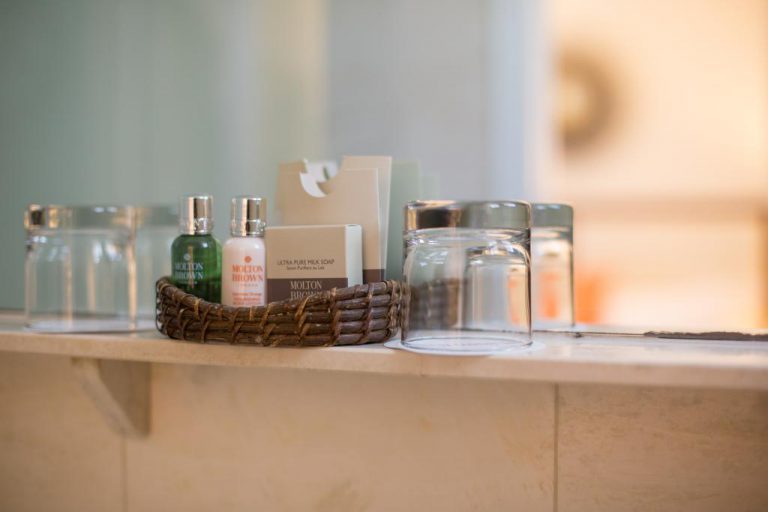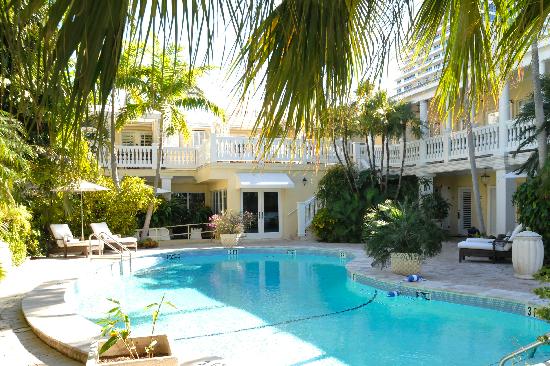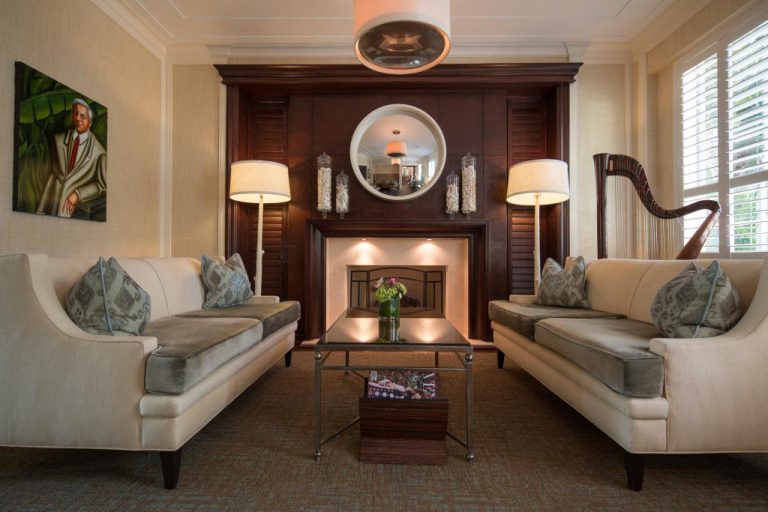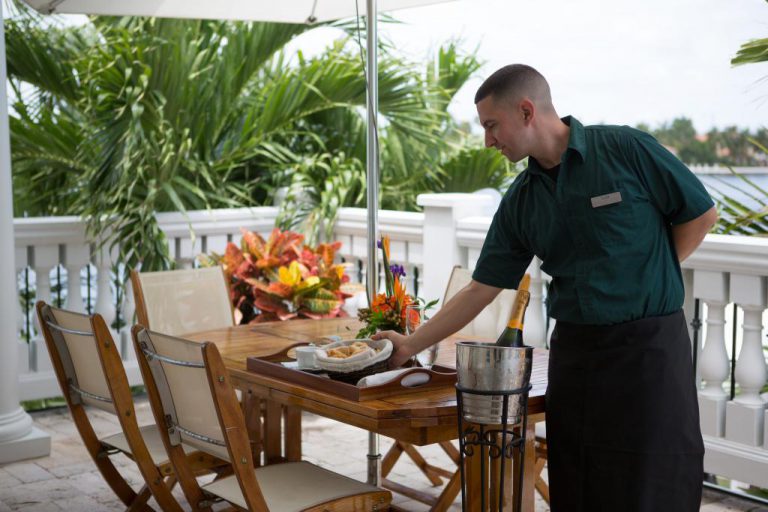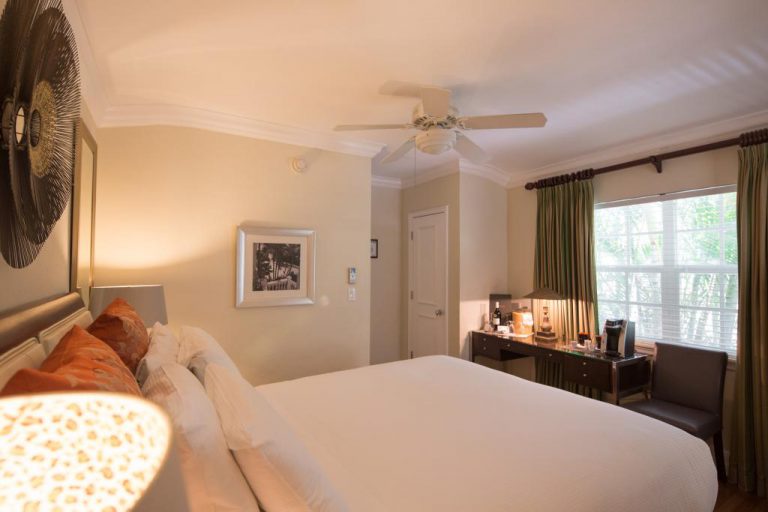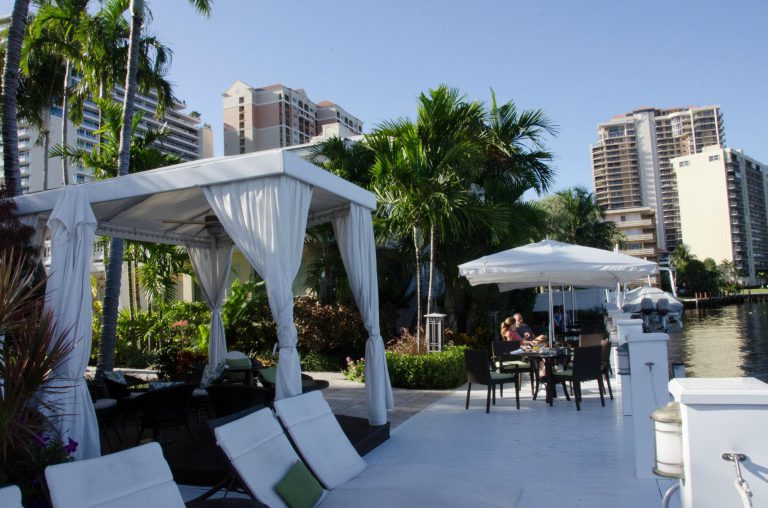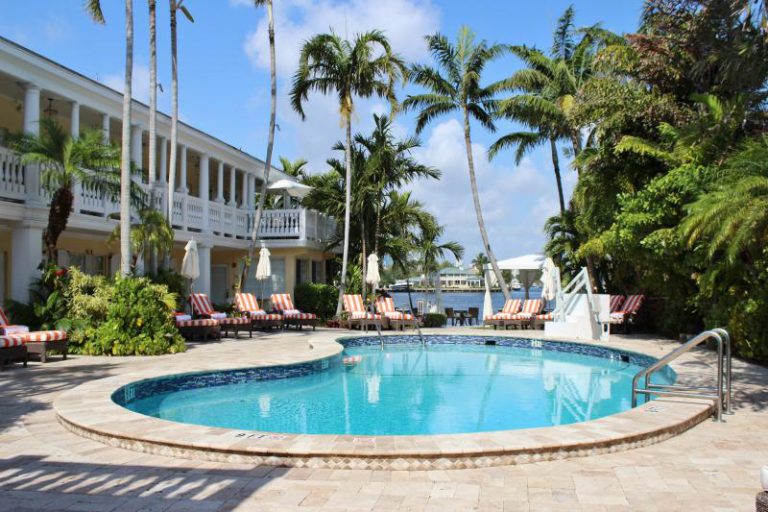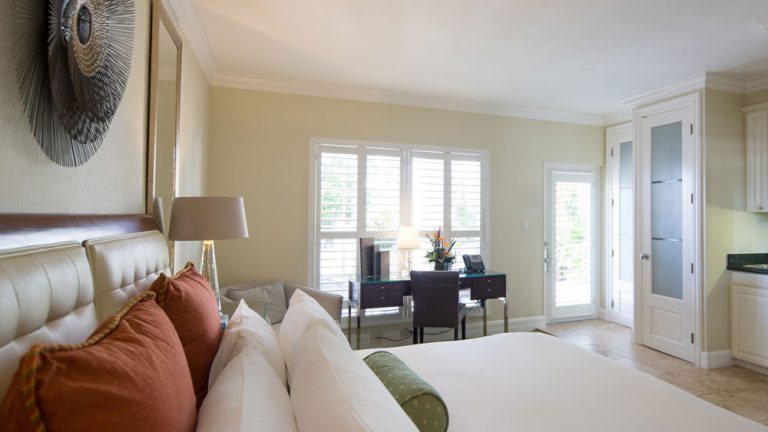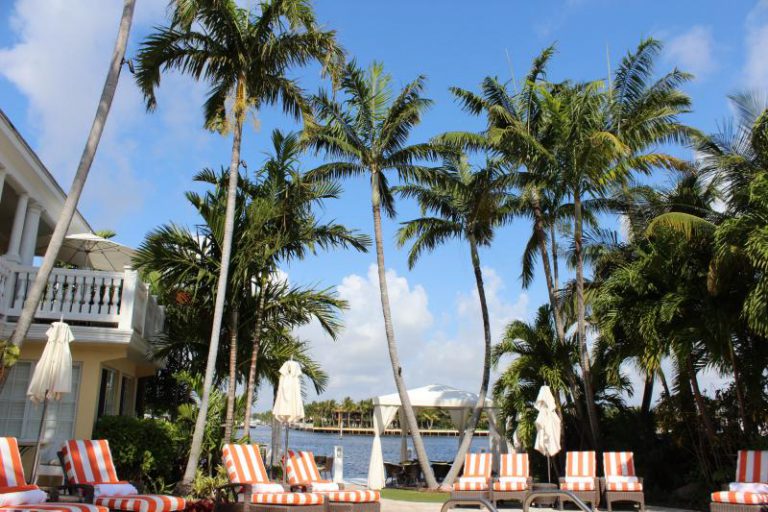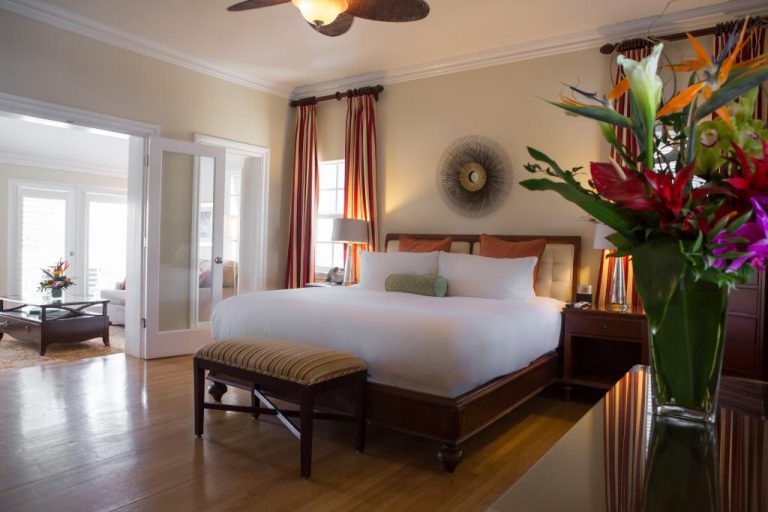 The Pillars Hotel is ideally situated right on the Intracoastal Waterway. It offers a casually elegant and charming experience in the prime of the most renowned Florida beach and yachting town. You are treated to an exceptional level of individual service and luxury reminiscent of the finest European boutique inns.
Key features of the hotel include nightly gourmet dining in The Secret Garden restaurant, alfresco waterside fine dining watching luxury yachts go by, elegant luxury rooms including 5 suites, and an ideal location which is only 150 meters from the warm waters of the Atlantic Ocean. In addition, The Pillars Hotel hosts a private whistle stop for the Fort Lauderdale Water Taxi service.
'This Waterfront Small Luxury Hotel is the winner of the Conde Nast Johanesens award 2020 as best luxury value hotel.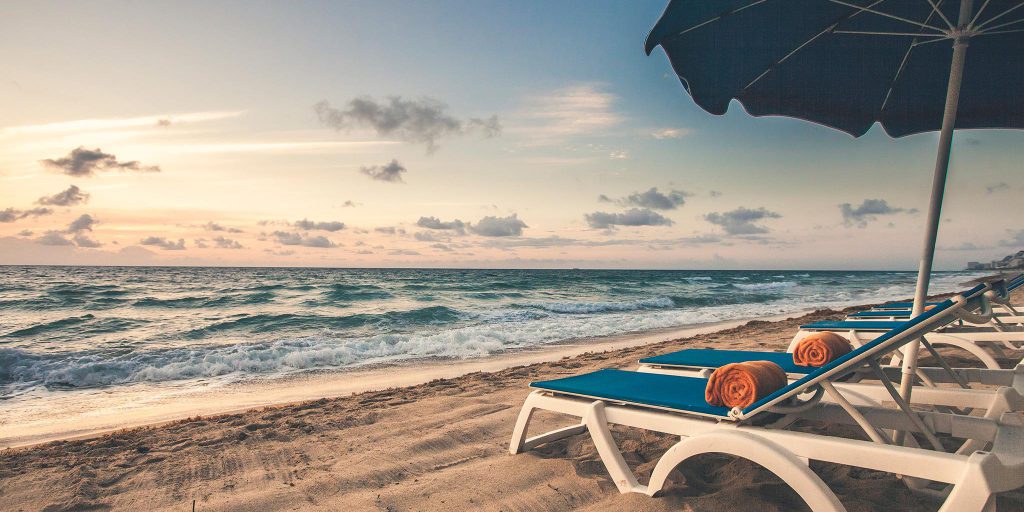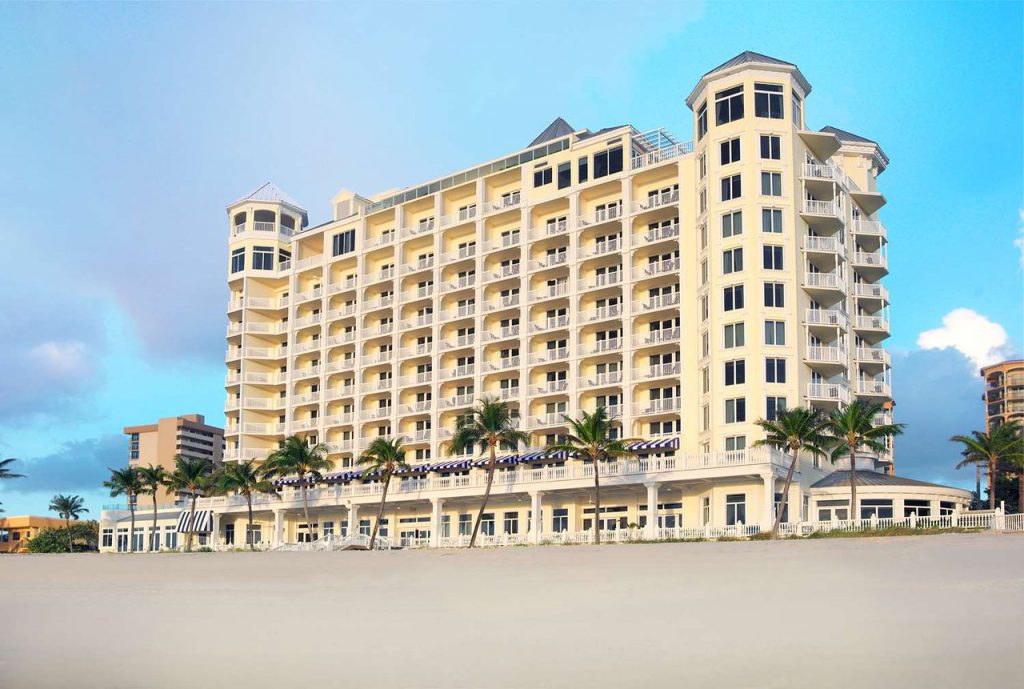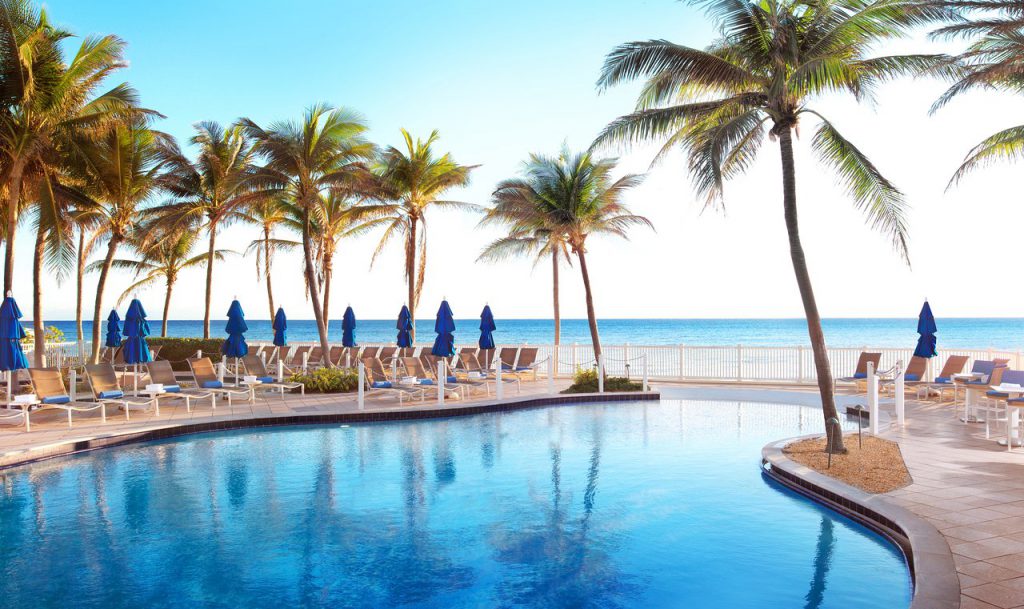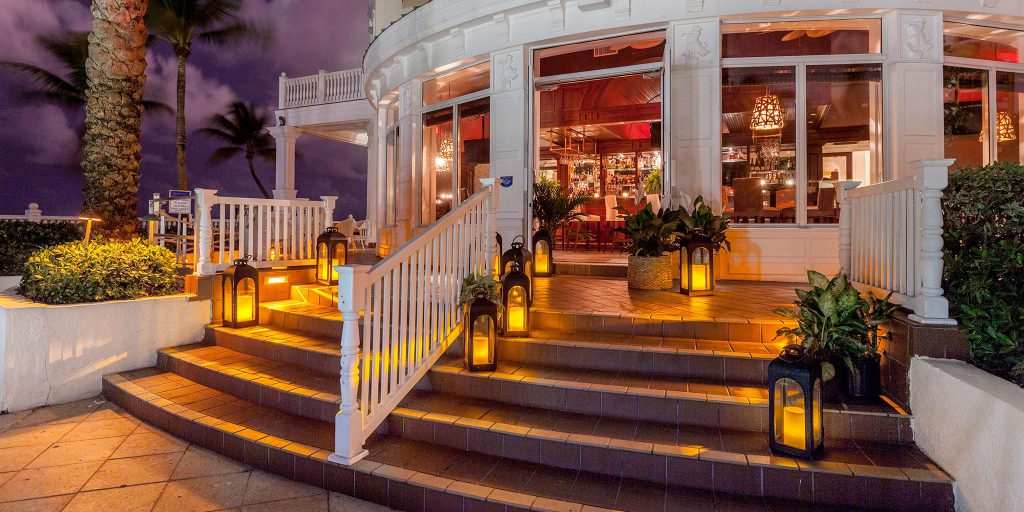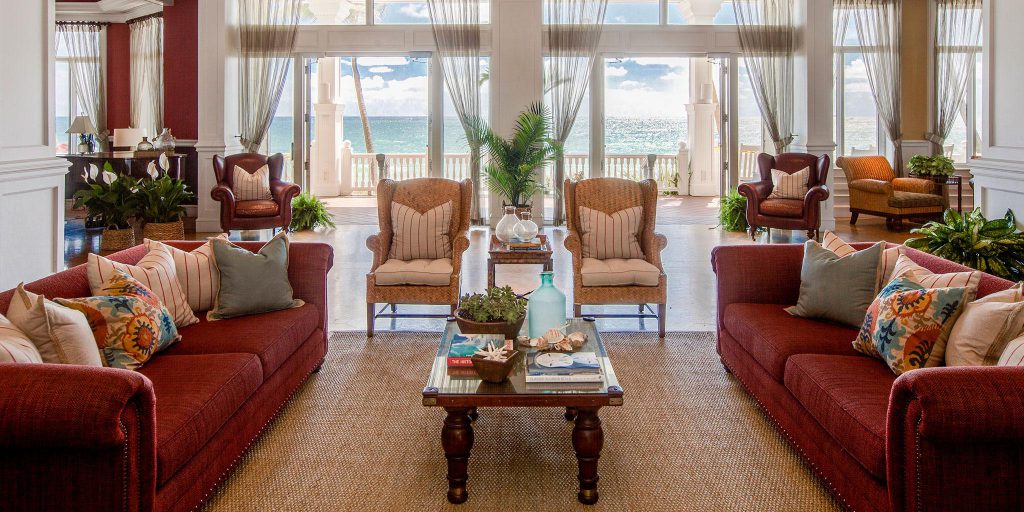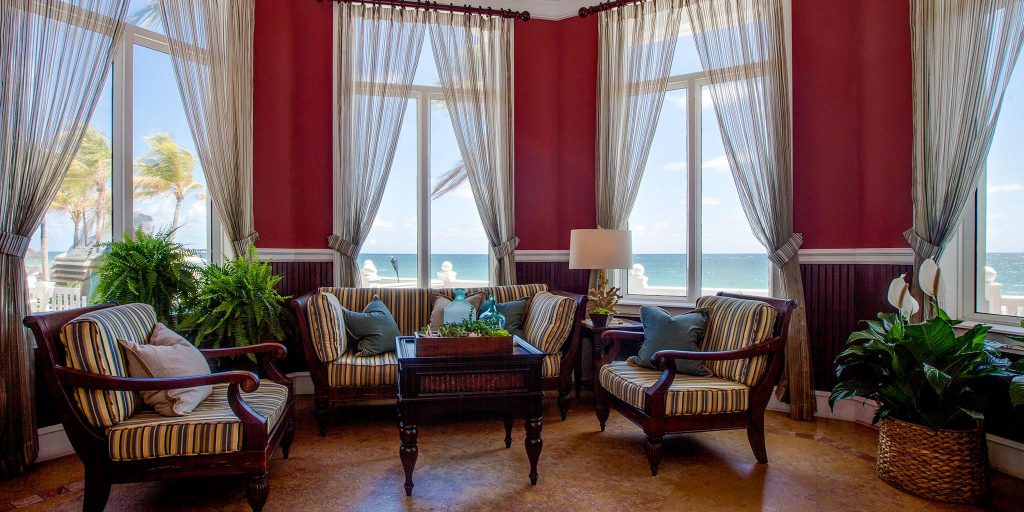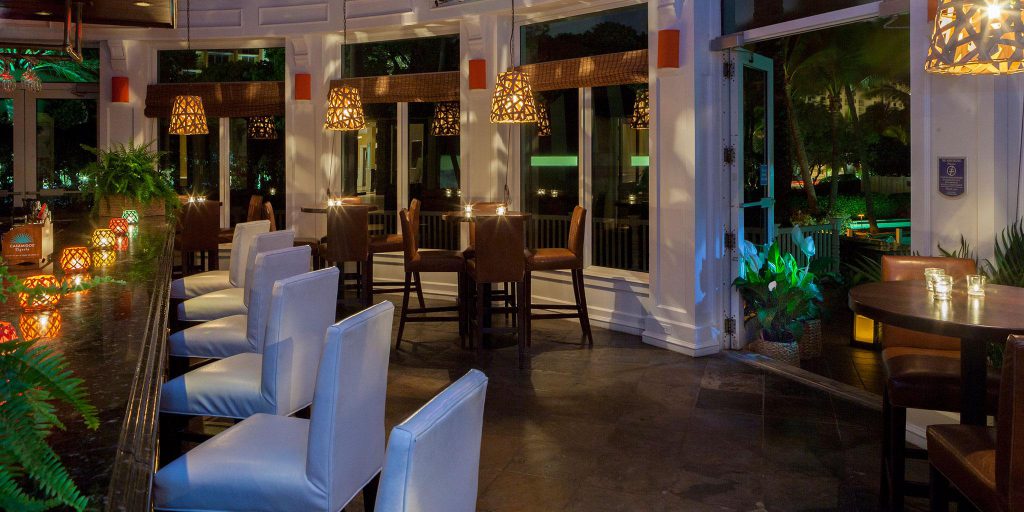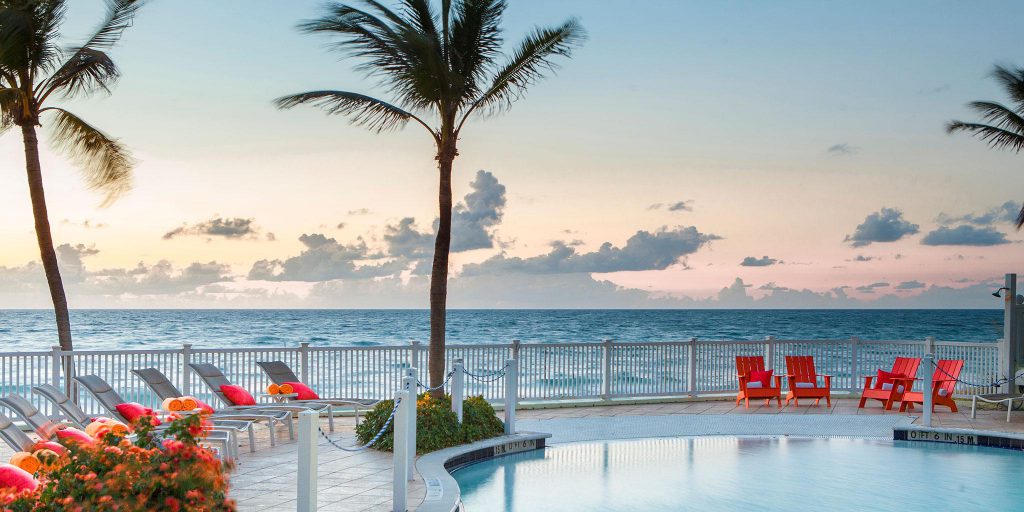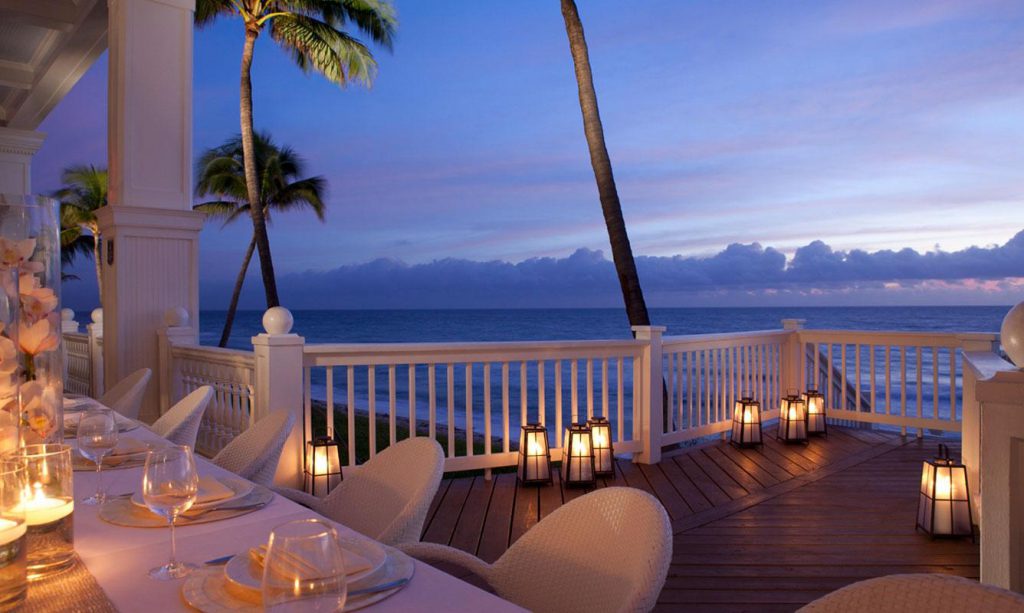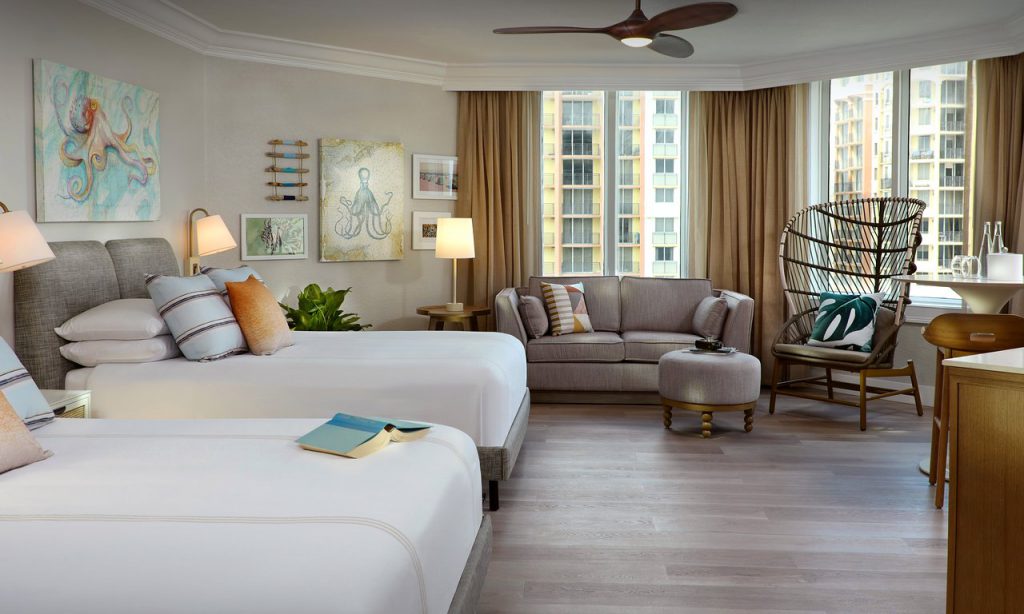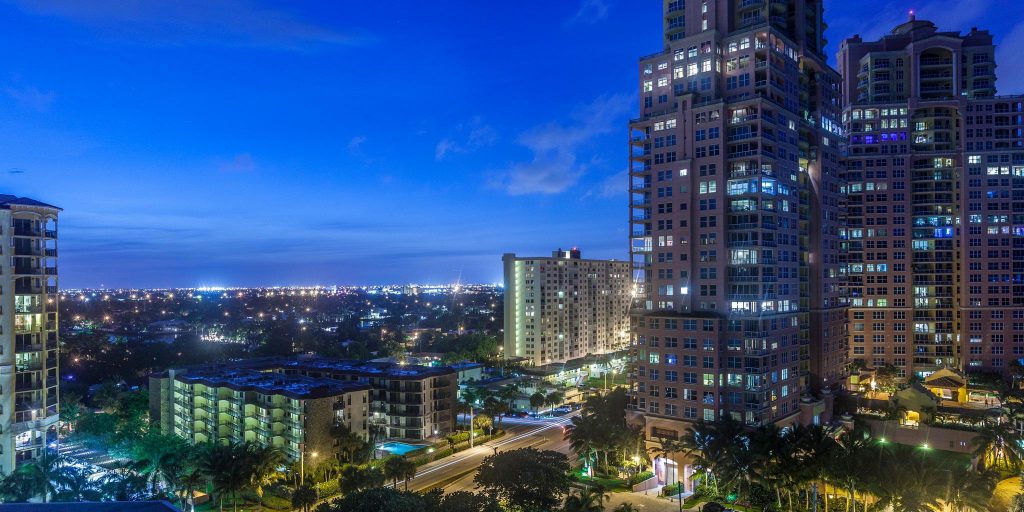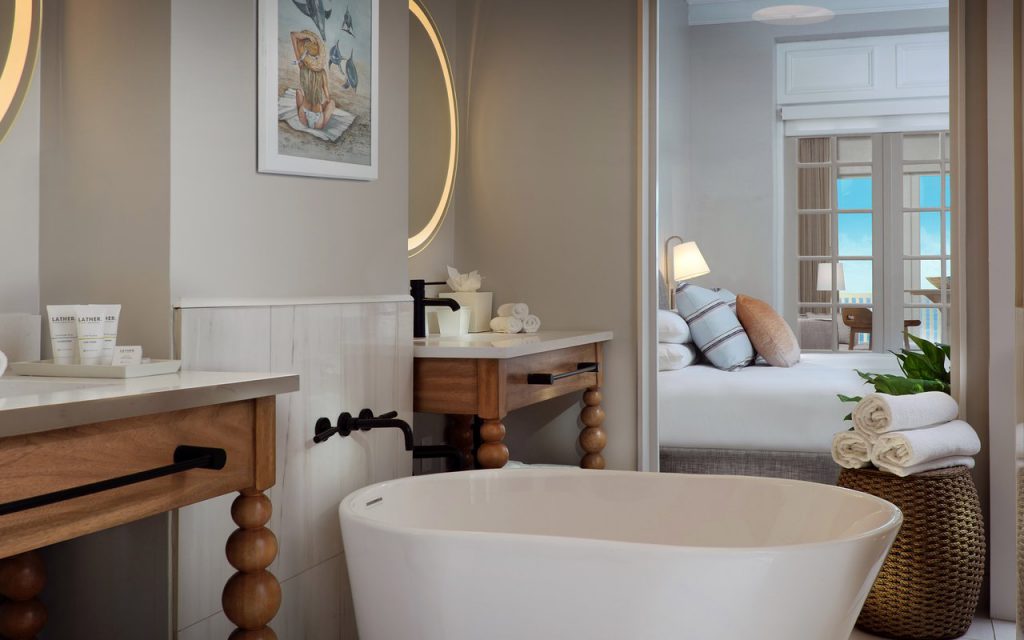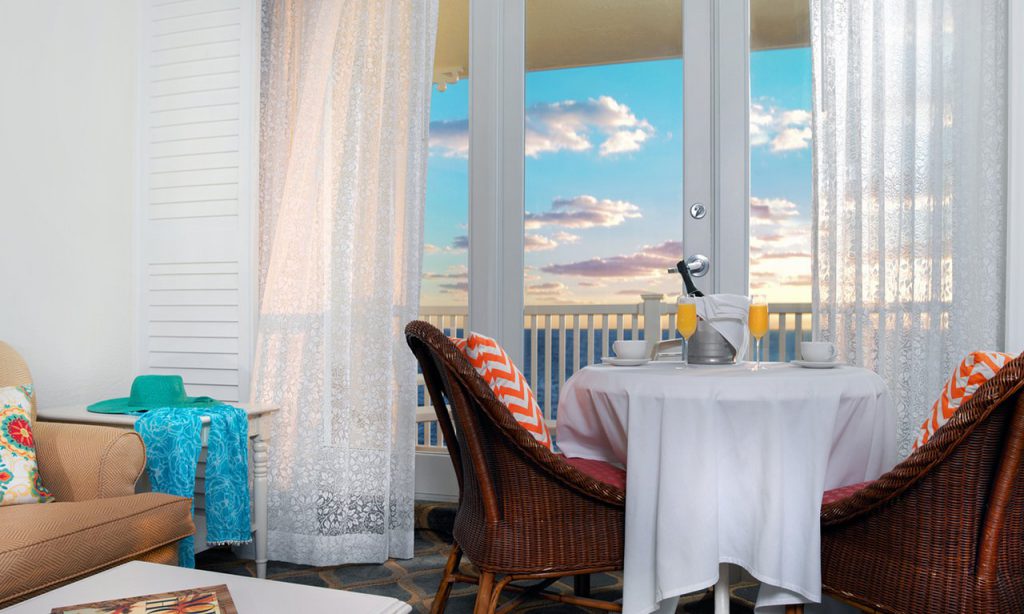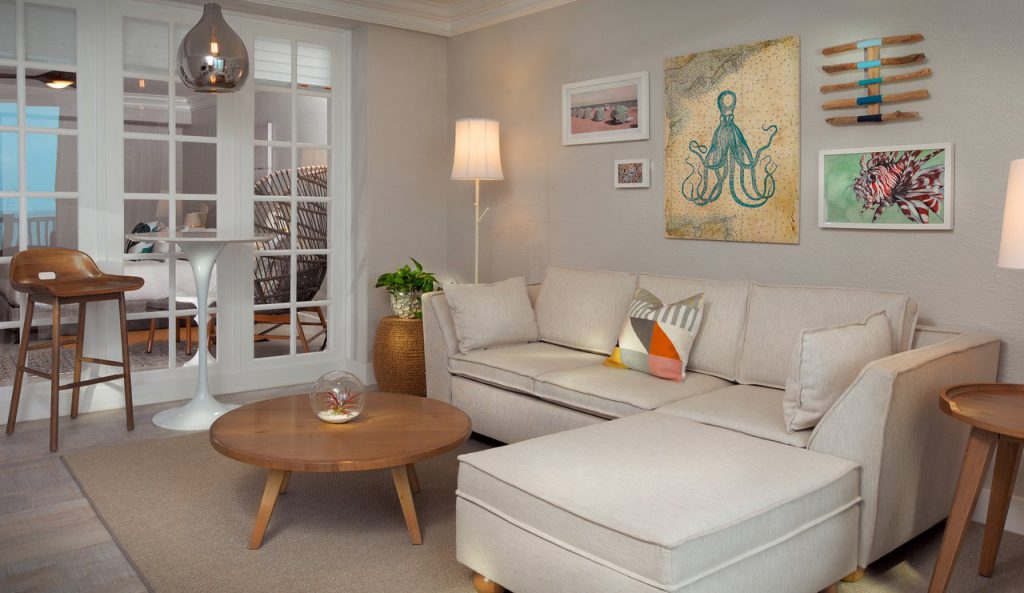 Your private stretch of paradise on the Fort Lauderdale Coast.
Sitting directly on the Atlantic Ocean, Pelican Grand Beach Resort boasts breathtaking views and instantly surrounds you with a sense of old Florida grandeur. From elegant beachfront dining at OCEAN2000 or a ride in our Lazy River, our 500-foot private beach resort is the perfect setting for a pre-cruise stay or a romantic getaway.
The beach feel rooms are recently transformed with all new furnishings, amenities, and design, the oceanfront Fort Lauderdale guest rooms and suites deliver the ultimate in relaxation. The ocean and city view rooms are just steps from the water with views that stretch far beyond. With several restaurants, private dining, as well as pool and beach dining, you will never be at a loss for places to eat – and to eat well.
'Take a ride along Fort Lauderdale's only Lazy River or splash in the zero-entry pool. Relax on the beach with complimentary chairs and umbrellas while being spoiled by beach attendants and waiters. There are countless ways to relax at Pelican Grand Beach Resort! Wake up to perfect sunrises. Be lulled to sleep by waves lapping the sand. Relax into your own private oasis. It will be a pity to stay only for one night!'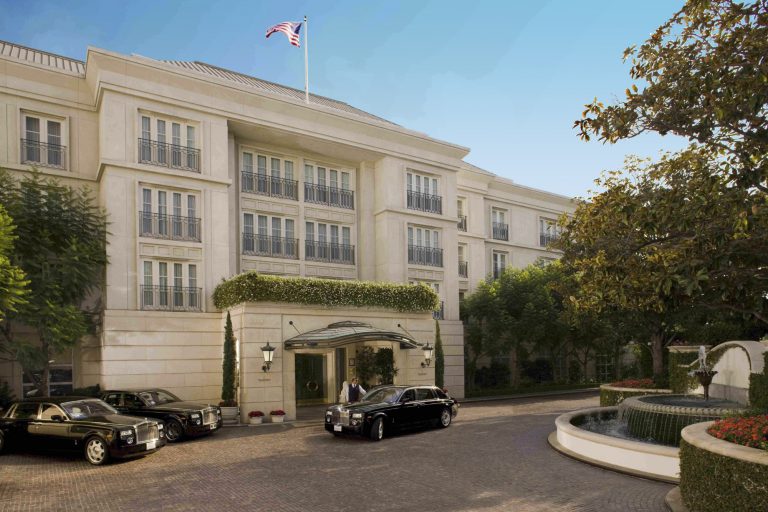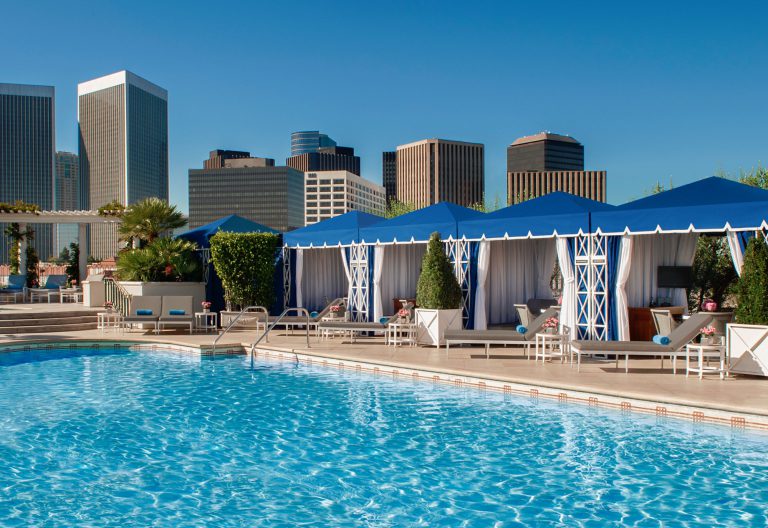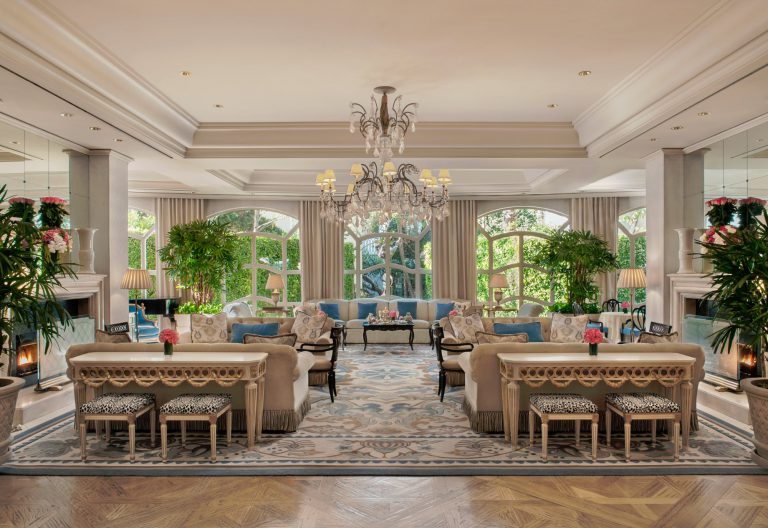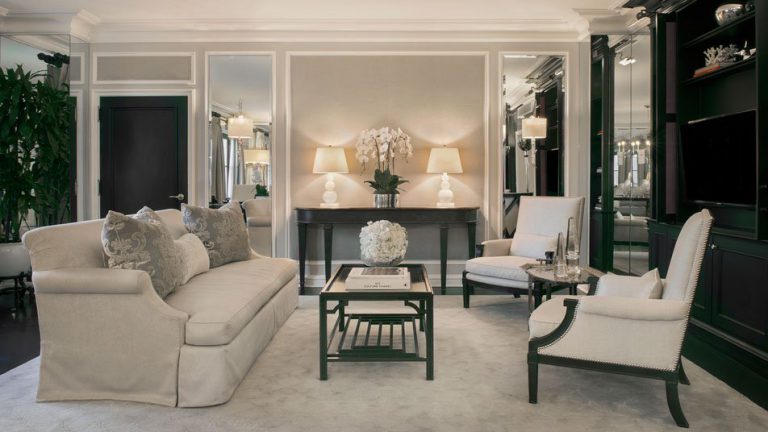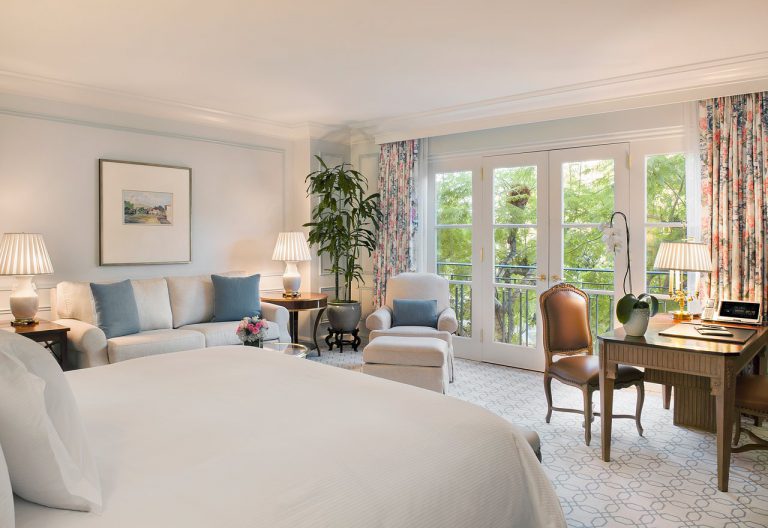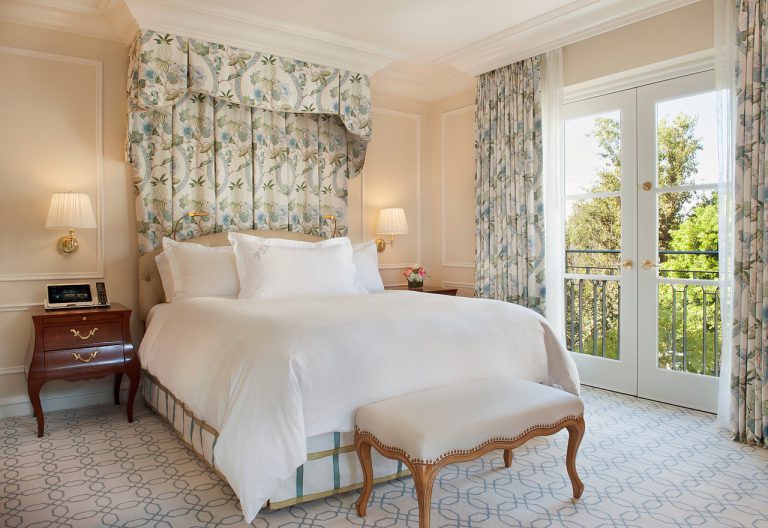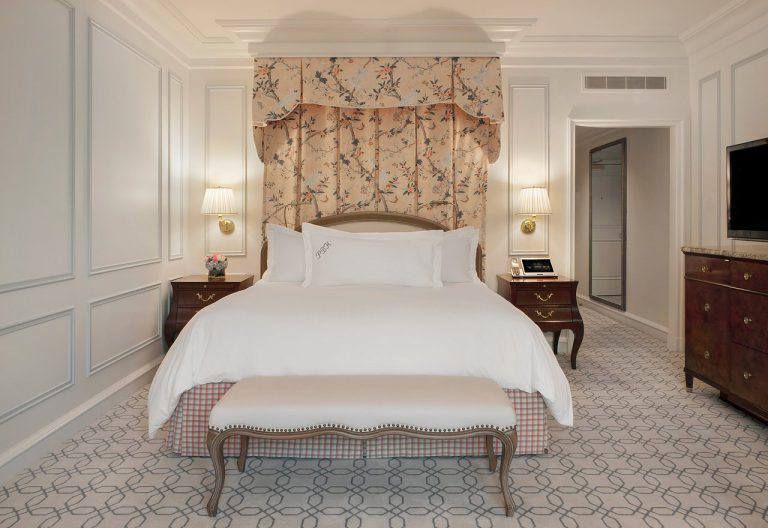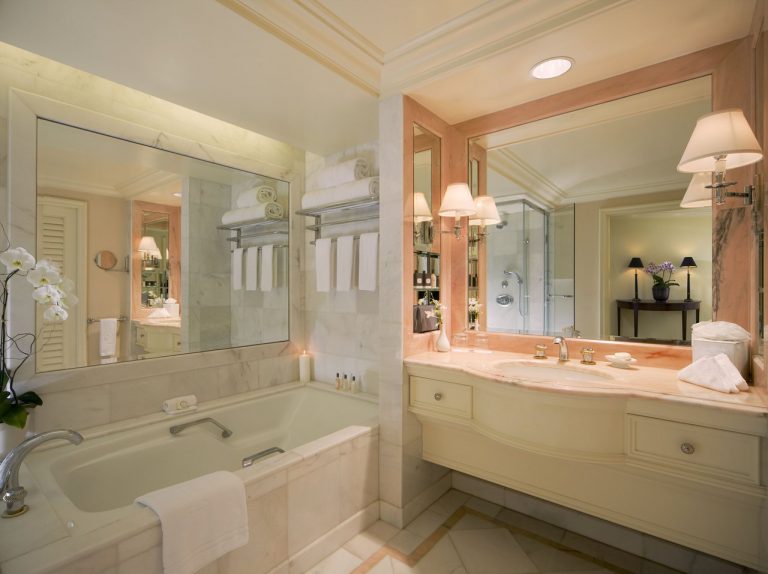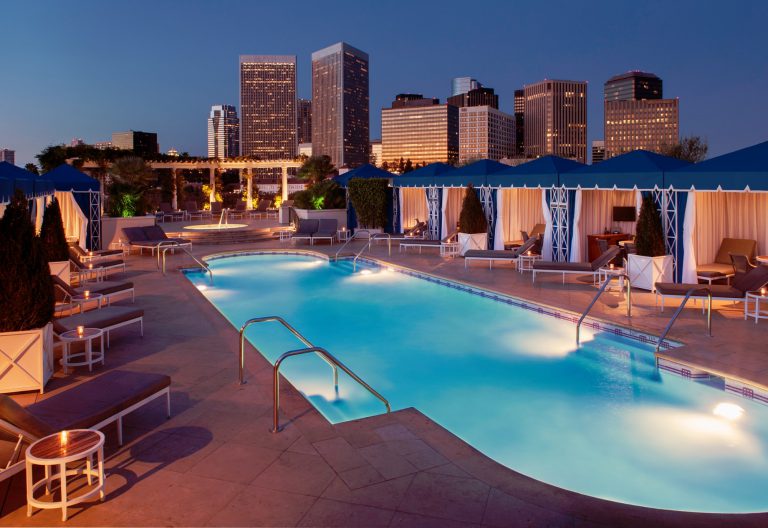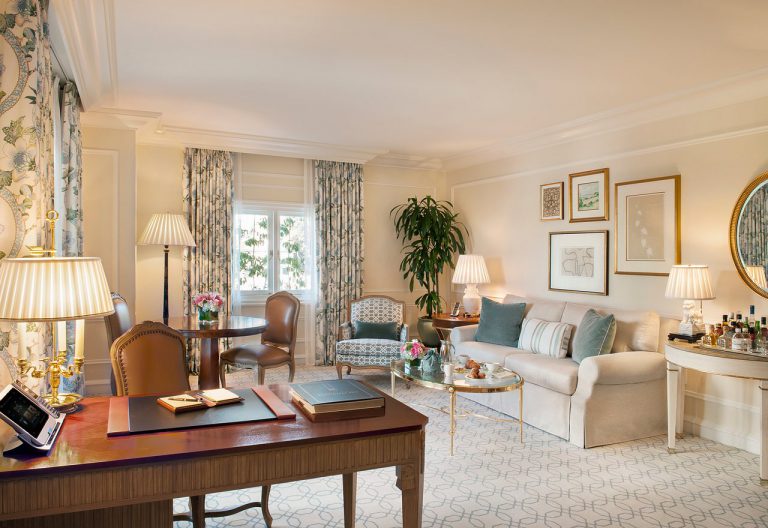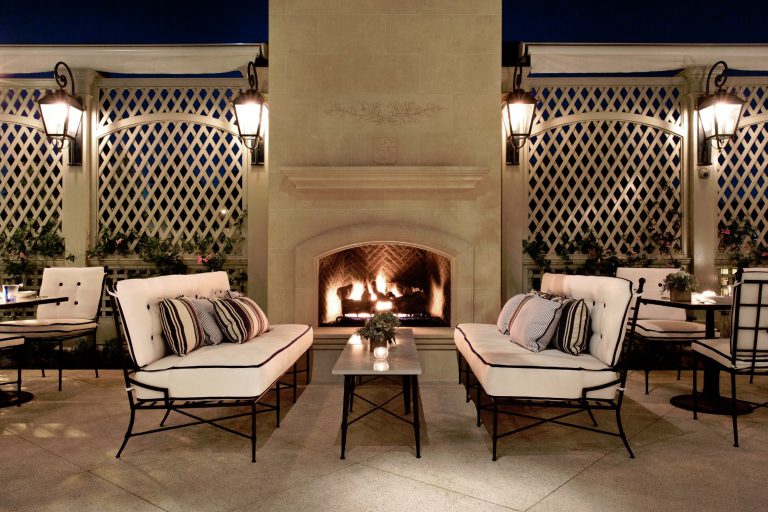 A California dream in an exclusive urban resort. This hotel is the only AAA Five Diamond and Forbes Five Star-rated hotel in Southern California every year since 1993, The Peninsula Beverly Hills offers 195 guest rooms, including 38 suites and 17 private villas, nestled among lush tropical gardens in the heart of Beverly Hills. Voted as the #1 City Hotel in Los Angeles for 2019 by the readers of Travel + Leisure, The Peninsula Beverly Hills is located at the intersection of Wilshire and South Santa Monica Boulevards, within easy walking distance of Century City and Beverly Hills' legendary Rodeo Drive. The Peninsula Hotels is also the only hotel brand to achieve the highest possible Five-Star status across all ten of its hotels, an honor first announced by Forbes Travel Guide in 2019 and continued for 2020.
The Beverly Suites are aptly named due to their wonderful views beyond the hotel's fountain to the greenery of Beverly Hills. The generous proportions of these suites provide separate spacious and airy living and sleeping areas complete with walk-in closets and a marble bathroom with double sinks.
Visit The Terrace at The Belvedere to experience a stunning alfresco dining destination located in the heart of Beverly Hills.
The newly designed Peninsula Spa incorporates highly effective treatments with the finest therapists and products to offer each guest a truly customized spa experience.
'A classic gem for spoiled cruisers!'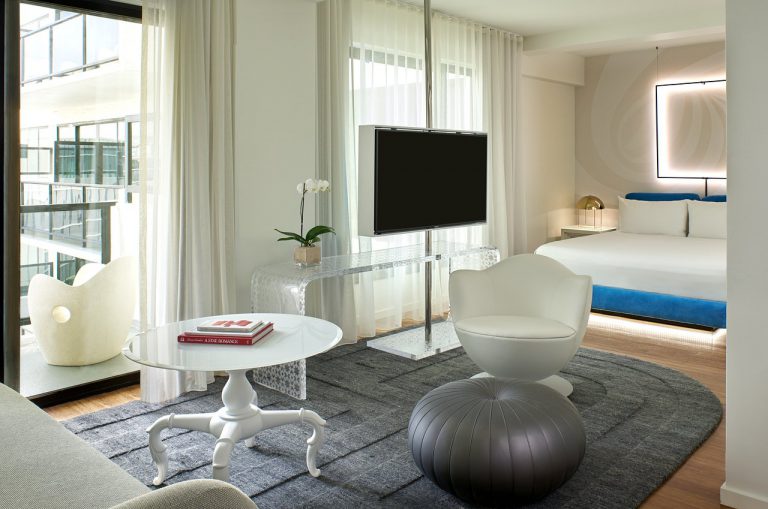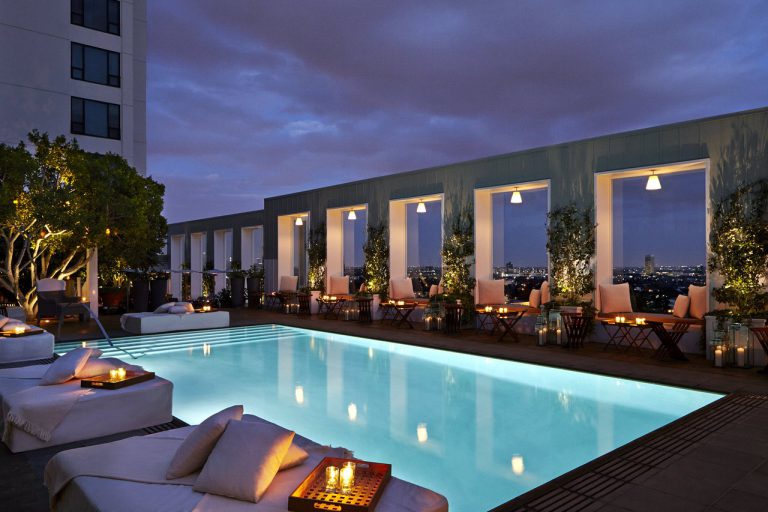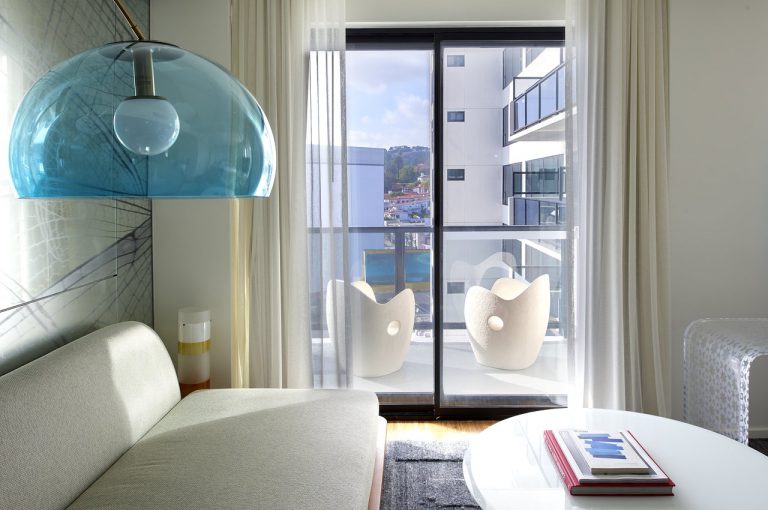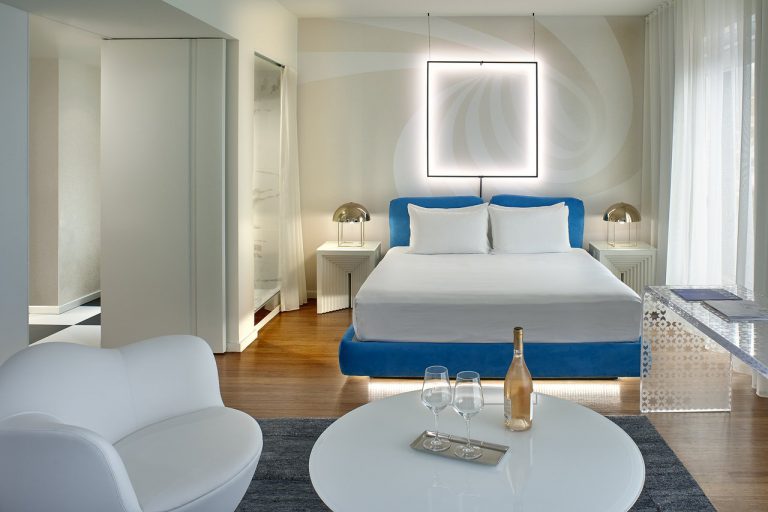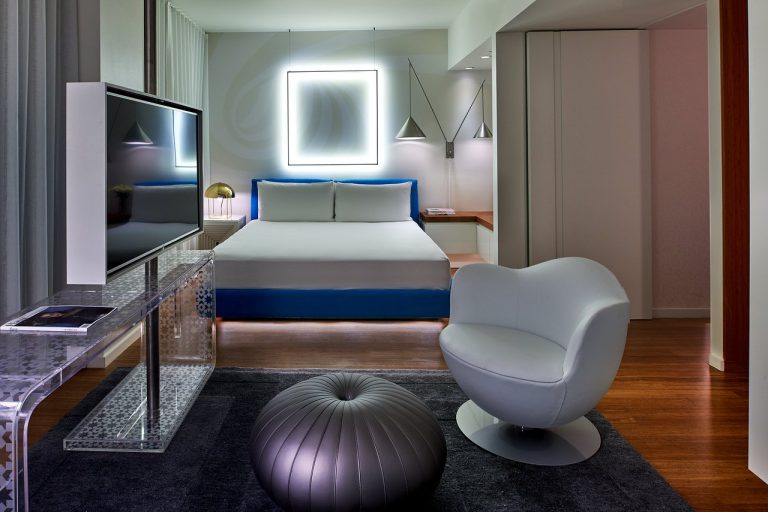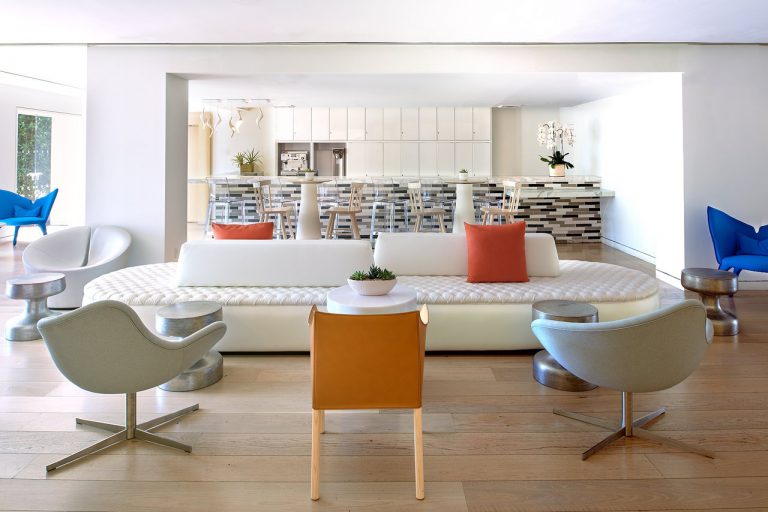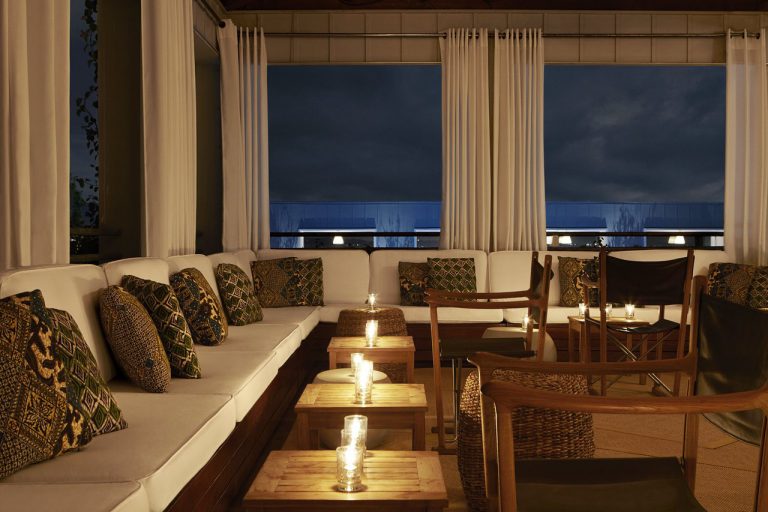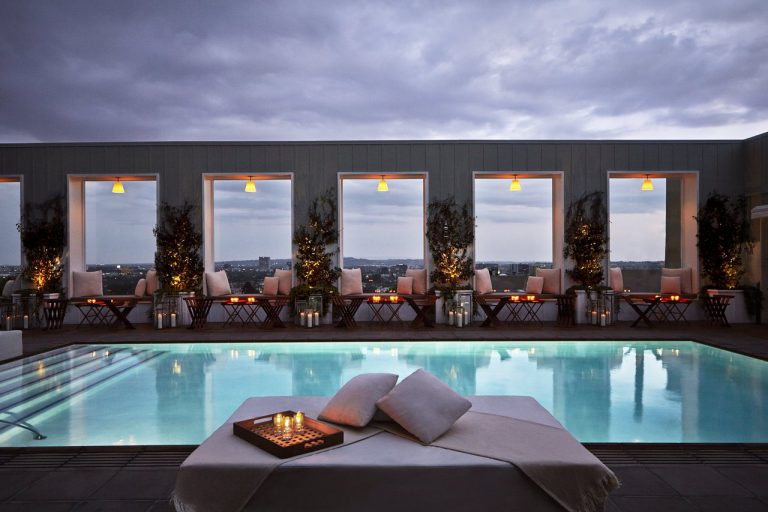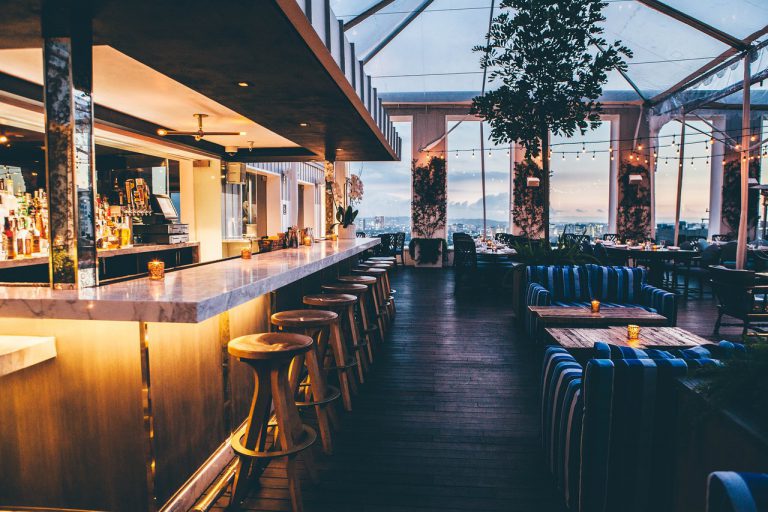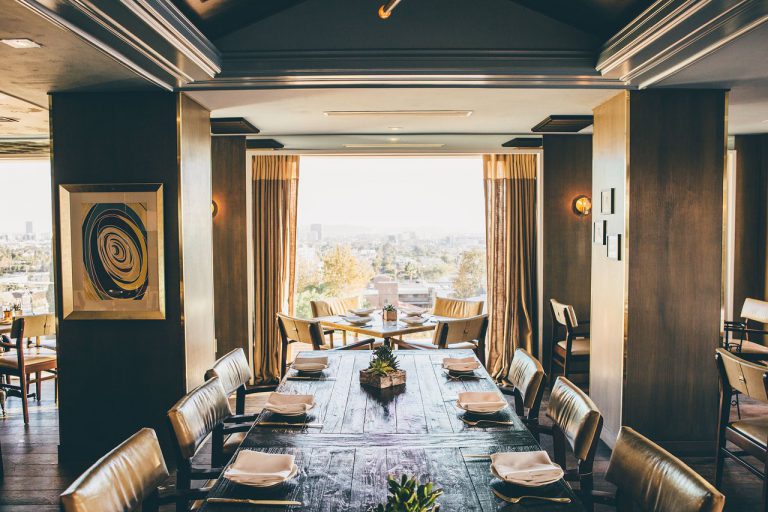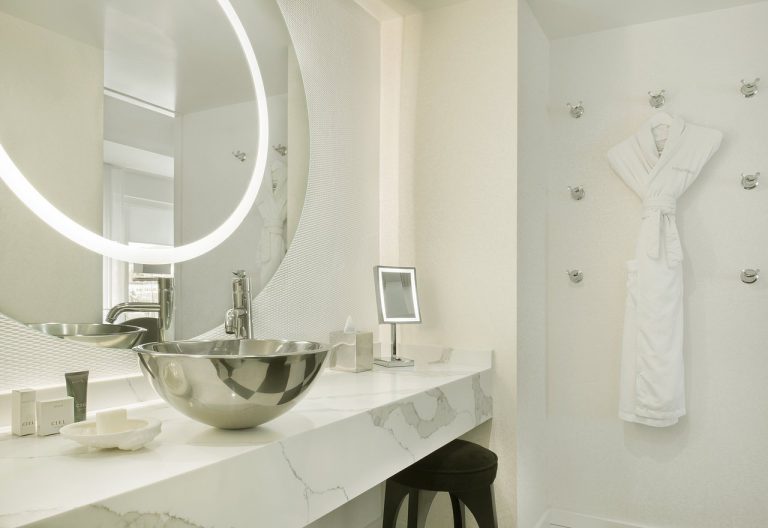 Mondrian LA is a parallel universe of perpetual possibility.
This luxury boutique hotel in the heart of West Hollywood captures everything the Strip stands for – excitement, invincibility and glamour. Entering Mondrian through its signature, thirty-foot mahogany doors, guests will find the recently expanded lobby, accented with hues of deep purple and complemented by custom-designed furniture, a Lucite indoor swing and a mushroom-inspired concierge desk. Surrounded by the beauty of the hotel lobby is our world class Business Center with complimentary high speed wireless internet access. Up in the sky, amid the clouds of Los Angeles, guests can enjoy the stunning view from our Skybar deck. Exxhibit Boutique, our gift shop, offers curated items tailored for the LA scene. 
Mondrian is located right on the Sunset Strip, close to Fox Studios, Paramount Pictures, Staples Center, Dodgers Stadium, Hollywood Hills, Santa Monica, Rodeo Drive and Getty Museum. 
The hotel's striking guest rooms and suites have been crafted to offer an inspired fusion of beauty and comfort. This landmark destination celebrates the best of a surrealist aesthetic and devoted attention to detail. Following an audacious renovation, escape reality and revel in the comforts of one of the Mondrian's 236 spacious accommodations.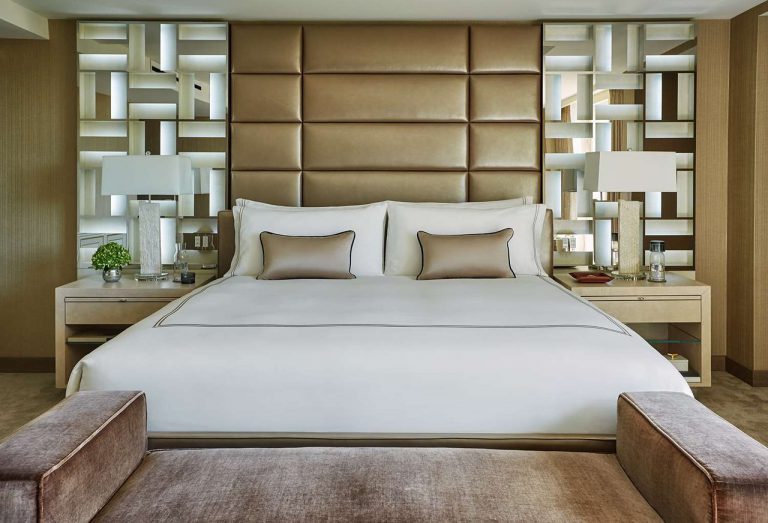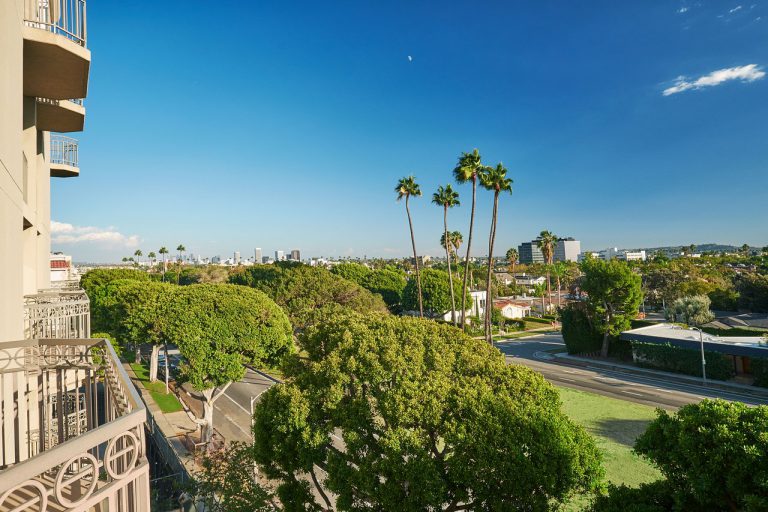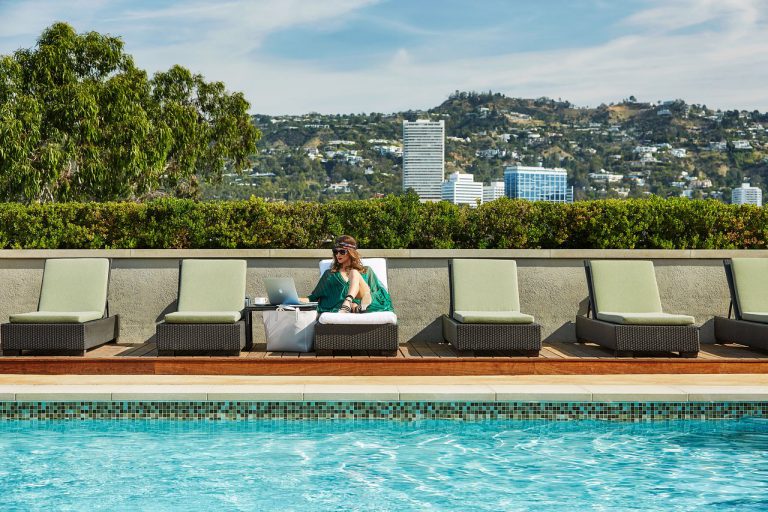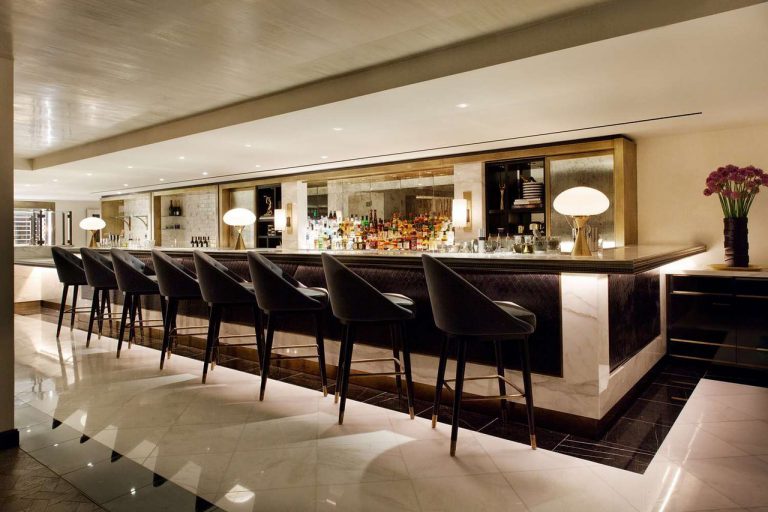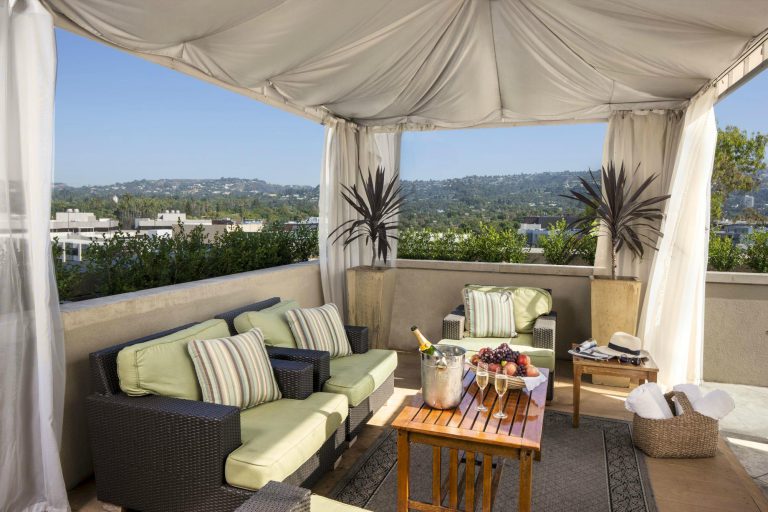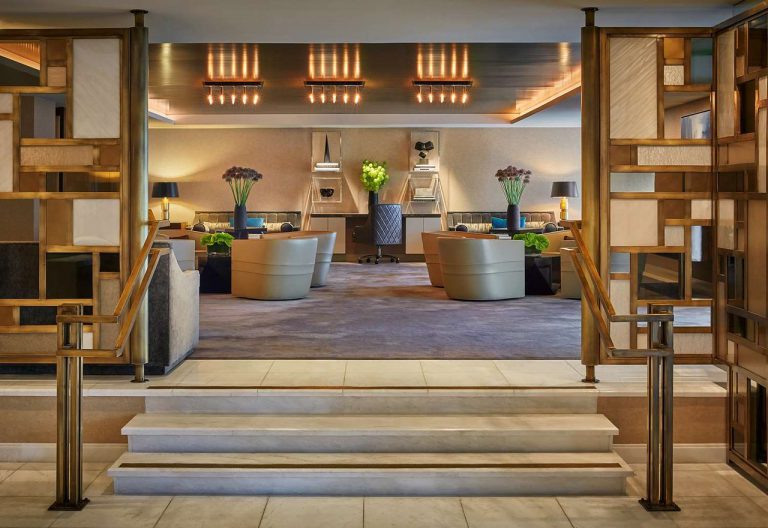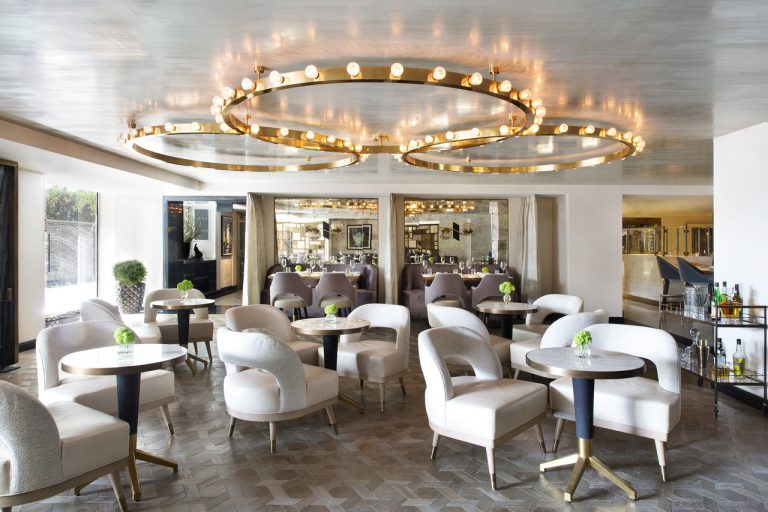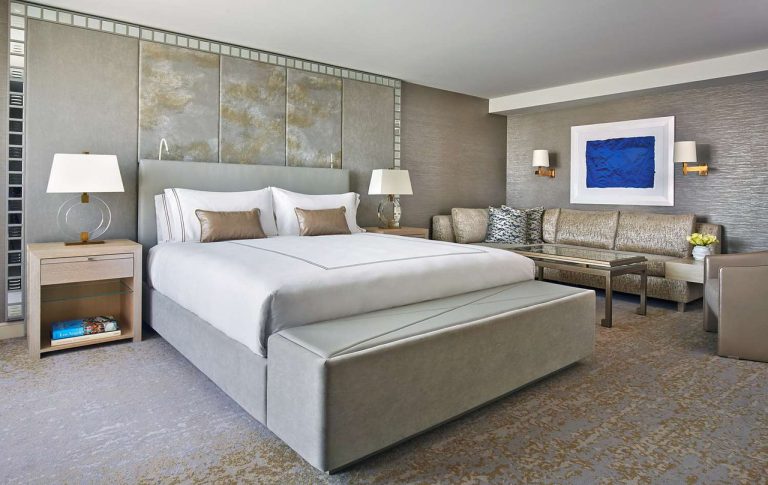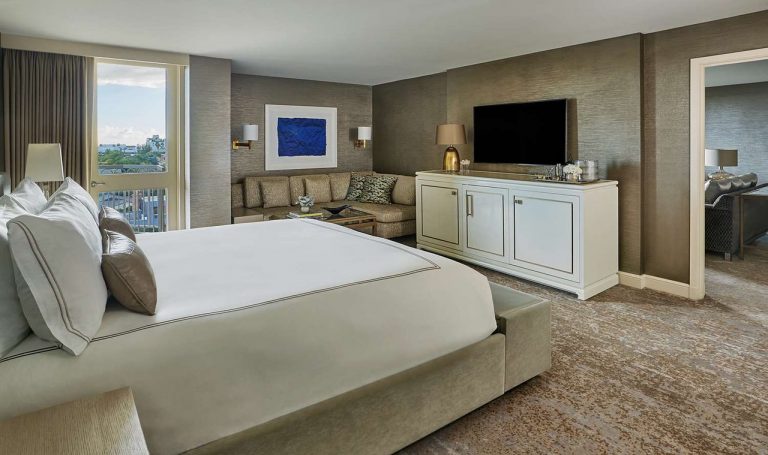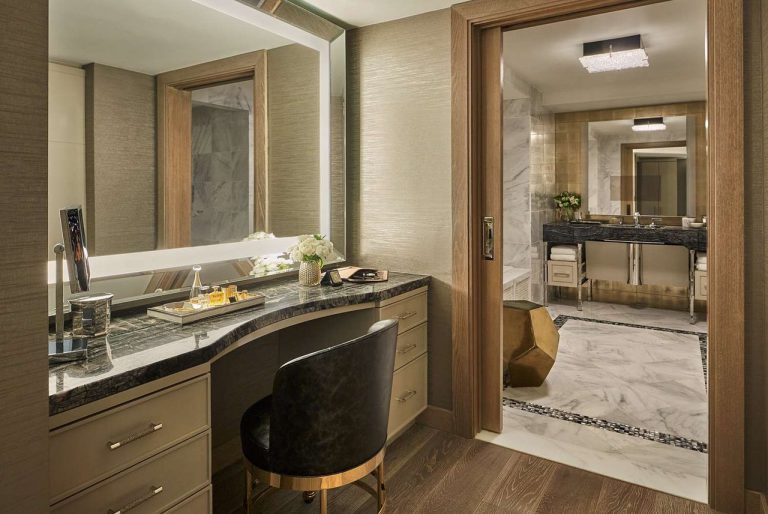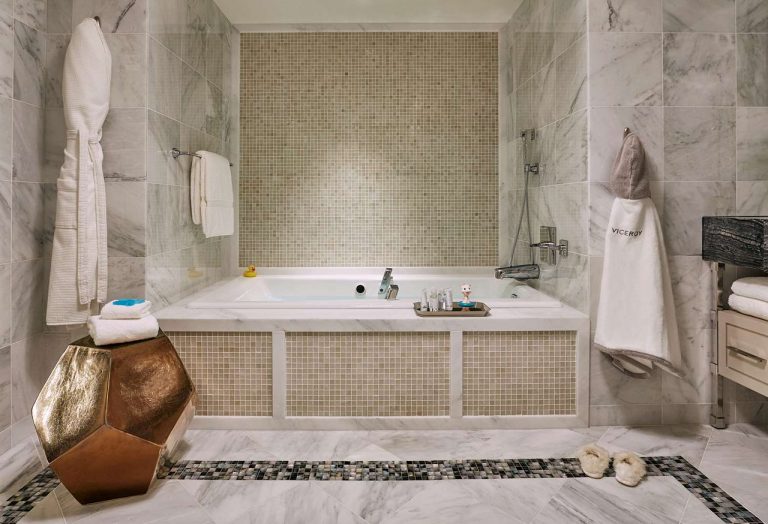 A Luxury Hotel in Beverly Hills
Since opening in 1975, Viceroy L'Ermitage Beverly Hills has been the epitome of Hollywood glamour. It all starts with the uncompromising privacy of our location on a tree-lined residential street that's less than a mile from the bustle of Rodeo Drive. You'll soon discover that the peaceful surroundings are just a prelude to the understated elegance, sense of seclusion, and sublime attention to service you'll enjoy inside.
Staying in this hotel is being part of a legacy. The hotel is an institution that has stood the test of time and long attracted Hollywood's brightest stars. Since 2000, they've earned the Forbes Five-Star designation and have been named one of the top hotels in Los Angeles by Travel + Leisure World's Best Awards. The industry has long considered this 'the place' for modern luxury and you'll undoubtedly find a home away from home in the rooms — all of them spacious suites. 
"Live the life and stay here for an incredible experience.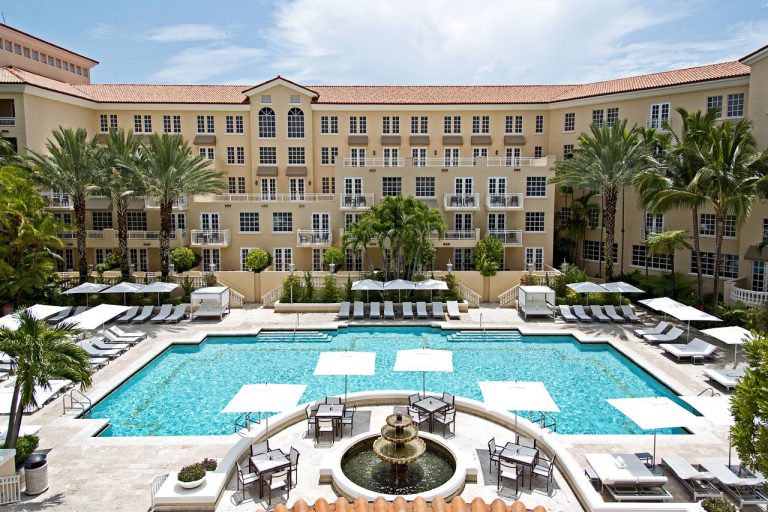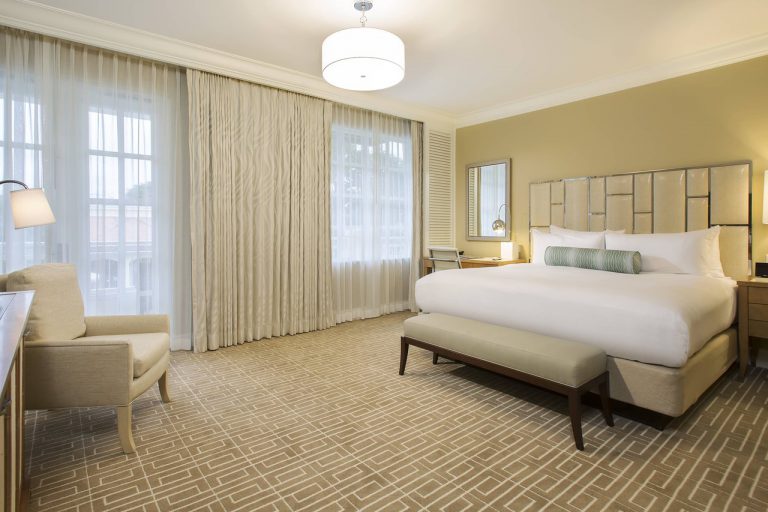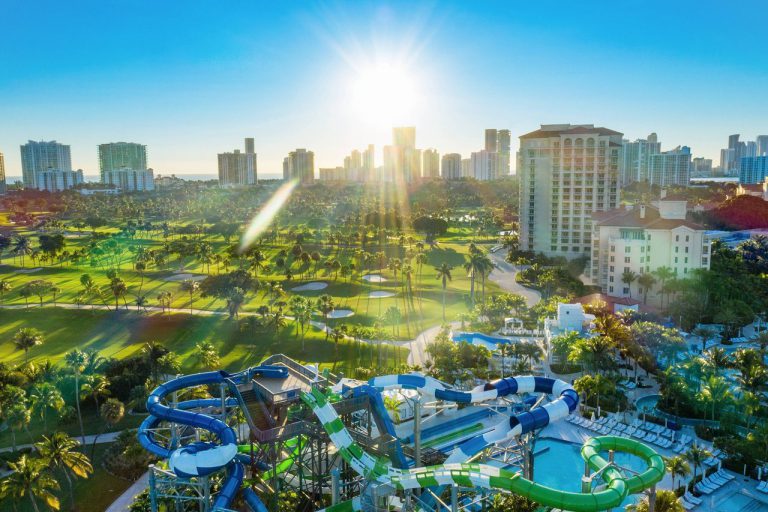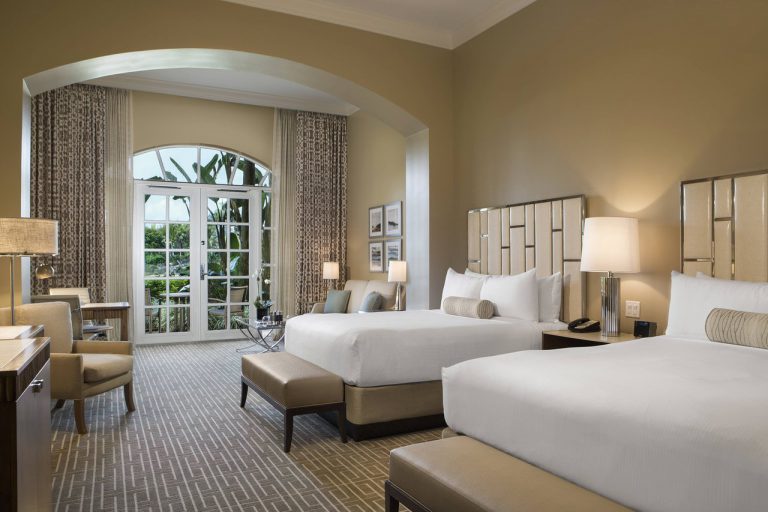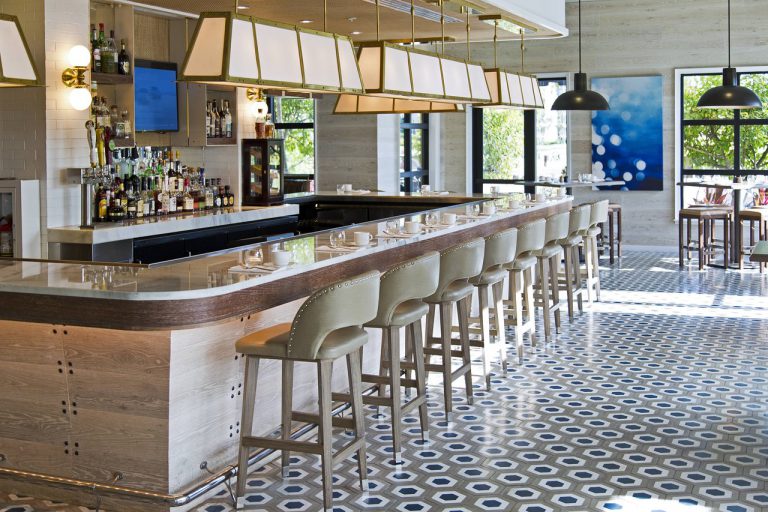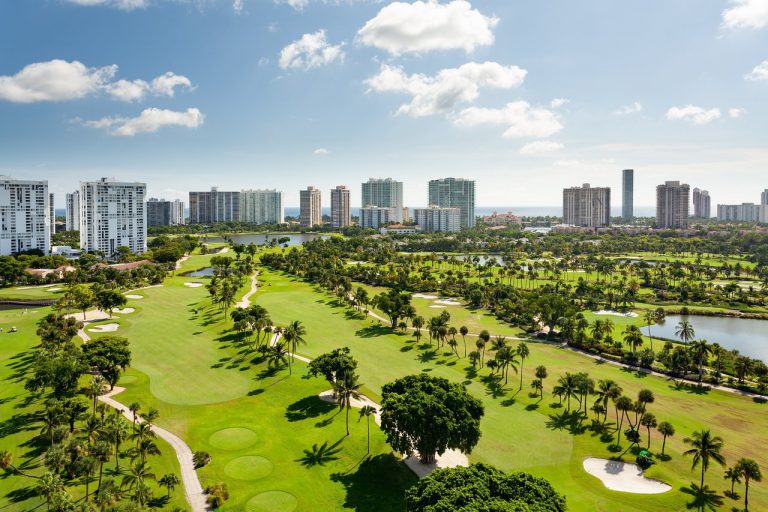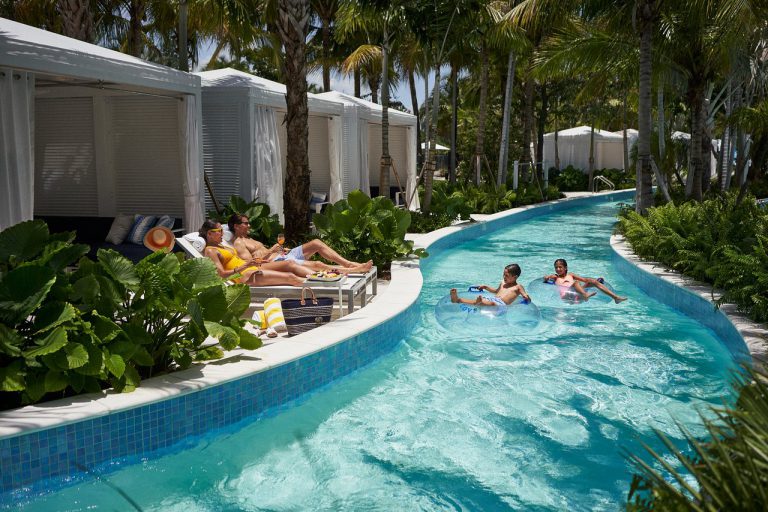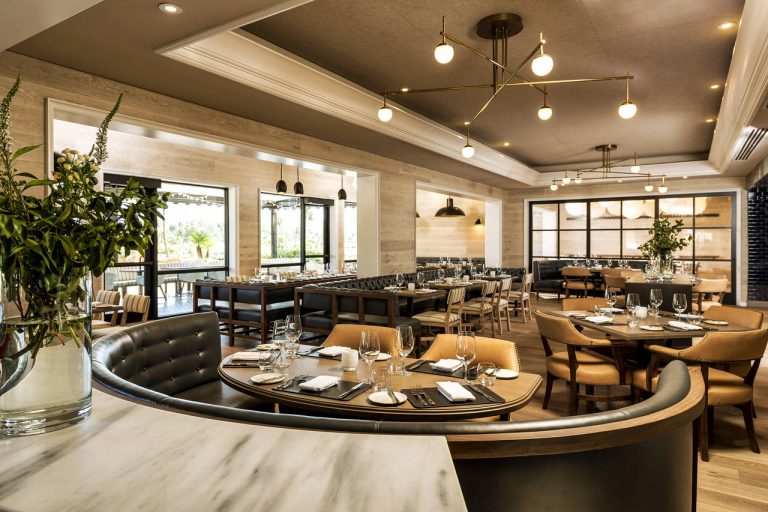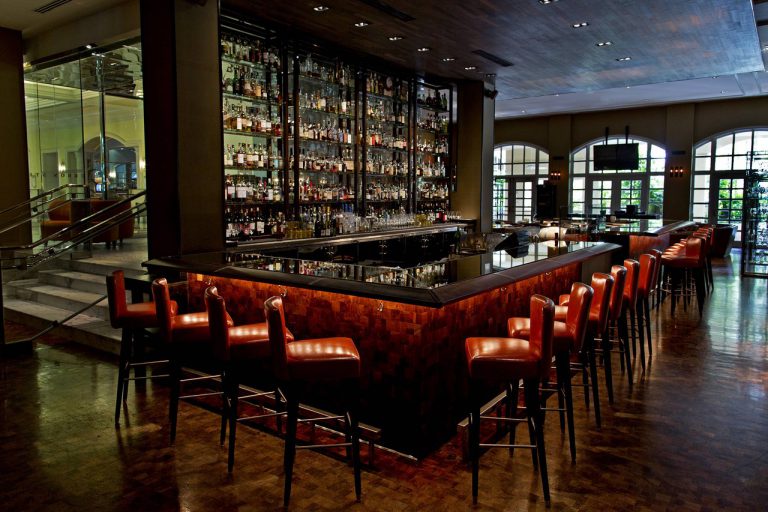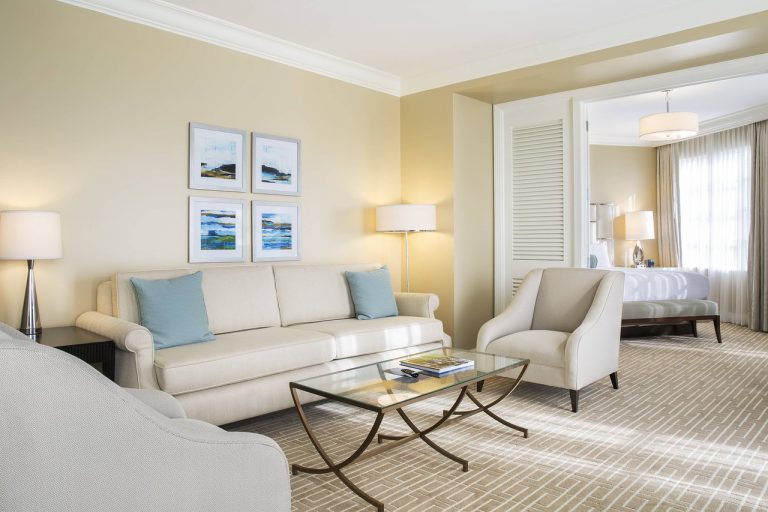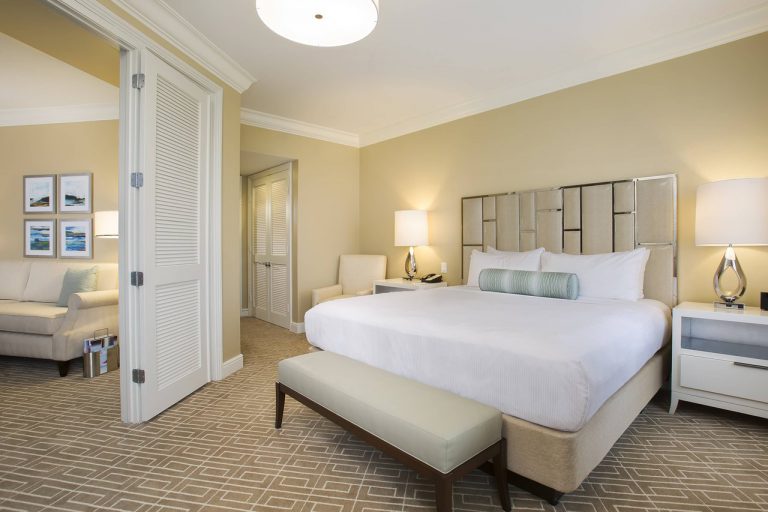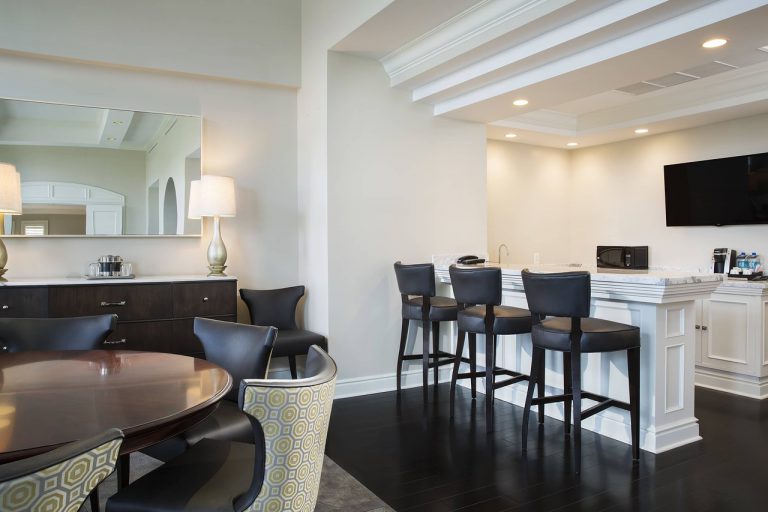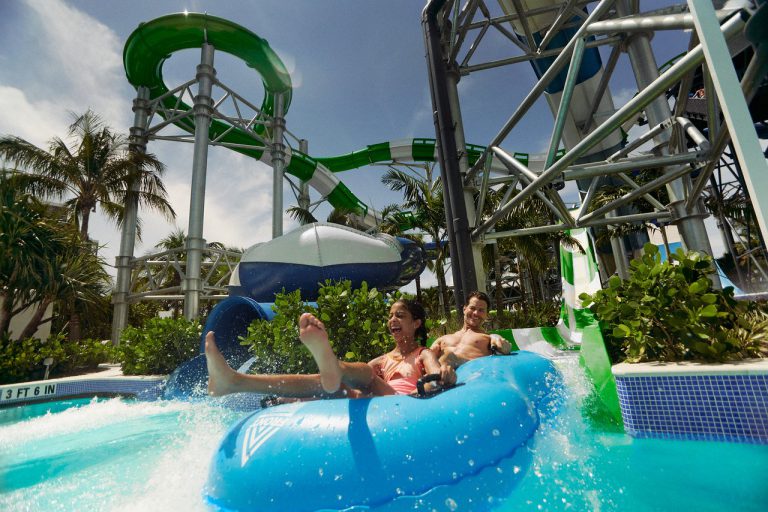 Discover luxury services, modern amenities and a stylish setting at JW Marriott Miami Turnberry Resort & Spa. Elegantly designed, the spacious rooms and suites provide relaxing comfort with marble bathrooms and private balconies overlooking the resort's tropical grounds.
The resort features BOURBON Steak by Michael Mina, serving signature cuts of prime meat, local seafood and a fine selection of over 1,000 wines. For casual fare, you can visit CORSAIR kitchen & bar, Surf House, or Freestyle.
Let little ones join in days of fun at Tidal Cove Water Park while you lounge poolside in a private luxury cabana. Golf enthusiasts can vie for under par scores at our two 18-hole championship courses, while the exquisite full-service spa is a tranquil haven for beauty and wellness.
The hotel shuttle provides a short ride across the street to the world-renowned Aventura Mall and multiple beaches. Paradise is waiting!
The guest rooms are among the most spacious and elegant in South Florida. Each features a private furnished balcony or terrace affording stunning views of lush Florida foliage in Aventura, the ocean, our championship Turnberry golf courses, or beautifully landscaped pools. Highlights of these soothing and contemporary retreats include custom designer furnishings, floor-to-ceiling windows, and marble bathrooms.
Nightly room rates include admission to Tidal Cove Waterpark (quantity based on guestroom capacity).
'If you need to do some more shopping before your cruise, this is the perfect location to relax, enjoy and get pampered.'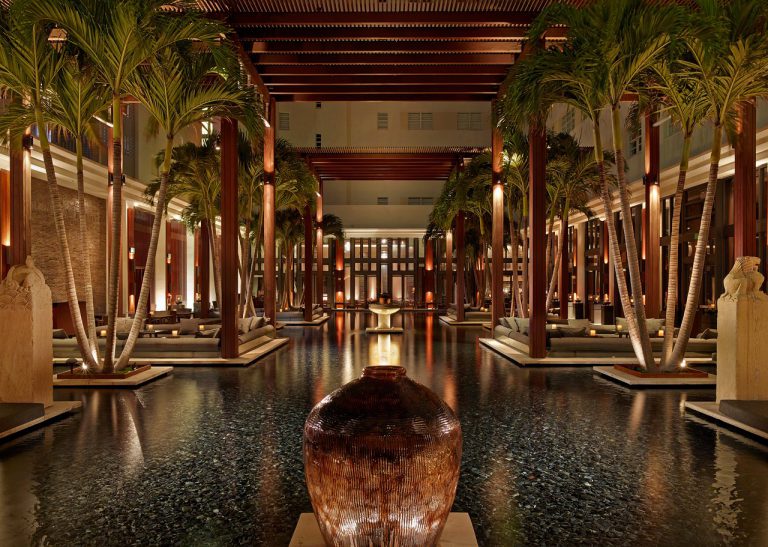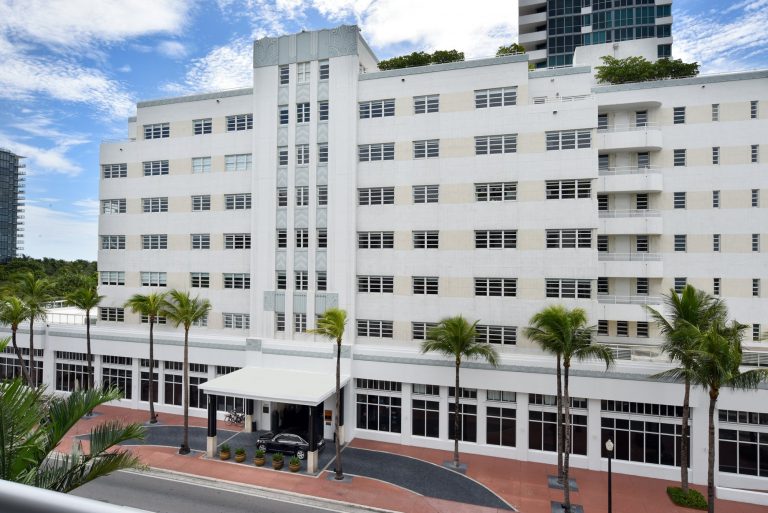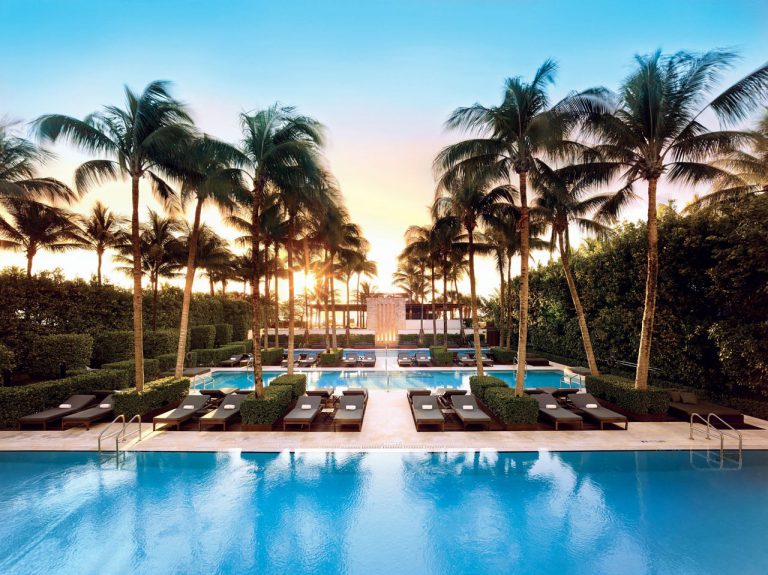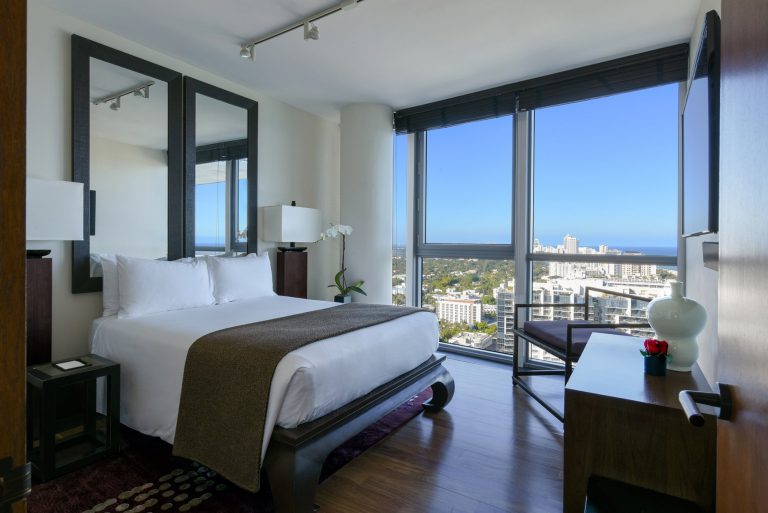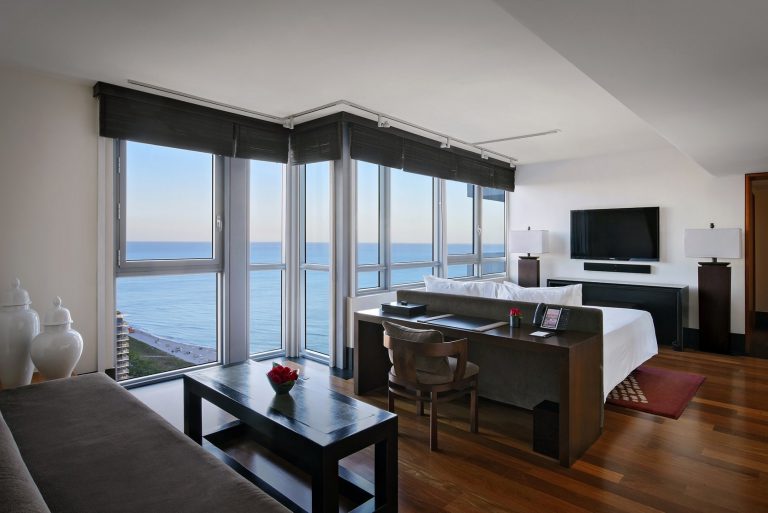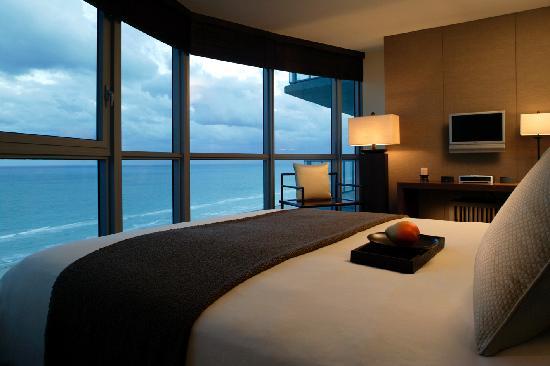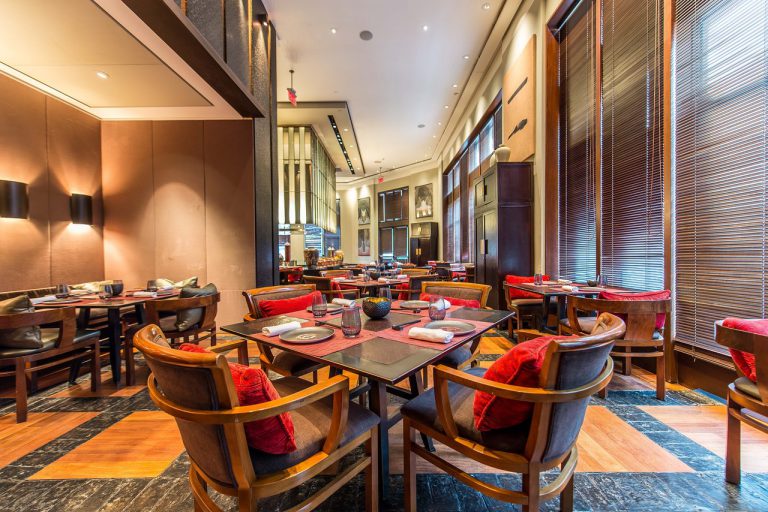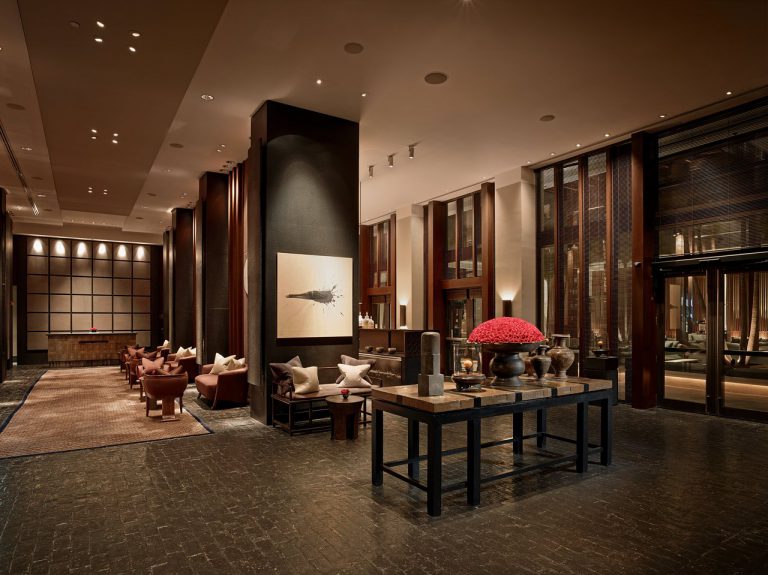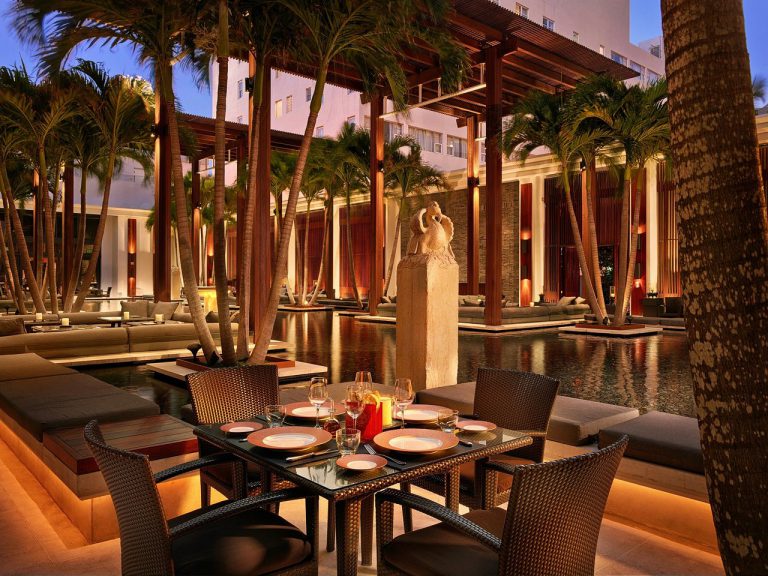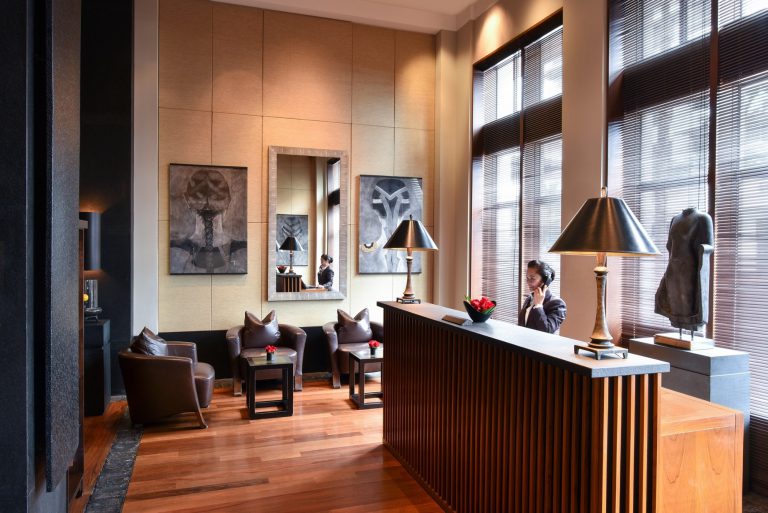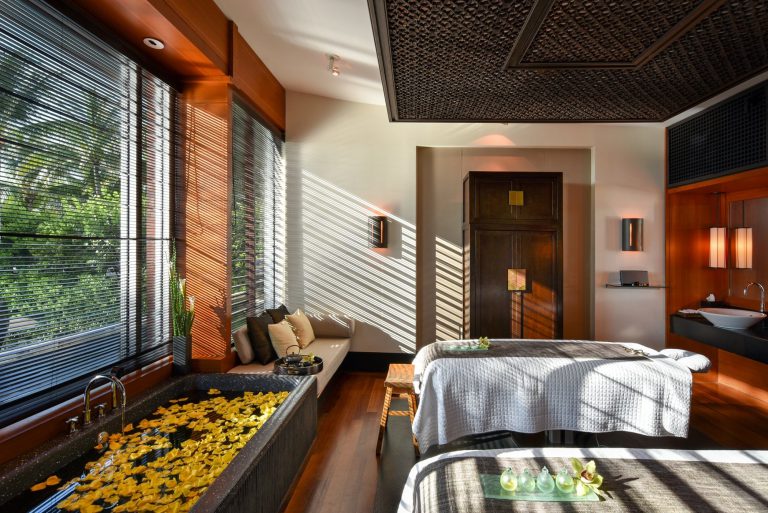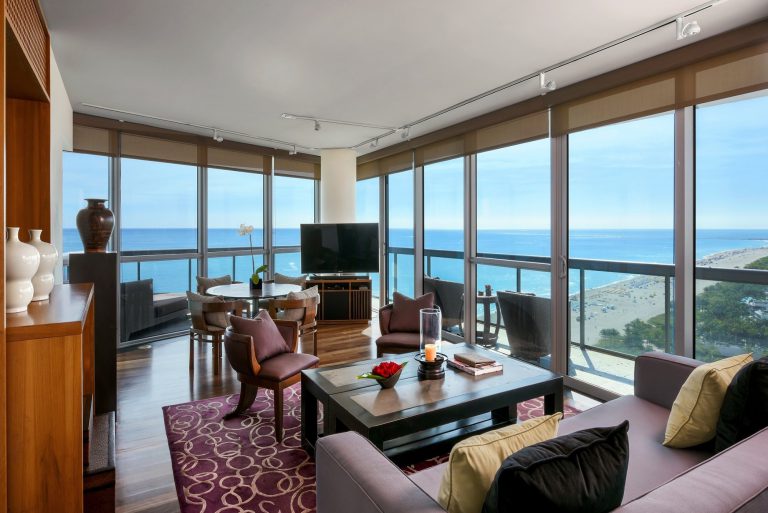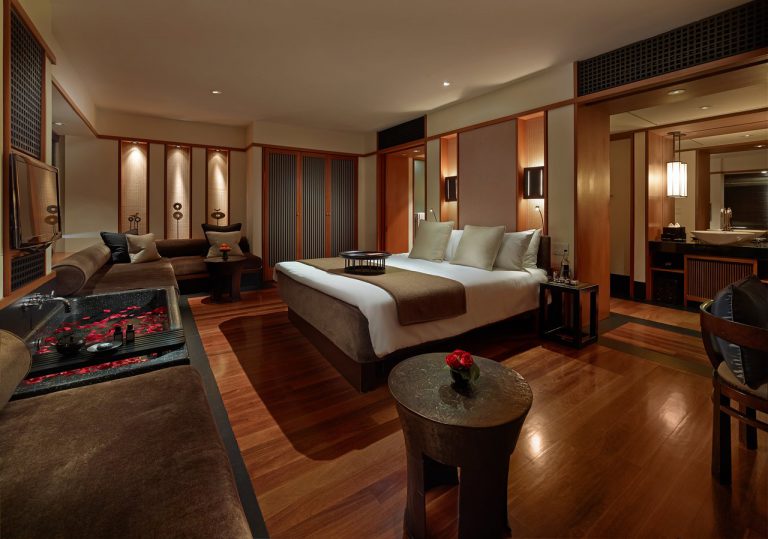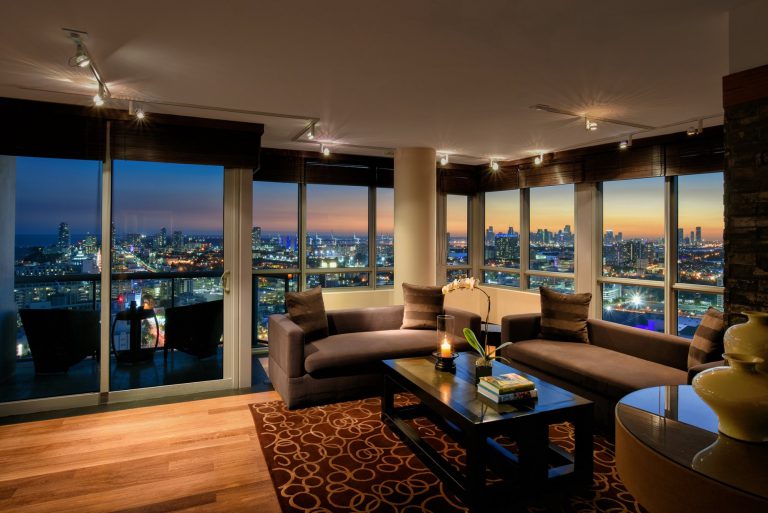 Immerse yourself in the  Asian-inspired guest suites with world-class amenities and Far Eastern design aesthetics.
Situated ocean-side in the heart of Miami's most desirable location near South Beach, The Setai, Miami Beach is an award-winning, international leader in hospitality and the hotel of choice for the sophisticated international traveler. The Setai masterfully combines the warmth of Asian hospitality with the best in personalized service and truly rarified comfort. Housed in a restored 1936 landmark building within the historical Art Deco District, The Setai has been artfully designed, weaving the aesthetics of the Far East into its original Art Deco facade.
This luxury hotel near South Beach Miami features 87 Art Deco rooms, 50 Ocean Suites, 1 Penthouse, and incomparable hotel features. The amenities include three temperature-controlled sparkling pools, beachfront services, exceptional dining experiences led by Executive Chef Vijayudu Veena, The Spa, and a Clefs d'Or Chief Concierge.
The hotel is privately held; holds membership with The Leading Hotels of the World, has been consecutively awarded the coveted Forbes Travel Guide Five Star since 2015, and was voted Travel +Leisure's World's Best #1 Hotel Resort in Greater Miami Beach in 2018 and 2019.
The suites are minimalistic, modern, chic, and captivating. These suites blend Asian influences with an air of serenity that pervades every corner of The Setai's Miami Beach setting in the Art Deco District. Located in the hotel's landmark Art Deco Building which was designed by renowned architect Henry Hohauser and originally opened as the Dempsey-Vanderbilt hotel by heavyweight champion Jack Dempsey in 1937. Eighty years later, these suites continue to uphold their roots while featuring breathtaking original Asian-inspired artwork and authentic artifacts. Each and every detail in our hotel rooms tells a story all their own.
Unlike the average Miami Beach hotel room, the awe-inspired design of the Studio Suites allows the space to unfold in a manner so intuitive, so richly welcoming that it's difficult to imagine staying anywhere else. The Asian-style décor and inventive use of space come together to create a harmony of place and purpose that defines The Setai. Ranging from 582 – 610 square feet (54 – 57 square meters).
The Setai offers two distinct dining experiences in Miami Beach – Jaya and The Ocean Grill– each conveying the warmth of Asian hospitality with the best in personalized service. Authentic heritage dishes by Executive Chef Vijayudu Veena are presented in a modern style and enhanced by locally sourced ingredients.
Restaurant Jaya, meaning 'victory' in Sanskrit, is inspired by historical silk and ancient spice trading routes. Jaya's concept is developed around a celebration of culinary diversity featuring regional specialties from Southeast and Northern Asian cultures with Executive Chef Vijayudu Veena at the helm.
You will have the option of sitting in Jaya's indoor dining room or immersing themselves in al fresco dining in Jaya's courtyard. The recently renovated courtyard now features a built-in retractable rooftop that fully expands, allowing you unparalleled sky views while feeling the cool ocean breeze. A stone-filled pool stretches from the north to the south end of the courtyard with dining tables surrounding the edge. Open to guests to dine for breakfast, lunch, dinner and at our signature Sunday Jazz Brunch, The Courtyard is also a great place to enjoy cocktails for a great evening underneath the stars.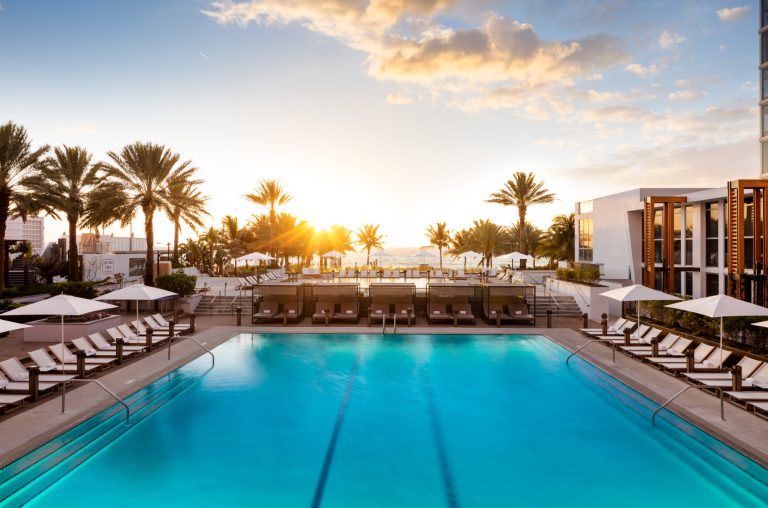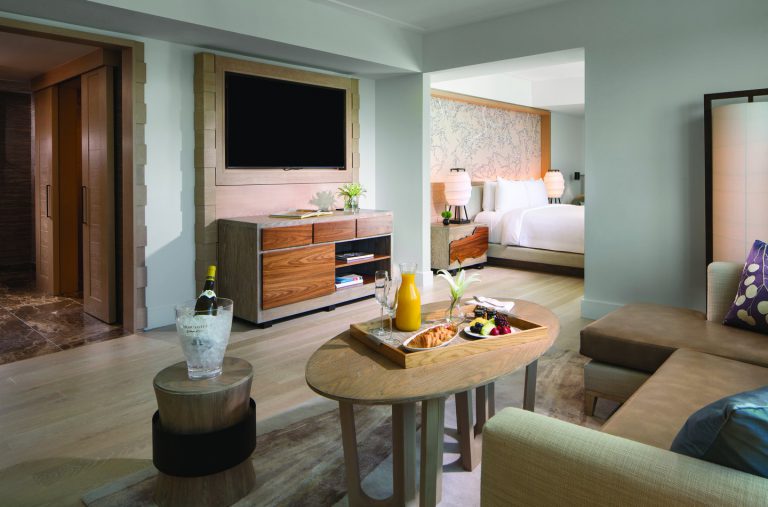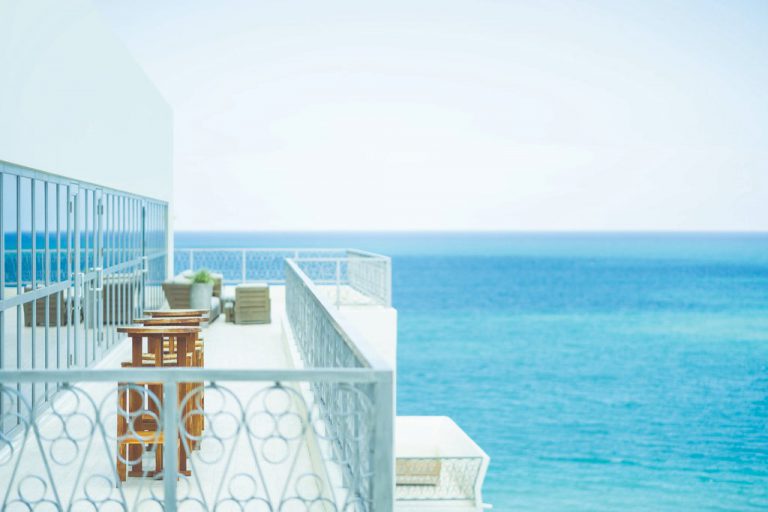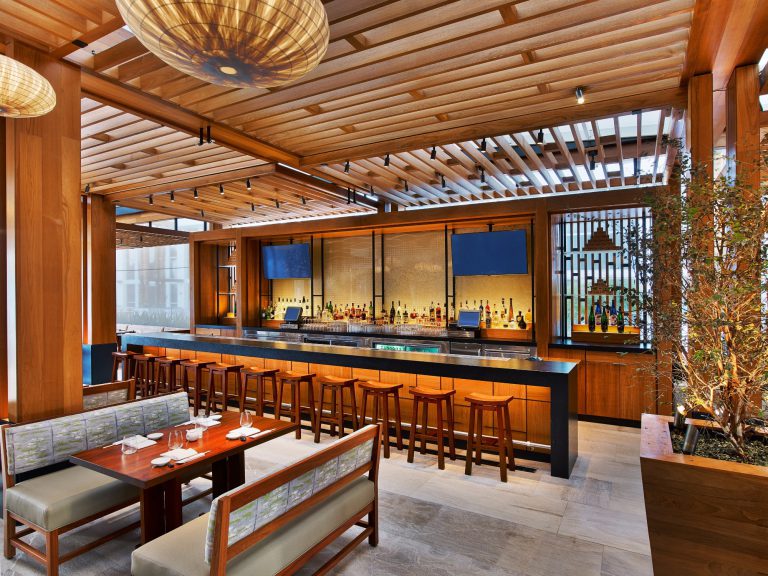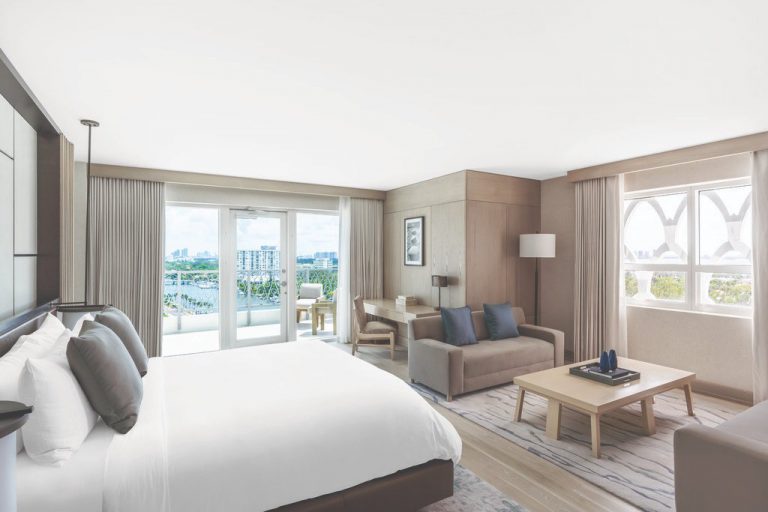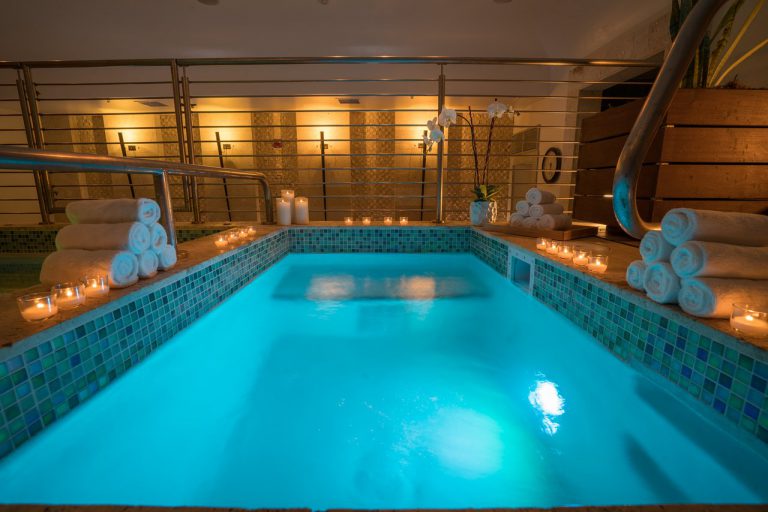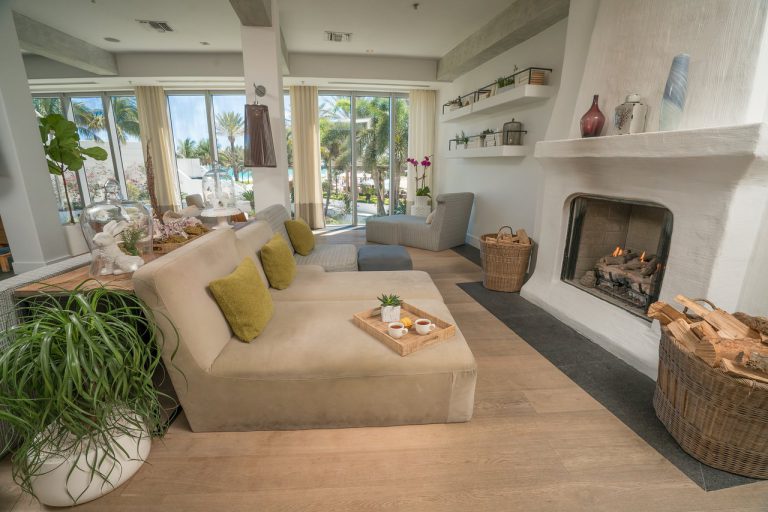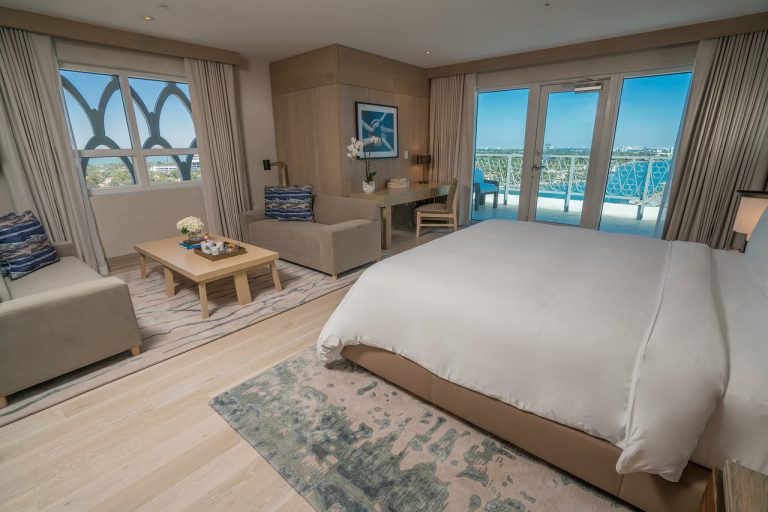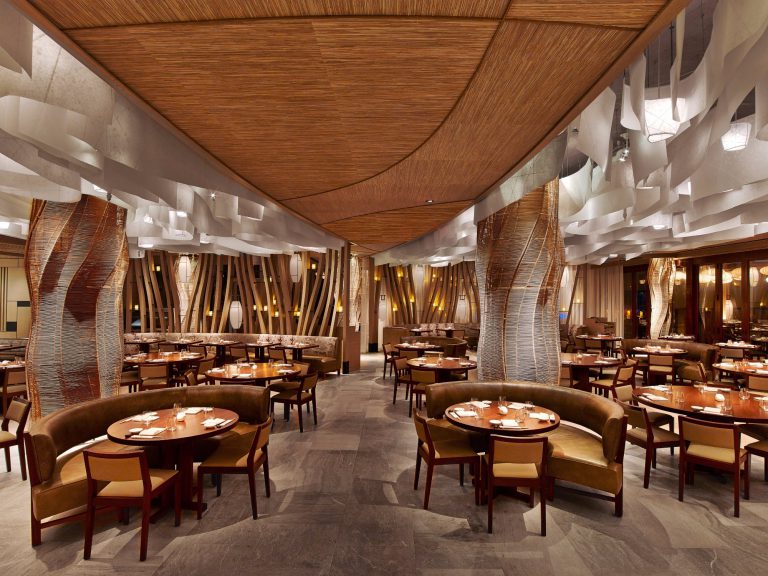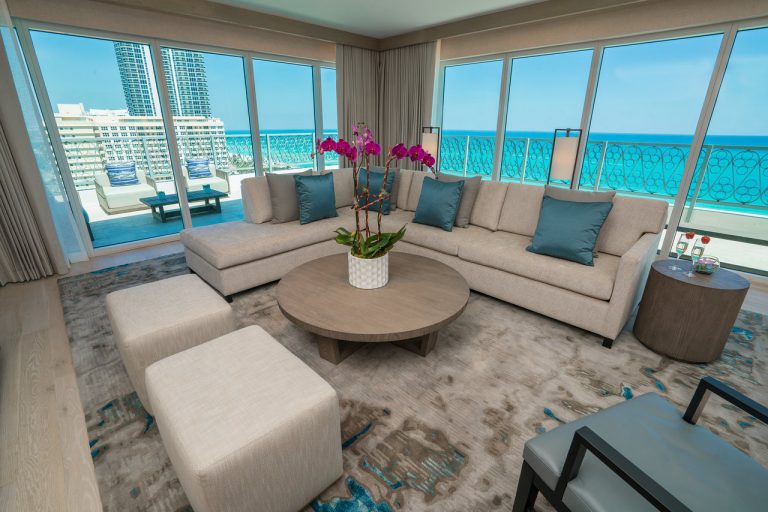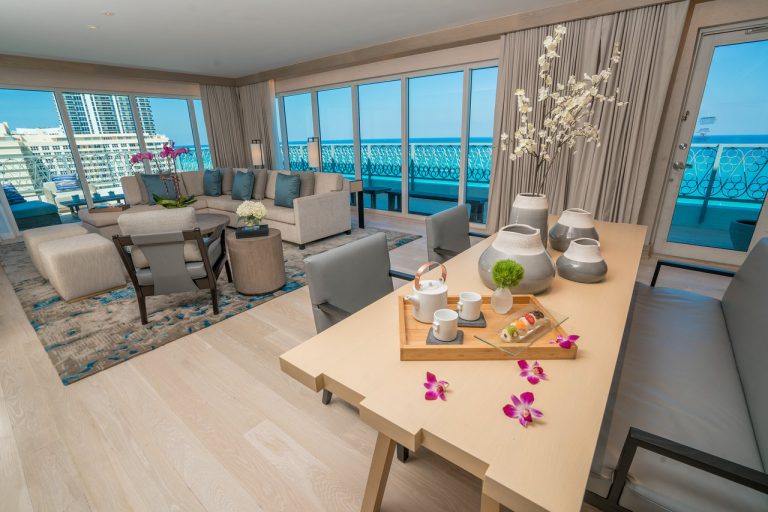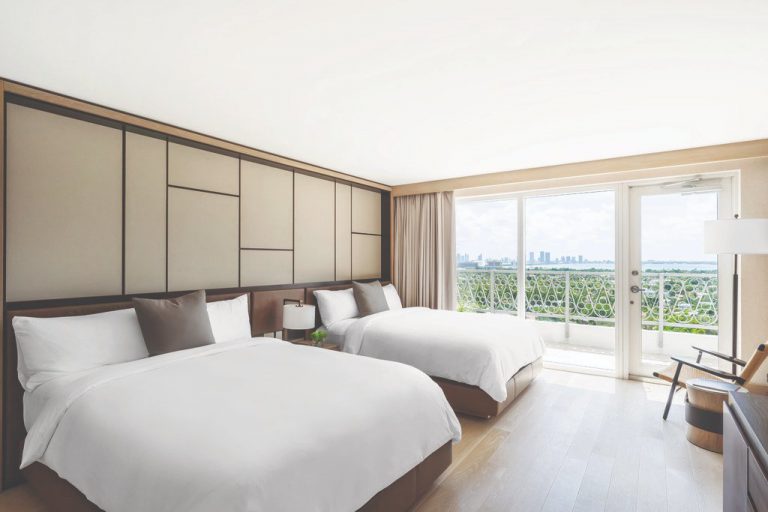 Experience a captivating and unique escape with the perfect balance of luxury, fun, craft, and theatre. Find your perfect retreat with our uniquely crafted packages and special rates at Nobu Hotel Miami Beach.
Nobu Hotel Miami Beach delivers the unique chemistry and perfect balance of luxury, fun, craft, and theater. The setting merges Miami modern architecture with an intuitive interpretation of Chef Nobu's signature style. David Rockwell drew upon Japanese architecture and the hotel's oceanfront location to evoke a contemporary Japanese beach house in a setting complete with Nobu private pool.
Nobu Hotel is a culinary destination unlike any other. Chef Nobu Matsuhisa invites guests to experience an extensive menu of inventive Japanese cuisine with Peruvian influence, paired with bold cocktails and an energizing atmosphere. At Malibu Farm, Chef Helene Henderson delivers fresh, organic, farm-to-beach eats set in the best oceanfront venue in Miami Beach.
Holistic wellness is key to the Nobu Hotel Miami Beach experience. By indulging in mind and empowering your inner selves, the spa and fitness center inspires personalized renewal. Enjoy complimentary daily fitness classes or exercise in the privacy of your room with a provided yoga mat in all the Suites. Signature Nobu Spa treatments include a stretching ritual.
The Nobu Zen Suite offers a large, wrap-around balcony and floor-to-ceiling panoramic views of the Atlantic Ocean or the Intracoastal Waterway. This corner suite features everything the other rooms have, plus luxurious and lavish amenities such as a yoga mat, an oversized separate bathtub, and Red Flower Bath Ritual amenities. And check out the villas…..wonderful.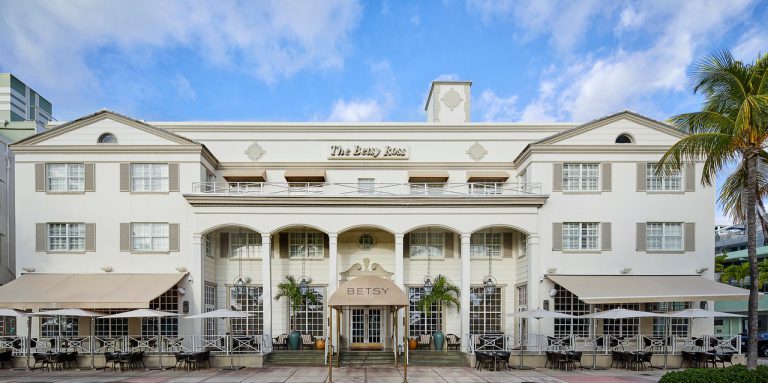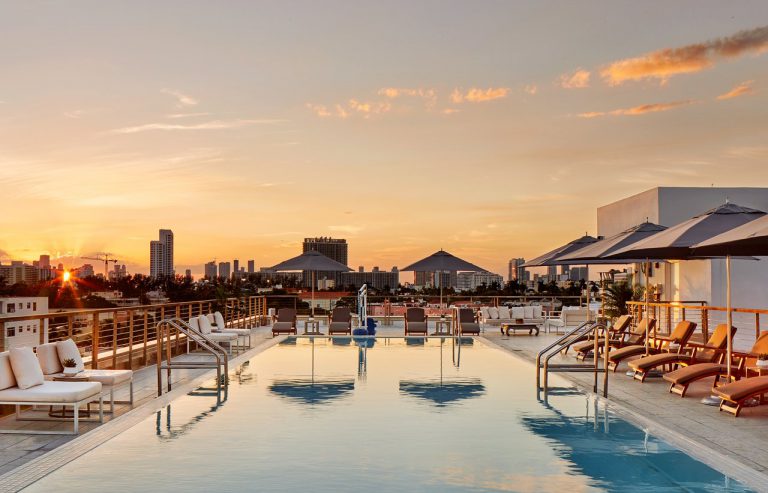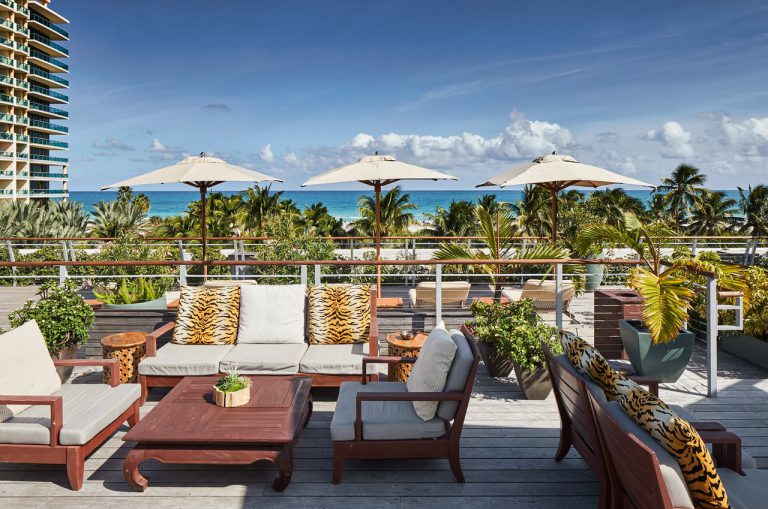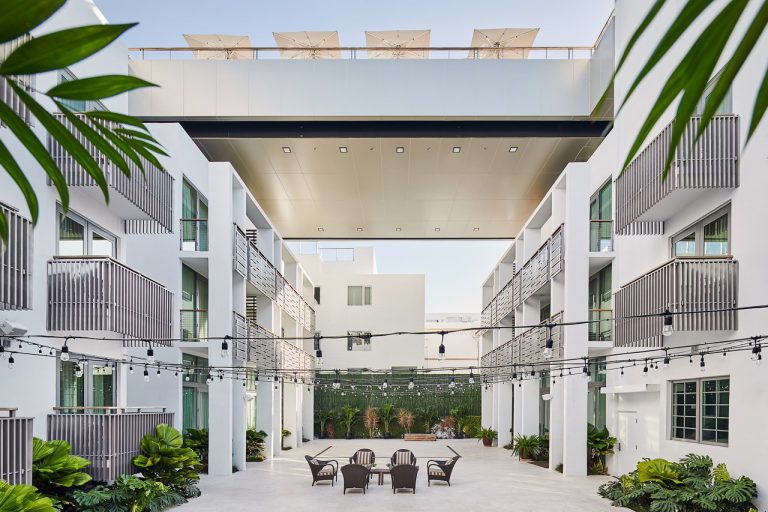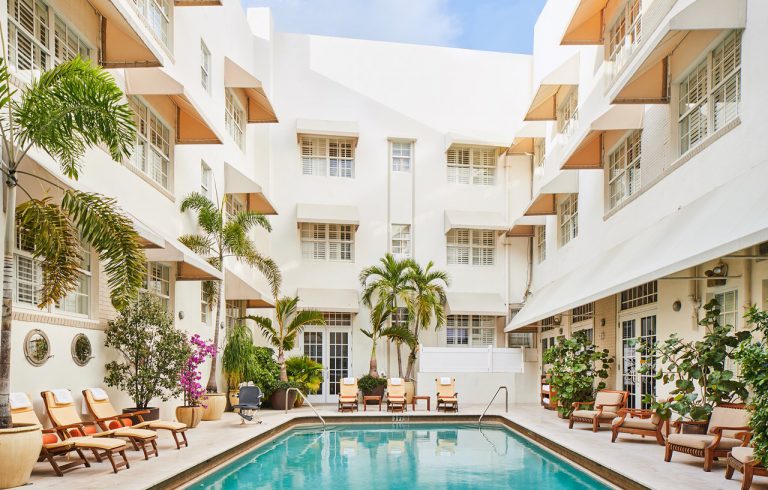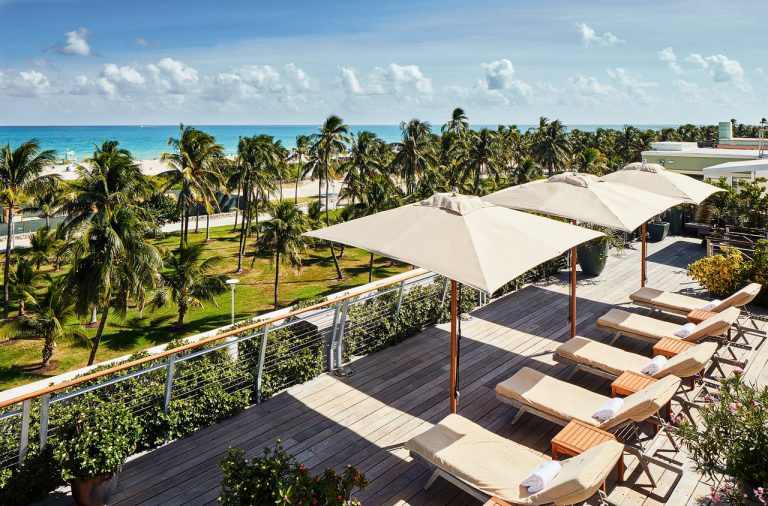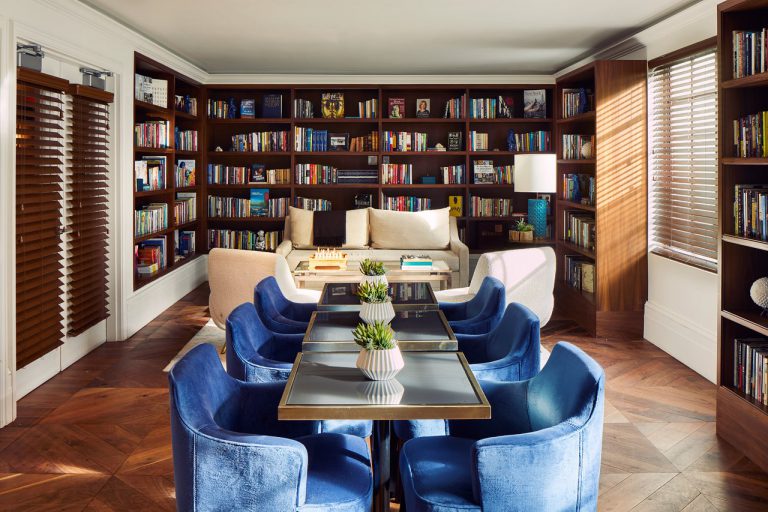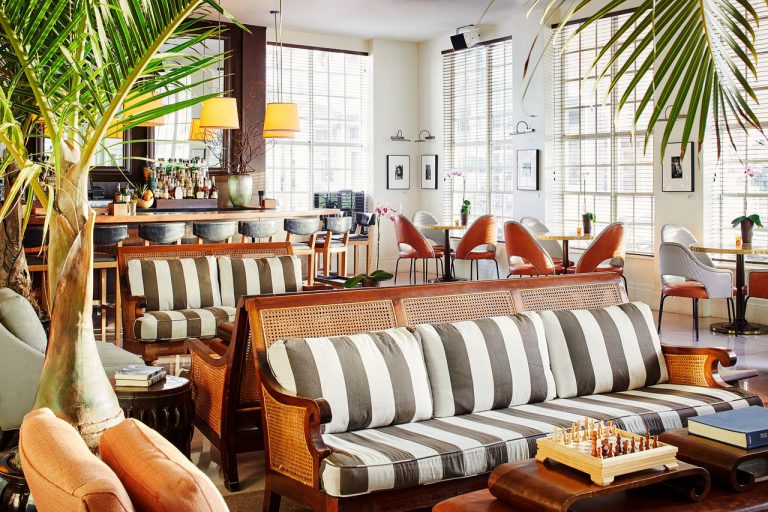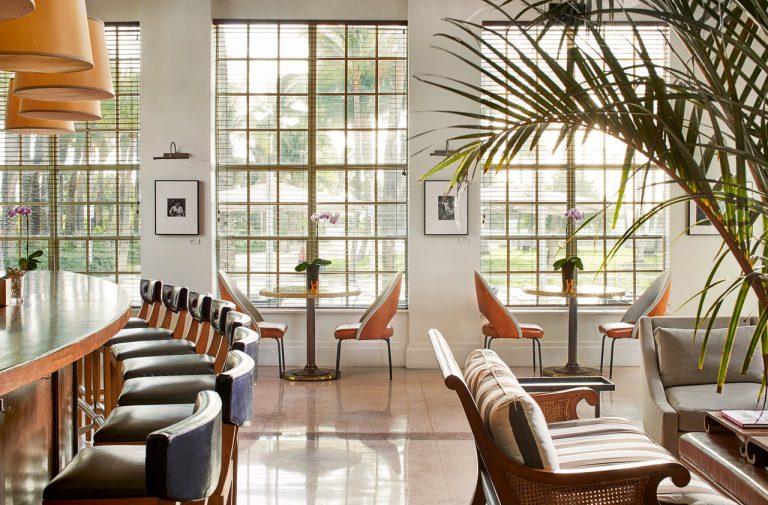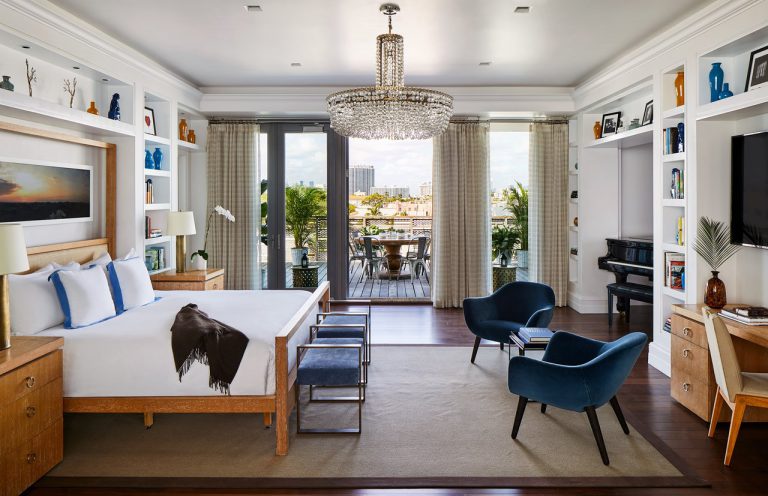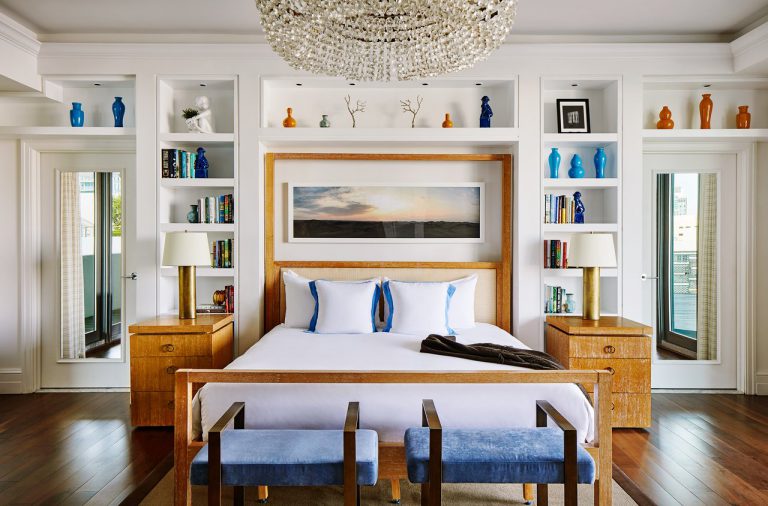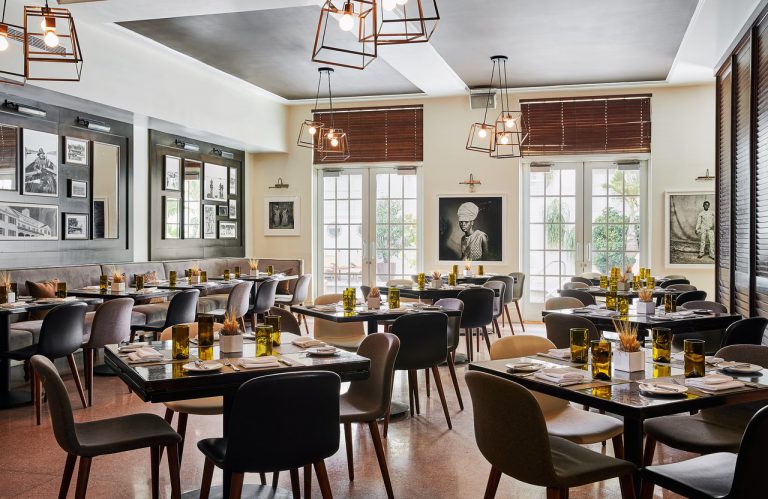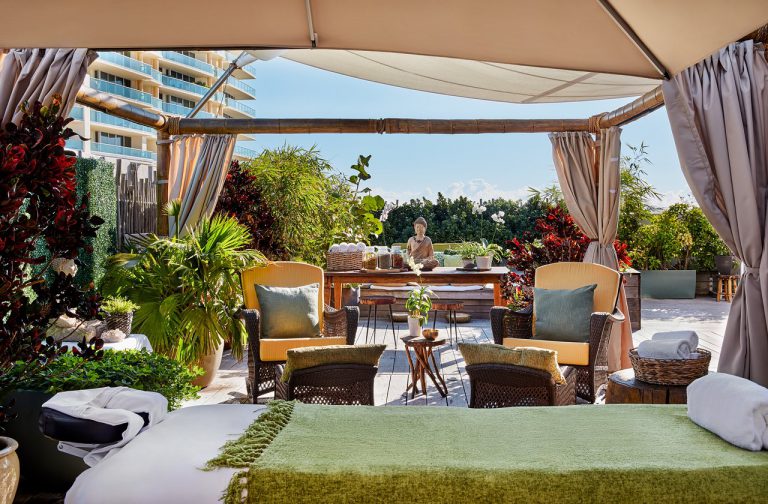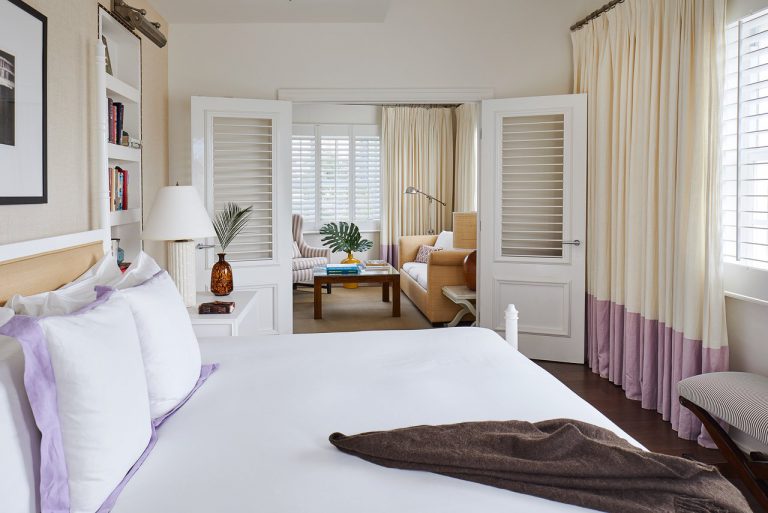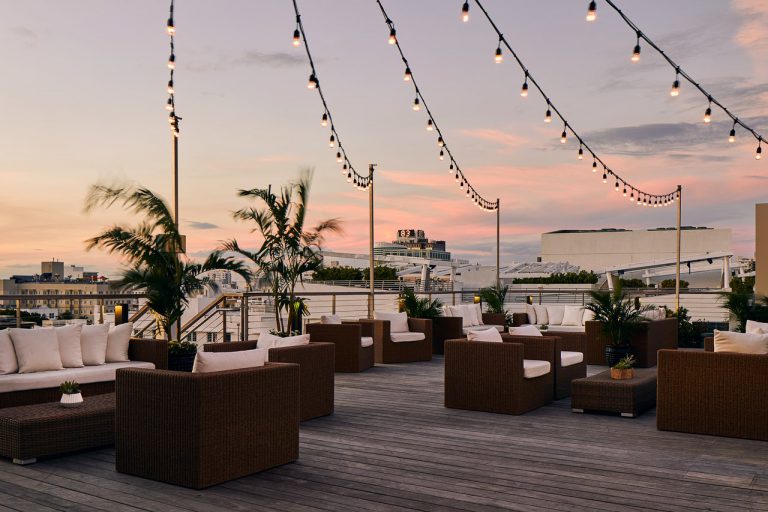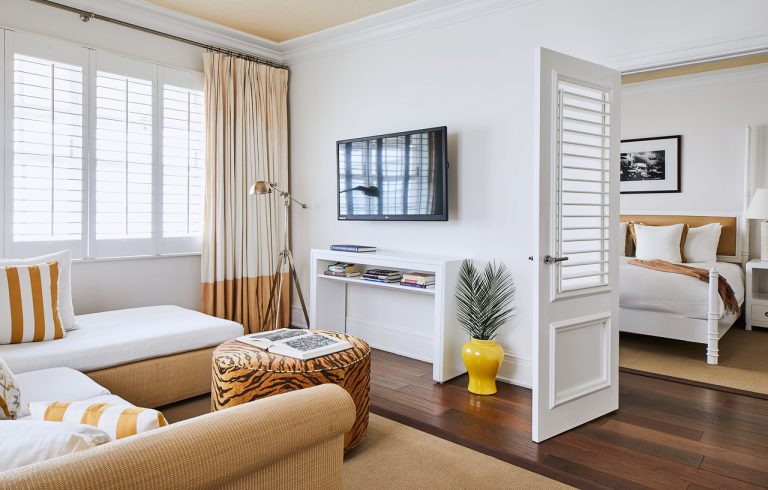 A beachfront gem honored by Travel + Leisure as 'World's Best', The Betsy anchors the quiet end of iconic Ocean Drive — and has one of the most exciting neighborhoods in America as its backyard. Inside, you'll discover everything you'd expect from a luxury boutique hotel — thoughtful amenities, extraordinary service, a storied chef guiding the kitchens— and some things you might not, like a beloved gathering place for arts and culture, a curated events program ranging from yoga classes to live music, a royal welcome for four-legged friends, and the individual attention of a family-owned hotel.
The two four-story buildings with 130 rooms are spread over a full city block, with expansive public space that outpaces vastly larger properties. And with a plethora of outdoor spaces all washed by a perpetual Atlantic Ocean breeze, the Betsy is uniquely equipped to welcome you in a world that newly values personal space and open air. All areas of the hotel, in addition to being ADA-accessible, offer multiple points of entry. Because the hotel faces both Ocean Drive and Collins Avenue with a well-lit alley in between (and with beautifully furnished and umbrellaed terraces facing east and west), one can come and go through multiple key-activated entrances easily, avoiding unwanted interaction with other guests.
Salute the sun with Yoga on the Skyline Deck, keep up with your workout routine with a Peloton spin class in the fitness center, or watch the clouds go by lounging at the rooftop pool. Round out your day with an unexpected adventure by picking up one of our curated book titles in the Library, or feel jazzy rhythms every night in our tropical lobby. Did I mention two renowned restaurants on property? You might be asking yourself, why leave at all?
Take your pick – Courtyard or Rooftop? Quintessential South Beach glamour, right before it goes on the postcard: an infinity rooftop pool just cool enough to relieve the heat and warm enough to linger for a cocktail or conversation, 360-degree views of Miami and the Atlantic, a full bar with food service, and an architectural marvel – it's suspended in mid-air. A tranquil counterpart, the Courtyard Pool —equal parts full shade and direct sunlight —feels like a tropical retreat from a bygone era, ideal for families with little ones.
With so much going on at the hotel, sometimes it takes a moment to remember that The Betsy looks out onto one of the most glorious strands of sand beach in the world. The beach service awaits — umbrellas, lounge chairs, and towels; attendants ready to see to your requests; and, of course, the truest marvel of them all — that water.
'The Betsy – South Beach is ideal for visiting Miami Beach and as your pre-cruise stay. It is not only affordable but also comfortable and centrally located. Enjoy a luxurious environment with a myriad of amenities designed specifically for travelers like you.'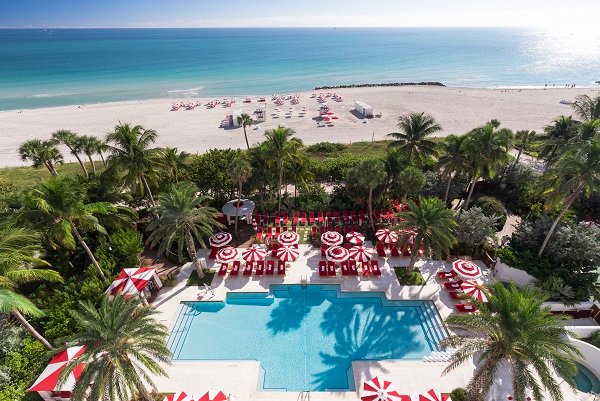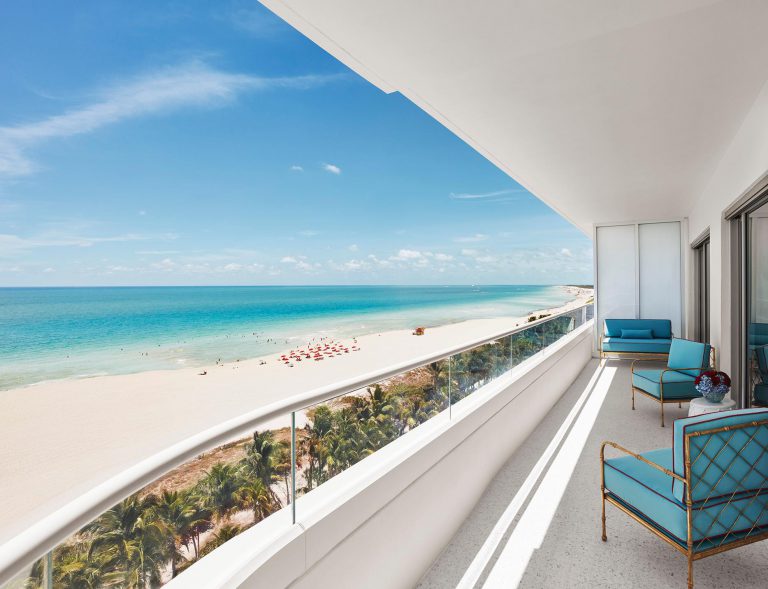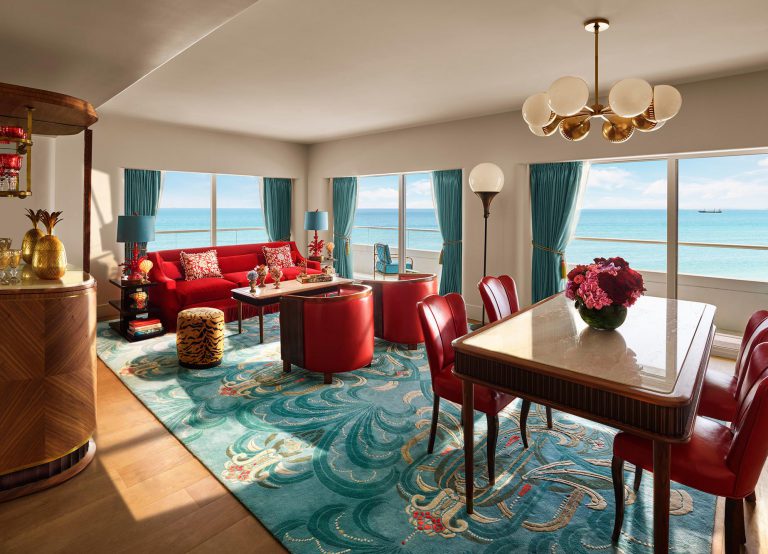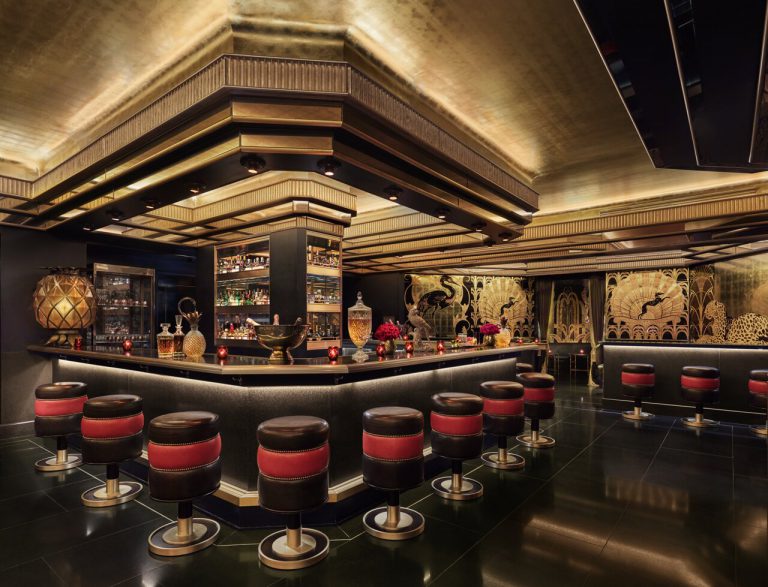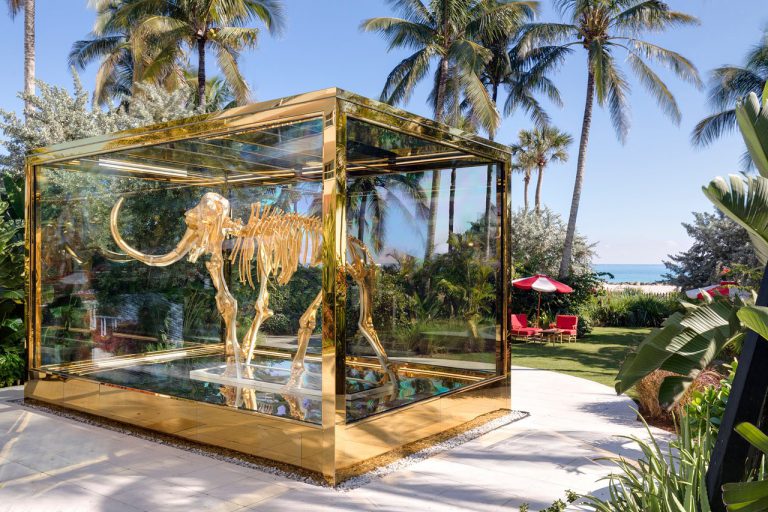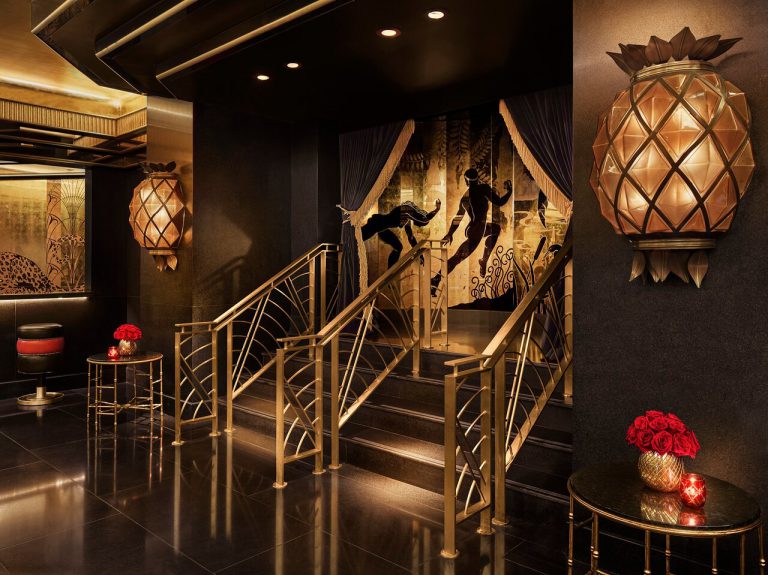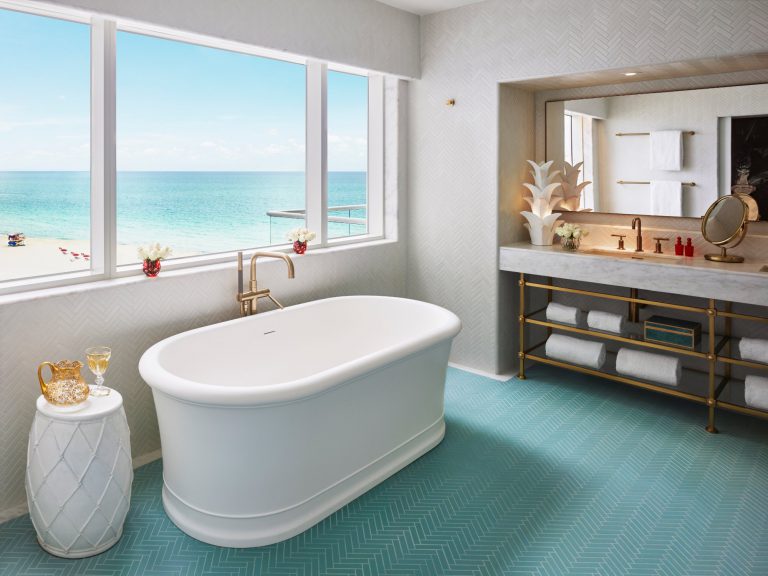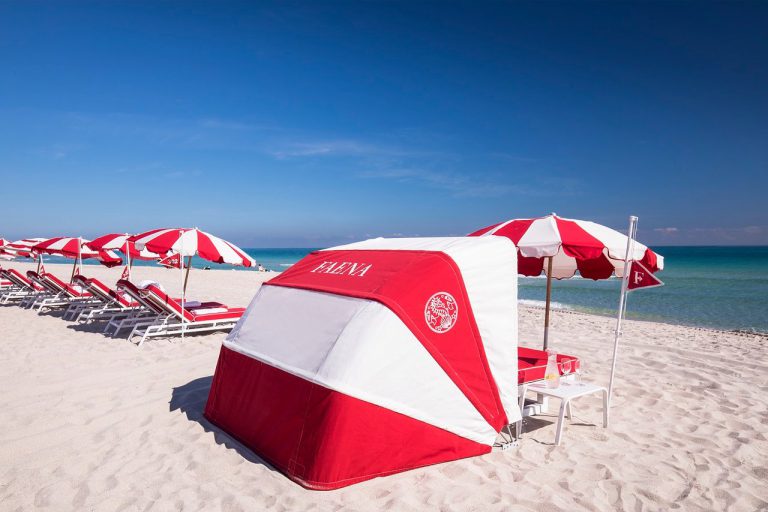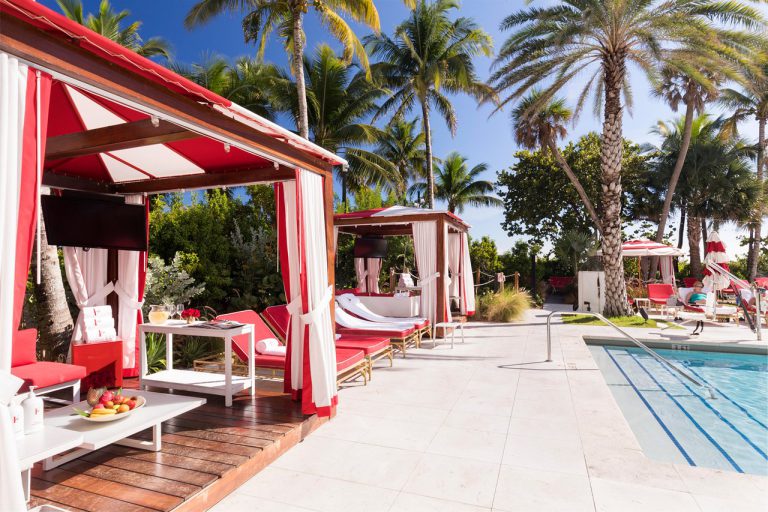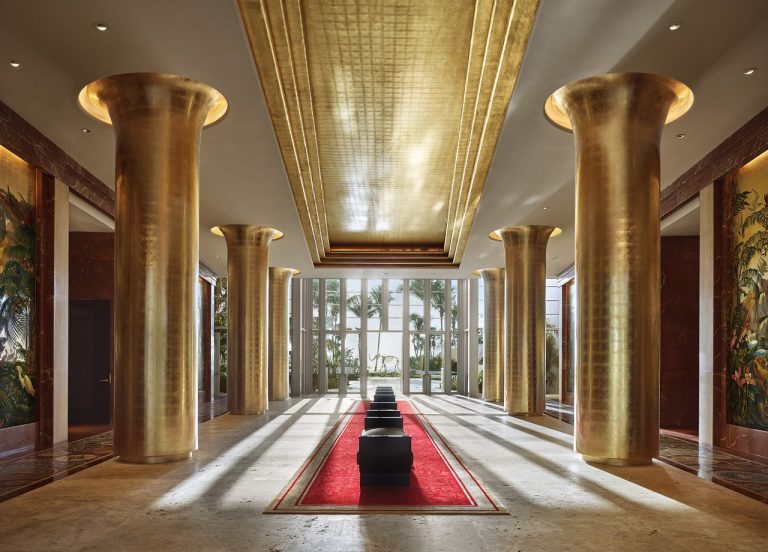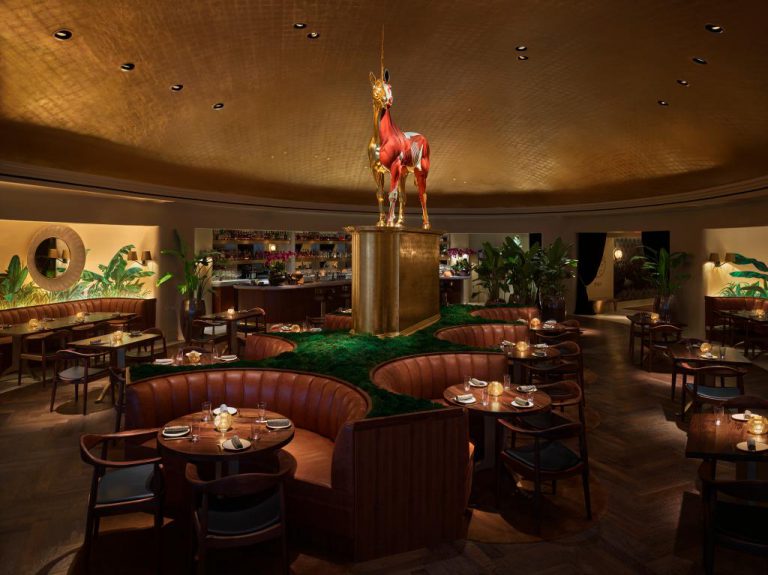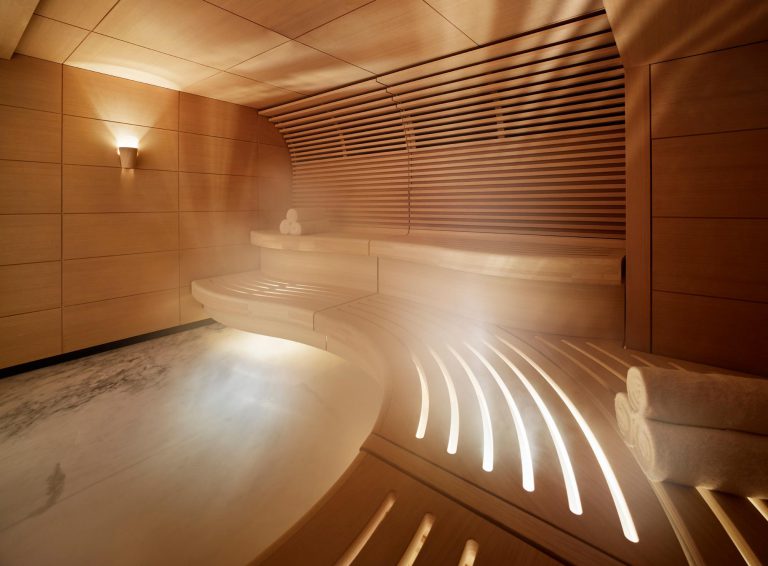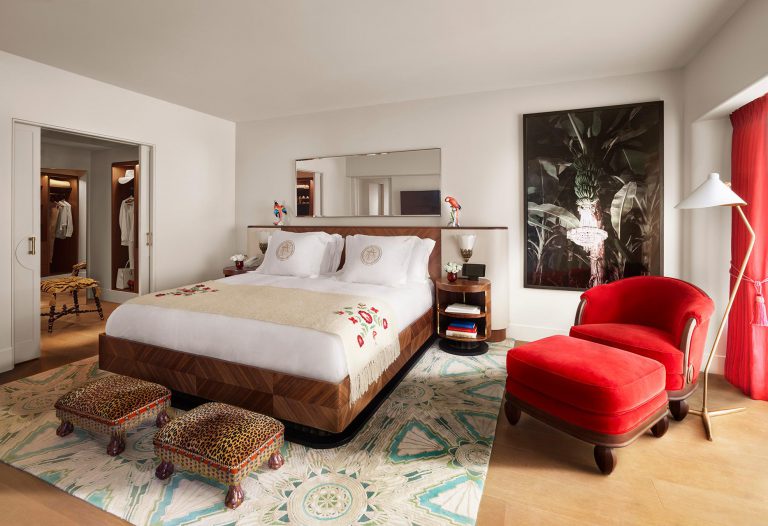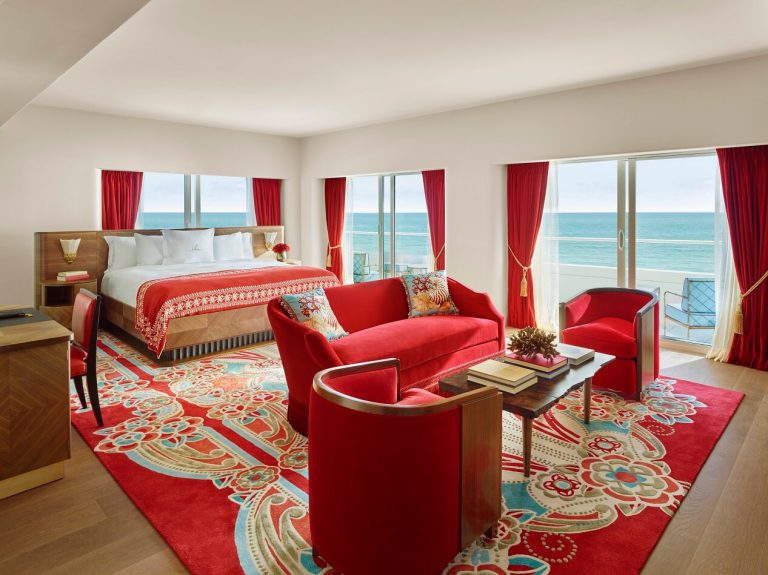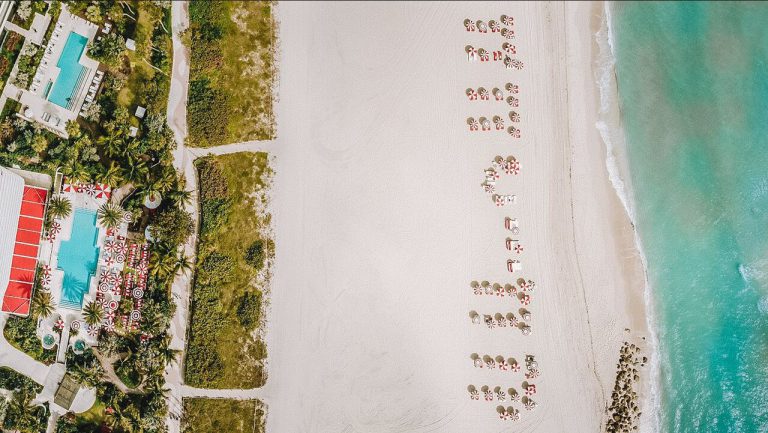 Located on 100,000 square feet of pristine oceanfront, Faena Hotel Miami Beach is a Forbes Five-Star luxury resort in the heart of Faena District, a revolutionary cultural neighborhood in Miami Beach featuring award-winning restaurants, stunning residences, immersive entertainment, destination shopping, remarkable multi-use art, and events venue and more.
Step into a room that blurs the lines between dreams and reality—a wonderland of color, glamour, and comfort that expands the imagination and cradles the spirit. Unwind in a space where sunshine restores, ocean air refreshes and service fulfills.
Faena's theatrical scenarios unveil to offer distinct and adventurous experiences. Discover the art of open-fire cooking at Los Fuegos by Francis Mallmann, tempt the palate with innovative Filipino-inspired dishes at Pao by Paul Qui, or dine in style under Miami's glimmering sun at the tropical Veranda.
The Award-Winning, Argentine, Open Fire Restaurant Los Fuegos is fantastic. Born from a passion for the ancient art of South American live-fire cooking, Argentine grillmaster Francis Mallmann creates a contemporary asado experience with an open-fire kitchen, local ingredients, and a gaucho's touch to transform traditional rustic recipes into sophisticated, savory dishes.
Or Pao, Award-Winning, Modern Asian, and with Ocean Views.
Drawing from a range of international styles including Filipino, Spanish, Japanese & French, Pao boldly presents a new brand of modern Asian cuisine with stunning ocean views.
The Veranda offers spectacular views of the pool area and ocean—a perfectly beguiling and inviting place for a morning coffee or leisurely breakfast.
'This hotel breathes metropolitan creativity at all levels. You will be surprised'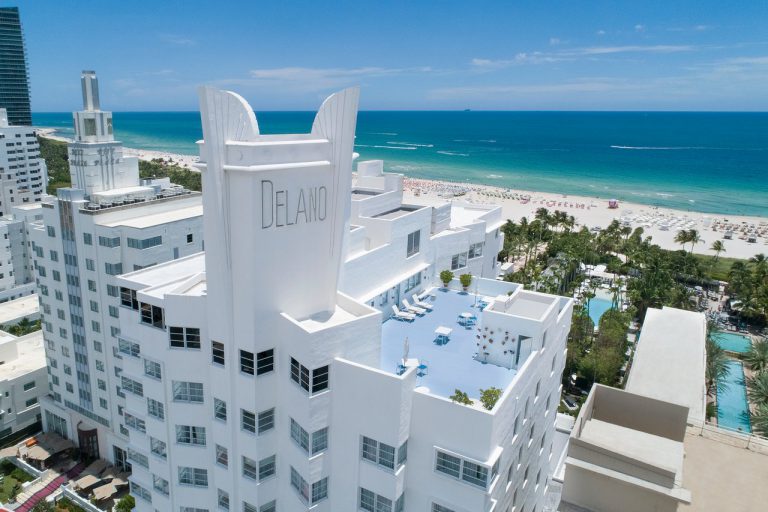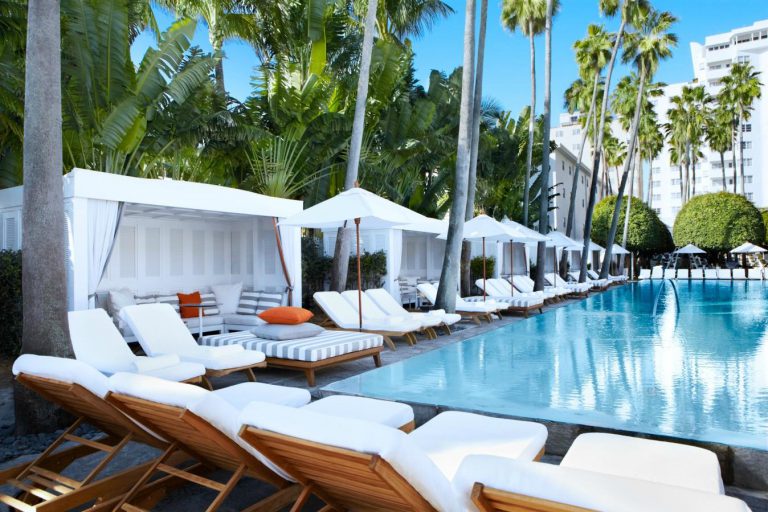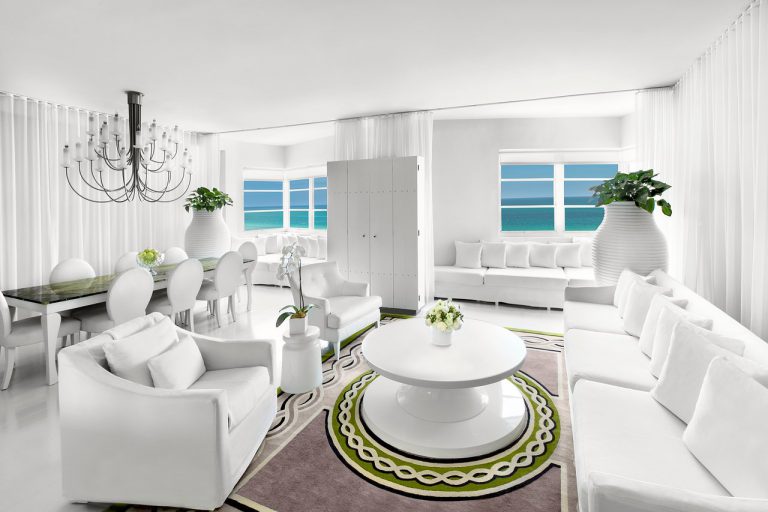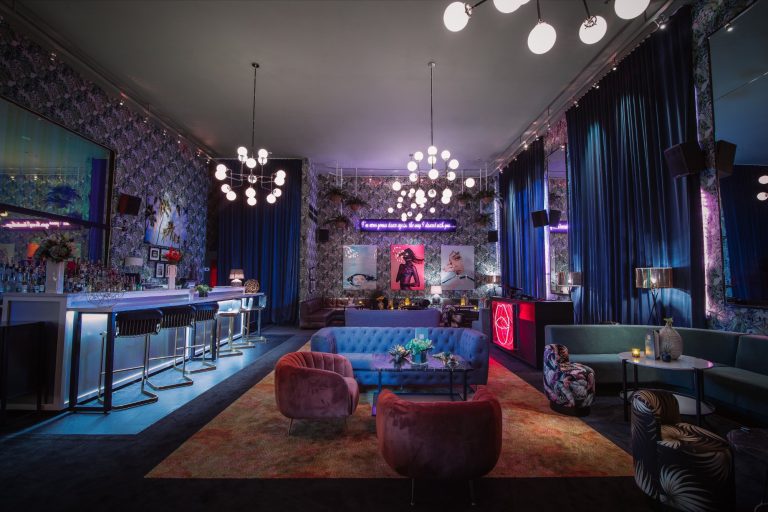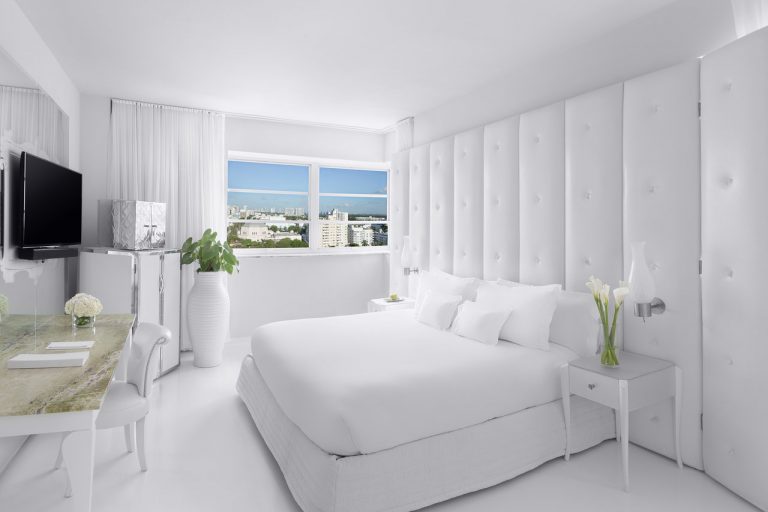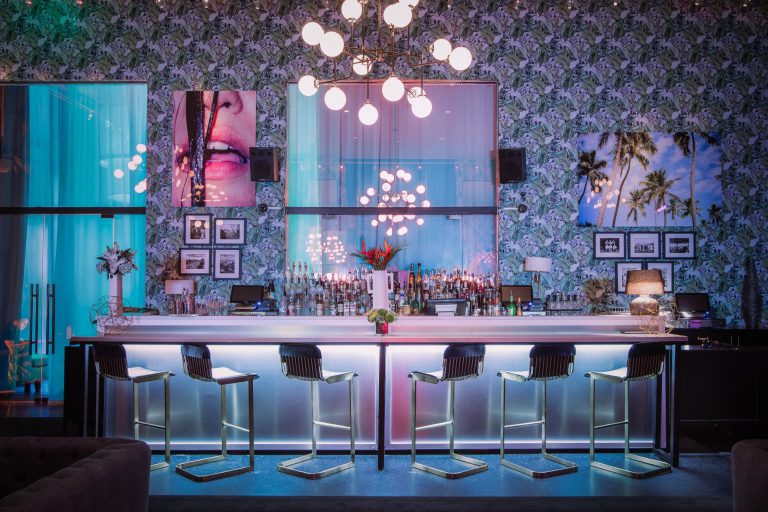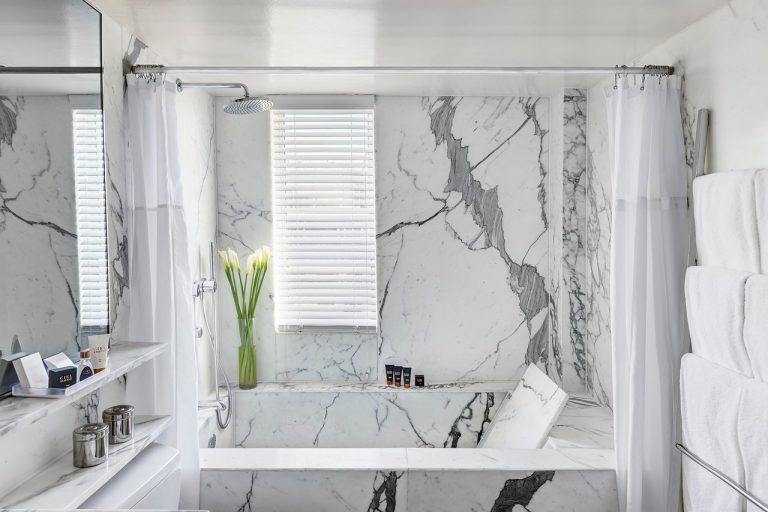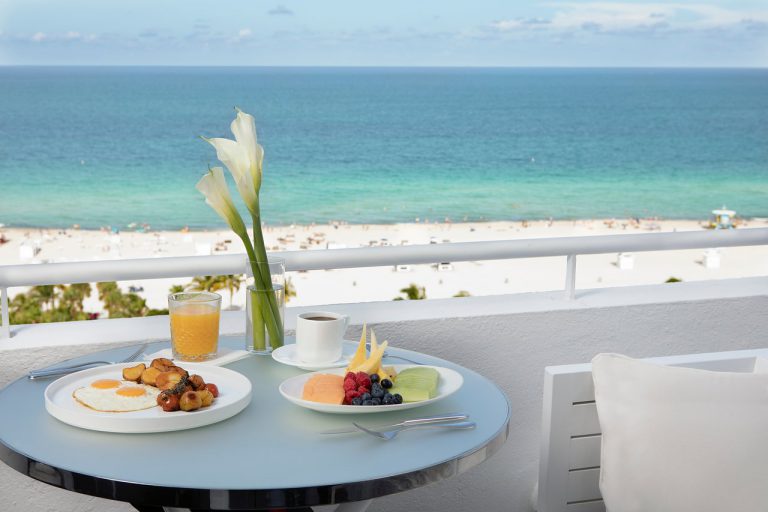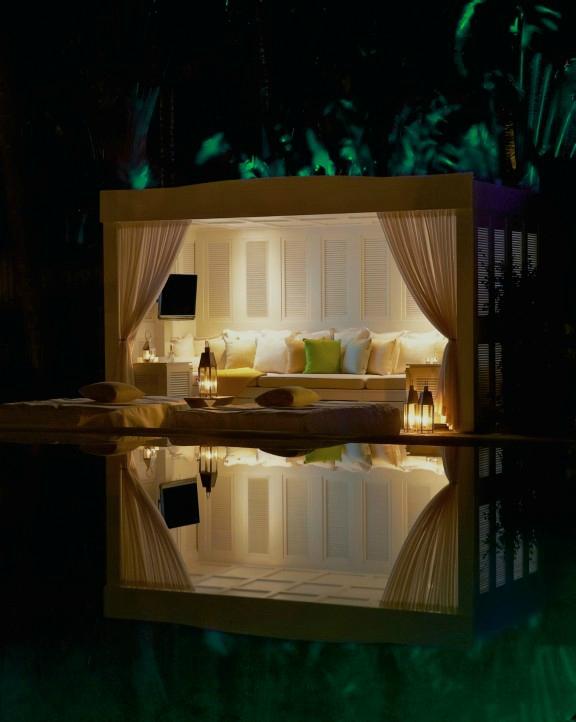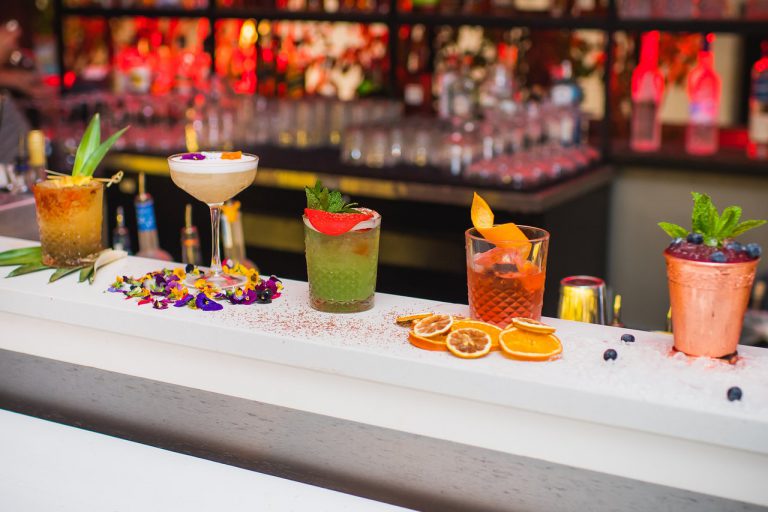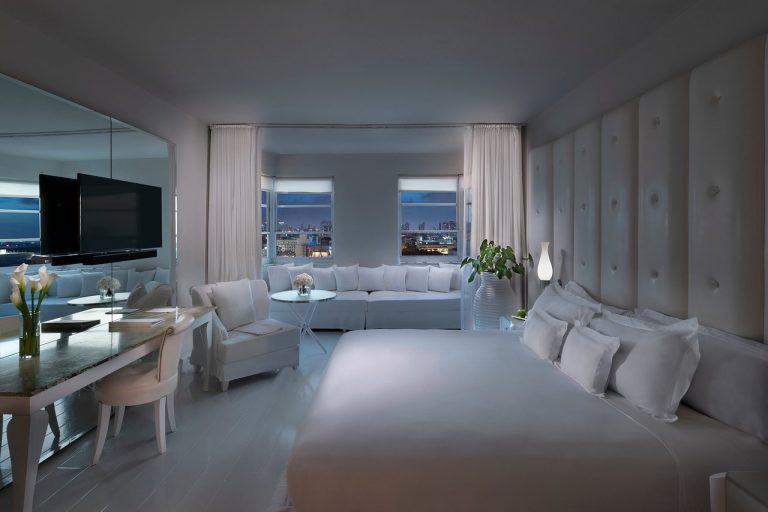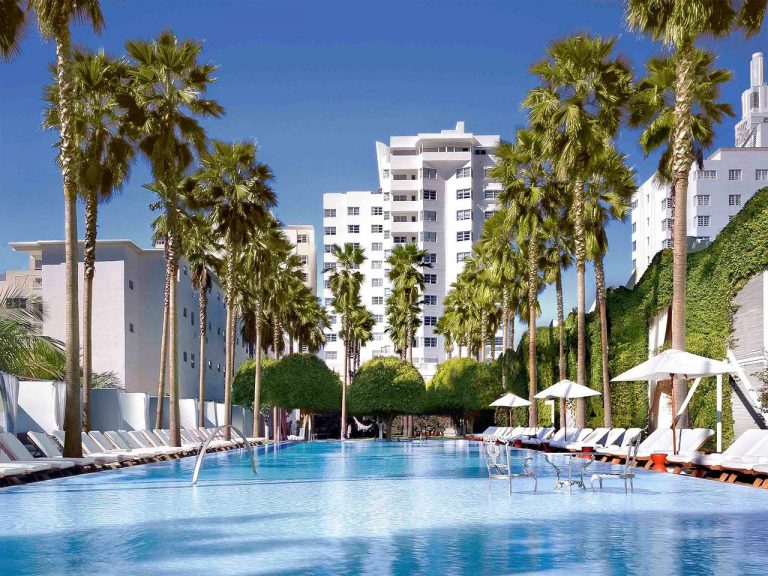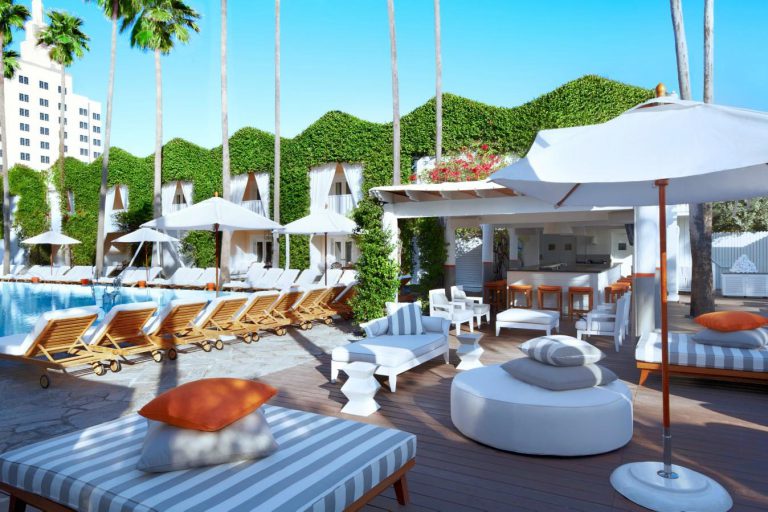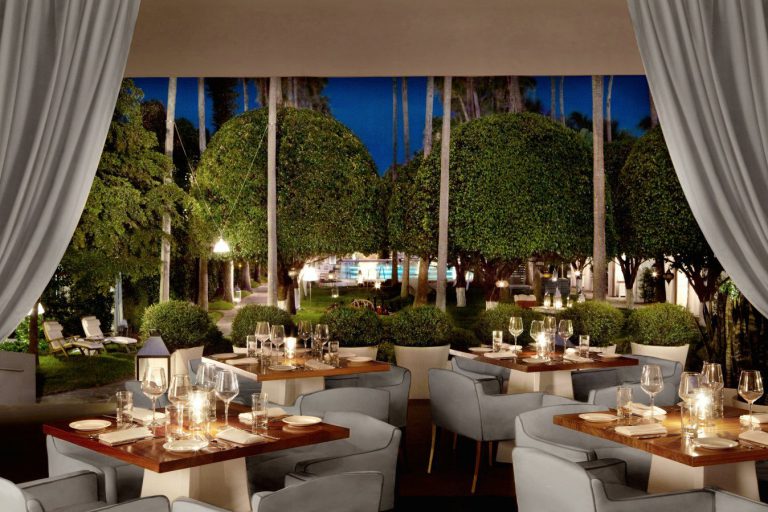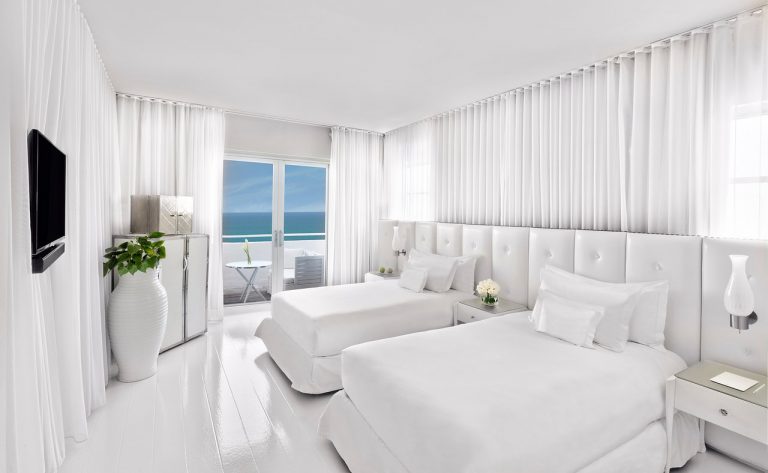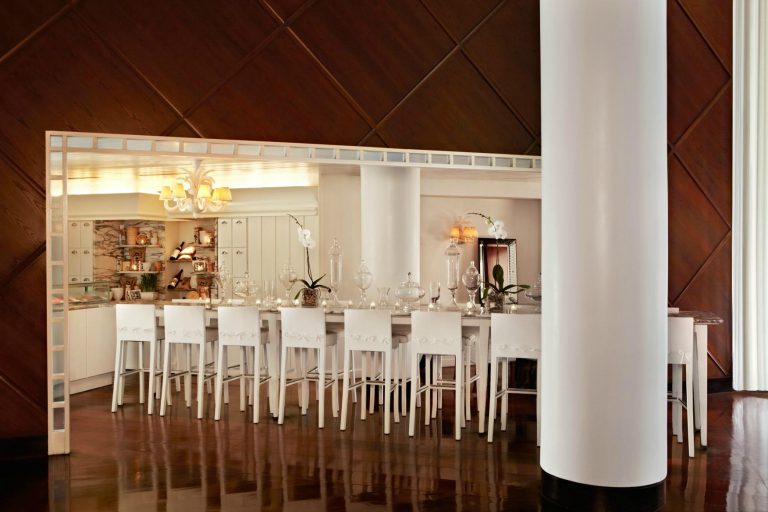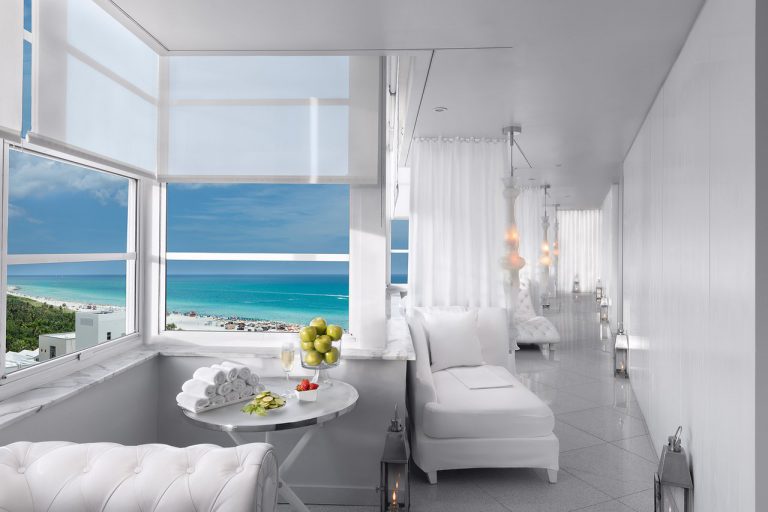 Delano is the hotel that changed South Beach forever. Designed by Philippe Starck, Delano South Beach is a luxury boutique hotel that balances eclectic details with grand public spaces that are playful, elegant, quietly theatrical, and filled with all-night energy – proof that the new rules of chic are simplicity with a crisp, clean and modern sense of ease.
The rooms are playful and elegant, the serene oasis of every Delano South Beach room brings a fresh interpretation of "barefoot chic" to Miami. All rooms offer entertainment on demand and in-room wireless, and offers city views of South Beach.
Leynia, a dynamic Argentinian Grill features the rustic allure of open flame cooking, while Umi Sushi and Sake Bar provide a casual dining experience, perfect for group dining. Sip one of the infamous cocktails at the sophisticated Rose Bar, or relax at Delano Beach Club's seaside retreat.
Relax, unwind, and refresh at Ciel Spa, go for a run on one of our state of the art treadmills at the Fitness Center, or find yourself transported to the refined world of the Delano Beach Club.
"This hotel is truly a gem'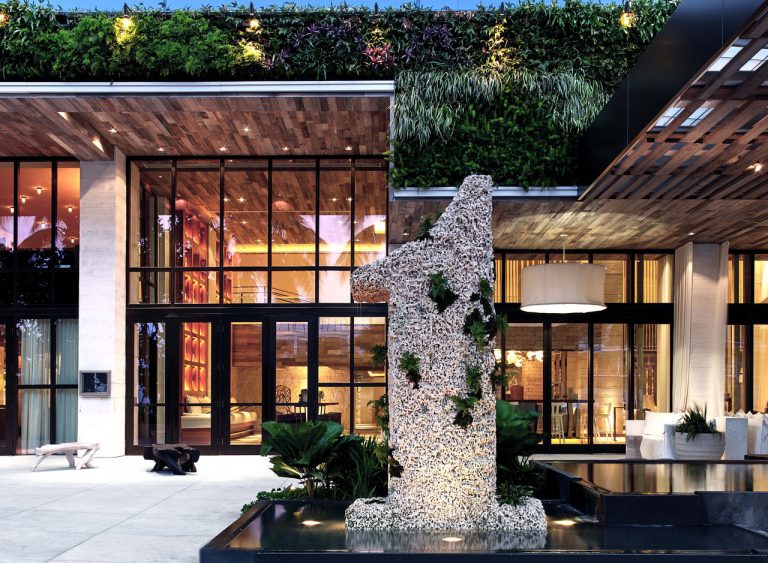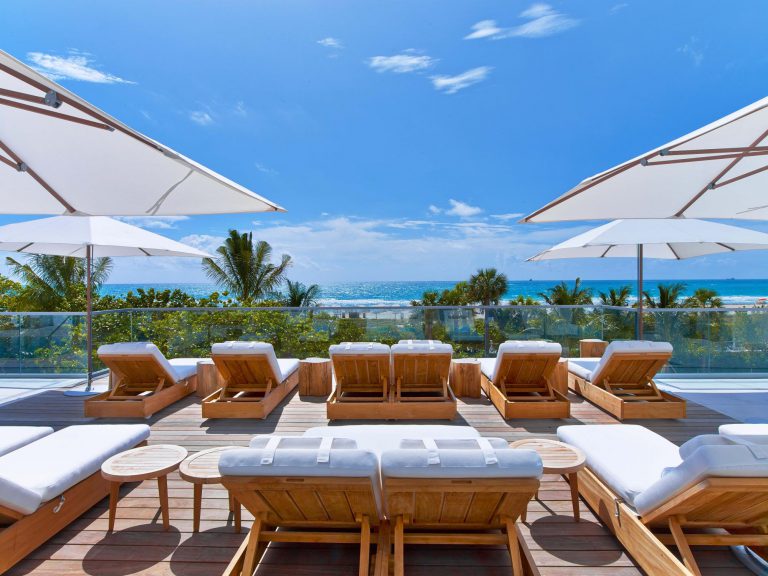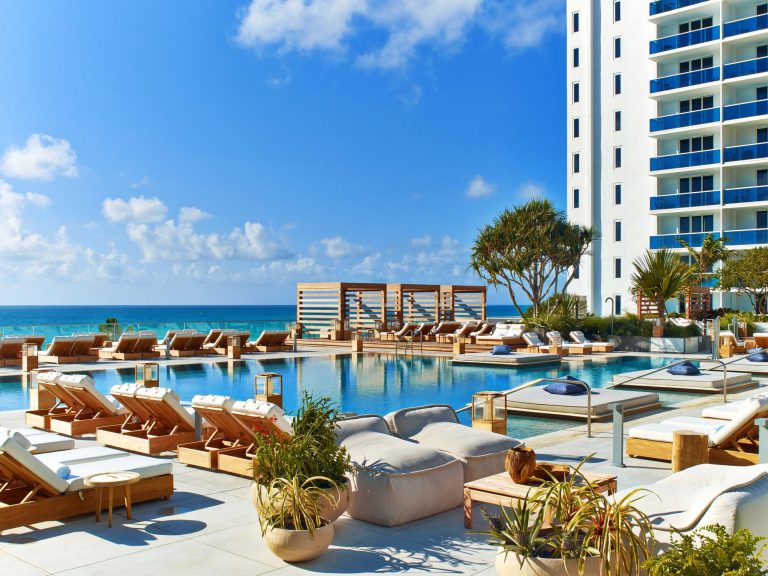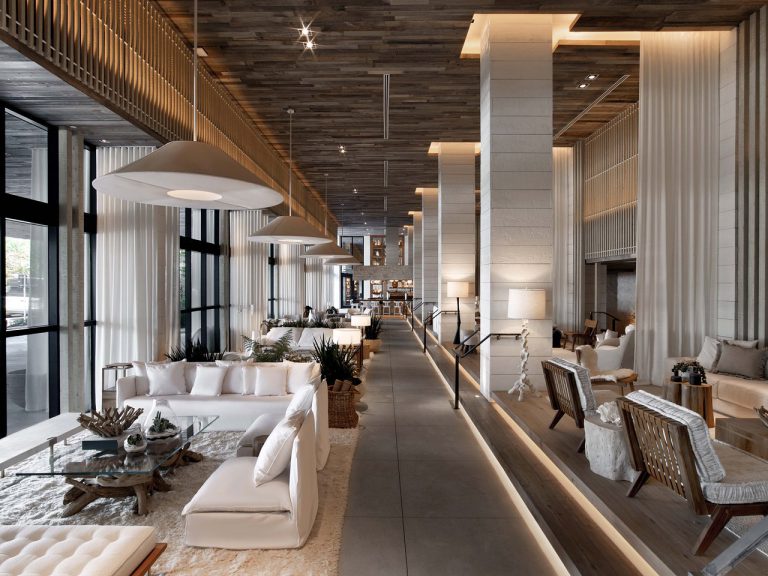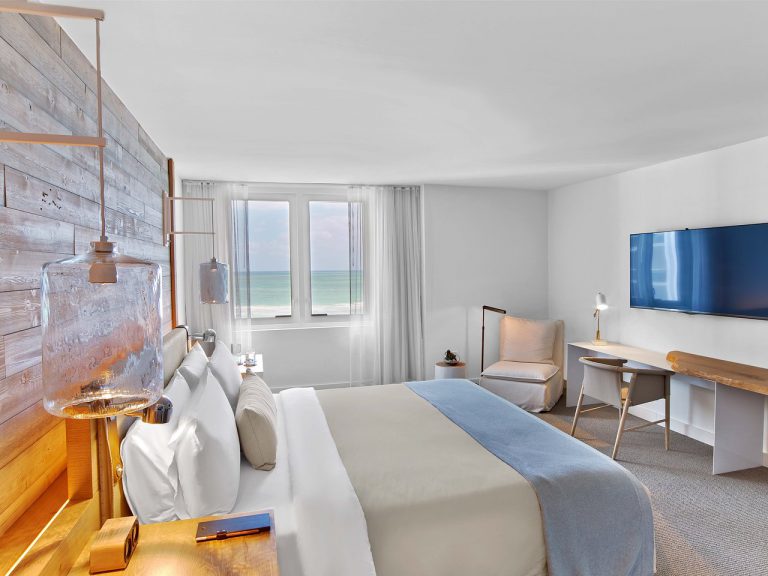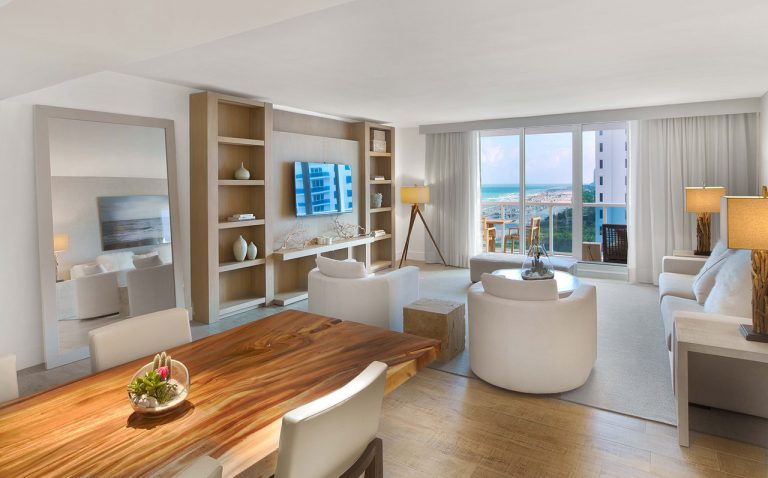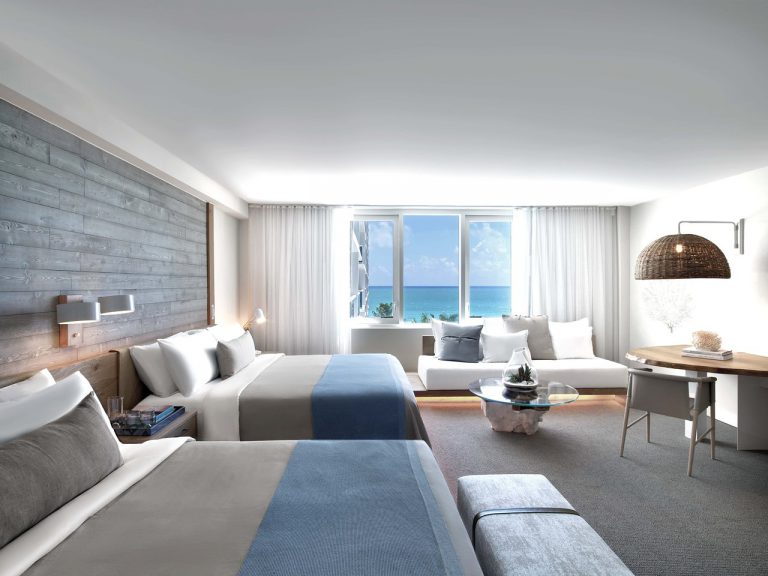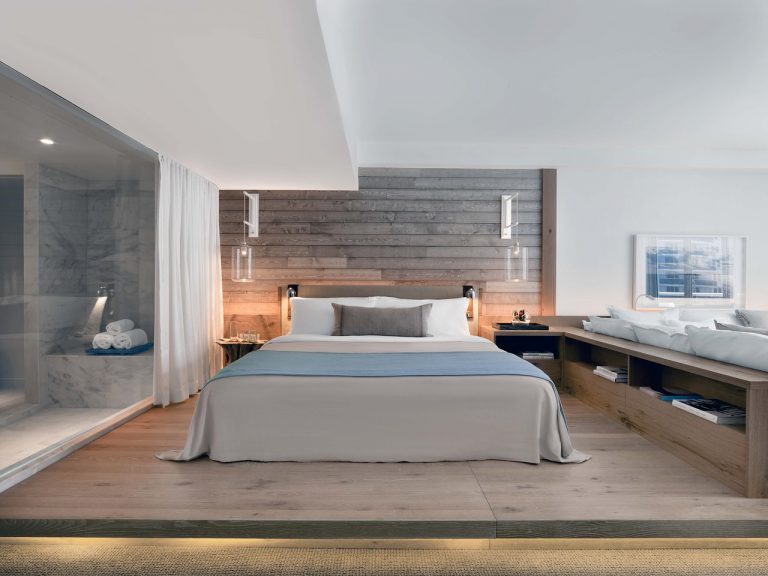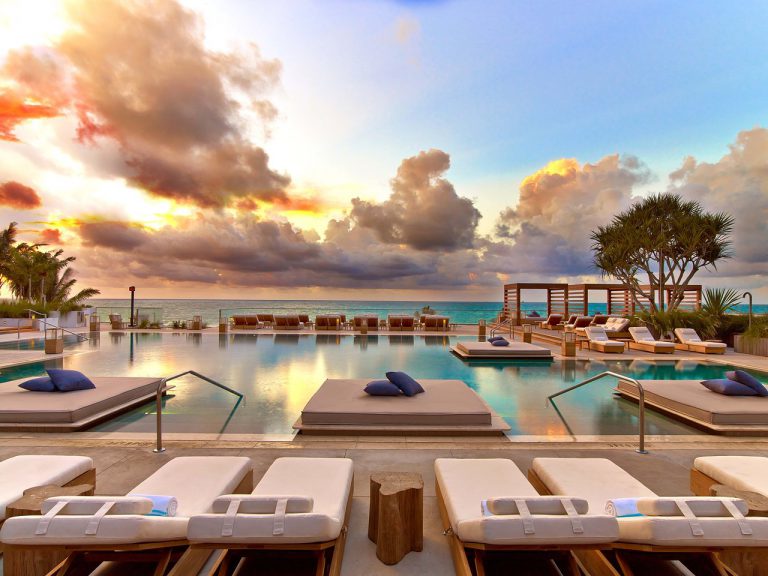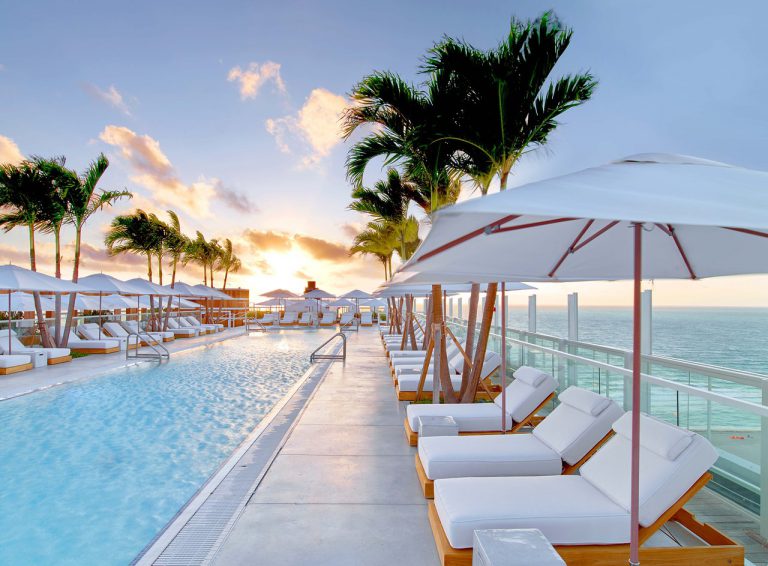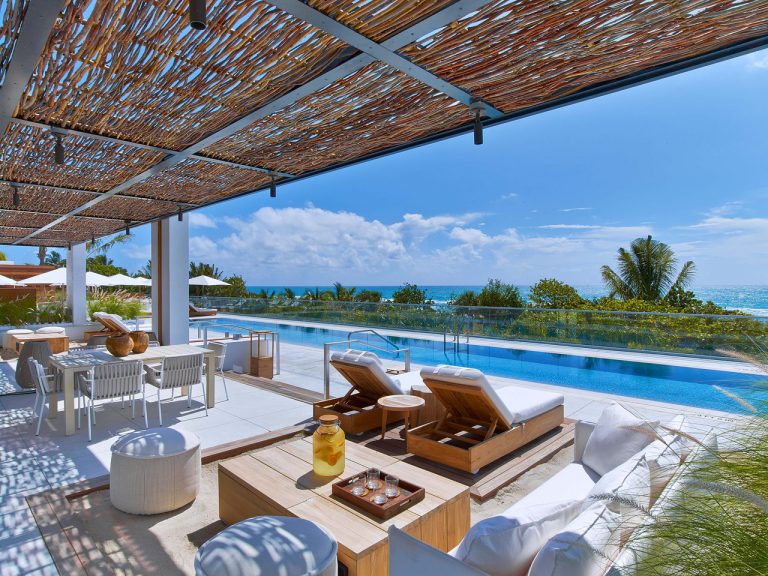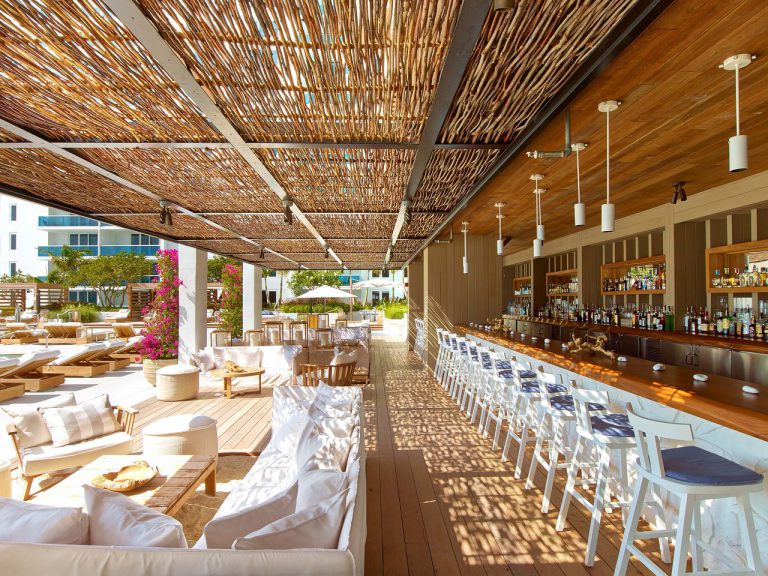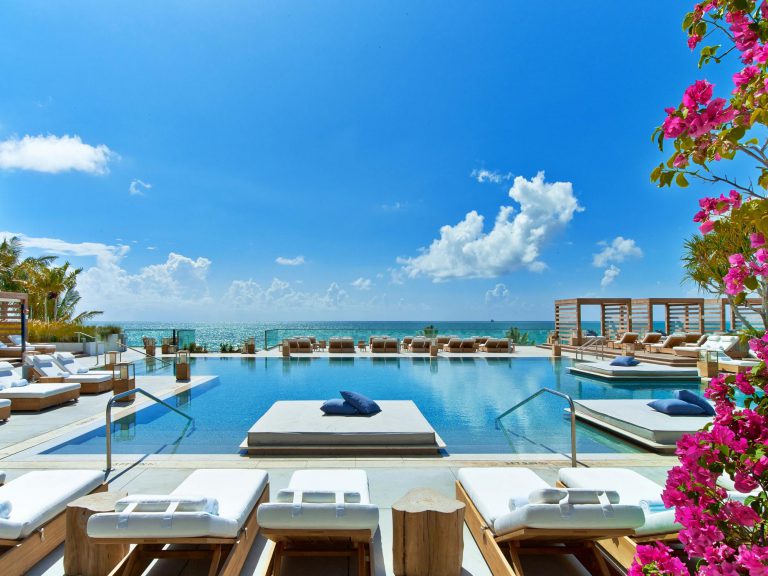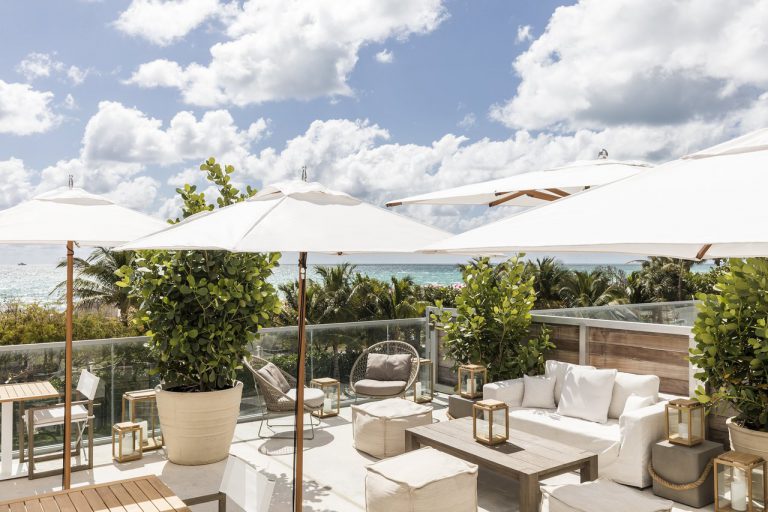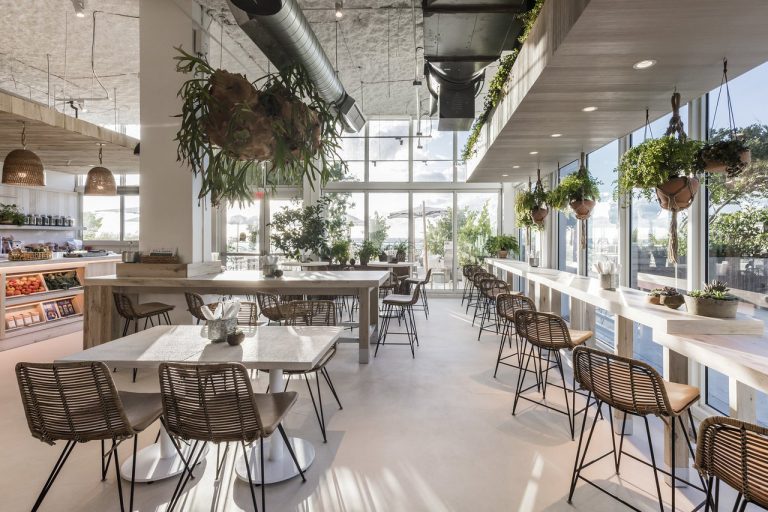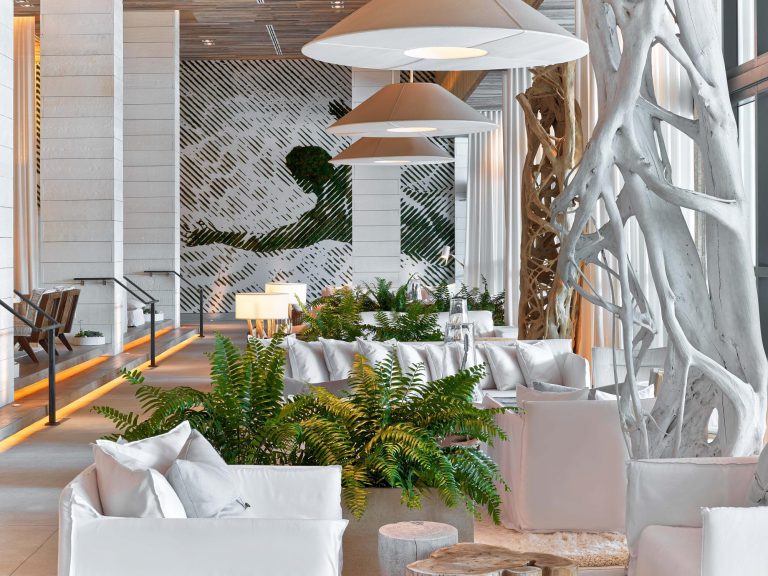 Located on Collins Avenue at the beach, this is your perfect basecamp for all your South Beach adventures.
Discover a different side of Miami. Designed and inspired by nature the rooms and suites bring nature front and center with some of the largest accommodations in South Beach.
This hotel offers its own beach club. An oceanfront retreat, private members playground, and sea-to-table restaurant reminiscent of the Mediterranean Riviera. This is nature's balance between stunning design and effortless comfort — a truly 1-of-a-kind experience in South Florida.
At this hotel, there's a beach chair just for you. There's a waiter nearby ready to take your lunch order – farm-fresh and locally sourced.
At cloud level, 18 stories above the beach, the rooftop pool is the perfect grown-up retreat for guests ages 21+. Offering poolside cabanas 1 Hotel South Beach is the only oceanfront hotel with a rooftop pool.
Choose from the diverse selection of locally inspired cuisine with in-house menus or cherry-pick your favorites to create an ideal dining experience. Everything they offer — snacks, hors d'oeuvres, main courses, and beverages — is fresh, locally-sourced, and delicious.
Perks and privileges;
– Priority seating at the beach
– Access to our fitness center, Anatomy
– Mind & Movement classes
– Cabana Pool access
– Complimentary valet parking
– Charging privileges on property
– Preferred pricing on food and beverage, room reservations and more
– Exclusive invitations to private events
– Supervised kids programming
'The ultimate beach retreat with all modern and trendy features and luxury. It is like a cruise ship on the beach'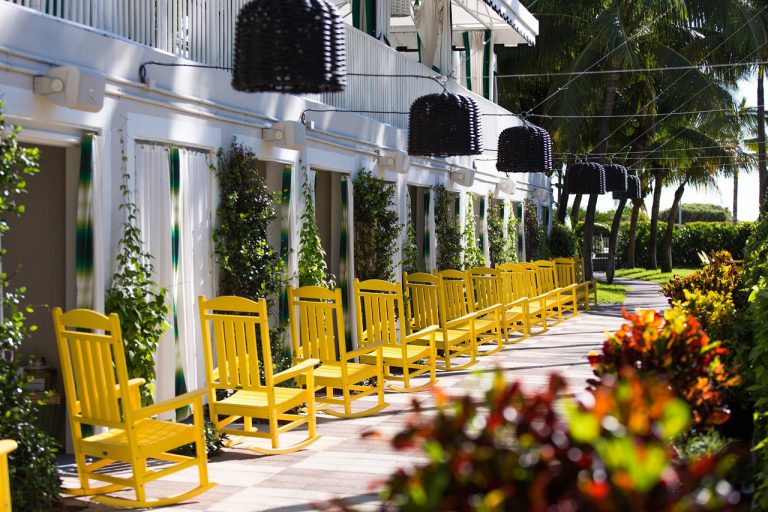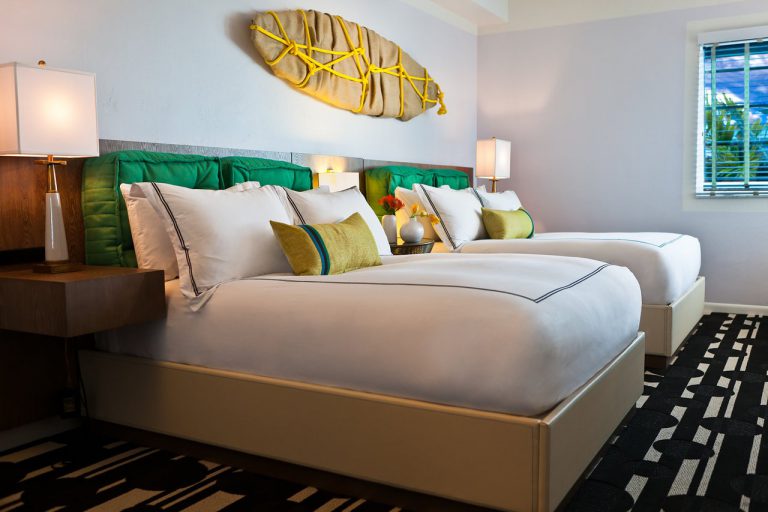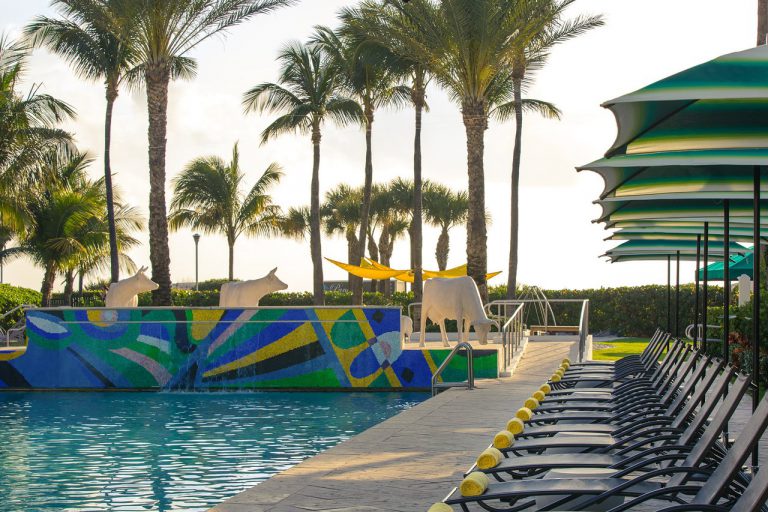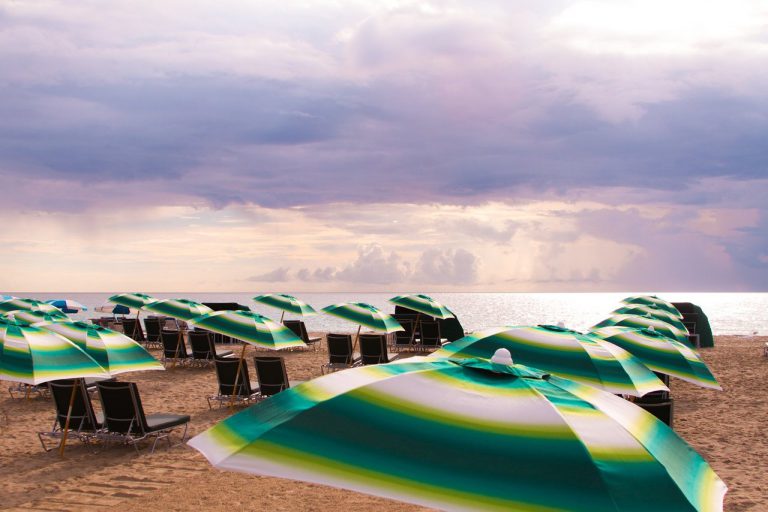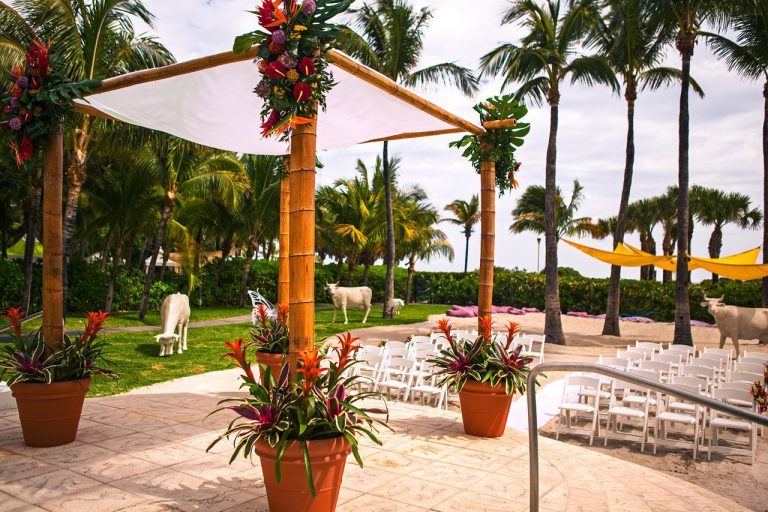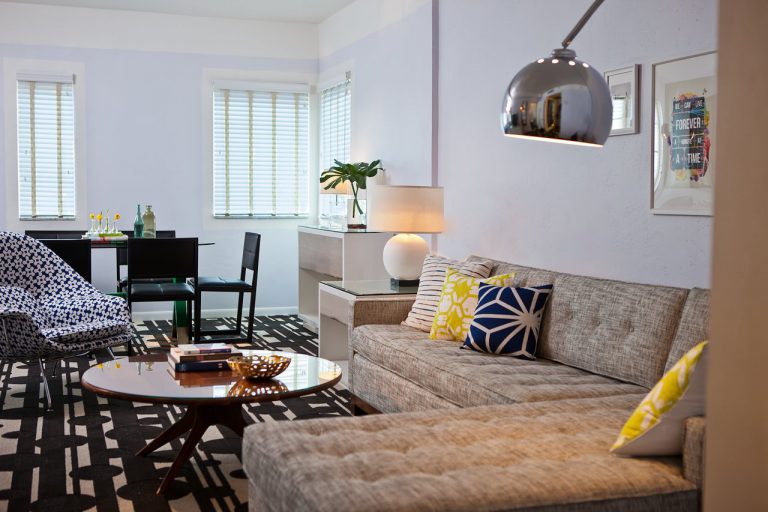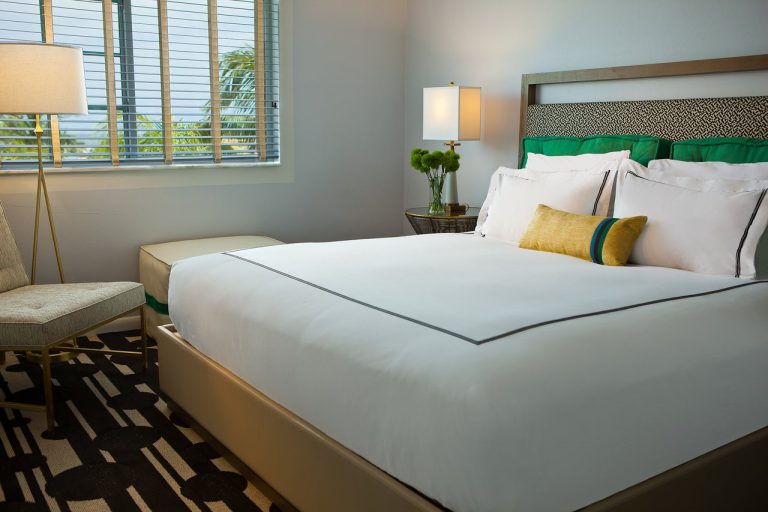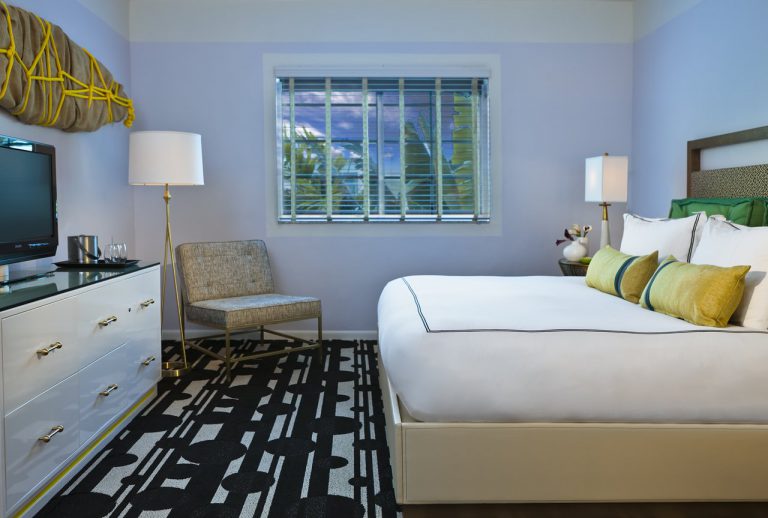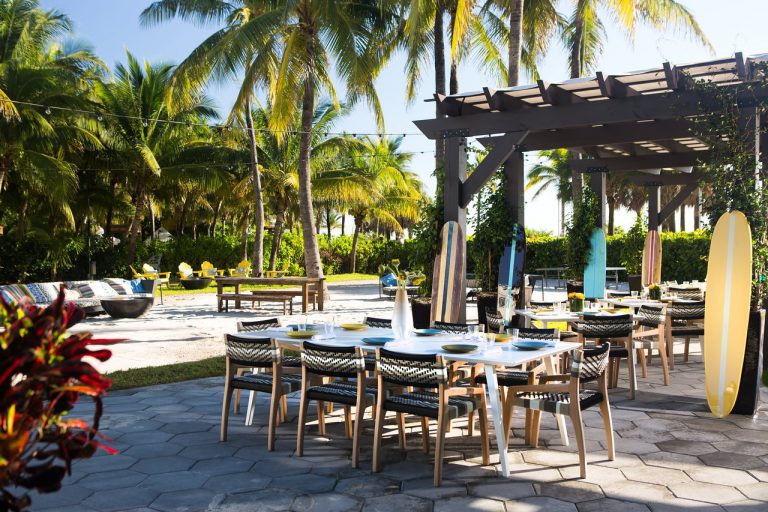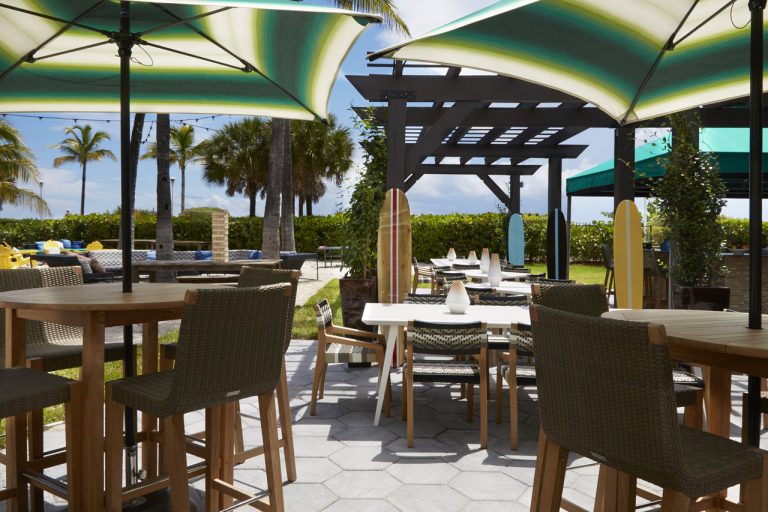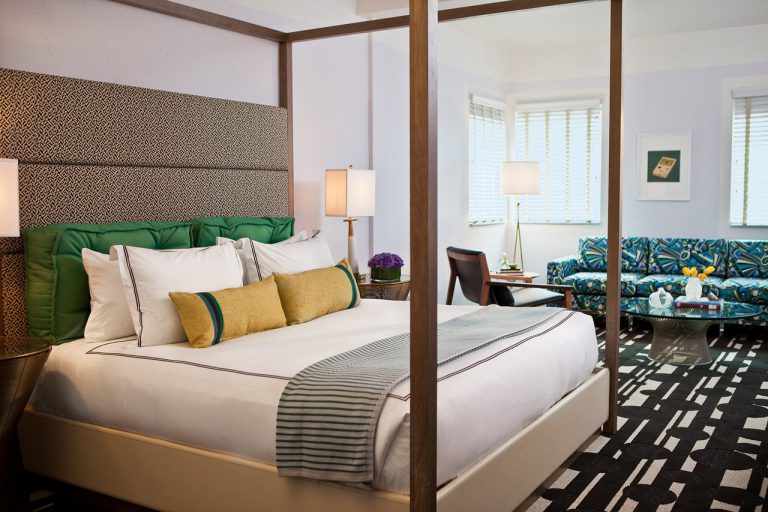 An Oceanfront Hotel in South Beach, the Kimpton Surfcomber Hotel is located in the heart of exhilarating South Beach, in a historic Art Deco building, with a palm-tree-lined pool and a silky sand beach in their back yard. It's way more fun to put style and socializing over pretense and posing. In fact, Kimpton Surfcomber just may be the most social of all the beachfront South Beach hotels. From DAYLIFE activities to the communal outdoor settings to the daily wine hour, Kimpton Surfcomber is the place to be for a sunny, flirty escape.
Hotels in South Beach have so much to offer. After a day of exploring South Beach, Kimpton Surfcomber Hotel welcomes you back with designer eye candy. Clean lines, bold geometric patterns, and pops of color put a smile on your sun-kissed face. Luxe bed linens and signature Atelier Bloem bath amenities soothe your senses. All housed in a historic Art Deco building that's just as fetching on the outside. If you really want to live large in the world of hotels on South Beach, ask for an oceanfront balcony room or suite.
Inspired Dining at the South Beach Restaurant.
To call The Social Club a great spot to gather is to state the obvious. Everything about the South Beach restaurant is designed to inspire the gathering of food, drinks, and people. The ambiance alone entices with a sexy design, skylights, and open-air terrace overlooking the famed Collins Avenue. Your South Beach dining experience includes locally loved, American-inspired, fare in the form of social plates, large plates, and dessert—all with a creative twist. Imbibing is a blast with handcrafted cocktails, microbrews and curated wines. The best thing about The Social Club may be that you don't even have to leave Kimpton Surfcomber Hotel to get your social on.
An outdoor restaurant and bar nestled between Kimpton Surfcomber Hotel and the beach, High Tide is an easy place for locals and Surfcomber guests to grab a drink and bite. Stroll over to the pergola-shaded tables and prepare to stay awhile. After all, there's a long list of craft cocktails concocted by our mixologists: White Sangria, Spiced Rum Punch, Margaritas, Frozen Cappuccinos (infused with spirits, if you wish), and more – by the glass and the pitcher. They've got a variety of wines and beers, too.
And let's not forget the food. From wings, hummus, and ceviche to fresh salads, sandwiches and fish tacos, High Tide deliciously hits the spot. Beyond the menu, our laid-back vibe is accented with live music, occasional movie screenings on our giant projection screen, and a shorts-and-sandy-feet dress code.
A hip and trendy hotel for the young at hearted in a lively location!
Trendy and tropical, EAST Miami brings a playful lifestyle hotel with an Asian twist to downtown Miami. Dotted with palm trees and modern art; we offer guests a relaxed space to work playfully and play productively.
You'll feel the buzz the moment you enter the lobby; from the energetic co-working space and pool deck to the airy sun-drenched guest rooms. Visit the Uruguayan eatery Quinto La Huella for down-to-earth cooking, or ride our futuristic elevators up to the 40th floor, where you'll find our beloved rooftop bar Sugar and Tea Room, a hidden door speakeasy with Miami's only Night Brunch.
Their passion for art is inspired by the Magic City's evolving art scene and status as a contemporary design capital. From colorful sculptures and bold installations to Feng Shui-led designs and the launch of our new EAST art program Art at EAST: Urban Remix in Miami – discover how they're celebrating local artistic ideas with a nod to EAST's Asian roots.
Get away from the everyday. All of the 352 guest rooms, suites, and residences are bright, modern, and spacious; featuring floor-to-ceiling windows and private balconies with views of the Miami skyline and Biscayne Bay. Every room comes with a walk-in rain shower, ultra-comfortable beds, the latest high-tech gadgets, and complimentary WiFi – so you can work, play and stay in style.
From authentic Latin American flavors to Asian-inspired cuisine, EAST Miami will dazzle your taste buds. With a focus on simple food and great ingredients, the chefs serve up local favorites and original creations at each of our five dining outlets. Embark on a culinary adventure that ranges from Quinto La Huella's smoky grilled meats to the sensual and sensory Asian Night Brunch at Tea Room.
One of Miami's best-kept secrets, Sugar is a hip and happening 40th-floor rooftop bar and lounge. With its lush Miami cool meets chic Hong Kong cocktail vibes, this secret garden is one of the best places in town to watch the sunset – served with original Asian-inspired cocktails and tapas
Dress code:
– Smart-casual attire encouraged during the day
– Nightlife attire enforced after sunset
A modern hotel near the Brickell shopping mall. With a nice Balcony and ocean views. And do not forget Sugar, a treasure in the skies!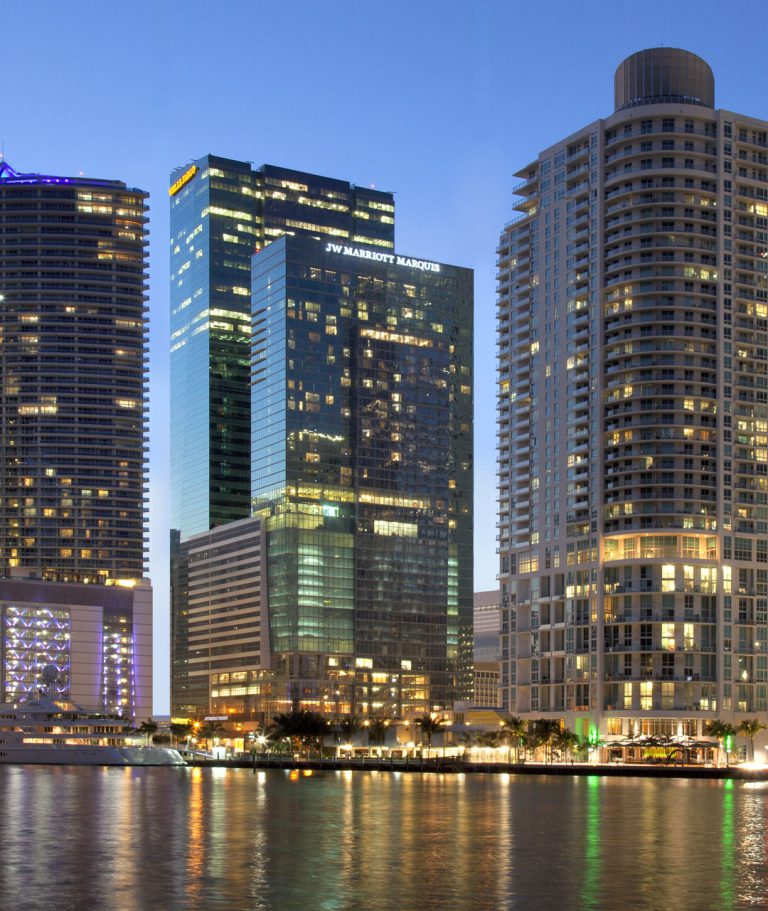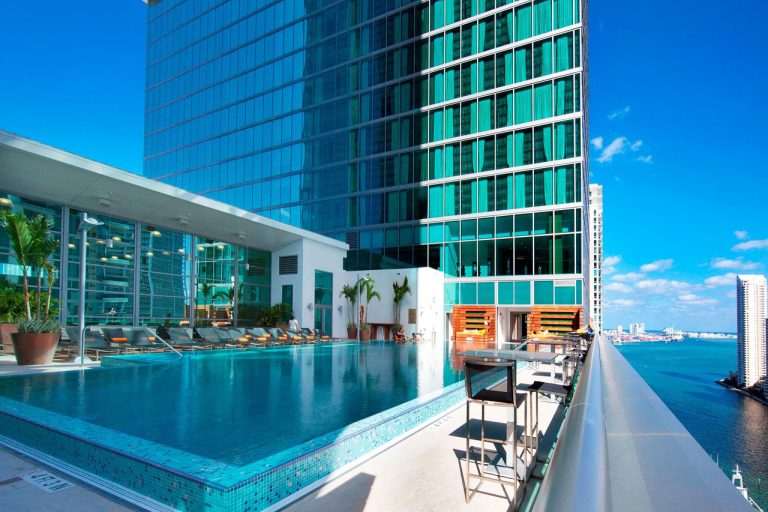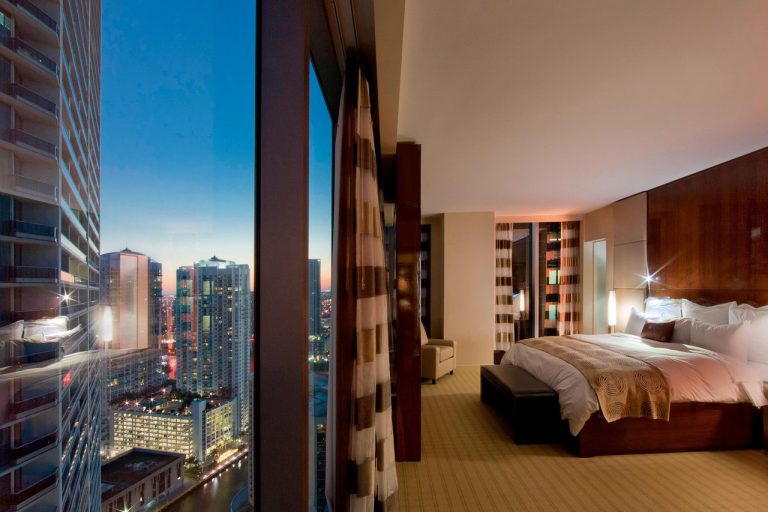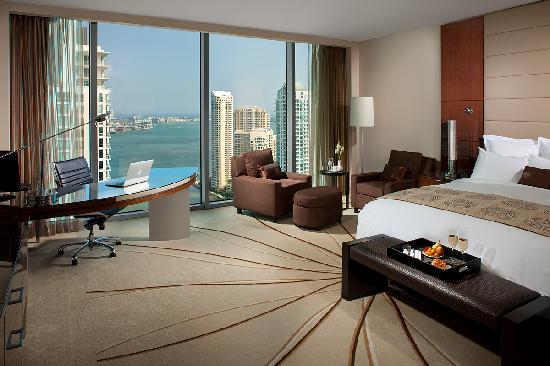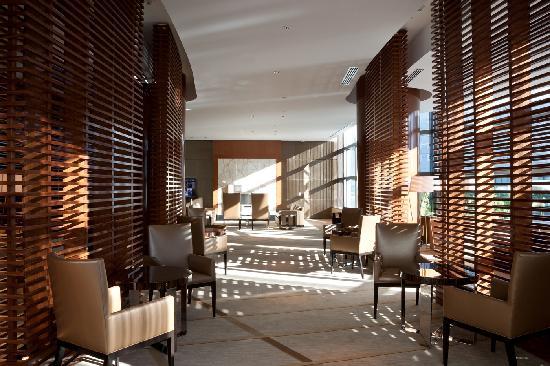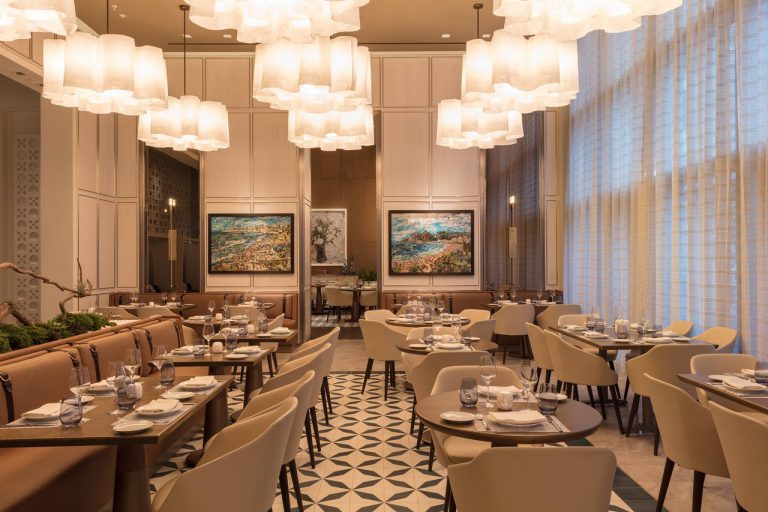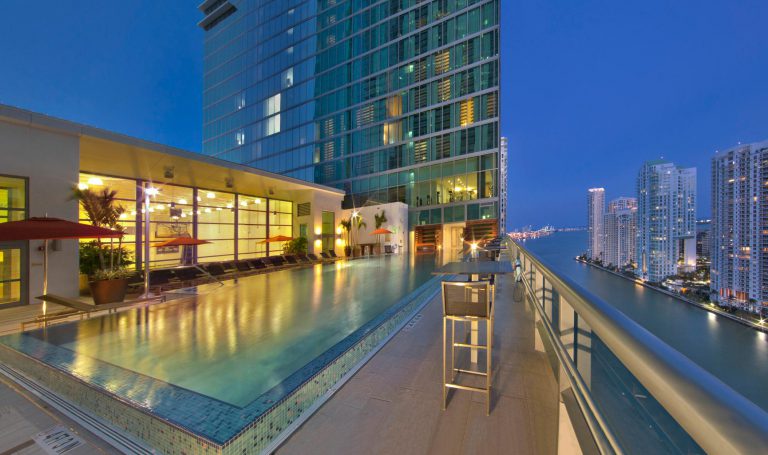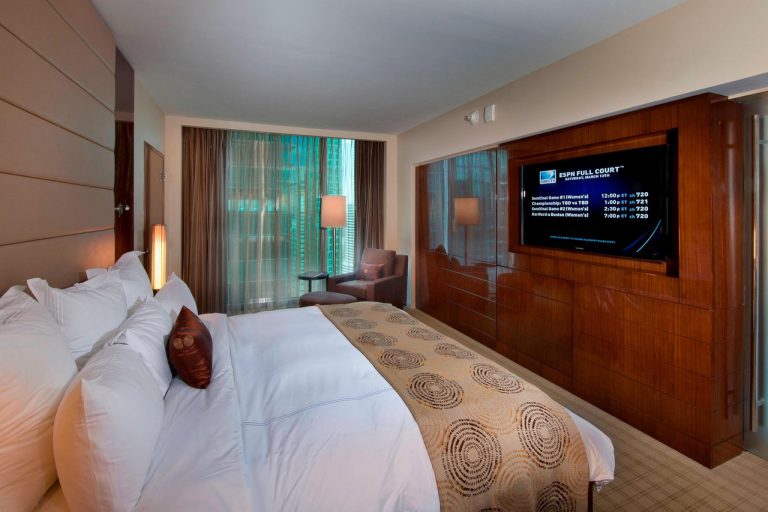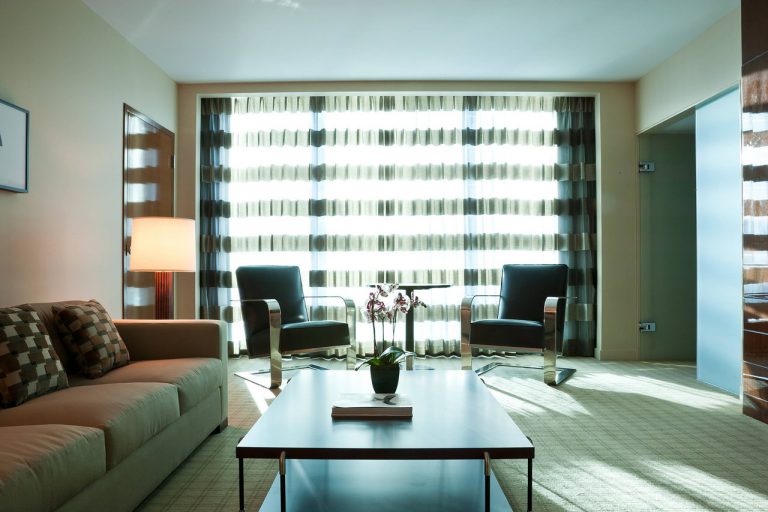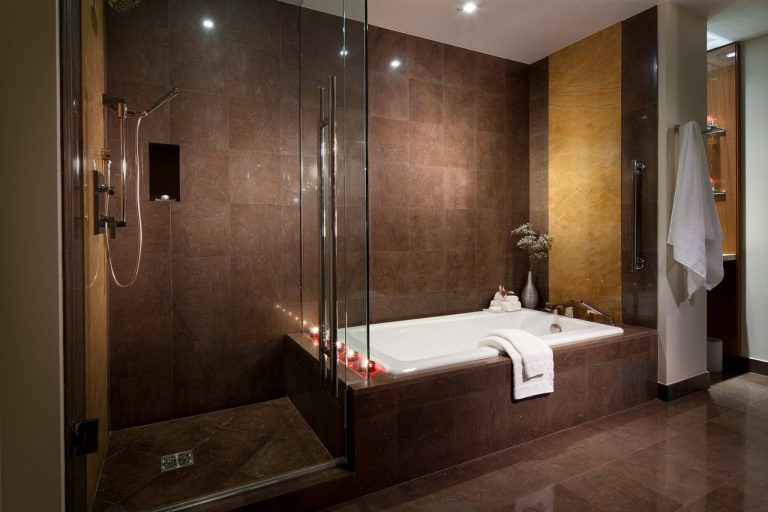 This downtown Miami hotel infuses sophistication, design, art, fashion, and technology into a diverse landscape of business, meeting, and pleasure cruising pursuits. Located in the heart of downtown Miami, close to the city's exciting Wynwood Art District, the new Frost Science Museum, the Perez Art Museum, and the world-renowned Miami Design District™, this hotel has become the arts and culture hotel in the middle of it all.
Right at the gateway of the Brickell Financial District and the new Brickell shopping mall, and a short drive from South Beach the hotel is perfectly placed in Miami's epicenter, not far from your cruise terminal.
The hotel's blend of sleek and modern design boasts 313 guest rooms with state-of-the-art technology. The rooms and suites are divided into several price options and views.
Famed chef Daniel Boulud's Mediterranean style restaurant Boulud Sud is a delicious destination for breakfast, lunch, or dinner. You can relax and unwind by the stainless steel sky pool with bay views, and indulge yourself at Enliven Spa.
'As many cruises depart from Miami this hotel can be a good option.'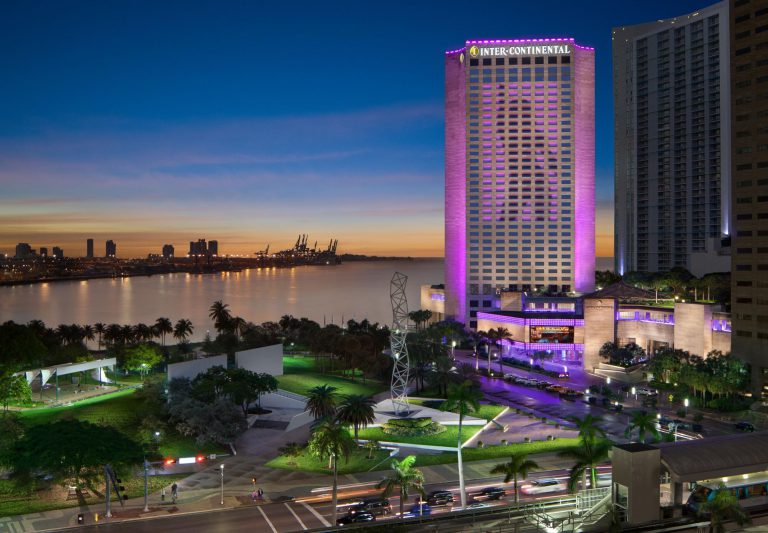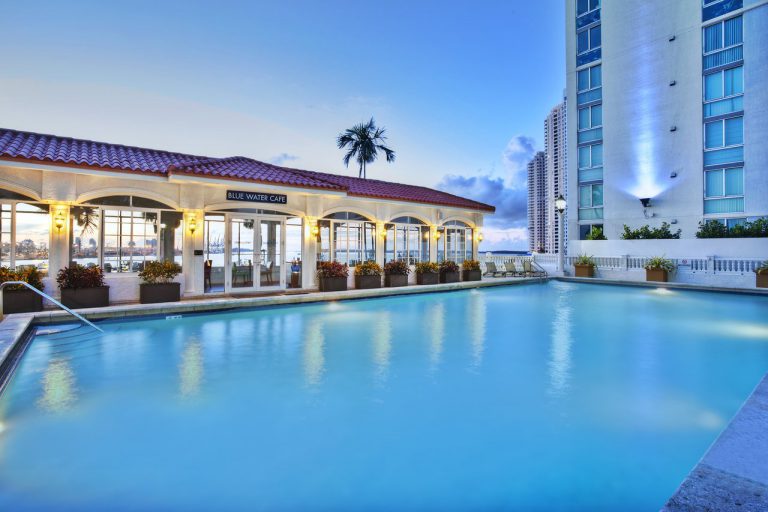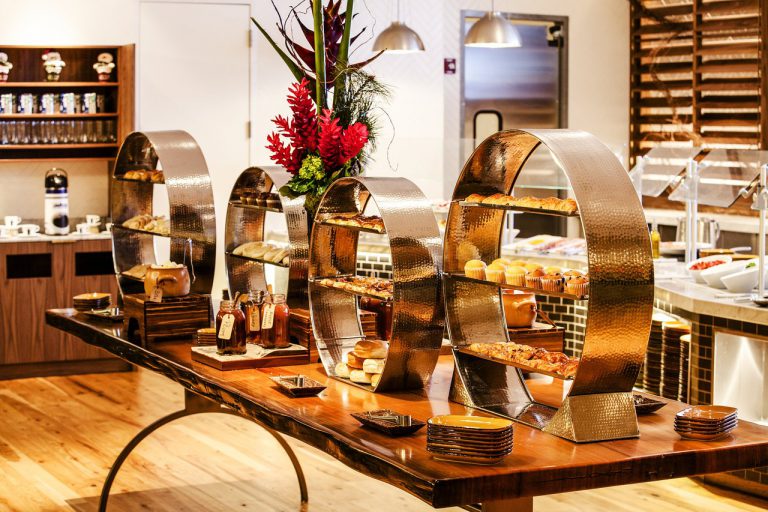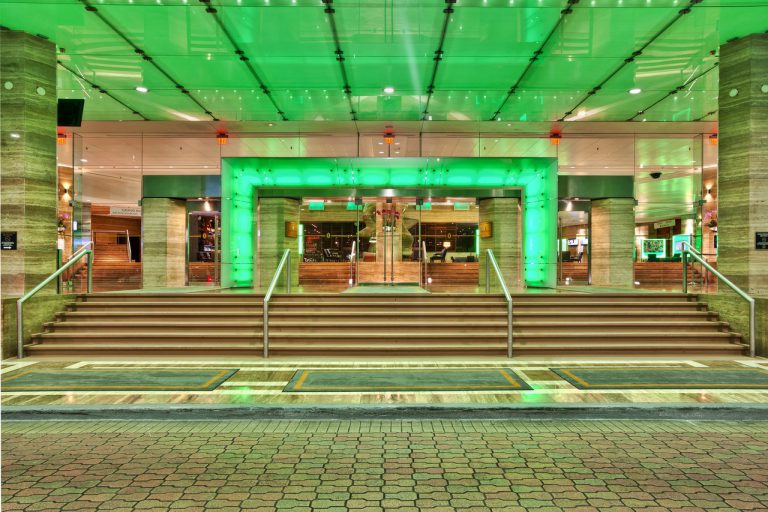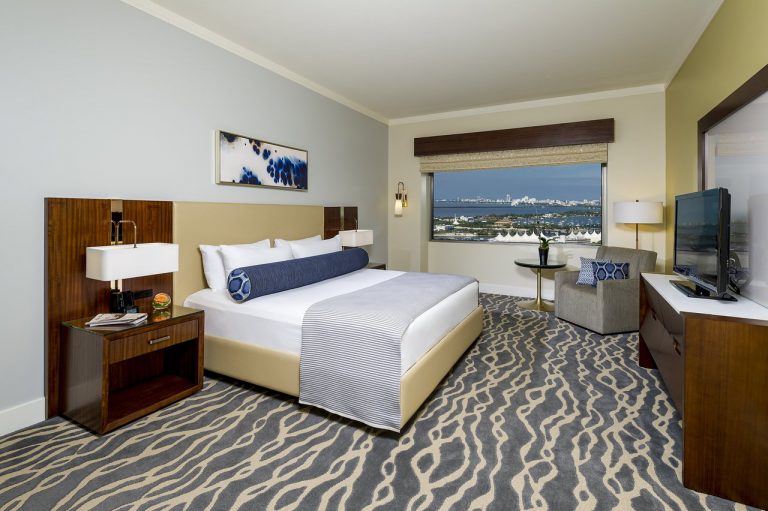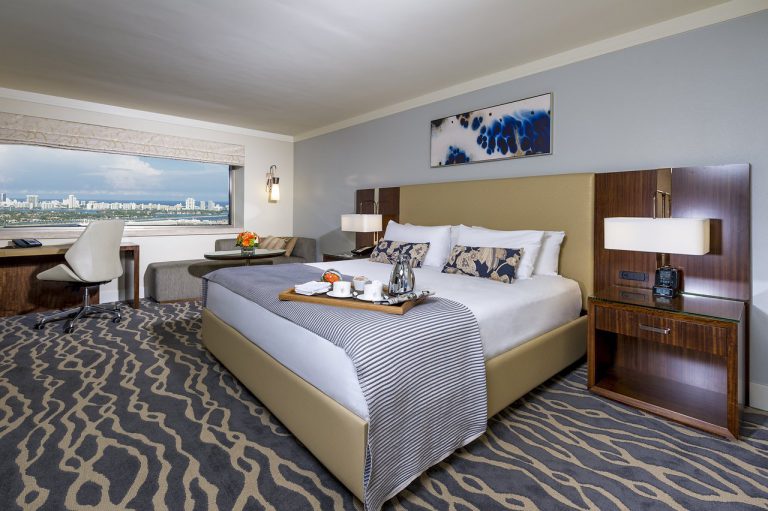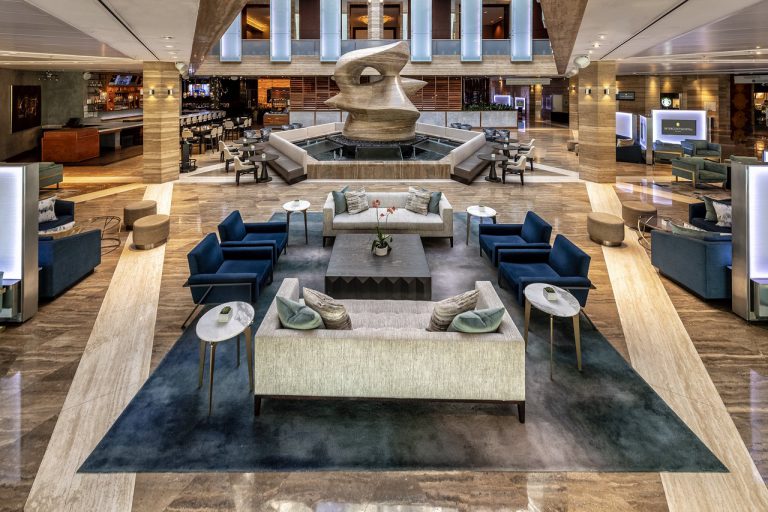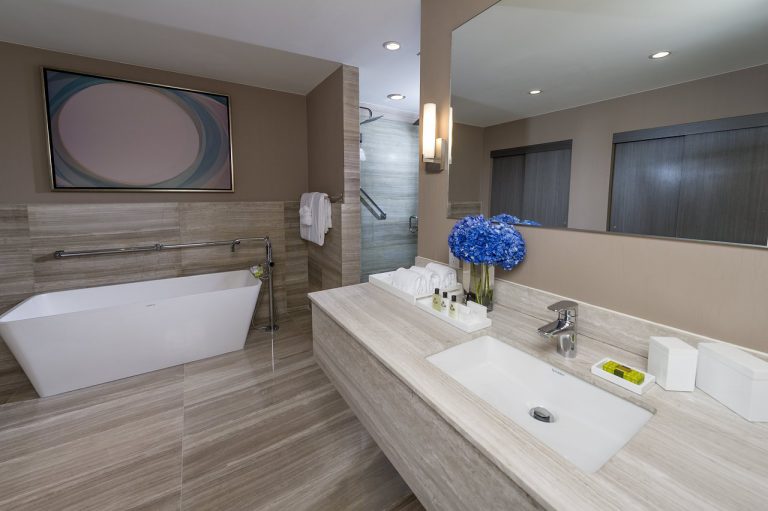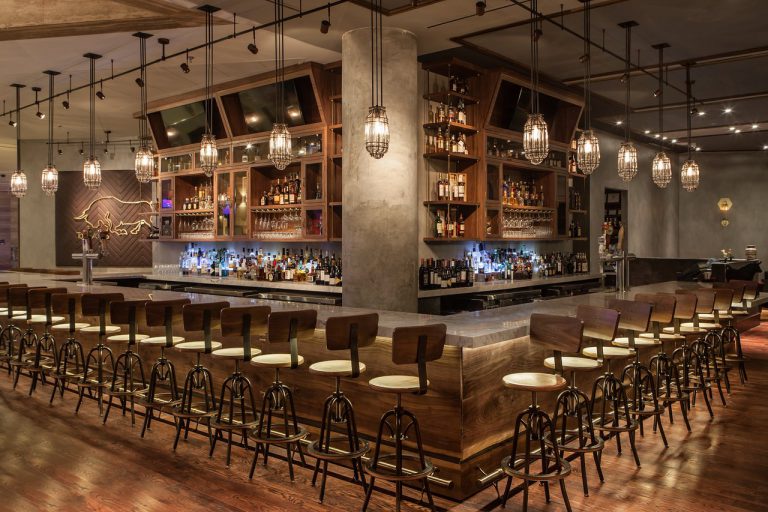 Miami's beachfront Icon. At InterContinental Miami, vibrant art, innovative businesses, and tropical life converge into the premier luxury experience. Built around Henry Moore's famous sculpture, "The Spindle," this luxury Miami hotel lies along the downtown waterfront, with the city's business centers and famous beaches both within easy reach.
Stay at InterContinental Miami and enjoy unparalleled service while beholding commanding views of the Atlantic Ocean, Biscayne Bay, and the Port of Miami. The 653 elegant guest rooms, including 22 stylish suites, present luxury paired with Miami charm.
The luxurious rooms feature stunning views whichever way you look. At night, gaze at the moonlight on the water or the city's lights, then wake up to sunrise over Biscayne Bay or downtown's bustling energy. Relax in American design well-appointed rooms featuring modern decor, plush bedding, and an array of amenities. And when you stay in one of the elegant suites, you turn Miami into your sanctuary in the sun.
Exquisite Miami dining awaits you day and night. From refined cuisine to rooftop drinks to a quick coffee, the onsite restaurants deliver sophistication and flavor. Toro Toro is one of Miami's premier restaurants, while Olé offers a sumptuous a la carte breakfast to fuel your day. Sip a drink at Bluewater, one of the best rooftop restaurants in Miami. And caffeinate until late at our Starbucks in the lobby.
'The location is very close to the cruise terminal. You can actually see your ship in the morning of departure.'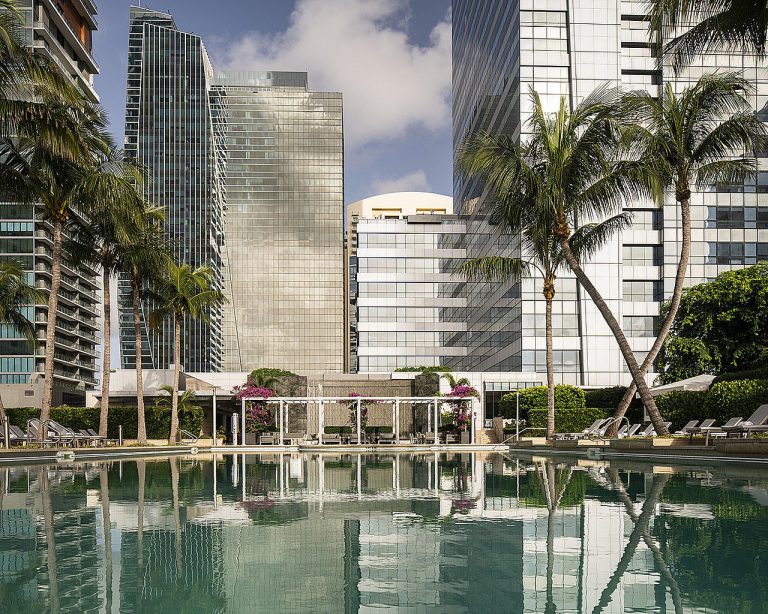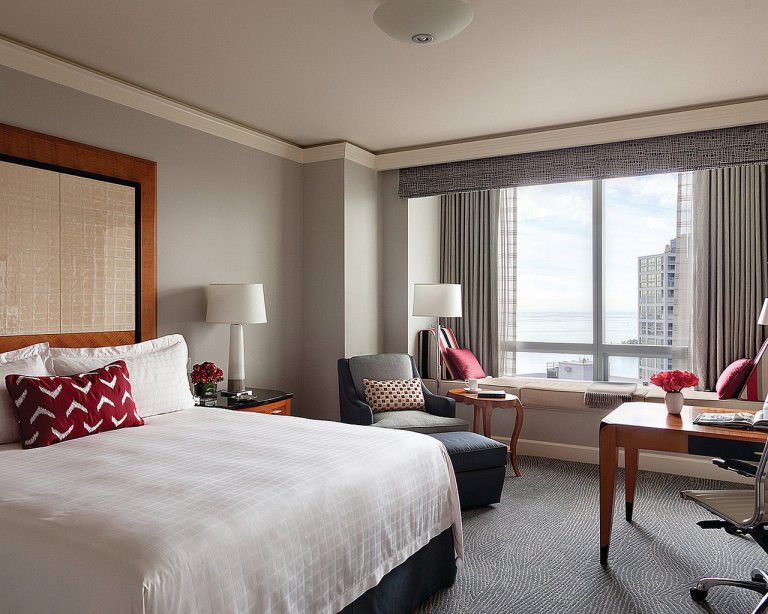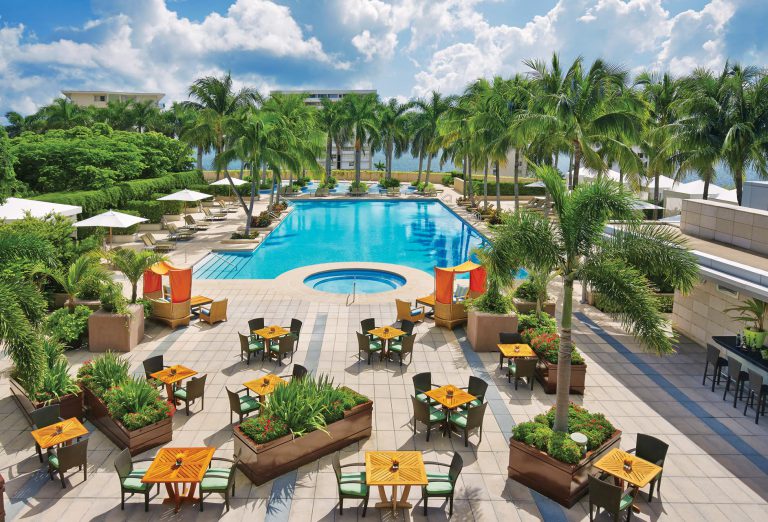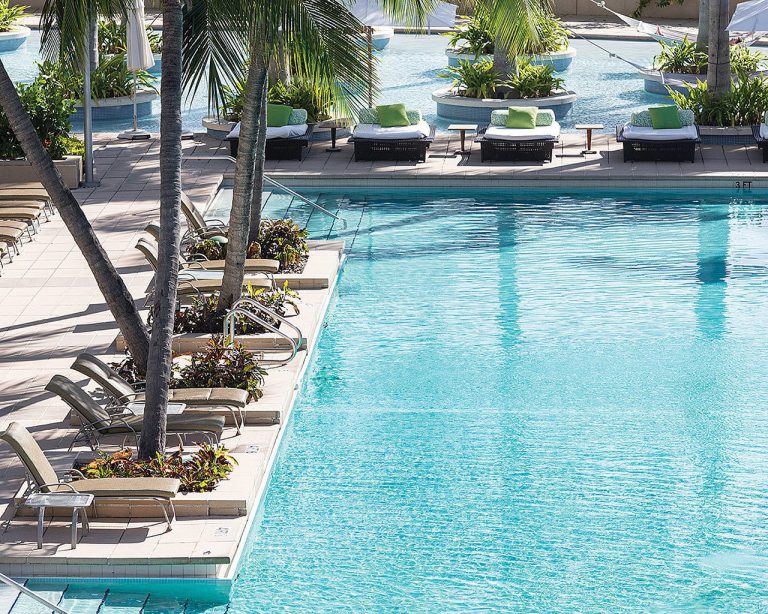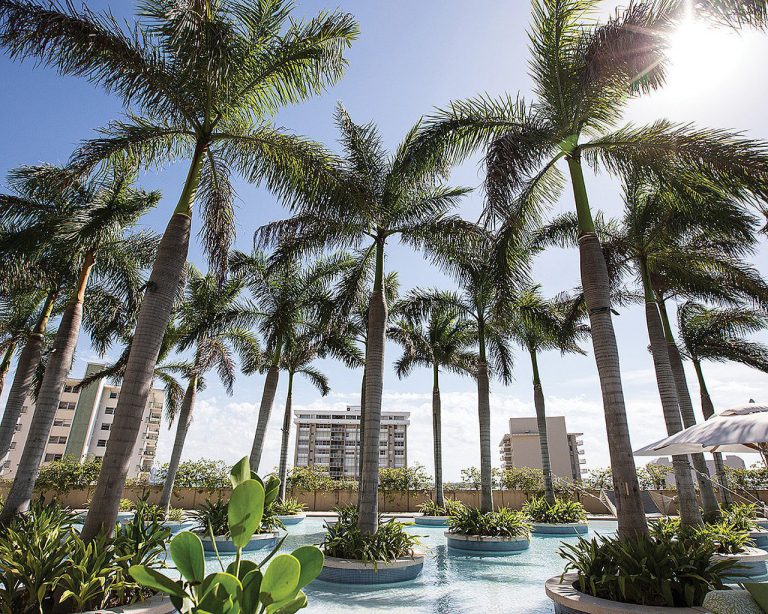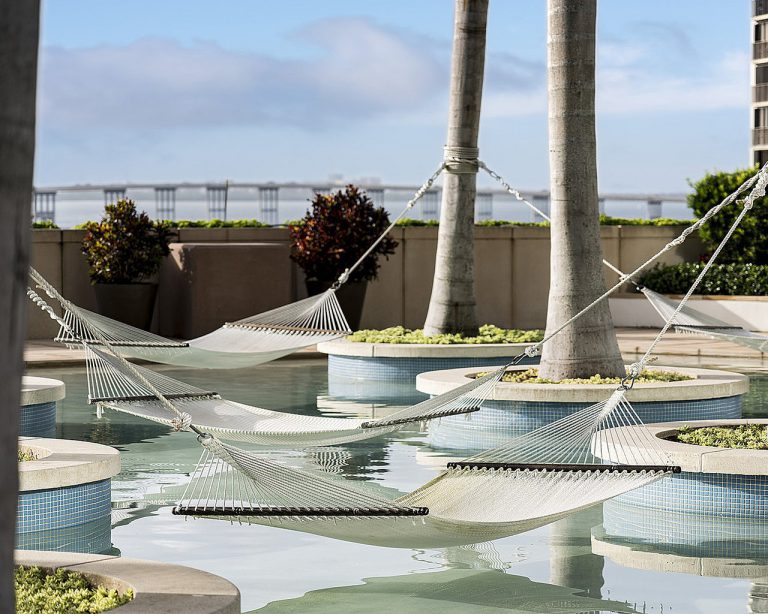 This luxury hotel is an urban resort in the heart of downtown's refined Brickell neighbourhood. Rising 70 storeys above the skyline in one of the city's tallest buildings, the hotel is in the heart of bustling Brickell, downtown Miami's financial and cultural centre.
Unwind beneath the Florida sun on our two-acre, rooftop pool terrace, surrounded by palm trees and seventh-floor views, or stop in at EDGE Steak & Bar for modern cuts and seafood served with a local flare before heading out to explore the eclectic neighbourhoods that surround the bay. Brickell has a very nice shopping area as well which is recently opened.
The pool area has swaying hammocks and the cool shade of 28 towering Royal Palm trees make the seventh-floor rooftop wading pool the perfect spot for an afternoon siesta. It's hard to believe you are in the heart of the city when you look up and all you see are palm trees swaying in the breeze.
'It is only a short trip by Uber or taxi to your cruise dock!'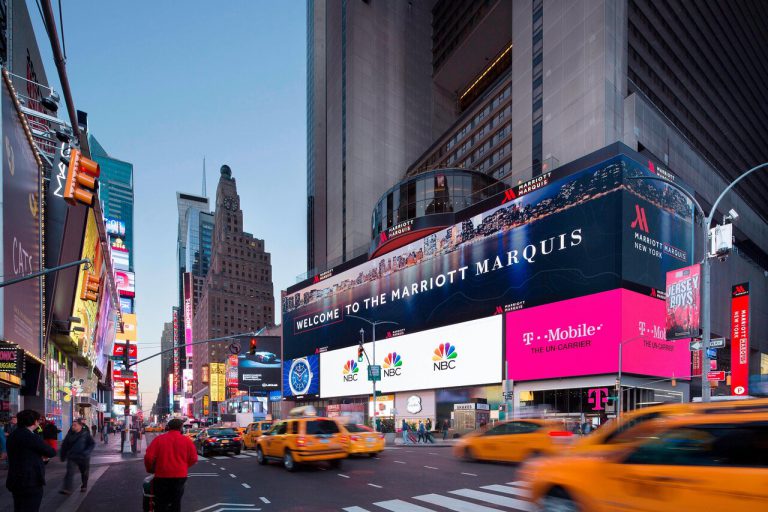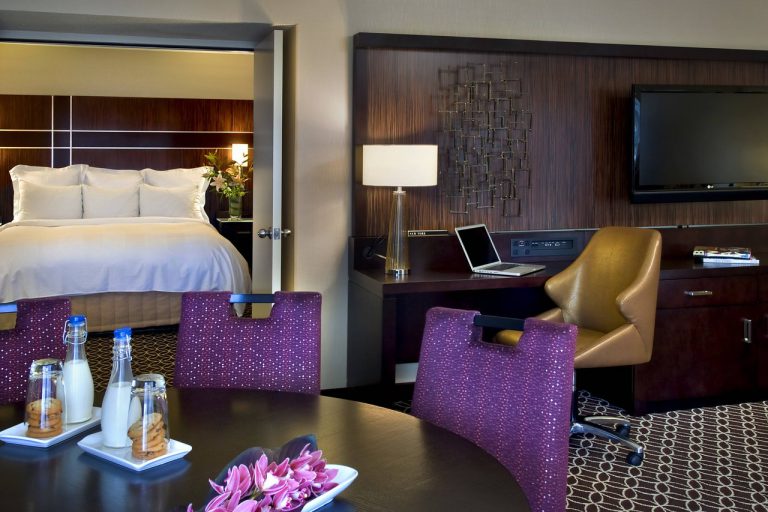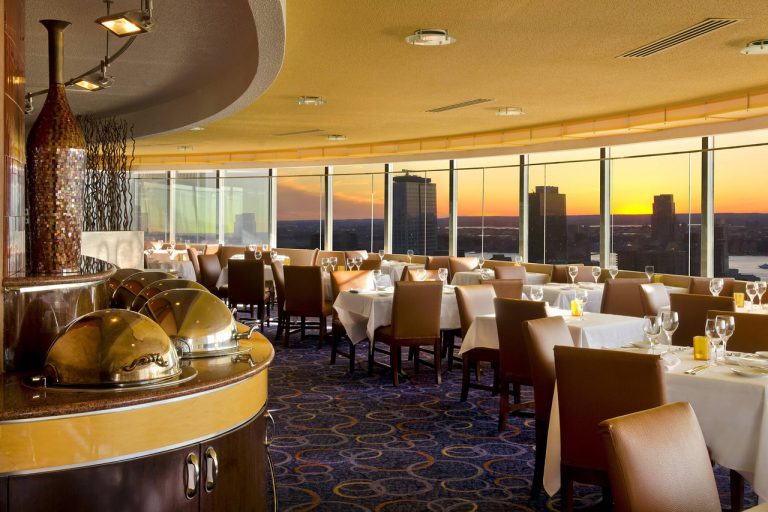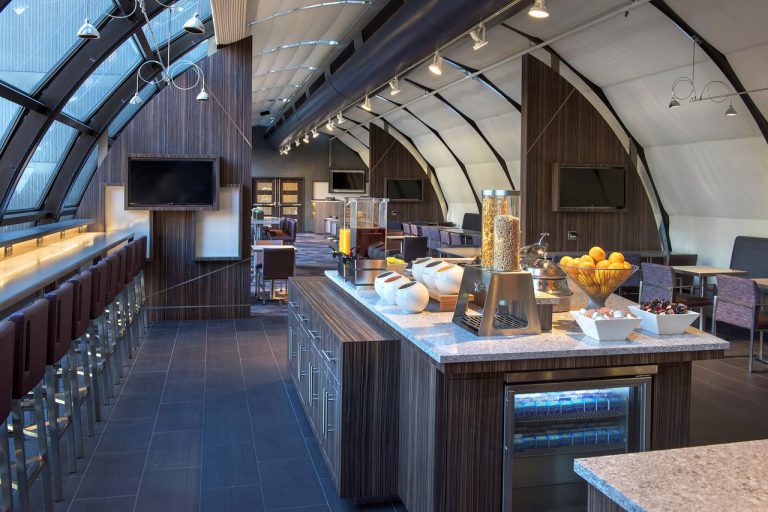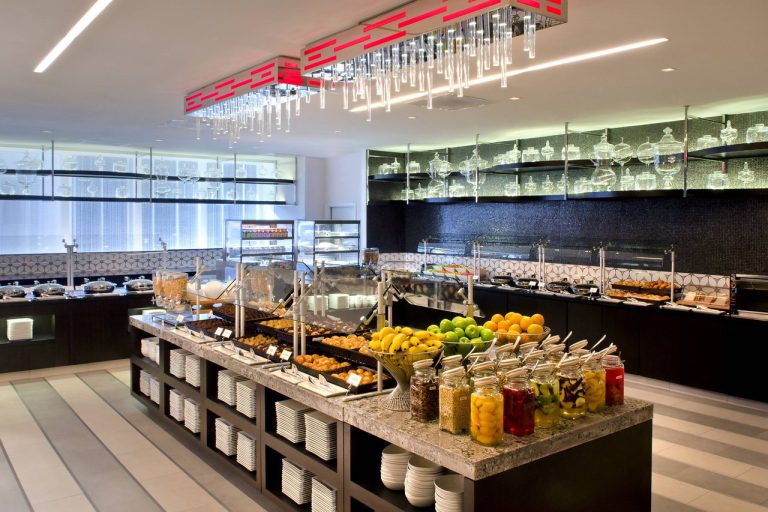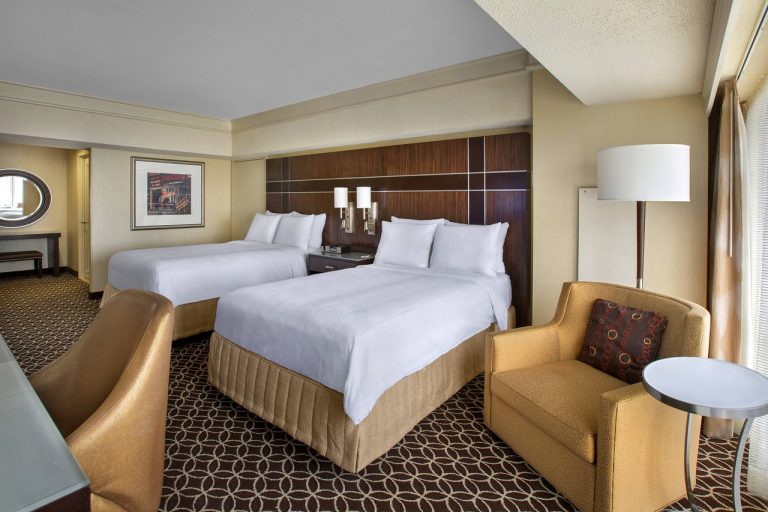 The energy of Manhattan is iconic and New York Marriott Marquis, a vibrant fixture of Times Square, brilliantly captures the city's spirit in modern style. Located on West 46th Street and Broadway, our hotel places guests near NYC's most illustrious attractions, including the Theater District, Rockefeller Center and Radio City Music Hall. After an eventful day of sightseeing, retreat to our thoughtfully appointed, spacious hotel accommodations, some of which feature stunning views of Broadway. Dine in our array of restaurants, including New York's only revolving dining destination, where views of Times Square are spectacularly on display. Details like a 24-hour fitness center and all-day in-room dining set the stage for a rejuvenating stay in NYC, while our knowledgeable hotel staff is available to help you navigate this ever-evolving city. Encompassing 124,755 square feet of space enhanced by cutting-edge technology, our hotel is also an inspired choice for an event or meeting in Times Square.
"Times Square area is very close to the port."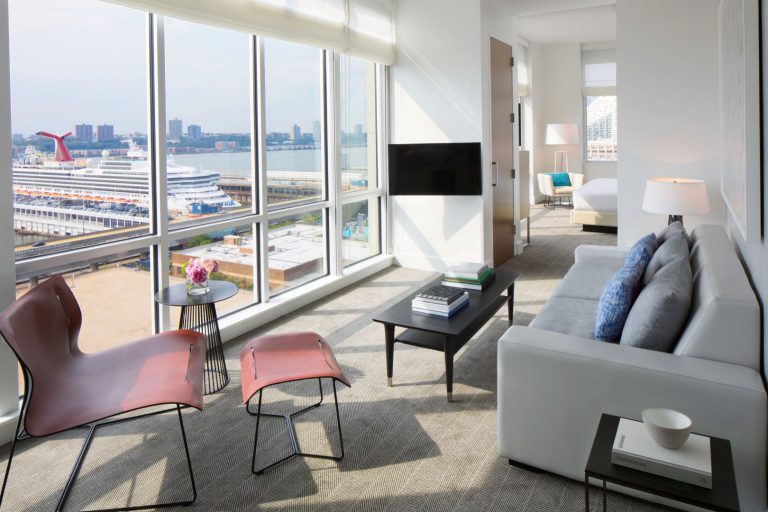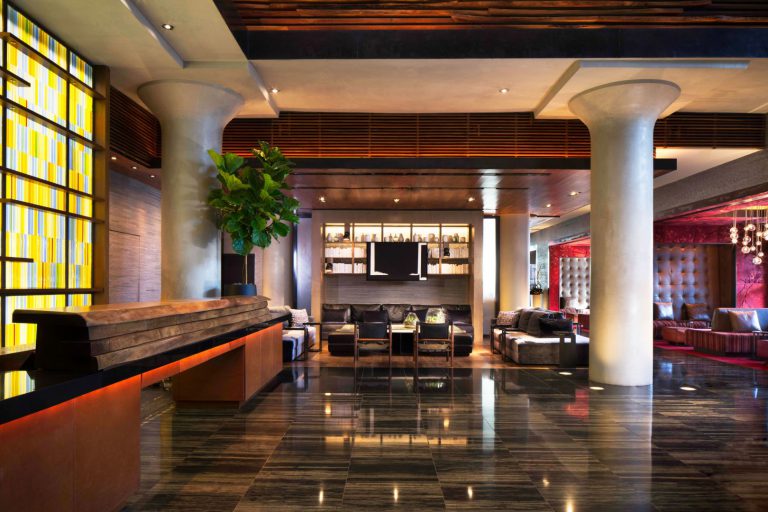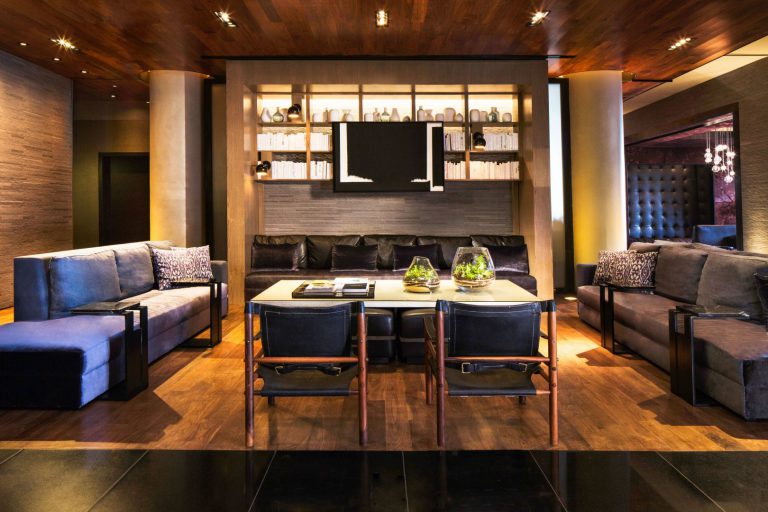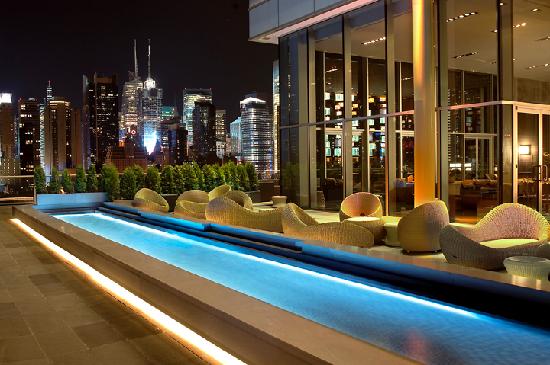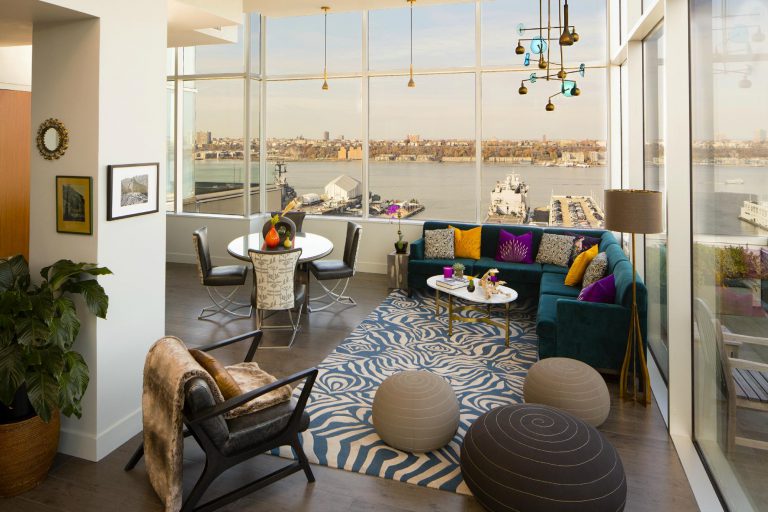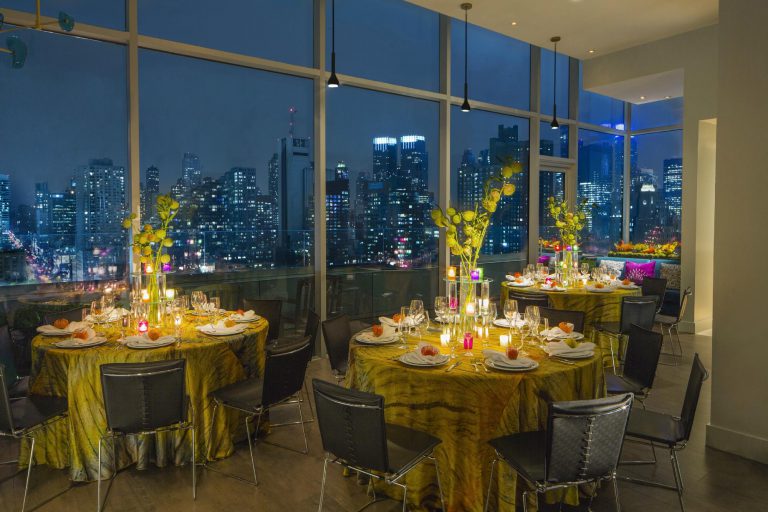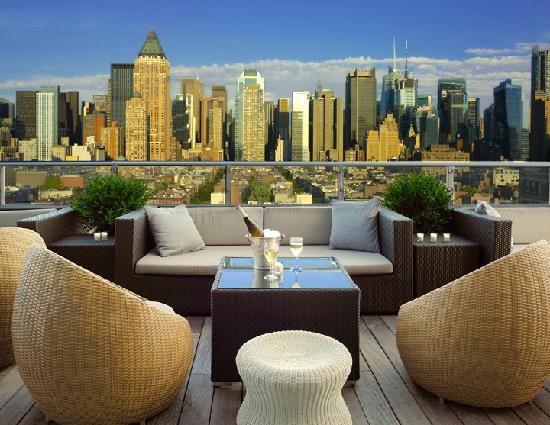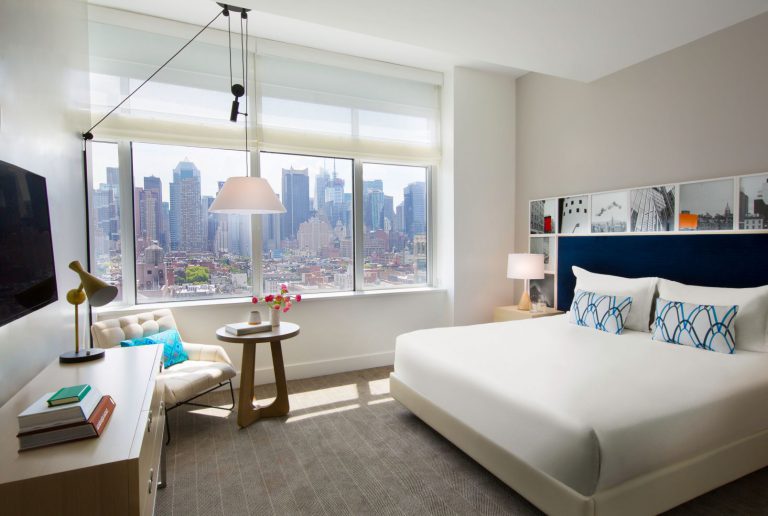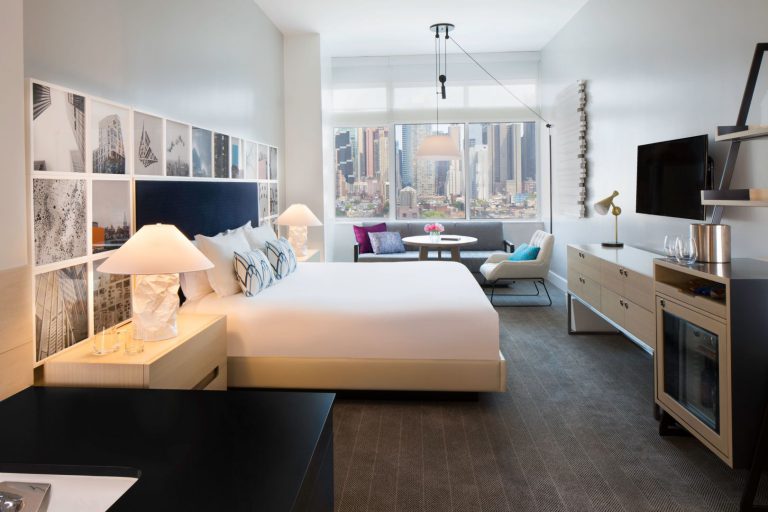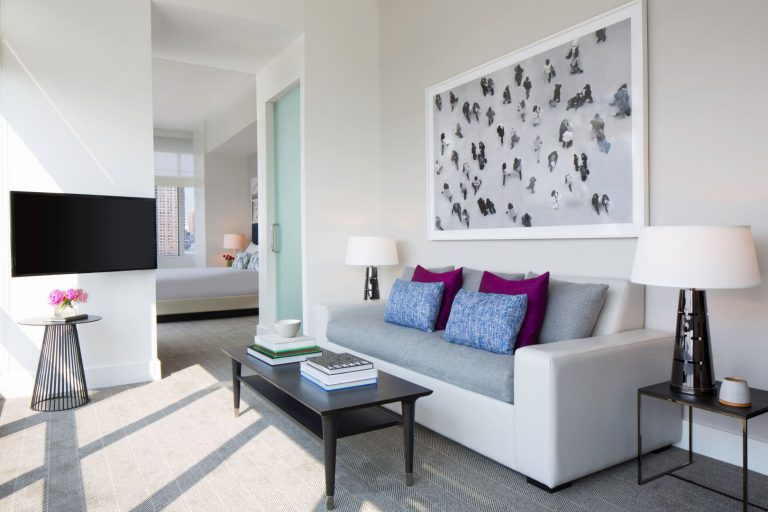 A Modern Marvel in Manhattan
Located in the creative center of New York City, Hell's Kitchen, Ink 48 Hotel comes to life in the city's preeminent theatrical printing press from the 1930s. Transformed with modern interiors, the historic hotel's 222 guestrooms and suites have views of the Manhattan skyline and the Hudson River, home of the pigment-producing mascot. 
Naturally, Ink 48 Hotel also has the neighborhood's best restaurant, PRINT., as well as a rooftop hotspot, The Press Lounge. Steps from The Glasshouse event space, Ink 48 is also situated near the new shopping and culture mecca Hudson Yards.
The Best Rooftop Bar in NYC
See the city from the 16th floor! The Press Lounge offers panoramic views, seasonal cocktails (try the Dance the Night Away, made with bourbon, watermelon and blackberry basil syrup) small plates (from salumi to crudite) and a new socially distanced experience.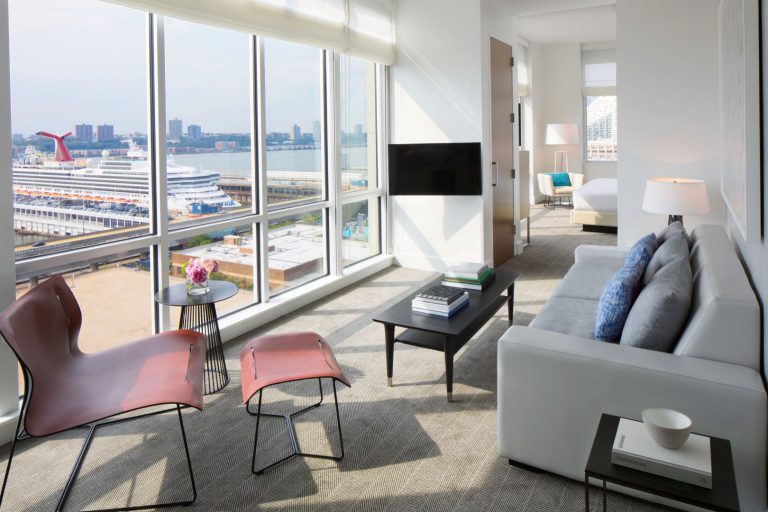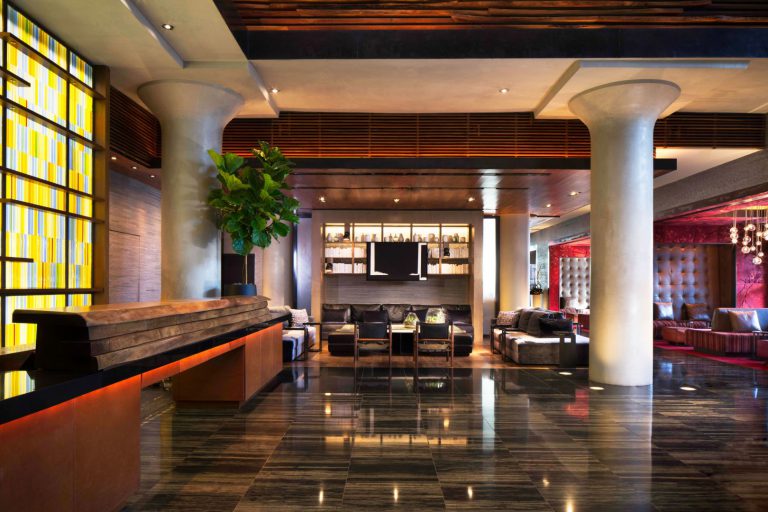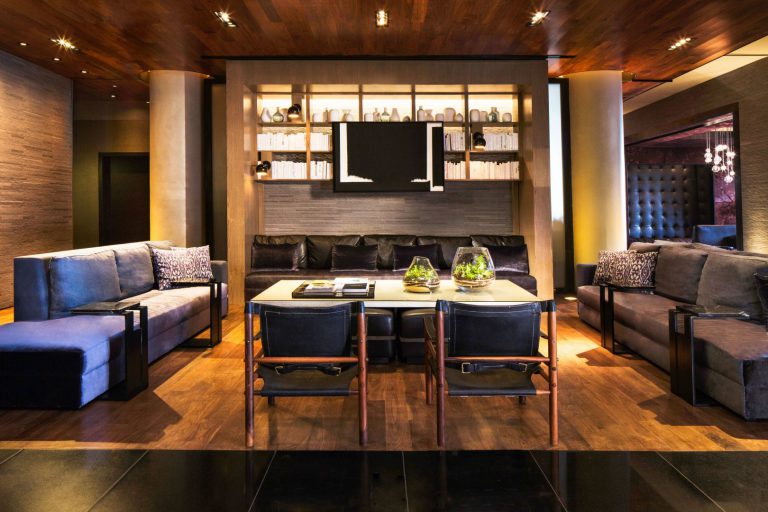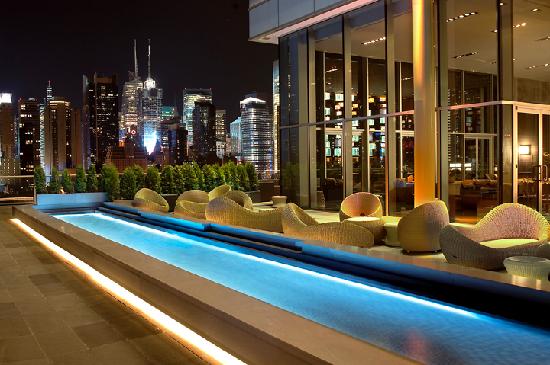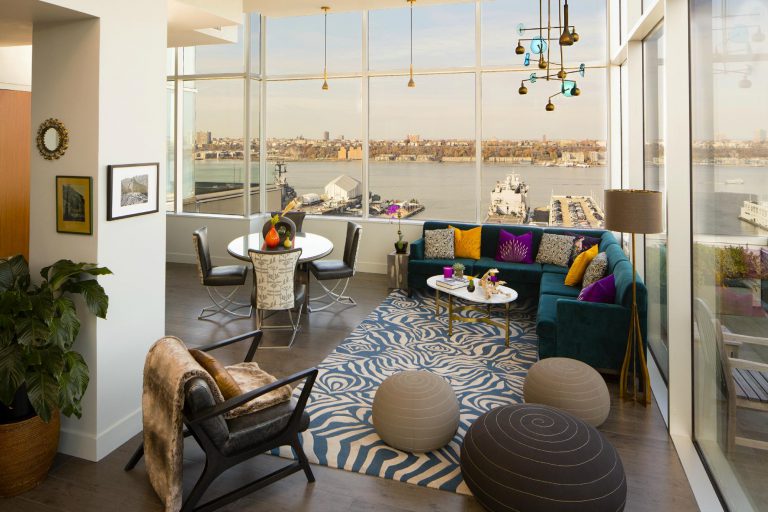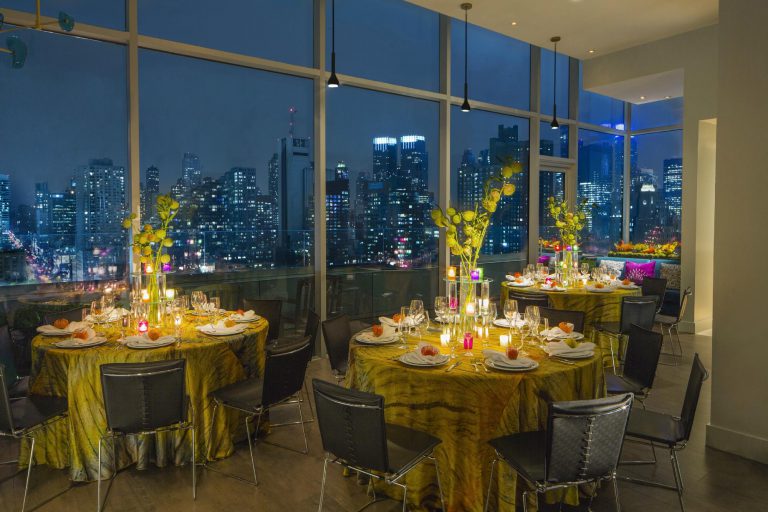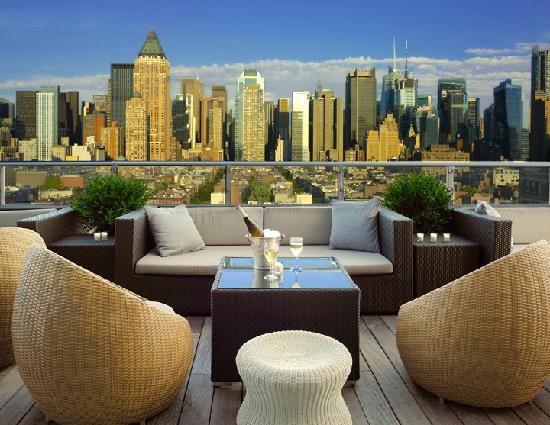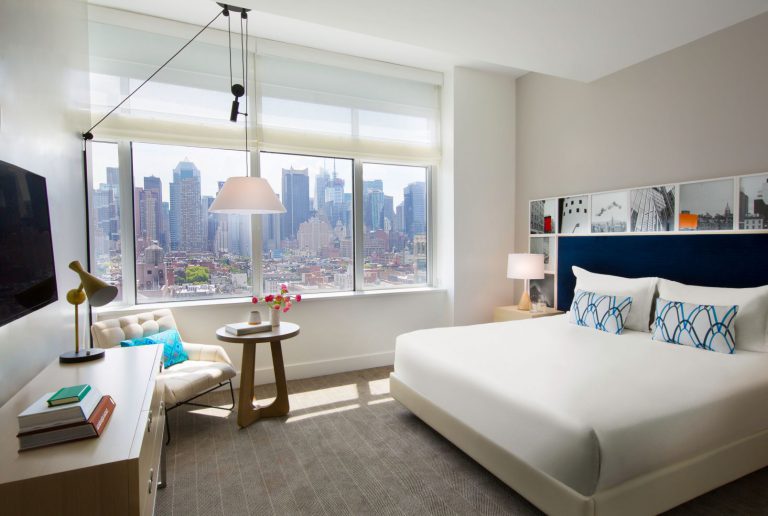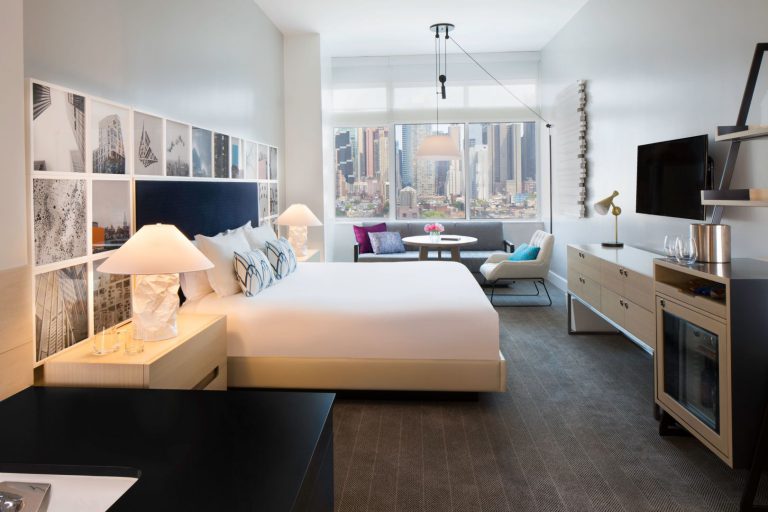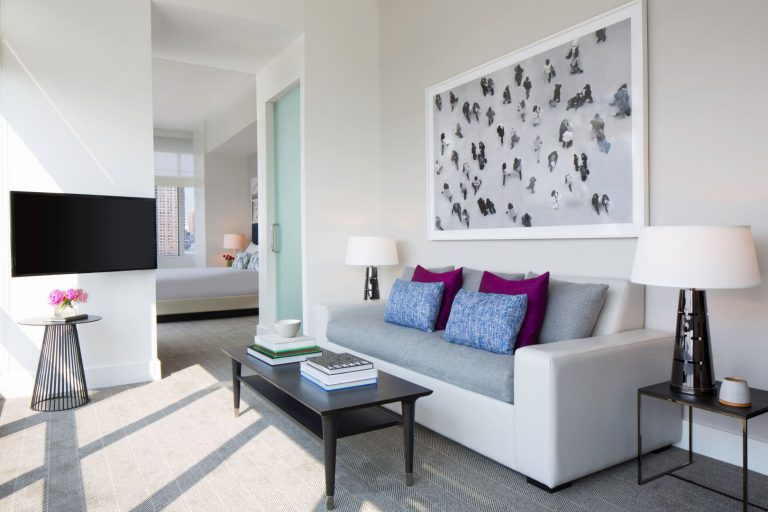 LOCAL FLAVOR AT OUR MIDTOWN MANHATTAN HOTEL
Settle into this boutique hotel across from the iconic New York Public Library and prepare to live like a local. The hosts know every corner of the city and can point you to gems off the beaten path. Connect with the art scene through our collection of NYC-based artists and exchange ideas during the
complimentary wine hour
.
The rooms are designed by the celebrated Tony Chi, the spacious rooms feel like exclusive New York lofts, with 12-foot ceilings and plenty of natural light. Check into the Andaz Splash corner suite for an incredible view of the Empire State Building and an opulent bath.
The Bar Downstairs and Kitchen is a neighborhood-centric restaurant on 5th Avenue serving delicious foods and cocktails. The menu experience offers guests the opportunity to indulge in seasonal foods sourced from farmers and purveyors in New York. For a change of pace, visit them in the evenings to enjoy premium cocktails, fine wines, beer, and eclectic shared plates.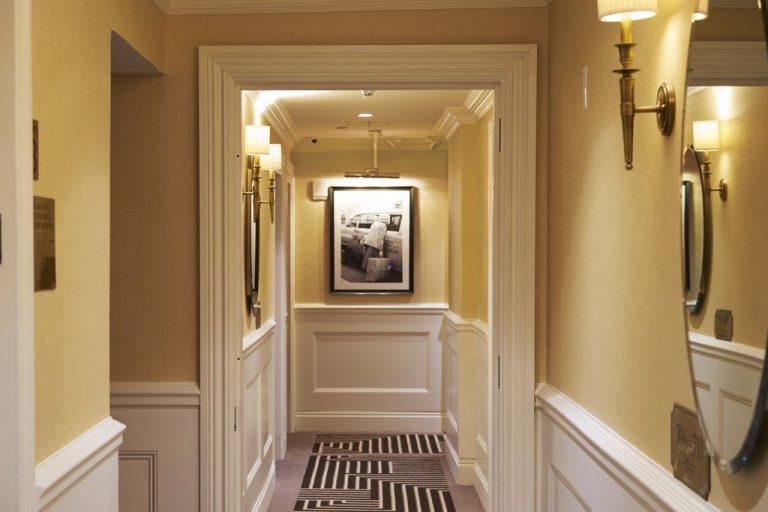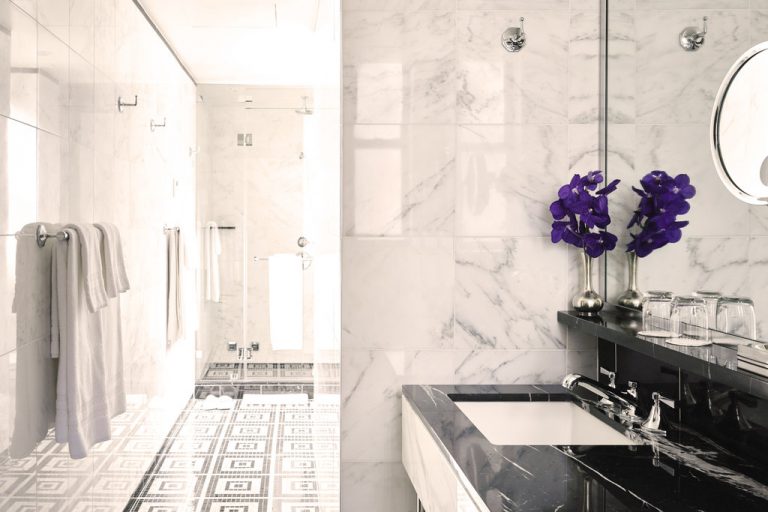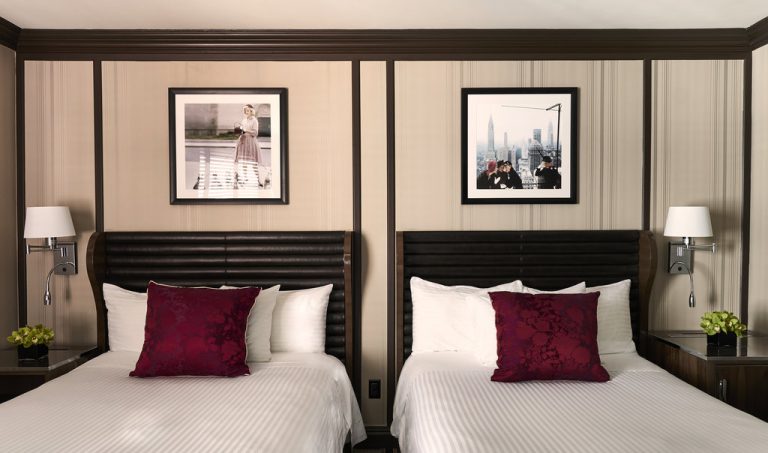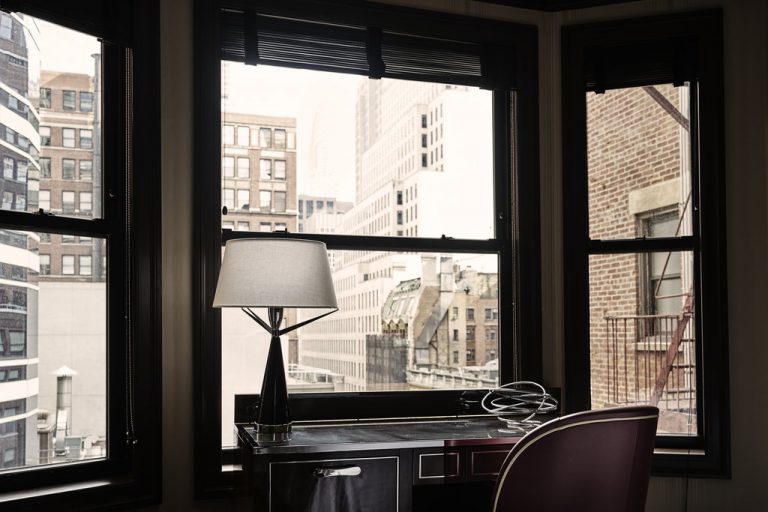 An elegant oasis in the heart of the Big Apple
Superbly central to Manhattan's wealth of attractions, The Iroquois Hotel is the height of elegance with a host of special touches that set the hotel apart including a highly acclaimed restaurant, a charming library and efficient service, all just steps from Fifth Avenue.
The atmosphere of the Iroquois is calm and composed. The hotel's rooms and suites are classically furnished in relaxing colours, with large headboards and bathrooms with floor-to-ceiling Italian marble. But it is the service that is outstanding with courteous, friendly and helpful staff at every turn.
This is the place to stay and immerse yourself in the pulse of Manhattan with theatres, galleries and shows virtually on the doorstep. New York's shopping mecca, Fifth Avenue, is a short walk away. The Iroquois Hotel's famous restaurant, Triomphe, is the perfect place to savour French gourmet cuisine before or after an evening at the theatre.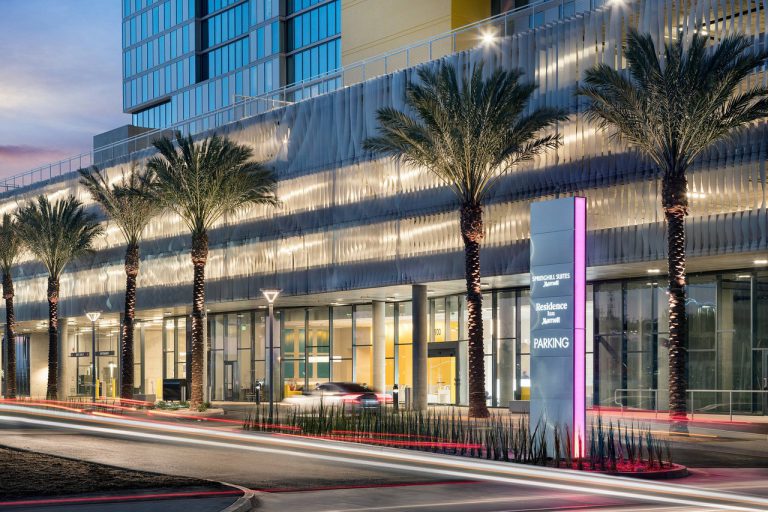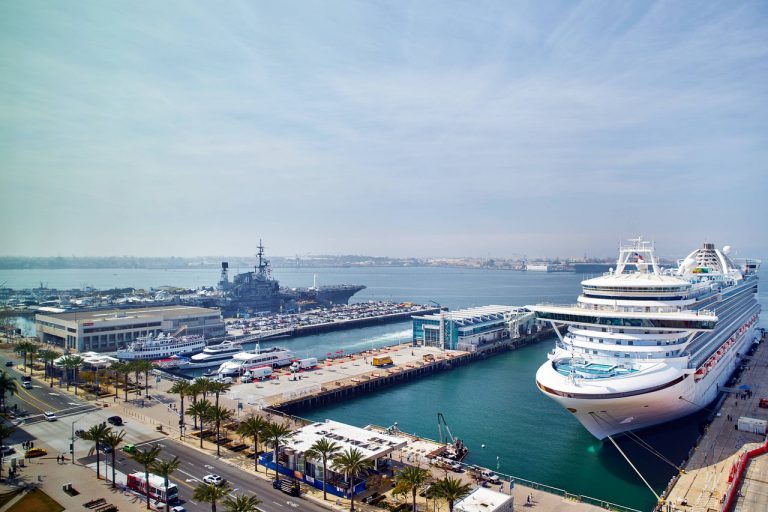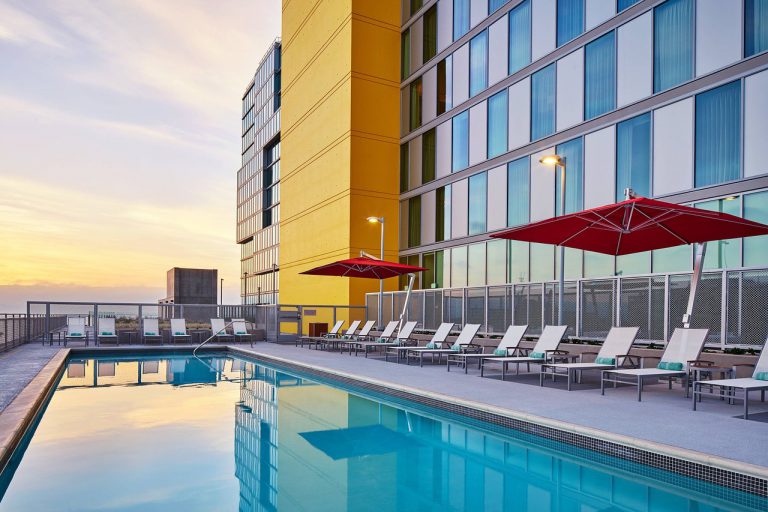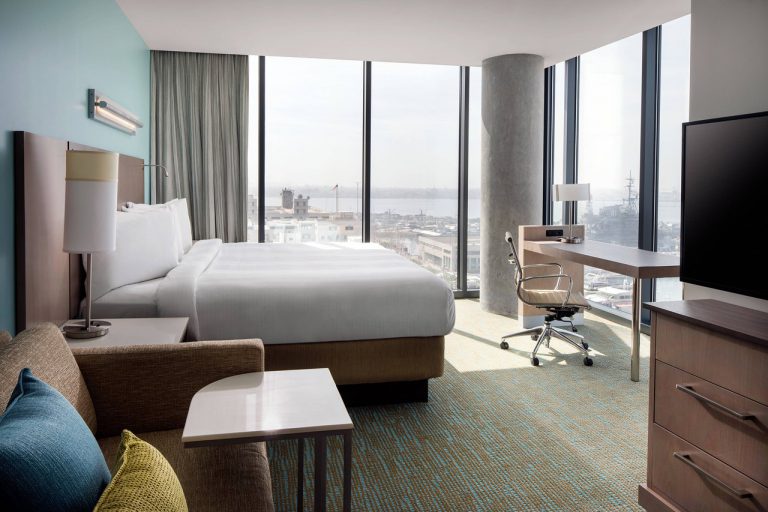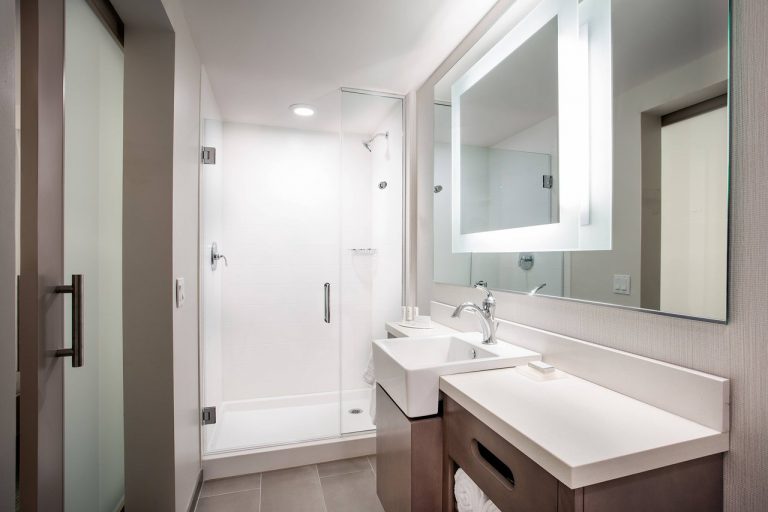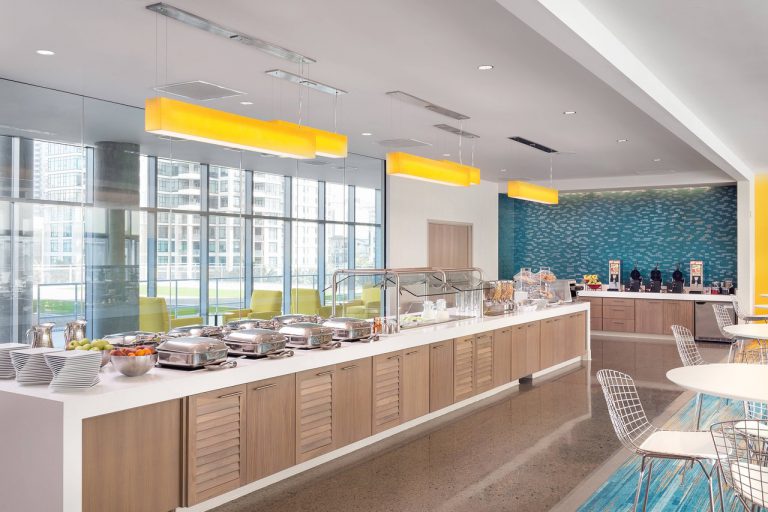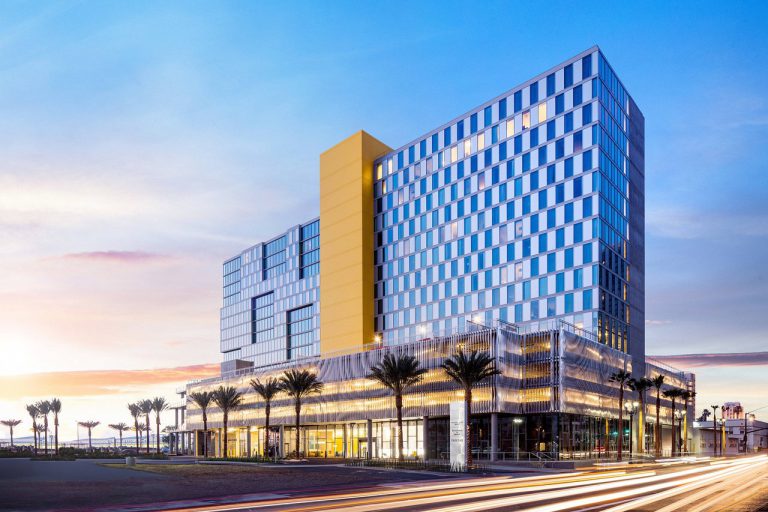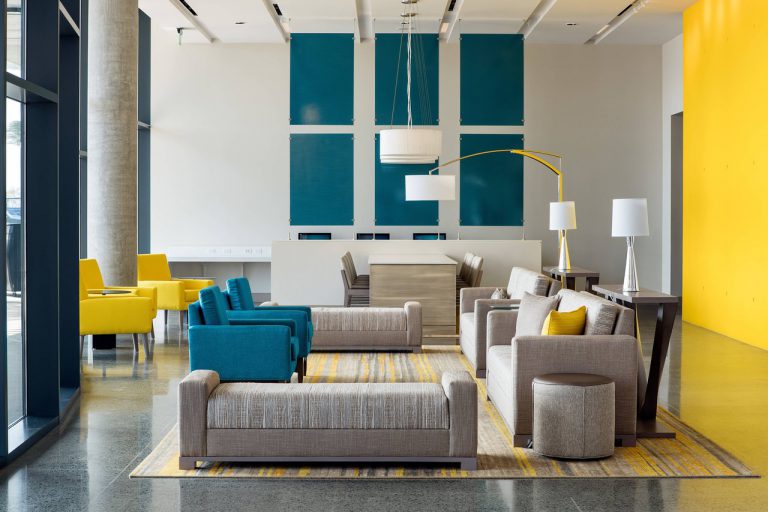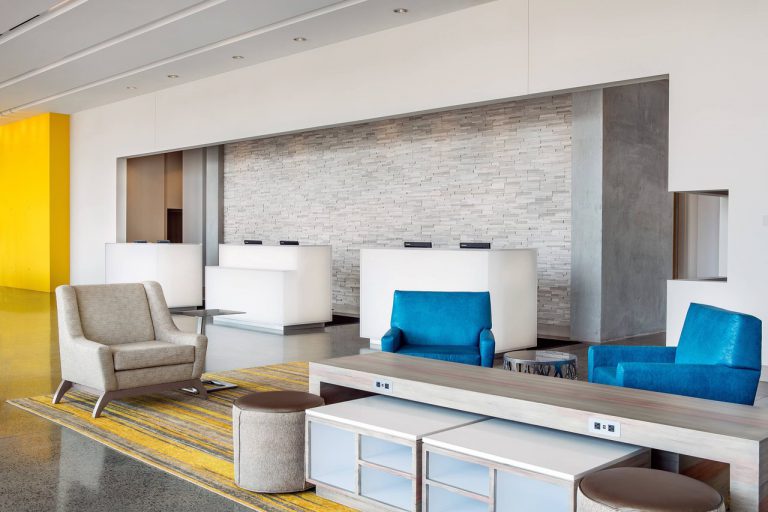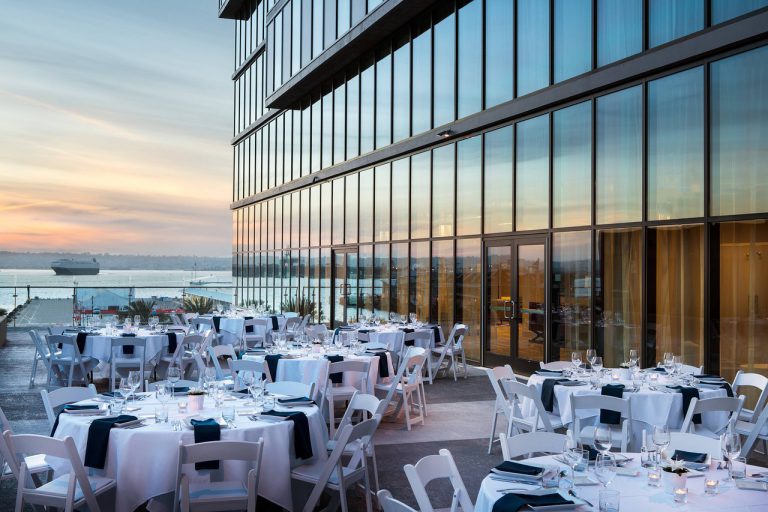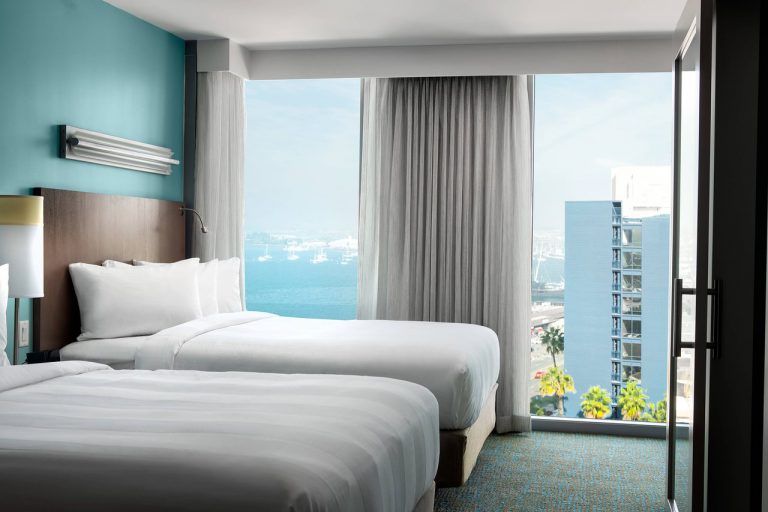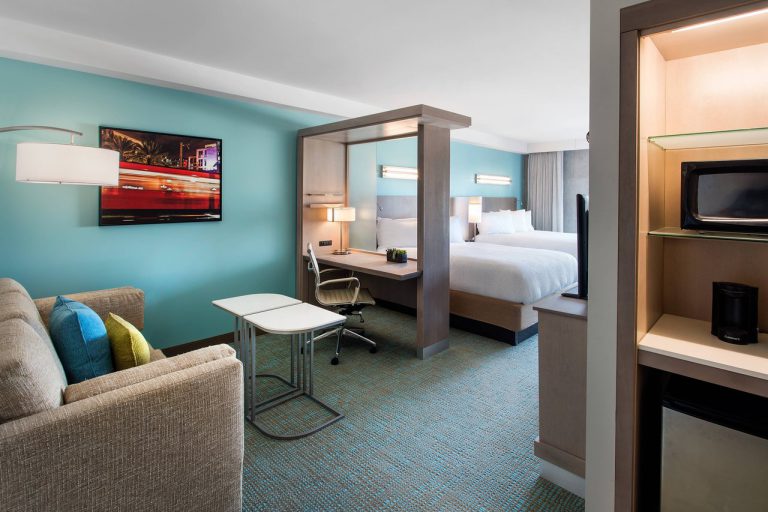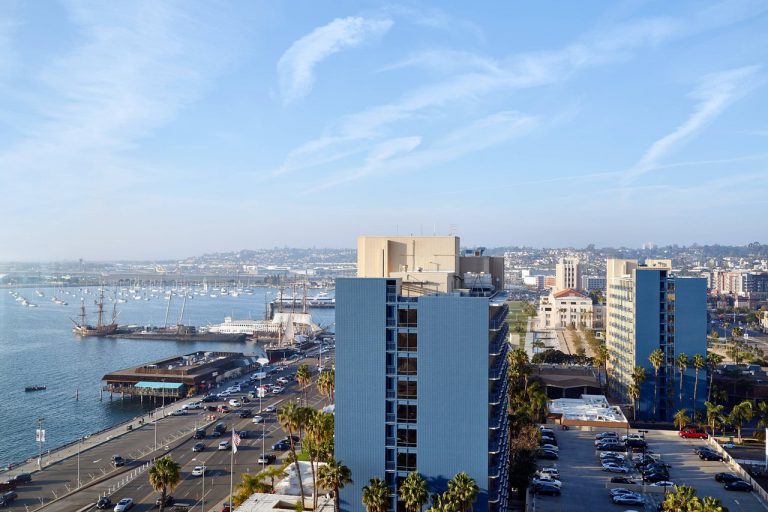 As you all know I do have a strong preference for the more special hotels which reflect the country or city you are in. Just to feel the vibe of the city! However, sometimes we have to focus on practical things like location and getting in the mood for cruising! This hotel is right at the cruise terminal so you can see your ship waking up in the morning prior to your cruise!
Escape to the heart of sunny San Diego with a stay at SpringHill Suites San Diego Downtown/Bayfront. They're next to the San Diego Cruise Port and within easy walking distance of the charming Gaslamp Quarter, the fascinating Maritime Museum and the historic USS Midway, America's longest-serving aircraft carrier. Take advantage of the free breakfast buffet serving an unexpected value of a hearty classic American favorite.
Take a dive into their rooftop pool and soak in the views of downtown and the bay. After a busy day in the sun, stretch out in one of the spacious, ultra-comfortable suites. Kick back and enjoy our selection of premium cable TV channels on your flat-screen TV.
'So nice to see your ship looking out of the window and knowing what's ahead of you! The Springhill Suites has a rooftop patio that overlooks Coronado Island & is a great place to watch sunsets! Comparably priced. Great location. Very walkable. There is even free taxi-like transportation in electric vehicles for just the Downtown area. You just need to download the app to your Smartphone. It is a great city. If you can go a day or two early, be sure to visit Balboa Park.'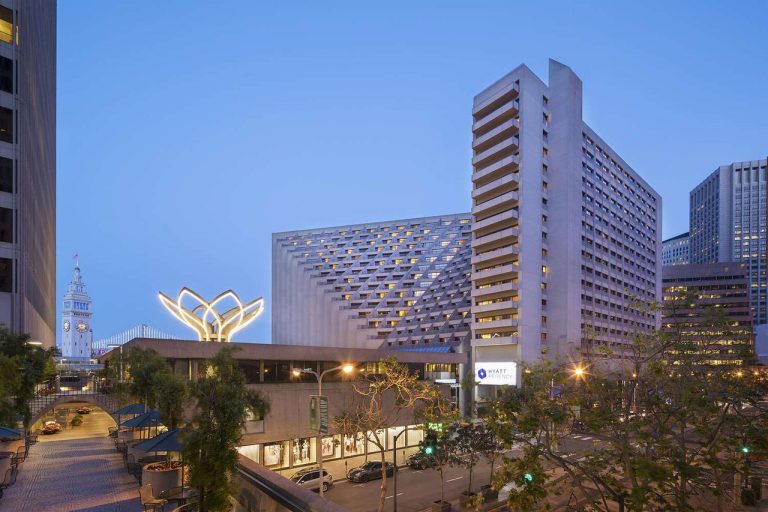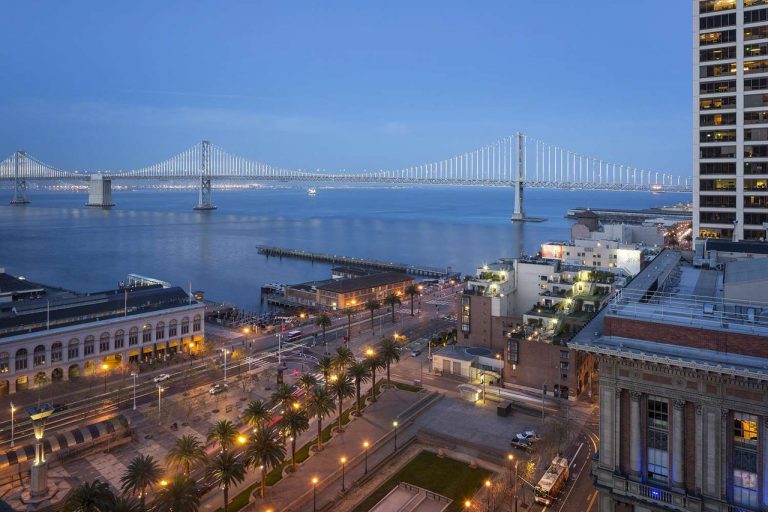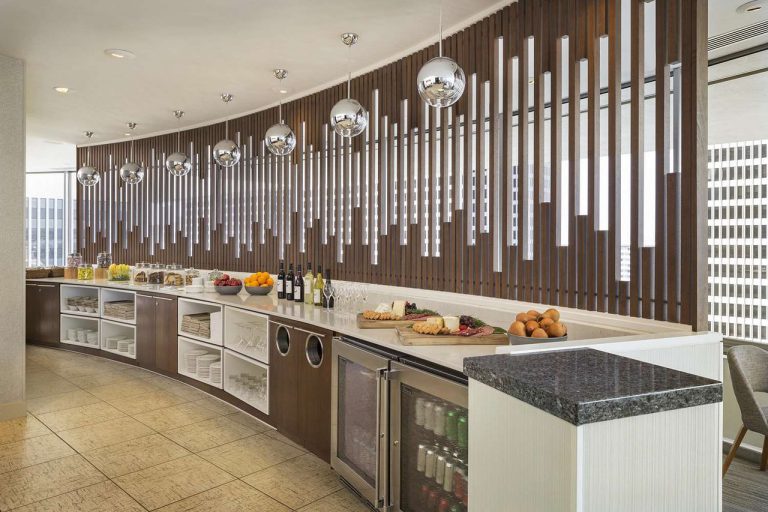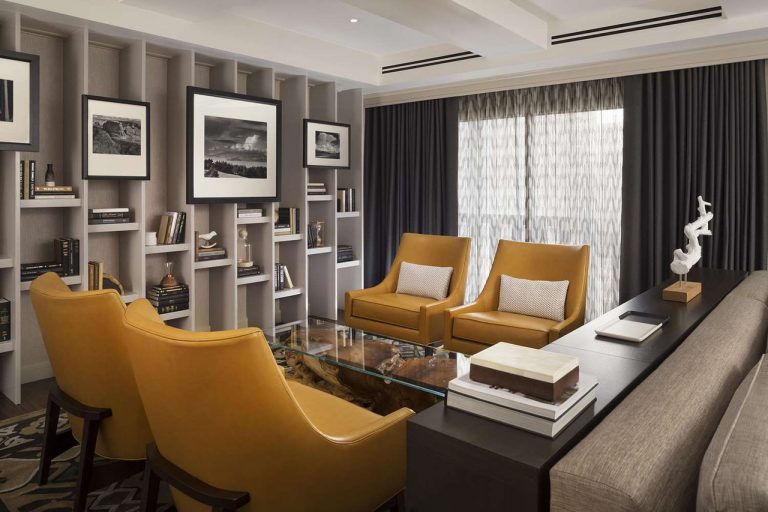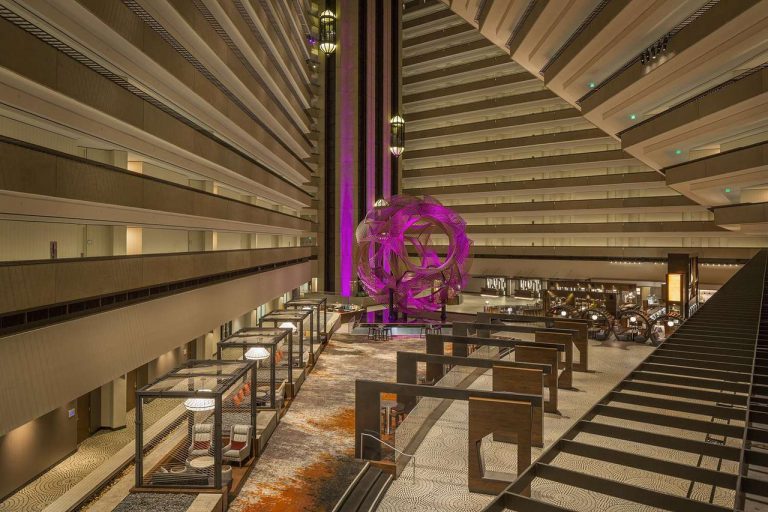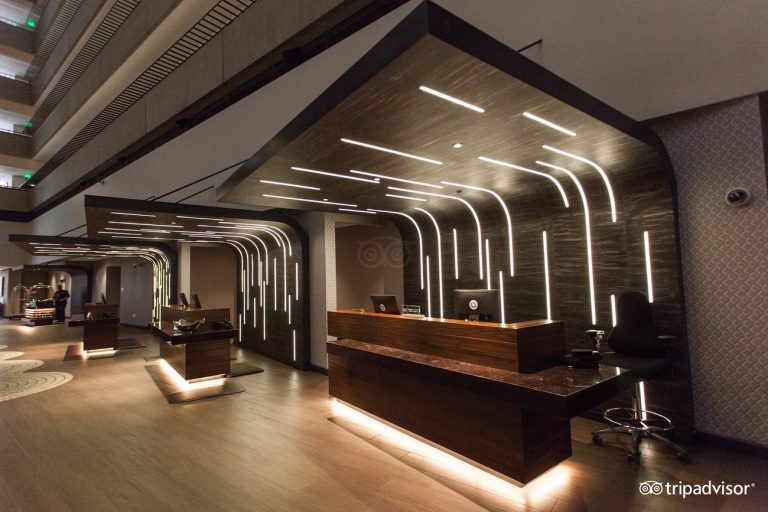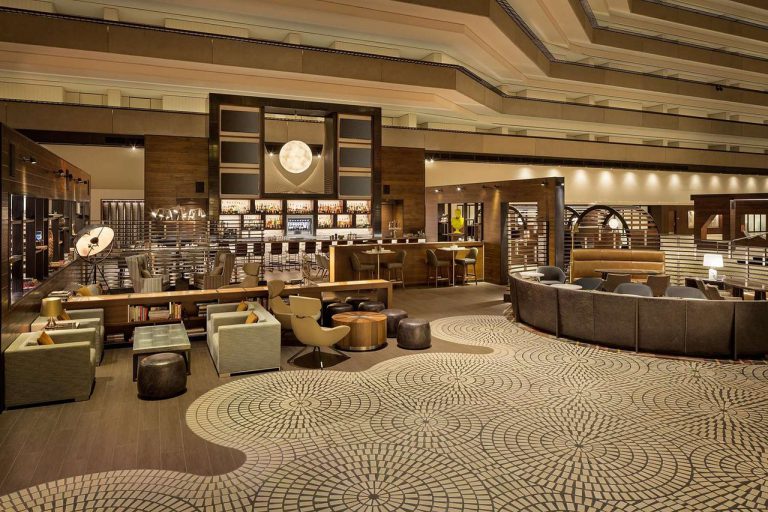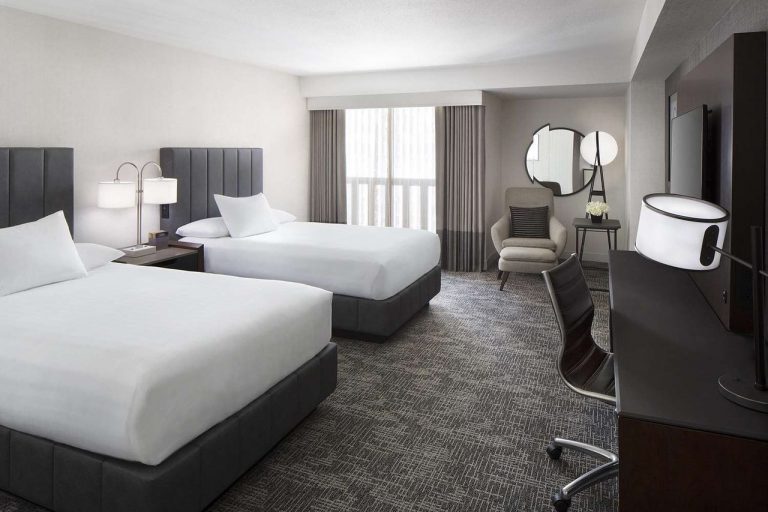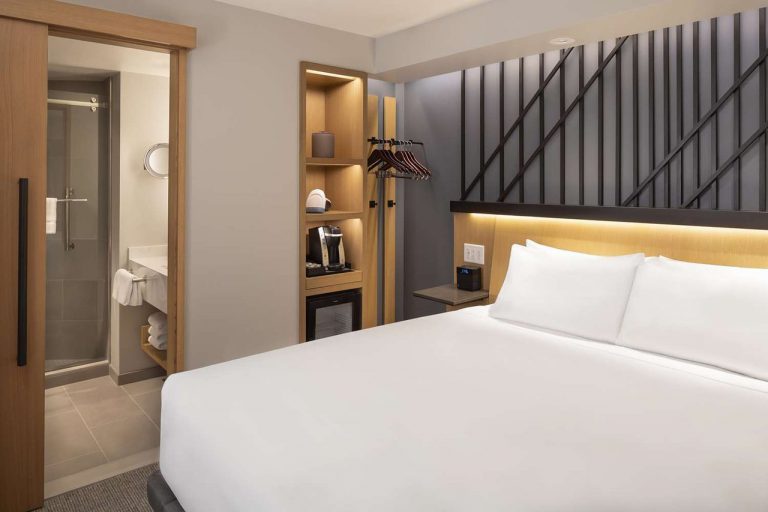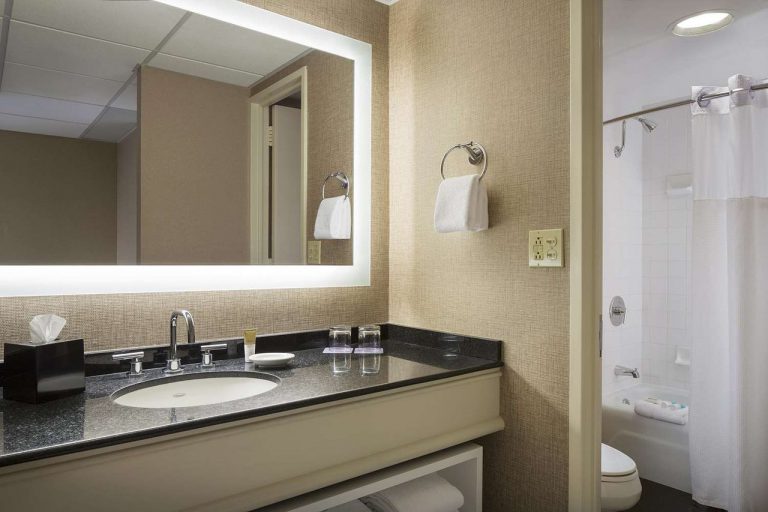 The beautiful Hyatt Regency San Francisco is amazing.
The Bart station is right across the street so it was fairly easy to get to the hotel from SFO or Oakland airport. The trolley pick up also is across the street.
The rooms are super comfy and roomy. Restaurants are available for you, we did not visit it though.
Wonderful views of the bay, clock tower, convention center, and super easy to get to Fishermans Wharf, Pier 49 with the shops, restaurants, and of course see the Seals.
'Highly recommend this upscale hotel.'