Best cruise port hotels as picked and recommended by members of our groups: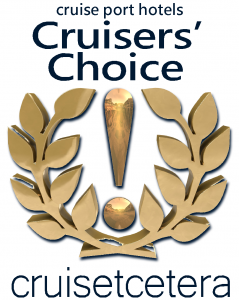 Minutes from many lively and leisurely attractions
Maureen Mc.R.: "The Bristol Panama. Very safe area. We stayed there because that is the hotel Windstar uses, although we didn't book the hotel through Windstar. We stayed for 3 days before our sailing (February 2020). For a reasonable fee, they will arrange a ride from the airport and take you to the port in Colon (about a 45 min drive if I recall correctly). The restaurant has really good food and a big picture window. We walked around from the hotel there a lot, downtown and walked to their seaside. We like to explore. Also, lots of restaurants both sit down and fast food in the area."
Considered one of the most elegant hotels in Panama City, The Bristol Hotel reflects Panama's rich architectural heritage in an atmosphere of magnificent sophistication. Minutes from many lively and leisurely attractions, the hotel features well-appointed guestrooms, an outdoor swimming pool and solarium, a full-service spa, and an extraordinary culinary experience.
The classically decorated guestrooms are furnished with mahogany fixtures, custom fabrics, and display works by Latin American and Panamanian artists. The hotel has an exquisite variety of Panamanian cuisine, prepared using quality products, which are beautifully presented. Combined with The Bristol's impeccable service, these elements make a lasting impression on guests to the Panamanian capital.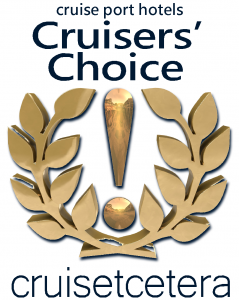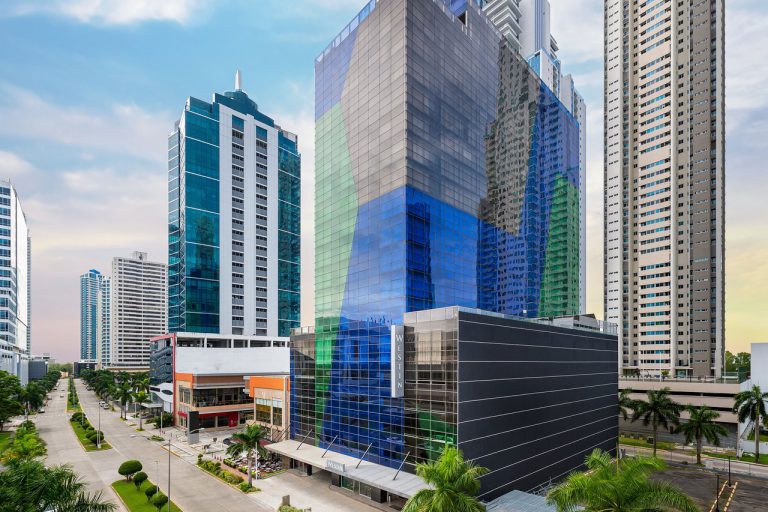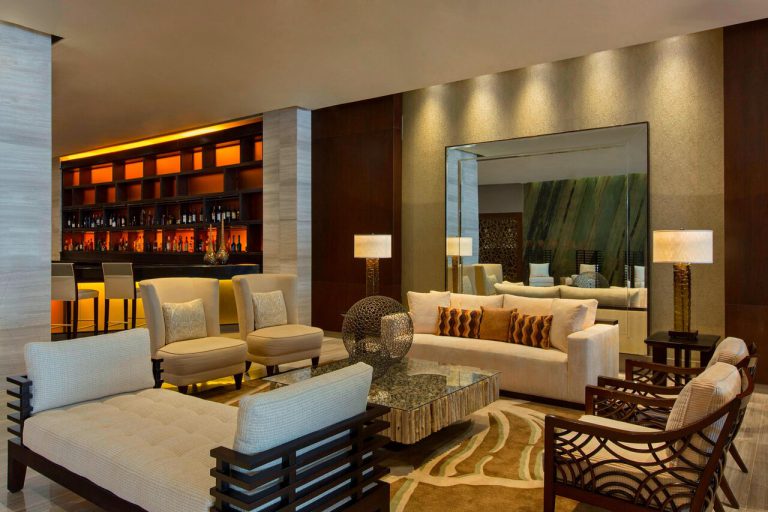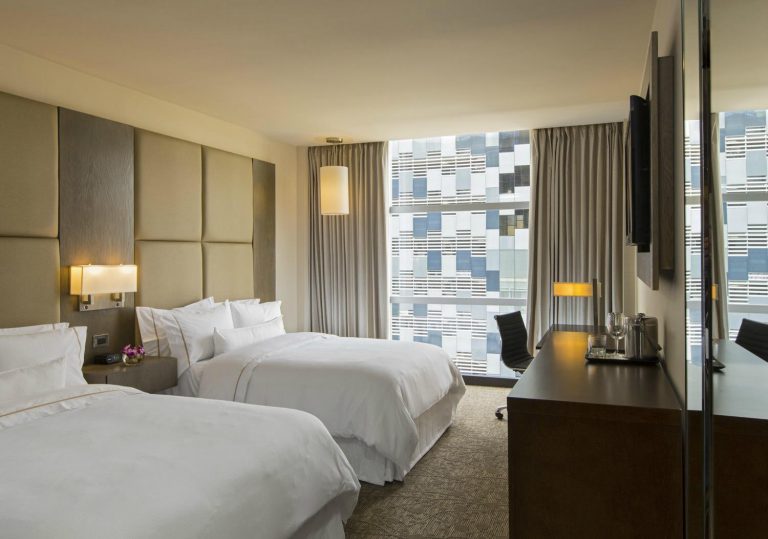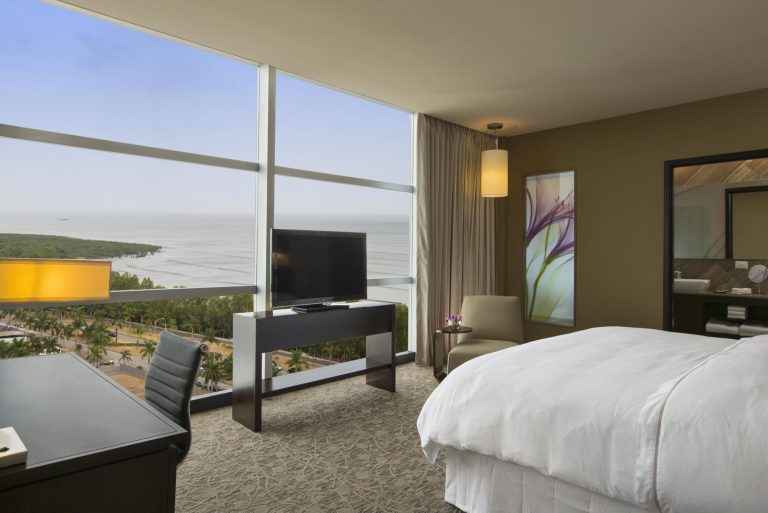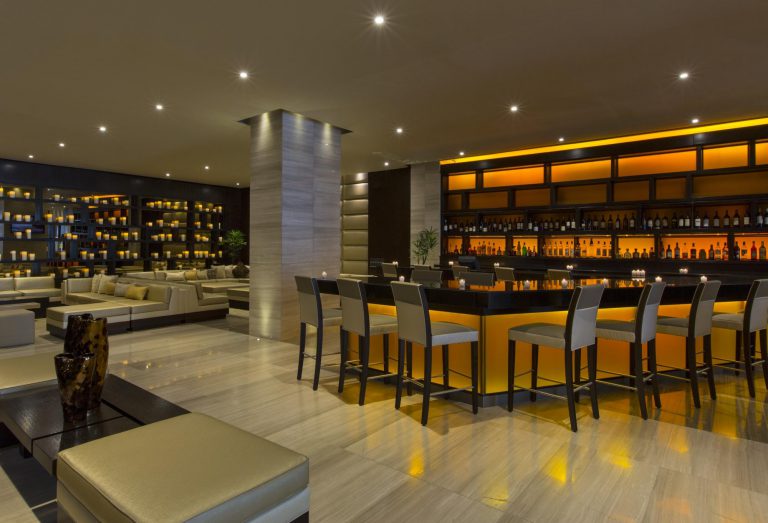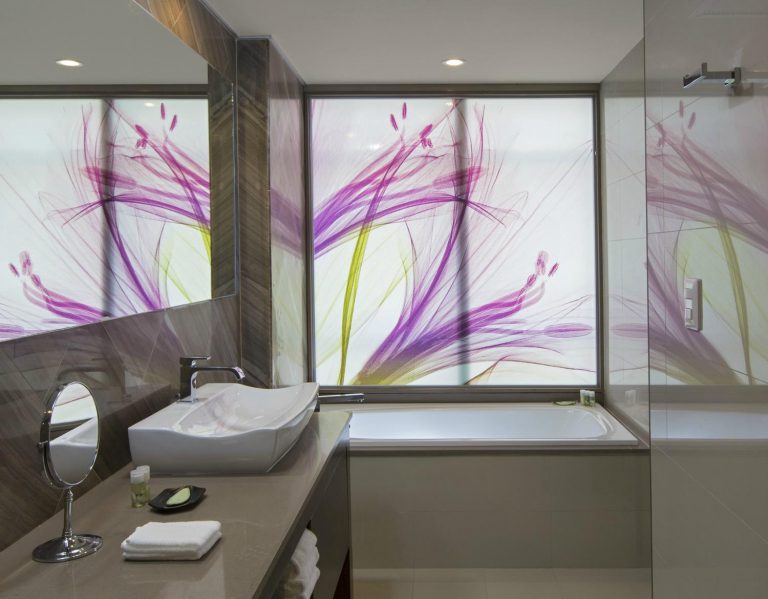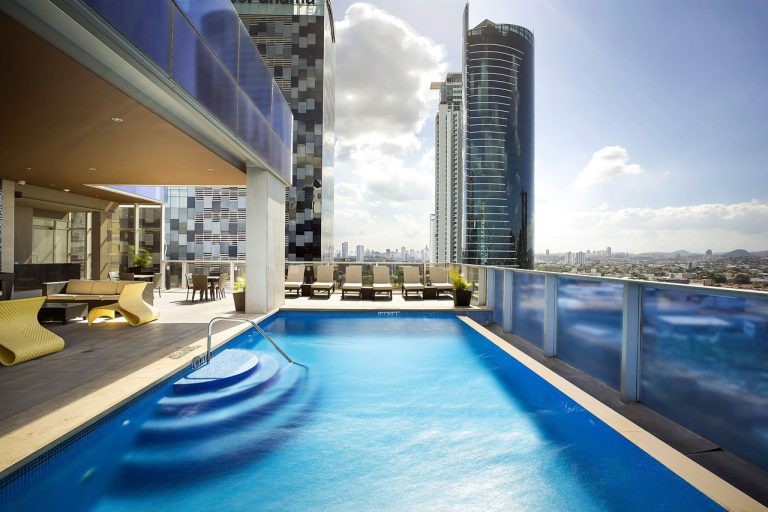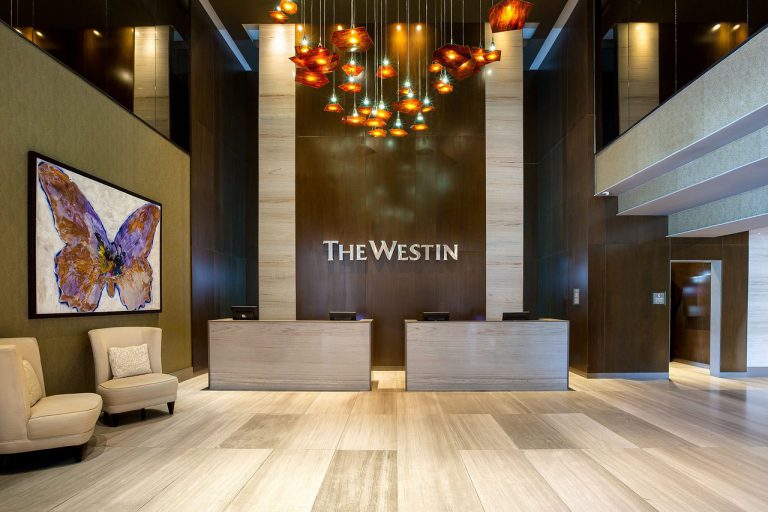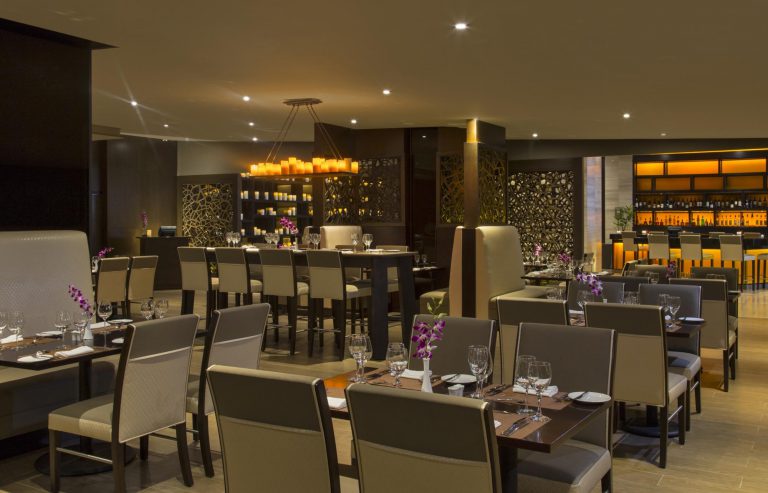 ideally situated
Jose Louis G.: "Varied breakfast and a great view from the social area. A nice experience on our visit, Very comfortable and spacious room, bad and bed. The restaurant is very good, and in the area, you can visit others for a very good price."
Monica C.: "Comfortable and very well located. Excellent breakfast." 
The Westin Panama is ideally situated in Costa del Este, a premium lifestyle development with corporate offices, real estate projects, and recreational areas. A few minutes from Towncenter Shopping Mall and Atrio Mall. Corredor Sur (Southern Corridor) connects this upscale area to downtown and the airport. Make time for a Westin WORKOUT Fitness Studio session, a swim in the pool, or an indulgent Sensory Spa treatment.
Eat well in the restaurant and snack bar.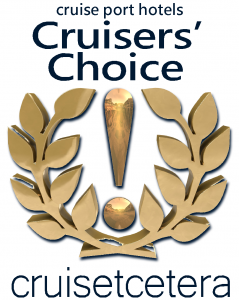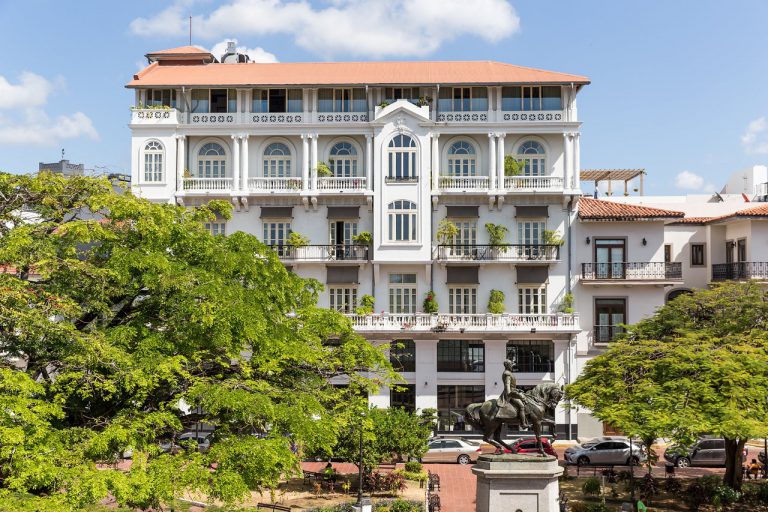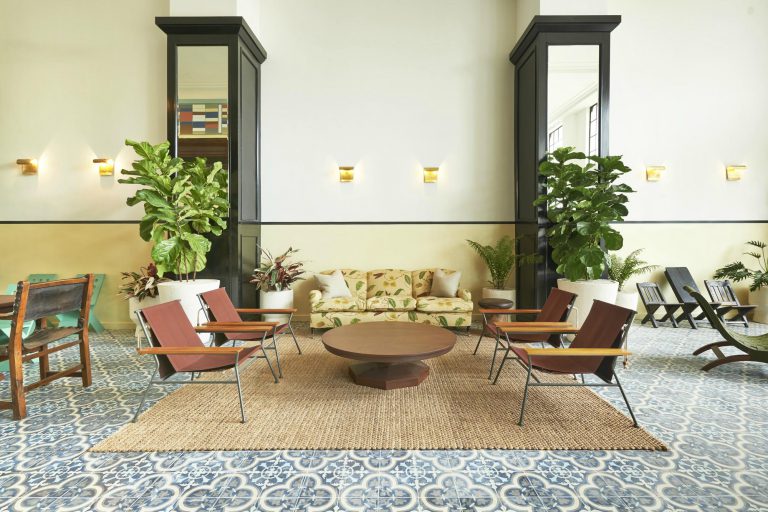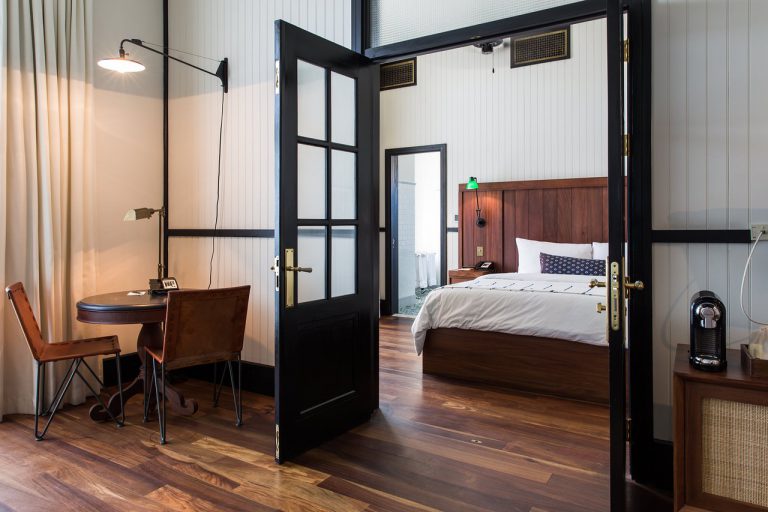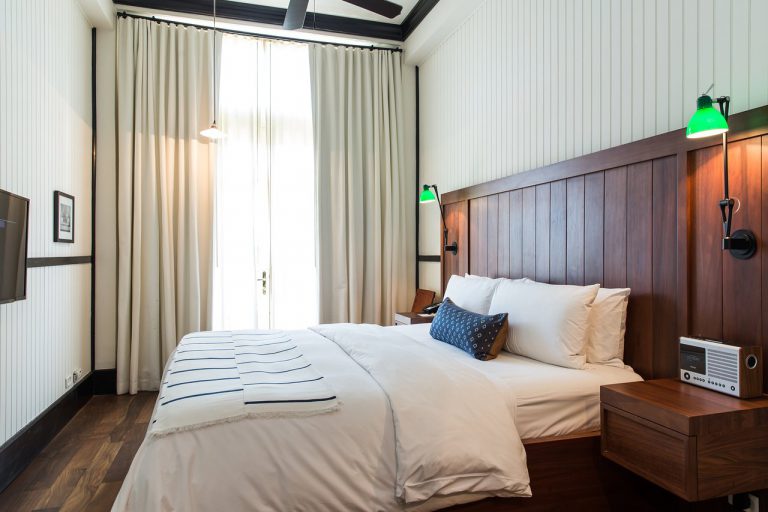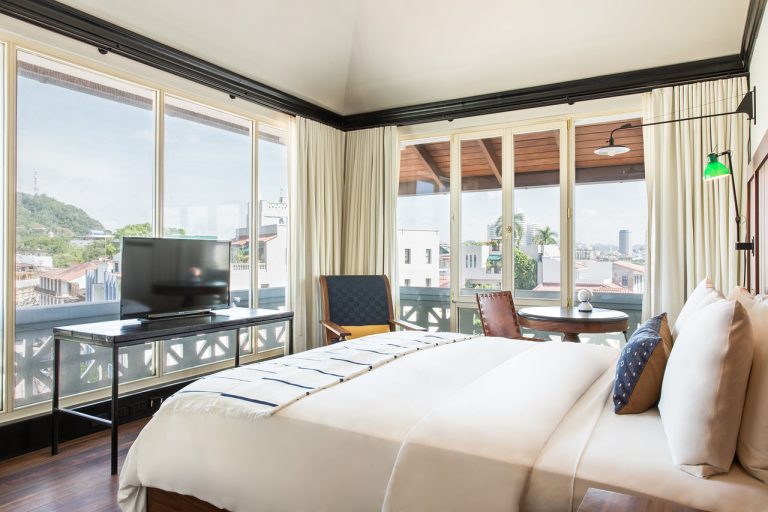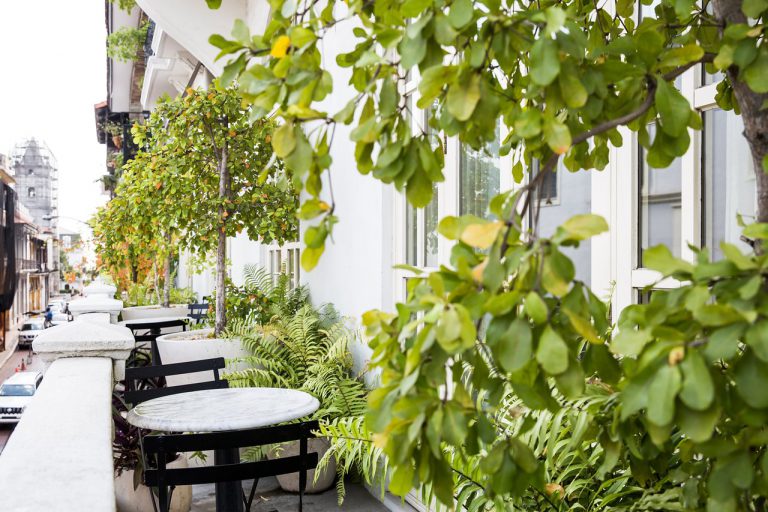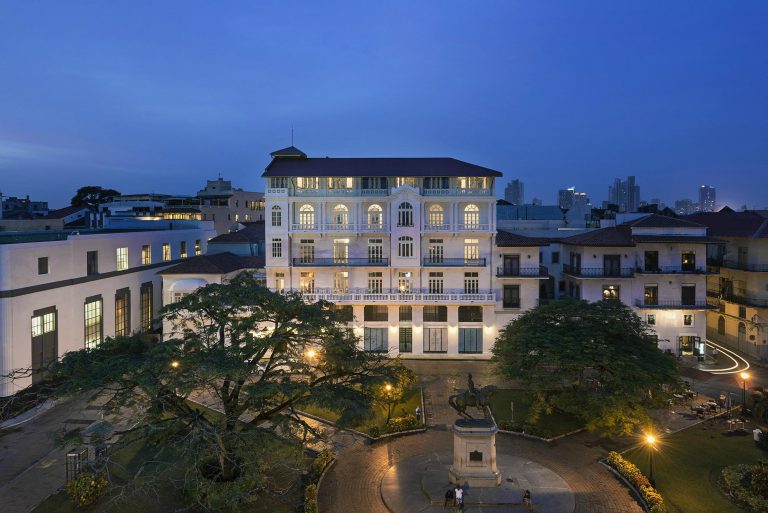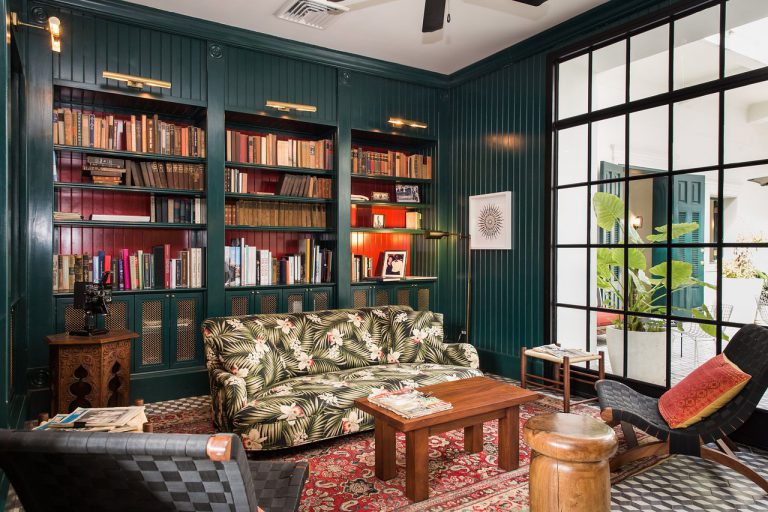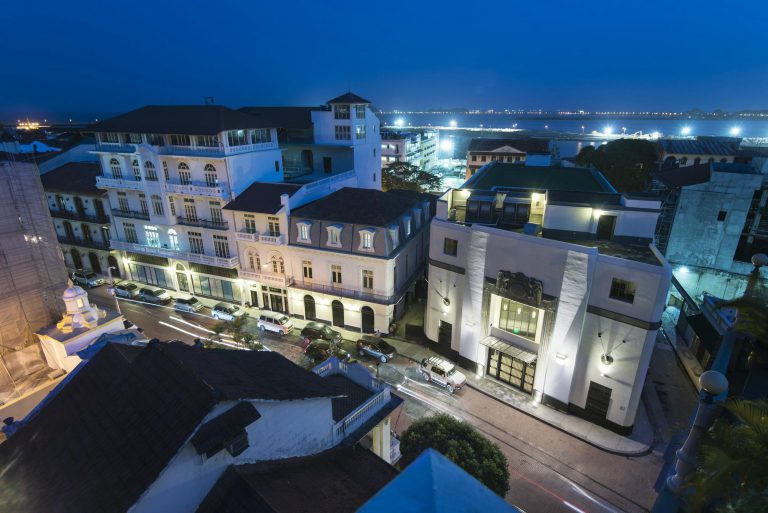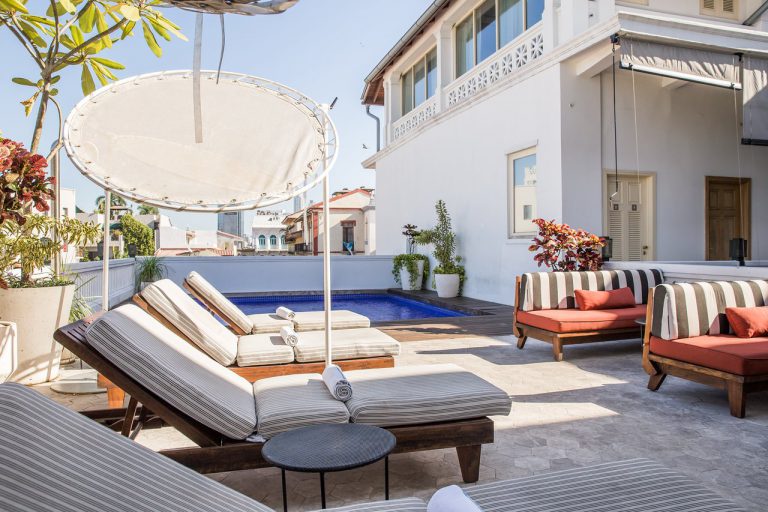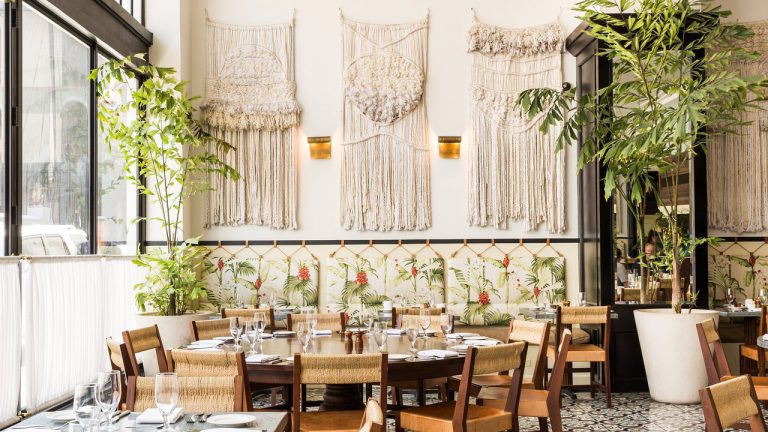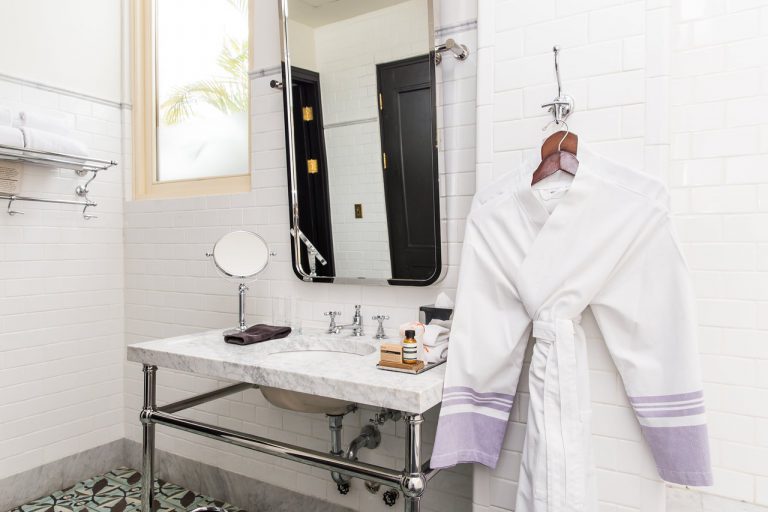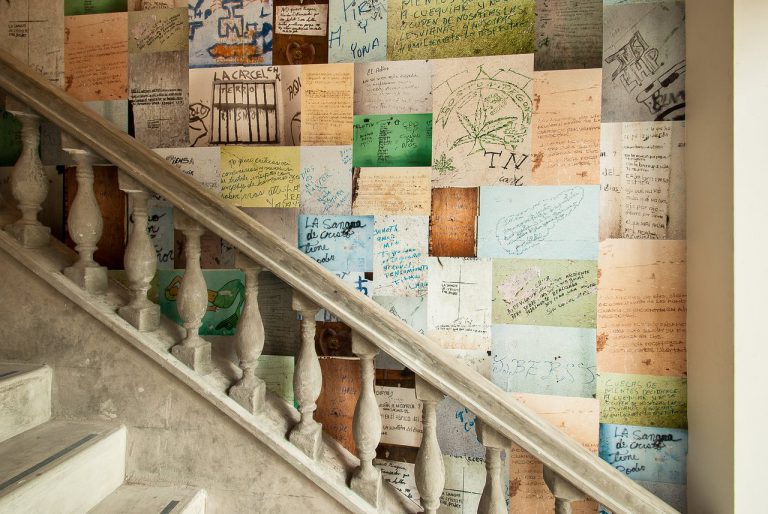 a vibrant yet intimate boutique hotel
Jan F.: "Great Location! American Trade Hotel has been restored beautifully. We had a top floor room that had a panoramic view. It was a pleasure to drink coffee in the morning and look at that view. Location in the Casco Viejo was great, easy walking distance to bar restaurants."
Cybil L.: "Lovely hotel with fantastic staff."
The American Trade Hotel and Hall is a boutique luxury hotel and events space combining old world elegance with the clean, current design. It's located in the most desirable area in Panama City: Casco Viejo, a UNESCO World Heritage site offering the best sight-seeing, dining, nightlife, destination weddings, corporate and social events, all combined with an authentic Panamanian cultural experience.
Of all the upscale options in Casco Viejo, the American Trade Hotel consistently shines brighter.  The property occupies a lovely restored 1917 building, and it stands at the ecological and cultural crossroads of the Americas, deeply connected to both the historic Old Quarter and the nascent new Panama City; a meeting place for influencers, creatives, and multi-international visionaries from around the world.
The property and surrounding area are steeped in local heritage and culture, while the hotel has been thoroughly retrofitted with every contemporary convenience and modern luxury that today's discerning traveler needs.
American Trade Hotel and Event Hall offers luxurious rooms and suites, fine dining, the stylish Unido Café, the world-class Danilo's Jazz Club, featuring live entertainment, as well as the elegant American Trade Hall Event Space, set aside in grandeur for the celebration of signature weddings, social exchanges, and corporate events in Casco Viejo, hands down Panama's coolest neighborhood. This hotel is a member of Small Luxury Hotels of the World.
If there's any doubt that Panama City's Casco Viejo has truly joined the ranks of the world's hippest neighborhoods, maybe the advent of the American Trade Hotel & Hall will settle the matter once and for all. In Panama, a sort of urban renaissance is underway, centered around the town's historic quarter, and the American Trade, for all its agenda-setting originality, is at its heart an extremely sensitive restoration project.
Call it "fictional" restoration. They've taken very good care of the buildings, the former American Trade department store and an adjacent commercial building, but rather than simply roll back the clock, Commune Design created a fictional backstory — that of a family-owned hotel that's been in place for centuries. Over time, Panama being the crossroads that it is, such a hotel would naturally accumulate a wealth of eclectic influences. The result of this process of the invention is the hotel you see before you today.
Fifty rooms are the sweet spot for a vibrant yet intimate boutique hotel, and they're a perfect mix of old and new: weathered wood, antique and modern furniture, retro colors, and occasional balconies alongside Frette linens, plasma screens, and throwback-style tiled bathrooms (albeit thoroughly modern in function).
For now, the lobby bar and the rooftop pool deck do an admirable job of seeing to the hotel's socializing needs, but a restaurant, a café, and a jazz bar (under the direction of Panamanian jazz pianist Danilo Pérez) are in the works. In a hotel like this one, the social aspect is of equal importance to the rooms, if not greater — watch this space, as there'll surely be more to come.
Panama - Colón-Panama City
A lovely eco-resort hotel
Gamboa is a small town in the Republic of Panama. It was one of a handful of permanent Canal Zone townships, built to house employees of the Panama Canal and their dependents. The location is on a sharp bend of the Chagres River at the point that feeds Lake Gatun. Just south of Gamboa, Lake Gatun and the Chagres meet the Culebra Cut (Gaillard Cut), where the Canal cuts through the Continental Divide.
Gamboa is home to caimans, crocodiles, iguanas, and several hundred bird species. Given its location at the "end of the road" and the single road connecting it to the rest of the Canal Zone, Gamboa is adjacent to significant tracts of relatively undisturbed rainforest. A trail that follows an old pipeline ("Pipeline Road") is considered one of the best birding hikes in Panama and one of the premier bird-watching sites in all of Central America.
Boasting views of the river, garden, or tropical style pool, the 137 guest rooms and 27 suites at Gamboa Rainforest Resort offer your own private sanctuary amidst the pristine natural beauty of Soberania National Park. With a rustic yet comfortable eco-lodge-style, all accommodation feature comforts that include complimentary Wi-Fi and 24-hour room service.
Locally inspired architecture and décor along with stunning views of the Panama Canal and Chagres River inspire the senses while soothing the spirit. With warm breezes and tropical birds singing over your room's private balcony and hammock, it's easy to lose yourself in the tranquility of Gamboa Rainforest Resort.
Nestled among lush gardens, the Deluxe Garden view rooms are perfect for travelers seeking comfort but not requiring the added space of a large balcony. It offers views of our tropical garden and the pool. The River view rooms include a private balcony with a lovely view of the Chagres River and the amazing Panamanian Rainforest. The rooms come with either two double beds or one king-size bed, an ample bathroom, designed with colorful tiles, and multiple services.
"For those who want a Panama nature feel prior to your cruise and not stay in a city hotel, this can be a great option!"
TRANSCEND INTO BLISSFUL SERENITY
Retreat to JW Marriott Panama, where you will be immersed in timeless luxury and unrivaled service every moment of your enriching getaway.
Situated along the shores of Punta Pacifica, this high-rise, the luxury hotel boasts a convenient location surrounded by a variety of businesses, plus shopping and entertainment options, in the Financial District. Ignite your stay by splashing into the resort-style infinity pool, soaking up striking views of the Panama City skyline, and sipping a tropical cocktail from the poolside restaurant.
Wind down and entice your taste buds with authentic, Latin American seafood dishes at our signature restaurant, Tejas Restaurant. After a thrilling day thriving in the city, indulge in the comfort of the spacious accommodations adorned with plush bedding and opulent décor inspired by the sparkling coastline.
Treat yourself to a bottle of champagne as you unwind and relax on your private balcony as the sunsets. Your pre-cruise stay at JW Marriott Panama will be anything but ordinary.
The design is jaw-dropping
On the edge of the Bay of Panama overlooking the old and new quarters of the city, this hotel is bounded by charming restaurants and vibrant nightlife, all within a few minutes to the financial center and corporate offices.
The design is jaw-dropping. A double high ceiling lobby features an overturned glass pyramid reflecting vibrant colors, while a black granite lobby blends with golden accents, and a prominent 46 feet high atrium featuring lively glass.
The 111 guest rooms and suites are equipped with everything for the stylish guest, including in-room amenities and marble bathrooms. Four function rooms are ideal for meetings or events, and the Sensory Spa by Clarins is the perfect place for pampering yourself.
Le Meridien Panama is a great choice when visiting Panama City. It is not only affordable but also comfortable and centrally located. Enjoy a luxurious environment with a host of amenities specially designed for cruisers like you.
Le Meridien Panama is close to Panama City's most popular attractions such as Iglesia del Carmen (0.4 mi) and Habla Ya Spanish for Travelers – Day Classes (1.2 mi). It is therefore ideal for tourists.
Rooms at Le Meridien Panama Hotel offer a flat-screen TV, air conditioning, and a minibar, offering exceptional comfort and convenience. There is also free wifi available for guests.
A concierge, room service, and a rooftop terrace are some of the conveniences offered at this hotel. In addition, the rooftop pool and restaurant will make your stay even more special.
During your visit, head to popular restaurants in Panama City that serve crab-like Maito, Siete Mares, and La Casa del Marisco near Le Meridien Panama Hotel.
Panama City is also known for some great ancient ruins, including Panama La Vieja, El Arco Chato, and Iglesia de la Compania de Jesus, which are close to Le Meridien Panama Hotel.
"At Le Meridien Panama your comfort comes first."
make memories and leave inspired…
At Global Hotel Panama with the five star boutique hotel premier service, it is easy to experience the breadth of the cultural diversity of Panama City. Accompany the Chef to the 54 East Restaurant kitchen to learn about Panamanian produce and select your own dinner for your mid-day and evening meals, take part in a master class Executive sampling of Panamanian rum where you will learn the history and the art of rum production in Central America, or even enjoy a hike through the Metropolitan Natural Park, the only rainforest in the world within a city's boundaries. However you choose to spend your time at Global Hotel Panama, make memories and leave inspired…
Global Hotel Panama, is Global Hotels first property in Central America and occupies the ground floor plus six upper floors of the newly-constructed Twist Tower Office and Hotel development in the heart of the Obarrio District of Panama City. This magnificent example of contemporary urban architecture lies in the exclusive Obarrio residential and commercial district, home to numerous prestige shops and restaurants. Twist Tower is just minutes from the city's financial center, provides the perfect luxury boutique hotel in Panama for business, leisure travelers and extended stay accommodations.
This luxury accommodation at this Luxury Boutique Hotel comprises 60 bedrooms including one ultra-luxurious suite, a fine dining restaurant and wine bar/cocktail lounge at ground level and, on the 12th floor, a business center with four boardrooms plus four stylish event spaces, a A small Spa and a health club fully equipped GYM with outdoor pool and whirlpool offering spectacular views of the city.
Global Hotel Panama, with values of elegance and simplicity are expressed in Panama in the context of an energetic, avant-garde building complementing the city's burgeoning skyline located in the center of all things happening in Panama.
This hotel  is perfect for a vacation, a city break, a pre cruise stay or extended stay accommodation with a luxury boutique feel. A luxury hotel in Panama where everything is at hand – beautifully equipped meeting rooms, a choice of dining, a wine bar plus a gym with state-of-the-art equipment and massage room that provides an oasis within this vibrant city.
Sleeping in a modern mixed-use skyscraper might not be what you had in mind when you first thought of a trip to a tropical destination like Panama. The concept does sound a little cold, especially since the Global Hotel Panama is one of those hotels that doesn't occupy the whole building, just the ground level and six upper floors. But hear us out. This is one of the most popular hotels in Panama City. Not because it's terribly cozy, or for the style, which is pleasant enough. It's in other categories that the Global Hotel Panama really delivers: excellent service, solid amenities, and location, location, location.
That location, in the Twist Tower in the downtown district of Obarrio, puts you within walking distance, or a short taxi ride, of pretty much anywhere you'd like to go in town. Convenient, indeed, especially since many travelers experience
Panama City as a point of connection to somewhere else. You won't be sorry you booked here when you arrive, overheated and exhausted, and the front desk staff offer you a flute of champagne or chilled mineral water. Things look even better when you get inside your room. The building itself is brand-new, and it looks and feels like it. Rooms and suites are spotless and state-of-the-art, smartly stocked with 40-inch LCD TVs, iPhone docking stations, Italian coffee machines, and bathrooms with walk-in showers. Floor-to-ceiling windows mean a flood of sunshine, and striking views over Panama City's rapidly developing skyline. Suites have king-sized beds with pillow menus and marble baths with products by Salvatore Ferragamo.
Up on the twelfth floor, there's a small outdoor swimming pool. Adjacent are the pool bar and the obligatory fitness center: choose your own adventure according to your mood and level of jet lag. You'll find another bar on the ground level at the brasserie-style 54 East restaurant. If you're in town for a longer than a night or two, you might take a quick course (and tasting) in Panamanian rum. But even if you're only passing through before an early flight, you'll want to plan ahead — you wouldn't guess it from the outside, but the Global Hotel Panama has just sixty rooms, and they go fast.
Explore the Free Zone near this Colón, Panama hotel
The location is the biggest reason why this hotel is in our selection.
Set in one of the city's safest districts, Radisson Colon 2,000 Hotel & Casino places you close to Colón 2,000 Cruise Port and Colón 2,000 Duty-Free shopping center. Near the mouth of the Panama Canal and steps from the second-largest free-trade shopping zone in the world, this unrivaled location adjacent to the Colón Free Zone enables many business guests to walk to their daily destinations. Shoppers can take advantage of the hotel's Free Zone shuttle service for worry-free bargain hunting. Let the concierge help you design an entertaining itinerary of nearby must-sees, including the historic fortifications in Portobelo and San Lorenzo and the beaches of Isla Grande.
The hotel also features two on-site restaurants, a lobby bar, and an exciting casino with games and live performances. Relax during your stay with a visit to the spa, sauna, and outdoor pool. You can take in gorgeous views of Manzanillo Bay and passing cruise ships while you sip drinks at the poolside bar.
A variety of convenient services, such as free Wi-Fi, a full-service business center, and a fitness center, are included with your stay.  The hotel offers a shuttle service.
Each of the 102 air-conditioned rooms and suites provides unparalleled comfort and amenities to help you unwind, including a minibar and a flat-screen smart TV. Traveling with family? Reserve a one-bedroom suite to enjoy ocean views, a living room with a sleeper sofa, two bathrooms, and food and drink discounts. 
when you have a special request or can not find your hotel, you want a cheaper option or you have any questions? please contact us and we will send you a new top 3 based on your choice.
by e-mail: GERT@CRUISETCETERA.COM