Best cruise port hotels as picked and recommended by members of our groups: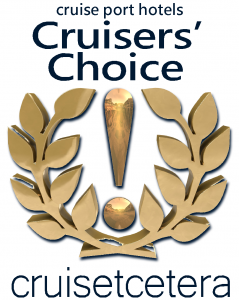 Robin S.: " LOVED Sky City Hotel in Auckland. Hated to leave. Had top floor w a view!!! Next to Sky Tower."
Escape to a hotel where exceptional experiences happen every day. A place where you can enjoy genuine Kiwi hospitality and modern, spacious accommodation.
Explore the sights and sounds of vibrant Auckland, including the iconic Sky Tower. Pamper yourself at rejuvenating spa facilities. Experience magnificent dining with over 20 restaurants, cafes, and bars close by, not to mention theatres and the exciting SkyCity Casino. Before you return, relax and refresh with the world-class facilities and services, where your comfort is their priority.
Featuring designer bathrooms with luxurious amenities, the Premium rooms are modern and spacious, with a choice of either a king room with a California king-size bed or a twin room with two double beds.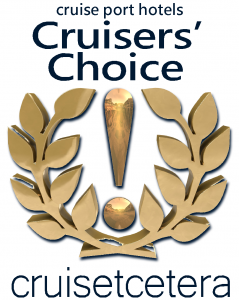 Nautical-inspired style with panoramic sea views
Nina B.: " Yes, I'd recommend the Hilton, which is right on the wharf. I used to live directly opposite on the other side of the harbor, watching all the ships come and go."
Lola D.:" Hilton, Prince Wharf, the best spot !"
Dolores F.:" We loved the Hilton."
Cindy C.:" We stayed at the Hilton on the pier for 4 days before our cruise. It was wonderful. Walking distance to everything. The staff was exceptional and very welcoming. Easy walk to the HOHO bus, many fabulous restaurants and it's right where the ships dock. Highly recommend."
This nautically-inspired hotel sits on the end of Princes Wharf, home to a wide variety of fine shops, restaurants, and bars. The Cloud convention center, New Zealand Maritime Museum, and downtown Auckland are within a 10-minute walk. Get a unique view of the harbor through the outdoor lap pool's underwater viewing window.
Sleek rooms, gorgeous views, the perfect location – have it all at Hilton Auckland. Our waterfront hotel has sundecks, private balconies, and walls of windows for views of the harbor you won't find anywhere else. We're a quick walk from the central business district and Quay Street restaurants, shops, and nightlife. Our 24-hour concierge team is happy to set up sightseeing tours during your stay. Enjoy fresh seafood in FISH Restaurant, complete with panoramic harbor views, or head downstairs to Bellini Bar for coffee, a bite to eat, or expertly mixed cocktail. Our outdoor lap pool is on the fourth floor of the hotel, suspended above the wharf. Swim to the end of the pool to see the underwater viewing window that looks out to the harbor over to the North Shore.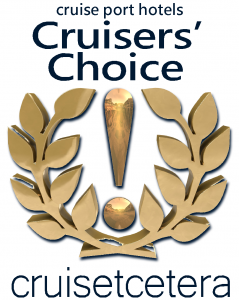 a superior experience through excellent service and attention to detail
Joy L.: "We stayed there about 18 months ago. It was great. We had a massive room with a lounge, etc. Couldn't recommend it enough."
Superbly located in the city centre close to Queen Street and Viaduct Harbour. You will appreciate being situated in the very heart of cosmopolitan Auckland with some of the city's finest dining, shopping and entertainment venues at your doorstep. 
Also nearby are landmark venues: The Civic, Auckland Town Hall and Aotea Square, the city's largest outdoor civic space where you can relax and often attend local events.
Grand Millennium Auckland strives to provide you with a superior experience through excellent service and attention to detail. All of the 452 stylish rooms and suites at this hotel, combine smart design, chic decor, floor to ceiling windows for natural light and modern amenities to ensure you have a comfortable stay.
Take advantage of quality facilities during your stay, whether it's enjoying a swim in the heated indoor pool or savouring a delicious teppanyaki meal at Katsura Japanese Restaurant. 
 Grand Millennium Auckland is superbly located in the centre of the city close to some of New Zealand's finest dining, shopping and entertainment venues.
Auckland Airport is only 30–45 minutes by taxi from the hotel, and public transport is easily accessible from the hotel. There is an on-site taxi rank to help you get to where you are going in a hurry, and undercover parking is available for hotel guests.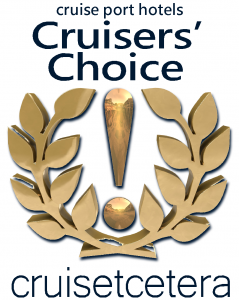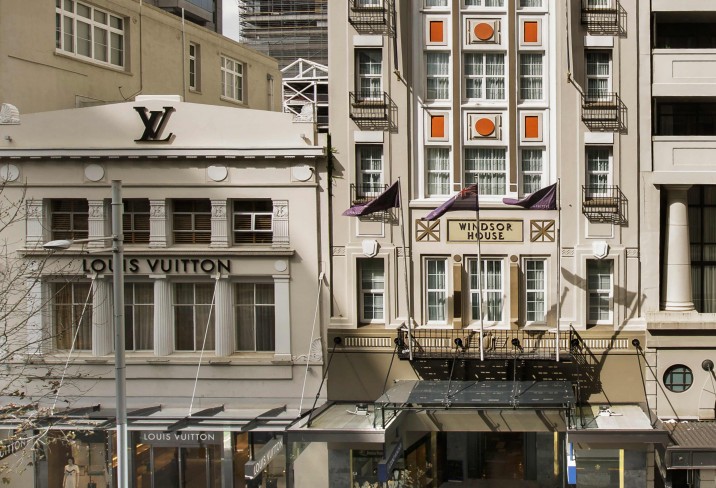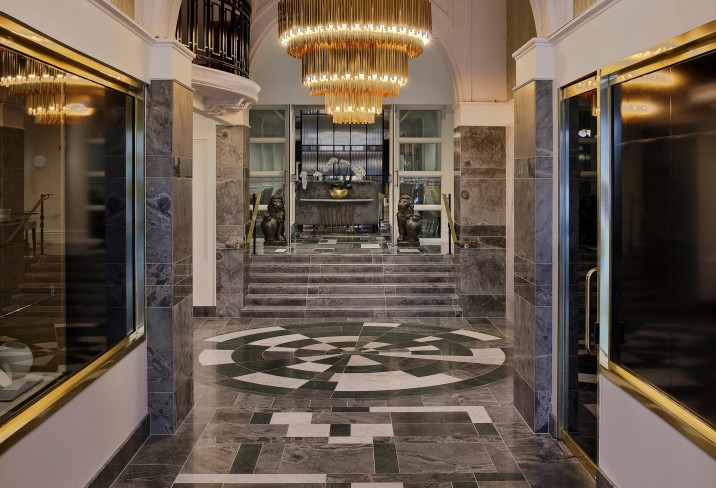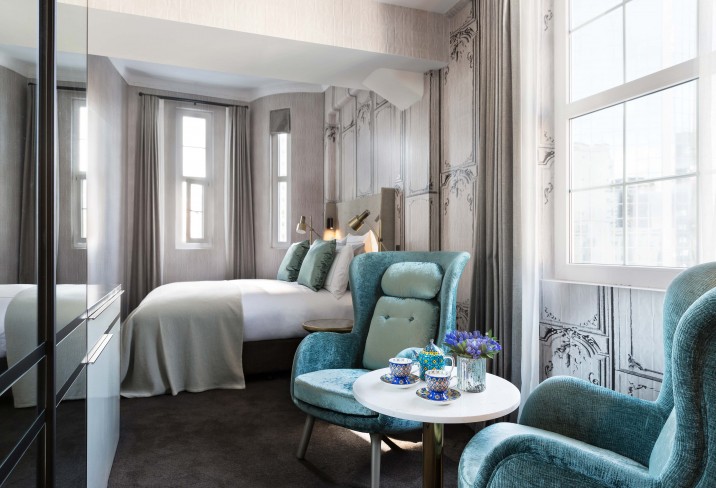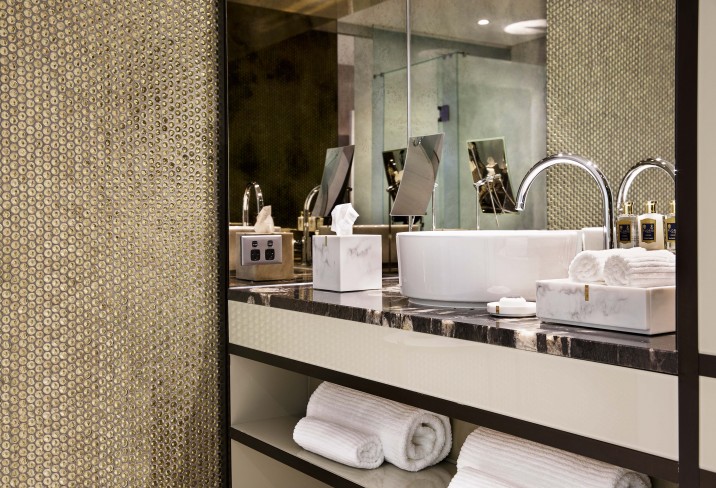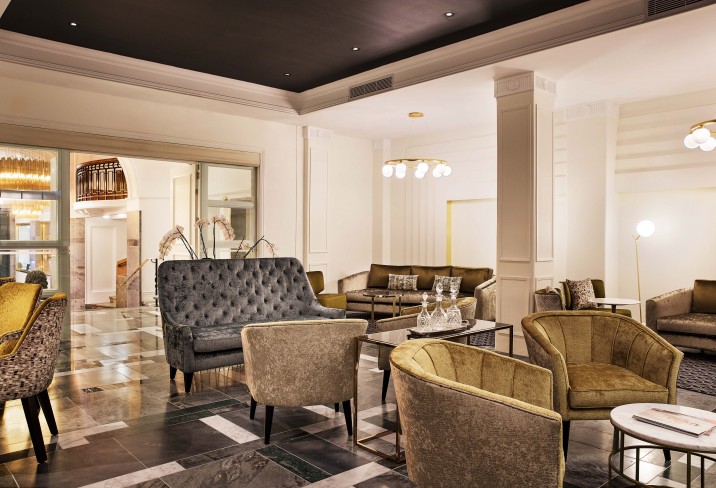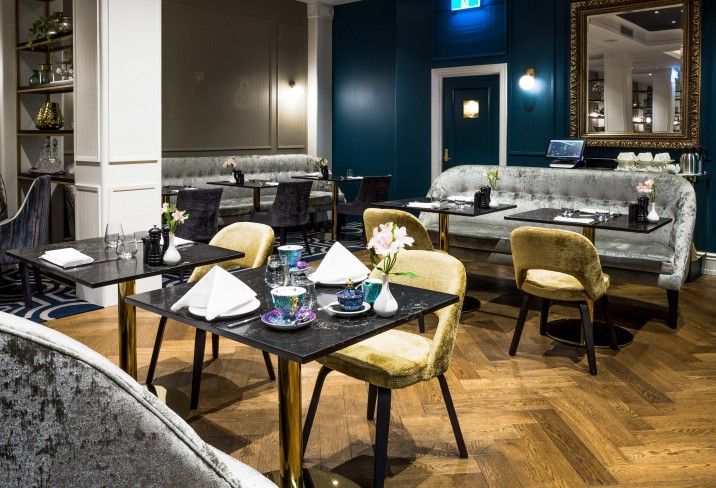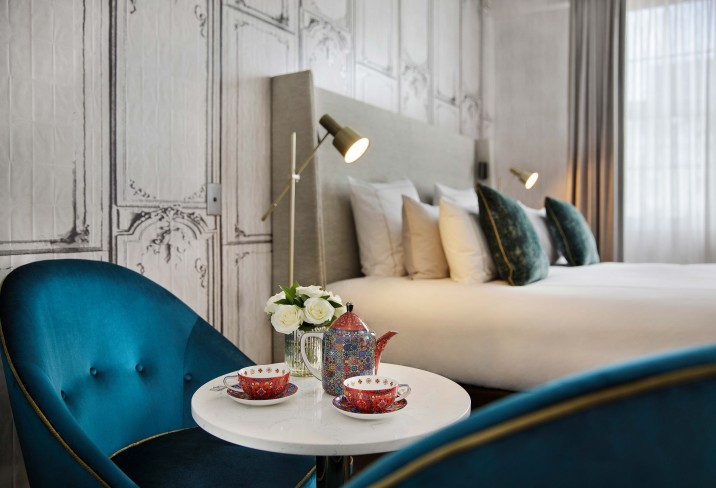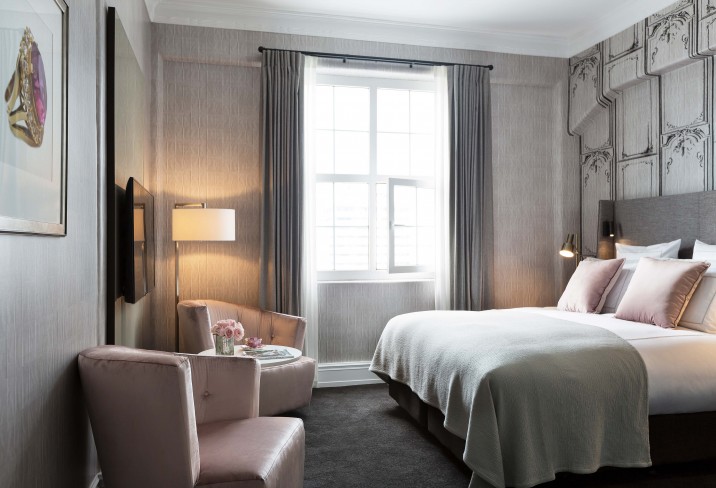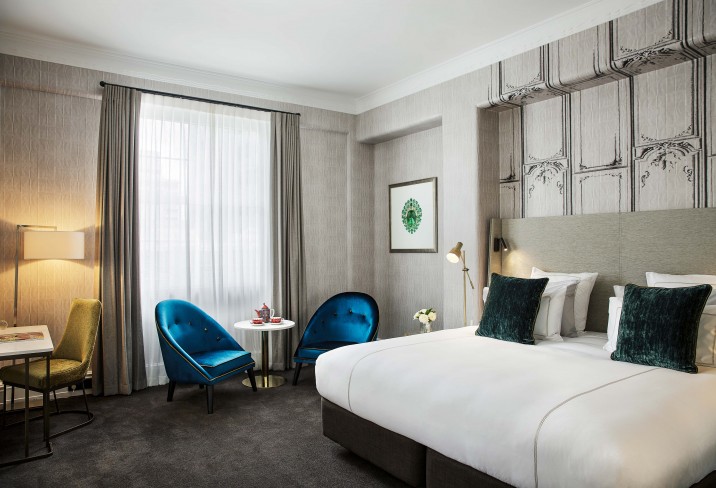 The longtime resident of Auckland's first skyscraper
Hotel Grand Windsor is an art deco landmark with roaring twenties-style interiors. Built in 1928, the building marked the arrival of a new architectural age – one that arrived hand in hand with decadence and indulgence. Now completely refurbished, the hotel is as decorative as ever, with marble floors, velvet furnishings and golden chandeliers making it seem like you've walked into a jazz-age jewellery box. Upstairs, this theme is given a further turn of the screw: each room is inspired by Wallis Simpson's infamously expensive jewellery collection, reborn in the gem-coloured velvets, gold-toned lights and bathrooms clad in pearlescent tiles. These interiors were made for loafing, but the hotel's location also puts a world of diversions on the doorstep, including some of New Zealand's best modern art galleries and homegrown fashion boutiques.
At the hotel
A compact gym, free Wifi throughout and laundry. In rooms: flatscreen TV with Sky; minibar; Bose Bluetooth speaker; Nespresso coffee machine; T2 tea set; free bottled water and Floris bath products.
Our favourite rooms
We'd go for one of the junior suites, which have a separate living room with a velvet sofa and armchairs – the perfect spot to sip your T2 tea. The Classic and Superior Rooms are equally stylish but are quite compact; if you're a stickler for space, you'll probably want to go for a Luxury Room or larger.
Poolside
There's no full-size pool, but you can book a private session in the plunge pool.
Packing tips
Leave room for a purchase or two – Auckland is New Zealand's fashion capital.
Also
All the common areas are wheelchair accessible, as are three of the guest rooms.
Hotel restaurant
Cooke's takes its name from the original Windsor House restaurant, which opened its doors in 1928. The days of the flapper may be behind us, but the decor captures the decadence of that era with its polished parquet floors, marble-topped tables, velvet chairs and gilt-framed mirrors. The food, too, has roots in the Golden Age, with many of the dishes riffing off original Cooke's favourites, particularly the crumbed pork shoulder, served with scotch and apple sauce, crackling and potato pave. Executive chef Jinu Abraham is big on organic wholefoods and vegetarian cuisine, too, so there's no shortage of healthy options.
Hotel bar
Part of the restaurant, the bar channels Twenties glamour with plenty of marble, gold-toned metal and glossy velvet. Go for a cocktail that was popular at the time – an old fashioned, corpse reviver or mint julep, for instance.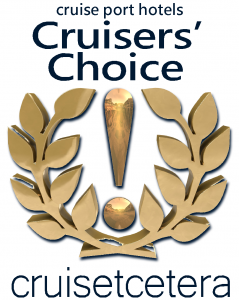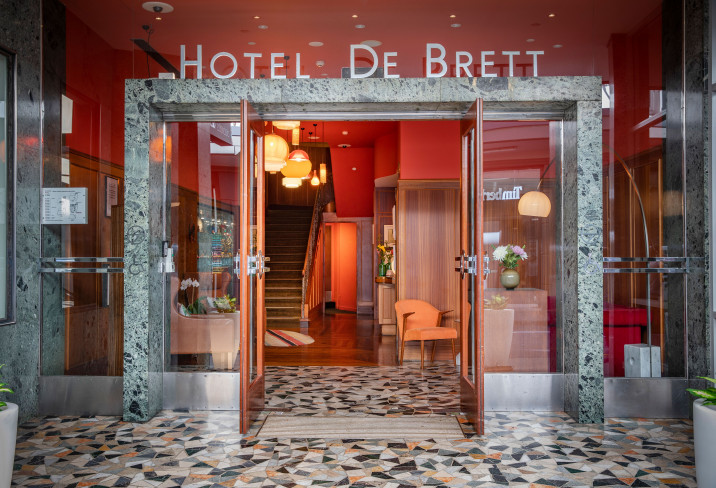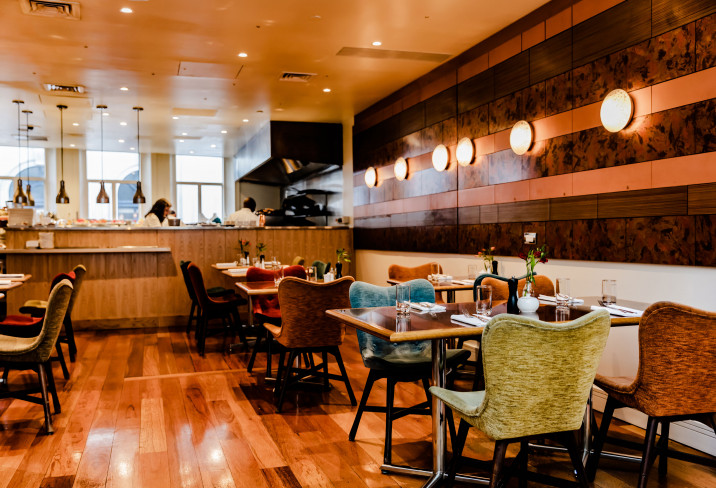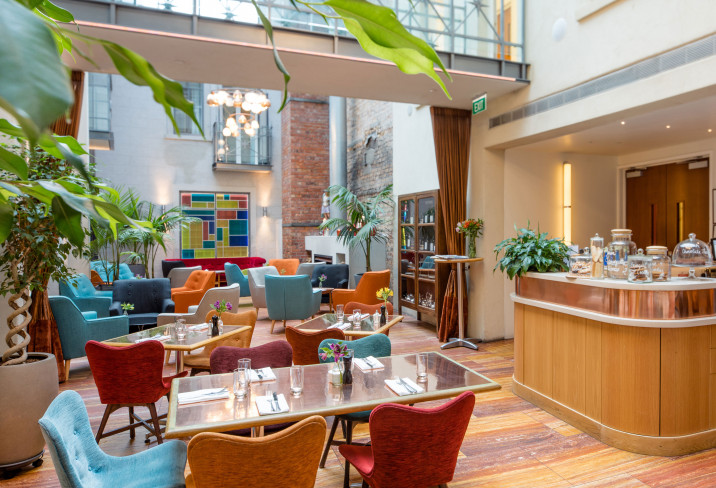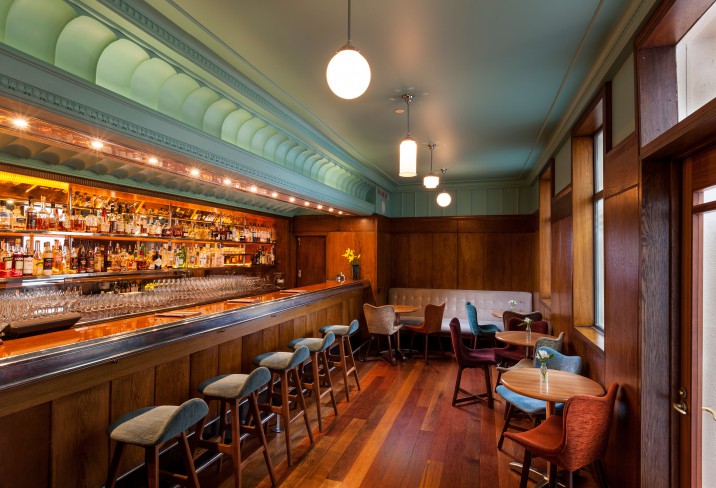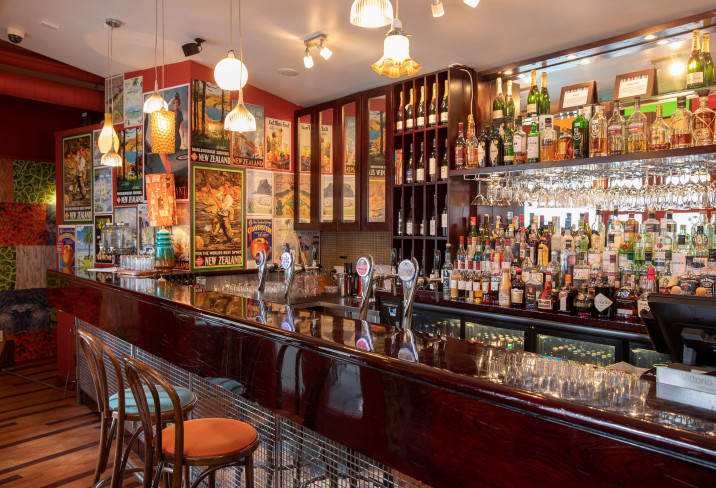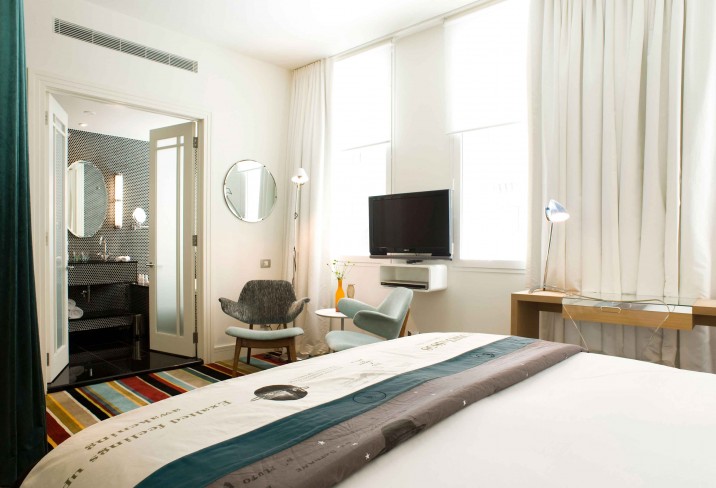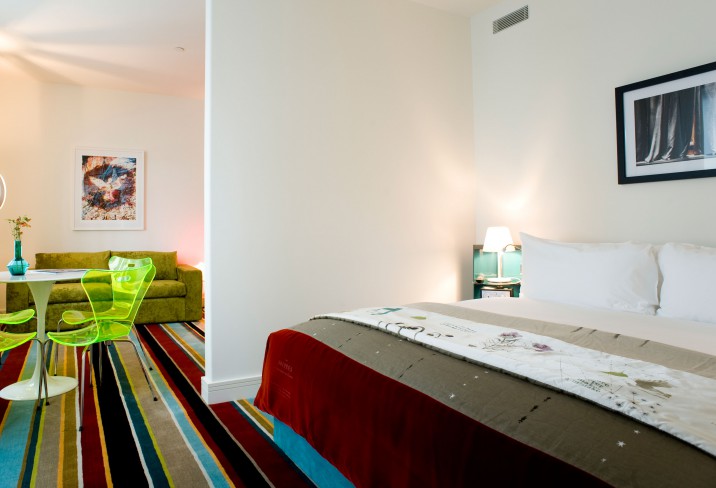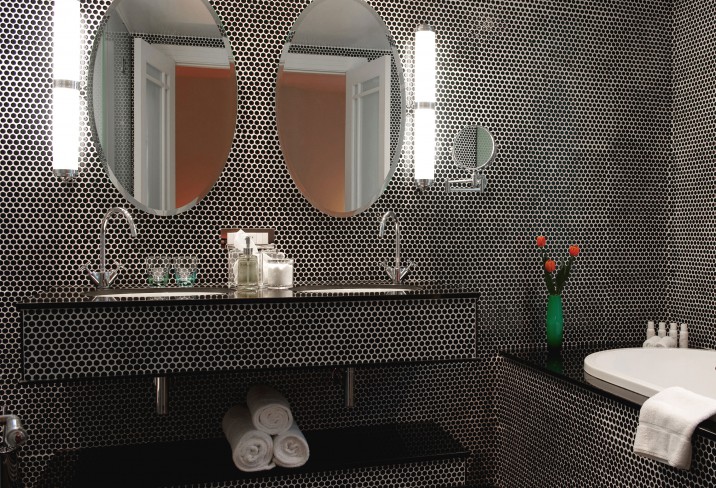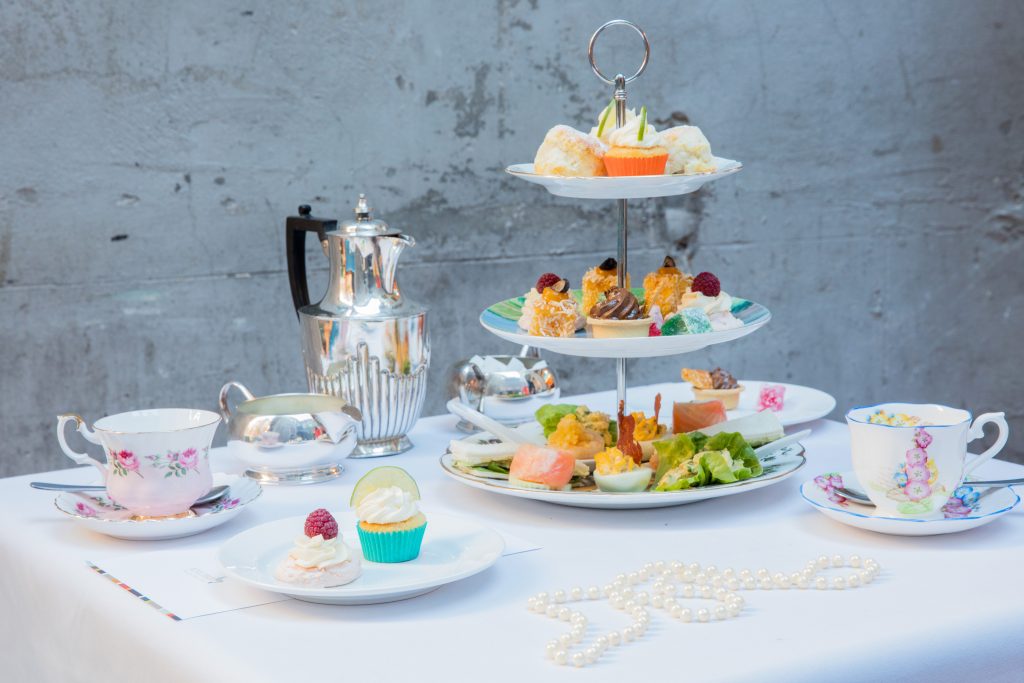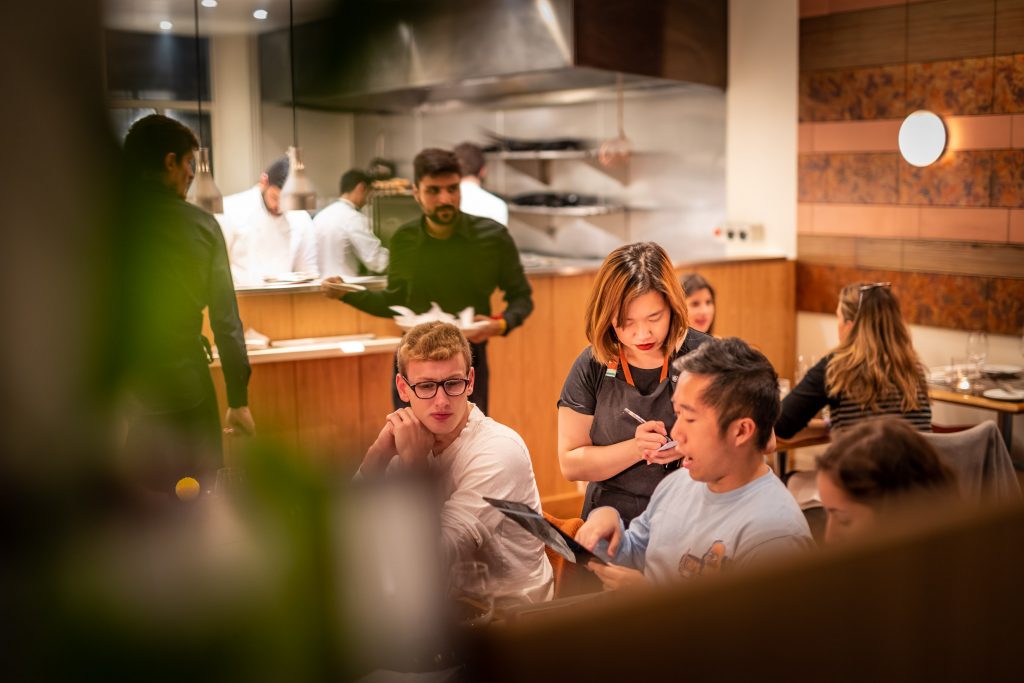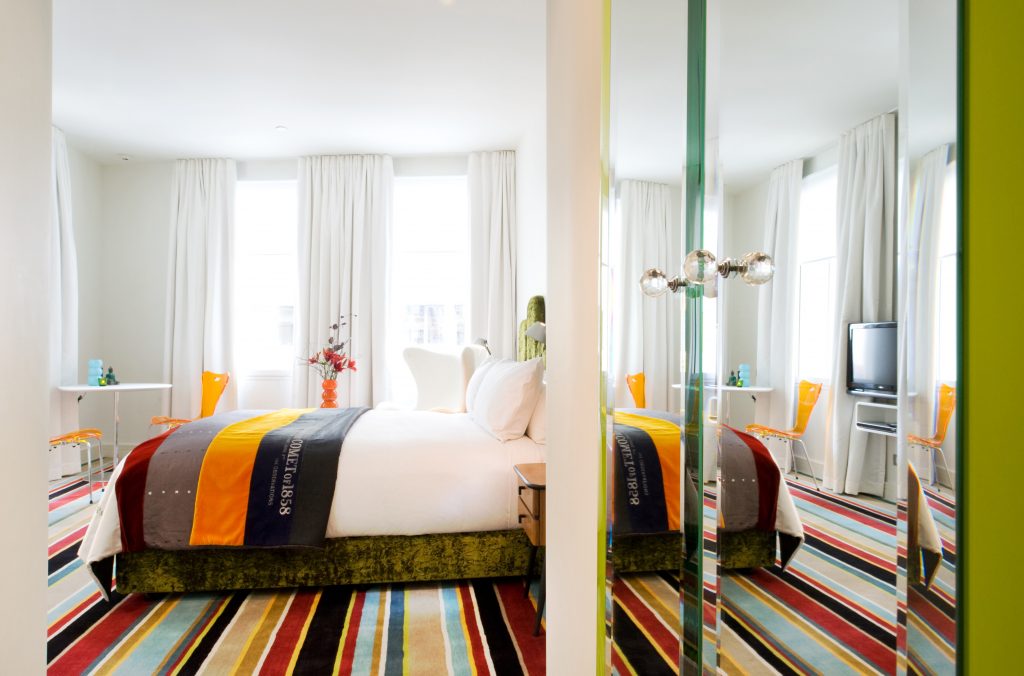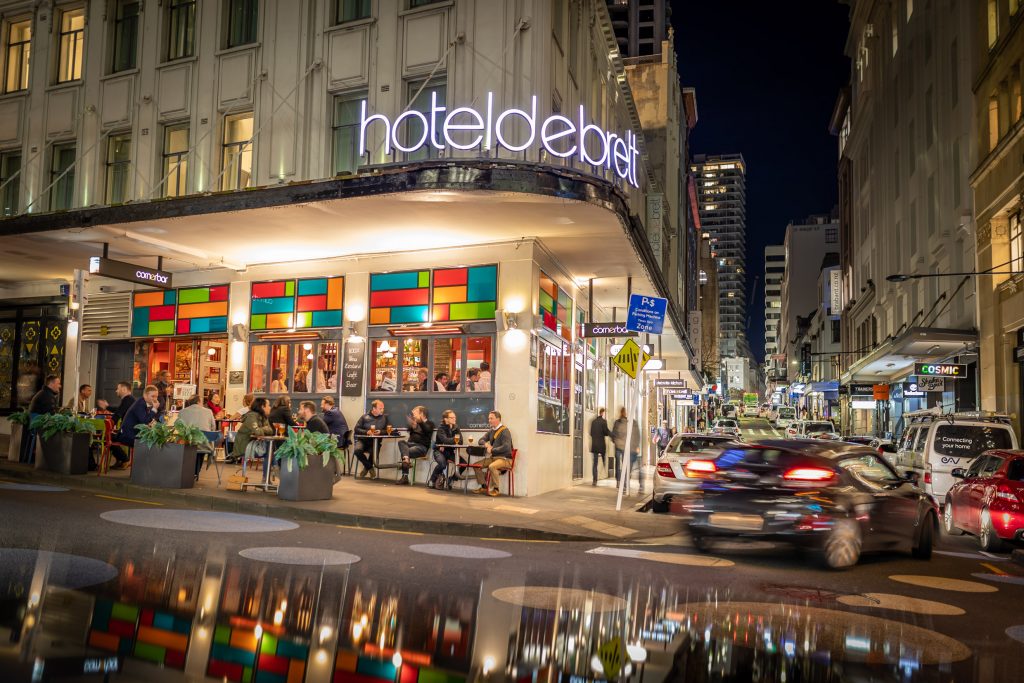 A luxury boutique hotel in the heart of Auckland city
Nestled within the old-world charm of Auckland's High Street – just minutes from the bustle of the Britomart, lower Queen Street, and Auckland's iconic waterfront – lies the delightfully Art Deco styled Hotel DeBrett. Our luxury boutique Auckland hotel is home to 25 rooms – each with a distinct personality – a chic mix of mid-century modern furniture and New Zealand art, fused with contemporary comforts designed to tickle the senses.
At the hotel
Free WiFi throughout, private dining and meeting rooms, off-site gym. In rooms: a flatscreen TV, tea- and coffee-making facilities, and a minibar stocked with regional treats.
Our favorite rooms
Each room has its own configuration as well as artworks, antiques, collectibles, retro and custom-made furniture, and Kiwi kitsch to guarantee individuality. For even more unique appeal, Loft Suites 2.3 and 2.4 sport spiral staircases just begging for a flirty cocktail dress and heels to swish down them. Room 1.7, flanking the atrium, is sexy and snug for young, party-going couples.
Packing tips
If your wardrobe is in need of a makeover, bring an extra bag for the fashion booty you'll be buying in the surrounding streets and laneways. Some of NZ's most cutting-edge labels are yours for the taking.
Also
Just off the restaurant, the hotel's lounge bathed in natural light from a soaring glass-roofed atrium is a laid-back spot to read or relax with a drink, courtesy of the café service that runs throughout the day.
Hotel restaurant
DeBretts Kitchen specializes in contemporary New Zealand cuisine, serving seasonal menus that showcase the best of the local produce. The restaurant is bathed in natural light that floods through the soaring glass-roofed atrium, bouncing off the copper-topped tables. Every weekend, space is transformed into a jazz joint when the Roaring 20's High Tea shimmies in, complete with prohibition cocktails and faux pearls.
Hotel bar
During its big-hair Eighties heyday, small but sassy House bar became a local icon. It has since dropped the shoulder pads and red lipstick and is now dressed in slick, cool-blue hues – and it's still smoking as the city's best. The drinks menu pays homage to the hotel's historical past, with classically inspired cocktails mixed with precision and care.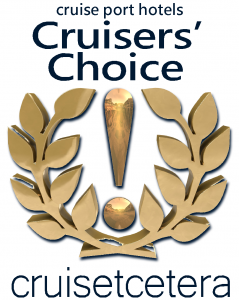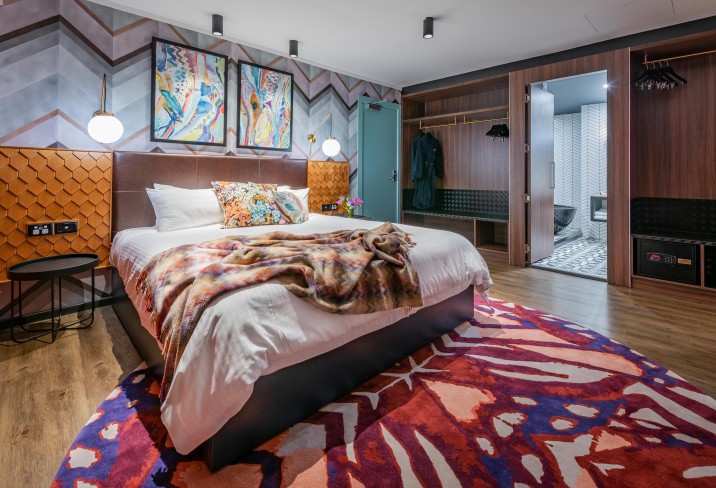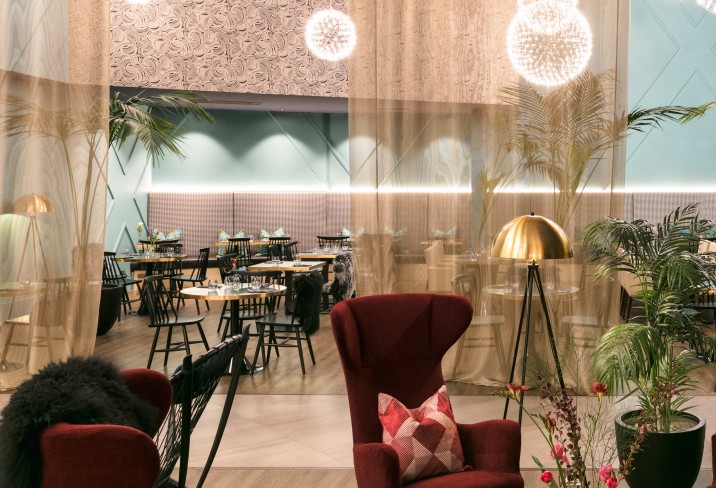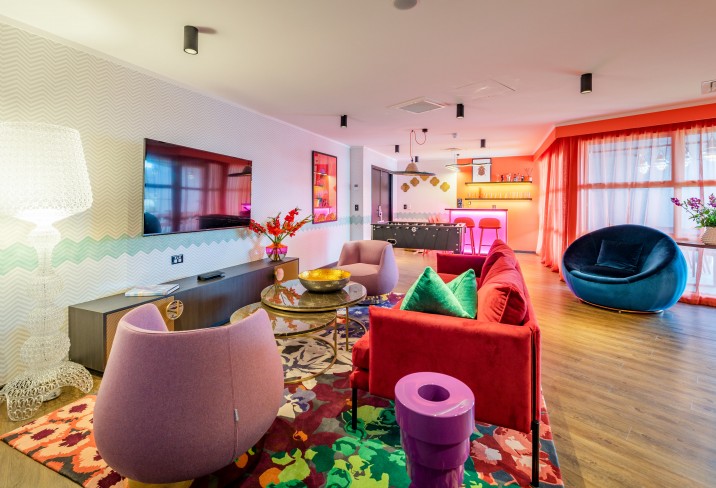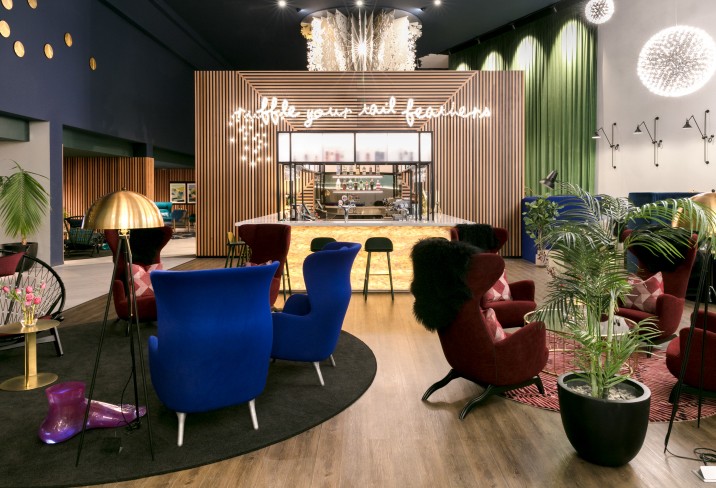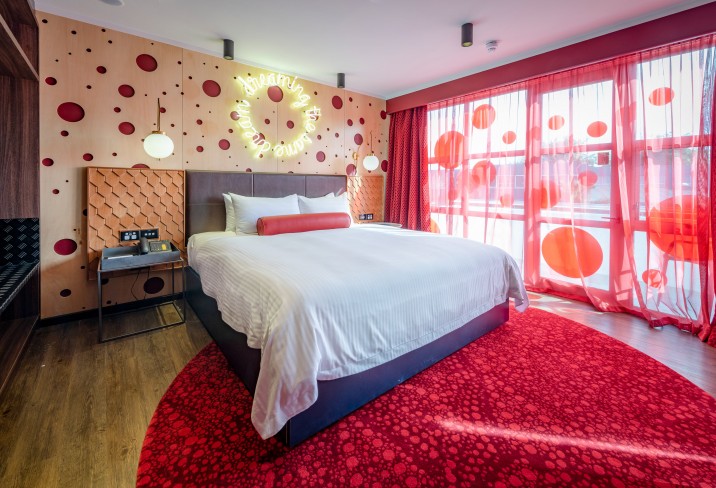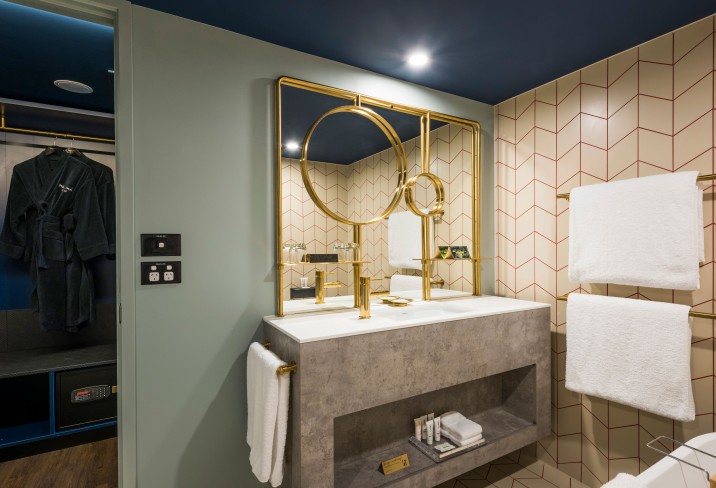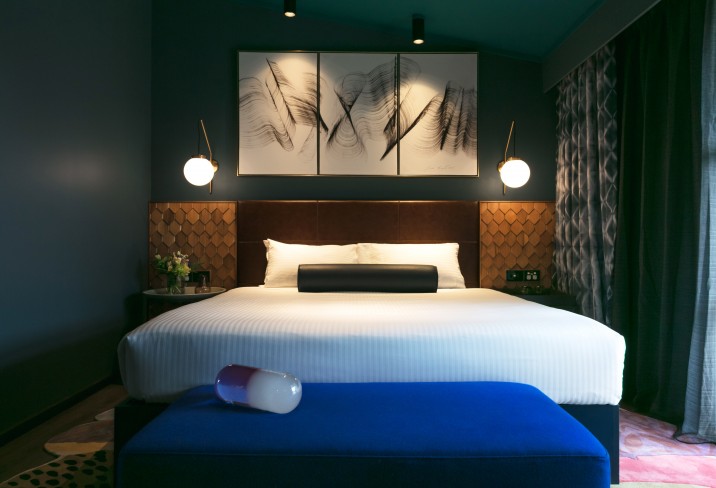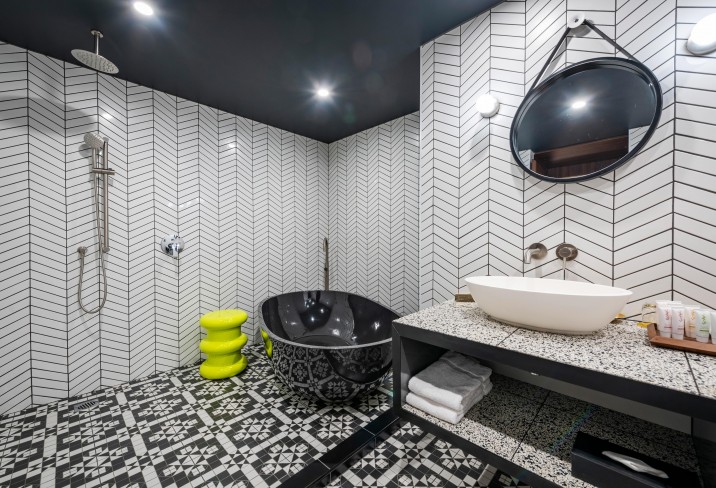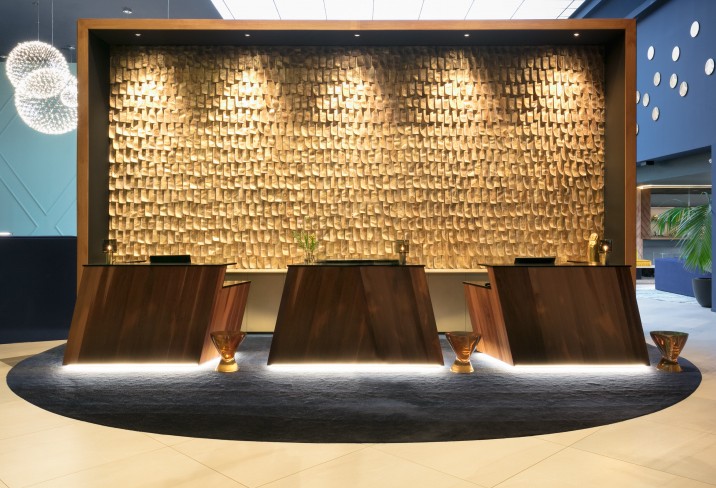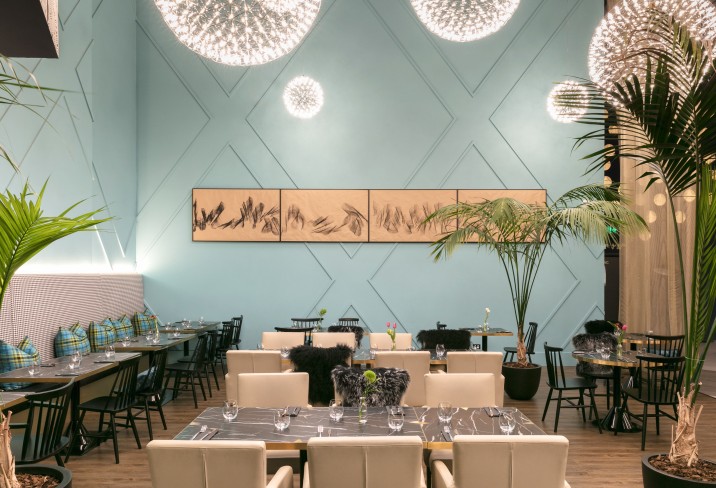 Wing your way to Naumi Hotel in Auckland.
This un-airport hotel is 15 kilometres (as the crow flies) to central Auckland, but we'd happily roost here if it was in the middle of North Island. It's modern and art-filled, with an open-plan lobby and sultry bar dotted with velvet armchairs, where you can relax with a post-flight tipple before settling into your sleek room. Restaurant Paksa serves Asian-fusion dinners, poolside treats and decadent breakfasts so good you'll want to wake up twice, just for the lark. 
At the hotel
Free WiFi throughout, 24-hour fitness centre. In rooms: Smart TV with Netflix, Vittoria Espresso coffee machine, T2 tea, a minibar with free (non-alcoholic) drinks and snacks, free bottled water and Superfood Soak bath products. Suites also have a bar, Dyson hairdryer, GHD hair straighteners and Nintendo game console.
Our favourite rooms
Go dotty for the Yayoi Kusama-inspired polka dotted room – aptly named Dottie – or get migrate towards a Habitat room for the abundant natural light, a wooden headboard that resembles the cascading feather and Judi Bagust prints.
Poolside
The family-friendly outdoor pool is heated and open daily from 6 am to 10 pm (it's lit by amethyst-coloured lights at night). Order Ostrich burgers, sourdough grilled-cheese sandwiches, ice creams and more to your poolside lounger.
Packing tips
Bring your smartest specs and a black beret to play the part of overnight art critic.
Also
Although the lobby area is wheelchair accessible, none of the guest rooms is specially adapted.
Eco‐friendly
The hotel uses energy-saving LED lights, Ecolab cleaning products, plastic-free straws and environmentally friendly bath products. The restaurant uses sustainable, locally sourced ingredients and everything possible is recycled.
Hotel restaurant
Gold starburst chandeliers hang over dark wood tables at Paksa Bar and Restaurant, where chef Miguel Adriano and sous chef Muni Nadan Gounder dream up Asian-fusion dishes using fresh, seasonal fare. For dinner, start with the ginger prawns before the main course of locally reared lamb rump or monkfish ratatouille. Early birds can wake up to plates piled high with French toast, avocado- and bacon-topped corn fritters and cooked-to-order omelettes. Bento boxes are a lunchtime favourite, and nachos, sandwiches and pizzas can be ordered to your poolside lounger.
Hotel bar
Across the open lobby from the main restaurant, the colourful bar has attention-grabbing lights and richly hued velvet armchairs. There's a selection of Kiwi wine, of course, and the cocktail list includes Brazilian caipirinhas, Gekkeikan Nigori sake and signature Naumitinis.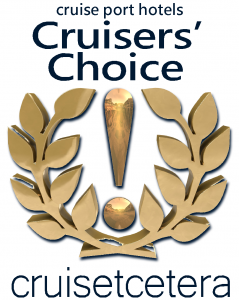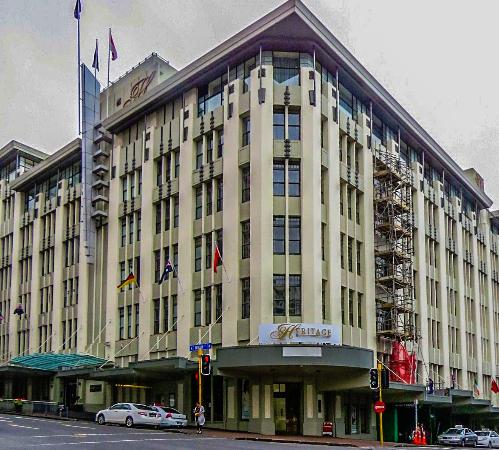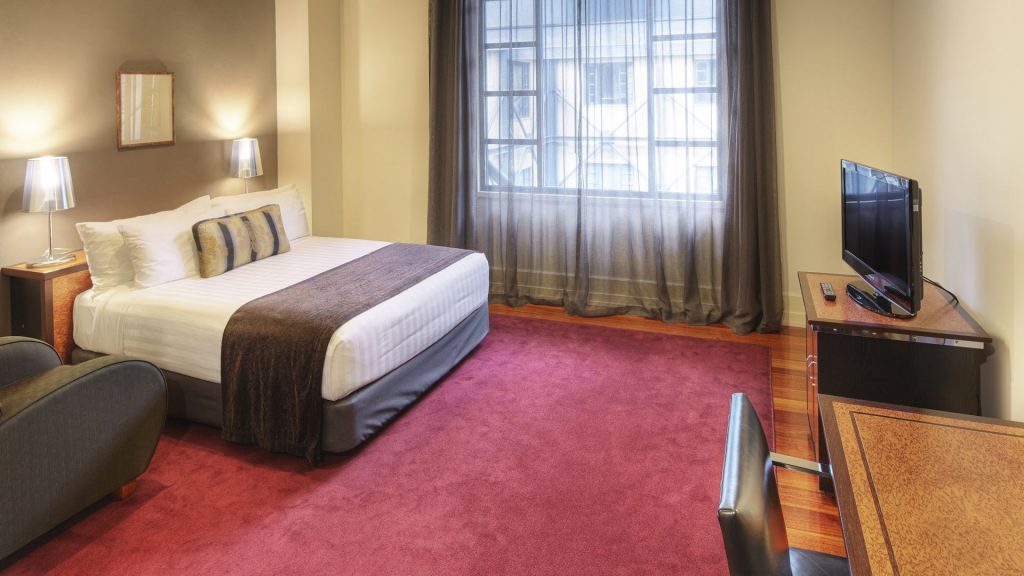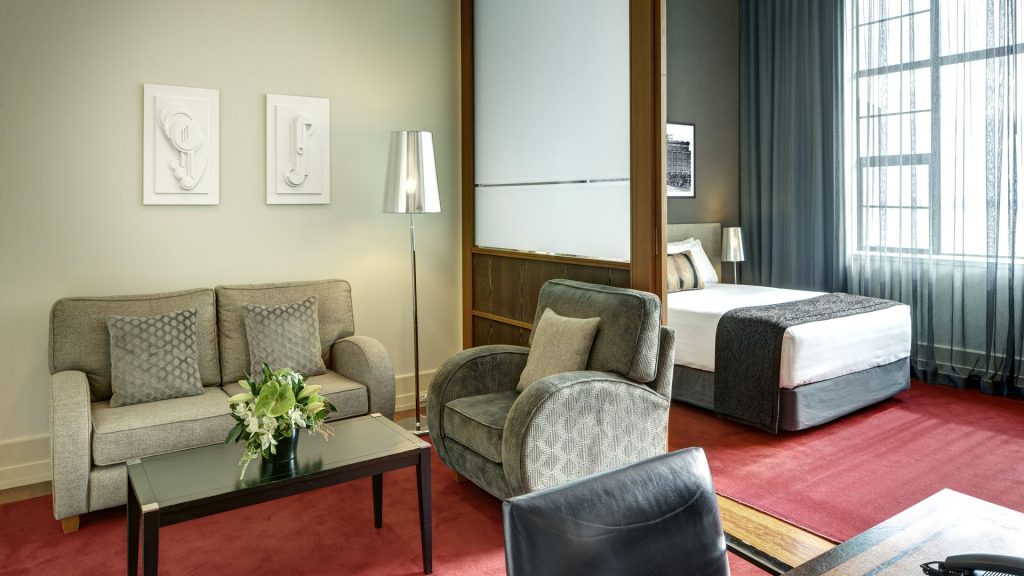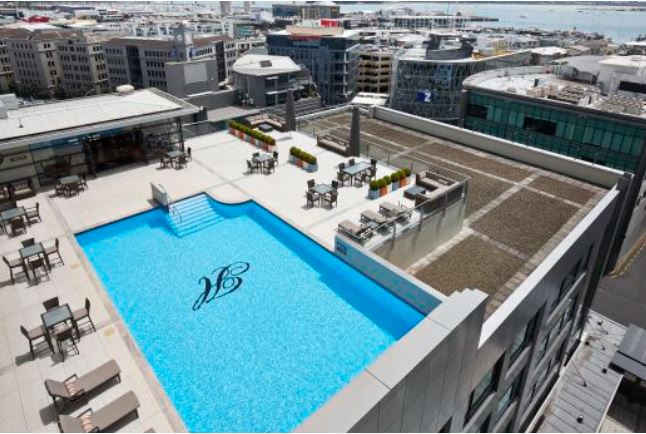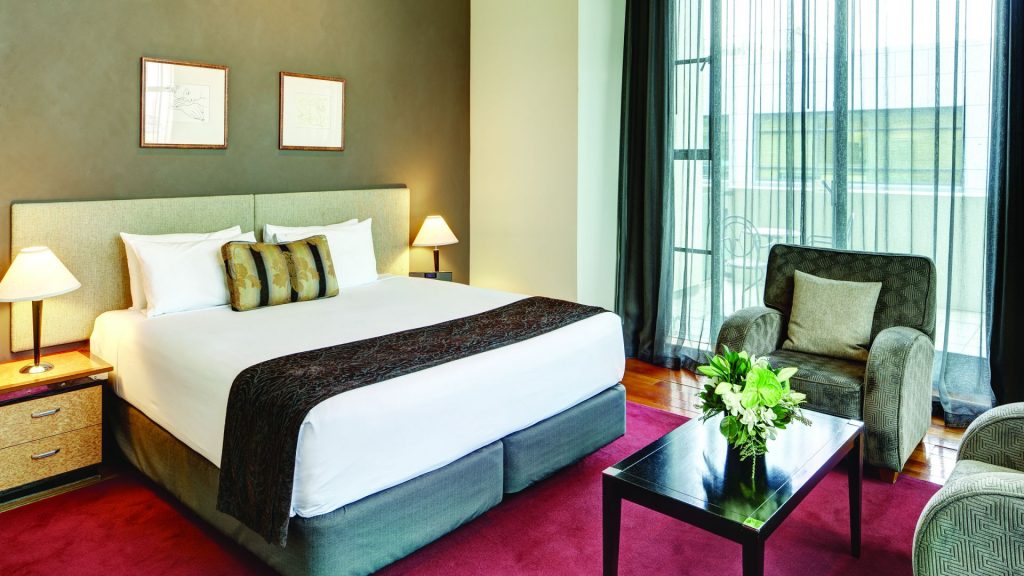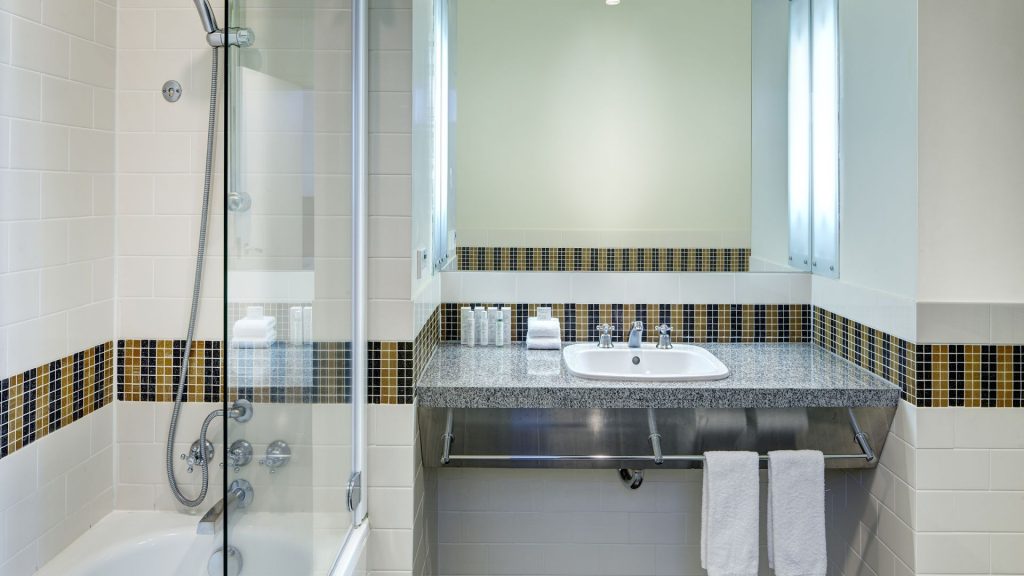 a superior and uplifting hospitality experience
Peter B.; "We enjoyed the Heritage and walked there from the cruise terminal. It's downhill from the hotel to the terminal."
Whether it be for one night before or after your cruise, or an extended stay, every guest needs a home away from home. Heritage Auckland provides that and much more. Set within one of the city's most recognizable historic landmark buildings, the iconic Farmers department store building, it's an Auckland hotel accommodation experience without peers, offering easy access to the best of Auckland.
They offer a range of accommodation options to suit every need and budget. Choose from two accommodation wings, the Hotel or Tower. Both offer everything you need to feel at home during your stay and provide a level of comfort that sets it apart from other Auckland hotels.
At the end of the day, we all need to unwind, and the hotel features an outdoor rooftop swimming pool, gym, and a floodlit tennis court with racquets and balls available for hire.
when you have a special request or can not find your hotel, you want a cheaper option or you have any questions? please contact us and we will send you a new top 3 based on your choice.
by e-mail: GERT@CRUISETCETERA.COM