LIVE UNTETHERED. LIVE FULLY.
THE RITZ-CARLTON YACHT COLLECTION
A voyage with The Ritz-Carlton Yacht Collection offers an unprecedented opportunity to be untethered. Here, freedom and flexibility allow immersion in life's exceptional experiences; exploration of earth's exquisite and unexpected hideaways; and stirring of passions and curiosities that create new and deepened connections. All of this delivered in an intimate setting with a heightened level of care and attention. Enlivened and enlightened, marvel at the beauty of the world through fresh eyes. Live untethered, live fully.
"High standard of service and amenities – Michelin star cuisine – Yachting – Casual atmosphere – Only suites with private balcony."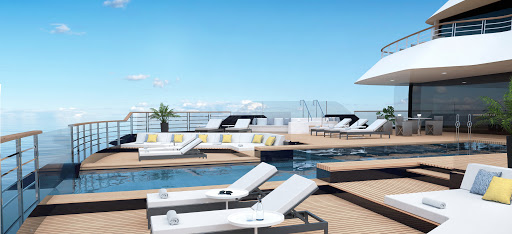 The famous luxury hotel brand Ritz-Carlton has branched out and created a high-quality cruise line. The same high standard of service and amenities that the Ritz-Carlton brand is known for can be found on their yachts. So lovers of luxury cruises and a high level of personalized service are sure to enjoy what this shipping company has to offer in a relaxed, casual, elegant and comfortable atmosphere. From impeccable restaurants, with dishes curated by Michelin star chefs, to fantastic spa facilities and treatments. The 'flagship' of the fleet will be called the Evrima. A second and third similar yacht will come into service in the near future. Each yacht offers a fantastic and intimate cruising experience, accommodating 298 passengers (149 suites each with their own private balcony) and an impressive personal service. Regardless of which suite you book, you'll enjoy your 7 to 10-day cruises.