The Seabourn All-Inclusive Difference
Intuitive, personalized service provided by staff passionate about exceeding guests expectations
The Seabourn All-Inclusive Difference
Seabourn welcomes you to
all-inclusive, luxury cruising refined to its purest form. Where hand-selected itineraries take you to places beyond the reach of larger ships.
"All-inclusive (drinks and tips) – Luxury – Highly personalized service – Personalized minibar – Large choice of excursions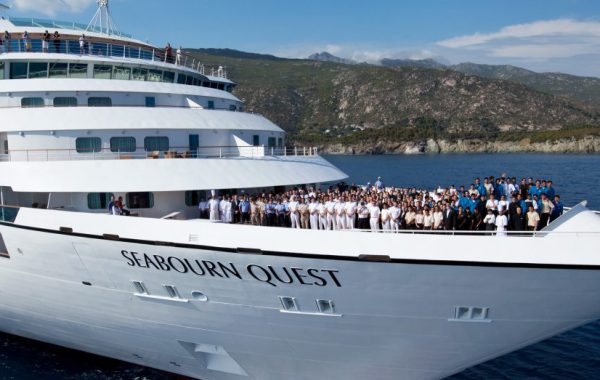 The current Seabourn fleet consists of five ships: Seabourn Odyssey, Seabourn Sojourn, Seabourn Quest, Seabourn Encore and Seabourn Ovation. Plus two new expedition ships, with the Seabourn Venture set to launch in December 2021 and its second sister ship, yet to be named, to be launched in 2022.
A pioneer of small-scale luxury cruise ships, Seabourn has an elegant fleet of ships that welcome 458 or 600 guests (depending on the ship). Each ship offers a lot of space per passenger, both in the suite and in the common areas. The staff will provide you with a highly personalized and high-quality service, with the utmost attention to detail. Your steward(ess) ensures that everything is in order down to the last detail: from replenishing your personalized minibar to filling your bathtub. Plus, you can take advantage of very fine dining experiences, with many menus created by Michelin-starred chef Thomas Keller. Itineraries are usually longer than other cruise lines, and range from 7-41 nights plus include destinations around the world. With carefully chosen amenities and a relaxed, calm atmosphere on board, Seabourn delivers a pleasant experience for everyone on board.
Both Seabourn's ultra-luxury expedition vessels will be specially designed and built to Polar Class standards and will feature an abundance of modern hardware and technology that will ensure stability, safety, and comfort in all climates and conditions. There will be two custom-built submarines onboard, offering unforgettable views of the wonderful world beneath the ocean's surface. The ships will also carry kayaks, mountain bikes, and eBikes, as well as 24 zodiacs that can accommodate all guests on board at once, allowing everyone to enjoy every experience. With no fewer than eight dining options onboard, you can dine when, where and with whomever, you want and enjoy a full-service dinner to a casual al fresco breakfast. The 132 suites, all with private balconies, are exactly what you would expect from a luxury resort at sea. The Seabourn Venture will be a beautiful combination of adventure and luxury for you.