Scenic Luxury Cruises and Tours
At Scenic, we take 5-star travel to a whole new level. Across our river cruises, ocean cruises and escorted tours, the luxuries you would expect to pay extra for are included, promising a journey like no other.
The Scenic All-Inclusive Difference
See the world your way on-board a 5-star Scenic Space-Ship, boasting some of the largest suites on Europe's waters. Luxury-focussed innovation combined with our all-inclusive promise and attention to detail ensures we're setting the trend for river cruising, with everything you'd expect to pay for in a world-class hotel, included in the price.
"Ultra Luxurious – Discovery Yacht – Unparalleled Personal Service – Exceptional Destinations – Also Arctic Areas and Fjords."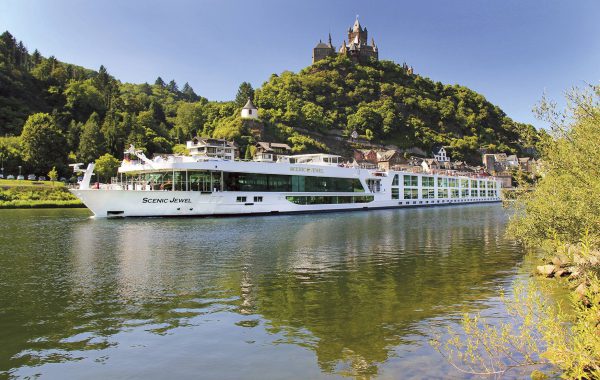 The brand new vessel Scenic Eclipse entered service in 2019 and is happy to take you to all corners of our earth: the Americas, Antarctica, Europe and the Mediterranean, even the Arctic regions and fjords. Move into your luxurious home-away-from-home and discover a new world with the world's first-ever ultra-luxury Discovery Yacht. The accommodations onboard the Scenic Eclipse vessel surpass the best 5-star hotels. With almost as many crew members as guests, you enjoy unparalleled personal service. From the Spa Sanctuary and Wellness Area to the extensive choice of ten dining experiences, spacious (observation) lounges and bars, a (movie) theater for evening entertainment, outdoor terraces and not one, but several swimming pools. The luxurious wonders on board are endless. The Discovery Yacht Scenic Eclipse can accommodate 228 passengers (200 in the case of the Arctic and Antarctica).
The secret to a Scenic river cruise is simple – everything's included. From the moment you step on board your luxurious Scenic Space-Ship you rarely, if ever, have to dip into your wallet to pay for anything. And with flexible itineraries that give you the freedom to pick and choose how you spend your time ashore, you can explore on your own terms. We have over 30 years' experience in hand-crafting unforgettable holidays for the most discerning travellers. Our award-winning reputation, state-of-the-art Space-Ships and unique all-inclusive service make us the ultimate river cruise line. Join Scenic for a luxury river cruise in Europe, Asia or Russia*, and you'll experience unmissable cultural highlights while enjoying the many benefits of our signature 5-star service and generous all-inclusive offering. Our growing fleet of elegant ships means we now offer luxury river cruise itineraries to more destinations than ever — from the classic rivers of Europe like the Rhine and the Danube to the mystical waters of Asia's Mekong and Irrawaddy — so you can enjoy our award-winning approach to river cruising in Europe and beyond.
Where 6-star luxury meets discovery
Explore beyond the horizon as luxury and discovery combine on board Scenic Eclipse. Make this year one to remember and book your place on the World's First Discovery YachtsTM, home to a wealth of world-class facilities and amenities, as well as a helicopter and seven-seat submarine, as we take you to places previously inaccessible to the ordinary traveller. Scenic Eclipse represents the most luxurious cruise experience available. Our all-inclusive philosophy ensures that when you travel with Scenic you can be confident that every single detail is taken care of. All flights, transfers and tips are included in the price. We've also arranged a pre-departure hotel stay, as standard, so you're rested and relaxed before your adventure. As ever, all-inclusive shore excursions, your in-suite mini-bar and all on board dining and complimentary premium branded beverages are included in the price you pay.