THE MOST INCLUSIVE CRUISE LINE
ALLOW US TO TAKE CARE OF EVERY DETAIL
We welcome the opportunity to create your perfect holiday.
DESTINATION IMMERSION Allow us to be your guide as we continue to explore the world around us, from the locals you've longed to see, to the hidden gems in places you've been before. Experience some of our favourite excursions as we traverse the world to engage each destination in its most glorious state.
"Most all-inclusive – Luxury – including excursions – Including specialty restaurants – Excellent service – concierge service"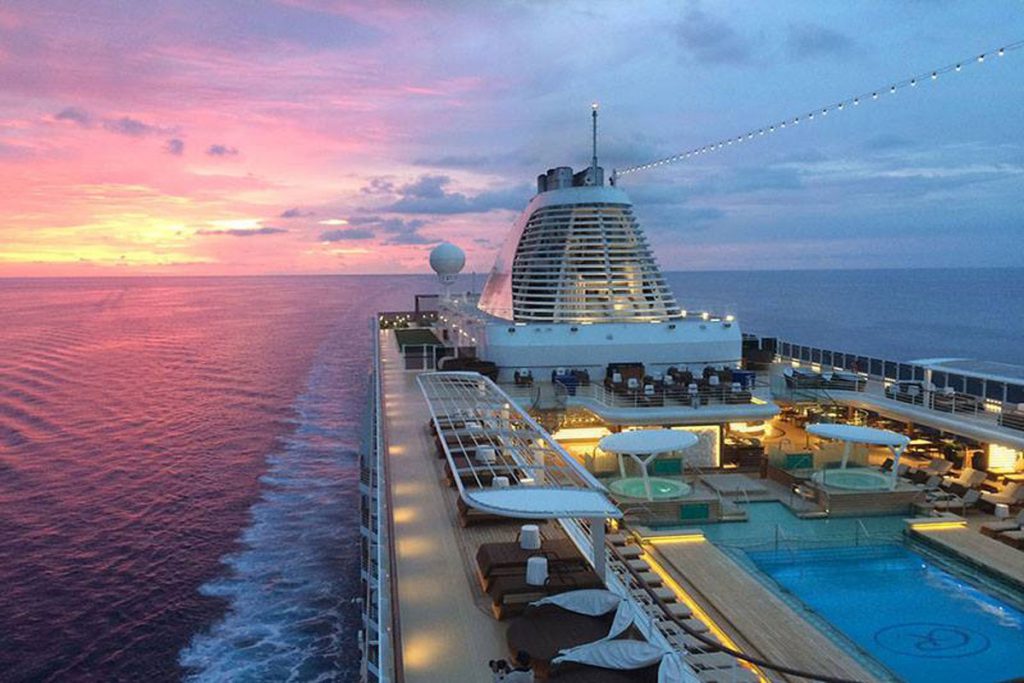 Regent Seven Seas Cruises is the world's most all-inclusive cruise line: unlimited excursions in every port, dining in the specialty restaurants and en-suite, all drinks including Champagne, wines and spirits, daily replenished minibar, unlimited Wi-Fi and the tips. The ships in their fleet are known as some of the most luxurious there is at sea. All boast superb facilities, incredible dining options and the very highest standard of service on board. As for the accommodations, the suites on board the cruise ships are elegant and spacious (from 28 to 412 m²), but they retain a wonderfully comfortable atmosphere. They are elegantly decorated with custom furnishings and marble accents, as well as large balconies. A range of restaurants gives you the opportunity to enjoy mix and match dining in the main restaurant, Italian cuisine in Sette Mari, French gastronomy or a grilled steak in Prime 7.
Bringing you the best in all-inclusive luxury begins with bringing you the most luxurious ships. Our award-winning fleet delivers style and class, from bow to stern, throughout every region of the world. We invite you to come aboard and experience your new home away from home.
AN UNRIVALLED EXPERIENCE™
We aspire to give you more than just the most luxurious ships, exquisite meals, refined service or exhilarating shore excursions. We aspire to give you more than any one of those things because a truly all-inclusive travel experience is about having every luxury included, just the way you like it.
OUR ALL INCLUSIVE FARES INCLUDE…
FREE UNLIMITED SHORE EXCURSIONS
Embark on an unforgettable journey, enjoying as many shoreside tours and experiences as you wish with our FREE Unlimited Shore Excursions, from encountering majestic wildlife to sampling delicious cuisine to touring iconic UNESCO World Heritage Sites. Only Regent Seven Seas Cruises® offers this extraordinary inclusion and you are encouraged to take full advantage of it.
FREE 2- OR 3- NIGHT LAND PROGRAMS
Spend more time enjoying the cultural sounds, tasting the local flavours and experiencing the history of the world's more exotic locations. Explore ancient and modern wonders and discover new perspectives of your favourite regions. Immerse yourself into your destination on one of these incredible and well-designed Land Programmes — before or after your voyage — many of which are free.
FREE 1- NIGHT PRE CRUISE HOTEL PACKAGE
From Concierge Suites and above, unwind at your luxurious hotel at the heart of your embarkation city. We select each world-class hotel, for your included pre-cruise package, for its superb location, ambiance, standards of service, cuisine and amenities. Plus, your package includes transfers, breakfast and porterage.
FREE UNLIMITED BEVERAGES
Included in your fare are the beverages of your choice. Delight in the freedom to sample expertly mixed cocktails and adventurous wine blends without having to commit to an entire bottle. Also included are expertly made coffee beverages, teas and hot chocolate, deliciously paired with baked goods in Coffee Connection.
FREE OPEN BARS AND LOUNGES PLYS IN-SUITE MINIBAR REPLENISHED DAILY
Aboard our ships, delight in a warm and friendly ambiance in our sophisticated lounges where live music performances are perfectly paired with expertly prepared cocktails. And toast with champagne in our main show lounge as the curtain opens on a rousing musical. Back in your suite, your mini-bar is replenished daily with soft drinks, beer and bottled water — all complimentary.
FREE PRE PAID GRATUITIES
Our onboard staff are happy to deliver a flawless experience at every turn with never an additional gratuity expected, it's already included in your cruise fare.
FREE SPECIALTY RESTAURANTS
Exquisite dining experiences are the highlight of your voyage. Join us at any of our elegant restaurants. Delight your palate in superb menus that feature French, Italian, Pan-Asian, and steakhouse fare, each accompanied by our exquisite wine lists. Or, whenever the mood strikes, simply place your order from our extensive in-suite menu, 24-hours a day.
FREE UNLIMITED WIFI
FREE Unlimited Wi-Fi is included in your cruise fare and you may access the internet throughout the entirety of each ship, allowing you to connect from the privacy of your suite to the comfort of your lounge chair on the Pool Deck for as long as you like.
FREE VALET LAUNDRY SERVICE
Time is precious and to help you make the most of every moment we provide complimentary valet laundry service on every voyage. Have your clothing picked up, safely laundered, carefully pressed, folded, then returned to your suite each day, enjoying the extra time aboard, however you please.