a different way to cruise
Refinement, curiosity, authenticity… Reinterprets cruising and invites you to discover or rediscover iconic destinations.
Our 5-Star Culture and Relaxation cruises offer you a new way to travel, by combining cultural enrichment with time to unwind in a luxury setting and sites that only insiders know about. Theme cruises Classical music and opera, food and wine, art and museums, theatre and literature, photography, golf... take advantage of our theme cruises to combine your taste for travel with your hobbies. You will have unique opportunities on board and on land, with moments of true cultural enrichment and exchanges with artists and passionate specialists.
"Unique itineraries – Small ships – Excellent European gastronomy – Open bar – Bilingual (French/English) – Sustainable development – Gratuities not included."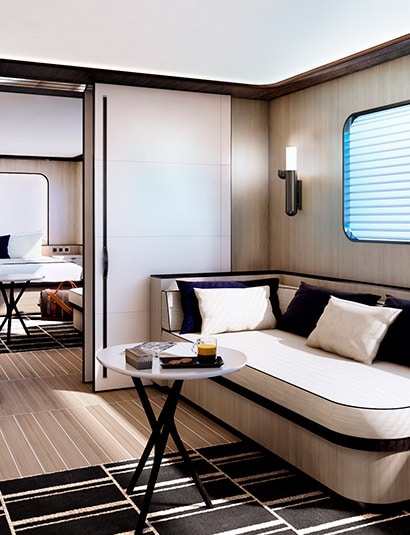 As the only French shipping company and world leader in luxury expeditions, PONANT continues the great French maritime tradition, serving exceptional destinations on small-capacity vessels that embody a "à la française" lifestyle. From the start in 1988, the PONANT founders have stood out for their innovative approach. First, an exceptional sailing vessel was launched, followed by four small vessels with a maximum of 264 passengers. A new series of six expedition yachts have been added to the fleet from 2018. The world's first luxury hybrid-powered icebreaker, the remarkable 'Le Commandant Charcot', will join the fleet in 2021. French designers and decorators have succeeded in giving all PONANT ships a unique, elegant, refined style, combined with the relaxed atmosphere of a yacht. Classic cruise itineraries are interspersed with journeys and expeditions far off the beaten track.