feel free to cruise your way
AWARD-WINNING CRUISE SHIPS
THE norwegian freestyle experience
Imagine cruising just the way you want it:
with no timetable to follow but your own. That is the freedom Norwegian Cruise Line provides in all our ships and itineraries. Indulge your taste buds at one of our wide-ranging dining options, or perhaps you would prefer a dinner and a show combination? Relax at some of the most spacious and modern staterooms in the cruise industry before venturing out to experience the shore excursion of your choice.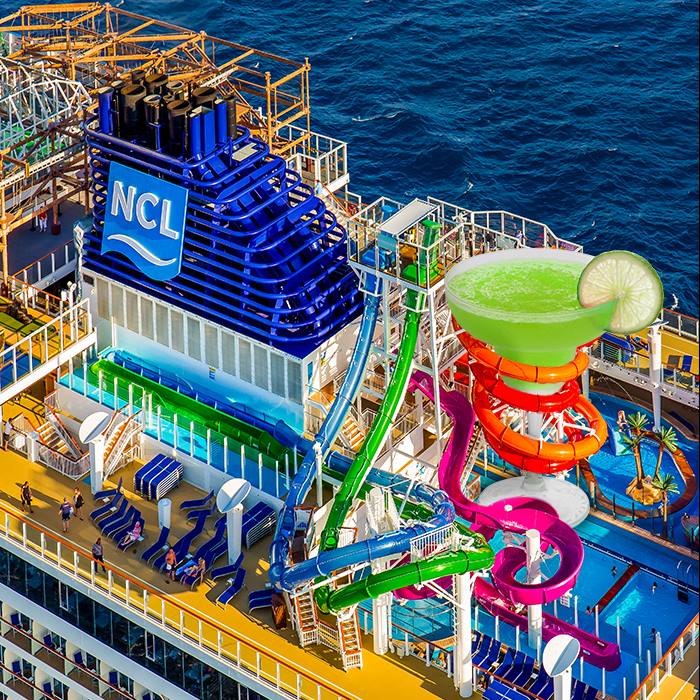 Award winning cruise ships
When you sail with Norwegian Cruise Line, you are cruising on the most innovative and accommodating fleet on the high seas. Our award-winning fleet was built for Freestyle, designed to give you freedom and flexibility. Choose your ship, choose your destination and step on board for the perfect holiday.
ONLY ON NORWEGIAN
Biggest Thrills at Sea
Step into a world of excitement and exhilaration in our ThrillPlex activity zones, available on Breakaway Plus and Breakaway class ships.
The Waterfront
Feel the warm sun and balmy ocean breezes along The Waterfront, our revolutionary quarter-mile oceanfront promenade.
Great Stirrup Cay
Meet Norwegian's idyllic private island, where you can do it all – or nothing at all – the choice is yours.
Renowned Deck Parties
Hit the deck and dance the night away at our popular parties, including Caliente, Glow, and Nashville Nights.
SPECTACULAR DINING CHOICES
Indulge your Taste Buds  Savour a three-course meal and a great bottle of wine. Or grab a burger hot off the grill. Dress up. Dress down. Sit down with friends or make new ones. Thanks to the flexibility of no fixed dining times or pre-assigned seating, you have the freedom to enjoy more dining options than days of your cruise.
Award-Winning ENTERTAINMENT
Bask in the bright lights of Broadway with performances like Kinky Boots, a six-time Tony Award® winner and exclusively at sea aboard Norwegian; fan-favourite Jersey Boys or Footloose. Watch in awe as world-class acrobats and aerialist twirl through the air in Cirque Dreams. Spend every day discovering award-winning entertainment that's beyond anything at sea.
Relax & Recharge InCONTEMPORARY ACCOMMODATIONS
The Haven
Your own luxurious enclave at the top of the ship, The Haven by Norwegian is where contemporary elegance, personalised service and privacy combine to create a unique cruising experience.
Largest Suites at Sea
From spacious to vast, our suites are perfect for couples or up to eight guests. Expansive balconies, living rooms and lavish baths make this a sumptuous retreat.
Studios for Single Travellers
Celebrate your "me" time in style with our award-winning Studios, designed and priced for the discerning solo traveller. Voted Best for Solo Travellers: Cruise Critic's 2019 Editors' Picks.
Ready for a Great Time? CRUISE SHIP ACTIVITIES
With some of the newest ships in the industry, Norwegian Cruise Line currently boasts the youngest fleet amongst major North American cruise lines. Thanks to a wide range of revolutionary features, in addition to a number of new spaces and interactive experiences meant to excite and inspire, you're guaranteed a holiday like no other.