UNPARALLELED DESTINATIONS
UNPARALLELED ITINERARIES. IMMERSIVE CULTURES. AUTHENTIC SERVICE.
UNPARALLELED ITINERARIES. IMMERSIVE CULTURES. AUTHENTIC SERVICE
The initial layers of a city, including its people, buildings, and shops - can be seen by anyone, with each person having a similar view. Inspiration is found when one goes deeper - beyond the surface of a city. Explore the world within the world, while discovering more about yourself. With overnight stays and docking at smaller, less-traveled ports, Azamara® invites you to step ashore as an insider and Explore Further.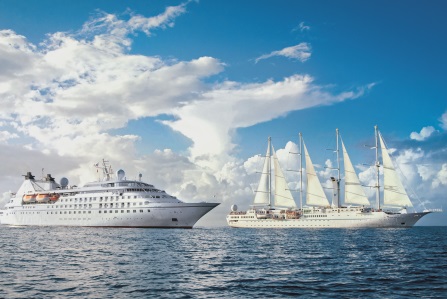 Life isn't a 9 to 5 experience. Azamara voyages aren't either.
When you're in the midst of some of the most dazzling cities, renowned UNESCO World Heritage sites, and "I can't believe we're here!" hidden gems on Earth, the last thing you want to do is rush back to the ship for a 4:00 p.m. departure (or 5:00 p.m., if you're lucky).
Well, here at Azamara®, we not only take you to awe-inspiring destinations, we also give you more time to fall in love with them. We call them Destination Immersion® experiences, and we've evolved the concept so you can Explore FurtherSM than before, both onboard and on shore.
Our unparalleled destinations allow you to cruise global and immerse yourself in fascinating cultures all over the globe, all while enjoying authentic service on your boutique hotel at sea.
YOUR HOME AT SEA
The Azamara experience doesn't pause when you depart a destination. The experience continues onboard with our top-tier crew, premiere service and fleet of boutique ships.
Azamara ships are not too big (you never feel lost). And they're not too small (you won't run out of new things to do and new people to meet). Plus, with the newest addition to our fleet—the Azamara PursuitSM—you'll have even more choice in immersive voyages that call on the world's most unparalleled destinations.
Azamara Journey® and Azamara Quest®, and the new Azamara PursuitSM, our three mid-sized ships are really just right. You'll love the genial club-like atmosphere and the way our staff and crew get to know you. And you'll feel the same friendliness with your fellow voyagers.
Our smaller ships also offer the big advantage of being able to sail to places larger cruise lines can't. We sail to the doorstep of Bangkok, while other large cruise lines dock a few hours away. We sail to the city center of Bordeaux, the heart of Seville, and within a short walk to Hong Kong's buzzing nightlife and Shanghai's famous Bund.
It's easy to dive beneath the surface of a destination when you're at the center of the action.
What is included on an Azamara cruise?
INCLUSIVE AMENITIES
When you're ready to embark on a journey with Azamara®, be sure to pack your bags and leave the phrase, "Check, please," at home. When you travel with us, pretty much everything you could ever want is included, and amenities increase with each level of stateroom.
INCLUSIVE AMENITIES FOR ALL GUESTS:
Complimentary AzAmazing Evenings® event (on most voyages)
Gratuities
Select standard spirits, international beers and wines
Bottled water, soft drinks, specialty coffees and teas
Self-service laundry
Shuttle service to and from port communities, where available
Concierge services for personal guidance and reservations
ADDITIONAL AMENITIES FOR VERANDA PLUS* GUESTS:
Complimentary Internet (120 minutes or 25% off the unlimited internet package) per guest*
One free bag of laundry service per stateroom, every seven days*
One night of complimentary specialty dining for two, each seven days
Priority embarkation and debarkation
Complimentary in-room spirits
EVEN MORE AMENITIES FOR SUITE GUESTS:
English butler service
240 complimentary Internet minutes per guest
One free bag of laundry service per suite, each seven days
Complimentary seating in the specialty restaurants dining
Priority embarkation and debarkation
Complimentary in-room spirits
In-suite afternoon tea service
$300 in Onboard Credit per person (Club World Owner's Suites, Club Ocean Suites, Club Spa Suites categories only)
 
A 
W

ORLD of TASTE 

O

N SHORE AND 

O

NBOARD

At Azamara® we take you to remarkable destinations. We also give you more time to fall in love with them. It's what we call Destination Immersion® experiences, and it's what happens when you can stay longer and experience more local life and culture in every port.

But Destination Immersion® experiences don't just happen on shore. They happen onboard, too. What does that mean for dining with Azamara®? We incorporate the flavors of a destination into our food and drink menus. What does that mean for you? An exclusive, local, and personalized culinary experience. It's time to get a real taste for travel.
NEW VEGAN MENU
Plant-based diet? Now there's a menu just for you – available at Discoveries, Prime C, and Aqualina.
Specialty Dining
At Aqualina, you'll find some of Italy's most authentic dishes. Pastas made from scratch, traditional and authentic recipes, and scrumptious vegetarian dishes that make sure there's something for everyone. Savor a traditional Spaghetti Bolognese, enjoy a classic Antipasti or a hearty Fisherman's Soup or an Eggplant Parmesan to a Rigatoni Pomodoro with fresh veggies. You won't be able to say no to our famous desserts: Sorrento lemon liqueur mousse, hazelnut chocolate soufflé and more. Our chefs love to be inspired, so after an on-shore visit to a local market, you can also expect a delectable dish so local, you'll feel like you're not onboard anymore.
Specialty Dining
Your choice of steak, cooked to perfection. Crab & lobster cakes with fennel-aioli. Herb-coated rack of lamb, duck confit and Chilean sea bass—all paired with savory sides. And last, but certainly not least, our famous mini cinnamon-sugar donuts with dipping sauces for dessert. But at Prime C, you're in for more than delectable dining. Expect an great evening with stunning views and lush décor. And, if our chef has made a visit to a local market, you'll also have an authentic local dish to look forward to.*
Specialty dining is complimentary for suite guests. For others, there is a $30 per-person cover. Reservations are highly recommended. Due to the popularity of our specialty restaurants and regard for your fellow guests, a $15 late cancellation fee will be charged to your guest folio if a booking is not canceled by Noon on the day of your reservation.