Mediterranean part- for Northern regions go to the North & West Europe chapter
Home to many of the world's greatest works of art, architecture, and gastronomy, Italy elates, inspires, and moves like no other.
Italy's fortes extend beyond its galleries, wardrobes, and dining rooms. The country is one of nature's masterpieces, with extraordinary natural diversity matched by few. From the north's icy Alps and glacial lakes to the south's fiery craters and turquoise grottoes, this is a place for doing as well as seeing. One day you're tearing down Courmayeur's powdery slopes, the next you could be galloping across the marshes of the Maremma, or diving in coral-studded Campanian waters. Not bad for a country not much bigger than Arizona.
our LXRY! hotel selection
We have some criteria before we can call a hotel a LXRY! Selection Hotel. We want to be surprised, we need luxury and hospitality at a high level, we love the quality of food and the rooms, we think the location is super important, and….we want to memorize the hotel for a lifetime! So you will not find basic chain hotels that look similar in all countries but truly found local gems that are different and memorable.
A ROMANTIC HIDEAWAY IN THE HEART OF THE CITY
A vibrant and dynamic yet romantic design and luxury 4-star hotel in Florence beautifully evolved in the energy of the '50s.
The Hotel Continentale is the place to see and be seen, a catwalk for fashion and desire in the heart of Florence. The elegant and inviting white colors chosen by Florentine architect Michele Bönan evoke harmony, simplicity, and fantasy. Discover refined design and attention to detail throughout this 4-star design hotel in Florence near Arno, from handmade leather trunks used as a desk to witty clocks used as a side table.
Rooms and suites at Continentale are in a wonderful environment made up of pure lines, light, and the color white, taking its inspiration in irony, fashion, and the design of the '50s. Pictures by great Florentine fashion photographers and creations from famous international designers enrich the Hotel Continentale with its vibrant and modern 43 rooms and luxury suites in Florence.
BOUTIQUE HOTEL
Ottantotto is a historic building located in the heart of the Oltrarno district in Florence.
From the home-workshop of a renaissance baker it was transformed into a noble residence, then into
a philanthropic institution and finally, arriving in the roundabout and bizarre ways in the hands of an architect,
recently restored and converted into a Boutique Hotel with a garden.

Seven rooms distributed over four floors, one of which is a Suite with a terrace and kitchenette.
Each room has been given a specific character that distinguishes it from the others,
yet all share care in the details, creating cozy spaces, marked by timelessness and unique atmospheres,
which will naturally make you feel "at home".

Suffused lights, antique materials, and contemporary furniture will accompany you
in the discovery of this intimate place, which possesses "… cozy tranquility and untold joy,
dressed in an at times cheeky elegance, but more often playful…" (C.D.)

The flowered and shaded little garden welcomes guests in every season under its aged medlar and palm tree;
it has also for a long time been the place of choice of a friendly and stubborn magpie.
Ottantotto has seven rooms of different sizes, characters and atmospheres disposed over four floors.
One is a Suite with a kitchenette and terrace and can be joined with another room to form a two-bedroom suite.
All rooms can be accessed via an elevator or by an ancient staircase made out of "pietra serena",
a typical Tuscan stone used in Florentine palazzos.

All rooms have double beds and some can be settled with a third bed or a cot.
Each room has its own bathroom which, just like the rooms themselves, are all different from each other,
equipped with large showers and two with a bathtub.

Passionate advice:
Since each room is different from the other, come back several times to experience and know them all!!!!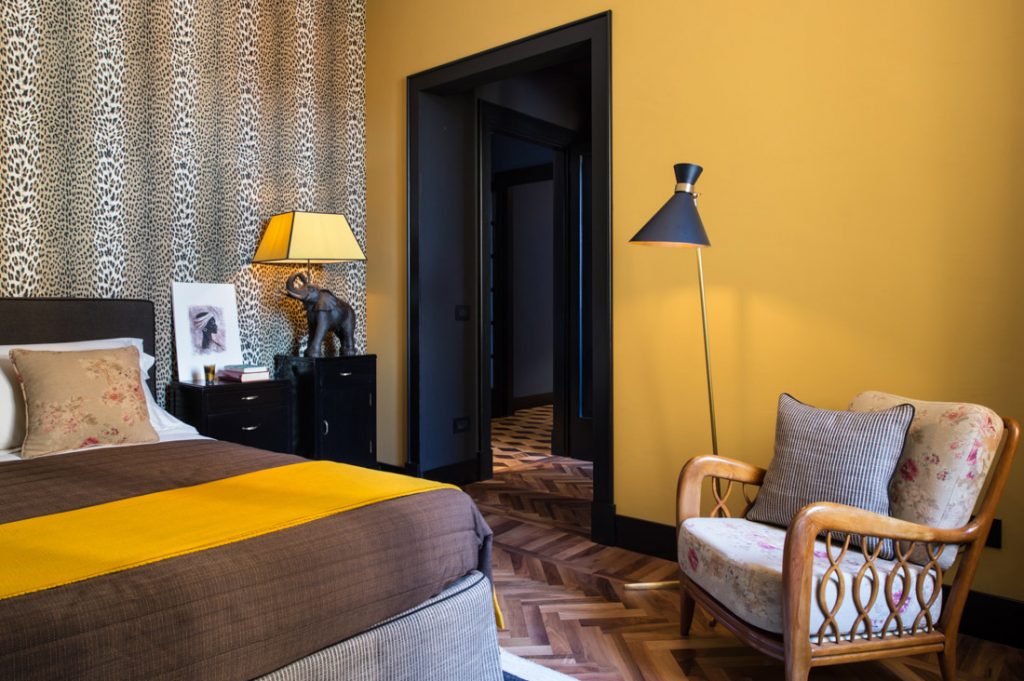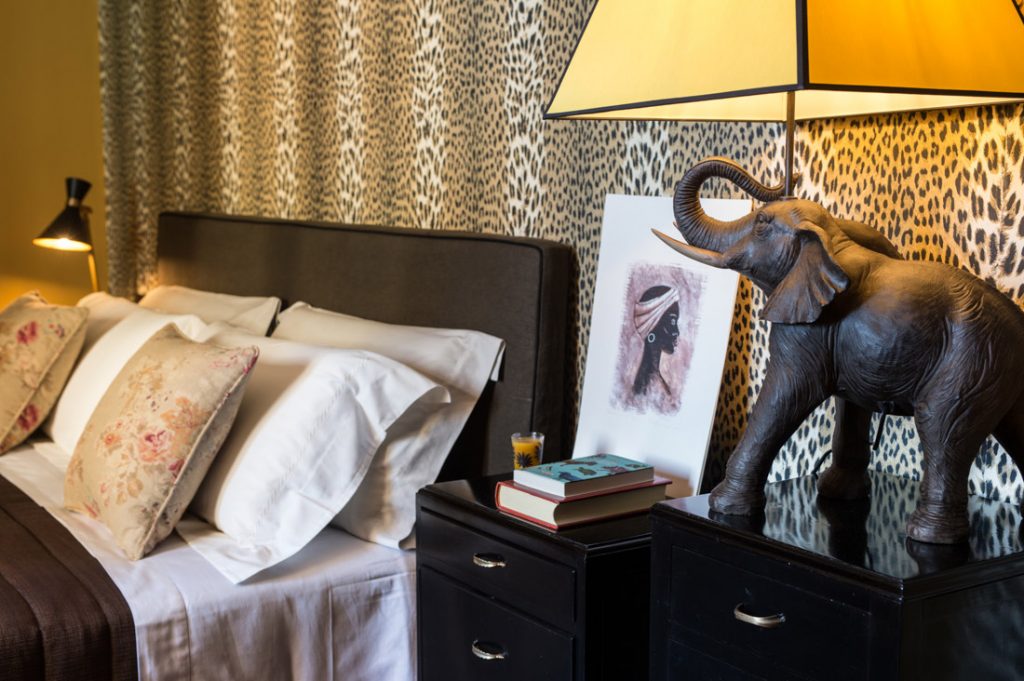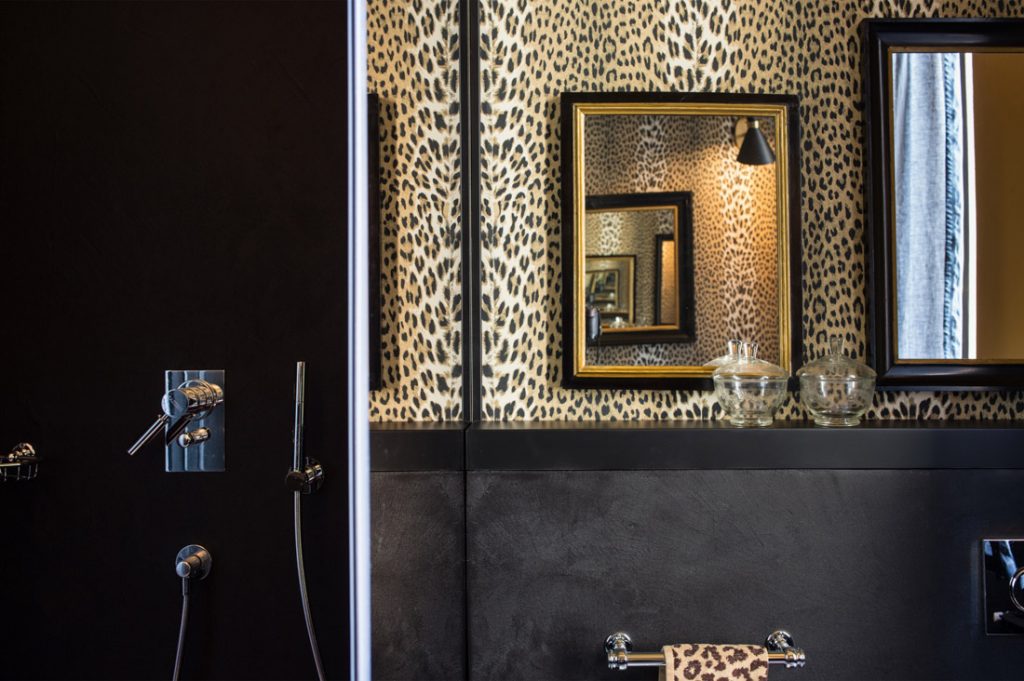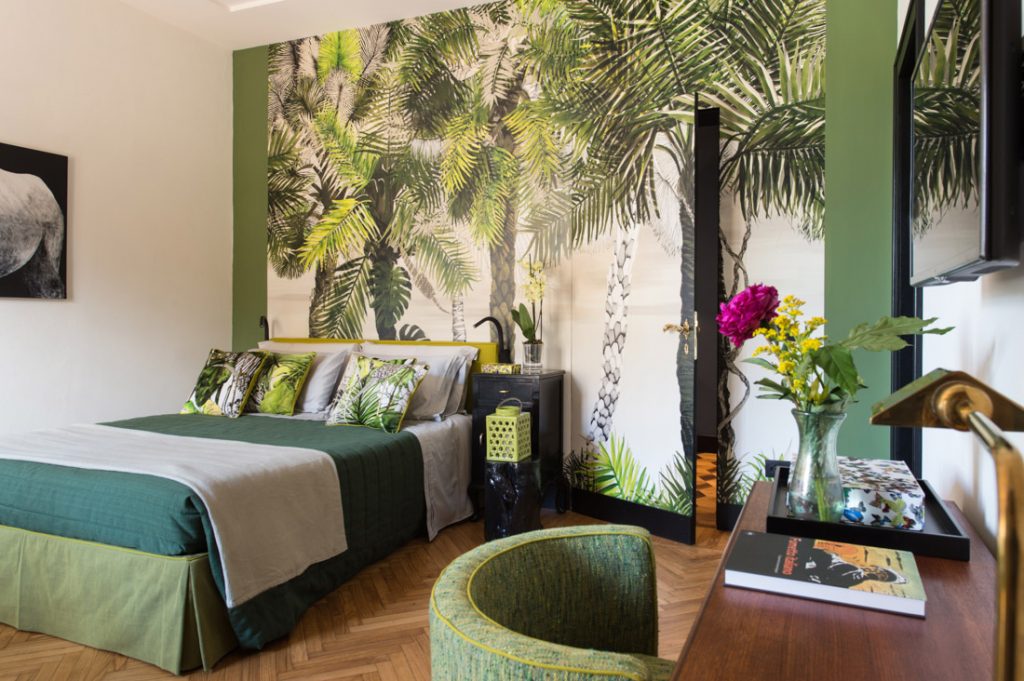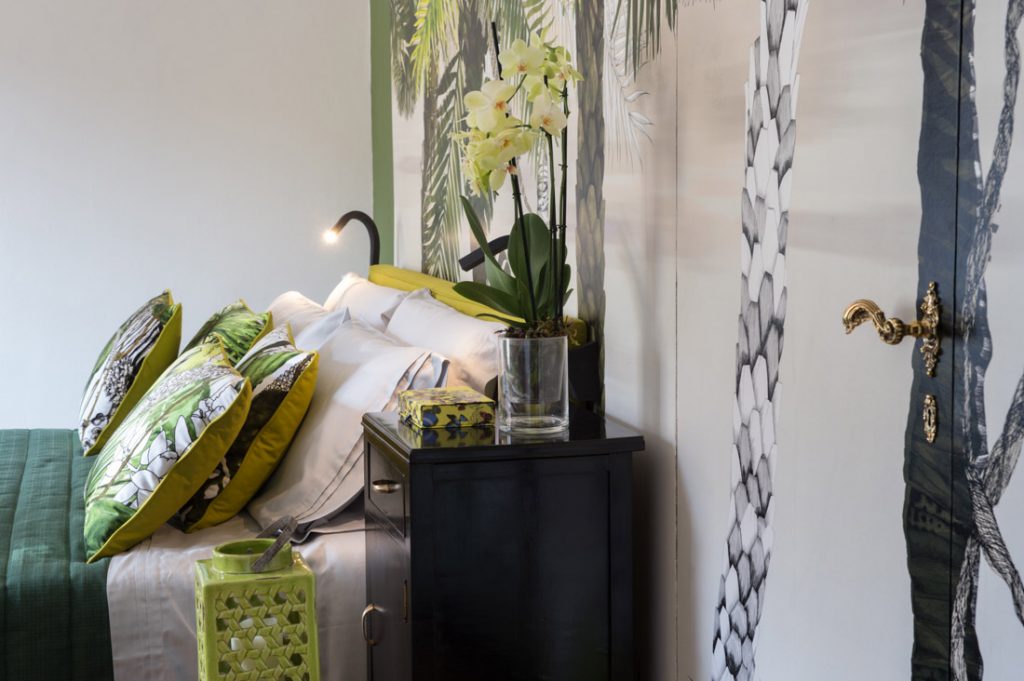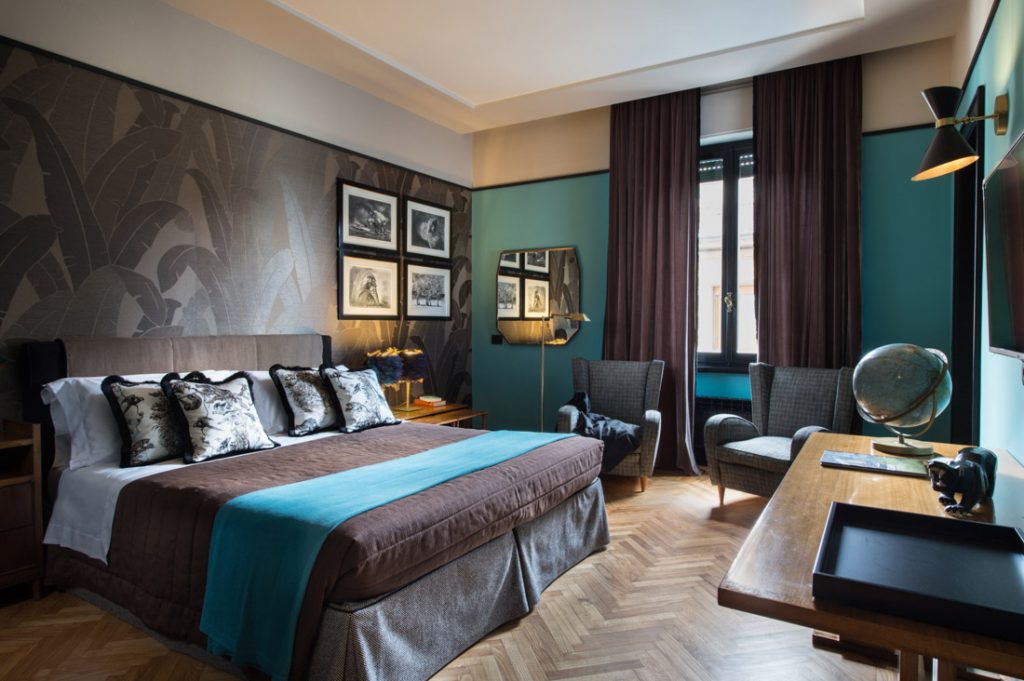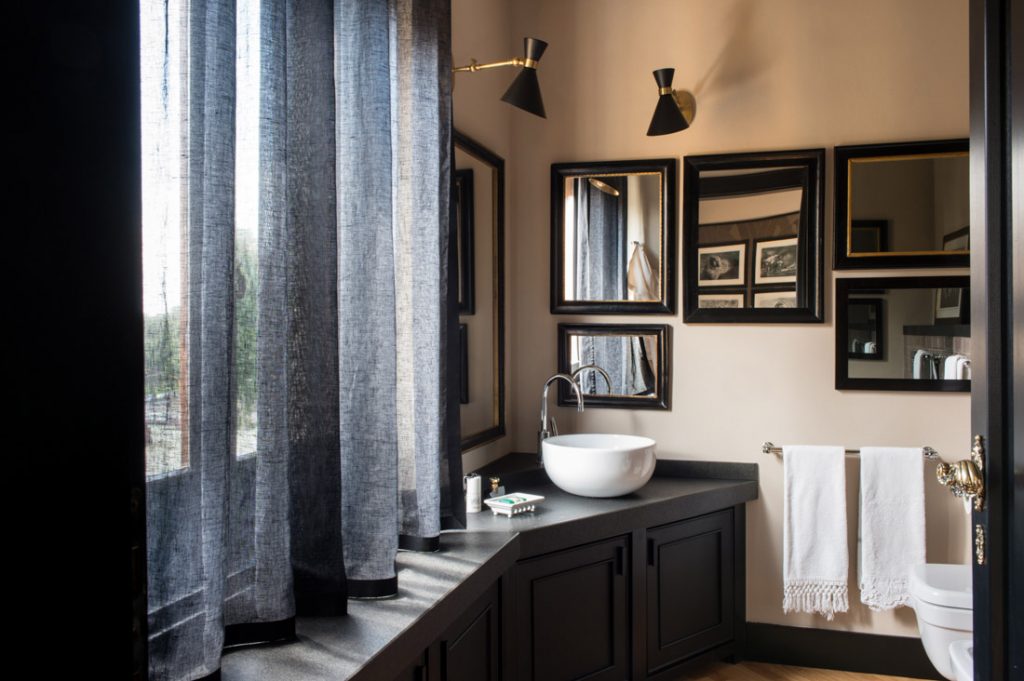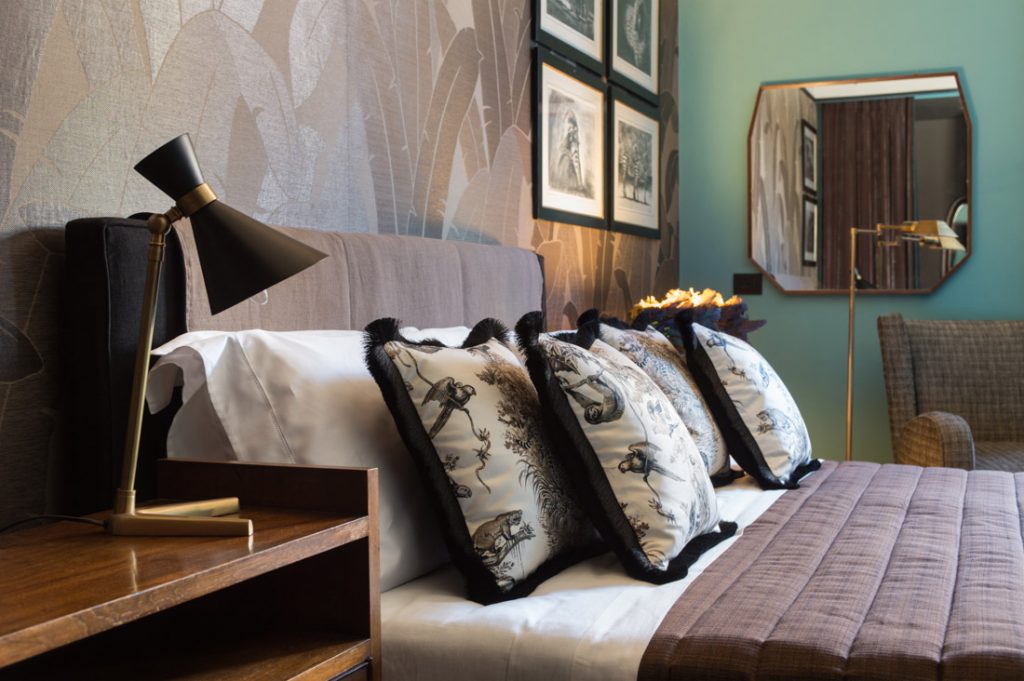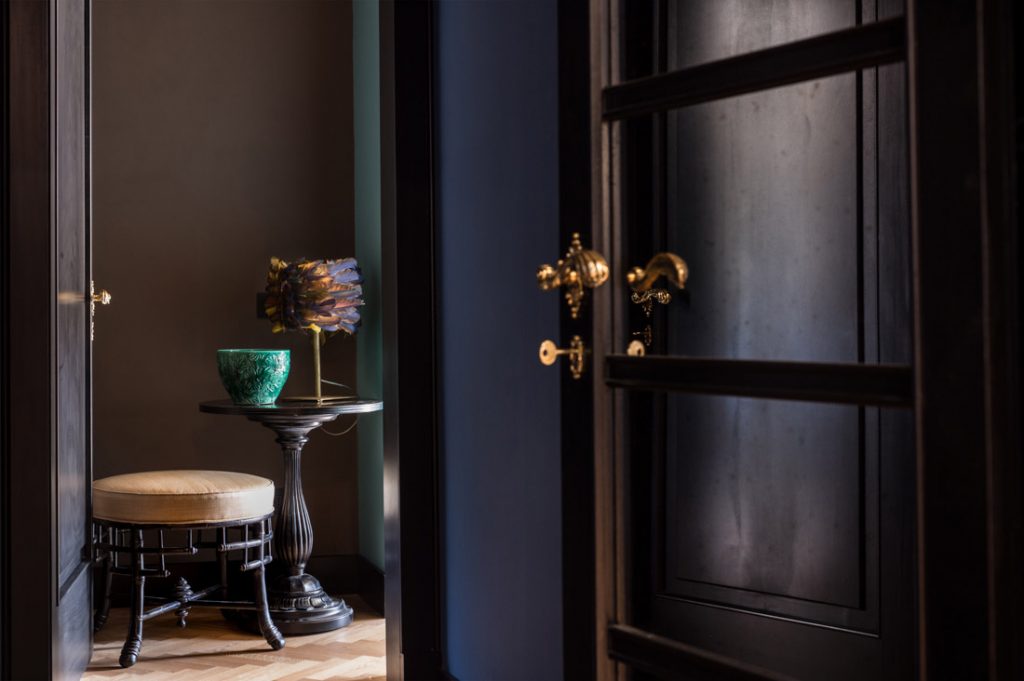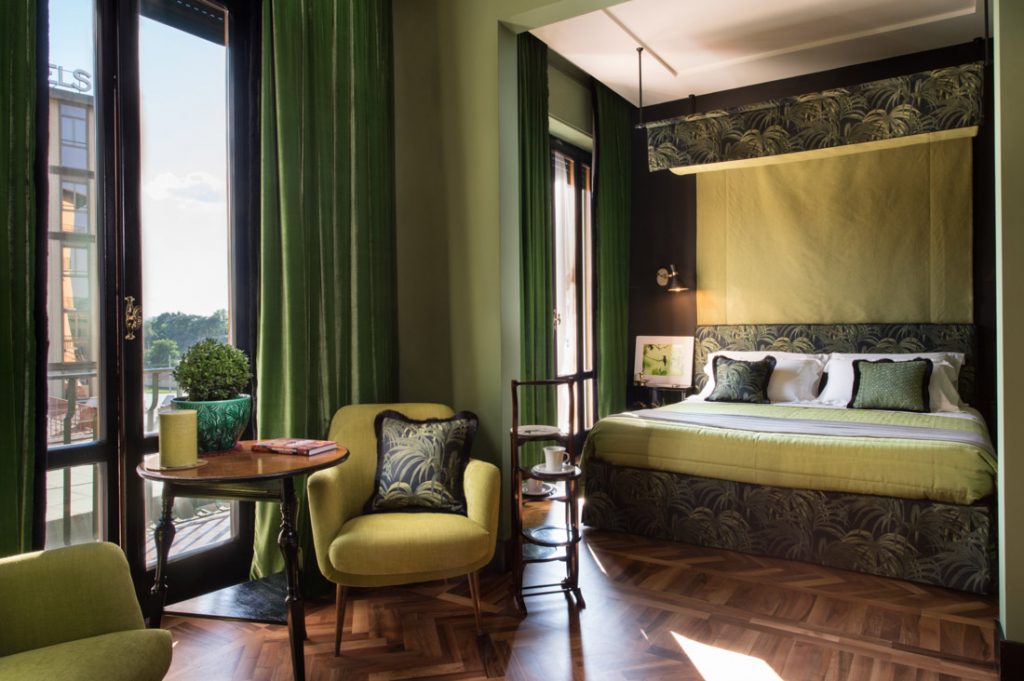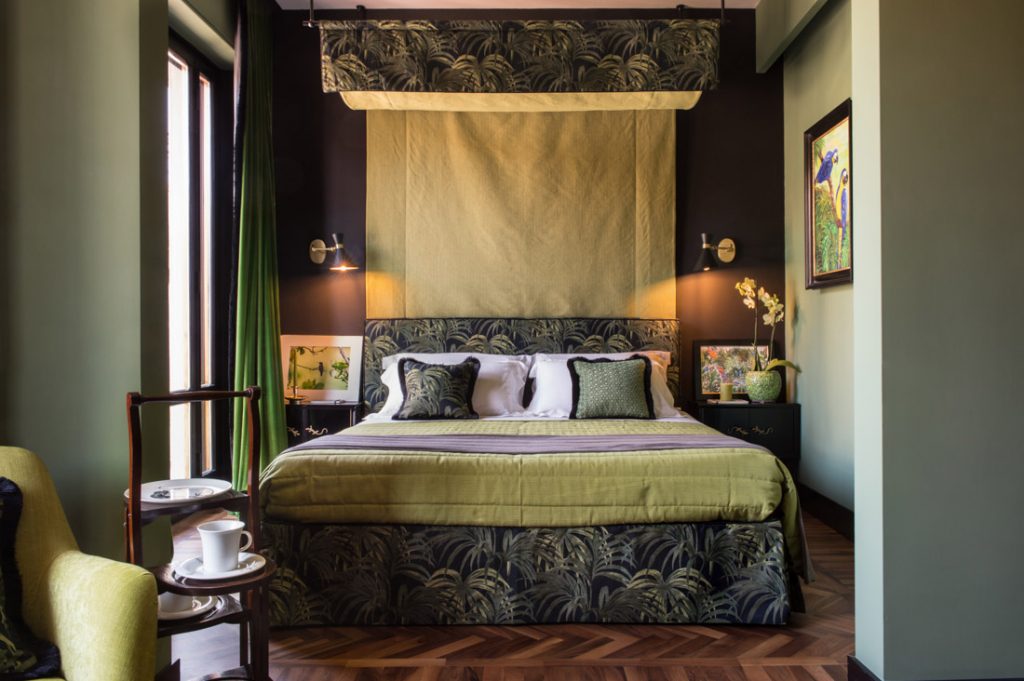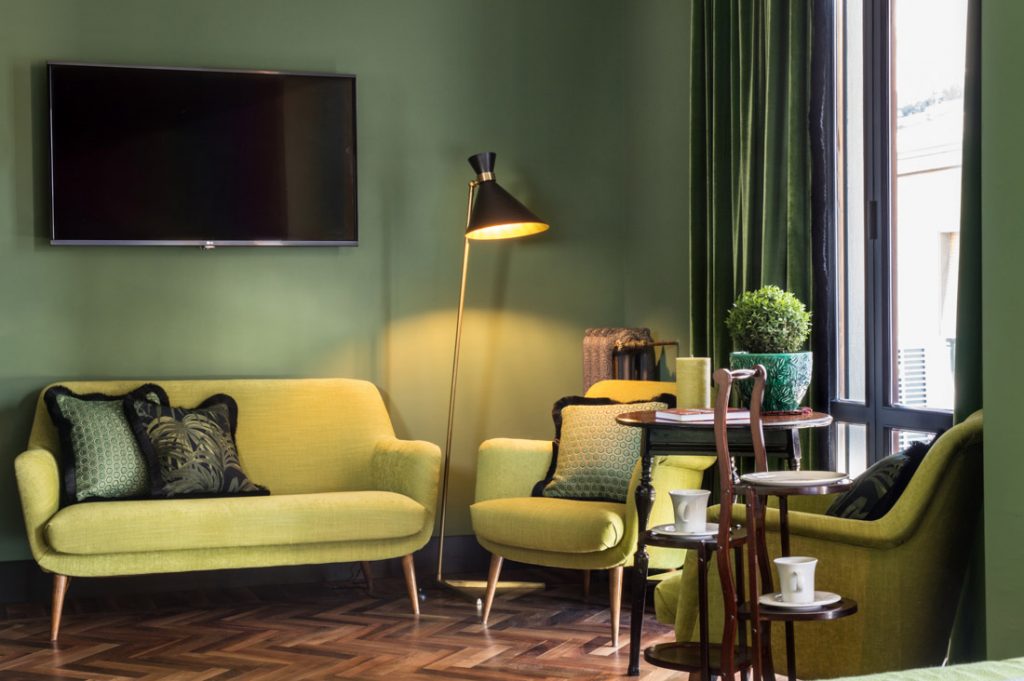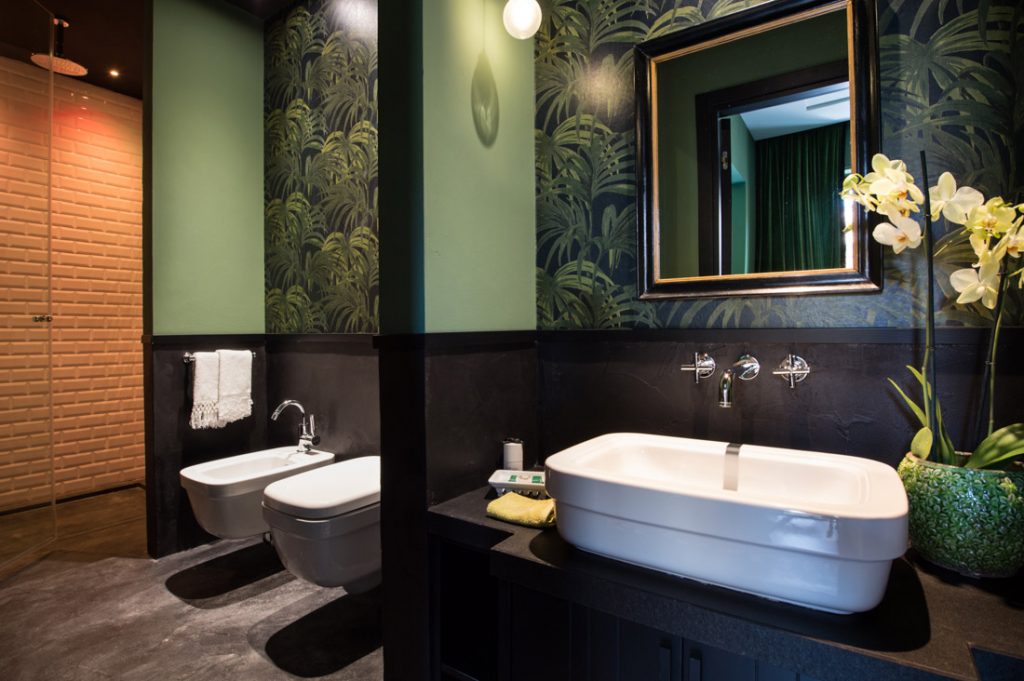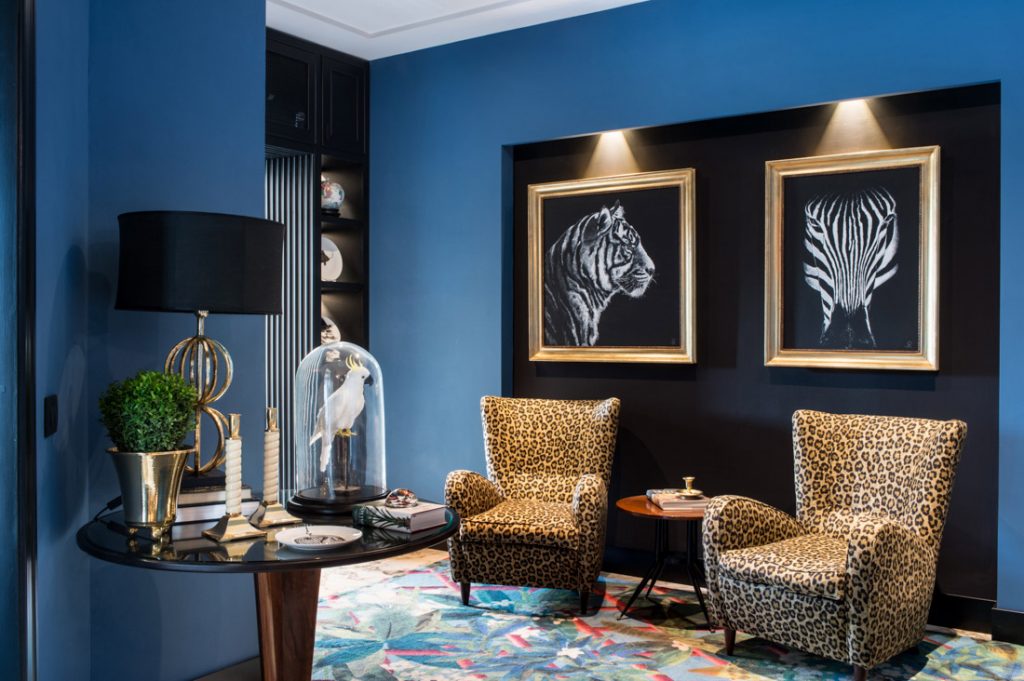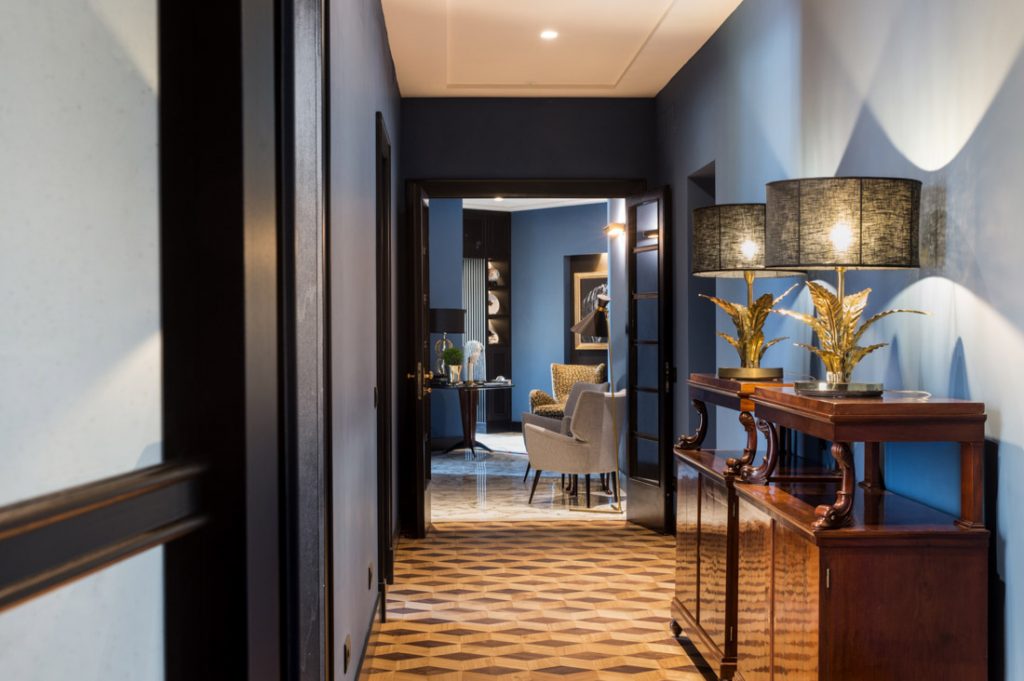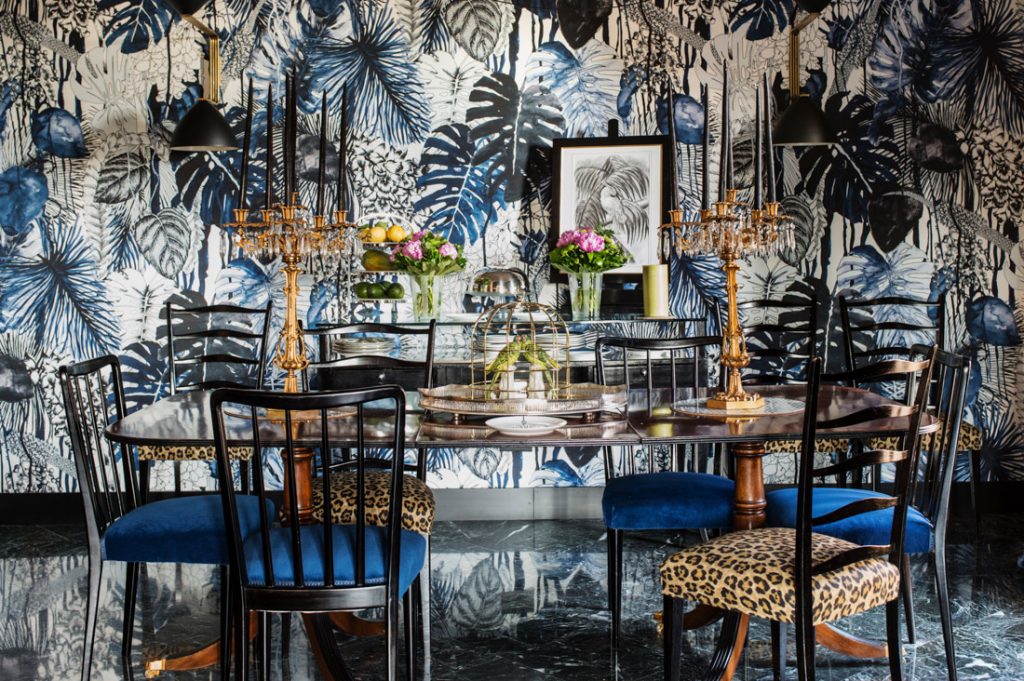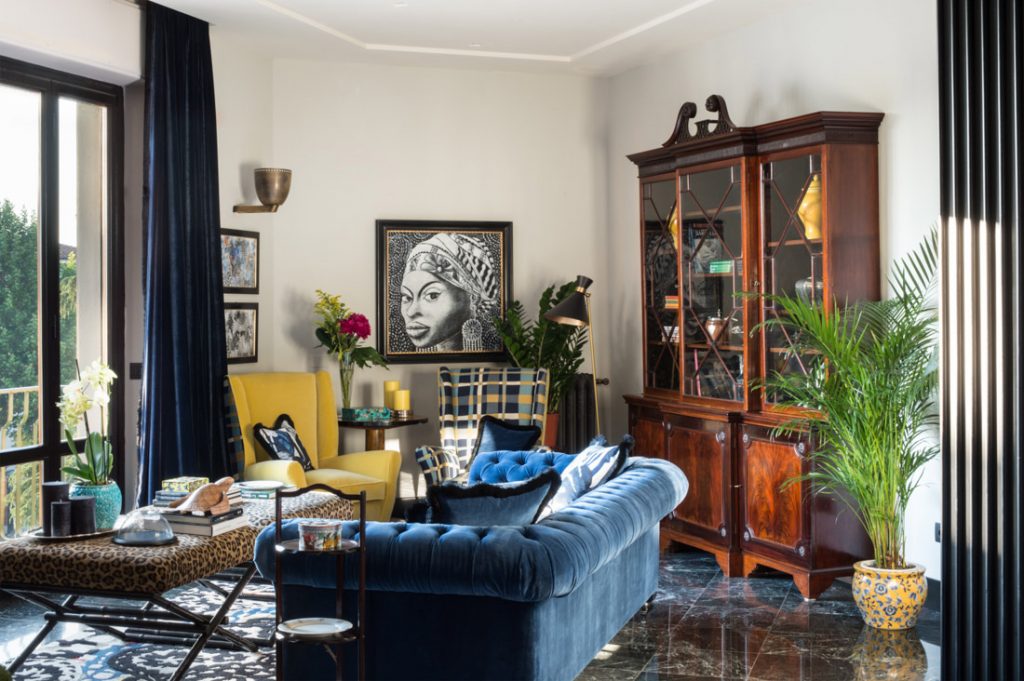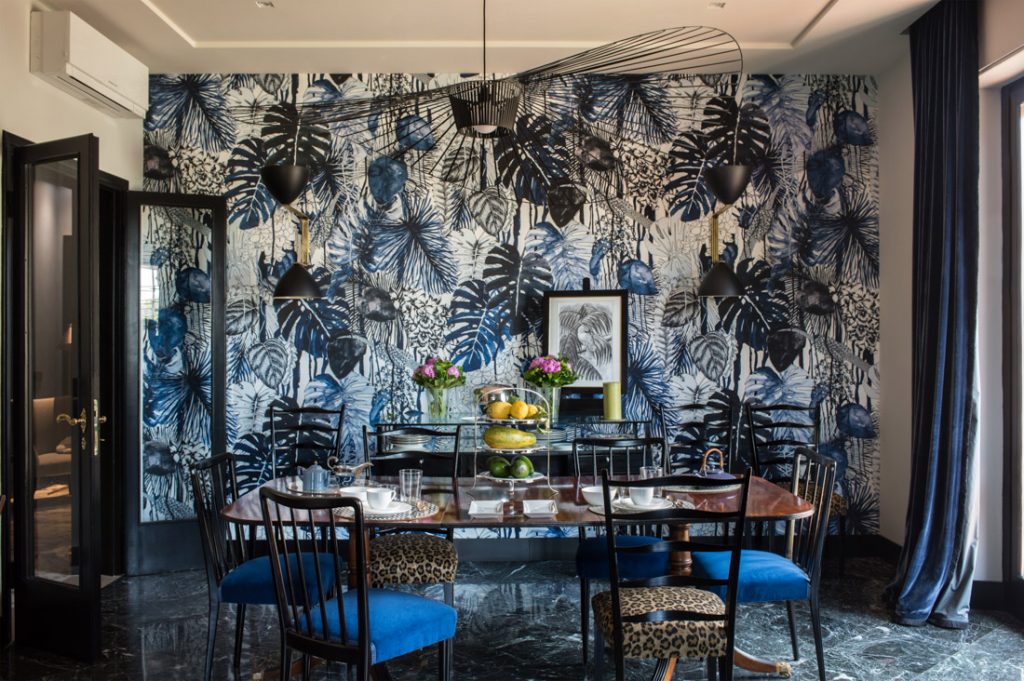 luxury is in the refined details
An exclusive boutique hotel in the historic center of Florence, the pleasure of living in an environment where luxury is in the refined details, where the culture of hospitality and love for the environment are found in every exclusive detail. For a curious traveler looking for a direct relationship with people, unconventional houses and places, full of stories to tell, new tastes, and genuine flavors that satisfy our palate and make him feel good.
Immerse yourself in beauty and style, be welcomed by discreet friends, share the latest discoveries around the city, experience a new lifestyle: these and more are the experiences to be lived at Velona's Jungle Luxury Suites in the heart of the historic center of Florence.
A refined and welcoming home for curious travelers, explorers, and collectors of images, objects, and experiences; a precious luxury guest house in the historic center of Florence where you can experience the emotions of Italian art, design, and taste with daily gestures.
In the refined and original suites of Velona's Jungle Luxury Suites, you can breathe the elegance of the fifties, when the grandfather, an esteemed globetrotting antique dealer, collected Italian and international art objects. He went to look for them in the historic buildings of Florence, Rome, Naples but also in London, Paris, Vienna and mixed them with taste in his shop and antique exhibitions, creating his personal Grand Tour across Europe.
Together with the works of art of the house today works by emerging artists, tapestries and decorations by the stylists we love, objects, books, and small details that they have collected with passion over the years, blend together.
Romance In the heart of Florence
ONE OF THE MOST ROMANTIC HOTELS IN FLORENCE
If you are looking for a romantic hotel in Florence, Brunelleschi is a hotel capable of fulfilling your wishes. Inserted in Renaissance Florence, in the historic center of the city, it has views of fascinating glimpses and attention to detail spread throughout the structure. Inside this romantic hotel in central Florence, you will breathe an inebriating atmosphere.
Book a hotel room for a weekend or pre- cruise, visit Florence in one day, and experience its romantic charm. This hotel will be able to take you to the most sensual districts of Florence, in the center, a stone's throw from the Uffizi, Ponte Vecchio, and Palazzo Strozzi, but also to accompany you in the cobbled shopping streets. Rely on the advice of the hotel concierge and buy special gifts!
You can book the Pool suite with jacuzzi, or enjoy the night view from the Deluxe Executive, Florence will explode in all its charm for a romantic stay
You will be staying in an ancient hotel in Florence, with the possibility of parking and a partner swimming pool, where every piece of furniture expresses refinement. Also stop at the Osteria Pagliazza or at the 2 Michelin Star Santa Elisabetta Restaurant, to accompany your stay with a romantic menu and a candlelit dinner.
Treat yourself to a dream, a room with a  priceless view of Florence, a romantic room in the views, sensual in the furnishings. Book this room with a view of Giotto's bell tower, a room in Florence ideal for exploring the center from above, just open the window to admire the imposing Cathedral of Santa Maria del Fiore and its famous dome by Brunelleschi.
Perfect for living and visiting the city, this room with a suggestive view of Renaissance Florence has an area of ​​25 square meters entirely paved with an oak parquet. Like all the rooms in this boutique hotel, it is furnished in a contemporary style with a wealth of details and custom-designed accessories.
Modern luxury meets Renaissance splendor
Nestled in the Fiesole hills, this former medieval monastery perfectly captures the romance of Florence.
Blending 14th-century artistry with the region's ethereal beauty, Villa San Michele is as inspiring as the city's greatest cathedrals and galleries. The facade, attributed to Michelangelo, is hugged by lush woodland and terraced gardens. Step outside and gaze down across Florence and to the Chianti hills beyond.
Sleeping in this unique hotel is an indulgent affair. Warm-toned fabrics and custom-made furniture echo the rich history of the building, making each space an irresistible sanctuary.
Many rooms benefit from inviting private gardens or terraces. Be drawn out by the scent of flowers and soak up views of lush woodland, terraced lawns, or Florence itself.
Dine at heady heights, with a patchwork of rooftops below. Step inside, where grand arches frame intimate seating. The scene is set for an evening of exquisite gastronomy. Enjoy the thick, hand-rolled pici pasta which originated in Siena Tuscany.
La Dolce Vita on the Italian Riviera
Steeped in history and glamour, live out a true cinematic escape in the hills overlooking Portofino
Richard Burton and Elizabeth Taylor returned time and again to Splendido—and it's easy to see why. A beautifully restored former 16th-century monastery, it is the epitome of Italian glamour. Dine deliciously on authentic Italian classics at La Terrazza. Unwind in the award-winning spa. Soak up the sun beside the shimmering pool. Every moment here will make you feel like a silver screen star.
This coastal icon, Splendido Mare, has undergone a loving redesign. Green-centered and gorgeously decadent, the hotel's new look celebrates the stunning surroundings. Discover a calm oasis on the shores of the Ligurian Sea, designed with the environment at its heart. As doors reopen, step into a timeless harbor-side hideaway that you'll never want to leave.
Their bright, airy rooms are flooded with light and perfectly capture the spirit of the Mediterranean.
Enjoy sun-splashed balconies or wisteria-draped terraces. Glamorous parquet flooring, elegant Italian craftsmanship, and spacious marble bathrooms add to the air of indulgence.
Spend languid days fishing in the turquoise waters or catching the breeze on a private cruise. Feeling energetic? Why not take off on foot, bike or kayak to explore every hidden corner of the Italian Riviera—you'll be amazed at what you find.
Combining all that is magical about Mediterranean living, La Terrazza is the spot for seafood, sunshine, and sea views. Enjoy a lazy lunch on the terrace, luscious with wisteria, or head inside to the exquisite dining room.
Be drawn to the tranquil treatment rooms for a signature Portofino Dream ritual. Recline for a massage among wildflowers in the balmy open air. Whatever you choose, expect the very best in Italian indulgence.
Italy - Conca dei Marini - Amalfi
The spiritual enchantment of the transformed monastery
Striking the perfect balance of seclusion without solitude, Monastero Santa Rosa allows guests to determine the tone of their stay, whether they're looking to disappear for an intimate getaway or gather with the group and make new acquaintances. It's hard to imagine that the generous grounds, filled with four levels of gardens, lush landscaping, plentiful lounge chairs, and canopied daybeds, serve just 20 rooms and suites. Where most boutique properties might only offer in-room massages, Monastero Santa Rosa hosts a fully equipped spa to rival any major city spa, offering not just treatment rooms, but large-scale amenities that include a sauna, steam, mosaic-tiled experience shower, hydro pool, and tepidarium.
Guests are welcome to feel a part of the scene at the library and bar. Engage in a game of chess or cards or read while sipping a martini in the modern cocktail area. Relax down by the pool or discover the resort's secret gardens, quiet sun decks, and indoor relaxation areas. Get the best of both worlds by making your stay as energizing or relaxed as you wish, by selecting different spaces to suit your mood at any time.
Enter a sanctuary evoking a lost time. The spiritual enchantment of the transformed monastery remains ever-present in the luxuriously converted 20 rooms and suites, each named for an herb that the nuns would have used in making their medicines from the Monastero Santa Rosa garden. Vaulted ceilings and the primary structure of the nuns' rooms and refectory have been preserved and linked together with ensuites to create sumptuous bedrooms, each with a spellbinding sea view stretching from the Conca dei Marini's fishing harbor below to Amalfi beyond.
Located approximately 175 miles southeast of Rome, the Amalfi Coast stretches for 15 miles along the Sorrentine Peninusla. Monastero Santa Rosa Hotel & Spa is located approximately 10 minutes from the town of Amalfi, 25 minutes from Positano, 15 minutes from Ravello, and 80 minutes from the Naples International Airport, the region's most common point of entry.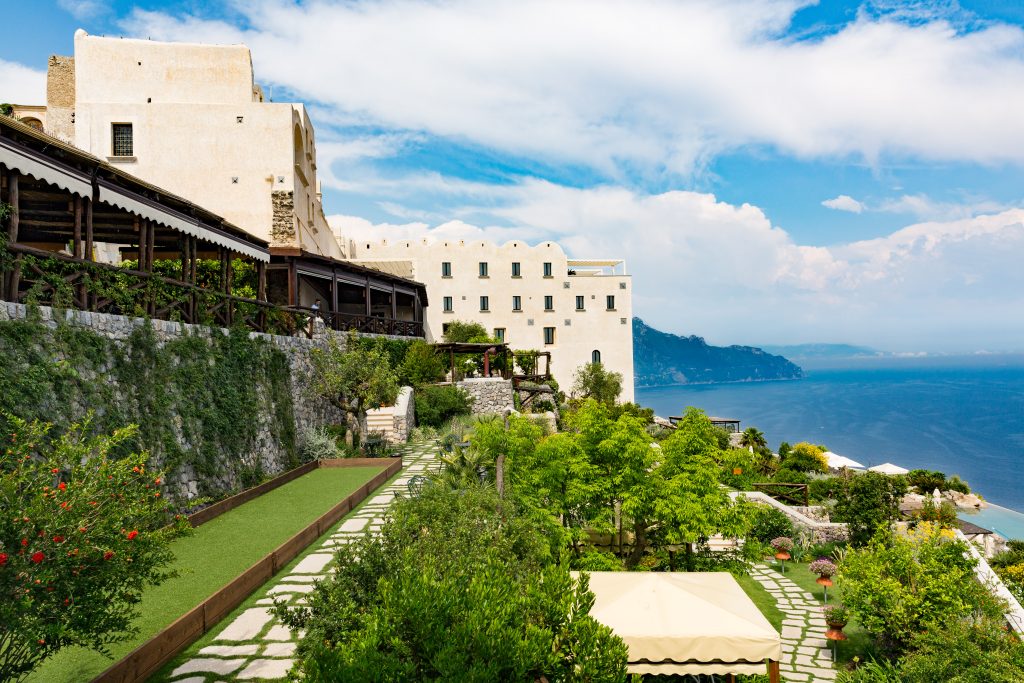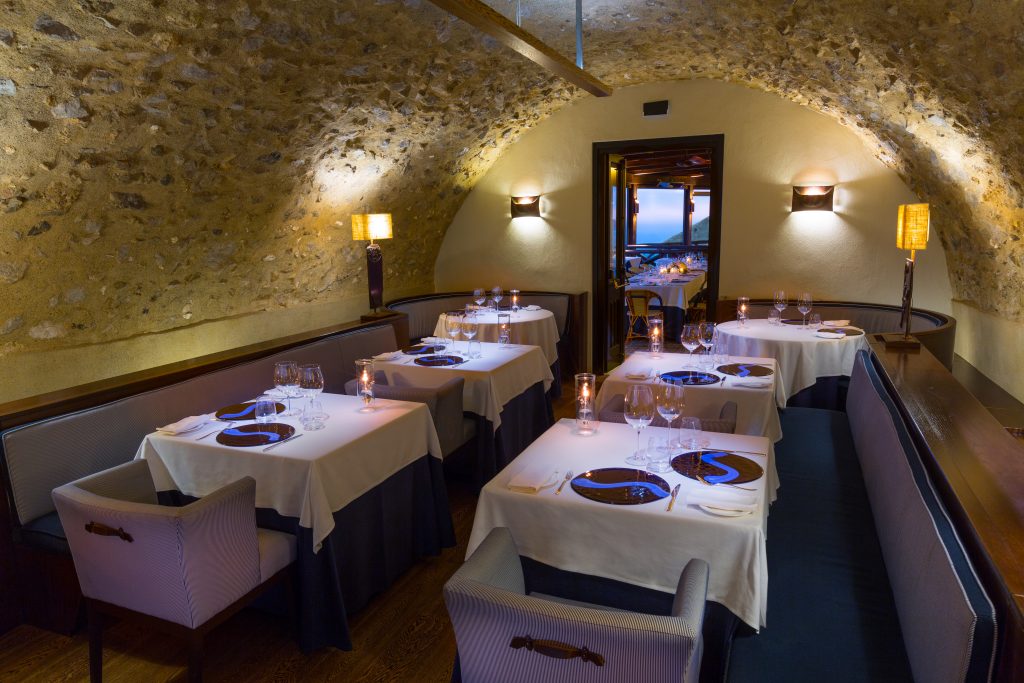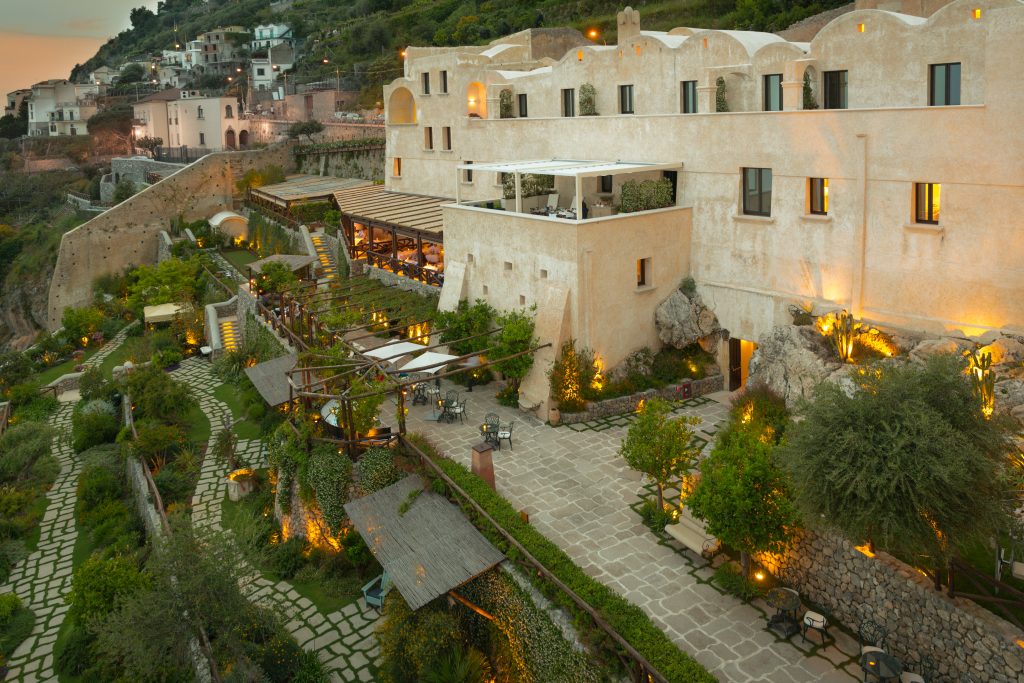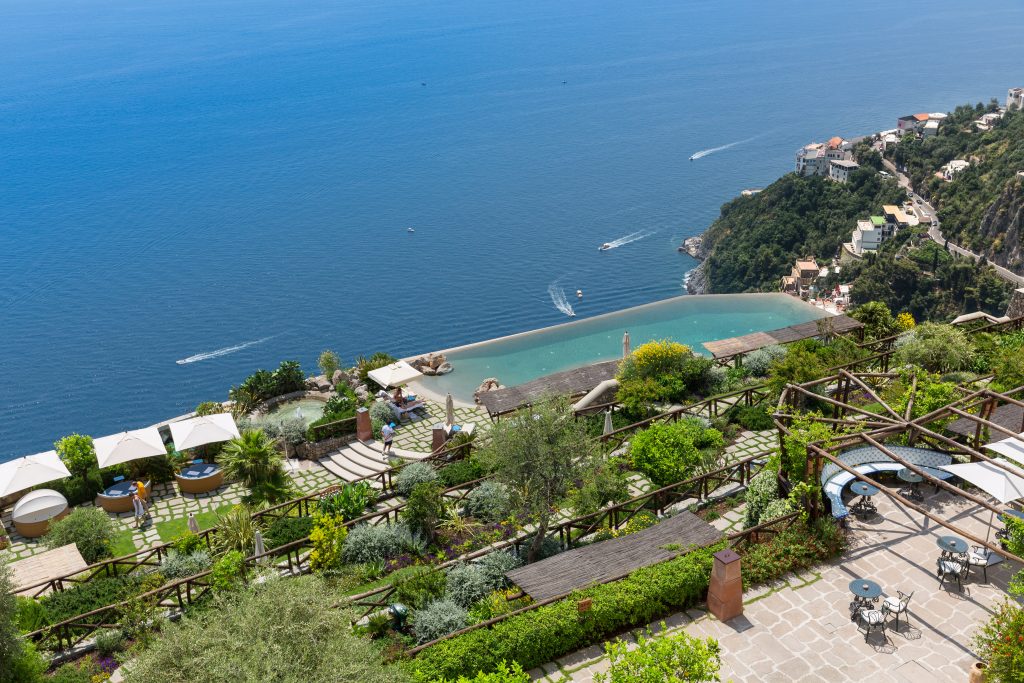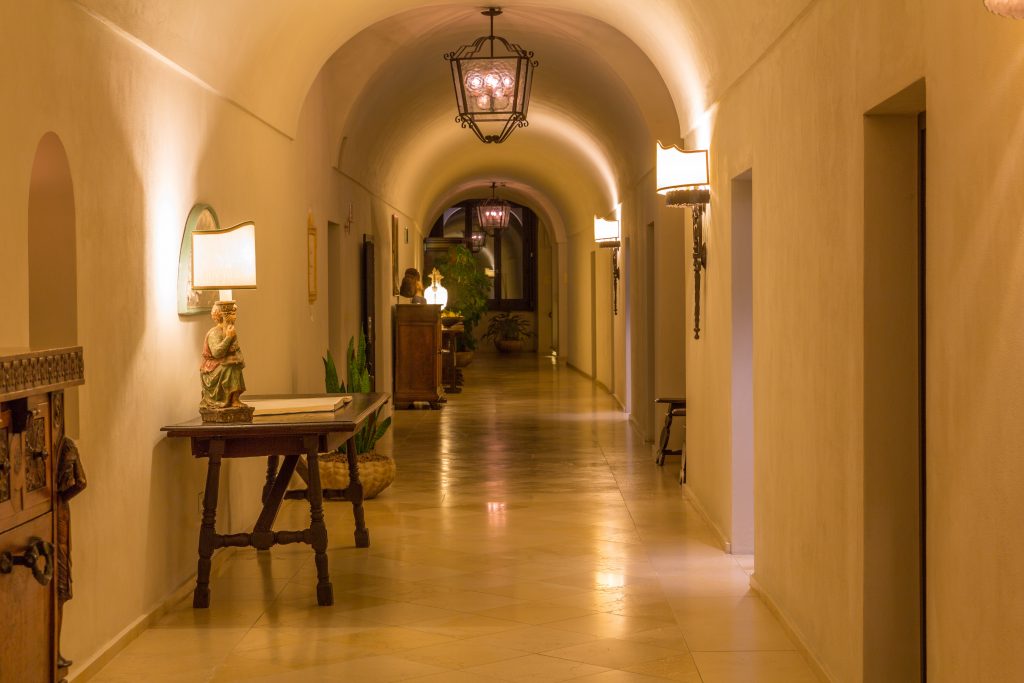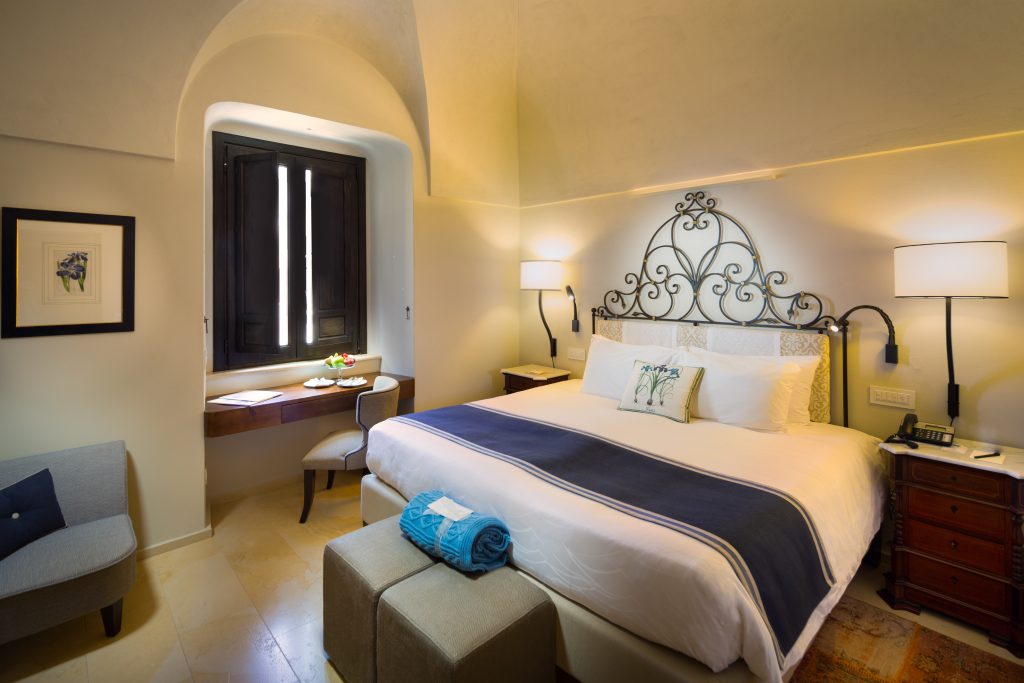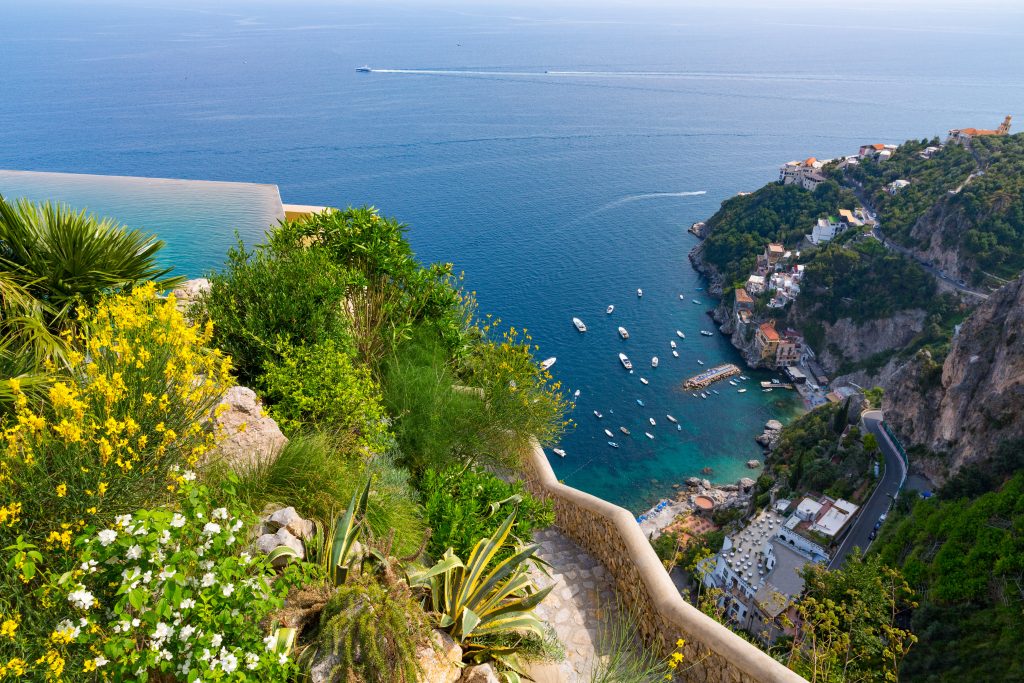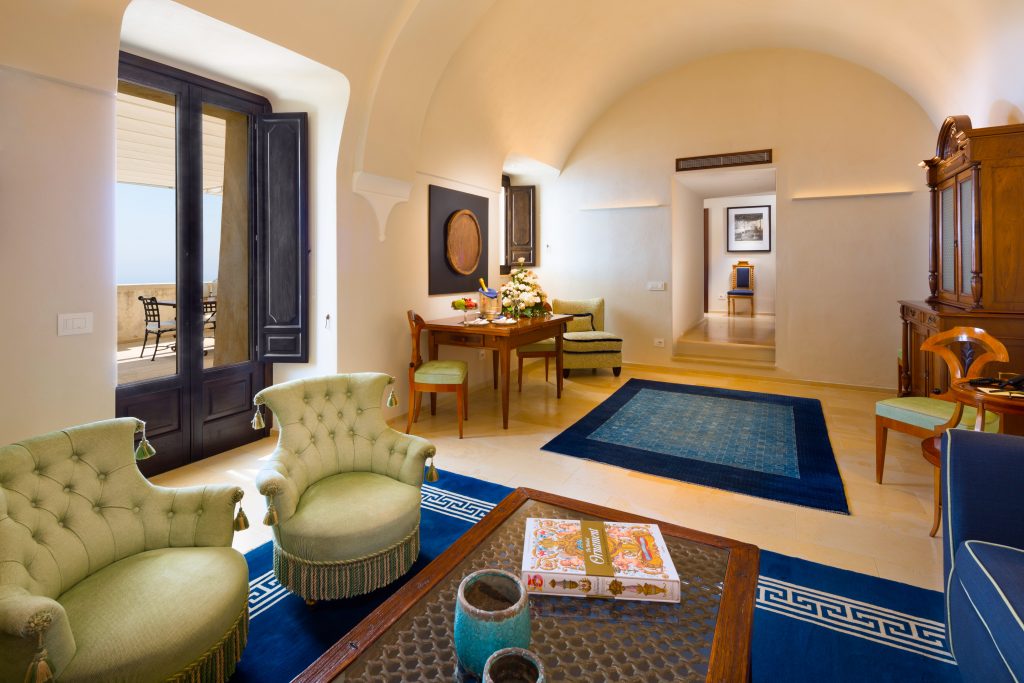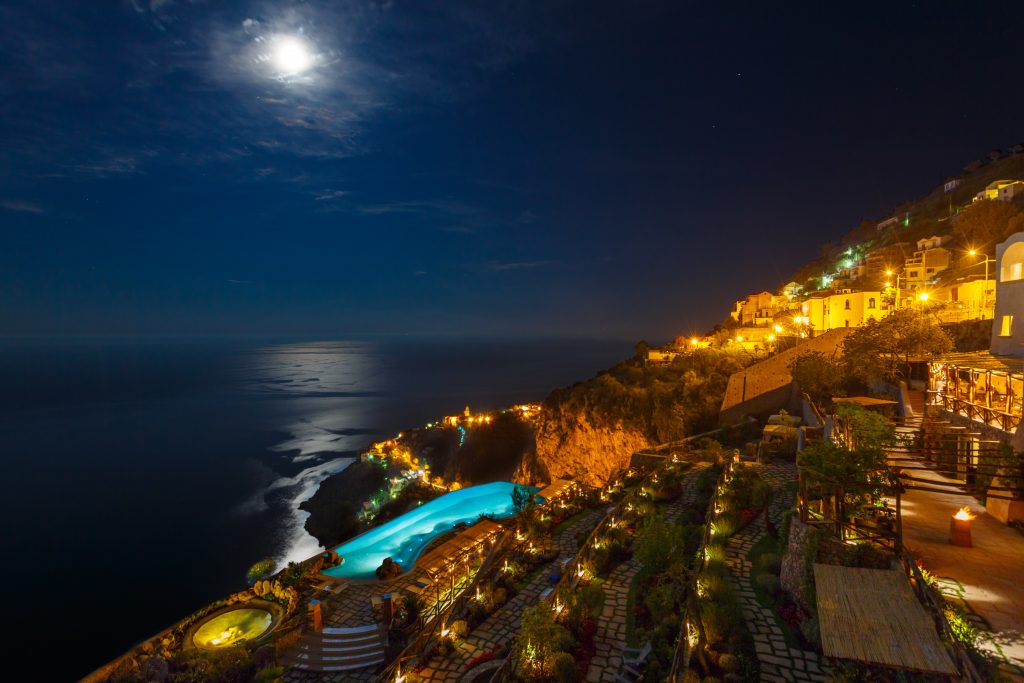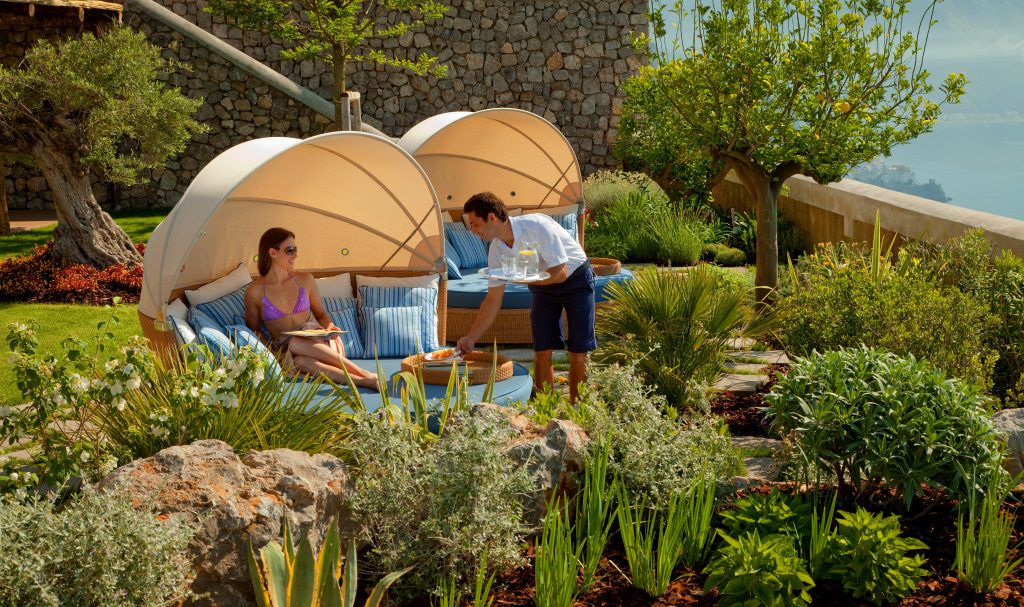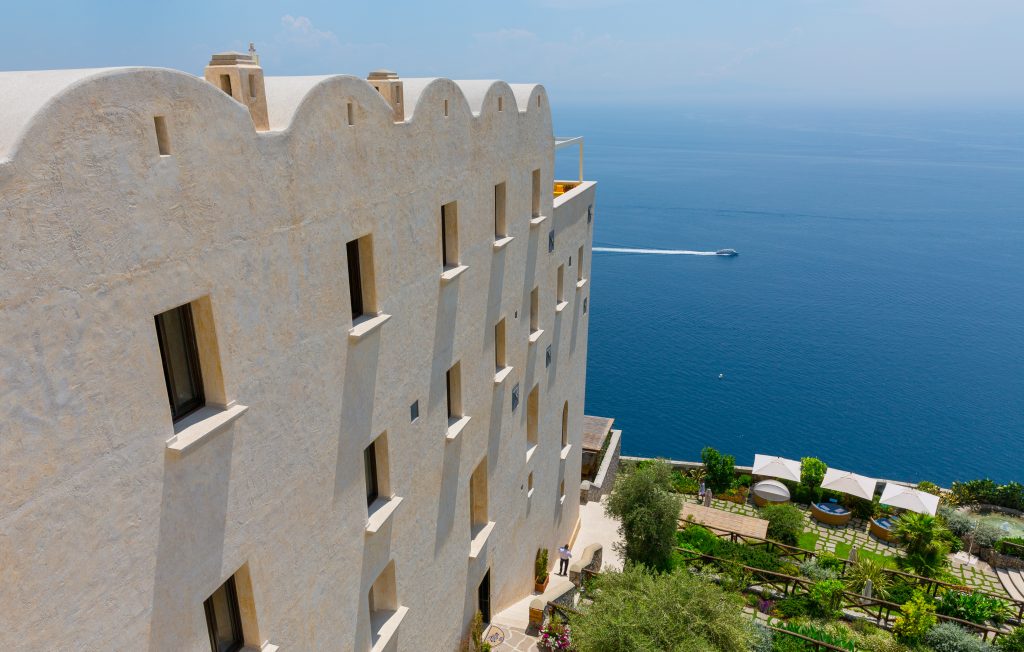 Relaxed sophistication in Portofino harbor
Following a complete redesign,  a new standard for Italian glamour
Once a humble retreat for fishermen, today this guesthouse basks in nautical spirit. Join us for the freshest seafood, the finest wines, and starlit cocktails. For aquatic adventures and beachside lounging. For cobblestone strolls and cinematic escapades. A charming gem on the Italian Riviera, this is Portofino living at its chic and breezy best.
Their roots are tied to the coast. They were the first hotel in Portofino to offer refuge to intrepid fishermen. Today Splendido Mare is being lovingly redesigned as a glamorous retreat that honors its nautical past.
Unique artwork and rich Ligurian colors frame the dazzling blue sea. Each of the individually designed suites offers a unique personality and style. The corridors are a register of the many colorful characters who have occupied this space over the past century.
Fresh, local, and delicious: Dav Mare combines authentic recipes, local ingredients, and modern culinary flair for a truly unique dining experience. The ideal accompaniment to Portofino's picturesque harbor views.
As you step through our corridors towards your private room or suite, anticipation builds with each moment. You'll spot signs of what's to come in the whimsical architecture and glittering views.
Each of the beautifully reimagined rooms offers a window into the soul of Portofino, with uniquely curated details. The interiors exude the spirit of the Piazzetta with amber, terracotta, and sea green hues, playful nautical textures, and mid-century modern touches. We guarantee you'll never want to leave.
A heavenly retreat between sea and sky
Set on a cliff edge 1,000ft above sea level, Belmond Hotel Caruso is your private balcony over the Amalfi Coast
This former 11th-century palace boasts all the worldly luxuries anyone could desire. Marbled hallways lead to rooms brimming with antiques and paintings by old masters. Cascading down the mountain, past lemon groves and olive vines, is Ravello, the mesmerizing 'city of music'. Paradise found.
At Belmond Hotel Caruso, your room is every bit as magical as Ravello itself. 
Suites of stunning blue and white tiled floors, original Neapolitan paintings, and glossy wood furniture open out onto beautiful balconies trailed with vines. The views will leave you breathless.
From the endless blue of the infinity-edge pool to the ancient arches of the atmospheric bar, every detail will take your breath away.
"If you want to explore Italian-style, take a Vespa around town—and be sure to stop for an espresso."
Experience the 5-star Hotel Villa Complex on the Amalfi Coast
"The Duchess invited me to stay for lunch and let me explore… The place was a riot of Mediterranean vegetation, pines, flowers, trees, cacti. Through the foliage were dramatic glimpses of Positano, an opera set with dramatic mountains behind it..
Franco Zeffirelli
Spread between four villas, each of our suites offers a unique blend of carefree comfort and careful attention to detail. Named and decorated by maestro Zeffirelli himself and his team, each room presents a different face from the extraordinary cast of Villa Treville's rich history.
The Treville Beach Club offers privacy and exclusivity in a small heavenly corner of the Positano coast. The staff will accompany your day, devoting the attention necessary to make you feel pampered.
The restaurant sits in an environment that blends with the colors of the coast, recalling the houses of the village and our sea.
The main restaurant is situated on the large terracotta tiled and vine-covered open terrace of Villa Azzurra with panoramic views of Positano and the deep blue sea. As the weather requires dining moves beside the open fireplace in the drawing-room in which Franco Zeffirelli often used to work or entertain his friends. On offer is a selection of daily specials from our kitchen cooked to order..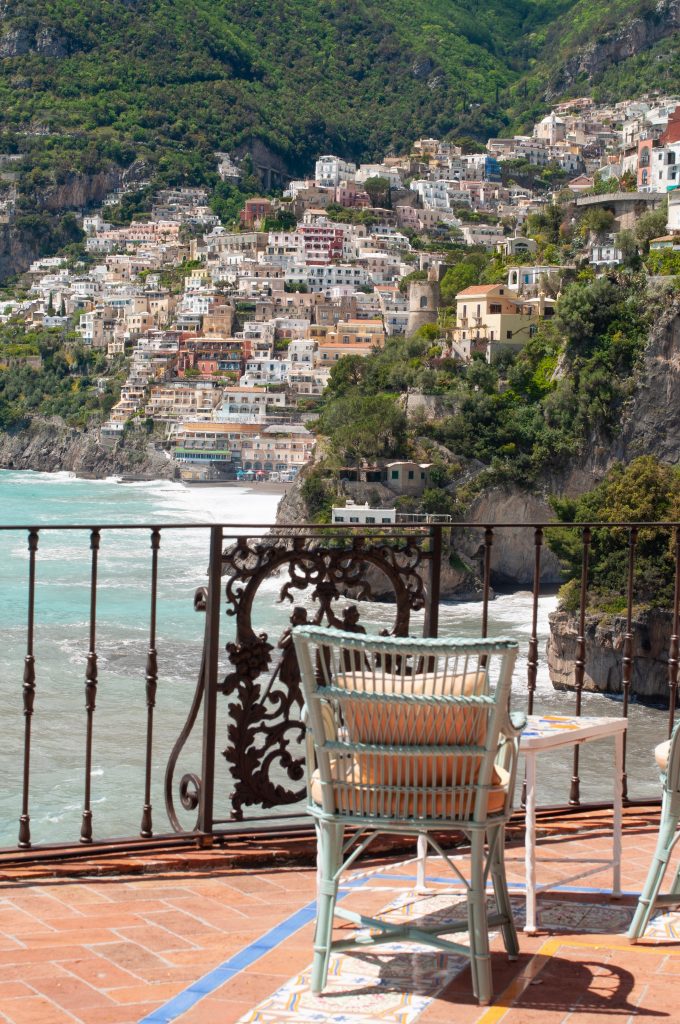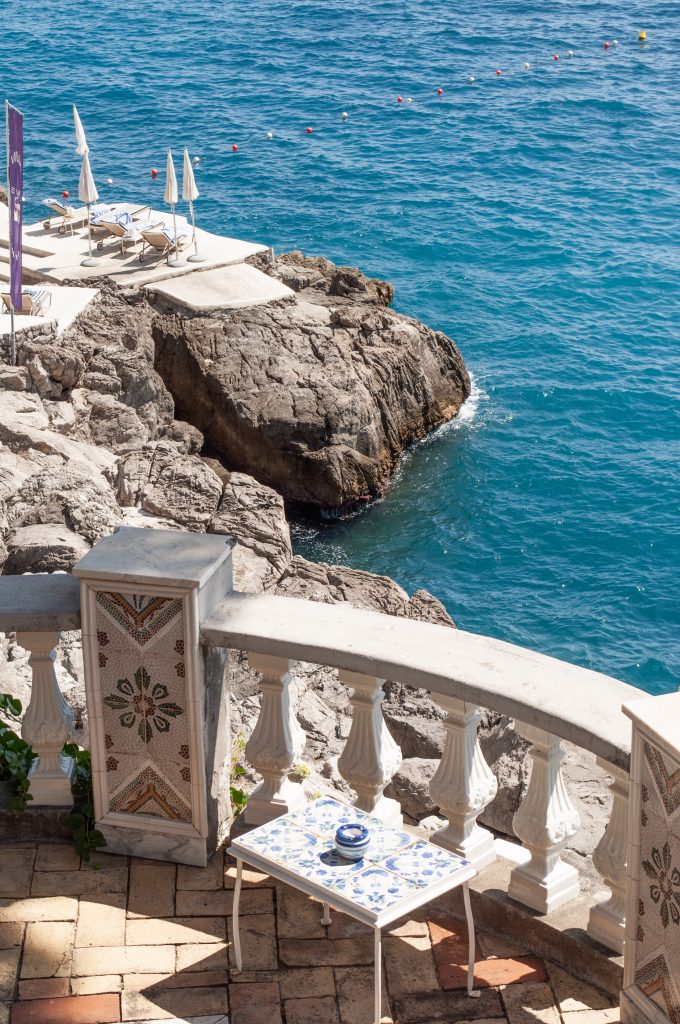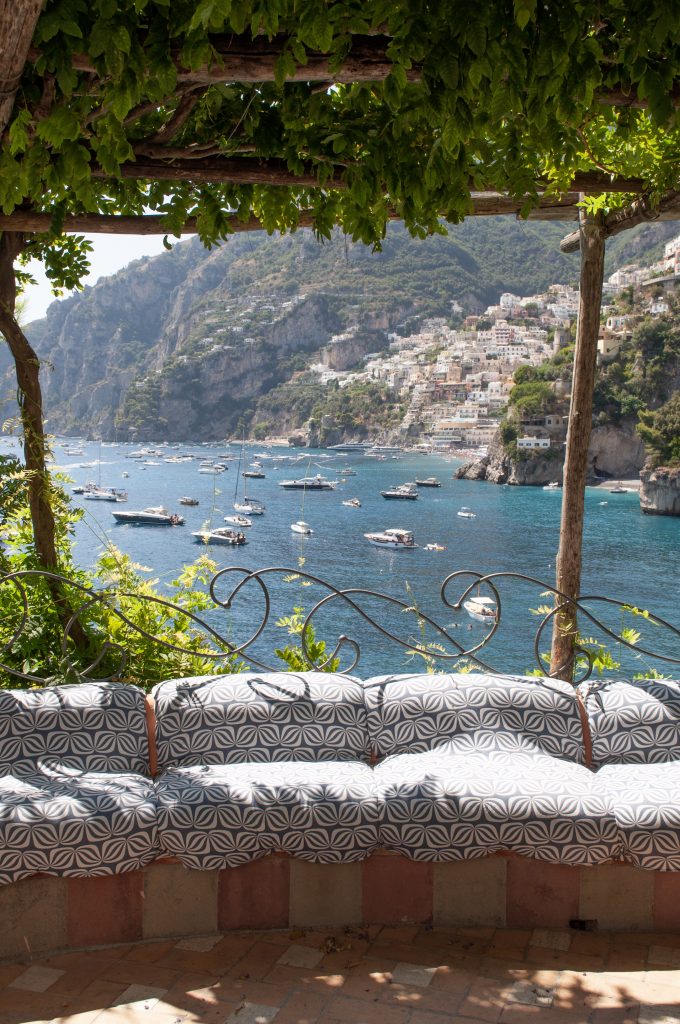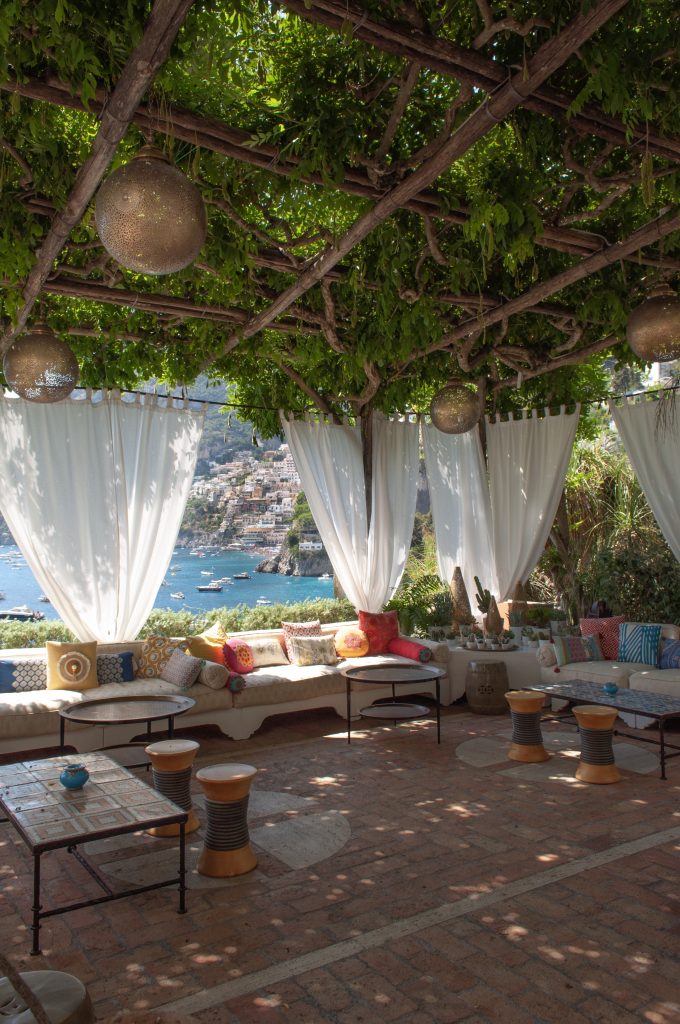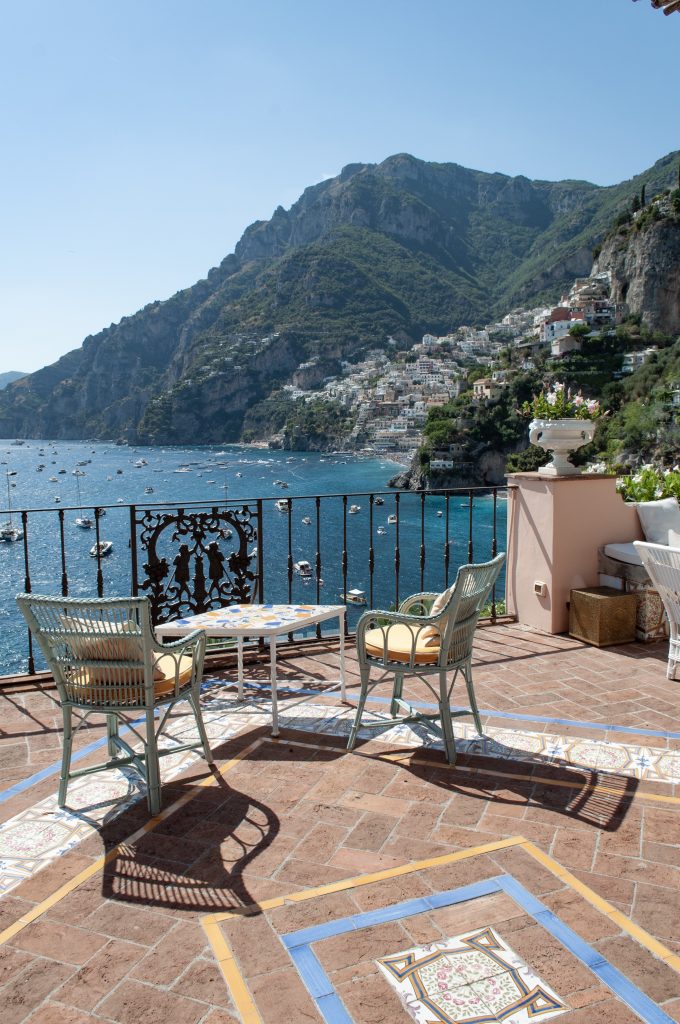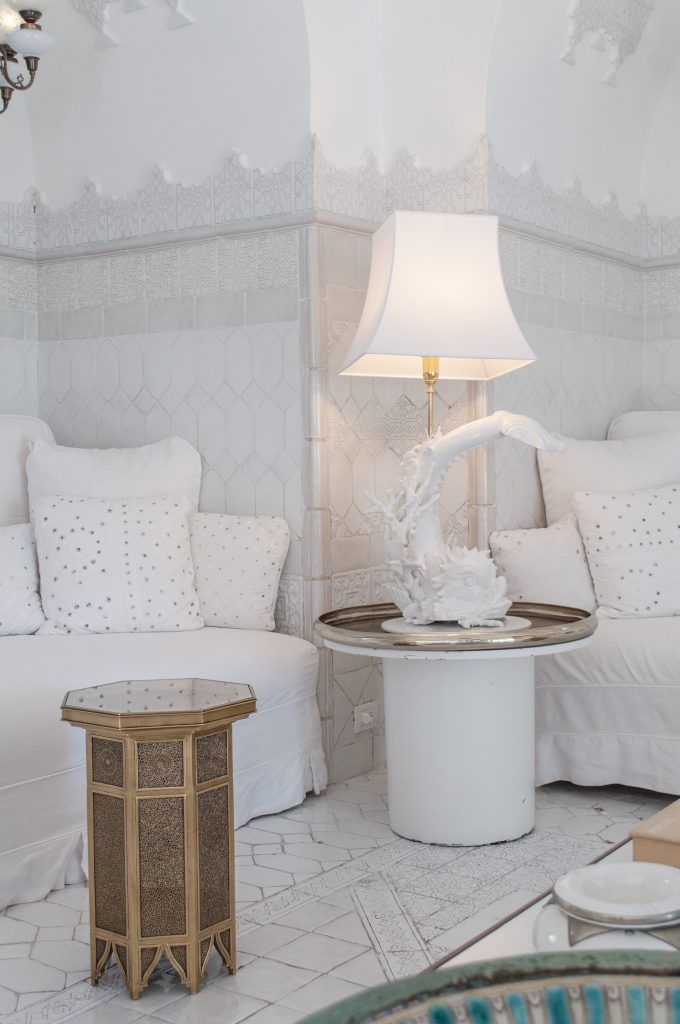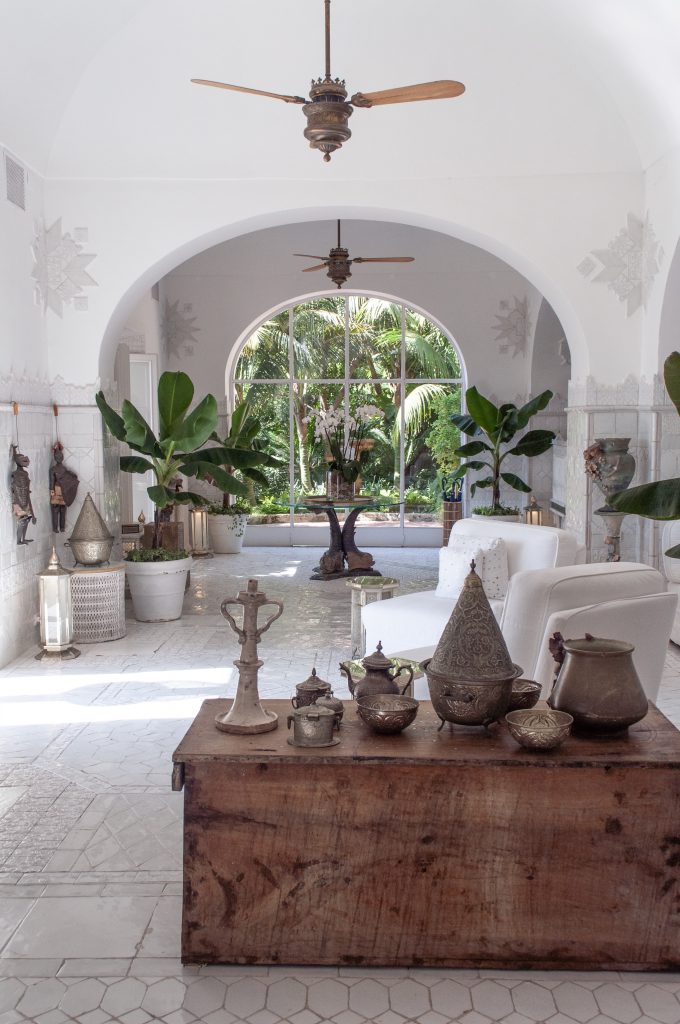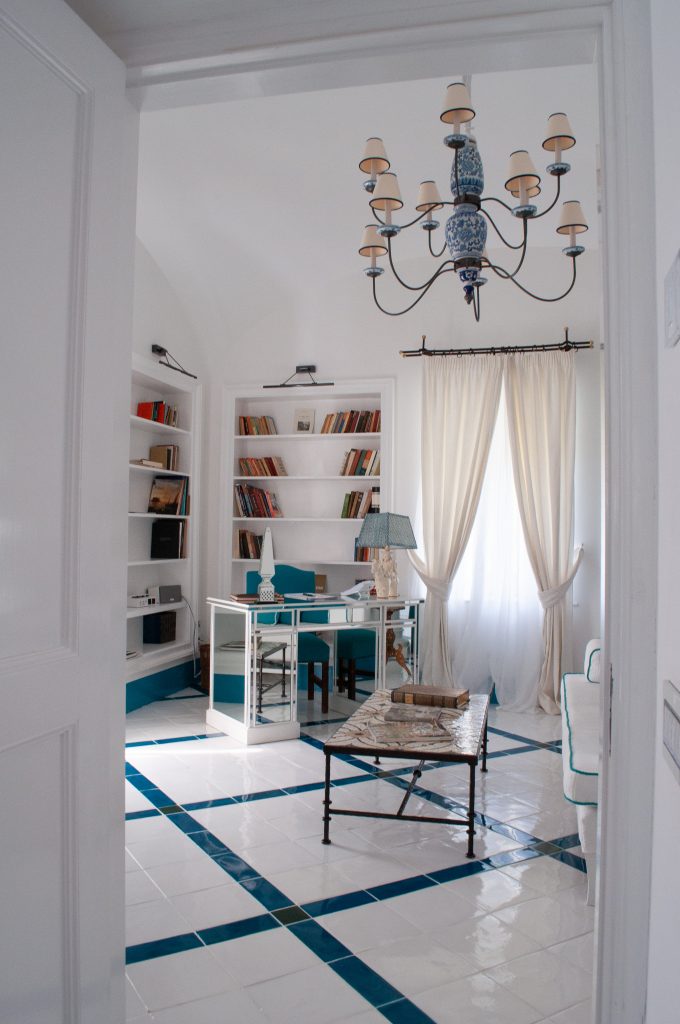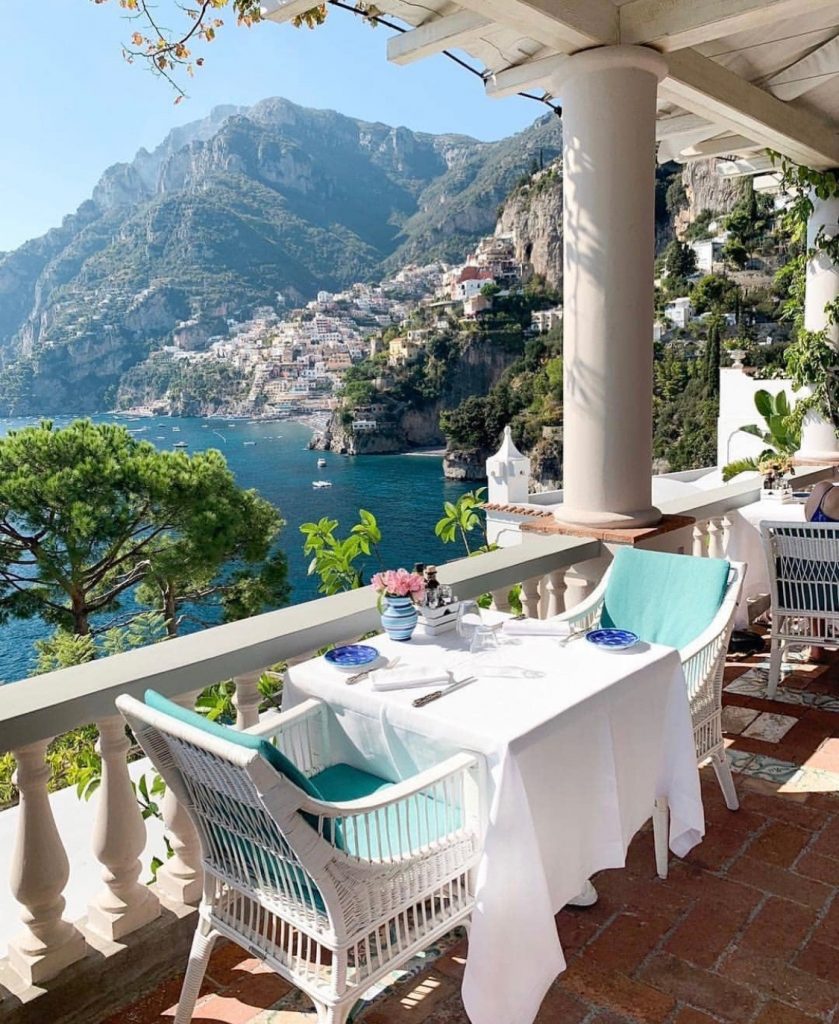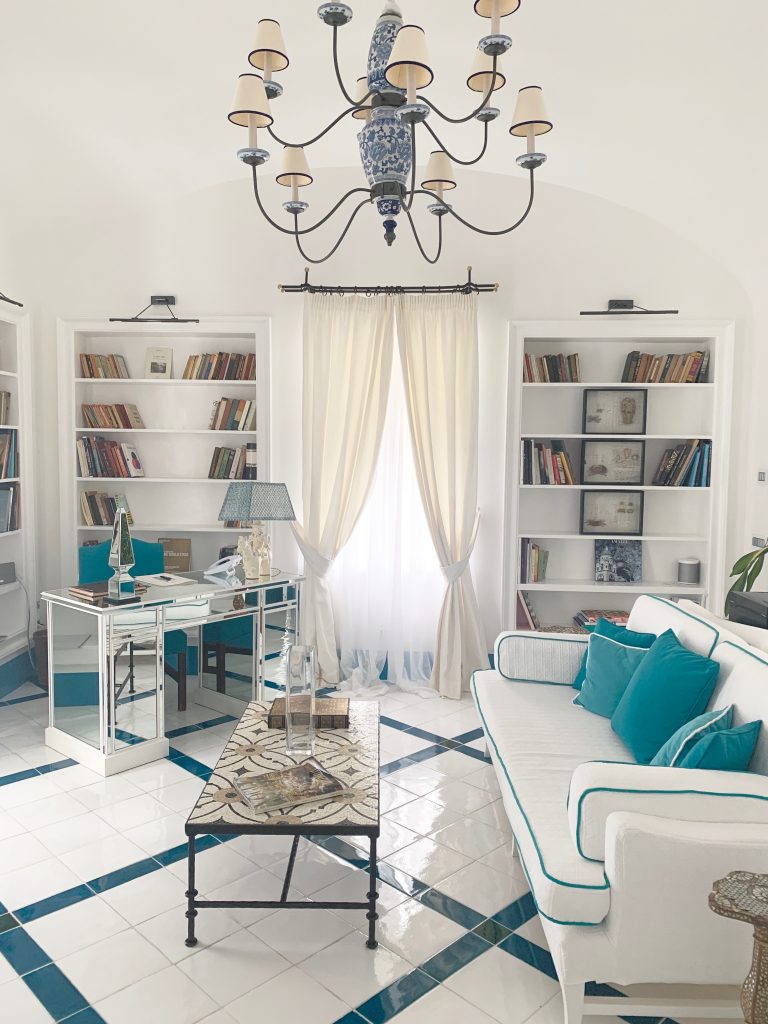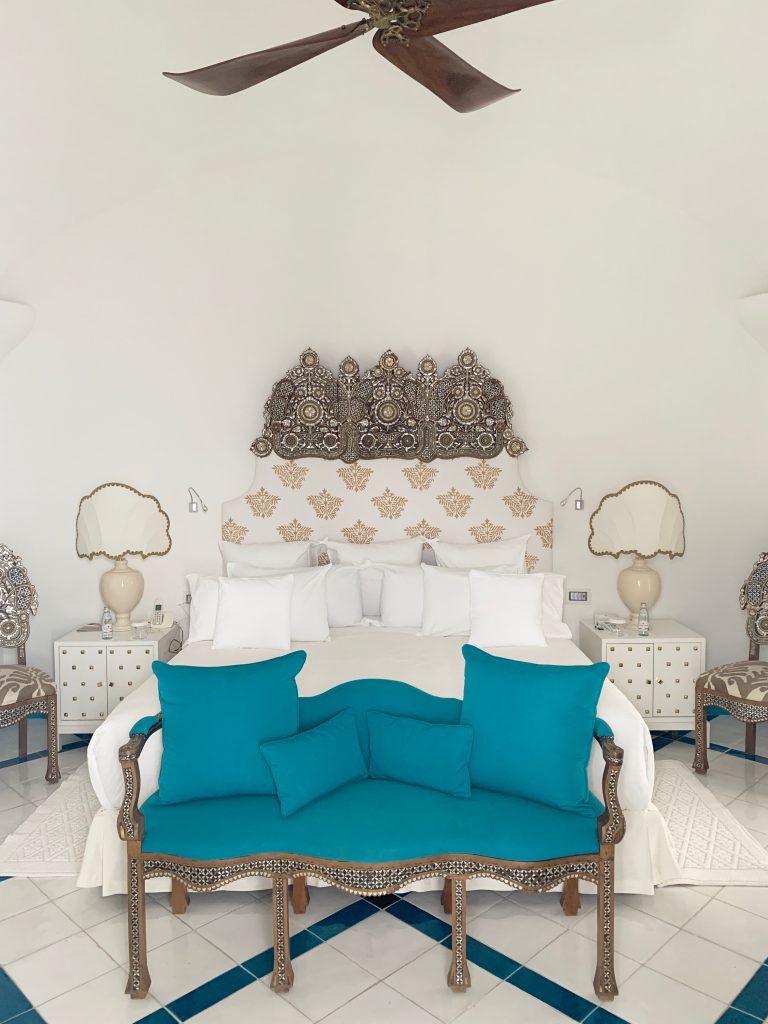 Italy - Praiano near Positano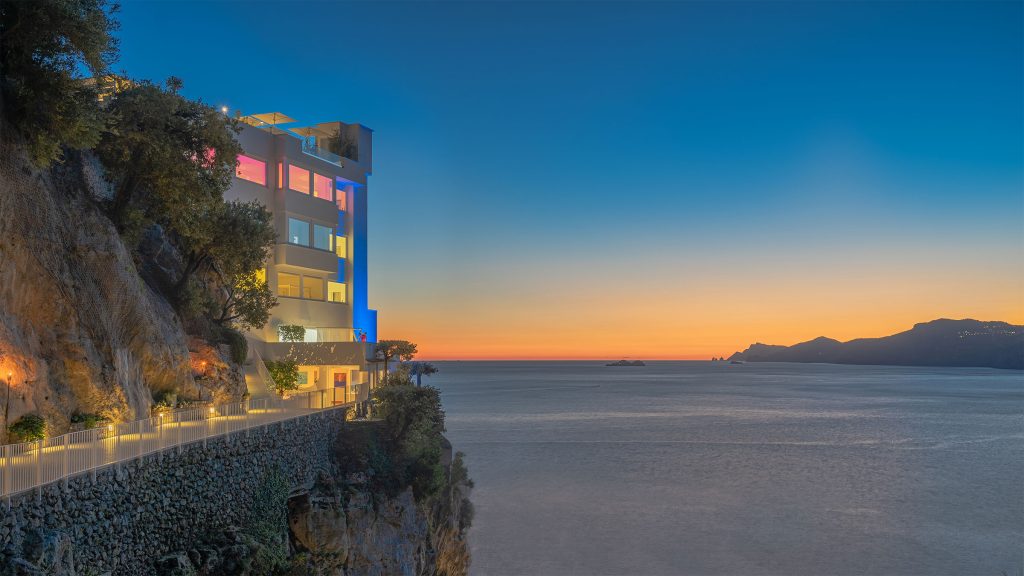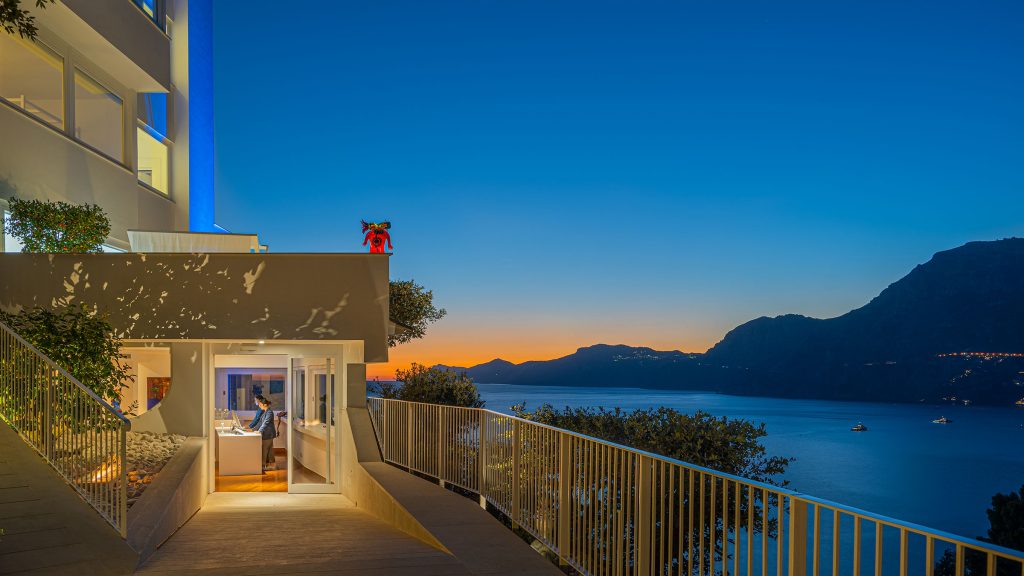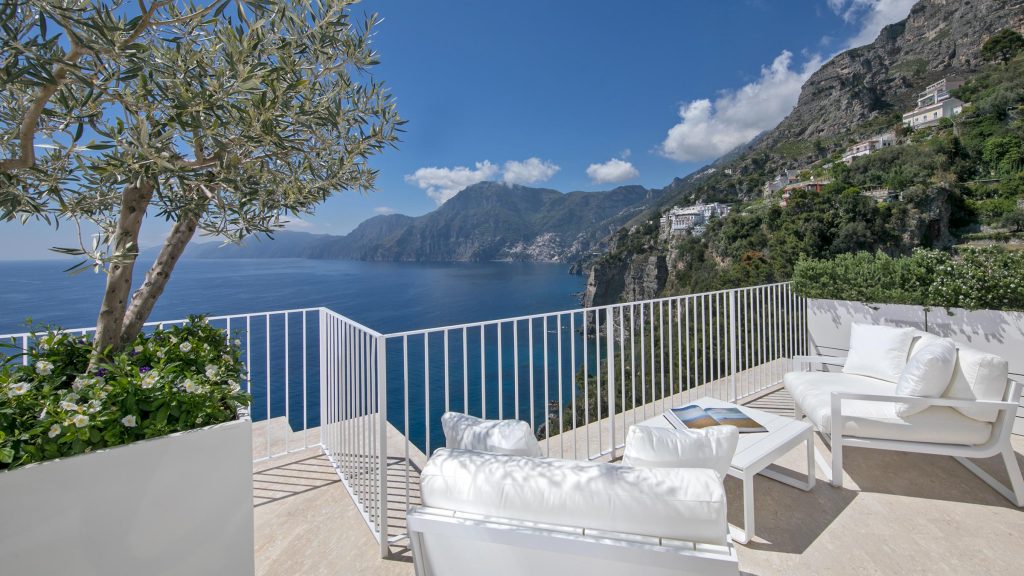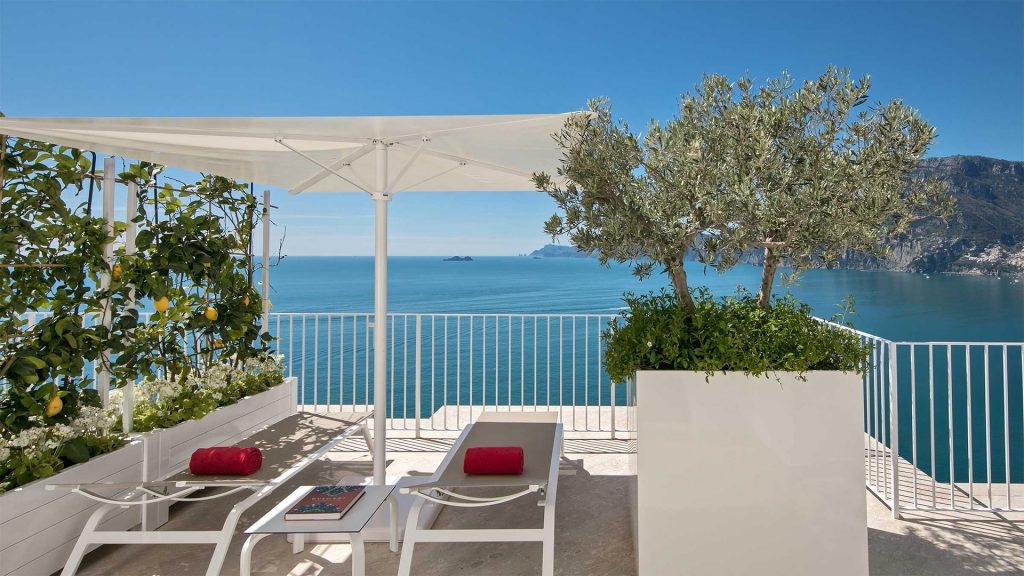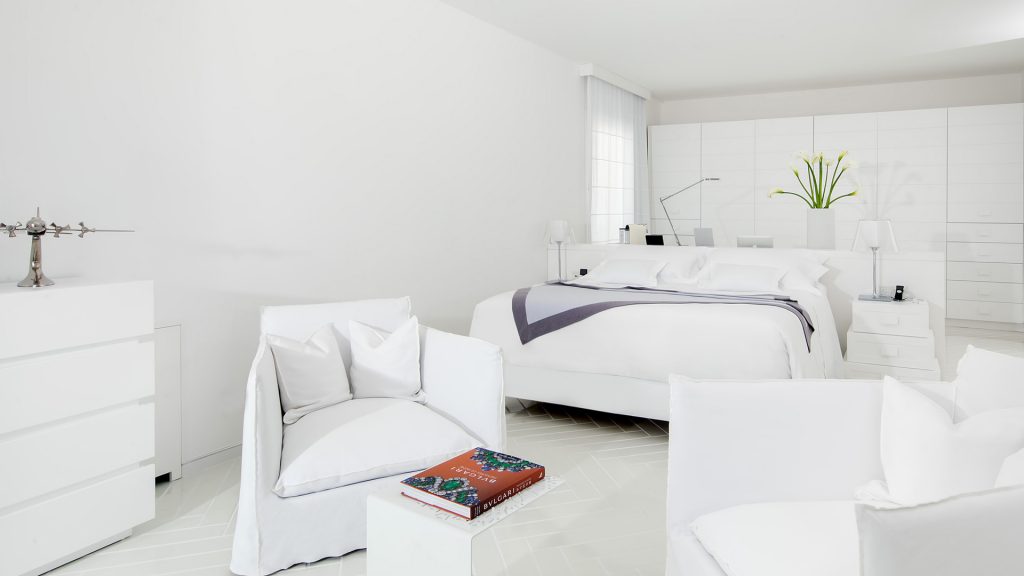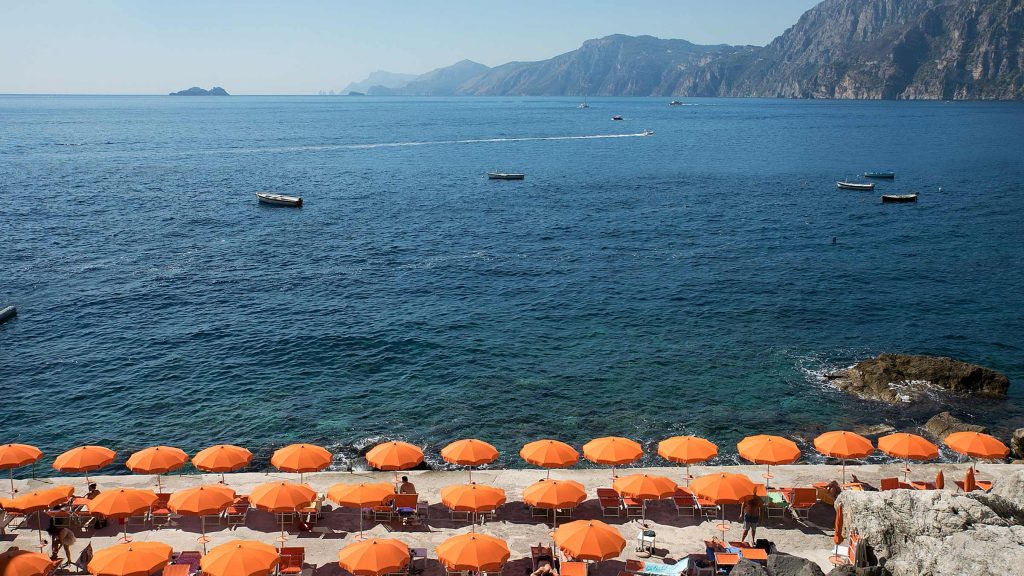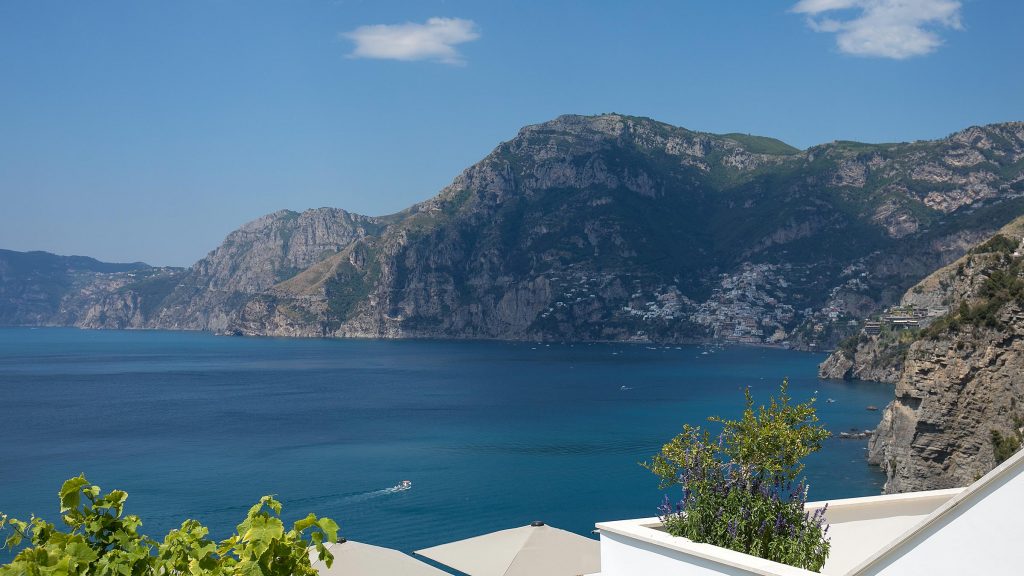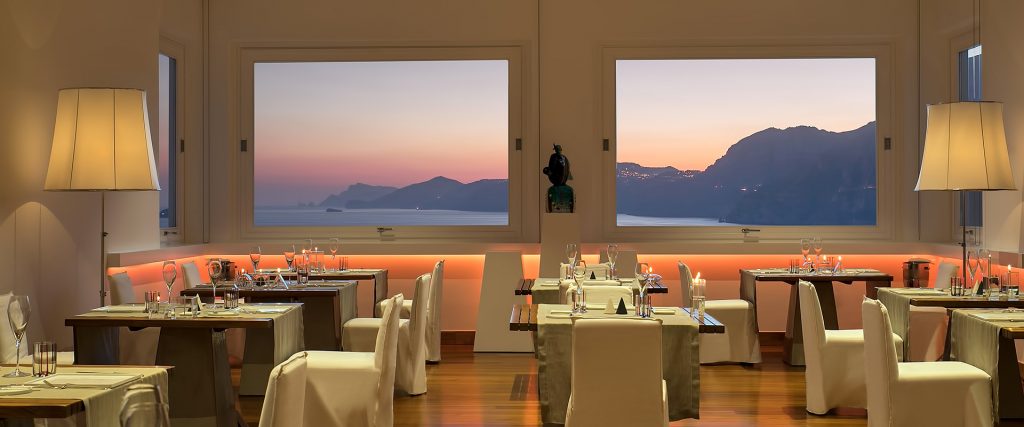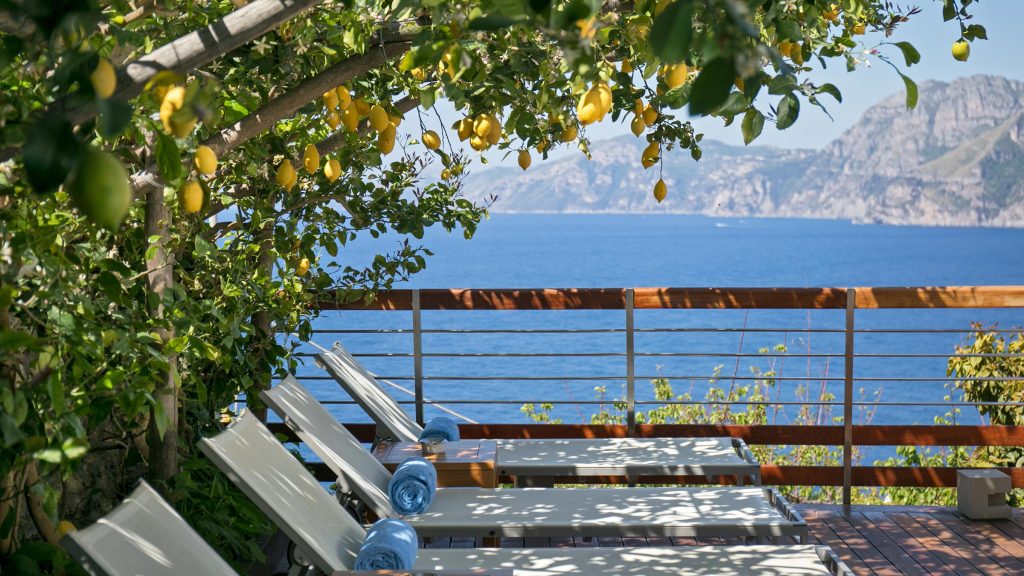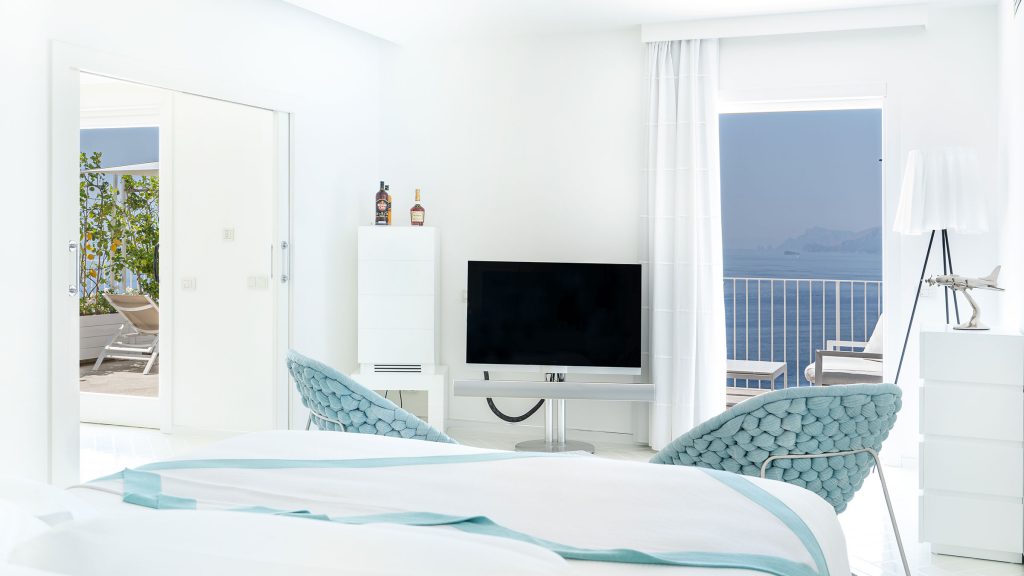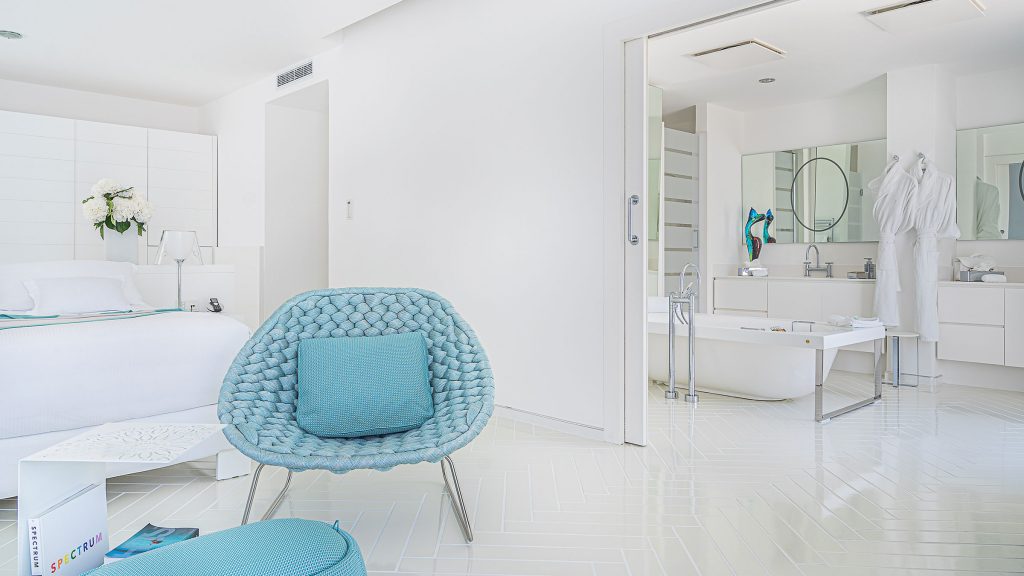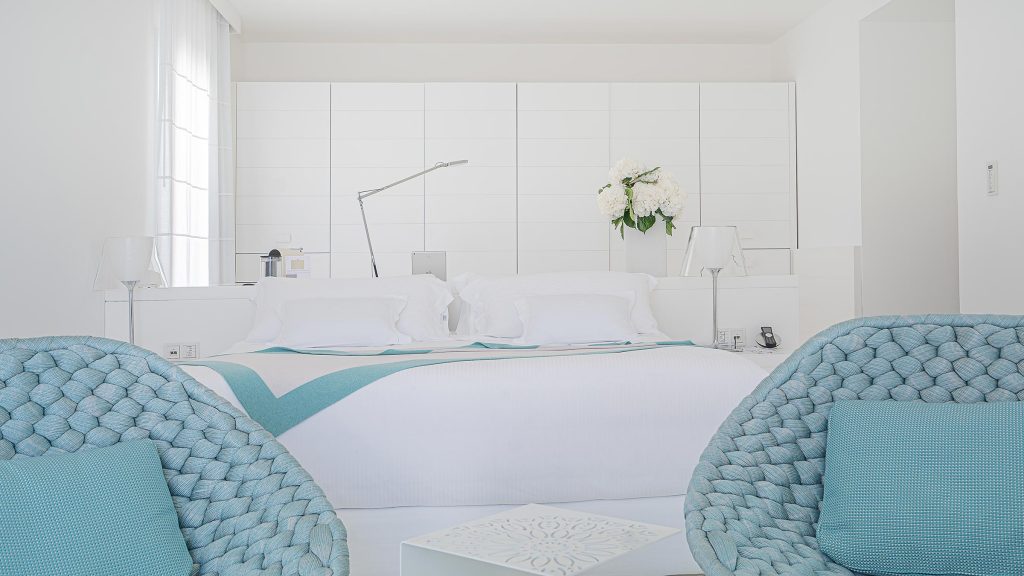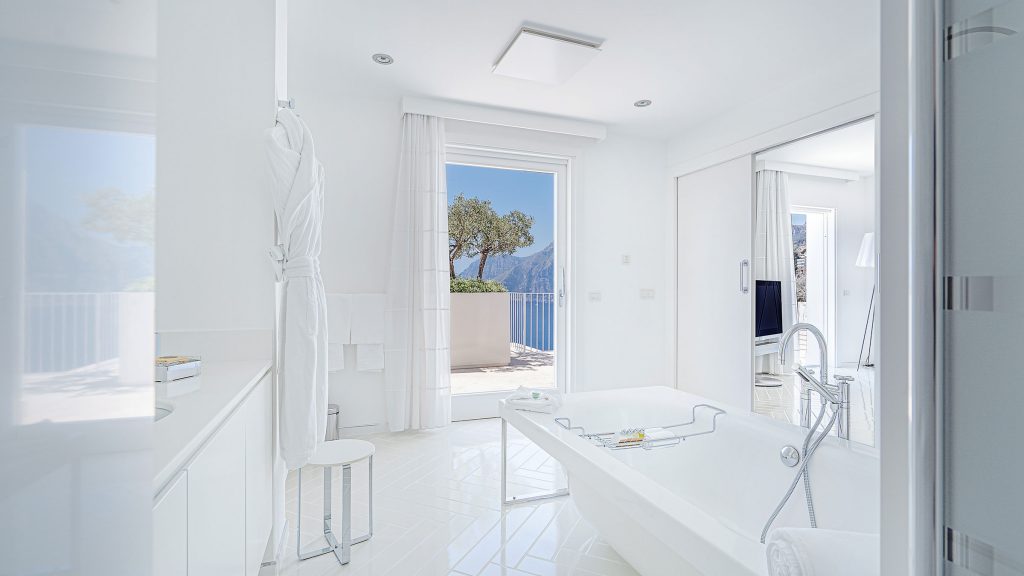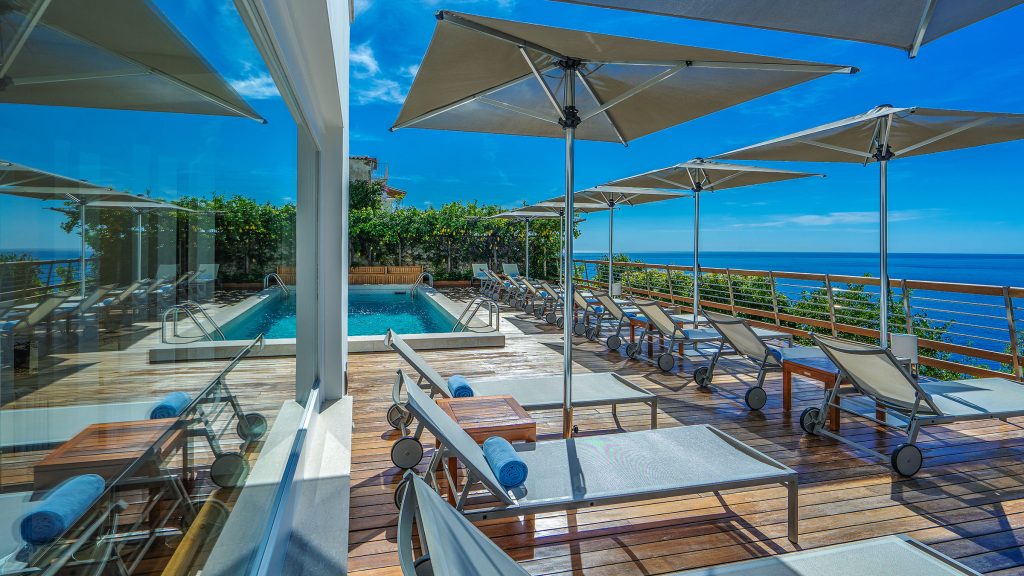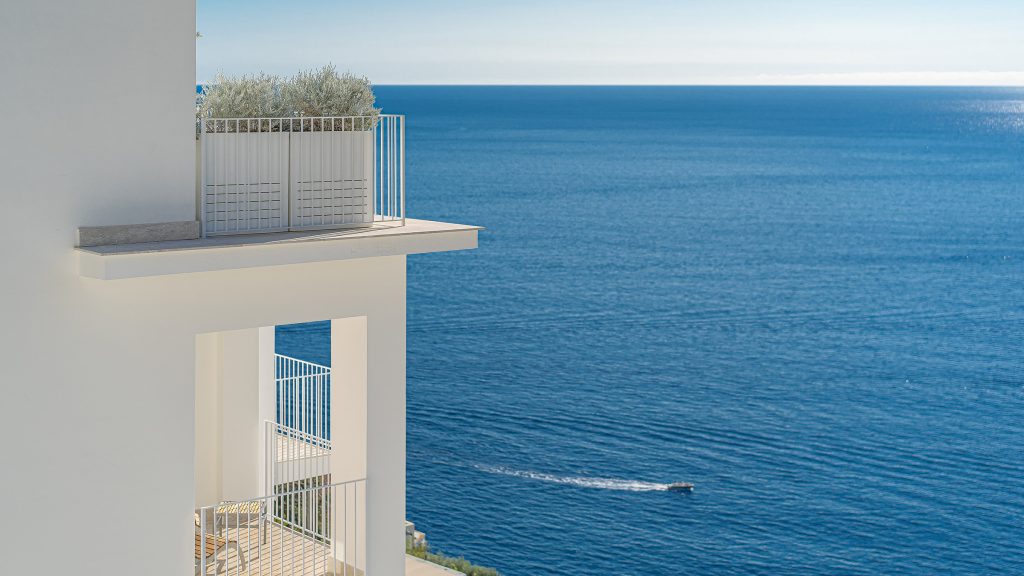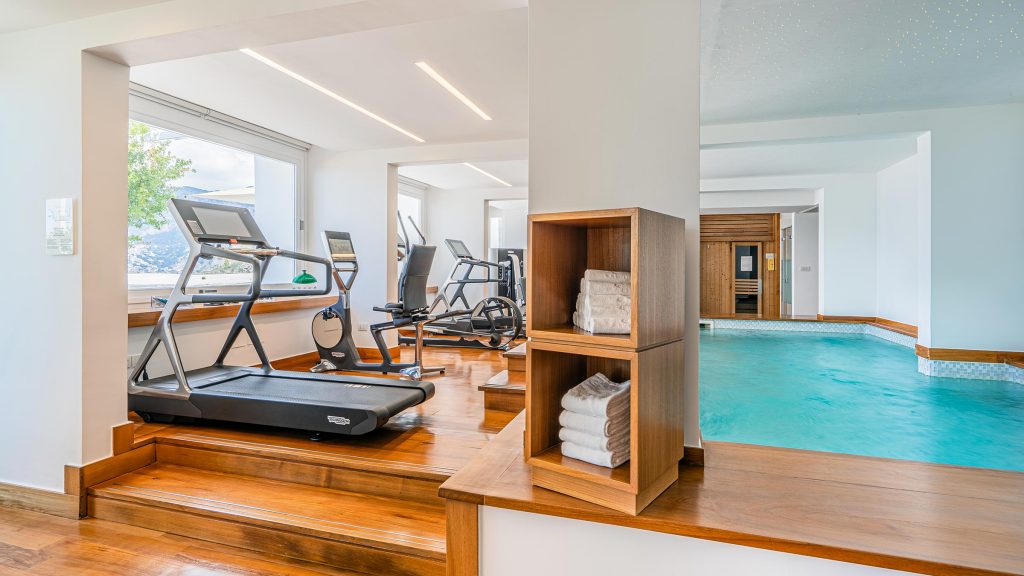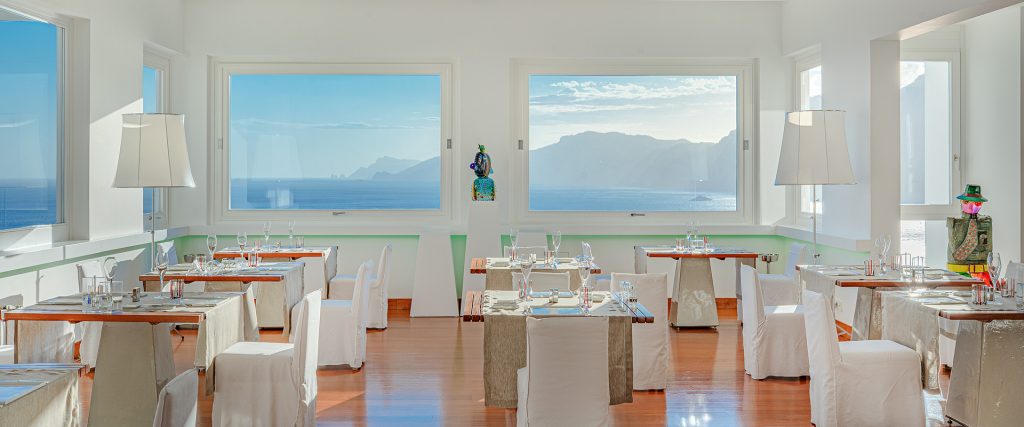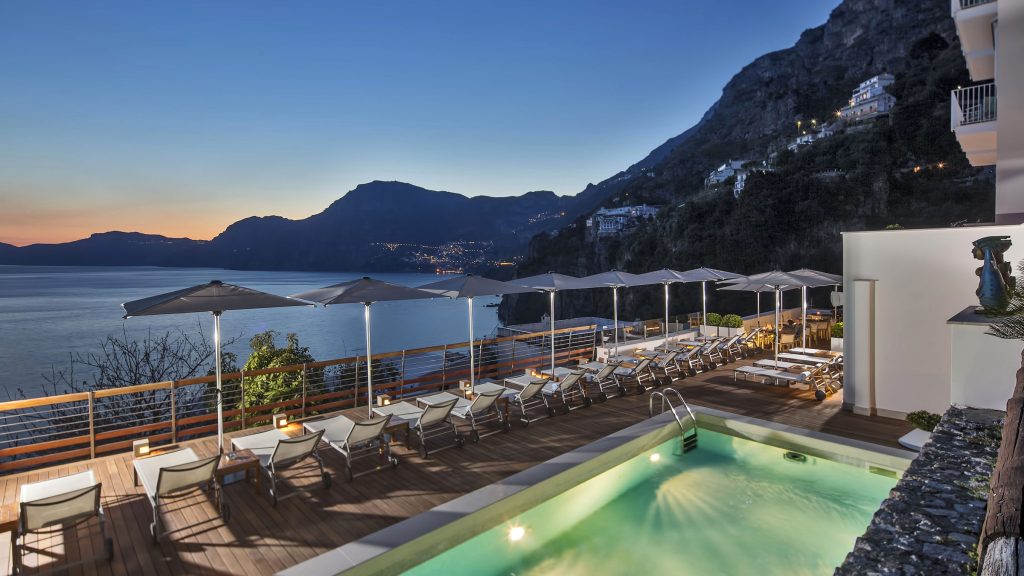 Chic and Secluded
---
Boutique Hotel on the Amalfi Coast
Sitting on the high cliffs of the Amalfi Coast, Casa Angelina offers a sublime slice of modern minimalism on the Mediterranean, with an emphasis on elegant simplicity and first-rate food.
An airy refuge, this boutique 42-room hotel is a place where guests can rediscover the forgotten rhythms of long, drawn-out days and easy, lingering evenings. 
The hotel serves as a sanctuary, bearing a fresh, pared-back aesthetic and a white-on-white palette that accentuates both the sea and sky blues outside and the contemporary artworks on display inside.

Understated chic is their design ethos and subtle details are our raison d'être: they like to make sure everything is immaculate, from the pillowy and pristine white Etro cotton sheets dressing your bed right down to the carefully placed garnish of garden-grown herbs on your plate.
Sorrento's finest
The Grand Hotel Excelsior Vittoria has just celebrated its 180th anniversary!
This iconic Amalfi Coast hotel was founded by the Fiorentino family in 1834 in Sorrento, and the family's fifth generation is running the hotel today keeping alive a long tradition in the name of the Italian hospitality excellence.
The Excelsior Vittoria is a 5-star luxury hotel of exclusive style and elegance with its authentic interiors and furnishing.
The hotel is located in Sorrento town center and sits on a high cliff with spectacular views over the Gulf of Naples with Mount Vesuvius.
This is the same place where the legend goes, the Roman Emperor Augustus had his own villa.
Easy to recognize when arriving in Sorrento from the sea, the hotel's three classic style Nineteenth-century buildings are just above the town harbour.
The property is surrounded by the lush greenery of a unique Mediterranean garden of 20,000 square meters where guests also find the Spa and pool area.
Over the years, in its long history, the Grand Hotel Excelsior Vittoria was part of the Grand Tour and it has welcomed monarchs, politicians, artists, and celebrities.
Among the others, Richard Wagner, Enrico Caruso, Jack Lemmon, Marilyn Monroe, Luciano Pavarotti, Sophia Loren, and Lucio Dalla have all appreciated the hotel's elegance and its attentive service.
We look forward to welcoming you to the Excelsior Vittoria in Sorrento!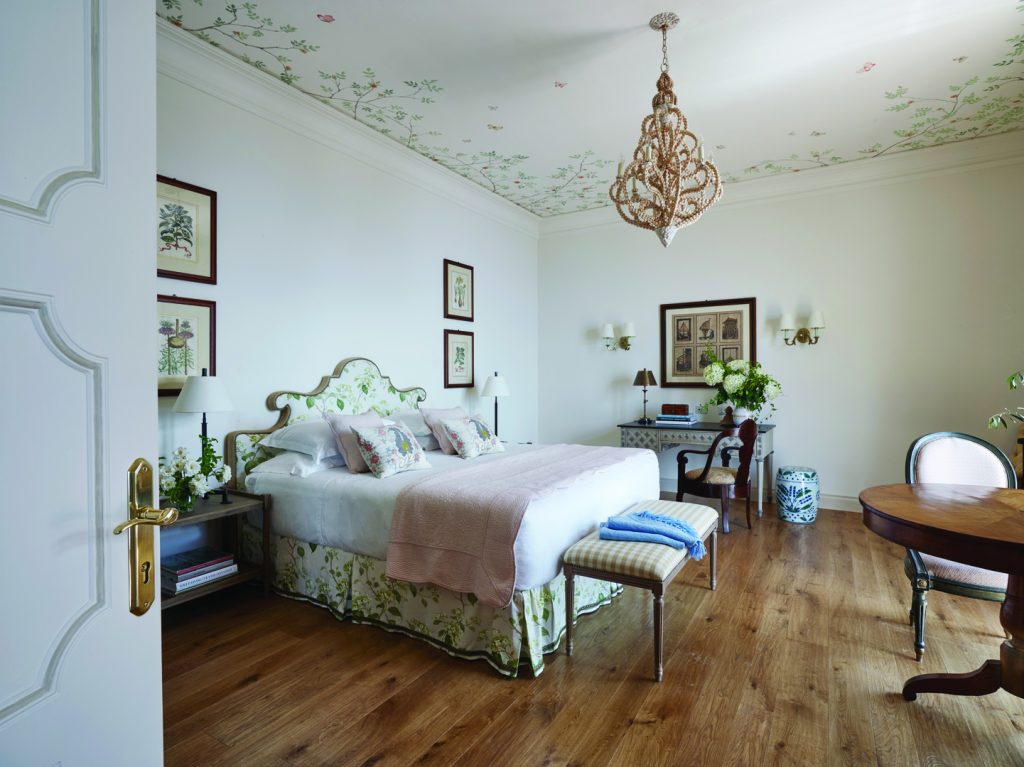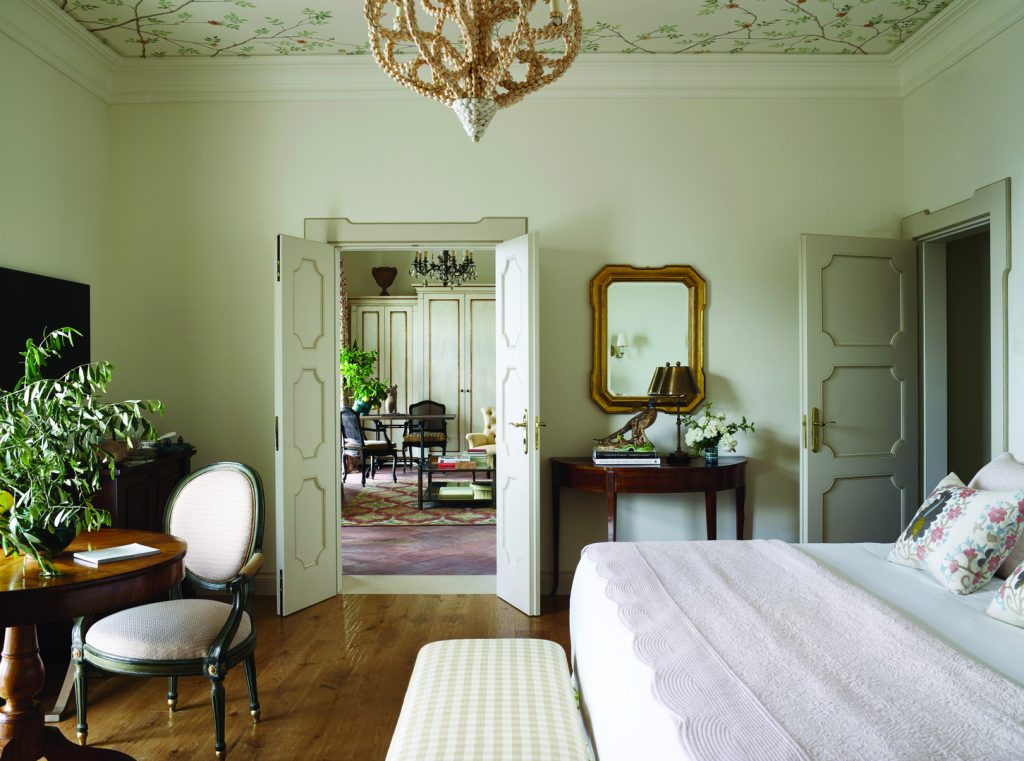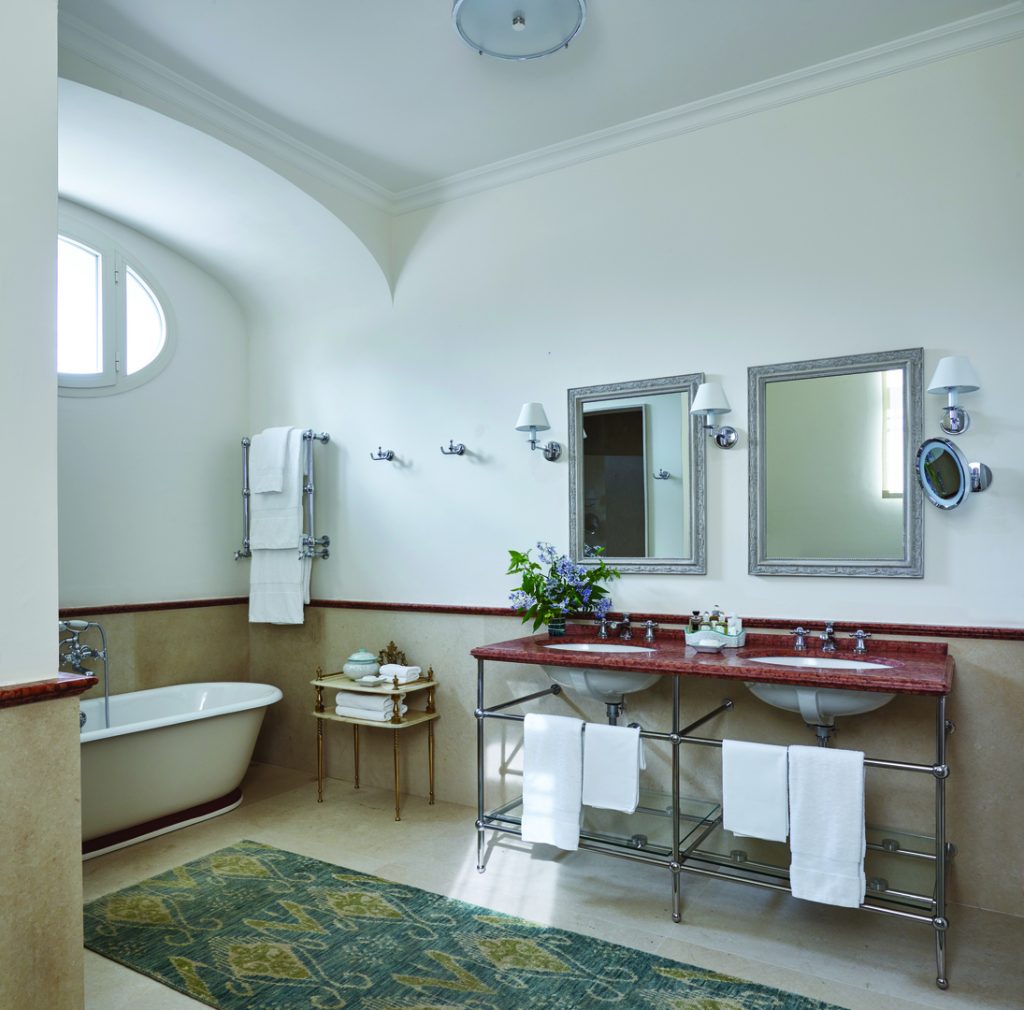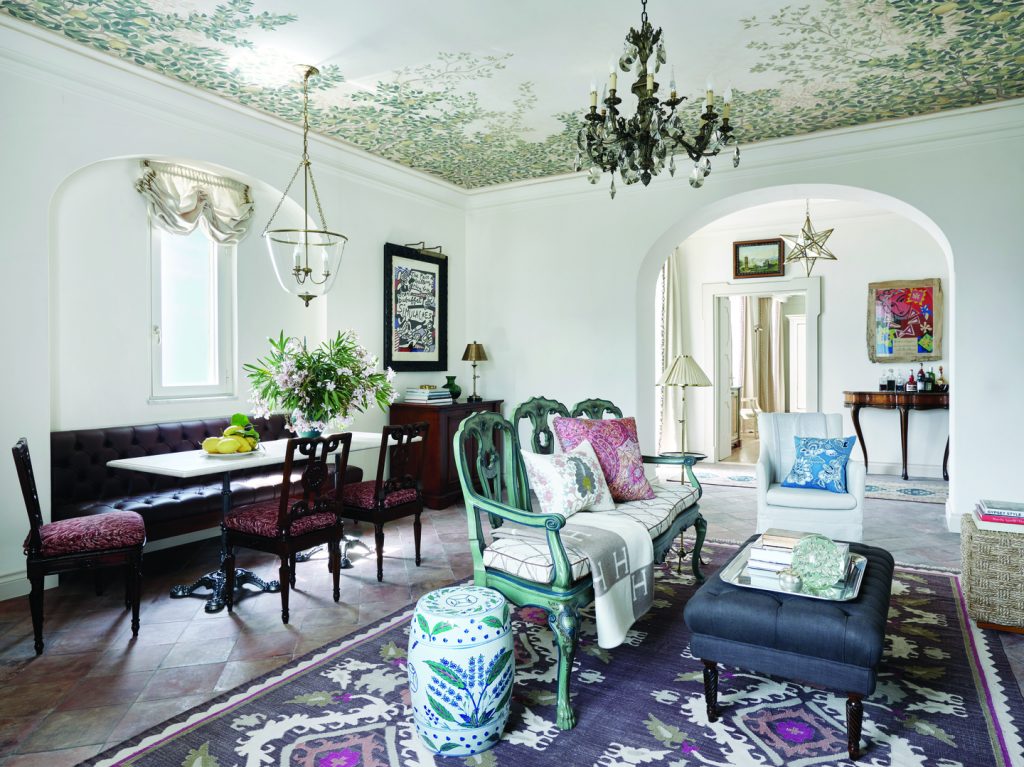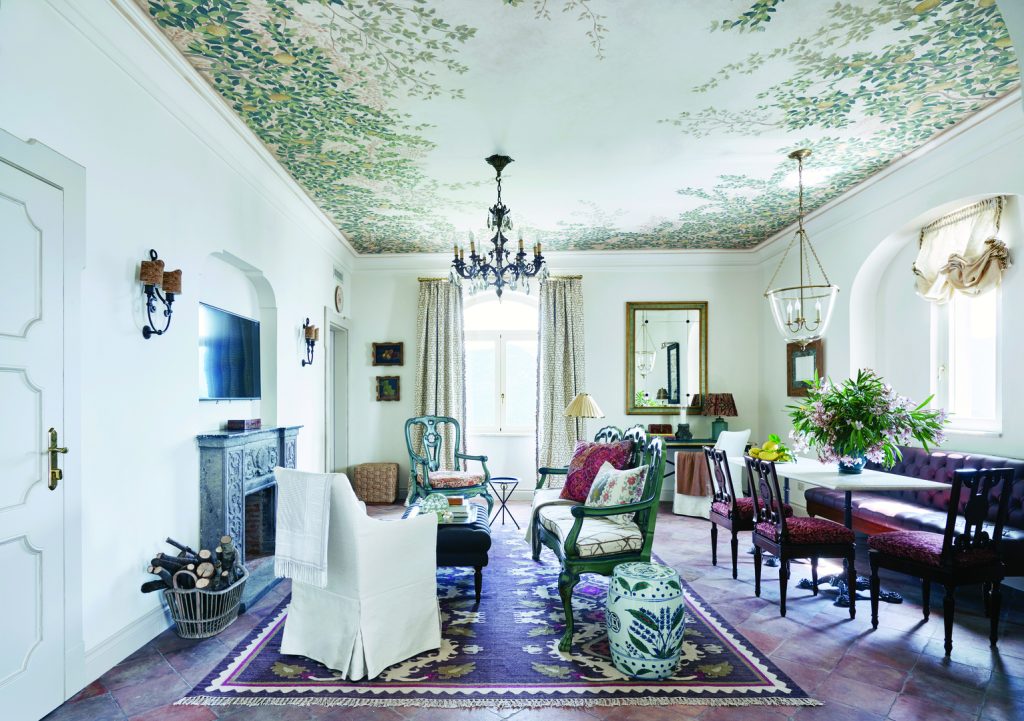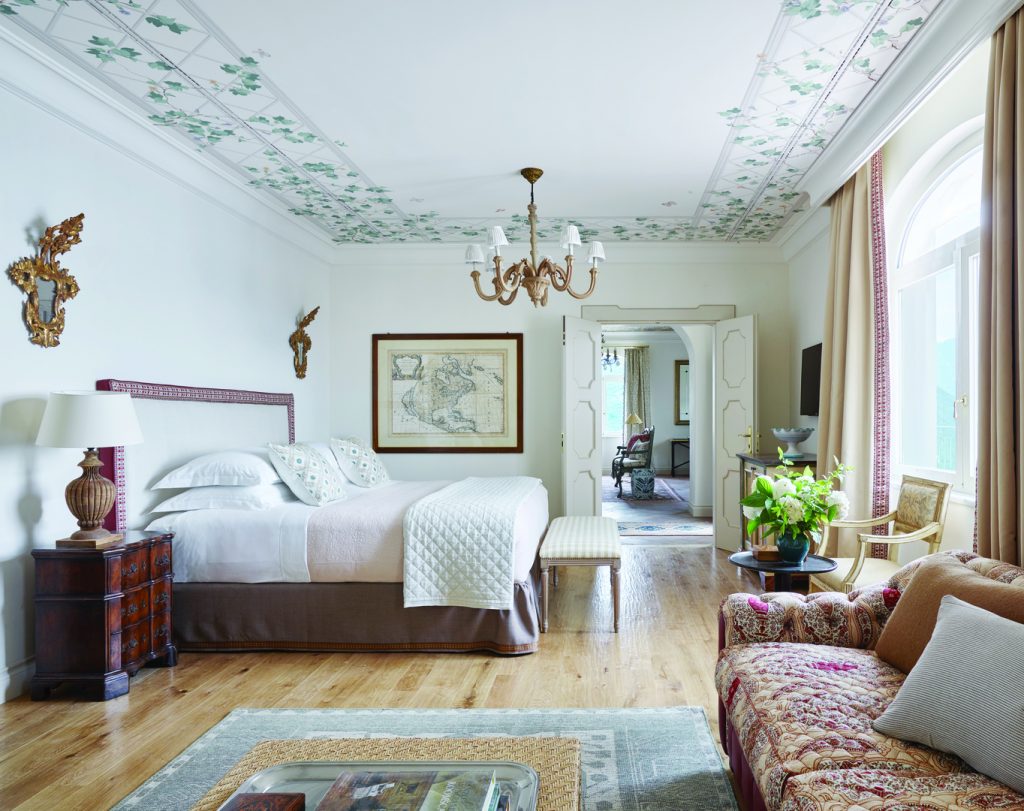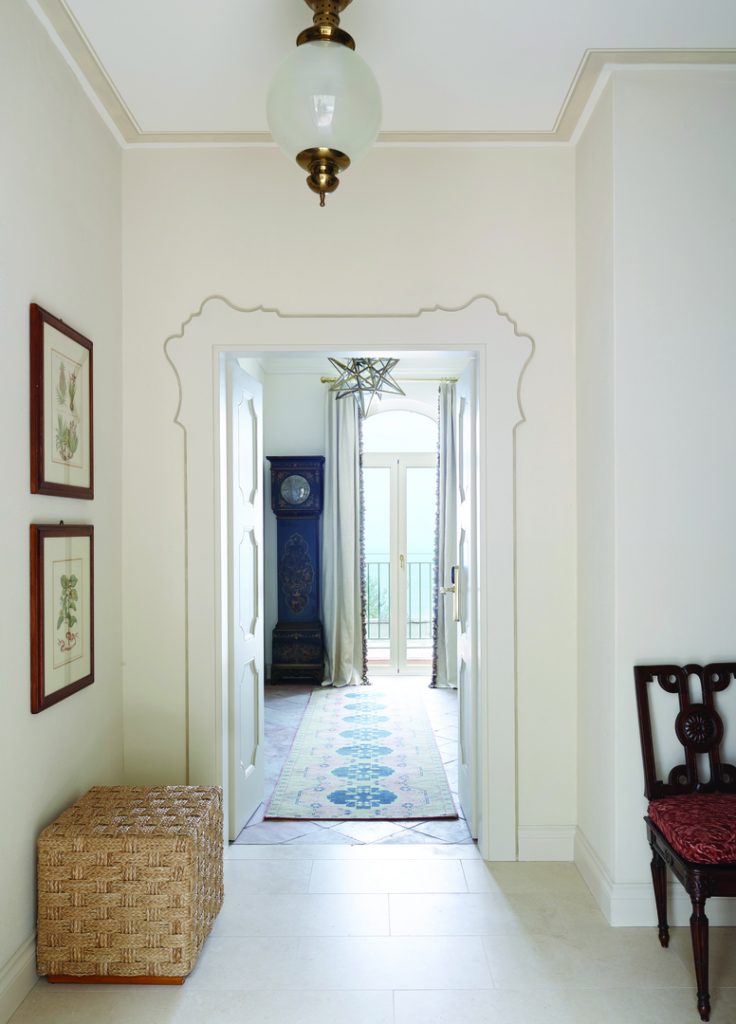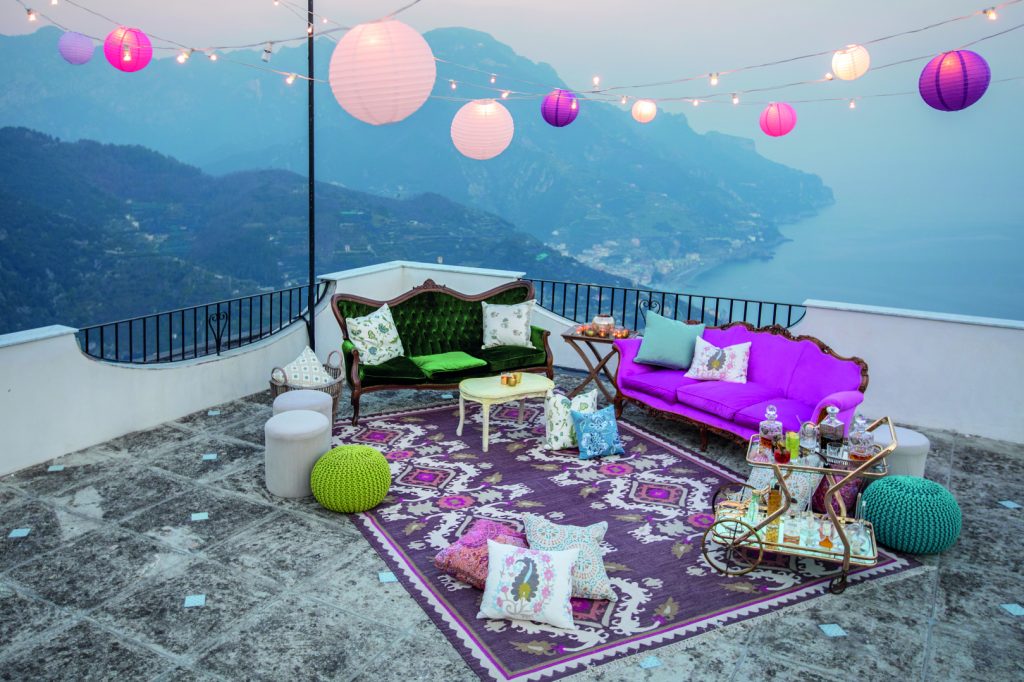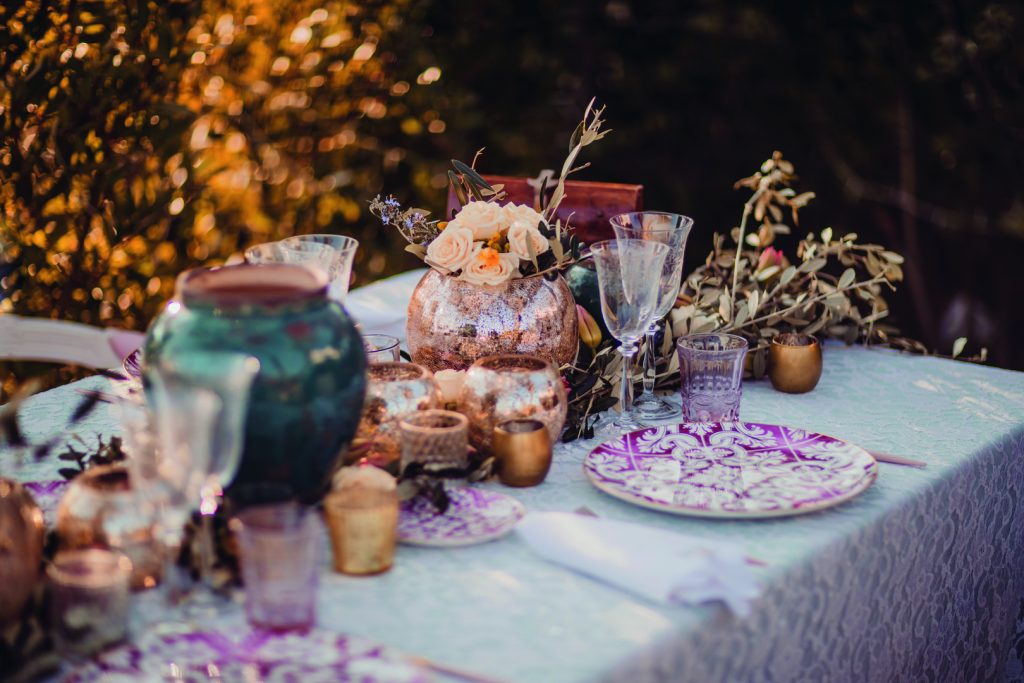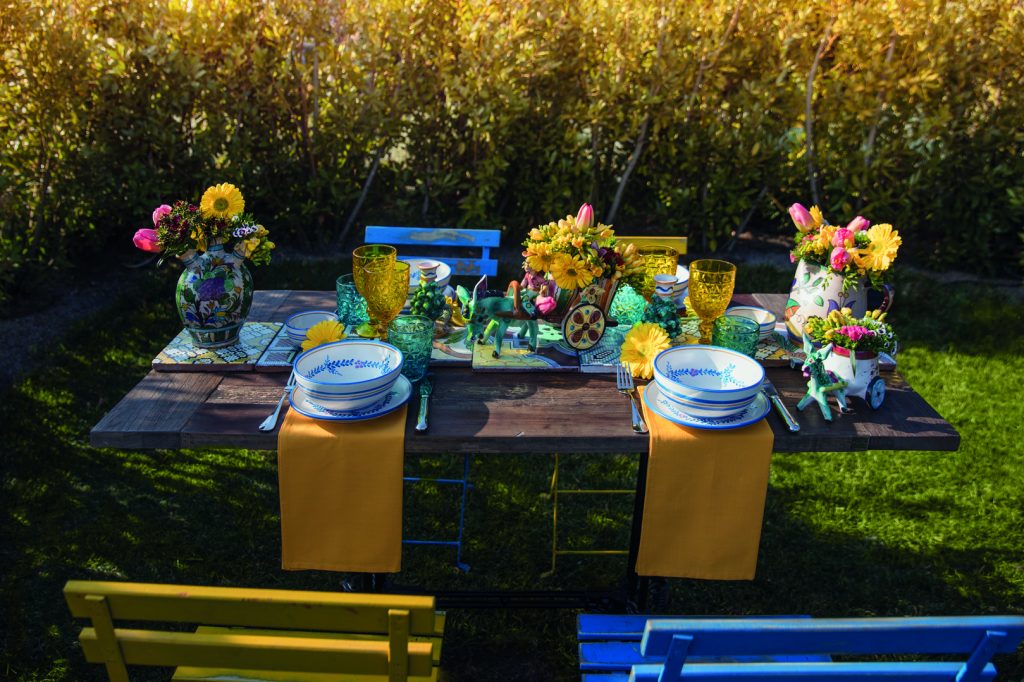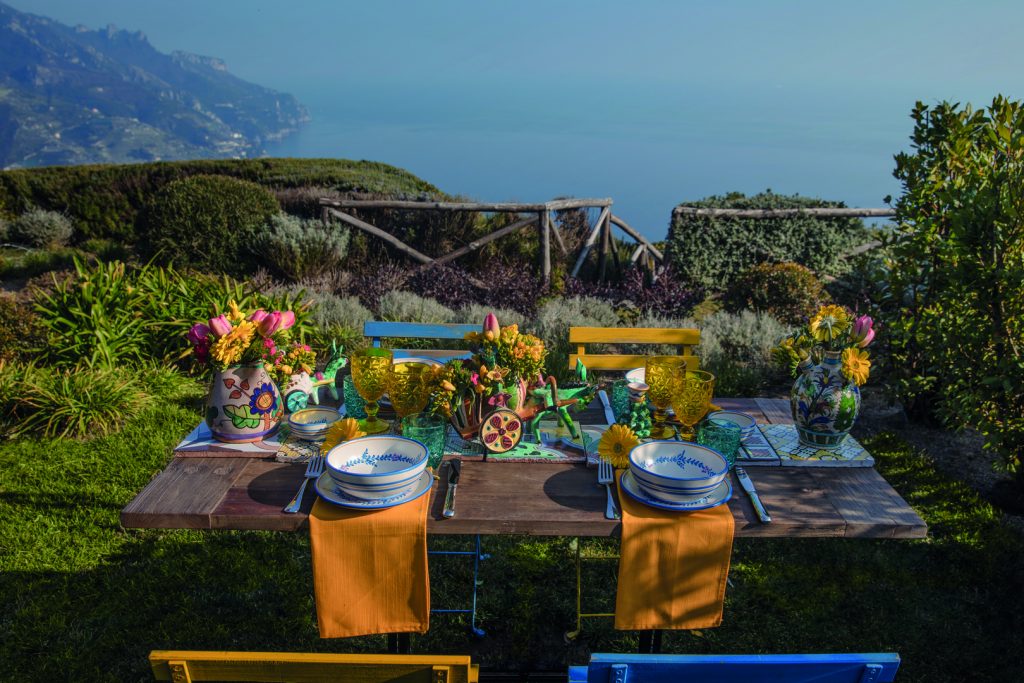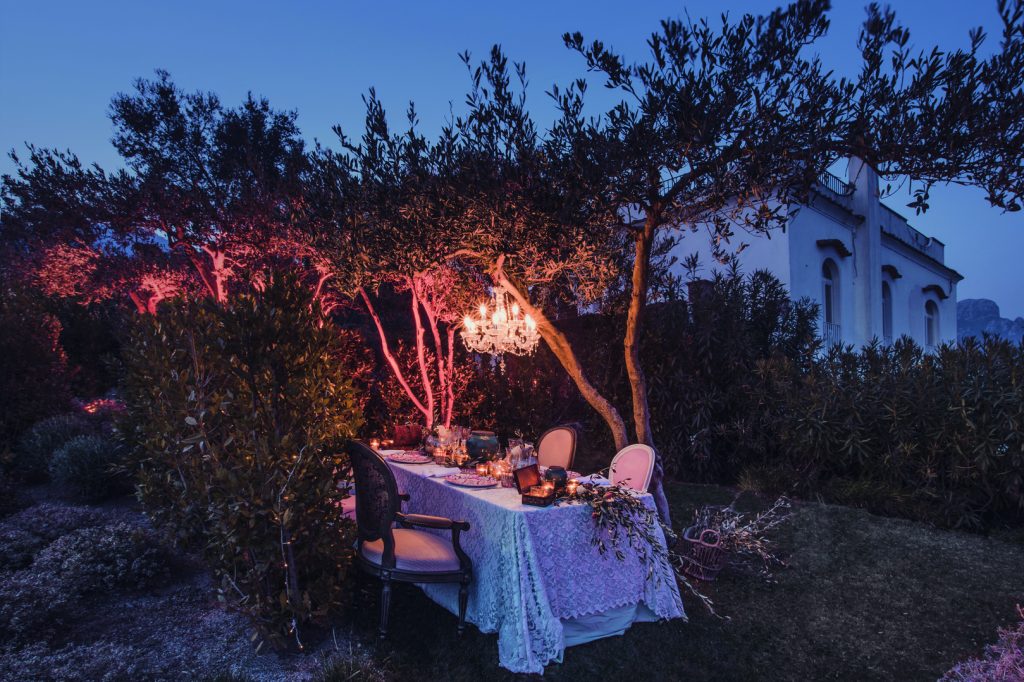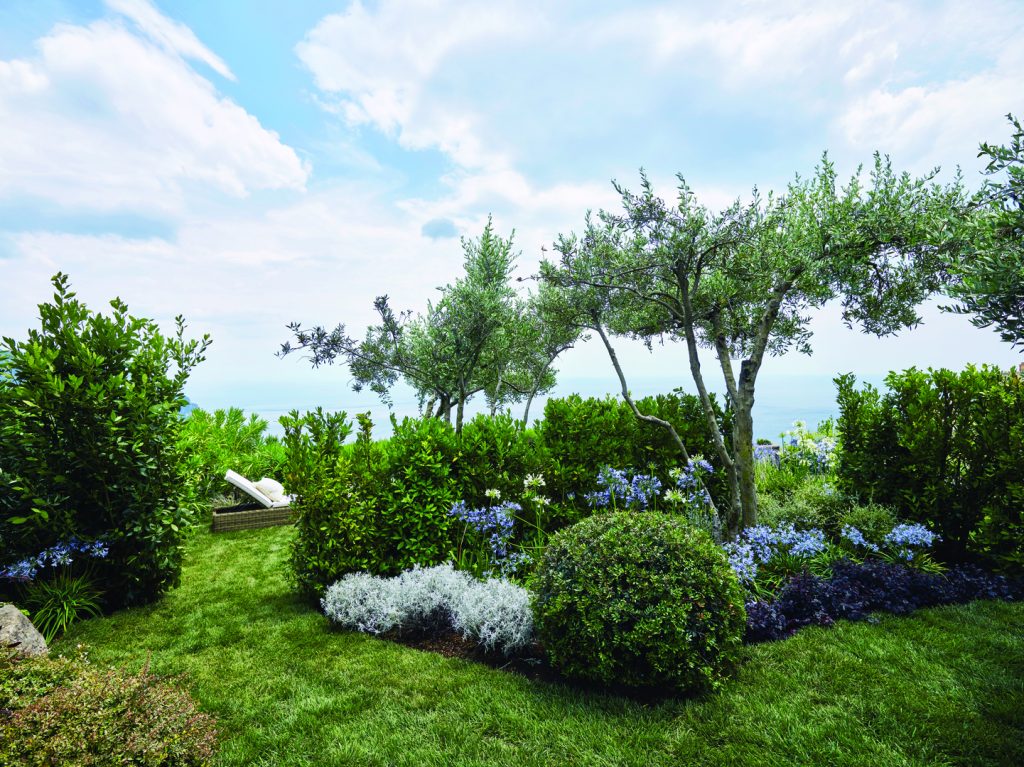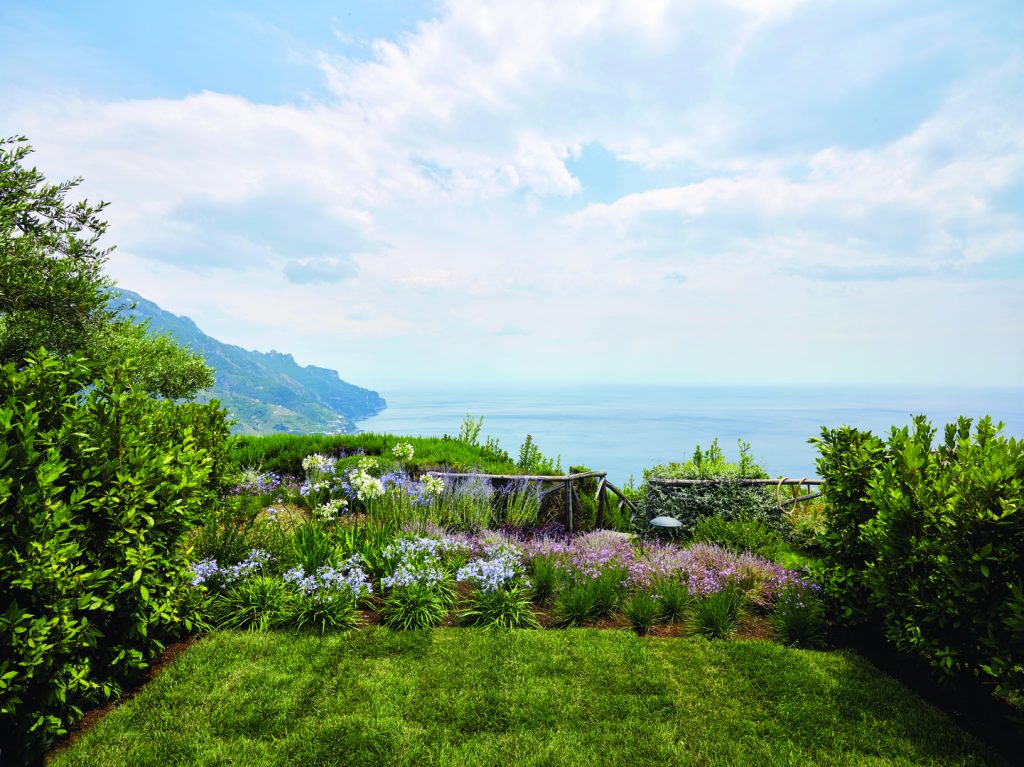 Ravello's most cherished hideaway
Discover true tranquility overlooking the Amalfi Coast
Enjoy total privacy in the two secluded suites, each a beautiful and serene sanctuary. Step out to fragrant gardens and enrapturing coastal views. Then simply stroll a short distance and savor the spectacular restaurants, bars, spa, and infinity pool of Belmond's renowned Ravello hotel.
For those wondering where to stay on the Amalfi Coast, Villa Margherita is a truly timeless sanctuary. The generous suites exude Mediterranean charm, boasting simple, elegant décor and stunning views.
You'll have the services of a private butler to take care of all your needs. Book both suites and you'll also have access to a personal chef to indulge your culinary tastes and desires.
Villa Margherita is brimming with storied furnishings and hidden details. Interior designer Eric Egan has sourced some of the finest materials and antiques from across the world. The result captures a sense of timeless elegance.
Take a look inside, and discover a new surprise in every corner.
Be perfectly positioned to explore the wonders of the region.
Hotel Villa Cimbrone is one of the most prestigious Hotels de Charme in the entire Mediterranean.
The splendor and ambiance of yesteryear permeate this 12th-century residence. The Vuilleumier family, with its generations of experience in the hotel industry, preserves and protects the original architectural and decorative features.
Throughout its history, Villa Cimbrone has welcomed influential visitors from the aristocracy and the intellectual communities, as well as inspiring many artists and making it a meeting place for English people on the Amalfi Coast.
Today, the Hotel continues to provide a haven for discerning travelers in search of elegance, inspiration, discretion, and exceptional service.
The vibrant atmosphere has been an attraction and shelter for famous politicians, aristocrats, a source of inspiration for many artists, and a meeting place for the literati of the Bloomsbury Group.
Hotel Villa Cimbrone is reachable along a panoramic stone-paved walkway alternated by steps, for about 10 minutes walk from the main center. The hotel cannot be reached by car.
Video  Created by Aurelijus Varna www.varnastudios.com
Italy - Tropea - Calabria
The comfort of a hotel, the charm of a period residence
YOUR EXCLUSIVE HOLIDAY ON THE SEA IN TROPEA
An elegant villa a few steps from the center of Tropea, overlooking the beautiful Costa Degli Dei, on the sea of ​​Calabria. Immersed in a luxuriant Mediterranean garden, Villa Paola will give you a stay of maximum relaxation in a refined but informal atmosphere.

The refined design of its rooms and the extraordinary care of the large outdoor spaces offers corners of pure beauty, all to be experienced: the terraced garden, the lounge, the cloister, or the infinity pool with its spectacular sea view.
Born from the renovation of a convent of the friars of the Order of Minims dating back to 1543, Villa Paola still retains today, in the aesthetic lightness of its design and in the tranquility of its spaces, the suggestions of its past.
The spaces recovered with great care and charm, host 12 rooms with refined design, the breakfast room, the internal relaxation area and in the cloister, the equipped terraced garden, and the spectacular infinity pool overlooking the sea.
Rooms overlooking the sea of ​​the Costa degli Dei
The personality of the house is also revealed in the furnishing choices of the rooms where antique furniture and modern design pieces coexist harmoniously.
The refined design, the technological equipment, and the scenic location overlooking the Costa Degli Dei will make your stay in Tropea exclusive. All rooms have air conditioning, a private bathroom with a large walk-in shower, Occitane toiletries, a professional hairdryer, flat TV, Sky, a safe, wi-fi internet, minibar, linen sheets, a bathrobe, and slippers.
Unique views that frame a relaxing reading, a sunbath, a dip in the pool or a tasty aperitif to be savored at the suggestive sunset time.
Italy - San Felice- Toscany
Borgo Pignano is an elegant country estate in the heart of the Tuscan countryside
Deep in the heart of historic Tuscany lies an enchanting haven of peace and tranquillity. At Borgo Pignano you will discover a beautifully restored country estate offering an exclusive combination of elegant accommodation, exceptional comfort, and gracious hospitality.
Borgo Pignano is an elegant country estate in the heart of the Tuscan countryside, just a short drive from the historic, hill towns of Volterra and San Gimignano and within easy reach of the medieval cities of Florence and Siena and the vineyards of Chianti.
 Borgo Pignano sits in the center of 750-acres of much cherished organic farmland and features a luxurious 18th-century villa and a hamlet first settled in Etruscan times. Today, this sensitively restored and privately owned Borgo, offers warm and gracious hospitality in a tranquil setting about 500 meters above sea level, with some of the most commanding views in all of Tuscany that can stretch to the Mediterranean. Borgo Pignano provides an experience, steeped in the soul of Tuscany.
Borgo Pignano's main building is an 18th-century villa surrounded by traditionally planted English gardens overlooking pristine landscapes of Tuscany that have changed little since Renaissance times.
Perched on a hilltop, the villa accommodation offers stunning views of olive groves, vineyards, fields, and woods.
There are fourteen elegant rooms and suites, some with original frescoes and all with en-suite marble and travertine bathrooms.
A grand stone staircase leads to the upper stories and an elevator serves all floors of the villa. Wi-Fi is available throughout the estate.
Italy - San Felice- Toscany
a refined 5-star Relais & Châteaux establishment set in the Tuscan countryside
Borgo San Felice is an ancient Tuscan stone village dating back to Medieval times, now converted into a hotel diffuso following a lengthy conservative restoration project supported by the Allianz Group.

Since 1992, one year after its opening, it has been the only Relais & Châteaux establishment in the Chianti Classico area.
Set in an elevated position where it harmonizes perfectly with its natural surroundings in the Municipality of Castelnuovo Berardenga, at just 20 km from Siena and not much more than an hour away from Florence, Borgo San Felice is the only Relais & Châteaux in the Chianti Classico area.

A 5-star hotel of the diffuso concept, offering 2 restaurants, a heated outdoor pool, a fitness center, tennis courts and, a Spa – Borgo San Felice is also a Wine Resort set amidst vineyards and olive groves.

Its 30 rooms and 30 suites, housed in various buildings, offer guests the sensation of being welcomed to an authentic residence in a medieval Tuscan village rather than any traditional form of hotel accommodation.
An authentic luxury hotel in a medieval village that preserves and hosts the original and unique atmosphere of these ancient lands.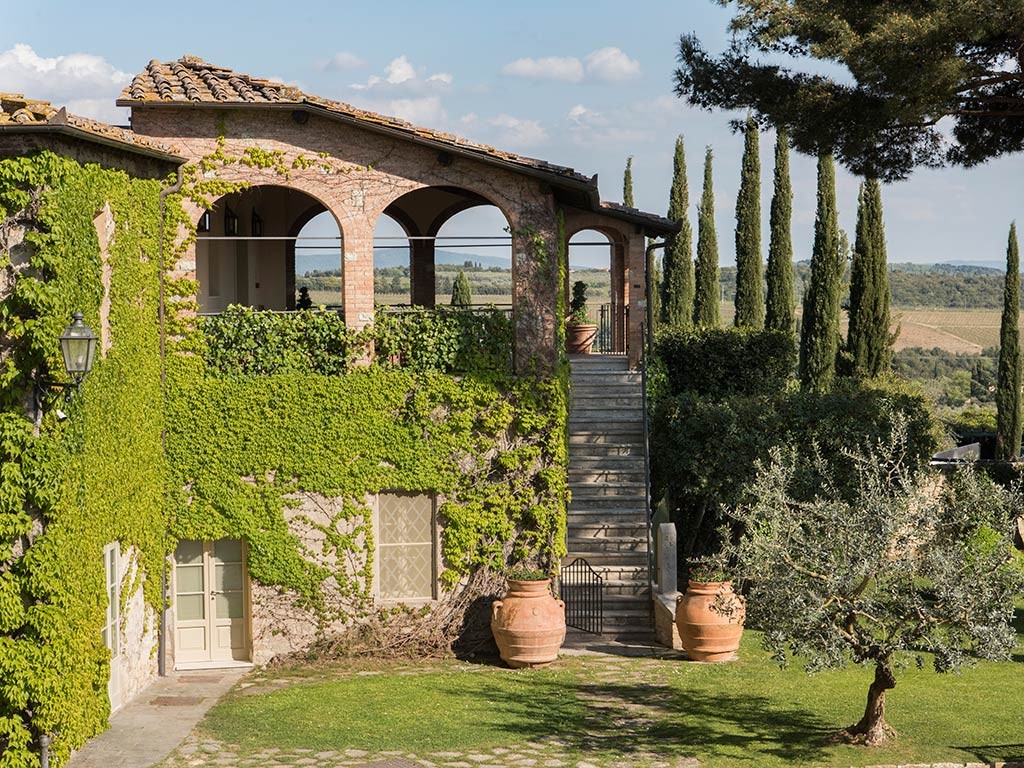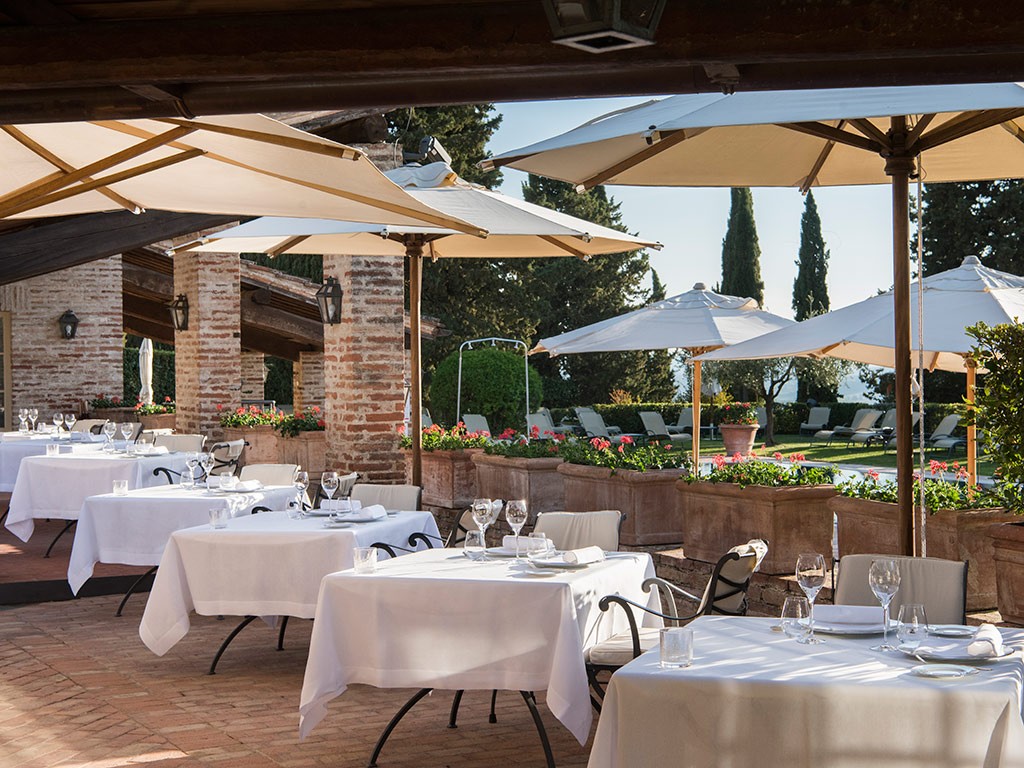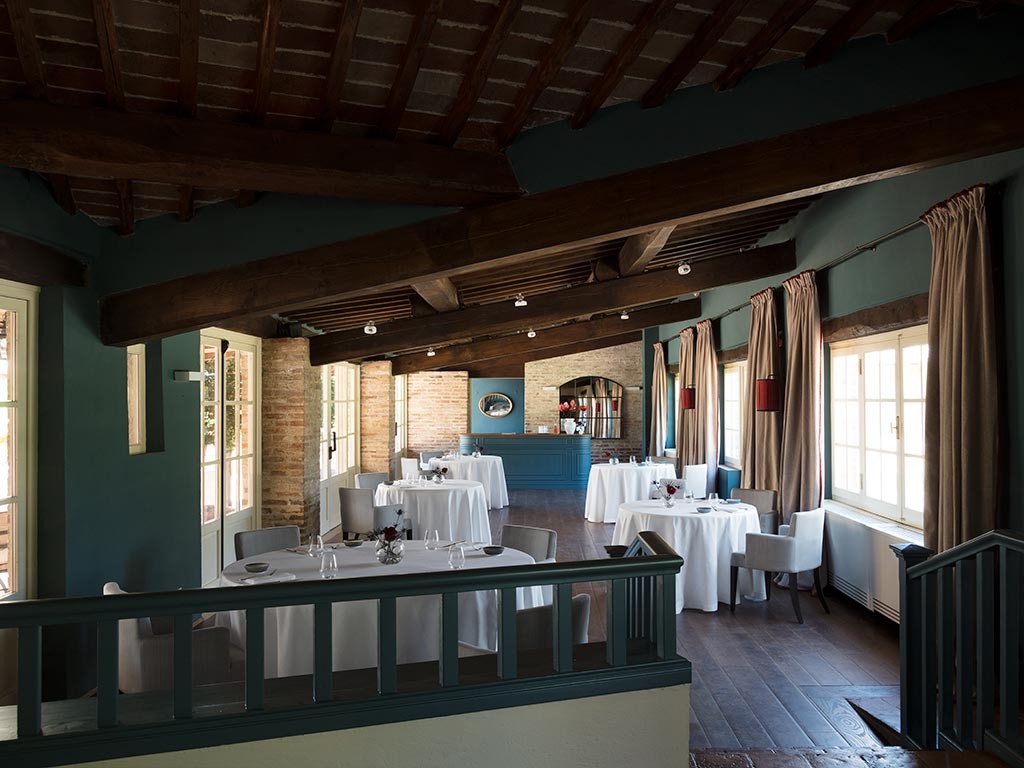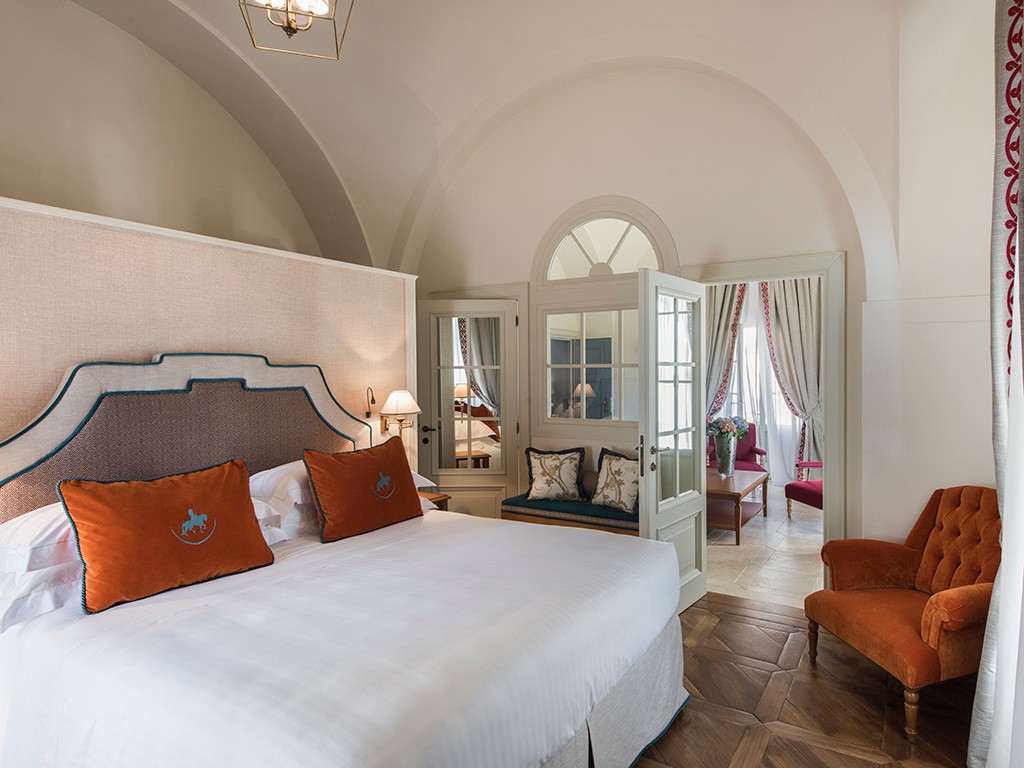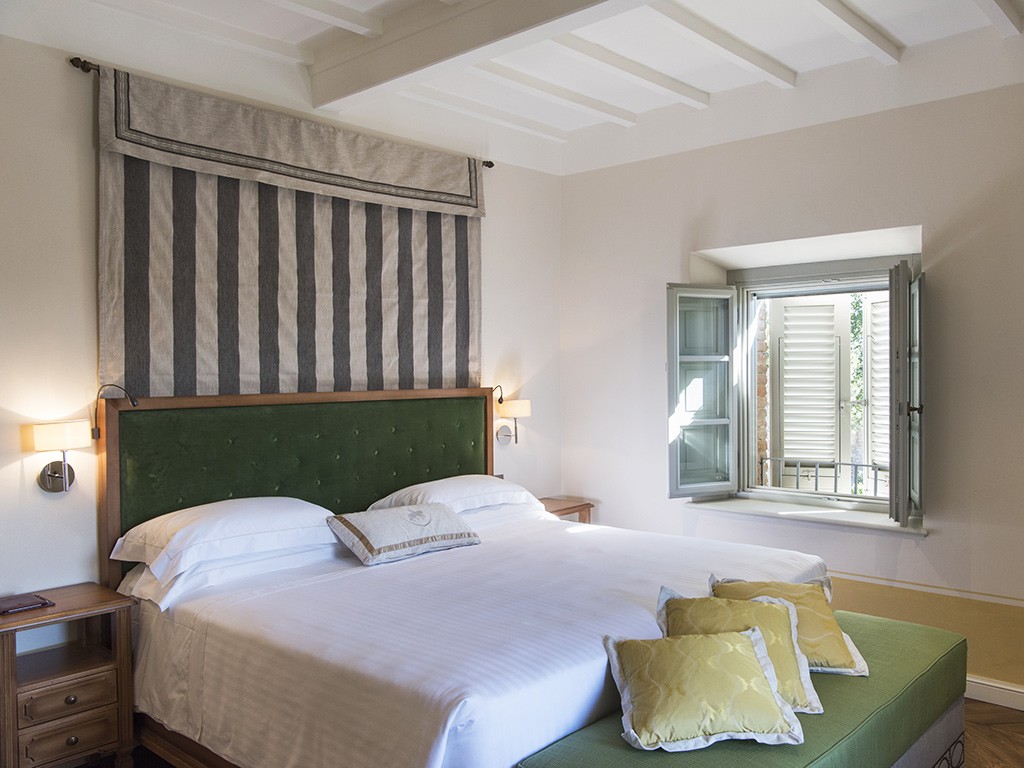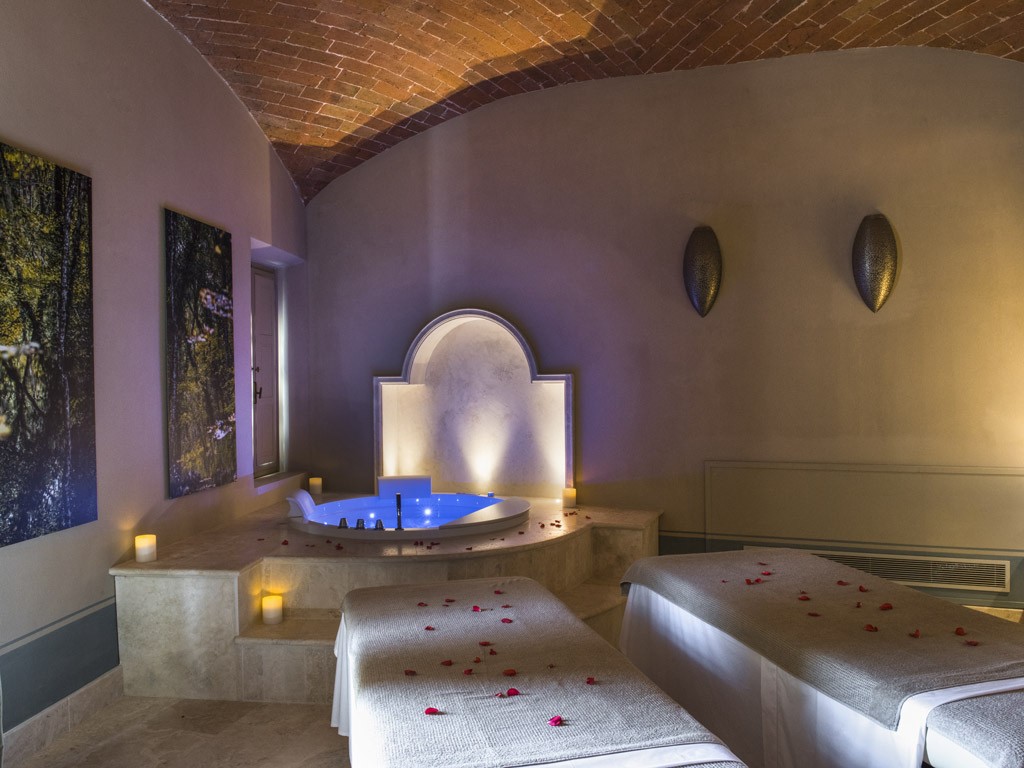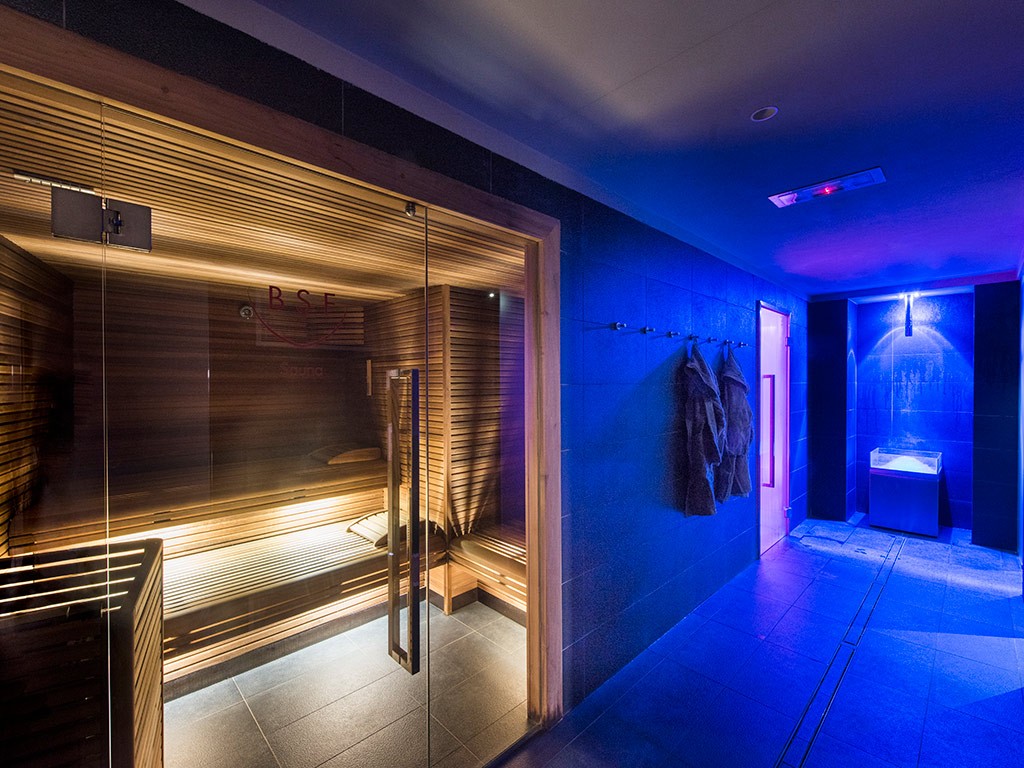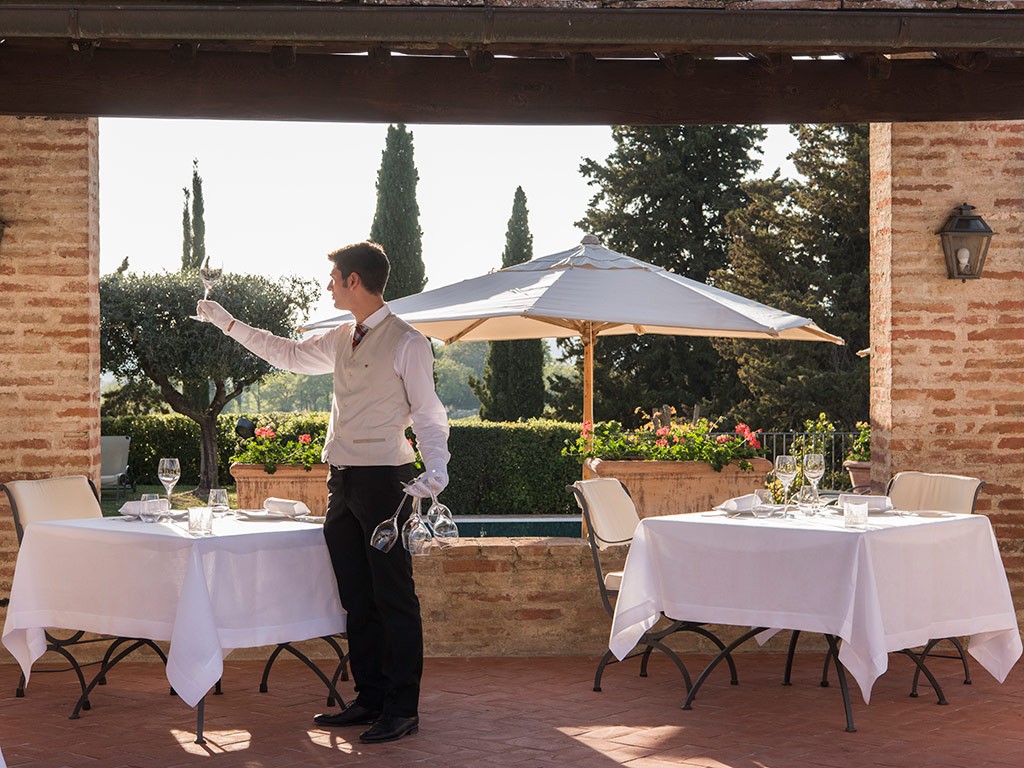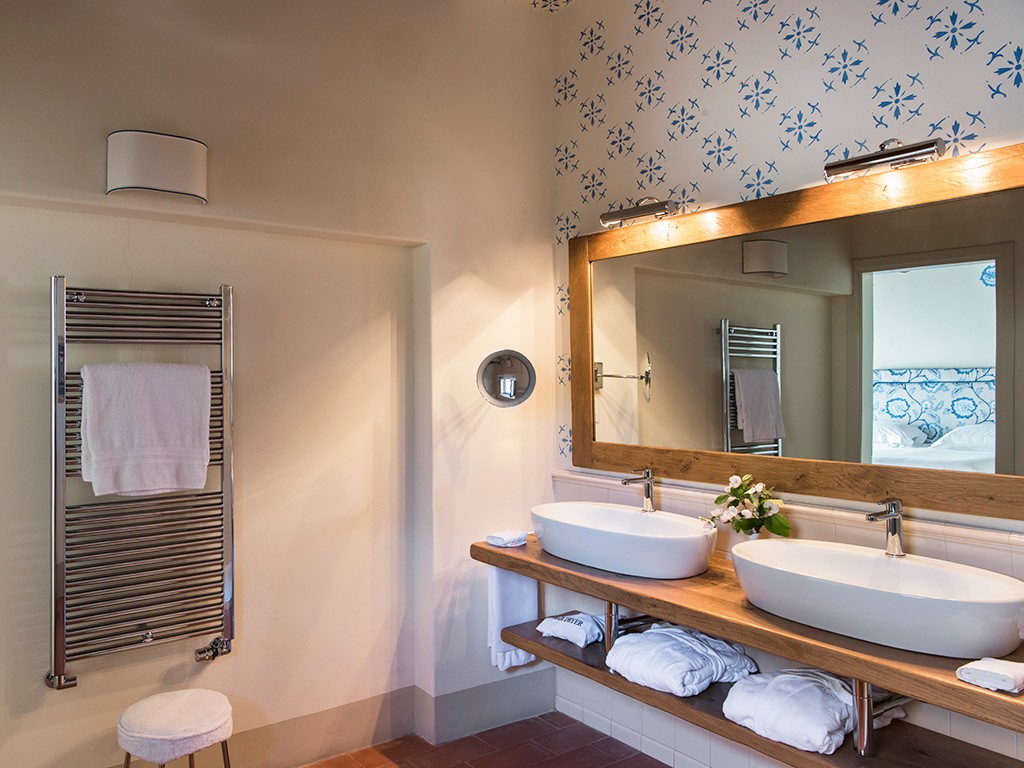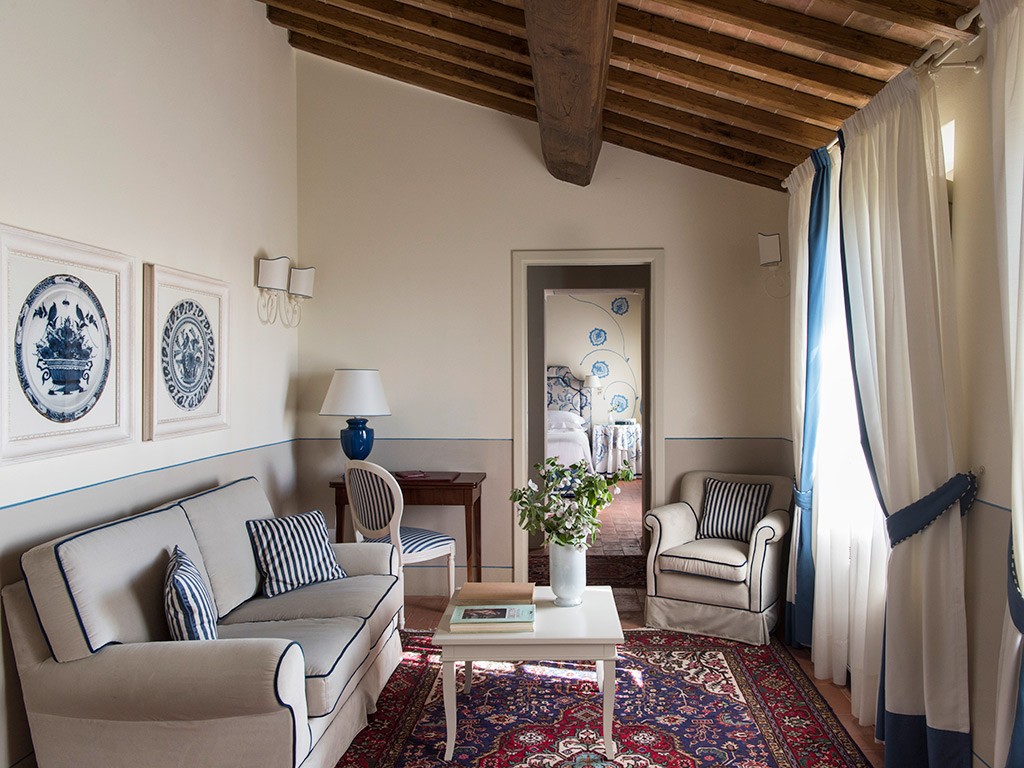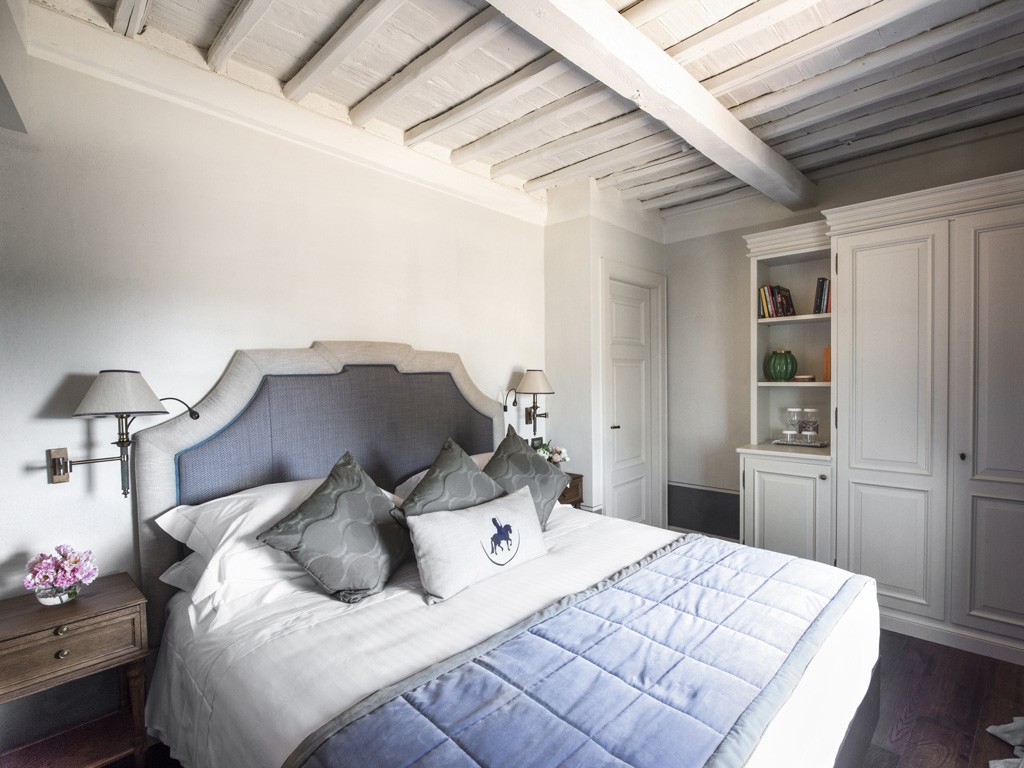 Italy - Poggio Murella- Toscany
4 star Sport & Wellness Resort in the Tuscan Maremma
Sometimes, when thinking of a holiday all you can imagine is a place surrounded by nature, where you can enjoy a true immersion in relaxation far from everything, listening only to your own desires.
That place has a name: we are speaking of our Saturnia Tuscany Resort in the heart of the Tuscan Maremma, a 4-star hotel with SPA that you will find truly irresistible.
The rooms are made to be experienced, their sheets are ready to be used, the landscapes are there to be admired.
There are 39 rooms of various typologies, where you can breathe Tuscan tradition; each room bears the name of a local plant from the hills surrounding the structure.
In Camelia Wellness Care you can free your mind from daily stress and re-establish your psycho-physical balance thanks to our SPA and our massage centre, where you can book one-of-a-kind and customized treatments.
Furthermore, their special agreements with the nearby Saturnia Thermal Centre and with the Cascate del Mulino – just 3 Km away from our hotel – offer the opportunity to enjoy further moments of marvellous well-being…
A timeless refuge deep in the Tuscan countryside
Experience aristocratic rural life paired with contemporary style, surrounded by rolling hills and sprawling vineyards.
Castello di Casole is one of those magical places where time stands still. Spread across 4,200 acres, this 10th-century estate is the perfect place to experience the wonders of rural Italy.
While away the hours visiting local farms, spotting wildlife, or hunting for rare truffles. Then retreat to a world of comfort, elegance, and world-class dining. A warm welcome is guaranteed.
Discover your own personal paradise. Castello di Casole offers 39 indulgent rooms and suites in a range of styles and sizes, each uniquely enchanting.
Within the castle walls, you'll find classic Tuscan suites that echo the hotel's rich, 1000-year old history. Or take a short walk from the castle and find modern Italian apartments, offering contemporary luxury while overlooking the gorgeous olive grove.
Stay at Castello di Casole and be perfectly placed to uncover the wonders of Tuscany. From scenic hikes, bike rides, and postcard village tours to authentic cooking masterclasses, priceless memories are guaranteed.
Mixing old-world tradition with modern flair, restaurant Tosca offers a truly unforgettable Tuscan menu. Take a seat within the restored stone walls and look forward to homemade pasta, exceptional seafood, and garden-fresh produce.
At the heart of this hilltop Tuscan resort is the captivating Essere Spa. A full-treatment menu takes inspiration from local ingredients—rosemary, grape, and olive oil.
the Murlo Estate, a Natural Heaven in Umbria
An exclusive private country estate in Italy
The Murlo Estate offers the ultimate Umbrian countryside retreat, owned by the same family for generations and steeped in rich history.
Known for its awe-inspiring mountains and sprawling natural landscapes, the Estate is the perfect place where you can immerse yourself in the sounds and silence of thousands of hectares of a natural reserve, where there are no eyesores and the landscape has remained unchanged for centuries.
Luxury villas, cottages, and suites in Umbria
A private estate stretching over thousands of hectares of forest and olive groves, the Murlo Estate is designed to allow its guests to live an ethereal and real experience in the Umbrian countryside. All properties, of varying sizes, have been fully restored and combine luxury furnishing and modern details with antique and original aspects, unique places where past and present are perfectly combined. Each property has a private garden and pool, is surrounded by blissful vistas, and offers all modern comforts and luxuries, without compromising the history and heritage upon which the Estate is built.
The Murlo Estate is one of the most exclusive private country estates in Italy, owned by the same family for generations. Renowned for its thousands of hectares of immaculate woods and olive groves, and for its superb valleys, lakes, and rivers, it is the perfect place for a relaxing and tranquil holiday, offering a high level of comfort and elegance.
The Murlo Estate aims to create and share a unique and welcoming place where nature meets luxury and where service is dedicated to your utmost comfort. Only 20 minutes north of Perugia, the Murlo Estate is perfectly situated to explore wonderful Umbrian and Tuscan hill towns.
The estate restaurant
A stunning medieval farm house rebuilt over the ruins of a defensive tower dating back to the XIV Century and now transformed into a stylish restaurant.
Brought to light in accordance with the authentic requirements of the ancient monasteries
Eremito is the ideal place for those who realize that peace and quiet are essential ingredients to find inner peace. It's a mystical place, the fruit of a long journey of self-discovery. The place is majestically located within Umbrian valleys, this amplifies the sense of spirituality enchanting the eyes and the soul.
The outcome of these intense feelings and four years of hard work with no rest gave birth to Eremito. A place close to hermitages of the fourteenth century, which today has retrieved its authentic original splendor thus becoming a place where one can regenerate one self-finding again the priorities of life may be lost in the day-to-day living.
At Eremito, the luxury they offer I found it in the past times when nights were lit with only candles and the moon. A real luxury for me, now as then, is the rediscovery and appreciation for the essential, from the time by the Ocean in Mexico to this Valley.
The so-called "Celluzze" areas the cells used by the hermits in past times who in their small and simple spaces were able to find time for meditation and prayer. Eremito has rooms with a wrought iron bed, a shower, and a toilet.
The temperature in the rooms is always constant without a need for air-conditioning, there is also underfloor heating for the colder months.
They have taken care of the details of the rooms: the bedding is made of hand-made hemp yarn.
Although the basic comforts are in the room, you will not find a telephone, TV nor wi-fi connection. Instead, you will find a comfortable desk made of stone by the window where one can be inspired while admiring the green valley.
The style of their dwelling reflects itself also for the meals, the menu is simple and basic.
They offer a healthy and moderate diet, one which chooses recipes from monastic Mediterranean tradition. Tastes and smells which remind one of the Umbrian traditions and small villages built near-by monasteries.
"The first time I laid eyes in this valley I felt that I was in a "special" place: the colors, the light, the flickering lights of the river, the woods of the Nature Reserve… and there, on top of a hill, a natural belvedere, stood a ruin."
Italy - between Umbria & Tuscany
An ancient estate combining wild Umbrian
countryside with effortless Italian style
Explore 1,500 hectares of pristine wilderness, protected, restored, and brought back to thrilling life by a dynamic family.
All rooms and suites contained within these ancient castle walls are imbued with personality and panache, thanks to the organic approach to contemporary design coupled with a discerning nod to the intriguing characters who once called this home. All rooms are inside the castle, either on the ground or second floor, overlooking the garden courtyard and far-reaching views over the Reschio hills. Where better to while away time than the spacious and luxurious suites in the castle, each individually designed and all have decadent bathtubs.
Just outside the castle's ramparts in the former Vestry, adjacent to the San Michele Church, are six suites, two of which have their own private gardens, those on higher floors have an elevator.
Sunk like a glimmering optical illusion into the verdant lawns is their incredible outdoor pool. Located just outside the castle walls – and mirroring the historic, time-worn ramparts – the water gently overflows the stone rim of the pool to the grass at its edge, while tall umbrella pines provide balmy shade. Showers and changing rooms are available beneath the deck of the adjacent Il Torrino, and another pool-side deck offers a perfect front-row seat to the water. Leafy niches between the trees and around the gardens, meanwhile, offer more secluded spaces for families or couples
Italy - Montegrotto Terme
Hotel Montegrotto Terme, wellness and relaxation center
If you are looking for a  Hotel in Montegrotto Terme that knows how to take care of your body and regenerate you from the stresses of everyday life, you are in the right place.
 Montegrotto Terme and nearby Abano are among the oldest spas in the Veneto region, to tell the truth, they beat the record in all of Europe also in terms of extension, and thanks to its waters and its muds it has allowed them to help guests to regenerate themselves. and to take care of themselves during their stay.
Montegrotto and its splendid views of the Euganean Hills but also an unparalleled cultural enrichment given the proximity to Venice and Padua and to historic towns such as Arquà Petrarca, Este, and Monselice.
Furthermore, for those who want to alternate spa treatments with sport, we are in the homeland of Golf  (La Montecchia and Frassanelle the best known) and cycle tourism, there are many itineraries that can be followed.
The flagship is RELILAX considered, for 30 years, one of the first temples of the "remise en forme" of Italy.
Hotels and swimming pools in Montegrotto: a must. They are open to the public, but the entrances are regulated to allow everyone to fully enjoy the moment of relaxation worthy of one of the best spas in Veneto.
So, if you are thinking of a daily entrance, you will have to reach the Reception who will inform you about the possibility of accessing the area. 
Luxury hospitality between the warmth of home and the charm of a Boutique Hotel
Artemisia Domus is a Luxury Guest House in the heart of Naples with a warm and refined atmosphere that recalls the intimate welcome of the Best Boutique Hotels. It welcomes you in a historic building built at the end of the 18th century in the beating heart of the city, now declared a World Heritage Site by Unesco. In this refined and elegant residence, you will feel pampered like in a SPA thanks to exclusive Suites with a whirlpool tub or sauna in the room and elegant rooms equipped with every comfort. At the same time, you can admire the historic center simply by crossing the threshold of our door. SPA Suite with whirlpool tub and environments refined in every detail will be the setting for an unforgettable stay in the heart of Naples. Welcome to Naples, the city of 500 domes.
A panoramic window on the city
The refined rooms and suites of Artemisia Domus overlook the Cloister of Santa Chiara and other characteristic views of the beautiful Naples. You will stay in a refined environment, you will experience all the comforts like in a Boutique Hotel but with the warmth and intimacy of home. A luxury residence located in an ancient elegant apartment between Piazza del Gesù and Spaccanapoli, a few steps from all the main attractions of the city. Reaching the port and boarding for the islands will be really comfortable and fast.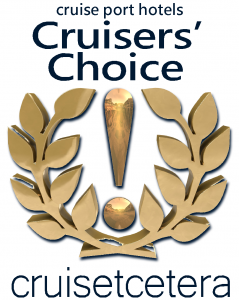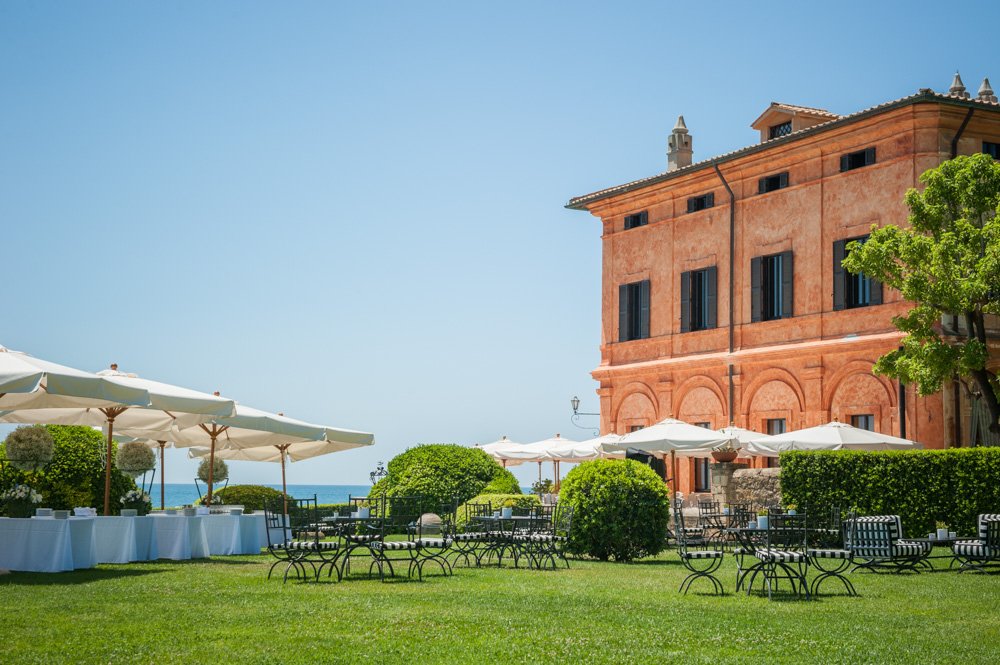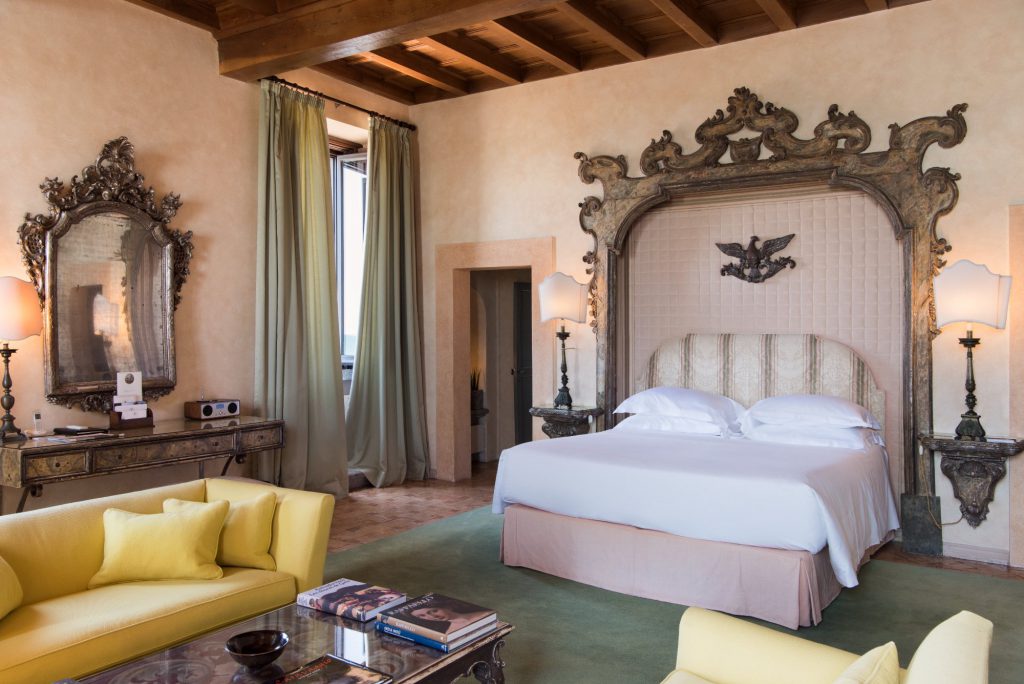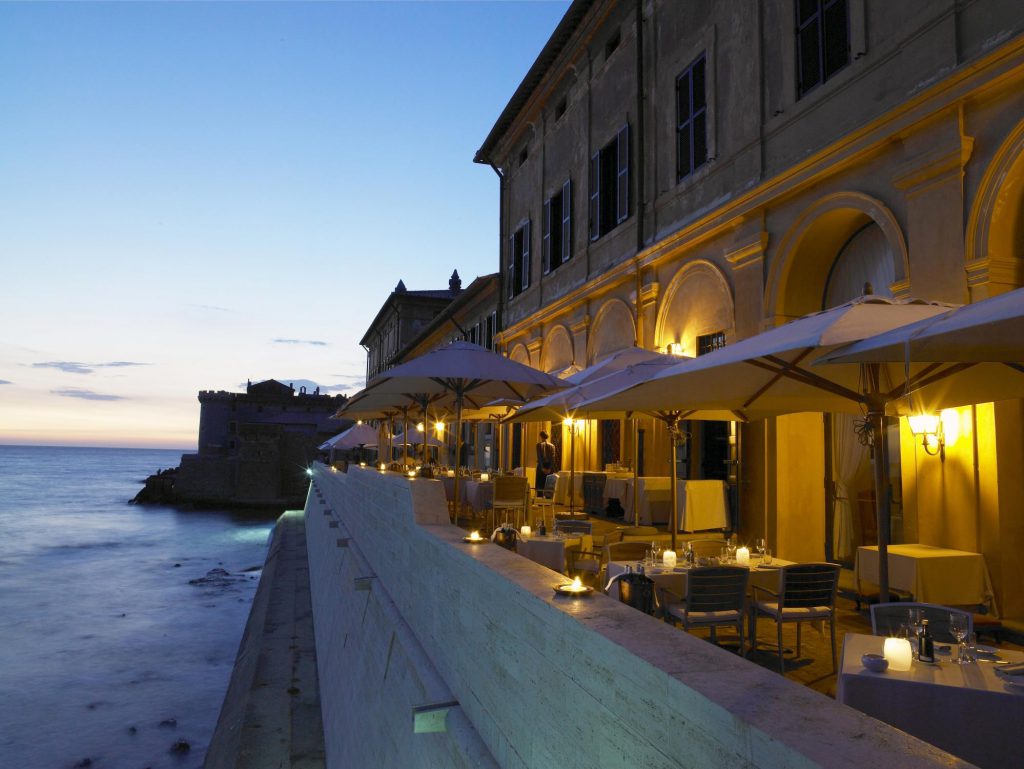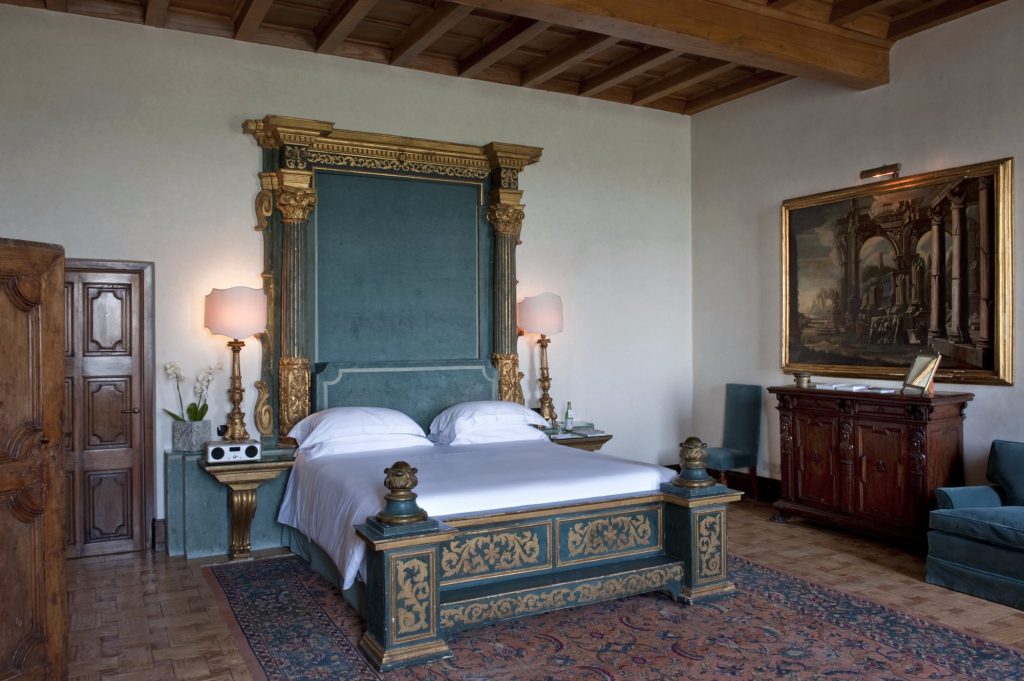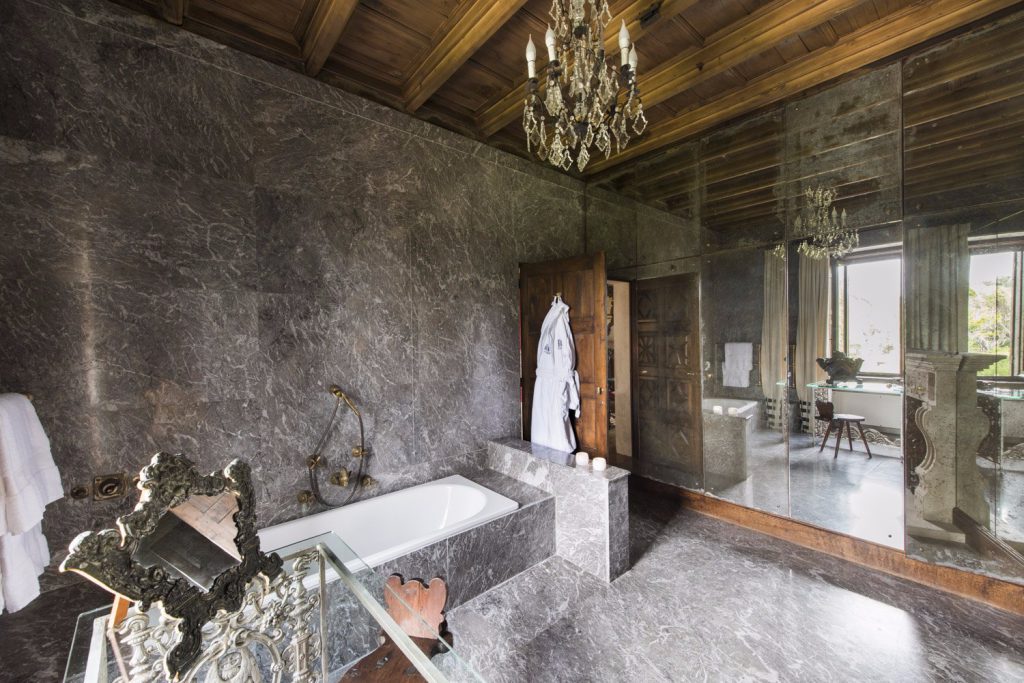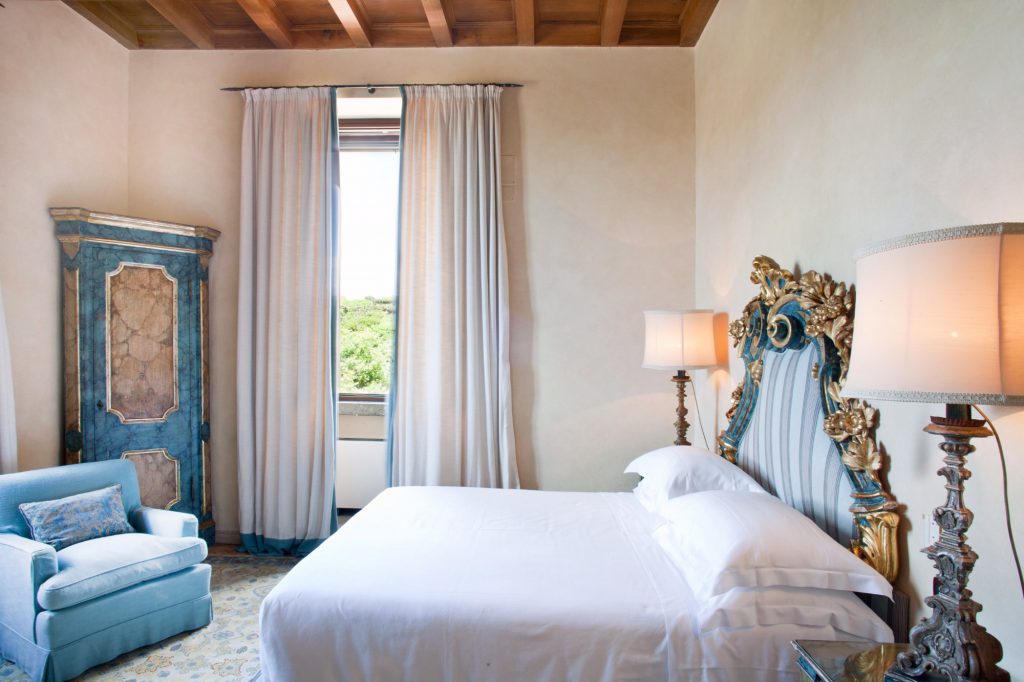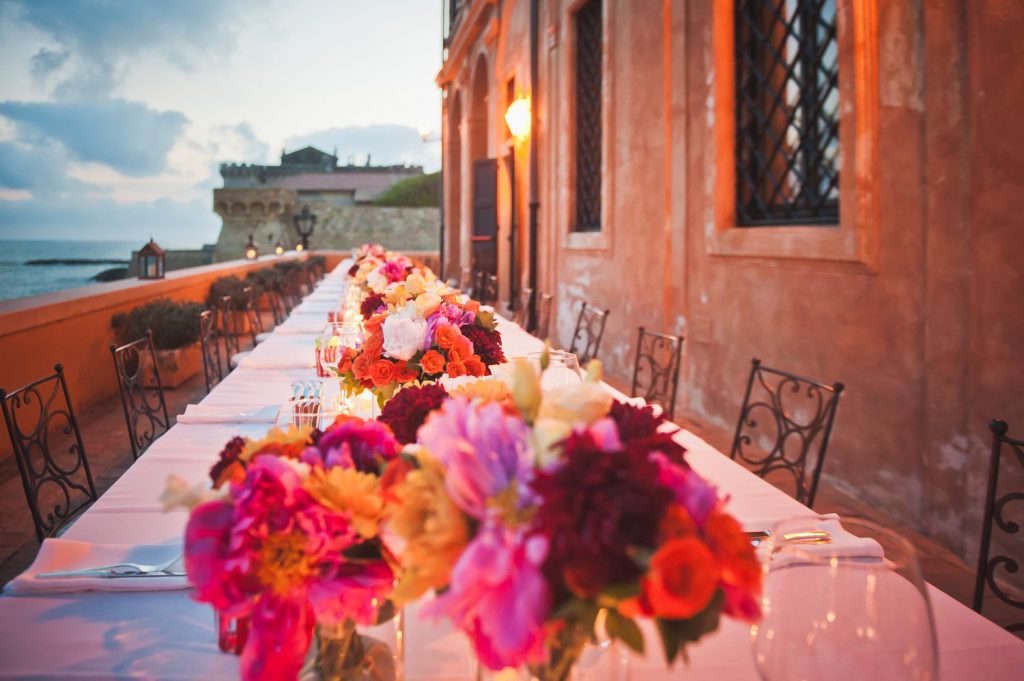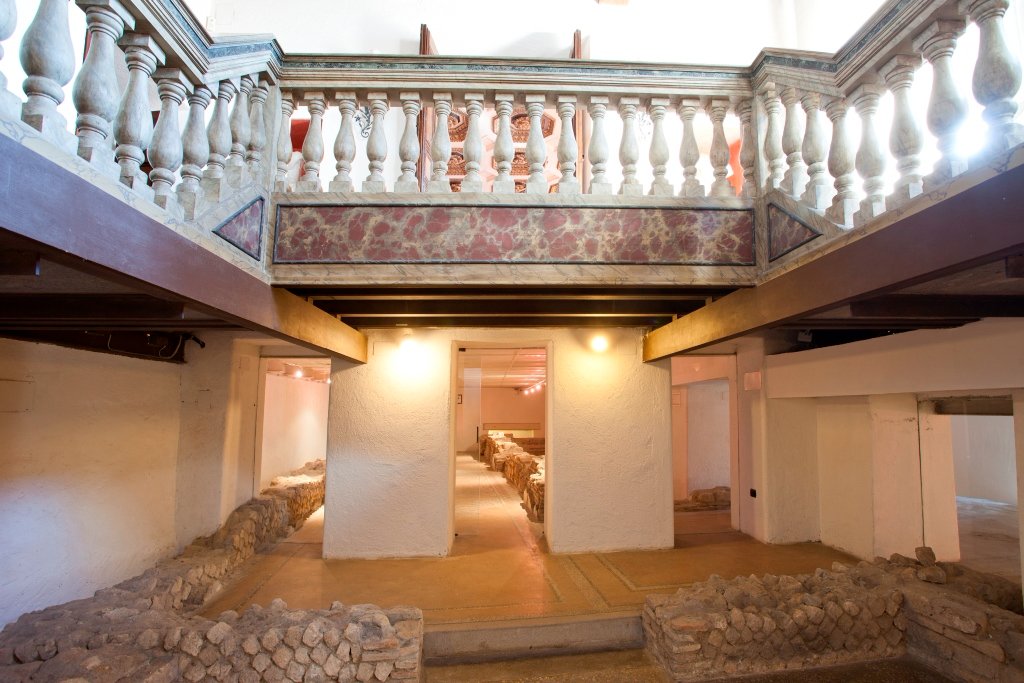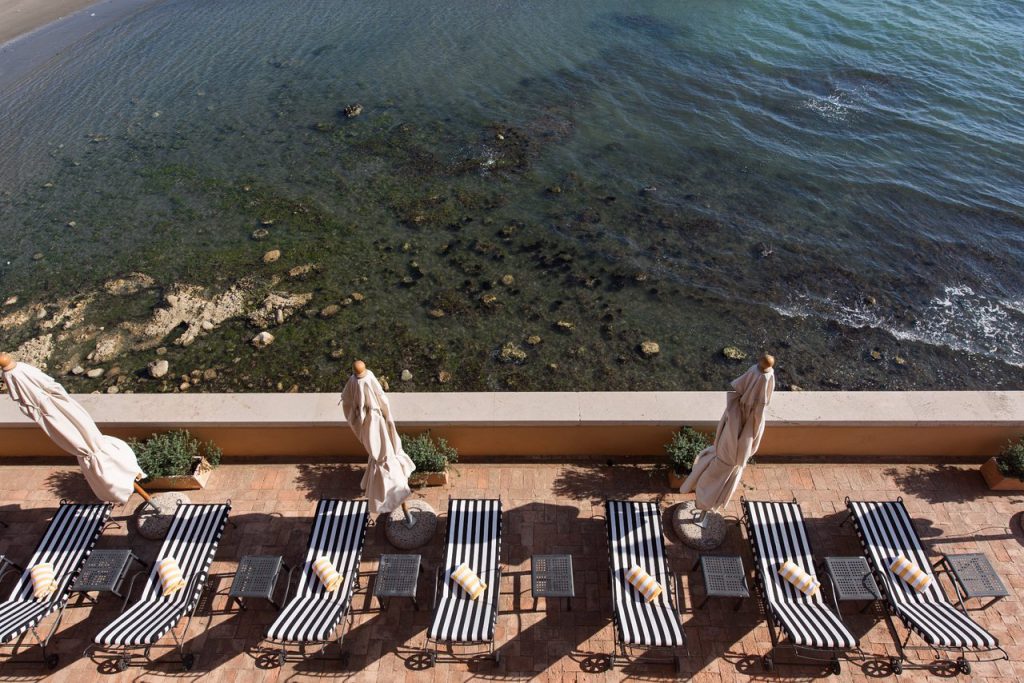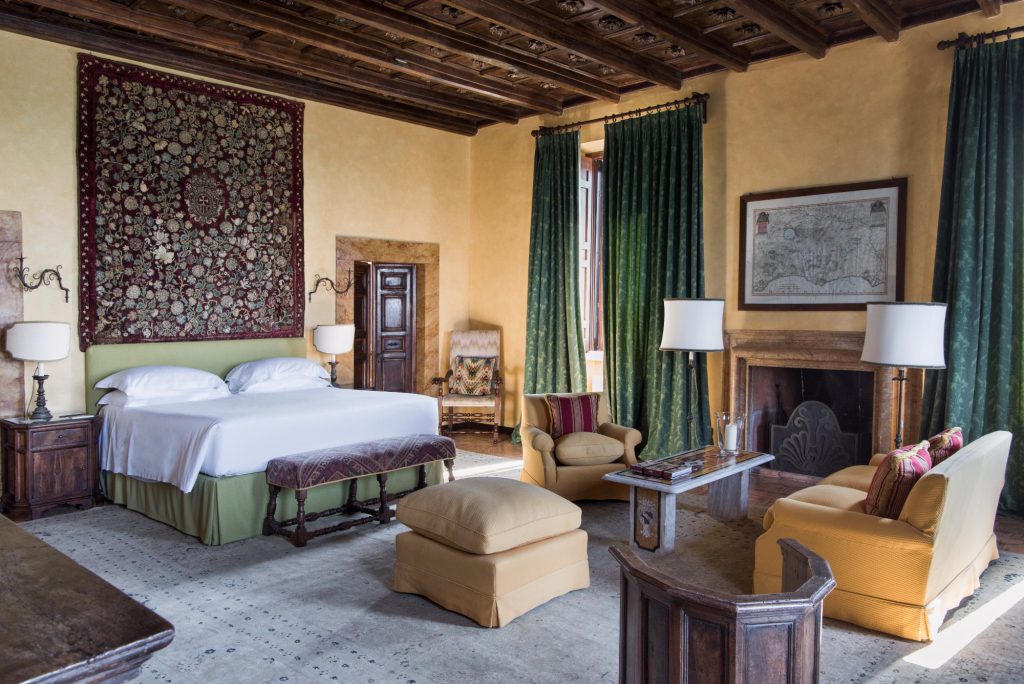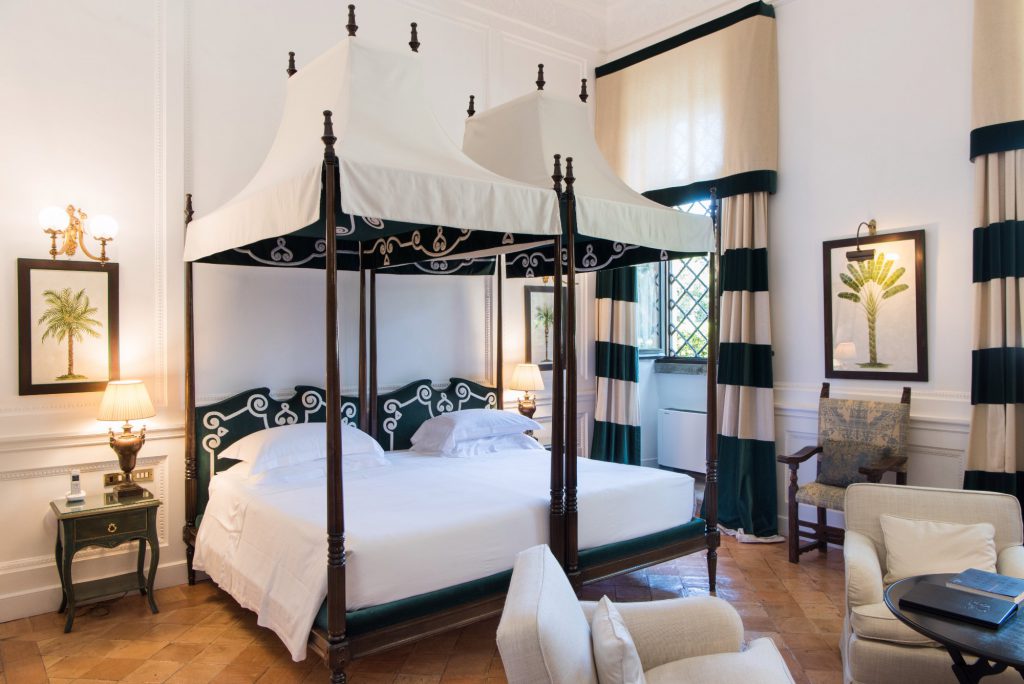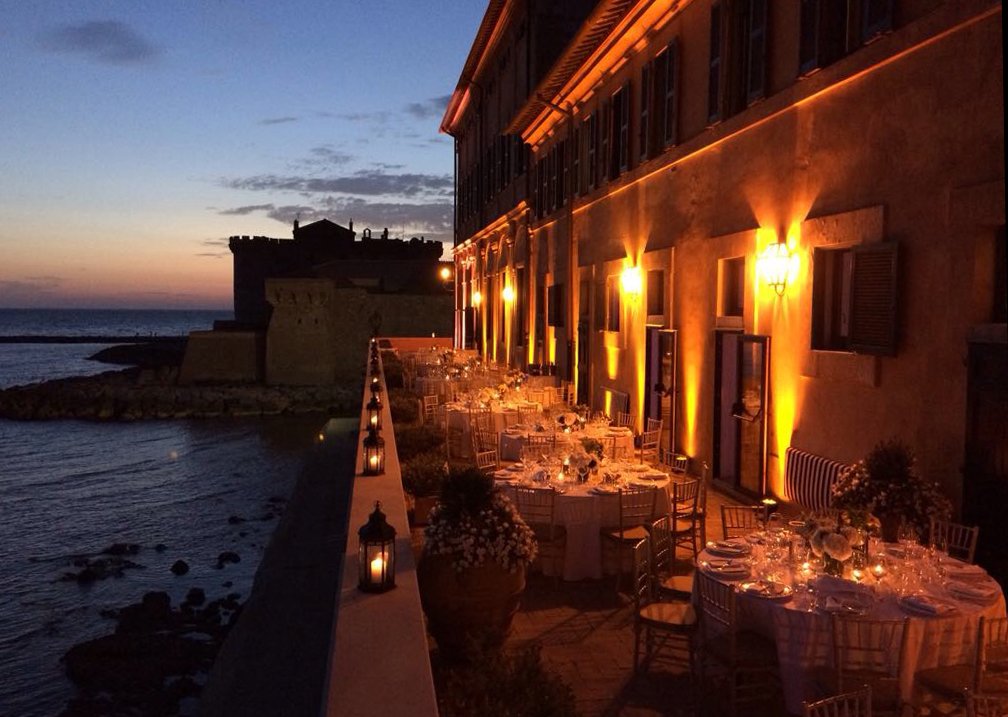 an intriguing witness to Italian history
For those who want to escape the city buzz and feel true Italy.
This true Palazzo is home to your imagination. Step back for centuries for Renaissance romance and Pompeian parties or just relax in a contemporary style.
Since Roman imperators discovered the pleasures of this special location by the Thyrennian Sea, it has been favored by all who can choose, from J. Paul Getty to many other loyal guests.
La Posta Vecchia is located 18 miles to the airport and 24 miles to the center of Rome.
La Posta Vecchia is an intriguing witness to Italian history. A 'voluptuous seaside resort' favored by Roman imperators, a Renaissance villa for the noble Orsini family, and home to John Paul Getty a billionaire who filled it with Italian art treasures. Finally, with typical Italian passion, Roberto Sciò who confesses to a love affair with the beauty found La Posta Vecchia irresistible and made it his family home.
This rich history has been captured by today's your host, daughter of Roberto and creative director and Italy's contemporary tastemaker Marie-Louise Sciò. La Posta Vecchia balances the Baroque exuberance of a Fellini film with her renowned artful elegance. So guests live in the refined style above Roman mosaics and ancient artifacts.
The rooms have views of sunlight and sea, with two millennia of history beneath the rooms. This is the only hotel with Roman ruins in the basement.
Walking to your room you pass fabulous works of Renaissance art from Getty's private collection, and as your head touches the pillow you might remind yourself there is a 2BC archaeological site a few floors beneath you. Some of these interiors feature original designs by Federico Zeri for J. P. Getty and have been updated with the careful eye of your hostess and renowned Italian tastemaker, Marie-Louise Sciò. The handsomely framed sea view is eternally beautiful, a rare pleasure when enjoyed in the fine luxury of this Rome retreat.
Beneath the terrace gentle seas lap the palazzo walls, the same seductive view since sunlight glinted off Caesar's laurel crown. Tables are simply dressed in white linen and minimum glassware, giving center stage to the gourmet cuisine of La Posta Vecchia's culinary maestro, Antonio Magliulo.
Chef Antonio believes, 'We must be able to eat a dish with our eyes closed and understand everything without looking, where each flavor has its own moment', a promise immediately fulfilled with a perfect pillow of homemade bread in a crusty case and the most delicately aromatic olive oil.
And so the tour de force begins as he does astonishing things with sea bass, baby squid and crab, Piemontese beef and pioppini mushrooms, or pink breast of pigeon with black salsify.
Every day Chef Antonio is delighted to discover some special ingredients which he presents with gusto for his guests, it may be a white truffle or a courgette flower from his garden, close your eyes to taste the essence of Cesar, La Posta Vecchia restaurant.
To sleep as an Italian Royal in this historic sight it will be an adventure you will never forget! An experience of a lifetime and most definitely you must book this for a couple of days prior to your cruise!