Hedonists rejoice! Greece is ancient sun-bleached ruins piercing blue skies, the balmy Aegean lapping an endless coastline, and a culture alive with passionate music, wonderful cuisine, and thrill-seeking activities.
The roots of Western culture are in Greece. Step into the ring where Olympians first competed. Climb steps were hewn out of stone to Meteora's monasteries, perched atop towering rocks. Contemplate the oracle's insights from the grandeur of Delphi, take in a starlit drama at an ancient outdoor theatre, and be stunned by massive marble sculptures dredged up from the Aegean. But then you'll encounter bold modern art, the melancholic throb of rembetika (blues songs), and artisans creating new work from traditional techniques. Greece has endless cultural pursuits and a calendar bursting with festivals, holidays, and exhibits.
our LXRY! hotel selection
We have some criteria before we can call a hotel a LXRY! Selection Hotel. We want to be surprised, we need luxury and hospitality at a high level, we love the quality of food and the rooms, we think the location is super important, and….we want to memorize the hotel for a lifetime! So you will not find basic chain hotels that look similar in all countries but truly found local gems that are different and memorable.
Greece - Monemvasia - Southeastern Peloponnese
Experience one of the most timeless and precious jewels of the Mediterranean
The Kinsterna Hotel is a Byzantine mansion that has been faithfully and meticulously restored with great respect for its long history. Winner of numerous international distinctions and awards, the Kinsterna today is a true paradise for nature lovers. Words alone cannot describe the peace and quiet, the clean air, and the majestic atmosphere of the mansion and its estate – all with a view of the legendary castle-rock of Monemvasia.
The Kinsterna Hotel is located in the settlement of Agios Stephanos, 7 kilometers south-west of Monemvasia in the southern Peloponnese, and is built on the edge of the "Ibrahim Bey estate".
Enjoy the delicious local specialties prepared by our chef and his team; relax by the sparkling pools filled with fresh water from mountain springs; browse rare volumes in the estate library; sample the wines from our own cellar; revitalize your senses at the atmospheric Kinsterna Spa, or hike through the verdant hills surrounding the estate, and enjoy majestic views and the beauties of nature. Kinsterna also organizes historical, cultural, and athletic events and activities, which are intimately connected to the estate and specially designed for visitors who wish to learn more about the mansion's region and history.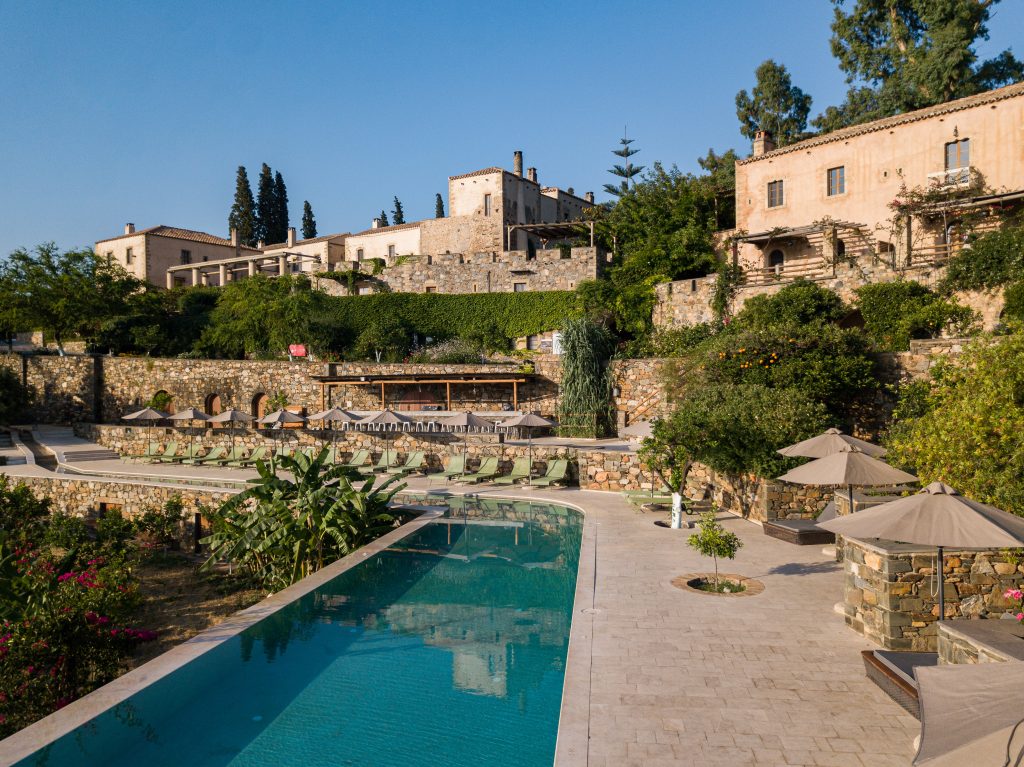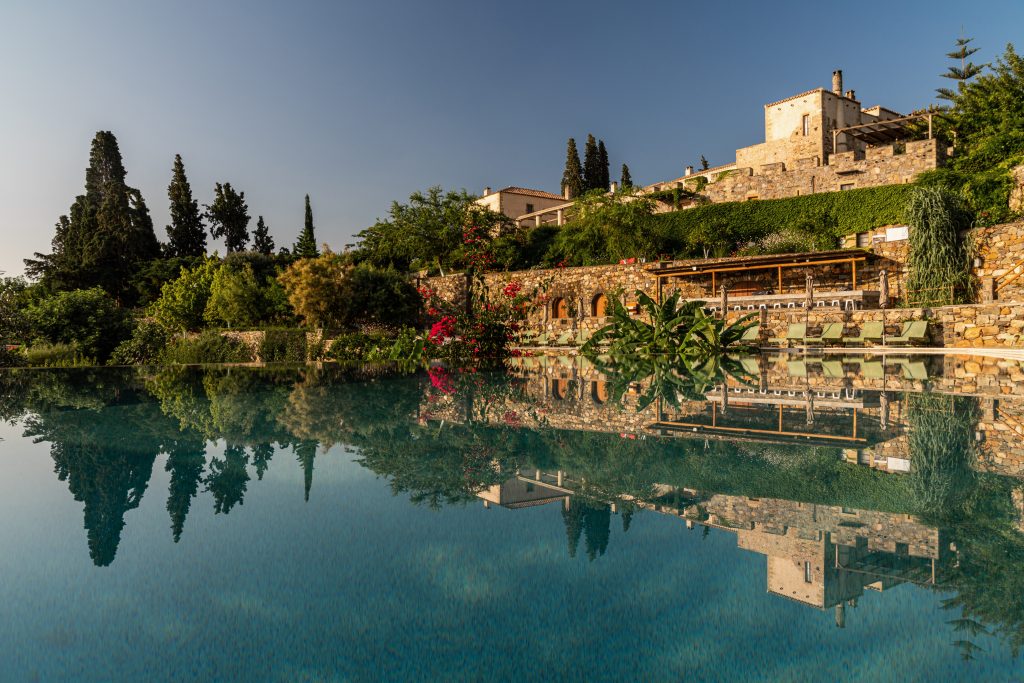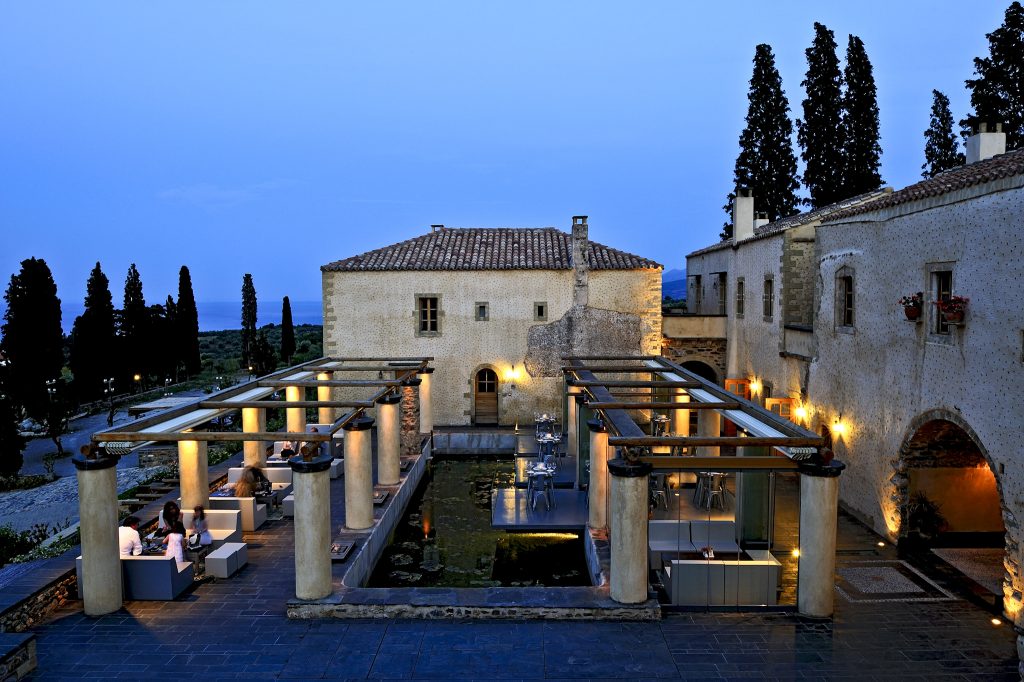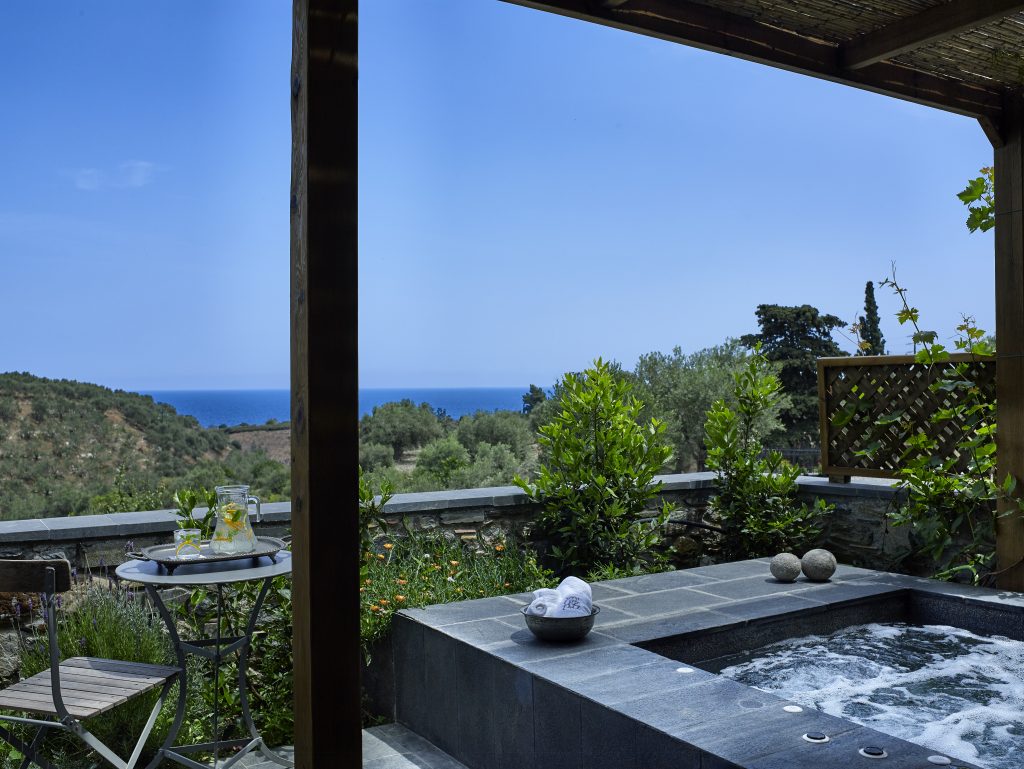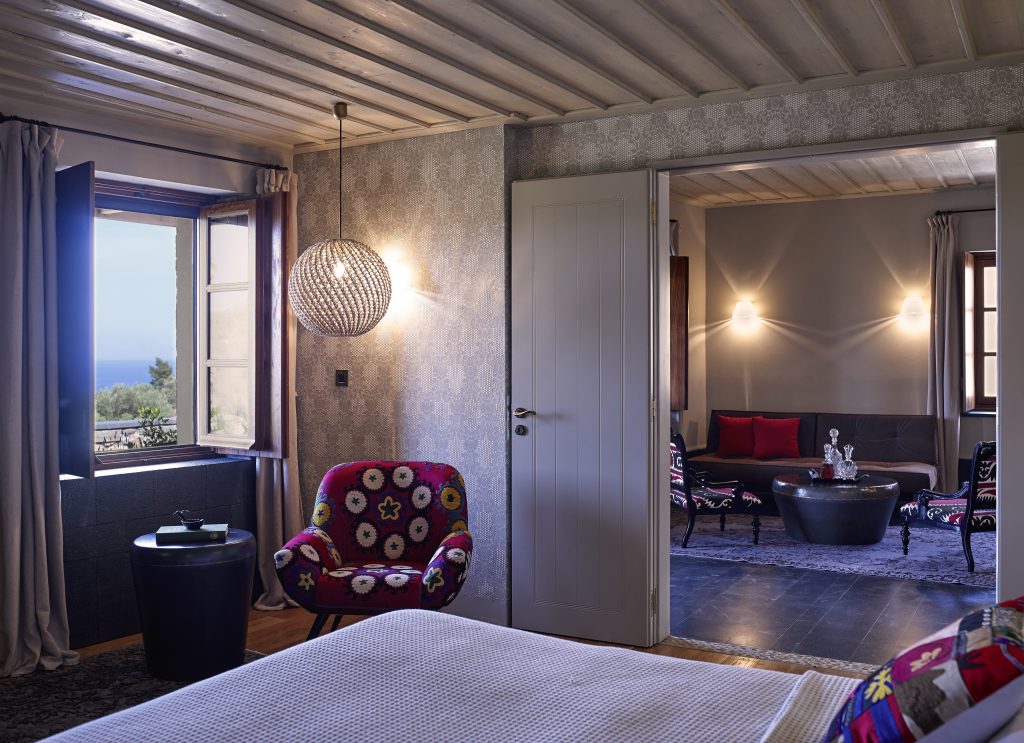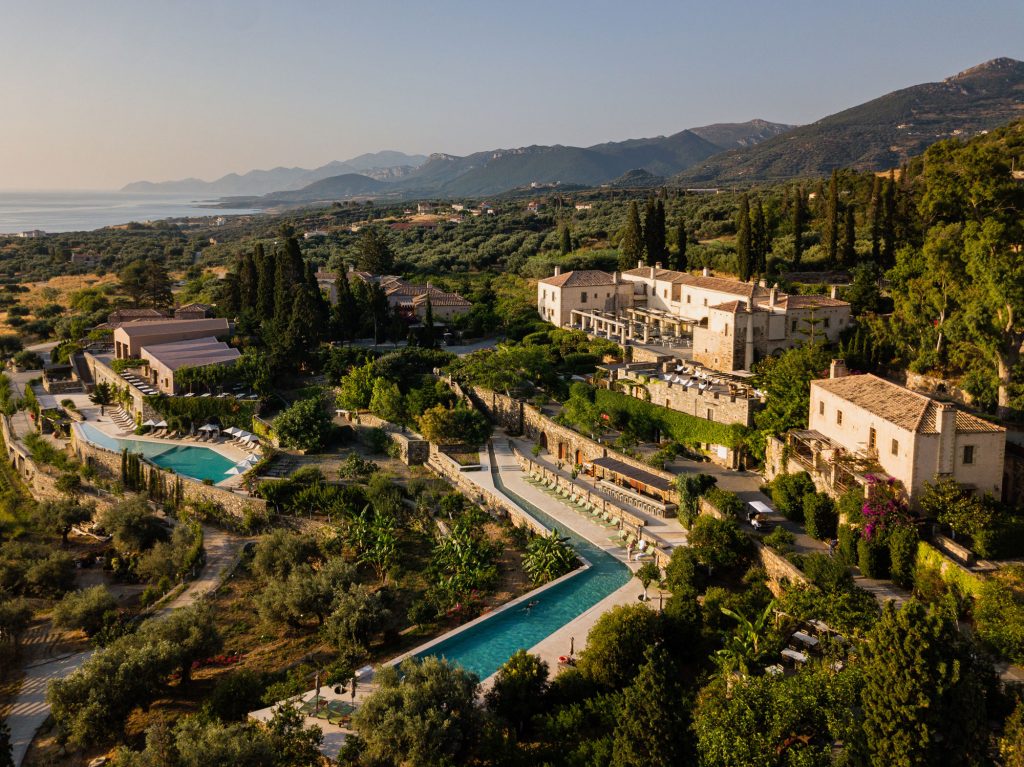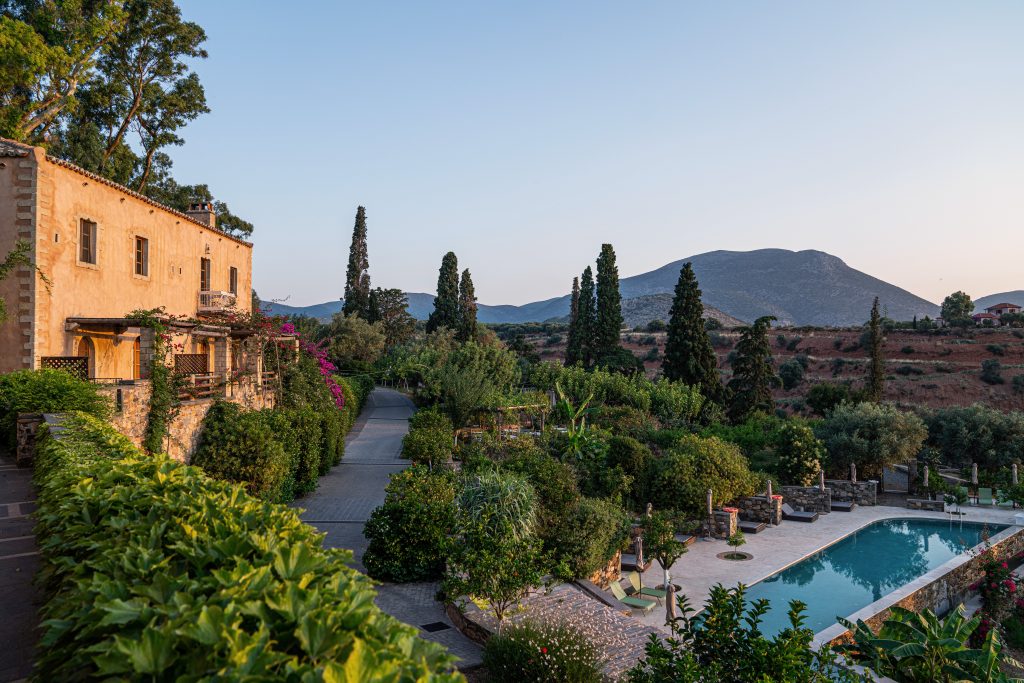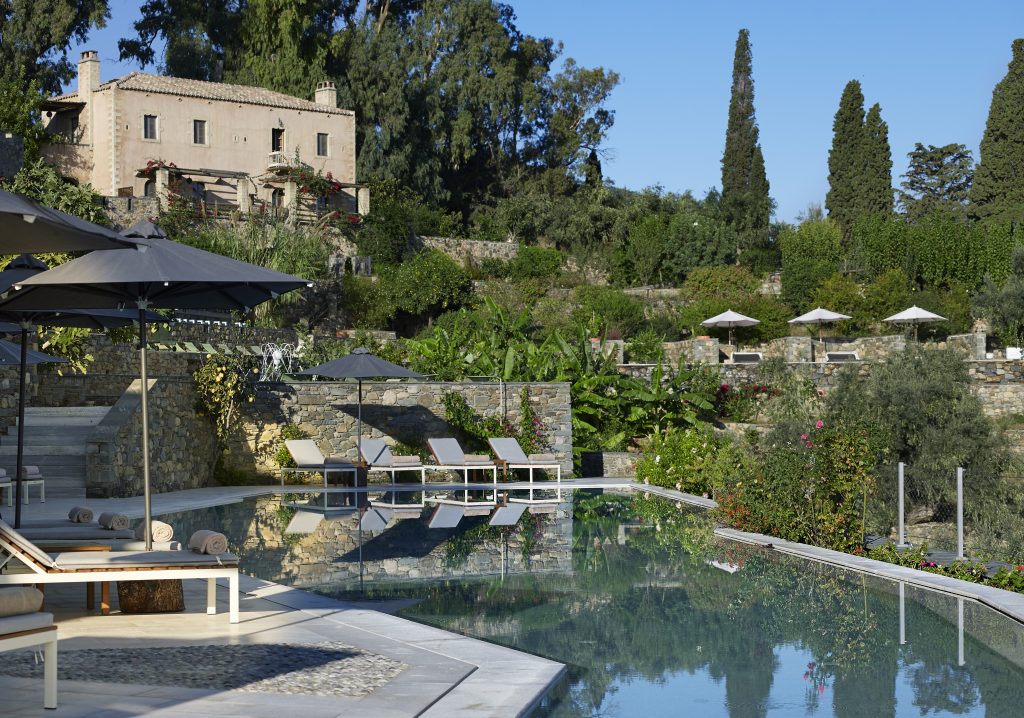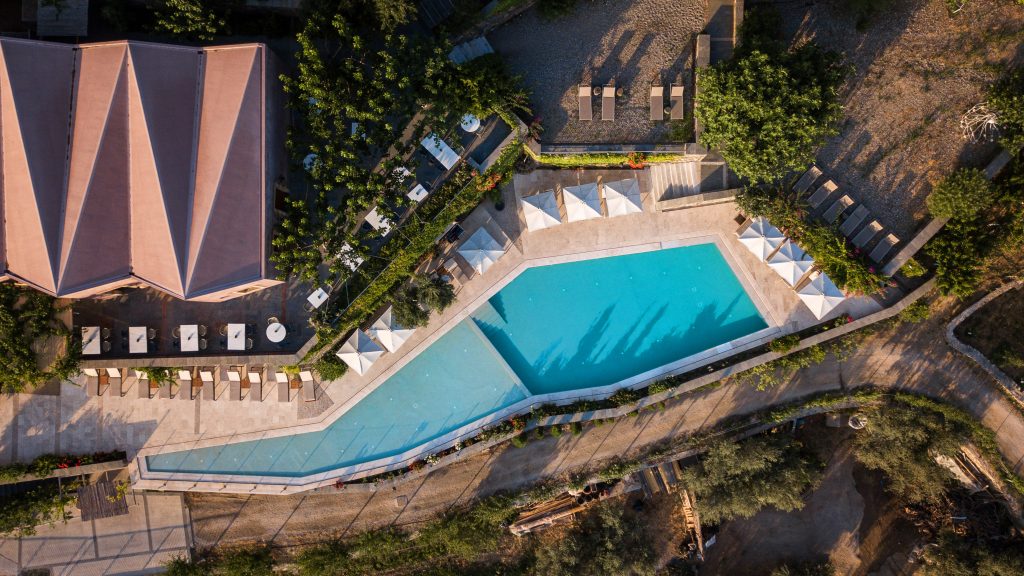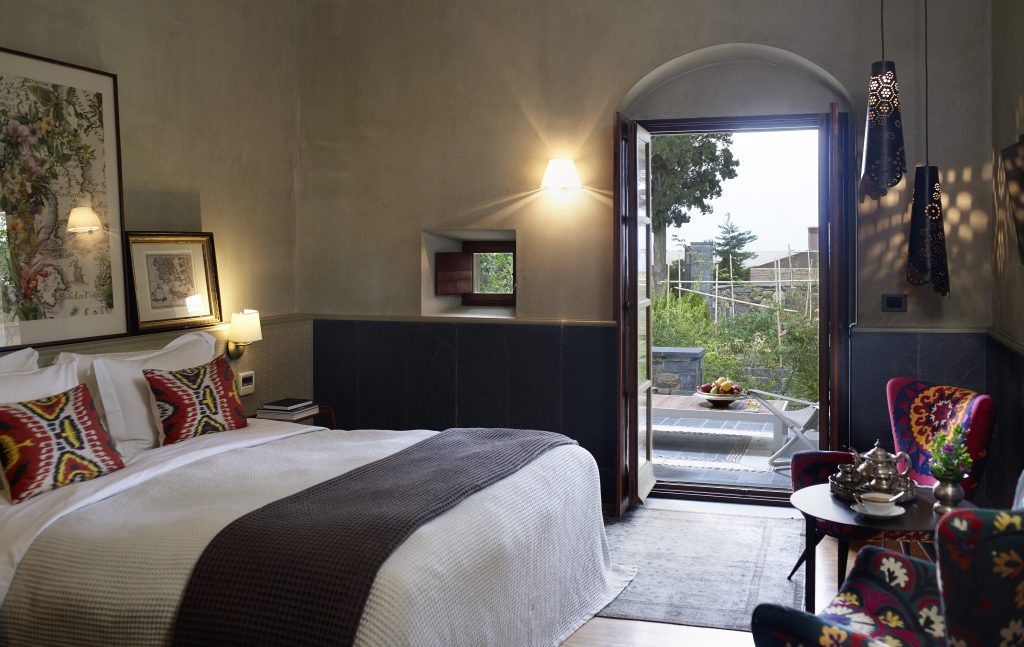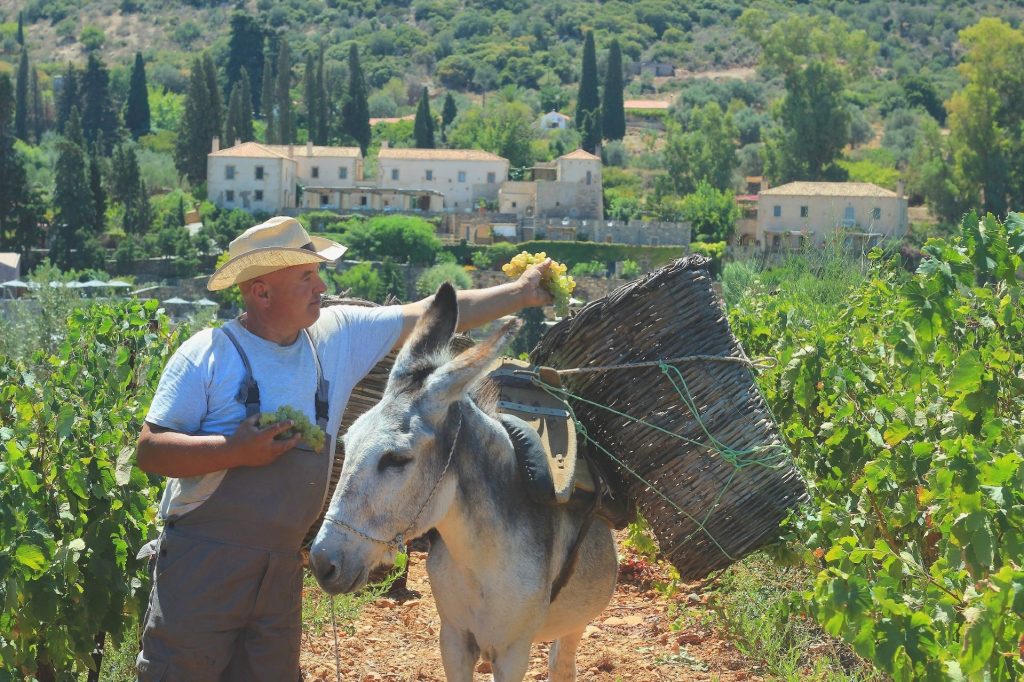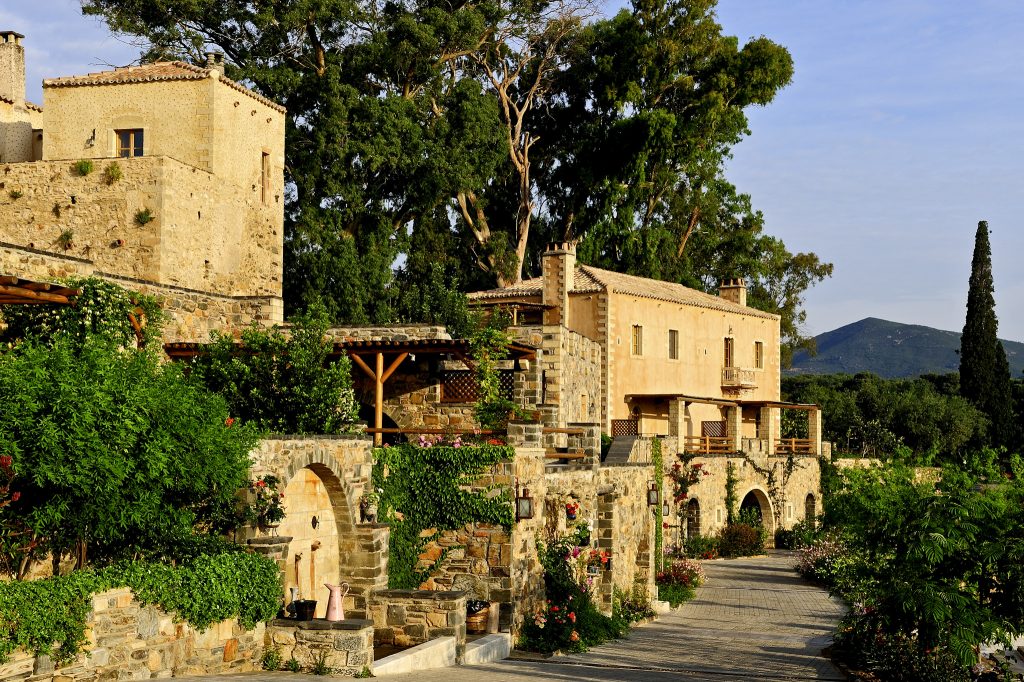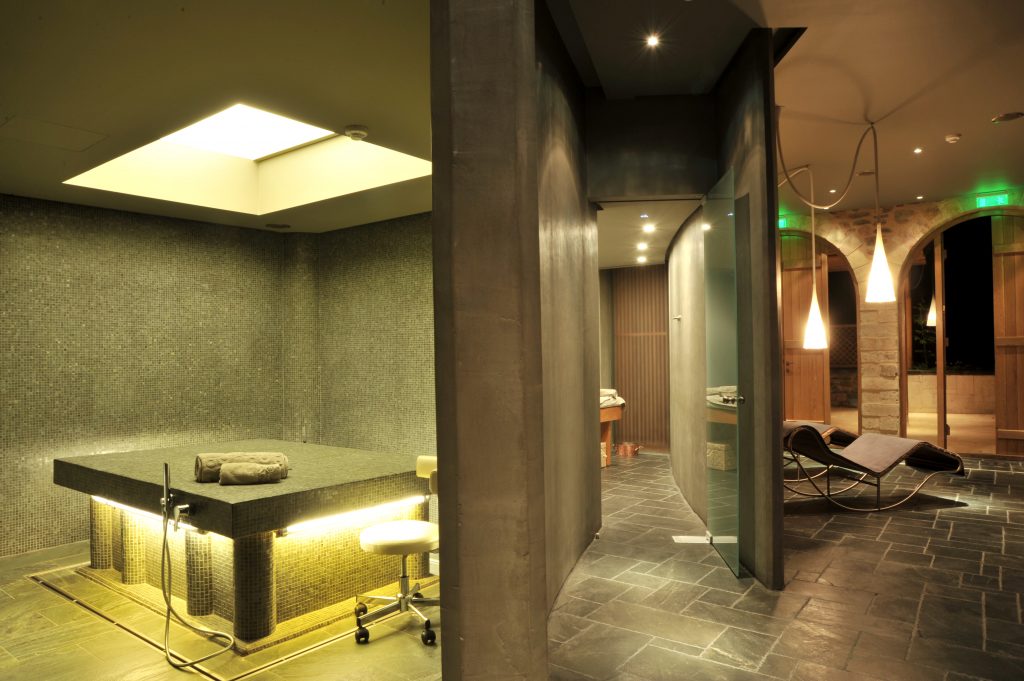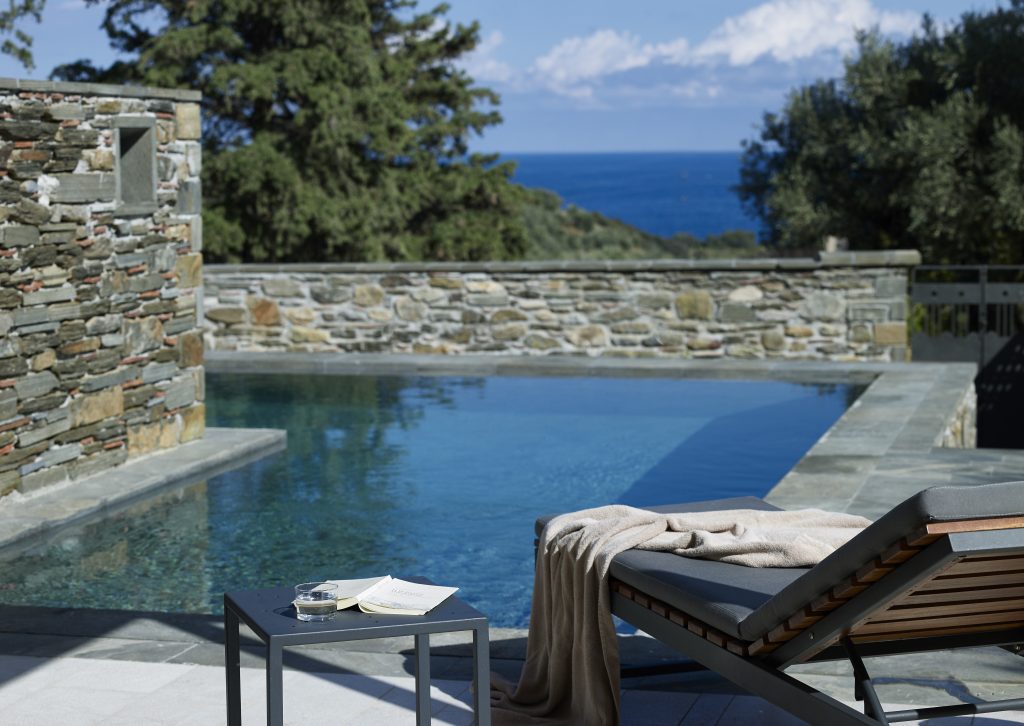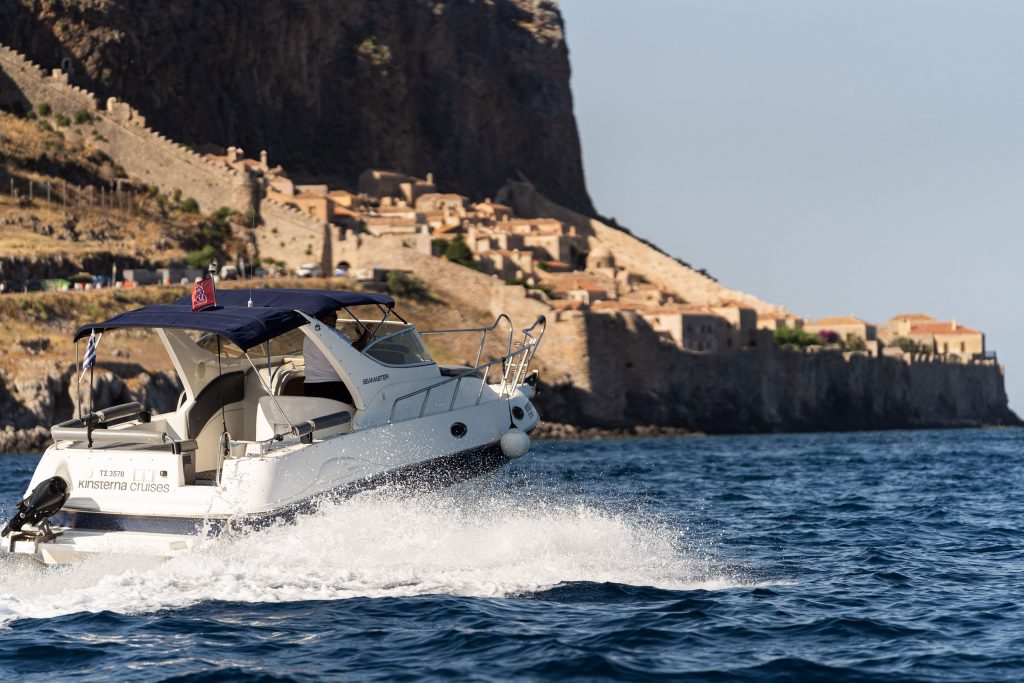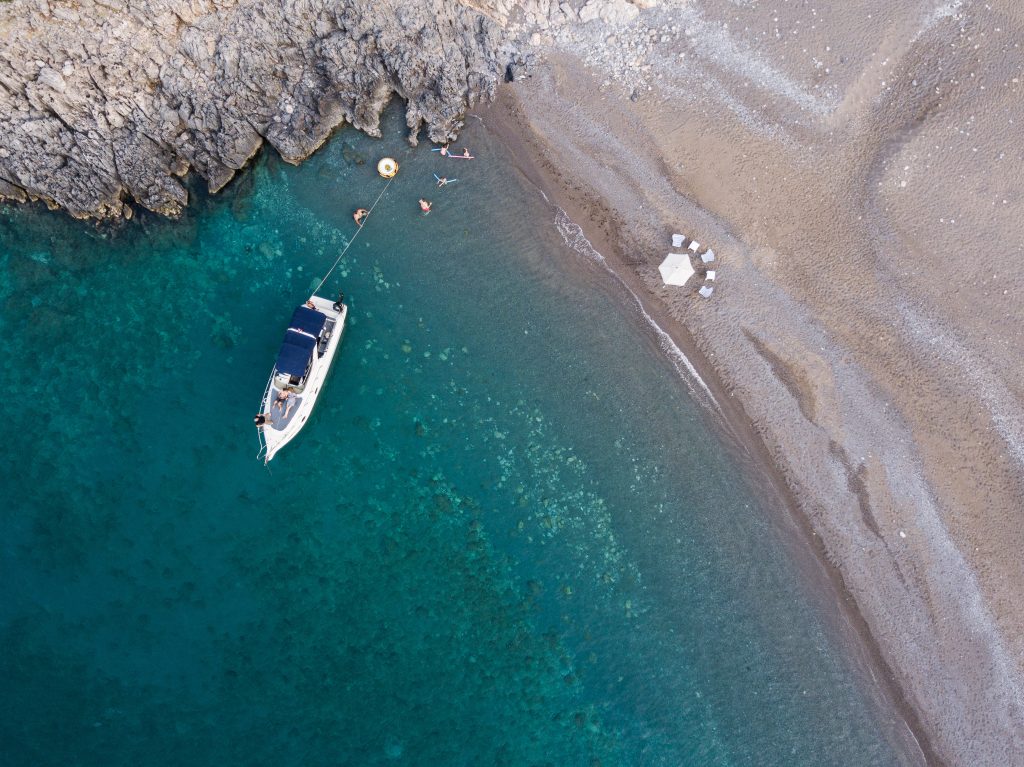 Greece - Santorini - Messaria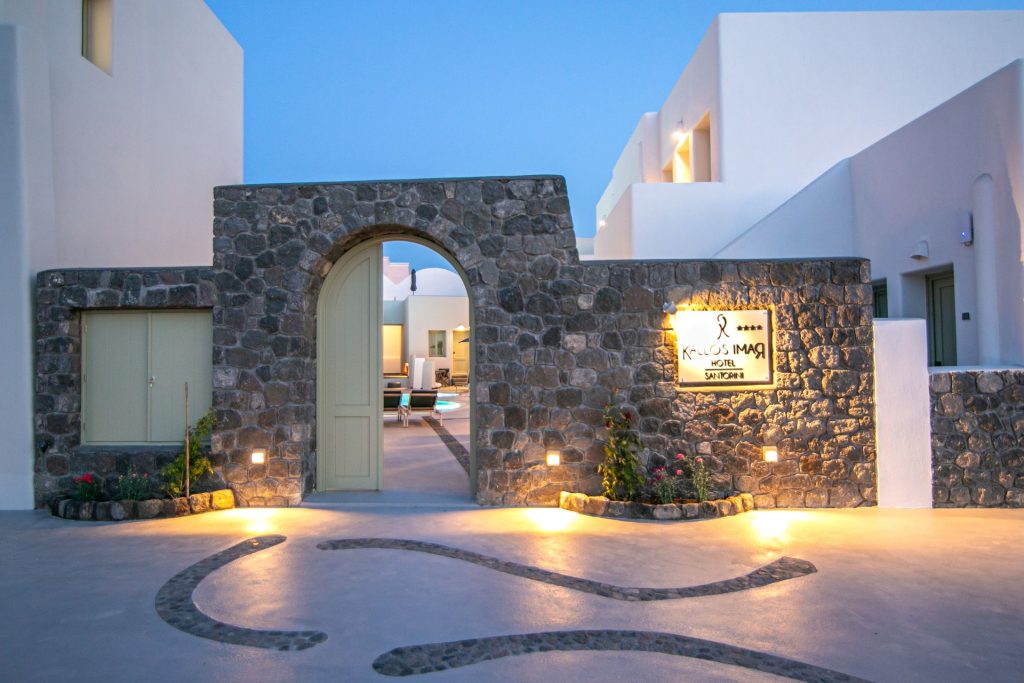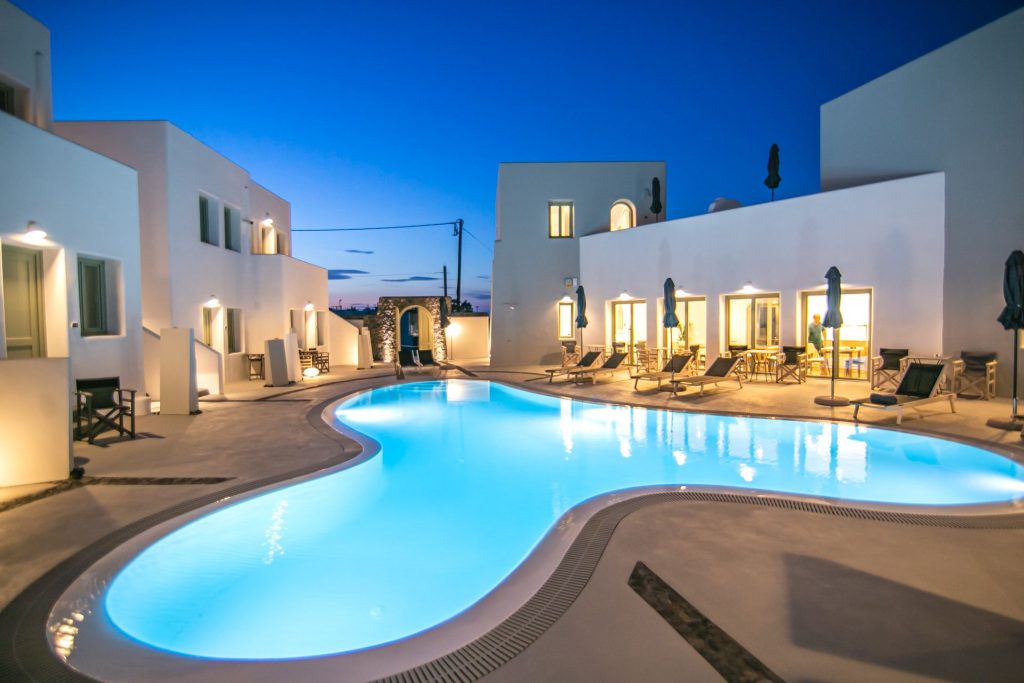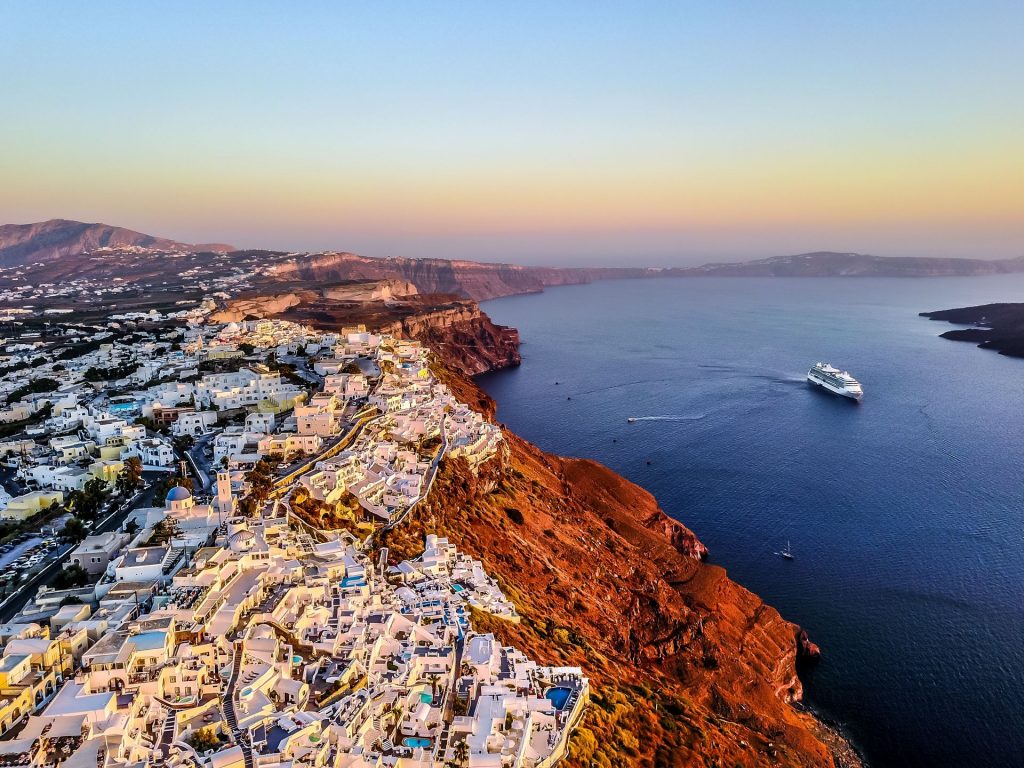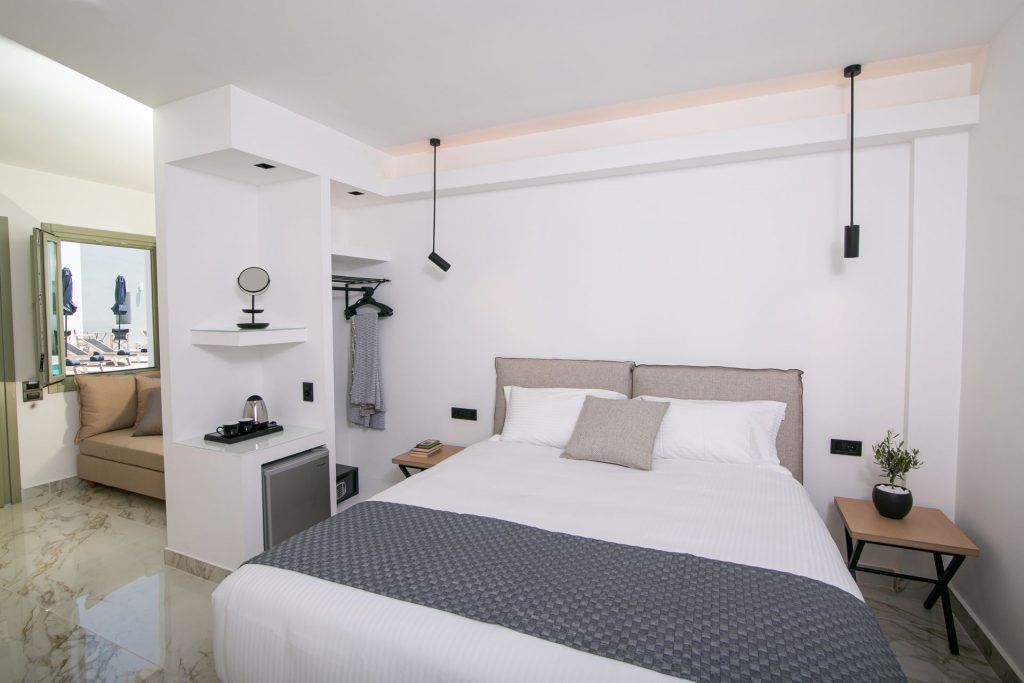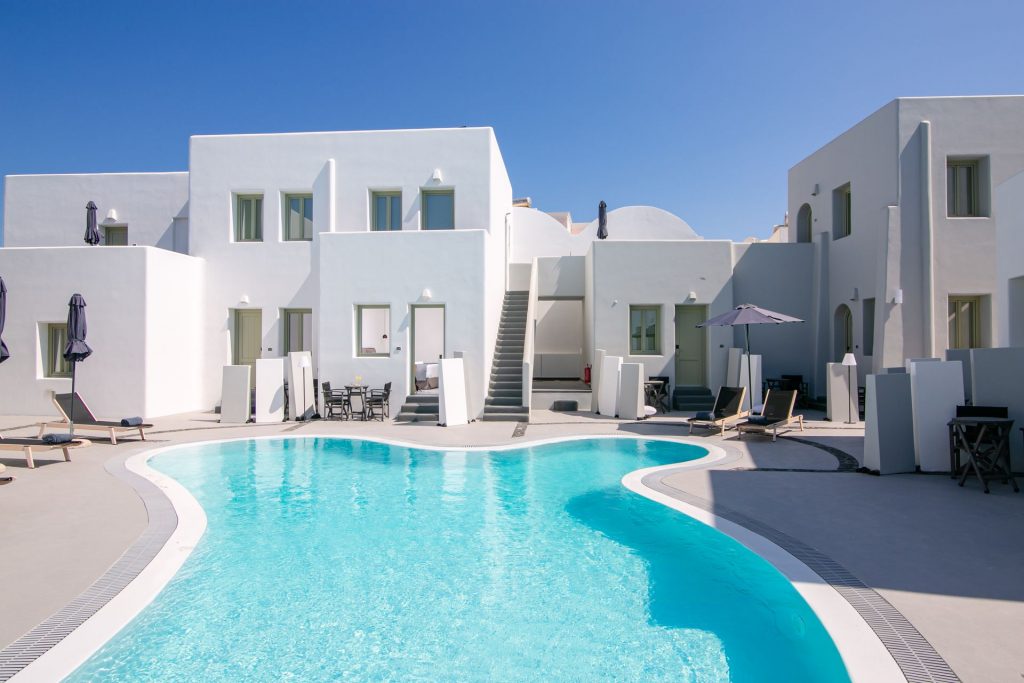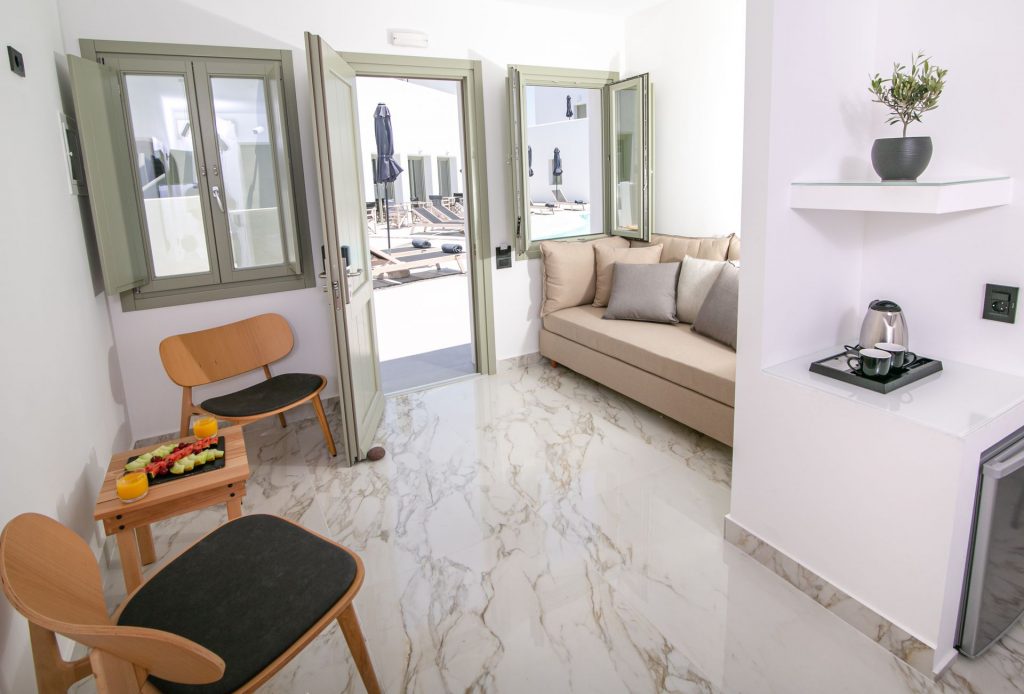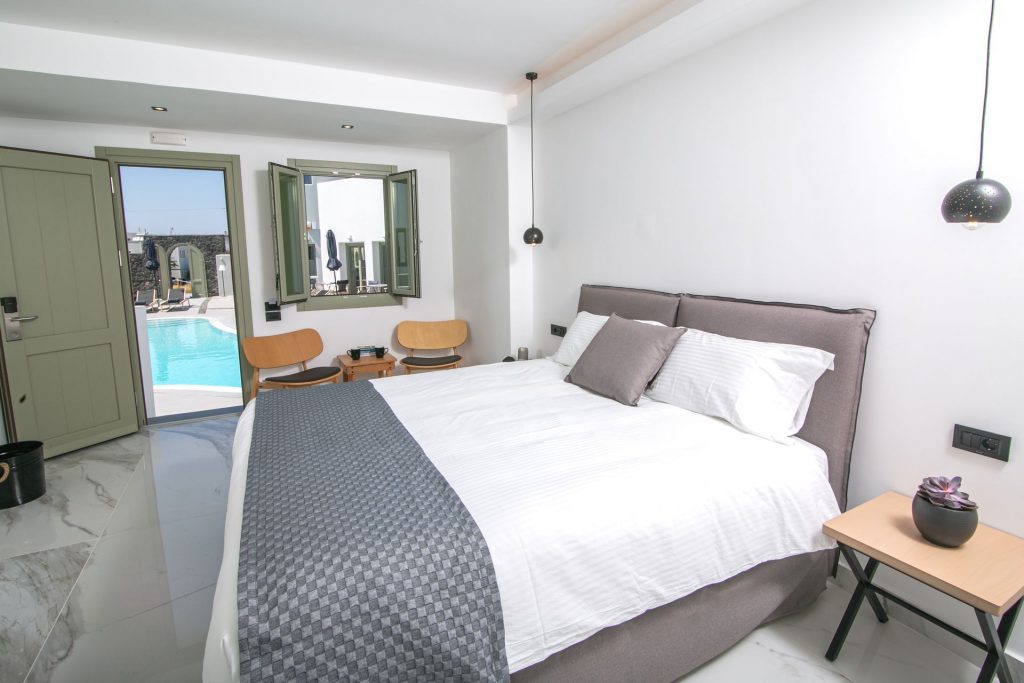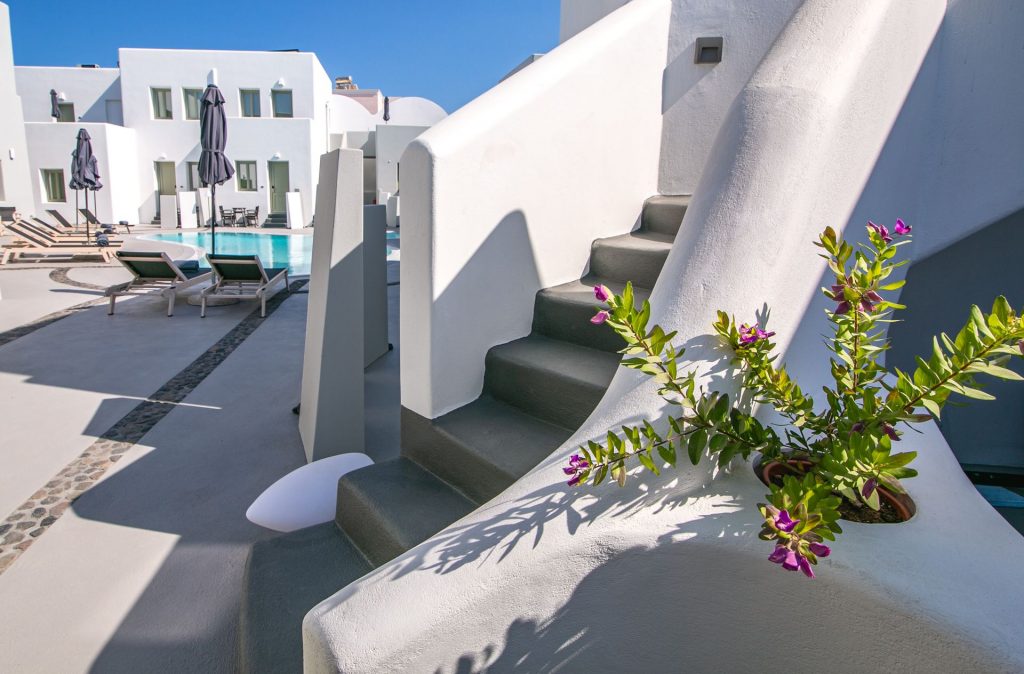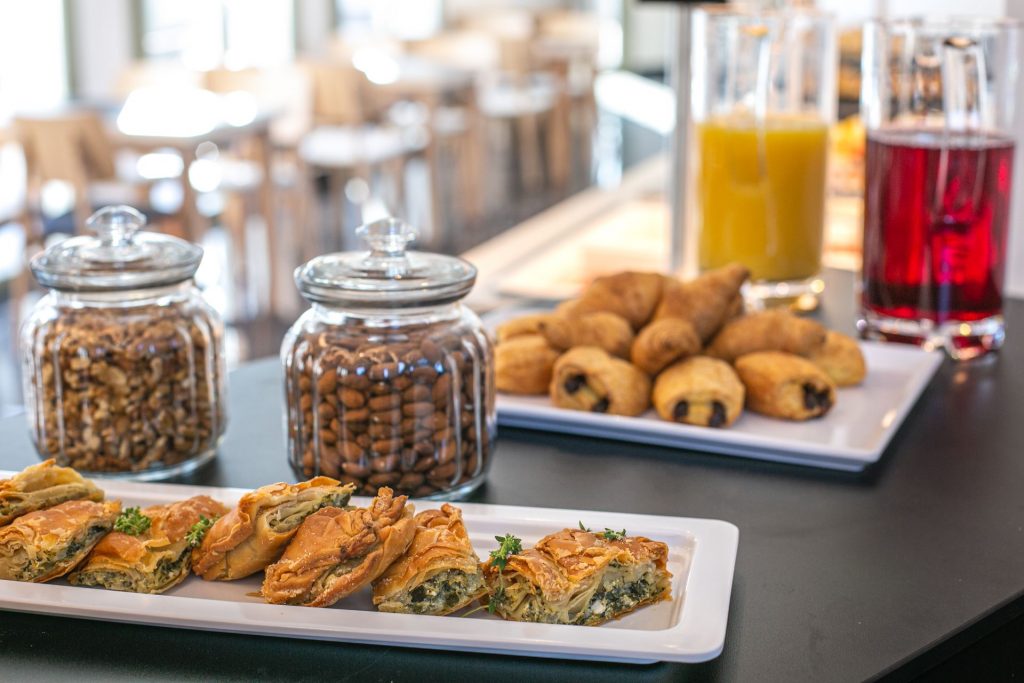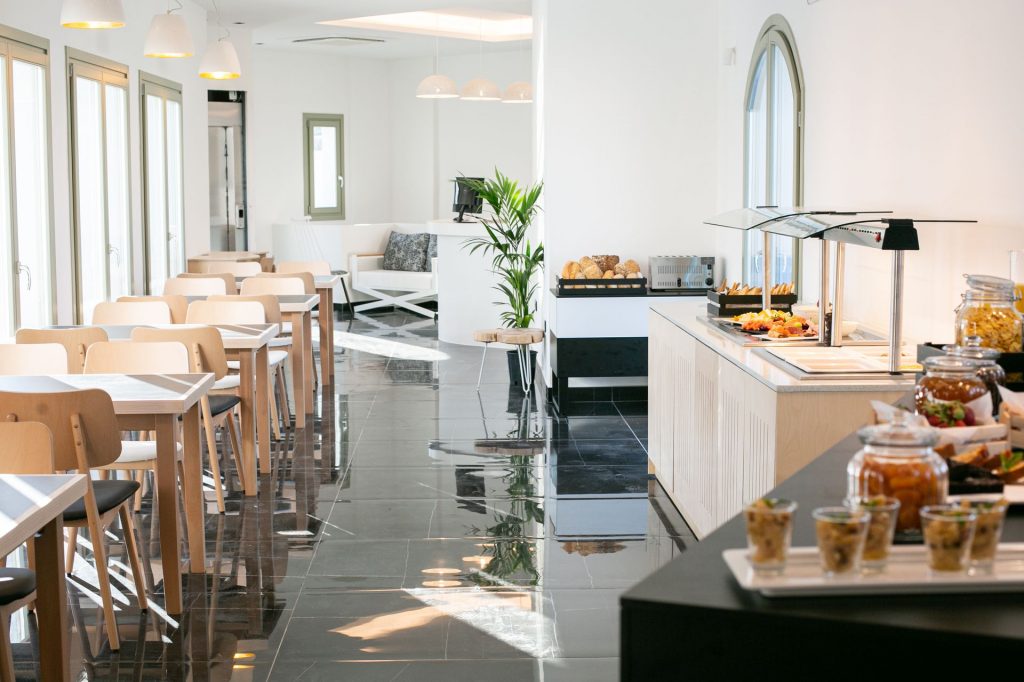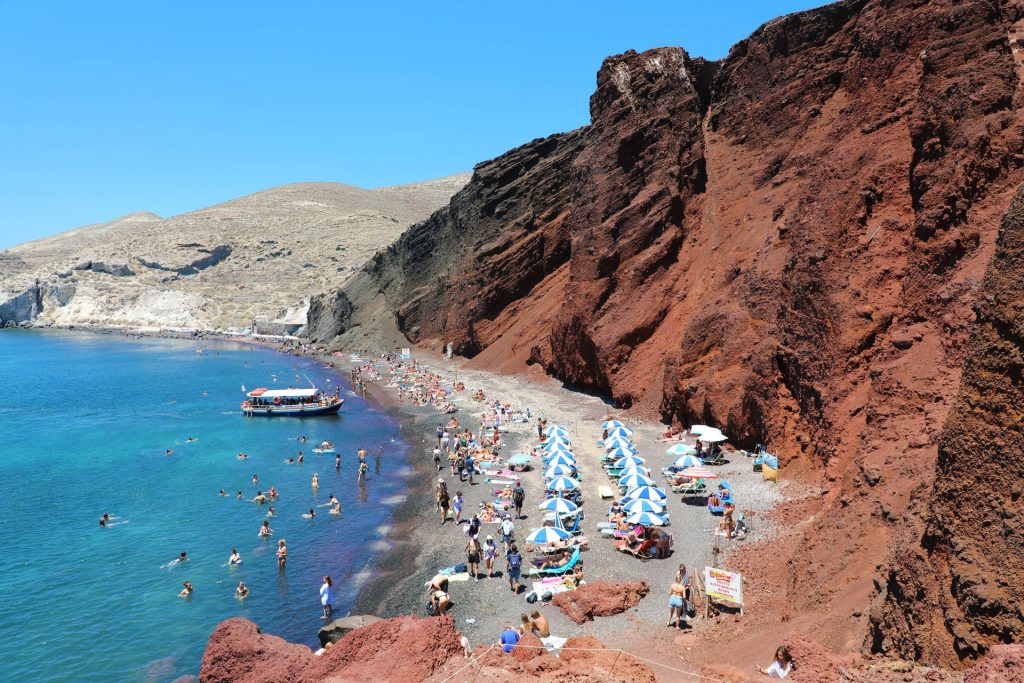 A place to call your home in Santorini…
Kallos Imar, like "Good Morning" in Ancient Greek.
Santorini, like the most iconic Greek island in the Cyclades.
Messaria, like the island neighborhood you never knew you had.
Welcome to Kallos Imar, a 4* brand new, hotel complex in central Santorini. Messaria is tucked away in the heart of the island, offering its guests a different kind of holiday that will reveal the less seen side of Santorini.
Hospitable people, luxurious accommodation with sea or pool views, minimal design, and classically Cycladic architecture. Their commitment at Kallos Imar is to embrace each guest as part of the family and observe every single detail, ensuring everything is up to the high standard they set.
At Kallos Imar, each guest can expect preferential treatment as your most amazing stay experience is a priority. They care not only about your time in this hotel but also about your time beyond. The services include recommendations regarding top things to see and do during your stay in Santorini, as well as insight tips from them, the Santorini locals.
From here, accessibility to anywhere in Santorini is easy. Just 2.6 km from Santorini Airport, 3 km from Fira town, and 15 km from Oia, Kallos Imar Hotel provides a sanctuary away from the hustle and bustle of the Caldera. Guests are invited to become part of a real Santorinian neighborhood and spend moments of leisure, fun, and relaxation. Join the community, make new friends, and become part of the family.
Greece - Santorini - Imerovigli
A picturesque sanctuary perched above the Aegean Sea
A Cliff-Top Retreat in Santorini
Whitewashed abodes, cobalt-domed churches, and black- and red-sand beaches mark the isle of Santorini, an alluring Mediterranean oasis mired in mythology. Believed to be the remaining link to the Lost City of Atlantis, rest in splendor during a luxurious stay in this clifftop retreat in Imerovigli, a village home to Santorini's most emblematic views.
Legend has it Euphemus, son of Poseidon created the island following a dream where he made love to a nymph – and after you enjoy your first sumptuous sunset from the infinity pool overlooking the Caldera, you will experience for yourself how easy it is to become entangled in the spell of Santorini.
Their luxurious rooms, suites, and villa, ranging from 50 to 400 square meters, embrace Santorini's sensual sophistication and seaside splendor, blurring the lines between indoor and outdoor with clean lines and natural materials. All come with expansive indoor-outdoor spaces featuring heated plunge pools opening to sweeping views of Santorini's emblematic caldera.
"It's not a lie – Grace Santorini has the best view of the sunset in Santorini. The service from start to finish was top-notch. Champagne upon arrival while waiting for your room, staff constantly checking on you to see if you need anything, everyone always smiling. The level of hospitality was just mind-boggling. Every staff member goes above and beyond. Everyone communicates with each other. Everyone helps each other."
Your own Island
This is your private retreat.
Idyllically serene and only a few steps from the heart of Oia.
Here is your personal space.
This is your own sunset.
Revel in its endless luxury.
Envision and receive everything you deserve.
Your comfort is their purpose. Your pleasure is their passion. Your own style. Your own view.
Your own experience.
A smile from the beautiful surprise that many of your needs are seen without you even having to state them. It's in their culture to provide you with only the best, which is why these are the key factors that define their philosophy in action:
PHILOXENIA
At the core of our philosophy, there is a fundamental element that Greece is famed for authentic Philoxenia, which translates to loving hospitality. Everything they do and the way they function comes from the heart and the sincere intent to give to you all they can to make your stay exceptional.
ETHOS
The entire concept of breathing life into the success of this hotel, its stakeholders, suppliers, and every stratum of the team is based on a shared ethos – a deeply-rooted sense of integrity, virtue, honour and respect toward guests and every one whom they engage with.
LOVE
Everything is done with soul, creativity, and love. They take personal pleasure from what they do every day; in Greek, they describe that as "Meraki". You will feel it for yourself from the stylishly soothing decor and pampering services to every mouthful from our menus and every kind word from the team. Every day, their goal is to make you feel completely at home and safe to be yourself.
VISION
They are constantly seeking out new ways to enhance your experience. Your needs change with time, and so they never stop looking at how to best incorporate innovation combined with the changing desires of guests, whilst remaining committed to the highest quality on all levels and make sure every detail is seen to.
COMMUNITY
Even though they are an island unto itself, all areas of how the hotel functions are deeply, actively and positively interconnected with every aspect of Santorini's community – from the promotion of the local gastronomy and culture to cooperation with cultural institutions, sports or nature organizations and small producers, all of whom they actively promote, encourage, fund and support. They also encourage knowledge of the island's history, culture and community in all guests.
SUSTAINABILITY
The hotel operates with a consciousness that respectfully upholds, attentively cares for and efficiently strives to improve humanitarian, ecological, historical and cultural aspects of Santorini. They are a living example of how such priorities can successfully and effectively be put into practice via daily environmentally-friendly actions and community-based initiatives.
Greece - Imerovigli - Santorini
Rocabella Santorini was born out of Santorini's whitest whites and bluest blues, a peaceful retreat for travelers who seek a once-in-a-lifetime experience. Literally meaning 'beautiful rock', this resort is located in the picturesque village of Imerovigli, a slice of heaven where you can
enjoy the best sizzling sunset story of your life. The privileged location of the hotel, just far enough away from the bustle of the city, yet strategically positioned within easy reach of the capital, Fira, and the dreamlike village of Oia, makes it ideal for every type of traveler.

The 42 rooms and suites have been carefully designed with minimal decor, simple lines, and ethereal charm to accentuate the Cycladic culture and authentic island life. They beckon you to a storybook world of sea, romance, and dreams.
The mesmerizing view of the splendid Santorinean sunsets, the ambient romance, and the minimal chic design pervade the whole resort and the sun-kissed rooms. Your wanderlust stops here as you immerse yourself in the comforts of this little piece of paradise. Above all, every service which they provide, be it the freshly cut flowers or the daily maid service, makes our guests feel spoilt and pampered. They do understand the meaning of 'hospitality' as it comes from the Greek word 'Filoxenia', with 'filo' meaning 'love' and 'xenos' from the word 'foreigner'.
Filoxenia is definitely their favorite word, which is why we want to share Rocabella Santorini with you.
Indulge in the luxury and sophistication of a top-rated two-bedroom suite featuring spacious comfort and style in harmony with the outstanding excellence of Cycladic décor and cherish moments of bliss in an expansive veranda with a private Jacuzzi overlooking the volcanic cliff of caldera.
Weave one of the best gustatory tales of your life at the resident restaurant, 'Axinos', which
means 'Sea Urchin', one of the fruits of the sea. Dishes combining the purest local products and
classic culinary values of the Aegean create flavors that will tantalize your palate. The menu is
Greek cuisine with a contemporary twist and imaginative touches, redefining typical Cycladic
favorites that await to be rediscovered by lovers of imaginative cuisine. This delectable dining
experience can only be enhanced by the stunning view of the caldera and the serene Santorinean sea.
Greece - Kamari - Santorini
AN OASIS OF RELAXATION
Gracefully lying below the hill of Ancient Thera and a breath away from the famous Kamari beach, Santorini Kastelli Resort is a peaceful luxury retreat that combines an idyllic and convenient location, with upscale accommodation, state-of-the-art facilities, and impeccable services. Following a Cycladic village-like contour, this 5-star resort has it all: four swimming pools, a poolside restaurant and bar, spa facilities, a fitness center, a floodlit tennis court, a library, and a conference hall.
Lying on a convenient spot, at the picturesque Kamari area, Kastelli Resort is but a few steps from the famous black-sanded Kamari beach, offering you, at the same time, smooth access to all of the major attractions of the island. The lively Kamari has everything you may need for carefree holidays, from mini markets and bakeries to cafes, taverns, and restaurants. Following the winding path that you will easily find at Kamari, you will reach the site of Ancient Thera, where you may admire the ruins and relics of a city that dates back to the 9th century BC. As to Santorini's airport, it is situated only 6 km from this premises, and Athinios port, along with the capital town, Fira, are just 10 km away!
Offering the ultimate pool escape in Santorini, Kastelli Resort features four pools for you—a main outdoor large swimming pool along with three smaller ones, all of them equally indulging.
THE BIRTH OF CANAVES OIA
The story of Canaves Oia begins in 1985 when the Chaidemenos family were among the first families to introduce tourism to the fishing village of Oia in Santorini.
It was then that Yiannis and Anna Chaidemenos transformed 17th-century caves, once used to store wine, into designer-chic luxury hotel rooms.
The birth of the Canaves Oia brand led to the hotel's all-white minimalistic concept, which redefined the meaning of luxury accommodation in Santorini.
Yiannis and Anna started with 2 caves only and eventually, the hotel expanded to 18 hotel rooms to become the ideal hideaway for romantic couples and newlyweds.
PERIVOLAS LIFESTYLE HOUSES with one of the world's most beautiful pools.
Perivolas is the ultimate in laidback luxury. Poised on the cliff high above the Aegean, this intimate escape is designed as a place where you can let the rest of the world slip away.
Built amphitheatrically, Perivolas' secluded location combines expansive views with the luxury of absolute tranquillity. It's just a short walk from Oia, the most beautiful village on Greece's most romantic and dramatic island, Santorini. Terraced gardens spill down the slope to the infinity pool, which seems to slip off the rim of the cliff and bleed into the blue horizon. Only the occasional toll of church bells or the whistle of a fishing boat far below breaks the meditative silence. It is easy to linger here all day, watching the changing light until the sun settles into the sea.
In the 19th century the Psychas family, like many other Santorini families, developed through trade in the noted wines of the island a connection with Odessa on the Black Sea.  Manos Psychas, a sea captain, was born in Odessa, but when his job as captain of the Greek navy brought him to Santorini in the late 1950s he determined to renew his ties with his family's island. In 1969 Manos and his wife Nadia purchased a piece of the cliff with cave dwellings and stables in the Perivolas area of the clifftop village of Oia. They had the vision of creating an idyllic retreat on their beloved island.  Faithful to the tradition of Santorini's unique architecture they have restored a group of 300 year-old caves that were once the homes of local fishermen and farmers.  With the help of native craftsmen and using the local stone, this historical setting has been gradually transformed into a luxurious complex of 20 very individual suites. This was the beginning of Perivolas.
Originally designed as a family home, Perivolas still feels like a private residence. Intimate in scale and atmosphere, every house is different. Built by native craftsmen using local materials, interiors embody Cycladic style, with their organic forms and smooth surfaces. Breezy rooms are naturally cooled by sculpted stone walls and vaulted ceilings pierced by skylights. Beds are built into snug alcoves, adorned with a posy of hand-picked flowers. Niches and archways are scooped out of whitewashed walls, low-slung sofas offset by hand-woven rugs and cushions in vivid Fuschia and lilac. Timeless and quietly glamorous, interiors are pared down so that nothing distracts from the show-stopping views and nothing disturbs the intensity of the stillness. Nothing is superfluous, yet nothing has been overlooked. There are no TVs and DVDs – this is a place to switch off. A place to read, recharge, relax; sleep, rest, and dream.
The enchanting island of Santorini will be a memory forever
Hotel Village Mathios offers high-quality hotels, restaurants, and leisure facilities. Relaxation and comfort are just as important as rest, great service, and the pleasure of good food. In addition to the beautiful, large outdoor swimming pool why not treat yourself to pure relaxation from our wide range of spa packages at affordable prices!
A MYKONOS LUXURY HOTEL WITH A GRAND TRADITION
Mykonos Grand Luxury Hotel & Resort is a five star beachfront Mykonos luxury hotel, Greece. Mykonos Grand offers the perfect setting for rare moments of romance, luxury, and personalized service. One of the small luxury hotels in Greece.
In harmony with its awesome setting rises Mykonos Grand luxury hotel & resort. A luxury beach resort inspirationally conceived to capture the essence of surrounding natural wonders and host the most welcome and appreciated guests with world-class luxury.
HOTEL IN AYIOS YIANNIS, MYKONOS THE SUNNIEST AREA IN THE WORLD.
The world itself brings a treasure of valuable elements into our mind – azure beaches, the charm of landscape, the harmony of the architecture, the unique Aegean light, and the kind hospitality of its inhabitants. Mykonos is found opposite the sacred island of Delos, one of the sunniest areas in the world. Due to the increased sunshine, it is a place of high concentration of cosmic energy and according to Mythology god Apollo was born there.
This luxurious, boutique resort is located on the beach of Ayios Yiannis, (where the movie Shirley Valentine was filmed), just 4,2 km from Mykonos Town with the shopping areas, the world knew nightlife and restaurants as Nobu – Matsuhisa, 4,5 km from the airport, 4,6 km from the port, 4,2 km from Psarou and the Nammos restaurant, 6 km from Paradise Beach. Just 50m from the hotel entrance you can take the local transportation for Mykonos Town or to Ornos Beach.
In a league of its own for the true connoisseurs of Mykonos
The Ambassador combines the art de Vivre of a Relais & Chateaux with the privilege of one family's island roots, capturing not just the inimitable lifestyle luxury that brings the world to Mykonos, but the very essence of our island. For those who can read between the lines, we are not just a hotel…
The tranquillity of being away from the island's party pulse changes in a moment with a short stroll across to Psarou, with its beau monde and superyachts at anchor, or to Paranga's lively small tavernas frequented by the locals. Our private launch can take you to the mysterious ruins of ancient Delos or Rhenia's hidden coves, and even the vibrant Chora, with its whitewashed maze of boutiques and bars, is only minutes away by car.
Built in sympathy with the slope, mere steps from the fine sands of Platis Gialos, our architecture blends contemporary chic with tones and textures borrowed from the local vernacular. Interiors that embody the clean line and cool sophistication of high design flow into the quiet comfort of luxurious bedrooms and suites, or spill out onto the spectacular pool deck, all without ever breaking the spell of magnificent Aegean views.
There is an incomparable sense of ease as light-filled mornings drift effortlessly into perfect poolside afternoons at our terrace that is a world unto itself, with casual lunches and ice-cool cocktails served from George's Bar. And as shadows lean towards evenings, guests mingle over sunset aperitifs, before dining in the candle-lit glow of Efisa, one of the island's top tables.
From the attentive therapists at our Thalasso Spa to our discreet housekeepers, friendly waiters, resourceful concierge, and the ever-present director, our staff, known for their courtesy and personal touch, are all accomplices in your great escape.
The Myconian Ambassador is situated just above Platis Gialos beach on the south coast of the island, renowned for its clear water and fine sands. The famous beaches of cosmopolitan Psarou, picturesque Paranga, and Agia Anna are within easy walking distance.
Grace Mykonos is a boutique hotel, ideally located above the sandy and protected beach of Agios Stefanos, will be the ultimate hospitality experience!
Grace Mykonos offers guests a 24hr reception and concierge services. Room service provides you with an excellent selection of Mediterranean dishes. Guests can also enjoy a selection of pillows from the Pillow menu to secure maximum sleeping comfort. Grace restaurant will complete your experience, either you select your breakfast in bed or lunch by the pool or a romantic sunset cocktail. 
Εnjoy a leisurely lap in the sun-drenched pool, or the ultimate basking.
Grace Mykonos consists of 32 rooms and suites. Traditional architecture and modern amenities come together for some of the most elegant accommodations in Mykonos. A bright and airy aesthetic defined by cooling whites and sea-hued blues invokes the island's unique sense of place, while private outdoor terraces and balconies let you take in the sublime seaside surroundings.
Suites
Seaside splendor and unrivaled space come together in these luxurious suites, which boast up to 84 sq.m. of indoor-outdoor space. All come with that special something, whether it's a heated plunge pool, private elevator, or steam room.
Junior Suites
Modern sophistication meets airy Greek island style with these roomy suites that feature up to 50 sq.m. of indoor-outdoor space, including a large private terrace or balcony with westward views of the sea and Mykonos town. Some come with the added benefit of a heated plunge pool.
Deluxe Rooms
Up to 47 sq.m. of indoor-outdoor space to spread out, with a private terrace or balcony oriented westward for gorgeous sunset views over Delos Island. Some deluxe rooms come with the added benefit of a heated plunge pool.
Island chic luxury reinvented
sizzling panoramic vistas
Ideally positioned across the Marina, 2 km from Mykonos Town, the brand new 5* Mykonos Riviera Hotel & Spa, a member of the Small Luxury Hotels of the World, offers sizzling panoramic vistas, complete indulgence, and personalized services, setting the stage for rare, immersive and distinctly unforgettable lifetime experiences.
Dazzling white houses and red-roofed churches. Turquoise waters and blue skies. A sparkling Mediterranean sun. Golden sandy beaches. Strong winds blowing from the north, liberating mind and soul. These are the unique traits of the sensational island that is Mykonos: The Grand Dame of the Cyclades.
Exuding cosmopolitan flair from its every comer, this sun-polished Aegean gem, offers an upscale lifestyle, bespoke services and world-class establishments.
Mykonos Riviera Hotel & Spa, the brand new 5 star luxury Hotel in Tourlos Marina, next to Mykonos town, bedazzled with its ultra-chic nautical-theme, scintillating sunset views, luxurious accommodation, unrivaled services, and avant-garde amenities.
To address different preferences and needs, Mykonos Riviera Hotel & Spa sports a wide range of lavishly appointed rooms, suites, and maisonettes offering utmost privacy and a world of comfort. The Mykonos Riviera collection furthermore boasts the brand new, signature, expansive 8 bedroom villa with a pool in Mykonos tailored to meet the highest expectations.
Living in the lap of luxury is what you get throughout the Mykonos Riviera impeccably designed premises. Graciously cascading into the horizon, its 200 square meter infinity pool with fiber optic lighting is designed for unsurpassed moments of relaxation. A Luxury Spa with Traditional Hammam, the Oqua Spa, offers an array of soothing signature treatments, whilst boasts an indoor heated thalassotherapy pool, a traditional Hammam, and a fully equipped gym. This luxurious Mykonos hotel also features two restaurants which are pure foodies paradise, delivering unique culinary experiences, with their delicious Greek, Mediterranean, and Lebanese-inspired delicacies.
Hugging the cliff, unfolding in an area of 2 acres, Mykonos Riviera 5* Hotel & Spa is amphitheatrically built directly across the marina, merely a few minutes away from the beautiful beach of Agios Stefanos, and a lovely 2 km stroll from the scenic, yet stunning Hora (Mykonos Town the island's world-famous bustling capital). Island chic luxury is indeed reinvented at the Mykonos Riviera Hotel & Spa; the sparkling new addition to the island of the winds.
A SEA VIEW EXPERIENCE NEAR MYKONOS TOWN
The Mykonos town hotel is located just a few hundred meters south of Mykonos town, above Megali Ammos beach. The hotel features 32 sea view suites of the Aegean— some with private pools, balconies, and verandas. The design of this 5-star luxury boutique hotel includes a sea-facing infinity pool, sunset lounge, and Spa with two spacious treatment suites.
Upscale food and cocktails are enjoyed, onsite at the Gastronomy Project by Ntinos Fotinakis gourmet restaurant and all-day Pool Lounge bar overlooking the bay, as well as the renowned seaside bar-restaurant Beefbar Mykonos on Agios Ioannis beach focusing on premium meats.
Start your day with a hearty breakfast, enjoy a cocktail at the Pool Lounge bar, indulge in a delicious dinner at Gastronomy Project by Ntinos Fotinakis, the most sought-after reservations-only Mykonos restaurant, or simply grab a quick bite by the pool reclined or seated at the bar. No matter what you're craving, they have something for you.
Warm neutral colors, white washed walls, fine linen, wood finishes, smart home automation system and the Aegean sea view create a relaxed setting, in each of the 32 guest sea-view suites.
A range of services and amenities are at your disposal to enjoy and make your stay relaxing and as comfortable as possible. Spoil yourself with the wide range of customized treatments at the soothing Valmont Spa Mykonos, soak up the sun by the infinity pool, explore the island with the transfer services, or discuss tailored experiences with our concierge.
Experience the Boheme Luxury
Experience Mykonos in a way you will never forget! Just a stone's throw from the unique Mykonian Windmills and the popular Little Venice, Bohème is a Mykonos Town Luxury Hotel, built according to the traditional Cycladic architecture standards, with luxurious suites, some of them with outdoor Jacuzzi and Bohemian facilities.
With impeccable service and contemporary, naturally modern style, the retreat offers high levels of hospitality coupled with untouched privacy. The hotel's team offers personalized concierge services on car rental, excursions, reservations, transfers, massage sessions, and spa treatments, satisfying the variety of every personal request…
The Superior Sea View Suite of the Boheme Mykonos Hotel is an air-conditioned double bedded suite with Rustic furniture & features, a living area with stylish design & layout, a bathroom with shower, a grand private terrace with a dining area & sun loungers, with panoramic views of the sea & sunset. Facilities include free Wi-Fi, in-room bar, espresso machine, electronic safe box, electronic card operating system, Bohemian luxury amenities, hairdryer, satellite LCD TV, iPhone dock station, bathrobes & slippers.
At Boheme, their philosophy is that nature makes everything better in life. Make time for a mindful morning and benefit from a thoughtfully designed healthy outdoor workout while enjoying unobstructed sea views within spectacular scenery. Connect with nature and yourself by practicing and experiencing open-air yoga in the beauty and peacefulness of the Mykonian garden and wooden deck, while you let the natural surroundings replenish your soul.
Embark on a journey that will leave you feeling completely revamped and rejuvenated.
Walk into the tranquil ambiance of the open-plan massage area set in an idyllic location that is designed to bring balance and tranquillity to each and every individual. Surrender your mind and body to the healing hands of therapists that will treat you with natural spa healing and holistic therapies, while taking in the views of the glistening sea under the natural shade of the red awnings, all within the beautifully landscaped garden.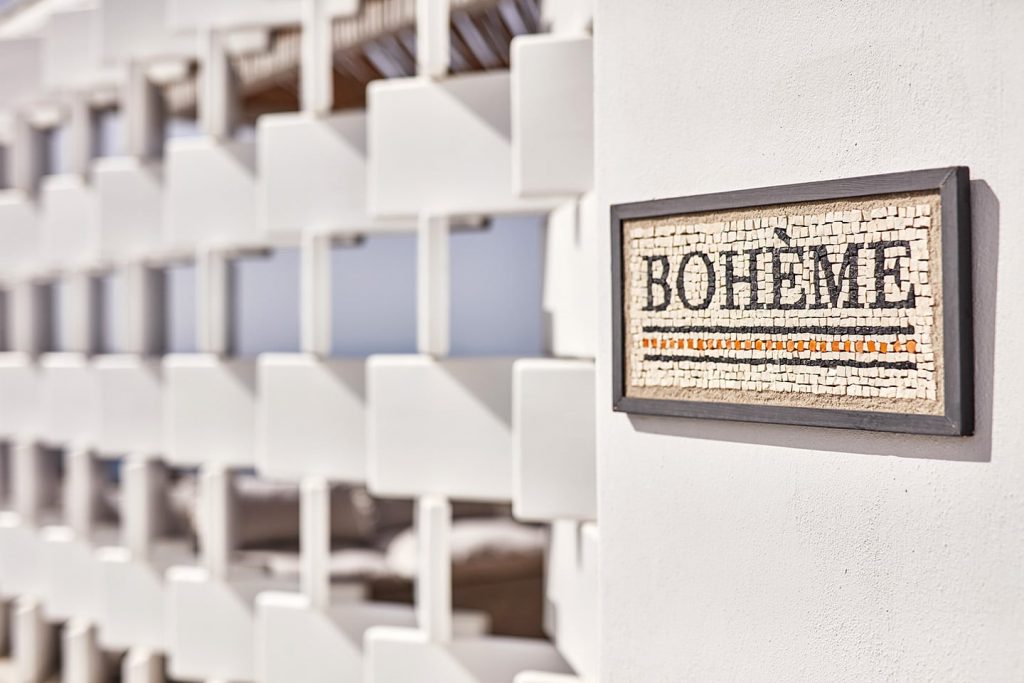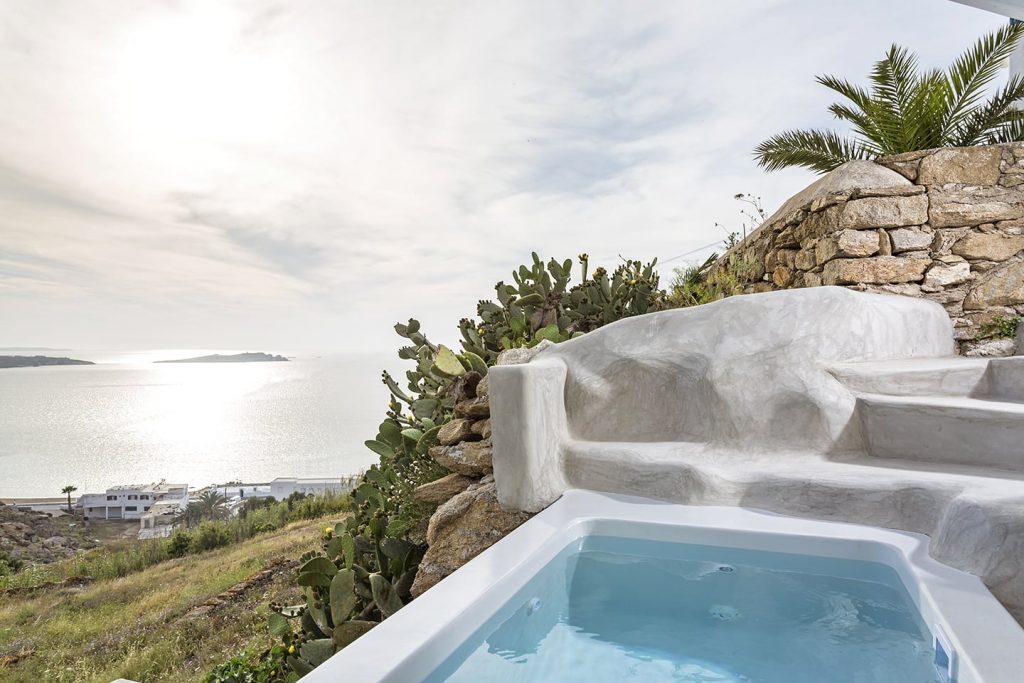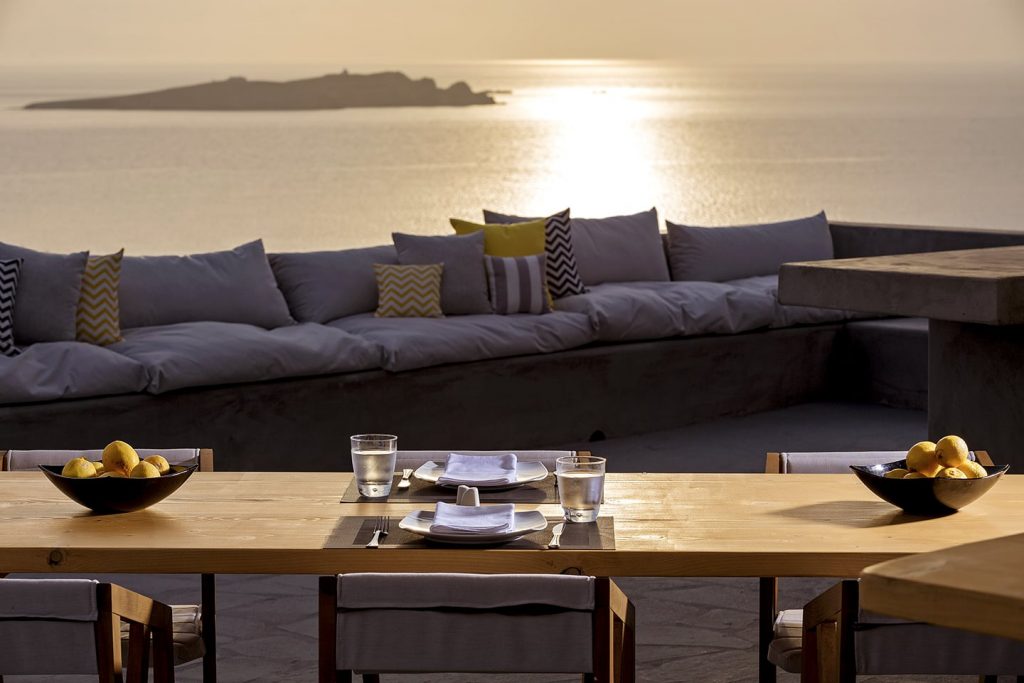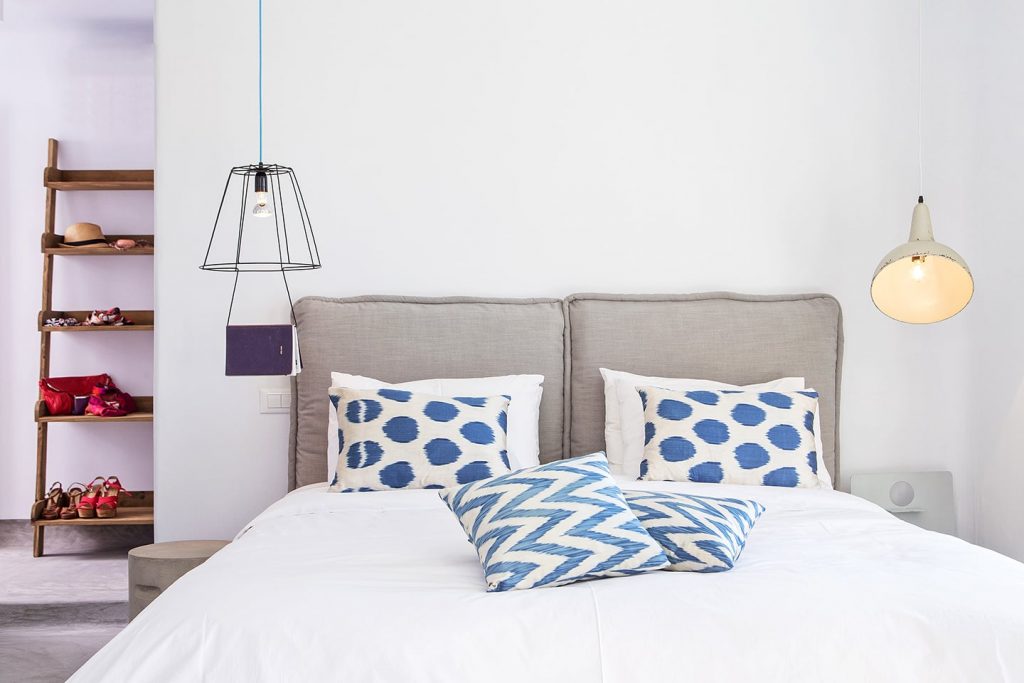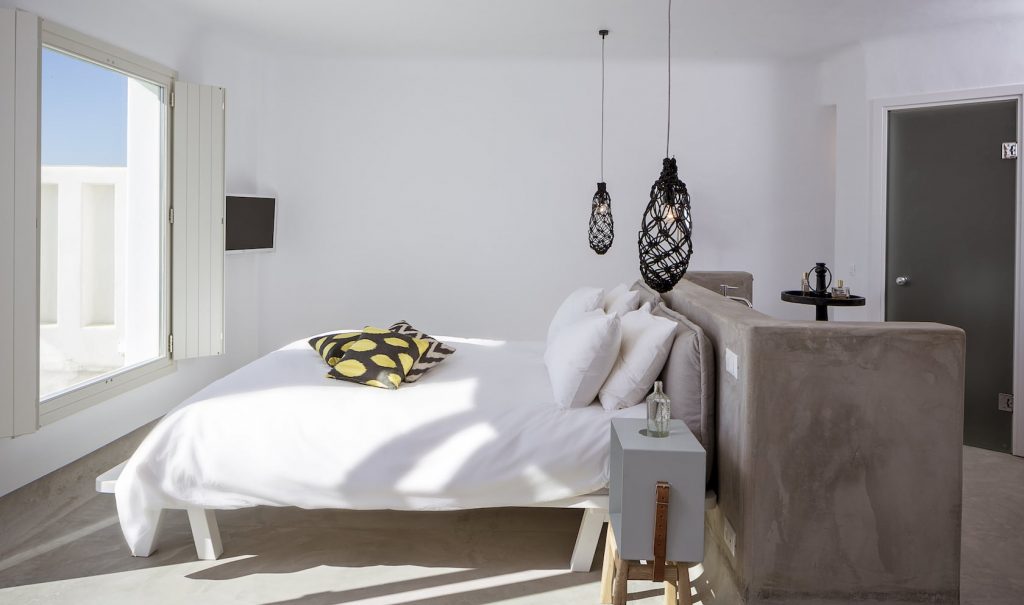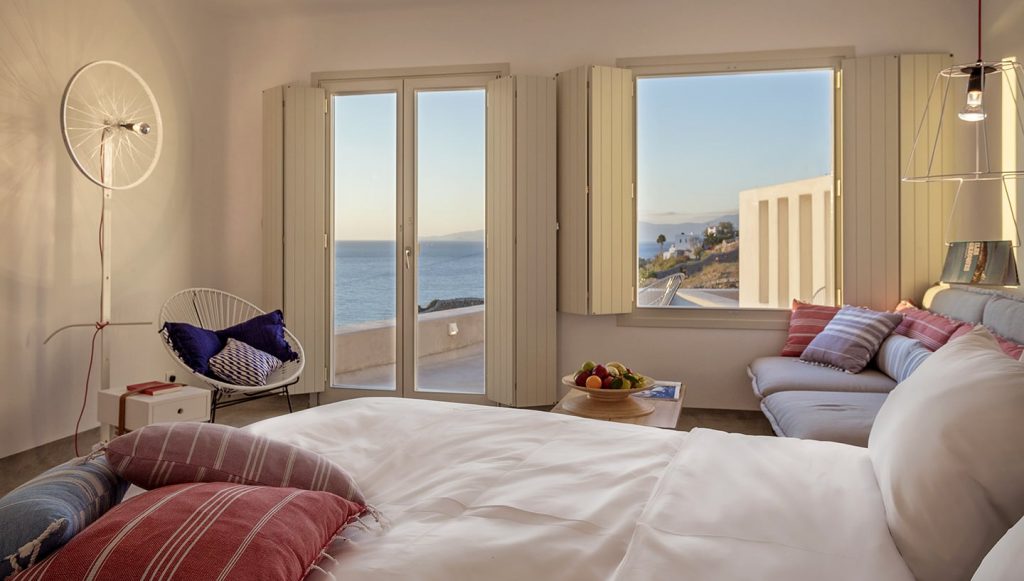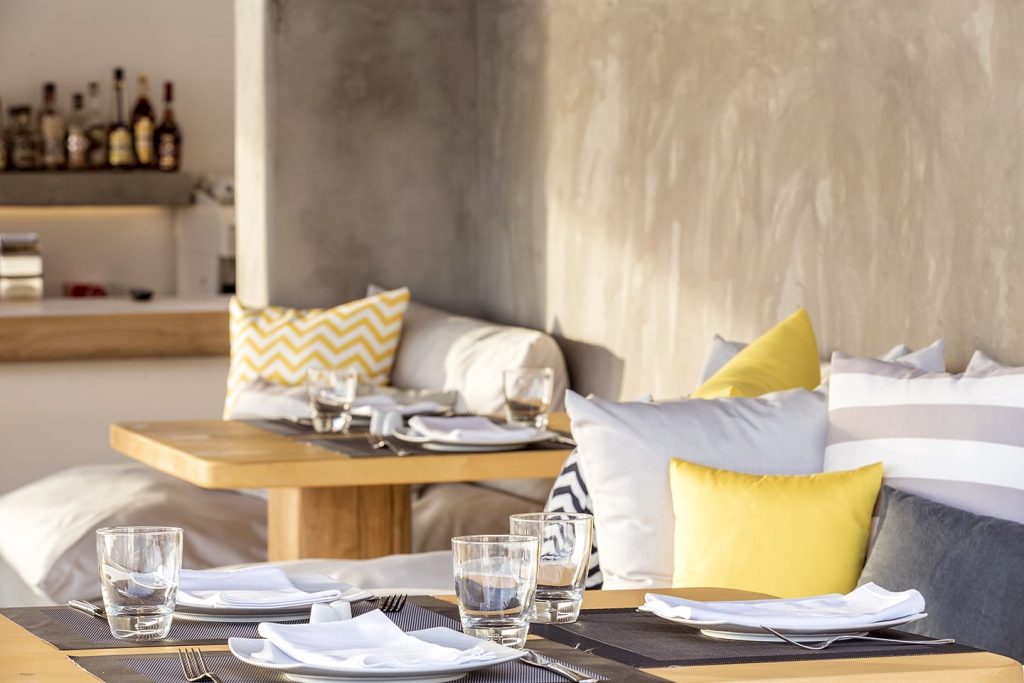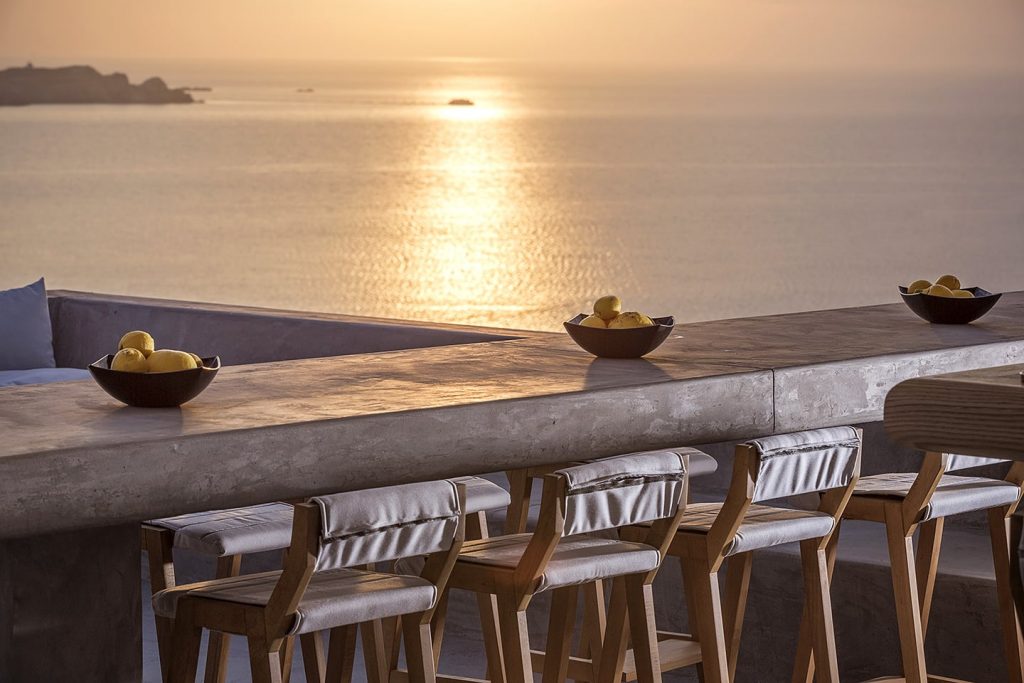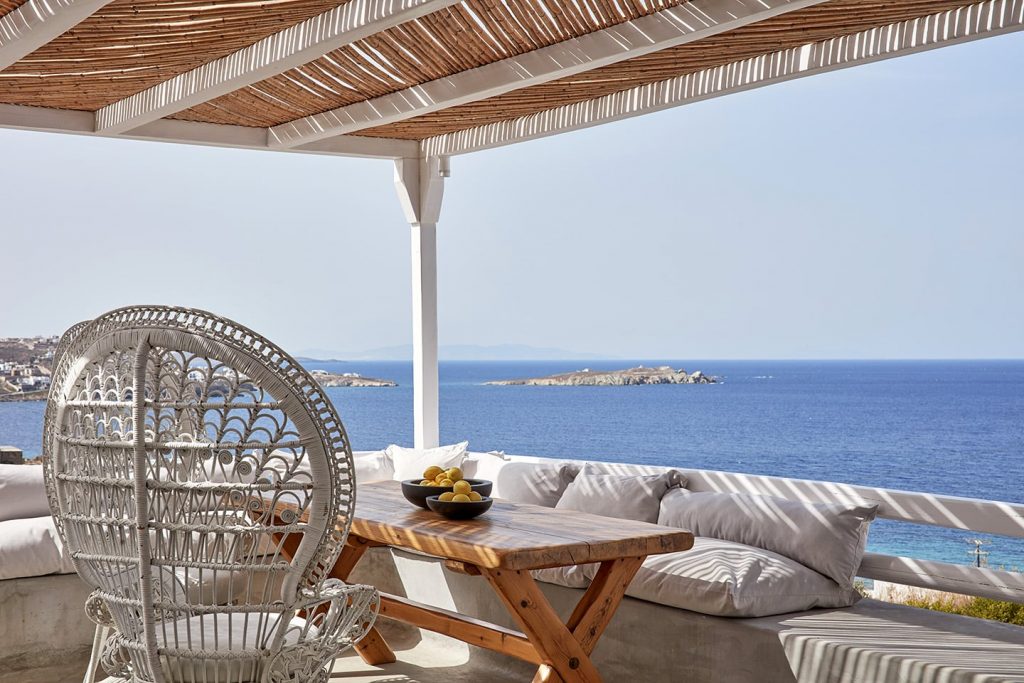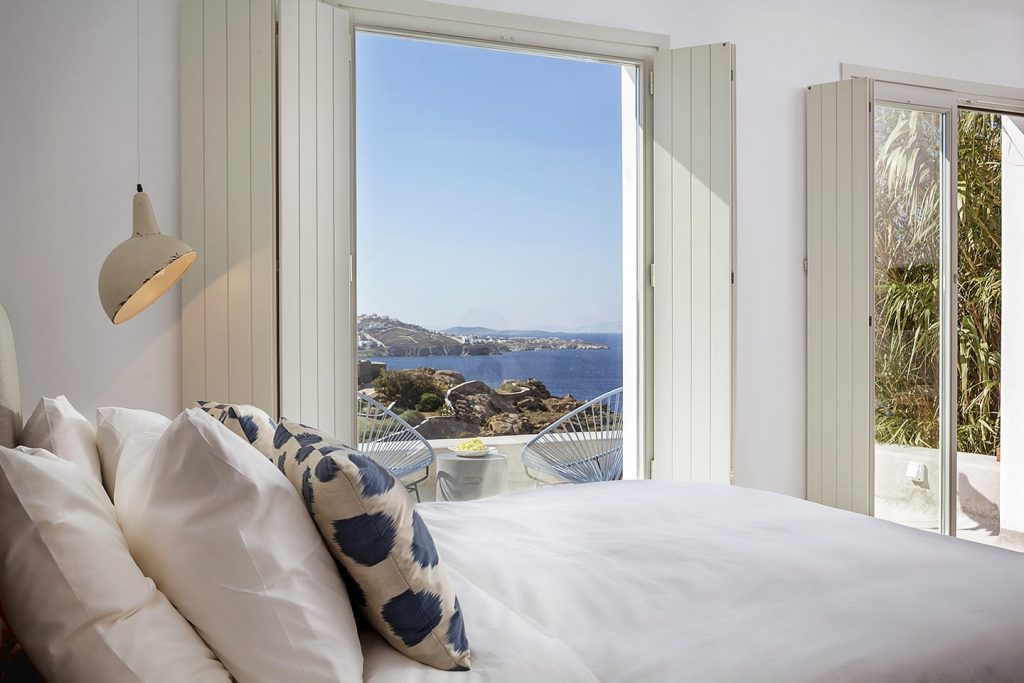 A bohemian paradise with a Mykonian soul
Imagine a place serene and private, surrounded by the blues of the Aegean sea and the seductively barren landscape of the Cyclades. A hideaway of spiritual liberation and barefoot luxury.
Imagine NOMAD. And now live it.
Celebrating the liberating living outdoors, the brand-new NOMAD is a bohemian paradise of 14 suites, a private place designed for discerning travelers with a nomad's heart, lying just 200 meters from Kalo Livadi, one of the most beautiful beaches of the Aegean Sea.
Nature is there, embracing like a healer, enhancing the overall calming effect of relaxation. Deriving from the water element surrounding your suite, the smooth merging of indoors and outdoors spaces, the feeling of earth and sand between your toes while walking barefoot in your private courtyard.
In NOMAD all is thought and customized to guide guests through their own unique Mykonian journey with every detail connecting like a piece of a puzzle to a liberating experience. A place to experience the Old Mykonos while spending days and nights in total privacy. A sanctuary, unaffected by the outside world. A place to stay in love with, long after you leave.
Rooms are a relaxing oasis of spacious indoors of 60-80 m2 that merge with the outdoor spaces of 90-110 m2, with private terraces pool and outdoor walk-in shower.
Bedrooms are large with king-size beds and step-in bathtubs.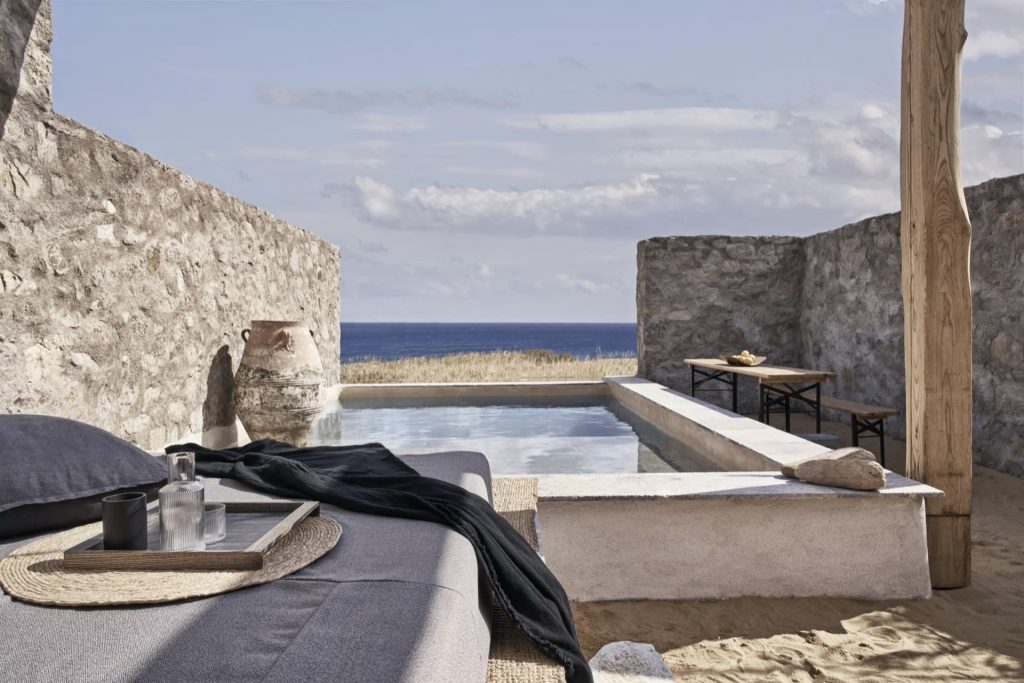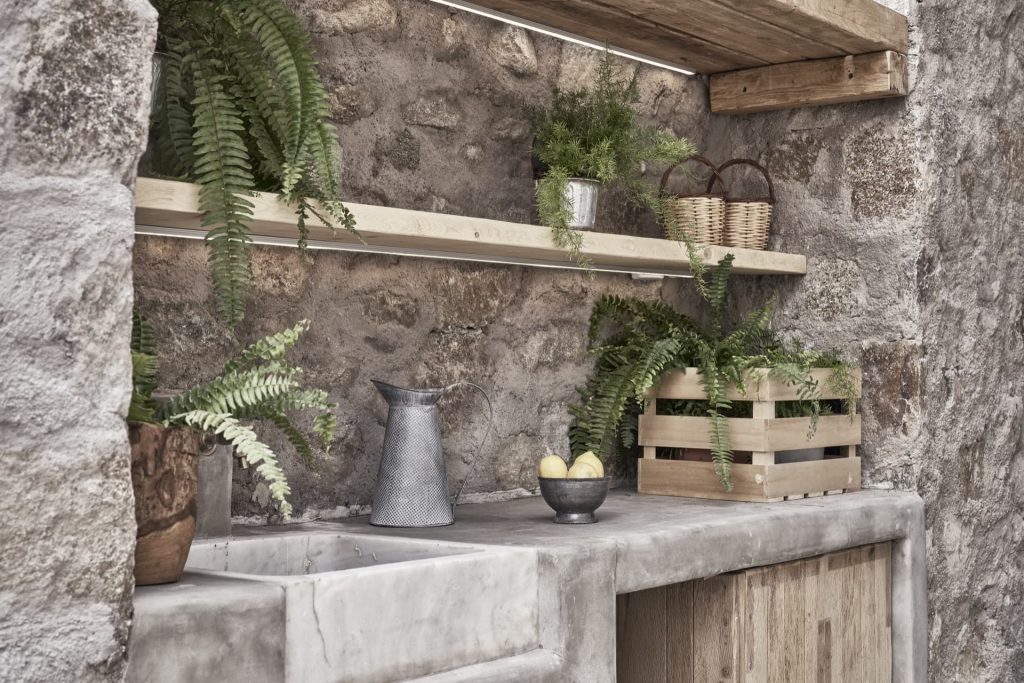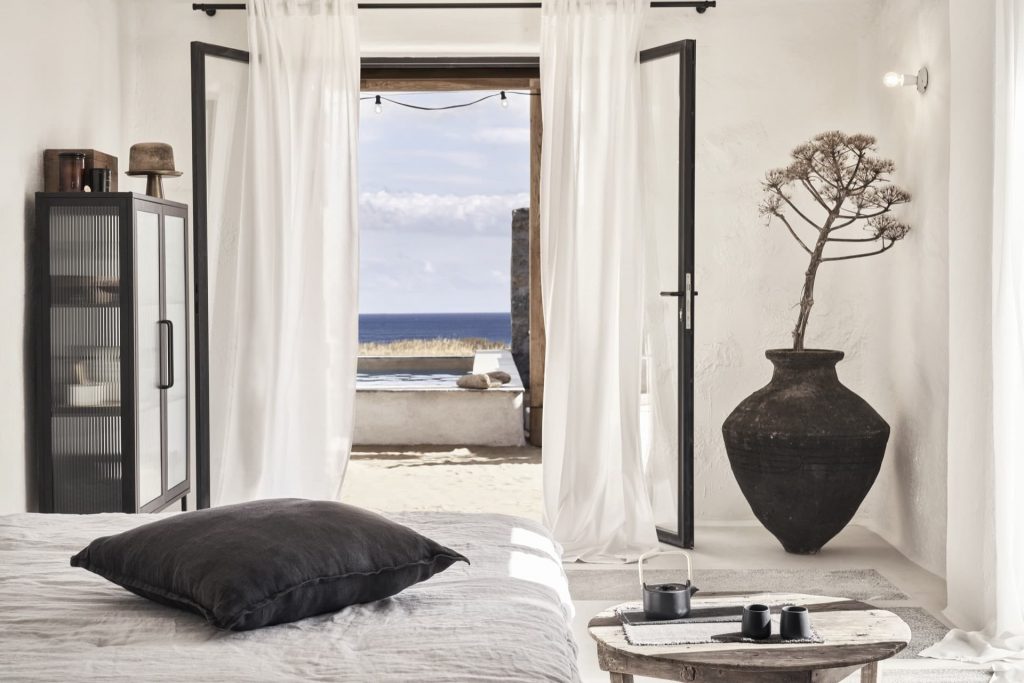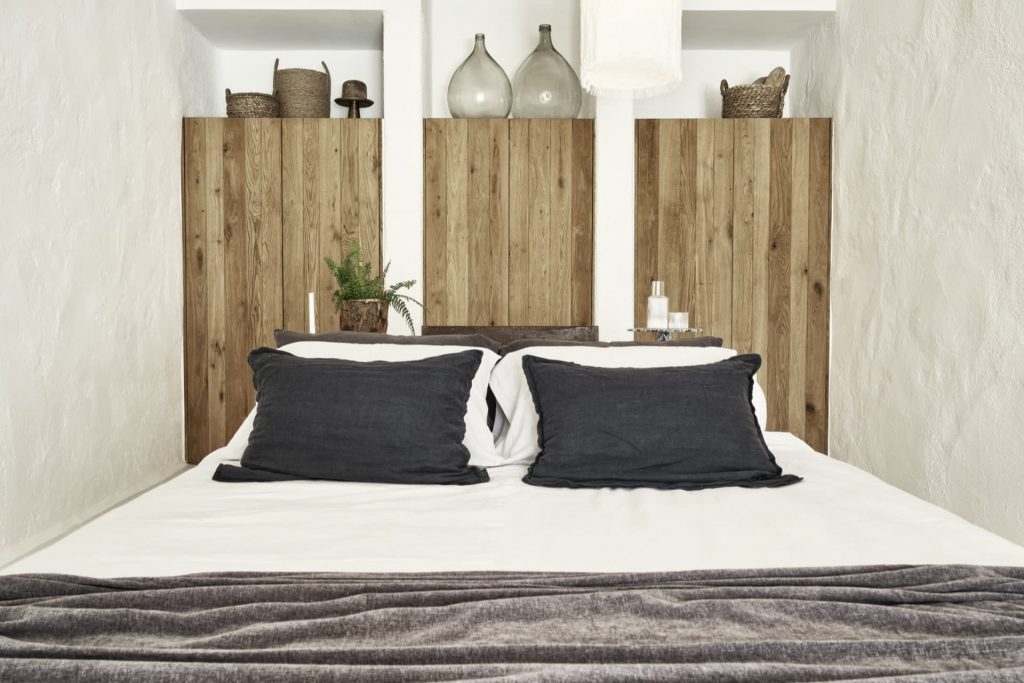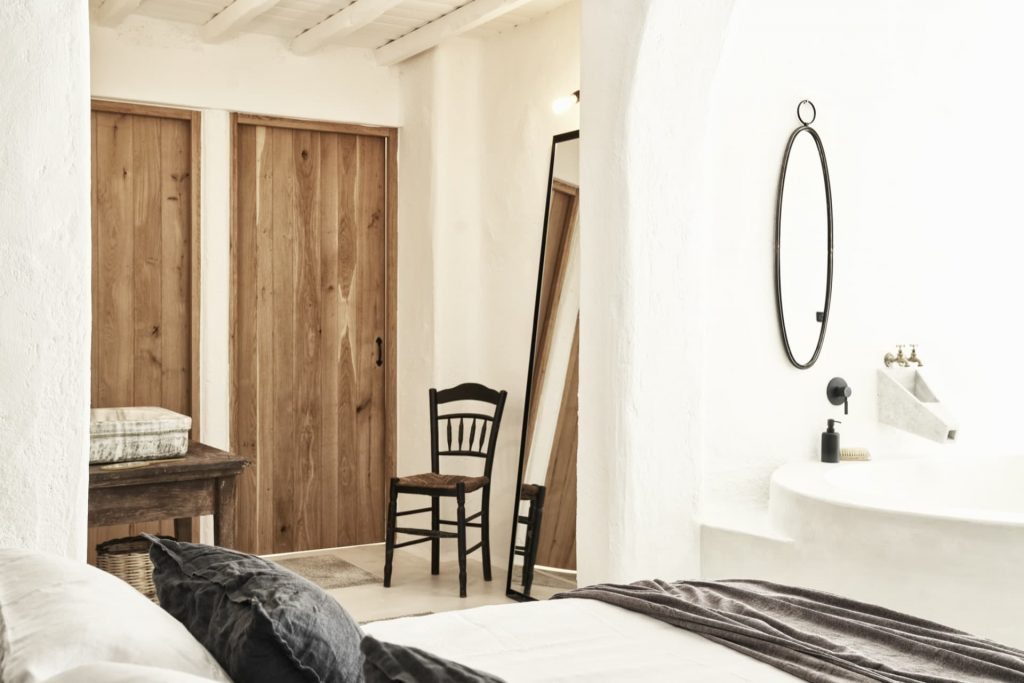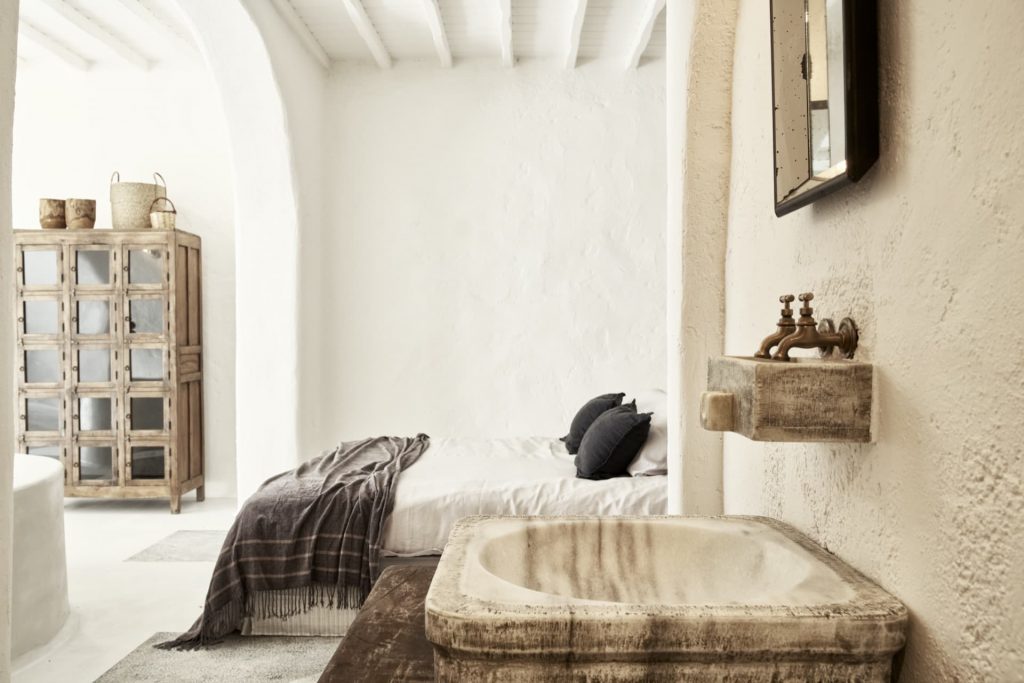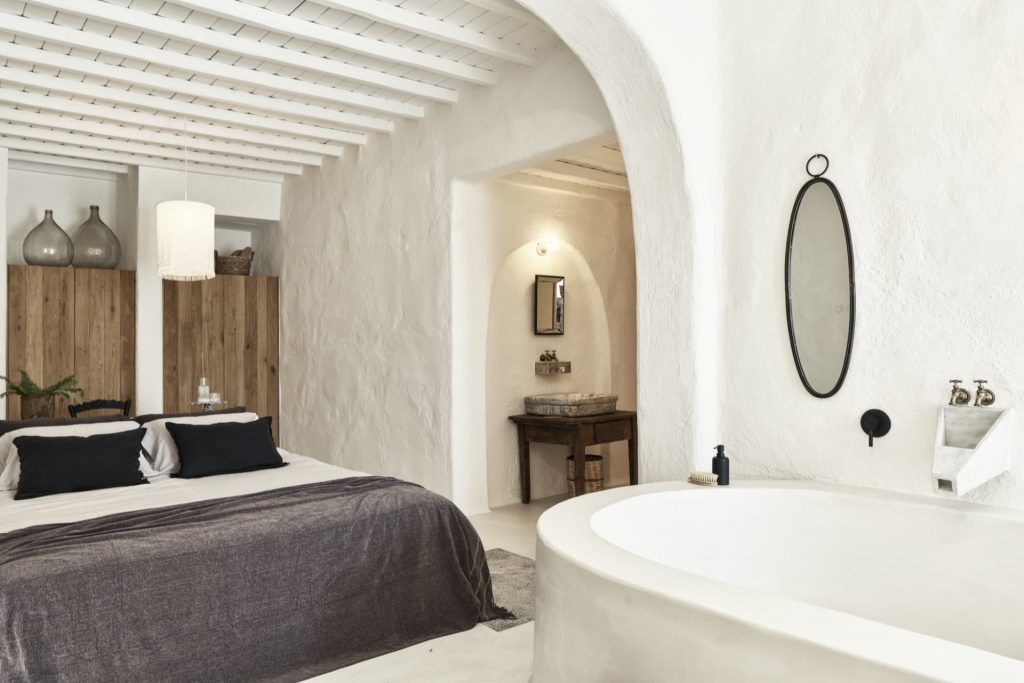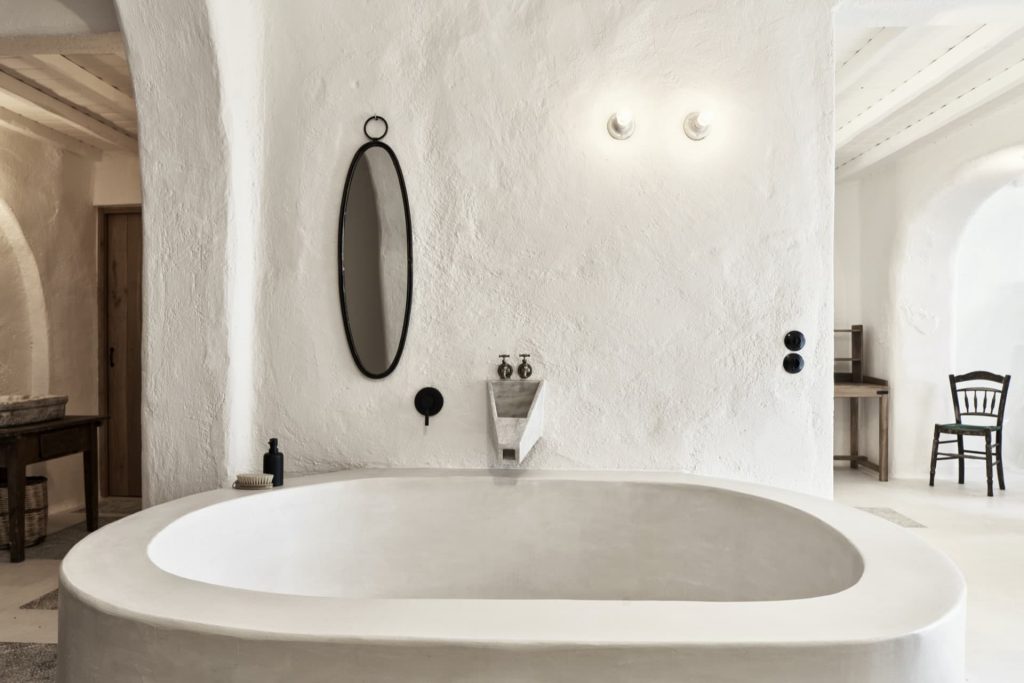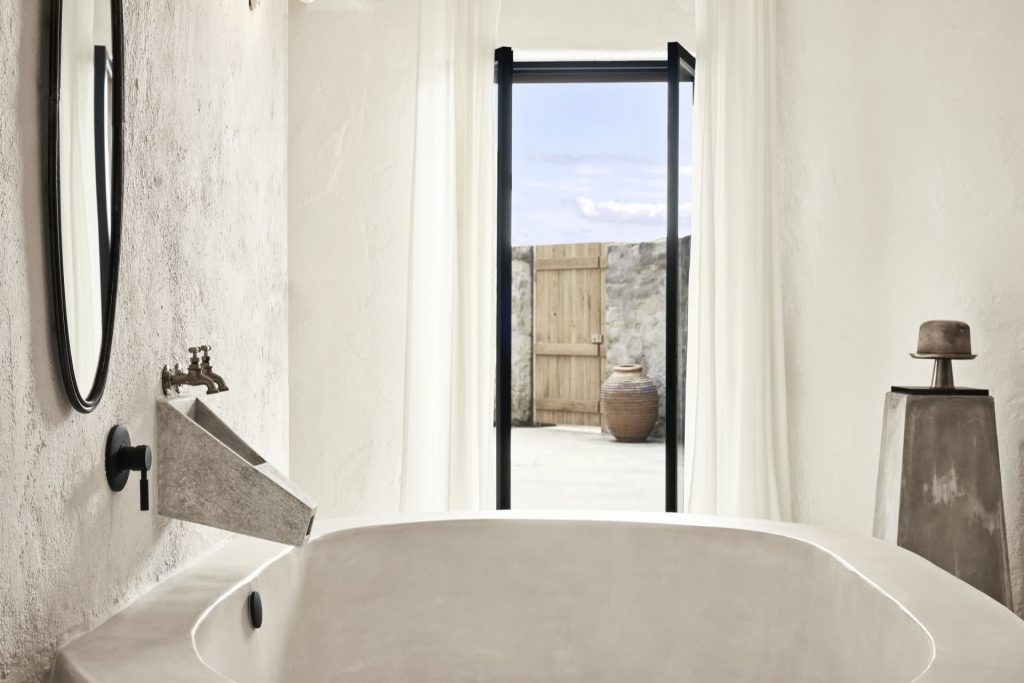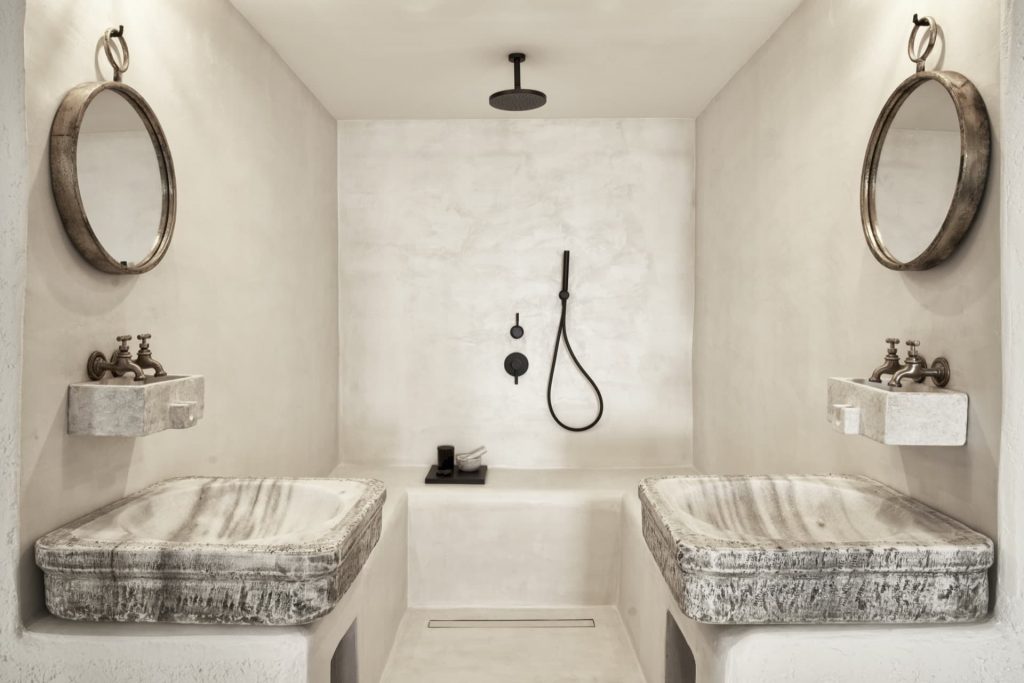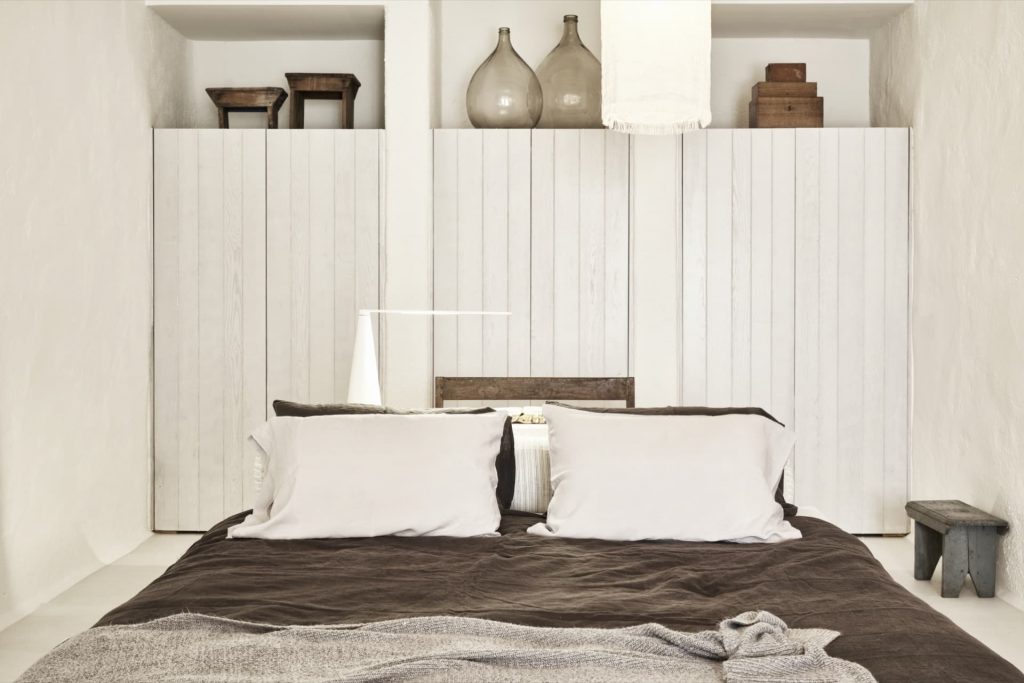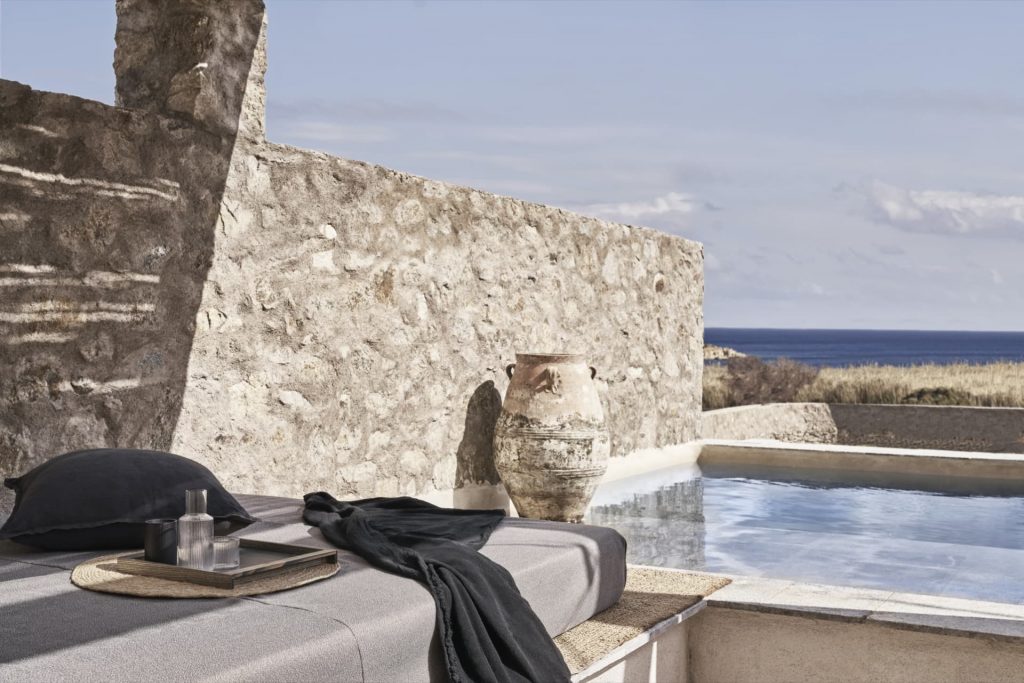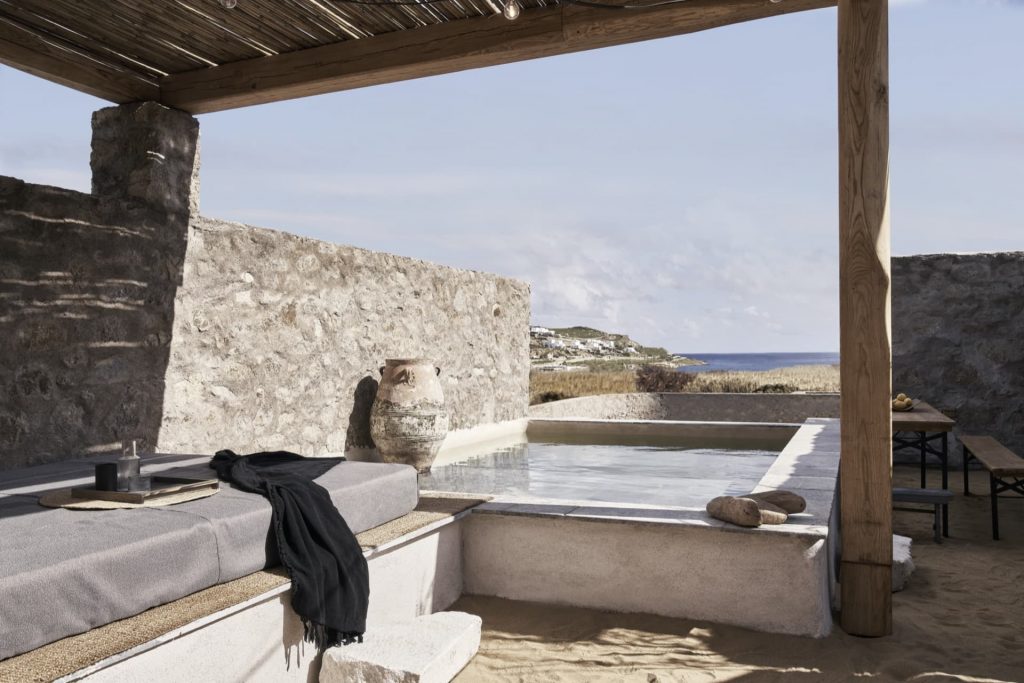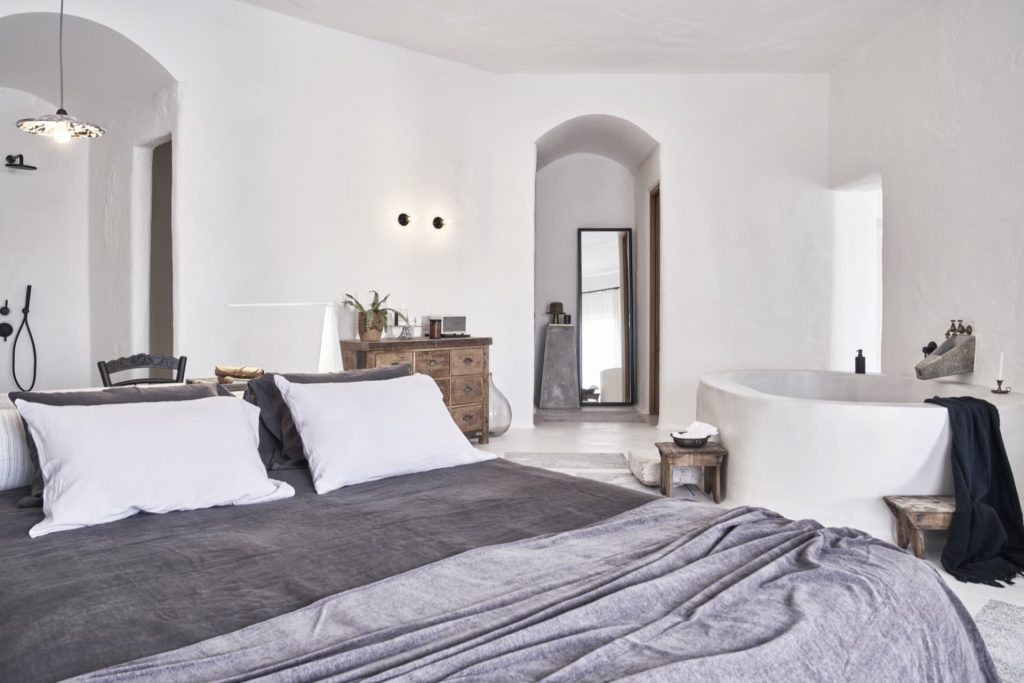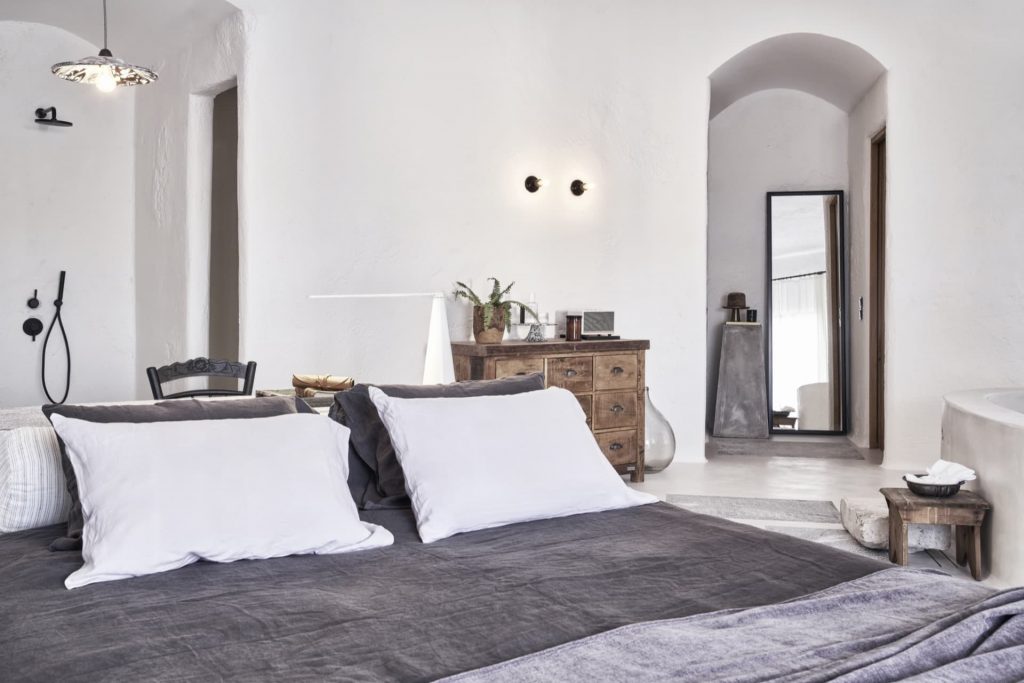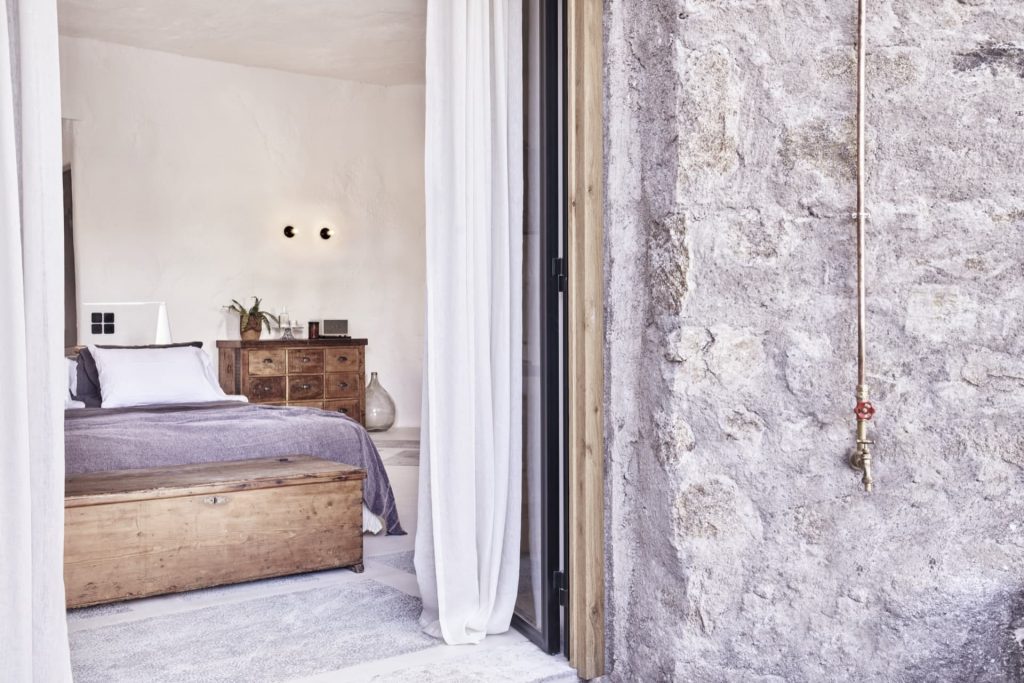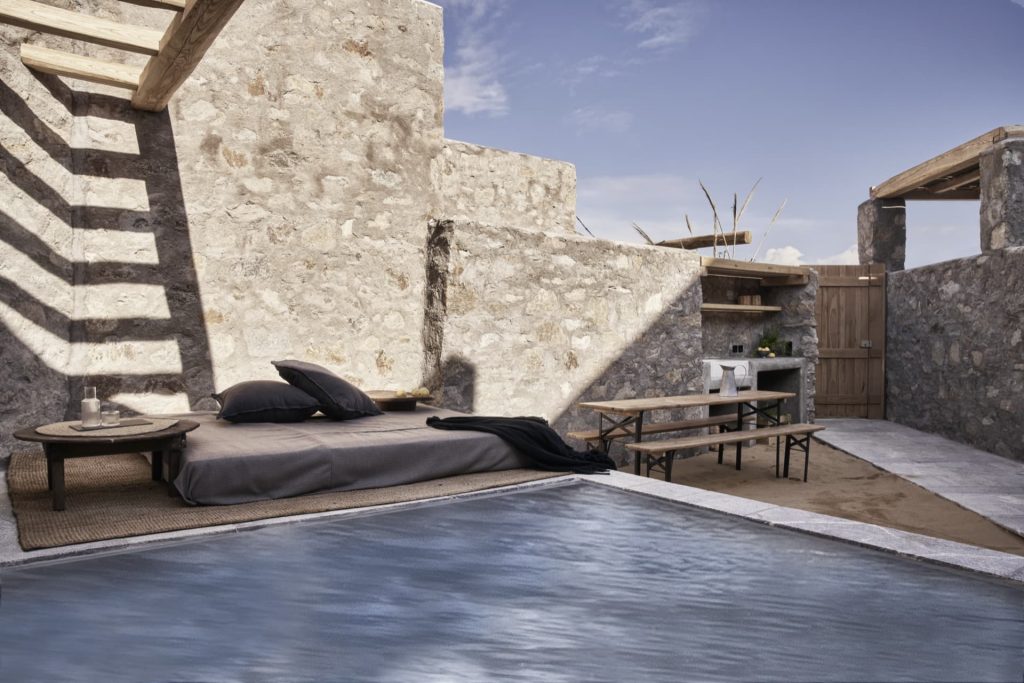 SUCCUMB TO SUMMER RHYTHMS IN A TRUE UTOPIA FOR THE SENSES
Set into the rock 300 meters above Elia beach, the Myconian Utopia Relais & Châteaux lives up to its name as the quintessence of sophisticated hospitality and sheer natural beauty, designed for true connoisseurs of Mykonos.
In addition to seducing with the highest standard of luxury and service excellence, the hotel combines the natural beauty of its location with modern opulence.
A 'green conscience' underpins the structural use of locally quarried, hand-cut stone and sustainable materials, achieving a harmonious counterpoint to the iconic design pieces and customized furnishings of ultra-glamorous interiors.
Utopia is a firm favorite with couples and honeymooners who seek a romantic getaway in a perfect setting, minutes from the longest beach on Mykonos. The luxurious suites and villas provide every comfort and attentive service, while fabulous entertainment areas offer a variety of dining options, bars, relaxing Thalasso spa treatments, and spectacular views.
From early morning and into the early evening, sun-kissed guests drift from one temptation to the next, lazing on shaded loungers by the fabulous infinity pool, enjoying light lunches and cool cocktails that segue into aperitifs against the backdrop of a fiery sunset.
Bringing a utopian day to a close, the pool comes alive after dark with sparkles that wink at the stars above, inviting to the first of the night's many pleasures with an epicurean feast at the Pavilion Relais & Châteaux restaurant.
STRIKING ARCHITECTURE & INTERIOR DESIGN
In complete harmony with nature's handiwork and the classic Cycladic design, the hotel's 40 suites and villas range in picturesque fashion down the rocky hillside towards their own private beach, providing an aesthetic environment, more of a 'home' than a 'hotel', where you can truly take your time to reflect on what is most important to you; to bring a richness and vitality back into your life and reveal layers of your personality previously hidden even from yourself.
breathtaking panoramic view and sunsets over the Ionian Sea
Okeanos Luxury Villas Resort is a World's First-Class Luxury Retreat, located on the edge of a 200-meter sea cliff on the west side of Lefkada Island, Greece. The Villas were built in a modern architectural style with top quality materials and were inspired by the great landscapes of the Ionian Islands.
Okeanos Luxury Villas were built to blend with its wild and noble natural environment in harmony.
Okeanos Luxury Villas Resort provides a unique experience thanks to its breathtaking panoramic view and sunsets over the Ionian Sea, along with the magical atmosphere of the natural forest surrounding. The large panoramic doors & windows welcome a flow of fresh light that penetrates the villa and reflects an astonishing view of the infinity pool & the Ionian Sea. Every villa is highly equipped. Their bedrooms are tastefully decorated. Blackout curtains cover the large windows, and the beds are equipped with high-quality comfortable mattresses & Egyptian style premium bedding will complete your superb sleep experience.
The large infinity pools are surrounded by a terrace deck, pergola, and a shaded gazebo with a poolside sitting area, sunbeds, parasol, and an outside dining area.
The resort is the perfect place for your next holiday vacation. You can enjoy an a-once-in-a-lifetime experience, with your family and friends, celebrate a romantic vacation or honeymoon.
You will experience their warm welcome as the helpful staff will provide you 24/7 of full attention & services in order to make you feel at home. They will advise on the local fine restaurants; help you with your travel plans and assist you in finding your favorite sports attraction & yachting activity.
The ideal destination for families, and all those who seek to combine the discreet seclusion with the cosmopolitan life for their holiday, for those who choose Paros for their honeymoon, but also for those who look for a suitable venue for business meetings and special occasions, such as weddings or baptisms celebrations.


Paros Agnanti Hotel consists of five Cycladic architectural style, cubic buildings with arches, which are dominated by white, blue, and stone, with an unobstructed view out to the sea and overlooking  Parikia, as each one is built on a hill.
The flower-filled landscaped gardens and in general the cared outdoor area, predispose the visitor pleasantly for the elegance that is going to meet in public indoor spaces, which are surrounded by classic and antique furniture, with elegant artwork to illustrate the walls. The attention to details and the combination of classic and modern conveniences, give to Paros Agnanti Hotel refined aesthetic, which also characterizes the rooms-suites where the classic meets modern with reference to modern luxury.
In 900m2 common areas of the hotel, its patrons can indulge in a variety of activities or enjoy moments of relaxation and enjoyment with its facilities such as:
Huge terraces with sofas, restaurant and bar, playground, playroom, and a pool for the younger guests within the hotel, barbecue, chapel, fully equipped conference, and business events hall, along with free parking.
Paros Agnanti Hotel is the ideal hotel for those who wish to combine relaxation and leisure with sporting activities. The hotel's public spaces are suitable for jogging, walking, and cycling, and there is also a basketball court, tennis, and table tennis court for lovers of these particular popular sports.
The spectacular pool wins many exclamations of admiration, known to be a real oasis along a rocky wall that terminates in a small cave, giving to the surrounding space the image of a natural landscape.
Enjoy your swimming in the pool overlooking the white houses of Parikia and the Aegean blue, relax on the comfortable loungers around the pool, and have your favorite cocktail prepared at the pool bar.
A LUXURY HOTEL IN PAROS ISLAND
"Helios, my Sun, let me shine in the echo of your gold light"
The rolling landscape of the Cycladic island of Paros — with its mountainous heaps,
pine-fringed coves, and white-washed fishing villages — casts a flawless frame around the
timeless beauty that is Parīlio. Here, amongst 33 suites, the past, present, and to an extent
the future are seamlessly merged in a celebration of this fabled Greek escape.
Designed by the Athens-based Interior Design Laboratorium and led by Kalia & Antonis Eliopoulos,
behind Vedema, a Luxury Collection Resort, Mystique, a Luxury Collection Hotel &
Istoria, a Member of Design Hotels in Santorini, Parīlio is informed in its entirety by
this north-western corner of the island, its landscape, history, and mythology.
Guided by the Eliopoulos' unique hospitality experience and extensive knowledge of this region,
the hotel is envisioned as the first luxury gateway on this hitherto unexplored island;
a place where unspoiled natural beauty and the slow rhythms of Cycladic life prevail.
The result is an all-suite property that presents an authentic and organic Greek experience.
Parilio (parelion): A bright, sunlike optical illusion, often on a luminous ring or halo, caused by sunlight passing through ice crystals in the upper atmosphere.
"Two Parelia rise with the sun and follow him all day until his sunset."
Aristotle (Meteorological III.2, 372a14)
Paying homage to their Cycladic roots, the logo is inspired by 'The Fat Lady of Saliagos the most ancient marble figurine found to date in the Cyclades, a symbol of female beauty and power, an ode to the soul of the Aegean sea & light.
Characterized by secluded, pine-fringed coves and
white-washed fishing villages, Paros is a place where unspoiled natural beauty and the slowed rhythms
of Cycladic life prevails. A gateway to the real Cyclades,
the island embodies an authentic Greek experience.
"THE 33-SUITE RETREAT IS CHARACTERIZED BY THE ISLAND'S DISTINCTIVE ARCHITECTURE AND ITS INTERIORS ARE DEFINED BY A SOOTHING, TONAL COLOR PALETTE AND NATURAL MATERIALS."
the ultimate hideaway with luxury guest rooms
We welcome you to the world of Elounda Beach Hotel & Villas, the ultimate hideaway with luxury guest rooms, villas, and suites in Crete, Greece. In a unique waterfront location, experience the feeling of relaxing in your own heaven at sea level with outstanding personalized service.
Choose among five accommodation clubs with corresponding features, services, and privileges that best satisfy your requests.
A holistic vision of body and mind
The Espace Vitalité Chenot offers both holistic rejuvenation and relaxation in a setting of complete tranquillity. You'll relish the personal attention that is part of Chenot's renowned body and face treatments.
A fascinating world of fine dining
Indulge yourself in Elounda Beach Restaurants & Lounges and discover a fascinating world of fine dining. Combining contemporary elegance with unique scenery and unparalleled service, Elounda Beach offers an unforgettable culinary journey from the Mediterranean to Asian flavors. Choose from seven restaurants and their exciting cuisine and let us spoil you with a fusion of flavors that will delight your senses.
BOUNDLESS MEDITERRANEAN SUNSHINE
YOUR 5 STAR LUXURY ACCOMMODATION IN CRETE
Located in the privacy of a secluded cove in Vathi, Daios Cove Luxury Resort and Villas in Crete is the absolute choice for travelers seeking 5-star luxury accommodation in Agios Nikolaos.
The resort's exclusive location, along with its impressive architecture seamlessly blending in with the rugged surroundings creates a natural hub of beauty and serenity for you to explore.
Daios Cove, a 5-star luxury hotel in Crete gives you uninterrupted views to the deep blue of the Aegean Sea and easy access to the isolated private beach. It's the perfect place to fully unwind and collect oneself while our dedicated staff takes care of you.
Attention to detail and impeccable aesthetics play an integral part in the Daios Cove philosophy. This is reflected from the very beginning of your journey with us in the lobby area of the resort. Be our guest and delight in hand-picked placed works of art along with contemporary furnishings.
Amenities available to you here include the GOCO SPA and fitness center, a seawater infinity pool, a water sports center, a tennis court, electrical club car mobility around the resort, and opportunities for recreation and excursions to Crete's must-see hotspots, historical sites, and archaeological treasures. Last but by no means least – the 6 restaurants and bars here are ready to take you on a gastronomical trip to remember! It's the perfect recipe to make your stay on Crete memorable.
Inspired by the elements of water and earth, Daios Cove's architecture is one that stands out and one we are particularly proud of. On the exterior, the resort's architecture masterfully blends into the natural cove and the rugged Cretan landscape surrounding it.
On the inside, carefully selected furnishings and works of art adorn the spaces, creating a sense of high aesthetics for our guests. From sophisticated lighting arrangements to fine linen and plush fabrics, all the way to refined colors, elegant decoration details, chic vibes, the Daios Cove beach resort lifts the 5-star luxury accommodation experience to new heights.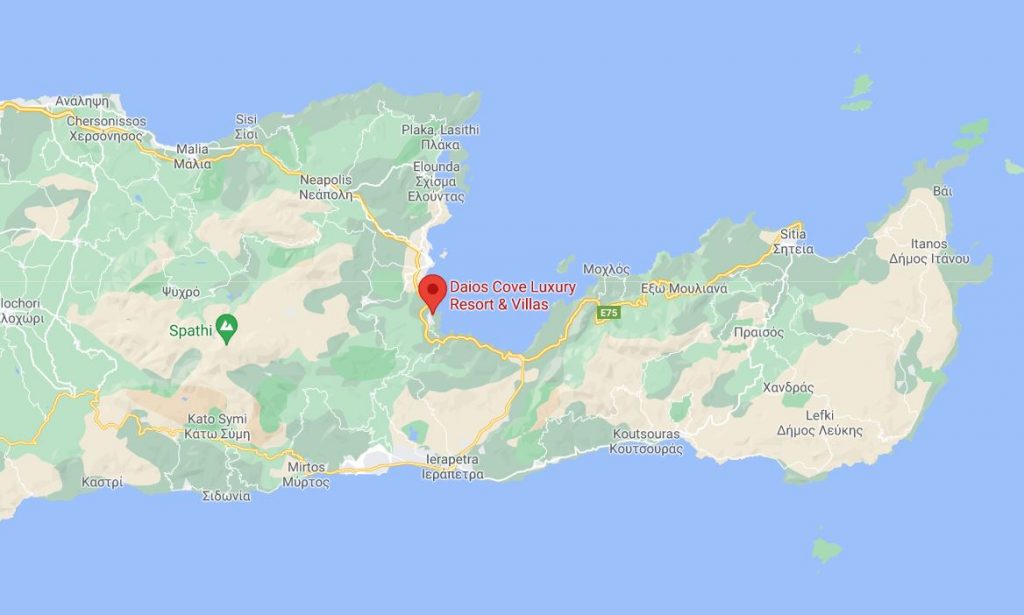 The Pinnacle of Elegance & Cosmopolitanism
The Hotel is situated in the heart of the medieval old town of Rethymno adjacent to its most important monuments, such as the Fortezza (the Venetian Fort), the Loggia, the Fountain Rimondi, and the Church of St.Francis.
You will feel very welcome to hospitable Crete and the prominent Rimondi Boutique Hotels. The pinnacle of elegance & cosmopolitanism right in the vibrant heart of the Venetian quarter of Rethymno, destined for eclectic travelers.
Stay within absolute serenity formulated by two distinct buildings, magnificent, tranquil yards, and romantic styled swimming pools.
The epitome of hospitality and service characterizes the 20 sophisticated rooms and maisonettes and the 13 luxurious suites, all boasting impeccable facilities.
Rimondi Estate is destined for travelers wishing to be accommodated in surroundings of unique architecture and to those wishing to indulge in discreet luxury and refined elegance.
Always in combination with ounces of cosmopolitanism.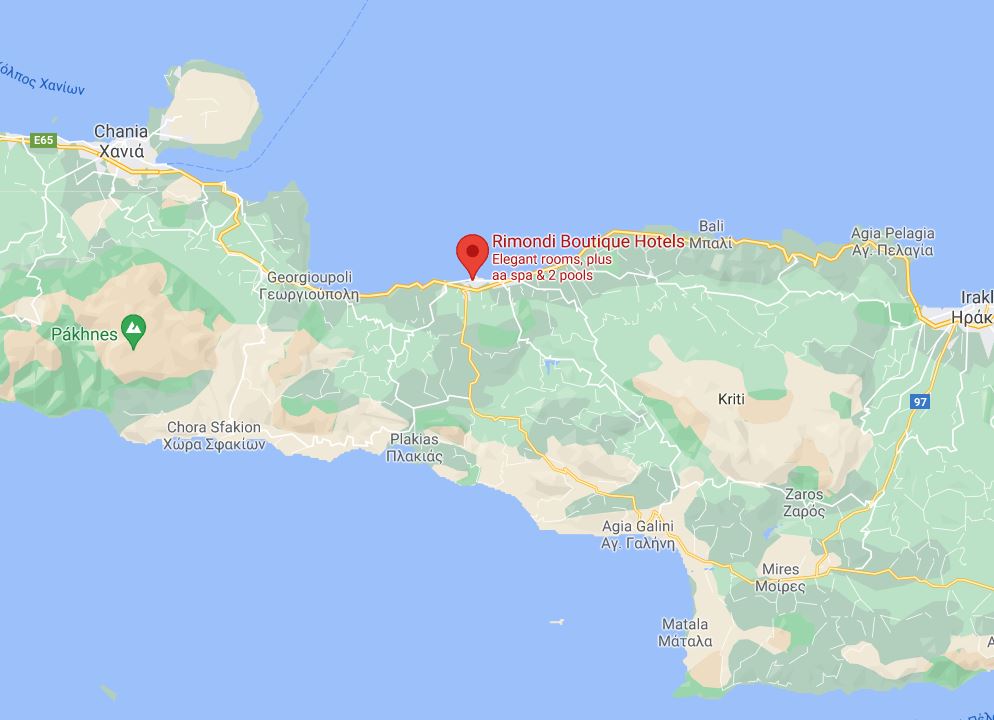 A WORLD OF STYLE AND CRETAN WARMTH
Styled after the sprawling palaces of the Minoan kings and Venetian nobles who once ruled Crete, Amirandes introduces the easy elegance of true European Luxury.
Unique dining experiences in an ample choice of exceptional restaurants and bars, only limited by your imagination!
Occupying a stretch of coast that gently curls into two coves of fine golden sand and clear seawater, and with its various pools, Amirandes offers an extensive range of swimming choices!
Geared to family and sports friendly guests with an abundance of activities – relaxing or energetic, indoor, and outdoor.
Τhe villas feature indulgent high tech details such as home cinema, private gyms, and state-of-the-art bathrooms with color therapy and aromatherapy hydromassage bathtubs.
feel pampered
Crete is an island of mythology, history, local traditions, culture, unique landscapes and birthplace of the famous Cretan hospitality. With majestic mountains, golden beaches, sparkling seawater, wild nature, the island is blessed with sunshine during most of the year.
At Stella Island Luxury Suites and Spa, guests can feel pampered with a variety of facilities and services.
This resort can be the ideal destination for couples in love and for the ones on their honeymoon. The lagoon-style pools stretch around the entire resort, leave plenty of room for everyone to find their own private spot.
At Stella Island resort, we are dedicated to providing our guests with a comfortable and memorable experience.
Services focused on recreation are also available such as a spa, indoor heated swimming pool, and a fitness center. At the fitness center, activities are offered at different levels of difficulty.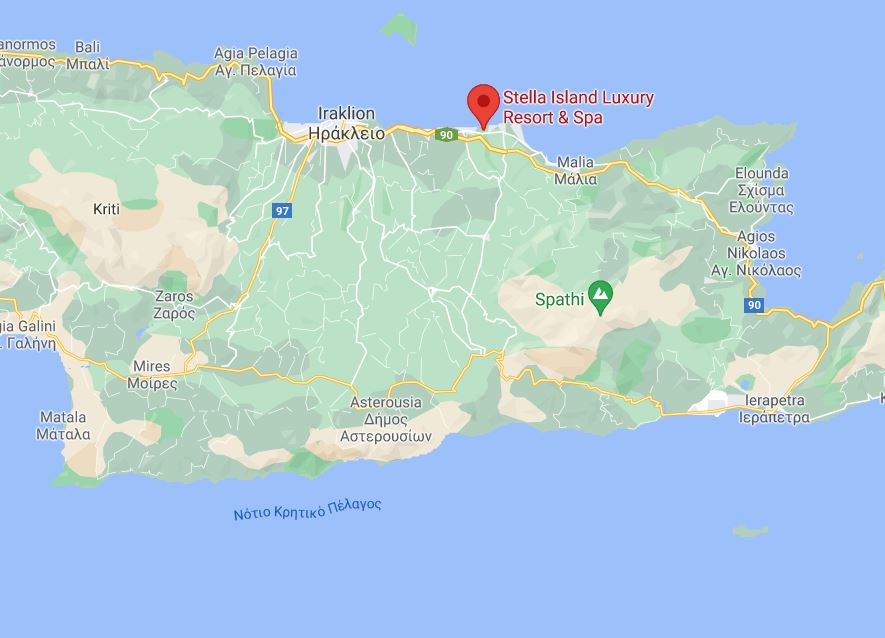 Allow yourself to be indulged like you never have before
True to its name, the Lesante blu surrounds you with spectacular views of the blue sea. Located in the picturesque village of Tragaki Zakynthos, the award-wining all-suite hotel and member of The Leading Hotels of the World is simply a one-of-a-kind experience offering exclusivity, peace of mind, and five-star comfort. Its 'all-about you" mentality can be experienced via the private infinity pools, the adults-only policy, the state-of-the-art suites, and the discreet staff. The fine selection of restaurants offering you creative Greek & Mediterranean dishes by the sea, the secluded private beach, the luxurious Spa, the 24/7 impeccable room service, and the private helipad as well as a jetted platform used for private excursions with our own luxurious yachts around Zakynthos and nearby islands, add up to a unique stay experience.
First impressions count. That is why your first glimpse when walking inside the Double sea view suite is the gift of the majestic Ionian sea. Staying true to the suite concept –elevating the view of the blue- the décor adopts a minimalistic and contemporary flair that is combined with superior comfort, so you have everything you need in one space.
The stunning view of the sea is just one of the experiences in Lesante Blu that shape an unforgettable stay. The individual pool inside the Signature suite, adds to your experience by offering you private moments with beautiful views.
Life is a mix of flavors. At the Lesante Blu, you will find the finest creative dishes so you can enjoy authentic tastes by the sea, in three exciting concept restaurants: by the pool, the a la carte, and the main restaurant. Featuring elegant surroundings, overlooking the gorgeous gardens, the Ionian Sea, and the majestic pool, each concept restaurant offers a unique tasting experience.
Discover Lesante Blu today and enjoy a five-star experience you will not find anywhere else on the island of Zakynthos.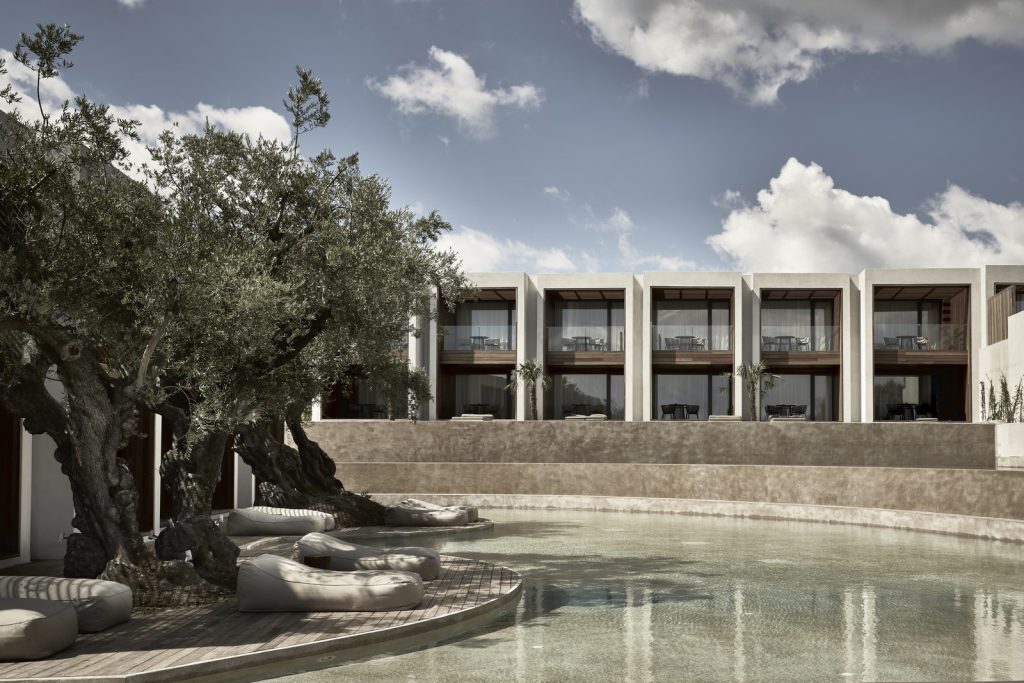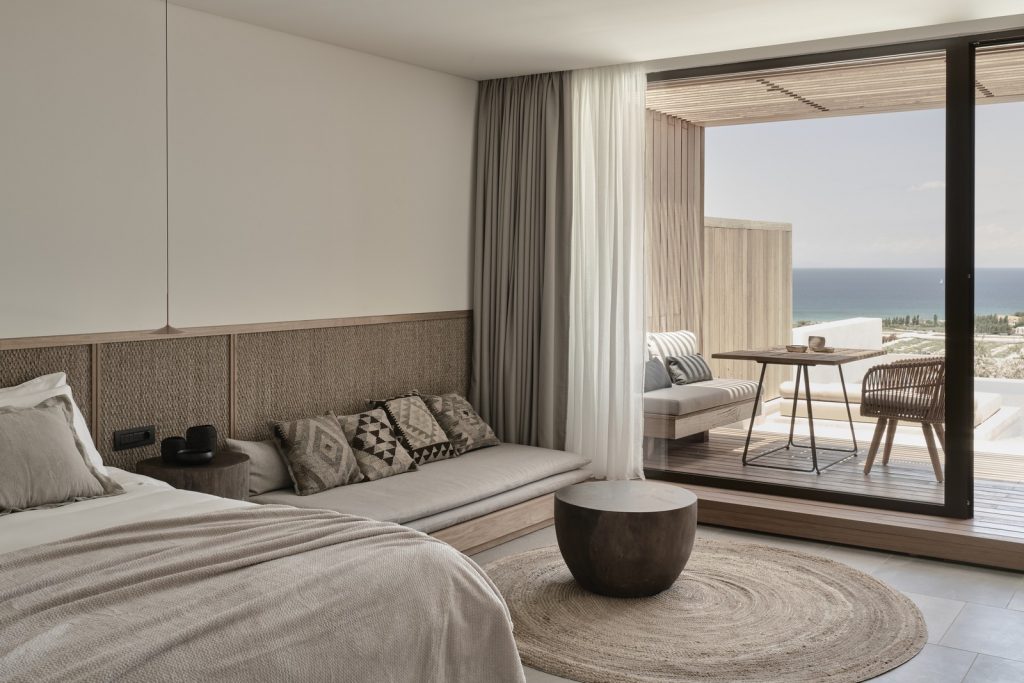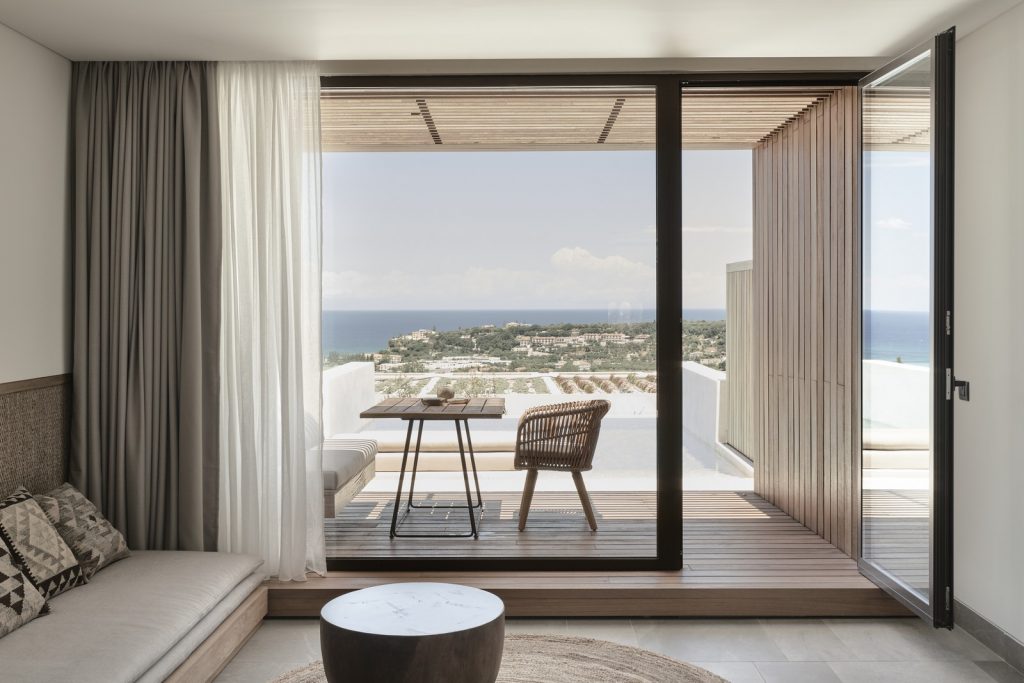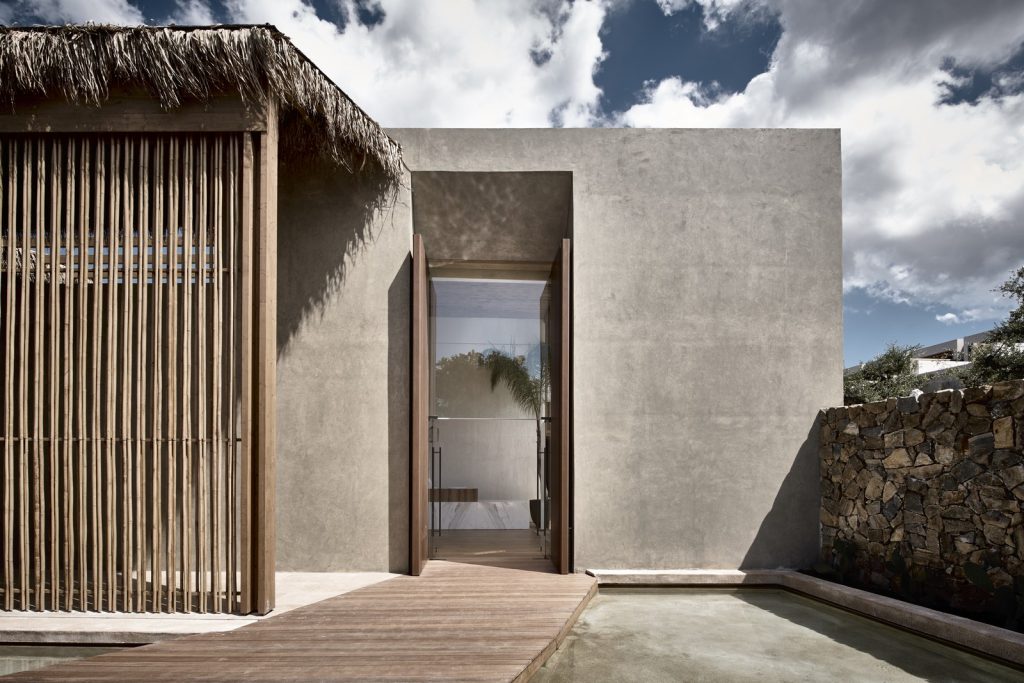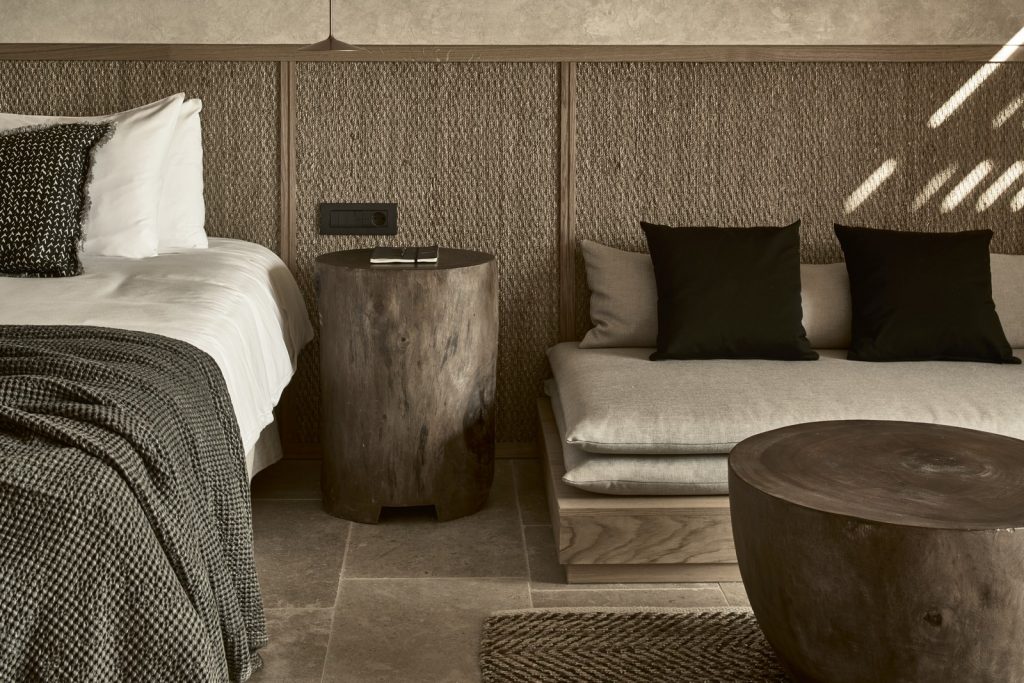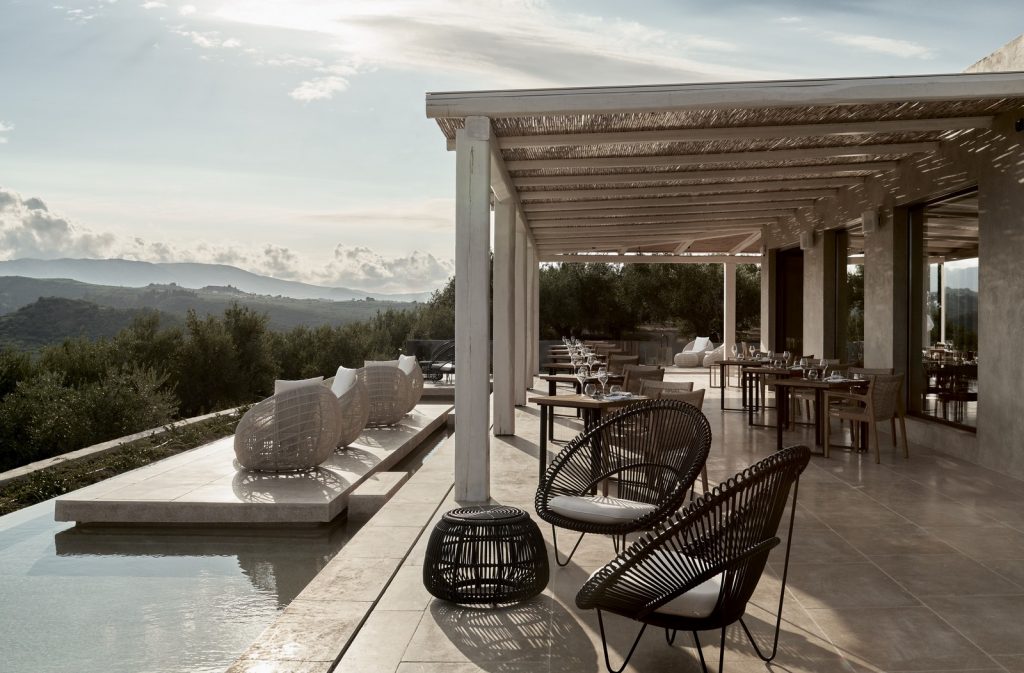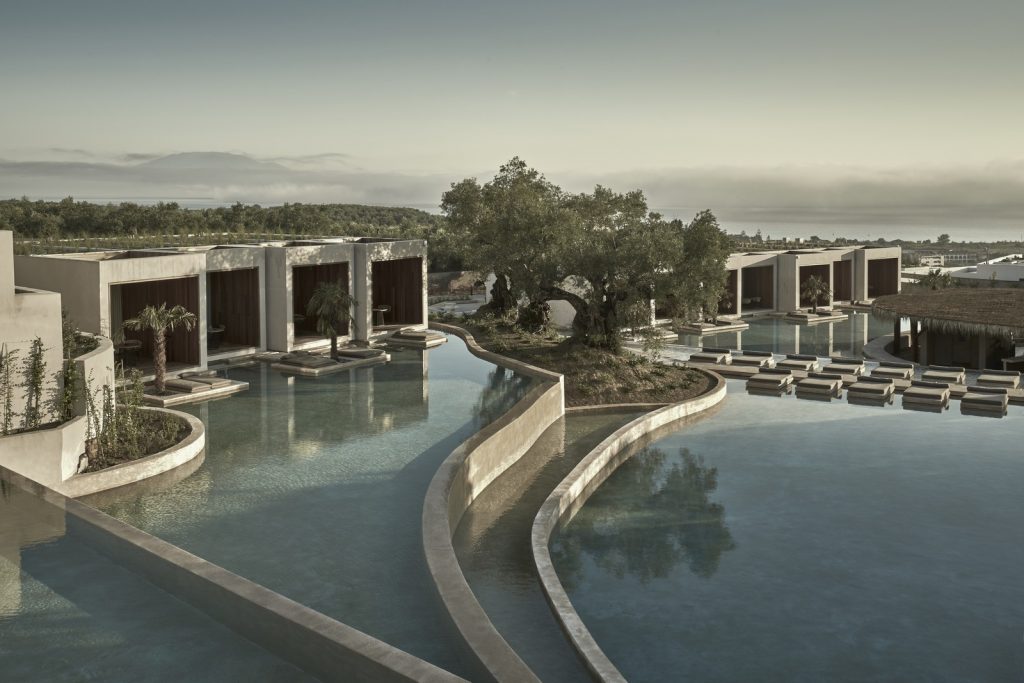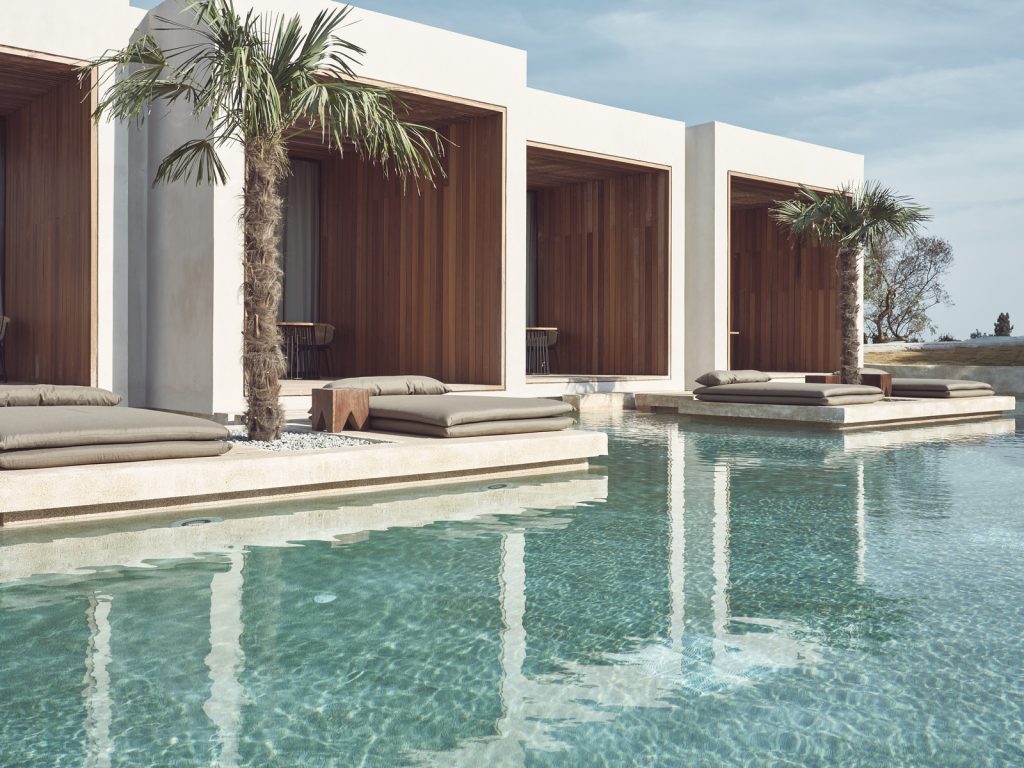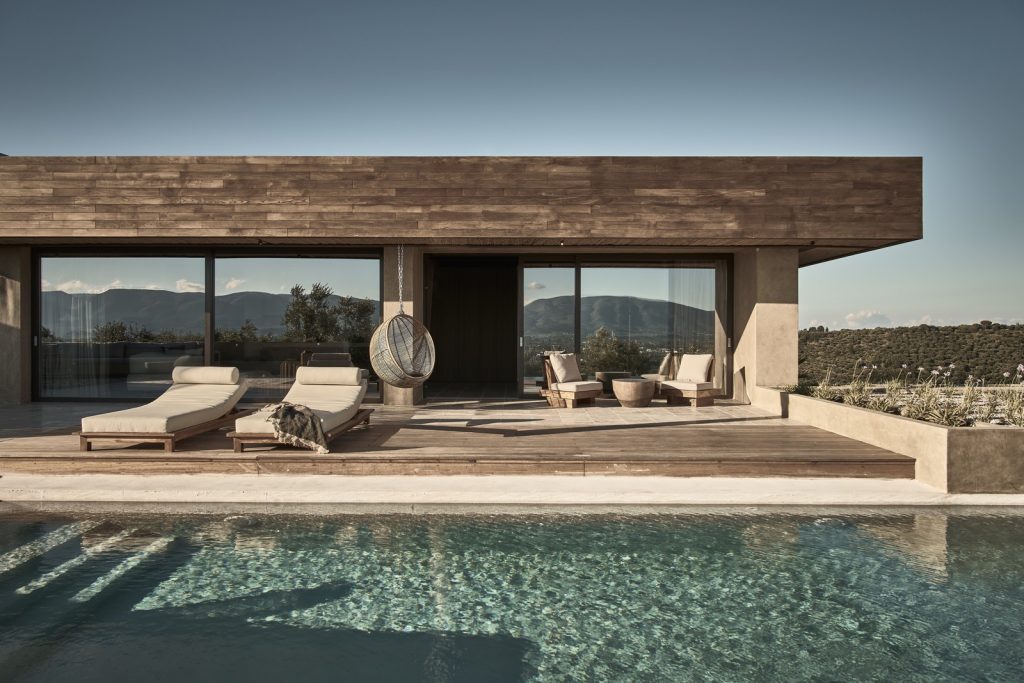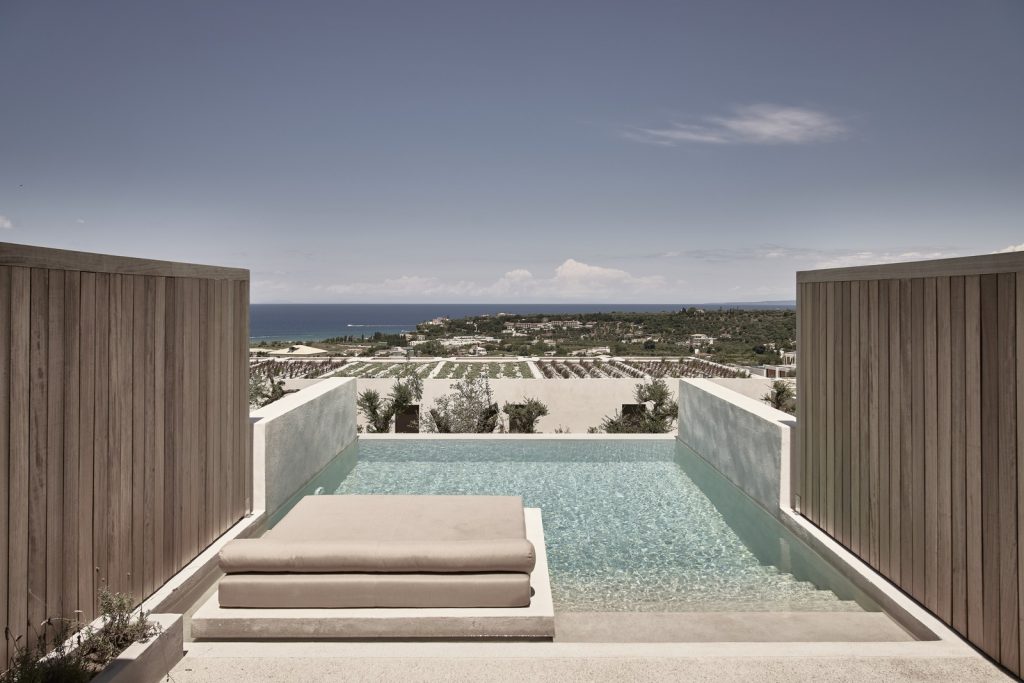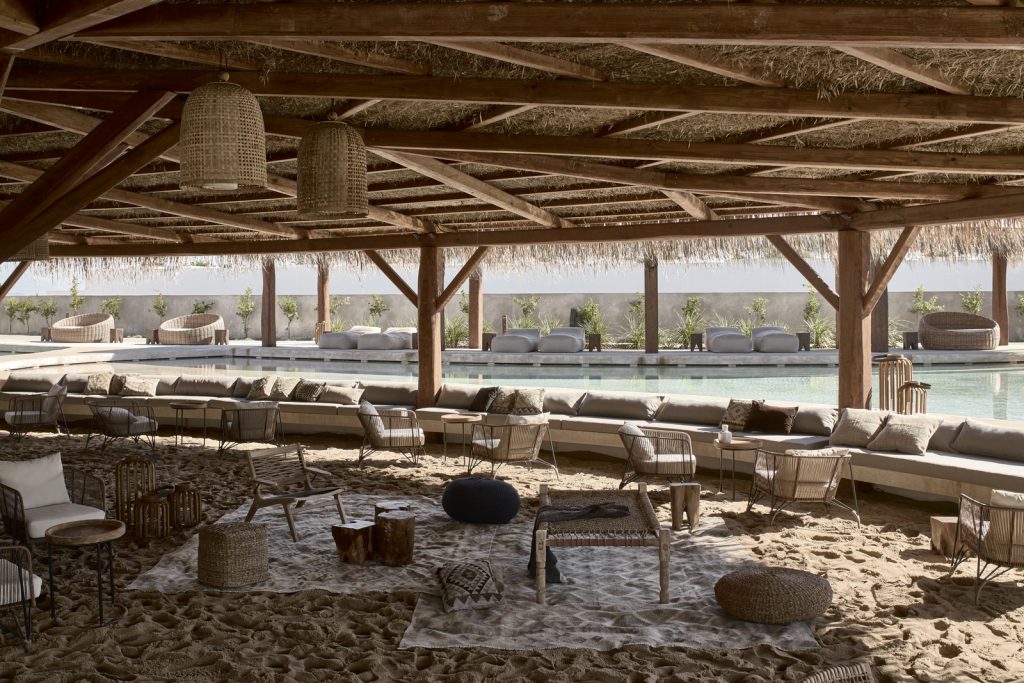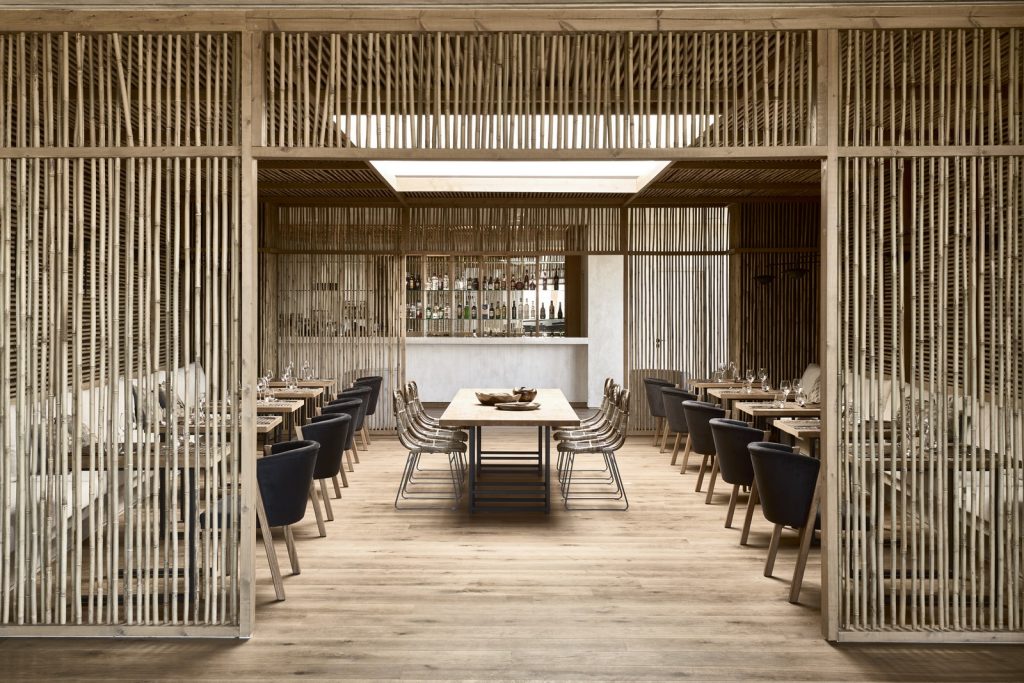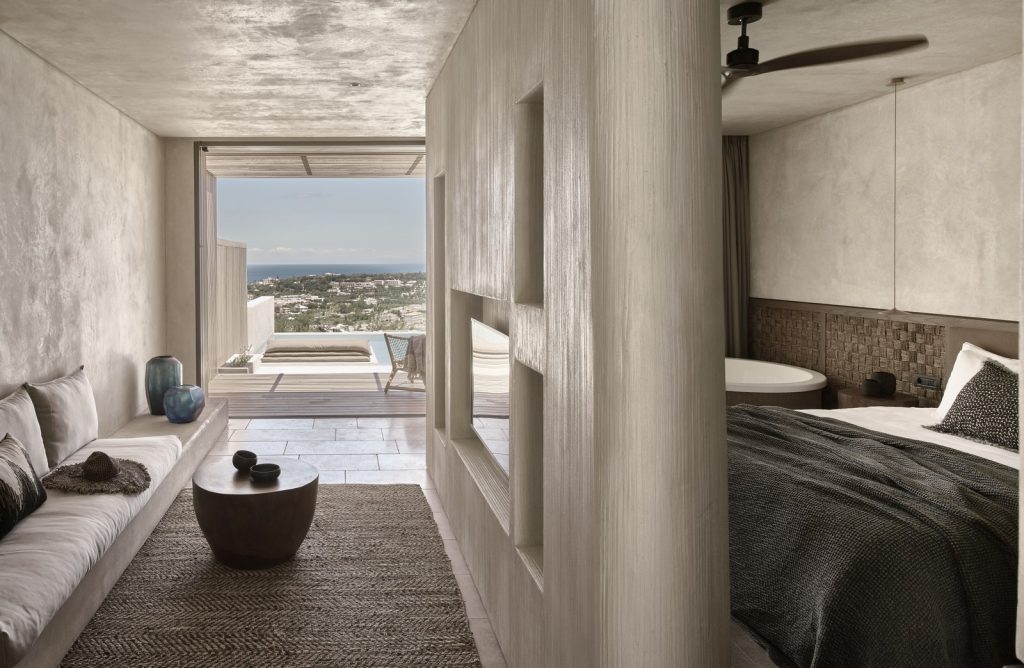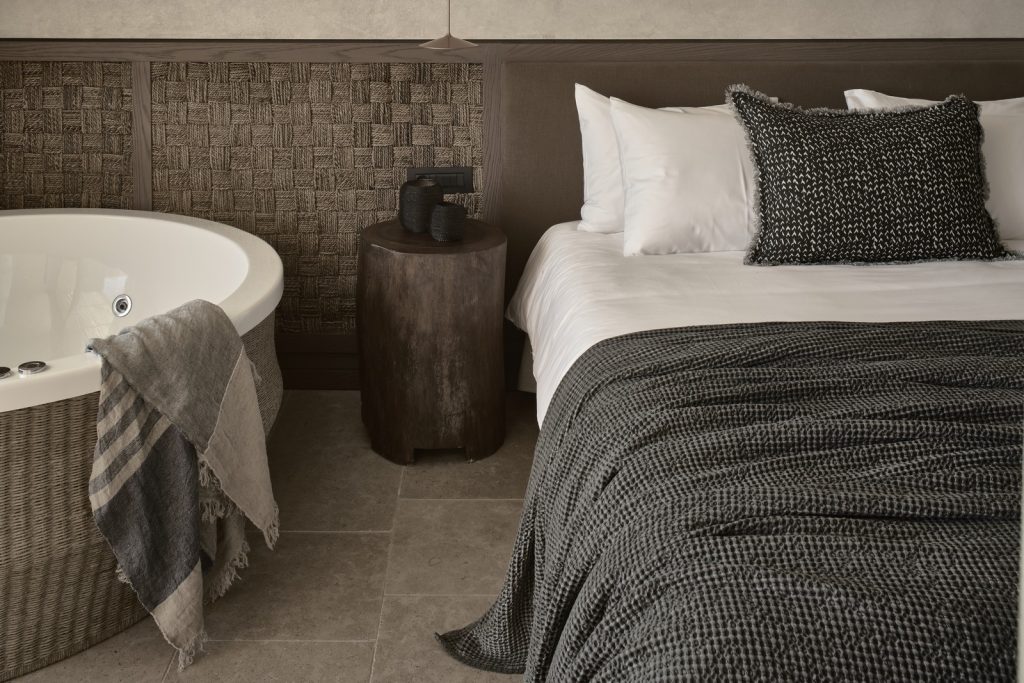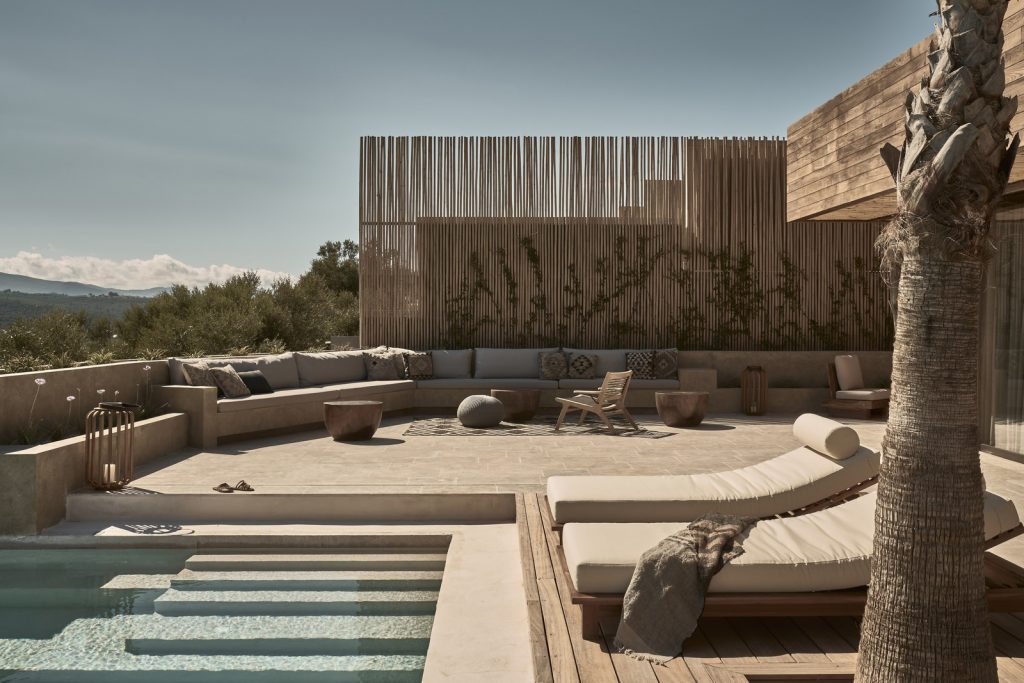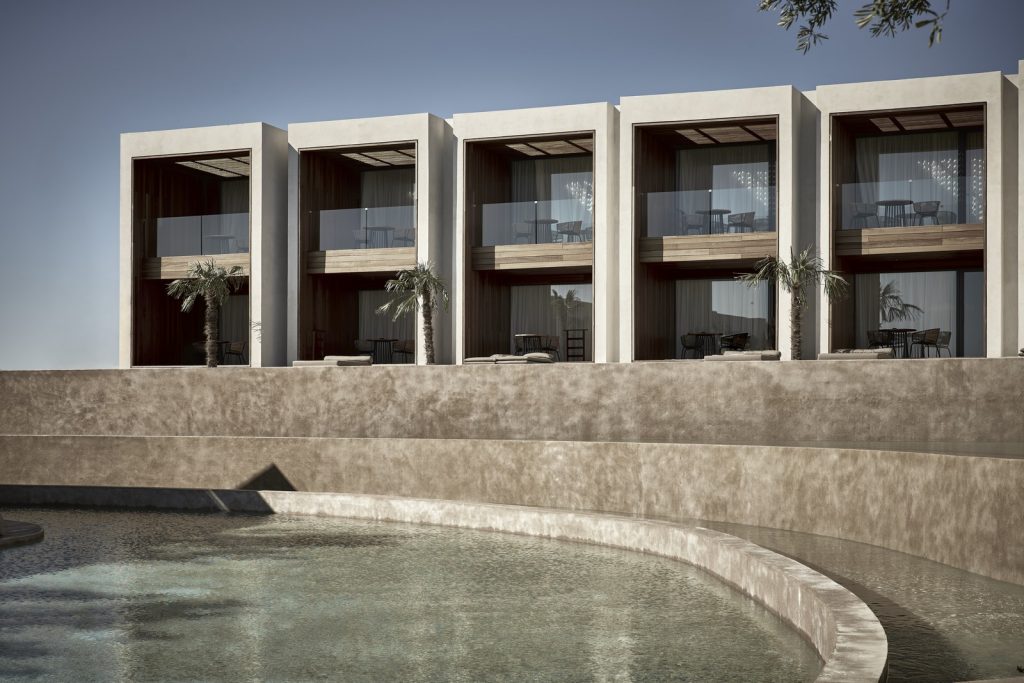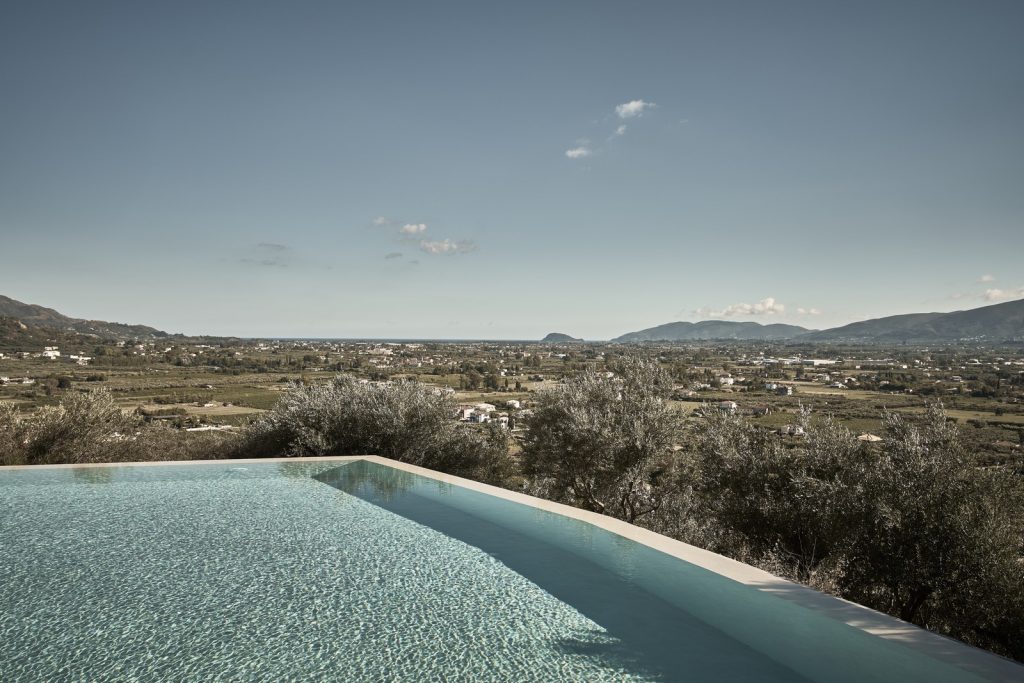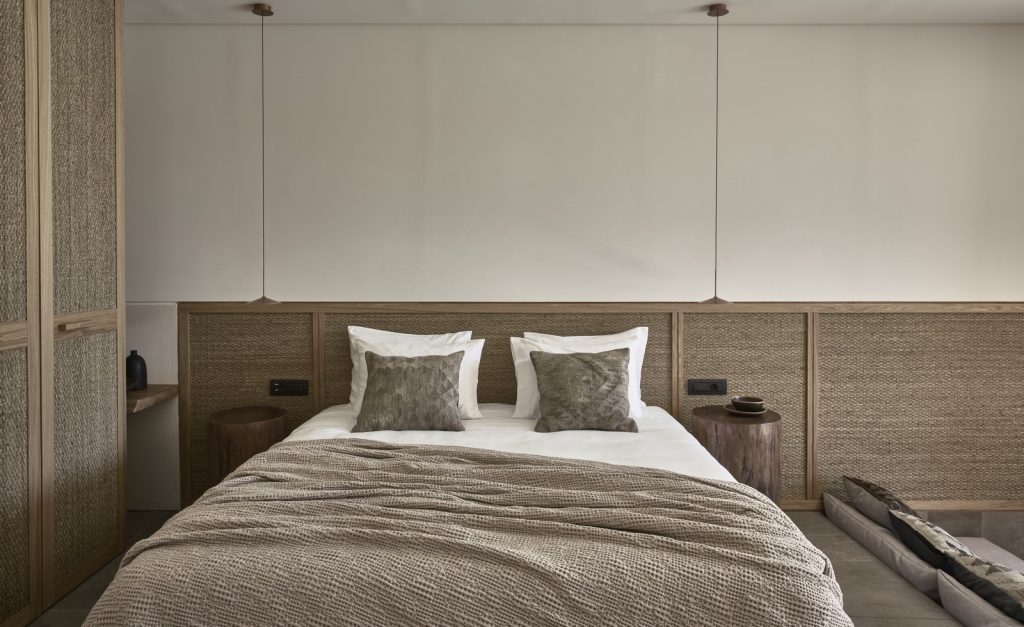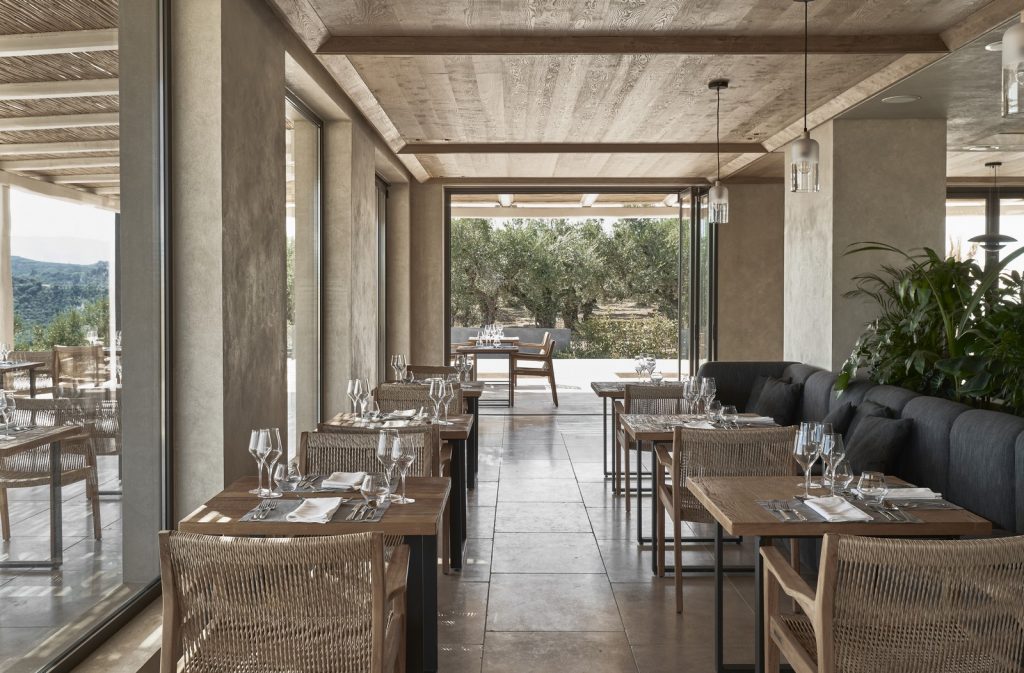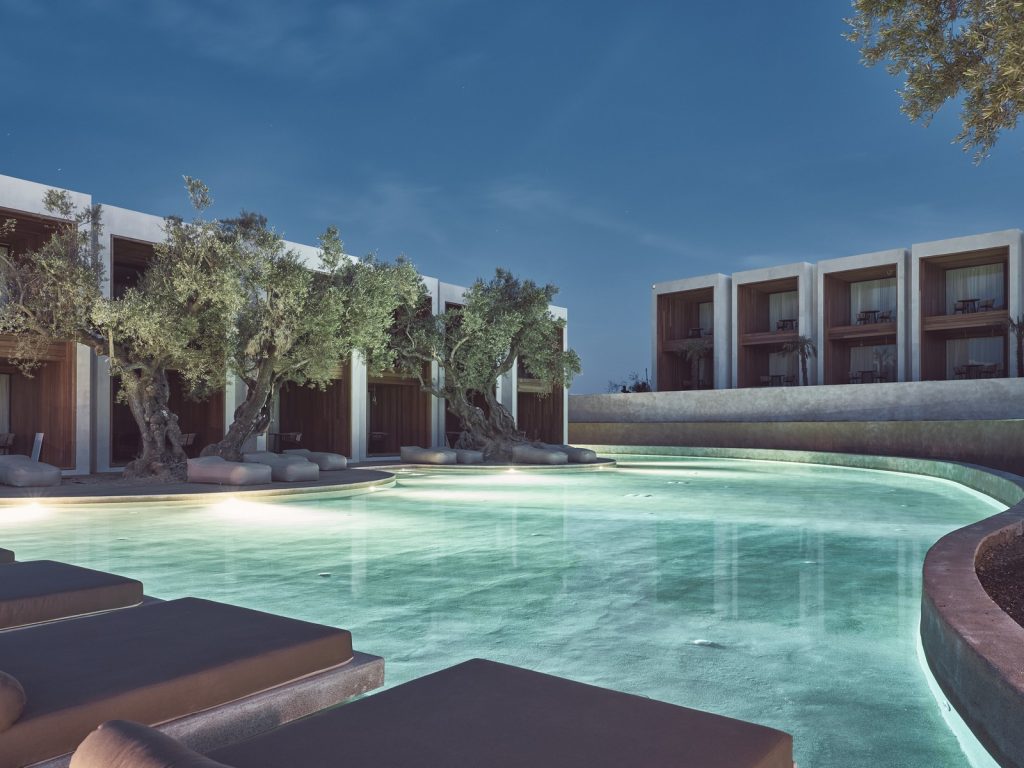 EXPLORE, DREAM, DISCOVER IN ZAKYNTHOS
Zakynthos or Zante is a Greek island in the Ionian Sea. It is the third largest of the Ionian Islands. Zakynthos covers an area of 405.55 km2 and its coastline is roughly 123 km in length. In Greek mythology, the island was said to be named after Zakynthos, the son of a legendary Arcadian chief Dardanus.
Zakynthos is a well-known destination, with an international airport served by charter flights from northern Europe. The island's nickname is "The flower of the Levant", bestowed upon it by the Venetians who were in possession of Zakynthos from 1484–1797.
Olea is a unique 5-star hotel, set on a picturesque hill, surrounded by olive trees and green, walking distance from Tsilivi resort, 10 minutes from Zakynthos town and airport.
The stunning view, the proximity to the village, and the sandy beaches, in combination with the exceptional service and ambiance, make Olea the ideal place for a romantic and relaxing holiday.
All 93 suites are of a superb contemporary elegance, set in a quiet romantic ambiance that ensures unforgettable moments and precious memories.
The 3 restaurants offer exquisite culinary options, including greek and Mediterranean dishes.
The 93 suites at Olea span between 36 and 105 square meters, and all feature outdoor living spaces with impressive views of the hotel's surroundings. The 36-square-meter "Superior Suite Swim Up" and 40-square-meter Superior Water Suite offer a shared pool, while the Executive Suite, the Honeymoon Suite, and the Presidential Suite — at 40, 53, and 105 square meters, respectively — all boast a private pool.
An Adults-Only holistic sanctuary in the vibrant town of Lindos
Simple, laid-back, and effortlessly chic, Caesars Gardens Hotel & Spa is an oasis of strictly adults-only tranquillity where the impeccable service and stunning scenery guarantee an unforgettably relaxing stay.
The hotel's low-rise whitewashed buildings are surrounded by craggy hills, Mediterranean gardens, and the electric-blue Aegean Sea. The rocky landscape encases the property, sheltering the soporific serenity within from the outside world. The interiors are unmistakably Aegean in aspect, with a warm and inviting mod-bohemian style where locally crafted furnishings adorn elegantly rustic rooms and suites.
Similarly low-key is the vibe at The Magnolia Spa, an immaculate outdoor wellness center where locally sourced ingredients and local wisdom come together to create life-enhancing treatments in the fragrant, peaceful gardens.
Once fully pampered, toast to your holiday with a fine-dining experience and distinguished local wines at Tárate Restaurant, where meals express a modern distinct Mediterranean flavor inspired by the surrounding terrain and the hotel's on-site farm.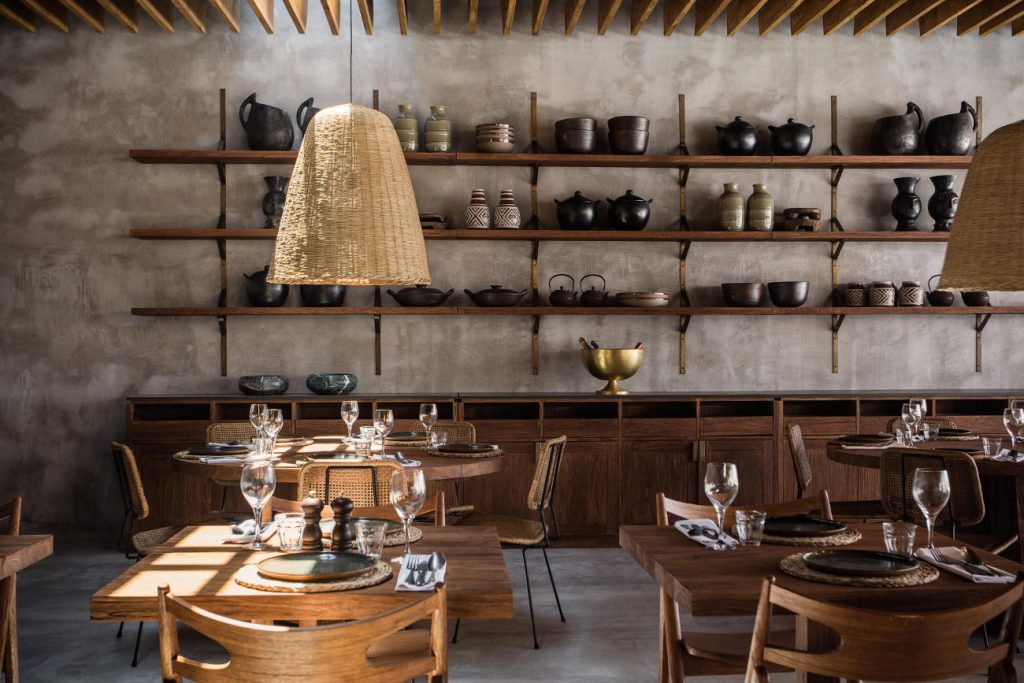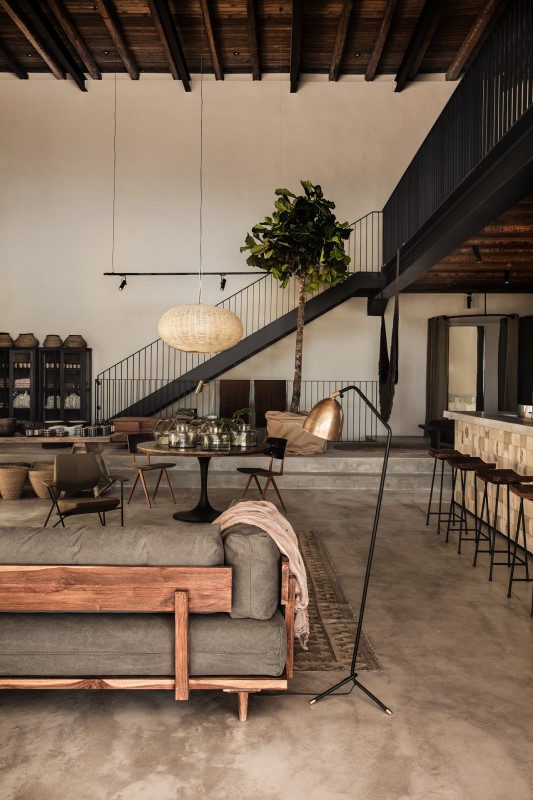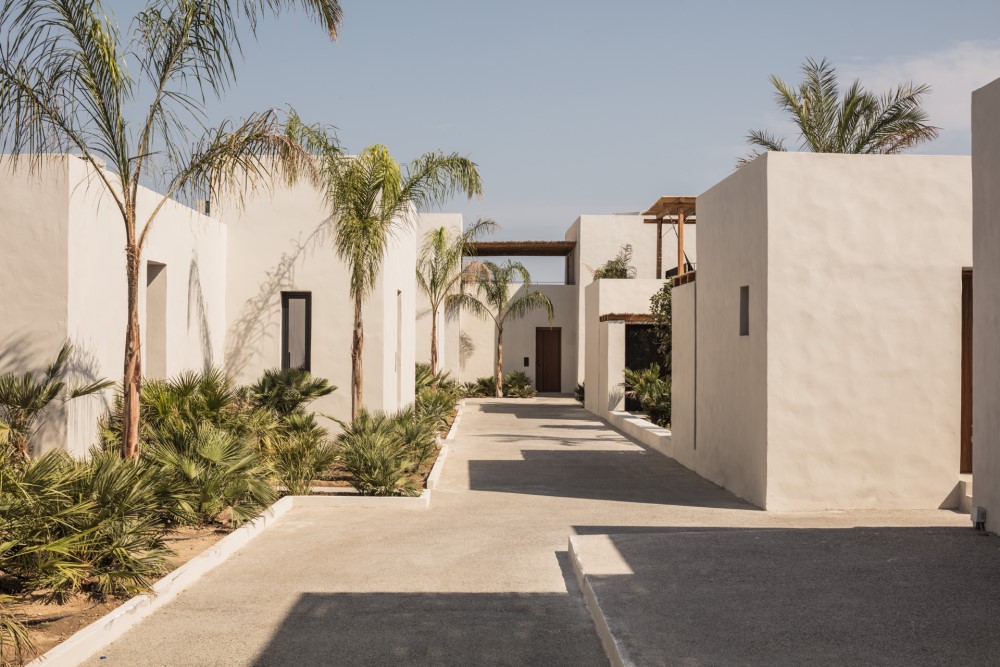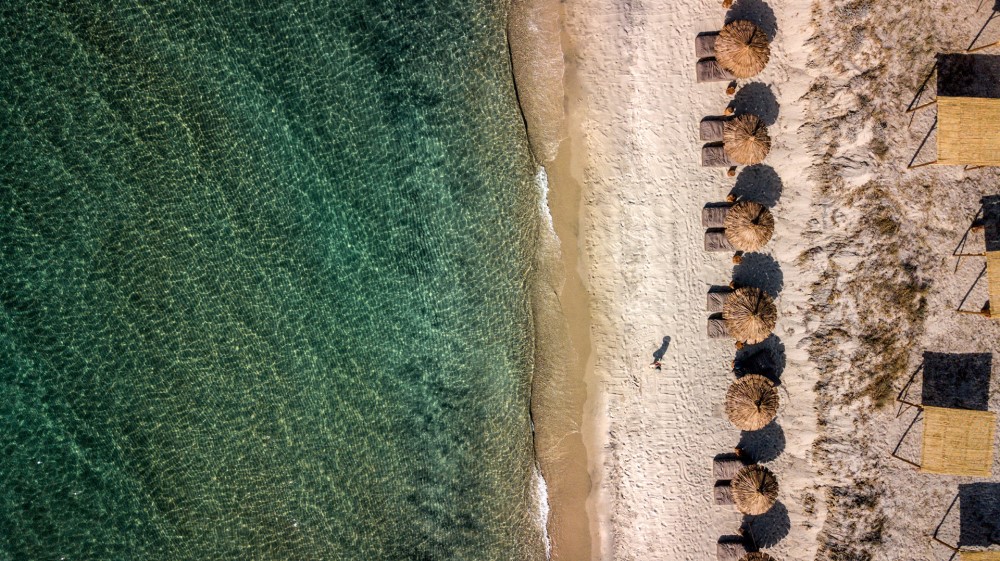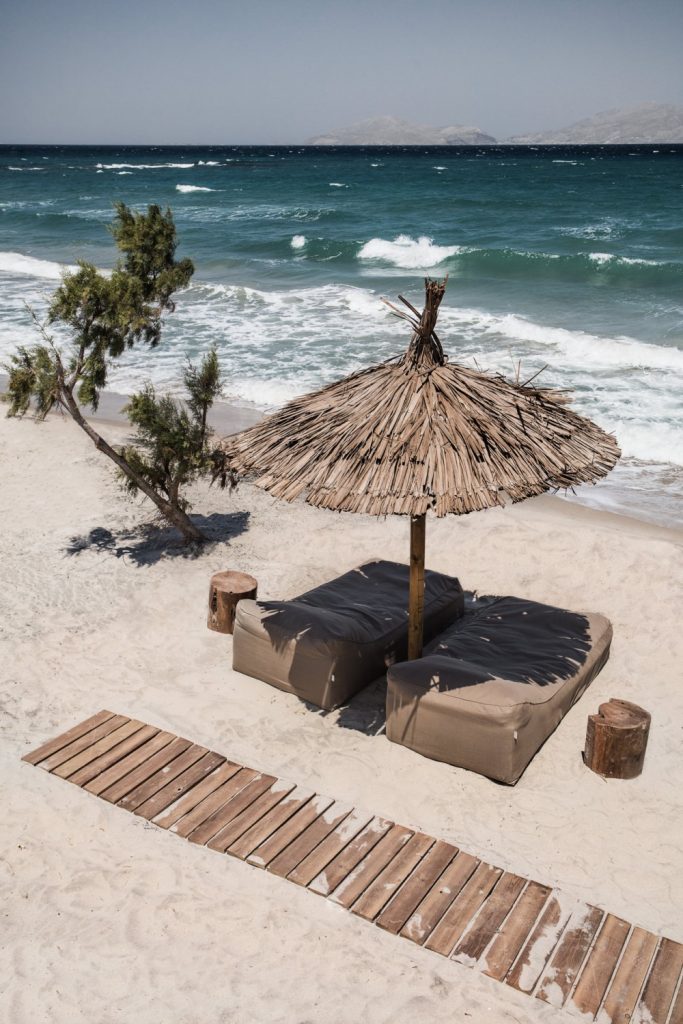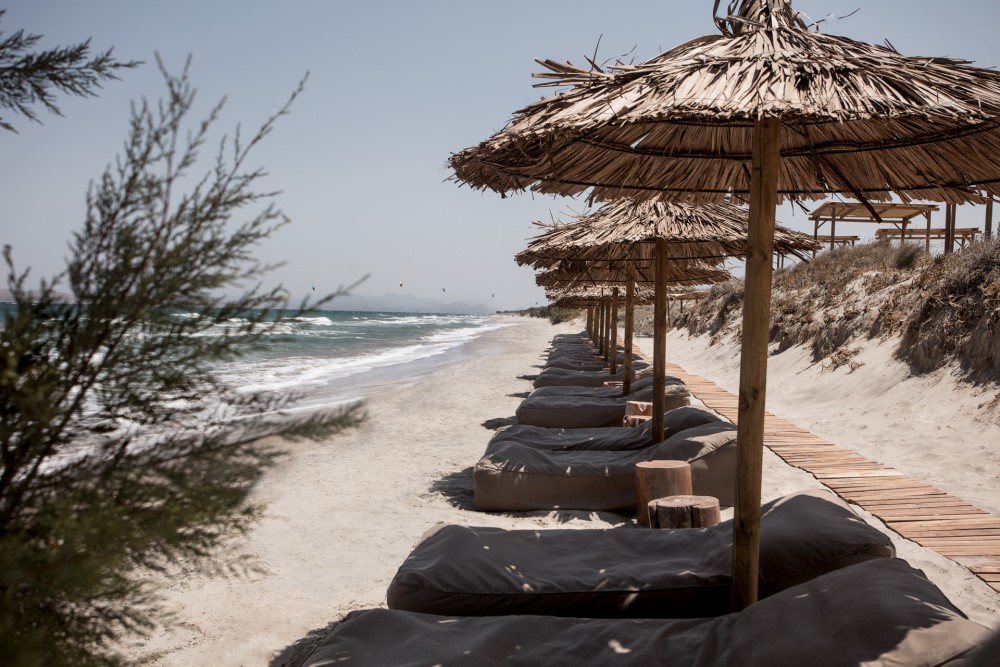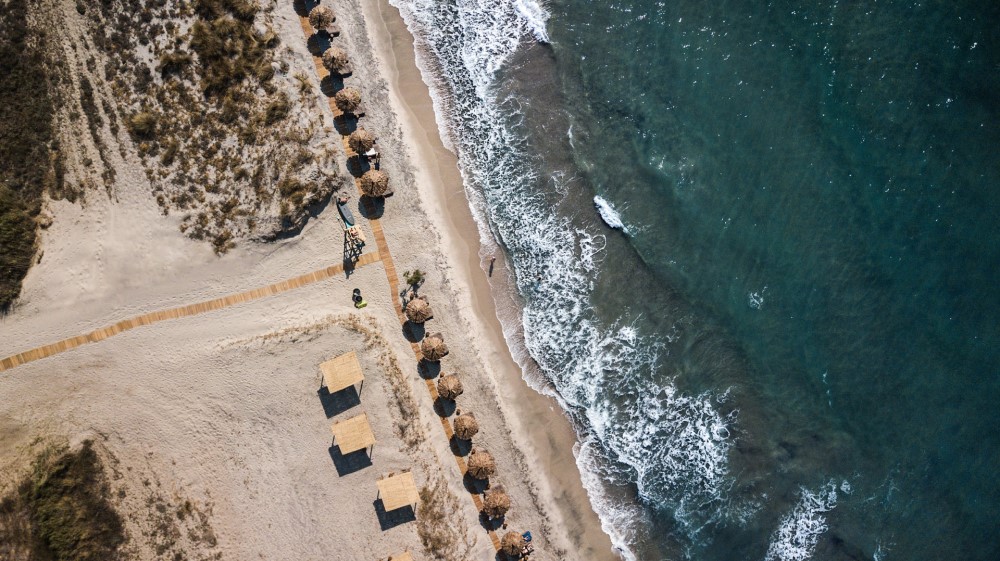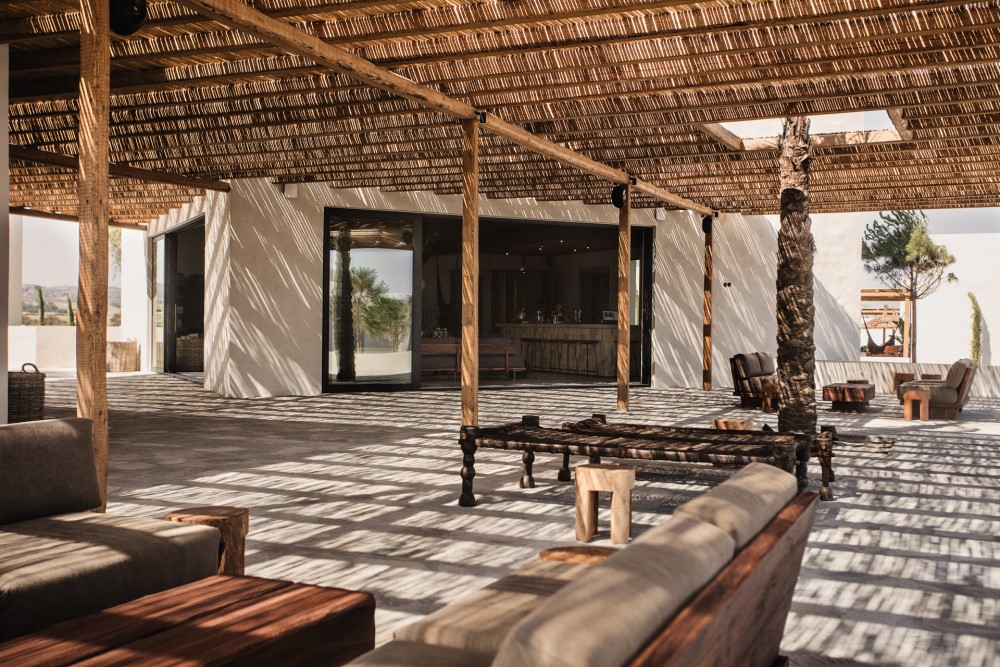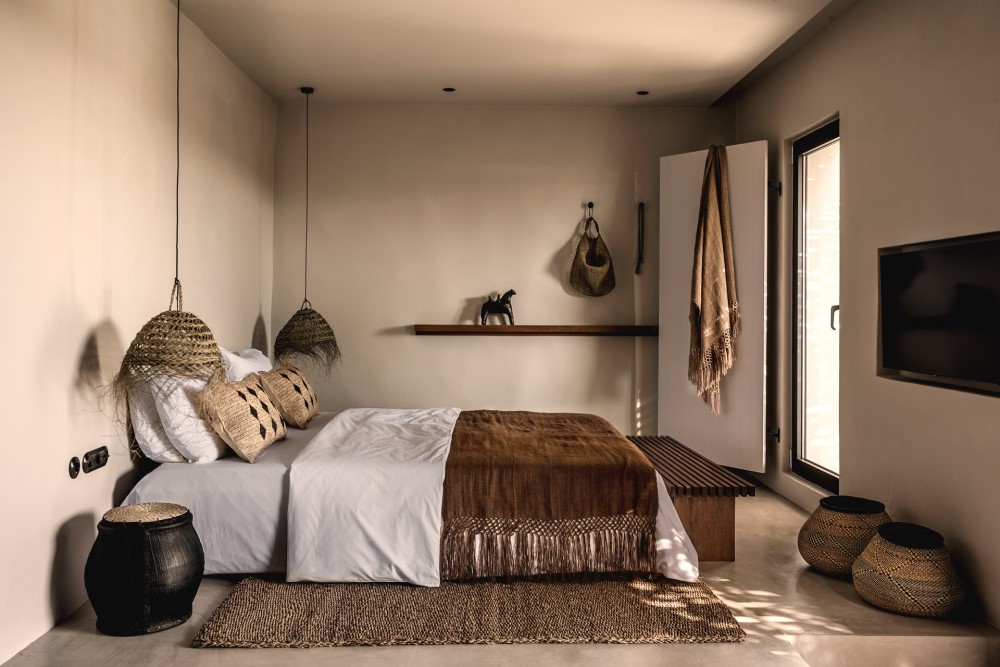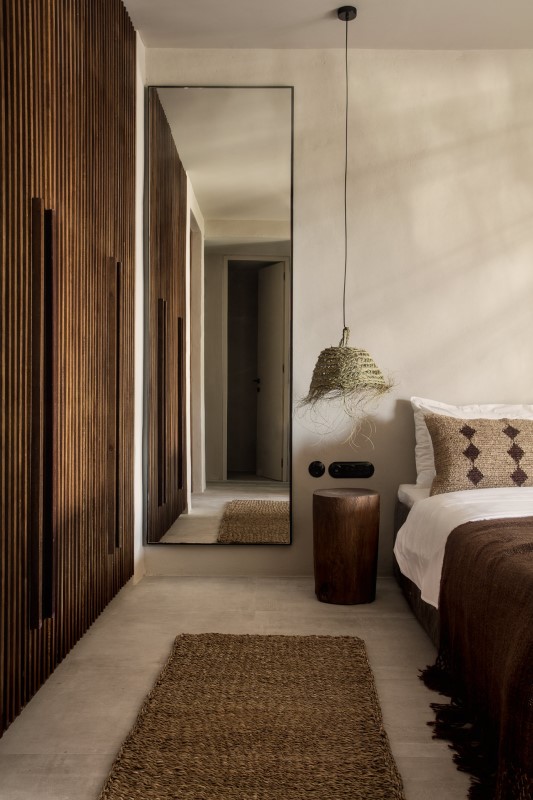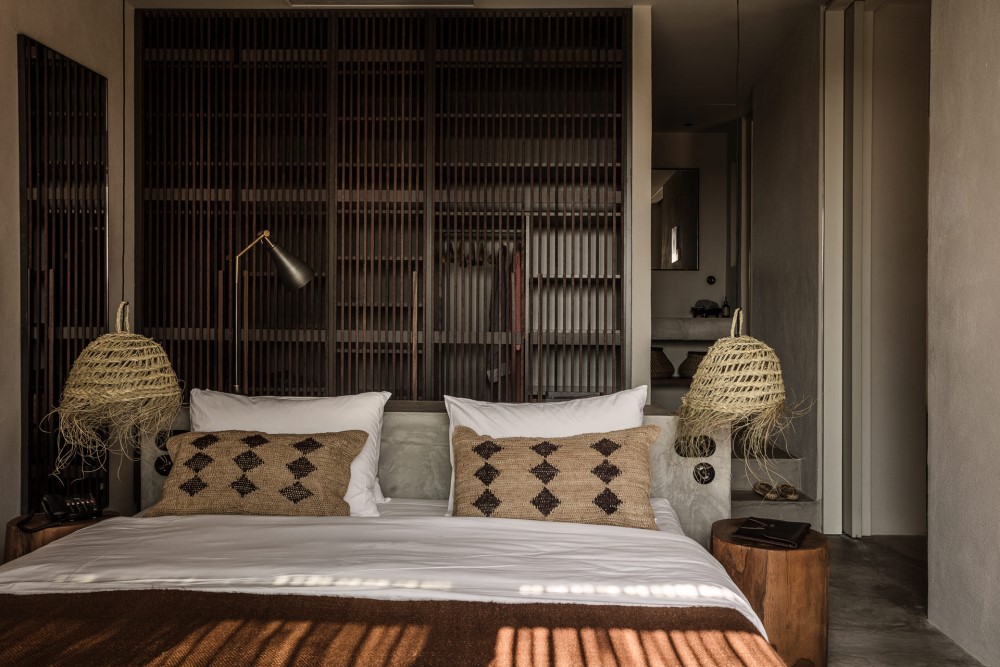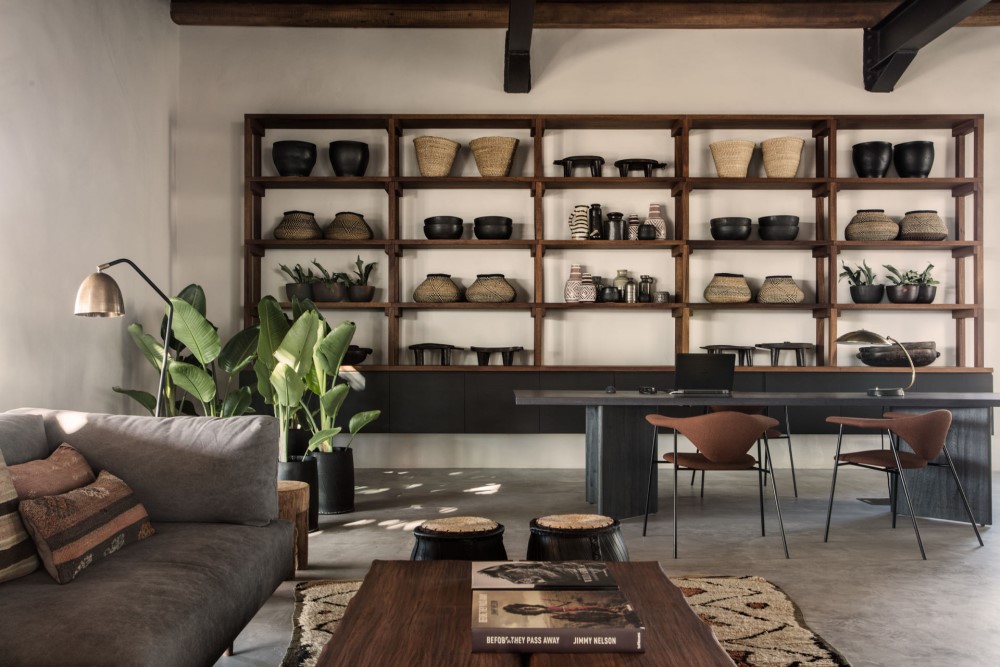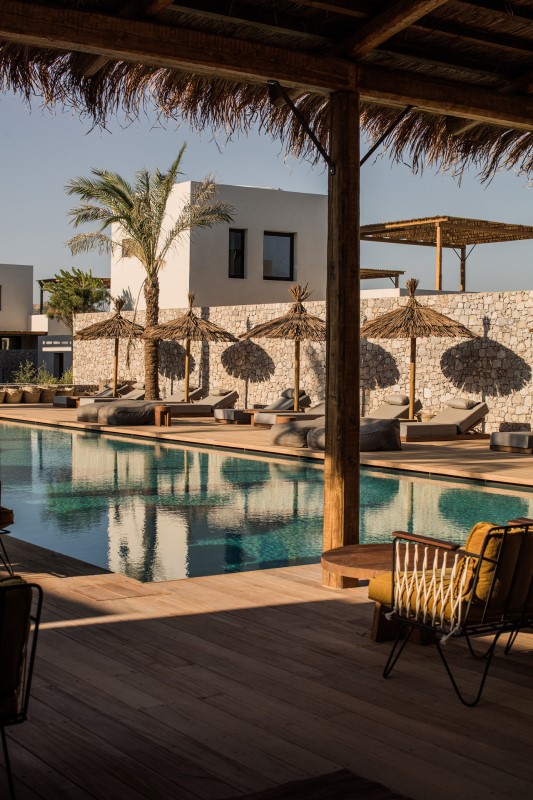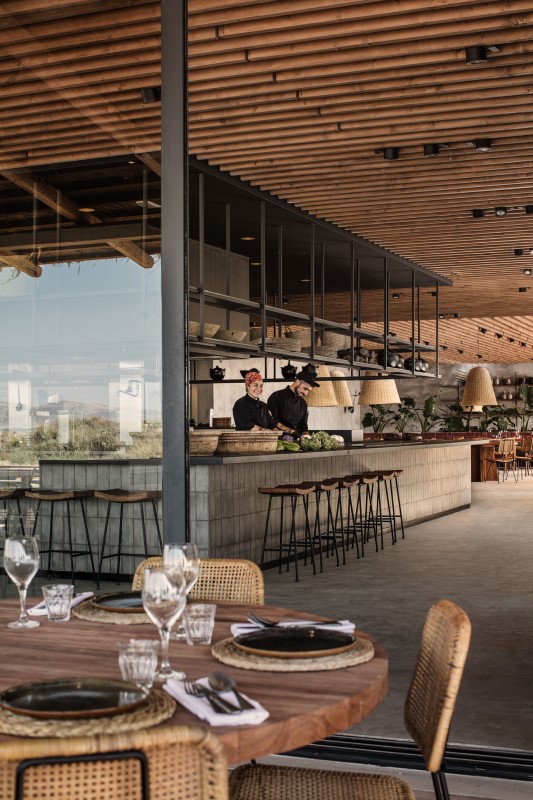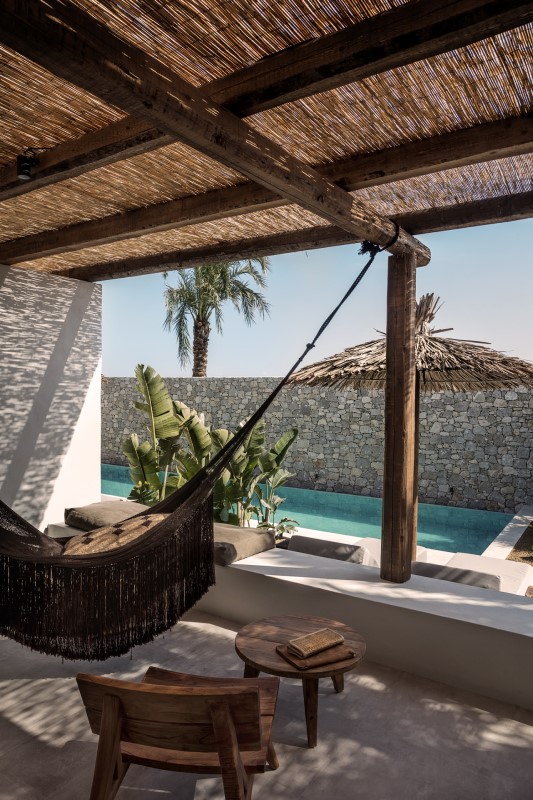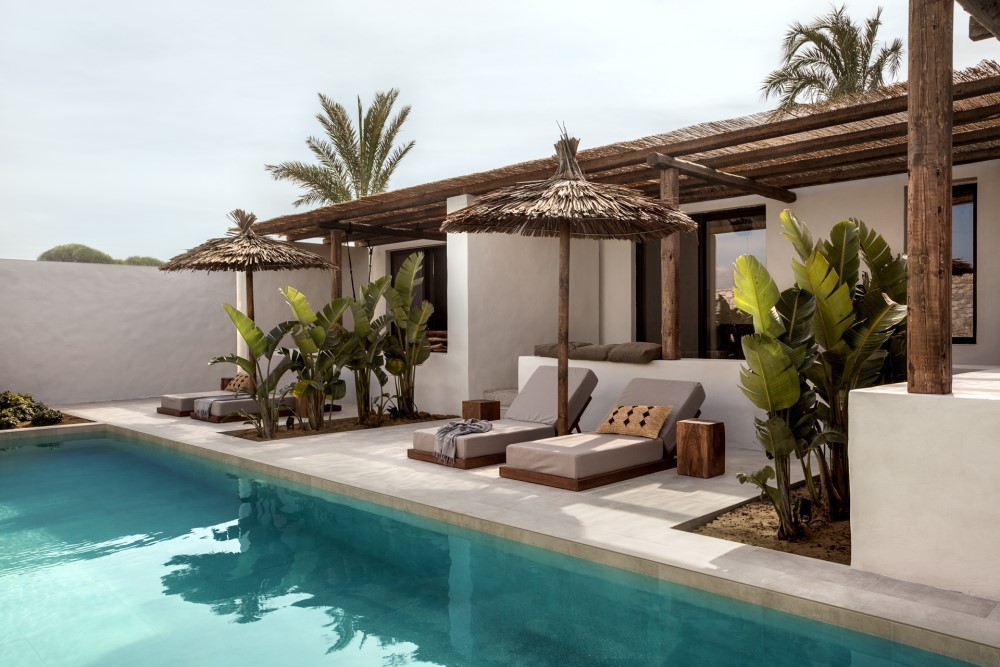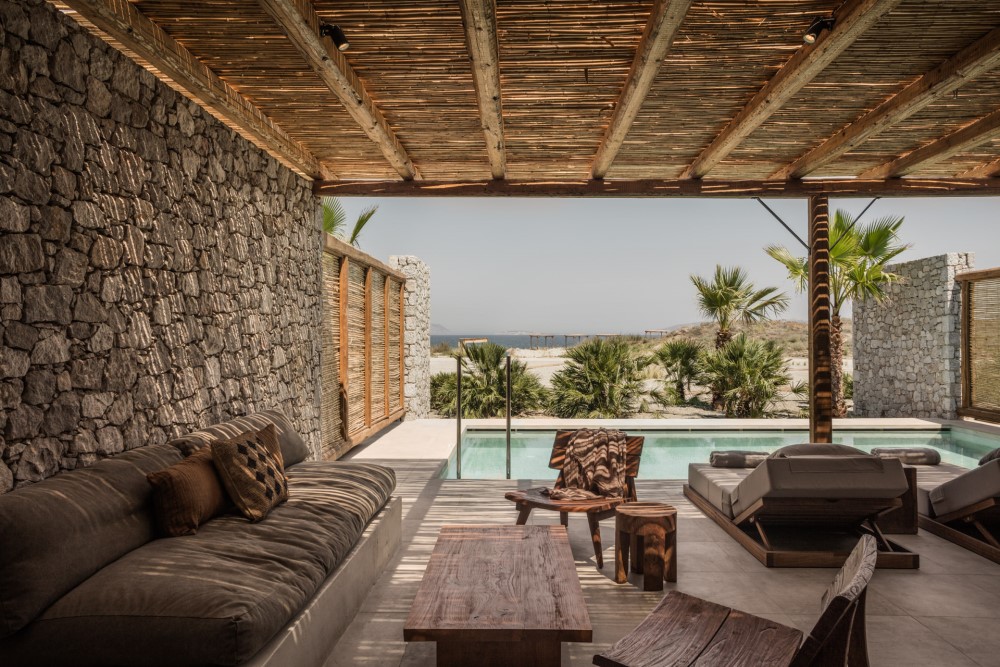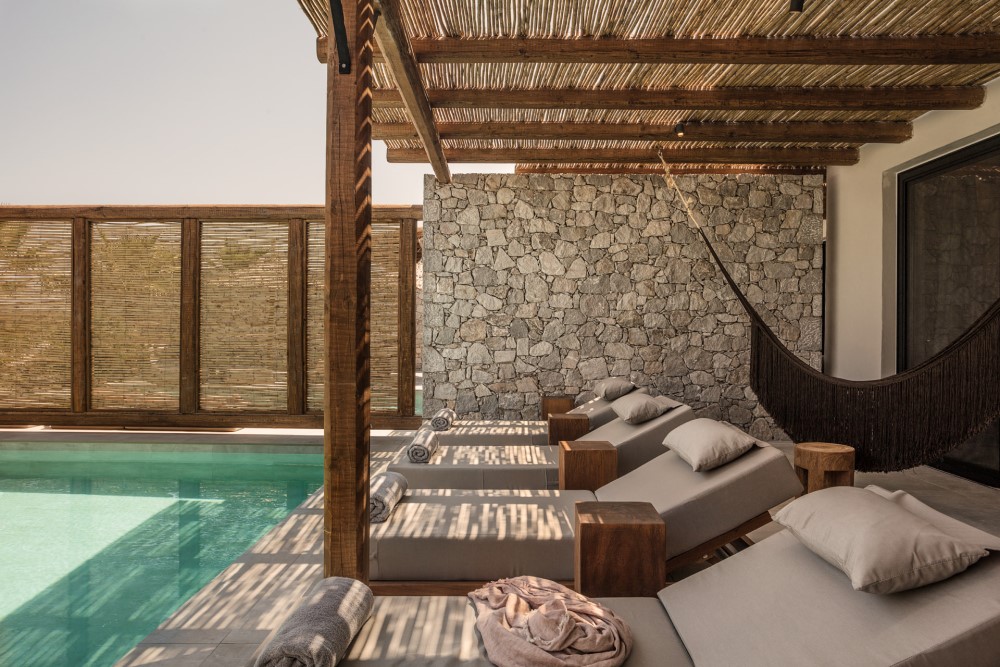 BEACH HIDEAWAY
Taking inspiration from traditional Greek island architecture, OKU Kos has a village-like feel with one and two-story cubist houses grouped around gardens and patios with slow-living, mindfulness, and minimalism at its core.
OKU Kos is a relaxing beach hideaway inspired by the Greek way of life, offering spacious guest rooms, suites, and a handful of private 2-bedroom villas for the ultimate in secluded luxury.
The cubic buildings are contemporary and minimalist, derived from centuries-old Greek architectural style. Large terraces extend into private outdoor space. Indoor and outdoor restaurants, open kitchens, a centered bar, terraces on the poolside, or overlooking the beach and sunset.
Clean-lined furniture combines rough, natural textures, and exotic accessories to create the perfect down-time sanctuary.
The rooms range from doubles to swim-up suites and private 2-bedroom villas, created as a series of tranquil sanctuaries. Inside, mid-century elements are contrasted with naturally tactile textures and traditionally handmade pieces, bringing a sense of timelessness, simplicity, and sophistication.
At OKU Kos you can enjoy our restaurant day and night. Built on our philosophy of locally sourced food, there are internationally-inspired dishes, vegan and vegetarian options, and a daily changing menu alongside kitchen classics.
Walk across wooden walkways to OKU Kos' private beach, with duos of sunbeds lining the shore, and open-air cabanas for those wanting more shade and space.  Or explore the island's many beautiful, sun-kissed beaches.
in a captivated environment facing the Mediterranean sea, Mimi & Coco presents a tranquil retreat in Corfu island
Paramonas is an unspoiled area on the West side of Corfu full of hills and dramatic cliffs studded with olive, pine, fir trees, and grape yards. Here you will find the best micro-climate with almost daily breezes which gives a very clean sea and great temperatures during summer days.  Guests have the opportunity to enjoy land and sea through a variety of activities. A great destination for nature lovers, sports enthusiasts, and beach lovers. The West part of Corfu literally has it all. Take the time and explore a variety of beaches, enjoy the clear waters, eat traditionally, and feel the great vibes of sunset hour.
Tempted to create a space that would ease your senses and inspire. With simple architecture lines and design, a space full of character arose which gives comfort and balance through your eyes.
Three villas in the area of Paramonas Corfu, just a few minutes walk from the sandy beach. Each villa has a private pool and great views of the Mediterranean sea. Taking a cue from the way of life they developed this project with the environment in mind. Materials used in the building process are eco-friendly resulting in highly energy-efficient structures.
A special building procedure combined with natural materials, like wool for insulation and stone for the structure, brings this project among the best in terms of energy consumption while waste and water treatment complements their support to the environment.