Jamaica, a Caribbean island nation, has a lush topography of mountains, rainforests and reef-lined beaches. Many of its all-inclusive resorts are clustered in Montego Bay, with its British-colonial architecture, and Negril, known for its diving and snorkeling sites. Jamaica is famed as the birthplace of reggae music, and its capital Kingston is home to the Bob Marley Museum, dedicated to the famous singer.
our LXRY! hotel selection
We have some criteria before we can call a hotel a LXRY! Selection Hotel. We want to be surprised, we need luxury and hospitality at a high level, we love the quality of food and the rooms, we think the location is super important, and….we want to memorize the hotel for a lifetime! So you will not find basic chain hotels that look similar in all countries but truly found local gems that are different and memorable.
Timeless elegance. Understated luxury. Warm Jamaican heart
Steeped in rich history, timeless elegance, and true understated luxury, Round Hill Hotel, and Villas welcomes you with genuine Jamaican hospitality while captivating you at every turn. You are invited to a 110-acre private enclave of luxury villas, boutique oceanfront rooms, award-winning seaside dining, and an exquisite spa that lies nestled in a lush tropical hillside along a private bay of turquoise waters.
Here, guests become family, paradise is found, and experiences become lasting memories.
Drift off to the gentle Caribbean breeze. Lose yourself in a good book. Dance the night away. Longstanding as one of the most beautiful and elegant resorts in the Caribbean, Round Hill caters to every guest – families getting away for quality time, couples escaping to paradise, and friends celebrating life. No matter the occasion, or no occasion at all, Round Hill's impeccable service and warm Jamaican heart make you feel right at home here in Jamaica.
Encounter the enchanting ambiance of yesteryear while unwinding with modern luxuries. Choose to stay in an array of custom, luxuriously appointed private Jamaica villas or the beautiful Ralph Lauren-designed oceanfront rooms.
Tempt your palate with locally-grown, organic, and meticulously handcrafted cuisine and cocktails served seaside or in the restaurant. Find yourself barefoot on the beach or dancing along with the band with our nightly themed gatherings. Wake up and greet the morning with Blue Mountain coffee and fresh-baked pastries or get the day started with a made-to-order smoothie.
Unwind and indulge in sublime relaxation with a treatment at the spa after a soothing yet invigorating yoga class in our outdoor, oceanview pavilion. Allow any cares to drift away with the ocean breeze as you bask in the sunshine at our infinity pool, or take a dip in the crystal clear waters and explore the sea life by snorkeling the reef.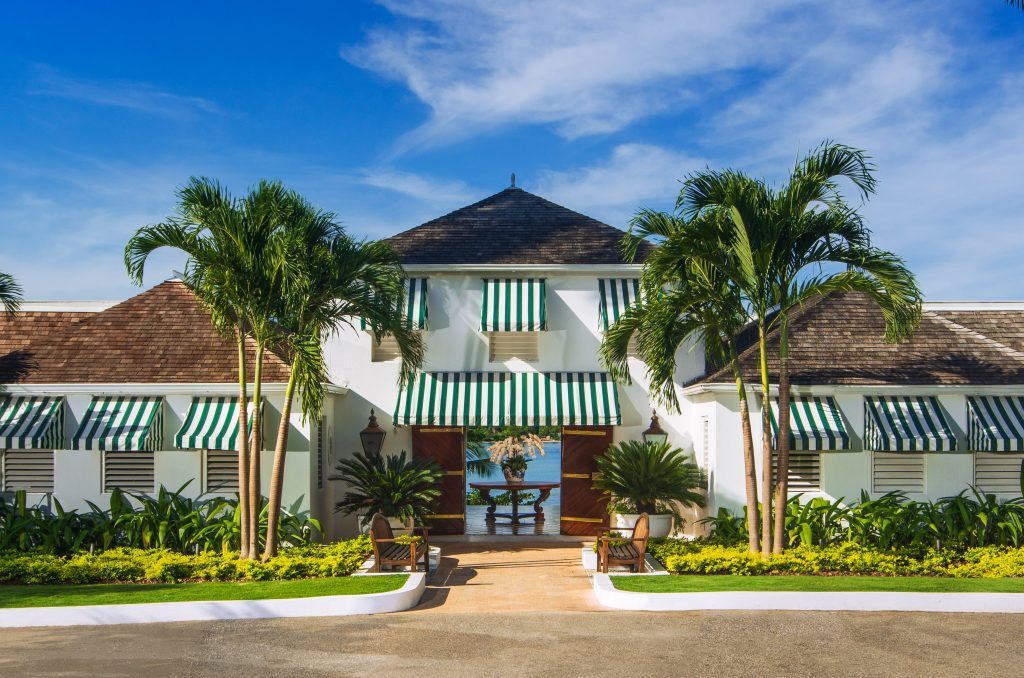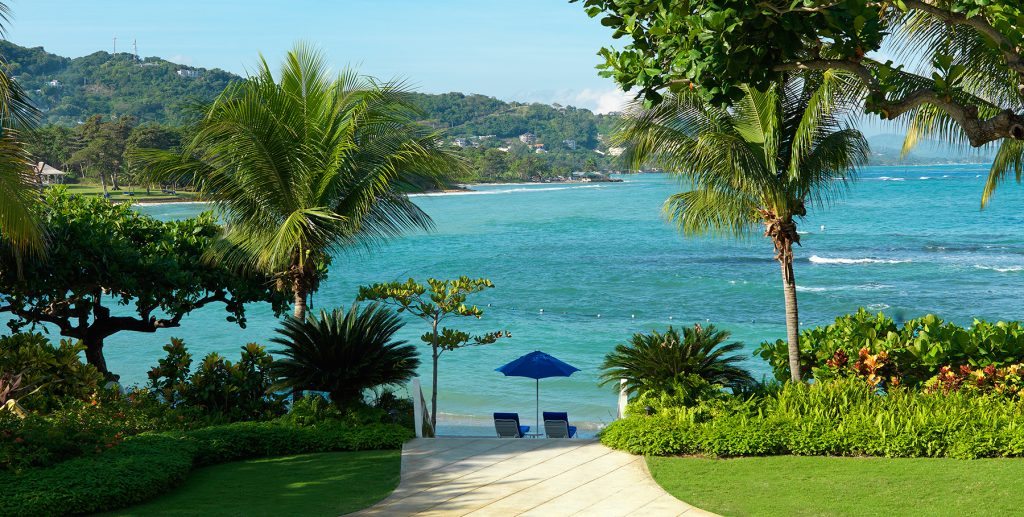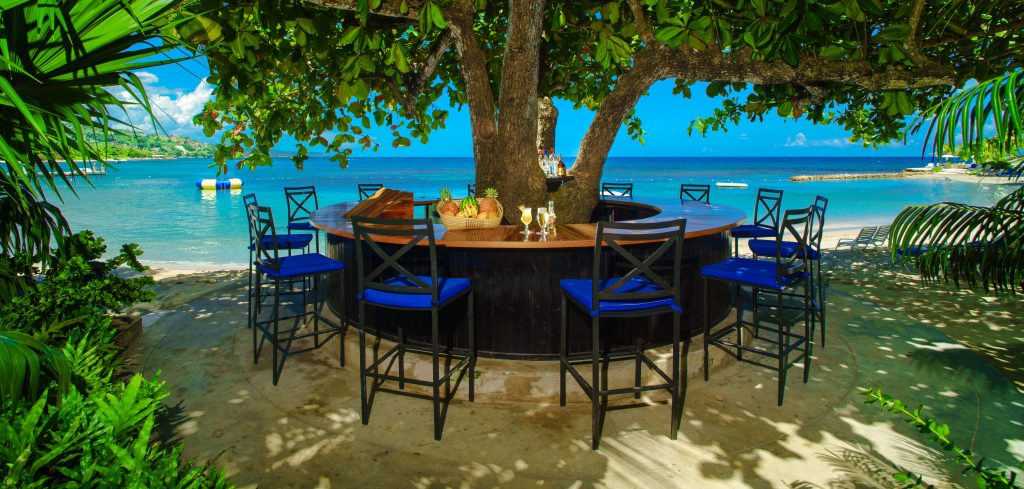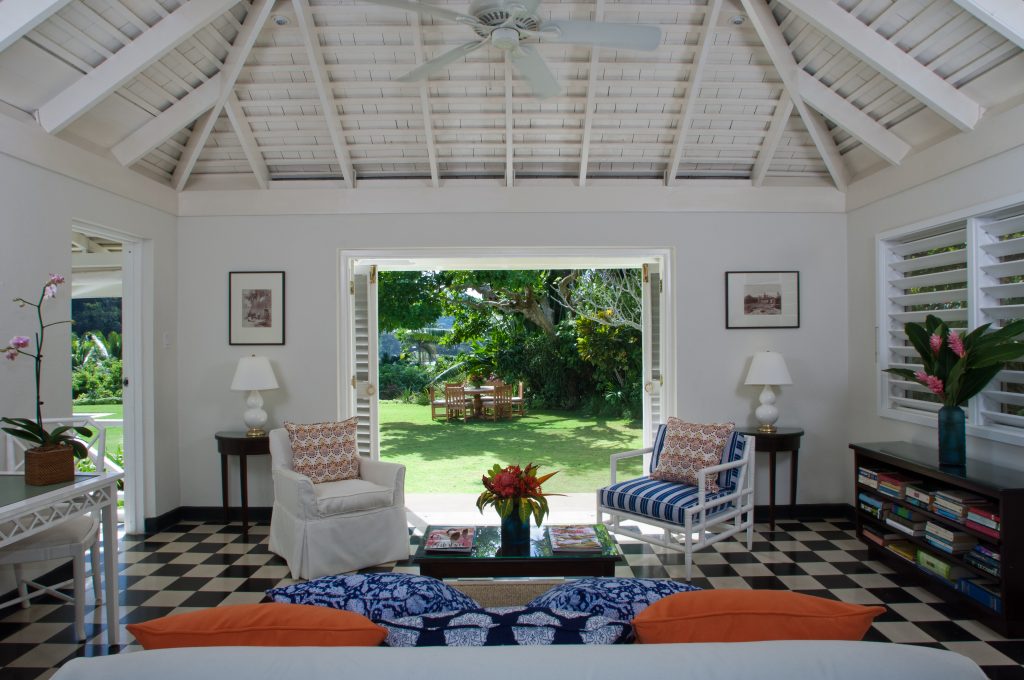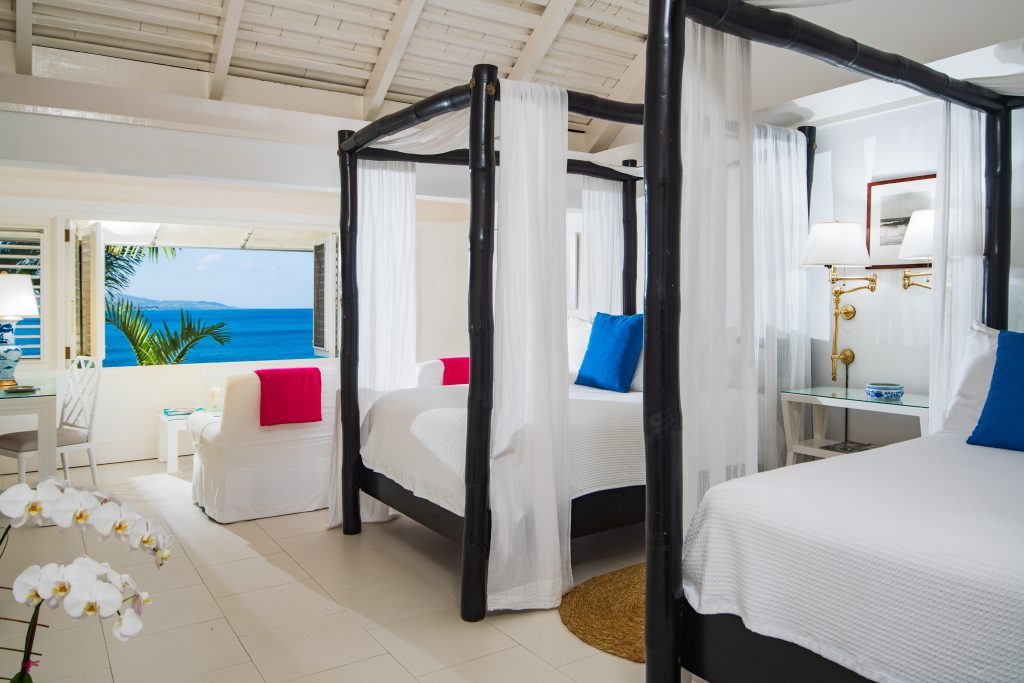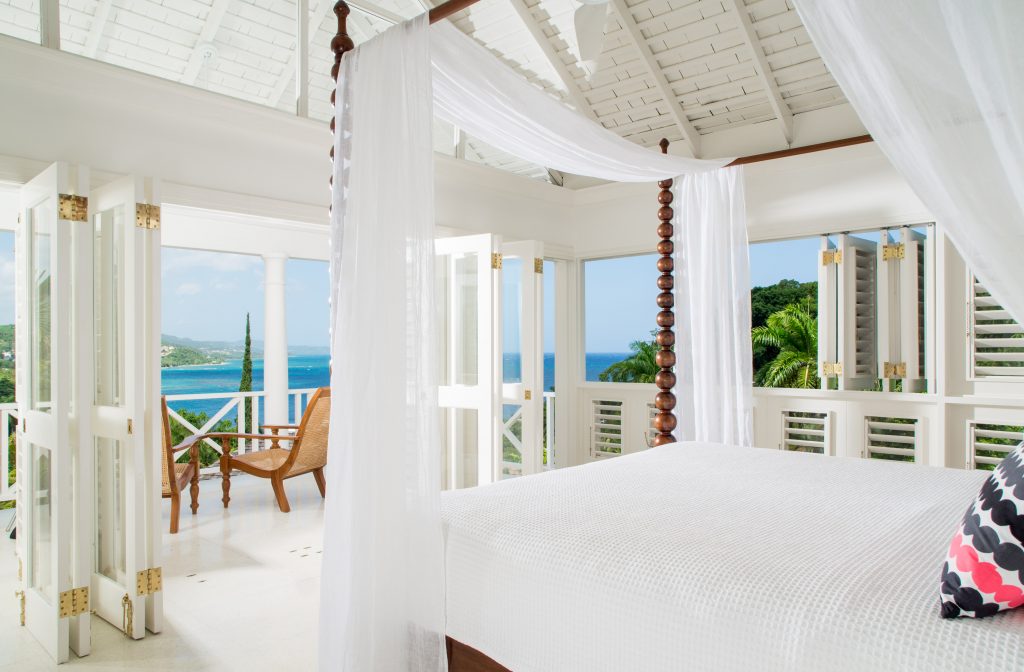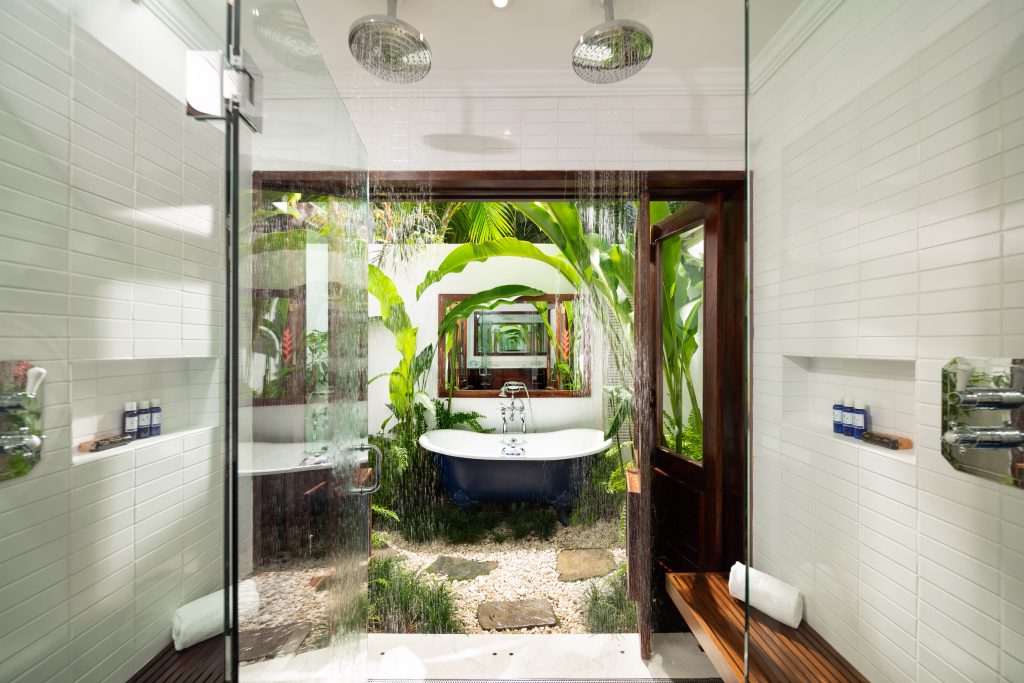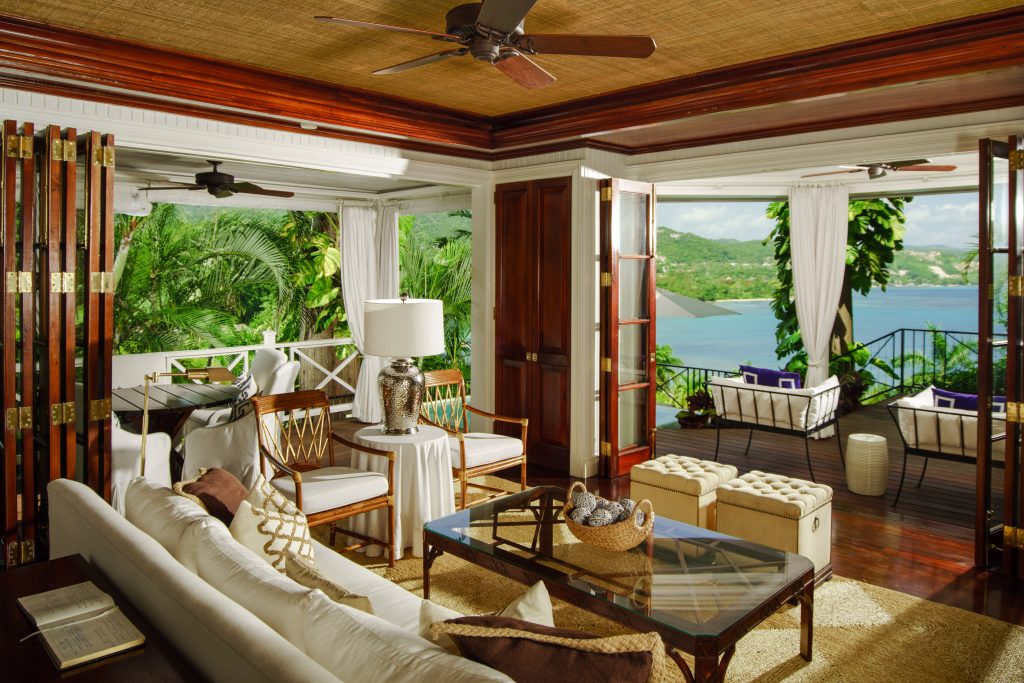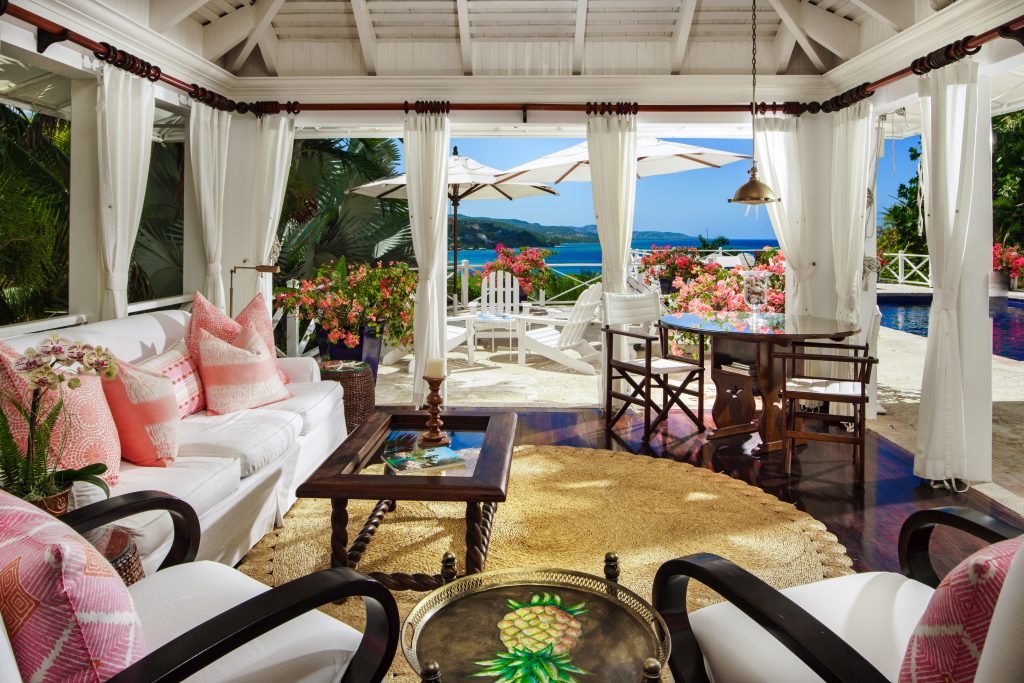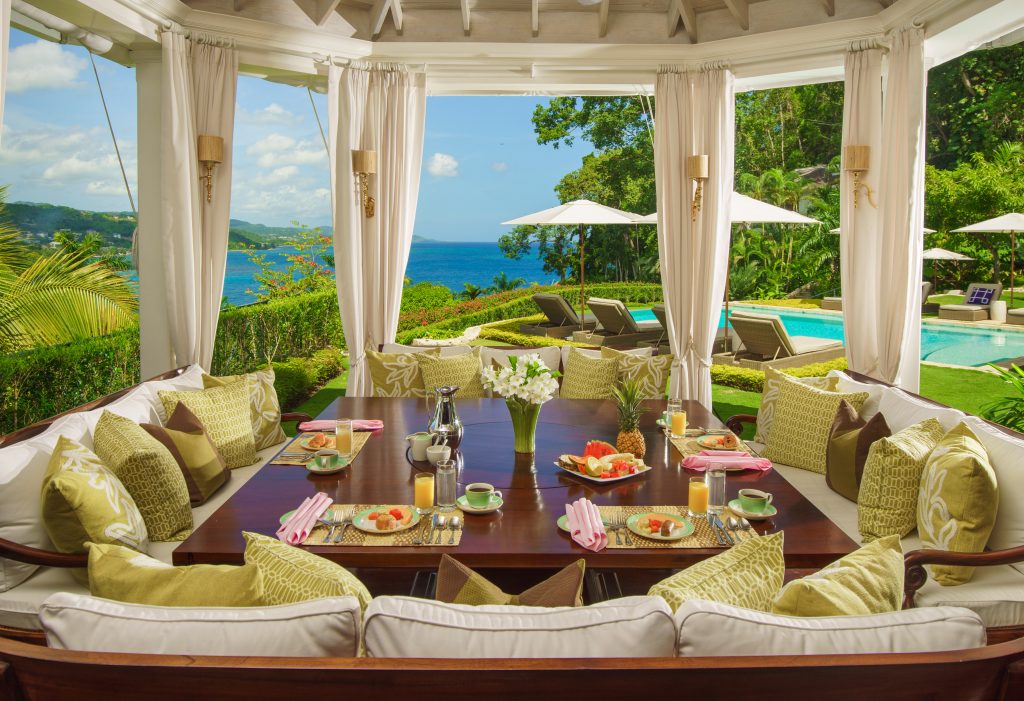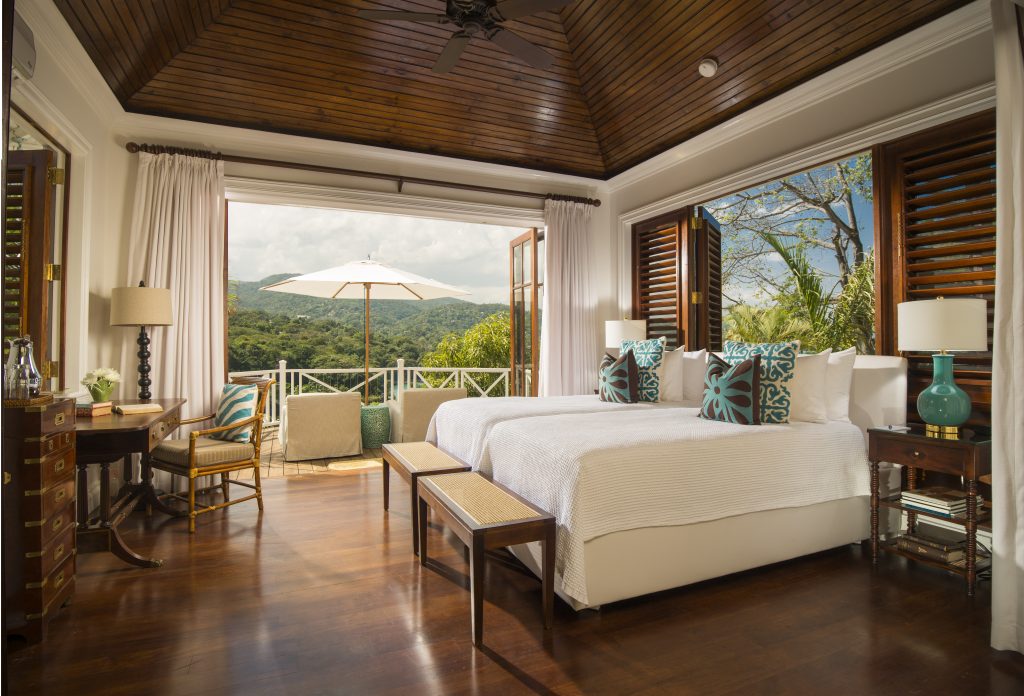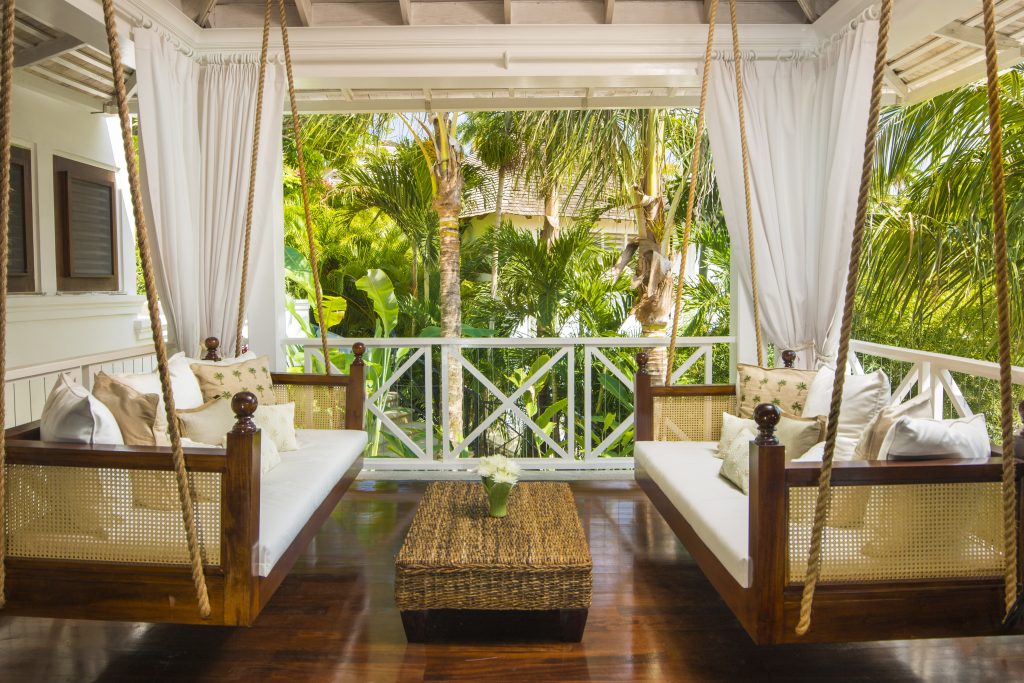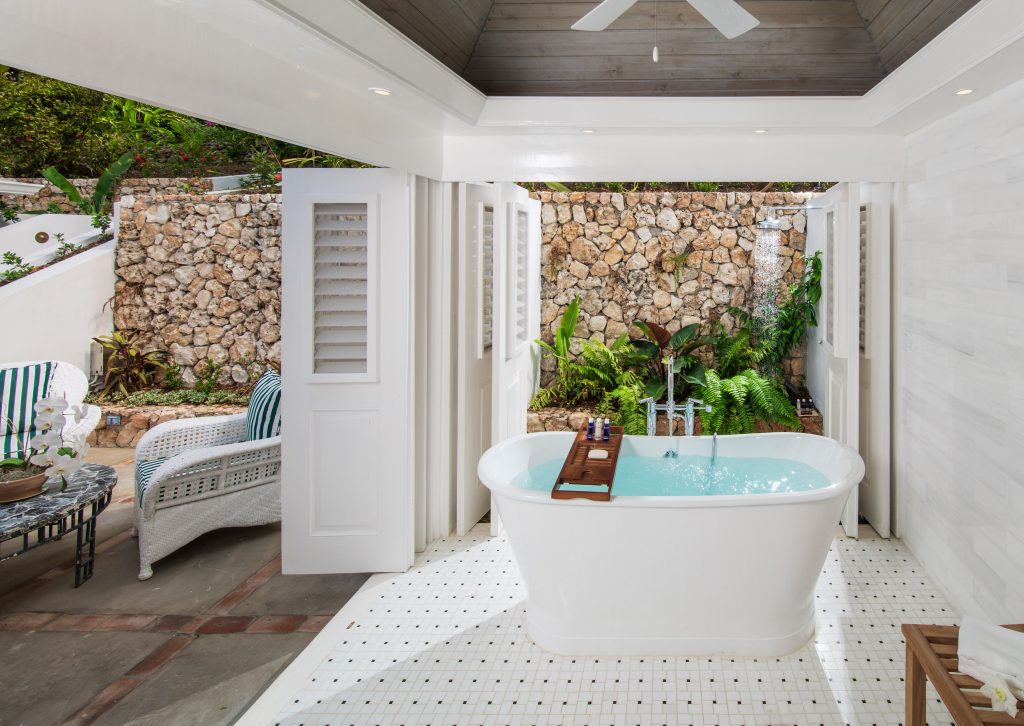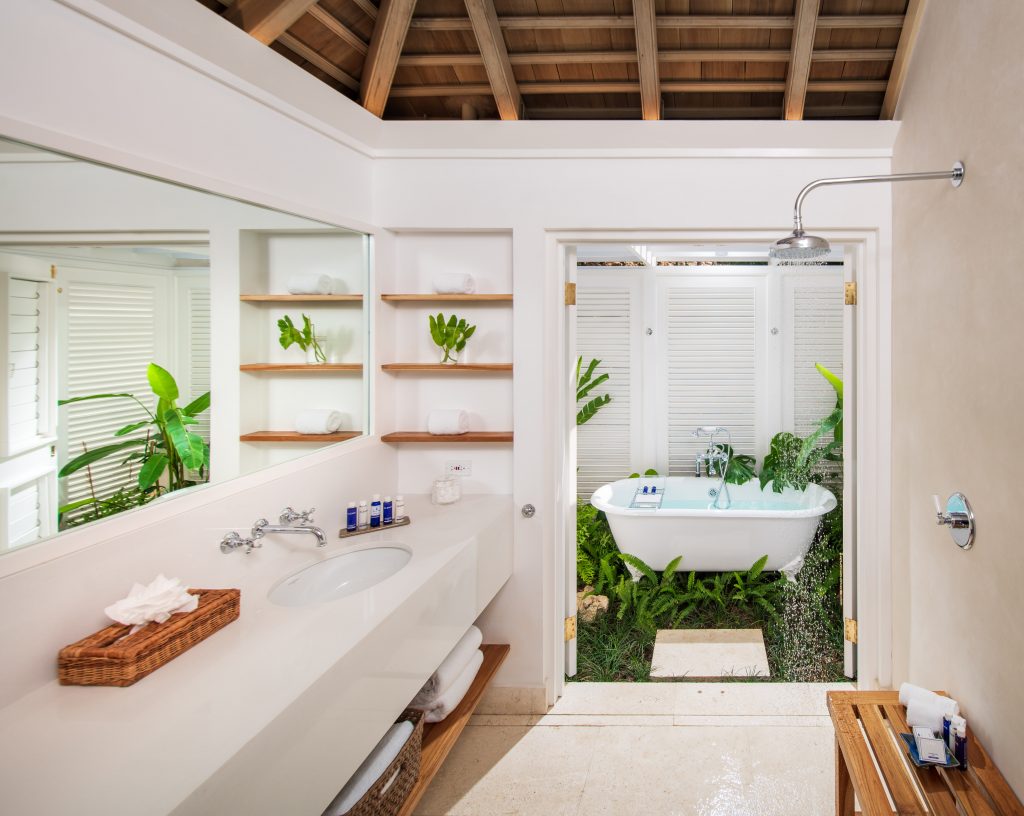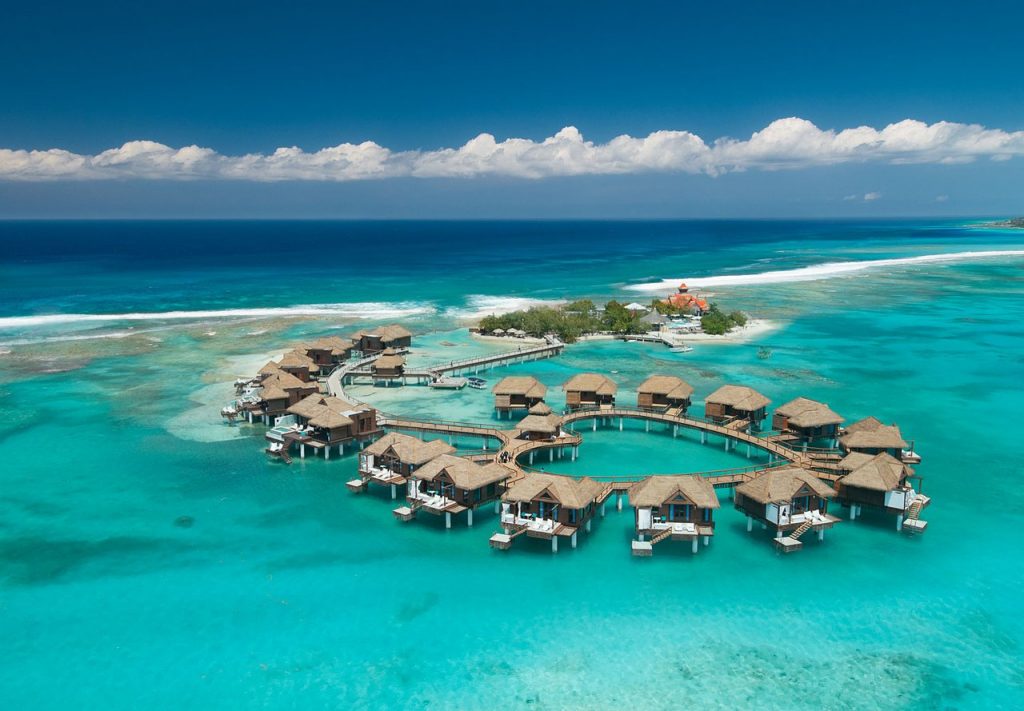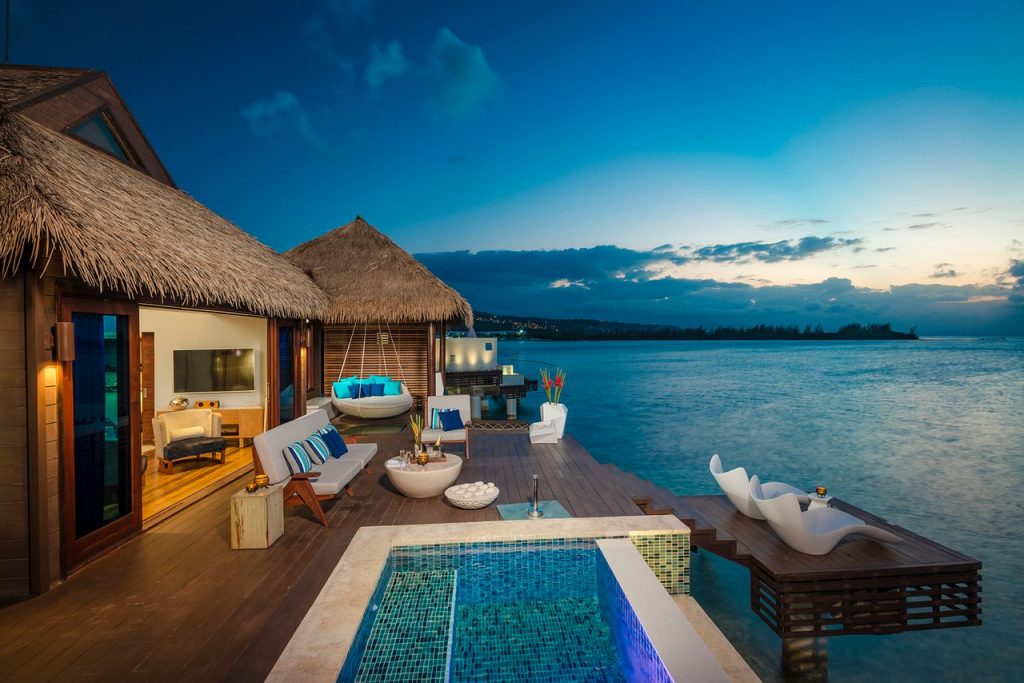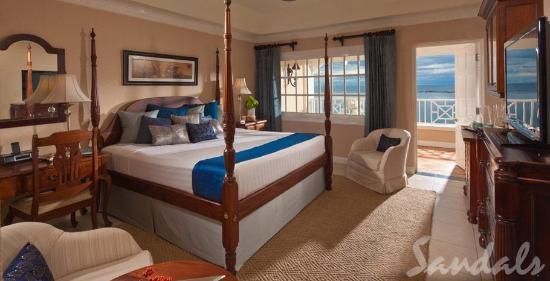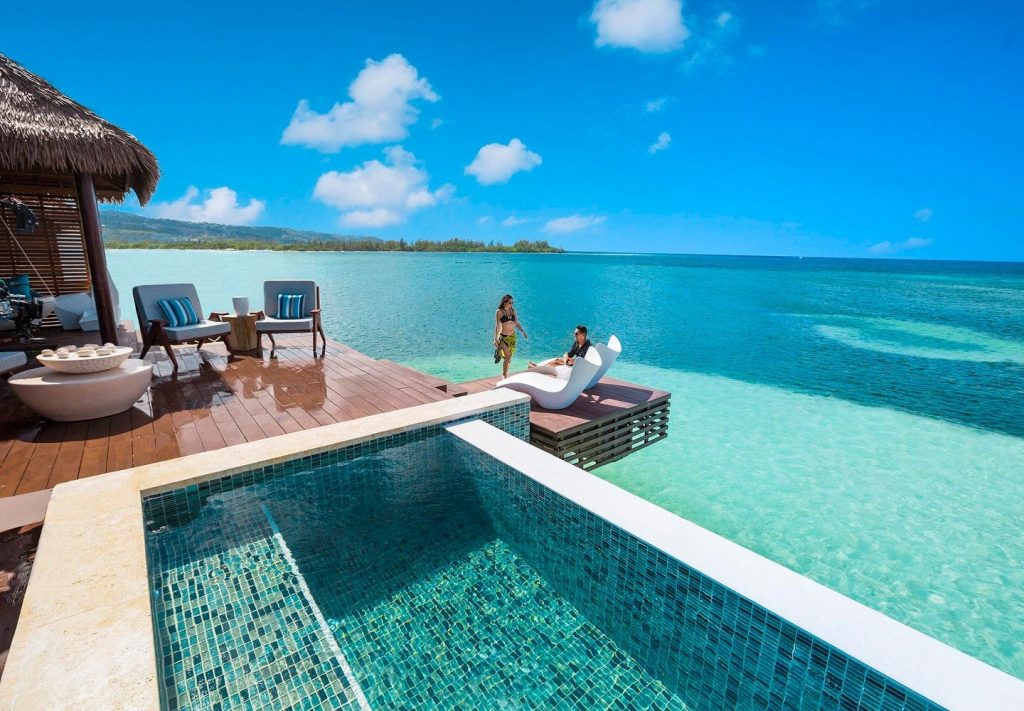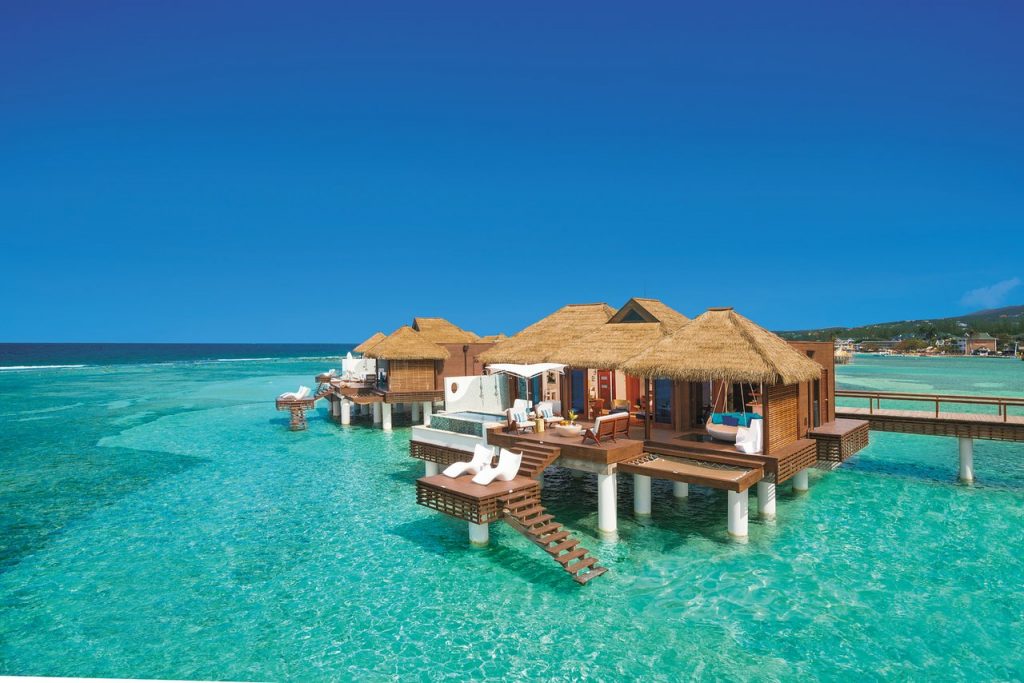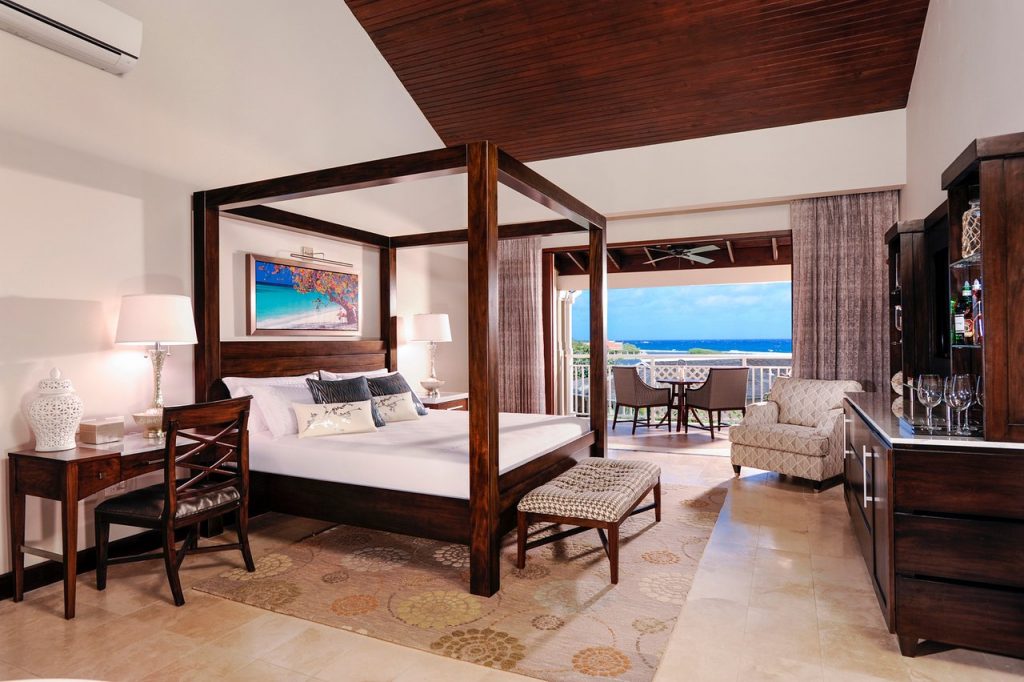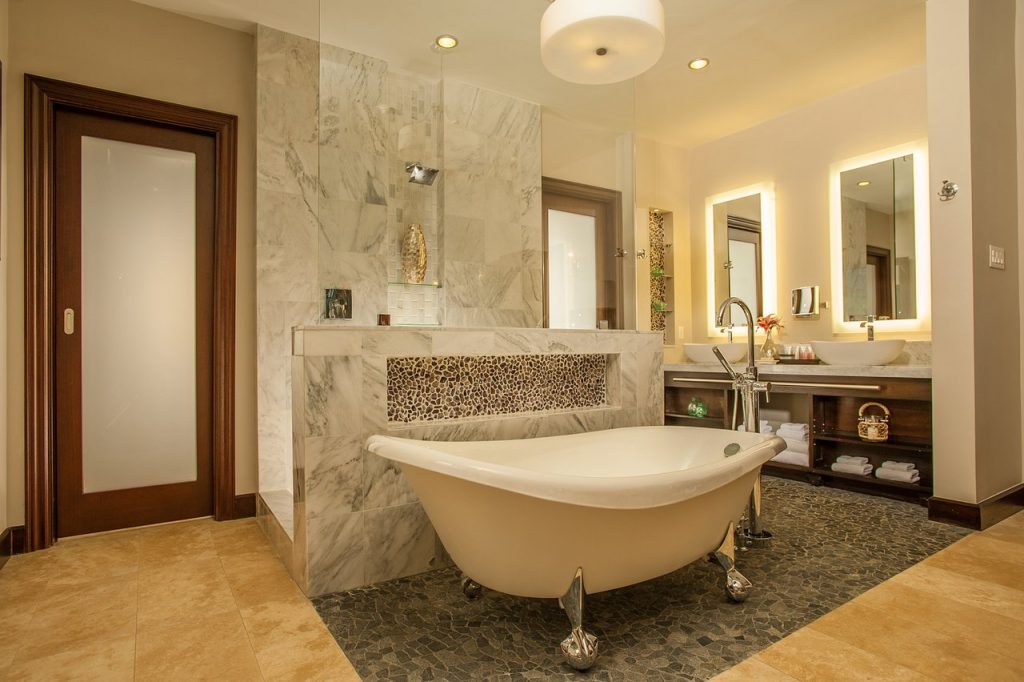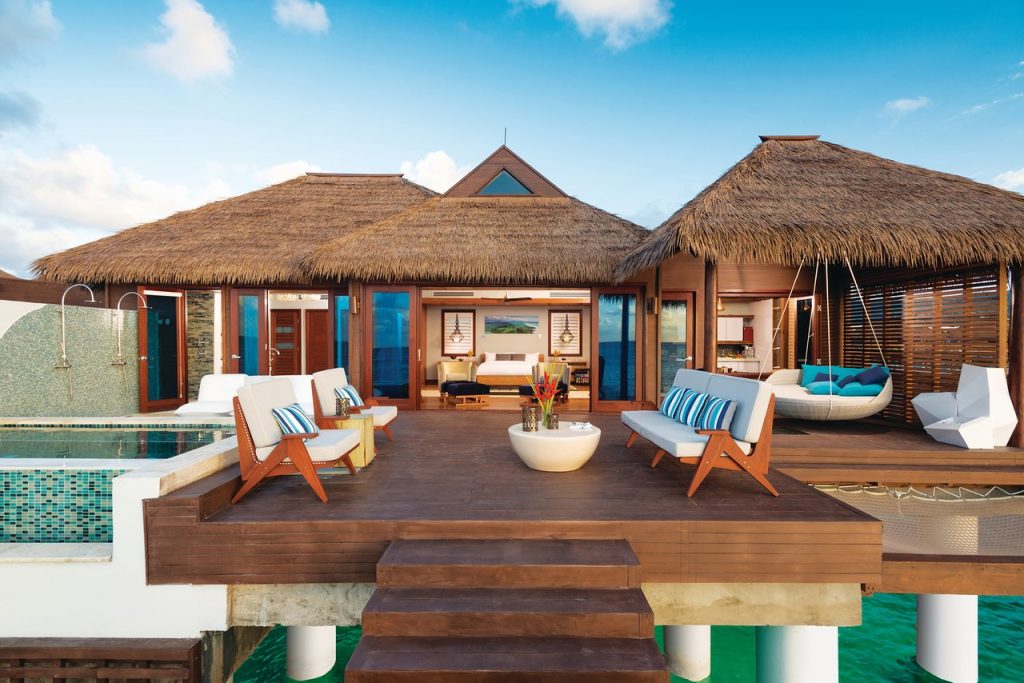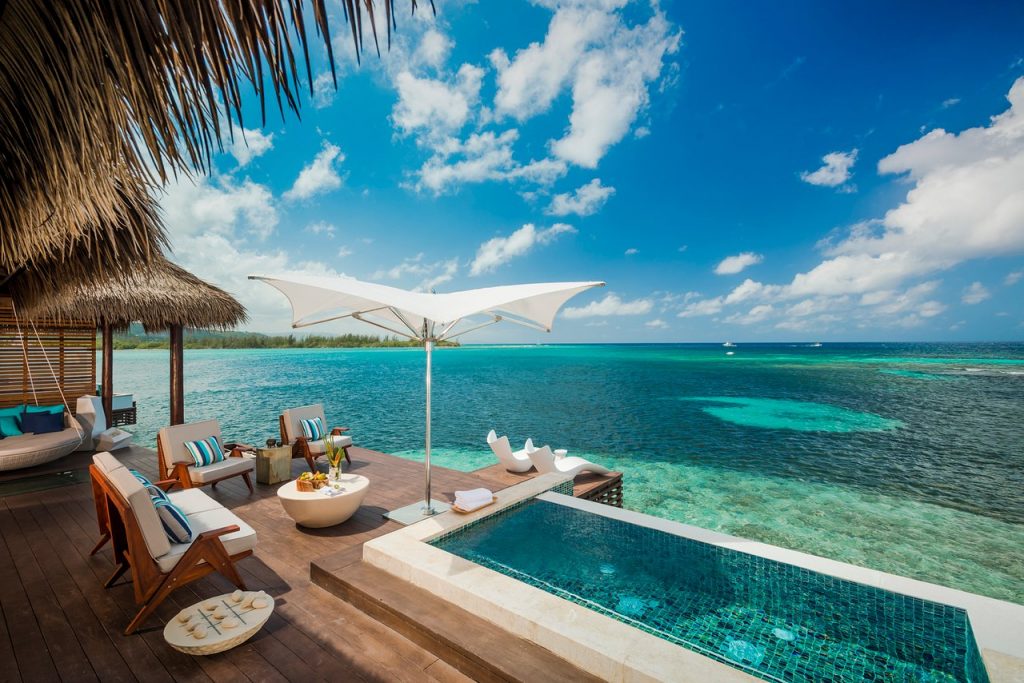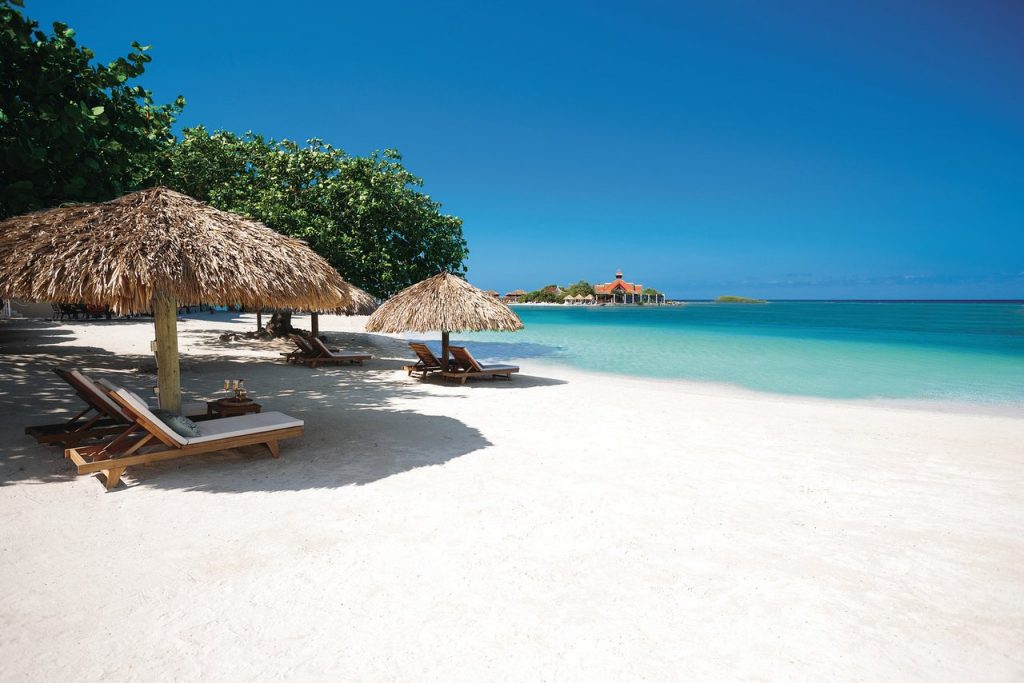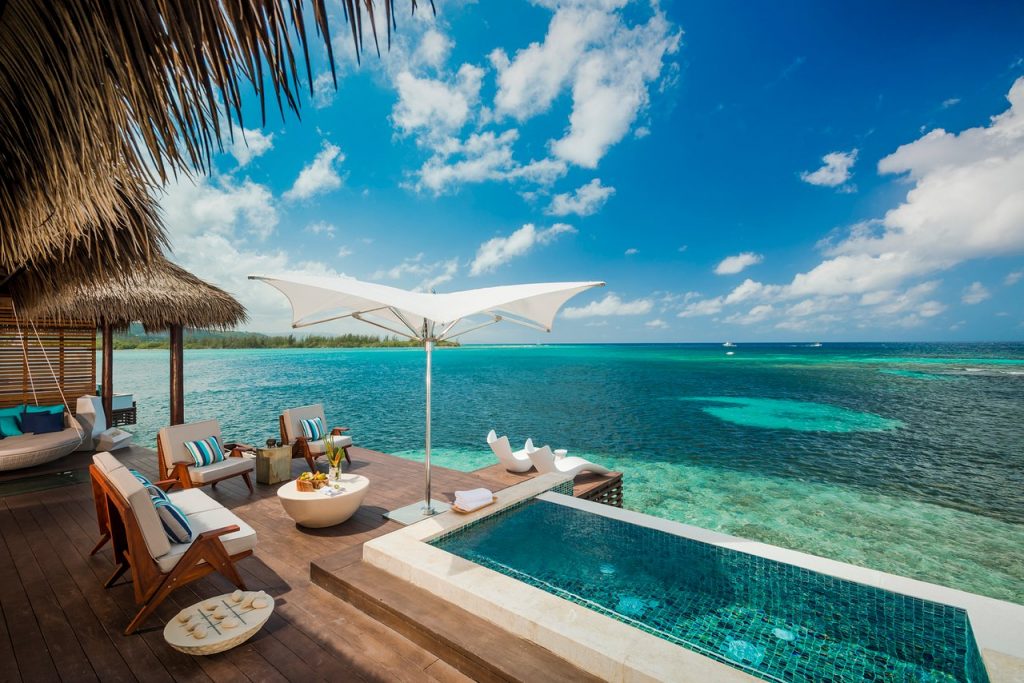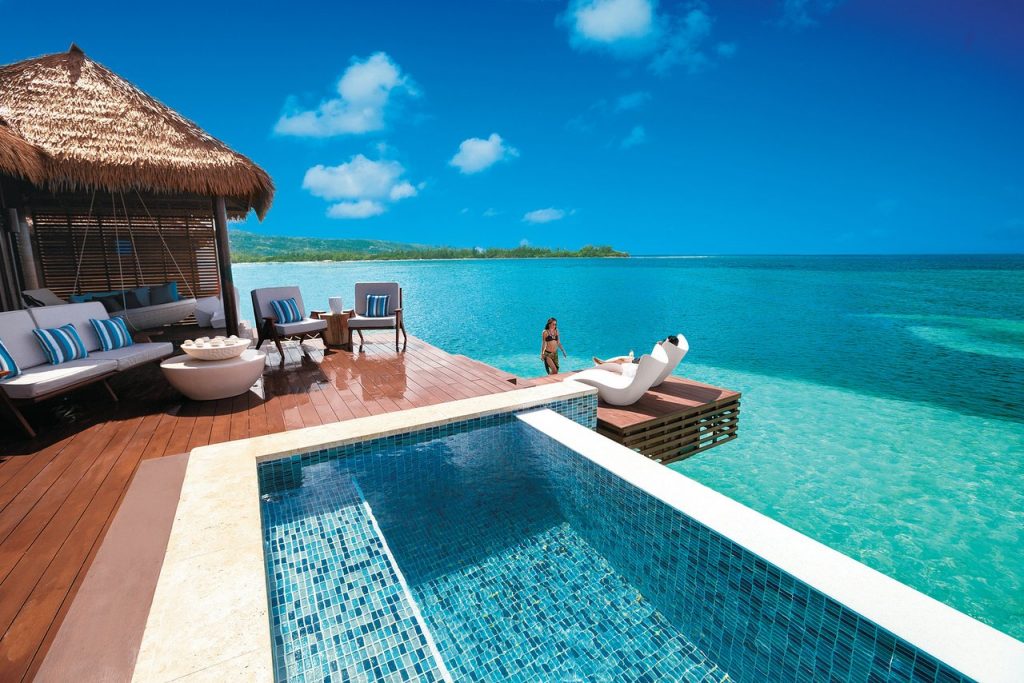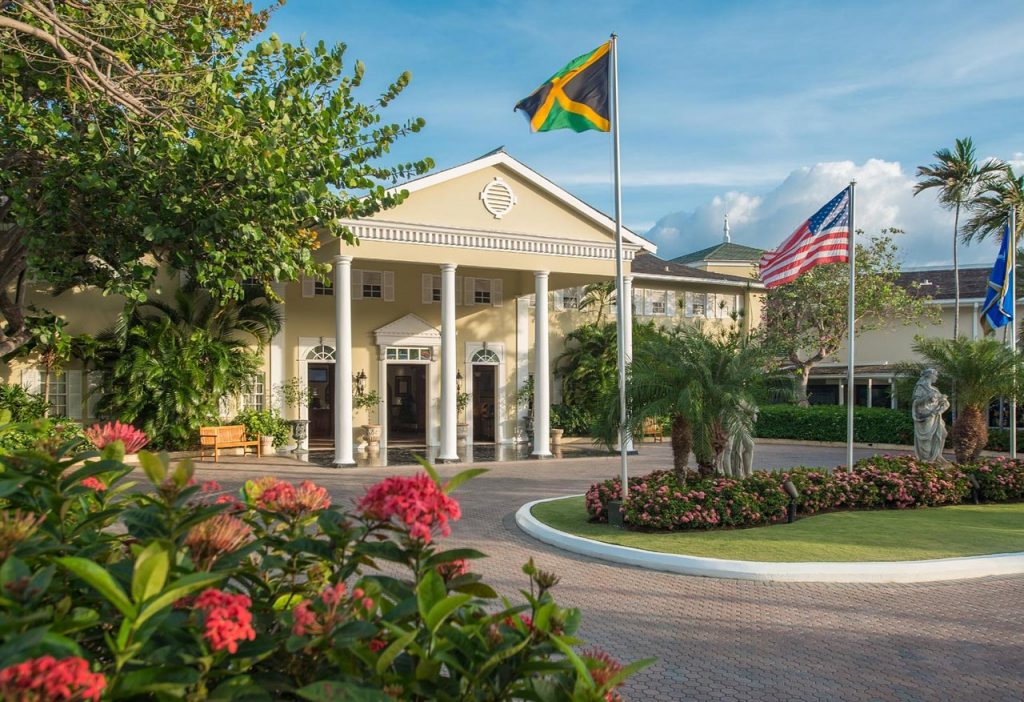 Jamaica's Most Alluring Retreat
A kaleidoscope of cultures from Britain to Bali awaits you at Sandals Royal Caribbean. The resort's decidedly British heritage begins with the Majestic Georgian-style Great House, surrounded by manicured gardens and roaming peacocks – all complemented with well-heeled traditions like afternoon tea and a rousing game of croquet. Minutes away on the private offshore island of this adults-only resort you will find luxurious Over-The Water Bungalows.
The mysteries of the Orient unfold in a secluded natural setting where casual poolside and beachside pleasures beckon by day, while chic parties, an authentic Thai restaurant, and island-style extravaganzas invite excitement by night.
At Jamaica's most alluring all-inclusive resort, two diverse vacations are woven into one and served with warm island hospitality, making your stay in Jamaica a journey to remember.
Over the Water Private Island Butler Villa with Infinity Pool 
These breathtaking over-the-water villas, located just off the resort's private island, convey an unmatched connection to the Caribbean Sea. From floating water hammocks to private glass floors – your private villa delivers an immersive journey of the Caribbean's finest turquoise waters and rich marine life. Couples can admire the majestic beauty of the ocean from their private infinity pool with an outdoor shower. You don't even need to step outside to appreciate the Caribbean's best crystal-clear waters. With see-through glass floors, you can experience the ocean from the comfort of your luxurious suite. Lit water ensures you can enjoy the sea anytime day or night. Every suite captures the height of luxury with stylish mahogany king-size beds adorned with soft linens and plush pillows for the ultimate sleep experience. You know you've arrived when you meet your own personal butler. Trained in accordance with the exacting standards of the Guild of Professional Butlers, who provide butlers to nobility and celebrities, your personal butler handles every detail of your vacation with unobtrusive grace. Guests of this extraordinary villa also receive the following additional inclusions: Exclusive in-room dining and room service menu. Direct resort access via a "Royal Duffy" luxury boat. Personal airport greeting. Expedited immigration. Welcome gift, including branded tote and towel set. Molton Brown bathroom amenities. Exclusive House of Marley sound system. This category also includes the exclusive indulgence of round-trip Private BMW Luxury Airport Transfers from Sangster International Airport (MBJ) & Norman Manley International Airport (KIN).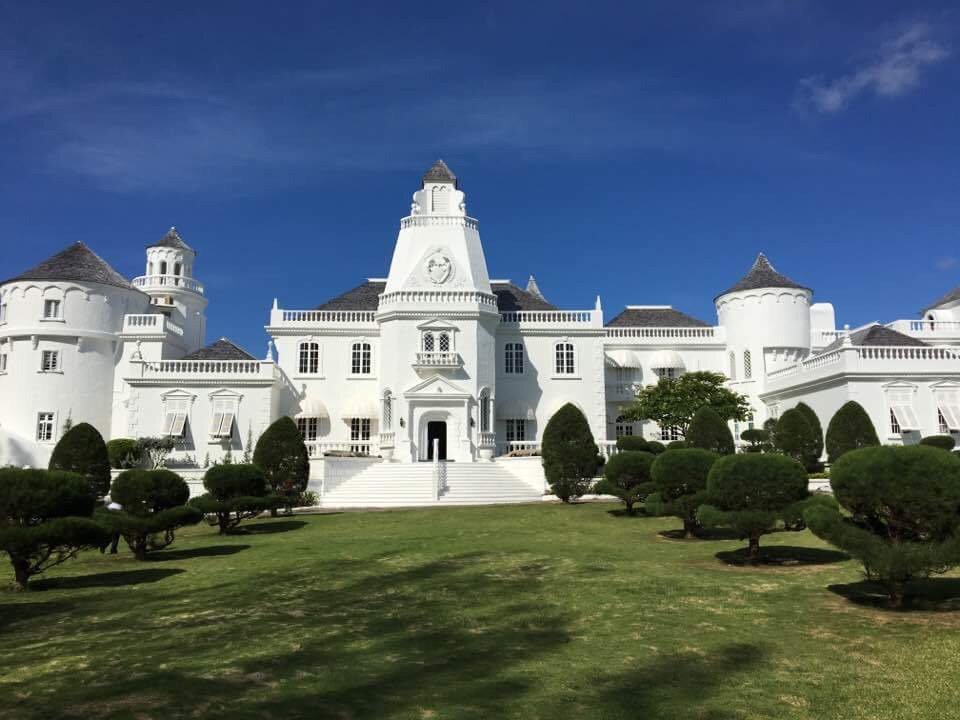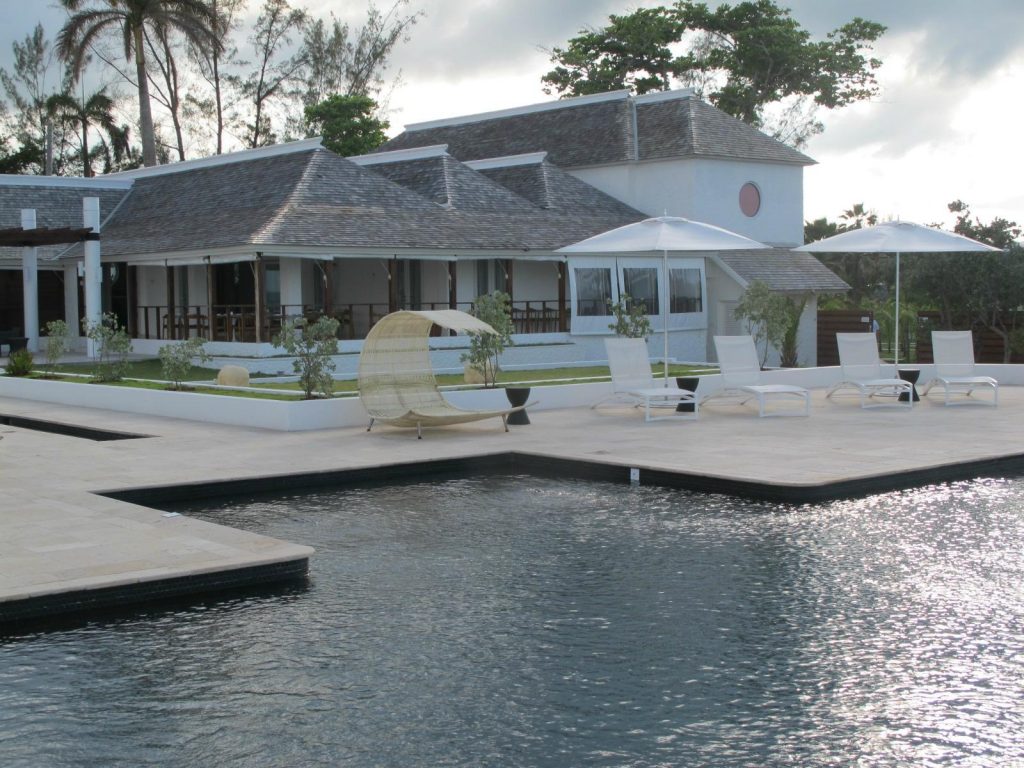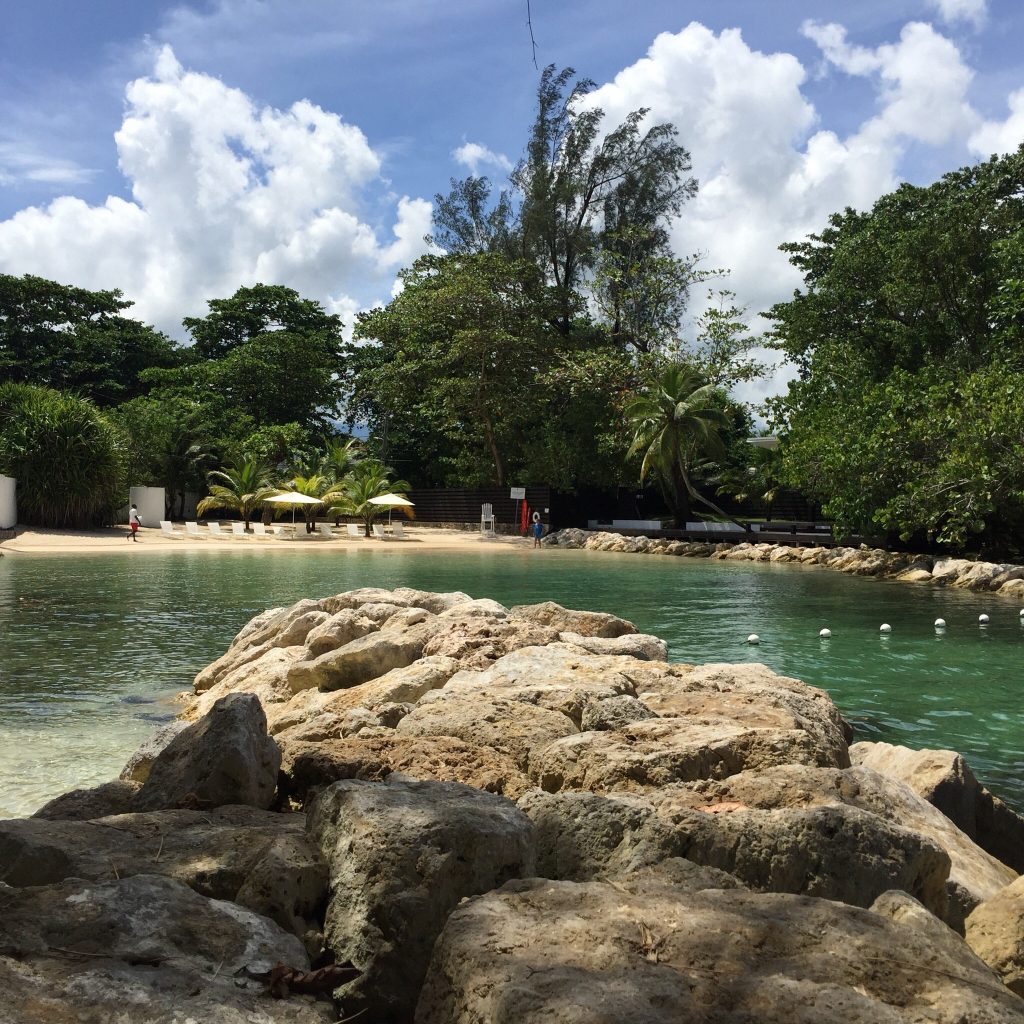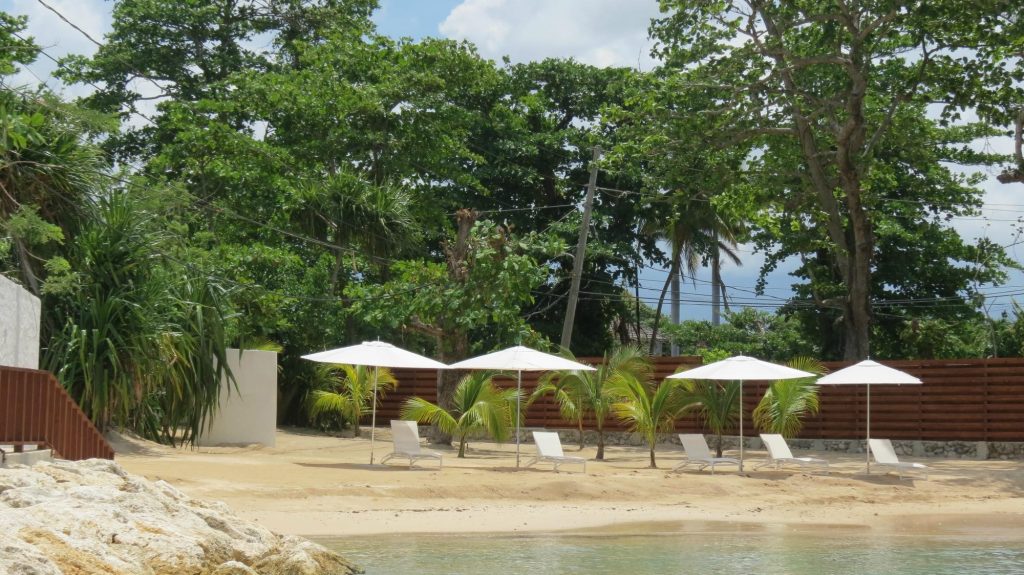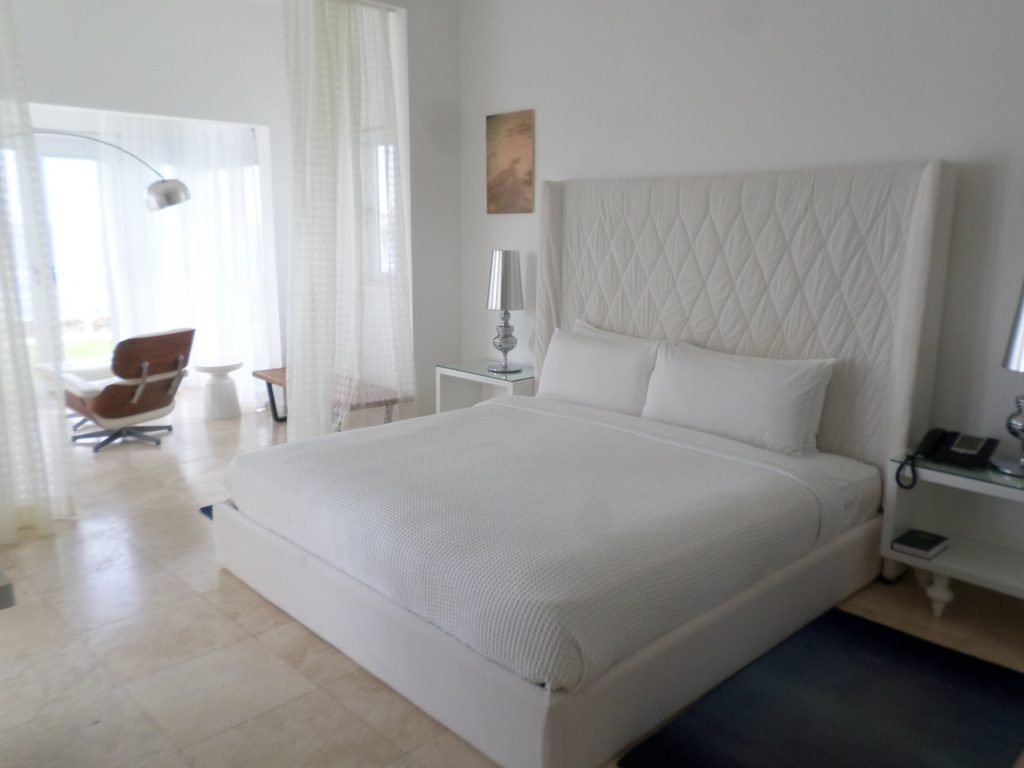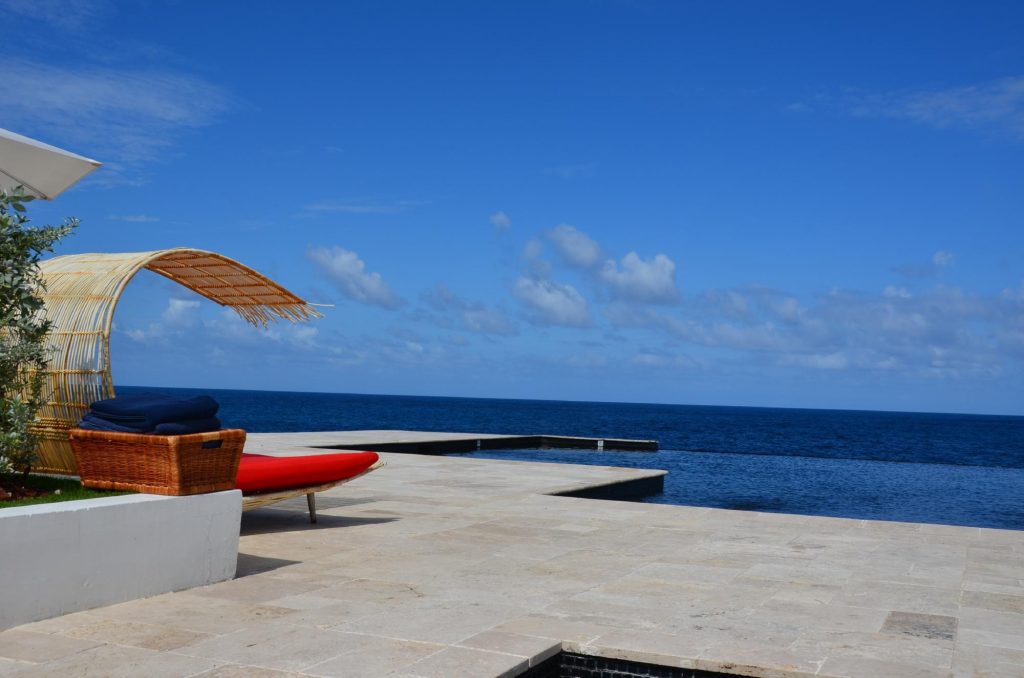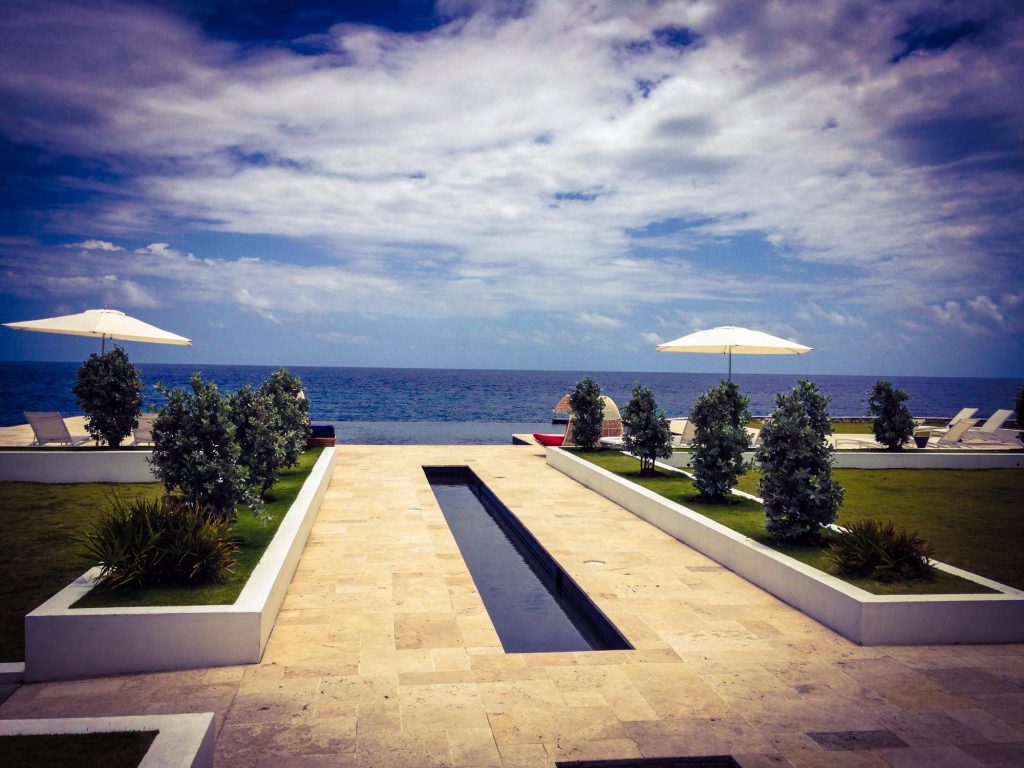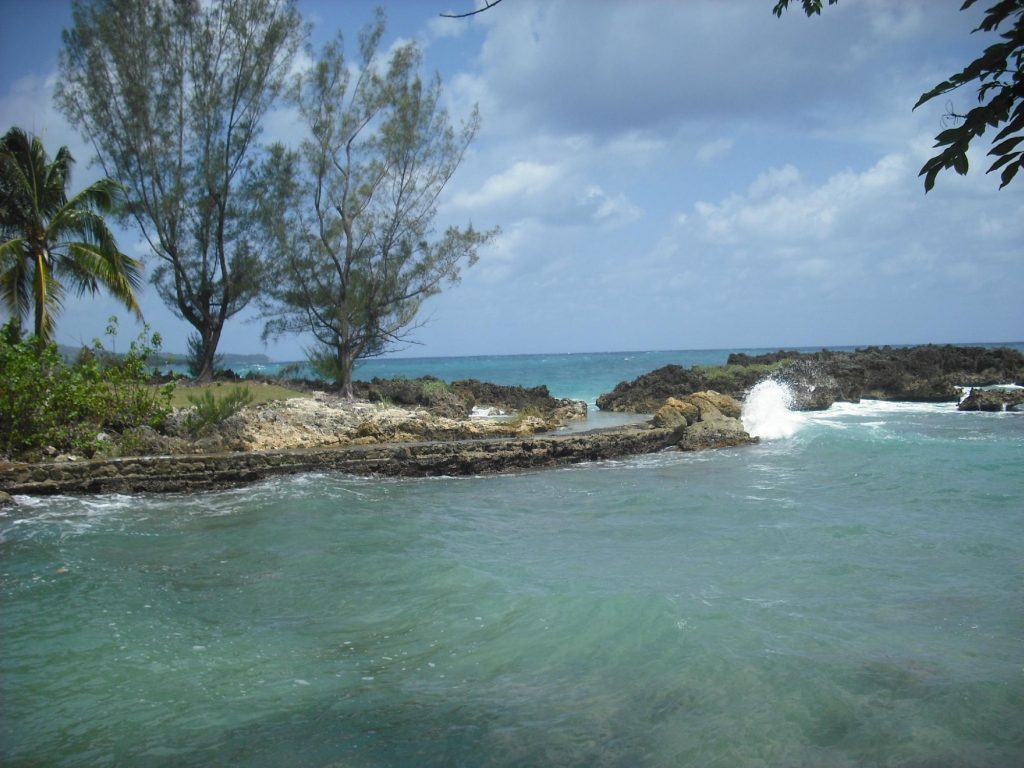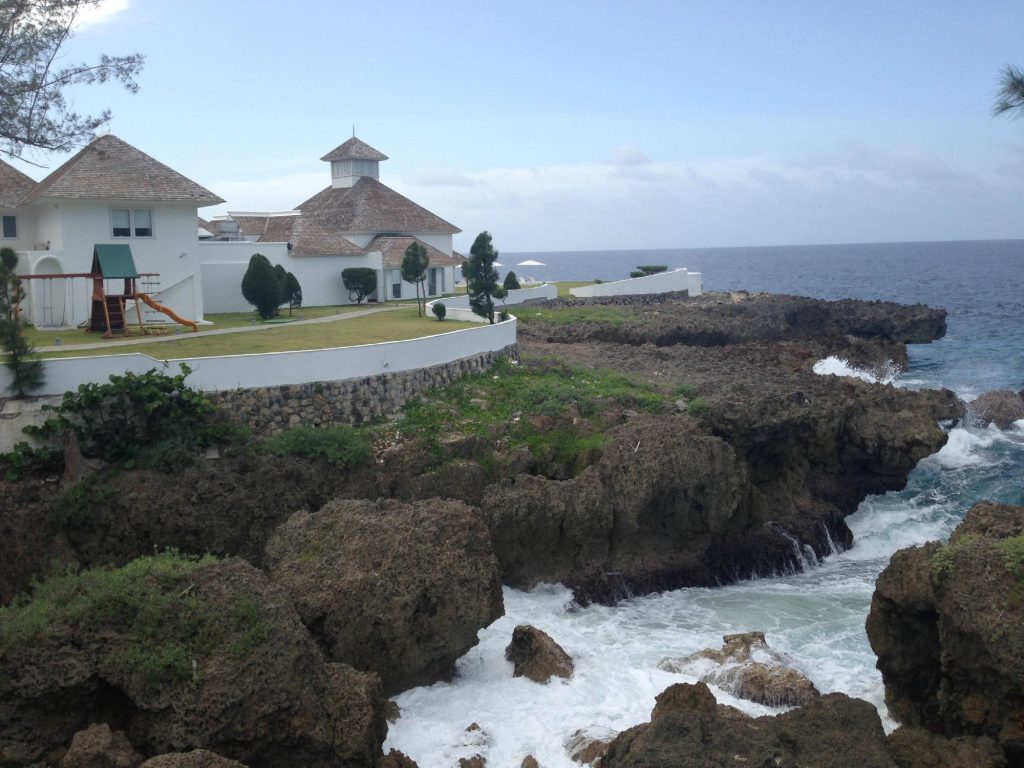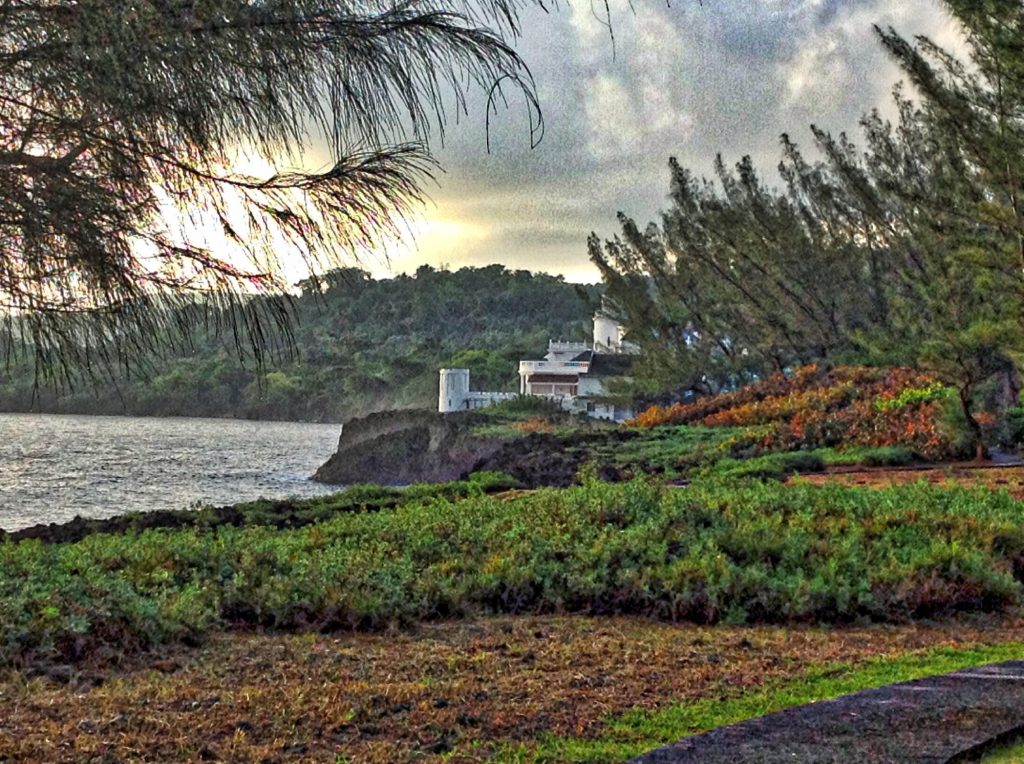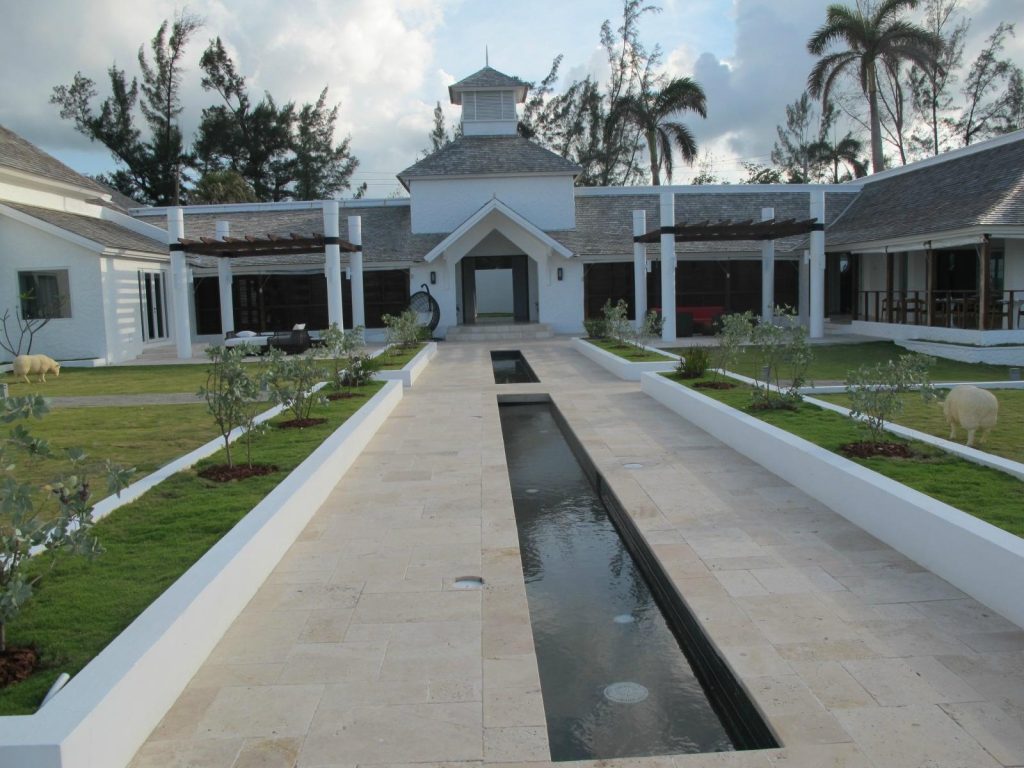 MODERN CARIBBEAN LIFESTYLE
Situated along the island's northeast coast, Port Antonio has been dubbed the 'Jamaican Riviera' for its natural glamour and rich history.
From exceptional cuisine and culture to a prized array of scenic nirvanas, the Port Antonio experience combines authentic Jamaican roots with a modern Caribbean lifestyle. The area's eighty-kilometer shoreline features some of the world's most stunning beaches, waterfalls, caves, and rainforests.
The Trident's eleven oceanfront villas are seductive, cloistered retreats that blend modernist design with an inspired take on the 50s and 60s era artwork and décor.
Residential in feel, the spacious, airy interiors flow organically between bedroom, bathroom, and living areas, while private terraces with pools complete an environment of clean, conscious, and very luxurious living. Each villa is appointed with hand-selected furnishings, accent pieces, and original artwork complemented by a contemporary tropical aesthetic. Elegant simplicity and harmonized balance make the villas an ideal home-and-away habitat.
Their private beach is one of the defining characteristics of the property for its sheer beauty and hassle-free convenience.
Enjoy some of the best swimming in clear unspoiled waters or float to your heart's content under a crimson sunset. Snorkeling is an ideal way to appreciate the plethora of fantastic sea life. 
An Intimate Jamaica Resort
Welcome to the home of legends. For generations, the world's biggest and brightest have retreated here for a soft sophistication and gracious service.
Unwind in antique-appointed, yet recently modernized accommodations. Savor exquisite island-fresh cuisine. Drink in the magnificence of the glistening Caribbean Sea along the private Jamaica beach.
Feel it deep within your soul. Be legendary. It's time.
This iconic small luxury hotel is as relevant to discerning travelers today as it was in 1950. Guests and celebrities alike seek this intimate Jamaica resort to escape busy lives.
Champagne-colored sand welcomes the gentle blue waves of the Caribbean sea on this private Jamaica beach.
This immaculate crescent-shaped stretch at Jamaica Inn is a cherished gathering spot. Never crowded, there is always a palapa and lounge chair waiting just for you.
Lounge, sway in a hammock, swim, or enjoy the complimentary beach activities including kayaking, sunfish sailing, snorkeling, and paddleboarding.
Sip a complimentary Planters Punch or Blended Fruit Punch, served daily 11 a.m. – 12 noon on the beach. When you're thirsty for more or ready to eat, the staff is waiting to assist you — either at the bar or even the hammock-side.
Jamaica Inn's glorious accommodations are spacious, impeccable, and tasteful.
Timeless, yet modernized. Each suite or cottage provides stunning ocean views.
Isn't it time to set back and relax in our Jamaica paradise?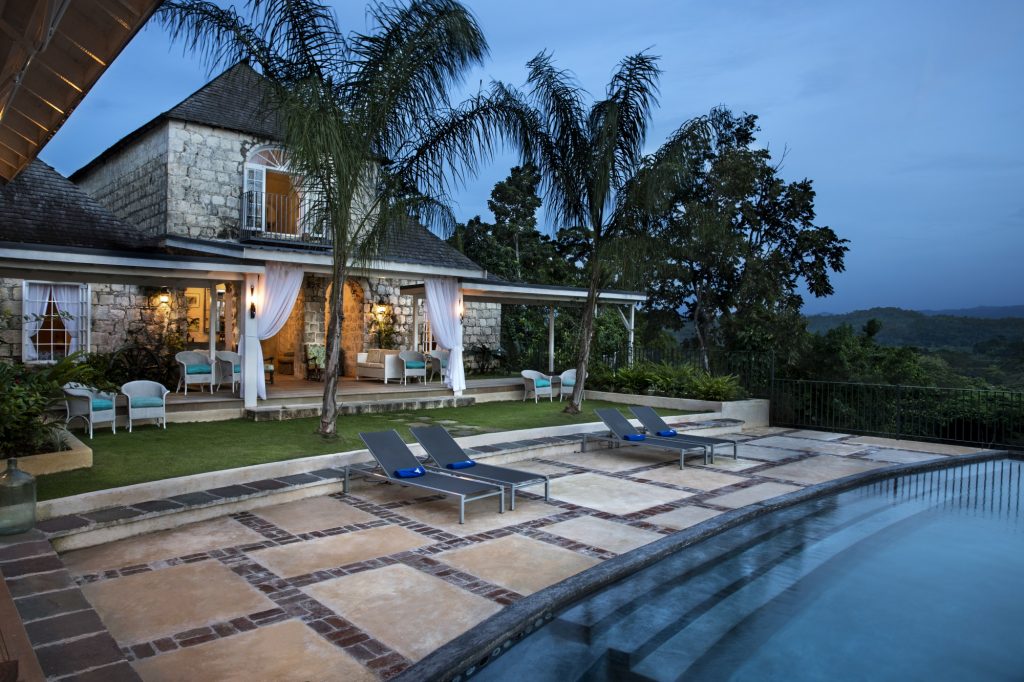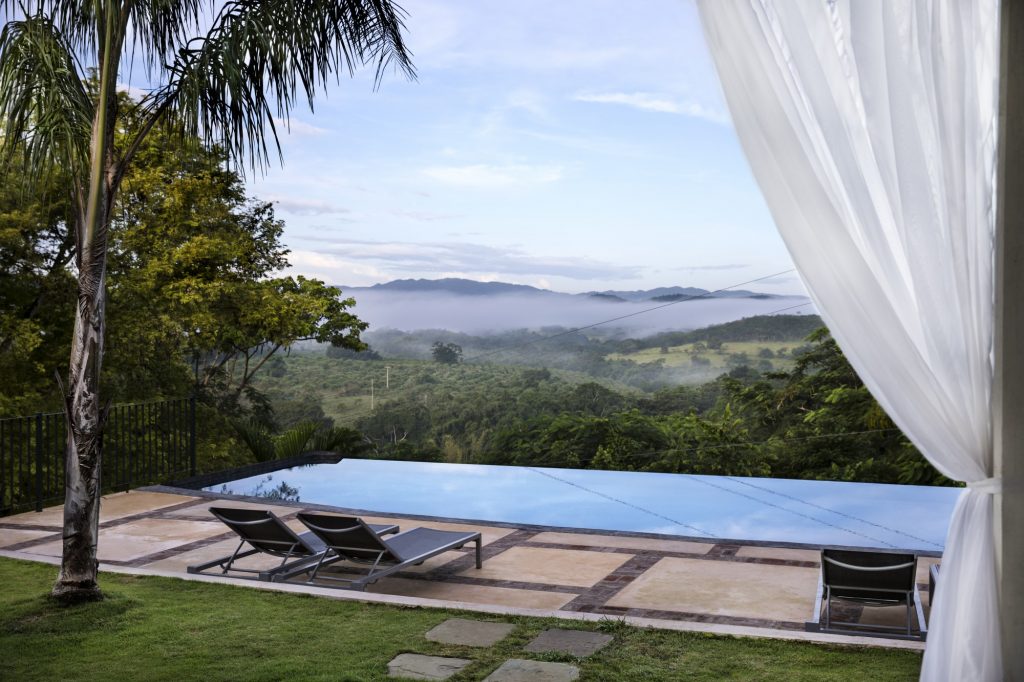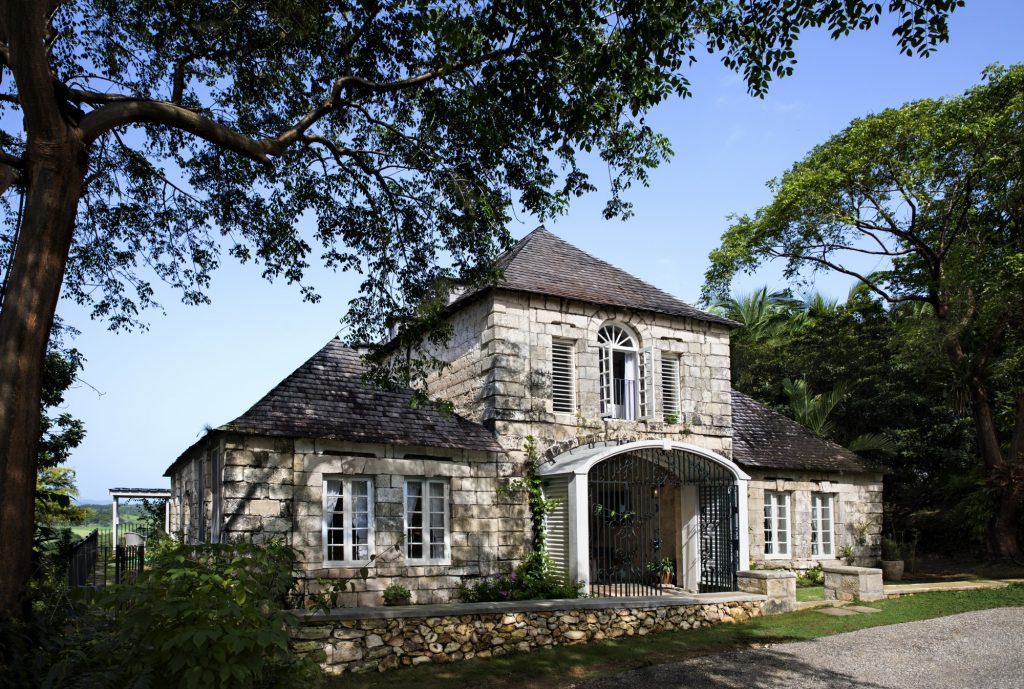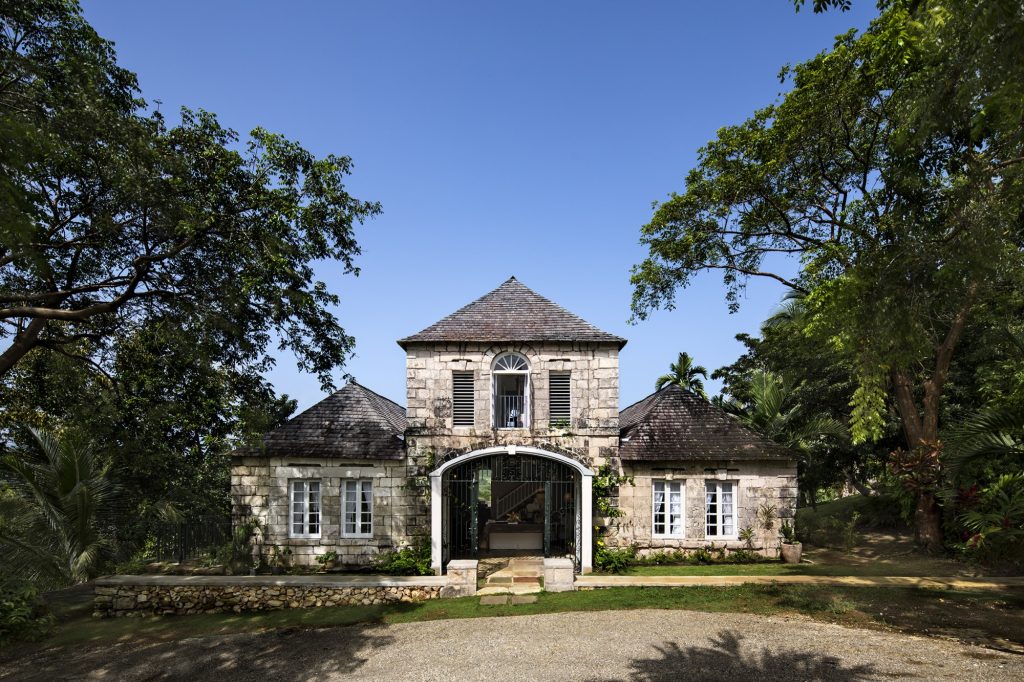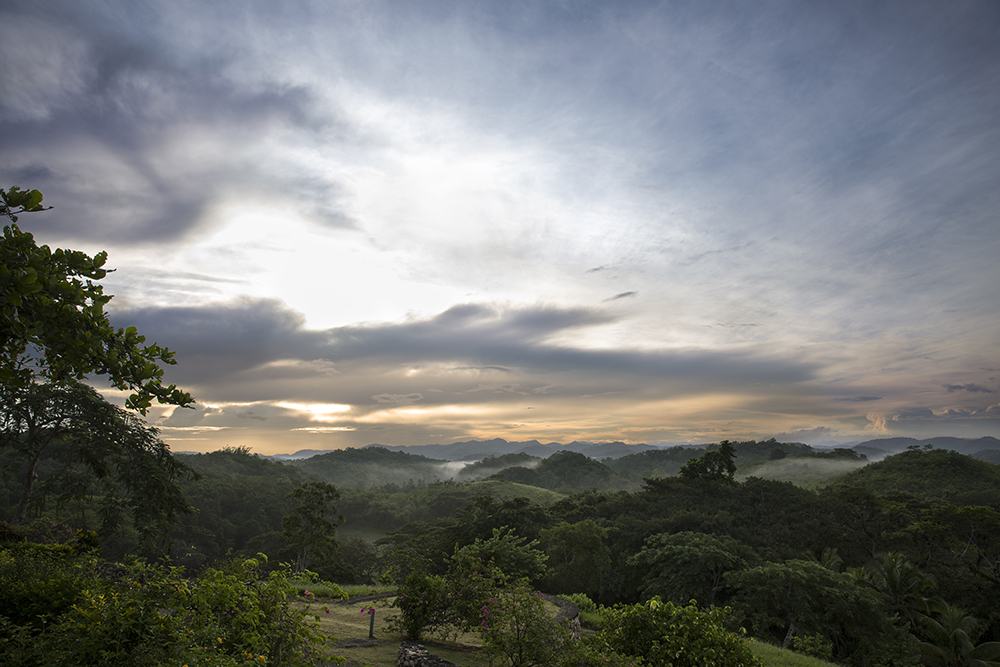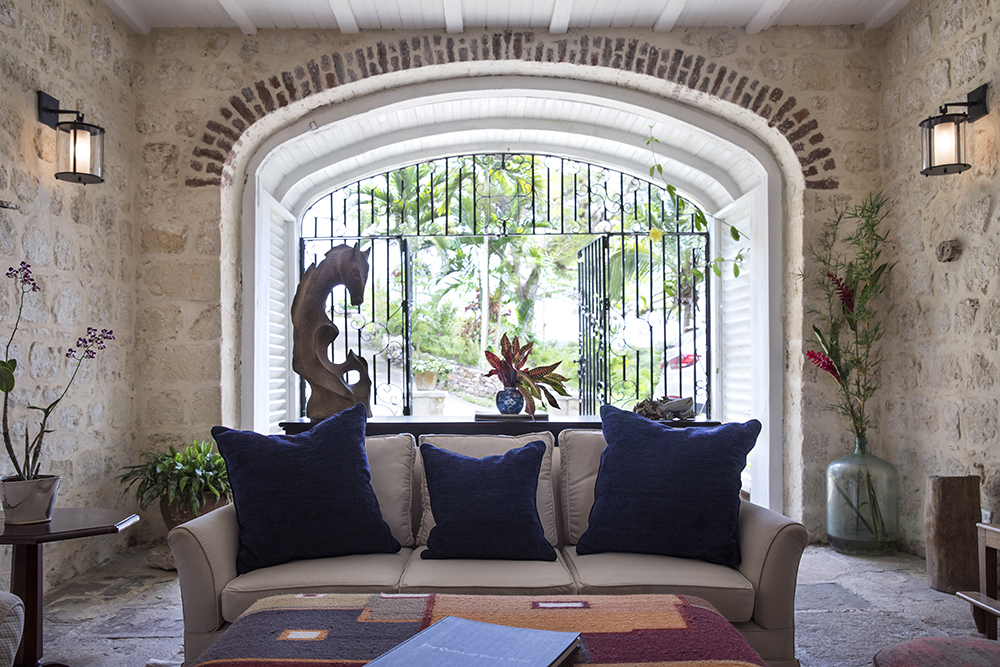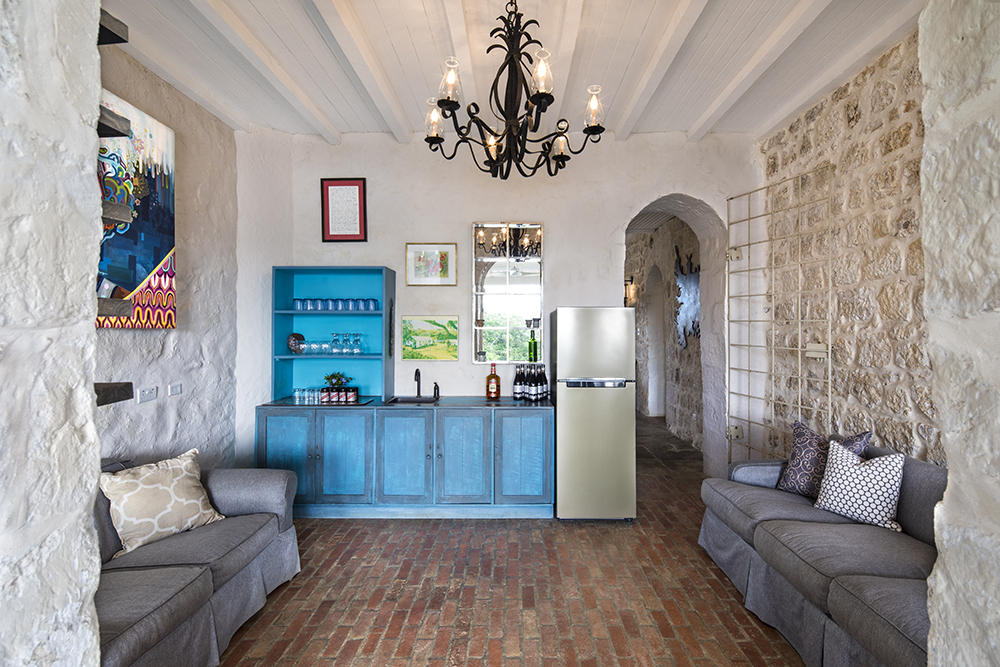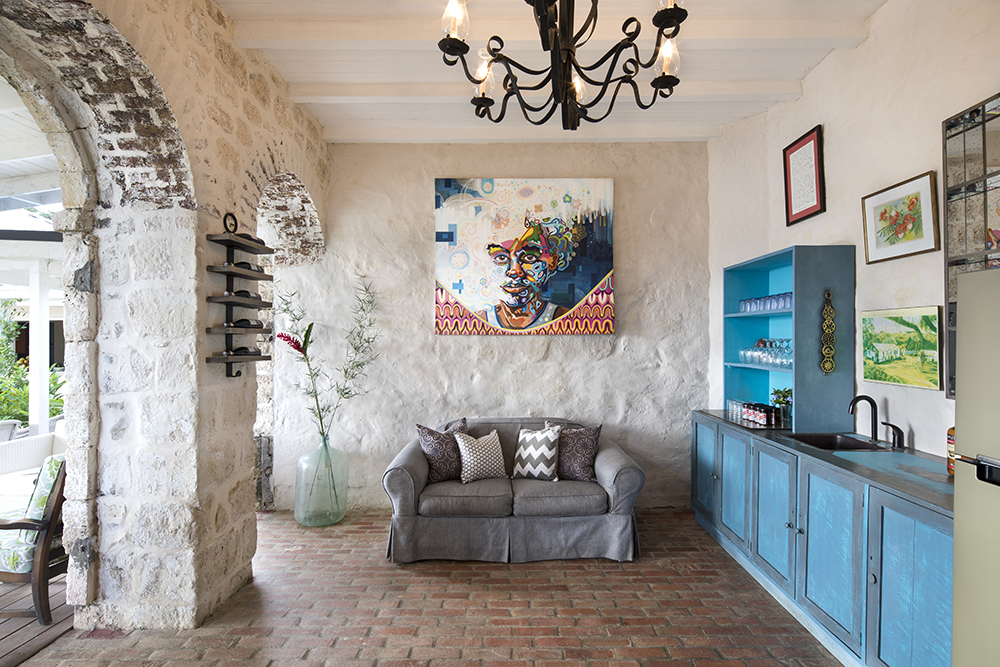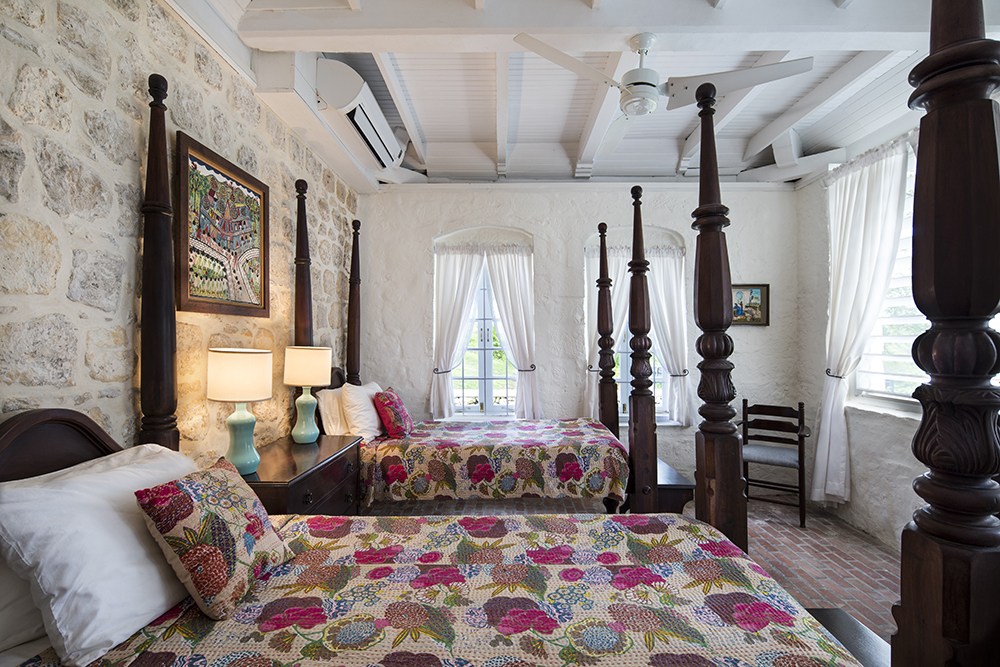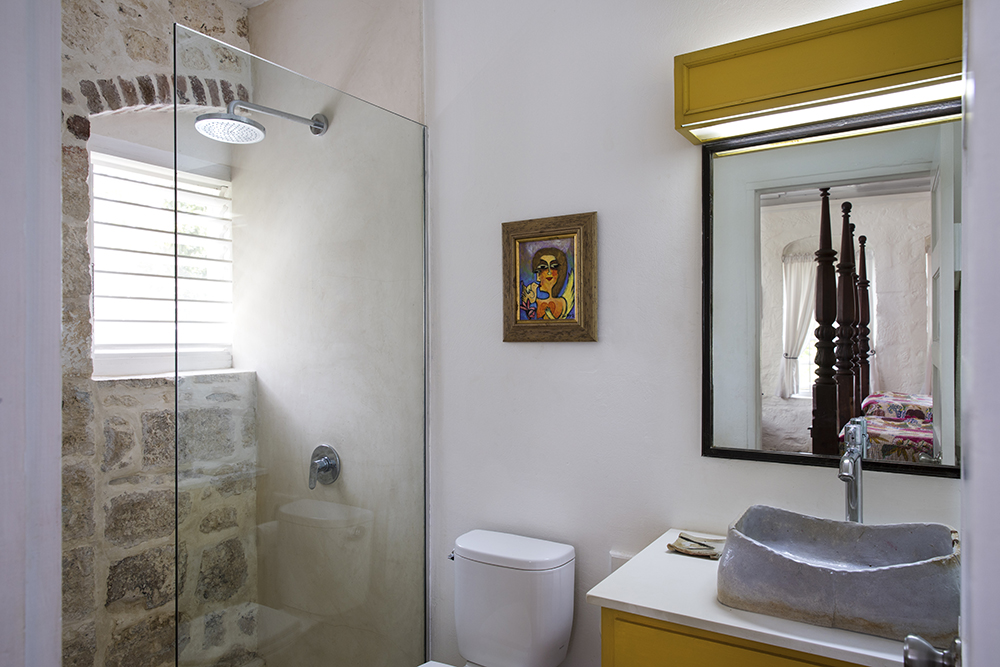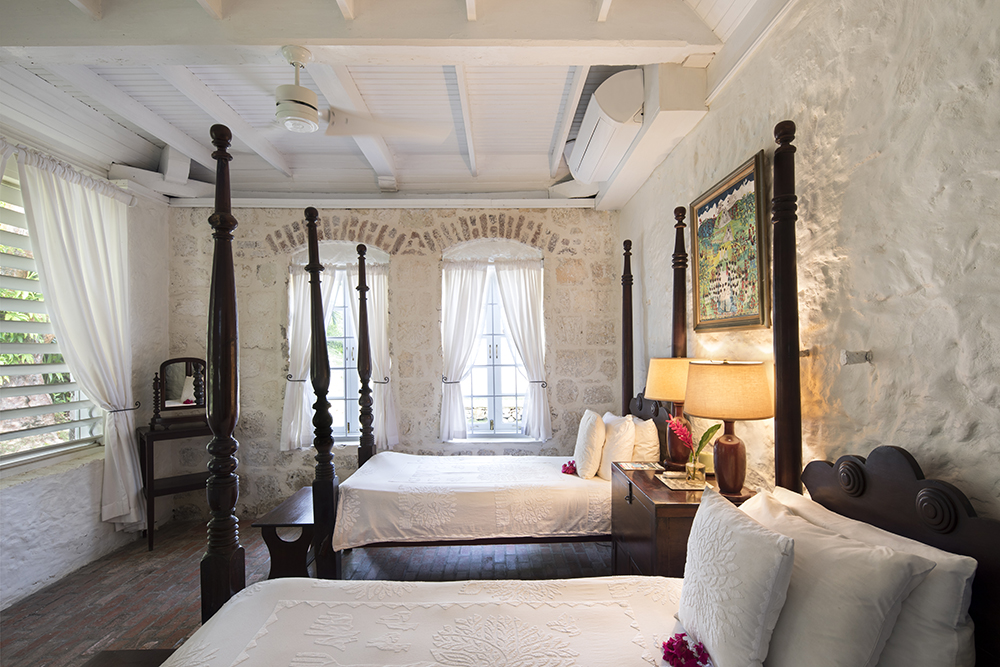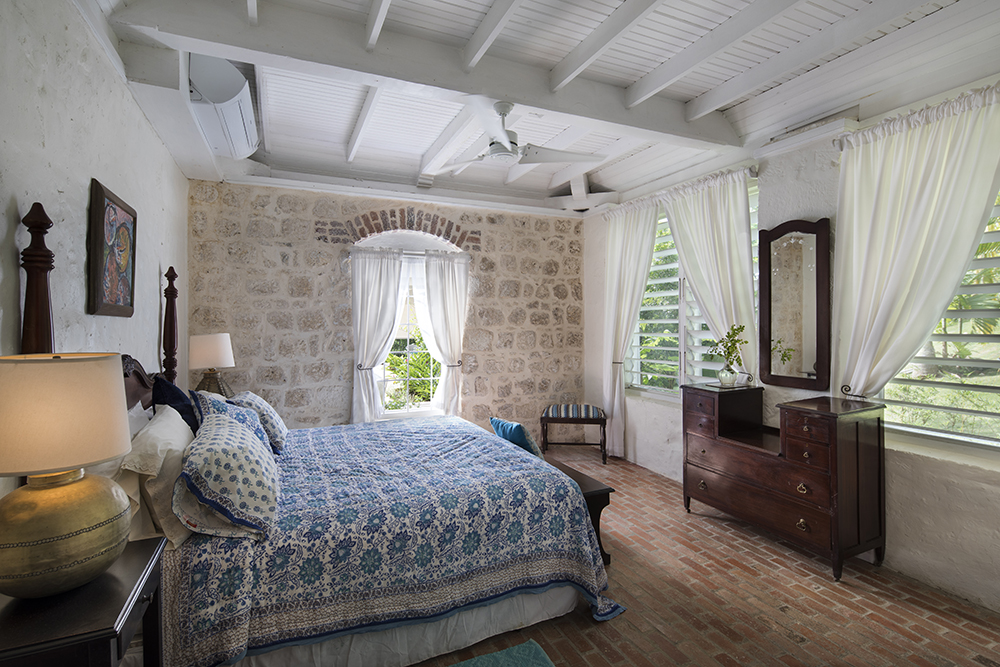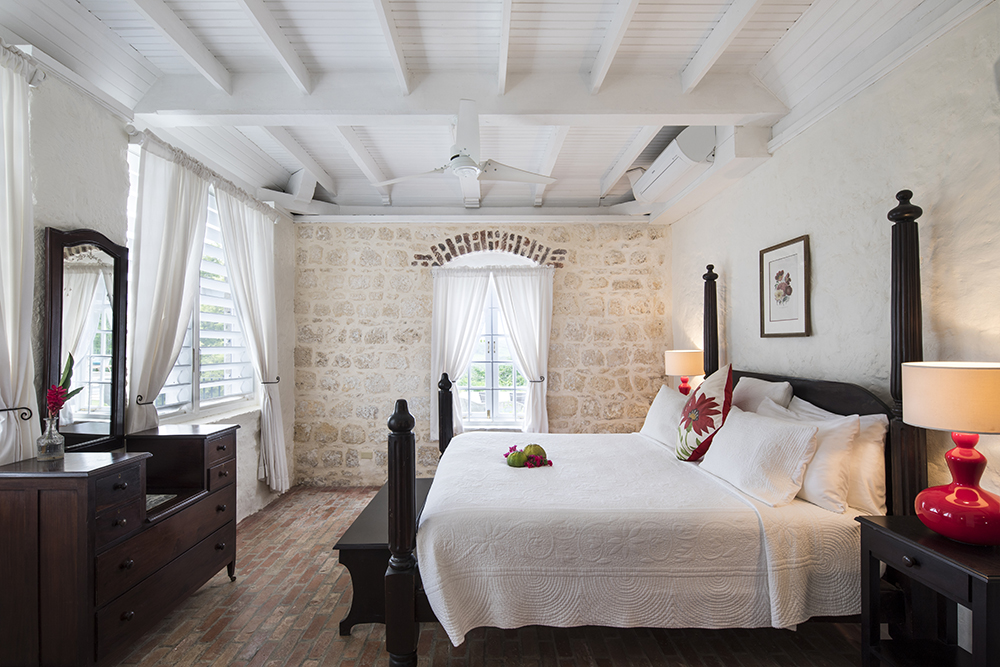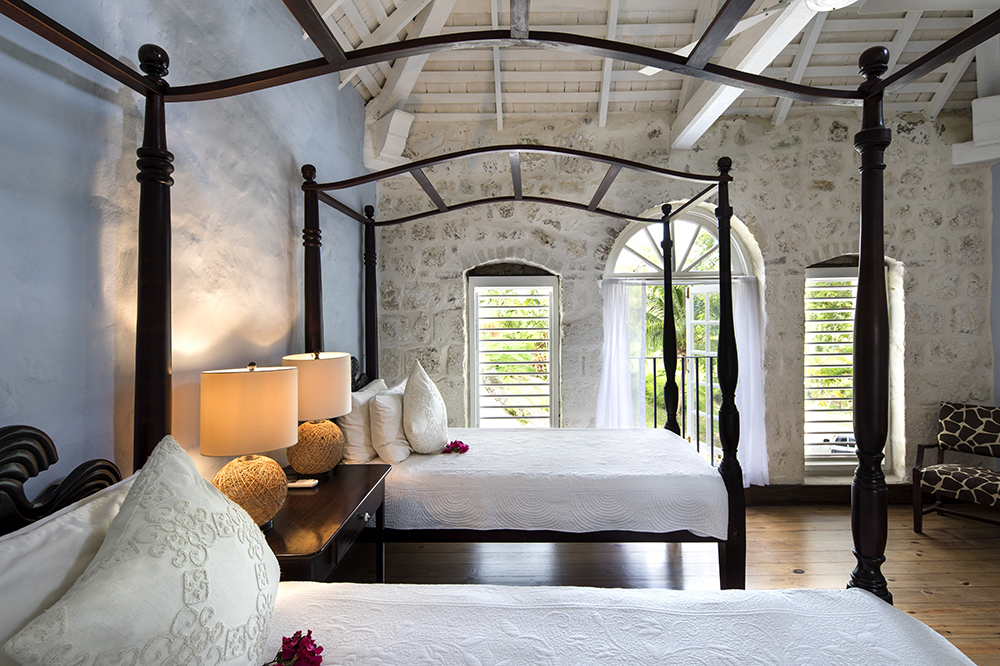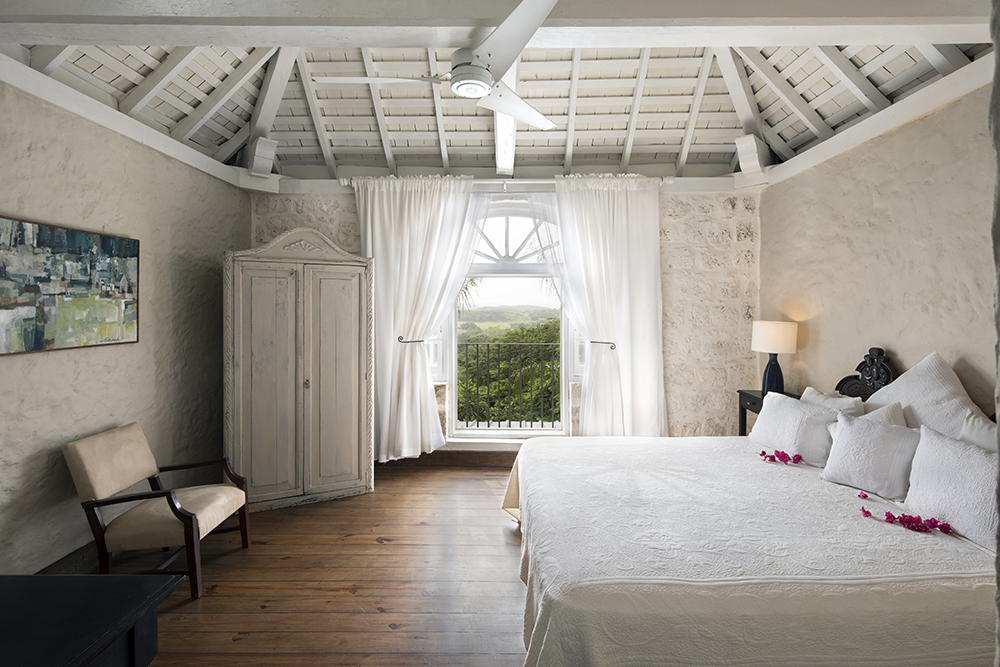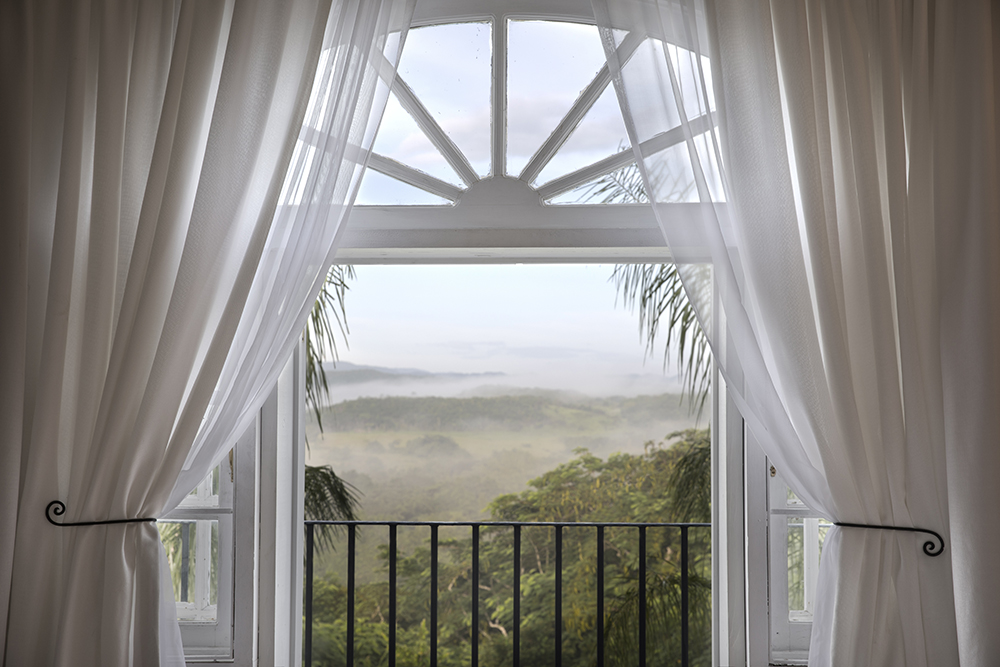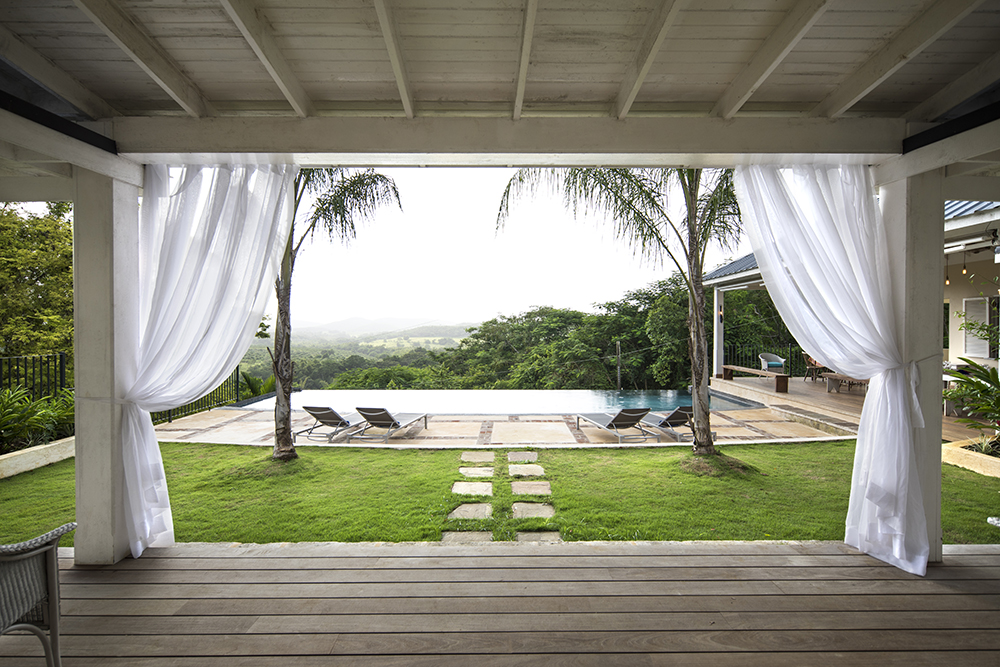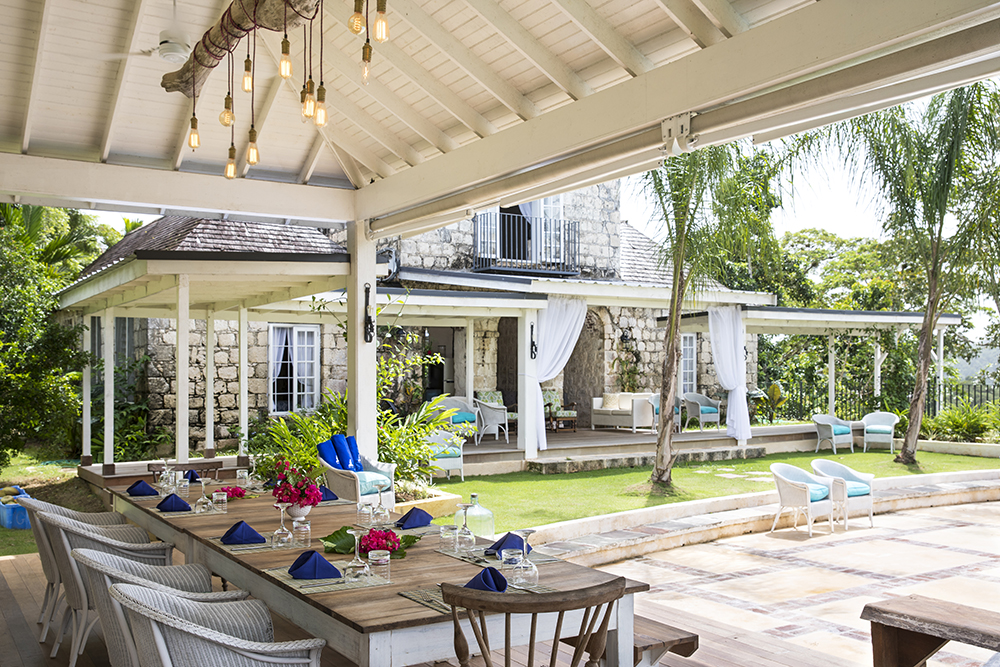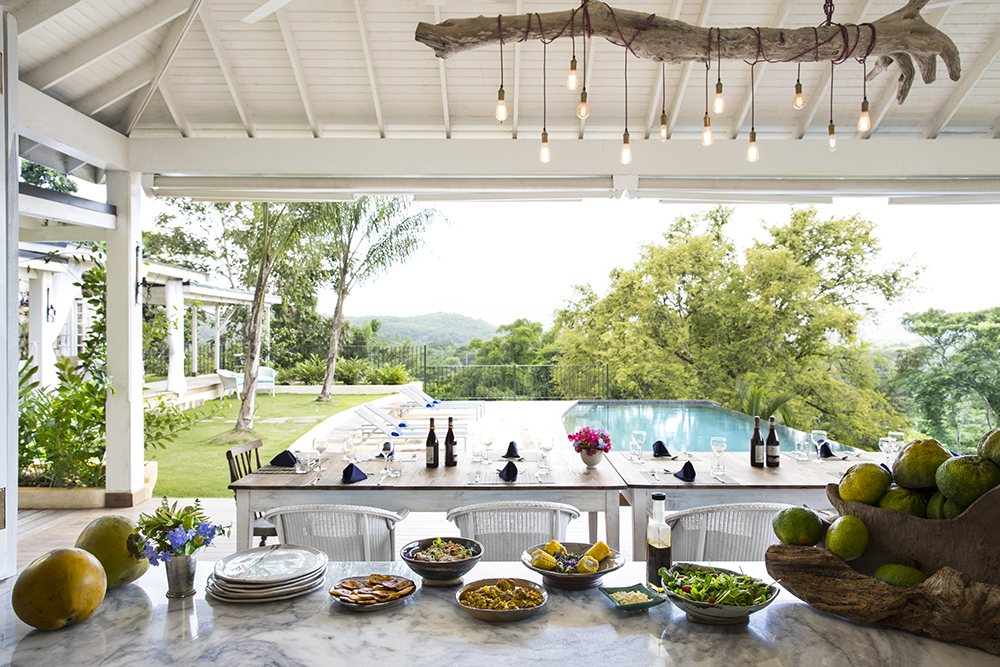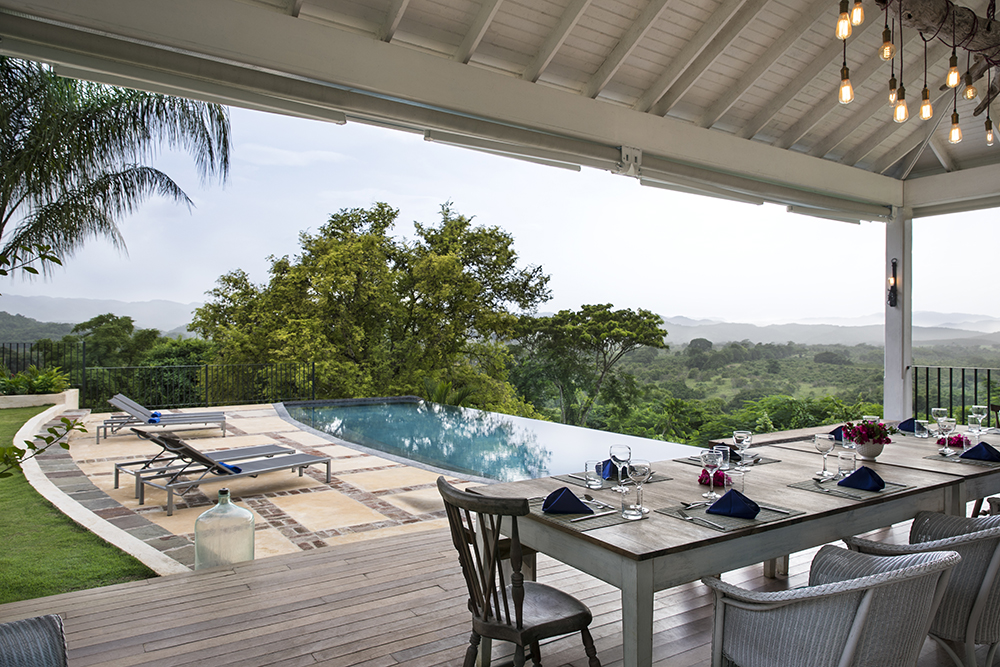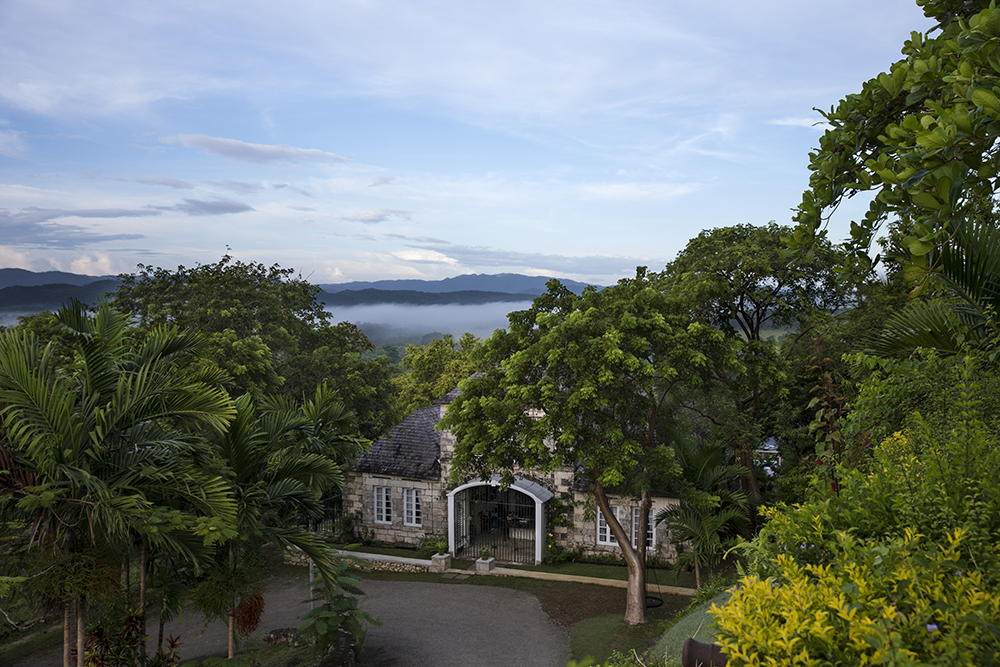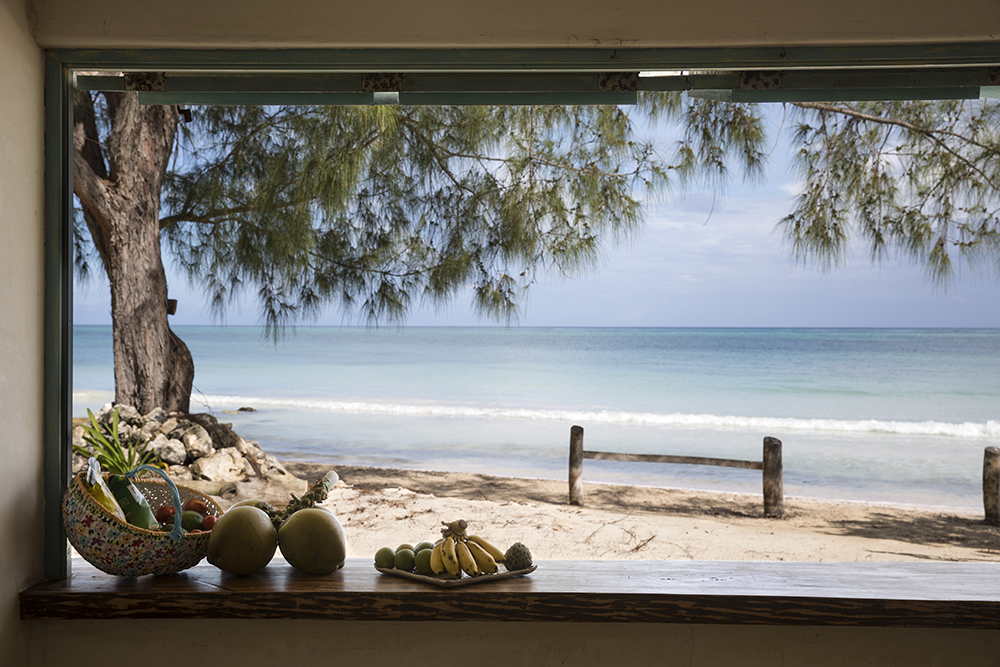 magnificent views of plantation & Cockpit country
Nestled amongst two thousand acres of the tall luscious trees and rich tropical plantation, amidst the rolling misty Cockpit hills of Good Hope Estate, resides the beautiful Coach House Villa. This stunning 7 bedroom period property is located in the heart of the 18th century Good Hope Plantation boasting an unrivaled haven of privacy, beauty, and nature to be enjoyed and appreciated by the entire family. It has a truly unique location steeped in history and offers the perfect retreat for a family reunion or group of friends to spend time relaxing and enjoying the breathtaking surroundings that the estate has to offer high up in the hills away from all the noise and distractions down below.
Amongst the tranquil hills and lush plantation of the estate, nestled at the end of a tree-lined, private gated drive stands this exquisite cut stone country villa brimming with a sense of understated elegance and charm. The property's façade is framed by towering trees and manicured lawns and oozes character and timeless beauty. Age-old stone steps lead you through the curved entranceway and into the elegant, light-filled interior.
The Good Hope Estate and plantation itself was built during the 18th century. Since then the property has been refurbished and redecorated to an impeccable standard and creates a unique blend of historic charm and effortless luxury. Each piece of antique furniture and artwork beautifully accentuate the exposed stone walls and restored period features.
The Coach House is a fantastic gathering place for families, retreats, and friends,- with space for togetherness, space for discovering nature, space for alone time. Like traveling through a time warp, to visit Jamaica's countryside is to experience another Jamaica of 30 years ago. The pace is slow, the lifestyle uncomplicated, the people are kind and calm, service is relaxed and meals are served family-style.
The Coach House, situated in the heart of the beautiful 18th century historic Good Hope Plantation, is a country villa with 7 contemporary bedrooms, all with ceiling fans, air conditioning & en-suite bathrooms. Recently renovated with stylish new interiors and the addition of a 50-foot infinity-edge pool & an open-air dining terrace. Good Hope's private beach house (15 min drive away) has a 110-foot white sand beach and calm waters for swimming.
The Coach House villa of Good Hope Estate's luxurious yet simple design and décor combined with its exquisite location offers an unrivaled source of adventure and exploration for some while still offering a sense of complete tranquillity for those in search of a more relaxed vacation. Perched amongst this sublime estate's treetops, this charming and stately villa is an unparalleled villa and perfect place to make many memories of a lifetime.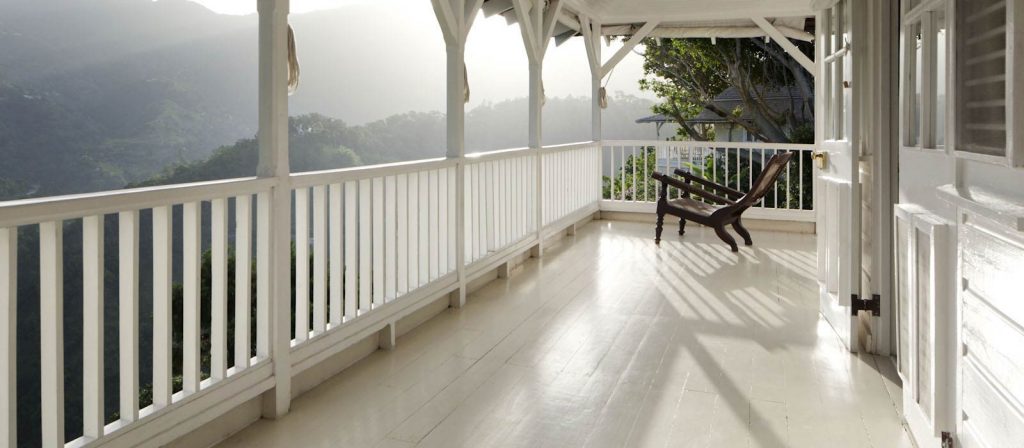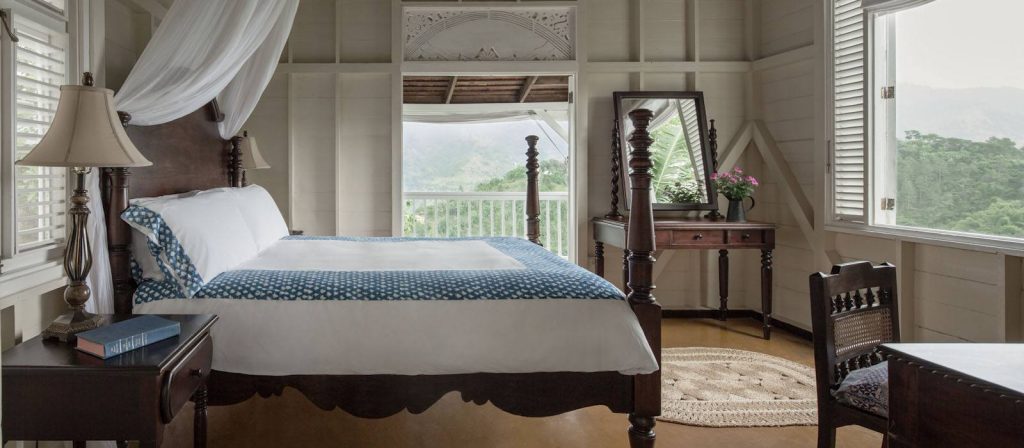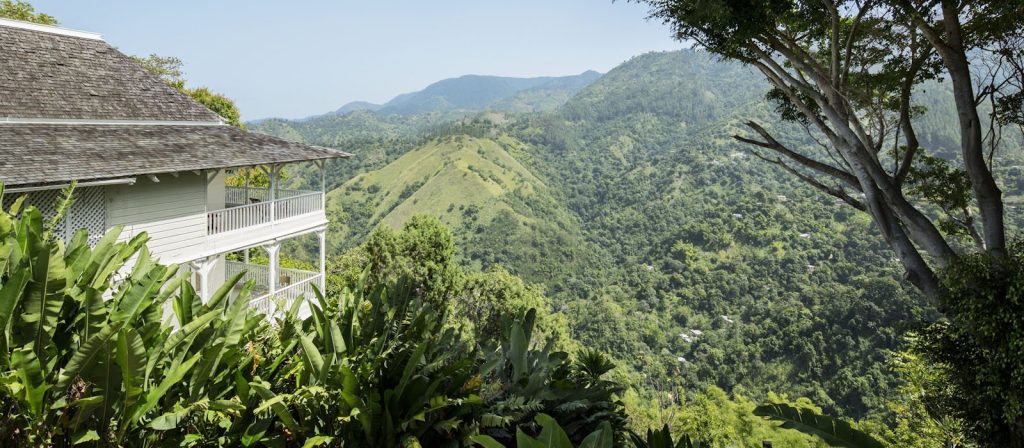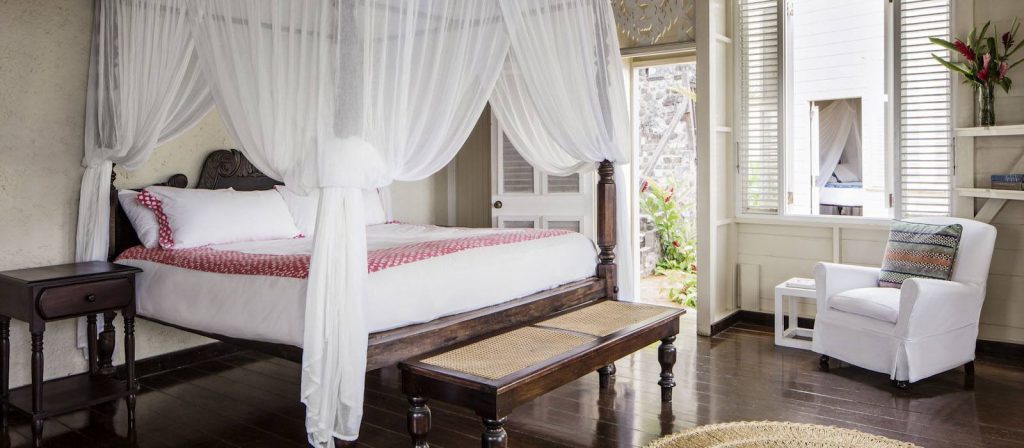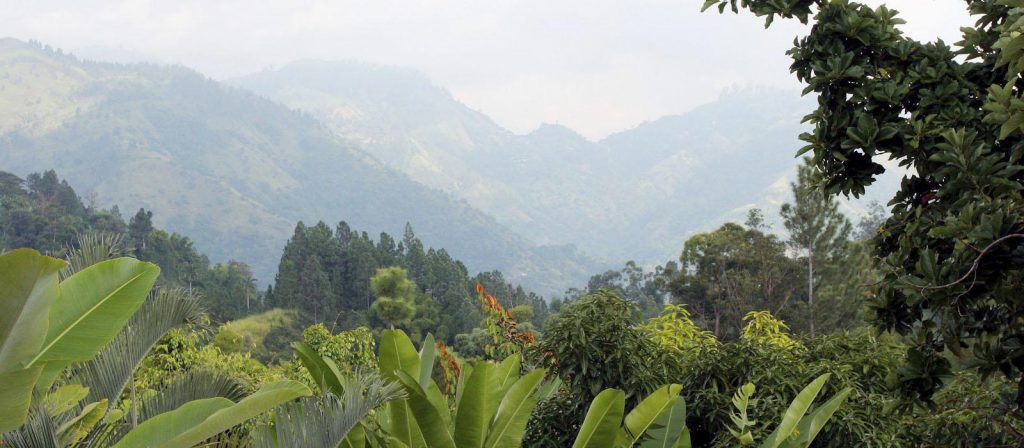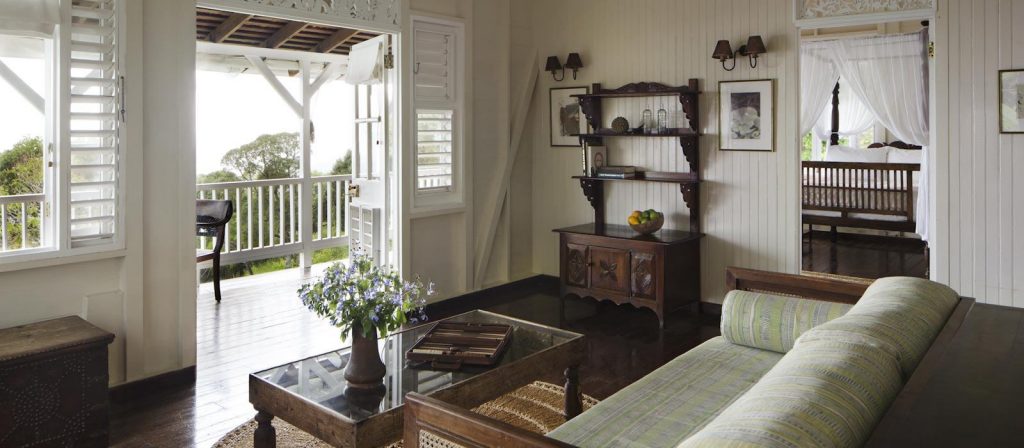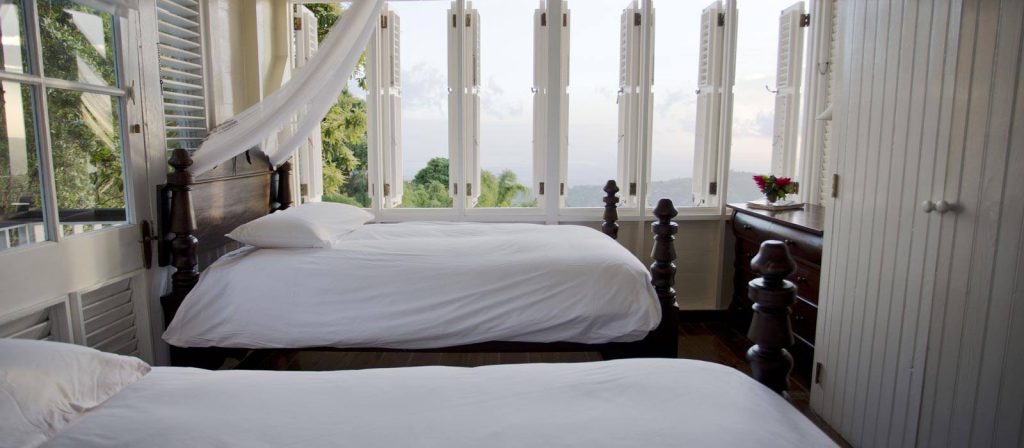 the mystique of Strawberry Hill
One of Strawberry Hill's great glories is its remote, quiet, pristine mountaintop location, in all its natural splendors. Another is its surprising accessibility to all that Jamaica's capital city, Kingston, has to offer in the way of art, music, and culture. Explore the stunning surroundings, but do take the opportunity to cruise down the mountain's famous 356 winding bends to see some inspiring Caribbean art or visit the tenement yard where the young Bob Marley once lived.
Eat fried fish and festival (a local treat) on an uninhabited Caribbean cay. Go on – explore!
Fortunately for guests, time can stand still at Strawberry Hill Jamaica Luxury Resort. This magical mountain village is set sublimely high in Jamaica's Blue Mountains.
To ensure privacy, each unique and exquisite cottage nestles within the mountain's contours. The verandas are angled to capture their own ravishing view.
In the evening, relax and lively up yourself with a rum punch in the snug, wood-paneled Bar. Savor the succulent, modern Caribbean flavors served in the veranda restaurant, aglow with candles and starlight. By day, drink in the vista of Kingston far below and the blue Caribbean gleaming beyond, from the dramatic infinity swimming pool.
As reggae artist Burning Spear sings, "It is good to live in the hills." A stay in these cottages will make you feel more alive than ever. Each cottage exudes its own charm and personality—textured by the vivid historic and local details of our signature aesthetic—a luxurious simplicity that is special to the pure mountain air of Strawberry Hill Jamaica Luxury Hotel.
Some particularly privileged Guests experience blissful views as they soar in a helicopter from Norman Washington Manley Airport to the 3,100 feet altitude of Strawberry Hill Jamaica. But even for the earthbound, the mystique of Strawberry Hill starts as you leave the waterfront airport behind, and begin the fascinating 50-minute journey up the Blue Mountains. As the drive takes you through Kingston, you pass busy commercial centers and illustrious cultural landmarks, until you reach the northernmost tip of Kingston proper and the village of Papine, known for its bustling market. Heading up the mountainside, you will swing around the famous 365 bends of the winding Irish Town Road to Strawberry Hill. As you weave through tiny hamlets and alongside the rushing Hope River, each curve of the road presents dramatic views.
And wonder—is infinity long enough for your stay at Strawberry Hill Jamaica?