It's breathtaking, fascinating, vibrant, endless … It's South Africa! A magical moment awaits you in every province and around every corner that will inspire you. All this is supported by the wonderful people of South Africa. From city life to adventure, wildlife to culture, breathtaking landscapes to sun-drenched coasts. South Africa is always impressive, at all times.
our LXRY! hotel selection
We have some criteria before we can call a hotel a LXRY! Selection Hotel. We want to be surprised, we need luxury and hospitality at a high level, we love the quality of food and the rooms, we think the location is super important, and….we want to memorize the hotel for a lifetime! So you will not find basic chain hotels that look similar in all countries but truly found local gems that are different and memorable.
a place of ancient and untamed beauty
Nestled in the foothills of the Cederberg Mountains on South Africa's dramatic lesser-known west coast, our ecological oasis is a magical wilderness retreat among open plains, sandstone formations, and ancient bush art sites dating back 10,000 years.
Be at one with Africa in this multi-award-winning haven (a National Geographic Unique Lodge of the World), just three hours from Cape Town. Discover awe-inspiring activities, unique dining, ancient African culture, dramatic landscapes, and outstanding nature experiences. 
Bushmans Kloof is a family-owned wilderness retreat situated just three hours from Cape Town in South Africa's extraordinary Cederberg Mountains; a place of ancient and untamed beauty. It harnesses the unique feel of this part of the world and provides a pure and deeply relaxing African experience. Set within 7,000 hectares of stunning flora and fauna, this wilderness haven is home to mystical rock formations, crystal-clear waterfalls, and the world's largest outdoor art gallery, with over 130 ancient rock art sites dating back 10,000 years.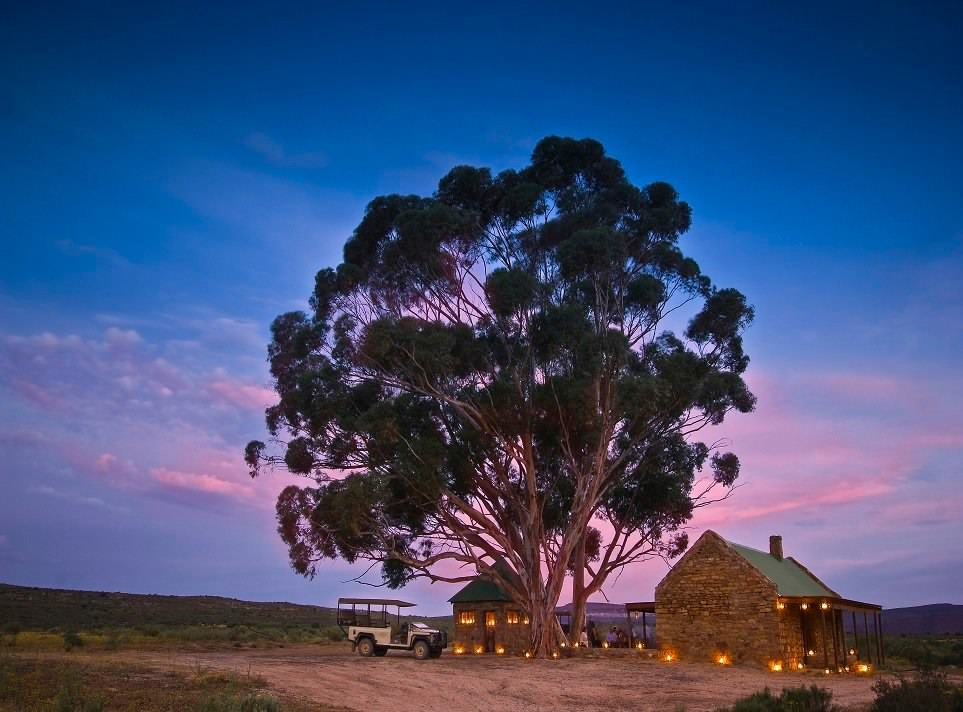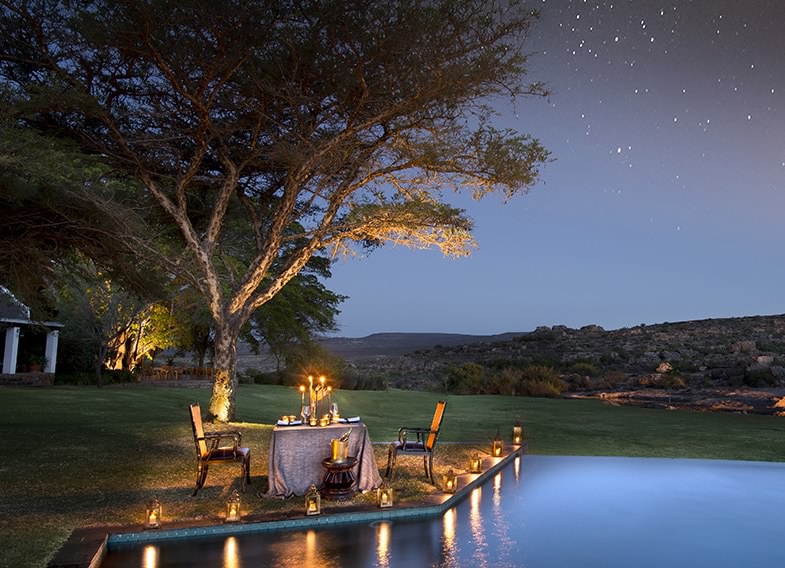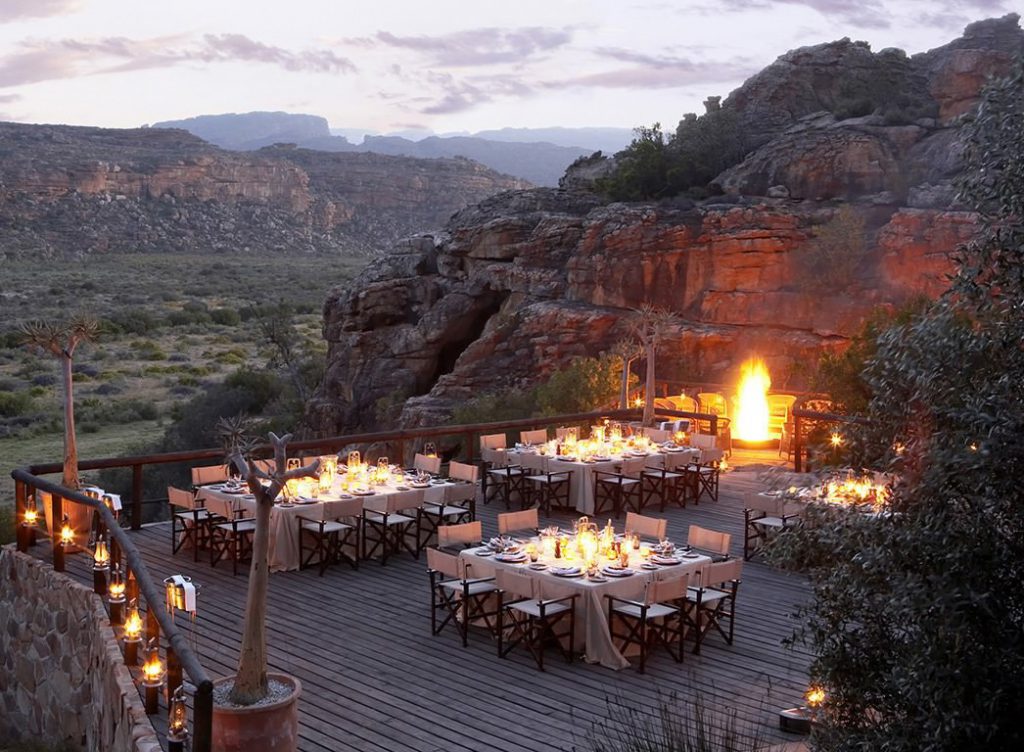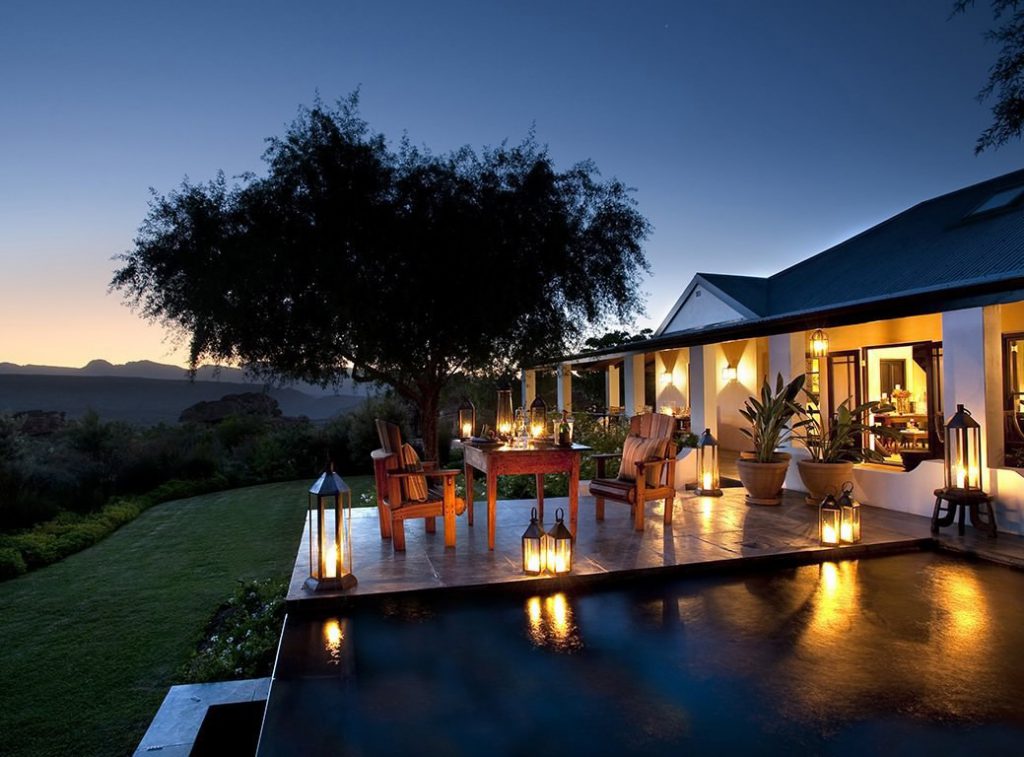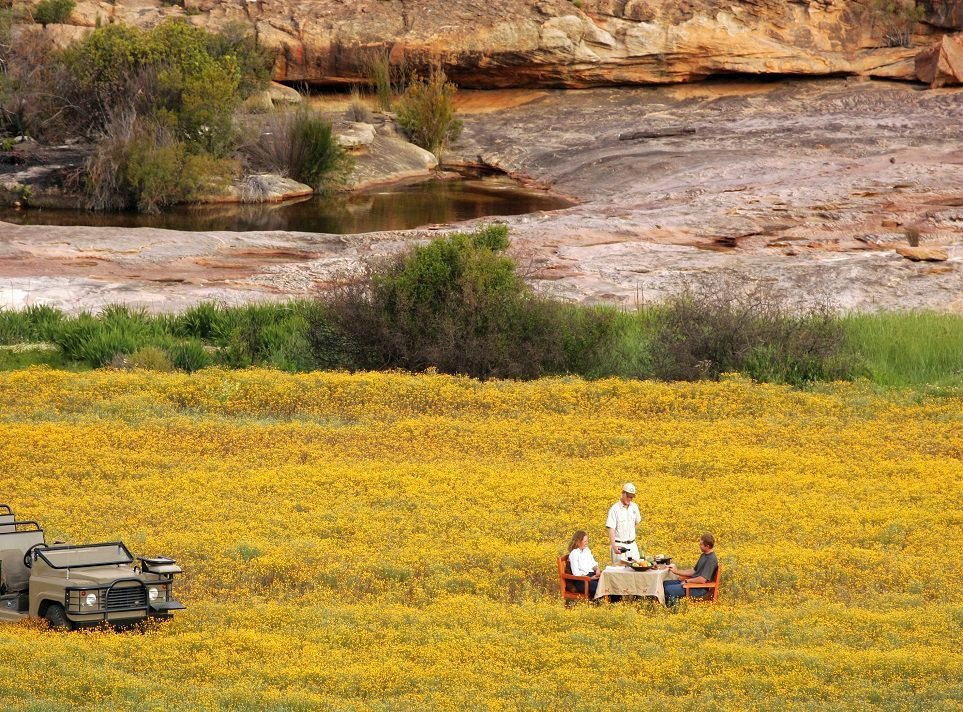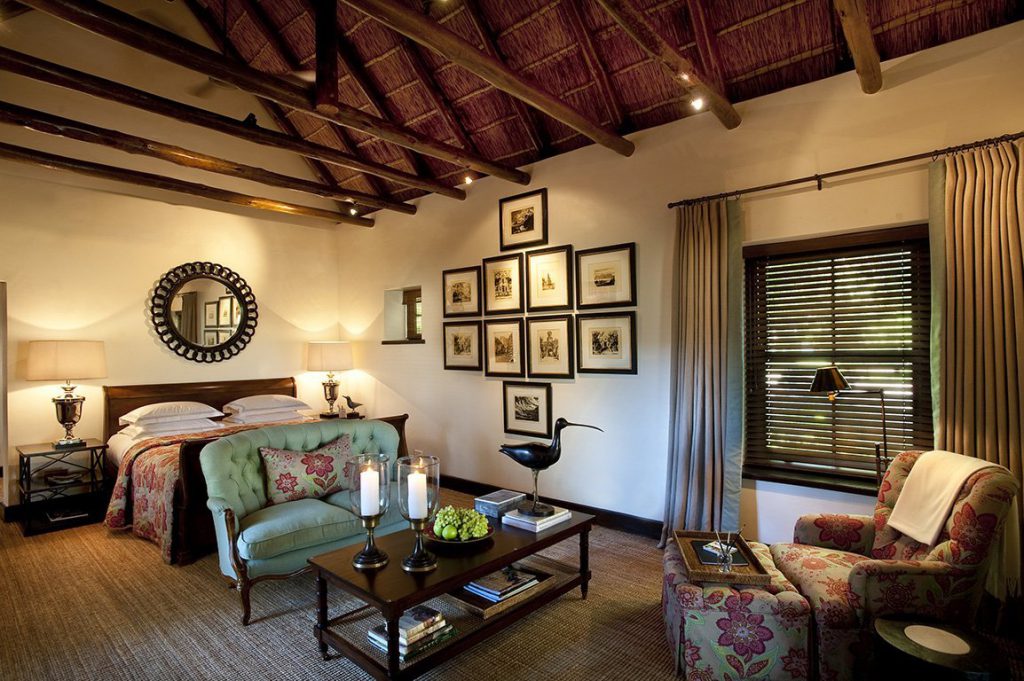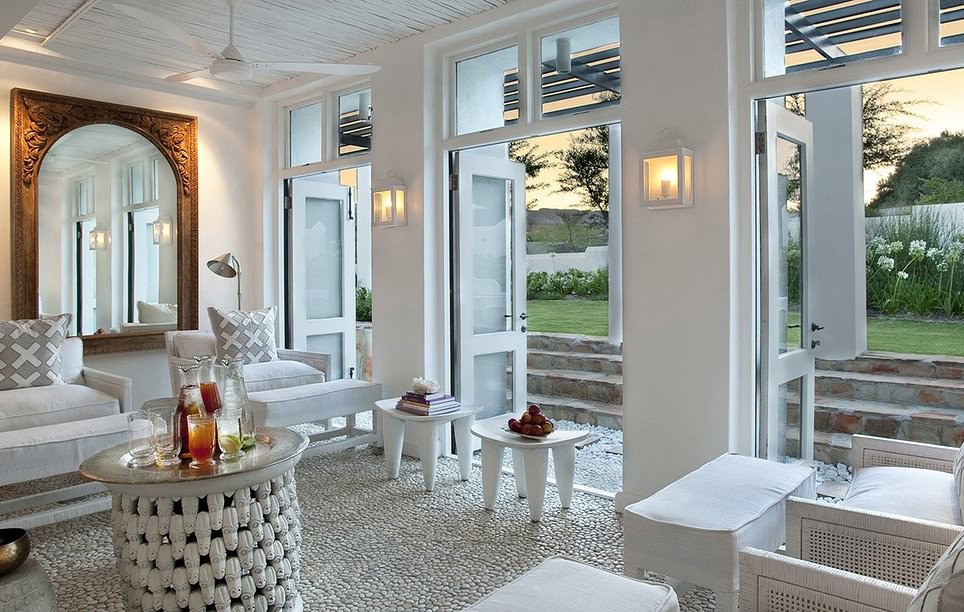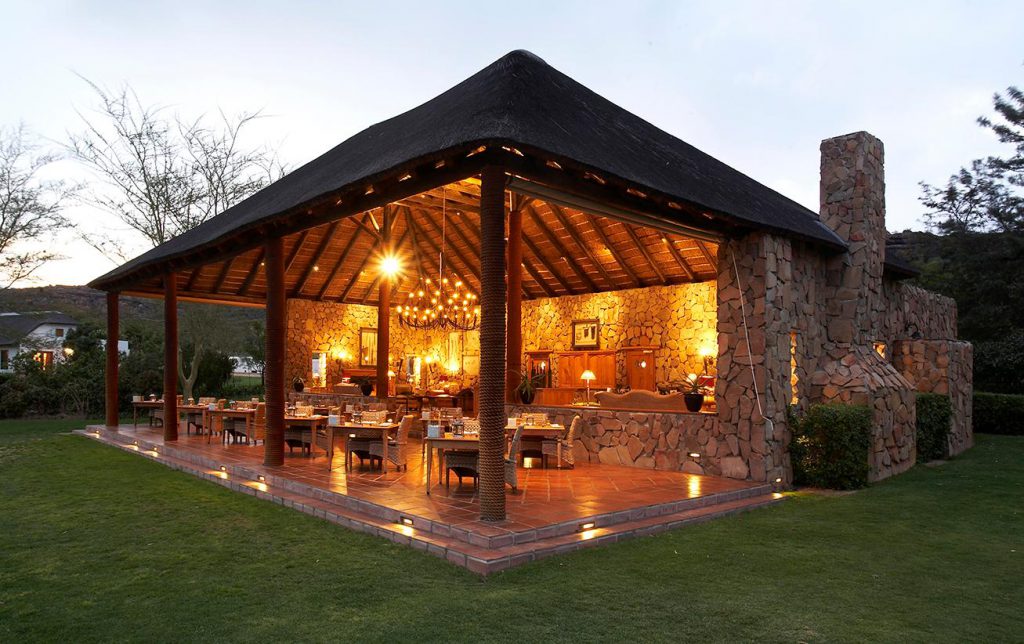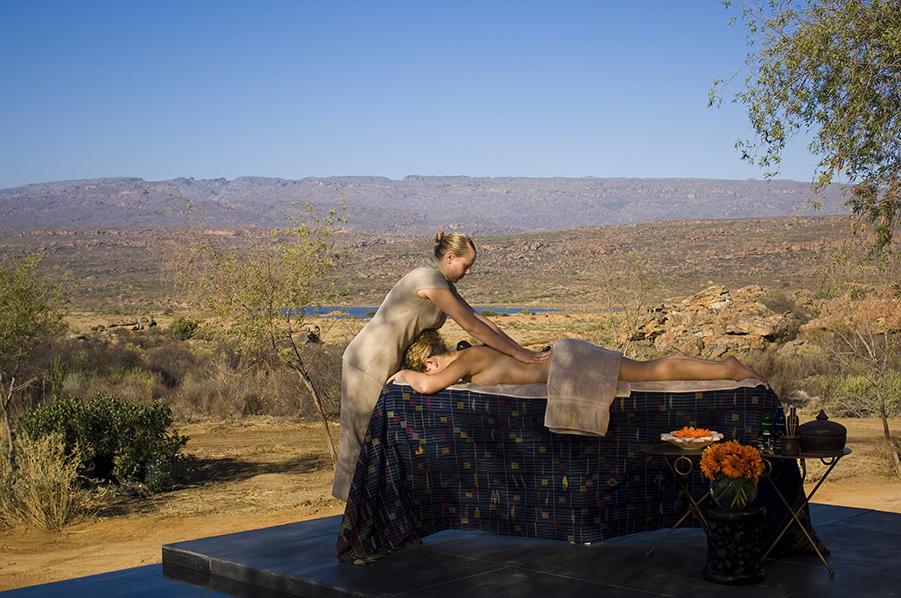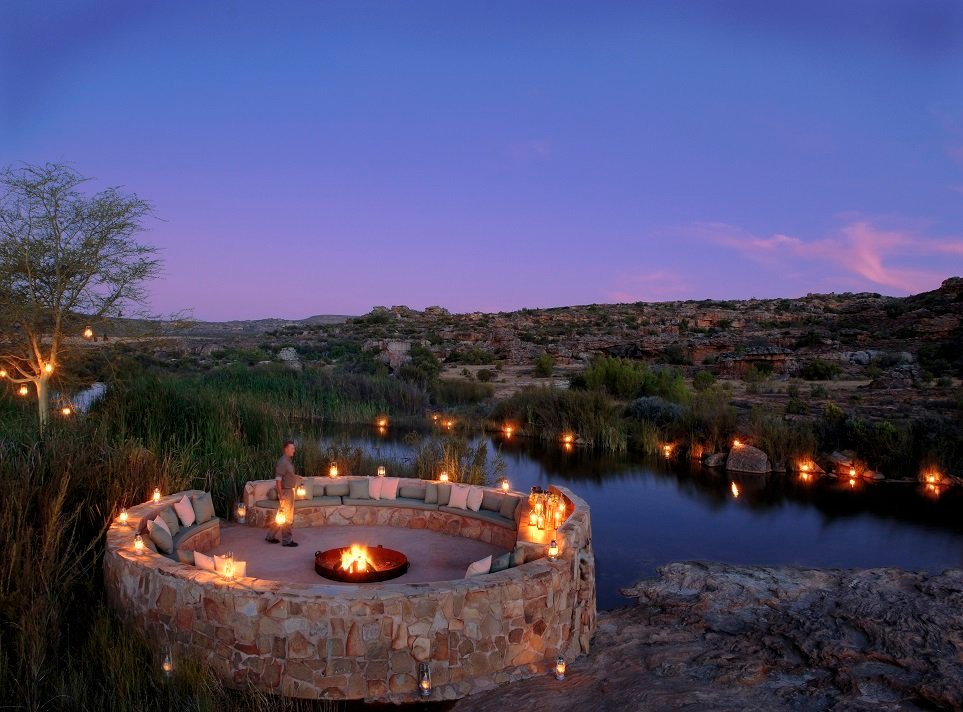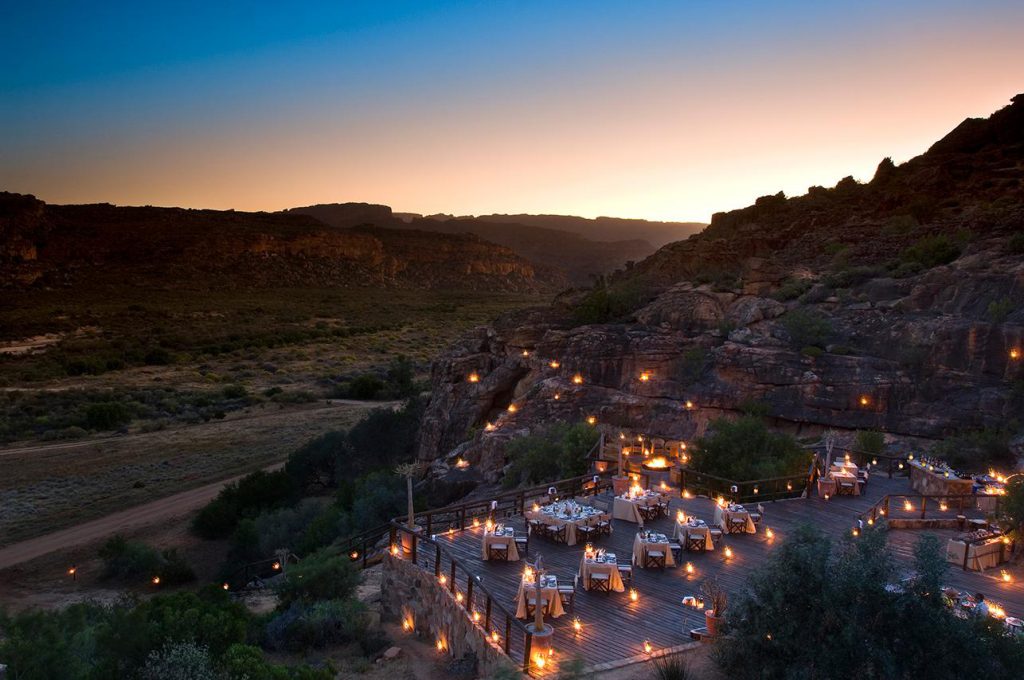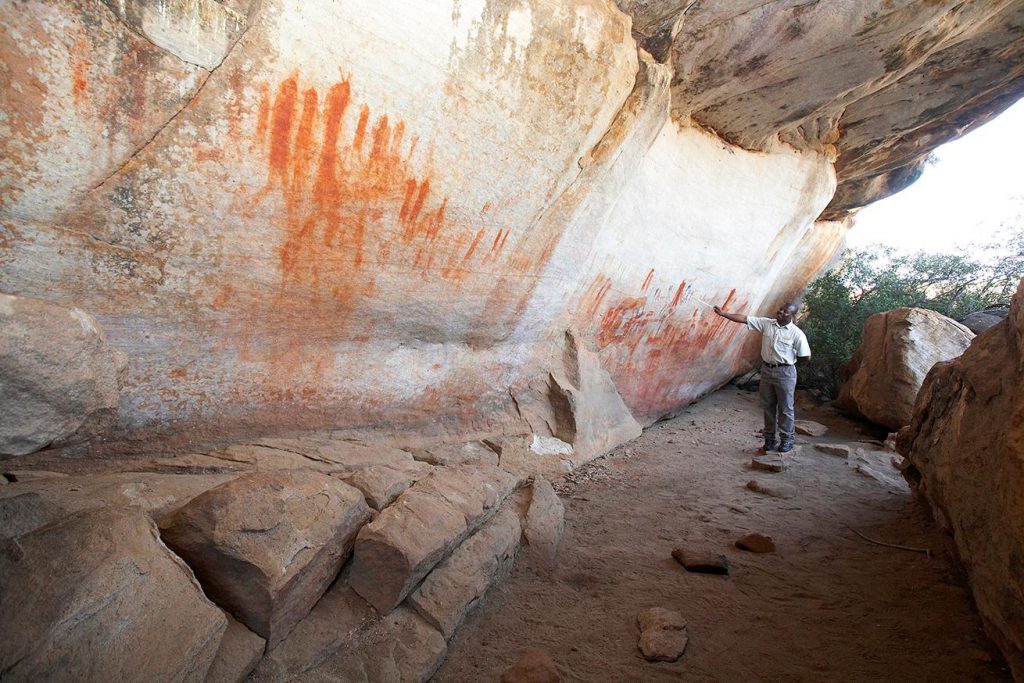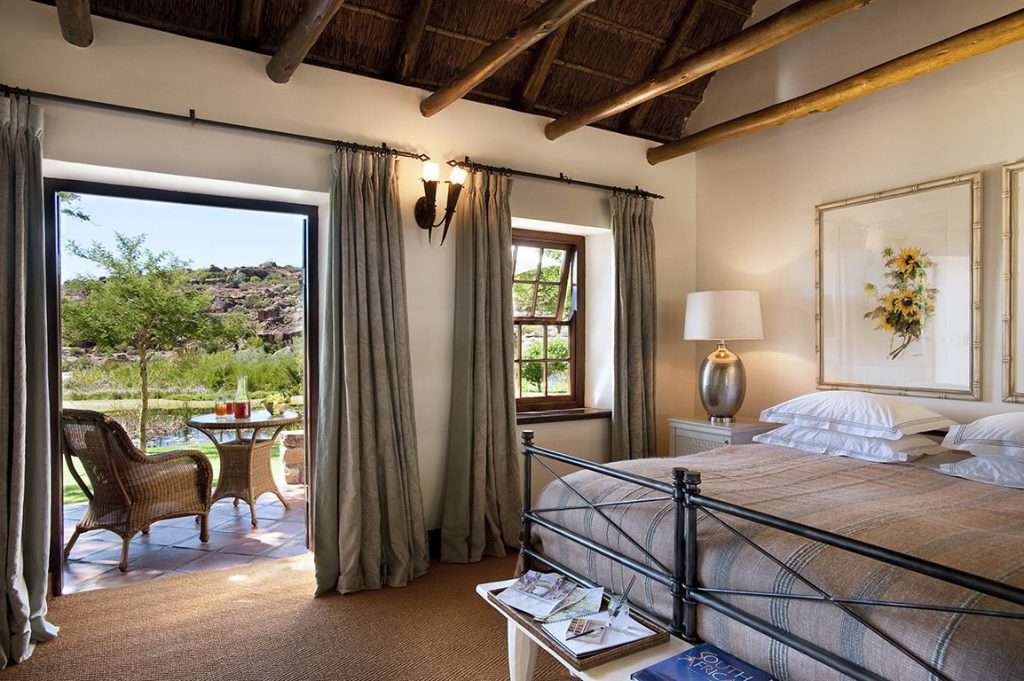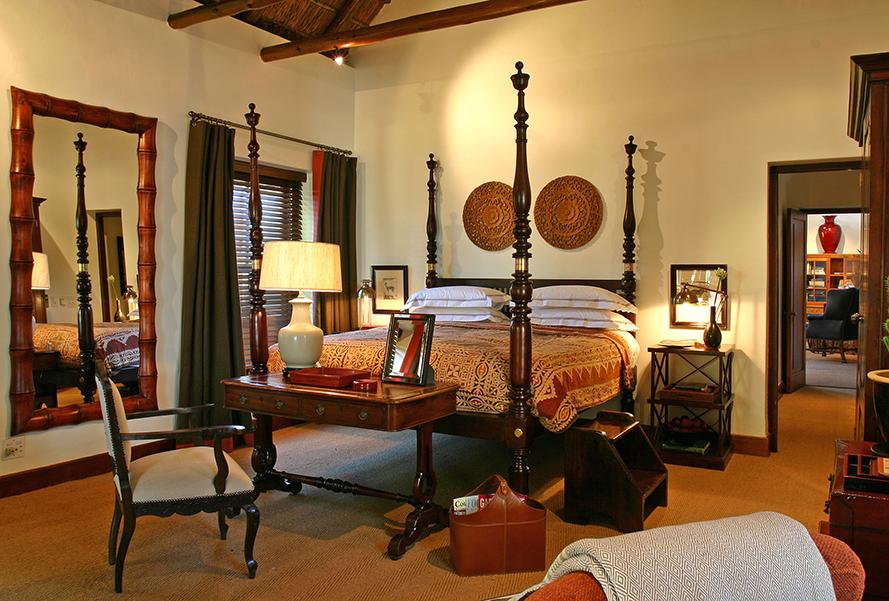 AN EXTRAORDINARY COASTAL EXPERIENCE
Birkenhead House is a chic and intimate beach hotel in the seaside town of Hermanus.
Birkenhead House sets the standard for luxury hotels in Hermanus. With its exhilarating cliff-top position overlooking the whale watching paradise of Walker Bay, Birkenhead House provides luxury accommodation for those seeking time out to relax and recharge body and mind. Watch surfers carving through the waves and, for several months each year, witness Southern Right and Humpback Whales breaching just meters from the shore.
The hotel's contemporary décor is an artful mix of beach-house and quirky opulence. The all-inclusive rate means that guests never need to leave the comfort of Birkenhead House, where all meals and drinks are included.
For the more adventurous, Hermanus offers activities aplenty including whale watching, shark cage diving, golf, horse riding on the beach, hiking, surfing, mussel picking, and even wine tasting. The Hemel-en-Aarde Valley is just a short drive away and is one of South Africa's premier wine routes.
The 11 rooms at Birkenhead House are individually decorated by the stylish wand of owner Liz Biden. The rooms are located in three different houses which make up Birkenhead House. Please note that while we will do our best to accommodate your room preference we can only guarantee a room category and not a specific room.
THE COASTAL EXPERIENCE
Birkenhead House is in the seaside town of Hermanus and is surrounded by sea, pristine beaches, and towering mountains. Whether you're in the mood for more gentle pursuits like a wine tasting on the main deck, or for a thrilling encounter with Great White Sharks, there is something for everyone at Birkenhead House.
The Jewel of the Cape Winelands
Awaken each morning in your luxury accommodation and take a moment to enjoy the breathtaking views before embarking on the day you most desire, be it relaxing on your private deck or exploring the world-renowned Cape Winelands.
Opening on to private decks and heated plunge pools, the 76 m² Superior Lodges each offer a living room and one bedroom. Ideal for families or couples traveling together, Superior Lodges can be interconnected.
Dine at Delaire Graff
AN EXPRESSION OF THE SEASONS
Pairing innovative cuisine with award-winning wines, dining at Delaire Graff is a sensational experience. Their two restaurants transform the freshest seasonal ingredients into accomplished, artful dishes, backdropped by iconic Cape Winelands views. The menu of contemporary, bistro-chic dishes at Delaire Graff Restaurant is a seasonally changing delight. Take your seat in the elegant fire-warmed restaurant or on the oak-shaded terrace with extraordinary views of the Banghoek Valley.
Simplifying the essence of comfort, it welcomes complete unwinding
Set along the boulder-strewn banks of the Sand River, Boulders Lodge seamlessly blends the beautiful light, colors, and textures of its surroundings into vast interiors that spill onto expansive wooden decks. Simplifying the essence of comfort, it welcomes complete unwinding.
Echoing Africa's raw natural beauty
Designed to embody the soothing shapes of ancient boulders scattered along the riverbank and completely immersed in the wild, Boulders Lodge allows you to find yourself in nature. Each of this contemporary retreat's 12 glass-fronted suites offers the utmost privacy, ultra-spacious interiors, and heated pools, with handmade furnishings and soft, natural fabrics mirroring the breathtaking scenery outside.
Cleverly designed communal spaces such as the Copper Bar – serving freshly pressed juices, espressos, and cocktails – provide intimate opportunities for guests to connect with each other and share stories of the sightings of the day.
Providing access to 45,000 acres of untouched wilderness in Singita Sabi Sand in South Africa, Boulders Lodge is known for frequent leopard sightings and exceptional game-viewing while exploring the rich animal and birdlife on guided game drives and bush walks.
the adventure and charm of old-world explorers' camps
Singita Ebony Lodge stands steadfast among enormous trees on the banks of the Sand River and offers guests a fresh and contemporary interpretation of classic safaris. Combining the design highlights of tented camps and bush lodges, the original Singita lodge was inspired by the adventure and charm of old-world explorers' camps and features campaign furniture, natural fibers, and polished wood.
Each of the 12 luxurious suites includes its own private plunge pool and almost all external walls have been replaced with glass and canvas to optimize views and space. Outdoor decks suspended off the river banks invite laidback dining and relaxing, allowing guests to be fully immersed in the natural surrounds.
This idyllic family retreat is set in the heart of South Africa's Big Cat Country and the lodge features two Lewis suites right next to each other – ideal for families with teenage children; as well as two family suites that are perfect for families with small children. An exclusive-use villa – comprising two family suites – offers a full staff complement and complete seclusion.
Located in Singita Sabi Sand in South Africa, Ebony Lodge provides guests with access to 45,000 acres of an incredible wildlife sanctuary that's renowned for its high concentrations of big game and frequent leopard sightings.
A CONTEMPORARY SAFARI ESCAPE
Suspended high above the N'wanetsi River, the dramatic cliffside setting of Singita Lebombo Lodge's 13 contemporary glass-walled suites ensures inimitable views of the world-renowned Kruger National Park.
The lodge's cutting-edge design is cleverly integrated into its wilderness setting, where everything defers to nature and airy spaces welcome the breathtaking surrounds inside.
The sophisticated loft-style suites embody the essence of modern romantic hideaways and their elevated wooden viewing decks allow guests to sleep outside under the stars. These light-filled structures, floating between river and sky, were inspired by the many eagles' nests built into the cliff face of the river bank.
Surrounded by Singita's 33,000-acre private concession in the Park, the lodge boasts communal areas that extend seamlessly into rocky outcrops dotted with giant euphorbia trees. Features include a roof terrace, multimedia room, library, interactive kitchen, espresso bar, and an all-day 'bar-deli'. The exclusive-use villa – comprising two 2-bedroom suites, each with their own private pool – is set apart from the lodge and offers a full staff complement, private boma, open-plan kitchen, and airy living areas that spill onto inviting outdoor spaces with an expansive pool.
Conserving a vanishing way of life
Shamwari Private Game Reserve is a luxury safari and game lodge destination in South Africa's ecologically and culturally significant Eastern Cape Province.
TRANQUILITY INSPIRED BY NATURE
Sindile, Shamwari's new luxury tented camp is a secluded, luxury getaway set deep in the African veld. The camp mimics a solitary leopard's sanctuary, blending with the surrounding bush while providing excellent vantages over the Bushman's River and surrounding plains.
The nine luxury free-standing tents are elevated above the surrounding bush, allowing uninhibited views, unsullied by any other man-made structures or light pollution. The harmonious, intimate design minimizes the environmental footprint.
The dining area and bar are situated to make the most of the views over the reserve, with focal points including a large harvest table and fire pit.
Escape to Shamwari Private Game Reserve and enjoy a safari spa experience in the unspoilt surrounds of the Eastern Cape. Our relaxation retreats will leave you feeling revitalized and rejuvenated, with treatments that are proven to be beneficial for the mind, body, and soul.
We have a host of safari spa treatments available to you should you make a booking at Sindile, such as massages, facials as well as hand and foot rituals.
Shamwari offers an array of experiences you can enjoy such as Game Drives, Birding, Walking Safaris, Wildlife Rehabilitation Centre, Photographic Safaris, and more.
All 9 of the premier tents can sleep a maximum of 2 adults.
A legendary destination designed by dreamers for luxury-seekers
The Palace is a sophisticated 5-star hotel that has redefined African luxury and elegance. The entrance hall of The Palace sets the precedent, with its intricately painted ceilings, mosaic artworks, and golden zebra-hide upholstered furniture. Set within verdant gardens, each luxurious room in the hotel boasts handcrafted furniture, befitting royalty.
A legendary destination designed by dreamers for luxury-seekers. Since its inception in 1992, The Palace of the Lost City has enthralled visitors from all over the globe. It's a unique setting in South Africa, on an extinct volcanic site among the Pilanesberg mountains, is matched by the inspired architecture and passionate attention to detail for which The Palace of the Lost City is renowned.
From the swimming pool to the safari, we invite you to experience distinctive African activities at The Palace of the Lost City. Set in the world-renowned Sun City resort and bordering the Pilanesberg National Park, the wide variety of things to do at The Palace of the Lost City runs the gamut between classic luxury and thrilling adventure.
From sunrise hot-air balloon rides to sundowner cocktails, this is a destination made for lovers. Discover romantic things to do at The Palace of the Lost City, such as lounging beside the swimming pools, dining out at the five-star restaurants, or enjoying bespoke spa treatments in the privacy of your room.
Don't miss the chance to toast the rising sun on an early morning hot-air balloon ride over the plains of the Pilanesberg National Park or discover the Big Five up close on a game drive or rhino-tracking safari.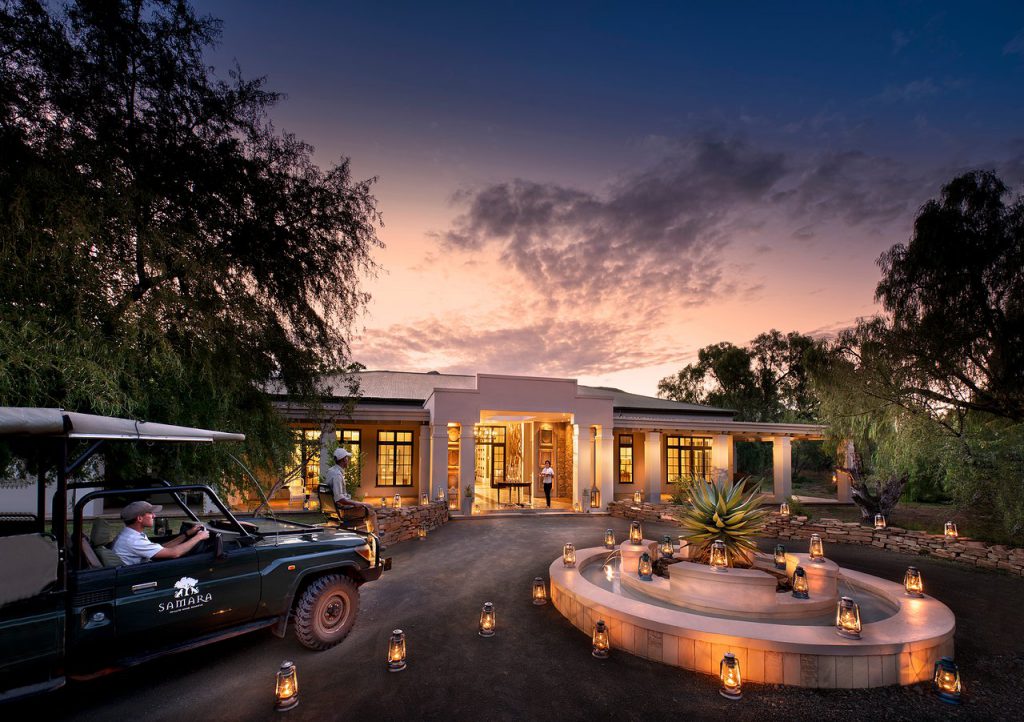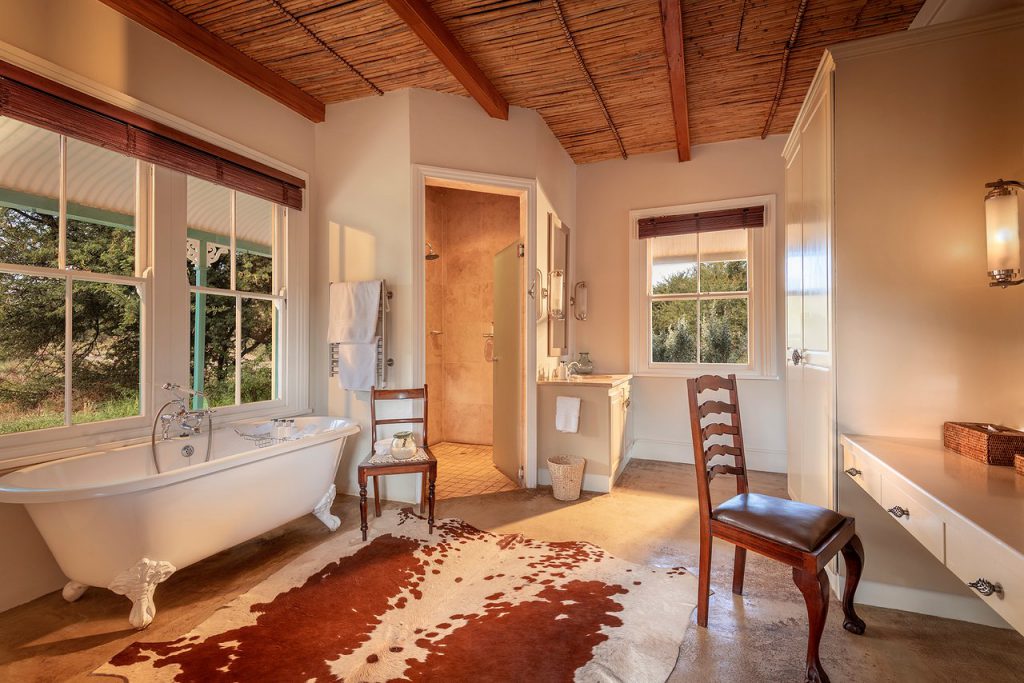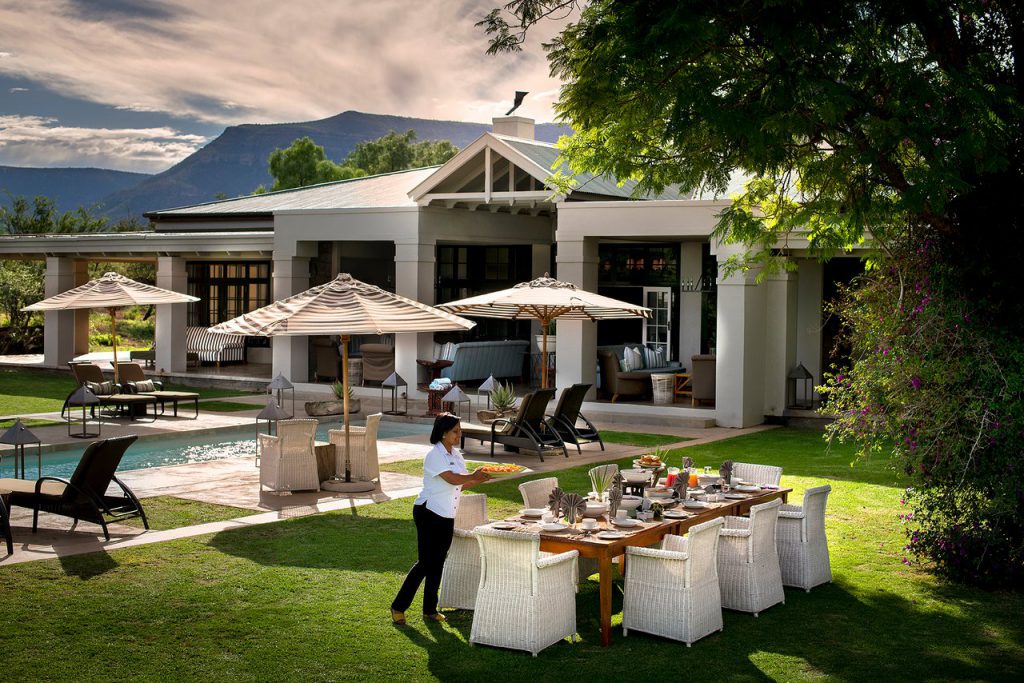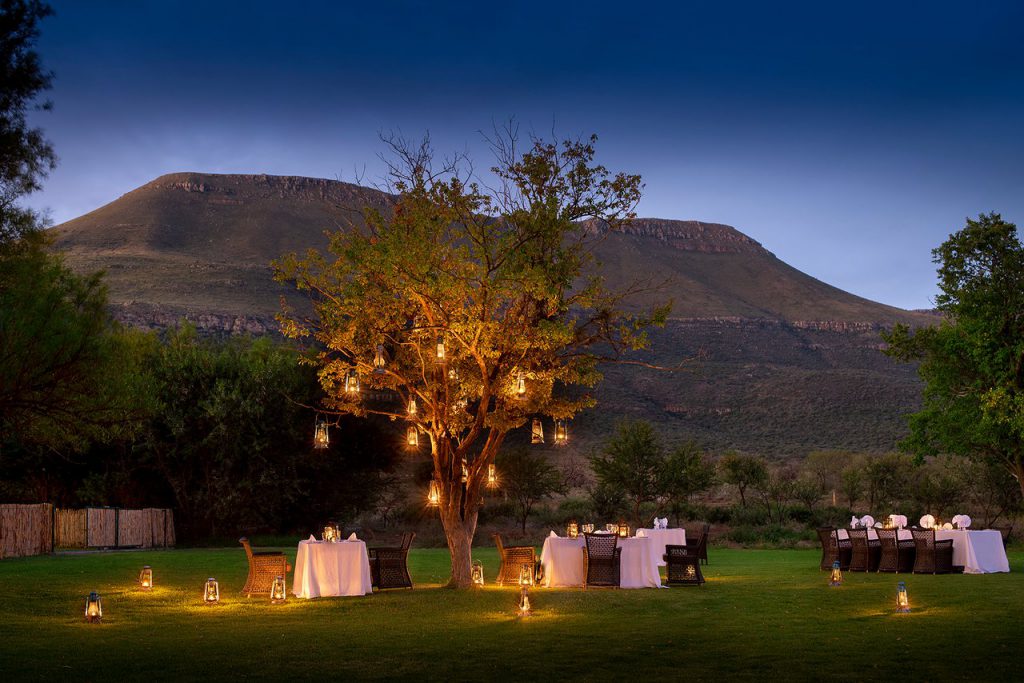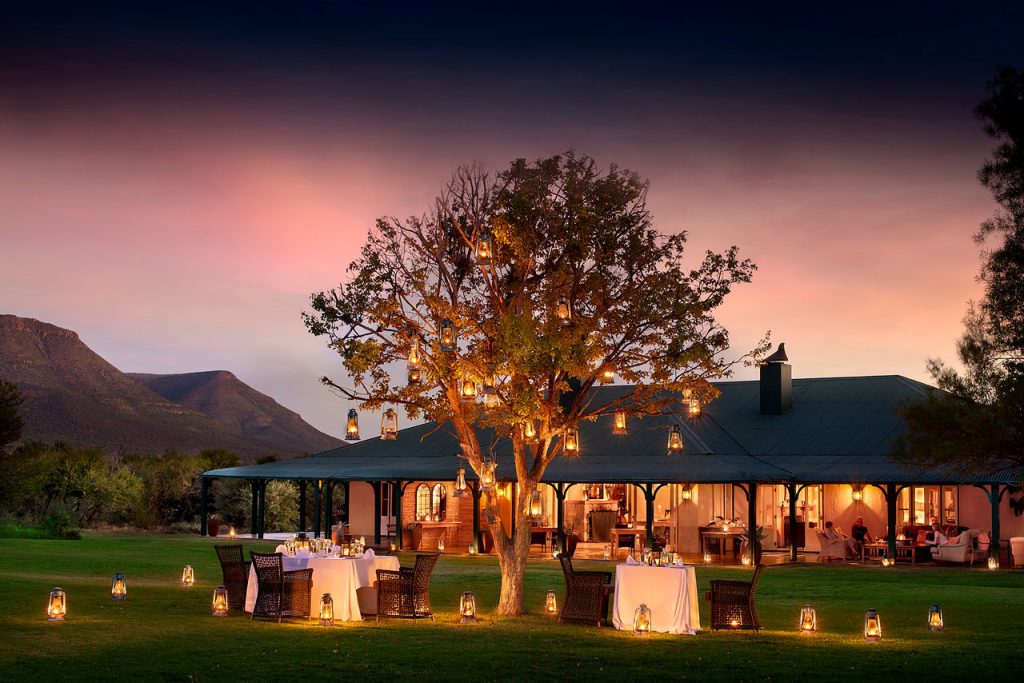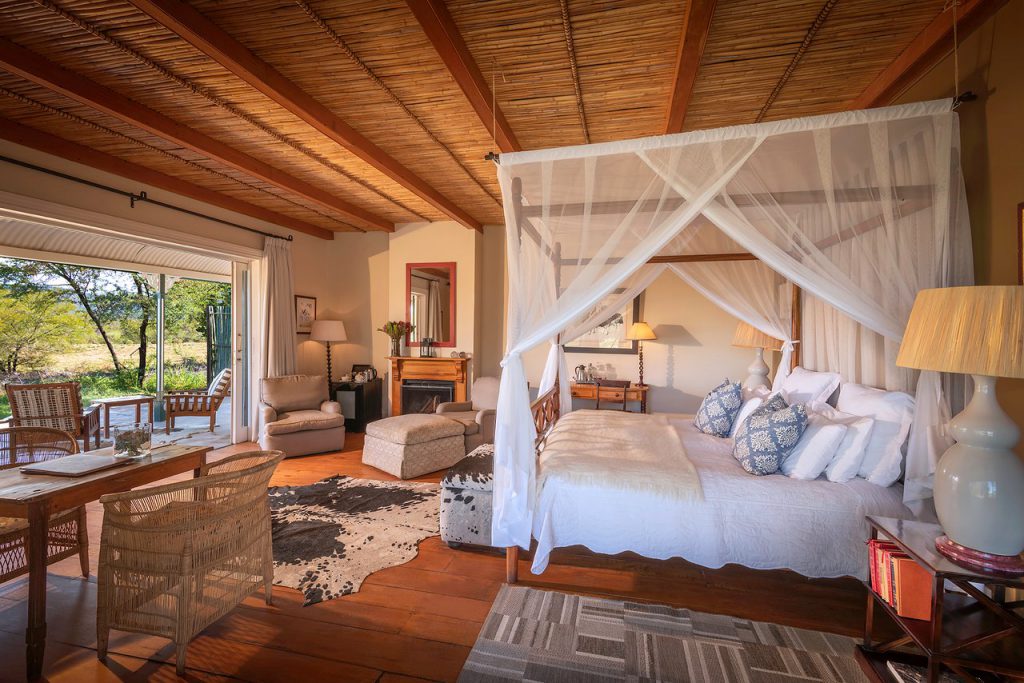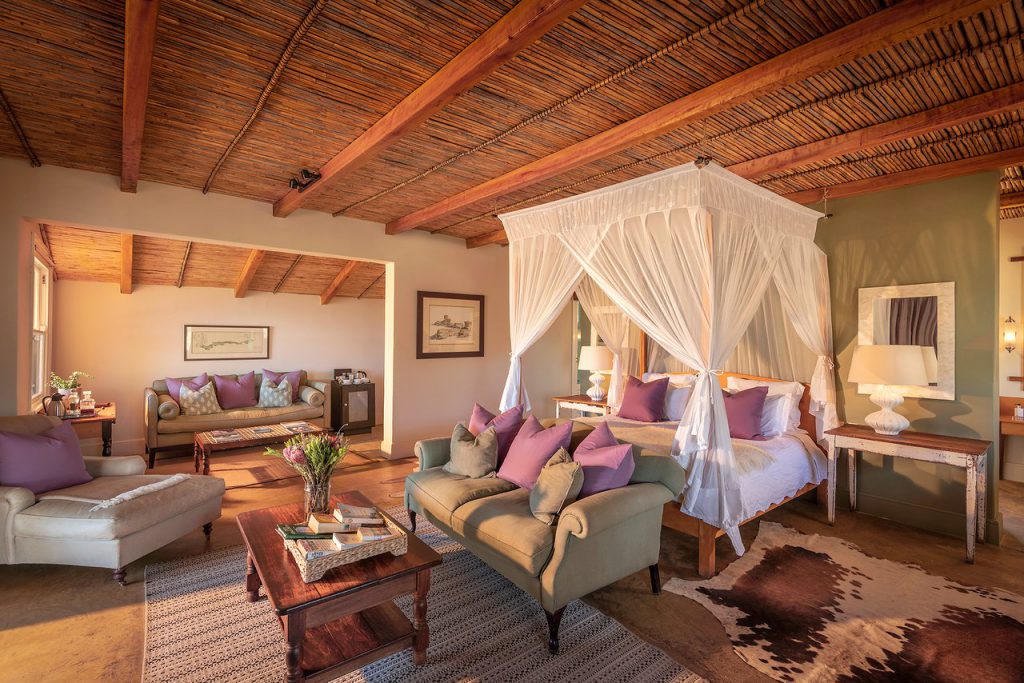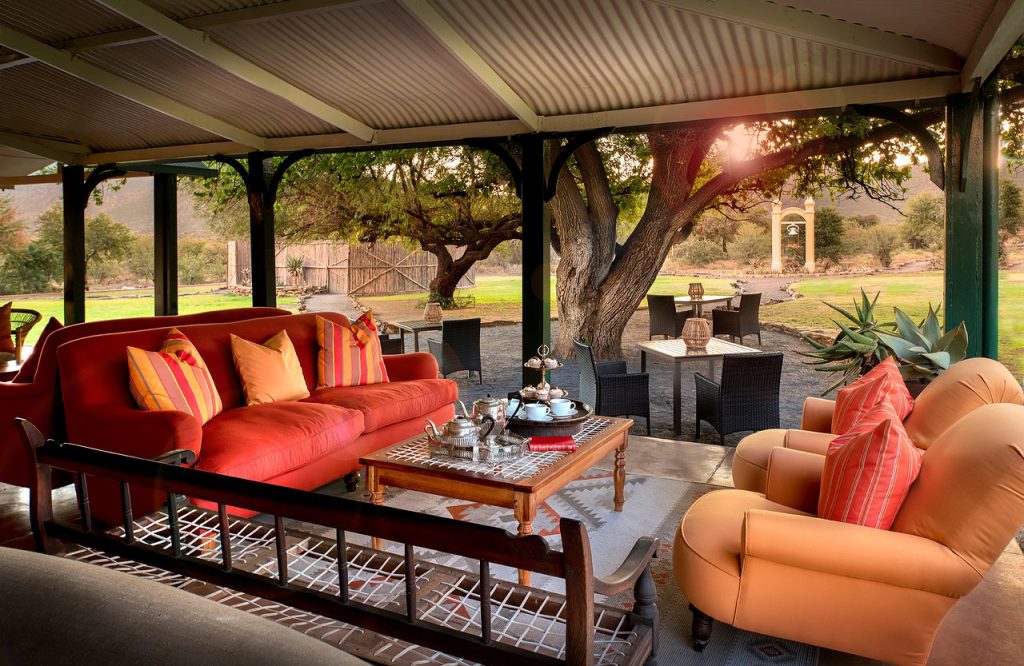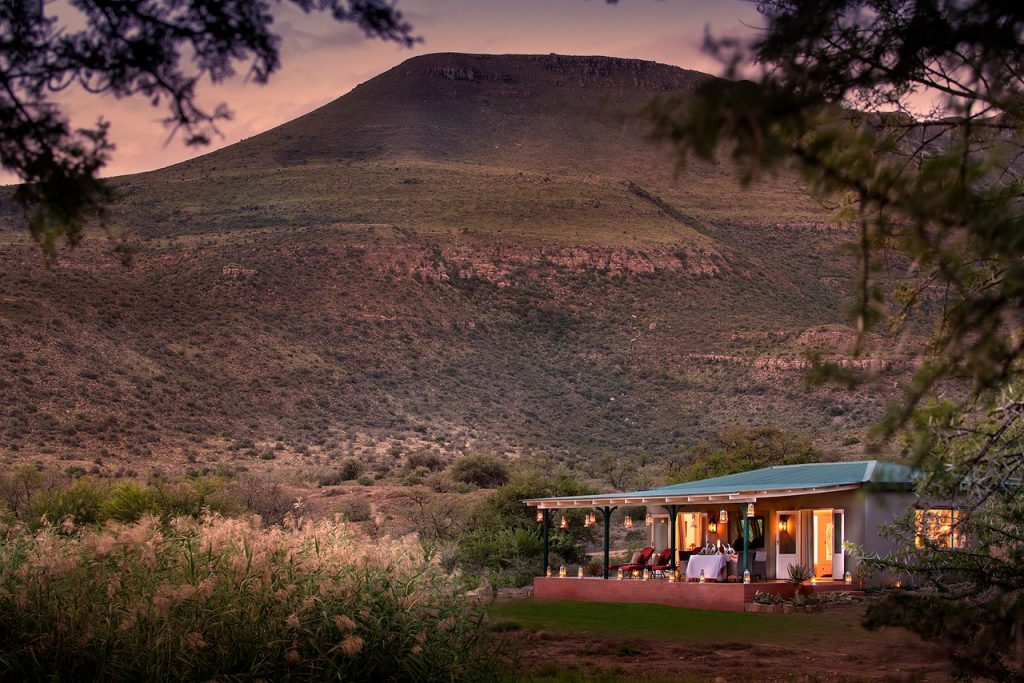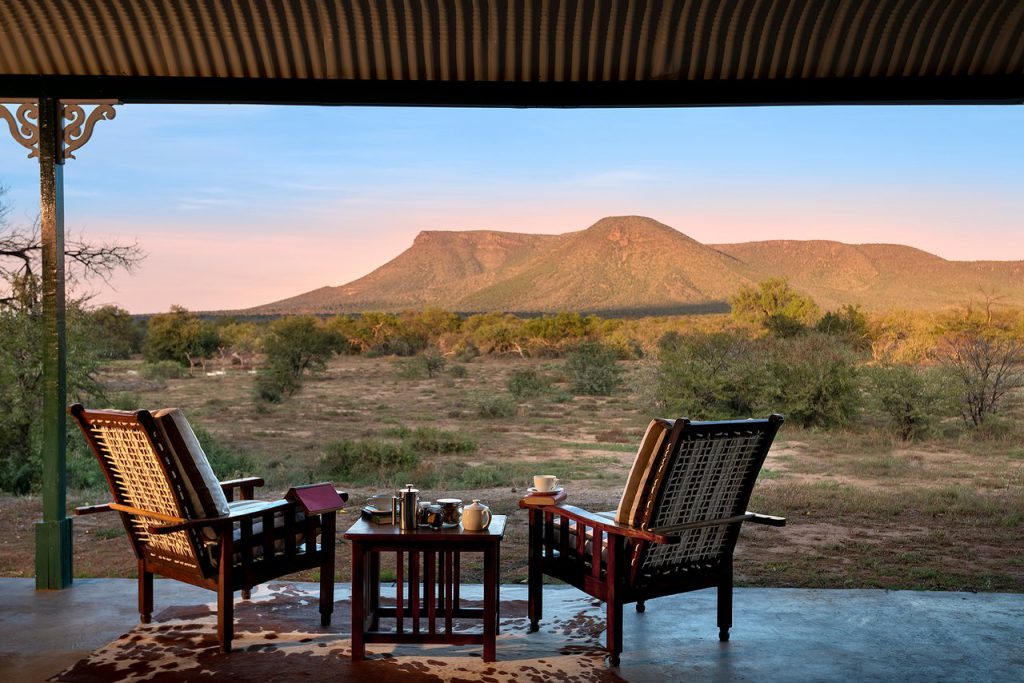 Consisting of 11 former livestock farms assembled since 1997, Samara's vision is nothing less than the rewilding of an entire landscape in the Great Karoo, South Africa's magical heartland. Key to the Samara experience is the concept of co-creation, where every guest plays a role in safeguarding the landscape in perpetuity.
The landscape itself is unique – and unexpected and diverse semi-arid paradise of mountains and grasslands, where thousands of wild animals, from cheetah to elephant to springbok, roam once more. A total of 26 guests at any one time are invited to join this conservation journey, a guest-to-land ratio almost unparalleled in Africa.
Easily accessible from the Garden Route, Samara is also just 40 minutes from the historical town of Graaff-Reinet, rich in culture and heritage.
A spectacular destination for discerning travelers seeking a holiday with purpose and genuine hospitality, Samara offers a safari for the soul.
Private luxury hideaways amongst the trees
The magical allure of Tsala is irresistible to those who appreciate exclusivity, fine fare, romance, and adventure. With beautiful private suites and villas, breathtaking views and forest seclusion, unique architectural design, and excellent personal service, it is a fantastic getaway destination.
Guests staying at Tsala Treetop Lodge have access to all the fantastic facilities they offer at the lodge. You can soak up the sun, shop, read, enjoy a glass of wine or socialize on their deck regaling your day's adventures on the Garden Route.
TUCKED INTO THE FOREST CANOPY
The magical allure of Tsala is irresistible to those who appreciate exclusivity, fine fare, romance, and adventure. With beautiful private suites and villas, breathtaking views and forest seclusion, unique architectural design, and excellent personal service, it is a fantastic getaway destination.
A wonderful and special location right on the garden route. We absolutely loved this hotel!
The adventure and charm of old-world explorers' camps
With the magnificent Outeniqua Mountains as a backdrop and sweeping views out over the glistening Indian Ocean below, lies Botlierskop Private Game Reserve. Just 4.5 hours' drive from Cape Town, it's midway between Mossel Bay and George, on South Africa's scenic Garden Route.
Come and share the bounty and breathtaking beauty this 4,200-hectare reserve has to offer. Botlierskop Game Reserve will ensure you enjoy a uniquely South African Safari Experience, with a range of luxury accommodation from sumptuous tented lodges and stately manor suites to spectacular, self-catering villas and an entire village built with children in mind. This gracious family-owned and privately-operated game reserve is malaria-free and home to four of the Big 5 (lion, elephant, buffalo, and rhino) as well as a host of antelope, including rare black impala, zebra, giraffe, wildebeest, hippo, and more.
Spend a memorable day – or come and stay. Day visitors are as welcome as overnight guests at Botlierskop with a range of activities from safari game drives, horseback safaris, pampering spa therapies, restaurant options, children's activities, spacious decks, and swimming pools, there truly is something for everyone.
All this and a very warm welcome awaits you!
We think this is a very good safari within easy reach of Capetown which you will love! Bring earplugs as the tents will serve you the safari sounds at 4 o'clock in the morning! Wonderful!
The most inspiring place
to stay in Joburg
Located in Melrose, a chic suburb of Joburg, The Peech is a true boutique hotel with bedrooms spread across two acres of lush gardens.
With design and comfort the core essence of The Peech DNA, combined with flawless service and illustrious history of satisfied guests, this marks Johannesburg's top-rated Boutique hotel as a landmark hotel. An icon.
The Peech was originally a private residence built in the 1950s and a family home for more than 40 years. Purchased by James Peech in 2002, and first opening it's doors as The Peech Hotel in 2004, the property has since been restored and developed to become Johannesburg's most iconic boutique hotel, offering five different room types, two restaurants, and two acres of lush gardens.
Their luxury Rooms are the newest rooms and are spread throughout the hotel's lush gardens. They feature oak floors, huge walk-in Raindance showers, and large patios.
The Peech has two restaurants on the property under the supervision of Head Chef, Feni Malebye-Lutalo.
FRANSCHHOEK'S FINEST HOTEL
Located in the beautiful Franschhoek Valley on a private 30-acre estate, La Residence sets the benchmark for luxury accommodation in the Cape Winelands.
La Residence is surrounded by Cabernet Sauvignon and Shiraz vineyards, olive groves, and plum orchards, with a spectacular mountain backdrop and breath-taking views of the undulating countryside. Be transported to a world of exquisite beauty, opulence, and complete tranquillity at this luxury Franschhoek hotel.
Glittering Indian chandeliers hang from the vaulted ceiling, original artwork and huge mirrors grace the walls, while the furnishings of Liz Biden are colorful, stylish, and comfortable. Elegant antiques and exquisite flowers create a feeling of refinement and sophistication while space and personal service are the ultimate luxuries.
The 11 Suites at the hotel are ideal for couples while the 5 Vineyard Suites offer privacy and space for families and groups of friends.
Each room at La Residence has been uniquely designed by Liz Biden. Each has its own color scheme and design inspiration – from the exotic Tibetan Suite with its oriental antiques and rich orange tones to the blue and yellow Chambre Bleu with its Provençal antiques, velvets, and silks.
Superb safari location
Mhondoro Safari Lodge & Villa is a luxurious, five-star private Safari Lodge and Villa situated within the malaria-free Welgevonden Game Reserve in Limpopo, South Africa. After a devastating fire in 2013, the whole lodge was rebuilt and completed in 2015, and the interiors decorated in an 'African Chic'style – an elegant mix of African design and contemporary European design.
The sophisticated, yet child-friendly lodge, is known for its underground waterhole hide, which is connected to the Main Lodge by a tunnel. This unique feature offers an accessible, safe, and one-of-a-kind opportunity to get up close to the animals drinking at the waterhole in front of the lodge. Mhondoro Safari Lodge is the first and only five-star Safari Lodge to offer this exciting and special experience.
Mhondoro Safari Lodge is family friendly, yet is private and exclusive, enabling guests to relax and explore abundant wildlife on guided game drives. Welgevonden Game Reserve's strict policy limiting the number of vehicles on the Reserve, enhances the exclusive and peaceful game drives and ensures there will be no interruptions from vehicle traffic.
For those preferring to indulge in blissful relaxation, there is a Spa and Wellness Massage Suite where a team of experienced beauty therapists offer treatments to help you unwind. Or perhaps a bracing workout at the fully equipped gym will suit those wishing to stay in shape while viewing the animal activity at the waterhole. The heated pool, sauna, bar and lounge areas are available to all guests throughout the day.
Mhondoro Safari Lodge is only a 2-hour 45-minute drive from O.R. Tambo International Airport, making it the perfect safari destination for those coming to South Africa via Johannesburg. Even faster is traveling by small plane as you'll arrive in less than an hour and you'll enjoy the breathtaking experience of flying over the Waterberg and Welgevonden Game Reserve en route.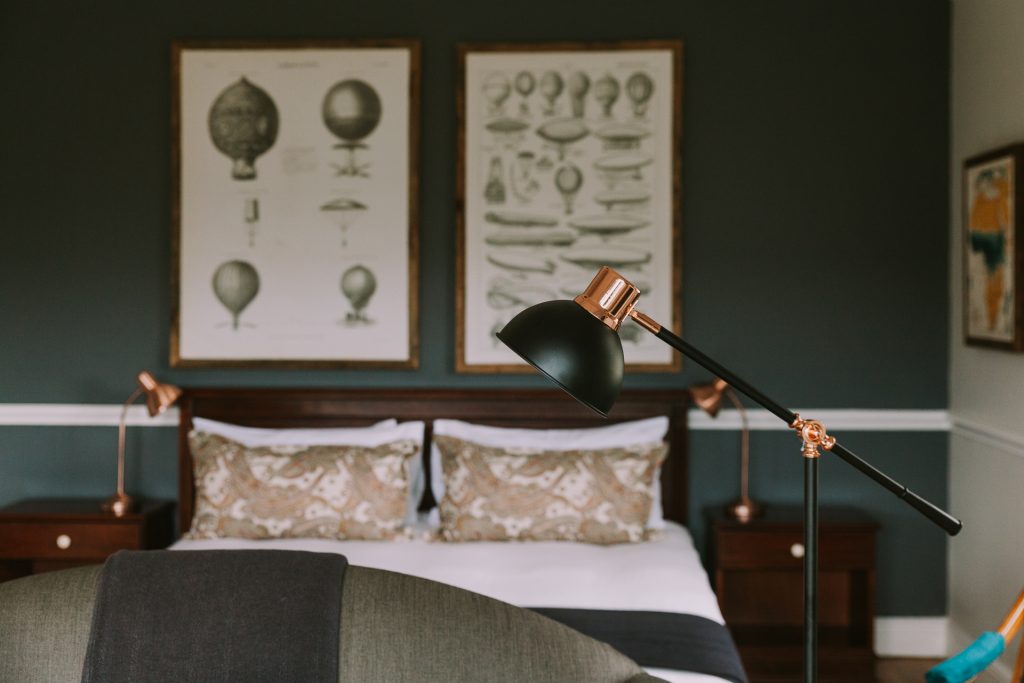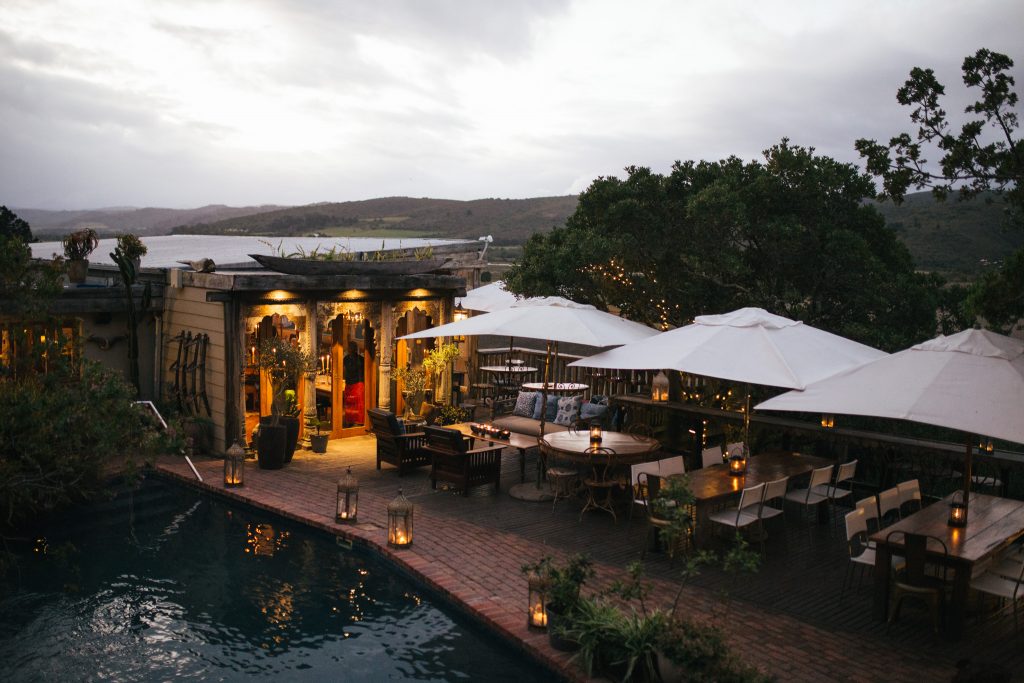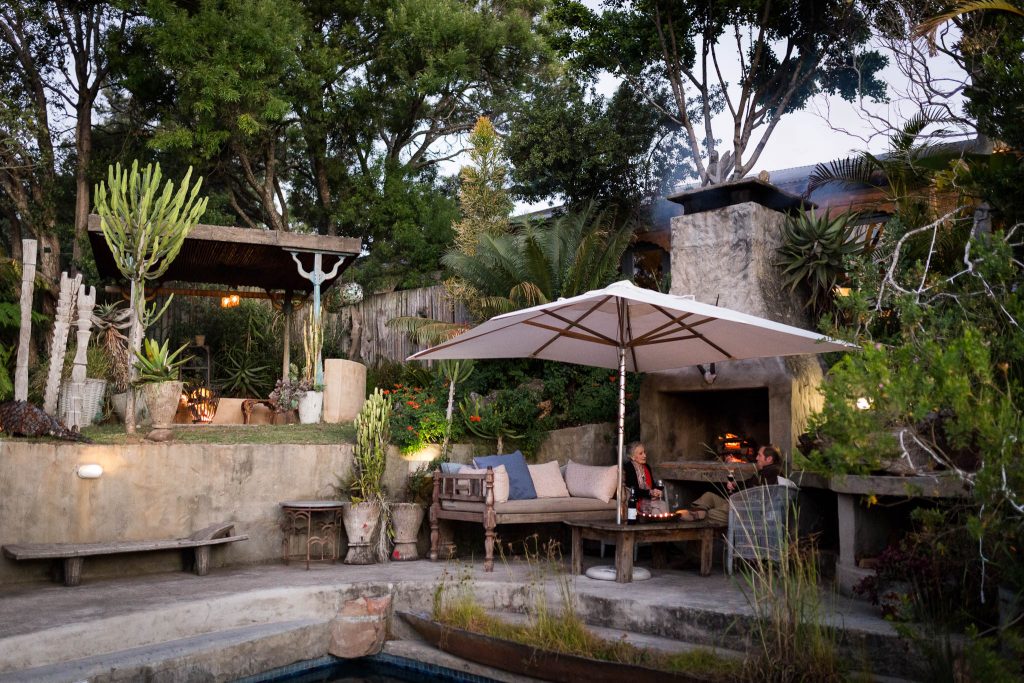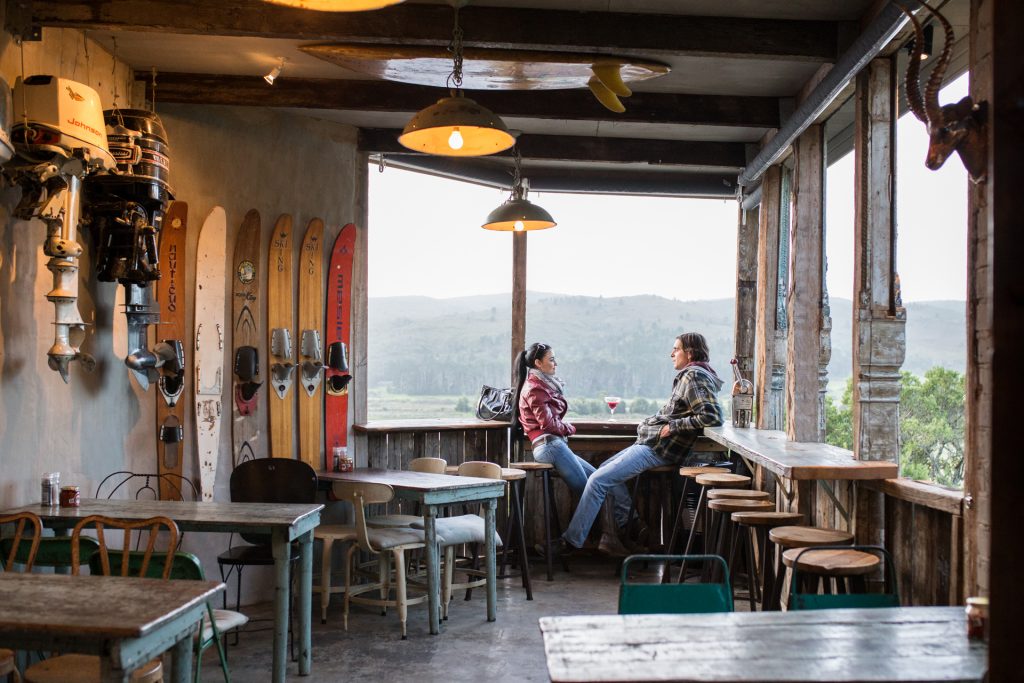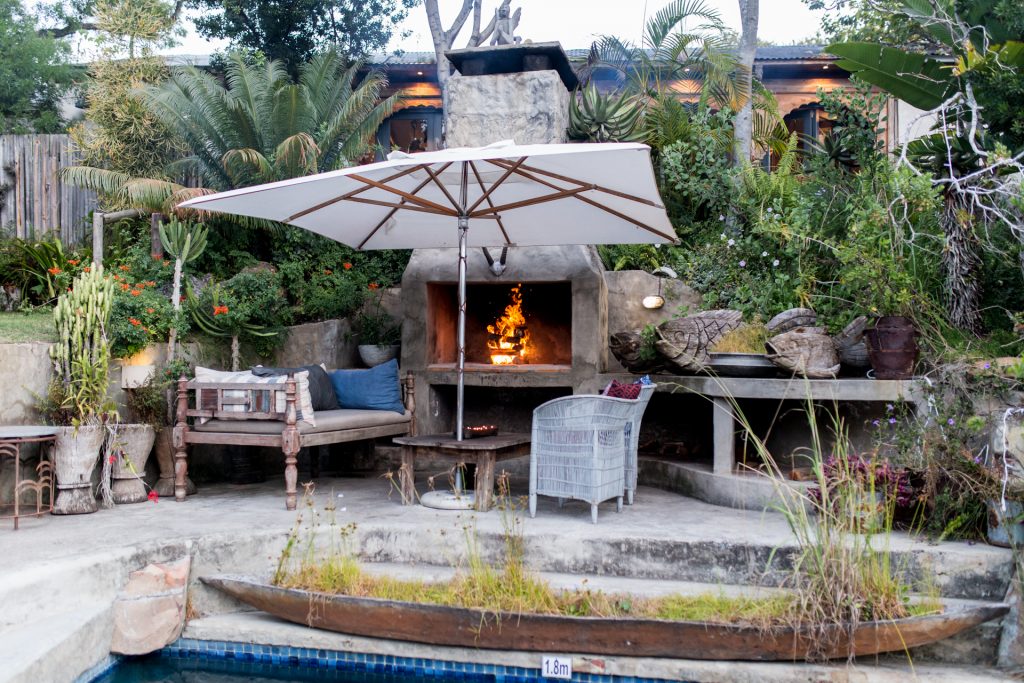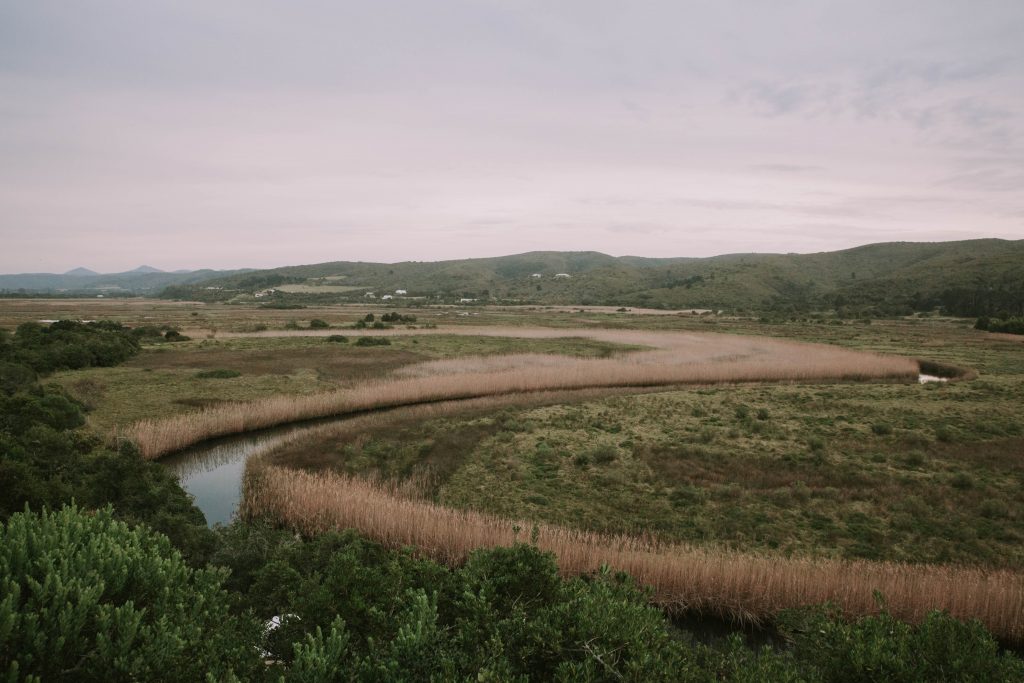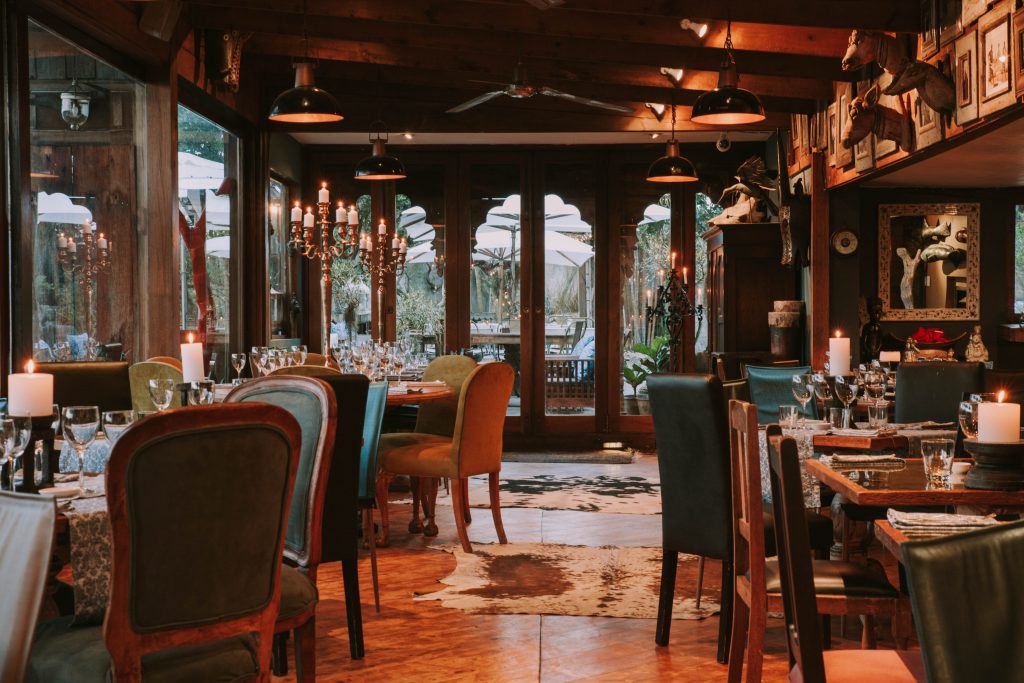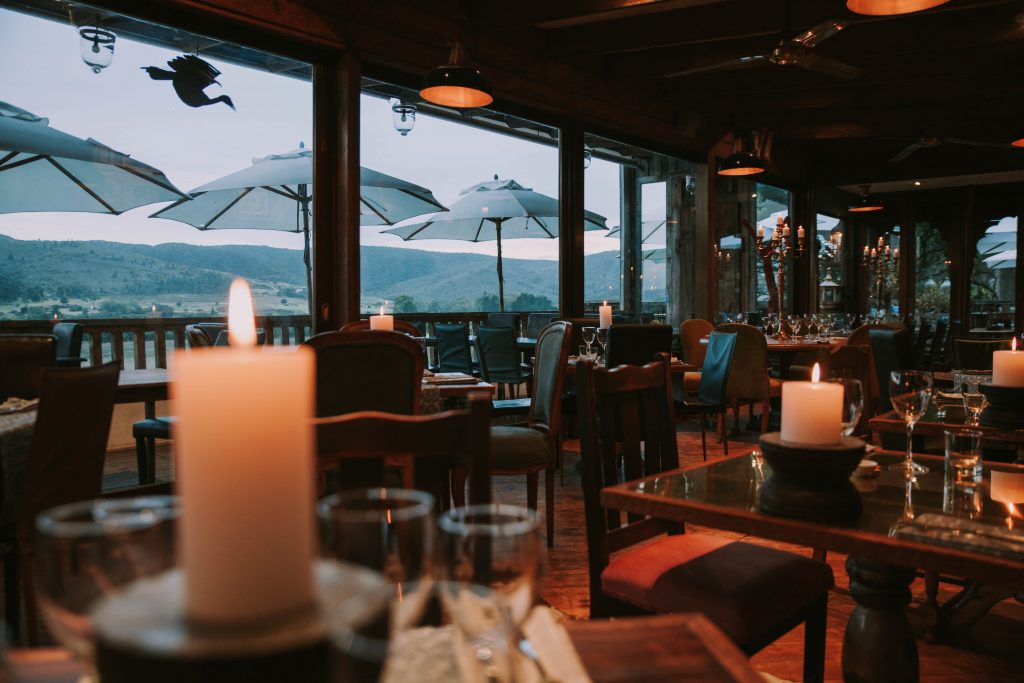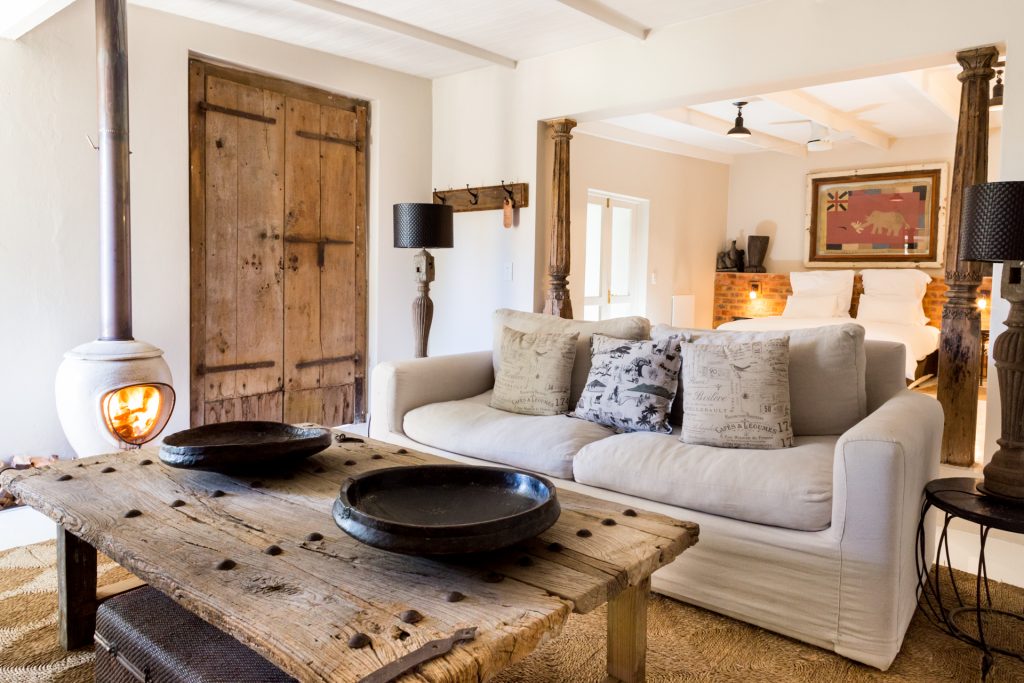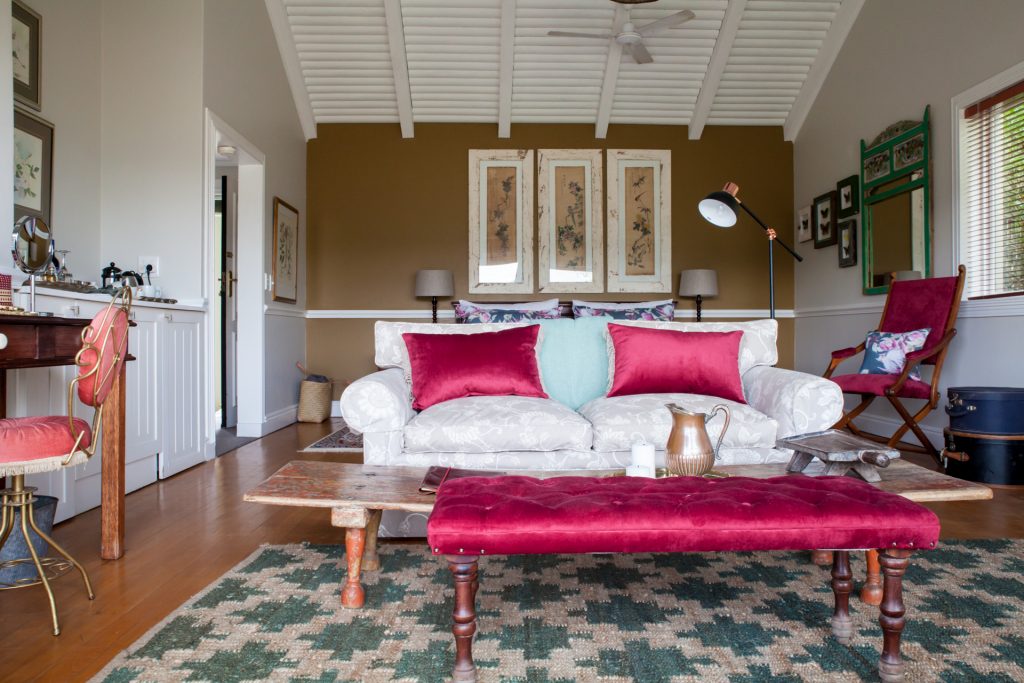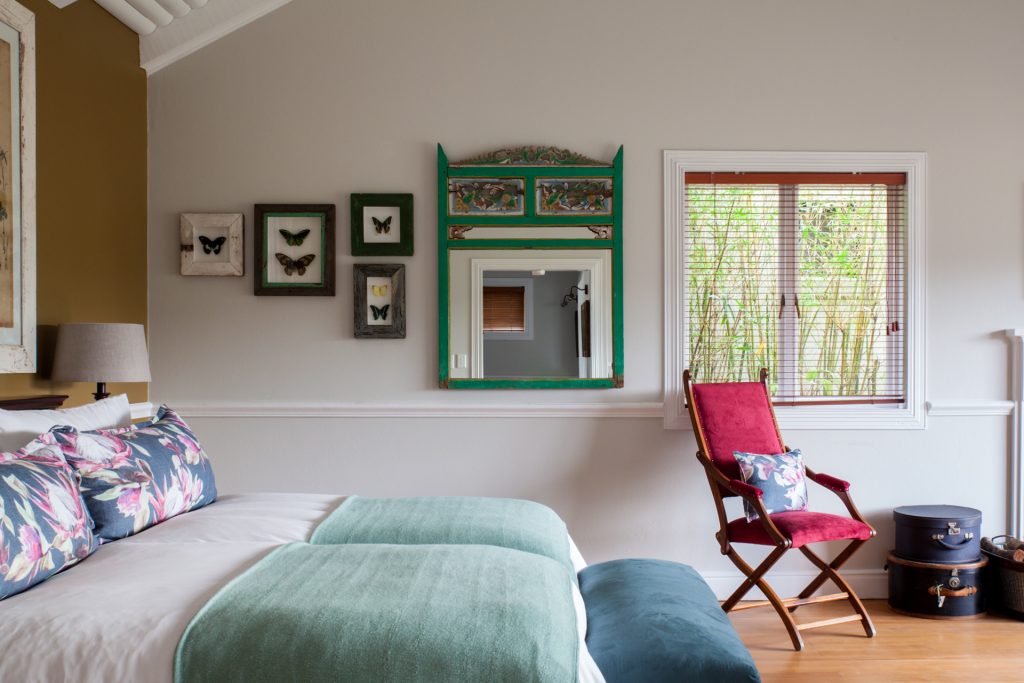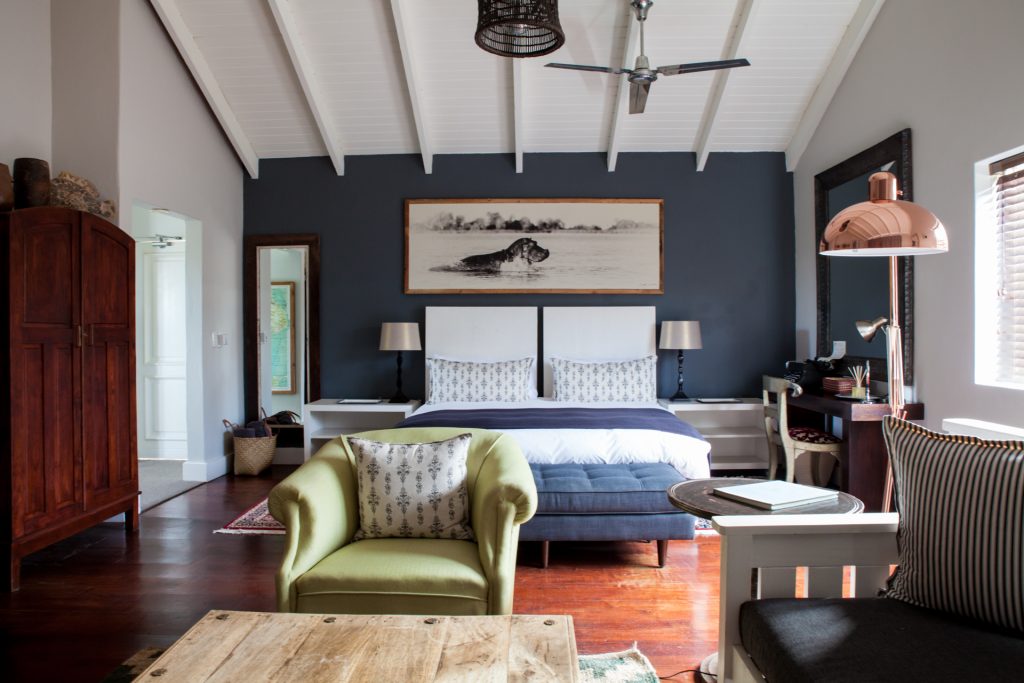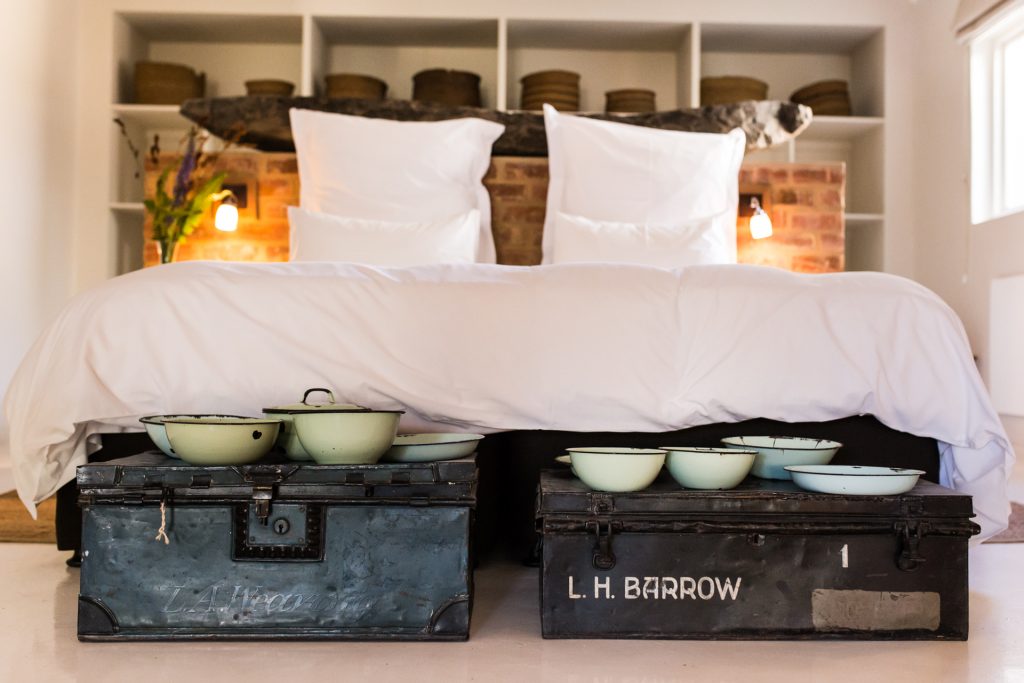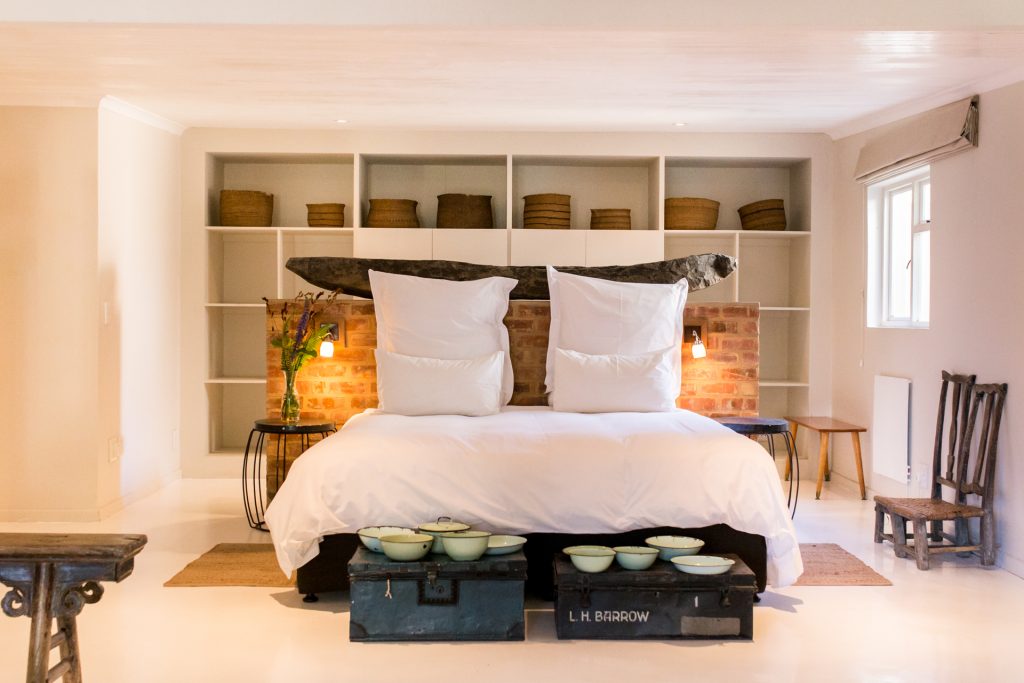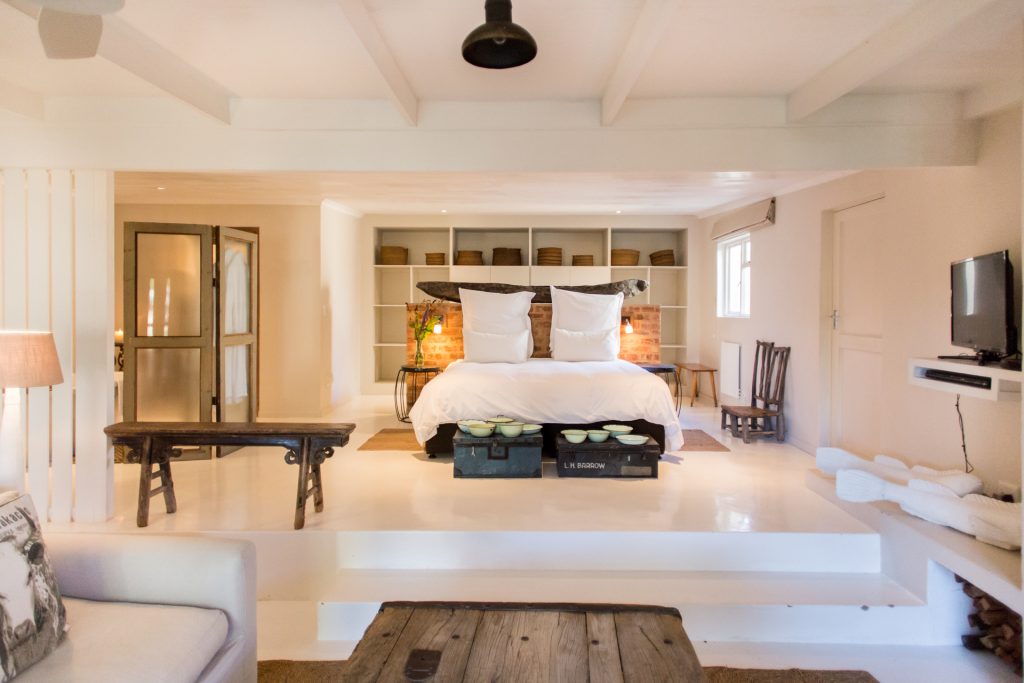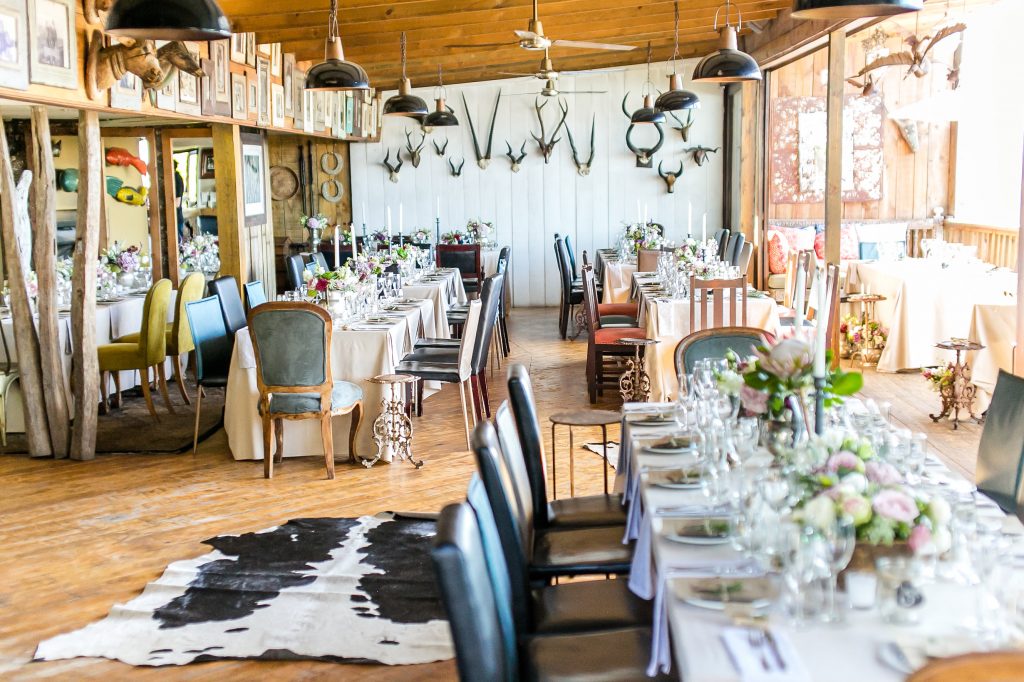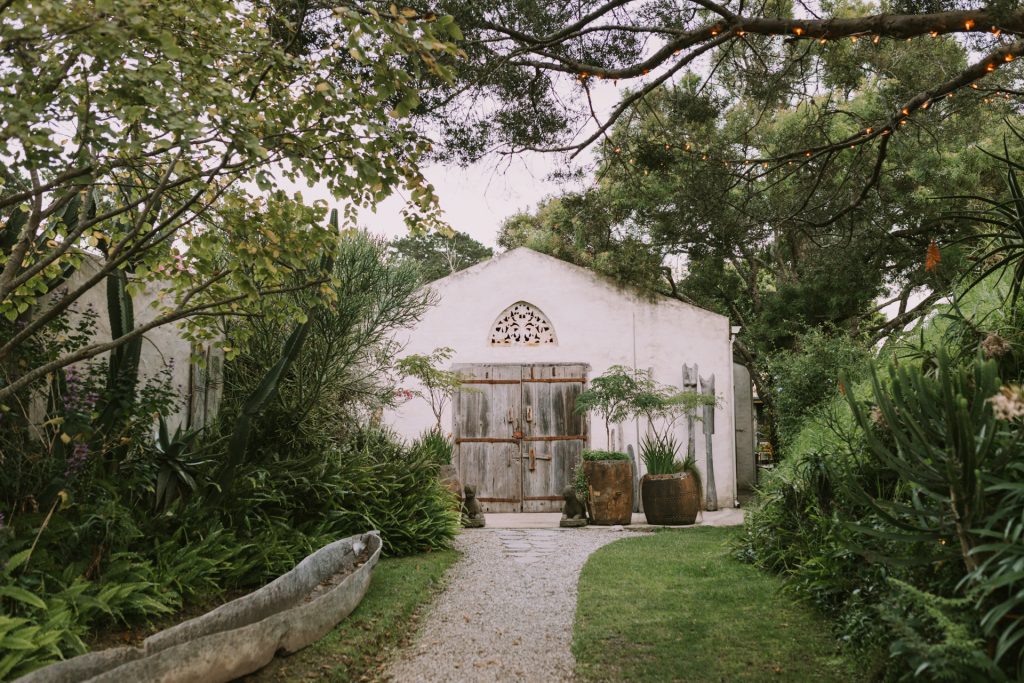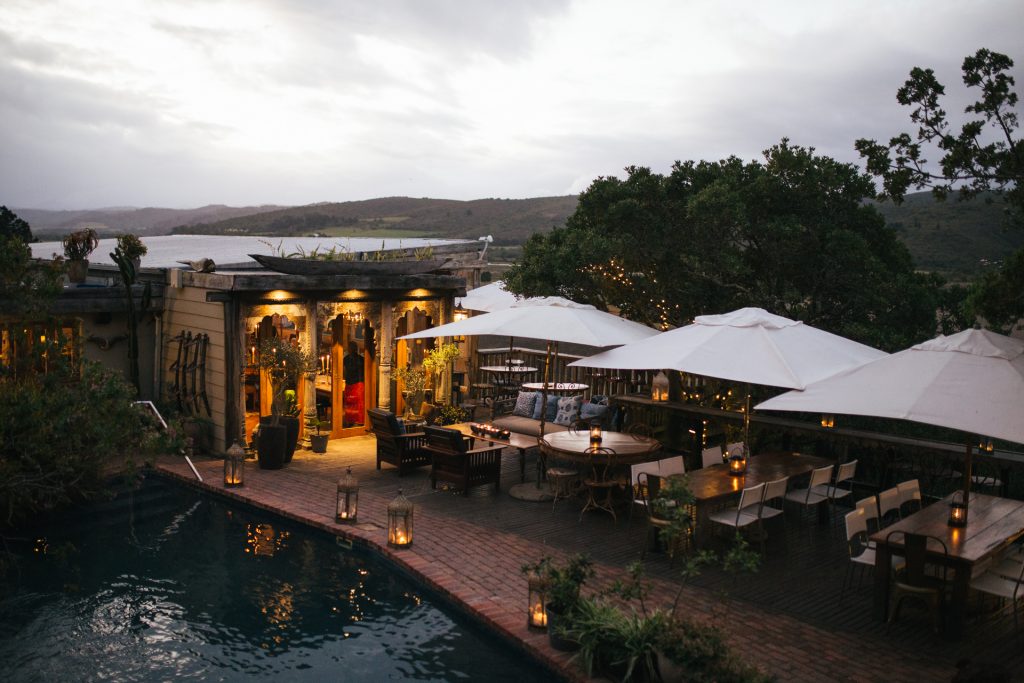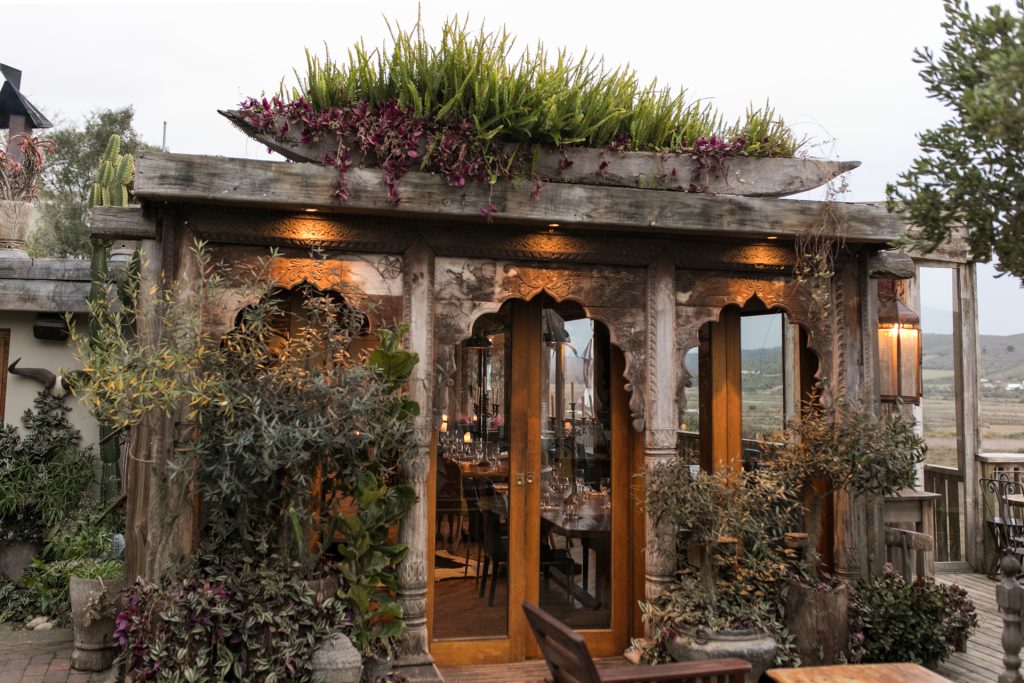 an exclusive boutique hotel with a quirky attitude
Set on the banks of the Bitou River in Plettenberg Bay, Emily Moon River Lodge is an exclusive boutique hotel with a quirky attitude and a distinctly African air.
The hotel comprises sixteen, exquisitely-appointed lodge suites set in an indigenous garden, with magnificent views of the river, wetlands, and mountains.
Plettenberg Bay is reputed to have the most beautiful coastline in South Africa, laid back nightlife, and restaurants to satisfy the most discerning of foodies. It is a jewel in the Garden Route's crown. With a backdrop of forests, mountains, and river valleys, it offers a myriad of sporting and cultural activities and is in close proximity to the Plett Winelands.
Emily's Restaurant is the most exquisite of dining halls. The spirit of Africa is in every archway, every antique table, and in the collectors' items that adorn every nook and cranny. Feast your eyes on Kelims, Samburu spears, sculptures, old photographs, maps, paintings, and everything else that breathes the rich textures of Africa. Lunch by the pool or dine by candlelight and remember the experience for the rest of your life.
Simons Bar, located above Emily's Restaurant, is beautifully designed with vintage boat engines decorating the walls and in the center a wood-fired pizza oven that produces the best artisan pizzas in the Garden Route. The Bar stocks beautiful Cape wines and our barman makes a mean cocktail to enjoy feet up, watching the sunset over the Bitou River.
Emily Moon River Lodge is made up of six deluxe luxury suites, eight luxury suites, and two family suites, featuring rare artifacts and found-items collected from the length and breadth of Africa and beyond. Each suite is private, complete with a spacious living area, a well-appointed bathroom, a wooden viewing deck, a fireplace or air-conditioner, wi-fi, minibar, and satellite TV.
Located 8km away from Emily's, in the heart of Plettenberg Bay, The River House can be found on the banks of the Piesang River. This special family home is an entertainer's paradise with a boma area for evening drinks, a volleyball court, a swimming pool, and canoes for a morning paddle.
The River House is available for rent for stays of 3 weeks or longer…
Emily Moon River Lodge is within easy reach of the town of Plettenberg Bay. Your suite is ready and waiting.
Space, charm, and an unsurpassed opportunity to indulge in an authentic country ambiance and history
Are you traveling through South Africa? Jan Harmsgat Country House is the perfect stop-over on your journey. A 2-hour drive outside of Cape Town on the R60 highway, off the N2, as you head into the Garden Route.
Discover the historic charm of 5-Star Guest accommodation that comprises 10 exclusive rooms – Double, Twin & Family Rooms plus a romantic honeymoon suite. With breakfast included and a fine-dining restaurant on-site for dinner, they grow their own produce for the table. Just across the road, explore the 680-hectare working farm with hand-picked cultivars that make their single-block JHG Wines.
Wine tasting & sales available. Don't forget to book a picnic under the pecan nut trees. Jan Harmsgat is proudly Fair Trade accredited. 
Jan Harmsgat Guest Farm has seen a renaissance that captures its rich past, in a way that fits in with the discerning traveler's needs: Space, charm, and an unsurpassed opportunity to indulge in an authentic country ambiance and history. Guests are treated to understated elegance and comfort, combining the power of its original meter thick walls, yellowwood details, and authentic 'Overberg' style while every modern convenience is available. The indulgence does not stop with the accommodation but is carried throughout your experience. Jan Harmsgat is registered and has been awarded the Fair Trade in Tourism S.A Trademark.
Experience the Bush at its Best.
Sharing an unfenced boundary with the renowned Kruger National Park, the pristine private Manyeleti Game Reserve is home to the luxurious Tintswalo Safari Lodge. Boasting one of the lowest vehicle densities in the Greater Kruger, Tintswalo Safari Lodge guests are spoiled to uninterrupted game viewing experiences in an untouched African wilderness. The lodge suites are authentically decorated to reflect the intricate luxuries of colonial times and evoke the adventures of 19th-century explorers after which they're named.
Tintswalo Safari Lodge is situated a short drive from the nearest local airport in Hoedspruit, or a scenic six-hour drive/shuttle from Johannesburg for those who enjoy a road-trip.
Connected by raised wooden walkways, the seven sumptuous suites are staggered along the banks of a seasonal river.  Evoking the adventures of early Africa's European explorers, each king suite is afforded its own personality and story. Combining the lavish comforts of the colonial era with the raw realities of the surrounding wilderness, each indulgent suite possesses its own ample deck, complete with a private plunge pool, where guests may soak in the African sun and observe passing wildlife in total seclusion.
Experience superb fine dining at Tintswalo Safari Lodge, where contemporary cuisine is created with only the freshest of ingredients.
Guests may enjoy a variety of meals, such as plated breakfast; brunch and "spade breakfasts" in the bush; bush picnics; English high teas; plated dinner in the dining room; boma dinners; private dinners in the guest's suite; bush dinners. Mealtimes are designed around the guest's unique needs, to create the ultimate five-star dining experience.
They pride themselves on indulging all guests' dining wishes – whether you choose to dine privately or with other guests – and they keep it interesting by ensuring meals are never served in the same place.
OPPORTUNITY TO EXPERIENCE FIRST HAND RHINO CONSERVATION
Tintswalo Lapalala is a family-friendly camp, offering seven luxury tented suites with private plunge pools, including two 2-bedroom family suites, all with views overlooking the rolling mountains and plains of the malaria-free Waterberg region. Tintswalo Lapalala is an untouched bushveld paradise in the heart of Africa, accommodating up to 16 adults and 4 children.
The Lapalala Wilderness Reserve was founded in 1981 by conservation leaders, Dale Parker and Clive Walker, just 3.5 hours' drive from Johannesburg. The Tintswalo Lapalala Wilderness establishment continues this legacy of nature preservation by remaining environmentally conscious and completely off the grid. The Lapalala Wilderness is very diverse, and its many years of preservation as a wilderness, have meant that many bird and animal species have been naturally attracted to the area. Along with the Big 5, the fauna endemic to the area include eland, impala, waterbuck, wildebeest, roan antelope, and many others.
The Tintswalo Lapalala luxury tents and suites are settled along the edge of an open plain. Each enjoying private plunge pools and beautiful outdoor baths, the luxury accommodation lacks nothing in terms of comfort and modern convenience.
Surrounded by the natural beauty of the Waterberg's rolling plains and riverine gorges, the seven luxurious suites mirror the grandeur of the reserve, each paying tribute to the many tribes that roamed Africa centuries ago, offering travelers a true and authentic African experience.
Experience the rare opportunity to participate in a rhino conservation experience. Witness the darting and immobilization of a white or black rhino and assist the veterinary team in monitoring the animal during the capture by taking temperature, measuring the breathing rate, etc.
THEME-INSPIRED LUXURY SUITES
JUST LIKE HOME, ONLY BETTER
Tintswalo at Boulders offers seaside accommodation in nine beautifully-appointed luxury suites. The suites each enjoy unique views of the ocean, with the exception of the Victory suite, which enjoys its own private courtyard.
No luxury is spared in these spacious rooms, which are equipped with every comfort. The air-conditioned suites are suitable for travelers of every kind – whether families, or couples, or groups of friends – thanks to the flexible configuration of furnishings, and the introduction of the American Double suite.
With rich concoctions of azure, blues and greens, and dark wood fittings, the luxury suites are maritime tributes to some of history's most famous ships that sailed the very oceans that Tintswalo at Boulders overlooks.
Tintswalo at Boulders overlooks Boulders Beach and its famous penguin colony that is located within the Table Mountain National Park Marine
Protected area. The soft sandy beaches are clean and safe and are surrounded by granite boulders sheltering them from strong winds and the wild waves
of the Atlantic Ocean. The villa boasts 180-degree ocean vistas from where guests can enjoy uninterrupted views of the playful African penguins on
the beach below.
Spreading over three levels, each of the nine luxurious suites has generous en-suite bathrooms and some have private balconies. Named after
famous ships, suites are individually decorated to pay homage to maritime history and the location of the villa outside the naval village of Simon's
Town. These range from the Mayflower and the Cutty Sark, to Jan van Riebeeck's Drommedaris.
The Boutique Villa operates on a bed and breakfast basis with lunch and dinner served on request but can also be booked as a private, exclusive-use
takeover. Children of all ages are welcome at Tintswalo Boulders. Early risers may enjoy the spectacular sunrise over the Indian Ocean, followed by a
delicious Tintswalo signature breakfast, then relax at the pool overlooking the sea or take a stroll down the boardwalk to the beach. On route to Cape Point, which is less than 20 minutes away, it's the perfect base from where to explore the Cape Peninsula and its many attractions.
We are often asked: when is the best time to see penguins at Boulders Beach?
There's great penguin viewing all year round (apart from September and October; when many of the penguins are off the beach; fishing and feeding in the ocean) but late November to late January are certainly two wonderful months to see the penguins. It's warm, and the birds are in and out of the water a lot as they love to sit and bask on the beach; then slip down into the water for a fishing session before coming back to do it all again. For a real treat, visit Boulders in January when the juvenile birds are molting on the beach. During molting season; the penguins gather on the sand in numbers and you can get a real idea of the scale of this colony — the largest penguin colony in Africa.
LUXURY KRUGER NATIONAL PARK SAFARI LODGE
Royal Malewane offers an exceptional wildlife experience in extraordinary style and comfort.
Royal Malewane is a luxury safari lodge in South Africa's Greater Kruger National Park that exudes the romance and beauty of a bygone age while offering every modern comfort. The most qualified guiding team in Africa delivers an unrivaled wildlife experience providing fascinating insights into the complex ecosystems of the South African bushveld.
There are two accommodation options at Royal Malewane – Main Lodge which is more classic and grand in style and The Farmstead which is more intimate and contemporary.
Whichever style you choose, our expert guides will bring you thrillingly close to the Big Five. Indulge in sensual spa treatments and let the passion of our chefs delight you with nightly feasts under the African stars.
The lodge is easily accessible by air and road and is located in the Thornybush Private Game Reserve on the Western Border of The Greater Kruger National Park. The closest airport is Hoedspruit and there is a private landing strip at Royal Malewane called Jackalberry Airstrip.
The Main Lodge at Royal Malewane is a classic and luxurious safari lodge with just six Luxury Suites, two Royal Suites (which each have two bedrooms), and Africa House – our exclusive use villa with six bedrooms. The Farmstead at Royal Malewane is intimate and more contemporary in style and is just a 12-minute drive south of the Main Lodge. The Farmstead has three Luxury Farm Suites, and The Farmhouse – a three and a half bedroom private villa.
The private safari experience at Royal Malewane will delight and surprise. Wildlife is the focus of the safari experience but there is something to delight every taste at Royal Malewane. From the award-winning spa to the sumptuous cuisine.